Koeman's praise for Barkley

96 Comments [Jump to last]
Monday 23 January 2017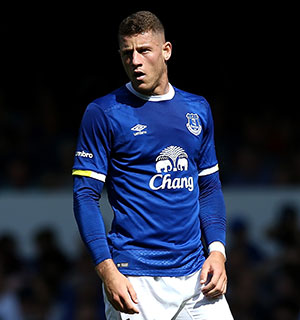 Ronald Koeman has expressed his satisfaction with the recent performances of Ross Barkley who underscored his improvement with an influential display at Crystal Palace on Saturday.
The 23-year-old's form has been mercurial season so far under Koeman who has not shied away from describing publicly where he needs to improve his game. As Everton's form has picked up noticeably over the past six weeks, however, so has that of Barkley.
After laying on two goals in the 4-0 hammering of Manchester City the Sunday before, he ran the Blues' midfield for much of the game at Selhurst Park and Koeman likes what he is seeing now in terms of Barkley's work in the final third of the field.
"We speak a lot with Ross about what we need in the team from his qualities," the Dutchman said. "And we know if you are a midfield player you need to run, you need to work, you need to defend.
"Against Crystal Palace he was really that player in the midfield. He was always free, he had good control of the ball, he had a good shot in the first half, a good assist for scoring goals, and that's what we need.
"We need [that from] Romelu as well, from Kevin [Mirallas], from Ross, from Mola when he came in.
"And that's what we need. We don't need Ross to get the ball from a defender, turn, and play a five-yard pass. No, we need him in the final part of attacking and he is changing in that and that's what we like."
---
Reader Comments (96)
Note: the following content is not moderated or vetted by the site owners at the time of submission. Comments are the responsibility of the poster. Disclaimer
Peter Murray
1
Posted 23/01/2017 at 23:38:45
Southgate, are you listening?
David Ellis
2
Posted 23/01/2017 at 00:00:36
"We don't need Ross to get the ball from a defender, turn and make a five-yard pass."
Music to my ears.
Clive Mitchell
3
Posted 24/01/2017 at 00:28:54
What we DO need is Ross signed up on a very long term contract, because this young man is the best of Everton in every possible way.
Kevin Rowlands
4
Posted 24/01/2017 at 00:29:17
The lad has the potential to be world class, needs to believe in himself a little bit more. Martinez and his philosophy did Ross no favours, I really like what hes been showing the last several games, fans need to get off his back.
Will Mabon
5
Posted 24/01/2017 at 00:41:57
"What we DO need is Ross signed up on a very long term contract, because this young man is the best of Everton in every possible way."
Here, here.
I wonder was Koeman behind any delay in this over recent months. We haven't heard anything, any news of what might be holding it up. Unusual in this day and age, with the relatively short duration remaining and the quality of player.
All we did hear was the manager calling it "A matter for later" or similar words, some weeks ago.
Dan Parker
6
Posted 24/01/2017 at 02:05:41
It's easy to get carried away but I think we've got a real decent manager here. Let's hope Ross continues to influence and we all give him the support and backing a local lad needs.
I've always thought his double leg break as a teenager probably knocked him back at least a year or so mentally as well as physically in the game.
Here's to a future captain!
Phil Mooney
7
Posted 24/01/2017 at 02:08:36
I've said it for ages: Ross will come good; his confidence is sky high at the moment and he will only get better.
Dave Lynch
8
Posted 24/01/2017 at 02:30:14
He now needs to become more verbal, he appears mute to me at times on the pitch.
Danny Broderick
9
Posted 24/01/2017 at 04:55:38
I've been very critical of Barkley in the past, not because of his ability, but for all the little things he didn't do - tackle, press, challenge for headers, strolling around the pitch etc. I get the feeling that the penny has finally dropped with him. He is now working his socks off, his energy levels are much better, and there is a place for him in this team if he can maintain this energy.
He is still misplacing the odd pass, but I can accept that when someone is giving 110% effort.
I suspect that Koeman has played a blinder where Barkley is concerned. He appeared to be over indulged by Martinez - I think Martinez said at one point that Barkley could be the best player England has ever produced! Koeman has given him some tough love, and he is currently looking a much better player for it. Having Davies in the team appears to have helped Ross also. Seeing the effort Davies puts in has been contagious.
Darryl Ritchie
10
Posted 24/01/2017 at 06:50:03
It's taken a while, but I think Barkley has finally rid himself of Martinez's "pass, pass, pass and when in doubt pass backwards" style of play. He's looking upfield, dribbling past the opposition, and has started to take an active part in all facets of the game.
He could be on his way to being the player we all thought he would be. He's visibly gaining confidence with every match he plays.
Long may it continue... at Everton.
Joel Jones
11
Posted 24/01/2017 at 07:24:22
Don't think it was ever in doubt and always found the criticism from stands harsh. Everton have found a formation that suits his playing style, allowing the side to immediately get higher up the pitch means bodies around Ross in the attacking third.
People say he's playing deeper now, he's not it's just that he's closer to teammates due to shift in formation. Koeman has even said it there himself, he's no good to you getting the ball 10 yards off his own 18-yard box.
It's bringing out the best in all our attacking players now. Personally I think it's shame we didn't see Geri given a go in this system too!
Liam Reilly
12
Posted 24/01/2017 at 08:11:28
He's doing well and his confidence is definitely up, so more than ever, he needs the faithful to get off his back should he misplace a pass or too.
We should enjoy this boy's talents whilst we can, as I still believe he's destined for great things.
Gordon Roberts
13
Posted 24/01/2017 at 08:24:17
Really pleased for Barkley. Koeman deserves credit for the way he's handled the situation. I'm sure that Schneiderlins presence on the pitch will also help Ross.
Oscar Huglin
14
Posted 24/01/2017 at 09:29:24
Brilliant interview. Ross has really come of age the last few games. Long may it continue.
Geoff Trenner
15
Posted 24/01/2017 at 09:38:13
Really pleased with Ross's recent performances. There is still work to do on decision making. Twice against Palace Ross took shots across the goalkeeper when if he'd looked up he'd have seen Rom clear in much better positions.
I'm sure that Ronald will have noticed this and will have a word.
Anthony Dwyer
16
Posted 24/01/2017 at 09:45:35
I've stated in every set of comments about Ross that he's easily one of our better players.
Good teams keep there best players, many top prem sides would give Ross a home, so clearly his contract should be sorted out asap.
Build our future around Ross, tell players to find Ross on the pitch at all cost, make him dictate play, force him to be the player his potential clearly allows him to be.
And another thing, I really hope Southgate doesn't call him up to be on the bench, he's better than that and deserves more.
Gary Hart
17
Posted 24/01/2017 at 09:54:44
Our recent change in formation is definitely benefitting Barkley, as well as other players, such as Baines, Coleman and Williams, who have all really impressed over the last few games. Ross has that freedom to express himself more, knowing that there is always cover and it's great to see. He's a staunch blue and hopefully this lad goes on to become an Everton great.
Barry Pearce
18
Posted 24/01/2017 at 09:56:51
I think Danny (#9) has hit the nail on the head, when saying the effort Davies puts in is contagious.
No coincidence to me since Davies has been given more game time, the team as a whole look better. The boy's energy levels are amazing.
Winston Williamson
19
Posted 24/01/2017 at 09:57:07
Ross is in a settled position, knows his role and what is expected of him. This suits Ross's game. Add to that our midfield is now much more mobile and full of energy and we have a midfielder (Davies) who doesn't get a nosebleed when passing the half-way line and Ross is flourishing.
As my Step-Dad said yesterday – "We have a blue heart in the middle of the park in Davies and Barkley"
David Ellis
20
Posted 24/01/2017 at 09:59:23
Geoff @15 – are you sure that the pass to Lukaku was open because the defenders may have cut off that angle forcing Barkley to shoot? I did wonder about this myself but its hard to tell from the TV.
The TV cameras did linger on Lukaku staring absolute daggers at young Davies when he failed to make a simple cross from the edge of the area on one counter attack.
Personally I am pleased to see Barkley learning how to hurt teams rather than start a re-cycling process that leaves the ball back with Jagielka who can only lump it forward.
Colin Glassar
21
Posted 24/01/2017 at 10:14:40
Even in the darkest days a few of us on here never gave up on Ross. He's still not the finished article but he's getting there.
Tony Hill
22
Posted 24/01/2017 at 10:24:19
He's looking for the first time in ages like he's happy. His slaloming runs, his strength and pace are back. Wonderful to see, it was always there but buried under mounds of self-doubt inflicted, in different ways, by Martinez and that stupid old fool, Hodgson.
Stan Schofield
23
Posted 24/01/2017 at 10:26:31
Tony, as you say, wonderful to see. It's possible that he never really had a problem, just a slump in form, not helped by what happened to the entire team last season.
Paul Brierley
24
Posted 24/01/2017 at 10:26:38
I agree Colin, most importantly Ross is one of our own, we are like family and when the chips are down we need to stick together. To move forward and be successful we need to reduce the sentiment but someone of Ross's potential needs support, he's just turned 23 and his best days are ahead of him, hopefully in a Royal blue jersey!

Sam Hoare
26
Posted 24/01/2017 at 10:28:33
He's got to do now what he has always struggled to do which is to play to a consistently high level as opposed to a few good games here and there.
The good news is that it looks like this formation and approach is the one to get the best out of him. He has players behind him doing alot of the defensive work and then players ahead and on the wing. Essentially when he gets the ball he has more attacking options and less defensive responsibility which is what every playmaker requires in an ideal world.
Koeman seems happy for him to go direct and that also suits his game. Lets hope it continues.
Stan Schofield
27
Posted 24/01/2017 at 10:36:03
Winston @19: Lovely way of putting it by your step-dad.
Chris Gould
28
Posted 24/01/2017 at 10:39:58
He's my favourite player and I fully expect him to sign a new contract soon. The boy has knuckled down and listened to what was required of him.
He is leaner and fitter than ever before. He looks like a former super middleweight who has shed 8 lbs and become a middleweight. He has clearly put in the work and deserves the plaudits. Long may it continue.
Terry Underwood
29
Posted 24/01/2017 at 11:34:27
It almost feels like having a new player in the window The penny seems to have dropped
Roy Steel
30
Posted 24/01/2017 at 11:57:56
It's no coincidence that the emergence of young Davies, Holgate, Lookman and others has had a positive effect on Ross Barkley – he's looking around and seeing them willing to die for the jersey and said to himself "I had better get a grip of myself and pull the finger out or I am out of here!" – which seems to be happening.
I was one on here that called for Ross to be shown the door, but I will be more than delighted to eat my words and my hat if Ross continues to show us the skill, heart and brilliance that we all know that he has got in abundance.

Karl Meighan
31
Posted 24/01/2017 at 11:59:12
Great to see the lad playing well as is the whole team of late. Every player will make mistakes, as mentioned its his decision making that will make or break him imo, if he does what comes natural and plays without thinking to much the ability is there try to much and hold onto the ball thats when mistakes seem to creep in.
Geoff Trenner
32
Posted 24/01/2017 at 12:12:39
David @20. He didn't look up first time and the second time he looked up and chose not to make what looked a straightforward pass. As you say, TV doesn't always make these things totally clear.
Anyway, I don't want to moan too much, it's great to see Ross playing in the final third, drifting past opposition players with ease and getting into goal scoring positions.
He looks thinner than he did earlier in the season, and certainly looks to be lasting the games very much better despite making more and better runs with and without the ball.
Don Alexander
33
Posted 24/01/2017 at 12:19:26
He needs to read Koeman's words again, and again, until he achieves the consistency that the better midfielders in the PL show. He needs to improve concentration, keep working hard, and especially add to the defensive part of the game that the topmost players in the successful teams do. It's very significant to me that Koeman cited Lukaku, Mirallas and Lookman in this regard too. Good, he needs them to do it if we have any chance of competing in the Champions League.
That said, I'm genuinely pleased that Ross is just now playing better but I admit I've given up on him becoming a legend. It just not between his ears to achieve those heights in my opinion. That doesn't mean he's unworthy, far from it in fact, but as yet he's way below any of the Holy Trinity, any of the mid '80s midfield including Kevin Richardson, and way behind Arteta , Pienaar, Cahill or even Osman. All of the last four scored and delivered more goals than Ross does and all of them were in a different league when it came to playing without the ball.
I hope he proves me wrong but if I was him I'd be looking round Finch Farm at what a proper midfield player should be doing, and by that I don't mean just growing your hair long and playing with your socks rolled down Ross!
Brian Harrison
34
Posted 24/01/2017 at 12:20:08
I think Barkley typifies the detrimental effect that the charlatan had over the players. He seemed more intent on possession than using Barkley's natural attacking qualities, as Koeman says we don't want Ross making five yard passes we want him to run at the opposition.
I think you can also see the effect that Koeman has had on McCarthy he now seems to have bought into the high pressing tempo that Koeman wants.
Tony J Williams
35
Posted 24/01/2017 at 12:37:11
Definitely think that having Davies relieve some of the pressure on him has helped.
It's not all down to him now, the creativity can be shared.
I will gladly eat humble pie if he continues to play like he has of late, as I for one have been less than patient with our Ross.
Phil Walling
36
Posted 24/01/2017 at 13:23:23
It will take more than one excellent game for me to pronounce Barkley the finished article and as for Koeman's advice, the England manager was telling him some home truths a couple of seasons ago. Trouble is the Soft One could only proclaim Rosses brilliance when he returned to Everton so he carried on as before.
Let's just hope the lad can remember the advice for more than a week or two this time round!

Peter Roberts
37
Posted 24/01/2017 at 13:48:47
Yeah let's hope the lad focuses on his game whilst hearing knuckle dragging know-alls shout "shit you lad" whilst he is trying to pick passes to non moving players.
Barkley has got better since Davies got in the side because he has a midfielder who runs on from him - box to box. He doesn't have 1 or 2 static options to try and free up.
Nick Armitage
38
Posted 24/01/2017 at 13:59:01
I had given up on Barkley but how glad I am to be proved wrong. He's doing what counts now and Koeman has got to take a lot of credit for that, but so too does Barkley for firstly listening and secondly adapting his game. I honestly never thought I'd see the day.
Paul Thompson
39
Posted 24/01/2017 at 14:02:15
Koeman deserves great credit for having a clear view on how Ross needs to perform and sticking to it. It's taken a while to pay off and as others have said, the arrival of Davies has played a role.
But I don't think we should underestimate that way his confidence really slumped when he was dumped from the England set-up. It wasn't wholly unexpected or undeserved, but he provides something that England lack in midfield and I hope that will be understood.
Steve Ferns
40
Posted 24/01/2017 at 14:05:15
Barkley is playing like I expect him to. For me he is Everton, the embodiment of all of our hopes and dreams. We all dream we had the talent to pull on the royal blue shirt, even just to be as good as Hibbo and we'd give everything we have like Hibbo.
But Ross isn't Hibbo. He isn't us. I truly believe he gives it his all, but that doesn't mean he has to charge around like a headless chicken à la Gravesen. Tommy came good and got us 4th single-handed when suddenly Moyes put him out of harm's way of the midfield, had Carlsey doing the running for him, and told Tommy to concentrate on the attacks. After 4 years constantly arguing with my mate that Gravesen was a very good player, and better than Scott Gemmil (such was my friend's opinion of him). I was delighted when Gravesen finally showed what he could do, even if it was just for those 6 glorious months.
For me Ross is similar. He's got such technique, vision, passing, shooting, dribbling ... He's got the lot for me. And it is up to the manager to get it out of him. Where a player is struggling because of a lack of confidence, or something else that is in his head, then that is for the manager to solve, that is what he gets paid ٤m a year for.
Ross got overlooked by Moyes, and what fleeting glimpses we did see of him, were often as a winger! Martinez had him playing wonderfully well in that first full season when he was at the heart of everything. Then the second season and last season may have been harder for Ross, but the facts do not lie, only Alli has scored more or created more over the last 12 months, as an English midfielder. Our problem as Evertonians, is we expect too much. We expect him to be 100% every game and to be on it.
We need to let him make mistakes. Let's not get on his back the next time his form goes. If he makes a bad pass then let's accept that at least he is trying to make things happen.
I remember being annoyed with an aging Sheedy one match, hitting these long passes to no one in particular. People were getting on his back, only for my dad to say to me, if Sheedy had hit the same ball 5 years ago, it would have been a goal, it's not his fault the rest of the team are not good enough to see it.
Jay Harris
41
Posted 24/01/2017 at 14:49:28
I don't think there is any doubting Ross's technical ability.
The concern was his consistency and closing down when not in possession.
I still think he has some way to go before realising his potential but happy to see a huge improvement the last couple of games.
Tony Cheek
42
Posted 24/01/2017 at 15:09:27
Will always be a "nearly" player. He is just so bleeding boring. Can beat 4 men in a phone box , but will then choose the wrong pass, and Ive seen women shoot better. Other than that, hes brilliant!
Martin Nicholls
43
Posted 24/01/2017 at 15:31:16
Tony (#42) – you've seen women shoot better? Really? You obviously haven't seen Ross's goals against Newcastle Utd, Man City, and Crystal Palace to name just three.
Dermot Byrne
44
Posted 24/01/2017 at 15:33:51
Nah...Slow developer !

John Daley
45
Posted 24/01/2017 at 15:38:38
"... way behind Arteta, Pienaar, Cahill or even Osman. All of the last four scored and delivered more goals than Ross does..."
Don't know about that.
Pienaar scored 24 in his entire Everton career and Ross is already on 25.
Osman got 57 but it took him well over 400 games to do so. Arteta totalled 34 and a fair few of those were penalties.
The only one of the four to ever equal Barkley's total of 12 last season was Cahill in his first season.
Tony Cheek
46
Posted 24/01/2017 at 15:47:18
Saw those great goals Martin! But he just isn't clinical enough, has plenty of chances and I am quite sure some of the best women players would put them away!
It's going to be tight in midfield with Gueye, Schneiderlin, Davies, Barry, Barkley all demanding a first team place! Not too long before he ends up on the bench I feel!
David Ellis
47
Posted 24/01/2017 at 15:50:14
And Cahill did not have anything like the skill of Barkley.
Mike Gaynes
48
Posted 24/01/2017 at 15:55:12
Danny Broderick (#9), one of the best comments I've ever seen on Barkley.
Peter Roberts
49
Posted 24/01/2017 at 15:56:59
Funny the reason Ross gets slated so much is that the fans who deep down know he is an absolute bundle of ridiculous talent.
Why else would a midfielder get slated for making James McCarthy passes when James McCarthy doesn't get slated for them? Its because they think he can make a 40-yard ping or a 5-man dribble.
Fans sense a player to pick on – the way the school bully knows who to approach for their dinner money. For some reason Ross is that lad... "We've got a diamond called Ross Barkley" to "I'd sell him for 㾻m if anyone was daft enough to pay it".
IMO the most lavishly talented "footballer" we have got. How many players in the league are genuinely two footed? Not only that how many can strike a ball as good as him or run at pace with balance and power like him.
I expect the lad to break out properly – keep him away from that England circus. He needs our media on his back as much as he needed that dinosaur Hodgson trying to vent all his jealousy on him.
I've always said it – Ross makes some of his managers jealous of him you can bet half the premier league are jealous of his talents. He's got the lot – what he hasn't got in terms of confidence is used as a means of trying to destroy him.
It reminds me of when that young model was in the jungle with a load of old has-been jealous hags. They couldn't compete with her beauty so they tried to exploit her for lack of intelligence.

Terence Connell
50
Posted 24/01/2017 at 15:57:53
Ross can be a great member of the team with a useful contribution but he just doesn't have the right mentality to be a really great player or he would have shown it by now.
Hopefully Walsh and Koeman are bringing in players who have value in terms of bargain price, youth and the right mental strength to be winners.
Patrick Murphy
51
Posted 24/01/2017 at 16:06:07
Is it possible that Ronald is grooming Ross to be the second striker? When Gueye returns and the French lad finds his match fitness the battle for midfield places will intensify.
I'm not suggesting that Ross couldn't hold his place in the team, but would he benefit being further forward and more importantly would the team.

Ken Buckley
52
Posted 24/01/2017 at 16:28:50
I reckon Lookman is already earmarked for second striker role.
Steavey Buckley
54
Posted 24/01/2017 at 16:33:29
Everton's style of play has changed under Koeman, more direct and the opposition closed down as quick as possible, more suited to what Everton fans want, than what Martinez wanted, which was slow, slow, quick, quick, slow.
In this new style of play Barkley has had to adapt, it has taken longer than Koeman wanted, but he is getting there. Barkley has been helped enormously by Davies, who is on the same football wave length as Koeman. So instead of Barkley being made responsible for moving the ball foreward, he has Davies along side of him, taking the weight off his shoulders.
Trevor Lynes
55
Posted 24/01/2017 at 16:46:47
Someone on here said that Barkley scored twelve goals last season.It was his best season but he scored 8 league goals and has never had double figures in a league season.In fact he has scored 19 league goals from 134 games played.He is far from being a natural goal scorer.
I also do not think he see's enough in a game to be a play maker.IMO he is a mercurial player who tends to flatter to deceive.He has played well in three of the last four games but before that he was having a poor season.Until he has a long run of decent games I remain unconvinced.Without Lukaku and to a lesser extent Mirallas we would get few goals from our front men.Coleman and Baines have scored seven of our league goals so far this season.
Tom Bowers
56
Posted 24/01/2017 at 16:55:37
Whilst Everton are a long way from what we want at the moment, it appears that things are slowly changing for the better and certain players are improving their performances compared to some earlier season games.
The combination of experience and youth is beginning to produce dividends and probably at the right time for Koeman who looked like he didn't know what he was doing for a while.
Every game is a tough game and even teams at the bottom can shock you such as the Swans at Anfield so Everton's win at struggling Palace was all the more deserving of credit.
Ross looked like a shadow of the player he was but Koeman's shot up the backside seems to have done the trick and with the mouth watering association alongside the likes of Gana, Lookman and Schneiderlin to come we can only hope the Blues rise to the top of the heap in the not too distant future.
David Graves
57
Posted 24/01/2017 at 16:57:04
"...way behind Richardson or Osman"
I honestly despair.
Try this simple exercise – look at the number of goals and assists he has for Everton then revisit your comparison.
Peter McHugh
58
Posted 24/01/2017 at 17:03:05
I still don't see him bossing games and lots of improvement needed. Still not a bad player for us at present and technically excellent so here's hoping he continues to improve
Mark Morrissey
60
Posted 24/01/2017 at 17:28:01
Danny @ 9, spot on, no need to elaborate on what you say. Spot on
Drew O'Neall
61
Posted 24/01/2017 at 18:23:13
A few points if I may:
Martinez is getting slagged on here but he gave Ross his chance in the first place, had faith in him publicly and stuck with him through the low patches. He may not have done much else right but he did give him more of a run than Moyes did, or would have in my opinion, had the latter continued in charge.
Barkley is benefiting from players coming in and running their hearts out both in terms of being influenced, as some have surmised, to do the same but also in terms of the space that has been filled behind him and created in front of him – playmakers need willing runners and we have those now.
I think the other positive for Barkley from the inclusion of the new younger players is his relative seniority on the park. I see him get derided sometimes by (in particular) Lukaku and other strong characters when he makes mistakes. As the most junior member of the team (or certainly the midfield/attack), with his personality type, this could knock him in to his shell. When he looks around and sees players who are his junior I think he naturally grows in self-confidence and stature in his own eyes and he seems to be taking the responsibility as a result.
Whatever is happening in Barkley's mind and legs, I am delighted with it. He looked every bit capable of fulfilling Martinez's prophecy on the weekend.
Phil Bellis
62
Posted 24/01/2017 at 18:30:26
Agreed Drew... He's no longer the next young gun; looks to be benefiting from that title being handed on.
Quick feet for a big lad and the best two footer I can recall since R Charlton.

Stan Schofield
63
Posted 24/01/2017 at 18:35:19
There are two opinions being expressed, since Koeman arrived, on the effects on Barkley of the manager's style. The first opinion, regarding Martinez, says he blew smoke up Ross's arse, and this didn't do any good, therefore Ross's form suffered. The second opinion, regarding Koemab, says he's given Ross 'tough love', and this has done Ross the world of good, Ross's form recovering as a result.
Both of these opinions are indeed opinions. There is no evidence to support either of them. Under Martinez, Ross's form suffered amidst the team overall playing badly (an effect of Martinez, but not of the 'smoke up the arse' kind). Under Koeman, Ross's form has recovered, and very rapidly recently. It's plausible, and seemingly apparent from looking at the last few games, that this recovery in form could result directly from changes in the team, particularly the role of Davies.
Also, it is often the case that the form of players fluctuates apparently randomly, in that there is no discernible reason beyond what might be assumed.
The two assumptions referred to above seem good candidates for the classic mistake of taking an association, and assuming that that association is a cause of the effect being considered, in this case Ross's form.
Phil Bellis
64
Posted 24/01/2017 at 18:46:33
Stan; apologies, been a long day.
In the words of the immortal Oliver Norvell Hardy...
"Tell me that again?"

Chris Williams
65
Posted 24/01/2017 at 18:50:42
Ross also looks like he's lost some bulk as well. I don't know if that is fitness or a change of training regime, but maybe it helps too.
Stan Schofield
66
Posted 24/01/2017 at 18:56:29
Phil, after writing that it now feels like it's been a long day for me too. I'd run it past you again, but these days I haven't got many brain cells left, have just depleted them through that post, and need the rest for other posts.
Oliver Molloy
67
Posted 24/01/2017 at 18:56:53
Stan,
If Barkley wants to stay in, this manager plans he will have to keep up and even better his current work rate. Barkley got away with murder with Martinez , it is not going to happen with Koeman. I would say that is fact and not an opinion.
Surely you can see that Barkley is working harder on the pitch? I would see that as clear evidence that Koeman's "tough love" approach, as you put it, is indeed bearing fruit.
Steve Ferns
68
Posted 24/01/2017 at 19:02:21
Imagine that the Barkley of summer 2013 was now. Would he be developed differently?
The first incarnation of the properly emerging Barkley was as a direct player who would get his head down and run. He was very direct his runs, with his movement, and with his passing. This Barkley would have fit in with what Koeman wanted. Especially with the enthusiasm of youth, he was chasing everything, which has been a criticism of him over the last 12 months or so. Perhaps Koeman wouldn't have liked the amount he looked to shoot, or perhaps he would.
Martinez sought to change Barkley, of that there is no doubt. Barkley changed a lot in that first 12 months. Martinez slowed him down, he made him look for a pass. He started taking a few touches, or he'd spin and turn and pass rather than spin, turn and run. He stopped shooting so often, usually mainly late in games when he was desperate.
No offence to Ross, but he doesn't strike me as the sharpest tool in the box, and perhaps it took a while for him to change into what Martinez wanted, perhaps Martinez got a hold of him at an age where it was possible to change drastically, perhaps Ross is now of an age where it is difficult to unlearn all of this?
Yes a lot of perhaps, but just some thoughts.
Stan Schofield
69
Posted 24/01/2017 at 19:06:06
Oliver, 'tough love' was coined by others (those making the assumptions I mentioned) on previous posts, nothing to do with me, I'm just referring to it and the assumptions.
I'd definitely agree that he seems fitter, leaner and sharper under Koeman's training regime, and as you say working harder. And he's more effective, no doubt because of the improved fitness (needed for the 'pressing game'), plus (which seems very likely) the team changes recently brought about, especially the presence of Davies.
But all this is just old-fashioned hard work and the team gelling better (influenced by the changes in tactics and personnel). I can't see any evidence of 'tough love' from Koeman having any effect, whatever 'tough love' is when you're talking about fully grown-up professionals. Terms like 'tough love' seem better in the realm of drama queens than professional football.
Everton Wint
70
Posted 24/01/2017 at 19:12:12
Koeman has bought Morgan to boss games. He wants Ross to do what he does best, play direct and instinctively, hurting the opposition with assists and goals. Barkley is only going to improve under this manager, like the rest of the squad, cos if they don't grasp the system and improve they have to leave.
Barkley will sign a new contract in February I think cos Koeman really likes him, and is going to make him fulfill his vast potential. Koeman doesn't waste time on players who won't be successful at the top level. COYBs
Oliver Molloy
71
Posted 24/01/2017 at 19:28:08
Well "tough love" is speaking to the player and telling him / her in no uncertain terms that they either improve whatever the manager wants improving or he won't be wasting his time.
I have no doubt that Koeman has praised Ross privately also , and giving him the confidence he needs to play well do what he does. Yes, Barkley will and should improve even more under Koeman because the manager will demand it.
As I have said before Koeman doesn't care about the name on the back of the shirt; if you are not doing the business, you will be out of favour fairly quickly.
Stan Schofield
72
Posted 24/01/2017 at 19:41:10
Let's hope it all pans out like that, Oliver.
Matt Woods
73
Posted 24/01/2017 at 20:18:55
I think we are witnessing a shift in momentum for the Blues due to three reasons.
The first is the change in formation which overall suits the players we have.
The second is playing youth. Footballers today are multimillionaires by 23 at 18 they are so hungry and fresh and full of energy. In Davies and Holgate we have two gems that are playing with such passion they are embarrassing more senior players into lifting their level.
The third shift has been the ability to spend decent money. To bring in two players one a kid with massive potential and the other an established Premier League performer of known quality for over £30 million is a huge shift. These players freshen up the squad and most importantly increase competition for a shirt.
I was highly critical of Koeman before the Arsenal game but credit where credit is due he has changed things around and the results are speaking for themselves and team actually looks like it is starting to gel. Let's quietly go about maintaining this progress while the pressure is off and build towards next season.
Oliver Molloy
74
Posted 24/01/2017 at 20:19:23
Yes Stan, let's hope "We got a diamond calked Ross Barkley" will be sung to the rafters many many times .
It's up to Ross really, I've been critical of him but nothing would please me more to see this young fella become the player we all have been waiting for... time will tell.

Tony Hill
75
Posted 24/01/2017 at 20:19:38
Peter (#49). How true; it may have taken a great player like Koeman to recognise and rescue another one.
Nick Armitage
76
Posted 24/01/2017 at 20:27:49
One big factor that has helped Barkley is the fact that Jagielka is out of the team. Jags is a very negative player and drops too deep which stretches the whole team. It pulls the centre midfield on to the defence and isolates Barkley and Lukaku. Having support from the midfield at the business end of the pitch, and his improved fitness, have helped Barkley no end.
If the team are going to improve Jags is the one player I'd ship out. He's been a good servant for a team languishing in mid table, but to move up he needs to move on.
I think the reason that Barkley has gotten so much stick is because everyone knows he is capable of so much more on so many levels. In the last derby he was utterly lost and I want to see him tear the Red Shite a new arsehole in the way Gerrard did to us. I really hope he keeps on improving in the way that he has, he's got a long way to go but at least it looks like the penny has dropped and he's finally moving in the right direction.
Dave Williams
77
Posted 24/01/2017 at 20:40:35
Our previous midfield was pedestrian and gave him few options so he would delay passes and get caught. With Tom there is greater pace and energy which opens up space for Ross giving him decent options.
More youth alongside him will also help him settle rather than feel the promising youngster tag amongst older colleagues.
Roger Helm
78
Posted 24/01/2017 at 21:06:40
Nice comment, Nick, on the effect on Ross of no Jagielka behind him. I also think playing three at the back means Ross doesn't have to drop so deep and can therefore play further up the pitch, with advanced wingbacks to support him. Also, having better midfield colleagues in Davies and Schneiderlin takes some burden off him psychologically.
He seems fitter and more mobile, which may be the effect of half a season of Koeman training. He had more touches than any other Everton player against Palace. Whatever the reasons, let's hope his good form continues, and let's also hope he signs a good long contract soon.
Glynn Holland
79
Posted 24/01/2017 at 21:24:31
Anybody who slated him on here or at homes games, killing his confidence, should be ashamed that they didn't get behind a homegrown lad when the chips were down. All will be kissing his arse now after a few good games. We'll done Ross for rising above and coming out the other side.
Derek Thomas
80
Posted 25/01/2017 at 08:35:18
Pretty much echo that Roger. With Baines, Coleman, Mirallas and Rom getting forward,plus others,they can't ALL not be making a run or moving. This lack of movement left Barkley's only options as; play the bad/hail-mary ball, or go backwards or sideways
John Pickles
81
Posted 25/01/2017 at 09:47:25
Yes. if he keeps improving at this rate he'll soon be good enough to be poached by the top four clubs again.
Alasdair Mackay
82
Posted 25/01/2017 at 12:46:24
There was so much more hype and expectation on Ross's shoulders from a young age, compared with Tom Davies (who sprung up on most of us in the last year or so).
He has ridden the storm of expectation pretty well, I think. He had a break-through season, suffered a dip in form and now appears to be answering his critics.
Long may it continue!
John Wilson
83
Posted 25/01/2017 at 13:13:50
Lyndon LIoyd, whomever else, Ross Barkley has his moments. His negatives is that he has poor timing from aerial balls, which impedes his finishes, ie, scoring goals. I define aerial timing as eye/ body/ movement co-ordination from the air, in real-time.
We also need intelligent players who can read the game, ie, if I were to strike this ball; have I given the player at whom it's directed time to get in to the required position; can said player anticipate my intention. I think this is really lacking from Everton.
Everton in any event desperately need a striker in this transfer window, even better if they possess excellent timing and can read the game. Besides Lukaku, we do not have a striker per se (look in the dictionary!).
Bobby Mallon
84
Posted 25/01/2017 at 15:25:40
Geoff Trennor,
Ross did pass the ball... Lukaku was just too bloody slow in getting ito the box to score!
Watch it again!!!
Eugene Ruane
85
Posted 25/01/2017 at 15:42:40
Phil # 64 -
'Stan; apologies, been a long day, In the words of the immortal Oliver Norvell Hardy...Tell me that again'
Stan: "Well..I was just saying if Barkley was..a smoker and blew smoke at Martinez who then..fluctuated, then it might be plausible to have..a smoke and.."
Oliver: "You know something, that's a great idea!"
(blows horn, sings 'Fresh fiiiiish!')
Geoff Trenner
86
Posted 25/01/2017 at 15:46:38
Bobby @ 84. Entitled to your opinion, but in mine, they were both shots by Ross. I'm not complaining about him going for goal, just that there was a better option on those two occasions.
Let's agree that Ross is playing a lot better than he was a few weeks ago, getting into good positions, beating men with apparent ease. I just wish that his decision making was better sometimes.
Ashley Roberts
87
Posted 25/01/2017 at 22:37:59
As several folk have already noted, I believe Ross is benefitting from having Davies in the side. The reason being that Davies is not your classical holding midfield player like Barry and Gana and offers more going forward which takes the load off of Ross's shoulders.
So many posts over the season have questioned why we need 2 defensive midfield players and I think the new formation also helps in this respect. With 2 defensive midfield players in the team Ross was isolated between Rom and Gana and Barry and therefore easy to mark and pick up. Now they have to watch for Davies making surging runs from the back as well.
My fear is as soon as Gana is back we will revert to the double defensive midfield duo and with Schneiderlin offering the same role this heaps pressure on Koeman to drop Davies. I just hope he resists this temptation because the team has offered up so much more in the last 2 games than we have done all season.
Unlike most I am not sure we will get value for money at £24M for Schneiderlin. We have witnessed how good Davies is and can become and we also have Walsh who seems to be a good prospect. With the Ross and Davies partnership and Holgate and Lookman coming through as well, things are looking up.

Stan Schofield
88
Posted 26/01/2017 at 11:19:24
Ashley, yes, we've been saying for a while we need more creativity in midfield, and Davies is very creative, his passes can be superb in cutting through defences. And it does look like it frees Barkley up to be more creative in turn.
John G Davies
89
Posted 26/01/2017 at 11:22:45
Big Ron has handled Ross perfectly. He is starting to show the type of form we all hoped for over the last four games.
Koeman will develop Barkley into a better player without a doubt.
John Wilson
90
Posted 26/01/2017 at 23:03:25
Niasse (through team injuries) played a full game for Hull, who won (2-1) on the night but lost on aggregate to Man. U (3-2), where Man. U. went in with an A team and a 2-0 lead. This disaster nearly scored in the 77th minute with a powerful header, but made up for it by scoring one in the last minutes – albeit an easy one but given the pressure he was under and the fact it was televised – he still scored.
Summary, assisted a near goal – first game, where he came on in the last 6 minutes or so. Second game, he nearly scored a goal from behind on the volley. Third game (tonight), good strike with a header although it missed (rattled the bar), he made up for it.
Disaster (so-called anyway), 1, first goal in Premier League. Is Niasse quality, no is likely the answer at this point anyway. However, he can score, ie, finish.
Ernie Baywood
91
Posted 27/01/2017 at 00:12:35
Incredible talent and I'll never be found criticising him for not screaming around the pitch tackling everything that moves. That would be such a waste.
There's no doubt in my mind that he had a slump in form and confidence, combined with playing in a side which just didn't give him a platform to perform.
For me, that's where his lack of consistency comes from. He hasn't found a way to influence games when the team isn't performing so when we're poor, he'll be anonymous. That's his next step – be the one who lifts the team, rather than waiting for someone else to take the lead.
Don Alexander
92
Posted 27/01/2017 at 00:25:07
Even the massive fans he has seem to be acknowledging that the introduction of 18-year-old Tom Davies has immensely improved Ross Barkley. I agree. But the fact that it has supports the view that me and many others have had for some considerable time, namely that Ross is only a good player when surrounded by better players.
Hopefully we'll be signing one or more better players and, if so, everyone wins, but spare me the Ross-is-Magic bollocks. He isn't, but good is good enough for a place in the current squad.
Stan Schofield
93
Posted 27/01/2017 at 10:27:32
Don, yes, Ross is a very good player who produces outstanding moments. His performances are definitely influenced by those around him, but this isn't unusual. His lapse in form in the recent past could have been just that, a lapse in form that every player has, but which folks try to explain, even when there isn't an explanation. The overall slip in form of the team last season won't have helped, but it isn't necessarily an explanation.
I believe there is a lot of bullshit in the football world at the moment, about this business of 'pressing'. Stemming from gegenpressing, the supposed 'philosophy' of the likes of Klopp and Pepsi Cola. What looks like fashionable packaging for what has always been done by good teams, harassing the opposition when they have the ball. It strikes me that the biggest influences are players being played to their strengths, gelling alongside other players, and football brains rather than cross country running. In this sense, there has been too much public scrutiny of Ross, about his absence of tackling, and supposed lack of thinking, about not conforming to the needs of 'pressing'.
It's quite likely that his return to form is influenced more by how the team has been organised recently, the selections (like Davies), and being fitter, than any master plan associated with a 'pressing game' beyond the increased fitness achieved so far under Koeman.
Chris Williams
94
Posted 27/01/2017 at 10:48:31
Isn't pressing the new name for defending from the front? As Stan says, good teams have always done it.
As philosophy (!) it is meant to be the antidote to the possession philosophy of OFM and others like it would seem Guardiola, and demands high level of fitness.
I prefer the way we are currently playing and the set up, but it isn't new, just different to the last few seasons.
Stan Schofield
95
Posted 27/01/2017 at 11:04:03
Chris, I prefer it too.
I've been looking at video clips of the late 60s Everton team, particularly the 69-70 side, perhaps the best Everton team of all time. And I remember the games. There was a lot of pressing, very rapid changes of play, and the speed of the game doesn't seem much different from nowadays, for that great team. In my opinion, what made that team great was firstly, we had great players, secondly, they were played to their strengths, and thirdly, they gelled brilliantly together.
For example, if you take the midfield of Ball, Harvey and Kendall, each player on their own could dictate a game in most teams. Each could instantly pick a pass, very accurately, and they were incredibly well organised. They gelled as a trio. And the team gelled. They pressed, they were fit, but so did other teams. What set us apart was the sheer quality and gelling of those players.
I don't think anything has changed. At the moment, a midfield from Barry, Schneiderlin, Gana, Davies and Barkley could be a thing to savour (signs of that already). Not the Holy Trinity, but nevertheless based on quality of player and gelling together. The 'pressing' is on the back of those attributes, being just one component.
Steve Ferns
96
Posted 27/01/2017 at 11:19:12
Stan, you can't compare the pressing in the 1969-70 season to now. It is completely different. Not least because the average player runs three times further today than he did back then. From an average of 4 km a game up to 12 km, with the central midfielders of Spurs averaging over 14 km per game.
So no, there was no pressing game back then, nothing comparable to now anyway.
Don Alexander
97
Posted 27/01/2017 at 12:28:11
Whether it's called pressing or not, it is vital that we do to other defences what good teams do to ours. By that I mean giving the likes of Jags, Funes Mori and Williams as little time as possible to make an accurate clearance. That poor clearance makes it easier for the opposition to recover the ball.
We see it regularly. That's been a blindingly obvious feature of football since it was invented and it is why the workshy few at the top end of our team need to pull their fingers out. They don't have to win the ball per se, but their efforts could make it more recoverable more easily and also limit the chances of conceding goals.
It's what every successful team has always done. Christ, even the laziest forward I ever saw, Allan "Sniffer" Clarke, transformed himself into a grafter who still scored prolifically – so why can't our few even attempt to get in their opponents faces?
Stan Schofield
98
Posted 27/01/2017 at 12:50:25
Steve, yes, I appreciate there is some difference, but I'm not convinced it's so great. I recall reading, about 1970, that the average 1st Division player covered about 6 miles, about 10 km.
Joe Rooney
99
Posted 27/01/2017 at 17:57:59
Ross is always available for the ball... but a lot of the time especially with Jags in the team, we often bypass him.
Maybe he needs to be more vocal and demand the ball... then he can really start to dominate games.
Should he have passed to Rom? I think a lot of attacking midfielders take those shots... Coutinho would have, a wide playing Ronaldo would have and so would have our fav winger Kanchelskis would have too! Probably Ozil would have passed the ball.
Anyway, Ross has had some magnificent moments for us and I'm sure will be back in the goals as his confidence increases.
It's no coincidence his form has gotten better now the players around him are putting a shift in and there is far better movement around him.
Here is hoping he gets right back to that direct attacking great goal scoring midfielder who teams would love to have roaming behind their strikers!
---
Add Your Comments
In order to post a comment, you need to be logged in as a registered user of the site.
Or Sign up as a ToffeeWeb Member — it's free, takes just a few minutes and will allow you to post your comments on articles and Talking Points submissions across the site.