No further business on quiet deadline day

230 Comments [Jump to last]
Tuesday 31 January 2017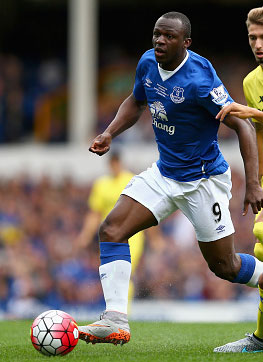 Arouna Kone was set to leave Everton but Crystal Palace could get a deal agreed before the 11pm deadline.
Updated The January transfer window closed today with no further incomings to bolster Ronald Koeman's squad but more players from the Under-23s heading out on loan.
Arouna Koné looked set to be the biggest story of the day when it emerged that Crystal Palace were lining up a late deal to pick up his contract for the remainder of the season but it fell through at the last minute.
Optimism was high that the Blues could be busy given Jim White's contention that Farhad Moshiri was keen on new signings but, ultimately, it seems the club were unable to prise away their top targets.
Indeed, while Koeman acknowledged his interest in Burnley's Michael Keane he admitted it would be difficult given the competition for his signature and the Clarets' desire to keep him until the end of the season eventually won out.
Instead, after a number of fringe players were shipped out of the first team in recent days, a number of players from the club's development squads were handed opportunities on loan elsewhere.
Conor McAleny joined Oxford United, Leandro Rodriguez moved to Waasland Beveren in Belgium and Callum Dyson joined Grimsby.
David Henen appeared close to securing a permanent move to Lille, with a Belgian source claiming he is set to sign a four-year contract with the Ligue 1 club, but the talks ultimately collapsed. And Everton are said to have rejected a bid from Brighton for striker Courtney Duffus.
Meanwhile, David Unsworth was hopeful of pushing through deals with Sheffield United for goalkeeper Aaron Ramsdale for whom an initial bid was reportedly knocked back yesterday by the Yorkshire club but he ended up joining Bournemouth for an undisclosed fee.
He will also have to revisit his interest George Hirst as he was unable to prise the teenage striker away from Sheffield Wednesday.
---
Reader Comments (230)
Note: the following content is not moderated or vetted by the site owners at the time of submission. Comments are the responsibility of the poster. Disclaimer
Mike Gaynes
1
Posted 30/01/2017 at 23:11:36
C'mon, Ron. Surprise us. Pull one out of the air that hasn't even been rumoured yet.
Dale Rose
2
Posted 30/01/2017 at 23:14:08
More like transfer dead wood day . The later it gets, the more they pay.
Drew O'Neall
3
Posted 30/01/2017 at 23:17:46
I didn't like Koeman confirming his interest in Michael Keane. Never liked managers talking about other team's players especially when the other team is of lesser stature.
Trevor Lynes
4
Posted 30/01/2017 at 23:25:45
Out with the old BUT not in with the new!!
I reckon we are balancing the books and recouping what we spent.
John Mckay
5
Posted 30/01/2017 at 23:33:00
Hoping for 1 or 2 really quality signings before the window slams shut. But if there is nothing available now that will improve our squad then best waiting.
I won't be disappointed if we don't sign anyone, it's been a relatively productive window getting Schneiderlin in and Lookman. Getting rid of the fringe players as well is good business, think Kone will be out the door also by tomorrow evening.
Kristian Boyce
6
Posted 30/01/2017 at 23:34:36
Drew #3, I normally feel the same way as you on the subject, but I felt this wasn't that bad. He confirmed he had an interest in him when the reporter asked, but then went on to say a number of other big clubs probably had him on their list too.
He was basically saying we are interested in similar statute players as them. Koeman was being honest as he would want to compete with them if he ever came available.
Eugene Ruane
7
Posted 30/01/2017 at 23:39:27
A letter I saw in Viz - "Football fans. Recreate the magic and excitement of transfer deadline day by sitting in your work canteen until one minute before it closes, then buying a pot noodle for £25."
Kieran Kinsella
8
Posted 30/01/2017 at 23:43:10
Interesting how the U23 role has evolved under Unsworth. He seems to run it like it's a separate team with much buying and selling of players. It's similar to how B teams operate in Spain but different to the traditional English set up. It seems to be working very well as we are producing good players.

Granted, not all of them will be Premier League stars – there aren't many sides who produce lots of players good enough to play league football. Recent exports include Ledson, Lundstram and Forshaw. Others loaned out include Grant, Kenny, McAleny, Connolly, Pennington, Garbutt etc whilst Browning, Barkley and Davies have all cracked the first team squad.

That's a fantastic graduation rate as it were. I am intrigued to hear Unsworth plans more deals on deadline day.
Mick Davies
9
Posted 30/01/2017 at 23:53:53
Anyone heard this Joao Moutinho rumour? ..... Eugene @ 7, love it nearly PMSL
David Hallwood
10
Posted 30/01/2017 at 00:01:31
A bit concerned about backup for Baines, but all in all not a bad window so far.
Anthony Dwyer
11
Posted 30/01/2017 at 00:03:48
I'm buzzing with getting a lot of dead wood out of the club, I'm also happy with the loan deals.
Schneiderlin and Lookman look like great signings, so although I want some more deals in tomorrow, I'd swallow it if we didn't make any further signings if the right statements come from the club.
If the window slams shut (SSN comment) and Ronny came out and said he wanted players of a quality he couldn't get, didn't feel it was right to rush in signing players who weren't his first choices, and stated young lads like Walsh, Pennington, Sambou and Dowell needed chances and would be given such chances to prove themselves, I'd see this window as a success.
If the lads fail to impress, but were genuinely given a chance then no one can complain as these lads look like a talented bunch, and even if just one of the U23 squad managed to make there way into the first team fold we couldn't complain.
Kenny Smith
12
Posted 30/01/2017 at 00:09:12
I'd be happy just getting rid of some fringe players on permanent deals. The kids have proved they can hold the fort till the summer and probably beyond.
Saying that I've just seen Yarmolenko in Flanagan's.
Kevin Rowlands
13
Posted 31/01/2017 at 00:17:45
Not expecting much tomorrow but yes it would be nice to have a suprise, actually very happy with the window so far, got rid of lots of dead wood and brought in quality.
Peter Laverty
14
Posted 31/01/2017 at 00:51:21
My thoughts exactly Kieran (#8). I don't monitor how other teams are going about their Under-23 setup but Unsworth seems to be given a lot of control, trust and funds to develop his own successful side. Hopefully this will continue to bring benefits to the first team.
Dave Lynch
16
Posted 31/01/2017 at 01:01:58
Cheeky bid for Rooney anyone?
Mark Wilson
17
Posted 31/01/2017 at 01:13:13
Dear God, what is it with Evertonians? Less than three weeks ago, January 7th at 17h00 to be precise, thousands of you / us were screaming... and let's get this right, it was SCREAMING for EFC to listen to Koeman and get the wallet out. You ranted and raved for at least four, five new players. You bellowed, raged, and more besides for the club that now had nothing to play for, apparently, to wake up and use the January window to strengthen and then some. Me? Pretty much all of the above.
I am not happy to see us settle for nobody above the age of about 12 arrive by 23h00. I'm not happy that the manager has let the only experienced and relatively proven cover for Baines leave without replacement. I'm not happy that a player most of you have slated, Valencia, is suddenly and it seems conveniently, announced as the "cover" when clearly the manager was himself doing a bit of ranting for significant activity in the current window.
What is wrong with us? We've had months to plan this and get it right. I'm hoping we will do just that tomorrow. We need cover for Rom and no, having listened to most here and elsewhere savage Jags along the lines of "his legs have gone, he can't turn, he can't be run at, he's totally lost it ". I'm right there with you in thinking we still need a top centre back and I'd happily settle now for Adarabioyo as frankly there's a very decent chance he's virtually ready even now at just 19 with limited playing time.
I really do get it. We thrashed the richest club in the world. We won a tough contest away at relegation threatened Palace. In just two games the hugely impressive Davies has gone from potential to the new Alan Ball. If we lose the next two winnable games, badly, and Rom gets injured then that's really the season over, isn't it ? So let's just write off the outside but still achievable chance of European football next year. Let's write of the the chance that several teams above us might see a collapse in form and have a very tough run of fixtures ahead. 6th or even 5th may seem impossible but really, is it? If we maintain the wonderful momentum and confidence oozing thru the squad, if we add a couple more before the deadline it could strongly support an already encouraging upturn. It could, conceivably, play a part in more, quality players arriving in the summer.
Morgan feels like a strong buy. Lookman is hyped already but you sense he's got something. That's it. Good, but we need more and I don't care if common sense and January window prices and availability keep suggesting that's it no more. Just bloody go for it and let's build something now to take into next season and remember it's only six points or so the other way to mid table mediocrity and I thought I'd heard screaming that such a thing wasn't acceptable, but lose the momentum, be unlucky with injuries, and it's a tough gig again.
Still, things may change in the next 22 hours and Mr Moshiri and co may just surprise us. What few digits I have are crossed.
Christopher Marston
18
Posted 31/01/2017 at 01:25:39
Dembele for 㿔 million? Got to be a sound buy, that one.
Gavin Johnson
19
Posted 31/01/2017 at 01:38:39
Bet Spurs are sickened the deal for Dembele fell though last Jan window, Christopher. He was gonna cost them peanuts.
I'm sickened we didn't go in for him. Martinez was meant to be a big fan. Turned out he rated Niasse more highly.
James Watts
20
Posted 31/01/2017 at 03:32:48
Well, no strikers coming in.
From Koeman himself "We have Valencia, that is enough".
Still I don't think it's all bad as we have Kev, Ademola and Valencia all as a second striker. Trouble is if Rom gets injured or decides to down tools again like last year ... well, we'll see if Valencia is enough as a main striker eh?
Gareth Clark
21
Posted 31/01/2017 at 05:32:01
I'm happy with Valencia as back up for the moment to be honest.
Kone has got to go out today - hopefully Moyes comes in again.... think he would actually do well for Sunderland.
Other than that, maybe Dowell going out on loan? I'd be nervous to send him out, cause I REALLY want to win the U23 league! I might leave that for next season – a full season playing every game at a tough level.
Although Besic will be playing for the U23s for most of the rest of the season to get his fitness back - which is a win win situation!

I'm hoping for four or five signings today:
2 First team signings & 3 U23 signings:
CB – Monalas from Roma would be my first choice realistic choice if not L Kone or possibly Keane (would be huge to pull off this window). Realistically Jags will probably leave in the summer, and Williams is ageing, although I think he has been great!
LB - Brady from Norwich, or J Lukaku from Lazio would be my preferred choices.
U23s:
GK: Ramsdale from Sheffield Utd
CB: Adarabioyo from Man City
Attacker: Hirst from Sheffield & possibly Caio Emerson from Brazil.

Craig Fletcher
22
Posted 31/01/2017 at 05:43:38
You're hoping for four or five signings Gareth? By August 2018 or today?
Will Mabon
23
Posted 31/01/2017 at 06:44:45
Believe we're still "Winning" so far, highest fee at 㿄 mil. Wonder if that will see the day out.
Edit: I just checked for developments. I should say for purchases, 'cos I forgot about Payet.
Kieran Fitzgerald
24
Posted 31/01/2017 at 06:46:12
Dembele is playing against championship and league one players. He may be honing his skills from playing regularly but I would still balk at spending £40m.
Holgate, Browning and Galloway may be giving Koeman enough options right now and he may be better off not spending on defenders for now.
Up front Calvert-Lewin may get a chance.
The way the season has gone and felt, we have time and freedom to try the younger players. Why not for now. There is usually little quality in January and it is normally overpriced. We stepped in and picked up Schneiderlin and Lookman in proper time. Unless there is an absolute steal to be had today, I might not bother.
Christopher Timmins
25
Posted 31/01/2017 at 06:49:19
No need for any desperation measures today. If we acquire the boy from Burnley, great, but if there are no new additions lets get on with what we have.
Best of luck to all those who have left particularly Oviedo, hopefully he can recapture the form he showed before his bad injury. I will always remember his goal at Old Trafford.
Will Mabon
26
Posted 31/01/2017 at 06:50:39
Heard a bit of TalkSport just earlier, Kieran, and they reckon his knee injury history will deter some Premier League clubs. Agree though, it's crazy money being rumoured.
Ernie Baywood
27
Posted 31/01/2017 at 06:57:25
I expect us to sign someone. The squad hasn't got any deeper this window. In fact it probably hasn't got any stronger either.
I'm thrilled with Lookman's start but you can't seriously consider him just yet. He's surely one for the future.
So we're back to proven talent. Centre back, full backs, wingers, number 10, striker. We need all of them. Actually we probably still need a keeper. Is it likely that, with such a wide range of players required, at least one won't be available?
No, it won't all happen at once. But we might as well get cracking this month.
David Greenwood
28
Posted 31/01/2017 at 07:12:01
So far we've had a good window. Senior players have left (permanently or on loan) who were not troubling the first 11/18 and don't even require to be replaced. Younger players have left to gain experience on loan and hopefully come back better players, à la Coleman a few seasons ago.
Quality additions have come in.
At the start of the window I would have said a keeper was the priority but fair play to Robles, he's taken his chance and deserves until the end of the season at the very least.
If no one comes in today I wouldn't be too unhappy. I can understand people saying backup for Rom, but I'd question the attitude and desire of an experienced player who is happy to come in as back up.
We might have a smaller squad numbers wise, but it's better quality than when the window started.
Will Mabon
29
Posted 31/01/2017 at 07:18:58
I don't feel there's a desperate rush right now, Ernie. There are improvements that can be made but I don't think it would materially affect the remains of our season now, to the extent that we need to go a-chasing. Of course, it does/would allow players to integrate.
An area of some concern for me is cover for The Predator, but if we had to put effort into just one biggie this window perhaps it should be Keane (though I accept it's an unlikely).
By the summer we could be battling some of the usual Sky League teams for him.
John Keating
30
Posted 31/01/2017 at 07:21:04
Dembele £40m – unbelievable. He's not even the best striker at Celtic.
At that rate, Griffiths is worth more than Ronaldo and Messi combined!
Jamie Sweet
31
Posted 31/01/2017 at 08:45:00
One of the ITK's on twitter claiming we're still working on 3 deals (first team).
Would be a bit disappointed if we finish the day with no new signings after what Koeman has said and what Moshiri has been telling his mate Jim.
Anthony Dwyer
32
Posted 31/01/2017 at 08:45:29
John, it looks like we all missed a trick with Dembele though, he was clearly a talent and we all allowed him to slip through the net.
Van Dijk was the same when he went to Southampton.
Steve Bingham
33
Posted 31/01/2017 at 09:03:05
I'm pleased with the way this window has gone so far as I feel the players who have left exemplify Koeman's influence and intentions just as much as the players coming in.
If between now and 23:00 tonight we get 2 more quality players in and ship out Kone and McGeady, then I really would be on Cloud 9! It's really looking positive as far as I am concerned.
Neil Wood
34
Posted 31/01/2017 at 09:17:45
Jamie whose said this on twitter. Not seen it?
I see Leon Bailey has gone to Germany.
Mbaye nyang to Watford.
Missed opportunities?
Next thing we will see Yarmolenko at Huddersfield Town!
Tony Waring
35
Posted 31/01/2017 at 09:26:56
It's Dembele at Dortmund we should be chasing.
Dave Abrahams
36
Posted 31/01/2017 at 09:30:18
One good player, if we can bring one in, can see us pushing for 6th, 5th or even 4th place, so I hope Everton are really having a go at bringing some established players in.
Phil Walling
37
Posted 31/01/2017 at 09:32:29
No way can you 'claim a good window' until the end of February at the earliest.
If injuries strike and form drops then Moshiri will be seen as tight old bugger and it will have been a disaster. Another few wins and Koeman acclaimed a genius. That's football!
Gary Russell
38
Posted 31/01/2017 at 09:38:37
Your usual bright and breezy, ray of sunshine utterings Mr Walling. I recommend Prozac and gin to take the edge of your raging optimism.
Ben Dyke
39
Posted 31/01/2017 at 09:41:34
January Windows are a damp squib. Getting Schneiderlin was unusual and a good move for January. The rest has been about moving people on and investing in the future (Lookman and U23s).
We should always have low expectations of the January window. Contracts generally run till summer so no out of contracts available and no point paying to release from contracts with only 6 months left.
Liam Reilly
40
Posted 31/01/2017 at 09:58:55
For those who are looking for the Club to spend big and bring in an elite signing today; look back at the Summers transfer deadline day.
Sissoko!
Even Pochettino is publicly questioning this guys commitment and the stark reality is that he would have become our most EXPENSIVE signing EVER.
Read that again folks. I'd rather see the youngsters brought through than sign these mercenaries.
Dave Pritchard
41
Posted 31/01/2017 at 10:03:33
Flipping heck, you mean there's another Dembele out there (see 35)
Stan Schofield
42
Posted 31/01/2017 at 10:08:15
Not too fussed if there are no further signings.
Ernie Baywood
43
Posted 31/01/2017 at 10:18:56
Will 29... it allows players to integrate (as you said) and gets a head start on the summer. If we need another 5 or 6 players then buying them all in the summer isn't a likely option... get a couple in now. Even if we'll probably finish 7th regardless.
Plus we all like a deadline day deal don't we!?
Ernie Baywood
44
Posted 31/01/2017 at 10:20:00
Liam, if we exclude mercenaries from our team, we won't have a squad!
Gordon Crawford
45
Posted 31/01/2017 at 10:33:02
Everyone would love that marguee signing, including me. I do think it will happen, but just not yet. And I'm okay with this. As long as we keep moving forward and make steady progress then I'm happy. We have some exceptionally talented kids and they should be given our priority. It's time for them to shine.
Im happy to see that we are getting rid of some players who need moving on. I wish them all the best for the future.
Coyb. :)
Stan Schofield
46
Posted 31/01/2017 at 10:36:02
Well, I'm not necessarily interested in so-called marquee signings. Man Utd recently paid over £80M for one of those, and he's crap compared with our Gana who cost £7M.
Scott Hamilton
47
Posted 31/01/2017 at 10:37:17
Kenny (12) – I've just seen him in Lucky's Blue Dragon on Goodison Road (half chips, half rice with curry sauce and 4 spring rolls on the side, in case you were interested)...
Brian Wilkinson
48
Posted 31/01/2017 at 10:56:28
Well, players we wanted out, we have managed to ship a few out, none of the so called bigger fish are sniffing at our better players, youth given a chance, all-in-all we have brought strength in, got rid of lesser players.
May have to wait til the Summer for signings so do not be too downbeat, we have made room for the Financial Fair Play rules, players shipped out to accommodate more incomings, add to that we have Gaye back, Besic on the mend, Bolasie for next season, Lookman and Schneiderlin added.
If we can add now great, if not Summer will be where we start phase 2 on rebuilding. All-in-all, it's been a great window.
Stan Schofield
49
Posted 31/01/2017 at 11:03:11
Mark@17: And a lot of us weren't shouting as you describe, and the Man City and Palace games haven't changed significantly the perceptions of many of us. Good results, yes; promising developments, yes; decent signings, yes; and good players coming through, yes;, and hopefully more signings as and when targeted. But not desperate splashing of cash in this transfer window.
Sometimes these transfer windows are worse than going to the Trafford Centre for the January sales.
Paul Brierley
50
Posted 31/01/2017 at 11:03:12
We have to appreciate the rebuilding here, guys. Whatever about bringing new faces in, they will have to be a significant step up in quality and not just what we have endured for years, journey men with the odd diamond unearthed.
The MOST significant plus this window is the shedding of players that will not be part of our new standards. I for one think this window has been beyond best expectations, a lot of players have been either moved on or given an opportunity to move on permanently. This is a huge measure of success and bodes well for short to medium term rebuilding.
Onwards & upwards!
Danny Halsall
51
Posted 31/01/2017 at 11:11:09
This will probably be the first deadline day that I won't be waiting in anticipation for an 11th hour signing. I think we are fine until the end of the season, doesn't make any sense to pay over the odds now for players who may not be our number one targets. Let's keep our powder dry for the summer.
In terms of the squad we have at the moment, we are short in a few areas when you look at the injuries we have and the list of players we have allowed to leave the club this month. However, you must also factor in that we have no European football to deal with and we are out of both cups. With only league matches to play and the busy Christmas period behind us, we don't really require a bigger squad than what we have at the moment.
I am more than happy for Koeman to let the young boys from the U23s have an opportunity for the remainder of the season. And not forgetting, we have signed a quality midfielder and a forward who looks as though he could be a real player for us in the future.
I will probably still be watching SSN tonight, but it will be without the usual knot in my stomach.
Brian Hennessy
52
Posted 31/01/2017 at 11:17:47
I wouldn't mind seeing us sign Robbie Brady from Norwich. Approaching his prime at 25. He would offer something different on left side of midfield and can also play left back if needed as cover for Baines.
He is also a better corner taker than anyone we have at the club. Fee being quoted is around 12 Million so not too expensive in today's market.
Brian Harrison
53
Posted 31/01/2017 at 11:26:56
I see RK was quoted in the Liverpool Echo saying they had bids for Kone. Surely it makes sense to offload a player who hardly gets on the bench never mind start a game.
I am quite happy if we make no more signings as the price you pay in Jan is always at the top end, so go back in for Keane at Burnley in the summer if he is the player Koeman wants.
Laurie Hartley
54
Posted 31/01/2017 at 11:38:17
There is talk of Bournemouth putting a bid in for Nathan Ake who has been recalled by Chelsea. That lad is a a good footballer – one I would like us to sign.

Phil Walling
56
Posted 31/01/2017 at 11:53:14
Gary @38. You must know that two very decent performances do not a season make. Anymore than a big name from Manchester United who can't get into the team (theirs or ours!) means it has been a sunshine window!
A time for optimism granted but surely another month – at least – before we can start the handstands!
Trevor Lynes
57
Posted 31/01/2017 at 11:56:12
I tend to agree with Mark #17.We have now become so accustomed to disappointment at each and every window that is becoming the norm.
Look at the actual facts ; We have bought ONE proven Premier League standard player in Schneiderlin.We have bought ONE promising young player who may (or may not) come good.
The rest of the youngsters brought to the club are for the so called future.
We now have Davies and Holgate blooded into the starting side but still un proven over any sort of period.Valencia is no where near good enough to cover for Lukaku.
Apart from Niasse and Gibson so far we have loaned out or sold Oviedo who covered for Baines and Cleverley who covered in midfield.
An injury to Lukaku would be alarming.This kid has scored more than double figures League goals so far and the nearest to him is Coleman with four.Barkley's tally is Three which matches Mirallas and Baines.Barkley has scored just 19 League goals in 134 matches.
I am disappointed with this window and all our investors are doing is getting back the money spent as quickly as possible.
Gary Russell
58
Posted 31/01/2017 at 11:58:33
I never said a word about performances Phil, I merely suggested on another thread that the clear-out, in my opinion is a good window.
Tim Sharpe
59
Posted 31/01/2017 at 12:08:52
Gabbiadini to Southampton, were we not in for him in the summer, and for £14 million, seems good price?
Keane from Burnley?
Hopeful for one more signing, or one first team one, and the young keeper from Sheffield United
Alan Newton
60
Posted 31/01/2017 at 12:31:35
The David Henen situation always baffled me. We loaned him from a club he had just joined, bought him later (did he even set foot in Greece?) and then we loaned him out.
Sam Hoare
61
Posted 31/01/2017 at 13:23:07
Pretty dull deadline day so far!!
Looking like we might be done but don't be surprised if Kenwright springs a cheeky last-minute something...
Surprised we did not throw our hat in for Gabbiadini if rumours about last Summer were true. Guess Lookman has filled that spot and impressed Koeman so far.
Reckon our squad looks a bit thin in places and injuries to Baines and Lukaku in particular would hit us badly. Looks like Koeman has a lot of faith in the U23s given the shipping out of senior bench warmers.
Alex Parr
62
Posted 31/01/2017 at 13:30:24
I see on the BBC gossip page, that West Brom are meant to be having a pop for Jay Rodriguez at Southampton. 㾶m the fee mentioned. I have rated him since his Burnley days and I would definitely be interested in him at that price - I know he has had a bad injury but hes a good link up player and definitely provides cover / support for Rom.
Either that or make a cheeky bid for Shane Long who I think given his age (30) would be good cover for 2-3 years yet, a rapid, hard-working player with a better eye for goal than his stats would suggest, very underrated. I think he is an Everton type of player and would definitely be good cover.
Ian Hollingworth
63
Posted 31/01/2017 at 13:45:08
David Henen moving? Wasn't he one for the future?
Gary Russell
64
Posted 31/01/2017 at 13:47:00
Alex, wasn't there murmurs he was an Evertonian?
Ian Hollingworth
65
Posted 31/01/2017 at 13:48:39
Happy we have shipped out a lot of deadwood and long overdue.
However we still need some top quality players for the first team to compete.
I know this will take a few windows but I would have liked even expected at least one more from that category in this window.
John G Davies
66
Posted 31/01/2017 at 13:52:07
I would be still happy if we don't sign anymore players until summer.
Look at the players brought into the club since Koeman was appointed. Then look at the players who have left since Koeman was appointed.
No denying we have a massively improved squad.And all at a cost to date of just 㾽.5 million.
Joe Digney
67
Posted 31/01/2017 at 13:54:57
Make a £10 mil bid for Yarmolenko; if it's turned down, then fine... if it's accepted and he wants to test himself in the Premier League – great.
He has the quality to add some attacking spark to the first team squad.
Stan Schofield
68
Posted 31/01/2017 at 14:00:01
John, yes, as you say, the squad is definitely improved. How massive the improvement is, I wouldn't like to say. I imagine we'll get more improvements in good time, but yes, no need to be unhappy about the current situation.
Steve Ferns
69
Posted 31/01/2017 at 14:00:40
As the squad stands, I'm happy with it, save for a lack of cover upfront.
GK: Robles, Stekelenburg, Hewlett – we should only sign a player of the level of Hart or Butland.
CB: Williams, Jagielka, Funes Mori, Holgate, Pennington, with Browning and Galloway to return.
I think Keane would be a wise investment at the right price, but I'd like to see promotion from within with Holgate and Browning or someone else promoted to first team duties over the next 18 months.
RWB: Coleman, Lennon, Kenny – as we now play 3-4-3, Lennon is Coleman's backup and I think he can play this role well. I'm glad we kept him.
LWB: Baines, Foulds – can Galloway play LWB long term? I think CB to LB is doable but it might be a stretch to LWB. Foulds looks promising. I've written off Garbutt now.
DM: Barry, Gueye, Schneiderlin, Davies, Besic, McCarthy
- we're overstocked here still as it's 2 from 5.
AM: Mirallas, Barkley, Lookman, Valencia – we are light here. Sure we'd be okay if Bolasie was fit, but he's out for over 12 months, so I wouldn't bank on him again. If he comes back it's a bonus. Why then loan Geri out? I don't think Davies can play off the striker. He's better deeper. What about Dowell? We need a proven AM for me. Also this position within a 3-4-3 is central or in the channel. It's not hugging the touchline or the player is blocking the wingback. This also means we have less options should we go 4-2-3-1, 4-4-2 or 4-5-1, as we no real wide players now.
CF: Lukaku, Kone, Valencia, Calvert-Lewin.– we are surely desperate for a striker. If Lukaku is injured for more than a game we are screwed.
If we sign just one player it needs to be a striker. Even a backup type. We need a body.
As for the summer, I'm happy with minimal incomings and to monitor the development of the younger players.
John Raftery
70
Posted 31/01/2017 at 14:01:09
Barring accidents, we will finish 7th in the league. I can see little point in chasing questionable signings today just for the sake of it.
We will have identified a list of players who will improve the squad not for the next three months but for the next three years. If we can get any of them in today that will be great. If we can't I will be quite happy to wait until the summer when clubs will be more prepared to sell.
Nicholas Ryan
71
Posted 31/01/2017 at 14:08:03
In the matter of transfers, we need to be less emotional and more pragmatic. There is a level of player – De Gea, Courtois, Ibrahimovic, De Bruyne etc. who are just not coming to Everton, at least not till we've been in the Champions League 3 seasons in 4.
Therefore, we need to look at the level just below superstar. I put Lukaku in that category. And Schneiderlin.
Then we need to look at players who are very good, but for some reason or other, not wanted by their clubs: Gareth Barry would be a good example.
The other source is youngsters; home-grown, like Rooney, Barkley, Tom Davies, or foreign, who haven't yet attracted the attention of the megaclubs; e.g. Funes Mori.
So, let's be realistic and pragmatic. We are looking at:
1. The 'not quite' superstars
2. The Misfits
3. The youngsters
If none of them are available, then we should not buy. If you buy in a last-day panic, you pay 㾹.5m for Niasse, when Andros Townsend goes for 㾸m [Rafa has just bid 㾻m to buy him back].
So, let's be patient, let's be realistic, and let's not panic and throw money away.
Stan Schofield
72
Posted 31/01/2017 at 14:23:40
Nicholas, I know some Evertonians don't agree, but imo (and that of an awful lot of non-Evertonians), Lukaku is top-notch.
Denis Richardson
73
Posted 31/01/2017 at 14:30:53
Would love another player to come in but tbh I'm already satisfied with the window. The club had so much baggage to get rid of and this window has been nothing short of amazing given how many dead weights we've gotten rid of (admittedly a couple on loan not perms but Gibson is finally GONE!).
The likes of Oviedo and Deulofeu could have stayed as squad players but letsbe honest, they haven't really contributed and have not played that much so won't really be missed. Only reason to keep them would have been purely as back up, which wasn't probably fair to the players.
If Kone also goes, that'll be the icing on the cake. With so many moved out, RK has a lot of wiggle room re wages to focus on who he wants in the summer. The squad right now is good enough to finish top 7 if not a bit higher.
Building still to do but we're on a good track.
Steve Ferns
74
Posted 31/01/2017 at 14:34:24
Stan, I have a high opinion of Lukaku. He is as good a striker as we have had since Andy Gray, my all time favourite striker. For me he's head and shoulders better than Ferguson, Campbell, Cottee, Yakubu, and everyone we have since Gray. Maybe Lineker was as good but he was only here a year.
However, is he in the world class bracket? I would say no. For me world class is the category who you would put up as contenders to get into a team you would argue is the best in the world. Lukaku doesn't come into that argument. He's the level below. And I think this is what Nicholas and others think too.
Some Blues think he's not even that good, because of laziness, poor first touch or whatever. But for me, he's the level below world class. Maybe he can be world class in time, who knows?
Rob Halligan
75
Posted 31/01/2017 at 14:52:32
Passed Finch Farm before. Not a sign of anyone, no sky cameras, no Vinny O'Connor ... nothing. I guess we're done for this window, unless any transfers happen at Goodison.
Tom Bowers
76
Posted 31/01/2017 at 15:16:14
I think with the current league position it is unlikely anymore big deals will be struck in this window. With the recent good results coinciding with one or two players really turning their games around somewhat, I feel the boss will stick instead of twisting for the time being.
Any big deals today will surely be well overpriced. Probably best now to wait till the Summer.
Phil Malone Jnr
77
Posted 31/01/2017 at 15:22:05
Center back and a winger before the window closes please.
Mauricio Lemos would be a cracker. Don't care how much Van Dijk is, go and get him. Michael Keane will be 㿊m+. All fit the bill.
A winger, Cristian Pavon, Federico Bernardeschi or anyone with quality.

Dan Egerton
78
Posted 31/01/2017 at 15:25:35
Our current squad is good enough to push for Europe right now. Getting anyone in in the next 6 hours would be great but if we don't I wont be panicking.
John G Davies
79
Posted 31/01/2017 at 15:26:08
Rob.
I think they do all the filming behind closed doors now. If I recall the reason, it is as a result of one of the reporter's being struck on the head with a purple dildo when he was on air. :-)
Dan Egerton
80
Posted 31/01/2017 at 15:27:30
Koeman looks content to play with what we have now. He's looking to the Summer for more players. I don't think we will sign anyone in the next 6 hours or so.
Rob Halligan
81
Posted 31/01/2017 at 15:33:47
Thought I'd got away with that, John..😂😂😂
John G Davies
82
Posted 31/01/2017 at 15:42:08
Rob.
Fuck off. Just spilt me tea laughing
Matthew Williams
83
Posted 31/01/2017 at 15:44:19
Still reckon we'll bag another one from somewhere...a Striker would be nice 😊.
Geoff Lambert
84
Posted 31/01/2017 at 15:47:38
Just heard from my friend at Everton "no business today as the players we want are not being sold in January".
Tom Bowers
85
Posted 31/01/2017 at 15:57:14
On the subject of Henen, it has to be said that this signing and quite a few others in recent years have been very puzzling to say the least. Someone in the scouting ranks is obviously out of his depth or maybe they went when Moyes and Martinez went.
Steavey Buckley
86
Posted 31/01/2017 at 16:19:39
No left back cover for Baines. All other options have been sold or loaned out; while Garbutt has stopped playing football for anyone for quite awhile, because no one wants him.
Mike Moore
87
Posted 31/01/2017 at 16:43:54
Steve #74, Gary Lineker may have only been with us for one season, but in my opinion was the best striker I've ever seen in a royal blue shirt by a country mile.
Sean Dullard
88
Posted 31/01/2017 at 17:32:39
FFS Everton, get cracking. 5 hours and no one linked! I hate the last day, always the fecking same old!
Tony Waring
90
Posted 31/01/2017 at 17:40:54
Dave (41) yes another Dembele. He's only abut 19 or 20 and I saw him playing for Dortmnd a few weeks ago on TV. Really tricky, quick and has a great shot.
There must be a Dembele tribe out there somewhere. We should send out a search party to the Black Forest.
Joe Digney
92
Posted 31/01/2017 at 18:01:08
Don't think sky have even mentioned Everton once yet, can see kone going later and that's about it.. "Evertonian" Jim white is on now quite frankly the man just makes me cringe constantly.
Rob Halligan
93
Posted 31/01/2017 at 18:03:11
Moussa Dembele in London for a knee scan, according to SSN. Transfer to Chelsea?
Kristian Boyce
94
Posted 31/01/2017 at 18:08:18
Rob @93, Dembele joining the abyss of young players at Chelsea. I'm looking forward to sign him on loan in a couple of years after him only making 1-2 appearances for the club.
Rob Halligan
97
Posted 31/01/2017 at 18:23:21
Seems a bit unusual, Kristian, for Dembele to be having a scan in London today. Don't they have scanners in Glasgow? Probably nothing to it, but if I was a Celtic fan, I'd be worried for a couple of hours.
Rob Halligan
98
Posted 31/01/2017 at 18:52:14
SSN reporting Arouna Kone to join Palace, but only on loan. As his contract runs out this summer, it's the last we've seen of him.
Chris Williams
99
Posted 31/01/2017 at 18:56:45
All the scanners in Glasgow were robbed. Selling in pubs roundabout now, as tanning beds!
Soren Moyer
101
Posted 31/01/2017 at 19:02:40
Zero activity on Deadline Day! It's worrying indeed as we need cover in so many positions.
Darren Hind
102
Posted 31/01/2017 at 19:03:31
Its going to be interesting from now on in. People have been calling for a couple of transfer windows for Koeman to put his stamp on the team; after midnight he'd have had them.
I was firmly in the camp that wanted John Stones to stay, but I can't blame Koeman for his sale. Negotiations were going on long before he got here and Stones wanted out so there was no serious option. However, the 㿛½M Moshiri got for Stones was a wonderful windfall for Koeman and every penny was made available to him.
I have to admit I was not impressed with the first intake. I didn't see much improvement for 㿞M. I just hope the second intake does the trick and we see our team motor up the table. Morgan Schneiderlin can hopefully leave his Man Utd form behind him and I've got high hopes of young Lookman.
We haven't spent as heavily as we did in the last window and although Koeman recouped the money for Lookman by leading TGT up the garden path, he will still have been backed to the tune of over 㿲M. That's more than any Everton manager .
I guess we will see what he's made of now...
Terry Downes
105
Posted 31/01/2017 at 19:17:22
Might as well get Galloway back from West Brom, have him as backup to Baines!
Gerard McKean
106
Posted 31/01/2017 at 19:19:22
I don't know how old you are Mike #87 but I think Bob Latchford runs Gary Lineker close. My Dad always reckoned Tommy Lawton would have threatened even William Ralph's mighty feats had WWII not robbed him of his best years. 34 goals in Everton's title winning year of 1939, and he had not yet even celebrated his 20th birthday!
A great shame that neither Tommy nor Gary could stay longer with the club. Hitler was to blame for one and I always blame the bloke with a stand named after him for the other. If Carter had stood his ground after Heysel as Chairman of the Liverpool Conservative Association, and Everton Football Club, and President of the Football League then Thatcher would not have got away with banning English teams from playing in European competition and Lineker might have stayed. But I know my place and I tip my forelock to the fact that Carter was rewarded with a knighthood a couple of years later.
Well only a few hours to the end of another deadline day and will Steve Walsh find us another 17 year-old Lawton?
Phil Malone Jnr
107
Posted 31/01/2017 at 19:22:57
Don't want to be negative, but is anyone else disappointed with this window?
I know we can take positives, but overall I feel we needed to add more.
Mike Berry
108
Posted 31/01/2017 at 19:23:31
If there are no more incomings, taking into account the summer and January transfer windows, then I am very happy. We have Schneiderlin and Gueye, who was delighted on this signing and stated on the lines of "with this signing, it is going to be very hard for any team to get through Everton's midfield" and he is spot on. I can only assume that perhaps he encountered Schneiderlin as an opponent when he was at Villa? And realizes how combative he is.
Added to this Ashley Williams to strengthen the defence. Valencia, who has pace to burn, and the exciting Ademola Lookman, and we have done well.
The youth signings of Calvert-Lewin and Anton Donkor, who both look really exciting players with the physicality and the ability to make the first team.
Plus 㿛½m for John Stones ... additionally Cleverley, Gibson, Oviedo, and possibly Kone and McGeady off the wage bill. Overall, a fantastic turnaround, surely we musn't grumble?
Tony Abrahams
109
Posted 31/01/2017 at 19:25:32
Let's hope he succeeds Darren, he's certainly gone about getting rid of nearly everything he doesn't want, in one big go, which could back-fire if we have a couple of injuries. But who doesn't feel more positive about the way the club seems to be heading now?
Darren Hind
110
Posted 31/01/2017 at 19:26:22
Sharpie was our best center forward since the sixties. Not only did he score great goals himself, but everyone who played next to him (Inchy, Lineker and Gray ) all enjoyed their best seasons with Sharpie as their partner.
No coincidence that
Darren Hind
111
Posted 31/01/2017 at 19:37:08
He has to succeed, Tony, or we are back to square one having spunked a load of money.
I've voiced my reservations often enough, but he's the boss whether I like it or not and we have to prey he has what it takes.
Like I say, we are going to find out over the next year or so.
John G Davies
112
Posted 31/01/2017 at 19:46:57
http://www.twtd.co.uk/league-tables/competition:premier-league/form/matches:6/type:home-and-away
Should be ok if we continue in this form.
3 goals against and 12 goals for in last six matches.
Took Koeman four months or so to look at options then work his best formation to play and choose players to start games.
Having done that work the results are rolling in.
Koemans influence on the team is kicking in
Obvious to see by recent results.
Tightened the defence up without spending big.
While teams who have spent big on defensive recruitments are leaking goals.
Big improvement in the quality of the squad.
Mike #108.
Your right we shouldn't grumble.
But one or two will.
Tony # 109
Very few is the answer to who doesn't feel positive about the way the club is moving.
Darren #110.
Sharpe for me too.
After Andy learned him the centre forwards art he was the business.
We have spunked 㾽.5 mil to date in Koemans reign.
Chicken feed.
A vast improvement in the squad with the transfer budget virtually untouched.

Chris Leyland
113
Posted 31/01/2017 at 19:52:37
Darren - so you haven't been impressed with Gana from Koeman's first intake of players then?
Plus, I assume that you are referring to a single year when you state that he will have been backed more than any other manager to the tune of £70m given that Martinez spent £102m on players according to Transfermarkt.co.uk, which incidentally puts Koeman's overall outlay at circa £72m thusfar?
Mark Morrissey
114
Posted 31/01/2017 at 20:00:24
Bob Latchford was a better striker than Sharpie. Saw them both up close and it may have been my age but I saw Latchford score his 30th goal in the season 77/78 ?? about then and just preferred watching him rather than Sharpie. Bob was fast, could do everything as a striker and was an all round better player. Only my opinion. How we could do with him or Sharpie signing for us on Transfer Deadline Day.
Brian Harrison
115
Posted 31/01/2017 at 20:08:24
I don't think we are any worse off after getting Oviedo, Gibson, Cleverley and Niasse off the books. They were never going to be regular starters and in most cases probably when everyone is fit wouldn't even make the bench.
We have an U23 side that is topping their league, so surely it makes sense to get rid of the players who are surplus to the manager's needs and let the youngsters come through and take their places.
Gavin Johnson
116
Posted 31/01/2017 at 20:14:49
Darren,
Koeman has spent peanuts precisely because we fleeced City of 㿛½m. He's not even made a dent in the 𧴜 million Moshiri was supposedly making available for transfers. There's also the bumper Sky deal and by the end of this window we will have saved a huge sum on the wages of all the ineffectual players we've offloaded this window.
I'm disappointed we haven't brought anyone in today. Personally, I would have offered 㾶m for Yarmolenko. I guess Lookman's made a big impression on Koeman but we're still short in those positions after Bolasie's injury. Lookman has only replaced Deulofeu. I should imagine that we'll play 3 at the back for the most part of the season so lack of wingers might not be as important.
The saving grace for this window is that we've got rid of the deadwood. I didn't think we'd be able to offload Gibson or Kone to anyone.
Keith Purcell
117
Posted 31/01/2017 at 20:27:46
Not happy at all at the moment... we're needing attacking options to help with chances on goal and for Lukaku, but nothing. Where are the 5 key players we were getting in January and the two Koeman said in his press conference today???
Darren Hind
118
Posted 31/01/2017 at 20:32:29
So let me get this right, Gavin... because Moshiri got ~㿞M from Man City then immediately made it available to Koeman... Koeman hasn't spent it? So we still have it then? Or was it a different 㿞M?
Stones was gone before Koeman took charge of a proper game. That money was a windfall and to claim it was part of Koeman's net spend is toe curling.
Dress it up all you want, Koeman has spent 㿲M in seven months. That would have been well over 𧴜M if Sissoko hadn't stiffed him.
Tony Abrahams
119
Posted 31/01/2017 at 20:35:33
Again, I hope you're right Darren, but I think it might take a bit longer than this. Who knows? I was bored, frustrated and totally bemused by Koeman, just over a month ago, but suddenly we seem so much more professional, and look like a club, that have got a log-term plan?
To shift so much dead-wood, and hopefully make some room for a couple more kids from the 23's, to come and join the squad, fills me with a lot more hope, and is surely a much better policy than paying way over the odds for players who are nothing out of the ordinary?
This summer now will be a lot more important, because it's one thing getting rid of mediocre, but Koeman, and Walsh have got to replace ithem with quality.
Nicholas Ryan
120
Posted 31/01/2017 at 20:41:31
On the subject of strikers, I heard one of the best shouts ever in Gwladys Street, just as Bob Latchford was hitting his 30th of the season. A guy behind me, wasn't much impressed with Bob's all-round skills, and remarked:
"He's shit that Latchford, all he ever does, is score goals" !!
John G Davies
121
Posted 31/01/2017 at 20:54:58
Darren.
If Koeman told Moshiri he wanted Stones in his squad, would he have been sold?
Gavin Johnson
122
Posted 31/01/2017 at 20:58:53
He has spent 㿲m, Darren, but Koeman's net spend is only 㾻m. It's peanuts! You also have to take into account incoming money. I think your argument is more to do with what the money's been spent on.
I'm very happy with the business so far. Williams, Gana, Schneiderlin, Lookman. The only player I would question the acquisition of would be Bolasie but that would be for the fee we paid. I doubt the fee will be more than 㿂m now he's had the injury but even that's on the high side. But that's the market at the end of the day. I do rate the player though.
Sissoko would have been bad business and reeked of panic buy, but it didn't happen.
I had a few doubts around Koeman's faith in youth but he's allayed those fears. Selling all the deadwood this window and waiting for players we really want in the summer and having faith in the U23s as cover in the meantime is very encouraging.
Don Alexander
123
Posted 31/01/2017 at 21:15:26
Latch was very like Lukaku in that goals aside he wasn't active. Not for nothing was his nickname "Roots-in-his-boots" according to Duncan MacK in his after dinner speeches.
Sharpie wasn't a prolific scorer but by God he was active. When Glen Roeder was asked in the mid 80s who was the most difficult forward. He said it wasn't Rush or any of the poachers, it was Sharpie. He said Graeme constantly took positions in every game that were a living nightmare to defend against. That's probably why so many of Graeme's team-mates became the scorers they were. He had defences in a scramble.
As an aside I always admired Wayne Clarke's attitude and performance when he was with us. Wish we could sign his modern day equivalent tonight!
Kristian Boyce
124
Posted 31/01/2017 at 21:24:07
One thing to come from this window is that this summer is going to be HUGE. We've cleared house and potentially more will go at the end of the season. I'm predicting that this will be our biggest and most defining summer ever.
Bill Watson
125
Posted 31/01/2017 at 21:27:38
I'm not all that concerned about the lack of incoming signings: certainly not as much as I would have been a month or so ago. Koeman finally seems to have noticed we have an Academy so, if we have injuries, suspensions, loss of form etc, he'll hopefully give some of them a chance.
Best centre-forward in my time? Bob Latchford by a country mile! The only problem with going with Big Bob is that it ignores the superb Alex Young.
The likes of Young and Best played on mudheaps, bone-hard ice rinks, and had to contend with ruthless defenders in an era when you had to virtually kill someone to be sent off. Imagine what they'd be like playing in today's virtually contact-less game played on bowling-green pitches!
Brent Stephens
126
Posted 31/01/2017 at 21:28:34
Agree Kristian, we need more than a couple of windows and half a season.
Eugene Kearney
127
Posted 31/01/2017 at 21:35:05
McAleny gone now... just a big clear-out this month!
Geoff Lambert
128
Posted 31/01/2017 at 21:39:39
Looking very much like we are going to be using the U23 lads quite a lot; how many are ready to make the step up?
Ian Hollingworth
129
Posted 31/01/2017 at 21:49:53
The cynic in me says that this big clear out is about saving wages and that the money saved is for the stadium.
Maybe that's fine and dandy but we need a team capable of competing.
Paul Conway
130
Posted 31/01/2017 at 21:57:23
I really think that, regarding EFC,m Koeman is learning as he is going along. He has only now realised the wealth of talent that he has inherited ... In the U23s! moment. He himself assisted at the match last night and possibly saw enough to satisfy.
The revolution is starting with the youth. And he has realised it. Although our very own Unsy has seen it a long time ago. Hence, the investment in young players, Donkor, Sambou, etc..
IMO, that is the reason for the wholesale clear out, without any apparent replacements. But, the replacements are there, chomping at the bit, at the ready to slip seamlessly into the fray. Let them loose I say, let them looooooooose!

Colin Glassar
131
Posted 31/01/2017 at 22:00:03
We must be saving quite a few bob on wages now. I was hoping for 1-2 more players but just getting rid of the stiffs has more than made up for it.
Mark Morrissey
132
Posted 31/01/2017 at 22:02:39
So the young England U19 keeper we were after has been signed by Bournemouth on a 4-year contract because we wouldn't part with ٟ million... is that right? And Gabbiadini has gone elsewhere. Didn't we want him last summer? Is Kone on his way?
John Dean
133
Posted 31/01/2017 at 22:02:57
Unsy must have told Koeman to clear the log-jam and let his boys come through.
I'm surprised we didn't take the offer for Courtney Duffus. He was made to look quite clumsy when Bassala Sambou came on last night and created and took his goal brilliantly before showing Liam Walsh how to dilly dally home a penalty. This boy looks the business.
Adam Scott
134
Posted 31/01/2017 at 22:04:29
I would give WBA their money back and have Galloway back... other than that, though, I see no point in spunking a load of cash for an average player.
How many big teams have bought in anyone? None really. City have Gabriel Jesus and we have Schneiderlin. Speaks volumes.
We have 5½ months of the season... don't panic now. It is a gamble with Lukaku, I agree. Having Belfodil or Gabbiadini Available now but in the enlarged summer market maybe 5/6 choice is more of one though...
Colin Hughes
135
Posted 31/01/2017 at 22:04:34
God help us though if Lukaku gets a season ending injury, which seems to happen all too often with our players.
Valencia is the only out-and-out striker left at the club.
Darren Hind
136
Posted 31/01/2017 at 22:06:39
Gavin, we went through this when you were apologising for Martinez on his net spend. Everton's / Moshiri's net spend may be £15m... but how can you just wipe £50m off Koeman's net spend?
The guy did not kick a ball for Koeman... at least Moshiri was here when he played for us and actually parted with something for his money.
You may be happy with the windows, but that doesn't change how much Koeman has spent.
Sissoko would have been a desperate move, but it would have happened if Koeman got his way. The fact that he was stiffed was just good fortune. The fact is, he was backed a further £30m and went for a water carrier who didn't want to know.
Like I say. I hope the next intake is better than the first. Schneiderlin is a much better player than Sissoko.
I don't know how much you get for each place in the league these days, I think it's £1.5 million per place.
Colin Glassar
137
Posted 31/01/2017 at 22:07:43
Is it true BPB got tired waiting for the Tom Bombadil deal to go through and let it dry up?
Joe Clitherow
138
Posted 31/01/2017 at 22:11:24
Gerard 106
I think you need to revise your alternative facts. Thatcher had nothing at all to do with "banning English teams from playing in European competition".
Though she may not have raised any protest at it, and neither did her odious Miniature for Sport Colin Moynihan, the ban came from solely from UEFA after the actions of our lovable neighbours at Heysel.
Exactly what you think Sir Phil and the Liverpool Conservative Association could have done about that I have no idea.
Andrew Ellams
139
Posted 31/01/2017 at 22:13:03
I just think one top name signing could have revitalised a season that is in danger of fading away into mediocrity.
Adam Scott
140
Posted 31/01/2017 at 22:15:51
They evidently aren't available Andrew. The fact that Schneiderlin is the biggest signing of the window (I think...) is probably testament to that.
I would call him that as well, but there you go...
Mick Davies
141
Posted 31/01/2017 at 22:16:34
Joe @ 138, I'm afraid you're incorrect.
Martin Nicholls
142
Posted 31/01/2017 at 22:17:40
Wonder what Steve Walsh has been up to?
Paul Tran
143
Posted 31/01/2017 at 22:18:40
Interesting that with a bit of effort, the removal of several unwanted players has actually happened. Now we'll see how good the youngsters are.
Now the hard bit will be persuading quality players to join us, whether it's in the next 45 mins or in the summer.
Mick Davies
144
Posted 31/01/2017 at 22:19:29
Oliver Molloy
146
Posted 31/01/2017 at 22:24:55
Darren,
You give off the impression that you want Koeman to fail no matter what.
Andrew Ellams
147
Posted 31/01/2017 at 22:28:07
Looks like Hull have signed the Polish guy Grosicki that we were linked with in the summer. Did we lose interest?
Gavin Johnson
148
Posted 31/01/2017 at 22:29:38
Darren, there was no apologizing from me from me for Martinez's net spend. He signed a mixed bag, but so did David Moyes who was the manager that you used as the yardstick, Darren. That's why you got accused of being a fan of Davey.
We've got rid of the deadwood now. We consolidate 7th place and get the announcement for the new stadium, and then we'll be in a much better place to sign the real targets we want in the summer.
Andrew #147
Apparently the Polish lad was a dud Walsh signed for Leicester. He's not at Premier League standard at this time. I think we did well to swerve him.
Andrew Ellams
149
Posted 31/01/2017 at 22:38:20
Gavin, Grosicki has never played for Leicester or anybody else in England.
Colin Glassar
150
Posted 31/01/2017 at 22:43:05
I think Walsh's role at Everton is different from the one he had at Leicester. Chairman Bill and his sidekick appear to be our scouts these days.
Gavin Johnson
151
Posted 31/01/2017 at 22:45:03
I'm getting mixed up with the similar sounding Polish names. Yes, you're thinking of the guy with the bad haircut who played on the wing and plied his trade in France, Andrew?
I was thinking of the young lad who played for Poland. Steve Walsh signed him in the summer before he left Leicester. He played in a pre season friendly against Barca but has never played in the premier league. We were linked with both Poles.
Brent Stephens
152
Posted 31/01/2017 at 22:47:28
Colin "I think Walsh's role at Everton is different from the one he had at Leicester. Chairman Bill and his sidekick appear to be our scouts these days."
Where on earth do you get that from?

Mick Davies
153
Posted 31/01/2017 at 22:47:34
So much for the 'wise friend of Farhad' Jim Shite ... he told us a week ago Everton will be bringing more players in; obviously not as informed as he thought he was.
John G Davies
154
Posted 31/01/2017 at 22:48:23
Darren.
I will take your non answer as a confirmation that if Koeman wanted Stones in his squad he would still be here. Koeman had the final word on the sale.
Williams arrived at Everton one day after Stones left. By your reckoning, Koeman did not buy him?
Joe Clitherow
155
Posted 31/01/2017 at 22:49:56
Mike
I don't need links, I remember that. It was a damage limitation by the FA because they knew the UEFA ban was a given.
As I said, Thatcher supported it, but there is no question in my mind that the RS and UEFA banned us from Europe, whatever the political sideshow that surrounded it.
John G Davies
156
Posted 31/01/2017 at 22:50:19
Idrissa Gueye signed 1 week before Stones was sold .
Another one who Koeman didn't sign.
Colin Glassar
157
Posted 31/01/2017 at 22:50:24
The Beano, Brent.
Brent Stephens
158
Posted 31/01/2017 at 22:52:23
Colin, I'm convinced then! Billy Whizz it was!
Brent Stephens
159
Posted 31/01/2017 at 22:55:28
John G. D. - good enough for me.
Mick Davies
160
Posted 31/01/2017 at 22:59:25
Joe, just this last extract:
The ban, which was supported by Prime Minister Margaret Thatcher, was announced by FA chairman Bert Millichip outside 10 Downing Street. Millichip said the ban was a pre-emptive move and that Uefa, European football's governing body, was likely to impose its own sanctions.
Darren Hind
161
Posted 31/01/2017 at 23:00:57
Oliver,
You would not hear a peep out of me if people didn't make stupid claims about Koeman's "achievements" since he got here.
He gets credit for everything Moshiri and Unsworth have done and his failings are brushed under the carpet like they didn't happen. Take the magnificent "unbeaten run" we are on... Notice the way that embarrassing defeat against Leicester reserves has be air brushed out.
If Koeman does ever achieve anything here, I will be the first to acknowledge it.
I support Everton, not the managers; it's over 20 years since we had a manager I liked.
Ian Riley
162
Posted 31/01/2017 at 23:01:14
We have spent £30 million plus and got a millions of the wage bill. Good transfer window!
Andy Crooks
163
Posted 31/01/2017 at 23:06:39
Olive (#146),
I have disagreed often with Darren but I would think that he wants Koeman to succeed as much as any Evertonian. I think you are being unfair. There is a big difference in disagreeing with an appointment and wanting it to fail.
Andy Crooks
164
Posted 31/01/2017 at 23:09:38
Darren, I posted before I read your last post. Surely you were happy with Walter!!
Joe Clitherow
165
Posted 31/01/2017 at 23:09:56
Mick
And? Isn't that what I said?
A sideshow to the real ban?
Darren Hind
166
Posted 31/01/2017 at 23:10:03
It's common knowledge that Walsh brought Gana to the club... or are you giving Koeman credit for that too?
On Gana, I think if Koeman said he didn't want him, we wouldn't have bought him.
Stones was adamant he was leaving; if you didn't know he was going to City before Koeman arrived, you must have been asleep for a month.
Sam Hoare
167
Posted 31/01/2017 at 23:10:15
Lack of transfers is fine so long as first team is functioning well. If we get thumped by Stoke tomorrow then questions will be asked.
Flexibility in the squad now will depend a lot on the talented U23 crop and perhaps Koeman saw enough last night to think he's covered till the Summer.
Strange that Moshiri's millions are still yet to be seen on the pitch after two transfer windows. Lots of people will be expecting a mega Summer!
Trevor Lynes
168
Posted 31/01/2017 at 23:12:16
I am not happy with the transfer window. But I am reserving judgement after seeing where we are during April. We are certainly not home and hosed for 7th place as teams below us are closer than we are to teams above.
We need to have a lot of luck with injury's to the likes of Lukaku who is by far our most potent force. Unfortunately he needs to play every game.
We are currently heavily reliant on two or three young players who have shown promise over the few games that they have played. Our midfield is strong and the defenders are doing well at the moment but our aim is to get over 60 points to maintain our position.
Since the signing of Schneiderlin and Lookman our board have worked feverishly to get their money back rather than invest any more. We needed at least four Premier League standard players but we have signed just one. We are trusting the youngsters and I truly hope that it is the right decision.
I cannot help but feel apprehensive though.
Dean Adams
169
Posted 31/01/2017 at 23:14:14
Nice to have sent out some players on loan with buyout clauses. Hopefully they will all work hard and earn contracts somewhere else. It really looks like much of the so called deadwood has been stripped away and now Koeman can build the squad he wants, if we do really have money to spend.
Paul Smith
170
Posted 31/01/2017 at 23:17:53
Sam, you're hard to please.
John G Davies
171
Posted 31/01/2017 at 23:19:08
So Walsh went to Koeman and said "There's a surprise for you, Ronald. A player I have signed for you. Use him as you see fit."
Hahaha. Do you genuinely believe the nonsense you post?
Gavin Johnson
172
Posted 31/01/2017 at 23:19:13
I see Bournemouth have signed the young goalkeeper we wanted.
Colin Glassar
173
Posted 31/01/2017 at 23:19:22
Sam, if we lose tomorrow, I'm sure Jim White will be getting another text saying something like, "We are really frustrated not getting our targets in. Rest assured this will not happen again. We've learned our lesson. Farhad xxx 01/09/16.
Stan Schofield
174
Posted 31/01/2017 at 23:21:41
Sam, imo the new-found wealth with Moshiri means, first and foremost, that we don't need to sell good players. We're no longer a 'feeder club'. And that's what's happening, we're getting rid of players who are deemed no further use to us. We're not getting rid of players to get income, but who would still be useful to us.
The days of letting the likes of Rooney go are, hopefully, at an end. Under the pre-Moshiri regime, it's plausible that Lukaku, for example, in excess of 㿞M, would have been sold by now. But the likes of him are still here, indicative (imo) of our 'new era'.
Darren Hind
175
Posted 31/01/2017 at 23:23:58
You must be the ONLY Evertonian who doesn't know Walsh identified Gana.
Facts always sound nonsense to those who are ignorant of them.
Dave Lynch
176
Posted 31/01/2017 at 23:27:26
Christ on a bike!
Some of you lot moan when we don't do business early, then moan because we are not panic buying at the last minute, when everyone knows panic buys rarely work out.
See Moyes and Martinez for that one.
This has been a positive and well thought out window, we have strengthened where we needed to for now and the youngsters are coming to fruition.
I'm very happy with way things have gone.
Colin Hughes
177
Posted 31/01/2017 at 23:27:46
Stan #174. How about 㿛½m for Stones? Have we really spent any money under Moshiri? .
John G Davies
178
Posted 31/01/2017 at 23:27:54
"Thankshh Shteve. What position does he play"
Grant Rorrison
179
Posted 31/01/2017 at 23:38:03
Colin (#177). £54.5m in permanent transfers out. A few more million in loan fees. An obligation to buy for £8m in the case of Cleverley come the summer, and another £3-4m saved in wages between now and the end of the season thanks to the squad cull this window. I doubt it.
Gavin Johnson
180
Posted 31/01/2017 at 23:39:39
One window's closed and I'm going to go football manager for next window and say we should target Joe Hart, Michael Keane, Sigurdsson, Robbie Brady and a striker this summer. No outgoings except Jagielka.
Darren Hind
181
Posted 31/01/2017 at 23:41:07
John G Davies
In the past couple of days you have claimed
"Davies was not with Rhino he was with Koeman all season" – even though he played a part in all twelve opening games for Rhino.
You have said "we are unbeaten in six games" even though we lost to Leicester three games ago.
You've claimed "Koeman sold Stones"... sigh.
You've claimed "Koeman is transforming the club" – nothing to do with Moshiri.
You've denied that Koeman played the youngsters days after he declared they were not ready.
Now you are laughing at the suggestion that Walsh was the main reason we signed Gana???
I would have thought somebody who posted so much would have had some knowledge of what happens at the club.
Richard Dodd used to be slaughtered on here for his admiration for Moyes... but he didn't resort to denying facts and making stuff up. If Koeman is half the manager you say he is, why do you feel the need to keep trading facts for shite?
Stan Schofield
182
Posted 31/01/2017 at 23:41:15
Colin@177: Well, Stones wanted out, he wasn't playing well for us, and 80% of ToffeeWebbers voted (in a TW poll) for him to be sold. Only the first two are relevant for Koeman, but the third underlines him not playing well. He was sold, and we became stronger in defence.
The wealth is a means to an end, the end being improved performance on the pitch. In this respect, it doesn't matter if we spend zilch provided we get better performance on the pitch. The wealth means, primarily, that we don't need to get rid of players who the manager thinks we need. And it looks to me that this is precisely what's happening.
Mick Davies
183
Posted 31/01/2017 at 23:41:58
Joe @ 165, @ 138 you posted:
I think you need to revise your alternative facts. Thatcher had nothing at all to do with "banning English teams from playing in European competition".
I posted: the ban, which was supported by Prime Minister Margaret Thatcher, was announced by FA chairman Bert Millichip outside 10 Downing Street. Millichip said the ban was a pre-emptive move. ... showing that Thatcher initiated a pre-emptive sanction on English clubs. Now I hope that concludes this little debate.
John G Davies
184
Posted 31/01/2017 at 23:45:50
I didn't post we are unbeaten in six games.
You're fibbing again.
Steve Carse
185
Posted 31/01/2017 at 23:54:01
Mark (#114) like Don (#123), I wouldn't list 'fast' as one of Big Bob's attributes. I'm closer to Bill Shankly's assessment: paraphrasing, he stated that Bob's speed was deceptive – he was slower than he looked.
Neither was he a hard worker. Don mentions a comment about him attributed to Duncan Mackenzie. I can add another from that same player...
McKenzie once said that you knew when the whistle you'd just heard was the one signalling half-time because Bob would start to move (a bit rich coming from Mckenzie, I know).
It's difficult to compare Latchford and Sharp. Sharp was not a good enough striker to have got near Latchfords strike ratio but by the same token Latchford would have rarely got a place in Kendall's all conquering side given the mobility required from his strikers and their need to defend from the front.
Mike Dolan
186
Posted 31/01/2017 at 23:59:14
A good window. Koeman cleared the bench out a lot of players that didn't have much of a chance of ever helping us and in Schneiderlin we have a class midfielder who fills a gaping hole in midfield.
We have a team now of players who have bought into Koeman's system and places in the bench for the young players to come through. I think we have achieved a lot and get the sense that we now have a plan that we will stick to.
Gordon Crawford
187
Posted 01/02/2017 at 00:09:50
Did we get rid of Kone? As I'm not sure what happened with his transfer.
Also I think it's been a good window. I did hope for another striker, but I'm happy to see what happens during the summer. :)
Jim Bennings
188
Posted 01/02/2017 at 00:12:25
All in all a good window!
Schneiderlin we know is quality and will be a mainstay eventually.
Lookman full of promise, knows what is required as a player already accustomed to English football, has a style similar to Jermain Defoe (if he's even half as successful as Defoe in front of goal we'd be chuffed).
For the summer I really would love to see a move made for Gylfi Siguardsson, real quality midfielder.
I'd also like to see a centre half (Michael Keane?) come in and maybe a bid loan or otherwise for Joe Hart as I still think we lack that commanding voice in the six-yard box.
Damian Wilde
189
Posted 01/02/2017 at 00:21:52
We still only have one striker, Lukaku. Surely we needed another one?
Alex Jones
190
Posted 01/02/2017 at 00:33:15
Standard rubbish window, just one first team player in a position we didn't need. Why do we only sign defensive mids?
John Pierce
191
Posted 01/02/2017 at 00:39:10
Taken on face value, the window has been good not stellar but decent.
The two in look like good acquisitions, and the almost procession of players, most on this site, wanted gone and done do so with little fanfare strikes a positive and professional note.
Personally I wanted two more in, a defender and an attacker. I hope that the up-tick in both results and performances didn't persuade the manager and chairman to hold fire on their targets.
We did have an edge in this window, I believe as others didn't want or couldn't spend. I think we could have forced a sale, paying over the odds in the short term but not having to be in a bigger pool of sharks come the summer.
Had we done so, I think people's perception of the club made have begun to alter.
It is now imperative we find a way into Europe this season; should we not I think that sets us back a year.
As always, and previously posted, my referendum is that we qualify for Europe.
Brian Williams
192
Posted 01/02/2017 at 00:41:58
Bit of a letdown not getting the Kone deal done after feeling good about getting rid of lots of cash drainers. Didn't expect any incomings so no surprise there.

Gavin Johnson
193
Posted 01/02/2017 at 00:56:00
Noooo, stuck with Kone. Wonder if he failed the medical?!
Kieran Kinsella
194
Posted 01/02/2017 at 01:23:18
I see it as a vote of confidence in the kids. We've cleared out a lot of journeymen bench warmers so, if need be, we will call on the U23s.
Minik Hansen
195
Posted 01/02/2017 at 01:24:01
He's been around some time, must be a part of the team in a good way, both in training and fighting for his place as a second choice striker. Helps keeping the team being settled at best. I'm trying to look at good things since he is staying. I hope he plays and scores some before he moves on. Just like Jelavic.
Peter Barry
196
Posted 01/02/2017 at 01:50:33
So ,just as many of us predicted, we got nothing more. So what has this crucially important transfer window, where we were told we needed a minimum of five or six incoming at least, brought us a man and a boy and the man has yet to prove himself consistently at Premier League level.
All that's left now are the traditional pathetically weak excuses to be trotted out.
Ernie Baywood
197
Posted 01/02/2017 at 01:54:35
I can't understand people being pleased with us selling anyone. At best I'm indifferent. They didn't play before, they won't play again. It costs us some degree of squad depth, though we only have one competition to play in.
We made two decent signings. One experienced midfielder (though in a position where we're reasonably stocked), and an exciting youngster.
I think if you viewed this window without the defeat of Man City, you'd be pretty disappointed.
Derek Thomas
198
Posted 01/02/2017 at 02:02:22
(Relative) wealth doesn't mean you have to spend like a drunken sailor, It means you don't have to continually go down the 'buy cheap, buy twice' route.
We signed a 'feel good/community case' in Baxter, two "for the future" U23s, one established player. We got rid of nearly all of the deadwood & sicknotes. We promoted two youngsters for 'free' and have Calvert-Lewin to come back – so make that three.
Yeah, we could've spent up large... if the targets would come... if the price was right... if their clubs would sell.
All-in-all, not too bad... unless we lose to Stoke then obviously it was a total disaster and Koeman Out.
Steve Ferns
199
Posted 01/02/2017 at 02:05:59
I think this window can only be viewed with hindsight.
Should Lukaku get a bad injury then it's a disaster. We've cleared out a load of players who most consider deadwood, but that's only good if the kids promoted to the bench in their place play well. The money saved is only good if the money is then reinvested in the summer.
So let's wait and see. Personally I think a striker was essential. I'm glad Kone stayed for that reason. I'd have preferred he left and we got someone better in on loan, but we will see.
Fingers crossed it all pans out and we look back on this window favorably.
David Ellis
200
Posted 01/02/2017 at 02:11:02
Ernie @197 – as I see it there are several benefits to selling fringe players:
• It reduces the wage bill (or in this window probably balances the wage bill to accommodate the new arrivals)
• It makes it easier to manage the squad so team spiri.t is likely to be stronger, it must be hard with so many good pros not really having a role or a future at the club hanging around...
• It gives more opportunities to the remaining squad players, so improves overall morale
• It gives us more opportunities to bring on the U23 players, so more of them are likely to make the step up like Davies and Barkley have done.
Clearing out players under contract is not something that just happens – you need to find a willing buyer (or payer of wages). So I think hats off to the back-office staff for getting this done. It makes the club stronger.
David Ellis
201
Posted 01/02/2017 at 02:15:33
Oh – and it also brings in money before their value drops even further
As for bringing in a new striker, I am sure we tried, but no club pulled off the signing of a striker that would have interested us. I think Koeman had cooled on Gabbiadini, and never showed any interest in Berahino. I don't think Snodgrass would have suited us (and is really a winger – not a Lukaku replacement, and although willing is rather limited... and we already have Valencia).
I think Lookman may be the best striker bought over this window, but obviously not a direct Lukaku replacement either.
David Ellis
202
Posted 01/02/2017 at 02:16:42
And Bob Latchford – he may not have moved very much... but he sure did know where to stand!
Bill Gienapp
203
Posted 01/02/2017 at 03:28:24
If anything were to happen to Lukaku, I'm guessing we'd shift to a two-striker formation, similar to what we tried at the very beginning of the season – presumably Mirallas and Valencia, possibly Lookman and/or Calvert-Lewin (once healthy), depending on their development.
Obviously not ideal, but I'm not sure bringing in someone like Belfodil or Gabbiadini as cover is really all that preferable, TBH.
Andy Codling
204
Posted 01/02/2017 at 04:11:40
And the "war chest" is padlocked again!
Tony Abrahams
205
Posted 01/02/2017 at 06:56:11
With 16 games to play and a squad consisting of 20 players, it's only really up-front where we would really struggle if Lukaku, was to get injured, buts it's been pretty much like this since we signed him?
Then again, we could use Valencia, or even Mirallas, and I'm sure not signing a forward, would only really come back and haunt us, if we won our next few games, and caught the clubs in front of us.
I think/hope clubs are getting wise, with regards to the ridiculous transfer fees, but I won't be holding my breadth, simply because the window will soon be open again for the summer!
Ernie Baywood
206
Posted 01/02/2017 at 07:02:14
David #200 Fair enough, you have come up with some footballing reasons, though I reckon you had a hard time doing it! There wasn't any indication that the players who left were causing any issues with morale. And saying there are more opportunities for youngsters could be used as a bright side for just about any situation... even one where we sell our best players. The same benefits could be claimed if we signed no-one in the summer.
Ultimately, the benefit is financial. It reduces the wage bill...
So ideally... as a supporter of the team, we would want to see some new players to replace those we lost?
Or are people pleased with an improved P&L statement? Which I simply don't get. Until it converts into something on the pitch I'm pretty indifferent about it.
Is the squad good enough? Prior to the City game most would have said no.
Tony Abrahams
207
Posted 01/02/2017 at 07:40:14
I don't think the squad is good enough for where we want to go, Ernie, but I don't think it's been weakened in any way, and the club is saving money in the process.
The squad players who have left might not have been causing any problem what-so-ever, but I'm not sure they would have been that motivated knowing the manager really didn't fancy them? And maybe what's left behind now at Finch Farm is a squad of players all working harder to try and get into the starting eleven.
David Greenwood
208
Posted 01/02/2017 at 07:40:41
Ernie, why do we need to replace those players we lost?
None of them made any significant contribution to the first 18, never mind 11.
Why do we need players to replace those who didn't contribute anything?
David @200, couldn't agree more with your post.
Pat Waine
209
Posted 01/02/2017 at 07:48:22
I was hoping we addressed the lack of a playmaker in our side. We also need a keeper and a centre-back plus cover for Lukaku.
I think most Evertonians will be again disappointed with this window that gave us a Man Utd reserve and a kid. These may work out but they are clearly no statement that we have arrived back in the chase for top 4.
Problem I see is, even if we have a good window next summer, it will take awhile to settle in players so maybe you can write off next season too.
Liam Reilly
210
Posted 01/02/2017 at 07:55:53
It's very difficult to get a striker of quality in the summer never mind the January window. People on here need a little perspective. Koeman said two years to build his team, not 6 months. Panic buys are not the answer.

Ciarán McGlone
211
Posted 01/02/2017 at 08:00:18
An injury or two and a couple of bed results and I'm not sure everyone will be so stoic about the last two windows.
Woefully short up front.
Gerard McKean
212
Posted 01/02/2017 at 09:18:49
Joe #138,
Your use of the phrase "alternative facts" (TM Team Trump) suggests to me that you and I would not agree on too much. There are no such thing as "alternative facts"; there are only lies or times when people get the facts wrong.
As Mick Davies points out to you several times, you have patently got your facts wrong; Thatcher did in fact force the buffoon in charge of the FA to ban all English teams from playing in Europe immediately after Heysel and before UEFA did the same.
This is important because younger Evertonians especially need to know their history. Why Carter played a significant role here was due to his positions at the time of Chairman of EFC, Chairman of the Liverpool Conservative Association and President of the Football League. Had his priorities been in the order of the positions just listed the history of our club might/would have been very different.
My own sources at the time were adamant that had the Chairman of the Champion club of England, an influential local Tory grandee and President of the Football League to boot put up even the slightest resistance to a blanket ban, Thatcher would have been happy to have had the FA impose a lengthy ban on the club whose supporters caused the disaster and UEFA would have followed suit.
What happened next?
LFC never apologised for Heysel. The "extra" sanction they received was no more than a slap on the wrists. The buffoon at the FA, Bert Millichip, and Philip Carter were later awarded knighthoods. Sir Phil, as you call him, proved himself to be a very willing and useful foil for the new owner in the fallow years under Kenwright.
Ernie Baywood
213
Posted 01/02/2017 at 09:30:05
David (#208), We need to replace them because we're short in a lot of areas.
They may not have provided much to the 11 but they were competition of sorts. A few got on the pitch, most made up the bench. We'll be down to youngsters if we cop a few injuries... yes, that might be a blessing in disguise but it also may not be. The youngsters weren't making the bench previously right? So Ron didn't rate them more highly than, say, Oviedo, Cleverley or Deulofeu.
Then there's the fact that we should want to see improvement in the first 11. There's certainly room for improvement.
How many windows is it okay to go past before we make some progress? Progress happens progressively.
Stan Schofield
214
Posted 01/02/2017 at 09:52:22
If I were Lukaku, I'd be concerned about my health, so many people wondering what we'd do if something happens to him.
Firstly, he's not particularly 'injury prone', and secondly, even if he did get injured we've got forward players with the talent and adaptability to take on a striker role. Barkley could, imo, could perform this role. This, plus selecting from Calvert-Lewin, Donkor and Valencia.
And before anyone says that Calvert-Lewin and Donkor are relatively unproven, Unsy has emphasised that anyone in the Under-23s is also fitted for the 1st team.
Denis Richardson
215
Posted 01/02/2017 at 09:55:24
Can understood the disappointment at not signing a striker but it's not like we didn't try.
This window was miles better than most of the ones we witnessed under Martinez and Moyes. Schneiderlin and Gana in the middle will give the whole team a solid and more importantly first class base. The defence will be more confident and the attacking players will also get a boost. Looking forward to seeing more of lookman.
Squad is light up front and at LB for now but we're not in any cups or Europe so only have 16 games to prepare for with basically a whole week to recover in between games. Just need Lukaku and Baines to stay out of trouble for a bit. Valencia should give Lukaku a rest if/when we're leading in games.
Massive chance also to give some of the upcoming youngsters more game time with a lot of the deadwood gone. Never expected us to manage to move out 5 players that weren't really contributing, all in one window. Those five players were costing the club around £200k/ week or £10m a year in wages!
Brian Wilkinson
216
Posted 01/02/2017 at 09:56:22
Talk about the glass half full, one Day after the window is shut and already what if he gets injured kicks in, for once in your lives can you try to be positive, injuries can happen that's life, just as much as players can avoid injuries.
We could get thumped by Stoke, there again we could beat Stoke, why always look on the negative side.
We have got rid of players who had a season ticket in the treatment room, or players not good enough, do you want Koeman to bring players in for the sake of balancing out goings.
He knows who he wants, those clubs made it clear they were not going to sell in January, what can he do, put them in a half-nelson demanding they sell.
For once be positive, the last two seasons we have had what if Lukaku gets injured, well he did for a short while, guess what we did not get relegated.
It's time some Blues looked at the bigger picture, phase one complete, players moved out, phase two in Summer, strengthening with the right players and not panic buys, just be patient, I know we are used to disappointments, but feeling optimistic it is our time again.
Yes, it can go tits up, but it can also go the way we want it to.
As oddball once said in Kelly's heroes, all those negative vibes man, time to be positive Blues, we are heading in the right direction, onwards and upwards.
Brian Wilkinson
217
Posted 01/02/2017 at 10:06:07
How do you think England supporters feel, they can pick the best of the best, each time England supporters filled with hope.
Since they last picked up a trophy, we have won 3 league titles, two fa cups, a Cup Winners Cup and countless Charity Shields.
Martin Nicholls
218
Posted 01/02/2017 at 10:12:37
Gerard (#212) – your summary is spot on.
Ernie Baywood
219
Posted 01/02/2017 at 10:14:30
It's being negative to suggest it is disappointing that we didn't really strengthen the squad? ToffeeWeb has gone a bit tame hasn't it? I usually feel very positive amongst the posters on here.
The "what if he gets injured" question didn't just pop up the day after the transfer window. It's been asked for quite some time. It's a genuine problem that our second striker is a loanee without much pedigree.
I doubt that the problem was ignored, and I'm sure we were seriously looking at players, but how long will we wait? You could wait forever for the right signing and never get them. At some point you have to sign the player that you can get, don't you? Can we really not get someone better than Valencia?
Bjoern Haall
220
Posted 01/02/2017 at 10:17:42
Good window. No important or strategic losses. One super buy and two for the future. Cleared some spots in the squad for the youngsters to claim.
The remainders have almost half a season to cement their place in a bright Everton future.
Stan Schofield
221
Posted 01/02/2017 at 10:27:25
Gerard @212: Good summary, and my understanding of the facts. A lot of politicians aren't the sharpest tools in the box, but can be the dodgiest and/or incompetent. What happened to Everton then was a particular case of what happens in a group when some misbehaving individual causes trouble, and instead of that individual being properly punished, the whole group is made to suffer.
Laurie Hartley
222
Posted 01/02/2017 at 11:09:45
I agree to a large extent with Bjoern (#220) that we have had a good window.
We are now loaded in midfield and have many options.
Goal keeper is covered and we have four centre halves.
Up front if Lukaku does get an injury (or banned for knocking someone out), Koeman has Valencia, Calvert-Lewin or as Stan says, even Barkley to lead the line, and Mirallas and Lookman as second strikers.
Full back is the one area we are vulnerable. I suppose Lennon is the cover for Coleman but Oviedo to Sunderland appears to have thrown a spanner in the works in the left back position.
Brian Wilkinson
223
Posted 01/02/2017 at 11:09:50
The squad was strengthened when we let the likes of Cleverley, Gibson, Niasse, Pienaar, Hibbert, Osman all leave, those spots can be filled by youth and signings we made during that time.
Yes we need a striker but, for older Evertonians tell us, our top striker we had as cover for Bob Latchford.
We got messed around with Gabiodeni, will he be a good signing for Southampton, time will tell.
We brought in Niasse, panic buy yes, so do we bring a striker in to fill a role as cover or a top class striker who is available, I would not write Lookman or Valencia off just yet.
Same happened last window about Sissoko, that turned out to be a blessing.
We need to get the right players in and not just numbers, Summer will be the time Ronnie brings these in, in the meantime, what we have now have got half a season to see if we really do need to buy in those areas.
Paul Smith
224
Posted 01/02/2017 at 12:30:38
I can only see us losing Lukaku this summer which is an obvious setback. I really thought we would make a statement while other clubs were quiet and get the striker in we really need.
George Cumiskey
225
Posted 01/02/2017 at 12:44:34
Another poor performance in the transfer window, we only need a couple of injuries especially to ROM, Baines or Williams and we're up shit creek without a paddle. It's been another great window for good old Bill!
And please don't come on ToffeeWeb and say we're saving it all for the summer window.
Dave Abrahams
226
Posted 01/02/2017 at 12:48:15
Gerard (#212), a very good post. These facts should never be forgotten and changed the course of Everton's history in a very big way.
Brian Wilkinson
227
Posted 01/02/2017 at 12:59:36
George, we said this last season, we brought in Niasse, nearly brought in Sissoko, we can buy to add cover, but if they are not available or worse than what we already have, I would rather wait til Summer.
George Cumiskey
228
Posted 01/02/2017 at 13:08:07
Brian I bet you haven't heard that before that it will all come good in the next window. LOL
Sam Hoare
229
Posted 01/02/2017 at 13:13:00
Notoriously hard to get good players in January as very few teams want to sell first-teamers and looking at the Premier League its hard to see many teams who have really nailed the window.
For me, it's very encouraging that we have shifted a fair amount of deadwood and Koeman seems prepared to trust the U23s to plug any gaps that might occur. Isn't this what the majority of us have been demanding for a while? Injuries to key players will always hurt you but it doesn't seem there were a lot of top strikers available who would be prepared to play second fiddle and perhaps Gabiaddini (if we were even interested) wanted to go somewhere where he would be first choice...
All-in-all, I like Koeman's philosophy of having a lean, talented squad with few passengers and giving chances to the talented youth crop when injury or availability demands it.
Raymond Fox
230
Posted 01/02/2017 at 13:36:06
Nobody's pushed the boat out transfer wise so I am reasonably satisfied with our business. we breach the top six this year, doubtful I'd say.
The rest of the season is a good opportunity to give some more youngsters more experience of first team football, Calvert-Lewin and Lookman for two. We also have a few promising players on loan at the moment, Galloway and Browning for instance.
The big question is: Can we breach the top six next season? Well it's unlikely that we can outspend them, we need to give the youngsters a chance to step up to the plate.
Stan Schofield
231
Posted 01/02/2017 at 13:53:14
Paul @224:
A really big statement, bigger than signing another striker, would be keeping Lukaku. I would be very surprised if Lukaku left. He's got until the end of next season on his existing contract, and I cannot see Koeman and Moshiri letting him go, even if Lukaku wanted to, which (despite claims on TW that he wants out) is itself very doubtful.
For Moshiri, Everton is not a short-term investment, but a long-term 'project' (to use the jargon), and too big to be letting players of the calibre of Lukaku go. The potential fee for Lukaku, perhaps circa 㿨M, is the very reason he's unlikely to leave, since it reflects the status of this so-called 'project' and the importance of players like him to it. The wealth means we no longer need to sell such players.
John Wilson
232
Posted 01/02/2017 at 14:17:21
Liverpool, Man Utd, Man City, Tottenham, Arsenal do not need to have good transfer windows as they already possess excellent quality players.
I think the lower Premier League teams is where we should have been watching for transfer movement.
It is not going to be an easy season – what's left of it anyway – for Everton.
Stan Schofield
233
Posted 01/02/2017 at 14:41:43
John, in my opinion, our squad is more talented than Liverpool's.
The rest of the season might or might not be 'easy', and the fact is none of us know. However, I can't see any evidence to say we won't progress satisfactorily, or finish in the top 6, or indeed the top 4.
John G Davies
234
Posted 01/02/2017 at 15:33:44
Stan,
Top 4 is over optimistic for this season. We will compete for top 4 next season though. And you're right – we have a better squad than them.
Brian Wilkinson
236
Posted 01/02/2017 at 15:49:28
True, George... and I know we have been shafted in the past with broken promises. I want what you want, George, I just feel this time we have shifted out and done well offloading them.
For the first time in a while, I feel we are going in the right direction; if we have to wait until Summer, then that's fine... if (and only if) we do not fulfil those promises before the start of the season, then I will be as disappointed as a few on here.
I just hope we get the players early to join the team pre-season, and not after the season has started.
Garry Corgan
237
Posted 01/02/2017 at 17:04:05
Oh and a quick note to Michael and Lyndon...
Oviedo and Gibson are shown as 'incoming' on the transfers page, while Deulofeu and Cleverley are missing.
Paul Birmingham
238
Posted 01/02/2017 at 23:08:22
I'm happy with the two signings made plus Donkor on loan. All in all I'm glad we've not wasted money on has-beens, proven sicknotes and wanderers who jump ship each season.
Koeman has a plan and summer should be interesting as a new CB, CF at least to support Rom are priorities in my opinion. Plus if at least half of the 14 sold or on loan don't come back which I think is likely, we need to top up the squad and U23's.
At last the team is showing some guts. A hard earned point tonight and there's plenty to look forward to, over the next month of fixtures. There's loads to play for and who knows what can happen. Summer will soon be here and let's hope we buy early and break any signings in good time.
I reckon Mirallas, narked and a bad cob on, as he should be, for not working hard enough could be a possible mover of his own accord. Talent needs heart and guts and if he did it consistently as Barkley, he'd always play.
Here's to a good weekend for Evertonians.
James Owen
240
Posted 02/02/2017 at 17:50:00
Bit disappointed to read in the press that Kenwright was involved in the deal for Belfodil falling flat because he got "bored" with it.

Steve Walsh was employed to identify targets and he did that so they should listen to him. And not let the "expertise" of Kenwright get in the way. I thought he was on the way out.

Koeman says be wants more aggression and Belfodil looks like an aggressive striker who creates and scores goals. He just scored 2 the other night.

When we seem to be relying on a defender to score in the last couple if games, it seems like a bad decision to abandon that deal. He would have created a healthy competition amongst the strikers we have and his aggressive playing style would have suited the Premier League.
Steavey Buckley
241
Posted 02/02/2017 at 19:34:46
Paul Smith
242
Posted 05/02/2017 at 13:10:03
Stan, I fully agree – keeping Lukaku is a big statement if we can do that in the summer. Hopefully we do because he is everything we need to build on.
---
Add Your Comments
In order to post a comment, you need to be logged in as a registered user of the site.
Or Sign up as a ToffeeWeb Member — it's free, takes just a few minutes and will allow you to post your comments on articles and Talking Points submissions across the site.