Stoke City vs Everton

65 Comments [Jump to last]
Tuesday 31 January 2017
Premier League Preview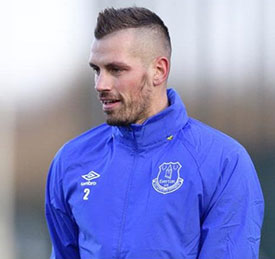 With two games in four days, Morgan Schneiderlin is a good bet to start either at Stoke or against Bournemouth on Saturday
With the distraction of the transfer window out the way, a leaner Everton squad prepares for a midweek trip to Stoke City looking to register a fourth successive win in the Premier League.
Ronald Koeman steered the Blues to the same feat back in August, a run of results that took them second in the table behind early pace-setters Manchester City; this time, the Dutchman is hoping for three more points to keep up the pressure on the teams sitting above Everton in the top six.
The transfer deadline may have closed without the addition of the one or two high-quality names that supporters were hoping would bolster the quest to finish in the European qualification places — seventh place might be enough if current top six teams win the domestic cups — but results in the league so far in 2017 have suggested that Koeman now has a settled system and a group of players he trusts.
A repeat of the performance that earned a deserved win at Crystal Palace 10 days ago would go further to strengthening that belief and raise optimism that, in contrast to Everton's stumbles through their previous stretch of supposedly "winnable" games earlier in the season, the Blues will capitalise on the current sequence of comparatively favourable fixtures to close the gap above them.
The manager is aided by a clean bill of health to all but long-term absentees Yannick Bolasie and Muhamed Besic and could name an unchanged line-up for the second game running if he is moved to do so.
He is likely to have Morgan Schneiderlin champing at the bit, however, now that he is bedded in and closer to match sharpness. The Frenchman made a move from Manchester United three weeks ago precisely because he wanted to play every week and after two substitute appearances in place of Gareth Barry, he might feel his time to start has come. With two games in the space of four days, too much for the 35-year-old Barry, that is likely to be at Stoke or at home to Bournemouth on Saturday.
Unless Koeman moves to change up his defensive formation — unlikely against a physical Stoke team that could boast Peter Crouch's aerial ability in its starting XI — it's hard to envisage many changes to the team that kicked off at Selhurst Park.
Joel Robles has already received the nod from his manager that he will be starting and the recency of Idrissa Gueye's return from Africa Cup of Nations duty has taken that difficult decision out of Koeman's hands for another few days at least. After putting in another impressively precocious performance at Palace, it seems inconceivable that Tom Davies would be dropped back to the bench but a selection headache in the centre of the park is coming.
Stoke, meanwhile, have returnees from Africa of their own who won't be involved. Neither Wilfried Bony and Mame Biram Diouf are expected to face Everton but their new signing from West Bromwich Albion, Sadio Berahino could make his debut, even if only off the bench. The striker's last couple of seasons at the Hawthorns were bogged down by controversy and debates over his temperament and attitude but he now has a new opportunity to get his career back on track.
Everton's performance at Palace should provide the template for a fixture that is never easy, even if they made it look that way last season in what was the last great away performance under Roberto Martinez. With just one win in December, the Potters have recovered somewhat since conceding eight in two games against Liverpool and Chelsea to close out 2016 by winning two in four but as Bournemouth and Wolves have shown in recent weeks, they are fallible at home.
By remaining defensively tight and restricting the service to Crouch from crosses, Koeman's men will create the platform to hopefully carve out sufficient chances at the other end to keep this winning run going.
Kick-off: 8pm, 1 February, 2017
Referee: Craig Pawson
Last Time: Stoke City 0 - 3 Everton
Predicted Line-up: Robles, Holgate, Williams, Funes Mori, Coleman, Baines, Schneiderlin, Davies, Barkley, Mirallas, Lukaku
Full details: ToffeeWeb match page
---
Reader Comments (65)
Note: the following content is not moderated or vetted by the site owners at the time of submission. Comments are the responsibility of the poster. Disclaimer
Liam Reilly
1
Posted 31/01/2017 at 21:58:48
7 points off the RS in fourth if we win tomorrow.
Colin Glassar
2
Posted 31/01/2017 at 22:04:01
Six Liam. We'll be on 39 and them on 45.
Darren Hind
3
Posted 31/01/2017 at 22:12:45
At last...
A game to talk about. Got to win, doesn't matter how.
Joe O'Brien
4
Posted 31/01/2017 at 22:13:05
And they've got Leicester, Arsenal, Spurs and Man City to play before they meet us. The top 6 are well catchable... the remaining games are all big but tomorrow night is massive. A win there, at a difficult place to go, would be huge going into the next 4 matches which we should get maximum points.
Tomorrow night is winnable and by far the most difficult of our next 5. I'm looking for 15 pts from the next 15 available to get us right in the mix. Sounds a lot but it's totally achievable.
Paul Tran
5
Posted 31/01/2017 at 22:19:51
I'll be happy if we go there tomorrow and grind out a win a la Palace.
Jim Bennings
6
Posted 31/01/2017 at 22:21:36
I've got a feeling for a draw in thIs one to be honest.
It's a hard place to go and you can't turn in a half-arsed showing at Stoke because, even though they are more cultured than when Pulis was there, they are still a pretty physical side with the likes of Arnautovic (who I rate highly).
Apart from last season, when we blitzed them in the first half, the Britannia has been a tough place for us.
If we could somehow get six points from the next two games, we will really put the pressure on those directly above us but this is Everton and we are well accustomed to things going pear-shaped very quickly after a decent run.
A bit disappointed we didn't push on with at least one or two more experienced backup signings even just to see the season out with, but we just hope no injuries to crucial players now is all we can do.
Ray Roche
7
Posted 31/01/2017 at 22:24:32
I was listening to the radio last week, not sure who was talking sense (for a change) but he made the point that Stoke have not been quite as strong at the back due to Shawcross being a "marked man" at corners following the first home game v Man City when Shawcross gave away a penalty. Mike Dean was the referee and, to be fair to him, applied the letter of the law, which prevented Shawcross wrestling his opponents at every corner and cross.
He has, apparently, suffered a blow to his confidence, having to play football for a change instead of WWF.
Unfortunately only Dean took this approach so we'll probably see the wrestling continue/increase as the season carries on.
Darren Hind
8
Posted 31/01/2017 at 23:20:58
How very strange Ray.
I spoke to a Leicester fan today and he put their fall from grace down to exactly the same thing. Apparently they can't defend crosses since locking up your opponent was outlawed.
Tony Twist
9
Posted 01/02/2017 at 00:24:47
Groundhog Day yet again by the Blues' inability to get a quality centre-forward in. They failed with this in the summer and again today.
Gabbiadini was available but supposedly flush Everton not interested. Opportunity lost to get the team settled and prepared for next season.
So we take on Stoke with probably Robles, Holgate, Williams, Funes Mori, Coleman, Davies, Gana, Schneiderlin, Baines, Barkley, Lukaku.
Good luck, blues.
Julian Wait
10
Posted 01/02/2017 at 00:35:08
Let's keep grinding out wins – at this stage, after the statement against Man City, I don't really care how we win ... I just want to win games. Being in Europe will be important for recruitment and expanding the quality and size of the playable squad (i.e. no fluff).
Gordon Crawford
11
Posted 01/02/2017 at 00:40:22
1-nil win to us. :)
Dave Lynch
12
Posted 01/02/2017 at 00:47:32
And if we did sign one tonight, Tony, do you seriously think he'd be in the squad tomorrow?
Anthony Dwyer
13
Posted 01/02/2017 at 01:17:28
Any win will do me, 0-1 with an own goal or 4-5 and goals from all over the park, I'm simply not arsed so long as we keep up our run.
I'm almost frightened to be too happy yet as each time we look to get into our stride, we get a shit result.
I'm starting to feel like we're moving along nicely now though, and with all the out-goings it makes our squad much more tight-knit.
David Ellis
14
Posted 01/02/2017 at 02:24:58
Tony Twist@9 – you think we should have bought Gabbiadini? Why? He couldn't get in the Napoli side, and he couldn't get in our side either. As cover for Lukaku, is he really a better bet than Valencia? ... possibly, but Koeman obviously thinks it's marginal and not worth the money. Southampton are desperate because Austin has a long-term injury.
Anyway I rarely agree with Jim Bennings but I do today – I think it'll be a draw... but we really need a win if we want to get top 6.
Roman Sidey
15
Posted 01/02/2017 at 02:51:41
To be fair, Tony, we never know which players the club may have spoken to about joining the club. People always like to throw names around of players available, but never seem to acknowledge that perhaps the player had no interest – having spent the past four years by the sea in Italy, Merseyside probably wouldn't have appealed as much as the south coast.
Tony Abrahams
16
Posted 01/02/2017 at 07:01:22
The next few games are always winnable on paper is the reason why it's so fucking hard to get my footy coupon in!
Mike Gaynes
17
Posted 01/02/2017 at 07:38:38
Tony #9, Everton apparently WAS interested. Multiple media reports in Italy around Christmas had us offering more than what Saints just paid. I suspect that after a miserable season spent on the bench at Napoli, Gabbiadini was uninterested in spending more time on the bench with us... his only minimal hope of getting back in the Italy side is playing lots of minutes, and that's available at Southampton, not with us.
Personally I'm not disappointed that Everton didn't splash that cash on a player whose game has gone stale. I read that he's getting almost nothing in open play... his goals this year have been mostly pens. If Ronald no longer fancies him, I trust his judgement.
Ray Roche
18
Posted 01/02/2017 at 08:09:31
Darren (#8),
It makes you wonder how the likes of Stoke, WBA etc. would have fared in the Premier League if the letter of the law (regarding holding, shirt pulling etc) at set pieces was adhered to. At any other part of the pitch, where it's becoming a non-contact sport, it wouldn't be allowed.
Would Stoke etc have been the typical yo-yo club, a team who can't compete at the top level consistently but can battle to promotion every couple of seasons because their brand of thuggery works better a league lower? Certainly food for thought.
The Leicester fan clearly knows that with Huth and Morgan LCFC have two of the biggest yard dogs in the Premier League. All the ToffeeWebbers who were calling for a Shawcross or Huth recently were way off beam.
Chris Williams
19
Posted 01/02/2017 at 08:34:30
I read an article a while ago that the crack down on wrestling at corners was aimed primarily at Stoke and Leicester. The powers that be were content that it had been effective.
I hope they are vigilant tonight.
Geoff Evans
20
Posted 01/02/2017 at 08:36:00
Tough game ahead. Same as last season would be excellent; I would settle for a point. Important, for confidence, not to lose.

Gareth Clark
21
Posted 01/02/2017 at 08:41:39
Don't know why everyone is complaining about not getting a forward in...
We have Valencia & Calvert-Lewin, plus Mirallas if need be.
I trust Koeman - it's unlikely that you're going to get the quality you need to improve the team in January, in the forwards department.
Wait for the summer!
Get in:
J Hart
M Keane
J Lukaku
G Sigurdsson
& maybe a cheeky big for Dolberg

Alexander Murphy
23
Posted 01/02/2017 at 09:33:53
This is one of those fixtures where I find my inner coward and hypocrite!
Recent performances and results have me thinking more of the same please lads, just keep up the good work. We're on a roll and the potters are terrified that we're in town and in form.
Then what happens is, yeah but we'll go and throw it away tonight and ruin it all.
Just hope Koeman starts the same team again as rewards for doing the business and to get the bench to step up in order to get a start.
Chris Gould
24
Posted 01/02/2017 at 09:42:38
After a poor start to the season, Stoke have only lost once at home since September. Hughes has said that their goal is to finish 7th, which means they will need to win tonight to have any realistic chance of catching us.
As much as I'm hoping for a win, I think it's a tougher task than the Palace game. That being said, if we are to catch the teams above then we must go all out to win. Don't care if it's ugly, just need to be tight at the back and hope for some clinical finishing.

Tony Draper
25
Posted 01/02/2017 at 09:51:06
Interesting thoughts Gareth @21.
I really hope that Joel gets a sustained run through to end of season on merit. When I first saw him I thought he was just rubbish (bear in mind I thought the same about Big Nev's initial performances).
Recent performances bear little relation to those dodgy outings. Now I'm seeing an "Alpha Male" attitude in dominating his box and issuing orders to his defence. Add to that his comfort in claiming and holding crosses and I'm thinking "he's really working at improving ALL aspects of his game" (didn't Big Nev do just that around the same age?).
Numerous young players have impressed me and then failed to thrive and mature. What I've seen recently of Joel is neither reminiscent of them lads nor his former self. Hope I'm not jinxing him.
Also Gareth, on the matter of Lukaku J, I think there is merit in your suggestion as it could sway Romelu to stay, or at least make it more awkward to leave. Though perhaps the time to have done that has just closed.
Laurie Hartley
26
Posted 01/02/2017 at 10:49:36
I hope he starts with Lyndon's team and that Stoke come at us. I am expecting Mirallas to have a big game tonight.
Phil Walling
27
Posted 01/02/2017 at 11:02:43
If, as expected, we win tonight, I shall be looking for odds against us finishing higher in the Premier League than them over the road!
Chris Gould
28
Posted 01/02/2017 at 11:09:52
What are the chances of Niasse doing us a favour and scoring a winner against Man Utd tonight? If West Ham could also take points of Man City, provided we win, we are suddenly right back in the mix.
It's highly unlikely all 3 fixtures will go our way, but stranger things have happened.
Brian Harrison
29
Posted 01/02/2017 at 11:22:57
Stoke away is no easy fixture, they are a physical side and we will have to match them in that department if we hope to win the game.
I would hope that we start with the same team that has started the last 2 games. Barry has been terrific for us and I think seeing we have had 10 days since our last game there is no need to rest him.
The team must have more confidence after the last few results and at this level confidence is a big plus. I think it will be very tough trying to catch any of the teams ahead of us in the league, but if we keep winning then you never know what will happen.
John G Davies
30
Posted 01/02/2017 at 11:25:05
Difficult ground to go to... especially midweek under the lights.
With the games coming up, I think a point would be a good result tonight.
Dermot Byrne
31
Posted 01/02/2017 at 11:52:03
Luck:
1. Today is my first day back working after emergency surgery before Xmas and all OK
2. I have had a tooth abscess since a week ago and pain stopped today so antibiotics working.
So....
3. Stoke v Everton?
No chance!
Thomas Lennon
32
Posted 01/02/2017 at 12:11:06
Resist and hit them on the break. This is what we have been set up for for months and we are starting to get quite good at it.
My fear is that after rising to general attention against City Davies will receive a lot of attention tonight with the purpose of slowing him down and eroding his confidence – injuries are common. His next few games will tell us if he is up to it.
Chris Williams
33
Posted 01/02/2017 at 12:18:12
You might see Schneiderlin and Barry in at least to start with. Both big tall players to help counter the Stoke grocks, keep it tight and pull them apart later with pace and creativity.
Dave Abrahams
34
Posted 01/02/2017 at 12:32:17
Chris (#28), l'd much prefer Niasse to save his winning goal for Saturday!!!!
I think Barry will start tonight, and be rested for Saturday's game for Bournemouth which looks the easier of the two games.
Chris Gould
35
Posted 01/02/2017 at 12:57:10
Dave, if Niasse were to score a winning goal against that lot, then it would nearly be worth the money we wasted on bringing him over to the Premier League. If, and it's highly unlikely, Hull take points off both Man Utd and Liverpool, and Niasse scores, then his loan will have worked to perfection.
Craig Walker
37
Posted 01/02/2017 at 13:51:48
Hope I'm wrong but I've got a bad feeling about this evening. It just seems like we've been here before. A quiet transfer window on the back of a few decent results.
I would love for us to get three points tonight but Stoke is always a difficult place to go and get a result. I just hope Koeman has seen enough in Lookman to realise that we have options up-front.
Mike Keating
38
Posted 01/02/2017 at 13:54:25
Anywhere in town streaming the game?
Matthew Correal
39
Posted 01/02/2017 at 13:58:50
Darren (#8),
Danny Higgingbotham, ex Stoke player and current pundit, quoted Robert Huth, "Leicester are basically a good Stoke" post winning the league.
Aidan Wade
40
Posted 01/02/2017 at 14:07:53
Like every match, luck required. If we hit them for a goal first, we'll have plenty more chances to score on the break. On the other hand, if they poke one in first from some scrappy free kick or corner then it will be very hard to get behind them.
John Wilson
41
Posted 01/02/2017 at 14:10:01
Gareth (#21), statistically, after Lukaku, Seamus Coleman is more likely to score before Mirallas. Calvert-Lewin has only had an hour at most in terms of Premier League game time.
Martin Nicholls
42
Posted 01/02/2017 at 14:47:52
Craig – yeah, we have been here before! First game after last January transfer window closed when we won 3-0! More of the same tonight needed Blues!
Peter Murray
43
Posted 01/02/2017 at 15:27:22
Not missed a game – all season – they're like "Jekyll & Hyde" for sure, but defo better under our Barcelona trainee – just depends who turns up, regardless of line-up.
Physical they always have been, and will take us apart if we do not match them!!!
Always hopeful – COYB
Julian Wait
44
Posted 01/02/2017 at 15:45:58
I'm not convinced that Schneiderlin has 90 minutes in him yet, and we know that Barry doesn't either. I expect to see Schneiderlin start tonight, with Barry getting 20-25 minutes, and then perhaps Barry to start Saturday.
Or what Chris Williams says, they both start with Davies and Barkley, and then we bring pace (Mirallas, Lookman) on later.
Andy King
45
Posted 01/02/2017 at 17:02:50
Go for them tonight Blues. The tempo in the first few minutes can dictate the rest of the game, the half at least. There are no easy teams in this league but there are also no teams to be feared.
The teams that consistently do well in this league respect the opposition without ever worrying too much about them. Don't lump the ball up to Lukaku as their yard dogs would love that. Incisive passing with direct running, particularly from Barkley. COYFBB!
Dermot Byrne
46
Posted 01/02/2017 at 17:15:23
Stoke on a dark winter night.
Who would ever want that, football or not?
Mark Melton
47
Posted 01/02/2017 at 17:27:02
Not to mention the gurning, toothless yokels that are their fans...
Dermot Byrne
48
Posted 01/02/2017 at 17:30:23
Exactly Mark. Word is it is a safe UKIP seat at next election and will be won by that weird UKIP nutter. Please tell me that Nuttall is a red.
Mark Morrissey
49
Posted 01/02/2017 at 17:43:55
Hopefully this is not the night when we realise we should have taken a punt on Berahino. 1-2 for me...
Gordon Roberts
50
Posted 01/02/2017 at 17:44:04
With all the plaudits he's received, I'm sure Koeman will give Macarthy a run off the bench at some point tonight.
It will be interesting to see the bench in a few weeks if we suffer any injuries over the next couple of matches
Alan McGuffog
51
Posted 01/02/2017 at 17:47:15
Dermot... rest assured, he is.
Dermot Byrne
52
Posted 01/02/2017 at 17:50:33
Thanks Alan. My gut told me so but a nervous brain worried for a min!
Dermot Byrne
53
Posted 01/02/2017 at 17:53:08
What worries me also is that if we do not win there will be a disproportionate reaction from some. Possibly as disproportionate as the reaction to a short good run. Let's keep perspective..
But stuff 'em!
Colin Glassar
54
Posted 01/02/2017 at 17:59:43
Dermot, it will be apocalyptic
Jay Harris
55
Posted 01/02/2017 at 18:00:09
Agree with you, Gordon, I have a feeling he will play McCarthy and Schneiderlin tonight to prepare for Bournemouth in 4 days time.
I would still like to see 3 at the back though which seems to suit Bainesy and Coleman and with Holgate's height and awareness gives us a bit more aerial power in defence.
Colin Glassar
56
Posted 01/02/2017 at 18:06:28
2-2 draw written all over this.
Barry Jones
57
Posted 01/02/2017 at 18:12:12
The way I have seen seen the confidence growing in the team over the last four or five games, I think we will take the game to Stoke tonight.
John Wilson
58
Posted 01/02/2017 at 18:15:12
Dermot (#46) and Mark Melton (#47), are you two Beavis and Butthead by any chance? I can just imagine that you both grunt instead of communicating like normal people.
Beavis grunts to Butthead: "Stoke on a dark winter night.
Who would ever want that, football or not?"
Butthead grunts back: "Not to mention the gurning, toothless yokels that are their fans..."
With a name like Melt I really think you've no room to talk either.
Just stop all this brainless ad hominem. Pair of plonkers. No before you ask, I don't live in Stoke.
Dermot Byrne
59
Posted 01/02/2017 at 18:23:49
UKIP John? Something rattled your sensitive soul! Or are you offended on behalf of others?
Clive Rogers
60
Posted 01/02/2017 at 18:40:08
Just watched last night's MotD, and it was highlighted how good Kone was for Sunderland. Hope we get him in summer.
Colin Glassar
61
Posted 01/02/2017 at 18:45:15
It sounds like Keane (Burnley) is the first choice Clive.
Stan Schofield
62
Posted 01/02/2017 at 18:47:34
TW can be very educational. I didn't know what 'ad hominem' meant until googling it after reading #58. Another bit of Latin to add to 'In Nomine Ball, et Harvey, et Kendall Sancti'.
Mark Melton
63
Posted 01/02/2017 at 18:48:09
Dermot, no worse than UKIP. With expressions like ad hominem, I fear John may be an intellectual.
Antony Matthews
64
Posted 01/02/2017 at 18:59:33
Just in case nobody mentioned. Sky Sports 1 now... Tim Cahill about his time at Everton.
Martin Mason
68
Posted 01/02/2017 at 19:05:56
John@58, not really ad hominem which is specifically an argument or reaction directed against a person rather than the position they are maintaining. Neither Dermot nor Mark did that really as nobody was taking a position or making an argument against them. Insults aren't always ad hominem. Not knowing the difference is a far bigger insult.:-)
Brian Hennessy
69
Posted 01/02/2017 at 19:06:32
Teams in - Ronald has taken Lyndon's advice: Schneiderlin in for Barry the only change.
John Wilson
72
Posted 02/02/2017 at 16:00:13
Schofield (#62), Melton (#63), et aI.
Notwithstanding other's saying it, I use the term ad hominem because someone makes a personal statement or implies personal without using actual express terms (ie inferential).
I may also use non sequitur if a person asks a question but a respondent cherry picks (disproportionate inference) the part of the question which was intended as obiter dictum (said in passing).
In short it means a superficial answer is provided rather than a preferable substantive (not trivial) one.
---
Add Your Comments
In order to post a comment, you need to be logged in as a registered user of the site.
Or Sign up as a ToffeeWeb Member — it's free, takes just a few minutes and will allow you to post your comments on articles and Talking Points submissions across the site.