Report: Valencia would cost Everton less than £14m
Thursday 20 April 2017

90 Comments [Jump to last]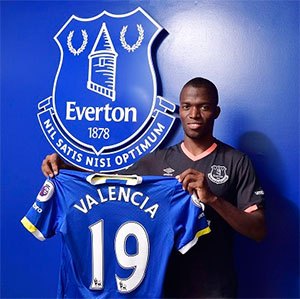 Enner Valencia will apparently cost Everton £12m if the club decide to take up the option of making his loan deal permanent in the summer.
The Ecuadorian joined the Toffees on a season-long loan from West Ham on transfer deadline day last August and it was reported at the time that he would cost £14m at the end of the season.
According to the Liverpool Echo, that figure is actually £2m less but it remains to be seen whether that will be viewed as value for money by the Blues' management team.
Valencia has made just three Premier League starts this season and scored three goals but has been a useful weapon off the substitutes' bench at times from where he has made 14 appearances.
---
Reader Comments (90)
Note: the following content is not moderated or vetted by the site owners at the time of submission. Comments are the responsibility of the poster. Disclaimer
Anthony Millington
1
Posted 20/04/2017 at 06:46:50
I wouldn't pay any more than about £5 million for Valencia. He's a squad player at best.
However, we will now need to sign at least 2 strikers in the summer especially if Lukaku leaves. Surely there will be better options out there to replace Lukaku.
Darryl Ritchie
2
Posted 20/04/2017 at 06:58:25
Twelve million pounds for an impact sub? That's crazy, but in today's market, not surprising. I'm sure glad it's not my money.
Will Mabon
3
Posted 20/04/2017 at 07:00:49
Mixed feelings on this one. I didn't study too much of his play at West 'Aaaam, there wasn't much of it, but he was good in earlier days.
I've been fairly impressed with some of his work here. Let's face it he hasn't had a decent run, and we only play in a way that suits him when he comes on late – bit of a Catch-22.
He certainly understands how to move and where to be, couple of good finishes. 㾸 million is not crazy money now but nor is it peanuts.
Guess I'll just ride this pony whichever track she takes...
Timothy Sebastian
4
Posted 20/04/2017 at 07:05:43
Valencia has been a good addition to the squad. But that's it. He's just a good squad player. Someone who can come on to bring a different dimension to our shape when needed, nothing more.
I think that £14mil is too much for a squad player. Use it to bring in someone who will compete with Lukaku or who can replace him if he goes.
I cannot see Valencia leading the front line on his own. Nor does he strike me as someone who can provide a strong enough option to compete with a top main striker. So this is a pass for me.
John Keating
5
Posted 20/04/2017 at 07:06:12
Surely a misunderstanding? A typo? £14 not £14 million?
Paul Rimmer
6
Posted 20/04/2017 at 07:10:26
A trier but not good enough for us and wouldn't get in any squad in the top 4. I get the impression he doesn't know what he's going to do next, never mind his teammates.
Vijay Nair
7
Posted 20/04/2017 at 07:13:39
I do like what Valencia has brought to the team with his high energy play and his effort, but I would only make his stay permanent if it came at the right price... say under 㾶m perhaps.
Like others have said, 㾸m - 㾺m is too much for an impact sub.
Denver Daniels
8
Posted 20/04/2017 at 07:22:01
No thanks, just not good enough. I'd rather put the £12 mill as a signing bonus towards someone who is much better than him.
David Ellis
9
Posted 20/04/2017 at 07:22:23
It's a no from me. Forget about transfer fees – even wages he draws should be spent on players challenging for the first team.
Valencia is not in that category. He's filled a useful gap this season at times, but not a long term solution... move on.
Colin Glassar
10
Posted 20/04/2017 at 07:22:27
If Valencia is worth £14m then we should demand £200m for Rom.
Sam Hoare
11
Posted 20/04/2017 at 07:32:55
We've actually been tremendously successful with Valencia on the pitch, scoring every 10 minutes or something insane like that.
I think he has done extremely well in the circumstances; always hard for a striker who is not getting a run in the team.
٤-8m would feel like a fairer price but we all know how inflated prices are these days and there will be less effective 㾸m strikers bought this Summer by Premier League teams, I bet you.
Ralph Basnett
12
Posted 20/04/2017 at 07:36:56
I would rather keep Niasse!!!
Cost us nothing, his return would be like a new signing.
Dan Egerton
13
Posted 20/04/2017 at 07:53:20
I was reading an article (yeah I know) in a newspaper that stated with him on the park, we scored once every ten minutes. Don't know if its true or not, but if so, keep him, maybe extend the loan?
Gareth Clark
14
Posted 20/04/2017 at 07:54:55
I rate Valencia as an impact sub – but I don't think he will want that. Plus, with us investing more in the next window, he could slide down the pecking order.
He is decent enough, and would gladly have him in the squad... just not sure he will want to be.
With regards to Niasse – I'd love to see him stay, but I highly doubt he will – maybe a team like West Brom is where he'll end up and thrive.

Derek Knox
15
Posted 20/04/2017 at 08:08:29
I think you have my sentiments entirely there, Sam; ٤-8M would be a good addition, whether Rom goes or not. To be fair to the lad, you can't fault his attitude, despite being frustrated on the bench for the most part, and appearing for impact roles, and then usually with Rom in the main role.
Furthermore, he has apparently said that he likes it at Everton and would like it to be permanent.
I remember watching him play for Ecuador, in the last World Cup, and he was outstanding in the striking role, so he obviously has it in him.
In the crazy pricing of players these days, I don't think ٤-8M would be a gamble either, just make sure any outgoing deals (eg, Cleverley, McGeady etc) make a decent profit, we would be getting shut of dead wood, and replacing it with Mahogany!
Simples!
Liam Reilly
16
Posted 20/04/2017 at 08:12:52
I can't see us spending that and nor should we. He's a trier and stats off the bench are positive but we need someone who'll be breathing down Lukaku's neck to give the manager options and who can also lead the line on his own.
He won't come cheap, but this £12M should go towards that footballer.
Eddie Dunn
17
Posted 20/04/2017 at 08:19:20
It is hard to know if it is value for money or not, but the fact is that he has not really had a decent run in the side, but he has usually contributed when given some minutes. Surely, with more time he will be able to contribute more.
The coaches will know the answer, and we will know their decision when he either stays or goes!
Jason Barker
18
Posted 20/04/2017 at 08:23:24
I can't believe that people are wanting Niasse back! He's an absolutely shocking player. Even when he's scored at Hull, from what I've seen, he's nearly fallen over the ball a couple of times before he's managed to somehow poke it in.
Nah, keep him as far away from the club as possible.
Andrew Clare
19
Posted 20/04/2017 at 08:30:10
He is a good player with a good attitude but not the level we require now. Once Lukaku has gone, we need to buy two top quality strikers who can play football as well.
Yeah okay, Lukaku is a great goalscorer but he doesn't want to play for us and that is no good for the team or the fans. The Telegraph are reporting today that he wants to return to Chelsea.
Sorry to get back to this but it will dominate our news until he goes. If only he had Valencia's attitude.
Dan Egerton
20
Posted 20/04/2017 at 08:32:29
"He's nearly fallen over the ball a couple of times before he's managed to somehow poke it in. Nah, keep him as far away from the club as possible."
It does matter how he looks when he is doing it, a striker that scores goals is a striker that scores goals. This ain't ballet.
Alexander Murphy
21
Posted 20/04/2017 at 08:40:39
Playing for Ecuador, I thought "I'd love to see you in a Royal Blue Jersey". Then he went to WHU and scored for fun at the outset. He got injured and lost favour.
There's a part of me that still thinks "this lad can be brilliant". To his credit we can not fault his effort in the bit parts that he has played. I'm in favor of keeping him for another season, if possible.
Is 㾸M so much in today's market? Don't get me wrong, I do still have doubts.
Then there's the Oumar Niasse conundrum. For me, I there is still an unspoken explanation about him. Yes, I saw his preseason shambolic performances. But, paying around 㾺M for a pub team player? He appears to be impressing at Hull (hardly difficult I know). The ball is really in Hull's court.
If we truly have higher aspirations then possibly Valencia is worth keeping as a backup. Whatever we do, let's not sell Lukaku within the Premier League, that is just equipping our rivals. That short-sighted thinking must end.
Peter Gorman
23
Posted 20/04/2017 at 08:42:27
Enner Valencia is a good lad, a hard worker and has done better for us than many, myself included, expected.
But the price is not at all attractive for a player who is nothing more than an impact sub or a squad option, as many have noted. I would rather the club keeps its powder dry for signings that will propel us further up the table.
Dave Ganley
24
Posted 20/04/2017 at 08:45:02
Sorry Valencia just isn't good enough to take us into the top 4, even as a back up striker. We need to be aiming higher than that.
As for people wanting Niasse back, well it's no wonder we never break that glass ceiling...
Alasdair Mackay
25
Posted 20/04/2017 at 08:53:07
We have ٠.5m supposedly agreed for McGeady, ٦m for Cleverley and 㾶m for Niasse – all of whom had no impact on the squad at all this season.
If we can swap Valencia for those 3 AND 㾶m in change – that's a deal I would do. He seems like a hard-worker, a popular squad player and definitely has an impact off the bench when he comes on.
He won't be a Lukaku replacement and he certainly won't be a marquee signing, but he adds quality to a squad that will need extra depth for European football next season.
Sign him.
Jon Withey
26
Posted 20/04/2017 at 08:55:09
Depends what else is available in the market; he seems a cleverer player than Niasse.
Also, will Calvert-Lewin grow into this role? Bolasie? Will Lukaku stay?
Unsure at this point – but I've nothing against him.
Jim Bennings
27
Posted 20/04/2017 at 08:58:43
Can't see it happening at that price, it's just too much.
Maybe we should be checking out another season on loan?
Or maybe offer a considerably lower fee and take it or leave it offer to West Ham.
Other than that it's not realistic to pay that much.
Barry McNally
29
Posted 20/04/2017 at 09:17:27
Thanks, West Ham... but no thanks.
James Stewart
30
Posted 20/04/2017 at 09:18:49
Good player, works hard, has pace and causes all manner of problems when he has come on. £12m in today's market gets you nothing so I would have no problem signing him. We will need a drastically bigger squad next season.
The fact he can't play this week only highlights our pathetic squad depth. Calvert-Lewin or Kone? Valencia all day long.
Geoff Williams
31
Posted 20/04/2017 at 09:26:28
Totally agree with Alasdair (#25).
Kenny Smith
32
Posted 20/04/2017 at 09:31:25
Nah. Paying that sort of silly money for a squad player is nonsense.
It also put the worth of the U23 squads forwards in doubt after they've done so well this season.
I'd like to see us spend spend spend but not on second rate players, we need to move forwards not sideways or, in this case, if we pay that for him, backwards.
Rom looks set on moving now he's got MUTV and Chelsea TV on his Sky box! I think if I was a multi-millionaire and a footy player, I'd have that too? But that's another debate...

Ajay Gopal
33
Posted 20/04/2017 at 09:34:03
Assuming that Everton will have 2 main strikers (hopefully, Lukaku + Antonio, Perez or Deeney – otherwise 2 new strikers), having Valencia would surely hamper the opportunities for some of the promising youngsters who have done so well in the U23s – Calvert-Lewin, Sambou, Donkor, etc. So, for that reason alone, no thanks.
Dave Abrahams
34
Posted 20/04/2017 at 09:39:05
I have been supporting Valencia since I have seen him play for The Blues, but I still don't know how good or bad he is, that's down to Koeman not playing him enough.
It looks to me, although I haven't really got a clue, that the manager doesn't rate him, otherwise he would have played Valencia a lot more than he has. It's up to Koeman so I don't think he will be back next season... so, wherever he goes, good luck to him.
Ian McDowell
35
Posted 20/04/2017 at 09:44:53
I was very surprised that Valencia didn't get more game time, particularly in the games v Man Utd and Liverpool recently.
Keith Conchie
36
Posted 20/04/2017 at 10:16:46
He has good pace and energy, but then so would I if I had the fitness coaches he has. And for the money he's on. However, he lacks the ability and skill of a top striker or second choice striker.
I agree with the above posts, he's not worth 㾺m or even 㾸m as a back up player and would hinder the chances of some younger attackers who have the potential to be better than him.
If we want to prove to Lukaku that we are improving the squad to push for Champions Lerague places, then we need to make some marquee big money signings... and not West Ham rejects.
Jon Withey
38
Posted 20/04/2017 at 10:37:49
Bit if a tangent... but what are we doing with Lennon? He never plays.
Andrew Yates
39
Posted 20/04/2017 at 10:53:04
Sorry to add to the tangent but if we 'could' attract a European or World class striker, what would happen if we refused to sell Lukaku and still bought in effectively his replacement? I'd be interested to see Rom's reaction.
I'm talking nonsense, sorry – I've just got back from the gym.
Paul Thompson
40
Posted 20/04/2017 at 10:53:38
In the current mad market, 㾸m is okay, but I think we can do better. if we want to be better. Decent all round play, but doesn't score enough goals for a top class forward.
Shane Corcoran
41
Posted 20/04/2017 at 11:17:38
No.
Brian Wilkinson
43
Posted 20/04/2017 at 11:32:07
If we offload Kone and Niasse I would sign the guy, especially with the extra Europa League games coming up.
If we do lose Lukaku, we will get screwed over getting replacements in on inflated prices, the way I see it we were happy to give Niasse away waste of money some said, so using the money from that transfer is a no-brainier for me.
Don Alexander
44
Posted 20/04/2017 at 11:39:30
The way the squad is and has been for yonks prevents two forwards playing as a front two. That's because we've never had four in midfield that we could rely on to close down and create/score. Top teams don't tolerate this.
If we suppose Gana and Schneiderlin are here to play together and maybe Tom Davies will continue to develop, all of them being consummate defenders as well as all having scored this season, then the argument for a Sigurdsson-type player becomes forceful. That's the sort of midfield four that could allow two strikers to work together to convert chances they'd create, assisted by fullbacks.
So who would the two strikers be? Lukaku has unarguable ability as a scorer but would he be able or willing to blend with a fellow predator though? Hmmmm. In his brief appearances Valencia seems to have no problem blending with Lukaku but up to now I can't see his name ever being first on the team sheet. The answer to our forward line, and who's in it when next season kicks off, may be sorted by early, eye-popping midfield transfer activity this summer. I hope so anyway.
Matthew Williams
45
Posted 20/04/2017 at 11:46:14
As it stands, way too much. Half the figure & we could have a decent buy. We'll have more games to play next season so we're gonna need a bigger squad.
To be honest, at £12 million, I'd rather use that to get a decent lower-league striker, or use it to pay Rooney's wages!
Daniel Lim
46
Posted 20/04/2017 at 12:03:16
Dan (#13) and Sam (#11),
Someone posted before the derby that Valencia should start and according to the stats we would score 7 in that match if he played 90 minutes.
So yes, the number of goals we scored pretty impressive when he's on the pitch.
John Pierce
48
Posted 20/04/2017 at 12:31:09
This to me is simple. Valencia has played a positive role. He has helped energise the team, particularly Rom.
Would I buy him? No chance. He is simply a template for the player we need, quick, hard working, decent in the air.
Valencia is ineffective over 90 minutes, most useful as an impact substitute. And his finishing is more artful than deadly; prosaic, to be kind!
I guess the finished article is Mane. Somewhere in between the two would do!
Erik Dols
49
Posted 20/04/2017 at 12:49:08
This might be past the subject, but am I the only one who has no idea anymore if a transfer fee is too high or not? I mean, not too long ago, I had a clear idea of what 㾸M could buy you.
About 10 years ago we paid about ٧M for Andy Johnson and 㾺M for the Yak. Villa paid 㾷M for a 21 year old Ashley Young, Spurs paid 㾸M for a 17 year old Bale. Fernando Torres moved to the other lot for 㿊M, Man U got Nani for 㿀M, those two were perceived as the biggest talents of their day and age.
So about 㾸M bought you a great domestic talent from a perceived lesser club (Bale, Young), a proven goal scorer just not good enough to make it at the highest level (Yakubu, Johnson) and roughly the double was needed for world class potential.
But nowadays... I feel us asking 𧴜M for Lukaku is too much even in today's market, but if Valencia is 㾸M already... He couldn't get in West Ham's team after his injury and is a sub for us. A sub with injury history went for ٟM to ٠M tops ten years ago. If this exploded tenfold, then Lukaku, who I dare to compare to Fernando Torres ten years ago, should go for 𧷤M.
I really just have no clue anymore these days.
Peter Lee
50
Posted 20/04/2017 at 12:58:38
Talking with the manager of a Premier League club once. He said that the tough thing about getting promoted to the PLPremier League was re-shaping the squad. The type of players you needed to get out of the championship wouldn't keep you in the PLPremier League. It is a little easier these days given the money available and Eddie Howe has shown that it can be done in any event but the principle still holds true.
Moving forward to compete in Europe is similar. To compete at all needs a bigger squad with better quality squad players.To think of being competitive in the knock-out stage in either competition needs a considerable jump in quality at all levels.
The cost of doing this will be considerable. Given the gulf between ourselves and the mid-table teams, and accepting that they will improve their squads too, we may have a couple of years to assemble the players we need. Young players coming through will need to be a part of the process.
Chelsea, as an example, have squad players who cost as much as Valencia might. They sold one of them to us for 㿈m after all. Not saying he's worth it but there will be a lot of debates over players like this to come.
Liam Reilly
51
Posted 20/04/2017 at 13:00:00
John# 47
Are you sure, you've posted that to the right thread or even the right site?
Craig Walker
52
Posted 20/04/2017 at 13:24:22
Players on loan who successfully end up with a contract at Everton tend to do better in their loan period. It's almost like they're playing to impress. He has done better than I expected but I have a mate who is a West Ham fan and does not rate him at all. He would clap his hands at getting 㾸 million.
If we want to be a big club then we need to ask ourselves would he get into the RS team or the Spurs team, for example? We need a better calibre of player throughout the squad if we're going to be a force. For ٥ million I think he'd be a decent impact sub. For 㾸 million, there are better options.
Kim Vivian
53
Posted 20/04/2017 at 14:01:08
My Hammers mates reckon he has a good game and then disappears for 3 or 4, which seems pretty much what I have seen from him with us although in fairness he has not had that much game time. 㾸-㾺m seems a bit steep to me. How much will Delboy go back to Barca for? Valencia can't be worth more than that surely.
Clive Rogers
54
Posted 20/04/2017 at 14:02:07
Niasse has scored 4 goals in 12 games. Hardly setting the world alight. They have dried up recently.
Dan Egerton
55
Posted 20/04/2017 at 14:14:48
Andrew (#39),
"Sorry to add to the tangent but if we 'could' attract a European/World class striker, what would happen if we refused to sell Lukaku and still bought in effectively his replacement? I'd be interested to see Rom's reaction. I'm talking nonsense sorry I've just got back from the gym."
No you're not. That's some interesting food for thought!

Tony Draper
56
Posted 20/04/2017 at 14:20:50
Dave @24.
Completely agree, mate. We need to stop thinking like a "bottom-half" club. Behaving like Southampton will get us treated like Southampton and the "Johnstone's Paint Tophy" will be the pinnacle of achievement. Not for me thanks.
We need a striker who hits the onion bag every week. That lad Lukaku would be my first choice. Bit of a bigmouth, but he scores shedloads.
Keep him, and others will follow. This has to be our line of thinking. If not, then Rom & Ross, Ronnie & Erwin will be long gone before St Domingo Park at Bramley-Moore Dock on the banks of The Royal Blue Mersey is even underway.
Alan J Thompson
57
Posted 20/04/2017 at 14:47:39
Seems reasonable given we paid £11M for a kid from Charlton.

Kieran Kinsella
58
Posted 20/04/2017 at 15:04:24
He's like the plastic toy you find in a cornflakes box. Nice bonus but you'd scoff at paying £14 million for it.
Kieran Kinsella
59
Posted 20/04/2017 at 15:24:15
The stats showing his importance are pretty meaningless. Yes, we score when he's on. But we bring him on when we are chasing the game so tactically we are more likely to score.
Jim Hardin
60
Posted 20/04/2017 at 15:28:59
Exactly the type of player to build a squad to compete in Europe with. He is not a replacement for Rom. He would also have to be willing to be a sub for most games.
Reading the moaning over the price tag for the player, I do wonder what an assist, a run drawing two defenders to create space for another player to score, or a goal himself are worth? Especially if those things help secure a top four spot, to advance in the FA Cup, or to advance in Europa League action, regarding money for the club and in free marketing to attract fans, improve the club;s image, and hopefully help to sign even better players?
Phillip Lupton
61
Posted 20/04/2017 at 15:38:03
No No No!
Bobby Mallon
62
Posted 20/04/2017 at 16:37:32
He is well worth £12M.
Brian Williams
63
Posted 20/04/2017 at 16:55:30
What you have to ask yourself is whether you'd want to offer £12m for him if he wasn't here already, had never been here, and was still at WHU.
For me, IMO, that's a no!

Mark Morrissey
64
Posted 20/04/2017 at 16:57:00
No thanks. No to Niasse too. Jesus, are people watching him. No to both.
David Barks
65
Posted 20/04/2017 at 17:20:21
Would either Chelsea, Spurs, City, Man Utd, Arsenal or LFC think about signing him? Not a chance and neither should we. We need to be bringing in much, much better.
Graham Mockford
66
Posted 20/04/2017 at 17:25:52
The question we should be asking, as David Barks insinuates, of any future potential signings: Is he good enough to be part of a Champions League team?
Personally I don't think so.
Brian Wilkinson
67
Posted 20/04/2017 at 17:29:00
Daniel@46,
I said we should have started with Valencia against our neighbours. With the way Lukaku plays against the big teams I suggested 2 forwards Liverpool would know little about and not be able to double up as they did against Lukaku.
For some reason, we seem to start slowly in most games and may have benefited taking a gamble before bringing Lukaku on to tear into them.
Valencia has impressed me and creates space for Lukaku when he plays, would like to see more of those two linking up in attack after the West Ham game.
Brent Stephens
68
Posted 20/04/2017 at 17:39:31
#47 brightens my day!
Mark Hughes
69
Posted 20/04/2017 at 18:24:26
Buy him!
Jason Broome
70
Posted 20/04/2017 at 18:31:25
Simply NO!
Would rather bring back Rooney on a free.
Teams who want to compete in the Champions League, buy Champions League quality (like Robinho). Those who want to stay below the glass ceiling pay 㾺 Million for Valencia.
We need to be ruthless and ambitious to seriously compete with the Elite.
Alexander Murphy
71
Posted 20/04/2017 at 18:35:18
Valencia confounds me. I suspect that he could just return to his explosive best. When he first joined WHU he scored plenty. Then he got injured and the wheel fell off. He looked bloody great playing for Ecuador in the World Cup. I'm unsure, but he could be a cracker or a waste of money. I'm tempted to take a chance.
Basically, no player comes with a money back guarantee.
Brian Wilkinson
72
Posted 20/04/2017 at 18:36:29
David @65, would those you mentioned pay 㿈 million to Chelsea for Lukaku? The answer at the time was No. Would those take a punt on John Stones, Jagielka, Tim Cahill, Gana? Again, No.
I am not interested if the above did not chase players we have had, I cannot honestly say he is worth 㾸 million, none of us have seen enough of the guy, what we have seen though is worth hanging on to, especially with the extra Europa League games.
I would like a top class striker, but again with the extra games coming up he will be a good addition to the squad, especially with losing Kone, Niasse, possibly Deulofeu.
Still too early for Calvert-Lewin, Donkor, Sambou, let Unsworth mature them.
It only takes a couple of injuries and we are thin on the ground, Only have to read the archives with what if Lukaku gets injured posts to see we have little cover, Valencia is one I would trust to do a job for us if called upon along with any additional striker we might bring in.
Gavin Johnson
73
Posted 20/04/2017 at 18:49:34
Valencia's done okay. At the same time, he's not done anything more than what Naismith did a couple of seasons ago. If we're looking to break the glass ceiling next season, we need better players, with all due respect.
If we do sign him, it needs to be under 㾶m.
Kim Vivian
74
Posted 20/04/2017 at 19:05:28
Sorry – a way off topic here but can someone remind me because I get confused! – do we want Man Utd to win the Europa League?
Colin Glassar
75
Posted 20/04/2017 at 19:06:35
If the rs end up 4th the then yes, Kim. That would be funny.
Mike Berry
76
Posted 20/04/2017 at 19:10:41
If West Ham wanted him, he would be playing in their shirt not ours, so don't take 㾸/14m as a ball park figure, it could be half that. They will sell and have to get what they can.
As for the comments about impact sub, only because he has been used in that capacity and has Rom in front of him. I think he is a class act and may surprise when given more responsibility.
Lewis Barclay
78
Posted 20/04/2017 at 21:07:23
I've got a 13-year-old Audi A4 for sale. Originally it cost about 㿀,000 but I'll happily sell it for 㾾,000 this summer.
That's how this works, right?
John Daley
79
Posted 20/04/2017 at 21:50:53
"#47 brightens my day!"
All in a day's work for J-Willy:
Although, personally, I haven't the first clue what the fuck the Holocaust, transportation to Nazi death camps, Lyndon calling a vile newspaper "a vile newspaper" (in a different article, about a week ago), or almost 30 years having passed since Hillsborough, has to do with a ridiculous valuation being slapped on a guy who has been stuck on the subs bench for the majority of the season.
Brian Williams
80
Posted 20/04/2017 at 22:11:55
Col (#75). I think they'd still qualify for Champions League under those circumstances... think so anyway.
Could the fourth-placed Premier League team miss out on Champions League?
That was a possibility until the final English team, Leicester, were knocked out of the Champions League by Atletico Madrid.
Ian McDowell
81
Posted 20/04/2017 at 22:14:17
An international striker with Premier League experience. Would probably score into double figures if a regular. Add to that, he works hard and is fast. 㾺 million is a good price.
Geoffrey Hall
82
Posted 20/04/2017 at 22:21:31
The Anderlecht boy looks spacial... Telemans – break the bank for him; spend the money well.
Paul A Smith
83
Posted 20/04/2017 at 22:22:25
Got to admit Valencia has grown on me in terms of he can help the team, and is a good squad addition. In my opinion, £12 million wouldn't be a disaster if we can offload some deadwood.
I didn't want to ever see him in a blue shirt when he arrived but fair play to him. He gets his head down and as a sub he always opens a defence up.
As Kevin Ratcliffe asked today, are we in a position where that kind of fee is acceptable for a bit part player?
Bill Gienapp
85
Posted 20/04/2017 at 22:32:26
I always thought Valencia became an unfair target of people's deadline day frustrations, when his loan move was never much more than a low-risk flier.
As I suspected, he's proven to be a perfectly solid addition this season – hasn't gotten a significant chunk of gametime, but has contributed positively off the bench more often than not.
Whether that's worth keeping him in the fold for £12-million... well, who knows? Given that West Ham seems to have little interest in him at this point, maybe that number could be shaved down even further.
Brian Wilkinson
86
Posted 20/04/2017 at 22:40:51
Colin@75, it only affected the 4th team if a team won the Champions League. All that will change is Man Utd will either be in the Champions League or the Europa League depending on them winning it; no other team will lose out or gain by Man Utd winning it.
Rick Pattinson
87
Posted 20/04/2017 at 22:55:00
Not a bad player by any means... And 㾸 million isn't a bad price But really Do we really need Valencia.?
I don't think he will play a major part in any Everton team He just doesn't bring enough to the table. So for me it's a no go.
And as for Lukaku, he's pretty much irreplaceable... We will lose him, I'm sure, and 𧴜 million is bang on. And every season will we get this circus until he finally goes... shame really but, hey, he wants Champions League and bigger bucks. Let's hope we spend the money wisely.
Steve Jones
88
Posted 20/04/2017 at 23:16:43
Agree with Alasdair #25. If we can offload Niasse for £10M, I've got no problem passing that to West Ham for this lad.
We need depth and we're not going to get a real quality player in to sit on our bench. Valencia seems to mix things up and we've moaned for ages that we've never had a Plan B that was much different than plan A.
If he likes it here, and is okay playing the role we need from him, that'll do until we can reliably bring in better. Which we're going to have a challenge doing until we crack Champions League or are regularly skinning Arsenal, Man Utd and Spurs.
Peter Lee
89
Posted 21/04/2017 at 00:26:25
Valencia, after his injury, was pissed off, reportedly, because he was asked to play wide. When he comes on late for us, he can pretty much do as he likes.
I like what I have seen in the cameos he has had. If we weren't under pressure to finish above 7th, I'd be tempted to give him a run up front and sit Rom out.
This would do two things: it would give us a look at him and it would give us a chance to set the team up to service a different kind of front man, something that we might have to do if the big man goes or gets injured if he stays.
Brian Wilkinson
91
Posted 21/04/2017 at 09:22:25
Could not agree more, Peter @90, I have touched on this before, I have no problem with Lukaku whatsoever; we have been very lucky so far on the injury front with him.
If we are to lose the player then giving Valencia a bigger run out in the team is worth a look at, try a different formation just to see, we cannot rely or depend on one player. Lukaku is doing all the right things, we are putting everything into him not moving or getting injured. Before we dip into the market give Valencia a run, then we can take it from there whether to pay the money, or return him and look elsewhere.
Like I have said previously, the guy has impressed me in the games he has played for us.
Gary Drain
92
Posted 21/04/2017 at 10:34:13
I can't believe this is even being discussed. He's not worth half of that! The man can't stay on his feet for more than 5 seconds!! Hence my nickname for him, Bambi.
If we're willing to pay £14 million on him that gives every club we want to deal with the idea we'll pay up for any half-decent player!
James Flynn
93
Posted 21/04/2017 at 11:51:13
1. Does he want to stay at Everton?
2. Does the Club want to sign him permanent?
If the answers to both are "Yes", West Ham won't be in the best bargaining position and the price will go down.
If the answer to either one is "No", we go get someone else.
And I'm in the "Yes, if the price is right" group.

Denis Richardson
94
Posted 21/04/2017 at 15:21:36
Unless we get him for free, he should be sent back to West Ham at the end of the season.
There are loads of strikers in Europe who would jump at the chance to come to Goodison Park for a fraction of £12m.
We know what Valencia can do, which isn't enough to merit a regular start, so I think it's better to let him go back than spend a chunk on a sub.
Phil Walling
95
Posted 21/04/2017 at 16:22:47
Just because you've got money to burn doesn't mean you have to rush to burn it.
This bloke was an afterthought last summer and only if Walsh fails to find a better player should he even be considered for a permanent signing.
Given what very average talent he's come up with so far, I suspect the ex Leicester man will soon be struggling to keep his own job – let alone employ West Ham no-marks!
Tom Bowers
96
Posted 21/04/2017 at 16:49:54
The lad did well coming on as a sub with fresh legs on occasions and clearly has ability.
However, there are question marks about him being a regular starter with the big clubs and I agree with the figure of ٣ million, no more. Not being able to get a regular start at mediocre West Ham gives you an indication of his worth.
Martin Nicholls
97
Posted 21/04/2017 at 17:50:41
Phil (#95) – for once I agree with you! Walsh hasn't shown a lot of what he was allegedly brought here for – time for him to show us what he's made of and, as you infer, no WHU rejects!
Lev Vellene
98
Posted 21/04/2017 at 22:13:00
Tom # 96 It doesn't matter how any of us value him, if WH (reportedly) says 㾸m, then we take him, or leave him at that! If they want him back, let them have him; or let him go at a lower price.
I think he works well for us, though, but I also think we can get hungrier, younger players for the same price... Luckily, neither of us has an impact on that! :D
---
Add Your Comments
In order to post a comment, you need to be logged in as a registered user of the site.
Or Sign up as a ToffeeWeb Member — it's free, takes just a few minutes and will allow you to post your comments on articles and Talking Points submissions across the site.