Barkley strike gets Blues back to winning ways

50 Comments [Jump to last]
Friday 12 May 2017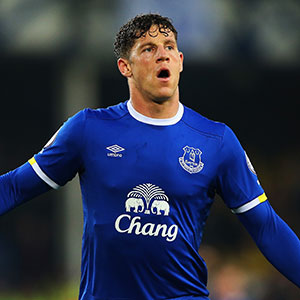 Ross Barkley scored the only goal as Everton atoned for December's defeat at Vicarage Road with a 1-0 win over Watford
Alex Livesey/Getty Images
Ross Barkley scored the only goal as Everton signed off their home fixtures for 2016-17 with victory over Watford.
The 23-year-old had been a topic of much discussion in the lead-up to the game after Ronald Koeman reiterated his stance on his need to sign a new contract or be sold this summer and he stole the headlines with a fine strike 11 minutes into the second half.
It was his fifth Premier League goal of the season and he was given a standing ovation when he left the field with 10 minutes to go to make way for Gareth Barry.
Barkley was named in the starting line-up after being left out at the Liberty Stadium last weekend and he came close to justifying his recall when he finished off a nice passing move with a one-two exchange with Idrissa Gueye. Heurelho Gomes was equal to his left-foot shot, however.
And the Brazilian had to be at his best from a Leighton Baines corner that was met by Phil Jagielka at the near post but Gomes got down quickly to make the save.
It was a slip in midfield by Barkley that paved the way for Watford's first sight of goal as Stefano Okaka, Everton's nemesis in the return fixture at Vicarage Road last December, romped through but bounced a shot wide of Joel Robles's goal early in the second period.
Barkley capitalised on a similarly open midfield for his goal as the Hornets' defence retreated in front of him and he was allowed to line up a shot from 23 yards that he successfully guided past Gomes to put the home side ahead.
Romelu Lukaku, in search of his first goal in four games then had a strong claim for a penalty waved away by referee Kevin Friend as he tumbled under a clumsy challenge by Daryl Janmaat.
Morgan Schneiderlin, another player returning to the starting XI, headed narrowly over from another Baines corner before Robles made a good save to deny Okaka as Watford tried to find an equaliser.
The Spaniard was back in the side following an injury to Maarten Stekelenburg and he made a reflex stop as Okaka half-volleyed goal-wards from close range.
Half-time substitute, Enner Valencia, had a great chance to double the advantage in the closing stages as Gueye led a quick counter-attack following a Watford set-piece but he was edged out by a defender as he prepared to shoot and Gomes successfully closed the angle to block his effort.
The win means Everton finish the season with an impressive 13 home wins from 19 and the restoration of Goodison Park as a fortress under Koeman bodes well for next season.
---
Reader Comments (50)
Note: the following content is not moderated or vetted by the site owners at the time of submission. Comments are the responsibility of the poster. Disclaimer
Dermot Byrne
1
Posted 13/05/2017 at 06:39:37
Let's not turn this into a third Ross thread. How were other players?
Jim Bennings
2
Posted 13/05/2017 at 08:37:35
Good to sign off with a win at home, typical end-of-season performance with nothing to play for, mind you, pretty awful at times.
I still believe we need at least two or three new really positive forward-thinking players in the summer window. It was a good goal by Barkley but let's not be fooled that we have a midfield that's anywhere near good enough at present to challenge the higher league placings.
For me, we are crying out for pace out wide, and last night again showed me that we desperately need to sign an established right back; Holgate is a complete fish out of water there.
All-in-all, though, absolutely no complaints about the home record; proud to have restored the place as a fortress and it's first job done for Ronald Koeman, considering how easy Goodison was to come and score bags of goals for opponents last season, it's pleasing to see defenders just defend... and I suppose Ashley Williams takes some credit for this.
Just need to sort the away form next.
Kieran Fitzgerald
3
Posted 13/05/2017 at 08:40:35
Thirteen wins and four draws from nineteen games. Very decent home record to say the least. Overall, ten drawn games, about average for the Premier League, with the exception of the top two.
The difference is the games lost total. Of those above us, everyone has lost at least four games less, the exception being Arsenal who have had a very poor season by their standards. Two more wins up to now would see us challenging for the Champions League places. 'What if' comes to mind with the recent West Ham and Swansea games...
Still, a good start. The aim for next season will be to continue the home form, draw fewer games, and lose a couple less games. Whether it's getting in guile and creativity in the summer transfer window, or making the team that little bit more aggressive, it's an obvious piece of work.
Chris Williams
4
Posted 13/05/2017 at 09:41:35
18 points away in 18 games is a fairly large elephant in the room too!
An effective first season for the new regime. Not great but maybe as good as might have been expected by many.
The football was not great and I can't recall one game where the 90-minute performance was good, but the team was fitter and a bit meaner and better organised and we even scored from corners.
A good start with clearing out the stables with relics from the Moyes and Martinez eras leaving, to be completed at the end of the season with the loanees being sold, to clear the decks for an influx of newer better players to accompany the younger players coming through. Hopefully !
I came away a bit flat last night with my son, but the real pluses were Davies, Schneiderlin, Gana and an effective defensive performance against a throwback team of grocks, long throws and all. A couple of others were okay and a couple of others were not. It emphasised again what a miss Seaumus is for us down the right. Good goal by Ross.
Final game against Arsenal. Then Cricket, holidays, transfer window and off we go again in Europe in July, probably in some horrible dusty gaff.
Might be interesting.
Mike Keating
5
Posted 13/05/2017 at 10:58:01
We got bullied by a more physical side. I can understand why Koeman didn't play the kids.
Valencia gave Lukaku a lesson in how to put yourself about. Schneiderlin MotM and Williams was hopeless.
At least Koeman got a better idea of who won't be there next season... I hope!
Jim Bennings
6
Posted 13/05/2017 at 11:17:58
I wouldn't say Williams was hopeless, Mike.
Williams has his limitations but, in terms of doing defensive duties, he's been far more competent than John "Cruyff turns" Stones.
Games like last night's we were conceding two or three in last season, mainly because of Stones arsing around on the edge of our own penalty box.
Not the future, Williams... but he's done what's been expected of him in most games.
Chris Williams
7
Posted 13/05/2017 at 12:04:35
Williams was bought to replace Jags, I think, and I'd like to see him alongside a young fast dominant centre-half with a first class reliable goalkeeper behind him.
Sadly Jags has gone now although he was okay last night and Williams is still a few years younger and more of a leader and organiser.
Solid base that: good keeper, dominant central pairing, screened by Gana and Schneiderlin. Just need another 4 attacking and creative goalscorers in front and away we go.
Don Alexander
8
Posted 13/05/2017 at 12:09:15
The fact that, without Ashley Williams, Swansea are in the bottom four... and that, with him, we have the fifth best defensive stats in the Premier League – that must mean something, or am I missing summat?
Brian Harrison
9
Posted 13/05/2017 at 12:15:53
Not a rousing end-of-season display but they very really are unless you have something to play for. Gana Gueye again the outstanding performer followed by Jagielka and Schneiderlin. Just wish that Gana could get in the box more and score some goals, mind, if he does add that to his game we will have the complete player on our hands.
A busy period coming up for Koeman, Walsh and Moshiri in the coming weeks. Who goes and who stays? Hopefully this will be sorted in the coming weeks. As we all know to improve we have to spread the goalscoring duties around the team, and also pick up more points on the road.

Tony Hogan
10
Posted 13/05/2017 at 12:19:22
Williams!!!!! One of the worst centre-halves I have ever seen in an Everton shirt in 40 years; over-priced... over-rated.
I would sooner have John "Cruyff turns" Stones any day. Young Holgate to be first choice next season.
Brent Stephens
11
Posted 13/05/2017 at 12:28:21
Don (#8), I think what we look for in a central defender is more than defending. Williams's confidence on the ball is poor, his decision-making is dodgy, and his distribution is woeful.
I guess all that might mean other players are loath to give him the ball, and he doesn't start movements from the back as some other central defenders do.
Brent Stephens
12
Posted 13/05/2017 at 12:30:09
Dermot (#1) – nice one!
Don Alexander
13
Posted 13/05/2017 at 12:37:53
I'd like a top-notch defender with ball-playing capacity too but success is built on tight defence first and foremost. By virtue of his age, Williams was a stop-gap signing but with him we've significantly improved in defence.
A similar performance next season, but with better players in advanced midfield and attack, may just get us to Champions League qualification.
Colin Malone
14
Posted 13/05/2017 at 12:43:34
Talking of a centre-half, all the limelight is on Keane, Gibson and Maguire, which sky rockets their transfer fees. I would like us to go for Jonny Evans from West Brom, who is a very good footballing centre-half.
Stephen Brown
15
Posted 13/05/2017 at 12:49:26
Williams has been decent (imo). He has limitations but wants to defend! This was what was needed after 2 years of pathetic defence!
Certainly not the future but a B- for the season from me! And he will be valuable member of the squad for a couple more years at least!
Brent Stephens
16
Posted 13/05/2017 at 13:08:54
Don (#13) – fair comment.
Paul Hughes
17
Posted 13/05/2017 at 13:35:33
Williams was dreadful last night, not helped, mind you, by a piss-poor refereeing performance which blew him up for a foul every time he challenged Okaka.
Holgate proved, yet again, that he is no right back, and Koeman was spot on in hauling him off. Jags and Baines are showing their age.
A major defensive re-construction is required by the end of July.
Jay Harris
18
Posted 13/05/2017 at 14:21:56
Paul, that would be a major deconstruction of a defense that kept yet another clean sheet despite missing Seamus against a very physical team to maintain their place as the fifth most successful defense in the Premier League.
Personally, I think the problems are up front. I agree with Jim Bennington – we need a wide player such as Mahrez or Sane and someone who can win and hold the ball up front.
Matthew Williams
19
Posted 13/05/2017 at 14:23:20
I'm still not convinced we'll get through the qualification stages to the Europa League proper... after all, we'll have to play away from home!
Our football is still soul-destroying to watch. Unless real changes are made, we will not improve & go many seasons just making up the numbers...
Richard Lyons
20
Posted 13/05/2017 at 17:53:00
I'm a bit puzzled, can someone enlighten me: Holgate was replaced by Valencia at half-time – so who took over at right back?
Colin Glassar
21
Posted 13/05/2017 at 17:54:00
Davies, Richard.
Paul A Smith
22
Posted 13/05/2017 at 17:55:54
Glad Ross Barkley scored today because, if we didn't win that, it would have been all his fault.
Paul A Smith
23
Posted 13/05/2017 at 17:57:41
Paul Hughes, I agree on Williams. I find him to be the worst footballer for a centre-back we have ever consistently had play for us.
I thought the game was really dreadful and again showed me how far we are from bridging the gap.
Jeremy Jansen
24
Posted 13/05/2017 at 18:11:19
Enner Valencia was again the catalyst on Friday. I can't recall the numbers thrown about in terms of what it would take to keep him but he really has been great off the bench as an impact substitution.
It doesn't necessary happen every time he steps on the field but it seems like, more often than not, he puts us into a higher gear. I don't really see anyone else on the bench who has the ability to do the same to be honest... I can't help but wonder if he might be worth the fee...
Richard Lyons
25
Posted 13/05/2017 at 18:22:59
Thanks, Colin. How did Davies get on at right back?
Colin Glassar
26
Posted 13/05/2017 at 18:30:05
I didn't watch the game, Richard, or the highlights tbh, but he adapted really well by all accounts and Ronald sounded chuffed to bits with him.
Unlike Ross who I think he really dislikes. I think it's personal now between those two.
Richard Lyons
27
Posted 13/05/2017 at 18:41:09
Oh, despite the request that this should not become a Ross discussion... I think it's time to sell him; Sigurdsson is better anyway.
Dermot Byrne
28
Posted 13/05/2017 at 19:04:17
Grrrrr... just kidding!
John Pierce
29
Posted 13/05/2017 at 19:38:48
Such a poor game, little on it yet another substitution at half-time from Koeman.
A feature of the season under his tenure. The change made an impact, gave us some impetus. But again this perceived strength is eroded by the fact he got it wrong in the first place.
You make substitutions mostly to change up a situation not repair the ineptitude that you've created yourself.
You are allowed to 'Horlix' it up now and again but it's consistent with him. Mostly away from Goodison Park but recently it's crept into home games.
Effectively, Davies played as a right wing-back, especially when Barry came on, which had the effect of us having to defend for the last 10 minutes as Barry dragged us back towards our goal as a third centre-back.
Defending so deep just invited the bombardment which Okaka should have scored from. It was reminiscent of West ham last year, we sagged deep and got killed with three aerial balls.
Surely against such moribund opposition we can find more attacking verve and shape to press them back?
To make it worse Rom and Ross our bollards in this formation, add Kone to this and you had a cycling proficiency course set up. We effectively defended with 8.
Koeman must be a 'right brainer' – there is no imagination in that fellas head whatsoever.
Our subsidence in the last month has left us qualifying, no chance decent players will look twice at us until we get Europa group stages. Summer is already now a wait until we qualify. An ever decreasing circle which means excuses lined up like Koeman's defensive 8 for a poor summer in thew market.
Ouch! Reading back that feels horrible, but just.
Bill Watson
30
Posted 13/05/2017 at 21:44:45
The highlight, for me, was once again bumping into Ray Roche, in St Luke's, to continue our conversation of Monday night, lol.
The game itself was a non-event and I think Koeman missed a trick in not considering any of the Under-23 England players. I'd have liked to have seen Kenny given a game at right back with Holgate moving inside replacing Williams.
Williams is a major disappointment: when he was signed, I was expecting a strong, dominant, centre-back but what we got was a player who is hesitant and can't pass a ball.
Most of the rest just rated an okay with, for me, Davies, Schneiderlin and Gueye being the pick.
Much work to be done in the summer!
Paul Hughes
31
Posted 13/05/2017 at 22:19:09
Richard (#25),
Davies was pretty effective at right back, and gave much more forward impetus down the right flank than Holgate could deliver.
Davies was also, head and shoulders, our best player in the moribund first half. He'd fit into the '70s Dutch Total Football system – I think the lad could play anywhere.
He's probably a better goalie too than the pair of muppets we've got currently!
Mike Dolan
32
Posted 13/05/2017 at 23:55:15
Koeman made the correct substitution at half-time which corrected his error of not of not playing the right team in the first place. We won the game FFS.
It would be a lot easier if you could send your team selection to the Dutchman about an hour and a half before the game, John Pierce (#29), to save him the embarrassment of having to make tactical substitutions.
John Pierce
33
Posted 14/05/2017 at 00:54:14
Ah Mike, take the comment in the round – this is the umpteenth time he's had to do this, starting with the WBA game and McCarthy, punctuated with games at Sunderland, Burnley etc.
I couldn't give a fig that we won, because winning doesn't and never has meant we are any good. We've been bang average.
If he continues to play over-cautious team selections with little or no ambition, then we start games as slow as a glacier – again consistently a factor in his tenure, especially away from Goodison Park.
If you're happy with what he serves up, that's up to you. I'm not, the last 4 games have been a travesty.
ps: I do give him selections ahead of time, I can take notoriety for the line-up at Man City away....
Geoff Williams
34
Posted 14/05/2017 at 09:36:49
Williams offers nothing. He is poor on the ball, he rarely wins a header, and he is slow. Jagielka – for all his faults – is an infinitely better and more effective footballer than Williams.
Everyone knew we needed a centre-half last summer but anyone who has watched Swansea on a regular basis over the past few years would have said Williams isn't the answer to Everton's problems. He has been a fading force for several years.
Brian Porter
35
Posted 14/05/2017 at 10:08:16
I think it's clear that, as far as ToffeeWebbers are concerned, the jury is still out on Koeman, despite a great home record and qualification for (the preliminary rounds of) the Europa League.
I can fully understand such feelings as, up to a few weeks ago, 6th place and automatic entry into the group stages of the Europa League was a distinct possibility. We were doing okay and all we had to do was maintain our good form and watch the teams above us crack under pressure. Arsenal for one, didn't look comfortable at all when we were breathing down their necks.
Then the rot set in. A few weird selections, a negative approach to away games, and the wheels seemed to fall off the bus. West Ham and Swansea were two games we could, and should, have won, which could have made for a cup final-like atmosphere in the final match at Arsenal.
Instead, the team began a long sleepwalk towards the end of the season. Koeman seemed incapable of motivating the players to give their all for the team, a slightly worrying aspect of his management style.
Only time will tell whether his hard-line stance with Ross will result in us losing a player we sorely need with European football looming. We need a bigger squad, not a smaller one, and Ross is hardly a weak link who can be replaced at the drop of a hat.We should be looking to reinforce Ross's position, rather than looking at a direct replacement.
As for Rom, I'm sick of the whole circus surrounding his future. Whatever happens, we will survive and move on. Whether he does or not really doesn't interest me anymore.
So come on, Mr Koeman. For the big bucks Moshiri is paying you, we expect a little more than I think we've seen so far. The next few weeks could prove pivotal in defining how the fans feel as a whole, in determining just how much faith the supporters really have in your ability to take us to the next level.
Roger Helm
36
Posted 14/05/2017 at 13:48:56
For all the criticism of Williams and our goalies, we are seventh in the table with the fourth meanest defence, so they can't be all bad.
We would do better to criticise all the attacking players, Rom excepted obviously, who are not scoring goals.
John Charles
37
Posted 14/05/2017 at 14:48:40
It is not a strength to have to change formation/ personnel at half-time but a failure of tactics to begin with.
A distinctly average season from Koeman with large swathes of dross (even when winning many games where we were poor) with a sprinkling of class.
The ethos of the team and manager is far too negative and consequently everything we do is slow.
Jim Bennings
38
Posted 14/05/2017 at 15:43:43
We need to look at the season for what it is. It's been relatively solid if not spectacular.
Good home form, terrible away form. Better defence than last season, undisputed.
Pathetic Cup runs in both League and FA Cup, must do better next season. Need more goals from other parts of the pitch not just one man.< Need more pace out wide.
As I say, solid season nothing more, and summing it up I'd say it was... Better than the last two season's albeit that's not hard to achieve; nowhere near as good as Martinez first season when for that one year it felt okay to dream again as an Evertonian but obviously it quickly went tits up.
I'd say the season on a par with Moyes last one here, almost a carbon copy record both home and away too.
Same as we were four years ago? Is that progress or not? Feels a bit like one step forward after two steps back since 2013..
Big summer required though.
Tony Hill
39
Posted 14/05/2017 at 15:52:49
The RS run away with it at West Ham. They've had poor passages in recent history but their settled expectation as a club is always of victory. They were picked up by their bootstraps 50 years ago and haven't really looked back.
Why do we still look at them and feel so strongly? It's because we know we have been long since usurped and because we have had nothing approaching their will to win for decades. As Carragher noted, we are far too nice, far too accepting of defeat.
We're still cringing. We need someone who will do for us what Shankly did for them. Without that mental revolution, we will never break through again, though no doubt we will still be applauding ourselves for finishing 7th and piously reminding ourselves that Rome wasn't built in a day.
Colin Hughes
40
Posted 14/05/2017 at 16:03:20
Tony (#39), I have been say that for years "too nice Everton", always been the type looking fir a pat on the back for being everyone's favourite Charity club. Always roll over when a team desperately needs a result e.g Sunderland away last season, Swansea last week.
Far too interested in firmer player reunions and community projects etc etc than a the current squad of average players, why did we give Mirallas a four-year new deal when hes achieved nothing with us and a can't be arsed attitude is mostly prevalent? Coleman is probably finished with that injury at his age yet we dish out a 5-year deal.
Far too nice a club; to achieve anything, you need ruthlessness.
Joe McMahon
41
Posted 14/05/2017 at 16:26:48
Tony and Colin (#39 & #40) nail on head. Everton, The People's Club. Too nice, we are not supposed to be a charity. Many players good and bad kept far too long with extended contracts. Gibson, Baines, Jaqs, Hibbert – Why?, even Tim Cahill (pains me to say it).
The squad turnover in the Premier League era has been pathetic, far too many transfer windows nothing happened. We won't be anything near winners until Kenwright goes, that's why David Moyes was here for 11 years.
For the past 20 years we have been losers, it's in our footprint – knife to a gunfight. My main concern is that we have left it far too late (see above named Chairman). We used to be streets ahead of Spurs; will our new stadium be any nearer when they are in theirs?
Jim Bennings
42
Posted 14/05/2017 at 17:32:47
The first moves in the summer as far as I'm concerned would be...
One of the following goalkeepers: Kasper Schmeichel, Tom Heaton, Fraser Forster, Jordan Pickford (though I'm not entirely convinced about him commanding his area yet).
Michael Keane or Virgil Van Dijk.
Gylfi Sigurdsson.
Josh King (regardless of whether Lukaku goes or not).
Get these done then I'd like to see at least one serious business marquee signing made followed by some sturdy squad players a mix of youth and experience coming in areas like the fullback berths and some healthy options out wide.
Get these signings made and just maybe we will see a different dimension in certain games where we have stagnated, ie, Boro, West Ham, Bournemouth, Swansea away.
Gareth Stephens
43
Posted 14/05/2017 at 17:54:00
Roger (#36), I don't think you should except Lukaku. His goals have only changed the outcome of 5 games – 10 points (Sunderland, Palace, Man City, Bournemouth and Leicester). Without his goals, we'd still be in the same league position. The rest of the team do quite well contributing goals and points.
Lukaku – one of the most over-rated footballers I've ever seen. Get shut. We'll be a much better side without him.
Scott Mongomery
44
Posted 14/05/2017 at 22:02:35
I've often wondered why I don't hear more transfer speculation involving German players to Everton.
I happen to be in Germany and watched highlights of the Bayern 5 Leipzig 4 match. We probably wouldn't get a Lewandowski but Timo Werner and Yussuf Poulsen from Leipzig had a lot to like about them at still very young ages.
I'd be interested to hear from someone who knew more about the Bundesliga of how highly these players are rated.
Ernie Baywood
45
Posted 15/05/2017 at 12:21:27
This game just summed it up for me. Good enough to beat the rest, but light years away from the best.
Usually finishing 7th would give you cause for optimism, but I reckon we need a compete overhaul just to challenge for the place directly above us!
The back 5 needs total change. We can't wait for Coleman, Jags and Baines another year older and Williams not at the level we hoped for. You can make a case for sticking with Holgate but it's not exactly looking like a top-drawer unit.
We lack wingers with genuine quality. Our number 10 lacks energy and may well be leaving us anyway.
One of Gueye and Schneiderlin are great... but both? They're different ways of approaching the same position. Neither are the 'quarterback' type. I thought Schneiderlin might be, but recent performances demonstrate he's more cultured ball winner/retainer than a dictator of play. Gueye effectively does the same in a very different style. We still haven't replaced Arteta in that deep-lying creative role.
And our striker looks for a move every time he actually puts in a worthwhile performance.
Two, maybe three players who would be part of a first 11 that could challenge for Champions League places... I wonder if the club will think that the revolution needed is a worthwhile gamble when you consider that we could probably sleepwalk to 7th again with incremental improvements.
Colin Malone
46
Posted 15/05/2017 at 13:43:47
We have got to get rid of the out-and-out centre forward. Once the opposition suss that out, like they did most games last season, especially the away games, the goals dried up. In the modern game, most successful teams don't play with a goal hanger.
Spurs? No, the Liverpool? No, Man City? No, Chelsea? No; Costa comes deep. Man Utd and Everton? Yes. This is where Rooney in, Lukaku out, will be better for Barkley, Mirallas, Sandro etc.
Premier League Top scorers.
Rom 24. not another Everton player in sight,
Spurs. Harry Kane. 22. Delli Alli. 17. Son Heung-Min. 12.
Chelsea. Costa. 20. Hazard. 15.
Is it time to ditch the out and out centre forward?

Peter Lee
47
Posted 15/05/2017 at 13:52:41
Two points about "too nice".
Those that decry Everton's lead in community action are both a disgrace and misguided. If multi-million pound enterprises can't put something back into the community that gave them birth, they are adrift.
BUT
EiTC is run as a totally separate enterprise from EFC. There is no subsidy and it is arguable that in PR terms the club gains much more from EiTC's very favourable and extensive media coverage than it does from other commercial sponsors.
Always been too nice?
Reid. Sheedy, Bracewell, Sharp, Gray? – Delicate flowers all.
The Dogs of War? – Chihuahuas!!
Cahill and Arteta? – Wimps!!
Currently, Barry knows when to put a foot in and his disciplinary record shows it; Williams too will take one for the team.
What we do lack is leaders on the pitch. We need big, confident characters, preferably three or four. I suggest that this is what Carragher meant. He makes similar comments about our neighbours. He was the last of theirs to really drive the team on. We haven't had one since Phil Neville left.
Peter Lee
48
Posted 15/05/2017 at 14:20:29
If you don't concede, you don't get beat – and every manager starts from there.
Conte had to solve that problem and changed from a back four, with a defensive midfield screen of Kante, to a back three, largely a back five when they were under pressure as they did for an hour at Goodison Park recently, plus Kante. Chelsea have much better players going forward than us and when they dominate their full-backs get in on the act to maintain the pressure. Outballs against them are difficult, particularly if the oppo play one up. Their back three seldom stray.
Koeman deserves credit for tightening up the back from recent seasons but don't forget that we had the fifth best defence when Roberto was here for his first season.
He has tinkered this season, dabbling with three at the back at the start and occasionally since. He hasn't had a full complement of midfield players fit and available so it is difficult to guess what might behave been and what the future might hold.
I think that he has been mistaken most of the season in not playing a genuine holding midfield player, in front of the back four. It has reached the stage where he does use one and his very presence leads our back four to drop.
It happened again when Barry came on on Friday. Defending is a team thing. Without the ball everyone has to work equally hard front to back but the back five are the key. We have played much of the season with midfield players who have been tasked to patrol too far forward of the back line when we don't have the ball. We drop off at the back and we are stretched, giving other teams space. This is much more of a problem away when home teams are more prepared to break quickly but the problems are there at home too.
Koeman's pronouncements seem to indicate that he is looking for goal-scoring, box-to-box midfield players. But look at Spurs. They have an excellent example of same in Alli, but they also have Wanyama and Dier who shield a back four that pushes up to stay in contact with those two.
We need more pace at the back in at least one of the centre-backs. If we push up with the greater security that pace offers I'd be looking for at least one, maybe two to do that shielding job. Closing the gap between the two lines means that Barry could remain in the reckoning; fit again Basic or McCarthy perhaps.
Gueye or Schneiderlin could do it but they would have to be reined back, their natural instincts take them forward too quickly. Gueye's reading of the game is excellent. He'd get my vote.
Mark Andersson
49
Posted 16/05/2017 at 01:55:07
Very interesting read, Peter Lee.. Sounds simple when you put it like that. The manager can only work with what he has and hopefully you're right in as much Koeman has identified players who can play his system. Does he have one??
I forecast a long blue summer, with a lot of fans sweating on who is coming and who is going. If Ross & Rom go, no matter who we buy to replace them, some fans will find fault... but that's the nature of the game.
Tony Waring
50
Posted 16/05/2017 at 15:58:01
I'm with you, Scott (#44). Germany win World Cups for fun and the Bundesliga is clearly of a high standard.
I recently saw a lad called Dembele – there must be a tribe of that name judging by the number of players sharing that name – and he looked a wonderful prospect at 19 years of age. Think he's with Dortmund.
He's just one of a number of good youngsters and I'm sure there are many others waiting to be unearthed. Maybe Walsh needs to get on a plane to Deutschland!
---
Add Your Comments
In order to post a comment, you need to be logged in as a registered user of the site.
Or Sign up as a ToffeeWeb Member — it's free, takes just a few minutes and will allow you to post your comments on articles and Talking Points submissions across the site.