Koeman eyes productivity as recruitment drive beckons

159 Comments [Jump to last]
Thursday 25 May 2017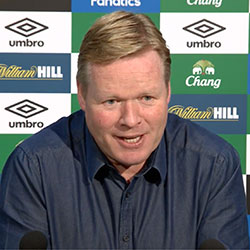 Ronald Koeman says that Everton should be much stronger at the end of the forthcoming transfer window if the club are able to get 'good business' done this summer.
Like his players, the Dutchman will take a post-season break but he says his phone will always be within arm's reach so that he can be kept abreast of the Board's efforts to bring in new players.
Having seen his side's prospects of finishing higher than the seventh-place berth they ultimately achieved wither away on the back of poor form away from home, Koeman admits that one of the recruitment priorities this summer will be to add more productive influences to the Blues' ranks.
Much was expected in that regard of the likes of Gerard Deulofeu and Ross Barkley, while Yannick Bolasie's season was brought to a premature end last December when he suffered serious injury to his knee.
Deulofeu ended up going out on loan to AC Milan while Barkley struggled to assume the mantle of play-maker in the Everton team and could end up being sold in the coming weeks after failing to agree a new contract.
It leaves the management and recruitment team of Koeman and Steve Walsh on the lookout for more creative outlets during the close season.
"A clear objective will be to bring in players who will have more productivity," Koeman told evertonfc.com. "I expect that we can change that for next season. 
"If we can do the business we want to do this summer, the team for next season will be really strong, I believe.
"You need a break," the manager explained with regard to his imminent holiday break. "You need to relax because it's a long season in the Premier League. 
"I will have my mobile phone close to me so if there is anything we need to discuss or I need to get a flight, I am available."
---
Reader Comments (159)
Note: the following content is not moderated or vetted by the site owners at the time of submission. Comments are the responsibility of the poster. Disclaimer
Will Mabon
1
Posted 25/05/2017 at 07:48:26
"Productivity" is coming up on the rails to pass "Pressing".
Mark Andersson
2
Posted 25/05/2017 at 07:49:08
Sounds like he has a plan... Go on holiday and let Steve Walsh earn his pay... Stay well clear of the fumbling duo who dabble in the transfer dealings and resume play as usual.
This summer will show us if Mr Money Man is all talk or not... Koeman has done okay for Season One, he has lost some of the fans with his away record, but you can't have it all – it's a 3-year project.
John Daley
3
Posted 25/05/2017 at 07:54:18
Had the exact same thought when I saw the headline, Will.
Trevor Peers
4
Posted 25/05/2017 at 08:02:36
We'll see how successful he is, he's going to need an awful lot of productivity, with Kenwright as his chief transfer negotiator. Good luck with that one Ron.
Rob Baker
5
Posted 25/05/2017 at 08:04:41
Will @1, beats the other dreaded P-word... Phenomenal
John Daley
6
Posted 25/05/2017 at 08:08:47
The only summer within recent memory in which the club seemed extremely well prepared in advance and got all their targets in nice and early was back when we signed Howard, Lescott and Johnson (recent memory? Just realised that was over ten years ago now).
More often than not we seem to muddle through the window, missing out on those who were (allegedly) our top targets and are then left scrabbling around for attainable alternatives after the season has already started.
At least we've got something of an excuse for not getting them in before the first game this time, I suppose.
Regardless, it will all be easier to swallow if Moshiri has learnt from last summer and can refrain from pressing 'send' at the end of any texts that might have Jim White' s testes tightening and him telling us all about "earth shattering events set to happen at Everton in the next six days" etc.
Mike Green
7
Posted 25/05/2017 at 08:21:03
Productivity (n.) the state or quality of producing something.
For most of the season we've bemoaned the fact that we're not creative enough, don't get enough goals from midfield, service to Rom isn't good enough etc.
Now Ron comes out and says that getting in players that can fix this is a clear objective and, if they can do the business they're wanting to do in the summer, we will be much stronger in this area for next season.
He brought Bolasie in to contribute to this and he got badly injured. He gave Deulofeu his chance and he didn't take it. He's done the same with Ross and he's not taken it. We've offered Ross a new contract – he's not signed it.
So – where does that leave us as a creative force? Empty. There is nothing there which means he's got to start afresh and get the players in that he and we know the team needs if it's going to threaten next season.
So why the cynicism…..? What do you want the bloke to say? What do you want him to focus on?
It's up to the board and the recruitment team to do the business but personally I couldn't be happier that Koeman is publicly stating this is his priority for next season. If it doesn't happen I imagine he'll be pointing the finger at the hierarchy far harder than we will.
Give him a break.
Will Mabon
8
Posted 25/05/2017 at 08:21:47
John, the biggest one I remember, 1988 – Pat Nevin, Neil McDonald, Tony Cottee and Stuart McCall. I only remember it 'cos there was a four-man photo in the first programme of the season.
Nearly 30 years ago... jeez.
Will Mabon
9
Posted 25/05/2017 at 08:23:59
Easy Mike, I think we were noting the buzzword element rather than the intent.
Chris Gould
10
Posted 25/05/2017 at 08:38:58
"Everton should be much stronger, if we're able to get good business done this summer."
Shhhh Ron, don't give the masterplan away.
Nigel Johnson
11
Posted 25/05/2017 at 08:40:54
Everton are in crisis. Big name players, Lukaku and Barkley, wanting to leave and a string of so-call top targets in no a rush to arrive. If Everton cannot convince Barkley – a local lad, a true blue by all accounts (really) until he wants to be a red or white depending on which club he ends up next season – then what's really going on at Everton?
I am interested to know what Steve Walsh is doing as it appears to me that he is doing lots of work getting young players in but very little on the first team. The truth is that Everton will not be able to get top players in the door. Koeman will use that to make excuses when Everton are unable to break into the top four.
Five clubs above Everton will be able to take the cream players: Chelsea, Liverpool, Tottenham, Manchester City and now Manchester Utd who can all offer Champions League football. It's the chicken-and-egg situation. How do you get top players at your club? By being in the Champions League... and how do you get in the Champions League? By having top players at your club.
Losing Lukaku and Barkley – it's like building a house with strong foundation then losing the foundation and having to knock the whole house down and start again, rather than having the strong foundation already and then just adding onto it.
I feel sorry for Koeman, sold a dream by the club but he will be off by the end of next season when the dream becomes a nightmare. Apart from all the positive stuff above, have a nice day.
Kunal Desai
12
Posted 25/05/2017 at 08:56:07
"If" being the operative word here. My guess is we might be in for quality players but so will the six sides that finished above us and five of which can offer Champions League football. Not a difficult choice for top players.
Colin Glassar
13
Posted 25/05/2017 at 09:01:30
John, let's hope Moshiri has indeed learnt his lesson but, while Tweedledee and Tweedledumb are still in charge of transfer dealings, I have my doubts.
Andrew Ellams
14
Posted 25/05/2017 at 09:02:36
Will Mabon – not sure how old you are but there was Howard Kendall's magnificent seven.
Gareth Clark
15
Posted 25/05/2017 at 09:03:40
1) Koeman knows what he's doing.
2) Moshiri knows what he's doing.
3) Walsh knows what he's doing.
The club is in the best situation it's been in for a very long time.
We have the Europa League (almost at least) – which, if not anything else, it gives Koeman the chance to bring in a lot of good players.
I'm hoping for consistent players, as well as exciting players.

GK: Butland / Pickford (hopefully both)
CB: Romagnoli
CB: Manolas (or a big marquee CB)
LB: Chilwell & Sessegnon
RB: Walsh special (not many obvious fits out there)
CDM: Dendonker (great young player from Anderlecht - 6'-2" & still 21 years old)
CM: Klaassens (consistent & productive)
CAM: Sigurdsson / Rooney
CF/Winger: Sandro
ST: Iheanacho
Dave Abrahams
16
Posted 25/05/2017 at 09:22:29
Andrew (#14),
The magnificent seven which turned into two, both goalkeepers... oh, and John Bailey wasn't bad.
Peter Laing
17
Posted 25/05/2017 at 09:23:38
The acid test for Moshiri is this Summer's transfer business. I haven't been too impressed with the last two transfer windows and to date have struggled as to what Steve Walsh actually brings to the table. I may be feeling a little cynical but the proof of the pudding, as they say, is in the eating.
Come August we will need to have addressed a number of key issues – Goalkeeper, Centre-Half, Play-maker and Strength in depth. That's not to mention the ongoing situation with the contract impasses of Barkley and Lukaku.
The real work is not really for Koeman but Walsh and the board of directors. A repeat of last season and it will be much of the same.
Tony Waring
18
Posted 25/05/2017 at 09:25:13
After last night, I'd be more than happy with Ajax pair Sanchez and De Ligt to bolster our defence – to name but two . The left winger looked useful as well.
Stan Schofield
19
Posted 25/05/2017 at 09:31:24
Will@9: Koeman is no doubt correct in saying we need more productivity, but I also had the same thought as you.
Bringing in new players is one way of trying to attain more productivity, but so is improving tactics with the current squad. You need both in my opinion: (1) getting the best out of the players currently available, setting the tactics and team selection accordingly, and (2) bringing in new players where possible to build on (1).
I'm not convinced that Koeman has done enough with regard to (1), and our poor away form compared to our good home form is relevant here. Trouble for me is, Koeman is always focusing only (so far as I can see) on how the players perform, and on how we need new players. I'm not aware of him focusing on improving his tactics and team selection, on his improving as he learns lessons given the resources he has available.
This concerns me. I'm not criticising Koeman for his productivity comments, but I am concerned that they might detract from the issue of good tactics and getting the best from current players. I wouldn't want to see him blaming lack of productivity solely on his current limited resources. They are limited, but that's not the only factor in productivity.
Andrew Ellams
20
Posted 25/05/2017 at 09:35:51
Dave @ 16 – I've still never seen anything at Everton to match Alan Biley's hair.
Sam Hoare
21
Posted 25/05/2017 at 09:35:59
The difficult thing is that we are not going to be top of most high class players' lists.
If we wanted to sign Wayne Routledge and James Tomkins, I'm sure we could probably make good offers and have them wrapped up within a week or so. But trying to sign the likes of Koulibaly or Dolberg or Michael Keane even is much harder as they will probably have more options and be keen to wait and delay to see who else gives them an offer. I believe this is what happened with Alex Witsel last Summer, who had agreed terms in principle but waited and waited for a better offer.
The higher you aim, the harder it is. Hopefully having Europe will give us a slight edge over last year but I still expect a drawn out affair. Hopefully we'll see some Walsh gems come in early but any of the high profile moves will no doubt linger on for eons...
Teddy Bertin
22
Posted 25/05/2017 at 09:36:58
Gareth (#15), both Buckland and Pickford! Bit greedy and unfair on the career of whoever sits on the bench.
Len Hawkins
23
Posted 25/05/2017 at 09:51:57
Why would players rather go to Champions League clubs when they can go to some smog laden soot covered backwater in Russia or Albania in the Europa League? Who wants to go to Monaco or Barcelona when you could be in Plovdiv or Borisov or admiring the sea views of Gdansk. Imagine a night in the Fish Gutters and Abattoir Workers Club in the Faroe Islands.
Paul Kennedy
24
Posted 25/05/2017 at 10:00:20
I remember well when we were the money men in football, splashing out a British record £110,000 for a little midfielder in 1966 – not a bad player though...The one and only Alan Ball.
Kevin Gillen
25
Posted 25/05/2017 at 10:11:37
Totally unimpressed with Ajax last night against a mediocre Man Utd team and therefore I'm not convinced there are many bargain price diamonds in the Dutch/Belgian leagues.
The most important players are those already at your club. We need a year of togetherness unhindered by transfer speculation about prima donnas with people begging to die for the shirt, that's the only way we'll make progress.
Will we be stronger at the end of the transfer window? Somehow I doubt it but I already have two season tickets so hope springs eternal. I just don't think top, top players will come to Everton.
I would like to see Dowell given a chance, that boy has some class.
David Booth
26
Posted 25/05/2017 at 10:23:02
More creativity and a replacement for Lukaku are obvious priorities that need to be addressed, but it all begins by building from the back for me. No side can seriously challenge or win anything meaningful without a consistent, commanding, confidence-inspiring 'keeper.
Sadly, Robles is not the answer, as every 'keeper by definition can be relied upon to make an eye-catching save every now and again, which he does. But he is too fallible on too many occasions.
Butland would be the man to take us forward and someone on whom we could build a solid foundation for the future. However, Stoke beat us to his signature in the first place and I am not sure we have a realistic chance of prizing him away from them now.
And in front of him, we need an imposing, influential, inspirational centre-half. Van Dijk would appear to be attracting too much attention now for us to be his preferred choice. But was anyone else as impressed as I was with Ajax's Davinson Sanchez last night? Could he be worth a look?
Klaassen, meanwhile, looked like the Dutch Eredivisie was about his level...
Chris Gould
27
Posted 25/05/2017 at 10:25:04
Kevin, I also wasn't impressed by Ajax last night, but it would be foolish to judge them on one game. Mourinho is a master at stifling the opposition. He has done it to much better teams than Ajax.
The problem with any player coming from the Dutch League is that they invariably find the pace of the Premier League too much. However, there are also many success stories, and I would guess you can't know how they'll cope until you give them a try.
I would prefer we look at Germany and France for some young talent. Their leagues are more similar to the Premier League.
Stan Schofield
28
Posted 25/05/2017 at 10:29:58
Kevin@25: Spot on. The constant talk of potential new signings, with lists of who we might get, is 'jam for tomorrow' that is unlikely to be realised. We need to have jam today.
A manager, especially one of the highest paid in the world, should be getting the best out of what we have at present. He should have the leadership qualities to change the absence of a winning mentality at Everton, with the players we have. New signings then add to that, but we can't and shouldn't depend on them happening.
We could and should have progressed more in the domestic cup competitions with the players we have. We could progress well in the Europa League with the squad we have, so long as teams are set up well with the right attitude. Man Utd are no great shakes, after all.
James Watts
29
Posted 25/05/2017 at 10:39:14
We should all trust Ron and Steve. Why? Well, funny you asked.
They've been in for almost a year, scoured the planet for talent, and they come up with the mighty Southampton's 3rd choice right back on a free. What a statement of intent that is! Only at Everton can we go from 'fee agreed' for Sigurdsson, to signing Martina in a couple of days. Amazing stuff.
Can't wait to see the back 5 of Stekelenburg, Martina, Jagielka, Williams & Baines. I can sense the shudder of fear throughout Europe.
Dan Egerton
30
Posted 25/05/2017 at 10:42:59
4 goals from 17 sounds bad, but he didn't get 17 starts where he completed 90 mins each time. Niasse scored 4 goals and got one assists in 1,090 minutes. That's roughly twelve full games.
4 goals one assist from 12 game isn't that bad. If he had've stayed with us and got those stats he'd have been our third top scorer. I think he would have scored more than that with us and certainly more goals than Enner Valencia.
Don Alexander
31
Posted 25/05/2017 at 10:48:28
Regretfully, I think Koeman has been getting their max, or close to it, from the players currently at the club, and I doubt whether another manager would do any better.
He said weeks ago that more productivity was required this summer. Some criticised him for allegedly undermining the players. Now he repeats it and some seem critical again, inferring it's just occurred to him.
For the record he and his employers have said they're now one third on the way through their 'project' to get the club qualified for the Champions League, so what's Koeman supposed to say to the media when they ask him questions about the sort of player we're seeking to achieve it – they having the right to do so and he having the contractual responsibility to answer?
Steve Bingham
32
Posted 25/05/2017 at 10:49:24
Dave (#16), sorry, sir, I've got to disagree with you there. I always thought Bailey a little lightweight and hence why a certain Pat van den Hauwe was eventually brought in to add a definite steely impasse to the back line.
Alex Doyle
33
Posted 25/05/2017 at 11:57:52
Sam @21 – completely agree. Thank you for being a voice of reason.
Dan Egerton
34
Posted 25/05/2017 at 12:05:09
The Daily Mail is saying we are in talks with Cuco Martina. He's a Southampton CB/RB that is available on a free this summer. A lot of Southampton fans think he's crap though.
He was born in Rotterdam and once played for a Dutch team. Hopefully that's the only reason our Dutch coach is being linked with this gash player.
Dan Egerton
35
Posted 25/05/2017 at 12:10:23
Admittedly he did score this screamer against Arsenal.
Dan Egerton
36
Posted 25/05/2017 at 12:10:51
(It's a YouTube link.)
Dan Egerton
37
Posted 25/05/2017 at 12:16:17
For the Jack Butland fans on here, he just got back in the England squad to face France and Scotland. Wayne Rooney apparently didn't make the cut.
Dave Abrahams
38
Posted 25/05/2017 at 12:17:48
Steve (#32) – you'll get no argument off me regarding Van the Man, definitely made Everton a stronger team. I just said John wasn't bad, on and off the pitch, by the way.
Chris Leyland
39
Posted 25/05/2017 at 12:19:32
Dan – Ross Barkley also left out of the England squad.
Brent Stephens
40
Posted 25/05/2017 at 12:24:03
James (#29),
"Only at Everton can we go from 'fee agreed' for Sigurdsson, to signing Martina in a couple of days. Amazing stuff".
What's amazing is that that is true. Well...
John Daley
41
Posted 25/05/2017 at 12:30:49
"He was born in Rotterdam and once played for a Dutch team. Hopefully that's the only reason our Dutch coach is being linked with this gash player."
Might have more to do with the fact he's the manager who signed him for Southampton?
Brian Furey
42
Posted 25/05/2017 at 12:36:54
There will be a lot of ups and downs no doubt before the new season but, if there's one thing I hope the club has learnt over the last few years is, that having a top scoring striker, one who will get you 20+ goals a season, is worth a lot more than we often think. I really hope we don't settle for 1 or 2 middle of the run strikers just because we're not willing to spend big.
Paying 㿈M for Rom in 2014 was a major step for our club as we had previously spent years going for the cheap option. Of course there is a huge element of luck involved with new signings; I really hope Koeman and Walsh have some highly rated strikers in mind to replace Rom.
I see Belfodil scored 14 goals last year for Standard Liege. Slimani only scored 8 for Leicester. It looks like Defoe is off to his first club, Bournemouth.

James Lee
43
Posted 25/05/2017 at 12:50:37
Isn't it that we are only willing to pay "fair" money to players we crave but asking top top money for players we have?
Seriously, who will pay £50m for Barkley or £100m for Lukaku? Fine, we don't intend to sell, but we expect other clubs who don't intend to sell to accept our bids then?
And it's starting to feel déjà vu with players we are linked to drifting away: Tielemans, Pickford, Rooney, Sigurdsson, Van Dijk – the list goes on.
Pete Edwards
44
Posted 25/05/2017 at 13:23:29
Trevor, is Kenwright really chief contract negotiator these days... ? I mean, come on!
Trevor Peers
45
Posted 25/05/2017 at 13:33:57
Pete, according to an article in The Mirror, he has been working on Barkley's transfer for the past 12 months.
Kevin Tully
46
Posted 25/05/2017 at 13:50:57
Pete, Bill Kenwright is still negotiating all our transfers.
Bill Gall
47
Posted 25/05/2017 at 13:53:23
Getting tired of all the talk – let's see some action.
I'm anxious to see the direction of the the club's ambitions by the type of players they bring in.
Brian Williams
48
Posted 25/05/2017 at 13:58:48
Well you won't see any action until July 1st, I'm afraid. Up until then, it'll be rumour after unsubstantiated rumour.
Dan Egerton
49
Posted 25/05/2017 at 14:24:54
"Might have more to do with the fact he's the manager who signed him for Southampton?"
Hopefully those two are the reasons why this plum average player is being linked with us and not because we actually are getting him.
ps: You forget point out Martina also played for Ronald's brother at RKC Waalwijk for two years.
Paul Tran
50
Posted 25/05/2017 at 14:40:15
I love the way people get wound up about who we're rumoured to be linked with. Same goes for rumoured fees and wages. It's all fiction till they're wearing the shirt.
Scott Hall
51
Posted 25/05/2017 at 14:51:53
If Bill Kenwright is still negotiating all of our transfer dealings then it would be a huge mistake to expect anything different this summer than the usual embarrassment.
He's simply not capable of attracting big names and getting the deals over the line. I'm basing that accusation on every single summer since he has been chairman.
See you at midnight on transfer deadline day.
Colin Glassar
52
Posted 25/05/2017 at 14:52:10
It does open on 1 July Brian, but teams are negotiating contracts now. Only idiots, and our transfer duo, wait until 1 July to start "making enquiries".
Steve Ferns
53
Posted 25/05/2017 at 15:00:20
Told you months ago about Cuco Martina; pre-contract was agreed in March, I was told. Should just be a few formalities now.He should be a safe custodian for Coleman, until he returns from injury.
I hope that's not at Holgate's expense. We need the lad to play to develop. Also, I would like to see Kenny get a run.
John Daley
54
Posted 25/05/2017 at 15:11:39
"You forget point out Martina also played for Ronald's brother at RKC Waalwijk for two years."
I no forget point out nothing. I just not know.
Ian Burns
55
Posted 25/05/2017 at 15:15:34
Interesting that Ross has not been selected for England. I don't suppose that changes anything other than the potential price we would get for him.
I can't see that Martina gives us any more "productivity" then say young Kenny. Still, it is only a rumour, so I shall settle back into my chair, watch the world go by, and wait for good news.
Dan Egerton
56
Posted 25/05/2017 at 15:34:01
"I no forget point out nothing. I just not know."
You not know a lot.
David Barks
57
Posted 25/05/2017 at 15:35:49
Well the reports today are saying that Barkley has indeed refused to sign. So looks like he will be getting sold. Only question is to whom and for how much. Certainly won't be £50 million if we're honest. What a shame.
Minik Hansen
58
Posted 25/05/2017 at 15:42:55
A decent end to a transfer activity I remember is when we got Barry and Lukaku. At the time as it seemed, it would have been disappointing if there was no further activity from the club.
Brian Wilkinson
59
Posted 25/05/2017 at 15:53:18
12 months to sort out Ross's contract, 𧴜k a week, take it or leave it situation.
What will happen is we will sell Ross, bring in a replacement, and offer the guy mores wages than 𧴜k.
This could have been sorted months ago: Do you want to play for Everton, what is it you are looking for, then we will assess and either meet or decline.
Will Mabon
60
Posted 25/05/2017 at 15:57:11
Andrew (#14):
Thanks. I'm old enough to remember but maybe too old to remember properly! I just looked it up. I remember the signings but not that they were all completed in advance.
Alan J Thompson
61
Posted 25/05/2017 at 16:10:26
We're bringing in players to increase the productivity as the last lot brought in to increase the productivity don't seem to have worked. And while we're increasing productivity I'll be on my holidays but on holiday next to my productivity phone.
I think we all need a break.
Steve Ferns
62
Posted 25/05/2017 at 16:12:24
Please can everyone stop banging on about getting players in early. This is not possible. We want the best possible players we can get.
Schneiderlin joined us early in January for a number of reasons:-
1. No one bigger than us was making a move for him in January;
2. He played for Koeman before;
3. He didn't have to move house.
Had it been now, then Schneiderlin would have waited for other options. Players will always be told, don't worry Everton is in the bag, let's just wait and see if we can get anything else.
The type of player we want, will always want better than were they think we are. We can only get players who think we're as good as they can get, to come here early.
Will Mabon
63
Posted 25/05/2017 at 16:17:37
David (#57):
Indeed. Shame old Everton. No certainties in any part of the game now but, when the new regime burst into town last year, who would've anticipated the way this transfer window feels it may pan out.
There may be some pleasant surprises to come but I personally feel that everything around the cases of The Departing Two, the PR, the handling, some (rumoured) targets, is painting a very familiar picture.
No quick fix just yet.
Stan Schofield
64
Posted 25/05/2017 at 16:20:52
Don@31: To say that Koeman has got the max, or close to, from the current players is one hell of an assumption. There is unlikely to be no scope for him to get more out of them, and just looking at the away form (and the defensive tactics used) compared with the home form at least suggests more scope for improvement on Koeman's part.
To suggest otherwise is letting him off the hook in terms of taking some responsibility for bad team performances. He may turn out to be a fantastic manager given time, but the jury is surely out on him at the moment. I for one would like to see him openly take more responsibility instead of focusing on individual player performances and repeating that they need to 'press' more.
Lewis Barclay
65
Posted 25/05/2017 at 16:56:33
Rooney is coming back then, I guess.
Christy Ring
66
Posted 25/05/2017 at 17:09:32
I hope we do make big signings, but losing Lukaku, and unfortunately Barkley, probably our two best players, makes it an awful lot harder. I watched the final last night and Klaassen did absolutely nothing.
Darryl Ritchie
67
Posted 25/05/2017 at 17:17:24
Players that produce... and press... and I'm not talking about two different players, either. Players that actually can do both. What a Concept!
I'm not sure they exist, but I'm hoping Walsh and the manager can find them.
Eugene Ruane
68
Posted 25/05/2017 at 17:23:18
Dan # 34 - 'The Daily Fail (what I call the daily mail) is saying...'
Stan Schofield
69
Posted 25/05/2017 at 17:42:19
Christy @66: Yes, we're supposed to not be a 'feeder club' anymore with Moshiri here... but, if the best players go and all we get are lesser ones, then it seems to me it could be the same old Everton.
John Pierce
70
Posted 25/05/2017 at 17:44:46
I'm doubtful we will bring in some big hitter, wow man, large tent or Cherokee signing!
Reality is we are 7th place in England, with 5 clubs in the Champions League. You could argue we our fishing in a different pond but many still choose to warm their arses on a heated seat in the top 4.
The buzz word is productivity, lost in translation or not, I'm so skeptical that Koeman won't alter his tactics that I can't see even Macgyver or the A-team wrestle free of his iron clad dourness.
There's a sign at Goodison Park that says "Keep off the grass", with Ronko the players take that seriously as a tactical order, a lot of hoof and not so much productivity.
So let's see if the expected influx of ball jugglers, magicians and big sky thinkers change Ronko's approach to tactics.
Remember once he hacked and whacked as a top defender, he had Gullit, Van Basten to pass to... where's our Dutch masters?
Jim Harrison
71
Posted 25/05/2017 at 17:47:52
Stan (#64),
I think you should start every post with "For the record, I don't like Ronald Koeman", just to clear up any confusion
Mate, just say it out loud: "I don't like him."
You suggest that giving a manager credit for improving points total and league position is letting him off the hook, but what did you really expect from this season? Do you really think that any of the 6 teams above us have worse squads?
John Otway
72
Posted 25/05/2017 at 17:53:10
Jopie #70. Can we please stop this "Ronko" bollocks; it's akin to reading a 12-year-old's Facebook page. Many thanks. Joot.
John Pickles
73
Posted 25/05/2017 at 17:56:16
With the exception of an outside bet for Van Dijk, SkyBet do not include us in the betting for the unsettled Champions League class players.
Of all the players we are linked with, we are up against teams below us. It indicates absolutely that they do not see us as closing the gap to the top six.
Any hope of progress looks like being down solely to Walsh's left-field rabbit-out-of-the-hat signings.

Ian Hollingworth
74
Posted 25/05/2017 at 17:59:24
Well if bullshit Bill is still negotiating our transfers, then we really can't expect much, can we?
I do think we have higher expectations of Moshiri than he can or will deliver.
I hope I am wrong, but...
John Daley
75
Posted 25/05/2017 at 17:59:53
"You not know a lot."
As Doc Holliday almost said in 'Tombstone': "Why Eg(erton), whatever do you mean?"
It's ok. Rhetorical question. I know what you meant really:
"WHAT?!? You mean you don't have a rudimentary knowledge of the recent history of RKC Waalwijk? Where have you been? Probably dining out on baby rusks and partaking in banjo duels, I'll bet.
I myself have known for five whole minutes. Just let that sink in... five minutes. I am now steeped in knowledge of Southampton's reserve right-back. I know him intimately (not literally, we've never met). I'm Will Graham to his Hannibal.
You know how? I make a point of Googling every single player Everton are linked with, prior to getting on YouTube and perusing piss-ant 'highlight' reels with oddly ill-suited music. Particularly when it's a player I've got designs on prematurely dismissing as "gash" and "plum average".
Preparation. That's the key. Remember that. Then the next time someone addresses you with a mangled arse of a sentence starting "You forget point out", (when meaning "You forgot to point out") you might not look so fucking stupid".
....or something along those lines.
John Pierce
76
Posted 25/05/2017 at 18:01:28
Ooh I like Jopie .me do.
Joot is quite fashionable too Russell Griffiths has just been released kinda like Groot from Guardians of the Galaxy.
Don't do Facebook, more your Twitter type. Soz n that.
Nigel Munford
77
Posted 25/05/2017 at 18:07:21
John (#70).
Could you explain the difference between a "whack" and "pass" please? If you're saying that Ron had Gullit and Van Basten to "pass" to then I'm not sure I understand your use of the term "whack" in the previous section of your post. Where exactly did he "whack" the ball and who did he "whack" it too?
I believe a "pass" in football would be 'hopefully' an accurate moving of the ball from one player to another, whereby a "whack" would suggest an aimless movement of the ball anywhere. Not too sure about "hacked" either.
John Daley
78
Posted 25/05/2017 at 18:14:41
Lewis (@65) - "Rooney is coming back then, I guess."
I saw that Rooney has supposedly said today "I've played for two Premier League clubs and they're the only two Premier League clubs I'll play for", but I'm holding out hope that means he might fancy a move abroad.
Paul Tran
79
Posted 25/05/2017 at 18:14:51
People keep banging on about Van Dijk, but why would he come here? He's Dutch and so is Koeman?
He'd walk into the back four of all the teams above us. So I think that's it.
That ship has sailed, folks. We've got Walsh to uncover the next Van Dijk... haven't we?
Will Mabon
80
Posted 25/05/2017 at 18:22:43
Jopie and Joot, I'm jealous – mine's crap.
Wima.
Fran Mitchell
81
Posted 25/05/2017 at 18:57:50
The uncertainty over Lukaku and Barkley needs to be resolved in the next 10 days.
If they do in fact leave, It will essentially mean we have only two guaranteed first-team starters: Gueye and Schneiderlin.
In front of them, we need 3 creative midfielders or attackers and a main goalscorer. Davies, Lookman, Mirallas, Bolasie and maybe Williams and Dowell will have a role, but are not definite starters.
Added to the need for 2 centre backs, and 2 wing backs and a keeper... We have a lot of work to do.
Andy Meighan
82
Posted 25/05/2017 at 19:05:45
John (#72) – I requested the very same last week. It fell on deaf ears.
Stan Schofield
83
Posted 25/05/2017 at 19:19:53
Jim @71: Seriously? Do you have to go to daft extremes? The reason I haven't said I don't like him, is because I neither like nor dislike him. There are aspects of his management that I do like (plenty of previous posts) and aspects that I don't like (plenty of previous posts) after his first season of managing us.
You know, a debate doesn't have to become polarised between 'I love him' and 'I hate him'. It can be a bit more subtle and in-between these extremes.
Nitesh Kanchan
84
Posted 25/05/2017 at 19:24:29
Go for a Spanish midfield playmaker. 90% of the time they come good and an Italian centre back with youthful wingers will be enough for this squad to do wonders next season.

If Lukaku decides to leave, get Lazio's Keita or that Anderlecht Acheampong with that money. Keita is turning to be a deadly finisher with 80% goal with every shot on target.

That midfielder will be though very much crucial this transfer window. That will surely be make or break for the season. I hope they take their time and make the right choice.
William Cartwright
85
Posted 25/05/2017 at 19:25:06
I don't enjoy Ronald's style but I respect his standing in the game and the general performance this season compared to Roberto's nonsense. However, I feel he may be a bit stymied by the controlling influence over the transfer policy. Our transfer targets seem to be either unrealistic and dismissed or very uninspiring...
If Kenwright is really in pole position on controlling signings, aided and abetted by our CEO, then there is a big stumbling block. I am surprised that Moshiri is going to sit back if it is the case as Ronald may decide to depart out of frustration? It was clear he had to read a riot act, publicly, to get the Schneiderlin deal to happen.
If Kenwright is trying to retain Ross (and I sympathize with that) then we could see Ronald left out to dry? When so much is set to happen, simultaneously, such as our 2 best players departing, a major overhaul and changing of the guard, decisions on the new ground to be taken, preparations for Europe, incoming players eventually coming in, then the management is really up against it!
Are we on the cusp of something really good, or are the wheels going to come of big time? Ronald and Steve Walsh need to show what they're made of this summer, and so does Mr. Moshiri.
Eugene Ruane
86
Posted 25/05/2017 at 19:28:06
Paul # 79 -
"People keep banging on about Van Dijk, but why would he come here? He's Dutch and so is Koeman?"
You don't think that's a good reason?
Well (shakes head) fair enough, but personally, I instinctively feel more of a kinship with anyone who happen to have been born on roughly the same piece of land I happen to have been born on.
John Pierce
87
Posted 25/05/2017 at 19:29:33
Nigel, I happened to love Koeman as a player.
He was a functional part of two great teams, Holland and Barcelona. His role was a simple one and he was strong powerful defender who often resorted to fairly foul means to get the ball. Part him, part the era.
He was of course a dead ball specialist, but mostly once he won the ball he just gave to the gifted.
Everton are quickly becoming that reflection of his playing days, but a poor reflection. The power is there Gana, Schneiderlin, but that's it. No gifted players to finish the comparison.
Look at video or two, he was truly a dirty centre back.
Phil Walling
88
Posted 25/05/2017 at 19:35:20
The news that Martina is virtually a done deal is about as exciting as the news, last year, that we had signed his fellow Southampton benchman, Stekelenburg.
Of course, the demands of the Europa League will require a full complement of players in reserve and, presumably, Koeman regards his old club's third choices as of greater quality and potential than the likes of Kenny, Pennington and Holgate. If so, we can expect further signings of 'proven' talent from the South Coast.
So much for the brave new world we were promised. To tell the truth, I'm beginning to see the Dutchman much as Sunderland's fans saw Moyes with his mass recruitment of our 'deadmen'!
Michael Williams
89
Posted 25/05/2017 at 19:37:18
To Many of the ToffeeWebbers Here:
Please stop writing that the club has to get their business done early. If you want Champions League level players – it's not going to happen!
Nigel, Sam, Steve and others are right. The best available players, who want to play in England, are going to first try to sign with the five teams in the Champions League or Arsenal. Those teams also pay more.
It will take time for many available players to truly know if they have a real chance to be signed by a European Champions League team. Then, Everton will be competing against other European mid-table teams for the best of the leftovers – at the end of the summer most likely.
Minik Hansen
91
Posted 25/05/2017 at 19:48:15
Of the relegated teams, I'd take a look at Traore from Middlebrough, when I watched them, he played decent, quick and wanted to get forward. I don't know about the stats though. I'd be happy with him, he would kinda be like our new Gana, just a wide player.
James Marshall
92
Posted 25/05/2017 at 23:11:47
All the people who think we 'muddle through' and get left behind, I' not so sure. I think we get linked with a million players by the papers, and therefore people think they were our targets.
Then there are our actual targets, and if we're aiming high we're often going to be disappointed because the best players want to play for the best teams, and the modern day money teams, or modern winning teams – we're neither of those things, which I always think is worth remembering.
Young players don't know anything about our history, and they also don't care about it either – the best young players, and the best players in their prime, have never seen us win anything!
David Pearl
93
Posted 26/05/2017 at 02:16:32
Will (#80),
Isn't it Wilma?
Jim Harrison
94
Posted 26/05/2017 at 02:34:57
Stan (#83),
You didn't answer the question.
Will Mabon
95
Posted 26/05/2017 at 04:35:05
Dape, 93.
No, no, not at all, the handle can be in five or four letter format no, not Wilma, no, of course not, no.
Paul Tran
96
Posted 26/05/2017 at 08:06:43
Eugene (#86), you're dead right for us normal folk.
One of first people I met up here was a guy walking his dog on the beach. I heard him call his dog in a Scouse accent; "Shankly, come here now!". When I got closer the first thing he said was "You're a Blue aren't you? I could tell by your face when I called me dog" It was great to meet a Scouser in our first week up here.
So if Koeman can pull the kinship thing with Van Dijk, I'll doff my cap to him. But my instincts tell me for a top footballer in demand, kinship means slightly less than potential titles and Champions League football.
It'll probably work with Martina, though!
Stan Schofield
97
Posted 26/05/2017 at 08:57:09
Jim @94: I didn't say that giving credit for what he's achieved is letting him off the hook, but rather that not recognising that he makes mistakes, including tactical errors that affect away results, is letting him off the hook.
I'm recognising what he's achieved, but also where he might improve, and where he might admit as much. I don't think that's a lot to ask of a manager with his status and salary.
I believe Liverpool's squad is no better than ours, and that Man Utd's is not much better. But there's a lot of catching up to do with the others in the top 6. I believe we could readily have finished in the top 6. Our away tactics and team selection were faulty in enough away games to identify where we could easily have done better and therefore finished higher.
I think as a club we still lack a winning mentality, a refusal not to keep going regardless of the opponents. That's not Koeman's fault, it's an Everton problem. But I am expecting him to improve here, and expected more of this this season.
A question for Koeman is, has he done as much as he 'reasonably' could have done this season with the players he has available? That's a separate question from one about the players and needing to add new signings. I think it's reasonable to ask that of any manager. If we as fans don't keep asking that, surely we are also failing to have a winning mentality, we expect more given that our manager is high profile and highly paid. Yes, we expect more from the players as well, but that's separate from the expectation of the manager.
Bob Parrington
98
Posted 26/05/2017 at 10:42:59
Paul (#79) and Eugene (#86). Just maybe he would prefer the challenge of helping take a team (Everton) in to Europe than the challenge every week to keep his position in Chelsea or Man City or Man Utd or Spurs or Liverpool.
Who knows the secrets of the BMB?
We can only hope? Or is this a negative thought?
Bob Parrington
99
Posted 26/05/2017 at 10:58:14
Hey Stan (#97). Can't agree with you in comparison of RS vs Everton. Looking' at RS, Firmino has been exceptional this year and Coutinio is something special. Add the work rate of Milner and Henderson (yuk!) and the occasional sparkle of Lallana and you have more than we offer week-in & week-out.
Manure is a conundrum of mismatched players as Mourinho is in the process of building a team, himself. But, if you look at a man for man difference between us and them, I would point to the better central defence and goalkeeper, plus Matta etc.
We have some recruiting to do!! You know that as much as the rest of us on TW.
My own view is that I would accept losing Lukaku and Barkley if it means we build a "real team" that works together with the right defence and supply line to the strikers (assuming we enlist some good strikers). But every player has to "put in". None of this prima donna stuff!

Stan Schofield
100
Posted 26/05/2017 at 11:15:39
Bob, I agree that the prima donna stuff needs to be ditched.
Regarding Liverpool, last season they finished on 60 points. This season, their manager has got more out of those individuals you mention, plus of course they've got Mane as well.
I'm hopeful that next season our manager will get more out of our existing players, plus hopefully we'll have some decent signings. I'd like to see us keep Barkley and Lukaku. If they leave, that's unlikely to solve the mentality problem we have.
Dan Egerton
101
Posted 26/05/2017 at 11:32:19
I agree Bob. I don't like this idea that we build a team around one person, Lukaku or Barkley.
Barkley dithers on the ball and Lukaku expects to be given the ball in places that are great for him (in his mind) but actually are low percentage chances. He wants the ball where midfielders instinctively normally wouldn't place it. It doesn't work. Even average midfielders know where a striker should be moving into without the ball, but Lukaku doesn't seem to know this.
It's frustrating watching our midfielders waiting for Lukaku to get into a high percentage spot only to watch him do the complete opposite. The chance dries and while the midfielder is waiting perplexed the ball is stolen out from under him. Lukaku is devastating running from either wing toward a defense being suddenly to back-peddle (eg, his two goals vs Chelsea to knock them out of the cup the other year), but that's about it.
Barkley suits this one type of play since he is great on the counter attack feeding the ball to Lukaku early, but its a one prong attack in a league where multi prong attacks achieve long term continual success. Its also bang easy for opposition managers to blunt it since we only have one way of attacking.
The Ancient Romans only had one way of attacking. It was great until the enemy figured that out and looked what resulted. I often think this is why we don't do so great away from home at poorer teams. Their managers, lacking players that can break down anyone, are forced to really study us and figure out how much a one-trick pony we are. Probably the main reason why we are better off without either of them.

Anto Byrne
103
Posted 26/05/2017 at 13:36:03
Perhaps we can take a leaf out of the Mourhino book of how to win stuff. Still cant believe there playing Champions League next season supposed to be worth a cool £100 mil to them. The Europa League is worth 10 bob.
Not sure if I really want an unfit 16-stone gambler anonymous who likes a drink or three. Maybe Koeman can get him fit to play.
Roll on August

Bob Parrington
104
Posted 26/05/2017 at 13:50:02
Dan (#101) – I like the comparison to the Ancient Romans. Spot on. The "better managers of opposing teams" suss this out and nullify our one strength. Good thinking, Batman!!
David Pearl
105
Posted 26/05/2017 at 16:49:24
Will (#95)!
Sorry, I'm new to that speak, –l'll take your word for it.
Another slow blue news day. Unless Ronald doesn't have a signal on whatever beach he's on.

Dan Egerton
106
Posted 26/05/2017 at 17:08:32
Thanks Bob. Your post helped me put something into perspective that's been gnawing at my mind for some time.
I just want us to win something for a bloody change.
Stan Schofield
107
Posted 26/05/2017 at 19:17:32
I wonder if 'productivity' is a bit of a trend (fashionable buzz word or whatever), perhaps fitting in with the recent hiring of Charlie Reeves from Forest Green Rovers.
I'm a bit sceptical of that kind of analysis, but if it turns out to be effective, maybe it will tie in with Steve Walsh's role in helping identify players at the minimum cost with the maximum effectiveness. If so, we might expect more focus on low-cost signings than high-cost 'marque' signings.
Ian Jones
108
Posted 26/05/2017 at 19:34:51
Anto @103.
Europa league may be worth 10 bob initially. But Man Utd gambled and have ended with the big prize.
They may have a better/bigger squad but shows it's worth taking Europa League seriously.
Andrew Clare
109
Posted 26/05/2017 at 20:01:30
If we sign the same quality of player as we did last summer then nothing will change. We have to go for a much higher level of player. Goalkeeper, the defence, attacking creative midfielders and a striker are all required. Seven first team players in all.
When the window shuts, we will all know where we stand.
Paul Burns
110
Posted 26/05/2017 at 20:17:38
Nothing will change at Everton until that clown Kenwright releases his useless greasy mitts from around our throat. He's been a fucking disaster since day one with his lies and shenanigans. I think he still thinks he's in Coronation Street.
We're still a million miles from winning a trophy and have become a retirement home for has-beens seeking a last couple of years in the Premier League sunshine.
Amateur hour has become 20 years, easy money for over-rated "superstars" and shit players and managers with no idea of how to construct a competitive team or what tactics to use at this level.
Ian Riley
111
Posted 26/05/2017 at 22:53:47
Based on previous summers don't get to excited. It's the hope that kills us. Players are spoken about and bids are made. Then other clubs take over.
Do really think things will change? New owner, director of football, and very good manager. The structure is there. Let's wait and see.
Tony Farrell
112
Posted 26/05/2017 at 00:25:10
What different worlds we live in. I don't begrudge anyone having a holiday. I can't afford a holiday this year – too many financial commitments. On the other hand, if I was "earning" I say that lightly, £6 mil I could go where I want.

Don't you think, Ron, you should sort out this sorry mess before jetting off and leaving others to deal with what you're being overpaid for?

Man City have already done a major deal, we should be dealing now with the pre-season being a lot shorter than usual.

Get your targets sorted before you go on ya jollies. "I will be with my mobile at all times". What a load of shite. I am just pissed off with people using our great club.
Ian Riley
113
Posted 27/05/2017 at 12:11:42
Tony (#112),
If he had the cheque book, I would agree. He has as much power over signings as you or me. He probably has made a list and said "Over to you, Director of Football." Rather have him banging on his door in three weeks if we haven't signed anyone.
Like I said in my previous post, don't get too excited. Transfer window closes 31 August. If we can get away with not paying salaries over the summer, job done.
Bob Parrington
114
Posted 27/05/2017 at 14:43:39
Having built up our SME family business over the past 43 years, I'm as guilty as any of not taking the holiday breaks (for both cash availability but also being time poor) until it was too late. Bet I'm not the only one on here as well!!
Do we want our manager starting the next season without a break – big $$$ salary or not? Don't we want him back fresh and ready for the challenges that the new season brings? Surely we shouldn't begrudge him a break, even if he's just weeding the garden.
Agreed, ٤million a year is beyond the widest dreams of most of us (unless we win the lotto) and he would maybe pay a gardener to do that kind of thing. But you probably get the drift of what I'm trying to suggest!
Paul Tran
115
Posted 27/05/2017 at 14:57:47
This is turning into the nonsense from the end of Martinez's first season.
You do not need to be sitting in an office at an empty Finch Farm to conduct transfer business.
There are amazing things called mobile phones and email to send/receive information. And devices called aeroplanes to transport people to meetings with agents/players.
I think Koeman will manage. Don't you?
Phil Walling
117
Posted 27/05/2017 at 16:37:40
After the idiotic Martinez, most of the managers available a year ago would have effected an improvement. However, credit is due to Koeman for getting us back to what became the norm under Moyes.
I've always thought that, in spite of all the millions pouring into our club, it will be the skill, knowledge and inspirational qualities of the manager and his ability to turn ducks (some dead) into swans which will be the factor to transform our fortunes Not transfers.
Next season, I shall look for a 5th- or 6th-place finish and at least one cup semi-final. Not much to ask, you say... but, to me, as the ultimate realist, it would be a bloody miracle!
Have a good summer!
Jim Harrison
118
Posted 27/05/2017 at 17:15:52
Good shout, Phil.
Gareth Stephens
119
Posted 27/05/2017 at 23:17:41
#101 – spot on. Lukaku's the only forward I can remember that runs directly towards defenders instead of running into space. He's so over-rated.
Fast and strong as fuck when he can be arsed. Cracking shot as well, but for me, that's about it. Awful control, awful understanding of where to go and when to go in a game, and an even worse attitude.
I'll be happy when he's gone.
Karl Jones
120
Posted 28/05/2017 at 07:47:46
"If there is a player who wants to play for Everton Football club who Ronald wants, who Steve wants, we will get them for you"...Bill Kenwright told the fans and everyone else two weeks ago.
Wayne Rooney desperately wants to come back and play for Everton. Koeman and Walsh have both said they would want him. It seems as though behind the scenes there is a split at board level over the value of paying him 𧵎,000 p/w on a 3-year contract plus a nominal fee because there will be no sell-on value.
Same old Everton. Once a Bullshitter always a Bullshitter. Personally, I will be very surprised if Ronald Koeman is still manager by next August as he won't take this crap from anyone.
Tony Abrahams
121
Posted 28/05/2017 at 08:22:11
Phil Walling – the ultimate realist!
Chris Gould
122
Posted 28/05/2017 at 09:40:34
Tony, that was actually quite an optimistic and enthusiastic post for Phil.
I also expect a challenge on 5th or 6th place as I think we're way off top 4 and it's a massive ask. Man Utd finished 6th and will probably spend over 𧶀 million this summer.
If we replace any of the top 6, then we will have done well. I would love to see us have a proper crack at the Europa League.
Bob Parrington
123
Posted 28/05/2017 at 10:05:58
Chris, I know the idea of "MoneyTalks". But I have the view that money "isn't everything". Call me naive if you want but I still think it is possible to put a winning team/club together without buying the obvious, even in these high-flying times of the Premier League and Champions League etc.
I liken this to doing the same thing as the mainstream in the sharemarket vs the contrarian view, ie, if you want to be the same as the rest, do the same as the rest. Maybe Ranieri made this point in a practical way!!
I think what I am trying to say is that one needs to think about putting a group of players together that can work as a team, as distinct from buying players who look good individually and trying to make them play as a team.
I reckon this is the way Koeman is looking at his challenge.
Raymond Fox
124
Posted 28/05/2017 at 10:11:16
Phil, idiotic Martinez got us 5th place in his first season breaking Everton record points total in the Premier League. The Europa League, in which we performed well, told on our Premier League form, as it will next season, unless I'm mistaken.
He signed Lukaku for a lot less than he's worth now, brought Stones through into first team and sold him for 㿛½m which seemed a decent amount then. Barkley was also brought into the first team and shone in Martinez's first season... since, Barkley is well just Barkley.
Two semi finals were reached last season, even though some of the players did a Chelsea of two seasons ago.
Koeman has spent a good few million since taking over but he's not exactly set the world alight has he. Be critical by all means but also give some credit where its due.
The squad under Martinez has shown since that many were over the top or overrated.
I promise that this is my last defence of Martinez, honest. Fire away.

Oliver Molloy
125
Posted 28/05/2017 at 10:15:27
Karl, this is why Barkley has not signed any contract, Lukaku wants to move on and from what I'm hearing Koeman himself is becoming quite frustrated. There are obvious problems behind the scenes at board level, and rumblings that Koeman is not happy with Moshiri and Walsh.
Big statements mean sweet FA until they become reality and Everton continue to provide us fans with statements.
The "Everton in the Community" stuff is the only stuff that is real. We are way way off challenging the top four unless there is a lot of money spent and I keep saying this, I see nothing from Moshiri in this regard. It will always be sell first and them buy.
James Hughes
126
Posted 28/05/2017 at 10:25:43
Martinez also turned Goodison into a all you can eat, help yourself points buffet for away teams. Threw away points winning positions with his idiotic tactics like a bad gambler in a casino. Oh and spouted more bollocks that Trump.
He got lucky in his first season with 'the most points in a season'. In the League Cup and Europa League, as soon as we met a team who had turned up, we promptly lost. I think that is all the credit he deserves.
Chris Gould
127
Posted 28/05/2017 at 10:32:14
Bob, I agree that it's possible. Tottenham have done it by improving season upon season and bringing in a group of young players who have gelled.
I think we are following their blueprint but are a long way behind. I don't think we will be ready to challenge top 4 next season, but possibly the season after?
Leicester had a freak season. I don't think that will happen again any time soon.
Laurie Hartley
128
Posted 28/05/2017 at 11:04:45
Phil (#117) has got it right.
As for this "productivity" caper, I'd rather have football nous.
Arsene Wenger – now there is a man who knows what football is all about.
Grant Rorrison
129
Posted 28/05/2017 at 13:17:11
James (#126). Teams 'turned up' in cup competitions a damn sight more quickly this season under Koeman. :P
Dan Egerton
130
Posted 28/05/2017 at 14:14:35
Kelechi Iheanacho said recently he wants to stay and help Man city win a title.
Nigel Johnson
131
Posted 29/05/2017 at 00:16:01
Everton need to pull their finger out. Sounds like West Ham are going to buy big – and with West Brom having been taken over, they will also buy big. Everton need to stop pussy-footing about and start Bidding for players before it's too late and Everton sign the left-overs.

Will Mabon
132
Posted 29/05/2017 at 05:29:55
Nigel, West Ham "Linked" with Barkley, Iheanacho and Pickford. Their rumours are bigger than ours!
It's becoming a busy pre-transfer window window rumour window.
Sam Hoare
133
Posted 29/05/2017 at 07:22:07
Had a look at that Barkley, Will. Turns out he creates significantly more chances, plays more forward passes and more key passes per match than the likes of Sigurdsson, Klaassen and Lanzini. Maybe he could be the answer to our creativity problems...
James Watts
134
Posted 29/05/2017 at 07:56:51
Wow! That true, Sam? I'm shocked about that. Imagine if Barkley had a good season – his stats would be unbelievable.
Sam Hoare
136
Posted 29/05/2017 at 09:34:05
Yes, James. Statistically Barkley is one of the most creative players around. Though a fair few of the chances he creates are not converted.
This piece draws a comparison: https://www.grandoldteam.com/forum/threads/fixing-everton%E2%80%99s-creativity-analysis-of-potential-summer-transfers.96790/
Sounds to me like we should keep Ross, sign Boudebouz (who was statistically one of the most creative players in Ligue 1 last year) and then find a Mane type player who will offer the sort of movement that Lukaku does not.

Stan Schofield
137
Posted 29/05/2017 at 10:11:35
We're not supposed to be a 'selling' or 'feeder' club anymore. As such, we shouldn't be letting any of our best players leave. That includes Barkley and Lukaku. Instead, we should be recruiting to strengthen the squad further.
We've been shite for more than two decades. It's difficult for talent to prosper fully in a shite team. If we let the most talented players go, then to me it'll be a sign that it's the same old shite Everton. We need to add to the existing talent, not get rid of it and stay mediocre.
Trevor Peers
138
Posted 29/05/2017 at 10:56:43
Sam, Barkley wants to leave and is up for transfer. He's been offered more money than Lukaku but refuses to sign.
Dan Egerton
139
Posted 29/05/2017 at 11:13:58
He hasn't been offered more than what we offered Lukaku. Barkley was offered more than what Lukaku is earning now. Important difference.
Stan Schofield
140
Posted 29/05/2017 at 11:40:40
If Everton can't offer a contract that he's willing to sign, then it might indicate that Everton will still be the same old shite. Looks like the usual fuck-up to me.
Trevor Peers
141
Posted 29/05/2017 at 11:43:43
Dan, he would of become the highest ever paid footballer in our history, according to the Mirror article, that's over the 𧴰 grand a week Schneiderlin receives.
It must be close to 𧵄 grand a week, over 5 years, yet still he won't sign... What else can Everton do, beg him?

Mark Hughes
142
Posted 29/05/2017 at 12:24:04
Barkley has the potential to be a £120k a week player but he's certainly not one yet. Needs to get his Big Time Charlie head out of his arse and start playing.
Dan Egerton
143
Posted 29/05/2017 at 14:59:17
The Mirror, like most newspapers, probably assume Lukaku is our top earner.
"Martinez also turned Goodison into an "all you can eat, help yourself" points buffet for away teams. Threw away points from winning positions with his idiotic tactics like a bad gambler in a casino. Oh and spouted more bollocks than Trump."
Oh lord how that brings back awful memories.
Will Mabon
144
Posted 29/05/2017 at 16:59:38
Sam – thanks for the link. I'm not much of a GrandOldTeamer so hadn't seen that. Comparing players that way shows they each have their own particular strengths but similar overall effectiveness; they're all effective players.
This leads into what Stan says. We should be keeping the best players and adapting the team and tactics to best utilize them, then augmenting the team from that basis. I've said before, we've rarely played with the best forward "line" set up to best benefit what Barkley offers.
Many may disagree but we often had much better movement and variation in attacks when Naismith was pulling people all over the place and making space. That is rarely seen now.
Feels to me too, like too much "Same old". I think we're building a "Business Case" team.
Will Mabon
145
Posted 29/05/2017 at 17:08:29
"Oh lord how that brings back awful memories."
Dan, that was a terrible time. I have to admit, in many of those home games, I almost went tactics-blind, couldn't really tell what was going on. It seemed as much like a palpable, powerful air of negative expectation as the tactics.
That West Ham game was the ultimate; you could've bet your house on the result after we went 2-0 up. A very mysterious era... or should I say, phenomenal.
Roberto Birquet
147
Posted 29/05/2017 at 23:07:58
Nigel Johnson
148
Posted 30/05/2017 at 00:35:06
It's the same old Everton. Sell your best players and then buy cheap rubbish. Koeman is no fool all you hear is about a project; well, why not come out with what the project is then fans can measure success or not.
Season One: get rid of the dead wood. Season Two: buy top players with the board's backing. Season Three: break into the top four. That's very much clear to me.
The board may have a different 3 year project around the new ground, sponsorship etc. Everton will do great if they remain the best of the rest next season. The only real chance Everton have of breaking into the top four next season is if Farhad friend sales his shares at Arsenal buy's into Everton and we spent very big like Manchester City did.
If Everton want to be seen as a serious team then simply say Lukaku is not for sale at any cost this season ask again next year and complete a deal with Barkley and move on. That's the only way anyone is going to look at Everton as serious about next season. Apart from that, Everton will become a joke for all the teams above us. Let's get real.
Darren Hind
149
Posted 30/05/2017 at 19:42:35
And with that, he fastened his seat belt and disappeared safe in the knowledge that the "recruitment department" are on the case...
Difficult not to feel sorry for him.

Trevor Peers
150
Posted 30/05/2017 at 20:17:08
Nigel @148, Same old Everton? The only decent player we have sold over the past two decades is Rooney. The rest were shite or past it, and easily replaceable.
Peter Gorman
151
Posted 30/05/2017 at 20:44:20
Trevor, what are you talking about? Serious question, I'm not sure what point you are making because that 'past two decades' is demonstrably untrue.
Trevor Peers
152
Posted 30/05/2017 at 20:51:46
Name all the great players we have sold, Peter, that where greatly missed.
Peter Gorman
153
Posted 30/05/2017 at 21:29:07
In the last 20 years?? That were not easily replaced or sold before their time? Where do I even start?
Beardsley, Kanchelskis, Hinchcliffe, Ferguson, Speed, Dacourt, Barmby, Jeffers, Ball, Gravesen, Pienaar, Lescott, Arteta, Fellaini, Stones... oh and Rooney.
I'm not sure what your definition of 'decent player' is, as you only think it extends to Rooney but those are just the ones off the top of my head that made the team weaker (when you consider Beardsley was replaced by Brett Angell, Jeffers with Radzinski, Speed with Claus Thomsen and Stones with Williams).
That'll get the tongues wagging, I've no doubt, but your claim is a bit dubious.
Trevor Peers
154
Posted 30/05/2017 at 22:10:51
Beardsley was sold in 1993, Kanchelskis sold 1995, that's not the last 20 years, Peter!
Lescott maybe, but the rest were pretty average or past it, IMO; it's a myth we sell our best players these days.
Kenwright, who is otherwise a total disaster, has somehow managed to get extraordinary prices for Rodwell, Fellaini and Stones. All were easily replaced.
His asking prices for Barkley and Lukaku, who both can't get out of Goodison fast enough, seem extortionate, but I wouldn't be surprised if he manages to get close.

Chris Williams
155
Posted 30/05/2017 at 22:33:20
Trevor,
Have the good grace to admit that Peter has called it right on this, please. The fact that it might be 22 or 23 years rather than 20 is not really the point. That is a decent list of players of whom many were far short of 'past it' when they left
Of course, everyone on here has noticed Kenwright isa genius when it comes to transfers!
Trevor Peers
156
Posted 30/05/2017 at 22:43:08
Chris, my point is: Why keep players who want to leave the club? And who looked desperately uninterested for large parts of last season?
Surely we don't have to go through another season of looking at their miserable faces, whilst they pick up a fortune?
Chris Williams
157
Posted 30/05/2017 at 23:06:21
Trevor,
I can't argue with that at all. There are clearly players who don't appear totally enthused, to say the least. I won't mention them on principle because those debates quite frankly have become tiresome on here for a while.
However, you must admit that a fair few on Peter's list would enhance our current squad.
Trevor Peers
158
Posted 30/05/2017 at 23:14:39
Of course, Chris, it was a great pleasure watching a lot of those players in their prime. We are sadly lacking in quality entertainers, which is sad. We live in hope that something can be achieved this summer to put it right.
Gordon Crawford
159
Posted 30/05/2017 at 23:25:13
Mahrez should be our Number One target in my eyes. Very talented player who would frighten opponents every time he gets the ball. It's reported that he wants to leave this summer.
Kieran Kinsella
160
Posted 30/05/2017 at 23:25:25
Trevor,
One name Peter didn't mention was Arteta and I think he's the key one. Billy kept him around until midnight on deadline day then "reluctantly" sold him when there was no time to replace him.
To me, that's the type of Kenwright shenanigans I'm not convinced we are getting away from. That plus phantom bids for Barry Ferguson, Kuyt and Owen. When we sat on our hands till fees and wages had been agreed with other clubs then we offered worse terms.
Chris Williams
161
Posted 30/05/2017 at 23:28:46
Trevor
We live in hope. Maybe for once it won't be misplaced.
Some cracking players on that list though. Kanchelskis was an Everton great in Season One and hauled off in ignomy against Hull in the cup in Season Two.
Dacourt looked a great player and I wish we had Beardsley in his prime. Hinchcliffe is possibly the third best left back I've seen for us behind Wilson (not Ian) and Baines.
Chris Williams
162
Posted 30/05/2017 at 23:32:26
I think Arteta was sold to appease the banks once the odious Green had pulled the plug.
Might be wrong, of course, but once Desperation Kirkby foundered....
Peter Gorman
163
Posted 31/05/2017 at 01:15:07
Ha ha, Trev, you got me. Clearly I can't count or time has flown by. Christ it really has flown by. What happened to that callow youth with floppy hair and jeans?
Chris Gould
164
Posted 01/06/2017 at 11:42:33
Atletico Madrid's transfer ban has been upheld!! Maybe we will have a shot at Sandro after all?

Add Your Comments
In order to post a comment, you need to be logged in as a registered user of the site.
Or Sign up as a ToffeeWeb Member — it's free, takes just a few minutes and will allow you to post your comments on articles and Talking Points submissions across the site.