Lukaku has eyes on Everton departure

442 Comments [Jump to last]
Tuesday 6 June 2017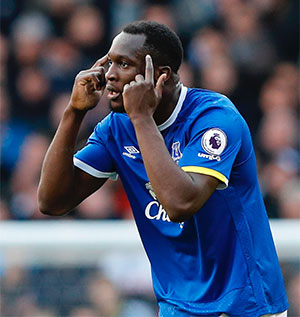 Updated
Romelu Lukaku says that he wants to remain in the Premier League but states that staying at Everton is "not an option" this summer.
The Belgian international has been the subject of plenty of speculation regarding his future ever since it emerged that he had turned down a new contract with the Blues in order to pursue his dream of playing in the Champions League
Despite Lukaku registering 25 League goals, Everton ultimately fell well short of challenging for the top four and the striker appears unwilling to stick around at Goodison Park to see if manager Ronald Koeman can steer the club into Europe's elite competition next season.
Manchester United and his former club, Chelsea, have been the two teams most regularly linked with a bid for him this summer but Bayern Munich, a particular favourite of his father, are now also being mentioned as potential suitors.
"To stay at Everton is not really an option for next season," Lukaku is reported to have said "I remain calm, serene compared to what is being said.
"A return to Chelsea? No comment. There is nothing concrete with a club at the moment, my agent is busy talking.
"I will not make big statements about my future I know where I want to play; in a club which is playing in the Champions League and can win titles in England.
"I think England is a league that suits me well because I already know the style of play.
"I don't want to stay at the same level. I want to improve and I know where I want to do that."
In what appears to have been a separate exchange (although the transcriupt provided by HLN in Belgium also has the same text as above), Lukaku hinted that his agent Mino Raiola was in talks with his preferred club.
"I know what's happening but I can't tell you anything more, "the 24-year-old replied when asked about Diego Costa's potential move to Atletico Madrid and what it would mean for Lukaku's links with Chelsea.
"The most important thing is: I want to win trophies. We are now talking to the club. As for the rest... I'm looking ahead."
---
Reader Comments (442)
Note: the following content is not moderated or vetted by the site owners at the time of submission. Comments are the responsibility of the poster. Disclaimer
Oscar Huglin
1
Posted 06/06/2017 at 18:07:41
Bye-bye then. To be fair, I'm mystified as to why he's stayed this long. We were a bottom-half side for two seasons under Martinez.
Jon Withey
2
Posted 06/06/2017 at 18:08:29
Invest that money in a new lawnmower.
Rob Birks
3
Posted 06/06/2017 at 18:09:12
I don't mind ambition.
I don't mind an over-inflated ego.
I don't mind listening to your Dad.
I do mind disrespecting the club that gave you your chance to shine!
Get rid and good riddance. Nobody is bigger than Everton FC.

Mark Morrissey
4
Posted 06/06/2017 at 18:11:20
Quite appalling how Sky are reporting this story. They are making it their headline story and yet no mention of the word "Everton" in their reporting of a non-story.
I'm sure all Rom is saying to the reporter is that he wants to play for a club in the Champions League, so whats new? Sky are just like gutter press when they try and manufacture a non story.
If you listen to what he actually says, it's nothing new. I'm sure it will irk lots of Evertonians, but lets not jump on Rom, lads, he's said nothing. It's just Sky stirring the pot,
Neil Wood
5
Posted 06/06/2017 at 18:14:21
I've not seen the actual interview – does anyone know exactly what he has said?
"To stay at Everton is not really an option for next season," Lukaku said. "I remain calm, serene compared to what is being said."
Has he not said this then?
Colin Glassar
6
Posted 06/06/2017 at 18:16:58
I think Rom is a great player and I want him to stay but these constant stories are starting to get on my nerves so, to paraphrase Oliver Cromwell, "You have sat here too long. Go, in the name of god just go!"
Tony McNulty
7
Posted 06/06/2017 at 18:26:46
Colin (#6),
I think he is a good striker albeit one with glaring weaknesses (heading, first touch, limited effectiveness at times, but especially when the team he plays for is not geared up exclusively to his strengths, or he decides to understudy "le sulk"). I am glad he came to us, and he was responsible for some exciting moments.
But a great player? Not for me. There will be a lot of dry eyes amongst our fan base when he goes. A hundred million would be mad, if we get eighty it would still be great business and the best deal for us since Lescott.
Just so long as the money gets re-invested in the team.
Bob Hannigan
8
Posted 06/06/2017 at 18:28:40
I prefer that he stays but, if the new side wants him, pay the price.
Robby Burns
9
Posted 06/06/2017 at 18:29:40
Bye bye.
Right... next please!
Frank Wade
10
Posted 06/06/2017 at 18:30:28
"To stay at Everton is not really an option for next season." This is a far cry from 99.99% certain to sign a new contract. I assume from the quotation marks, this is an actual quote. Maybe he was waiting to see if Man Utd qualified for Champions League. He certainly has been "calm and serene" in recent games.
I just hope this is done soon, one way or the other, so the club can prepare for next season. Interesting to see if Raiola has a major cut of the fee beyond the expected million or two for brokering the 'deal'.
Ian Pilkington
11
Posted 06/06/2017 at 18:31:02
If there is any truth in the rumour that Bayern Munich are interested it would be well worth arranging a deal with them quickly, even if it would probably result in accepting a lesser fee, rather than allowing a bidding war between Chelsea and Man Utd which would almost certainly drag out until late August. It is imperative that replacements are signed ahead of the Europa League campaign.
The added bonus of Lukaku playing in Germany would be that we wouldn't have to put up with the sight of him in the Premier League. He is already a mere footnote in Everton history.

Mike Green
12
Posted 06/06/2017 at 18:31:56
"To stay at Everton is not really an option for next season."
I'm sure it will be if no-one comes in for you, old boy.
Liam Reilly
13
Posted 06/06/2017 at 18:34:07
If he has said this then he needs to put in a transfer request (which will show how important the money really is) or rot in the reserves and the club listen to offers in January.
£100M should be the price and he can fuck off to PSG if they pay it. Sod his ambition to win beautiful titles in the Premier League.
Mark Melton
14
Posted 06/06/2017 at 18:36:32
I've still not forgiven him for bottling it in the 2016 FA Cup semi final and then, instead of apologising for his performance, he goes on about how he wants Champions League football.
He didn't really show up in any of the big games this season except City at Goodison. Time to get ourselves a big game match winner and move this flat-track bully on.
Thomas James
15
Posted 06/06/2017 at 18:39:00
I'm hoping it's Chelsea and we can do a swap for John Terry. After all, Lukaku's second touch is usually a tackle, Terry would be perfect.
Lukaku's at his level now with Everton, only he and his agent have not realised it. Maybe his agent Pinanferina does but wants a pay day.
Jeff Armstrong
16
Posted 06/06/2017 at 18:44:48
So he and his agent have an agreement with a Premier League club, but are not prepared to say who it is yet! Has he or this mystery club bothered to tell the club who currently hold his contract of their agreement yet? Has a fee been agreed?
His lack of respect for the club and fans who have been paying his wages for the past 4 years is breathtaking. I hope once gone he falls flat on his face, wouldn't wish harm on him but maybe a 20-game goal drought followed by a couple of penalty misses and his dropping for the World Cup by a manager who he has no respect for would do me for starters.
Eric Owen
17
Posted 06/06/2017 at 18:48:34
Get rid as soon as possible if what has been attributed to him is true. I know it could hurt but, as my old mother used to say, with such a pocket full of money, there are plenty of fish in the sea.
Anyone in a team sport who is saying what he has been quoted as saying is just, in my opinion, a scab, quickly festering and rubbing off on the rest of the team.
Paul Ferry
18
Posted 06/06/2017 at 18:52:52
Colin (#6):
I never ever thought for one moment that I would read Ollie's abolition of the Rump Parliament on ToffeeWeb. Nice one! And to think he attacked the king for using his dissolution powers too arbitrarily!
On Lukaku. He gets way too much stick on here. Some of it miles over the top. I'm a fan. The quality of service for him matched the performance of the Barebones Parliament that followed the Rump.
But he has to go now. After this. And he will. I think it will be making up with Jose. More important now is to make sure that we use this dosh and the rest that is swimming round (to pay back Farhad?) as smartly as we can.
We need a top class striker. None of this Vardy crap.
Lewis Barclay
19
Posted 06/06/2017 at 18:53:43
Cash in. Forget him quickly.
Paul Ferry
20
Posted 06/06/2017 at 18:57:34
How on earth can Lukaku ever be 'a mere footnote in Everton history' (#11)?
Silliness.
Tell yer what – let's all be third class and boo him when he plays at The Old Lady next season.
Stephen Brown
21
Posted 06/06/2017 at 18:58:19
Never have I felt so removed from an Everton player!
Get as much money as possible and move on!
Players come and go and evidently he's a good player but just can't take to him.
Frank Wade
22
Posted 06/06/2017 at 19:02:35
Sky News at 7 are saying Lukaku has an agreement to join another Premier League club, whatever that means.
David Tennant
23
Posted 06/06/2017 at 19:03:56
Agreed, Stephen (#21).
He's obviously a good player (not great, Kane is far better), but I really don't care for him.
We are looking forward and he is the past.
Michael Winstanley
24
Posted 06/06/2017 at 19:05:04
Take the money and run.

Kevin Rowlands
25
Posted 06/06/2017 at 19:08:35
Like Peter Roberts has said before, this lad will eventually end up plying his trade at Fenerbahçe or Beshiktas.
Not only is he nowhere near near good enough for any of the top Champions League clubs, he's not good enough for us; like I and others have said many times, he's a decent goalscorer who's a terrible footballer.
Btw, this will be my only post on this thread, not interested in getting into a big debate or wasting my time on this gobshite and his entourage any more. Goodbye and good riddance!
Kunal Desai
26
Posted 06/06/2017 at 19:10:25
I reckon we'll get £75-80 million from Chelsea. Happy days for all parties concerned.
Ian Jones
27
Posted 06/06/2017 at 19:13:32
We could always loan him out. :)
Keith Slinger
28
Posted 06/06/2017 at 19:14:27
To stay at Everton is an option, he forgets that he still has 2 years left to run on his contract and the club will sell him to the club that pays our valuation, not the club he thinks he is going to because he wants to.
Yet again whilst on International duty, he disrespects the club and fans with this talk of leaving for a club playing in the Champions League.
Stan Schofield
29
Posted 06/06/2017 at 19:16:11
Whether what has been reported is accurate (and it might not be, the press being largely a bag of shite) remains to be seen.
Regardless though, it is Everton who decide whether Lukaku plays for Everton next season.
Mark Wynne
30
Posted 06/06/2017 at 19:18:03
If it is Chelsea then I can see a part exchange on the cards to help with FFP.
Stephen Brown
31
Posted 06/06/2017 at 19:18:37
I'm not really a vindictive person but I also hope it all goes wrong at his new club too!!!
Ian Jones
32
Posted 06/06/2017 at 19:19:20
We should wait to see what Jim White says. He's bound to be in the know.
Daniel Lawrence
33
Posted 06/06/2017 at 19:21:21
You just know it will be some deal with Rooney thrown in and an undisclosed fee, with soppy bollox Kenwright and his stupid grid plastered all over the press with the great homecoming of a "hero"...
Timothy Blanshard
34
Posted 06/06/2017 at 19:22:10
I want him gone as soon as possible, this constant "we're just a stepping stone", who the fuck does he think he is?
Whichever team he goes to be it chelsea or manu I would love us to have a really good cup run, get them in the final and turn them over, I would pay to see the look on his mug.
He's certainly not as good as he thinks he is, but we'll always have the memories of that time he beat the reds in that derby! Oh wait... or that other game when his head didn't drop against a top four side. A legend in his own mind.
Darren Hind
35
Posted 06/06/2017 at 19:23:23
Bjoern Haall
36
Posted 06/06/2017 at 19:23:55
As some of you have said, he's been a good player but he never had my feelings rushed like Seamus, Baines, Davis, Cahill, Big Dunc etc. Never played for the team.
How many assists, second assists or key passes has he collected over the past seasons? He has scored goals and the team has had the benefits of them, but never has he done something for the team.
Sell.
Patrick Murphy
37
Posted 06/06/2017 at 19:24:11
I don't understand the confusion as to who is peddling this story.
"To stay at Everton is not really an option for next season," Lukaku said. "I remain calm, serene compared to what is being said."
Big clue the statements are in quotes which means they are attributable to the named person, ie, Romelu Lukaku.
John Foster
38
Posted 06/06/2017 at 19:24:41
I wouldn't mind if he performed well in the big games. He only scores against the lesser teams. He is the same for Belgium – failed at both the World Cup and the Euros.
The sooner this arrogant twat is moved on the better. Nobody is bigger than Everton and nobody is irreplaceable.

Ian Riley
39
Posted 06/06/2017 at 19:28:28
Lukaku has agreed a contract with an other club. Have Everton given permission for this? If not, that club needs reporting to the Premier League.
No official information that a bid has been received by the club in the press? When he goes. An official transfer request in writing should be submitted. Forgo any loyalty payments. Agent fees paid by purchasing club.
Over the past two seasons we have had this lack of respect from a player whom has broken records from players whom have shown deep love for the club. The club have been a stepping stone to better and bigger things. Time to move on. Take the cash. No players only cash.
Relieved when he has gone but only at the right price for Everton. Remember Mr Lukaku, you still have two years left on your contract so don't hand your locker key in yet!
Stan Schofield
40
Posted 06/06/2017 at 19:30:11
Patrick, really? I never cease to be amazed at the speed with which folks jump to swallowing press reports from snake oil salesmen in the guise of journalism. It may or may not be true.
But to assume it is true is simply crackers. It's as if the Levenson inquiry and all that stuff never happened.
Ian McDowell
41
Posted 06/06/2017 at 19:31:53
Hopefully we have a few strikers lined up. Looks like Tammy Abraham is off to Newcastle so that's not an option for part exchange.
Chris Williams
42
Posted 06/06/2017 at 19:33:38
Stan,
I've seen the interview on Sky. He said it.
Terry Farrell
43
Posted 06/06/2017 at 19:33:49
Enough is enough!
Rick Pattinson
44
Posted 06/06/2017 at 19:35:58
Then fuck off, Lukaku.
Cheers for the goals... no pride... no loyalty... no love...
Just another Anelka.
Jay Harris
45
Posted 06/06/2017 at 19:36:39
Fed up with him and his entourage. We should know from his father what sort of character he is. Doesn't give a shit for anyone but himself.
He is the only Everton player I have ever truly detested.
Andy Meighan
46
Posted 06/06/2017 at 19:36:54
How anyone could want this piece of excreta at our club next season is beyond me. All he's done since he walked through the gates of Finch Farm is talk about leaving The only reason he's still here is because no-one has come for in him the last 2 summers – no other reason.
It looks like he's now got his move and, in all probability, it will be either one of Man Utd or Chelsea He's talking constantly about Champions League football... well, if it is United, make the most of the group stages because they won't get past that.
And If it's Chelsea, more than likely the quarterfinals but no further Our clubs are so far behind the likes of the Spanish 3, Juventus, Bayern Munich, Monaco etc – it's untrue and it'll be a long time before they get back up there.
Funny but I can't remember him doing much for us in the big games... so to hear him big himself up is quite laughable. Yes, he's scored 81 goals for us. But as an all-round footballer... nah, not for me. Couldn't trap a mouse with a ton of cheese and, as someone earlier put it, a flat-track bully.
I'll be glad to see the fucking back of him. It''s been like a soap opera story that's dragged on and on. Piss off and close the door on your way out, dickhead!
Brent Stephens
47
Posted 06/06/2017 at 19:39:23
Thanks for the goals. Time to go this summer.
Derek Knox
48
Posted 06/06/2017 at 19:41:26
The player plus cash option could work for us, I hope it includes Tammy Abraham, who is English and is a fine prospect too.
I just hope all this gets sorted quickly, so any new additions can get bedded in, and get to know and gel with the Club, fans and team-mates.
Kevin Tully
49
Posted 06/06/2017 at 19:42:53
I wouldn't worry about any single player these days. They've got so many ready-made excuses to leave Everton, you are always on to a loser.
Champions League football, double your money, higher profile clubs, living in London... etc, etc. That's even before you take into consideration all the huge clubs across all the European Leagues.
We are perennial losers who haven't won anything for 22 years. We do good charity work though, I believe.
Trevor Lynes
50
Posted 06/06/2017 at 19:43:58
We should insist on a player exchange plus cash. I would want Willian or Batshuyi (the young striker) plus cash if it is Chelsea and Rashford plus cash if Man Utd. The money alone is no good as we will not be able to sign players of sufficient class. Players of top class want to play in the Champions Cup so the exchange route is the only way we can stay in touch.
If EFC just cash in then we will be taking a massive step backwards. Koeman has promised us ambition and that is what I want to see. We have been starved as fans and already all the season tickets are sold. I just hope that Moshiri and Koeman are going to live up to the ambitious rhetoric.
If Lukaku leaves and we just take the money, then I will be furious. None of the players we are being linked with are going to help us to break into that top six. Exchange of players is our best route, but we need the best that they have if business is to be done.
Danny Broderick
51
Posted 06/06/2017 at 19:46:52
I am not bothered if he leaves. He has scored some goals and we will make a healthy profit on him. I've grown more and more annoyed at the noises he is constantly making in the press. Good riddance.
I just hope he goes sooner rather than later. I'd like us to get some mobile strikers in to replace him. We will be a better team without him if we reinvest properly. The team is more important than any one player.
Stan Schofield
52
Posted 06/06/2017 at 19:48:01
Chris @42: Can't question that evidence.
But on the separate matter of the current contract, it's the case that he doesn't play for Everton next season only if Everton decide so. Isn't it?
Mark Pringle
53
Posted 06/06/2017 at 19:50:14
This is shaping up nicely. Rom off for say a minimum 㿷m, worst case scenario. ٦m for Cleverley, 㾶m for Deulofeu(would rather he was kept), ٠m for Mcgeady, whatever we get for Niasse (٥m?). Throw in potentially Barkley and McCarthy leaving for, minimum 㿅m and 㾻m and that gives you at the very least 𧵆m in player sales.
Given Koeman's record at rebuilding squads quickly and Walsh's eye for a player, I for one am excited at seeing who comes in. I know we all want signings straight away but realistically if we want quality we are not 1st in line, even with excessive offers, players and greedy agents will hawk themselves around every club to draw out every last penny!!
As frustrating as that is, I think Koeman and Walsh are the right men to be splurging 𧵄m. I know a lot of us are also annoyed about the sell-to-buy policy at the club and I would like to think we would have a kitty of at least 㿞m, bare minimum, before player sales as above. That would be almost 𧶀m to spend, crazy!!
My gut tells me we will only spend what we bring in and all available money will go towards the stadium. Providing Koeman and Walsh spend on the right quality, I have no issues with that as we are headed in the right direction!!
As for Rom, thanks for some great goals and memories. I'm not bitter about him moving on as it was inevitable. All the best and enjoyed most of his time here but the outbursts on every international trip about wanting away grew tiresome and that's why most of us never really truly took you in and why the 'Rom, Rom, Romelu' chants were always half arsed.
Deep down, we knew you were never truly one of us!! Hard to replace 25 goals though. Let's see what happens
Mike Allen
54
Posted 06/06/2017 at 19:54:18
Great player? Bloody-ell not even a good player, is he any better than say Benteke?
He will only be a bit player in a team that is a genuine challenger for trophies. He has an overrated high profile so good for us – we may get more that his actual worth
Kenny Smith
55
Posted 06/06/2017 at 19:56:27
I wish him well at which ever Champions League team that plays in the Premier League he's talking about unless it's the shite.
He's given us 4 great seasons playing in 4 mediocre sides and that's all you can ask for. He's not the finished article and sometimes looks like he can't be arsed but he's been great for our club!
We just need to invest the cash properly and look for some real unearthed talent along with established players early in the window or we ll be left miles behind and the next season will be a disaster be for a balls kicked.
Time for Walsh to step up but I've got proper reservations that he'll be out of his depth at a club that expects.
Tom Dodds
56
Posted 06/06/2017 at 19:59:17
Re Tammy Abraham (#48),
Even if we got him,and he fulfilled his potential whats the odds they would come back for him say aged 23.
Our biggest problem right here and right now is that in the formative years of the Prem those top 6 clubs built their 'Romes' BEFORE FFP... and even with even Usmanov's money we would just be still playing catch-up.
I fear our future rests on the best investments we can make with youth players, and wherein we tread the long path of buying cheap and selling high will take a fair few more players like Lukaku at this point in time though.

Steve Hogan
57
Posted 06/06/2017 at 19:59:32
Deary me... why, oh why, are people getting so upset?
The truth is, virtually all the posters are following the Sky/media driven bullshit put out on a daily basis either on the TV or through other channels.
Bales, Torres, Ronaldo, Beckham, Alonso etc, have all left their clubs for bigger and better things, those clubs often being at a better stage in playing terms than Everton, and for different reasons over the last 10-15 years, that's football lads in the 21st century.
Players (and managers) no longer stay for long periods of time (Fergie and the ginger one being the exception).
I neither love nor hate Lukaku, and it's a bit silly people coming on here saying they DETEST him and hope he fails, really?
However, for the record, I do think he's a tremendous player, and I do think his 25 goals will take some replacing next season.
There, tin hat on...

David Chait
58
Posted 06/06/2017 at 20:02:00
I've moved on. We need the money asap and looking forward to a positive replacement.
I am a Lukaku fan, have said many times he is irreplaceable in the short term and will go on to huge things. But if it's his time to go I am not emotionally connected to him (as I was with Stones for instance) so let's get it done and buy a TOP striker for now! Another top 4 reject or a prior club favorite and it's same old same old again.
Funnily enough, I have been a huge defender of Barkley but feel that this year we can't hold on. If a player wants to go, let them.
Chris Williams
59
Posted 06/06/2017 at 20:03:51
I reckon he's been told he can go, Stan, at least that's what his agent said. Everton made him a promise allegedly; of course, no comment from Everton.
And Koeman's comments about him seeing out his contract seems contradictory. A bit of a bugger's muddle. His 2-year contract allows us to ask a huge fee.
We'll see I suppose
Paul Newton
60
Posted 06/06/2017 at 20:05:14
We are in a win-win situation here. If he stays, that's okay – presumably another hatful of goals. If he goes, and the money is well spent on the right players, that's even better.
Winston Williamson
61
Posted 06/06/2017 at 20:06:09
He needs to leave soon, bless his cotton socks! His head is never going to fit down the tunnel at Goodison!!
If he stays (I think I heard it's not an option, but I'm calm and serene) we'll still need to sign a quality striker for when Rom Lukaku goes on his pre-season holidays... in March.
Brian Harrison
62
Posted 06/06/2017 at 20:06:34
Stan,
Yes, technically you are spot on he cant leave this summer unless Everton agree. I have seen his interview and he quite clearly states he and his agent know which club he will be joining this summer. He also told Sky its a club in the Premier Leagueand also in the Champions league, so that rules out Bayern.
I think it was clear that Koeman and Everton wanted him to stay, but the players hold all the aces these days. Koeman said some months back it will be up to the player. So it's only a question of how soon he goes, not if.
I am presuming that he and his agent understand, whichever club it is, the fee is 𧴜 million.
Neil Wood
63
Posted 06/06/2017 at 20:07:34
I would loan the arsehole out to Marine until January and set an example. Hate all this Billy Big Bollocks attitude.
He's signed a contract. Simple.
Absolutely zero respect for the club or his team mates. Disgraceful and should be made an example of. I just wish I was a billionaire because I would buy Everton and make his life a misery for the remainder of his contract!
Patrick Murphy
64
Posted 06/06/2017 at 20:12:53
Stan (#52),
As you readily admit the quotes are indeed true seeing as they have been seen by the masses on TV, therefore, I don't have to defend my position, too much.
However, any publication including this one cannot attribute quotes unless they are true – else they leave that publication open to a lawsuit if proved otherwise. Snake-oil salesmen or not, they do have rules in place for this type of thing.
A healthy scepticism of the media is welcomed by me, but the dismissing of anything or everything depending on your world view is too much like Trumpism for my liking.
Ray Robinson
65
Posted 06/06/2017 at 20:16:58
Surprise, surprise – it's international weekend. I find it arrogant that Lukaku states that it isn't an option to stay at Everton this season – he has two years left on his contract, so it's up to the club, not him.
Having said that, it's time to sell. I don't hope he bombs elsewhere (except against us). I don't even begrudge him playing at the highest level possible, It's just that I don't think he's anywhere near as good as he thinks he is. His level is probably where we are now. Shame but move on.
Stan Schofield
66
Posted 06/06/2017 at 20:17:22
Brian, if he is sold, then as you say it's because Everton have been offered a price that they consider acceptable, and probably one which gives Koeman confidence that suitable replacements can be found. In that sense, I would say that Everton hold the aces in this case, not Lukaku, despite what he's saying.
Stan Schofield
67
Posted 06/06/2017 at 20:18:59
Patrick, I got there well before Trump!
Robert Elliott
68
Posted 06/06/2017 at 20:20:47
I know it's being reported that he has an agreement with another club but I took his quotes to mean he has an agreement with Everton that he can leave.
Surely if he has been tapped up and agreed a deal with another club before that club have agreed a fee with us, he'd keep that to himself?
Chris Leyland
69
Posted 06/06/2017 at 20:25:20
Never been so unbothered about a player leaving us. Not arsed in the slightest despite the number of goals he scores.
Michael Burke
70
Posted 06/06/2017 at 20:29:30
I have no issue with him moving on; he has no affiliation to us or the area. My issue is with the way he is manufacturing his move through the media. There are ways to do things Romelu, this is not it.
He will leave a hated man (by many). If he'd showed a little bit of class in way conducted himself I have no doubt the majority would've remembered him fondly for his goals, not his mouth.
Peter Morris
71
Posted 06/06/2017 at 20:33:56
"To stay at Everton for next season is not an option"
"We are now talking to the club"
To the first comment, that is in Everton's gift, not Lukaku's. Or, more to the point, his scumbag agent's.
To the second comment, if 'the club' is Chelsea, that is clearly illegal behaviour, unless sanctioned by Everton of course, and if the club is Everton, then that sounds like a transfer request to me, which will no doubt cost him and his fat scumbag of an agent millions.
In any event, the truth will out, no doubt he will go to that disgusting, chavy club in West London, and we can then get on with building our club back to it's former status in the game.
Let's get him away sooner rather than later. It will show potential striking targets that we have a vacancy to fill.
Frank McGregor
72
Posted 06/06/2017 at 20:35:26
For God's sake just go. Everton should not let him on site at Finch Farm or any other Everton facility. Just leave his belongings at the security gate.
Bill Gienapp
73
Posted 06/06/2017 at 20:36:32
Neil (63) - "I just wish I was a billionaire because I would buy Everton and make his life a misery for the remainder of his contract!"
Hopefully you could do other great things for the club with your figurative billions!
Carl Taylor
74
Posted 06/06/2017 at 20:36:41
He and his agent don't seem to understand: he is our asset to sell. Talk to whoever you want, if they don't pay what we demand, then jog on. He can rot in the stands next season if we don't get what we want.
On another note, Patrick Murphy, did you live in Prescot? Not sure if you are the Patrick Murphy I met in Lourdes?
Patrick Murphy
75
Posted 06/06/2017 at 20:40:46
Carl (#74),
Sorry, mate, that ain't me, although I probably should visit that holy shrine at some point in the not too distant future.

Mark Riding
76
Posted 06/06/2017 at 20:52:07
Nothing has changed. Nothing. Stepping stone of a club for all our top stars. All Kenwright's fault due to the total lack of any ambition over his reign.
Only Everton can get a billionaire shareholder and still have to sell to buy. Last 12 months we will have / Will soon have.. sold Stones, Lukaku, Del and Ross. Young hungry talent.
Replaced then with yard dog Williams, one trick Bolasie, Sigurdsson (if we're lucky) and probably Troy bloody Deeney.
Oh, and fingers crossed we secure knackered old Wazza on a three-year deal... Sell the shirts, like.
Adam Gough
77
Posted 06/06/2017 at 20:53:07
So he is publicly admitting speaking to another club – did Everton give him permission? If not is this not tapping up? He has zero respect for this club. A £100m offer or he stays. Simple.
Lee Brownlie
78
Posted 06/06/2017 at 20:53:11
Okay then. Bye Bye.
Wish him well enough in the future but he's honestly never been quite the living ledge he thinks of himself, far as I'm concerned. A lot of goals, yeah, an a beast when he's through but its obviously in great part down to that team he clearly thinks he's so much better than. Too static behind defenders too often for me.
We want someone up front who looks like they're always looking for it and to be part of making it happen, not waiting on it, shoulders slumped like "Oh these arseholes I have to play with"!
If he joins a team genuinely challenging then they will be that because that's how good they already pretty much are not because of him.
All due respect, in the right (set up Lukaku!) system for him he'll thrive but, make no mistake, he's going to have to work incredibly hard and prove himself over again to realise his 'ambitions'.
As for such talk of him going to Man Utd to replace Ibrahimovich... Ibrahimovich, even now, he ain't.
Brian Abbsey
79
Posted 06/06/2017 at 20:53:15
If the guy wants to go then so be it. If our club has a finger anywhere near the pulse, then we will get at least 㿼m for him. I can't believe there aren't other better strikers out there who aren't so far up their own arses. If we have players who can't see Everton as an adventure, just tell them to fuck right off!!
Thanks lads, I'm back to birds shitting on Springwatch!

Colin Dixon
80
Posted 06/06/2017 at 20:56:38
At last...biggest frustration in years. Get a forward who can play football, score goals and more importantly entertain.
Next...

David Barks
81
Posted 06/06/2017 at 20:57:18
Carl,
Sorry, he isn't "our" asset. He has an employment contract with Everton, not you or me or any other person on this thread. He's an employee that has a considerably high value that would lead his current employer to want to receive a considerable amount from another employer in exchange for letting him out of his contract and thus being able to be employed by that other employer/club.
He could rot in the stands, sure. Although it would be one of the most idiotic business decisions this club could make, and they've made quite a few in the past, and they'd be justifiably mocked by all. It would also signal to any other players that this is not the club they want to sign for if this is how they would act when a player wants to leave.
This is a part of football, it occurs at every club. At Arsenal it's Sanchez and Ozil, Chelsea it's Costa and Hazard, Leicester it's Mahrez and Vardy after Kante left. Just as we sign players from other clubs, players want to leave here to sign at other clubs. Just as Everton sell the contractual rights to other players or allow them to go out on loan. Everton can't just sell them to anyone they want. The player then has to agree to a contract with that employer. They don't have to go and play at any place Everton decides, although Everton could opt to not agree to the deal.
Everton could keep him and have him sit the bench for two years, with a huge cloud over the club and show to any player of any considerable talent and their agent that Everton will under no circumstances be considered as an option. They could do that for two years only to see him leave at the end of that contract, for no money at all.
Or, "we" could all just grow up and see that this is a business and how it works at every single club. Happened to United with Ronaldo. Happened to Arsenal with Van Persie. Happened to Spurs with Bale.
But Lukaku is most certainly not "our" asset to do as we please. He's not a slave, he's an employee, using the leverage which is the limited time remaining on his contract to move to an employer that he sees as an advancement in his career.
Patrick Murphy
82
Posted 06/06/2017 at 21:00:34
If you take Mark Riding's (#76) viewpoint, and there's nothing to say it isn't totally wide of the mark, then could it be that Rom has had all the permission he needs from Everton FC?
Therefore, his stating that "To stay at Everton is not really an option..." remark has more to do with what the club want, rather than what the player has demanded?
Colin Malone
83
Posted 06/06/2017 at 21:03:48
Rom's got his head so far up his own arse. Well listen kid, your in for a major shock. Whoever you go to, you will be on the bench by Christmas.
Wayne Rooney proved himself at the age of 18, Lukaku is 24, say no more. Taraa Lad.
Happy Blue.
James Stewart
84
Posted 06/06/2017 at 21:04:38
Incredibly fickle to turn on our most valuable and probably best player for showing some real ambition. Would Lukaku be mouthing off constantly if we had shown a little actual clout in the transfer windows since Moshiri's arrival? I don't think so.
Lukaku called the club out only a few months ago and said what we all thought. Nothing has changed. Sigurdsson and Rooney through the door already would have made a statement to Rom, our only top 4 player, that we mean business.
Instead, we do fuck all except submit a derisory bid for a rookie keeper from relegated Sunderland. Top 4 aspirations, my arse.
Ian Hollingworth
85
Posted 06/06/2017 at 21:11:11
Bye bye, Rom – if you don't want to be here, we don't want you.
I just hope that there is real ambition in the club to get the quality players in that we need. I really hope the club are prepared to show the ambition that Rom clearly thinks they are not going to.
Anthony Millington
86
Posted 06/06/2017 at 21:15:55
I'd take 㿔-50 mill for him with Batshuayi in exchange. He's a similar physique and good age and would be a ready made replacement although admittedly he's not a proven goalscorer yet...
I think we'll struggle to find a better replacement and will get ripped off once Lukaku is sold as everyone will know we have loads of money to spend.
This way, we'd have a replacement and then have another 㿔-50 mill profit to bring in another couple of strikers to replace the likes of Kone and Valencia.
Mark Morrissey
87
Posted 06/06/2017 at 21:16:14
Rob @ 68. I said the same @ 4 but nobody's listening to us or in fact the interview properly... zzzzzz.
Andy Crooks
88
Posted 06/06/2017 at 21:21:55
I Like Lukaku, I think he is a top player and a great asset. However, I think he will go and I think he will set the dominoes rolling. I hope we have plans in place. We must have.
Ciarán McGlone
89
Posted 06/06/2017 at 21:22:10
This guy has zero respect for us... Maybe we should all give him a standing ovation.
Utterly self-absorbed. Hope he flops.
Dave Older
90
Posted 06/06/2017 at 21:23:38
See ya, Rom. I will be glad to see this soap opera of yours over because at the end of every season it's the same old story. You talk about you, you, and you.
I just wish he would keep his trap shut and let his agent get on with brokering his new deal elsewhere. Sick and tired of it to be honest.
£80-90mill will do nicely thanks and let's get in some players who work their socks off and actually want to play for us.
You scored a shit load of goals for us which I am grateful for but the constant speculation is becoming a bit boring now. Enjoy life at Chelsea or Man Utd!!!
Gordon Roberts
91
Posted 06/06/2017 at 21:28:11
Always wanted him to stay; I just want him gone now. Hopefully, we buy a striker who can replicate his goalscoring prowess, but a player who will be far more respectful to our club than Lukaku.
Barry Lightfoot
92
Posted 06/06/2017 at 21:32:32
James (#84),
The transfer window hasn't opened yet and who says Sigurdsson and Rooney even want to play for us. And last I read Sunderland hadn't had any bids for Pickford.
As they always say don't believe it till it's done.
Paul Holmes
93
Posted 06/06/2017 at 21:36:40
It is now up to the board to buy quality instead of quantity (Cleverley, Gibson, Kone etc, etc..) with the funds we get for Lukaku and hopefully Barkley.
My opinion: buy Sigurdsson (playmaker); get Rooney for two seasons (he's still better than most of our forward players); and a top striker from a foreign league. This will be a step in the right direction for starters!
Ian McDowell
94
Posted 06/06/2017 at 21:38:04
Don't understand this "he has zero respect for us" rubbish. He wants to go to a more successful team and earn more money. He has given four years and we haven't got above mediocrity. What do you expect?
If we want to finish top 4 and attract top players, then the last 4 years aren't good enough. Last season, we got knocked out in both cups at home to Norwich and Leicester. That says a lot.
Ian McDowell
95
Posted 06/06/2017 at 21:39:49
That's also a lot longer than the true Evertonians, Jeffers and Rooney.
Mark Riding
96
Posted 06/06/2017 at 21:40:34
https://mobile.twitter.com/_wangwe/status/775588867198124032/video/1
Mike Corcoran
98
Posted 06/06/2017 at 21:46:57
Players come and players go, looking forward to how we line up next season. Good Luck, Lukaku, I think you're gonna need it. Time for some rabbits from hats.
Gareth Clark
100
Posted 06/06/2017 at 21:53:41
I'd love Koeman to dig in & force him to stay for another year!
If not – then £75mil & Batshuayi.
Then go get Iheanacho or Dolberg.
Oliver Molloy
101
Posted 06/06/2017 at 21:56:13
In my opinion, Lukaku just doesn't trust Moshiri & Kenwright to come up with the goods and spend the money that will make the difference to Everton and give us a chance.
No way is he going to win a trophy at Everton anytime soon so I don't blame him for wanting to move.
Neil Wood
103
Posted 06/06/2017 at 21:59:07
Or both, Gareth @100???
Tony Abrahams
104
Posted 06/06/2017 at 22:01:11
I'm glad he's going, but to be fair to him, he did say during his first season at Everton that he had told the players that there wasn't much between them and the Chelsea players he had just left.
He's getting older and realised that the gap is massive simply because our players have never really had any real belief and so he's off to play with players, who expect to win?
He's got loads to learn still, but he has improved every year at Everton but no longer the big fish; it will be interesting to see how he fares. We get top money; let's just hope we spend it wisely and maybe then we might be able to look back more fondly in the future with players who endear themselves with our club.
John Pierce
105
Posted 06/06/2017 at 22:01:52
The great gamut of the 5 stages of grief on the thread today and why not!?
Me, I'm deffo at Bargaining, looking for the best deal we can get for him and the club.
I'm strongly in favour of taking 㿀m less if he agrees to go to a European side. Its suicide to sell to a team above you, whatever the price, it tells clubs you're weak. And frankly we are if we do sell to Man Utd or Chelsea.
Whatever the real story is Everton have put themselves in this position by under achieving on the pitch in the last 3 years.
Moving on to Acceptance...

Sam Hoare
106
Posted 06/06/2017 at 22:02:06
He's been probably our most effective player for a few seasons now. He's the only player in our team who the Champions would pay big money for because he would get a place in their first XI. We may not have a striker who scores as many goals for a long time.
But perhaps we may just be a better team? Who knows.
I wish him all the best. He's absolutely entitled to want to play at the highest level and we have not matched his ambition. I'm glad he's come out and said this as it clarifies the situation. People suggesting we sit him in our reserves for a season clearly come from the 'cut your nose off to spite your face' school of thought.
Sell him to whoever bids the most or offers the best players. I'd be pretty happy to get Batshuayi from Chelsea or Smalling and Romero from Man Utd.
Pressure on Walsh and Koeman to spend the money wisely but Koeman had pretty good results replacing teams at Southampton.
Kev Johnson
107
Posted 06/06/2017 at 22:08:52
I have enjoyed watching him, but I have seen (in my opinion) better players who have left over the years watching the blues, ie, Gray, Heath, Lineker, Latchford. I was devastated when Lineker left.
I wish him all the best and hope we invest the money in a couple of decent players. Everton will be here long after us all, it's a shame he couldn't have stuck around for a couple of more seasons.
I can feel goods things coming to this great club..
Will Mabon
108
Posted 06/06/2017 at 22:11:13
Mark (#96), that was quite damning!
My own "Favourite": the killer through-ball @ 1:03. Instant control really isn't Lukaku's forte.
Dennis Stevens
109
Posted 06/06/2017 at 22:12:55
"To stay at Everton is not really an option for next season There is nothing concrete with a club at the moment." – Also no news of an offer having been made. Perhaps it'll all become clear when the transfer window actually opens.
Nigel Johnson
110
Posted 06/06/2017 at 22:14:09
Well, another day, another load of stories about Lukaku. My biggest worry is not if Lukaku stays or goes or even if Barkley stays or goes. My biggest worry is that Everton fans are being lied to.
We are being told that Everton will spend big this summer and that Koeman is being given loads of funds to spent. So, that being the case, surely Koeman should be given any money made from the sale of both Lukaku and Barkley – on top of his already agreed budget.
This should be over £150 million – or is the sale of Barkley and Lukaku simply going to pay back the money Farhad gave the club?
Mark Dunford
111
Posted 06/06/2017 at 22:14:39
Such an enigmatic player and person. Fantastic at times but also looked completely bored at others.
Strange tendency to peter out towards the end of a season. Never really felt he was part of the club furniture in the way that others who've been around far less time have been.
A cautious person would think it right to sell now - high value that possibly may decline as he loses pace and power with age allied to the fact that he rarely performs in big fixtures. Hard to replace his goals.
John Davies
112
Posted 06/06/2017 at 22:15:16
To paraphrase Oliver Cromwell: "You have sat here too long. Go, in the name of god, just go"!!
I remember saying the same thing about Billy Bingham.
Joe Edwards
113
Posted 06/06/2017 at 22:16:48
A deal with Man Utd for Smalling and Rashford please, thank you.
Paul Birmingham
114
Posted 06/06/2017 at 22:17:36
Good read by all the people who've input so far on this issue.
The club is playing schtum as expected, which is good news, and I sense any comments as reported today in the media, if founded are designed by his arsehole agent or even the lad himself who thinks he is on his way.
Has he forgot he's under contract for x2 more years, or was there a gents agreement if some club came in with the right money?
I'm sick to the back teeth of the sullen egomaniac who's never consistently delivered against top sides and who would not get a tap in Spain or Italy as technically, his basic ball control is not suited. Good but not brilliant, and still needs to work to improve his game.
I'm thankful for his goals, but in life one day he will learn about loyalty and true team work.
In my view I don't think it's a done deal by any stretch that he will go anywhere, but on top money if it's offered, let's sell and move on. This preseason can't upstaged by Lukaku's possible sale, there's a squad to rebuild and do so very fast, which will be a huge challenge.
I hope also EFC refunds the shirts bought by parents for their kids etc. with his name on the back. Enough is enough now and time to move on before the dressing room stench puts off any new players.
Let's hope for swift, decisive and good hunting season foe EFC, in this transfer window.
Nick Armitage
115
Posted 06/06/2017 at 22:20:06
I was watching the Champions League Final on Saturday and Lukaku is utterly deluded if he thinks he is anywhere near that level. If he wants to win trophies, he'll need to start turning up in big games and he hasn't once for us.
Make him submit a transfer request then flog him to the highest bidder that won't mind the fact that he's idle and that he can't tackle, head or control a ball. And tell his agent to sling his hook if he thinks he's gonna pocket another 㿔m.
Just hoping he takes Barkley with him.
Colin Glassar
116
Posted 06/06/2017 at 22:23:04
My major concern is not losing Lukaku but blowing the money we get for him.
Let's say we sell him for 㿼m, I'd rather replace him with two players for 㿞 and 30m respectively. But, knowing our transfer gurus, they'll probably go out and buy 16 players for ٣m each!
Brian Wilkinson
118
Posted 06/06/2017 at 22:28:55
Without repeating myself in posts over the past few months, take the cash and get rid of this alto ego guy. The club is better than Lukaku, the fans deserve better than his rants season after season.
I really hope we get this sorted and done with early doors, so we can rebuild and hit the new season running.
Neil Wood
119
Posted 06/06/2017 at 22:29:26
Like Iheanacho and Dolberg Colin?
Jack Convery
120
Posted 06/06/2017 at 22:32:12
This deal should be done 1st July, then we can start spending. The deals should be lined up now ready for completion. If not, EFC have learnt nothing other than making money on players, which is the usual EFC way.
Thanks for the goals but I reckon the dressing room maybe a good place next season – all for one etc, not all for Rom.
Minik Hansen
121
Posted 06/06/2017 at 22:34:22
Diego Costa's potential move to Atletico Madrid? It's not happening this summer, they have a transfer ban.
Might just be our luck or he moves to Liverpool? Not happening. Man City? Not likely. Man United? I doubt it. Tottenham? Don't even mention it.
My guess is, if he is leaving, he leaves the Premier League.
Mark Riding
122
Posted 06/06/2017 at 22:35:51
Batshuyai would give us the same headache every international break.
Jim Hardin
123
Posted 06/06/2017 at 22:36:09
Tony, John, Sam,
Spot on (well except I don't agree on the transfer targets). Could be the first time I have ever agreed with you three on the same thread. What a pleasure it is I must say.
Ian Hollingworth #85,
Incredibly ironic statement. "I just hope that there is real ambition in the club to get the quality players in that we need. I really hope the club are prepared to show the ambition that Rom clearly thinks they are not going to."
So we are going to show Rom our ambition to attract players of his quality by um, selling him? That'll show him for sure. Clap, Clap!

Jamie Sweet
125
Posted 06/06/2017 at 22:39:33
"Everton striker Romelu Lukaku says he has reached "an agreement" with another Premier League club"
reads the headline.
You then scroll down and his exact words are "we have an agreement with the club". I would take "the" club as being Everton in that context.
Regardless though, he'll be off if anyone who finished above us in the league bid enough money for him.
If I was him, I wouldn't be quite so cock-sure that was going to happen though. We are asking for World Class money for a player that is not World Class.
Ian Burns
127
Posted 06/06/2017 at 22:41:58
I often sit and go through all of the comments and I am always fascinated by the diverse opinions along with a quiet smile to myself at some which to say they are to the point, would be an understatement!
For me, this quote by Lukaku is more of a statement about EFC than the man himself. 22 years of nothing; 22 years and more of no money; how the mighty have fallen. It brought into stark focus where my beloved club sits in the world of football - not good enough for the likes of Lukaku.
It is a sad fact and I wonder if at this stage of my life if I will ever see EFC back where they belong – at least in my rose-tinted blue mind it is somewhere near the top!
Now we will see if Koeman and Walsh have what it takes to spend this wisely and not fall into the Spurs trap after the sale of Bale etc. They have much to prove in my opinion.
Bob Hannigan
128
Posted 06/06/2017 at 22:42:45
Nick (#115),
I've read you're posts over the year & this one is spot on:-
"I was watching the Champions League Final on Saturday and Lukaku is utterly deluded if he thinks he is anywhere near that level. If he wants to win trophies, he'll need to start turning up in big games and he hasn't once for us.
Make him submit a transfer request then flog him to the highest bidder that won't mind the fact that he's idle and that he can't tackle, head or control a ball. And tell his agent to sling his hook if he thinks he's gonna pocket another 㿔m.
Just hoping he takes Barkley with him."
If they don't want us, we don't want them.
Fran Mitchell
129
Posted 06/06/2017 at 22:48:33
Expected that he'll go. I just hope we get a top quality replacement. No Idea who.
Só many Just don't work out: Mitrovic and Janssen are 2 recent examples of young 'wunderkids' who come at a price and flop. Hence goalscorers, no matter their weaknesses will always be in demand.
West Ham have bought about 10-15 strikers over the last 5-6 seasons and not one has worked out.
The only name that really makes me think it could work out would be Dembele from Celtic, for say £30 million. Add to him someone like Llorente as back up.
But one thing that I haven't seen mentioned: Lukaku says 'my agent is speaking to clubs'. Sky say 'deal agreed with club'. Yet how? If no fee has been agreed? Tapping up is now fine and dandy is It?
Hope to see Everton reporting Mr Riola and Chelsea for tapping up a player.

Gordon Crawford
130
Posted 06/06/2017 at 22:49:23
Who are we talking about?
Oh yeah, now I remember, that gutless one-dimensional footballer. Any teams in Alaska who need a snow shoveler? As that's where I would send him.
Sell now and report the other club for tapping up, if there is any truth in these reports.
Terence Tyler
131
Posted 06/06/2017 at 22:56:21
Got to be Chelsea he is alluding to, as Man Utd have just bid £60 mill for Real Madrid forward Morata.
Colin Glassar
132
Posted 06/06/2017 at 22:58:59
I'd take either of them, Neil, but my preferred two are Batsuyahi and/or Dembele.
Kristian Boyce
133
Posted 06/06/2017 at 23:04:13
I hope we don't get Iheanacho or Batshuayi as I predict constant headaches for many with lots of wrong spellings. Barkley leaving would help this issue too.
I can't see Batshuayi leaving Chelsea after the comments he made in a Belgium paper today. Basically bigging up Lukaku and suggesting he's joining him at club level.
Stephen Scofield
134
Posted 06/06/2017 at 23:05:04
What I don't understand is clearly he thinks he's amazing, the media thinks he's amazing, his goal record would let you believe he's amazing. But most games I saw him this season he flattered to deceive.
Only a handful of games I thought he played really well – the level he thinks he is. Most of the time, he just stood and waited for the game to come to him.
I think we'd be much better off with a team player half his skill. The goals won't dry up, they will just be more spread out.
When he goes, I'll remember a couple of goals, but I will mostly think – lazy, arrogant and disrespectful.
Colin Glassar
135
Posted 06/06/2017 at 23:05:59
Just stick to Smith and Jones then, Kristian?
Kristian Boyce
136
Posted 06/06/2017 at 23:10:51
Colin, I guarantee we would still get a few Jonahs and Smyths.
Ernie Baywood
137
Posted 06/06/2017 at 23:12:24
It couldn't be that hard to find two players who can get into double figures... and we'd be a much better side for it.
A sale makes sense all round. I'm just struggling to see why a team that is above us would want to regress to the sole high-scorer model.
Neil Wood
138
Posted 06/06/2017 at 23:12:29
Alan and Vinnie! Both battlers in fairness, Colin!!!
Colin Glassar
139
Posted 06/06/2017 at 23:17:25
Batsuyahi could be a problem as predictive text would probably turn him into Batshit, or something like it.
Tom Bowers
140
Posted 06/06/2017 at 23:17:26
He is a proven goalscorer at the top level with Chelsea, Albion and Everton no matter what we say about him. He has his faults, which player doesn't?
All I want is players who are 100% Everton so. if he goes, fine. Just make sure we get the full market fee for him and get the necessary replacement(s) before the next season starts.
John Malone
141
Posted 06/06/2017 at 23:21:23
A Scottish pal who is a die hard Celtic fan told me Dembele is very over rated and he doesn't think he would be good enough to score a lot of goal's in the Premier League!
I would take Batshuayi as part as Lukaku deal and go all out for Iaenacho as he is has looked good for Man City and has already scored all types of goal's in our league!
Mike Green
142
Posted 06/06/2017 at 23:30:55
Gareth (#100) – I wouldn't. The toxicity around the issue is gently rising. He's a wrong 'un and we need him out of the dressing room as soon as possible now. Get rid.
Anthony Dwyer
143
Posted 06/06/2017 at 23:38:11
Everyone knew Rom was off this season, no-one has even put up a fight.
There isn't any need for the clown to be disrespectful towards us, he forgets Chelsea didn't give him a game and West Brom was his other option!
Ray Griffin
144
Posted 07/06/2017 at 00:29:29
Ian Burns (#127)...
Well put & apt description of where we are and who we need to emulate. We need to get rid of Lukaku & other less than top class players – hopefully Koeman sees what we see and spends the huge money we get for an average centre forward on real quality players.
Brian Porter
145
Posted 07/06/2017 at 00:31:45
If any club is already in talks with Lukaku, it is clearly an illegal approach under Premier League rules. Having said that, I am sick and fed up of this man and his over-inflated ego. Total disrespect to Everton and their supporters who have cheered him on even when he's played like a three legged donkey. I've had enough.
He really isn't good enough for any of the top Champions League clubs despite what he may think and it would be rather nice to see him move on and fall flat on his own ego. Can anyone really see Chelsea or Man Utd changing their complete style of play to suit Romelu Lukaku?
No? Didn't think so, and therein lies the big pitfall awaiting Rom. If he does go to one of those clubs he's going to have to work a damn sight harder to fit into their team ethic than he's ever done at Everton where our team has been set up to feed him and let him do the bulk of the goalscoring.
There's an old but very true saying that 'Pride goes before a fall " and Lukaku, with his appalling disrespect towards Everton, to whom he owes two more years on his contract, and our supporters, together with his unbelievable arrogance in thinking he's a big, big star already, is really setting him up for just such a fall from grace when and if he moves on and doesn't set the world alight.
Have Chelsea and Utd watched him every week and seen his awful first touch and his ability to go totally missing in games when he can't be bothered? Latest stats show he covered the least ground of any player in the Premier League last season. Not exactly a team player is he?
Let's hope we can get a big fat fee for his big fat ego and then move on and replace the big fat ego with someone who wants to play for us, and maybe do their best to help us get into the Champions League, something he obviously doesn't have the fight or the guts for. I really can't stand him any longer.
Eddie Dunn
146
Posted 07/06/2017 at 00:34:05
So staying is not an option, well of course not! He agreed with Koeman to stay for one season, to see what transpired.
I think he is a really good player, not quite as good as he may think himself ,but hard to replace for us. It shouldn't be a surprise though.
I wish he was going overseas because I can't see rivals in our top six exchanging star players. I would prefer him going to Bayern or PSG.
I, like others above, have never warmed to him, and I really hope he fails dismally at his next club. I hope he has little time on the Champions League stage, and hope he plays badly and finds out that Champions League can be shit in the early rounds, when you find yourself away in a group game in Irkutsk.
Martin Jamieson
147
Posted 07/06/2017 at 00:55:19
Why would he possibly want to go and spend time on the bench in some over-hyped Premier League club that's already qualified for the Champions League without his help?
Surely the better, more noteworthy and rewarding challenge would be to lead the charge towards the Champions League by playing every week for one of the greatest and most historic clubs in the world which is presently reinventing itself. Only then could he really say he was a Champions League player who truly deserved to be there.
Come on Rom what are you made of? Take the challenge and show us what you're made of!
Darryl Ritchie
148
Posted 07/06/2017 at 00:56:22
Lukaku is history; waiting to happen. He has been leaving ever since Everton splashed the cash, and purchased him.
If he thinks he will be able to ghost his way through matches, the way he did all too often for us, at a Champions League club, he's in for a rude awakening. He'll find his ass on the bench quicker than you can say "I'm not getting any service".
So sell to anyone who is willing to pay what we ask. The more clubs in the mix, the better.

Dave Cooney
149
Posted 07/06/2017 at 00:57:03
Carl Taylor (#74) – you speak my language.
David Barks (81) - was reading through the angry musings, some of which were highly amusing, when your comment brought me down like a Leonard Cohen designed 'with deepest sympathy' card. I am sure the ramblings of fans wanting to 'keep him in the stands' are just that. They don't need your reality check. David, let the people speak... give the game back to us:
Dave Clements, bland British managers with thinning hair, throwing pies, paying at the gate, anonymous dodgy shouts, pitch invasions, visits to BR buffets, unruly large men starting the chants off in the Street End, standing on the back wall of the Park End in a ridiculous bright top so you could be seen on 'Kick Off' on a Friday night, going in an away end and being more worried by their fans than getting lobbed out by the stewards., local players running Sunday league kids' teams etc.
The way football is run nowadays does my head in. These forums are the domain of the fans, warts and all. I love reading the posts most nights; from the angry to the ridiculous, to the funny but not the state the bleeding obvious and put us all on a downer.
I actually think he's a brilliant player with no real ties to us at all and is fully entitled to leave a 7th placed club for a Champions League club. I still hate him for it though and want him to be an abject failure. In fact I'd love us to get £80 mil for him from the Mancs and for him to, shortly afterwards, get some sort of incurable disease. No rationale there David, apologies.
Mark Riding
150
Posted 07/06/2017 at 01:22:17
Just watch the big melt get a serious injury against Estonia on Friday now. Everton, that.
John Codling
152
Posted 07/06/2017 at 03:34:56
If he wants to leave that's his right, but I hope Everton refuse to sell to a Premier League side. I don't see the point in strengthening our opposition.
Would we sell to Liverpool? I think not. So what's the fucking difference?
Brian Murray
153
Posted 07/06/2017 at 04:39:15
Last time I looked, there was a big world out there full of the next Drogba, Neville, Terry etc. If Walsh won't or can't do what we employed him to, cancel his contract and get someone who can have an influence.
We can all pluck usual suspects out the air. Or probably Luvvy arse has told him to hang fire until we sell, like the Stones scenario.
Anto Byrne
154
Posted 07/06/2017 at 04:56:16
Fine!!!! I just wish he would fuck off sooner than later and take Barkley with him. Neither want to be at Everton. When does the window open?
Paul Ferry
156
Posted 07/06/2017 at 05:08:32
Top post, Sam Hoare (#106), when you next on telly mate?
Twelve months ago, some on here were saying another year with us then good luck and goodbye. Some were saying the same a handful of months ago.
No need to be bitter here and wish him ill. He's not one of us. He's doing what 99 per cent of people on here would do given the requisite talent/expertise.
Bill in the Wig and Pen to his co-worker Gabriel: "Gabs I'd love to move on to a better job and realize my full potential, this filing clerk thing is doing my head in, I came up with 25 new filing systems this year, for feck's sake."
"I'll be sorry to see you go, Bill mate, but my, oh my, I'd look a tad sad slagging you off and calling you a traitor and wishing you bad luck and to fail at Apple Contemporary Interiors."
"Makes someone look bang on average doing that."
"Best of luck at Apple. It's worth a pop and we get to replace you with three or four new jobs. I'm not being awful honest but I suspect that it will be a real challenge and in say two years Plum Old Fashioned Interiors might seem like a comfy home you lost."
Thanks for all the goals and the massive profit on your fee, Rom.

James Watts
157
Posted 07/06/2017 at 05:42:22
I can't wait to see him flop again at Chelsea. Can't believe Conte will put up with his lazy arse "I'm Billy Big Bollocks" attitude like we have.
Don't let the door hit you on the way out.
Fintan Spode
158
Posted 07/06/2017 at 06:42:51
So glad to see that this deal appears to be nearly done; for a while I was worried that the useless big lump would be staying.
For those of you bemoaning his departure, dont... I have no doubt Lukaku will be found out at Chelsea – just like Stones has been found out at Man City; meanwhile, we are laughing all the way to the bank...
Jim Harrison
159
Posted 07/06/2017 at 06:42:57
If he were to go to Chelsea, Fabregas would be a welcome addition as part of the deal! He can't get a game there.... but that'snever going to happen. Player-plus-cash deals are very rare.
As long as the price is right, let him go quickly. He's a very good player, but we need to improve the entire front line to create more chances and score more goals as a unit. Also, Koeman wants pressing from the front; Rom just doesn't offer this.
I think if you look at the spurs set up, and to a certain degree Liverpool you will see the style of play he is after.
To reshape the team, there needs to be significant financial input. If Moshiri can stump up some and we can cash in on Rom, possibly Barkley too if he wants out, there should be a good amount of money to work with.
Paul Setter
160
Posted 07/06/2017 at 06:53:27
Personally, I've wanted this clown gone since his no show in the 2016 FA Cup semi-final, his attitude stinks and every international break he can't wait to gob off how amazing he is.
I couldn't care less if he is a flop or success at his next "big" club, I just want top dollar for someone who thinks he is in the top bracket but is clearly a mile away from that.
If big Ron is clever in the market, we could get 2/3 strikers in for less than half of billy big boots and find ourselves a better side for it. If all 2/3 score 10 goals each and play for the team each week would we complain as much?? Doubtful!!
I see we are linked with Perez from Arsenal, Sandro. Well that's 㿀 million; add someone like Josh King, who was fantastic last season, and that's where we should be going to replace his 25 goals a season.
Brian Porter
161
Posted 07/06/2017 at 07:16:37
He's also been quoted as saying he'll never play for Everton again. Just who the fuck does he think he is? I wish someone in high authority at the club would have the balls to stand in front with him and wave a copy of his contract under his nose and tell him he's going nowhere unless we say so.
His disrespectful attitude has, I think, reached a point where the majority of fans are turning against him. I'd love Everton to be the club that finally puts players back in their place. Tell him he either honours the contract he willingly signed or, if he doesn't want to play for us ever again, he can go on gardening leave until we decide what to do with him. With the World Cup coming up I think that would really put the frighteners on the big headed lump of shite. Let him cool his heels until January then sell to the highest bidder.
What a statement that would make to him and to players in general about showing loyalty and honouring contracts they are happy to sign at the time, only to want something better if they feel like it.
Or, make him submit a written transfer request so he doesn't make a fat profit out of leaving us, and only list him on the understanding he continues to play for Everton until we receive an offer that suits us, not him. Show him the same respect and loyalty he's displaying towards us at present. I just can't stand the man any more.
Peter Thistle
162
Posted 07/06/2017 at 07:24:50
I respect Wayne Clarke more than Lukaku, at least he loved the place. Any player who can be at a club so long (Lukaku) and not even once mention the club in interviews and just talk about his ambitions can sod off.
Go away you conceited delusional egotistical selfish mercenary. You will not be missed. We want players who love the club like we do. I really hope he fails and never reaches the heights he thinks he's capable of; he isn't. His all-round game is rubbish, just goals (mostly tap-ins).
Carl Taylor
163
Posted 07/06/2017 at 07:35:09
Thanks, David Barks, without you taking the emotion out of things and making me realise that Lukaku is not our 'slave' (your word, not mine), I wouldn't have been able to understand employment contracts.
I can see you now at the 4-4 Derby Cup Tie celebrating Cottee's late equaliser by saying to everyone going crazy around you by saying "Hang on everyone, we've not won, it's only a draw and we have to play this superior team again. We'll likely lose."
Enjoy your emotionless support.
Colin Glassar
164
Posted 07/06/2017 at 07:41:10
㿼m plus Batsuyahi (or Abraham) that'll be the deal.
Don't blame Rom for this; Kenwright told him last summer that he could leave this summer if we didn't make the Champions League. A deal is a deal. Just sell him and move on.
Andrew Clare
165
Posted 07/06/2017 at 07:51:46
Just sign the required players in this window and place Lukaku on the subs bench. Only accept the asking price and don't get involved in any dodgy swap deals.
Don't sign any old players, look for young exciting prospects and build the squad. That's my hope.
Paul Kelly
166
Posted 07/06/2017 at 07:55:16
Best goalscorer for us in a generation and I'm not even arsed – not even in the slightest – about him leaving... says it all without saying much.
Mark Jensen
167
Posted 07/06/2017 at 07:59:58
This guy has Anelka Mk II written all over him. His confidence is way ahead of his ability. If we get 㿲m+, fantastic business.
Mike Berry
168
Posted 07/06/2017 at 08:04:06
A big yawn... surprise, surprise. Move over and let someone play for us who wants to stay. I wish him luck and no ill.
Time to bring in Josh King and take a punt on Cyle Larin. Vardy is too old for serious money.
An interesting few months ahead.
Mike Green
169
Posted 06/06/2017 at 08:07:59
On the upside, he has given us plenty of goals and will probably give us 㿞m profit – not to be sniffed at. On the downside though, perversely, I think he's held us back.
There is something rotten in Denmark, or maybe Belgium, when you have a player who's vying for the golden boot and you end up 7th in the Premier League. Our defence wasn't that bad, our record last year is comparable with Arsenal, Liverpool and City's and better than all below us.
The year we came 4th, our top scorer was Tim Cahill with 11 out of 45. Remarkably we actually conceded 46. In that team, we had the likes of Ferguson, Carsley, Naysmith, Stubbs, Osman, Gravesen, Hibbert, Watson, Weir, and Arteta.
It wasn't about an individual notching up personal records. It was about the team and winning football matches – and probably more importantly - not drawing them. That's the difference – having players that aren't satisfied unless they've done everything they can to walk off the pitch with 3 points. Does that sound like Lukaku?
It was character and team ethic that got that team into the Top 4 not having a prima donna up front who is sorely lacking in both; and, if one person doesn't have it, it makes it all the harder for the rest to paper over the cracks.

Gareth Clark
170
Posted 07/06/2017 at 08:14:03
It's a pity - he could have kept his big mouth shut & left on good terms.
The good thing is that it will boost our summer signings.
We need at least two strikers now - Iheanacho & Batshuayi would be good options.
Perez and Dolberg are others we could go for.

Butland
Tah
Keane
Chilwell
Dendonker
Klaassen
Sigurdsson
Keita Balde
Sandro/Perez
Iheanacho
Batshuayi
Get them in!

Anthony Hawkins
172
Posted 07/06/2017 at 08:26:06
Anyone else think he's trying to drive down his price? Everton want 𧴜m, Lukaku has said he wants to leave, albeit without a transfer request.
Who knows why he hasn't handed in a transfer request if he wants to leave that badly? He knows in his heart of hearts that a top team is taking a gamble on him and is desperate for another team to want him.
I'm waiting for him to leave for, say, Man Utd, and end up a year or two later at Aston Villa.
Alec Smith
173
Posted 07/06/2017 at 08:26:12
Take the cash and move on, all day long. He isn't anywhere near as good as he thinks he is, goes missing in games far too often, and far to often, his goals are the icing on the cake in games we have already won.
I think I saw an article that said Everton would have finished 7th without his goals, not on the same points, but still 7th .
Take the Money and plough it into the team.
John Raftery
174
Posted 07/06/2017 at 08:33:25
Mike (#169),
That team collected 61 points to finish 4th. Last season we collected 61 points.
In 2013-14, with Lukaku on loan, we collected 72 points.
In 2004-05, we fell away badly in the second half of the season after selling Gravesen to Real Madrid.
James Morgan
175
Posted 07/06/2017 at 08:44:18
㿲m or more and ta-ta. I do think he's got the potential to be even better with better players around him but he wants to go so let him go. I actually think when he goes we need three strikers to come in.
Let's say we do get 㿲m, we could get ourselves a 㿔m striker, one for 㿀m and a back up/prospect for 㾶m, all before we've touched what we've supposedly got in the coffers.
Mike Allen
176
Posted 07/06/2017 at 08:46:31
Rightly or wrongly, the lad has made a statement that suggests he's on his way. I would have thought Everton would have made a statement. Like him or not, the lad is high profile, so a major news story, and we should be brought up to date.
I would have thought it would be in our best interest if we had a bidding war but, if the story is true, we must be getting the asking price.
Ian Hollingworth
177
Posted 07/06/2017 at 08:53:59
I think what we've supposedly got in the coffers may be the issue. I would not be surprised if we spend less than we bring in this summer.
The club hierarchy have prioritised a new stadium and the money has to come from somewhere.
Gordon Crawford
178
Posted 07/06/2017 at 09:25:16
I agree, money for a new stadium is top priority for our board, so I doubt we will be spending big on new players. Sadly, Rom's and Ross's transfer fees will be our limit.
Chris James
179
Posted 07/06/2017 at 09:38:34
Lukaku will go to a Champions League club, he'll get a lot of money (as will Everton) and he may well continue to score or he could start to flounder at a higher level.
I don't judge him harshly for this ambition and, to be fair, he has been consistent in that and also produced the business for us (ie, we didn't have a 'Payet' situation on our hands).
What I do judge him for is his choice of associates and the way in which this has been carried out. The level of disrespect his roach of an agent (and by extension Lukaku himself) has shown to the club over the last year is frankly incredible.
There is obviously a small group of clubs that fit the bill to satisfy Rom and have the cash concerned and potential will (2 in England and maybe 4-5 across Europe), all of these clubs are well aware of Lukaku's ability and availability and if they were not, a simple phone call could rectify the matter.
There's absolutely no need for this whole charade to be conducted so publicly and to be so brazenly talking about options for next season elsewhere whilst still under contract. To be honest, I think this sort of thing should at the very least be a disciplinary matter, possibly a more serious legal matter – he is contracted to and paid for by Everton as it stands to serve the club which presumably means acting publicly in the best interests of that club. Right now I think it's pretty hard to argue that anything he's saying or doing falls into that category.
On a broader level I wonder if It's time the agents as a whole were given a sharp reminder of who they are and what role they play in the game – at best they are facilitators, enablers, fixers on behalf of their clients, at worst they are needless middle men or actual parasites. Unlike the clubs (and their staff and backers), the players, the officials, the associations, the sponsors and the media they do not create anything that is of tangible value to the game and they are fundamentally not needed for the game to exist or flourish.
If they are doing their job properly they should be silent, nothing more than a little oil in the machine assisting the players to get a fair deal and ideally have a slightly better career, they certainly should not be in the spotlight themselves or be considered 'stars'.
Stan Schofield
180
Posted 07/06/2017 at 09:52:38
Brian @161:
I recall Koeman saying that Lukaku would need to honour his contract. That seemed to indicate at the time (at least to me) that, if Everton decided that Lukaku was staying here next season, then he was staying, simple as that.
Since that comment from Koeman, I haven't seen Everton make any other comments (although it was reported in the press that a 𧴜M price had been set by Everton if they decided to sell him).
It strikes me that Everton have held firm on this matter, not commenting because they don't need to. Lukaku commenting to the press in the way he has looks similar to a spoilt child demanding something. A good way of dealing with it is to remain firm, which (as I say) is what Everton seem to have done.
Philip Bunting
181
Posted 07/06/2017 at 09:52:53
What worries me is how much his agent Riola gets out of this. Talk of £70M cash – what do EFC get cash-wise by the time that cretin gets his cut? Was it over £40m from the Pogba transfer?
Paul Kennedy
182
Posted 07/06/2017 at 10:16:12
Disrespectful over-rated player. Get what we can for him.
Brian Williams
183
Posted 07/06/2017 at 10:20:00
All this shite has reminded me of when Lukaku was almost nailed on for the Golden Boot and a reporter (I think) asked him about watching other strikers. The reporter asked if he watched Harry Kane to which Lukaku replied "No, I don't watch strikers who can't teach me anything." (Something close to that for sure.)
Well apart from the obvious embarrassment of Kane teaching him how to win the Golden Boot, there's a much more important characteristic he could learn from Kane. Humility.
I take on board the fact we're in a business with contracts, players freedom and human rights blah blah blah. But Lukaku hasn't comported himself in what I would call a professional or respectful manner at all.
There's a big difference between self confidence and arrogance and I'm afraid, IMO, Lukaku doesn't recognize the difference.

Stan Schofield
184
Posted 07/06/2017 at 10:25:34
Chris@179: I agree totally that there is too much involvement of the media, too much chit-chat, too many interviews, too many press conferences.
Although I believe Everton seem to be playing it firm on the contract front (in that Lukaku leaves if and only if Everton decide so), the club have not exactly led by example. For example, Koeman said, earlier last season, that Lukaku would need to leave Everton to realise his potential. That astonished me, given the 'project' we're supposed to have.
I think there's a lot more scope for all levels of the club, and perhaps all clubs, to act more professionally, like adults, instead of making daft statements to the media.
Robert Elliott
185
Posted 07/06/2017 at 10:27:04
Hope so, Stan. It has occurred to me that he may have been given certain assurances about us letting him go last summer in return for him getting his head down and doing the business this season, which by and large he's done.
I seem to recall reports of us doing the same with Stones. If so, we are in a difficult position. Perhaps his somewhat bizarre comments this week are a gentle reminder to the board of promises given?
Karl Parsons
186
Posted 07/06/2017 at 10:32:47
I have a theory about the "99.999999% will sign" bullshit.
They wanted a sell-on clause inserted with £70 Million, a figure Chelsea agreed they would pay when discussed privately with the agent. The agent wants the new contract signed so it smooths the exit of the player this summer. When the club refused to accept that figure, the and insisted it's £100 Million, the player goes public about not signing.
Robert Elliott
187
Posted 07/06/2017 at 10:38:06
Perfectly feasible, Karl. Perhaps Chelsea got wind of Rom signing the contract and told him not to. That's what Ferguson did with Moyes when he knew Moyes was being lined up for Man Utd. And to think Rom blamed his U-turn on his mother!
Stan Schofield
188
Posted 07/06/2017 at 11:00:24
Brian @183: Couldn't agree more. If players and managers concentrated on getting the stuff on the pitch right, perhaps they'd have less time for cavorting with the media.
Hugh Jenkins
189
Posted 07/06/2017 at 11:20:49
An interesting point to ponder is, of course, with the Brexit vote, will the UK soon be outside of the scope of the Bosman ruling?
If so, it may stop many of the mercenary players agreeing to sign for any UK sides since they may be held to the contracts they sign and the Premier League and Football League sides will have the right to retain their registrations, even if their contracts have ended.
Any one have any better insight into this? If it does come to pass, I wonder who will be the first to exercise it? It will, of course, also be a nail in the coffin of many of the agents.
Clive Mitchell
190
Posted 07/06/2017 at 11:23:54
He will indeed be a mere footnote in Everton history.
George McKane
191
Posted 07/06/2017 at 11:26:43
I personally will be pleased to see him go – mainly because of his dreadful attitude since Day One. For me, he is simply unlikeable and self-centered – I don't mind that if he is a then capable of delivering 'the goods' regularly, but he wasn't and he didn't.
Mainly though I believe our whole system was geared to him and, when he wasn't in the mood, ie, the last few months of last season and the season before, we were ineffective. We need a different type of player up front.
No regrets from me – he was never in my Blue Heart like others.
John Raftery
192
Posted 07/06/2017 at 11:32:58
Hugh (#189),
If that does come to pass, we can kiss goodbye to the TV money and welcome back half-full stadiums such as we had in the 1980s.
Winston Williamson
193
Posted 07/06/2017 at 11:34:30
Well, I'm about half way through scrubbing his name off the back of my son's shirt! All I'm left with is KAK.
John Hammond
194
Posted 07/06/2017 at 11:39:14
I've been bored of this for while now. We have to focus on getting players in asap and the sooner he's out the door the better for the club.
When he was on top of his game he was truly unstoppable and a sight to behold and I'll never forget those moments. It's all in the past now so let's look forward to the future. Good shit is happening!
Laurie Hartley
195
Posted 07/06/2017 at 11:42:25
I'd rather talk about how "we" can spend the 䀆m – that would be much more fun.

Derek Knox
196
Posted 07/06/2017 at 11:53:35
Nice one Win @193,
Having read most of the posts, I think we all agree that Kak will move on, and without sounding like the fox with the sour grapes, maybe it's time to overhaul say 60% of the team that finished the season, with a whimper.
The team was very much set up to accommodate Kak's play and, as many have mentioned if he didn't play well, or couldn't be arsed, the rest seemed to follow, for some reason.
I hope Mr Walsh has targets that Ron agrees with; otherwise, his inclusion at considerable expense, will have been a waste of time.
I don't want us to just get numbers (ie, Cuco Martina) but quality additions as well as building for the future.
Whatever we do, let's get it done quickly.
Terry Underwood
197
Posted 07/06/2017 at 11:58:02
Just a thought: Champions League football? What's the chances of him going to the RedShite? Now THAT would be well worth a boo or two at Goodison.
Brent Stephens
198
Posted 07/06/2017 at 12:00:57
Hugh (#189),
"An interesting point to ponder is, of course, with the Brexit vote, will the UK soon be outside of the scope of the Bosman ruling?
"
I don't know the answer but I believe the Bosman ruling was delivered in the ECJ. If we Brexit and if we are no longer under the jurisdiction of the ECJ, my guess would be that the ECJ judgement would be adopted into UK law as the judgement makes so much sense in terms of ending the "slavery" element which existed pre-Bosman.
The Telegraph says, "The rule is encapsulated under FIFA and domestic rules and not reliant on European law."
Hugh Jenkins
199
Posted 07/06/2017 at 12:02:10
John (#192).
Quite possibly, you're right.
I wasn't advocating it as a way forward, just pointing out it is a possibility and given some of the apparently lunatic owners that we have seen in recent years (Leeds, Hull and Nottm Forest come to mind), I wouldn't put it past some of them to try this.
Andrew Ellams
200
Posted 07/06/2017 at 12:08:16
Well when we've got some bloke who had a half-decent record in La Liga struggling to hit 12 next season and we are back to the days of Andy Johnson and Marcus Bent, I hope you all remember just how shit Lukaku was in his 4 years at Everton.
Brian Harrison
201
Posted 07/06/2017 at 12:10:02
I really hope that, just for a change Everton are being proactive in the market. They have known for weeks that Lukaku would be gone this summer; also, they must have made a decision about Barkley. So I would hope that our targets have been identified and we have spoken to the clubs regarding their players and also spoken to their agents to agree the contracts.
Because, if history tells us anything, then we will still be trying to do deals right up to the last minute of the window. But even last week Walsh was saying he is trying to convince Koeman of potential targets – I really don't like the sound of that.
With possibly losing our 2 main goalscorers this window could be the most important we have had in a decade. I have said in other posts that it will be extremely difficult to break into the top 6 and just hearing what some of the top 6 are planning to spend. Seems 𧴜 million will be the minimum those above us will spend; unlike us, they wont be losing their main goalscorers.
Laurie Hartley
202
Posted 07/06/2017 at 12:30:27
Andrew (#200) – the fans haven't hounded him out of Goodison, he just keeps telling the whole world that he wants away because he can't fulfill his ambitions if he stays at Everton etc etc etc – ad infinitum.
As a result "people like me" say "Okay – see you later, son."
As far as our next striker is concerned, I don't know who he will be but I am willing to bet he will score at least 15 goals next season, and we will more than make up for the shortfall from midfield, and we will look more like a team.
Eric Paul
203
Posted 07/06/2017 at 12:31:47
Karl @186,
Absolutely spot bollocking on! I for one won't miss him as I think he holds the "team" back. He only cares about his own stats – our second highest goalscorer has 5.
If we had Kane's movement, Barkley would be hailed as a genius because he would always have options for a first-time ball – not an arm-waving oak tree.
Steve Harris
204
Posted 07/06/2017 at 12:32:46
I'll be glad to see the back of him now after constantly undermining us virtually since he arrived. He's always seen us as a stepping stone and to be honest, with our total lack of ambition, I can't say I blame him.
When Moshiri took over, we were led to believe, or at least I was, that now we could compete at the top end of the market and money virtually was no object. The most disappointing thing for me is that nothings changed and each transfer window being as pathetic as the previous years.
Instead of competing with the big boys, the only money we've spent is what we've brought in from the sales of Stones etc. I realise that we are a hard club to sell to any top player at the moment but we still seem to be stuck in a rut and not making any positive noises that things are about to change.
With Man City already splashing out millions early to make a statement for next year and The Shite being linked with big money signings, all we've been linked with is a striker in Spain who supposedly would rather wait for Atletico's transfer ban to expire than join us and offering 3 million for a teenager from QPR!
Anybody watching us last season, especially the embarrassing displays away against the so called big 6, would realise that we need serious investment to introduce some quality into the side instead of the usual lethargic, one-dimensional dirge that we constantly serve up in the important games.
Without big investment, we will just remain a very average team, with or without a sparkling new ground. and unable to keep any top players that we do acquire. How long before the likes of Davies, Holgate and Lookman start to get itchy feet if we don't match their ambition?
Andrew Ellams
205
Posted 07/06/2017 at 12:36:56
Laurie @202 – no but these threads are full of posters who are happy to tell us that a player that is likely to be the subject of a battle between Man Utd and Chelsea was never good enough for Everton as all he does is score goals.
There is nobody as good as Lukaku in world football right now who would come to Everton and – without his goals – we are a mid table club at best.
David Booth
206
Posted 07/06/2017 at 12:38:05
Catch-22 here everyone: if we keep him, we'll end up with a couple of substantially sub-stellar signings such as Martina, a has-been like fat lad Rooney and maybe Sigurdsson.
If we sell him, we'll be able to buy even more of the same. Woohoo!
Anyone who thinks we can both keep him and buy some decent players through is kidding themselves. 'Sell-to-buy' has long-replaced 'Nils satis nisi optimum' as our once great club's motto...
Here's hoping Moshiri, Koeman and Walsh prove me wrong.
Nigel Johnson
207
Posted 07/06/2017 at 12:41:48
Guys, guys, guys... Lukaku will get what he wants at Chelsea, he will win things, let's face it. Chelsea have far more goal scorers than Everton, so we need Lukaku's goals to win matches, Chelsea don't.
Looking at Lukaku as an individual, he won't set Chelsea alight with his performances but Chelsea will still win many matches with him in their team. Everton need to act fast now, get the right replacement, and move forward.
Steve Walsh, Ronald Koeman and the Everton board have the biggest test this summer to get it right. Everton Football Club's future is on a fine line, with the new ground just round the corner. The success of this summer's transfers and season will impact on the success of any new ground.
Stan Schofield
208
Posted 07/06/2017 at 12:48:12
David, I agree. The initial impressions from Moshiri were that we would no longer need to sell. If all that were true, the biggest 'statement of intent' that Everton could make at the moment is to make it clear that Lukaku is going nowhere next season, and perhaps the season after if Everton decide so, and make moves for big signings with big salaries.
But none of that looks likely. It'll probably take someone with the financial clout of an Usmanov to do it. All we can realistically hope for at the moment is being amongst the top-6, and like Liverpool, not winning anything particularly major.
Chris Williams
212
Posted 07/06/2017 at 12:57:56
I'm going to try to suspend judgement until the window closes and then take a view. I accept this is hope over experience.
Anthony Hawkins
213
Posted 07/06/2017 at 13:06:36
Derek Knox @196 – most of the team needs an overhaul anyway.
● New keeper(s);
● Restructured back four (replacing Williams and Jagielka is a must);
● At least two new midfield players;
● New striker or two.
Fran Mitchell
214
Posted 07/06/2017 at 13:06:50
Those who are 'happy to see the back off him' and saying 'good riddance' really want us to.remain a mid table team.
The same wanted him gone last year, with the principal names cited to replace him being: Remy, Bony, Perez, Slamini and Janssen. All reasonable names at time, and look, not even a 3rd of Lukaku's league goal haul between them. Just shows why a proven goalscorer is so valuable and he Will be in demand. No questions.
Many point to his lack of' goals against top teams, but the main reason for that is that he is playing for a weaker team. Weaker teams usually lose against Stronger ones.
When watching the Spurs and Chelsea games last season, I Just remember thinking that Lukaku must have been wondering "If I was playing for the other side, I'd have 2/3 goals by now."
The fact has has given us 4 years jà a surprise and yes, with world Cup coming of course he wants to play for the best teams. Replacing him Will not be easy, almost Impossible in fact.
And those who say 'i want players who want to play for the club'. All I can say is get real. This is football 2017, the best players want to earn money and win silverware. Only average players play the loyalty Card, because It keeps them in good stead with fans in spite of limited ability.
If real Madrid became a mid-table team, would Ronaldo stay? Never. Would Messi stay at an average Barça team? Never. For that reason do the Dana want them out for 'disloyalty'? Course not.
I want winners. I want top quality players. I don't care If they have Everton pajamas or not.
Everton strikers pre Lukaku: the Stracq? Saha? Johnson? Beattie? Radzinksi? Beckford? Anichebe? Jelavic? Naismith? Vellios?
And yet people are 'happy to see him go'?????
Eric Paul
215
Posted 07/06/2017 at 13:08:34
Andrew @205,
I thought it was reported we would be 7th without his goals?
Liam Reilly
216
Posted 07/06/2017 at 13:12:01
It amazes me how many on here are willing to give Moshiri stick regarding the available funds to spend this summer (with or without Lukaku's sale); when in truth no one has a scooby doo. The window hasn't even opened yet and it's all doom and gloom.
Lukaku should just go; I can't honestly remember him saying a positive word about the club and, despite his goals, he doesn't deserve to wear the shirt.
Sam Hoare
217
Posted 07/06/2017 at 13:14:35
I agree, Fran. Not sure what people smiling at the exit of the 'useless lump' are expecting?! We're not signing Aguero and Lewandowski. We will do extremely well to find a striker who scores anywhere near as many goals.
We are losing our best player... because we are not good enough. I'm not saying the world is gonna fall apart or that we will plummet down the table but it is a step backwards. To start with at least.
Gordon Crawford
218
Posted 07/06/2017 at 13:14:50
Andrew (#205),
We are not a mid table club, we finished 7th. Rom's goals this season have made no difference to where we have finished.
He has run this club down with his big mouth at every opportunity presented to him. He doesn't want to stay, so as fans we have a right to say "adios".
The same goes for Ross. I love Ross as a player, but my patience has run its course and now I also want him to leave. No one player is bigger than Everton.
Gordon Crawford
219
Posted 07/06/2017 at 13:19:39
Give me three players who can score 10 goals over one who scores 20+. And didn't the RedShite finish above us without a 20+ striker???
Sam Hoare
220
Posted 07/06/2017 at 13:27:12
See Batshuayi's interview saying he's not gonna sit on the bench again next season.
I reckon he'd be handy to get in the Lukaku deal. Good movement, scores goals...
Stan Schofield
221
Posted 07/06/2017 at 13:28:09
Gordon, it is incorrect to say that Lukaku's goals made no difference. This has been clarified on another thread, but just to repeat the essence of it:
If Lukaku hadn't been playing, the whole course of games would have been different, and we don't know what the results would have been. It's a fallacy to assume otherwise. Football games, like life itself, can hinge on a sixpence.
Another common and similar fallacy relates to scores. If we concede a goal, to go 1-0 down, but end up winning 3-1, some folks assume that if we hadn't conceded the goal we would have won 3-0. But that assumption would be wrong. If we hadn't conceded the goal, the course of the game would have been different, and we don't know what the final score would have been.
I hope that puts to bed the assertions folks have made about what would have been the case if Lukaku hadn't scored his goals.
Patrick Murphy
222
Posted 07/06/2017 at 13:32:33
It's Everton's fault, it's always Everton's fault, according to some supporters, but hang on a minute –which club gave Romelu the platform to hone his skills? Which club paid a record fee for him? which club allowed the player to be the spearhead for the team,? which club is willing to see Romelu become the highest paid player at the club in its history? Of course it was Everton FC.
Everton aren't perfect by any stretch of the imagination but cut them a little slack as the issue has always been Romelu's commitment to the club – not the other way round.
Who knows? if he had shown that extra bit of passion towards the club when it mattered, he may have a winners medal in the FA Cup or have led Everton FC to the top four or finished as top goalscorer in the Premier League.
He'll probably go on to achieve all of those things and more at a club he loves, ie, Chelsea but I hope he doesn't, not because I dislike him but rather, I think he needs a lesson that football is a team game and not an individual sport and let's face it he's no Messi or Drogba or Ronaldo. He may develop into that type of player in the future but he's still raw in comparison and, whilst Everton will miss his goalscoring, they won't miss his personality and all that that brings.
David Barks
223
Posted 07/06/2017 at 13:34:42
Liam,
Because this is Moshiri's third window, not first. When Lukaku goes, you realize that the club will be left with a total of zero senior strikers at the club. We'll have two kids who play on the wings and have so far shown very little at Premier League level.
So there is that. There is also the prior two windows, that were both underwhelming to say the least. We didn't just convince ourselves that the days of sell-to-buy was done. We were told that by the club.
"But I can confirm that I have committed to providing additional funds for transfers and retaining our key players to ensure that we have a strong core to build on for the future."
In three windows it looks very likely that we will have sold Stones, Lukaku and very likely Barkley seeing as he is also refusing to sign a contract. We'll have signed Stekelenburg, Williams, Bolasie, Schneiderlin, Gana at the senior level. Is that inspiring or showing any sort of ambition?
There was also the joke of a statement after last summer's window closed:
"Sissoko is a great player. But when I bought into Everton, I made it clear I was proud to join a family.
"And we don't turn our backs on our own.
Keeping James McCarthy was a priority and ultimately we could not proceed with a deal what would jeopardise his place at Everton."
So I just wonder why Moshiri is given a pass. He's not investing in the playing squad, we are not making any marquee signings.

Terry McLavey
225
Posted 07/06/2017 at 13:47:32
Usually a goal fest is followed by a goal drought; it would be interesting to see how he does with a new club if he doesn't come up with the goals? It will probably be their fault though as he doesn't seem to think it's ever him.
Incidentally, did he ever score a goal for us from outside the penalty area? Good strikers do!
Liam Reilly
226
Posted 07/06/2017 at 13:50:15
To say it's his third window is stretching it a little, David.
Koeman's entrance last summer came too late to overhaul the squad and he possessed limited knowledge of the individuals at the club, so he needed a few months to get a handle on their qualities (or lack of in some cases).
It's also very difficult to source any quality in the January window when average players are touted for extortionate sums.
This window is the litmus test for me and Koeman's side should take real shape. Let's see how we progress.
As regards Lukaku; there's a lot to be said for being respectful to your employers even if (like many of us) he harbours an interest somewhere else. He just doesn't show respect and should be moved on.
Martin Nicholls
227
Posted 07/06/2017 at 13:51:50
I respect the views and opinions of everyone on this and other TW threads but would the sycophants who insist on saying that Lukaku has "given" us 4 years please refrain? He has been handsomely rewarded for the 4 years he has been employed by EFC and has "given" us nothing.
David Barks
228
Posted 07/06/2017 at 13:53:22
No, it is in fact his third window. Moshiri bought the club far before the end of the prior season.
Any delays in getting a manager in place and having the network set up to bring in the players that was plain for all to see would clearly sit at the feet of the owner.
Third window; Moshiri has been the effective majority owner for more than a year.
Ed Fitzgerald
229
Posted 07/06/2017 at 13:55:24
Any team would miss a player like Lukaku: he does the most difficult job in the game, score. To be fair he has given us four seasons, he made it clear last year it was just one more year unless we got Champions League football.
All the talk of disloyalty is a bit over the top IMO, doesn't help when the manager talks up his departure as Koeman did earlier in the season.
It's a bit daft lashing out at the club as well, what are they meant to do? Extract the best deal we can I would of thought? £60-70 million profit is pretty good going after 4 years.
Ian McDowell
230
Posted 07/06/2017 at 13:55:27
I am surprised so many people think we can replace a 20-goal-a-season forward so easily. With our season starting much earlier than the rest, as already pointed out we have a total of nil forwards at the club with over 10 league games, let alone goals.
With the extra games due to Europa League commitments, we are going to have to get at a minimum 2 new forwards, if not 3.
Bill Gall
231
Posted 07/06/2017 at 14:01:15
I was under the impression that, with a new owner, new manager, possible new ground we were supposed to be a club with ambition, with the first priority being to get into the top 6, and at least 1 cup being won. In regards to the top 6, as someone else has mentioned none of them are going to sell their main strikers or play makers.
Why should Everton be different from these clubs?? They hold the contracts with one of the Premier League's leading scorers and one of the the most promising young play makers.
If the rumors are true that Lukaku and his agent are talking to another club and a deal has been agreed surely Everton under league rules have been part of the discussions, and if not, they should be not only be able to fine the player but have his agent sued under breach of contract.
Since Chelsea's and the last take over over of Man City, the influence of Billionaire owners being able to use their own finances to buy players has been stopped under the FFP. That has made the top 6 a closed shop with a unfair advantage over the rest of the Premier League.
Everton will not be able to sign a player that will give them the same number of goals as Lukaku; it will take 2-3 players to do this. Any of the top midfield play makers if they become available, will be snapped up by the top money making teams but, if Everton do have the chance for one of these, or a top striker it will take up 85% of their allotted transfer fees.
Lukaku is a ambitious player who sees players with less goal scoring abilities than him getting all the trophy's and league titles that he feels he is capable of achieving, so it is no wonder he wants to move. A lot of criticism of him are statements he is alleged to have said to journalist and other players about his ambitions; how many supporters think, that maybe he realizes that Everton do not, despite new ownership, have the finances to encourage top players to join them in their ambitions?? But, as others have stated, we still have to sell to buy.
Dave Ganley
232
Posted 07/06/2017 at 14:01:29
Well said, Patrick (#222) – spot on.
Brian Harrison
233
Posted 07/06/2017 at 14:15:18
Look, Everton have done everything to try and keep hold of Lukaku, but gone are the days when a club called the shots. Yes, they could insist that he sees out his 2 years left on the contract, but clubs have long since realized that to keep an unhappy player will impact on the whole club.
How he or his agent have managed to sort out a deal with his new club without that club agreeing a fee first with Everton, I don't know. Maybe Everton will have something to say on this matter after the deal has gone through unless they have already agreed the deal.
So, as much as many regret him leaving, I am afraid that decision has been made. As I said in an earlier post the most important thing now is the club push on for his replacement as well as other targets.
Stan Schofield
234
Posted 07/06/2017 at 14:29:46
Brian, happy or unhappy, Lukaku has a contract, and Everton might decide that he stays, perhaps on the business basis that the value to the club of keeping him is assessed (by the board) to be greater than the value to the club of selling him at a price others may be prepared to pay, even accounting for his potential unhappiness at being retained.
Andrew Ellams
235
Posted 07/06/2017 at 14:33:33
Gordon, after Lukaku, our next top scorer managed 5. His goals absolutely kept us above mid-table.
Paz Mistry
236
Posted 07/06/2017 at 14:46:04
If you look back on Lukaku's goals, they usually came when we were already winning or losing the game; there were only a handful of games were his goals meant something to the result.
You could probably take away 15 of his goals and we would be in exactly the same spot. Take the money and run!!!!!
Shane Corcoran
237
Posted 07/06/2017 at 15:06:21
It'd be a laugh, if he had to stay, just to see what he had to say about it.
Mike Gaynes
238
Posted 07/06/2017 at 15:07:18
Patrick Murphy, well spoken my friend. None of this is Everton's fault. The club has handled the situation perfectly.
I take issue only with your last line regarding Rom's personality. You may not care for the way he carries himself on the pitch, but you don't know anything about what he's like in person.
By all accounts, he's quite popular with his teammates, and certainly he's conducted himself perfectly in public. No drink-driving, collisions with gas pumps, or punches in bars.
Stan Schofield
239
Posted 07/06/2017 at 15:11:37
Paz, there's an element of truth in that, but there's also more to it. Koeman, for example, has often said it's important to 'kill' games, making them safe, where otherwise it can be risky and the game can be lost late on (and we've done that many times in the past). Lukaku is good at killing games, an essential part of being a top team, which is what we want.
Also, it's all very well saying take the money and run. Identifying replacements is difficult enough on TW, and the best candidates aren't coming to Everton, are they? Imagine the difficulty Koeman and Walsh might have in identifying a replacement that's considered adequate, and I include 'short-term' adequate who can provide sufficient goals over the next season and the next.
That's the remaining time on Koeman's contract, and he'll no doubt be focused on ensuring what's best to maximise results during that time, and might be advising the board accordingly. In which case, as I said @234, the board could decide to keep Lukaku.
It's a business decision at the end of the day, and all this malarkey about Lukaku not respecting the club will likely come way down the list of the club's thinking, if at all.
Stan Schofield
241
Posted 07/06/2017 at 15:34:32
Shane@237:
If that happened, he might say "I didn't really want to leave anyway. I bloody love Everton!"
Jay Harris
242
Posted 07/06/2017 at 15:41:52
Let's all be realistic. In view of what Lukaku has said with no denial from Everton, there is zero chance of him being here next season.
All we can hope for is a load of cash and Batshuayi in exchange.That would allow us the funds for 2 other strikers which is what we need in the absence of Kone and Valencia.
I see Giroud is not happy with his playing time at Arsenal and he is a name I wouldn't mind here.
Stan Schofield
243
Posted 07/06/2017 at 15:49:17
Jay, you're probably right; but, at the same time I seem to recall reported utterances from him and/or his agent and/or dad this time last year. So, you never know, Everton might play big-time hard-ball (unlikely, I know), and say to him, "You can stamp your feet as much as you like, but you're going nowhere".
Now that would be a sign (at least to me) that we mean big business and won't be fucked about.
Andy Walker
244
Posted 07/06/2017 at 15:58:00
All the speculation about Lukaku and also Barkley is not good for us. I hope both are sold early in the window and we can then go out and get replacements in good time ahead of pre-season. 𧴜-105m for the 2 of them and we will be in a good position to do some decent deals.
Ray Roche
245
Posted 07/06/2017 at 16:01:46
Mike Gaynes (#238)
"and certainly he's conducted himself perfectly in public."
Maybe, Mike, but he's hardly conducted himself "perfectly" when away with the Belgium national side. His constant utterances about "big clubs", "playing Champions League next season" and wanting to take care of "unfinished business" at Chelsea is both amateurish and disrespectful to Everton, the club that are paying for his millionaire lifestyle.

Daniel Lawrence
246
Posted 07/06/2017 at 16:04:58
The issue for me isn't Lukaku wanting to leave, it's the fact a Top 7 club with supposed Top 4 ambition only had one striker goalscorer of note on it's books.
Moshiri, Kenwright, Elstone, Koeman, and Walsh have had two windows already to plan and mitigate for what was inevitable this summer despite the 99.9999999% nonsense from his agent.
We've gone through a season with almost zero input from any other member of the squad, from a goalscoring perspective – shameful.
Lev Vellene
247
Posted 07/06/2017 at 16:12:19
I haven't looked at the stats, but how do we look compared to Spurs? Harry Kane is the Premier League Top Scorer, but how did his team mates compare to ours (minus Lukaku) when we look at goals scored? Or Lukaku's assists compared to Kane's?
I do remember reading some article that said Lukaku was actually quite high up among those Premier League Top Scorers this year, who actually scored against the Top 6 teams!
For all that, even if he actually did good in the end calculation (?), I must admit I hope we can sell him (hopefully abroad, even if at a lesser price), and build a new team that is built up as a team – not as a Lukaku Support Troop!
John Pierce
248
Posted 07/06/2017 at 16:12:27
Patrick, plenty of sense in that post. Lukaku has deported himself poorly whenever he's had a chance to.
Everton can't really gag him or punish him in any tangible way, so yes, Everton are not responsible for his behaviour.
My opinion is Everton are accountable for how acutely we are feeling his pending departure. Rom has been our only real senior striker for almost his entire tenure. Everton have failed across this time to get in a alternative to challenge him, complement him, or even step in to give him a rest!
Perhaps if Everton had managed their transfer windows better, then we would not be fretting so much about how to replace him? Indeed a player(s) competing for his place may have even had a positive affect on Rom – unlikely but possible!
We failed to plan for the players departure and it's been on the cards almost since he walked through the door. Everton I think have over relied on Rom, exposing both parties' flaws through the experience.
Who knows but two additional senior strikers might have filled the void when Rom blanks, and got us higher up the league and bizarrely into a place were we might be more likely to retain him?
There is culpability which Everton need to own there... a'hem – with a stellar summer window...
Jay Griffiths
249
Posted 07/06/2017 at 16:33:48
If the money is in the 㿲M to 㿼M range, then I hope we dive on it. To me it's akin to selling a pot noodle to someone for 㿅.
The hurricane is coming, they're desperate, cash in, restock.
Eddie Dunn
250
Posted 07/06/2017 at 16:42:00
Daniel (#246), it is indeed pathetic that we failed to land another striker and have been so dependent on Lukaku for so long. We were linked with Gabiadini, and Slimiani, who went to Southampton and Leicester respectively.
Either one would have given us something different on the bench, or could have been given some game time at Lukaku's expense, or dare I say, even used in a front two with Rom.
It really was sad to see Kone coming on in the last two games (I know some on here thought this was Koeman making a point to the board). I honestly think a 20-minute cameo from Duncan Ferguson would have been more effective.
The thinness of our squad has been exposed with the serious injuries to Coleman and Bolasie, and the regular problems of McCarthy. We do have some promising youngsters coming through, and with the extra fixtures they will hopefully get their chance, but we really need 2 new front men, a replacement for Barkley, a centre-half, a left-back, and a goalie. It will be interesting to see just how the shopping pans out, and whether we can improve this squad.
Footballers are just like the rest of us when it comes to wondering about the ambition of the clubs. One or two good signings and we may seem a more attractive destination for other players too. Fingers crossed.
Mark Morrissey
251
Posted 07/06/2017 at 16:44:32
His stats will be very high when we eventually add up the Grand Total for TW posts about Lukaku. Over time ,he seems to generate more than anyone (barring "Do we want Rooney back?" – god forbid).
I for one think he 's said nothing out of the extraordinary here. Clearly we have told him he can go; clearly we have done nowt to encourage him to stay. We have not qualified for the Champions League; we have not shown enough clout in the transfer window to show him we mean real business.
Contracts, as we all know, mean nothing and so what's the point in saying "We can make him stay"? Why not just let him go for the largest sum and forget him?
It's been said on this article, "KAK" – let's move on and forget the big goalscoring machine. We'll get a new one and one who hopefully wants to be with us.
Alan J Thompson
252
Posted 07/06/2017 at 16:47:35
Everton have agreed that he may look for another club and would allow him to leave if certain conditions are met. Therefore it matters not how long he has on a previous contract.
What worries me is Everton allowing Barkley, Deulofeu and Lukaku to leave who, arguably, are the three most skillful players at the club. Add to that one defender who most probably will miss the first month or two, three defenders and a midfielder rapidly being passed by Father Time and a Manager whose ability to get the best out of his players does not fill me with confidence.
Unless this is one hell of a transfer window, then we may well be suffering another bout of manager's Second Season Syndrome.
Stan Schofield
253
Posted 07/06/2017 at 16:48:40
Jay@249: Not if the club have set the price of the pot noodle at £33.
Daniel Lim
254
Posted 07/06/2017 at 16:52:17
Fuck off then. Not a Champions League player but wants to play for a Champions League team, taking the easy route, if someone is willing to provide that route to you.
Stan Schofield
255
Posted 07/06/2017 at 17:03:04
Alan @252: Spot on. Also, Everton are supposed to be building an image, a 'brand', in the world of football, to enhance our profile, for the purpose of attracting the best players.
Regardless of the views of us on TW, or of other Evertonians, the outside world views Barkley and Lukaku as top quality players. The same goes for John Stones, despite his defensive shortcomings and his less-than-stellar start at City.
If Lukaku and Barkley leave this summer, the image of Everton to the outside world will surely be confirmed as a club that the best players leave (to go to bigger clubs), rather than a club that the best players go to (like we used to be when we signed Alan Ball et al).
If that happens, so much for the new era and the so-called 'project'.
Ian Hollingworth
256
Posted 07/06/2017 at 17:04:38
Yep, the transfer dealings under Moshiri have yet to be inspiring when you look at the out's versus the in's. We have yet to show the true ambition that we were all hoping would happen.
I await with baited breath the coming months and I hope we are not disappointed yet again.
Mark Morrissey
257
Posted 07/06/2017 at 17:04:44
Good to see Jeff Stelling included us on his Walk for Prostate Cancer today.
I see Kone is wanted by WBA.
[I'm giving up talking about KAK.]
Mike Connolly
258
Posted 07/06/2017 at 17:05:06
I heard pundits saying Lukaku will be playing with better players and scoring more goals. However, I think he will be found out by better players, who at least will expect him to be able to control the ball.
Let's cash in like we did with Jeffers, Lescott, Stones and Rodwell. I think Rooney was the only one to do something when he left us.
Mike Green
259
Posted 07/06/2017 at 17:05:13
Unrelated but I've just read Ronaldo earned 㿴m in the last 12 months. That's the world Raiola lives in and wants his clients to have a nice paddle in too.
No wonder Rom can remain calm and serene. We are completely irrelevant.
Oliver Molloy
260
Posted 07/06/2017 at 17:14:19
It would be a major surprise if the club sold Lukaku for anything less than the Pogba world record fee of 䀅 million. Everton will surely demand more than this and of course already have the help of Raiola. The more we get, the more he gets.
David Edwards
261
Posted 07/06/2017 at 17:17:22
The transfer window does not open for over 3 weeks and the big Belgian is already opening his big mouth. He wants this and that from everybody but us. It will be interesting to see how much the club(s) value him at, not what we have said, I bet.
So we take the money and run and invest it in players who want to play for this club and I for one will be glad to see him go. He only puts the effort in when it suits him, lazy, arrogant and disrespectful to the club and his teammates who did all the hard work for him.
When he goes to the other club to win things his attitude will have to change and he will have to work a lot harder for them than he did for us. It will be interesting to see how he copes with being a normal-sized fish in a big pool.
I wonder how much money his agent gets out of this deal?
Terry Smith
262
Posted 07/06/2017 at 17:18:22
Let him go. I can't wait to see him realise he is not all that. He is not a big-game player. I'd rather we get a few quality players that would make a difference to the team – especially in away games!!!

Lev Vellene
263
Posted 07/06/2017 at 17:21:19
I like Lukaku when he works (...) for us, and his goals are nice to get! But I would much rather have us be a true team. Man Utd's young team of the early nineties, that grew to almost totally dominate the Premier League might be impossible to copy today, but we should still keep that as a goal to aspire towards! We have several U23 players making their mark with the first team this year, and the Premier League 2 team (even without those same players for many matches) still beat the rest!
A sugar daddy pushing millions in will be nice, but the FFP will limit that. So I can only hope Koeman will have the patience to build a team like Kendall did, with lots of young ones needing only some few good older professionals to show them the way/spirit!
And we'll need to buy at least a very good one every year to keep them sharp! But that's the modern game...
Phil Guyers
264
Posted 07/06/2017 at 17:24:58
Bony went to Man City and was going to score shedloads playing with better players. That went well... and I believe Lukaku will go the same way.
Just not a good enough footballer, even for us, never mind the Champions League.
David Booth
265
Posted 07/06/2017 at 17:37:08
Fran (#214), good points well made.
Especially this:
Everton strikers pre Lukaku: the Stracq? Saha? Johnson? Beattie? Radzinksi? Beckford? Anichebe? Jelavic? Naismith? Vellios?
And yet people are 'happy to see him go'?????
Despite his well known deficiencies, we will find him very hard to replace.
One very important and oft-applied criticism of him very much needs putting into context though - that he never plays/scores against the teams above us (will everyone stop calling them the 'top' six, or worse, 'big' six).
The whole team never puts in a performance against them, so stop making out it's only Lukaku, or his fault!
Gavin Johnson
266
Posted 07/06/2017 at 17:46:46
I've been a huge supporter of Rom the player on TW. His Everton goalscoring record is unsurpassed in Premier League history. Personally his languid, sometimes lazy style of play never bothered me too much. I want a goal scorer, not a grafter playing up front for Everton. If he worked has hard as much as he scored I doubt he would have ever been an Everton player.
If we can get the money we want I will be pretty happy about him going now. It feels like the time is right for a change. The Lineker analogy often gets used on these pages, and I agree. I think we'll have more goals throughout the team once Lukaku's gone. I'm not sure his next club will be so accommodating in changing their style of play to suit him, so will he score as many goals?!
Just make sure you stick to the price tag, Everton. Don't waiver, and if Chelsea won't pay the money insist on adding Batshuayi in the deal. He'd be a ready made replacement. He cost Chelsea 㿍m. So let's take him and 㿯m which covers the 𧴜m valuation.
Jay Wood
267
Posted 07/06/2017 at 17:48:34
Ber-limey!
This has been a cathartic thread for a good number of folk, hasn't it?
Me? I'll be the contrarian. I don't consider Lukaku has 'disrespected' either me personally (as a fan) or the club.
I don't consider him a super-egoist, concerned only for himself, over and beyond the sentiments of the majority of normal people. I do consider him eloquent, intelligent, ambitious and confident in his own ability and right to determine his own future.
In his evaluation of his own ambitions and where Everton currently sit as a club, he has truthfully expressed many sentiments that have long been acknowledged and the subject of debate on these very pages.
Contrary to the belief of some, he was popular enough among both his fellow players and supporters to win both the Players' and the Supporters' Player of the Year awards this year.
Also contrary to the claims of some, he has spoken warmly of Everton and never bad-mouthed the fans. Indeed, in his very first weeks at the club, he told the skipper, Jags, that the Everton squad was very close in ability to the Chelsea champions he came on loan from. The club skipper's reaction? He laughed. Make of that what you will when considering the respective belief and confidence of those 2 players.
Others are calling Lukaku and his agent (among other things) a 'roach', particularly in reference to the '99.9999% certain' comment about signing a new contract with the club.
Now, this is all guess work (like everybody else in this thread), but here is one possible scenario. I write this in reference to a post on this very site from September 2016.
Raiola could not be more fulsome in his praise of Bill Kenwright
. I quote:
"The beauty for Everton is the chairman Bill Kenwright. This man is one of the most amazing men I have met in my 35 years in football.
"I would like to have as owner of my football club. He knows what players really need I believe, he is a great character who loves his club. It is a great strength."
It is not the only time Raiola has spoken in praise of the club and its custodians. Added to what Koeman and Lukaku himself have said in the last year, it is not unreasonable to presume there was some agreement - 'gentlemanly' or otherwise - that Romelu would give Everton another season on the promise, that if they failed to qualify for the Champions League, he could move on this summer.
Those conditions have now been triggered. Those making accusations of 'tapping up' the player without Everton's permission might ask if that was the case, why has there been no public rebuke from the club? All the more so, given the evidently cosy, loving relationship between Kenwright and Raiola.
Again, a reasonable assumption is that there is in fact acquiescence by Everton who accept – albeit possibly reluctantly – that the 'gentlemen's agreement' they made with Lukaku last summer must be adhered to.
A further consequence of this is the possible hesitancy of Ross Barkley to sign a new contract at the club. Players talk. Ross would in all likelihood know that Lukaku was moving on. Regardless of what you think of either player, Ross and Rom represent the two best talents at the club that would fetch the highest price.
Ross is also ambitious. If he knew his mate Rom was leaving (effectively leaving the club with zero first-team strikers, as others in this thread point out), it is then not unreasonable for him to hesitate before committing his own future to the club.
We have been led to believe that things were going to be different under Moshiri. The Echo this very day speaks of high-spending and turnover of the current squad this summer. We see no hard evidence of that to date. Rather, we have seen the exit of talented youth in Stones, Deulofeu and now (in all likelihood) Lukaku.
It doesn't leave us with an awful lot. This is going to have to be a mega, mega transfer window to fill the many gaps that need filling in the squad. I wish I could be as confident as Ernie Baywood @ 137 when he says:
"It couldn't be that hard to find two players who can get into double figures... and we'd be a much better side for it."
Really? Check out the stats on how many teams have 2 or more players getting double figures each season. Try and recall the last time Everton fielded 2 players who both managed double figures.
I repeat a refrain I've used in the past: Lukaku (and Stones, and Barkley, and Deulofeu) are of an age, ability and ambition we should seek to retain at the club and the type of profile we should be recruiting if we have genuine ambitions to have the club challenging for honours again.
As ever, I'll take no interest in the transfer window until the player is pictured at Finch Farm holding up the jersey. I will assess the squad and our dealings only when the window slams shut.
But for sure, if Lukaku leaves, we have a big, big hole to fill.
Eric Paul
268
Posted 07/06/2017 at 17:49:43
David,
They all scored against teams that finished above us this season.
Brent Stephens
269
Posted 07/06/2017 at 17:53:44
I will miss his goal-scoring.
I won't miss his talk one bit.
I will like the money we get, depending on how much, from Chelsea, Man Utd, whoever ("he's a shit payer – but anyway demand no less than 䀆m").
I will look forward to the frisson around who his replacement will be ("must be better than Lukaku because otherwise there's little point in getting shut of Lukaku").
With the 䀆m we get for Lukaku and spend on a (better) replacement, I might then wonder why he will come to us and not be bought by Chelsea or Man Utd (if he's better than Lukaku).
Of course, there's more to it than that as to why somebody would pay 䀆m for crap and not pay that for a player better than crap.

Lev Vellene
270
Posted 07/06/2017 at 18:00:19
David (#265),
As I already wrote, he is actually above most of the other Premier League Top Scorers against the Top-6, I think (and they also suck...).
What I don't like is his attitude of switching-off! Or it might be the Pingu hand-flapping when he fails to actually move himself into a better position, and thus left himself unplayable...
Nicholas Ryan
271
Posted 07/06/2017 at 18:03:23
Lukaku out, Benteke in: Simples!
Ian Burns
272
Posted 07/06/2017 at 18:06:07
Jay Wood (#267) – what a brilliant post and it sums up perfectly my own feelings on both Everton's and especially Lukaku's place in this saga. How right you are in your assessment of the situation – for what it's worth, I give you a pat on the back.
Brian Williams
273
Posted 07/06/2017 at 18:06:43
Simples? You must be lol.
David Barks
274
Posted 07/06/2017 at 18:11:51
Well said, Jay Wood.
Eric Paul
275
Posted 07/06/2017 at 18:14:00
When players are on international duty, they should only talk about their country and refuse questions about their clubs.
Adam Scott
276
Posted 07/06/2017 at 18:25:24
I will also add my praise to Jay Wood's excellent piece above.
I also don't believe Lukaku deserves the derision that has been afforded to him by some. He has given us 4 good years. More importantly, he agreed last year not to look for a move, but to give Koeman 12 months and see where the project goes. I don't think that is unreasonable considering it is his job, but it should be accepted as a positive towards him.
In my eyes, despite being positive on the long-term trajectory, in the short-term we ain't bridging the gap any time soon. He has reached a level above some of these around him. I don't feel let down by him. If anything, he has been fairly upfront on this.
I would rather this wasn't played out in the media, but he is trying to push Everton into a sale, and this is a tactic on his part. It is time for us to cut our losses here. He is going to be hard to replace, but we have seen this coming for the whole of Koeman/Walsh's tenure at least. It is time for this vaunted recruitment team to start earning their money.
Stan Schofield
277
Posted 07/06/2017 at 18:31:01
Jay @267: Very well said, great post.
Brent Stephens
279
Posted 07/06/2017 at 18:33:23
Jay (#267) – a measured, reasonable post.
Lev Vellene
281
Posted 07/06/2017 at 18:54:45
Jay (#267)
Good post, and a nice read! I don't at all disagree with you, but that was the past, and up until now Lukaku could have put in a lot more effort from most EFC fans' point of view! Like Moyes, and Roberto, could have showed better judgement!
The problem for THIS new season is that Lukaku doesn't want to stay, he already told us that! So how do we go on without him, as he clearly intends us to do? The millions for Lukaku is not in any EFC account yet, and the same goes for Barkley's imagined fee. So how can we work within the FFP (when reportedly both Rom and Barkley want to leave for supposedly greener pastures), until after they've left?
But if their personal and professional/financial greed keep EFC from getting their vital business done on FFP grounds in time to prepare for the next season, then I have no goodwill in my heart left for either!
Demand a transfer, forfeit your unrighteous 'loyalty' bonus and get out of our sight, if that is how little Everton means to you!
Ooh, I feel calmer now!
Ian Burns
282
Posted 07/06/2017 at 19:06:09
Just read that Liverpool have apologised to Southampton for their illegal approach for Van Dijk and have dropped their interest. Does that give us a chance? He would be the sort of signing that would take the pain out of the Lukaku situation even though it is at the opposite end of the pitch!
Jon Withey
283
Posted 07/06/2017 at 19:12:23
I suspect without Lukaku we would have been relegated under Martinez. He's scored a load of goals and could well make us a tidy profit.
He came to us because we paid him loads, and now he's going somewhere else because he'll be paid even more. I'm certainly sore about losing a great player but not bitter. Now it is up to the club to negotiate price – that is what they are paid well for.
They may well have to drag it out to strengthen their hand but I hope not. If we lose both Lukaku and Barkley without decent replacements, then you do wonder about the board's approach to wealth extraction from the club.
David Pearl
284
Posted 07/06/2017 at 19:12:28
So out of this 㿲 million or 䀆 million or whatever it is... now much goes to his agent, how much goes to Lukaku and how much goes to Everton?
Chris Williams
285
Posted 07/06/2017 at 19:13:03
Sounds like Raiola is playing Kenwright like a Stradivarius.
Eddie Dunn
286
Posted 07/06/2017 at 19:13:04
So Lukaku will surely score more goals when in a better team, providing him with more chances, all at a higher level than old EFC.
Funny, I remember Belgium being stuffed by Wales in the Euro semi. 3-1 wasn't it Rom? Let me see... he was backed-up by such stars as Witsel, Alderweired, De Bruyne, Hazard and Courtois.
Wales had other ideas.
A team is the sum of it's parts. There will be life after Romelu!
Patrick Murphy
287
Posted 07/06/2017 at 19:13:49
It actually isn't Romelu pushing Everton into a sale – t has more to do with Rom and his agent knowing what is best for the player; however, the pair aren't in agreement. Rom believes that he will be better off going to Chelsea – who he wants to play for – and his agent believes he would be better off going to Old Trafford because Rom would be the main striker at United.
Everton are stuck somewhere in the middle of all of this, not being able to move in the market until the Belgian moves on, I have a suggestion for him: dump your agent sign for Chelsea and let's all move on pretty quickly.
In another twist in the murky world of transfer dealings the neighbours have lost interest in Virgil van Dijk and no longer wish to sign him. The German manager made him a top priority but the club have apologised over "any misunderstanding" caused by their interest in the player. I would also have a sneaky fiver that Vardy will be signing for those across the park in the not too distant future – just a hunch.

Brian Williams
288
Posted 07/06/2017 at 19:17:05
Just shows you how much things are fucked up when a player wants to go to one club and his agent disagrees and wants him to go to another. Who employs whom??

Joseph Terrence
289
Posted 07/06/2017 at 19:26:31
Please enlighten us on how exactly it is that you have such inside knowledge, Patrick.
Jon Cox
290
Posted 07/06/2017 at 19:33:12
Rom,
Check this out mate, it may enhance your career at some point. It's something that you've not been aware of at your time at Everton.
It goes like this.
T = Together
E = Everyone
A = Achieves
M = More
As a parting shot, don't forget where ever you go, make sure you get to know where your local ironmongers are situated. You'll need this info because of the woodworm you will experience having to sit on the bench because the manager is sick of the rest of the team complaining that they are constantly being told via the European press that they are not good enough to be in a team that has God as a striker.
You, a legend? You're 'aving a laugh. More like Naomi Campbell in football boots and a tutu.
Bugger off.
Eddie Dunn
291
Posted 07/06/2017 at 19:35:04
Jay,
May I add my praise for your post which was very well written and nicely balanced.
I know in our frustrations we all have a go at certain players, but just like real life when you are playing 5-a-side with your mates, you know when someone is taking it easy.
Although Rom has done some impressive work for EFC, we have seen a couple of seasons where he hasn't just gone through the proverbial "dry patch", he seemed somehow detached, as if he was distracted by what was going on off the park, or he thought the top 4-6 was a pipe dream.
Only he can answer this, but therein lies the problem. He doesn't quite get us, and we don't quite get him. We understood Naismith and Cahill. They wore their heart on their sleeves, and seemed willing to die for the cause.
Lukaku is more complex. He appears to be a selfish player, his arm waving and occasional reluctance to join in the celebrations of others are perhaps evidence of this. Add to this his penchant for chatting to whatever superstar buddies he finds amongst the opposition ranks to chat to instead of paying homage to the away hordes, who have busted a gut and the credit card to support the team.
On his day he is a force to be reckoned with, but he will never be in the hearts of the fans like some of the great players we have been privileged to watch.
Paul Birmingham
292
Posted 07/06/2017 at 19:36:35
Patrick @222, exactly my view. It's now a drawn-out saga and needs finishing so EFC can move on.
Like 1986-87, I wish, but overall I hope we become a good team with a mean streak and killer instinct on the park.
Ian McDowell
293
Posted 07/06/2017 at 19:39:36
Jon Cox, you could also argue had the team done better then maybe Rom wouldn't be off but that would require a huge improvement from all our players.
Lukaku is our best by far and it will probably be another 20 years before we have a player to finish second for the Golden Boot, the way things are going.
Steve Jones
294
Posted 07/06/2017 at 19:40:30
I can see both sides of this, the way he's behaved is disrespectful; if he wants to leave fine but to constantly state it during the season to the press must have been unsettling to the club and players.
I also don't think Rom is as good a player as he thinks he is. He very rarely does it in big games, always seems to run to defenders rather than into space when we're attacking and he hasn't got the ball, never gets to the front post for crosses, when we get plenty of balls there (Deulofeu mentioned that the season before last) and is in a team set up to provide for him to score as the main focal point especially on the break. In a better team against teams who sit back, I think he'll struggle a bit.
The view that we'd have been relegated under Martinez without Lukaku's goals is rubbish too as his goals have never gained us more than about 8 points a season so his goals don't actually change games too often either, he scores a lot late on in games when the opposition are tired and the game is won. Without his goals we'd have finished in exactly the same position last season.
On the other hand, I suspect Rom was made promises about recruitment in the summer and in January, hence being 99.9% re the new contract until February. Allowing Deulofeu who in the previous season had been Lukaku's main provider to go out on loan in January without a replacement wasn't too clever either.
Once the window was closed and it was clear the keeper, second striker/number 10 and centre back we desperately needed for a serious crack at the top 4 weren't coming, I think Lukaku made his mind up. The club missed a huge opportunity to really push for the top 4.
Mark Morrissey
295
Posted 07/06/2017 at 19:43:47
Jay, spot on. I said at Post 4 it would rile most Evertonians and indeed it has but it's not Rom's fault. He's just waiting on a promise being kept and then made and I for one am just waiting to see what we get for him and, more importantly, who we replace him with.
Brian Williams
296
Posted 07/06/2017 at 19:48:54
Joseph#289.
It's info that's on the newsnow website.
Darren Hind
297
Posted 07/06/2017 at 20:04:28
Patrick
I get all of your post except the bit where you say we can't "move in the market, until the Belgian moves on". Why not?
It would make far more sense to secure a replacement before Lukaku moves. If other clubs know our coffers have been swelled by £75m(-ish), wouldn't they still want a sizeable piece of that?
The cost to Everton for any player would surely increase if others feel we have dosh burning a hole in our bank account.
Mark Riding
298
Posted 07/06/2017 at 20:05:52
So Everton cleared the second half of the old Vibrac loan yesterday. Circa 㿁m. Nothing will be the same.
We now don't owe any money to JG/RMF.
Once we sell our assets, we can buy some new players.
Paul Ferry
299
Posted 07/06/2017 at 20:17:04
Phew, just read through the thread. Lot of class in evidence and then ….
"So, Lukaku is not even a good player, a gobshite, a terrible footballer, a clown, over-rated, deluded, an egomaniac, an arrogant twat, a gutless one dimensional footballer, a flat-track bully, a conceited delusional egotistical selfish mercenary, a three-legged donkey, a useless big lump, a big-headed lump of shit, and a piece of excreta. "
Pitiful!
He rants apparently (#118). "So take a good look at [your] face …." Would love to see one – just one – example of this gobshite clown twat piece of excreta letting loose a good old ToffeeWeb-like rant.
Some real class on show. Well done lads! "Piss off and close the door on your way out, dickhead!" (#48) "Would loan the arsehole out to Marine." (63). "Then fuck off, Lukaku."(44). "Eloquent, erudite, articulate, cerebral, classy: fuck off then." (254).
Not bitter are we!
"Utterly self-absorbed. Hope he flops. I really hope he fails dismally at his next club."
"Can't wait to see him flop again at Chelsea."
One of the most – can I use anti-Lukaku lingo please – 'deluded' comments is this: "a mere footnote in Everton history" (#11). 'Mere footnote'! Deary me!
You see, this "big-headed lump of shit" who is not even a good player is paid to score goals. We will miss his goals. But hang on – according to (#160) we can get in two lads to replace his 25 goals a season. We need two players to replace this terrible "three-legged donkey"! Or maybe not. Hmmmmm. "Lukaku out Benteke in: simples" (#271). Dear Lord! Deeney anyone? Heard him being touted. Gray? King? Let's stay far behind the top 6 shall we?
"Incidentally, did he ever score a goal for us from outside the penalty area (#225)?
Yes.
Make no mistake, this gutless gobshite will be missed and I fear that it will be difficult to replace him. It's dead easy to trot out names isn't it: Lukaku out Benteke in: simples.
I would have preferred to see him stay say a week ago but I will not now be sad to see him head off. Thanks for the goals. You have a remarkable record for someone so young but you also have a lot to learn. To be honest, I never thought of him as a blue in the way even in this day and age that I can of others. He was an employee. He wants to move on. He is ambitious. How dare you be fecking ambitious you arrogant twat. My hunch is that he agreed with the new gaffer this time last year to give it a year. He has done that. His service was shite all year. Can't really blame him to be honest.
This is not like Moyes doing one. Then I did feel anger. I'm not happy to see Lukaku go and he, like me and you, is far from faultless and perfect but I would never slump to the depths of bitter sad name-calling that degrades this thread. I can do that! But not here.
Cheers Romelu and thanks for the goals.
That, apparently, makes me a 'sycophant' (#227).

Dennis Ng
300
Posted 07/06/2017 at 20:20:36
Time to tell the world "Show me the money". Meet our price and Rom is yours.
Jon Cox
301
Posted 07/06/2017 at 20:57:54
Ian, you've obviously never played in a team.
See what I'm saying. If you did, you'd see what a nonsense comment that was.
We remember players like Alan Ball, Peter Reid, Timmy Cahill. Are you saying that the ball control merchant will be remembered with fondness in years to come like those four mentioned.
Lukaku, is basically – and in the future will be remembered as no more than... a stat.
Dave Williams
302
Posted 07/06/2017 at 20:58:23
Sorry, Mark – who are JG & RMF?
Paul A Smith
303
Posted 07/06/2017 at 21:02:05
He's going, we all know it. This take the money an run stuff is just more unambitious nonsense. Shouldn't we be looking to buy players to play with Lukaku until a club meets our asking price? Are we again waiting on sales before we buy?
Surely there should be no reason to take the money and run route which makes us look desperate. They want him and he wants them, which puts us in a strong position as the owner of him.
If we are still selling to buy then, the longer it drags on the messier it gets, but if what should be happening becomes a project for the club, it won't hurt any fan if he is still here in August having played in the Europa League qualifiers.
Brian Harrison
304
Posted 07/06/2017 at 21:14:14
Something massively wrong here and, as usual, the Premier League is closing its eyes to the problem.
Van Dijk has met with Klopp to discuss joining Liverpool, without anyone talking to Southampton. Sky report Van Dijk prefers to join Liverpool instead of Chelsea or Man City. Southampton report Liverpool for an illegal approach, Liverpool now apologize to Southampton and have withdrawn any interest in the player. The Premier League now say case is closed, so not even going to investigate whether an illegal approach was made.
Only a couple of weeks ago Liverpool were given a 2 year ban from signing academy players for making an illegal approach for a young player, 12 months of it was suspended.
So surely, if they have made an illegal approach for Van Dijk, shouldn't this constitute a ban on all transfers for a period of time. Seems like an amazing U-turn if you haven't done anything wrong.
Paul Burns
305
Posted 07/06/2017 at 21:16:39
We should never have signed this over rated no-mark, a Kenwright vanity project. He doesn't understand the concept of the word team, its all about him.
Almost all his goals are meaningless late consolations, the last couple in a rout or against proper dross teams.
Time for other players to up their goalscoring records or ship out; a proper top side spreads the goals around instead of the one-trick pony we have become while indulging lazy arse Lukaku.
Steve Ferns
306
Posted 07/06/2017 at 21:19:58
Philip Green, Vibrac and Riverdance: the mystery of Everton's 'shadow investor'
Dave Williams – from the above article. I think mark is referring to JG Funding and Rights and Media Funding.
Mark's comments may well be correct and if the last of the financial handcuffs are off, then maybe we can start to flex some financial muscles. Just remember – this isn't 2010, and we aren't Man City or even Chelsea.
Barry Connor
307
Posted 07/06/2017 at 21:23:27
Paul (#305):
I understand your frustration but, like it or not, he has scored lots of goals for us and is about to earn us over 㿞million in profit.
So just concentrate on who (preferably more than one) the club recruit for his replacement(s) who will hopefully provide more goals than Lukaku !!
Paul Tran
308
Posted 07/06/2017 at 21:32:44
Paul, I hope in the coming weeks we buy another 'overrated arsehole' who will be the second top scorer in the Premier League. I hope he pledges his undying love and affection to Everton like all players do these days.
I hope that while we drift along, he turns away the chance to earn more money and win trophies. I'm prepared to be pleasantly surprised, but I'm not holding my breath.
Paul A Smith
309
Posted 07/06/2017 at 21:34:06
Real Madrid want £78M off Man Utd for Morata. Their in-and-out striker. Would you still take £70M for Lukaku?
Paul Ferry
310
Posted 07/06/2017 at 21:48:19
LOL @305
Paul Tran
311
Posted 07/06/2017 at 21:49:22
Apologies Paul, I should have said 'no-mark', not 'arsehole'.
I also forgot that another hope I have is that the next striker sells for at least double what we pay for him, which would make good business sense.
Not holding my breath on that one, either.
Ian Smitham
312
Posted 07/06/2017 at 22:00:09
Bearing in mind we need to buy for this position, I vote (not that I have one) we buy this player at pretty well what ever cost.
Man City have withdrawn, looks like Chelsea are the only counter bidders, maybe they stand aside as part of any Lukaku deal?
He can be a figurehead of our defiance against our neighbours, a talisman that we need to throw our support behind. A statement of intent.
Sam Hoare
313
Posted 07/06/2017 at 22:15:25
Trouble is, Ian, he doesn't want to come to us. He wants Champions League and there are a few clubs who'll give it to him. If Southampton let him go...
Iakovos Iasonidis
314
Posted 07/06/2017 at 22:15:41
His goals will be missed, nothing else. Please leave! (...but not for anything less than 㿼 mil).
The sad thing is that when we at last have some money to spend the market is crazy inflated. Bad timing. Imagine having serious money 20, 15, or even 10 years ago. Even 5 years ago, the market was still "normal".
Better now than never ,of course. I hope we haven't missed the train.
Andy Crooks
315
Posted 07/06/2017 at 22:33:44
Paul, (#305) are you really serious? This "second rate no-mark", whatever you make of his attitude, he is going to make us a substantial amount of money. His signing was, in my view, a fantastic piece of business.
I bow to no one in my disdain for the lamentable Kenwright and Martinez but they got this one right and to suggest otherwise is ludicrous.


Hywel Owen
316
Posted 07/06/2017 at 22:58:56
Any player, and I mean ANY player, who speaks like this to the press whilst having two years of his contract to run should be suspended immediately by the Club and his wages withdrawn.
The lack of discipline within the Club and the lack of respect shown by this very ordinary player beggars belief.
Dave Williams
317
Posted 07/06/2017 at 22:59:02
Thanks, Steve (#306).
David Graves
318
Posted 07/06/2017 at 23:12:56
Disrespectful vs Understandably ambitious.
Potential world beater vs Flat-track bully, etc etc.
I enjoy reading the different arguments but "Kenwright vanity project"... I'm honestly a bit stunned by that one!
Will Mabon
319
Posted 07/06/2017 at 23:32:59
Stan, way back at #255:
"If Lukaku and Barkley leave this summer, the image of Everton to the outside world will surely be confirmed as a club that the best players leave (to go to bigger clubs), rather than a club that the best players go to (like we used to be when we signed Alan Ball et al).
If that happens, so much for the new era and the so-called 'project'."
Seconded. It's getting harder to believe in what was implied in the arrival of Moshiri to the club. If player sales pan out as it's looking like they may, it appears like an exodus of the better quality of the squad.
The path that the club might be about to set off along is a long, long road to potential success. This with a manager on a relatively short-term contract. Just what is the project?
Patrick Fennell
320
Posted 07/06/2017 at 23:36:42
Hywel (#316), I totally agree with you.
I cannot believe this sort of thing is allowed to happen in football. I'm from Canada and I can tell you if a National Hockey League player and his agent got caught talking to another team like this without permission they would be suspended and fined. Plus the club trying to lure him away would be fined (money and/or draft picks) by the league.
Right about now, if we could get £80 million for him I'd happily show him the door. And I'd sell him for £60 million to a non-Premier League club just in spite!
Max Murphy
321
Posted 07/06/2017 at 23:40:35
That new Jimmy McGovern series, "Broken" is pretty good.
Jay Harris
322
Posted 07/06/2017 at 23:47:12
If we really believe that Barkley and Lukaku are the players we need to take us into the Champions League and trophies, then I must be a blind man.
They have held us back, not taken us forward, and I believe Koeman thinks he can do a lot better.

Will Mabon
324
Posted 07/06/2017 at 00:06:11
In the modern way of things, Jay, what you say would require the club under Koeman to spend very big; bigger than the value of Barkley and Lukaku, for that today constitutes 90% of what is required for expedient entry into the Champions League.
Big
spending, on top of existing quality.
There hasn't been one solid link (Okay, rumour) that would suggest we are anywhere near bringing in players widely considered better than those two, or of perceived Champions League quality.
It matters not what Koeman believes if there's insufficient money available, even if his plans are likely to get us anywhere.
Nigel Johnson
325
Posted 07/06/2017 at 00:06:55
Everton must sign a striker as soon as the window opens.
If Everton is not careful our season could be finished before its started. Everton could go into the first match in July without a striker and be out of the Europa League before even getting through to the group stages.
Trevor Peers
326
Posted 07/06/2017 at 00:13:54
I agree wholeheartedly with you Jay, Lukaku is technically impaired, but a good marksman.
Ross is just a squad player who has very limited will power, fight or leadership, to be a top combative playmaker.
Over the years I've seen lots better, and to mention them in the same breath as Alan Ball, reading an earlier post, is just laughable. Of course they can be replaced.

Will Mabon
327
Posted 08/06/2017 at 00:38:23
They can be replaced, Trevor,
almost
anyone can – if the money is available/made available. This would require spending what we may receive for them and more to improve the team. Plus of course suitable players being willing to come to this club.
That's what's required when mentioning Champions League, not just selling players.
David Barks
328
Posted 08/06/2017 at 00:42:56
I'm having trouble reconciling being told for the past two years that the reason we can't attract top quality players is because we're not one of the "big clubs" in the Champions League, with now being told that selling Lukaku will lead to funds allowing us to bring in multiple top quality players to improve the team overall.
That's some interesting logic right there.
Trevor Peers
329
Posted 08/06/2017 at 00:46:18
That's a different issue, Will, with Kenwright heavily involved with all transfers we are always going to struggle to sign quality players, he just screws deals up. That's where our real problems lay.
Davies is already a better player than Barkley though.
Alexander Murphy
330
Posted 08/06/2017 at 00:47:15
If true that Bayern want him, then I'd take their best offer.
Staying in the Premier League should not be an option and it should be EFC who dictate that.
David Barks
332
Posted 08/06/2017 at 01:46:58
Alexander,
We can't force him to agree a contract with Bayern. Not how it works. He would have to agree to terms. He's not a piece of property.
Laurie Hartley
333
Posted 08/06/2017 at 01:50:55
Andrew (#205),
First paragraph – reasonable comment if based purely on footballing ability. I was one of the posters who recently said he was never good enough for Everton.
I did so in a burst of outrage after one of his usual press interviews when he suggested, without coming straight out and saying it, that he wanted to leave Everton. What motivated me to do that? Nothing to do with his ability as a footballer, which by the way, has improved considerably in his time with us.
No, for me it's about the honour and reputation of the club. Quite possibly it's the same for a large majority of the posters who blast Romalu Lukaku and want to see the back of him.
We were footballing aristocrats, both on and off the field, when I started following the Blues and I look forward to the day when we are great again. It may surprise some, but I believe that day will come about in my lifetime. But it won't while we have players in the squad who talk out of school every time they are away on international duty.
Only the Everton Football Club hierarchy, its supporters, and a committed group of footballers can bring that day about.
Second paragraph – I have to say that looks like sweeping statement to me. Mid table yes with the current squad but in my view, the right players are out there. Moshiri has backed Walsh to find them.
As our departed friend Harold once said, "Don't dwell on things that upset you". Good advice. We will move on from Lukaku leaving.
According to recent reports the Everton brand is ranked 13 in world football, and KPMG have us in the top 20. I have just filled in my stadium survey with the official site. We are on the move. I am looking forward to the window opening.
Up the Blues

David Barks
334
Posted 08/06/2017 at 02:53:44
We're on the move, yet we're soon to have not a single recognized striker in the team. We're moving alright, just might not be the direction you think.
Our defense is old. When Lukaku is sold we will have zero strikers. Barkley is still refusing to sign so likely will be gone. But we are so deep at central defensive midfield!!!!
By the way, Costa himself has confirmed that he is no longer wanted at Chelsea. So it's looking very likely that Lukaku will be going there.
So I ask again. If we couldn't attract top quality players because we didn't have Champions League football, and we still do not have champions league football but will likely be losing our two best attacking players, how exactly are we now going to not only attract two replacements of equal quality but the additional players that we've been lacking for years?
And please don't give me the answer of "Give the youth a chance".
Will Mabon
335
Posted 08/06/2017 at 03:22:12
Kenwright has his history but attracting big players will require a perceived standing of our club based on much more than one man's eccentricities. Bill's leaving do will make little difference in that regard.
It's a long and slow road to transform ourselves into a regular top six or four team as it is. Losing/selling our most notable players in the absence of marquee signings into the club does not paint a picture of a club with big aspirations.
We as Everton fans have our own particular views of Barkley and Lukaku. I believe the football world outside of Everton generally rates them a little better than many Blues. This would be hard to counter should they both sell for sizeable fees.
Outsiders will view this in several ways: that we don't have the funds to hold onto them, that we aren't prepared to pay their wages, that we can't or won't attract players of a quality to augment them and the team (hence no ambition shown to the players), and lastly that perhaps our management and coaching team just don't get them as players, or know how best to use and manage them.
Lukaku's attitude and proclamations of "Ambition" are well known so him leaving would not surprise. Big players do move from big clubs. To lose two though sends out a bad vibe. If this proves the case it won't bode well for the club as far as signing top quality players, funds or not, particularly since we haven't made a big signing, yet.
Will Mabon
336
Posted 08/06/2017 at 03:28:18
David (#334) – I sort of repeated you there a little. Was busy with something and compiled my post over a couple of hours without updating.
John Hall
337
Posted 08/06/2017 at 03:55:04
Big lazy bum with a big gob. Obviously thinks he is better than most but can't trap, head or control a ball and does not seemingly have any sweat glands as he is as dry when he comes off as when he went on.
Puts his flip flops on in March most seasons and awaits the enormous offers that he expects will take him to his promised land. Get real mate – nobody in for you the last two seasons and expect that nobody will come calling this time at the prices being quoted.
Worth £20 M at best and that would be stretching it for me. Sit the asshole on the bench for the next two years and show him who really dictates what he does, not the fat twat who is having a job to move him on.
David Barks
338
Posted 08/06/2017 at 04:09:45
John Hall,
Congrats, you win the award for the most ridiculous post in this thread. Well done, you earned it. Now you're claiming he doesn't even break a sweat? Must be quite the alternate reality you've been living in.
Laurie Hartley
339
Posted 08/06/2017 at 05:41:25
David (#334) – I'm tipping that I am the "you" referred to in your post so I will have a go at answering your questions and comment on your assertions. Here goes:-
After a disastrous 2015-16 and subsequent transfer window we moved up 4 places last season and finished 15 points ahead of our nearest rival. I call that upward movement.
"Our defense is old" – agreed – I'll come back to that shortly but first:
When Lukaku is sold we will have a big pile of money with which we can buy at least one but probably two first class strikers. I'll be glad when that happens. With a world cup coming up both Costa and Batshuayi have expressed concern about their situation at Chelsea – I would do a straight swap for Costa and Batshuayi or Nathan Aker their young centre half. They will get game time with us.
If we can only get one of those strikers I would buy Bony from City.
"Barkley is still refusing to sign and will be gone". I am starting to hope so. I was a big Ross Barkley fan but it seems he wants away also – if that is the case let him go. That would give us another big pile of money and this is what I would do with it:
Buy the goalkeeper Kalinic from Gent, Trippier from Spurs, and Navas from City.
As you quite rightly pointed out no problems in defensive midfield but the defense - well:
There wouldn't be any room in my team for both Jagielka and Williams. I would stick with Williams and put Aker (a very good player) beside him with the option to go three at the back with Holgate if the occasion called for it.
I still think Baines has got another season in him.
There you go sorted – gimme a job.
At your request I haven't brought our under 23 team into the discussion but out of respect for them I will say this – they have just won their league against some good opposition and several of them are good enough for England's Under-23 team. There may be a Premier lLague prospect among them.
John Codling
340
Posted 08/06/2017 at 05:52:06
What concerns me about a possible transfer is how much Everton FC get from this if, as reported, Lukaku's agent managed to get in the region of 㿔 million from the Paul Pogba deal.
Who paid the agent this sort of money Man Utd, Juventus, or was this cash on top of the reported fee? So what we need to know is what EFC will get out of it. If we are not getting the full amount, as far as I am concerned, he should be made to see out his contract.
Andrew McKernan
341
Posted 08/06/2017 at 07:15:53
Lukaku tells the media he should be playing at a higher level, ie, Champions League football. Obviously be has a high opinion of his 'football ability'.
Like all Everton fans, I will be interested to watch a player who can't even control a ball playing in the Champions League against top-class European defenders.
Brian Porter
342
Posted 08/06/2017 at 07:17:22
Hywel (#316), totally agree with you. If another team has been talking to Lukaku that is an illegal approach and they should be reported for it and sanctions applied.
It's time Football put an end to players being allowed to treat legally binding contracts with all the importance of a piece of toilet roll, okay when you really need it but quickly discarded when they feel better and ready to move on.
ps: Did everyone see Lukaku's missed chance for Belgium the other night, from all of three feet from goal? Now, a top World class striker would have had the intuition to use his brain to quickly guide the ball into the net as it came back to him off the post, but Rom's inherent poor first-touch factor kicked in and he was off target.
As usual, the look on his face blamed the post, the wind, the flight of the ball, something he ate for dinner, in fact anything apart from his appalling first touch, and lack of a top striker's true killer instinct in the 6-yard box. I thought at the time that Stevie Naismith would have buried that chance.
Will Mabon
343
Posted 08/06/2017 at 08:27:01
"If we can only get one of those strikers, I would buy Bony from City."
No, just no...
Laurie Hartley
344
Posted 08/06/2017 at 08:41:49
Will (#343) – not letting you get away with a "No, just no."
Is it his first touch you don't like, his ability to hold play up, or head the ball? Or is it something else, too old, too slow, too mouthy, greedy, won't track back, or is it you just don't you like his name?
You must have a reason(s).
Andrew Ellams
345
Posted 08/06/2017 at 08:43:29
Laurie @339. Navas, why? He's a headless chicken who hasn't scored a single league goal in over 100 appearances and is the wrong side of 30.
Liam Reilly
346
Posted 08/06/2017 at 08:52:06
Costa has been quoted as saying Conte has told him to leave; he wants Atletico Madrid who can't sign him until January. What about a cheeky swap with incoming cash for him (if he'd come, but outrageous money could sort that).
World Cup year, he needs to be playing and just agree a fee with Madrid for the end of the season.
Eddie Dunn
347
Posted 08/06/2017 at 08:59:53
I see Costa has said that Chelsea no longer want him.
Could we possibly get him?

Will Mabon
348
Posted 08/06/2017 at 09:11:13
Laurie, I just went out in the garden with my dog, in my slippers, across wet grass, and I covered the ground faster than Bony.
Laurie Hartley
349
Posted 08/06/2017 at 09:30:39
Thanks, Will (#348) – too slow then – like the Yak.
Andrew (#345) – Because I have always thought Navas is a clever footballer who knows how to run at, then get behind a defense (as opposed to running at a defense, coming to a full stop, then pass the ball backwards).
Dave Abrahams
350
Posted 08/06/2017 at 09:40:47
Brian Harrison (#304), regarding the player Liverpool tried illegally (alledgely) to lure away from Southampton, you are quite correct to say that Liverpool have been treated more than leniently by the FA.
Everton were fined a large sum
for doing the same with a player from Nottingham Forest a couple of seasons ago; the FA are not even going to investigate the Liverpool affair.
I know this tapping up goes on by practically every club but they still, or should, have to pay, Liverpool and a lot of the the so called big clubs seem to be in a different class by the FA when caught out going against the rules.
It's like gambling by players and officials in football, we all know loads of them have a flutter but Joey Barton, known as a wrong 'un gets caught, he admits it, they have all his betting slips which proves he never betted against his own teams and lost thousands of pounds but is suspended for 18 months, which as more or less ended his career.
The whole FA needs investigating, it is rotten to the core.
Brian Williams
351
Posted 08/06/2017 at 10:10:19
A horrible thought occurred to me this morning and I have to admit to feeling a little ashamed for thinking it. Bearing in mind Lukaku's love for Chelsea and the fact that, in my eyes, he's wanted to go back there literally from the minute he left using us as a "proving ground" if you will.
It's been mentioned he had a "gentleman's agreement" with Everton, and it's widely accepted that this agreement was that he could leave at the end of this season if we didn't make the Champions League. Surely (and here's the thought), surely that couldn't be a partial explanation for his "downing of tools" towards the end of the season?
Mad I know to think it, ridiculous even, but I still couldn't help thinking it. That's what this whole fucking circus has done to me!!!!
Laurie Hartley
352
Posted 08/06/2017 at 10:31:46
Brian (#351) – I would say definitely not but I have to say when I watched the West Ham game the only explanation I could come up with for that performance was that a few of them didn't want to get injured prior to moving on this window.
Stan Schofield
353
Posted 08/06/2017 at 10:35:39
Brian, that thought also occurred to me, so if you're mad then so am I. When thoughts like that occur to me, and they often do, apart from telling my wife, I'm reluctant to mention to anyone else. It just keeps simmering away, though, at the back of my mind.
Eddie Dunn
354
Posted 08/06/2017 at 10:40:23
Brian, that is interesting. It is of course very hard to tell, but it would not explain why he didn't do better after our top 4 hopes had faded.
Brian Williams
356
Posted 08/06/2017 at 10:44:08
Well, I'm not yet getting savaged like I thought I would. Early days I suppose. :-).
Eddie, take your point. I wonder if he was just happy enough to have broken a club scoring record (had he done it by then) and thought "there you go I've done my bit, I'm off."
See, more conspiracy thoughts. Why didn't I just follow rugby????????
Stan Schofield
357
Posted 08/06/2017 at 10:53:33
Brian, if that had happened, it must be very difficult to hide it from your employer, assuming the employer is competent enough to recognise someone feigning a bad performance. But if the employer did recognise it happening, but couldn't change it despite best efforts, then given the "gentlemen's agreement" (ie, no formal written agreement), the employer could rightly turn to the individual and say:
"Right, I know perfectly well what you've been doing sunny boy, you've undermined our gentlemanly agreement, so I'm afraid you're stuck here until July 2019 whether you like it or not."
Of course, that's all in my imagined world where I've got so much power and money I can afford to do that!
Brian Williams
358
Posted 08/06/2017 at 11:03:59
I think we live in the same world, Stan!!!
Jim Knightley
359
Posted 08/06/2017 at 11:18:57
We don't have a chance of Costa, imo, Eddie. That is the issue with losing Lukaku – we can't attract players who consistently score 20 plus goals at this level.
Although, would we want him? He has been half-arsed since January, and disappointed a lot of Chelsea fans. He was also poor for an entire season last time round. There are criticisms of Lukaku's attitude and application, and I've even seen people put Costa up as some kind of role model. I'm guessing those haven't watched him much during the last 2 years – he was wonderful and at his bullying best for six months, and half-arsed for the other 18.
I'd look at Josh King as a possible replacement. He was extraordinary after being put through the middle by Howe – a Vardy-esque transformation and he can play through the middle and behind the striker.
Brian Williams
360
Posted 08/06/2017 at 11:23:56
Josh King would get my vote too, along with Dembele and Traore or Abraham.
One striker out, three in.
Jim Knightley
361
Posted 08/06/2017 at 11:27:20
Dembele would be exciting for sure – that is what we should aim for – younger with the potential to grow. We can't expect to get established top strikers on huge wages – we need to unearth those a little younger. I like Man City's Iheanacho too.
Brian Williams
362
Posted 08/06/2017 at 11:30:28
Shit, Jim, I forgot him. Get him as well!! :-) Young, fast, "don't give a fuck for reputation" type players.
Mobile players who will open up defences with their movement (remember movement?) and increase the "productivity" of our new-look midfield.
Geoff Williams
363
Posted 08/06/2017 at 11:40:42
Keeping him is not an option. Goodness knows where we might have been without his goals but he is toxic, a cancer within the club which must be unsettling to everyone connected with Everton.
If he wants to leave, then he should formally request a transfer.

Daniel Taylor
364
Posted 08/06/2017 at 11:50:05
We are not buying anybody until we sell, as always we are a sell-to-buy club. The board is full of absolute shit and I have had enough. Lukaku is a lazy twat but if you were him, why the fuck would you want to stay at dithering fucking Everton?! We're going fucking nowhere – just like the last 20 years.
Nigel Johnson
365
Posted 08/06/2017 at 12:05:08
I think one of the biggest problems that Everton face is not keeping Lukaku – let's face it, he's gone already. The biggest problem I can see if how to sale Everton Football Club to the top players. Every club in the world has history depending on how far back you wish to go. I don't think that is a great selling point anymore. England won the world cup back in 1966 but that doesn't suddenly mean they are going to win it next year.
Everton have to get real and the only thing that talks to players is money, unless you are a club that has either won something lately or are in the Champions League. until Everton get real on salaries why would a top player come to Everton. Farhad is a business man and will know that, unless your brand is excellent, your business will not grow, in order to grow the brand it needs to be successful.
To get success you need a great team with great players, losing you top money makers ie Lukaku's goals will set the brand back at least another season. Manchester City's brand was affected last season by being unsuccessful; however, they have taken quick urgent steps to put that right early by buying quickly what they think they need. The top teams are starting to follow; Everton are once again, for another window, being left behind.
Colin Malone
366
Posted 08/06/2017 at 12:08:38
Diego Costa. Wow, now that's one player I would love to see in an Everton shirt.
Ian Hollingworth
367
Posted 08/06/2017 at 12:25:57
Daniel (#364) – unfortunately, it looks increasingly like you are spot-on, as many already suspected.
Brian Williams
368
Posted 08/06/2017 at 12:35:47
We can't buy anyone til the transfer window opens. We MAY have deals already in place which we are not advertising to every man and his dog for obvious reasons.
We may not have deals in place. We don't know, we're all guessing.
Eddie Dunn
369
Posted 08/06/2017 at 12:42:39
Well we are all frustrated. We have all listened to the rumours, those season tickets have been snapped-up. The club now needs to show us some ambition, it needs to give us some players that will whet the appetite.
The sad thing is, that we fans might like Dembele, Iheanacho, or King but how many other clubs are readying bids for the same men?
John Audsley
370
Posted 08/06/2017 at 12:49:58
Daniel (#364),
That's a disgraceful comment, we have been dithering for around 27 years at least.
Paul Kelly
371
Posted 08/06/2017 at 13:02:42
So long, farewell, auf wiedersehen, good night ......
Gordon Crawford
372
Posted 08/06/2017 at 13:06:06
Swap deal plus money for Costa, they pay us of course.
Paul Kelly
373
Posted 08/06/2017 at 13:12:58
Daniel @ 364,
Let yourself go, say how you feel, no more sitting on the fence!
But you speak a lot of how people feel, a lot if mates I speak to anyway.
James Stewart
374
Posted 08/06/2017 at 13:15:29
AC Milan making the kind of impact that we should have done post takeover!
Take note, Moshiri and Walsh.
Mark Stone
376
Posted 08/06/2017 at 14:10:44
🖕
Brian Williams
377
Posted 08/06/2017 at 14:39:17
...and what about that Barkley eh?
Dave Abrahams
378
Posted 08/06/2017 at 15:09:36
Brian (#377), what about Barkley, Brian, what's he done now?
Brian Williams
379
Posted 08/06/2017 at 15:39:55
It was one of those "and what about so and so" quips mate. Just he hasn't been mentioned in a good while!
Dave Abrahams
380
Posted 08/06/2017 at 15:50:54
Brian (379),
Ah hey, Brian, I had me shawl on then waiting for a good bit of gossip!!!
Brian Williams
381
Posted 08/06/2017 at 16:02:37
Sorry, Dave mate, I'm just bored out of my tree with this Lukaku business!
Dave Abrahams
382
Posted 08/06/2017 at 16:08:27
Yes, I understand that, Brian, but we've all known he wasn't going to stay, more or less since he got here. As long as we make a good profit on and it is all spent on new players, there is no harm done.
Brian Williams
383
Posted 08/06/2017 at 16:13:10
True mate.
I've had an afternoon of day dreaming while doing some gardening.
Dembele, King, Ihenacho, Sigurdsson, Keane, A N Other centre back, A N Other keeper. Maybe throw Abraham in there as well.
John Pierce
384
Posted 08/06/2017 at 16:15:53
Just seen Everton have been banned from European competition following Liverpool's actions in attempting to tap up Van Dijk.

Brian Williams
385
Posted 08/06/2017 at 16:26:35
Quite right too, John, coz it's not their fault, is it?
Dave Abrahams
386
Posted 08/06/2017 at 16:36:20
Brian put an S on the end of Abraham and ? I'll be there mate, even if it is to just give the oranges out at half-time.
Brian Williams
387
Posted 08/06/2017 at 16:49:27
Our new back-up striker – Dave Abrahams!
Alan J Thompson
388
Posted 08/06/2017 at 16:50:16
Dave (#350): Of course they are rotten to the core, they're members of FIFA, aren't they.
Gordon Crawford
390
Posted 08/06/2017 at 17:08:51
James (#374), yes, Milan are not resting on their laurels. Costa is now on their list as is Klaassen and many others. It also looks like Chelsea and Arsenal are weighing up a bid for Gueye, that's all we would need.
But what are we doing? Nothing as usual.
We have to wait until Rom and Ross are both sold, before we can buy a dodgy third choice right back from Southampton and a kid from QPR. The joys of being an Evertonian.
Brent Stephens
391
Posted 08/06/2017 at 17:33:48
"The joys of being an Evertonian".
Evertonians don't seem to do joy here. Miserable bastards! Enjoy life!
Martin Nicholls
392
Posted 08/06/2017 at 17:39:21
Gordon (#390) have you been reading NewsNow to get your rumours about Costa, Gueye and Klaasen? If so, you're being very selective in then saying EFC are doing nothing the same site has us linked with both Mahrez and Munir.
Why believe rumours (and I emphasise that word) that might show us in a negative light but ignore those that reflect positively on us? The likelihood is that they're all utter nonsense!
Brian Williams
393
Posted 08/06/2017 at 17:51:02
Brent. Call this living? Lol.
Gordon Crawford
394
Posted 08/06/2017 at 18:01:25
Brent, I'm very happy person. But Everton Football Club would seriously depress you at times. My comment was very much tongue-in-cheek.
Martin, you're right in what you're saying about rumours and not listening to them. But this is Everton – we will be linked with many a top player and not get any. Just can't see that happening to any of the top six above us. I would love to be wrong.
Brent Stephens
396
Posted 08/06/2017 at 19:42:48
Gordon, I wasn't having a go at you, just the whole tenor of this and other threads at times.
Keep that tongue in your cheek!
Will Mabon
398
Posted 08/06/2017 at 20:11:19
Funny, but as bullshit as the rumours usually are, they show a loose basis in reality. You might see rumours linking Chelsea with Gueye but not rumours linking Everton to Hazard.
Gordon Crawford
399
Posted 08/06/2017 at 20:21:28
Brent, lol – I'll try my best. I get what your saying. :)
Very true, Will.
Paul A Smith
400
Posted 08/06/2017 at 20:59:54
Jay Wood (#267, I think)
Great post mate. Spot on in my opinion.

James Marshall
401
Posted 08/06/2017 at 21:02:08
Good luck to him, he's never been anything other than honest about his ambition and he's given us a few good years. Players come & go, so what?
We'll buy another player, and everything carries on.
I never understand the ill-will towards players wanting to win things with other clubs - he certainly isn't likely to win anything at Everton.
Brian Porter
402
Posted 09/06/2017 at 06:14:58
Today, it's reported in the press that Chelsea have offered Lukaku 𧵎k a week to join them. If Liverpool were talking about signing Van Dijk, surely this also constitutes an illegal approach and should be investigated by the Premier League.
Their rules are clear that a club can only talk to a player if permission is granted by the club holding the player's registration, unless the player is either a free agent or in the last year of his contract, neither of which applies to Lukaku. The same applies to the reported offer made to him by Man Utd.
Wouldn't it be nice to see them both sanctioned and banned from any transfer activity, but, being who they are, they will obviously get away with it. Would make Rom's Champions League ambitions interesting though, wouldn't it?
Jim Harrison
403
Posted 09/06/2017 at 06:56:22
Regards there possibly being an illegal approach, is it possible to lodge a complaint after a transfer? Get the money then shame them?
Just thinking of Southampton's case. They don't want to sell, and he has a long contract... but, whilst we want to keep Rom, he only has two years left. Getting good money now, plus sticking the boot in!
Colin Glassar
404
Posted 09/06/2017 at 07:23:38
Big news coming out of Chelsea re Costa and Rom. His dream move might be in doubt now.
Ian Jones
405
Posted 09/06/2017 at 07:32:53
Colin – enlighten us all... :)
Ian Jones
406
Posted 09/06/2017 at 07:47:50
Colin. I have found what I think you indicate is big news. I have filed it in the usual place...
Peter Roberts
407
Posted 09/06/2017 at 07:50:54
James Marshall (#401)... "good luck to him – he's never been anything other than honest"?
What are you smoking! The diva hasn't shut up about moving on from us even before he signed his permanent deal we were the only club prepared to cough up the money for him and to indulge the brat in his mission to be the main man for a club where he won't have to compete with players who can actually control a football.
I've never been a fan of him as much as he has never allowed himself to be an Everton player. Vastly overrated player... his ability as a finisher isn't enough to cover the massive cracks he has as a footballer. Amazingly, it appears we may get over 㿨m for him.
I can't wait to watch him at Chelsea. The lump will struggle big time. The fast-thinking Hazard and Pedro are gonna be tearing their hair out over the number of times he loses the ball. The midfield will be sick of his laziness in pressing. He will be a complete waste of money.
Colin Glassar
408
Posted 09/06/2017 at 08:08:03
Could be yuuuuuuuuge Ian. If Abramovitch backs Costa over Conte, it could throw them into turmoil and Lukaku could miss out on his dream move.
Paul Jones
409
Posted 09/06/2017 at 08:13:49
I think all the talk about an illegal approach – while absolutely correct – is rendered moot by the relationship that our leadership have with Lukaku and his agent.
Talk of giving it one more season and then allowing him to go may have no concrete evidence, but given the history of the Kenstone Cops – and Koeman's early season pimping of Lukaku to any Champions League club – it seems highly likely. If that's the case then we won't be reporting anyone for tapping him up.
James Hughes
410
Posted 09/06/2017 at 08:18:08
Peter, I am glad you aren't his agent mate, we would be lucky to get back what we paid for him.
I have just read a decent article about Lukaku and his work rate. You can't argue against his scoring record but if he isn't scoring he doesn't influence the game. Also he doesn't keep the opposition defence occupied, allowing others to score.
Ray Roche
411
Posted 09/06/2017 at 08:57:07
Surely, it would only be an illegal approach if Everton were not either aware of it or didn't condone it. If Everton have agreed (behind the scenes) to allow the contact prior to us selling him then it wouldn't be an illegal approach and no-one on here knows what is going on in the background.
I think Everton have agreed the sale and are looking elsewhere already. Old Big Gob can't keep his counsel and is dropping so many hints it's clear something has happened. Chelsea are buying him. Definite.
Will Mabon
412
Posted 09/06/2017 at 09:37:23
Wow, yet more Lukaku posting activity. Guess I better steam on over to NewsNow tout de suite to get the definitive Word.
William Cartwright
413
Posted 09/06/2017 at 09:58:34
The transfer window opens this weekend and then we will see some action I suppose. I think he outgoers have been well established for some time; Lukaku, Kone, McGeady, McCarthy, and one of Jags/Mori / Williams. Ross not sure but if he stays against Koeman's wishes then there could be troubled times ahead...
I'm still undecided about Robles / Stekelenburg, and Deulofeu, and Lennon may go down a different route entirely, whichever I wish him the best.
Incoming will likely be a goalie (Heaton or Butland please, Sigurdsson, Rooney, McGuire, Coco and the young Josh King from QPR. A replacement for Rom may be either Batshuayi from Chelsea or if we are lucky martial from Man Utd. I expect also a below-the-radar Gana type but I can't think who that may be.
The increased squad size will be made up by introducing several of the U23s which is logical and the right way to go.
COYB
Len Hawkins
414
Posted 09/06/2017 at 10:02:53
Brian (#368),

My thoughts too! I doubt EFC will divulge to the shoeshine boy who they are after... then, when the lazy hacks go to him to have their hushpuppies polished, he can't give them the word on the street.
Dermot Byrne
415
Posted 09/06/2017 at 10:18:55
We have a period of a hung team. Lukaku's reputation in tatters (though some loyalists still backing him) and we wait to see if Koeman and Walsh can form a new team. The establishment will do all they can to undermine The People's Club but maybe with an end to austerity and extra spending, the Blue community can prosper.
Youngsters like Davies have said they have had enough of a league run by and for a rich minority and the Blue chancellor has said investment in infrastructure on the waterfront is very much on the cards.
Meanwhile, Ross Barkley has been arrested for vandalism as he was caught wandering around Liverpool One putting Xs on shop and restaurant walls.
Rob Halligan
416
Posted 09/06/2017 at 10:34:10
For all you Lukaku haters out there, which is probably about 99% of this thread, just consider this. Apparently Conte & Chelsea no longer require Costa, and see Lukaku as the ideal replacement.
So just think about it for a minute: Chelsea, the best team in England want a useless lazy fat fucker, useless piece of shit who can't control a ball, who will not run, who cannot head a ball, who only scores tap-ins, who can't score outside the area, who scores pointless goals, want Lukaku to replace Costa.
So why is that, maybe, just maybe Conte sees a prolific, goalscorer in that player, which, and let's all be honest about this, he has been a prolific goalscorer for us. With even better service, Lukaku would have scored even more.
If we lose Lukaku, and I still think he will be with us next season, it will be our biggest regret in years. I've read on this thread, "sell him and we can buy two forwards who can score 25 goals between them"! Fuck me, apart from maybe Andy Johnson and Yakubu in the last few years, we've had nobody in the last 20 - 25 years, get anywhere near the amount of goals Lukaku has scored for us, and some seem to think it will be easy to replace him!!
So finally, back to my original point, why do Conte & Chelsea want Lukaku to replace Costa?
Ray Roche
417
Posted 09/06/2017 at 10:43:25
Rob, imagine Lukaku with Hazard, Pedro etc. providing little through balls for him we'll see how crap he is by next April.
Terence Tyler
418
Posted 09/06/2017 at 11:30:15
Hope he does stay, Rob; I put a few shilling on it a while back after a tip-off, not mentioning any names. Anyway, you get down the beach and have a paddle.
Tom Bowers
419
Posted 09/06/2017 at 11:30:30
Looking for all the world that Rom will be the replacement for Costa so let the Blues of Merseyside soak the Blues at the Bridge for all he's worth which, according to some Evertonians, is very little.
Despite his detractors he will fetch a tidy sum that Everton can hopefully use to better the offensive line and a bit more left over to improve other areas.
Having said that, some of the young Blues are coming along nicely so the future looks rosy as long as Koeman has the right strategies.
Brian Williams
421
Posted 09/06/2017 at 14:15:17
On a different tack, anyone see Kane's response to Lukaku's "Can't learn anything from him" comments? Can't do links!
http://www.givemesport.com/1073540-harry-kane-responds-to-romelu-lukakus-cant-learn-anything-dig?autoplay=on
Eddie Dunn
422
Posted 09/06/2017 at 14:15:48
Rob, I refer you to a fact that I mentioned on an earlier post. Lukaku played for a Belgium team festooned with talent but they were over-powered by a hard-working Wales side in the Euro Quarter-final.
If I recall correctly, Rom was surrounded by very good players.
Sam Hoare
423
Posted 09/06/2017 at 14:40:50
AC Milan have shown how to do good early business. Kessie, Rodriguez and Mussachio in already. Plus they're not in the Champions League.
I guess we are waiting to see how our needs shape up and that's difficult before Rom's and Ross's futures are clarified. It's been very quiet on the Barkley front...
Gordon Crawford
424
Posted 09/06/2017 at 15:02:39
Brian, yeah, I seen the response. Harry Kane seems a top bloke and a fantastic striker. Rom right away could learn about humility and desire from Kane.
Sam, Milan have spent well so far. Sadly though we are playing the waiting game. Top teams will spend first; we will pick up the scraps.
John Pierce
426
Posted 09/06/2017 at 15:28:19
As Rom's arse hits the door on the way out, lets hope our Dutch master has a solution to our style of play.
Whatever your opinion of Lukaku was, one thing was clear: we played almost exclusively to his strengths.
Are the current squad capable of a change of tactics? Is Koeman? – that is more the matter. He favours two quick pressing players and a centre-forward who held it up at Southampton. Bolaise, Lookman and Sharp might work.
Brian Furey
427
Posted 09/06/2017 at 16:24:42
Whether we like it or not we are not a top 4 team in the Premier League and some would say not currently a top 6 team.
As we've all seen, we are the 7th best team in lots of categories including wages paid out. With that in mind, we very rarely manage to persuade top class players to come to us over the top 6 sides unless we offer them something different. This is how we managed to get Lukaku in the first place when he was already with his first-choice club but we could offer him regular first-team football with a decent wage.
Most of the better players we've signed in recent years tend to have been signed by a bigger club but it hasn't worked out how they hoped, such as Schneiderlin and Deulofeu. To me, it was inevitable that, when Rom got back his confidence and improved on his weaknesses, then he would want to go back to a top 4 club to win titles and play Champions League football.
Yes, we as fans don't want to settle for being 'plucky little Everton' and we want to be the big club we used to be back in the 80s and before... but that will take time and patience. I think we have improved quite a bit and are less likely to sell a player now solely cos we need the money but, in today's world, if a player is doing well, it's common sense he will want to move to the top teams to win titles – like Mr Rooney did.
In my eyes, the club did very well to bring Lukaku to the club in the first place on loan and then to sign him. To keep such a top scoring striker with us for four seasons was quite an achievement, I think, with us out of the top 4 and not paying crazy wages.
I think the club will have learnt a lot from the whole Lukaku "project" and it will encourage them to take another risk on young strikers who signed for top clubs but haven't made it yet. Surely a deal with Chelsea for one or two of their young players with a clause allowing them to buy them back in a few years time perhaps? These clubs will see us as being beneficial to them as we will give their player a lot of game time and experience and maybe take points off their rivals but we will probably not be a huge rival to themselves.
As I've said before, the one lesson I hope we have learnt is that it is better to be over the odds for a good striker who puts the ball in the back of the net, rather than buying mediocre players who might work hard and be a fans favourite but will only score 10-12 goals a season.
Mike Gwyer
428
Posted 09/06/2017 at 16:36:18
Rob Halligan (#416).
Spot on, mate. In the present market, Lukaku should fetch somewhere around 𧴜M; hopefully that's what we get and hopefully it will be well spent.
For people who think that Lukaku will fuck up, well... maybe on one of his totally fucked off bad days, but come on – that really is just wishful thinking!!! He's good for 25 to 30 goals next season and hopefully he takes it easy when he comes to Goodison.
Good luck to the boy but better luck to Koeman who has to replace him.
Mike Powell
429
Posted 09/06/2017 at 17:57:13
Whatever you think about Lukaku, he was a goal machine and will be hard to replace. He gave us four years and the board let him and us fans down by not getting better players in, which they promised us.

It was four years more than the rat Rooney gave us. He was off at the first chance he had, and people want him back.
Brian Williams
430
Posted 09/06/2017 at 18:08:25
If anyone had any doubts about the 𧴜m pricetag for Lukaku, bear in mind Southampton are "reportedly" not prepared to let Van Dijk go for anything less than 㿲m.
Think we should up the price to 𧴦m, especially after Costa's "fuck off by text" bombshell.
Andy Meighan
431
Posted 09/06/2017 at 19:08:49
Ray (#417), If I remember rightly In the semi final against United he had a few great balls put through to him and didn't take any of them because of his shit first touch. Oh, and he also missed a penalty, therefore denying us a great chance to end our embarrassing trophy drought.

I'm not putting that defeat in particular solely down to him but if he'd have taken 2 of the chances then who knows what would've happened?

The man is so far up his own arse it's untrue and believe me when I tell you we won't finish any higher or lower with or without him and that's a fact. Vastly overrated and a bit of a flat-track bully. Er... quite Cottee-esque.
Phil Bellis
432
Posted 09/06/2017 at 19:42:55
Sorry, Brian (#427):
A proving school/academy for the Pensioners?
Nah... smacks of "plucky little Everton".
Andy Crooks
433
Posted 09/06/2017 at 20:06:58
Good post, Rob Halligan. The best team in the country may want to sign our striker but apparently he is shit. However, he is shit but can be "shipped out" for £100 million: "Get rid, ship him out, lazy, bad attitude"...
et, better teams than Everton might want to sign him. Maybe he is a decent player?
Rob Halligan
434
Posted 09/06/2017 at 20:49:52
Fair point, Eddie (#442). Lukaku was surrounded by a wealth of talent, a wealth of talent that went 1-0 up against Wales before finally losing the game 3-1. How exactly was that Lukaku's fault? I don't recall him playing in goal, or in defence, and therefore contributing to any assist in any of the goals Wales scored?
Andy (#431), again a fair point. Okay, so Lukaku missed one or two chances, including a penalty, in the semi-final. Had he scored the penalty, chances are the goal we scored wouldn't have come about. Had he scored his first chance in the game, his second chance would not have come along. The whole pattern of play would have been different. We might have gone on to win the game; or Man Utd might have steamrolled us and gone on to win 3-1 or 4-1. We will never know.
At the end of the day, the man is a goal machine, and one we must do everything we can to keep hold of.

Warren Hayward
435
Posted 09/06/2017 at 21:24:04
Lukaku found his level with us and, although we will miss his goals, he didn't deliver in the big games and often went missing if he didn't fancy it. I'd take 㿼M all day long if Koeman gets to spend it – and we now really want to see big money spent – for the right players to get the club back to where it should be: top 3 or 4.
We are still the 4th most successful club in English Football and if Blackburn in 95 can win the Premier League and Leicester in 2016, so can we! My guess is he won't go to the 'next level'! But Rom, thanks for the goals and the signed shirt for my kid!
Paul Johnson
436
Posted 09/06/2017 at 21:27:03
I will take William, Matic, Loftus-Cheek and £10 mill.
Ian Bennett
438
Posted 09/06/2017 at 21:56:26
㿞 to 60m, Batshuayi, and Zouma or Loftus-Cheek would be ideal. But deals like that don't happen, and I think Batshuayi will stay given Costa's position.
Rob Halligan
439
Posted 09/06/2017 at 22:18:07
Still haven't seen any replies to my question. Why does Conte / Chelsea want to replace Costa with Lukaku? Come on, all you Lukaku haters, surely you can provide an answer as to why Lukaku will be no good replacing Costa at Chelsea?
Brian Williams
440
Posted 09/06/2017 at 22:25:17
That's two questions, Rob. ;-)
Peter Warren
441
Posted 09/06/2017 at 22:53:03
Andy (#433), the best team and one of the biggest clubs in world football wanted our manager and he was shit.
Colin Metcalfe
442
Posted 09/06/2017 at 22:55:25
Rob (#439),
Maybe Conte was so impressed with his movement, deft touch and ball control, work rate, passing and link-up play and his ability to constantly foil the offside trap when we played Chelsea this season and got stuffed 8-0 over the two games? (Tongue firmly in cheek.)
Jim Hardin
443
Posted 09/06/2017 at 23:03:13
Peter Roberts,
Really? Okay, Lukaku is a crap goalie, a decent defender on set pieces in the box, and horrible as a fullback, or holding mid. But, since his job is to score goals, which he has done in abundance, it would seem he is a very good player at what he is supposed to do.
BTW, if a striker has a high rate for shots on target and goals scored then shouldn't the team be trying to get the ball to him more? Or buying players who can do it since the others cannot?
Oh yeah, Rom was the one constant in the line-up this season and Everton went from 11th to 7th. So does he get that credit or are you just placing the blame on him for not finishing higher?
As for his "loyalty", where is yours to him? Oh wait, you want players who want to be with Everton for life and are happy to settle for no titles, trophies, or Champions League so long as they wear the colors and badge. Well, how ambitious of you.
Pardon me if I prefer players who want to reach the top and challenge the club to get there with them. See, I blame the club for lack of ambition and not the player, if he leaves. Calling him names I guess is the easy way out rather than looking at your club and yourself.
Brian Williams
444
Posted 09/06/2017 at 23:23:26
In all seriousness, Rob, Conte's relationship with Costa has broken down beyond repair and I guess he figures a player dying to play for Chelsea who scored 20 odd goals for the 7th place team in the Premier League could score a load more next season for the best team in the premiership.
Lukaku's all round play is very different from Costa's but so is his personality, but both score goals.
Perhaps Conte wants a goal scorer that's easier to work with. 䀆m+ please! Oh, and I don't think he'll be no good replacing Costa I think he'll be annoyingly fucking effective... if he goes. ;-)
Gerry Quinn
445
Posted 09/06/2017 at 23:46:03
Has he not gone yet?
Dan Egerton
446
Posted 10/06/2017 at 00:25:55
"Surely you can provide an answer as to why Lukaku will be no good replacing Costa at Chelsea?"
Maybe he'll Costa too Mucha.
James Watts
447
Posted 10/06/2017 at 01:37:15
Sell him already so we can start buying!
David Barks
448
Posted 10/06/2017 at 01:41:55
The fact that people are saying "sell Lukaku so we can buy" says all anyone needs to know about the false dawn that is the Moshiri era.
James Watts
449
Posted 10/06/2017 at 02:46:04
Unfortunately, David, it does seem that way on the transfer front at least.
If we were serious, we would have brought in a few already no matter what is going to happen with other players on our books. It shouldn't have stopped us getting a goalkeeper and a central defender in after all.
But, as it is our way, we'll buy once we've sold.
David Barks
450
Posted 10/06/2017 at 03:07:03
Agreed James. Nothing has actually changed. It's shocking to think it was only a few years ago, even more shocking under Moyes, where we were in constant competition with Spurs to finish 5th-6th, with either of us trying to get into the top 4. Now they're up challenging for the league in consecutive years and we have people on here celebrating 7th as some great accomplishment.
If this window doesn't result in a massive Net spend I really do hope it results in some massive protests. I sincerely hope people do not get duped by the promise of some future stadium as a reason to not invest in the playing squad to make us competitors now.
So far, I have seen nothing that makes me believe anything has changed other than refinancing our debt through Moshiri and letting him use this for financial gain via asset valuation.
Martin Nicholls
451
Posted 10/06/2017 at 08:39:46
Off topic but has anyone read about the Premier League considering moving 22 games to Sunday 11:30 am/noon kickoffs "to appeal to the Asian market"?
Paul A Smith
452
Posted 10/06/2017 at 10:47:31
David Barks (#450), I agree with a lot of that post. I don't see much difference in how Everton works, yet.
Seems now that even though they say the money for players won't be harmed by the stadium project, I can't see how it can't be harmed unless its through the usual sales.
Martin (#451), I haven't seen them rumours but I suspect that will happen either soon or eventually and I thought the 12 o'cock kick-offs we are already used to were to suit foreign markets?
Jim Lloyd
453
Posted 10/06/2017 at 11:40:15
I think that, if Lukaku has played his last game for us and goes (and from his own words, he wants to), then whether he's good, middling, rubbish, or should take up knitting, isn't really a concern of ours...unless he plays against us!
The club have said that he will cost a 𧴜 mill, so it is apparent that the club will let him go if they get a price for him they consider good enough. What is a concern for us is what player, or players, we can get in who would be as effective in scoring the goals that we'll no longer get from him.
We need other positions filling as well; but without a doubt our overriding priority will be to bring in one (or two) goalscoring players who are proven at a high level. I don't think this will be easy at all.
Man City have literally (well, not quite!) all the money in the world but even so it was years (and the offer of mega bucks wages) before they could start to compete with Man Utd, Chelsea and Arsenal and Liverpool, as they all regularly played in the Champions League and were trophy winning sides.
I've read some comments that are critical of Farhad Moshiri and blame him for evidently not living up to his professed aim of getting us into the same group as the clubs who finished above us. I strongly disagree with that view as since he's come in he's wiped out debt of 㿼M that we had, that attracted massive annual payments, like millstones round our neck. He has got the site of the new ground paid for and we have seen an influx of players who have improved our team.
He has got us a top manager and has got him on the understanding that better players will arrive. My view is that we are second best to those six teams above us when it comes to where players want to go. I think I'm right in saying that we also have the FFP system working against us.
If Lukaku goes, then we will have a lot of money to invest in players... it's just that minor little detail about whether they want to come.

James Marshall
454
Posted 10/06/2017 at 13:25:10
Peter @407 – you appear to have only quoted half my sentence. Are you a tabloid journalist? Nicely taken out of context and used against me to fit your agenda!
Lukaku has always been honest about wanting to play for another club, pretty much since the day he walked through the doors at Goodison – and that's a fact.
People may not like it, but he has always felt this way, and I for one admire his honesty. There's nothing wrong with having ambition, regardless of his shortcomings as a footballer. Think big, act big. Everton as a club would do well to take that mantra on board.
Martin Nicholls
455
Posted 10/06/2017 at 13:41:24
Paul (#452) – don't know how to do a link but, if you're interested, the article is in the Daily Mail.
John Pierce
456
Posted 10/06/2017 at 15:14:53
Guys, for the FFP lowdown, listen to the Blueroom business matter podcast.
The gist is will we make a profit this year, the rules require that we have in the last 3 years. There is little to worry about with both UEFA, and the Premier League regulations.
Conservatively without the sales of Barkley and Lukaku we can still increase wages by 70% through player sales and increased commercial income.
The only real barrier is how we sell ourselves. If we don't overbid and offer high wages then frankly our current status isn't enough to attract players.
Time to act like a club with money and not fanny about like some wannabe pretenders.
Eddie Dunn
457
Posted 10/06/2017 at 15:15:30
Rather than either slagging off Lukaku or worshipping him, the majority of posters on here acknowledge his strengths but remind us of his weaknesses. It isn't black or white, but a shade of grey.
The frustration for us is that he has been our only striker in so many games and he has always looked more impressive when he has had another striker up with him.
Our manager has been guilty of not being adventurous enough , particularly away from home. Lukaku has perhaps lacked service at times, but although he is very strong, has lots of pace with good skills, he has failed to create enough chances for others.
I think it is fair to criticise him over the way his performances have tailed-off as the season petered out. Perhaps he got tired leading the line on his own all season.
I don't blame him for wanting to leave (if the club did promise him this), but I have been annoyed with his comments about Champions League, and the next level etc. I may be childish or mean-spirited, but I sincerely hope he is a flop at his next club.
Patrick Murphy
458
Posted 10/06/2017 at 15:38:49
John (#456),
That's all very well and in theory it should (a) help us to attract a higher class of player(s); and (b) improve the team/squad overall.
However, if you look at it in cold harsh cash terms, which the people running the club will and that includes Moshiri. What exactly are they or the club going to get back in exchange for splashing the cash on wages? One or perhaps two places higher in the league, travel a bit further in the cups?
The club won't sell more tickets as that's almost been done for the entirety of next season, it will perhaps result in a few more shirt sales but again hardly making a great deal back for the amount of investment involved.
I would imagine that the club will hold fire in significantly raising the players wage bill for existing or incoming players until the move to the new ground is almost guaranteed. At that point the club 'might' push the boat out and increase spending to what you and others desire, but remember Spurs haven't broken their wage structure and they have managed to improve their standing without breaking the bank relatively speaking.
It is as always down to the management and staff to extract as much value out of the players that Everton can afford to recruit and pay, and if history is anything to go by, that will mean falling just short of the top four, unless of course, Everton get lucky on the pitch and everything goes their way.
It's not a scenario I welcome but it is reality and the guys running Everton are no different to any other businessmen they deal in reality, particularly when it comes to finance. Of course there will have to be some major investment in the squad during this summer, but I wouldn't expect the club to be making more than one or two headline moves and a few necessary additions to the squad but largely it will be business as usual for Everton FC – but you never know we might all be pleasantly surprised.
John Pierce
459
Posted 10/06/2017 at 17:19:39
Patrick, can't disagree with your viewpoint. The emphasis was on the thought Everton would be hamstrung by FFP and the lame excuses that comes with. A lot of that on the Toffee-web pages!
Point is, we are actually only limited by our own desire, and ambition. But yes, in reality, I'm not sure we have enough to offer even up-and-coming players of the standard we are after.
David Barks
460
Posted 10/06/2017 at 17:25:16
John Pierce.
And that point needs to be hammered home and might be a good idea for Lyndon to do a simple breakdown and keep it on these pages.
People continually throwing FFP out as an excuse for this club not signing the caliber of players and the depth in quality we should be demanding and are in desperate need of need to be made aware that FFP is not the cause.
It's the club making the decision to not spend the money. There is nothing stopping us other than the cheap Board.
Tony Hill
461
Posted 10/06/2017 at 17:47:23
If we don't act decisively in the market this summer to acquire significantly better players, then I don't expect us to stand still in 7th; we will instead go backwards and rather rapidly. We have promising young players but they are not the answer now nor is Walsh going to get in 6 bargain diamonds.
If Moshiri is looking for a return on his investment then he needs to invest first on the pitch where, after all, Everton's business is conducted.
Oliver Molloy
462
Posted 10/06/2017 at 19:36:14
Tony, don't you think that Moshiri is already getting a return on his investment? I certainly do.
When he arrived (and probably a huge incentive to invest in Everton) was when we had three players worth around an estimated 𧵎 million and also had at least 𧴜 million per season guaranteed from Sky.
He sold Stones for close to 㿞 million and it looks like that Lukaku could bring anywhere between another 㿼 - 100 million. As far as I can make out, his investment in Everton to date actually sees him quids in.
I believe Moshiri's sole purpose is to make as much money as he can while spending as little as he can and, until he puts his hand in his pocket big toime, my opinion will not change.
This transfer window, he needs to demonstrate that he will support Koeman with the funds required to get the club up there. If we wait until we sell once again, it tells us all a lot about our billionaire, in my opinion.
Tony Hill
463
Posted 10/06/2017 at 19:48:12
Yes, Oliver, I agree with that.
Jim Lloyd
464
Posted 10/06/2017 at 19:51:53
I don't think it's excuses, lame or otherwise, to assess our probable future. To me, Moshiri could simply have stayed at Arsenal and see the money he invest roll in. Or he could have put his feet up and stuck his cash in some faraway offshore account like Joe Lewis, and become even richer than he already is.
"Act decisively?" that suggests that we go up to a player, make him sign and give his club the dosh and then just take him. Well we can go after all the players we want and decisively attempt to sign them but the likelihood is the top players will go to the top clubs.
If we increase wages by 70%, does that include all the first team squad? If it does, we're going to have some very average players on vastly improved wages and we'll never get rid of those players for better ones until the contracts are finished.
If (and I just don't know whether it is or not) the FFP is not a barrier according to some, then why does Farhad Moshiri say that it is. I do not see the point of him lying if his statement is so easily disprovable.
If it isn't the case then we only have the minor hurdle of attracting the top players who would more likely go to those who finished 6th and above... and there's little chance of that in my view.
I see him coming here to make this club into a winning club and I see it happening the same way Spurs have done it and their owner is vastly richer than Farhad. We can get good players but, for the reasons Patrick as set out, it isn't likley that the club will be offering anything like the money that Man Utd and Man City, Chelsea and Arsenal are offering.

Ernie Baywood
465
Posted 10/06/2017 at 22:02:49
Without listening to an entire back catalogue of podcasts, can someone explain how we could increase our wage bill by 70%? Premier League FFP doesn't just require that we turn a profit in the last three years, it states we can only increase our wage bill by £7M a year unless we can demonstrate the extra comes from increased commercial or player sales income (ie, not just pumping tv money into salaries).
We haven't increased our income by £50M a year, surely?!
John Pierce
466
Posted 10/06/2017 at 22:30:38
Ernie, I'll try to explain! The one pod is only about 55-60 mins.
Player sales sit outside the turnover figures. So, farcically as it sounds, players' worth is divided by length of contract and purchase price. Simple depreciation I think!
Easy to take Ross as an example. He has no book value, we didn't buy him and should we sell him for say £30m, we could increase our wages by this amount.
The amount calculated at 70% was used without the sales of Ross and Rom. It's natural churn from depreciation of our squads contracts and squad player sales etc.
Cleverley was bought on a free and sold for £8m, that can be added to our wage bill as another good example. So its not hard to see how this figure could be very high!
I'd still advise hearing the podcast. It' s very good and explains it really well. I have tried but probably done an Everton! in doing so.
Tom Bowers
467
Posted 10/06/2017 at 23:51:47
Aside from the football and the team we want to be winners it has to be said after all that it is a business and Everton are the employers. Their products are the players and can also be called the biggest assets.
Moshiri is a businessman and quite rightly wants to make money to satisfy the shareholders which includes himself. Stones made a big profit for the club and Rom will also do the same. When that happens, Everton will sell more season tickets because some new stars will be brought in and that always perks up interest and expectation.
The Rom situation has been flogged to death and I am sure there will be movement as soon as Everton will be starting the Europa League in a few weeks.
Oliver Molloy
468
Posted 11/06/2017 at 10:11:48
Tom,
I hope you are correct about the new stars arriving. But it's not about perking up interest and expectation. It is about spending the money that will make a real difference to our squad.
For instance, take Joe Hart, I would suggest that he would be a very good acquisition for our club and would be worth every penny of the suggested £15 million and £100k a week wages.
Kenwright's and Moshiri's thinking would be – this guys is 30 years old so we won't get any return on him. He wanted to come to Everton also, apparently.
This type of scenario has got to stop. The other day, someone suggested Everton buying Diego Costa and giving him £200k a week – Why not? This guy is a total winner; think what he would do for our team.
Yes, we have to buy young players for the future but, if Everton are to be taken seriously, Moshiri needs to go out and sign a player such as the above. Over the years, we have been great at selling our best players for top money... isn't it now about time we go out and buy the a ready made replacement – just for a change?
I don't trust Moshiri: he's here for one reason and that's to make as much money as he can. Talks of new stadiums etc is great, but it is now we need the players.
---
Add Your Comments
In order to post a comment, you need to be logged in as a registered user of the site.
Or Sign up as a ToffeeWeb Member — it's free, takes just a few minutes and will allow you to post your comments on articles and Talking Points submissions across the site.