Fan Comment
A Case for the Defence – Looking Back to Move Forward
After finally receiving the level of investment in a pre-season we have so long yearned for, and finally being led by a manager with world-renowned gravitas in Ronald Koeman, few fans would have predicted the roller-coaster that is now the 2017-18 season. A season that promised so much, delivered much. Unfortunately, it brought waves of disappointment, humbling defeats and a real sense of a loss of identity. It is therefore understandable we as a group of fans have been vocal and at times vehemently so about the way we feel. In response, a number of pundits have taken to their soapboxes to chastise us for our opinions and attitude. Are we therefore right to feel so aggrieved or do we need to take stock and re-evaluate our judgments?
Let's start with our previous Manager
Regardless of my personal views on Sam Allardyce's tenure I find it hard to condone some of the chants at our last home game against Southampton. I've always been proud to be an Evertonian because of the underlying values that connect us; an unyielding passion for our club (Once a Blue, always a Blue), an appreciation for effort and a battling performance epitomised by our love for past players like Tony Hibbert and a touch of class reflected by the respect we show for all who are part of or touch our Club. David Moyes summarised this by the now well-used tag, "The Peoples Club". When any player puts on the shirt or Manager steps into the dug-out, he is one of us.
When the Board dismissed Ronald Koeman, they clearly had managerial targets. For one reason or another, those targets did not have the appetite when it counted to join the fight. It is no secret Sam was no-one's first choice but where others shied away, Sam stepped up. He stepped up for the battle and where there was anarchy and humiliation gave stability and respectability. So quickly have we forgotten the seemingly regular humiliations we endured before his arrival. Hate his style of football and boo a performance – fine... but surely we have to give the man both respect and appreciation for achieving what he was asked to do regardless of our appetite for him to take us beyond May. This may only be 'thank you and good luck' but how we treat him is a reflection of our Club which takes me to our next point.
Last week, we appointed the ex-PSV Eindhoven Director of Football, Marcel Brands. Furthermore there is a seemingly infinite list of managers the Club are considering to replace Sam. Marcel Brands made a subtle but interesting comment before leaving PSV. He stated that he was finding it difficult to leave his existing club describing it as "beautiful". Turning this on its head, how does the outside world look upon Everton as a prospect? If we want to attract the best, we have to show everyone that Everton is a place they want to be. If we continue to dwell on the negatives and fail to highlight the positives, then surely we'll fail to attract the quality additions we want to lead the club on and off the pitch. In a world driven by 'brands' (pardon the pun) we are the greatest advocates of our brand and need to help promote our club to success.
So what is there to be optimistic about?
It is easy with hindsight to say we'd never go down but let's be honest, we were all worried at one point or another. The beauty of the Premier League is as long as you are fourth worst or better the slate is wiped clean the following season. We have that privilege once again to reflect, build and go again. Our future success starts now.
Pickford, Lookman, Tosun and Walcott have been lights of hope. Barring his disaster against the Hammers at the weekend, Pickford looks to be the next England number one for the future. Whilst debatably world class, we know Tosun and Walcott are capable of scoring goals in the Premier League and have the movement and pace we have been desperately lacking in the final third. Finally, the odd case of Ademola Lookman. However frustrating his loan to RB Leipzig was, it cannot be denied how valuable to Lookmans development this will have been. In eleven starts he has scored five goals in a team that possesses another winger that will be travelling across the park next season for £55m. We have players to build around.
If the reports are to be believed, Moshiri will imminently move forward his plans for greater share ownership which will in turn be followed by further investment in the team, a new Manager, a new Director of Football and a stronger relationship with super-Agent Mino Raiola. There is a genuine appetite for change and improvement. We just hope the execution matches the ambition.
For most clubs, a new stadium is a necessity to merely stand still. The opportunity for Everton at Bramley-Moore Docks is so much more. It could be a game changer. The location provides a huge opportunity for much needed corporate hospitality and growth of the global brand. These are two core attributes of a sustainable top-flight team in modern football. We are much better placed than our neighbours to harness this potential.
In summary, the club is far from stale or pedestrian. We not only have to acknowledge that efforts are ongoing to drive the club forward on all fronts but we need a change of focus. We need to start to shout again about how great a club we are. On the final day of the season, Swansea fans protested about the lack of investment that has seen them relegated. That is not Everton. Call me an optimist but I hope, in many years to come, we are able to reflect on this past season as merely the growing pains we had to endure to finally break the shackles of mediocrity and smash that glass ceiling to regular Champions League football.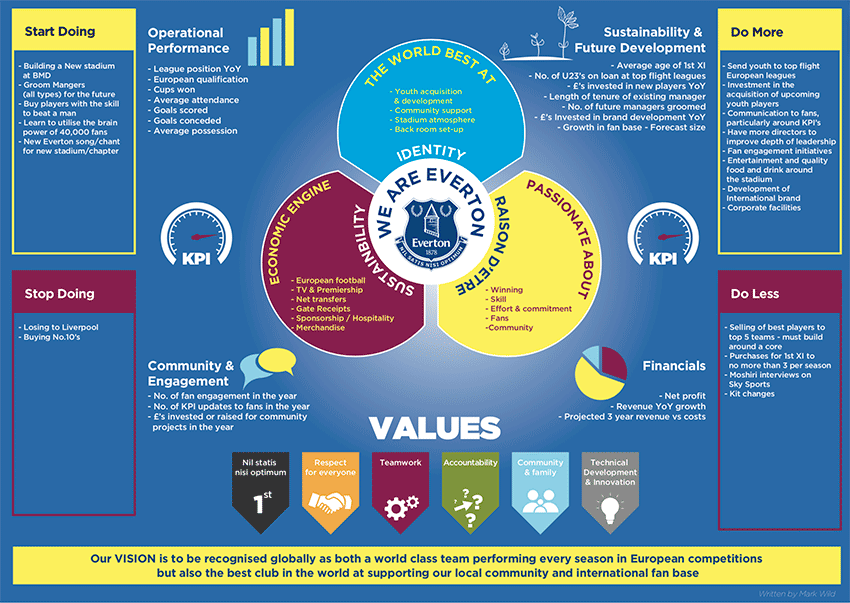 Click image to view larger PDF version [422KB]
A case for the Defence
David Moyes built a legacy that we are now seeing finally erode. Whilst the likes of Tim Cahill and Steven Pienaar are fond memories, the foundation of Moyes's success and Everton's recent persistence in the top half of the table was our robust defence. Let's be brutally honest, in the last 15 years we can hardly reflect on an abundance of offensive players. The typical story has been one of hard-fought, ground-out results that have seen us climb the league each season. So, whilst it has been enthusing to see us finally invest in attackers, the loss of a world-class striker in Romelu Lukaku has over-shadowed our greater failure in our last pre-season, failure to adequately replace quality in our back four. This has to be a core learning from this season and needs to be our number one priority in this pre-season.
Upon reflecting on some of our largest defeats of the season it is no coincidence that the return to the team and fitness of our sterling trio of Coleman, Jagielka and Baines, has seen us much more solid and less vulnerable across the whole of the team. Without diluting Allardyce's achievement, he has benefitted from a return to fitness of these key defensive players that have kept us hard to beat for the last seven seasons.
That being said there are two key observations that can't be ignored. Firstly Jagielka and Baines are 35 and 33 years of age respectively. Whilst we have been more robust against most teams in the league since their return to fitness, the age factor has been difficult to hide against the better teams we have played.
The other key observation is that of Michael Keane's inability to fill Jagielka's boots. I say this with disappointment but he is not our new leader at the back. Not only has he failed to lead the line with heart and voice, at times he has been the weak link, too easily beaten by attackers both by strength and skill. Rather than epitomising the qualities of the future England captain we hoped we were buying, Keane has proven he is at his most composed when he is supported by a strong leader. As another season goes by and our magnificent trio get another year older, I can only conclude that if we are to progress and avoid a repeat of the volatile and sometimes humiliating defeats that have littered our season, we will have to break the bank and invest heavily in a left-back and two centre-halves ideally all under 25.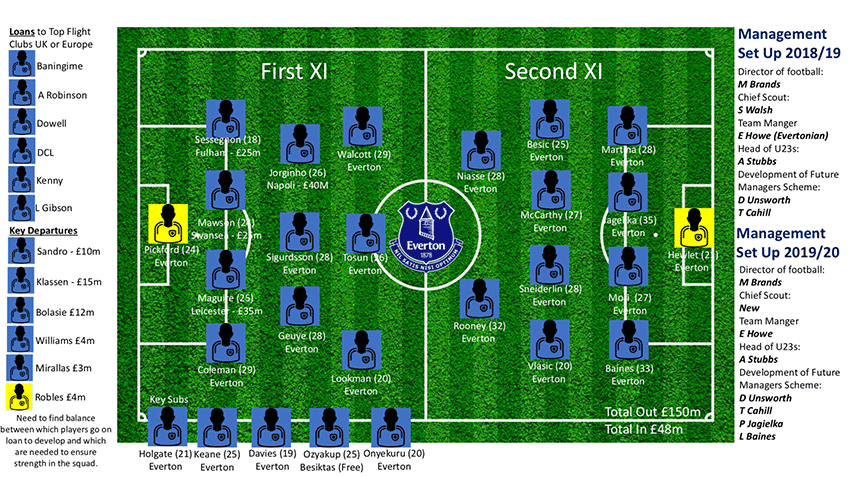 Click image to view larger PDF version [505KB]
'The power of the People('s) Club: time to connect the dots
We all wish we were Marcel Brands, Farhad Moshir or Bill Kenwright and had the power to make those key decisions of who to sign, who to play, who to make our next Manager. It all so obvious and easy, isn't it? Well here's the challenge. I believe in Evertonians. The passion and commitment is undoubtable and there is no shortage of opinion; but can we turn that enthusiasm and desire into something that will help us move the club forward? Can we support the club and articulate our vision of what we want both on and off the pitch?
There are 35,000 fans who regularly attend our home games and tens of thousands of fans locally and globally all desperate to see us back leading the Premier League and competing in Europe. If we could harness that power what a force we could be in world football again. Maybe now is the time to point our energies in the same direction and into our (the fans) blueprint for the future. Can we the fans help to connect the dots? Here's a starter for ten. What do you think?
---
---
Reader Comments (25)
Note: the following content is not moderated or vetted by the site owners at the time of submission. Comments are the responsibility of the poster. Disclaimer
Ajay Gopal
1
Posted 21/05/2018 at 16:25:31
What a superb article, Mark. Hats off to you. Very sensibly articulated thoughts. Let us get away from the negativity, and support what the new owner is trying to do, the new CEO, the new Director of Football, the new Manager whoever it may be, and all the players who play for us.

There will be ups and downs, we need to be patient, encouraging and supportive. We won't become Champions overnight (Leicester was a once in a lifetime occurrence, won't happen again anytime soon). Lots of hard work and passion and encouragement will surely see a better season. Enjoy your summer, Mark and god bless!
Michael Kenrick
2
Posted 21/05/2018 at 16:58:35
Cool graphics! Some proofing issues, though:
Start doing: "Groom Mangers (all types) for the future" — Wha? They are different types?? Are we expecting a Virgin Birth to accompany the Second Coming???
Steve Walsh has already left the club, so likely won't be Cheif Scout next season.
And for fuck's sake, learn to spell Klaassen!! I know he's not had a good season, but how many times have you seen it written down??? [Okay, maybe a lot misspelt until I get to fix them!] Likewise Schneiderlin.
Oh, and the "Premiership"? That's a Rugby competition last time I checked... In football, it's called the Premier League!!!
Mike Gaynes
3
Posted 21/05/2018 at 17:19:07
Mark, just a guess here, but are you national sales manager in real life? Or maybe a corporate financial analyst? The only time I've seen Powerpoints this elaborate and graphically elegant are at corporate sales meetings (my clients occasionally invite me to them) or investor presentations for upcoming Silicon Valley IPOs.
I disagree with too many of your ideas to even get into it, but I'm awed by your presentation skills. I've met MBAs who couldn't dream of delivering something this organized. Well done, sir.
Steve Carse
4
Posted 21/05/2018 at 18:35:24
Totally in agreement with the disgust at the verbal abuse directed towards Allardyce. The man did what he always does. That's why he was appointed. Why the abuse? The man was not self-appointed. He didn't promise thrilling football. He made decisions on what he thought was best to achieve the goal of staying up.
We've had some awful managers in the past, perhaps none more so than Mike Walker, but abusive chants there have been none previously. The abusive criticism this year has been totally un-Everton like, and so totally classless. We're all desperate to get back to where we once were. But let's keep our values of decency, respect and rationality.
Steve Ferns
5
Posted 21/05/2018 at 18:59:25
Beautifully presented mate. You put a lot of work into that so kudos to you.
We wouldn't get more than £15m for the players you want to flog and on your own figures, I doubt that Moshiri will sanction £100m+ net spend.
Also, watch young Ryan Sessegnon in the Playoff final, you'll see him line up at left wing, like he has done for most of the second half of the season. There's no way he could be a Premier League level left back next season. I'd be happy to give him a go at left wing though. I expect he'll go for a lot more than £50m.
Good work mate. Look forward to seeing more graphics and article from you.
Stephen Brown
6
Posted 21/05/2018 at 19:10:20
Well done Mark!
I enjoyed reading your article.

Martin Nicholls
7
Posted 21/05/2018 at 20:06:25
Had it not been for the abuse, Allardyce would still be with us!
Kunal Desai
8
Posted 21/05/2018 at 20:14:37
I'd happily take Arteta over Silva. Bring the little Spaniard back to Goodison.
Ed Fitzgerald
9
Posted 21/05/2018 at 20:30:23
Mark
There are some interesting points you raise but rather like a TalkShite ratio pundit or gravy train BBC mouthpiece Shearer and Crooks to name but two – you seek to apportion some blame Everton fans for the so-called heinous treatment of Sam Allardyce.
Let's be clear here he treated Evertonians (the fans) who by your own admission a long-suffering and patient community, with utter contempt. His press conferences were a joke and he delighted in insulting us. I don't blame a single Blue for chanting "Fuck Off, Sam Allardyce", leaving the ground early and penning hostile emails to the club.
The reality is we have been too patient for too long... misled by chummy epithets from Moyes ("The People's Club") and teary missives from Kenwright. With the exception of a couple of seasons under Moyes and Joe Royle's brief tenure, it's not been good enough for decades.
I want Moshiri to show the same ruthlessness that a certain John Moores showed; if we can develop that culture at the club, we have a chance of attaining greatness again.
Kenn Crawford
10
Posted 22/05/2018 at 00:56:21
Anyone who says that booing and chants against anyone involved at Everton is classless is the type of person Kenwright loves because you will settle for poor or mediocre from Everton. Every Evertonian has the right to protest in anyway they feel fit.

For too long we have had to settle for mediocre fare and I for one am sick and tired of it. To me, Allardyce's appointment was a knee-jerk reaction as I believe the home game against West Ham was the turning point and Unsworth would have achieved the same or maybe better if allowed to continue.

Allardyce was a mercenary of the highest level and a black spot on our history, so I thank those that had in any little way helped remove the fat self-righteous blot on our history.
Kevin Tully
11
Posted 22/05/2018 at 11:53:22
'Moyes', 'legacy' and 'success' should never pollute the same sentence, Mark. He was a 'survivalist' who bowed down to all of the richer clubs.
Together with his paymaster, Kenwright, they managed to convince almost everyone that one of the most successful clubs in this country should be grateful for just being in the top division, which we had been part of since 1954.
A club who holds the record for the number of seasons spent in the top flight. A club with 9 League titles. We have just sacked a manager for finishing 8th. The dream team of Moyes and Kenwright would hold an open-top bus parade for such an 'achievement'. Especially now there is a top six.
A brilliant con, still spouted by some to this day. "Look at Portsmouth or Leeds" goes the cry. Unbelievable.
Scott Hall
12
Posted 22/05/2018 at 12:05:49
The legacy of Moyes and Kenwright is that they successfully redefined the status of Everton Football Club.
When Moyes joined Everton, we were still able to attract big names and top talent as the proverbial sleeping giant. As fans, we still felt we could go to Anfield, Highbury (as it was at the time), Old Trafford and Stamford Bridge and take the big boys on. The gap at the time was not what it is now.
Over the course of the 11-years that followed, Moyes was able to fundamentally erode the perception and grandeur of Everton to where we are now – a mid-table also-ran that should be happy simply being in the Premier League.
Anyone that thinks David Moyes was a success is a victim of his 11-year redefining programme. You're grateful that we simply survive, with no ambition to return to the top.
Paul Kelly
13
Posted 22/05/2018 at 12:11:13
Well said, Kev, plus you get it off other teams' fans also!
I now reside in the sunny Southeast and I get the same shite off Palace and West Ham fans, for crying out loud.
They even said that Allardyce was good for a team like us!
Idiots, the lot of them.
Mark Wild
14
Posted 22/05/2018 at 12:40:43
Just a brief thank you to all those who have provided feedback. I am happy with all your comments.
Ajay – Very kind words. Thank you and god bless to you to.
Michael – All fair points. Poor grammar is disappointing and I need to show better standards. I could do with your email address if you'd kindly proof read any future articles. Fresh eyes and all that. I did most of the article over a week ago one night when trying to get my 6-, 4- and 1-year-old to sleep. They won. Also, within 48 hours, Moshiri made some dramatic changes. Not ideal when trying to put an article together about change. In terms of groom Managers, I didn't just mean the Team Manager but business and backroom teams etc. We've replaced Elstone with someone who has not been at the club very long. I'd prefer to have an assembly line of Evertonians who know the club inside and out all ready to push onto Board level. ps: you spelt Chief wrong.
Mike – I wrote the document to express my thoughts and would love to hear your vision. I just want the best for the club and believe we the fans like you have some amazing ideas to move us forward. Get them written and published. Regardless of feedback you'll feel really satisfied you've done something you're proud of.
Steve C – Ditto. We are a great club, let's get others seeing that to. Who would you have as Manager? I'd invest in Howe as he's an Evertonian, young, has Premier League experience and wants to play football the right way.
Steve F – I think we need to invest in some potentially world class youth especially down the left. Seems to be lots of wingers & full backs swapping roles very successfully, eg, Young at Man Utd. We need a core quality youth. I think Sessegnon, Lookman, Pickford and Davies (if he can continue progressing – not the best season from him) could be a great core to build around.
Stephen – Glad you enjoyed the piece. Look forward to reading some of your views over the next season.
Martin – I can't deny the abuse expedited Sam's exit but think Moshiri has never had Sam in his long-term plans. Appears his heart is set on Silva. I hope we find out this week.
Kunal – I loved Arteta as a player but think he sees himself more an Arsenal man than Everton. Only in football do non-experienced candidates get top jobs. I'm risk adverse and would always want to see a young manager do a role or two elsewhere before bringing him in.
Ed – Ultimately I share your sentiments that's why I wrote the article. I'm so fed up and frustrated. I see so many positives and potential but it is not being pulled together quite right. What can we do?
Kenn – I said booing is fine. Every fan pays their money and showing their frustration is their prerogative. I think Sam was a gap filler to ensure we stayed up and a respite from the drubbings to plan for the future. At the earliest opportunity, Moshiri has made changes; at some point, we need to accept all the changes and allow them to cement.
Thank you to everyone for their feedback – it is really appreciated. Let's hope we have a good week and this week marks the week we finally get the managerial appoint right. COYB. Have a great week all.
Craig Walker
15
Posted 22/05/2018 at 13:15:15
Good work on this Mark and it's an interesting article.
No Evertonian would argue with most of your points. However, some of the suggestions are very high-concept, eg, "build new stadium at BMD" and "stop losing to Liverpool". It reminds me of the picture that did the rounds on social media when Leeds Utd appointed Heckingbotton. The club tweeted a picture of him hosting a sit-down session with his players. Somebody photoshopped 'Stop being shit!' on the whiteboard and circulated it.
We all want to beat the RS and build a world-class stadium at BMD but what can we do, realistically, to achieve these goals?
We need to start with the solid foundations of recruiting a manager who is a winner and instils a winning mentality into every player in the squad. If the manager suspects a player of not holding the same winning mentality then he should get rid of those players. He needs to work closely with the DoF to identify players and move quickly to sign them without notifying our competitors of our intentions and dragging out the transfers for weeks on end. His transfer dealings should be based on us signing players who will play a certain way and be proud to play for EFC. The transfers shouldn't be led by sentimentality. He should be asking the question "would this player be good enough for another top 6 side?"
The manager needs to play an exciting style of football which will get the fans on board and crucially, gets results. The players need to be un-phased by going to away grounds where we traditionally don't turn up. He also needs to identify and play his best XI in all competitions and be ruthless towards players who are underperforming.
My "to-do list" would start and end there. It might just lead to a team that wins games, entertains the fans and becomes a team in which we can be proud. I suspect the commercial aspects would improve as a result.
Mark Wild
16
Posted 22/05/2018 at 15:45:30
Good comments, Craig. I agree with your points. I also wouldn't not argue with anyone saying I am over-complicating it and some may say I am stating the obvious.
I think the challenge is to identify and agree the half-a-dozen key factors we need to be good at and then set a number of initiatives around delivering them. If we agree one of our core success factors comes from recruiting a Manager that is a winner, how do you define that role and get one? We seem to really struggle. To be fair to the Club, Koeman ticked all the boxes as a winner – both as a player internationally and as a manager.
It's going to be an interesting appointment. My preference is Eddie Howes whilst the favourite is Marco Silva. I probably wouldn't describe either at this point in their careers as winners.
Michael Kenrick
17
Posted 22/05/2018 at 15:52:28
Scott Hall,
Sadly a far too accurate indictment of Moyes and the continuing sycophancy he attracts. Anyone mentioning his name in future should be forced to read your post out-loud and post the vid on Instagram.
Kristian Boyce
18
Posted 22/05/2018 at 18:33:30
Mark, a nice (and colourful) summary of the current climate of the club. Two areas which have been covered and mentioned by others that I have slight issues with. Firstly, the booing and general dislike towards Allardyce. In my opinion, he got what he deserved. We originally offered him a 6-month contract and somehow he wrangled Morshiri to get him more and got it extended to 18-months. I wouldn't be surprised if Walsh pushed for him and probably one of the reasons he's not here anymore. He knew that he wouldn't be here longer than this season from day one after what he was originally offered. But his comments throughout his tenure, he knew that it would cause issues with the fans knowing he wouldn't have to deal with them in the future.
Allardyce is a clever operator and has used the media and his friends within it to promote his own achievements, even though they aren't really that great. The club/fans have been slammed by numerous pockets of the media and other fans for the treatment of him even though it was a 'great achievement' getting us to 8th. On the face if it, 8th isn't too bad from the position where we were (13th or 17th depending on who you listen to) when he took over. But if you look around at the other clubs and what they've done over the season, it's not a great indicator. While not taking the top six into consideration, the rest of the league has been pretty poor, with the three promoted teams staying up. Burnley have been lauded for their 7th position, but this is the same team that went 11 or 12 games without a win in mid-season, and we still finished 5 points behind them.
Leicester, who nearly pipped us to 8th on the last day of the season, were in relegation trouble at the start of the season and got rid of their manager just before we did. After the new manager bump, most of their fans wanted the new man out as they fell away and played poor football for the last third of the season. Palace didn't have a point for the first 7 games and somehow finished with 5 points less than us. Even Newcastle, who probably can point any success to Benitez's managerial skill, were one of the weakest teams in the Premier League. Basically all the teams from 10th downwards were still in a relegation battle up to the last 2 weeks of the season, and we only finished 5 points better off than them.
Most fans would accept that we were safe around January, and had done enough to focus pushing on. This never happened and the football we played regressed and was some of the worst seen for years. Allardyce didn't care as he had done the job of keeping us up, and didn't have anything else in his toolbox other than do-or-die survival techniques.
The hiring of Allardyce directly fits into Scott Hall's comments about the dumbing-down of Everton Football Club. Kenwright and Moyes successfully changed the image of the club to something which fitted their managerial capabilities and budget. Even the post-Moyes hires fit into these requirements, especially bringing in a completely unqualified DoF who had connections to the club through his brother. The "plucky little Everton" tag still lingers with the club and, even when we were spending big the past summer, that was met by shock and mocking in some quarters as they couldn't understand that we would have some sort of ambition above our perceived level.
Kenwright is a very good theatre producer and Everton Football Club is his greatest performance. What you said about the club and it's underlying values that connects the fans and the team, he has played these up for years. While we have a rich history, that's history; and football has changed. There's been a programming of fans over the years to cling onto the 'good old days' including romanticizing aspects of the club, especially Goodison Park and former players. When something goes against these ideals or there's fan unrest or even the mention of protesting about something, people are labelled a 'kopite' for going against the grain.
The Kenwright - Moyes philosophy still lingers at the club, and the sooner these ideals are put to bed, the sooner teh club can move forward. A professional model is needed and the club needs to be run as a business. With the rumours of Kenwright's power diminishing over this summer, hopefully Morshiri can move the club forward and upward.

Mark Wild
19
Posted 22/05/2018 at 20:38:21
Hi Kristian. It's feels like there is a lot of agreement going on which is great to read. I think most Evertonians will share your thoughts in your final paragraph.
We all saw the Sky Sports interview and know Moshiri will make mistakes but he seems focused on trying to correct them swiftly when they happen. It will be interesting to see if, after 12 months of change, and once this next phase is complete, will the new set-up have time to build and when we have difficult moments will they be given support to push on again?
Who would you pick as our new Manager?
Don Alexander
20
Posted 22/05/2018 at 22:01:27
Mark, thanks for your effort in putting together your piece. It encapsulates what I believe defines Evertonians, namely loyalty to each other, the club and good football, with virulence to those who make no or little effort on those accounts.
My opinion of Kenwright is that he's been a self-serving poser throughout his tenure, to the cost of success commensurate with our status as Premier League founders, never mind founder members of the Football League itself (unlike every one of the clubs still in the Premier League with the exception of Burnley). I never believed his oft-repeated blag that he was serious in trying to sell the club, until he met Moshiri and trousered a mega-wedge. That said, he may be about to be ousted in every meaningful way. Good.
As a fan, I have to have some hope that the next folks in charge — from Moshiri, through Brands, to the new manager — get it right. I'd wait no more than three seasons for top six to become consistently achieved, and no more than five for that to become top four and Champions League qualification (assuming there's still such a tournament in five years time, and not a so-called "European Super League"!).
Regarding the next manager I'm forced by Kenwright's mismanagement to accept that no already successful bloke will give us a second look, despite the mega-wages Moshiri has shown himself willing to bestow on those who've recently got the bullet. We're hopefully going to get a bloke with a sense of self, and his own team of coaches with an ability to extract real visible improvement from players previously deemed bog-standard for good reason. Finch Farm has plenty of them.
So, for me, I'd opt for Silva, with everything admittedly crossed. His results from the get-go at Hull would have got them 12th had he had them for the entire season. With one mere pre-season he improved Watford no end. The players at both clubs extolled his literal hands-on ability as a coach as they immediately started to play better, and who knows what went on to cause him to walk out on previous clubs? It seems to me that, in giving his all to his work, as widely reported, he expects and will tolerate nothing less than their all from those he works with and for.
If so, again, good.
David Ellis
21
Posted 23/05/2018 at 16:57:35
Scott (#11) and Kevin (#12),
I've got to strongly disagree on Moyes. We were not in a better place when Moyes arrived at the Club compared to when he left. We were in a far far worse position. The squad was awful. We'd had several genuine brushes with relegation.
We were dealing with the double blow of losing the financial backing of the Moores family just as the Premier League got going, leaving us financially behind our former peers at a critical moment (and incompetent and impecunious owner in Johnson – far worse than Kenwright). We have never recovered from this but Moyes did dramatically close the gap and made us a solid top 7 (and sometimes higher) side. Occasionally playing good football and many astute signings (with the odd lemon) and modern legends such as Arteta, Cahill and Baines.
The idea that Everton fans who see and understand this is somehow being hoodwinked out of our birthright of winning stuff is frankly insulting. The numbers are clear. Other clubs are much richer than us and this correlates very closely with their success – until we drive more revenue we cannot really compete. This is not going to change anytime soon.
I don't like it. But this is the world we live in and the Everton we must live with. The new stadium and Moshiri's money helps close the gap but it's unlikely to be enough to really compete, but it may be enough for us to get clear ahead of West Ham and Newcastle who are more at our level revenue wise.
David Ellis
22
Posted 23/05/2018 at 17:03:07
Mark – great OP. Don't agree with your comments on Allardyce. He just killed any spark I had for watching the team. It's not acceptable. I was disappointed. I've met the man and he was saying he felt he was unfairly tainted by the media as a dinosaur and a long ball/defensive manager who just grinds out results. Unfortunately, he had the opportunity to do so much more with Everton but not only did it not happen – it showed no likelihood of ever happening.
Fab graphics. And the comments on typos... get a life guys! It's easy to spot typos in other people's work. Look at the graphics – they're not seeing the wood for the trees.
Mark Wild
23
Posted 23/05/2018 at 18:39:43
Hi David. Thank you for the support and great comments.
With regards to Sam I think my defence of him has been slightly misinterpreted. I think there are two points; was he good enough for Everton? And secondly, did he come in and do the job he was asked to do being avoid relegation and steady the ship. I merely think the powers that be knew what it said on the tin and that is what they got.
Sams mouth and swagger lost him he England job and l understand why he exacerbated his position at times with some fans. For me, he's gone now so it's a simple case of thank him for what he did and say goodbye.
In terms of a new Manager, I am looking for someone (in no particular order) who :
1. Can inspire the players long term without loss of credibility (thinking Martinez here);
2. Has a philosophy (of good football) and is able to ensure the plays understand those principles and can apply the game plan;
3. Has a longer term vision on player recruitment and development and can work with the DoF to build this;
4. Instills the correct disciplines both physical and mental in the players (avoidance of prima donnas and 'the team' is everything);
5. Has European football experience;
6. Capable of a plan B and plan C if necessary;
7. Passionate about winning (at everything);
8. Keen to innovate and open to adopting new ways of working;
9. Has premiership experience;
10. Is an Evertonian through and through.
Unfortunately, of the first 9, the only Managers I have a reasonable knowledge of who tick these are Klopp and Pep. As we can not offer European football, I doubt we will be able to attract others that are ready made. That puts us back into the 'up and comers' pot.
I see the merits in Silva but with the support of Brands who can help compensate for the lack of European experience, I think Eddie Howe is a British Manager and Evertonian at a great point in his career who could move Everton forward.
Who would you choose?

Tony Cunningham
24
Posted 24/05/2018 at 09:10:10
Remember when Big Sam use to say that it was only a minority of fans who were against him, or that it was just on social media? The way he tried to create his own truth resulting in the fans needing to be vocal and show their disdain to him at the games.
Maybe if occasionally he'd said "mea culpa" or at least acknowledge that there was criticism from pretty much everyone then maybe fans could have shown some respect to him. It was Sam who brought the abuse on himself.
Andy Crooks
25
Posted 24/05/2018 at 21:02:22
Mark, I would choose Eddie Howe for reasons I have given on other threads. I will be right behind Silva and have been impressed by Steve Ferns's evangelical support.
Also, I know there are concerns about Howe. But, this is a step into the unknown, a throw of the dice. Who knows? What we need is all the pieces to fall together which they might have done for Unsworth, Houghton, Benitez, Howe, Silva, or indeed anyone.
Right combination of personalities, share of ambition, luck with injuries (lots of luck) and a group who just hit it off. All the money in the world won't buy that but all of the foregoing with a reasonable amount of money might take us where we want to go.
Add Your Comments
In order to post a comment, you need to be logged in as a registered user of the site.
Or Sign up as a ToffeeWeb Member — it's free, takes just a few minutes and will allow you to post your comments on articles and Talking Points submissions across the site.
© ToffeeWeb