McCarthy to be called up by Ireland

54 Comments [Jump to last]
Monday 14 August 2017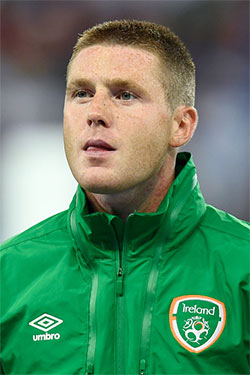 James McCarthy has been included in Martin O'Neill's provisional squad for Ireland's upcoming international fixtures.
The midfielder has missed part of pre-season and all three of the Blues competitive games so far with a knee injury but had returned to training last week.
O'Neill's decision to include McCarthy in his squad despite him not being match fit is similar to a number of previous occasions on which the player has broken down again in training or on the pitch for his country and has been the cause of severe friction between the Irish manager and Ronald Koeman.
With the first World Cup qualifier not until the start of next month, on this occasion O'Neill might be banking on McCarthy, who has battled to remain consistently fit in recent seasons, being fit in time to play.
---
Reader Comments (54)
Note: the following content is not moderated or vetted by the site owners at the time of submission. Comments are the responsibility of the poster. Disclaimer
Bob Hannigan
1
Posted 14/08/2017 at 15:45:26
O'Neill should be politely told "to go pound sand!"
Tom Hadley
2
Posted 14/08/2017 at 15:45:39
McCarthy must think he's living out that movie "Groundhog Day"
James Stewart
3
Posted 14/08/2017 at 15:52:00
Sell him to Ireland.
Steve Ferns
4
Posted 14/08/2017 at 15:57:22
You couldn't make it up!
Daniel Lim
5
Posted 14/08/2017 at 15:58:05
No need to sell, just pack him and send to his manager's house using DHL or FedEx.
Can't think of anyone more annoying than these 2.
Jim Wilson
6
Posted 14/08/2017 at 15:58:32
Great player. Don't get injured we need you.
Matt Muzi
7
Posted 14/08/2017 at 16:06:38
Here we go again! I'd like to think the club will say no, he's not fit!
The Irish FA &,O'Neill are taking the proverbial. If it wasn't that bad that everytime McCarthy played for Ireland last season he wasn't fit & came back physically worse. We lost Coleman for pretty much a season whilst playing for Ireland!
Brian Cleveland
8
Posted 14/08/2017 at 16:14:04
I haven't counted... but is it possible he played for Ireland more times than for us last year?
Robin Cannon
9
Posted 14/08/2017 at 16:16:00
I'm frankly surprised he didn't call Seamus into the squad.
David Barks
10
Posted 14/08/2017 at 16:19:09
Why are we still paying this guy? Oh, I forgot... because Moshiri waxed so eloquently about him being a member of the Everton family. I guess every family needs a deadbeat.
Jim Jennings
11
Posted 14/08/2017 at 16:23:49
David Barks (#10)
I guess that explains your role in the ToffeeWeb "family"!
David Barks
12
Posted 14/08/2017 at 16:29:59
Geoff Williams
14
Posted 14/08/2017 at 16:53:02
McCarthy should declare himself unfit as he is jeopardising his football career.
Shane Corcoran
15
Posted 14/08/2017 at 16:53:46
Imagine if O'Neill hadn't called him up. What on earth would we all do on ToffeeWeb?
Terribly boring at this stage but I always have a peep at the threads for the laughs.
Nigel Munford
16
Posted 14/08/2017 at 17:16:19
He's off to the Toon so won't be our problem for very much longer.
Jim Jennings
17
Posted 14/08/2017 at 17:34:37
David #12
"I guess every family needs a deadbeat."
David Barks
18
Posted 14/08/2017 at 17:54:33
Jim,
What do you call someone who continues to not produce, causing everyone else to pick up the slack, while continuing to do other things they want to do before taking care of their responsibilities back home?
McCarthy has been injured for years now, unable to contribute for Everton. Yet every time Ireland comes calling does he say to them "no, I need to take care of business at home first"? No he doesn't. He joins them instead of continuing to work on his fitness with Everton. It's like a child, you can't go play at your friends house if you haven't done your chores at home. But McCarthy goes off and stays injured, while Everton pays his wages.
Lee Mandaracas
19
Posted 14/08/2017 at 17:56:26
This is like they're baiting us now. As if these knobheads, O'Neill & Keane haven't taken the piss enough already. When are the Goodison hierarchy going to grow a pair by simply, loudly and publicly telling them to FECK OFF?!!!
Drew Shortis
20
Posted 14/08/2017 at 18:21:01
If he's not fully fit he should not play, but if he is trying to regain match fitness then surely it's better to do it for Ireland. He's not going to get match time with us until he's match fit and even then it will either be if Gana/Morgan are injured or in the Europa League. I hope he stays, gets fit and rediscovers his form as I can see him being an important part of the squad this season.
Des Farren
21
Posted 14/08/2017 at 18:24:09
If James is fit he will be picked by Ireland. If he is not fit he cannot be selected by Ireland. However the club will have to explain the nature of his injury to the satisfaction of his country.
Not too difficult to understand is it David?
Jamie Morgan
22
Posted 14/08/2017 at 18:31:41
Sell him... asap. No longer need him. Offer him to Swansea as part of Siggy deal and let deal with the Fuckwits who are O'Neil and Keane.
Nick Armitage
23
Posted 14/08/2017 at 18:56:54
Doesn't matter if he's fit or injured or called up for Ireland. He's not good enough to get anywhere near the first team. Sunderland is his level now.
Colin Glassar
24
Posted 14/08/2017 at 19:12:58
Sell him before he injures himself.
Jim Jennings
26
Posted 14/08/2017 at 20:10:29
David Barks (#18),
Poor analogy which doesn't work on any level. Let me ask what do you call someone whose hamstrings are shot from being asked by his club / former manager to play while injured. Next time you wonder why he's injured so often, ask yourself why that is.
Phil Walling
27
Posted 14/08/2017 at 20:25:34
Amazing how Evertonians turn on 'their own'!
Missing Hibbo and Ossie, are we?
Christy Ring
28
Posted 14/08/2017 at 21:15:14
Jim #26 Agree completely. Some of the fans forget what a fully fit Mccarthy can do, and I hope he's back in the squad for Thursday night. He's the only replacement for Gueye in the squad.
Colin Grierson
29
Posted 14/08/2017 at 21:19:14
There was a time when he was our most consistent performer. Its a shame that his career has been plagued by international duties.
Neil Cremin
30
Posted 14/08/2017 at 21:30:51
Can't believe the venomous rants here.
1. He is only called up not playing when declared unfit. No statement yet by Everton about him being not fit enough to play in four weeks time. So cut out the hysteria.
2. If he is not wanted by the club, what's the hysteria about.
3. On a provocative note, it is clear Koeman is not interested in playing him. In limbo like Niasse and the most of you here don't want him so he has no future at Everton. Why would he not put himself in the shop window if he got the opportunity?
Michael Burke
31
Posted 14/08/2017 at 21:51:21
Has he done this out of spite for Koeman calling him out last year over injured players on international duty?
I'm a big fan of players playing at international level, but surely someone should be intervening given the history here.
Gerry Ring
32
Posted 14/08/2017 at 22:21:13
It's not too long ago that McCarthy was our best player & without him we struggled. Having been at the game on Saturday, I have no doubt that McCarthy is very much needed at Everton.
We could do with less of the hysterics. If he is unfit then he should stay at the club otherwise I believe he is required to travel. Koeman needs to keep a cool head here too!
Rob Dolby
33
Posted 14/08/2017 at 22:30:01
A fit McCarthy pushes strongly for a place in Koeman's team of 1 goalie and 10 centre mids. As good as he is when fully fit, he doesn't get in above Davies, Morgan or Gueye.
Ireland need him more than us. In O'Neil's position, I would do the same. As for players playing injured, most of them carry knocks whilst playing – it's the norm for professional footballers.
Jim Jennings
34
Posted 14/08/2017 at 22:39:09
Colin (#29),
"Its a shame that his career has been plagued by international duties."
That's the thing Colin – it hasn't. The problems he has all go back to a certain Catalan asking him to play through injury for his club. The Koeman vs O'Neill stuff is a ridiculous sideshow that has detracted from this uncomfortable truth.
James Watts
35
Posted 14/08/2017 at 22:58:02
Jim (#34). It started off with Martinez the bell but more recently he's been getting injured or exaggerating the injury because O'Neill & Co have been trying to get him to train at full pelt or play him when he hasn't been ready.
Anthony Dwyer
36
Posted 14/08/2017 at 23:24:21
We're flush for centre mids, especially ones who don't get enough goals.
Mccarthy is valued at around £20-25m, I like jimmy Mc but now is probably a good time to cash in and look for a player with more going forward.
Mccarthy out along with Niasse and Robles would pretty much cover cost of transfer fee and wages for Mahrez.
Sometimes it's better to cut your losses.
Liam Reilly
37
Posted 15/08/2017 at 01:20:35
Some of the comments on here are disgraceful for this boy.
He's got O'Neill and Keane bending his ear to play for his country (waiting for the snide remarks that he was born in Scotland), but anyone who has watched the first few games do this season and who saw a fit James McCarty in his first season at Goodison can see that we need this boy fit for the season.

Dan Parker
38
Posted 15/08/2017 at 02:30:51
What a joke, we should sell him to Ireland so they can have him permanently available. The lad's got his priorities and it's not us; time to go to the Championship.
Alan J Thompson
39
Posted 15/08/2017 at 06:15:59
I don't know what the rules are in these matters but if he has an injury then Everton should advise the Irish FA of the fact, provide a medical certificate and invite them to send their own medical people to Finch Farm to verify it for themselves.
If he then returns with an injury, would Everton be in line for compensation? Not an entirely satisfactory situation but it might open up discussion in the matter.
Colin Grierson
40
Posted 15/08/2017 at 07:45:02
Jim #34 and James #35, you're both right.
Lee Brownlie
41
Posted 15/08/2017 at 09:02:46
Rob Dolby (#33).. brilliant analysis of McCarthy's chances and suitability of being one of our (10!)) central midfielders, fronting Pickford in goal!! Maybe that's why Koeman's still clinging on to him!!! Made my day.. love it, cheers!!!
Shane Corcoran
42
Posted 15/08/2017 at 09:30:26
Dan Parker, is the slave labour market you're following or what wee planet did you wake up on? Keep it comin'.
As a few others have said, HE'S BEEN NAMED IN THE SQUAD, he hasn't joined the squad, O'Neill hasn't said he's fit and he certainly hasn't played. And it's two and a half weeks til the game.
All inconvenient truths to the ToffeeWeb hysteria. What a fortnight we have ahead.
Jim Jennings
43
Posted 15/08/2017 at 09:35:12
Dan #38
International teams cannot buy or sell players.
Arthur Westhead
44
Posted 15/08/2017 at 10:00:28
The only surprising thing about this is that O'Neil hasn't called up Seamus Coleman as well.

Dan Parker
45
Posted 15/08/2017 at 11:37:28
I know Jim but if they did, it would probably be the best deal in the world.
Dan Parker
46
Posted 15/08/2017 at 11:39:53
Shane, I was taking the piss mate as James's priority seems to be country and not club. Not sure where slave labor comes into it!?
Shane Corcoran
47
Posted 15/08/2017 at 11:44:31
Dan, I couldn't see how else Ireland could purchase a player. I guess I was also taking the miss, to some degree.
Another point that's being missed, probably intentionally, is that McCarthy didn't join the squad for the last set of games so I guess maybe you might have his priorities wrong.
Give me McCarthy over Stephen Ireland any day. Although if he could pass the ball forward, or even just look for the ball, in green or blue, it'd be a help.
Mike Berry
48
Posted 15/08/2017 at 16:29:08
Fingers crossed he does not get crocked again whilst away on duty. He could yet move too which would not help.
Mick Davies
49
Posted 15/08/2017 at 16:32:17
Nick Armitage "He's not good enough to get anywhere near the first team" . . .
really? Have you seen something we haven't?
Barry Pearce
50
Posted 15/08/2017 at 18:00:57
A fit jimmy Mac. Good player, definitely good enough for our squad.
Denis Richardson
51
Posted 15/08/2017 at 18:26:04
Really is time to sell. He's no more than an expensive bench warmer when fit being at best 4th choice for a CM place.
For both player and club the best solution would be to sell. Should really have sold last summer.
A club like WBA or the barcodes would probably take him for 15m.
Paul Kossoff
52
Posted 15/08/2017 at 20:22:49

Breaking transfer Everton have agreed a deal to sign Swansea's Gylfi Sigurdsson for a fee believed to be around £45m.
Anto Byrne
53
Posted 15/08/2017 at 22:51:00
If he is fit then he plays, ffs. It's a win win for all concerned. Gets valuable play time. He gets injured Ireland pay his wages etc same as Coleman.

Players don't go to international games for free especially when they cost millions of pounds. Anyone who thinks otherwise is really naive.
Frank Wade
54
Posted 16/08/2017 at 17:32:07
Apparently he is injured yet again. Seems to me, his body just can't take the hardship anymore.
Oliver Molloy
56
Posted 18/08/2017 at 11:04:49
I heard that West Brom have enquiried about a loan for McCarthy.
Everton would rather sell but will work with clubs.
Shane Corcoran
58
Posted 28/08/2017 at 16:14:34
McCarthy left out of the squad. That's twice in a row now. A boring week ahead for us all.
Add Your Comments
In order to post a comment, you need to be logged in as a registered user of the site.
Or Sign up as a ToffeeWeb Member — it's free, takes just a few minutes and will allow you to post your comments on articles and Talking Points submissions across the site.