Everton pull off magnificent comeback in Goodison thriller

356 Comments [Jump to last]
Sunday 5 November 2017
Everton 3 - 2 Watford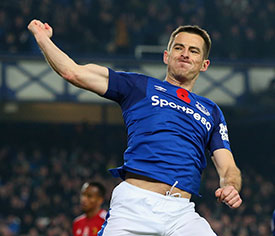 Leighton Baines scored the decisive goal from the spot before former Blue Tom Cleverley missed a penalty at the other end
Alex Livesey/Getty Images
Everton came back from 2-0 down to execute a stunning recovery and lead Watford deep into injury time where Tom Cleverley missed a crucial penalty to ensure David Unsworth oversaw his first win since taking over from Ronald Koeman.
The Blues were heading to a disastrous sixth successive defeat when they started the second half in calamitous fashion, falling behind to goals by Richarlison and Christian Kabasele.
They halved their deficit shortly afterwards thanks to the alertness and determination of Oumar Niasse which sparked a brilliant fightback that yielded an equaliser from Dominic Calvert-Lewin and a penalty in front of the Gwladys Street that was converted with aplomb by Leighton Baines.
Three precious points were almost spurned 10 minutes into time added on for lengthy stoppages for treatment to Huerelho Gomes and Kabasele when Pickford tripped Richarlison in the six-yard box and the visitors were awarded a penalty of their own.
Cleverley missed the spot-kick, however, allowing Everton to close out the final two minutes and secure a priceless win.
David Unsworth named another changed line-up, with Phil Jagielka, Baines and Wayne Rooney all returning to the starting XI and Michael Keane available again following his recovery from an infection in his leg.
Tom Davies was also back in midfield, Niasse started up front with Gylfi Sigurdsson also in the lineup but there was no place in the squad at all for Nikola Vlasic, Kevin Mirallas or Morgan Schneiderlin, the latter two having been dropped, apparently for" "lack of effort" in training.
A cagey first 20 minutes eventually yielded the first real chance, when Niasse linked with Davies, Rooney fed the ball on to Baines in oceans of space but his attempted placed effort was fired too close to Gomes who parried it away.
A Sigurdsson free kick almost broke to the feet of a Blue jersey 10 minutes before the break but genuine chances remained at a high premium.
The best chance of half fell the visitors' way, though, when Richarlison drove forward, Pickford was caught in no-man's land but the Watford man could only find the side-netting from the angle with the open goal gaping.
Richarlison made amends just 30 seconds into the second half, however. Everton were carved wide open again and the forward was able to take it wide to the left around Pickford once more and slam it past Kenny on the line to make it 1-0.
The Blues had a great chance to level things up seven minutes later when Niasse rolled the fullback and squared it for the advancing Sigurdsson but once again Gomes came to the Hornets' rescue, diving across his goal to block the shot.
The Brazilian was injured in the aftermath of the chance, however, as Niasse caught him in the head with a knee which eventually necessitated his substitution with Karnezis coming on in his place.
Unsworth withdrew Baningime in favour of Lookman while Gomes was down getting treatment but he found his side 2-0 down shortly afterwards. Kabasele rose highest from a corner having lost his marker and powered a header home.
Everton grabbed a lifeline three minutes after that, though, when Niasse toed the ball past the keeper who had come flying out of the his area and despite being tripped as he charged through to put it into the empty net, he scored.
Rooney was replaced by Calvert-Lewin and the striker was involved in a good move that ended with Kenny's drive being deflected behind for a corner. Baines swung in the corner and Calvert-Lewin was there at the back post to head home and send Goodison into bedlam.
Unsworth's final change as the clock moved into the last five minutes saw Sigurdsson replaced by Lennon but Everton remained vulnerable from set-pieces and Mariappa came within inches of restoring Watford's lead, his header dropping wide.
But when Lennon was felled by Holebas in the final minute of the regulation 90, the Blues were handed a great chance to take the lead. Baines stepped up to take the spot kick and, despite a short run-up, he placed it perfectly past the keeper to complete a stirring comeback.
Watford piled on increasing pressure and sunk Evertonian hearts when they earned a penalty 10 minutes into stoppage time. Richarlison looked odds-on to score his second as he neatly side-stepped Pickford in front of goal but the 'keeper tripped him trying to make a last-ditch tackle.
Cleverley stepped up with the chance to drive a stake into his former team's heart but screwed his kick wide to spark more wide celebrations around the Old Lady and the Blues held out the final couple of minutes to claim a crucial victory.
This was only the second time since the relegation-defying win over Wimbledon that Everton had come back from 2-0 down and it could not have come at a better time. 10 minutes into the second half, the club was staring a long battle against relegation firmly in the face but a brilliant fightback not only lifts Everton out of the relegation zone, it offers hope that this collection of players has the stomach for any fight to survive in the top flight.
Full details: ToffeeWeb Match Page
---
Reader Comments (356)
Note: the following content is not moderated or vetted by the site owners at the time of submission. Comments are the responsibility of the poster. Disclaimer
Dennis Stevens
1
Posted 05/11/2017 at 15:34:36
Christmas tree?
Michael Lynch
2
Posted 05/11/2017 at 15:34:56
That's pretty much the team I predicted/suggested with the exeption of Sigurdsson for Lookman, so I can't complain. No width, but both our "top" scorers start, plus the impressive Beni, so I predict a win for the mighty Blues.
Steve Cotton
3
Posted 05/11/2017 at 15:35:43
No width 5 central.midfield players..get in I can't wait.
Neil Wood
4
Posted 05/11/2017 at 15:39:11
Any streams for iPad/iPhone?
Will Mabon
5
Posted 05/11/2017 at 15:41:59
It looks quite attacking, providing Rooney is on it, and Sigurdsson has had a damned good sleep since Thursday. Narrow, but we can bring a winger in later on. Anyone want to play guess the score?
3-1 win for me.
Tommy Coleman
6
Posted 05/11/2017 at 15:43:38
5 centre mids.
It's, guess the formation game, again.
No Vals.. how can he be left out?
Got to win this. COYBs.
Paul Wyndham
7
Posted 05/11/2017 at 15:47:52
No Mirallas or Vlasic,i just don't get it,i hope he proves me wrong but Niasse just doesn't look up to it,shocking team for me,no width and sigurdsson doesn't look fit to me and his head goes down too easily,please give us some fight,we are currently the biggest laughing stock in British football,clear the administration out asap.
Bill Gienapp
8
Posted 05/11/2017 at 15:51:08
Not much to bring off the bench, other than Lookman. No Mirallas or Vlasic. Unsworth needs to get over his obsession with Lennon.
Peter Fearon
9
Posted 05/11/2017 at 15:59:15
I would have liked to see Vlasic up front but still hopeful. Maybe Baningime can bang em in eh?
David Hallwood
10
Posted 05/11/2017 at 16:02:44
Once again no width or pace and he's suffering from Koeman disease-change change change, why doesn't he pick the team that finished the Chelsea game??
John Hammond
11
Posted 05/11/2017 at 16:07:57
Rooney and Sigurdsson and no width - We all know how that goes. Fucking ridiculous. Hopefully Unsworth has fired a rocket so far up their arses that we get a win.
Simon Dalzell
12
Posted 05/11/2017 at 16:08:23
RONALDO 7 .net is a good stream
Karl Jones
13
Posted 05/11/2017 at 16:10:47
Terrible side. No width or pace as per usual. Its no good bringing kids into a struggling side and expecting them to do the business. Just cant see what the plan is, because they can only go sideways and back with this selection. I totally despair. 0-2 comfortable for Watford.
Paul Holmes
14
Posted 05/11/2017 at 16:14:51
No width same as second half against leicester,we will have all the posession but no shots on target,they will counter attack
hopefully new manager and new ideas after the international break,why no Mirallas ?
Ashley Roberts
15
Posted 05/11/2017 at 16:15:52
I am really disappointed with this line up. I just do not see Rooney and Sigurdson playing together with any effect. The fact that we have no width is a problem. Just hope the defence can hold out and we can nick a goal. COYB.
Kristian Boyce
16
Posted 05/11/2017 at 16:17:20
I'm expecting this to go how most of the season has gone. A slow and ponderous first half with them getting an early goal. We'll come to life around 60 mins but without a decent forward, nothing will really happen. This will be probably Unsworth's last game as well as something has to change ASAP.
Alasdair Mackay
17
Posted 05/11/2017 at 16:18:30
It's a side built to be solid first and foremost, with youth and pace available from the bench.
Rhino obviously feels we need a solid first half to give us something to build on.
I think we will win today - the performances have been steadily improving.
Tony Everan
18
Posted 05/11/2017 at 16:23:29
This is the team I would pick , so no excuses .
This team is well capable of winning.
Jay Harris
19
Posted 05/11/2017 at 16:24:48
Very disappointed to see Rooney and Sigurdson and not to see Mirallas and Vlasic involved.
Niasse is no good as the lone forward although he can make a nuisance of himself and knows where the net is.
John Graham
20
Posted 05/11/2017 at 16:25:53
Looks like we're going for another game of let's see how long we can survive before the opposition score.
Let's hope this very poor defensive setup is good enough to get us a draw against WATFORD.
Hopefully after today's game we will get someone in who does actually believe we have a squad who will be able to get us at least up to mid table instead of fighting relegation.
Poor, poor, poor, poor
George Cumiskey
21
Posted 05/11/2017 at 16:29:18
How can he put Lennon on the bench before Vlasic and Mirallas unbelievable.
Ernie Baywood
22
Posted 05/11/2017 at 16:32:13
Very surprised to not see any width in the team.
We'll see if just giving the team a lift is enough, because there's not much change in the system from Koeman's mess.
COYB
Justin Doone
24
Posted 05/11/2017 at 17:12:14
Nil Satis Nisi Optimum. I want and expect at least a clean sheet. If 0-0 so be it. Get Roberto Mancini in ASAP.
Christy Ring
25
Posted 05/11/2017 at 17:14:06
Disappointed and surprised with the line up, lack of shape, no width and too much pressure on our fullbacks. What's the story with no Mirallas?
Paul Savage
26
Posted 05/11/2017 at 17:16:58
Panic stations now time to get big sam only a matter of time before Watford score
George Cumiskey
28
Posted 05/11/2017 at 17:20:54
Another tactical genius in charge, Siggy right wing ? Him and Rooney are the worst players on the pitch !.
Anthony Jones
29
Posted 05/11/2017 at 17:47:11
No width. No hope.
Alex Mullan
30
Posted 05/11/2017 at 17:56:26
Christ
John Graham
31
Posted 05/11/2017 at 17:57:32
Ok so we've all got the joke now.
Before it gets any worse ( and it can get lots worse ), stop messing about and get a new manager in.
NOT Dyche, NOT Allardyce, a proper manager who will give us the attacking football that we crave.
Get it done now before we are in the Championship
Peter Hughes
32
Posted 05/11/2017 at 17:59:24
And to think there's a fool on TV who wants Unsworth to be given the job full time!
Mark Morrissey
33
Posted 05/11/2017 at 18:04:57
Bill, now you have had another one of your silly-heart dreams of Unsworth riding in on his white charger called "Dixie" to save the day, can you now go and have a post match chat with Marco Silva and offer him the earth to come and steady our ship.
Dave U, thanks but no thanks. Go back and keep up the good work with the youth.
If one day you want to be a manager you need to go and earn your spurs away from your comfort zone at Finch Farm. Even if we go on to win today, please get a fresh pair of eyes in and soon
Dennis Ng
35
Posted 05/11/2017 at 18:24:21
Come on guys! 1 more!
Grant Rorrison
36
Posted 05/11/2017 at 18:32:19
Think Unsworth deserves one more game. :)
Ernie Baywood
37
Posted 05/11/2017 at 18:34:00
Oumar hasn't half got some heart!
Thanks Tom!
Ian Riley
38
Posted 05/11/2017 at 18:35:50
Best birthday present.
Thank you
Jerome Shields
39
Posted 05/11/2017 at 18:37:04
Unsworth is the best option Everton have got as Manager. He should be given time. He will succeed in avoiding relegation and will be able to mould a team to challenge at the top end.
John Davies
40
Posted 05/11/2017 at 18:37:10
Grant #36 - NO NO NO NO NO!
Ray Smith
41
Posted 05/11/2017 at 18:38:11
Im underimpressed, give the opposition a 2 goal lead at home, and battle back to a 3-2 win, with the opposition missing a penalty at the death!
We are still in deep trouble!
Don't kid yourselves, the next Manager (whoever) has an uphill battle on his/her hands.
George Cumiskey
42
Posted 05/11/2017 at 18:39:36
Please don't give Unsworth the job because of this result, it was his team selection and tactics that nearly lost us the game.
It was only a backs to the wall performance that got this result, the substitutions were the only things he could of done !.
Ian Riley
43
Posted 05/11/2017 at 18:40:06
Grant#36 we were 0-2. Pleased for unsworth but change must come!
Phil Bellis
44
Posted 05/11/2017 at 18:42:06
Some hope at long last... Thank Christ Clev was wearing his "once a blue " t-shirt!
Michael Nisbet
45
Posted 05/11/2017 at 18:43:33
Phew... That was a rollercoaster. As for the manager, anybody but Allardyce.
Jay Wood
46
Posted 05/11/2017 at 18:44:37
Never in doubt ;-)
Fantastic comeback. And thank you Tom Cleverley.
Is this the spark we need to finally kick start our season?
Whoever is eventually appointed manager has a big job on their hands.
Any and every time a team gets into our half they seemingly have a clear run on goal with extra bodies in support.
That needs fixing - NOW!
Whether that man is David Unsworth, I now doubt. Given the fixture list he inherited and the state of mind of the team, he was dealt a really tough hand.
Contrary to many, I think he has done reasonably well and shown both courage and invention in his team selections and tactics.
For sure, there are far more deep-rooted problems at the club than David Unsworth's abilities, performance and loyalties.
One way or the other, the club needs to make a call on the manager's position within this international break and have a permanent man in charge before we travel down to Crystal Palace on the 18th November.
Relieved, but still unconvinced at the ability and durability of this team and many individuals within it.
Mike Oates
47
Posted 05/11/2017 at 18:45:40
Great result, but Watford could have been 3 goals clear before we started at 2-0 down. Shear endeavour and passion gave us this victory, particularly Niasse, but it wont work every time. Definite problems still to be addressed - how do we get Sigurdsson, Rooney, Vlasic, Klassen, Sandro and Schnederlin back on form , we need their class , but how the hell do you unlock it.

Gordon Crawford
48
Posted 05/11/2017 at 18:49:12
Today was hopefully another Wimbledon moment. Now let's turn this season around. Also Niasse is a legend. :)
Dennis Ng
49
Posted 05/11/2017 at 18:50:45
Niasse is my man for the game. His workrate is what started the comeback. Unsworth made a few good subs but I am not sure if we can always come back from a hole like this. Hopefully we will confirm a man by next week.
David Israel
50
Posted 05/11/2017 at 18:51:54
Thhhat wathhh clothhhe, as the one and only Daffy Duck used to say. Now let's move on, bring in a new bloke, whoever that might be.
Paul Wyndham
51
Posted 05/11/2017 at 18:52:42
That was shocking but with a little help from TC we hung on to three points,need Ross and Coleman back asap and though not a big fan of any of these I'd have McCarthy and MIrallas in the team when fit and even Bolasie,some of those kids need a break before they're destroyed.
David Israel
52
Posted 05/11/2017 at 18:54:01
For all of the guys on here who have been praying for a Kevin Brock moment, that surely must have been the Niasse goal!!!
Andy Walker
53
Posted 05/11/2017 at 18:56:02
What a result! At last we had some luck, their goalkeeper Gomes, going off and the replacement at fault for our first goal. Then their lad slips and brings down Lennon for our pen, then they miss a pen.
Hopefully this will create some confidence within the squad, but let's not kid ourselves, Watford played the much better football and could have been 3 up before we scored. We played route one, and it was passion and effort that pulled us through, along with that large slice of good fortune.
This result should not detract from the urgent need for a new manager.
David Hallwood
54
Posted 05/11/2017 at 18:58:10
For all those slagging Unsworth. a) he inherited an underperforming, unbalanced squad. b) even if we get the Archangel Gabriel he'll have the same problem until at least January, and then which top class attacker is going to come to a struggling team.
We're in a hole not of Unsworth's making. I'd give him the season to turn it round and then we have the most important decision the club's taken for a decade.
John Keating
55
Posted 05/11/2017 at 18:59:58
This was above all else a must win game, anything else would have been a hammer blow.
It didn't matter how we played or how we won the 3 points were paramount.
Now it's out the way we need to see where we are and to me it's still in the shit.
Strange team selection ? 2-0 down at home to Watford. Missed pen etc etc etc.
All the questions we had before the game are still there and still relevant.
I just hope and pray the players take something out of the result and bring that in to the next game.
About time we got a bit of luck but luck isn't going to keep us out of the bottom 3
Brian Wilkinson
56
Posted 05/11/2017 at 19:02:17
And still Watford await their first Goodison victory, long may the jinx continue, catch you all later, just need a fresh pair of underwear.
Jay Harris
57
Posted 05/11/2017 at 19:02:40
The one thing this demonstrated was Unsy is not the man for the job.
His (or Bill's) team selection to start was absolutely awful.
No lessons seemed to have been learned at the club about width and pace and Rooney and Sigurdson playing in the same team.
We need to thank Niasse and DCL for having the balls, determination and ability to turn it around.
We didnt perform as a team at all we just relied on individual endeavour.
George Cumiskey
58
Posted 05/11/2017 at 19:04:57
David@54 you have got to be joking surely ?.
Dave Ganley
59
Posted 05/11/2017 at 19:08:51
At last a bit of heart and fight, took 70 minutes to actually show it but it's a start. Not pretty by any stretch of the imagination and we definitely played our get out of jail free card but I'll take that any day in light of our current predicament. Start to get some ugly wins and climb that table.
Onwards and upwards
John Graham
60
Posted 05/11/2017 at 19:09:19
We played Watford.
The team we put out was awful
They had 62% of the play
They had 11 shots .that was more than us
They had 5 corners .that was more than us
They were 2-0 up and had their goalie substituted
They missed a pen
What evidence has been shown in any of the four games that Unsworth has a clue about managing us NONE
George Cumiskey
61
Posted 05/11/2017 at 19:10:44
I actually think that when DCL was warming up to come on it was for Niasse, and only when he scored Unsworth changed his mind.
Ciarán McGlone
62
Posted 05/11/2017 at 19:16:34
I'll take that all day long.. as fortuitous a win as they come..
A couple of points. I thought the selection was Koemanesque. Where is Vlasic?
As for performances.. Davies is becoming more interested in wrestling, than football. I wouldn't have him in the first team at the minute, he should've been hooked instead of Baningime.
Sigurdsson is frankly useless. can't tackle, can't dribble, can't pass and missed a sitter. Even his free kicks were hit and miss. Should be dropped well before everybodies favourite boo boy, Rooney.
It's a start, let's hope we don't see Sam Alderdyce at finch farm this week.
Jim Lloyd
63
Posted 05/11/2017 at 19:16:40
Well, supporters were brilliant today and the players gave there all. I'm so pleased for the players on the pitch today. 2-0 down, people walking out the ground and the young lads and senior players all pulled their tripes out.
Especially I'm made up for Oumar Niasse. He was left to run the attack, basically on his own and he did a magnificent job. Well done lad; and well done to all the lads for a fighting, spirited display.
The was a woman infront of me in the Upeer Bullens, with her little lad about 5 years old. He looked so down and bemuse with half an hour to go...all his Everton kit on an all.
I asked her if it was his first match, as she was trying to bolster up his spirits by taking selfies and giving him sweets. "Yes" she said "it's his first match."
Lots of sympathy from us who were around him.
By the end of the match, he was dancing up on his seat Brilliant first game for a little man, and an Evertonian for life.
Great night. We didn't light up the field with scintillating football; but what they did do, was scrap, run their socks off and didn't give up for one minute or let their heads drop.
A long way to go but tonight there deserved the applause they got.
Great fight back lads.
John Graham
64
Posted 05/11/2017 at 19:18:01
Magnificent comeback against Watford.
How low we have sank.
Mark Riley
65
Posted 05/11/2017 at 19:19:25
Stop being negative.
Oumarrr. Oumarrr!!!
Simon Dalzell
66
Posted 05/11/2017 at 19:21:42
David @ 54 .A pint of what your drinking !! Fantastic result today .Lets get the new man in ASAP,and hopefully Unsy can be closer to him than with koeman, as he clearly has alot to give alongside the manager.
Andy Crooks
67
Posted 05/11/2017 at 19:23:20
I don't want to talk about or analyse the match. It was just a fucking great outcome. I will watch MOTD tonight for the first time in ages. For the rest of Sunday night I will enjoy being an Evertonian. Well done David Unsworth.
Paul Smith
68
Posted 05/11/2017 at 19:24:09
John .or how much improved are Watford.
Gordon White
69
Posted 05/11/2017 at 19:25:51
Thank God for that. I'm not putting the antidepressants away just yet. But it's been a long time since I felt like this after a match.
John Daley
70
Posted 05/11/2017 at 19:26:39
John Graham @60,
Personally, I'll take the three points over coming out on top in the clocking up corners contest, possession stats or shots at goal that didn't end up in the net count.
Getting the win...by whatever means... was the only thing that mattered today.
Peter Gorman
72
Posted 05/11/2017 at 19:27:35
I'm elated after what was an epic game of hoofball.
There is good news and bad news; the good being that the team DOES actually have fight in it. Well done Unsy, who would have thought.
The bad though; the complete lack of quality in the team. It is hard to know who actually has a future at the club (other than the kids who I think will be great in time; Baningime, Kenny and DCL for sure. Tom Davies too but he needs a stint back in the ressies for now until he finds his mojo, his game is shot to pieces.
The rest of them though, not footballers for a top side. A massive investment needed in January if we are not to make a habit of heart-attack inducing football.
Niasse personifies the good and bad, he has an immense heart and that'll do for me for now.
Andy Crooks
73
Posted 05/11/2017 at 19:27:46
Ciaran, spot on about Rooney. He cannot be judged on what he did five years ago. He is what he is now, and he us the only quality we have got.
Julian Exshaw
74
Posted 05/11/2017 at 19:28:09
Couldn't agree more Jim Lloyd.
David Israel
75
Posted 05/11/2017 at 19:28:54
Just an aside, for those of us who always complain - rightly - of our poor form away to the 'big' teams: 'Jose Mourinho has seen his sides score just one goal in their last 10 away Premier League games against fellow 'big six' sides (D5 L5), with that strike coming at White Hart Lane in May.' (from Sky).
Trevor Peers
76
Posted 05/11/2017 at 19:29:47
Well at least Unsworth can treasure that important victory, but as far as being manager he's got no chance.
Never seen an Everton side so badly organised and lacking in ideas, that's not Unsworths fault , but he's made absolutely no difference to the teams death wish tendencies, we've look like losing every game we've played in this season.
Now we need an experienced hand at the tiller before it's too late
Darren Hind
77
Posted 05/11/2017 at 19:30:50
Just back what an atmosphere
Give Unsworth the job right now.
This guy has inherited the worst Everton team in decades one which was in complete free fall, a team totally shorn of confidence and fuck me did it show . . .2-0 down but unlike his predecessor he did didn't throw the towel in, He did not stand there with a gormless look on his kite, he did not make mindless substitutions, he brought on match winners.
Crucially the faithful stayed with him and You could feel the soul of this club slowly return. Zombie football was out, meek surrender was also out, replaced by raw passion.
This club will not recover from the terrible reign of Koeman for a long time, there is no clever strategy, or fancy tactics to help your climb out of the kind of shit we are in, just heart, soul and the desire to fight your way out. I saw those qualities today, yes I saw the shite which preceded it, but I now know for a fact that these payers will run through fire for Unsworth and I know the Goodison faithful will back this sort of passion all day long
Get in Rhino lad

Alasdair Mackay
78
Posted 05/11/2017 at 19:33:53
I'm not naive enough to think that Unsworth will actually be given the job, but I think he deserves it.
He inherited a team absolutely devoid of confidence, with no idea how to challenge for a 50-50 ball, never mind believe they were going to win one.
He inherited a squad completely lacking in balance and with 4 full internationals in key positions on the long-term sick-list.
He inherited a club berated in the media for "wasting" so much money and he had 4 games in 2 weeks to turn things around.
In that time the performances have improved, and the desire has come back, but the belief and confidence was still taking a battering.
The result today could genuinely kick-start a turn-around for us.
Whoever gets the job from now is suddenly inheriting a team that knows how to fight and remembers what it's like to win a game.
I sincerely hope it's Unsworth, but I don't think it will be.
James Stewart
79
Posted 05/11/2017 at 19:33:57
@77. Great win, but a massive no to Unsworth sorry.
Andy Crooks
80
Posted 05/11/2017 at 19:34:50
Well said. Darren. Someone is going to need time, support and patience. I would like it to be David Unsworth.
Ed Fitzgerald
81
Posted 05/11/2017 at 19:36:06
John Graham and other miserable bastards on here
We didn't play well, we were outplayed and we were lucky. The last 25 minutes however for the first time in a long time; the players rolled up their sleeves and fought and the crowd got behind the team 100 per cent. We are not relegation fodder, we have some great young players and some dodgy older ones bought by Koeman most noteworthy being the lamentable Rooney. Niasse may lack finesse but he does have desire, energy and a great attitude, my MOTM for that alone.
I don't think Watford have lost away in the league this season )I could be wrong) but regardless they have now. Just for 24 hours at least can we celebrate? and realise that the win will do the younger players, the club and its long suffering fans a lot of good confidence wise.
Joe McMahon
82
Posted 05/11/2017 at 19:36:42
I read earlier someone claiming Alan Stubbs should be given a chance as manager. The same Alan Stubbs that ruined Warnocks amazing work at Rotherham. Then there is another old blue David Weir who was sacked by Sheff Utd with 1 win in 13 games. I keep reading posts about the 80's and what a great team we had in 1985. This maybe is the problem, it shouldn't be the old boys (blue) club that Kenwright has created. We need a 100% clearout, and if Unsworth wants to be a manager then he has to start in the lower leagues. What does Duncan Ferguson actually do?
Everton has to be a professional outfight with full coaching team, christ we've Greame (Wigan) Jones, Steve Round, it's just amateurish. I come from a mainly Blue (City) Manchester family, and I don;t hear them banging on about how great Colin Bell was or hankering for Peter Swales. And yes I was there when Andy Gray scored the headers against Sunderland, but I was 15 then, i'm now 48 and I want to look forward to the day when Kenwright has cleared off, then we can move forward.
Derek Knox
83
Posted 05/11/2017 at 19:38:56
I don't think Unsy is ready yet, there is far too much to sort out, not his fault I know, but the man that has done the damage, has walked away with £10M in his pocket.
I think it would destroy Unsy, rather than make him, no matter how much he wants the job.
The next appointment has to be; not only the right one; but a long term one, too much chopping and changing is not good in the long run.
Dave Williams
84
Posted 05/11/2017 at 19:41:22
Enjoy the moment chaps! I thought I was facing an evening of pure misery and now it's the best I have felt this season.
Hopefully we will get a bit of confidence going having won in this manner and got out of the bottom three and play will improve.
Anyone expecting great football at this point needs their head testing. Whoever takes charge will have to fight and scrap whilst a proper team takes shape. Unsy has had to have time to decide who to play and clearly still isn't sure.Whoever takes over from him( if he doesn't get it) will have the same difficulties for a while as there are not the right players in the squad to get things right. Players need moving out and we all know the positions we have to strengthen.
Made up for Omar- what a fairytale that is!!
Tony Hill
85
Posted 05/11/2017 at 19:41:30
What an inspiration is Niasse. He never, ever stops trying and his bobbly, chaotic effort for the first and crucial goal, when we are at our lowest, will stand in our hall of fame I am sure.
The whole performance today was ugly but beautiful. Great atmosphere in the second-half. The win was indeed the only thing that mattered.
Paul Wyndham
86
Posted 05/11/2017 at 19:45:34
Joe#82 your right,root and branch clear out,need a ruthless new board who reject sentiment and embrace success that is the only way we will ever be back amongst the top teams.
Jay Tee
87
Posted 05/11/2017 at 19:45:59
Definitely don't want Sam, Dyche or Moyes. Times have moved on and maybe Unsy will have a modern approach to training and team development that can be brought in. Time to get rid of anyone involved in team development and coaching the 1st team from Moyes' Martinez's and Koeman's periods with the club.
James Marshall
88
Posted 05/11/2017 at 19:46:08
If you can't enjoy a game like that then I really can't fathom where you're ever going to find any joy watching football.
Pick out the bones if you like but I for one was leaping round the room. My dog and cat both lost their shit.
Yeah we're still awful, but it's games like that which keep you coming back for more. Glorious scenes!
Gary Gibson
89
Posted 05/11/2017 at 19:51:10
For the very first time this season the fans were magnificent.
12th man!

Colin Glassar
90
Posted 05/11/2017 at 19:51:29
I'd give Unsy until xmas. If he can add skill to his hard working team then I'd give him the nod. Sounds to me like the lads are starting to play for him (Bainsey said he's been immaculate).
Unsy knows who's who and what needs doing. Go ed Unsy, you can do it.
David Hallwood
91
Posted 05/11/2017 at 19:51:36
George & Simon, why will this 'new man' suddenly give Williams, Jags and Baines a new set of legs? will he produce out of thin air a CF? BTW I was only joking when I said the Archangel Gabriel.
But he's been in the job two weeks! yes 14 days, I know football fans are fickle but FFS, it makes the De Boer managerial regime look like long term planning.
Unsworth inherited a horribly underperforming team, with a back 4 that looks like it aged overnight. No one, repeat no one, not the special one or Anchlotti or Pochettino is going to change that. So what will happen that we'll get big Sam or Dyche and if they don't hit the ground running, after 2 weeks we'll have George & Sam et al 'screaming sack the c**t!' and we're back to square 1.
Yes everyone's pissed about this horrible season, but some of the comments I've seen on here...FFS. The worst team in my 40 years watching Everton is a popular one, well obviously they weren't watching when Farrelly, Tiler Mitch Ward was strutting their decidedly average stuff.
This squad's got some great players an while I don't believe in the 'too good to go down theory' we've got more than enough to see us through. That's why I don't want to see a panic appointment. Seriously gents, if someone had suggested Big Sam, or even the newly relegated Sean Dyche when Booby left, how hard would you have laughed?
This isn't the time to panic, and it certainly isn't the time to panic buy.

Jack Convery
92
Posted 05/11/2017 at 19:52:34
If an energy drinks company doesn't latch on to Niasse they are missing a trick - he never bloody stops. What a credit he is to himself and his parents. He's an inspritation to anyone who believes the worlds against them. Say f that, get your head down and work even harder to prove them wrong. My MOTM by a country mile - which he could still run if you asked him.
Russ Quinlan
93
Posted 05/11/2017 at 19:52:52
As much as I think of Unsy, it is too soon for him to take charge but I think he has just given us a platform to go and get a really experienced Manager (not fat sam) who can now come in and sort this mess out.
We still have some decent players but even today, we are all asking why Vlasic is not involved, why Rooney and Siggy played together in unfamiliar position (if at all!).
We have a squad that, given the right coaching (and played in their right positions) should at least not get involved in a relegation scrap. Given the wasted money and the crap RK did to this squad, I think for this season thats all we can do. We CAN'T get relegated, simple as that, think of the damage to the Club (never mind the piss taking from next door!) so we need to consolidate with a decent manager, allow him some money in the transfer window to shore up the defence and maybe another striker and then move on next season. Have to agree with everyone about Niasse though, an inspiration.
Paul A Smith
94
Posted 05/11/2017 at 19:55:07
Made up for Unsworth and the fans but boy are we bad. Theres gonna be a few more of them games from now til May.
Thank God Cleverley still likes us.
Got to love an aggressive goodison though.
Andrew Wayne
95
Posted 05/11/2017 at 19:56:16
Brilliant game and what a comeback. Praise where due and the players didn't fold like we saw in Lyon and many other games this (and other) season(s). Negatives - Rooney should never play again as he was without doubt the biggest problem on the pitch for us tonight and is well past his prime. Continues to give the ball away and subtracted more than he added. No surprise that once we got some pace on the pitch the game swung more our way - the team seemed more balanced as well. It wasn't all roses, we were very lucky many times, but we are due some luck. We could have done with playing more at the Gwladys Street End in the second half but Watford are no pushover under Silva. Tom Davies struggled for most of the 90 and in my view should have gone instead of Beni (and what a gem he is proving to be). Have some sympathy for those who left after their second goal went in but it wasn't the exodus that we had for Arsenal. It wasn't pretty but it was gritty and in the absence of enough talent is what was needed. GP was bouncing at the end and it all felt very cathartic.
David Israel
96
Posted 05/11/2017 at 19:56:38
Joe #82, great post, my feelings, precisely! Too much nostalgia and romanticism have been eating away at our soul!
Paul A Smith
97
Posted 05/11/2017 at 20:01:13
John Graham 60. I love Unsworth but I agree mate. The amount of times they flashed crosses across our box early on frightened me to thinking had this been a top team we would be dead now.
Raymond Fox
98
Posted 05/11/2017 at 20:01:58
Great to win again, about time things went our way.
Niasse strikes again, to spark the revival, the lads a trier and knows where the net is.
We still need to improve but there's no way we will finish bottom three, especially after reinforcements come in January.
Looks to me in regard to Vlasic and Mirallas not being in the squad that there's been off the field problems.
That my guess anyway!

Mike Allen
99
Posted 05/11/2017 at 20:02:45
Goals from the outcast Niasse (actually listed as a striker) the not good enough DCL and the lambasted Lennon wins a penalty attacking the full back that wins the game.

Mystified by all the big names missing two super stars hooked that may have been because they did fuck all while on. So many other big big names missing as well just goes to show all us pontificating pricks have not got a clue.
Jay Woods
100
Posted 05/11/2017 at 20:03:56
This was a release, a reprieve, nothing more.
And yes, we upped the work ethic but we still had 3 huge dollops of luck with them losing their keeper, our iffy penalty award and their penalty miss.
But the fundamentals remain horrendous:
We are dismal at defending and weak in attack, albeit the latter showed today more prospects of resuscitation than the former.
On a positive note, Niasse has to automatically start as first choice striker, that much appears clear.
But Baines is over and so is Jags. And Rooney has to leave at the end of the season.
Above all, though, we need a manager who can handle the relegation crisis we are very much still in.
Chris Leyland
101
Posted 05/11/2017 at 20:05:12
Just got in. What a match and the 3 points are all that matters.
But those calling for Unsworth to be given the game on the evidence of today are wrong. The shape of the side was woeful at times. Watford just passed round us and always had a man in space or out wide because we were playing two number tens in wide midfield roles who were constantly out of position. Only the non-stop running of Niasse and the energy of the other subs got us back into this match but we can should also give Unsy some credit for the changes he made when he was forced into chasing the game. However, having gone 3-2 up, we almost failed to see out the game with more of our woeful defending that led to their Pen. Their first goal was also embarrassing to concede from our kick off as we we're carved open far too easily.
So, it's thanksDavid for the vital 3 points today but you are not the man to take the club forward from here for me.
John Hammond
102
Posted 05/11/2017 at 20:05:26
Bloody hell we needed that win but we're still in the shit with this god awful defence of ours - no way is this the clichéd turning point.
It's time our attacking players are played in their correct positions. Niasse, as awkward as he is (that goal today was ridiculous) constantly harasses the opposition and has the stamina and the heart. He's joint top scorer having played half as many games as Rooney. Give him a run. Let's play Sigurdsson in at No10. Let's start getting Sandro involved again and Mirallas and Lookman more minutes. We need a consistent lineup each game with everyone in their correct positions so that means benching Rooney.
Gavin Johnson
103
Posted 05/11/2017 at 20:08:25
An amazing comeback and apparently the first time we've come back from 0-2 at home since beating Wimbledon to stay up in 1994.
Speed kills, and the introduction of Lookman and DCL, playing alongside a lively Niasse put Watford on the back foot, and goes to show why Lookman should be starting games now.
A great way to go into the international break. We still need a new manager and Marco Silva or Sean Dyche will do for me. Its the wrong time for Unsworth. I'm not gonna get sentimental because he's a blue. Interesting article doing the rounds today showed that 10 out of 11 novice mangers have been sacked in these circumstances. Today won't gloss over that we still need to bring a proven manager in.
David Barks
104
Posted 05/11/2017 at 20:09:42
Thank God!!!!
Jacques Sandtonian
105
Posted 05/11/2017 at 20:10:48
I think people are being unfairly harsh on Rooney. He was playing well out of position. The few times he popped up in the centre he looked dangerous, one of those times being to set up what should have been a goal from Baines.
Whoever is in charge for our next game has to have the wherewithal to not put Rooney and Sigurdsson on the flanks. If they're not good enough to play in a number 9 or 10 role then leave them on the bench.
Jack Convery
106
Posted 05/11/2017 at 20:10:55
At last, a win! A scrappy win at that but a win at last...!
Not a classic game to be honest,the result being more important than the performance.
This is the start of the report from ToffeeWeb for EFC v WHU 1994 at home, which we won 1 0, thanks to a Gary Ablett goal. I was there and the relief was organic. Mike Walkers team started the season diasastrously just like this season. After the result we never looked back and ended up winning the FA Cup. During the October we scored just one goal and ended up with 4 defeats and one draw. It was the 1st Nov when we beat WHU.
Lets hope this team can put the start behind them and move on up. COYBs.
Brian Williams
107
Posted 05/11/2017 at 20:12:04
Not long back and have to say I'm fuckin' drained. From the depths of despair to total elation.
Fair few saying we're still shite but missing the point. We may still be shite but fashioned a win showing a never say die attitude and fighting til the last minute, something which would have been unthinkable until it happened.
In the situation we're in any win is a great win and I hope today is a turning point.
What we need to do this season is move away from the dreaded drop zone and maintain our premiership status.
After that we need a clear out of mega proportions including members of the board as well as players and we need to start again from scratch almost and that's gonna cost!

John Davies
108
Posted 05/11/2017 at 20:15:47
Darren Hind #77. No mate, not at all. We all love Unsy for being a mad blue nose just like the rest of us but manager full time? No, please God
NO.
Chris Leyland #101. Spot on mate.
Dennis Stevens #109. No mate. NO!
Dennis Stevens
109
Posted 05/11/2017 at 20:16:00
I think that to start afresh with another manager may well be to undo what progress Unsworth has managed to make in a very short time. It seems to me that Unsworth is gradually turning things 'round & I'd rather he continues to do so, probably for the rest of the season.
Mark Morrissey
110
Posted 05/11/2017 at 20:20:21
I'm just so pleased that the man today on the sidelines was not Ronald Koeman because that would have persuaded Bill to give him until Christmas.
I'd politely let Unsy return to his U23s and get a new manager in or perhaps have Unsy alongside him.
Colin Glassar
111
Posted 05/11/2017 at 20:23:04
Just read the David Conn (Guardian) piece on the Usmanov-Moshiri connection (the original thread is closed), nothing to worry about there. It's just a bunch of nosey do-gooders who want to tighten up certain controls over duel ownerships.
Steve Ferns
112
Posted 05/11/2017 at 20:26:34
Just back from the game. I haven't time to read up. I will later. So I will just post my thoughts.
There was a lot of good and a lot of bad today. I will say niasse was magnificent. He's not the worlds most skilful footballer, but he refused to be beaten today. The crowd were even more magnificent. There was something in the air today. I think everyone could sense it. The crowd were behind the team, of course there was some jeers at 2-0, but every tackle or challenge was met by a roar, and every time we went forward they got louder. I could just tell the roof was going to go off the place once we got ahead.
To be fair to silva, he even said once we scored to get to 1-2 the crowd were amazing. I think if we offered him the job, he'd take it on the basis that he'd want some of that atmosphere.
The fans were incredible and it really gave the players belief. Niasse gave us something to cling on to, something to get behind. He chased everything and he looked a spent force after 70 minuted but he kept finding more energy to keep chasing the defenders and the keeper and the crowd kept roaring him on.
At the final whistle, the roof well and truly came off. Not one person has left early and "for a grand old team" was sung at full voice, full of aggression and like a battle chant. The players lapped it up and I don't think a soul left until at least five minutes after kick off.
Unsworth came on at the end and got a great roar. No matter what happens next, at least he has that memory of walking on the pitch at the end and getting the roar of appreciation he deserves.
It was an amazing game, one of the best atmospheres in years, and finally we got what we deserve: 3 points.
I just hope the players, especially the likes of Sigurdsson, who haven't experienced it, can just take stock and think that all the fans want is hard work and commitment. You give us that, like niasse did, and we'll give you it back tenfold.
That's the turning point now. We will win the next few games in a row now. You'll see.
James Marshall
113
Posted 05/11/2017 at 20:26:56
I'm one of the few people who think Rooney is still worth his place. He may make the odd missed pass but so do Messi and Ronaldo.
Rooney still had plenty of craft, guile, passing ability and hard work.
Marcus Leigh
114
Posted 05/11/2017 at 20:28:28
'We will keep giving 100% for this club.' For now, that'll do for me Mr Unsworth. That really will.
Michael Lynch
115
Posted 05/11/2017 at 20:28:44
The way things are going, Niasse needs to be the first name on the team sheet. He's awkward, but he's a trier, and he worries defences when he runs at them, in the same way Romelu did. In fact, you could call him the Poundland Lukaku.
George Cumiskey
116
Posted 05/11/2017 at 20:28:46
Dennis@109 are you joking ? Progress Unsworth has made, played 4 lost 3 one lucky win.
You call that progress ?.
Andy Crooks
117
Posted 05/11/2017 at 20:28:57
Chris Leyland, no one is calling for Unsworth to be given the job on the evidence of today. How can he or big Sam, or Dyche be judged in less than two weeks. This needs time. If Guardiola came here and lost his first two games he would be a "shithouse", in the eyes of some. Today was a confidence builder. Anyone crying out for Sam Allardyce is about as ambitious as Bill Kenwright.
Fearful, negative and accepting of survival.
Brian Denton
118
Posted 05/11/2017 at 20:29:59
That was a nail-biter! We were shite for the most part, but it was good to hear the Old Lady rocking with venomous hysteria again. We can't rely on the crowd to pull us through many games like that.
A word for Oumar - although severely limited, he has a big heart (typified by his goal) and it's his kind of spirit we will need until the end of the season.
Paul Tran
119
Posted 05/11/2017 at 20:31:40
First game this season when I wished I was there.
Poor team selection, 70 minutes of same zombie football, same poor defence, same bunch of strangers on the pitch.
Then the players who should have started were brought on and the game turned, with the bewildering Niasse, who has the foot of a 20p piece but shows that non-stop effort pushes opponents into making mistakes.
Today we got some breaks and made our own luck, which was overdue.
Whoever the manager is needs to play pace, players in the right positions and a settled team, so they can get to know each other.
We need quick action off the pitch. We all need to know who has the job.
It was great to be dancing round my dining room and great to see a noisy, happy Old Lady.
Peter Cummings
120
Posted 05/11/2017 at 20:31:48
A reminder of the last time we had to save our bacon, that time from relegation against Vinnie Jones 'Crazy Gang' with a VERY dodgy winner v Wimbledon was it the 'sixties ? and while today's result doesn't guarantee anything as critical it shows that when the chips are down Everton still has the nous to come good,well done lads,
Hate to brag but I did post yesterday that we would win.
Lawrence Green
121
Posted 05/11/2017 at 20:31:52
I actually believe that the manner of today's victory is as important as the victory itself. Of course things went our way today but mostly this season they haven't and that hasn't stopped people from criticising the players and the team for the poor results, so we should cut the players some slack when they manage to win a match against the odds.
Some of the new arrivals and younger players saw Goodison at it's best in the last 20 minutes of the match, possibly for the first time in their Everton careers. That in itself will have a lasting effect on them, they will now realise that no matter how badly they may have performed during any period in any match that it is still possible to dig deep and find a way to win. That can't be coached it has to be experienced.
Had we have played similarly and eked out a scrappy 1-0 win the points would still have been won but the players wouldn't have learned anything useful about themselves as individuals or as a team.
I'm glad it was only a league game because had it been a proper Cup Final, I don't think I would have survived it.
Des Farren
122
Posted 05/11/2017 at 20:32:16
"Bainsey said he's (Unsy) been immaculate"
Well that's it then! Jesus..
Eugene Kearney
123
Posted 05/11/2017 at 20:34:12
A win, thank God. Three points and fight, confidence and belief restored. Back from the brink. We will push on from here and make all the progress we were expecting 10 weeks ago or so .
NSNO.
Tony Hill
124
Posted 05/11/2017 at 20:34:39
It's worth noting that Niasse isn't just about the energy either. He was involved in the Baines chance and the Sigurdsson chance - both of which probably should have been goals.
I no longer have a settled view on who should be manager. It was just great to feel Goodison alive again. But make no mistake, it was Niasse who revived us (nice pass from Lookman but it needed all of the special mayhem which Oumar brings) when we seemed dead and buried.
Lovely header too from DCL.
Andy Crooks
125
Posted 05/11/2017 at 20:35:42
George, what do you want, who do you want,how long will you give them? Two minutes, two games , two weeks? Seriously, what do you want?
Great expansive football, five wins in a row? We all do, but you want it right now, no matter what. It is our entitlement.
Mark McParlan
126
Posted 05/11/2017 at 20:37:55
Points from the match:
-Pickford still does not fill me with complete confidence... the much-heralded distribution of his does seem to have declined lately, and there are big questions to be asked about the first goal, and Richarlison's first half miss.
-Baines put in one of his best performances probably all this season. Still though as always wingers keep getting into the space he leaves behind him.
-No combination of centre-backs inspires me with confidence at all... Keane has fallen off a cliff since the start of the season (look at him for the 1st goal), and Jagielka is surely past it - did you see how he got absolutely done for pace when Richarlison missed the open goal?
-He's far from the perfect Premier League footballer, but I really don't have many a bad word to say about Jonjoe Kenny in what is essentially his debut season. He's actually a better crosser of the ball than Coleman, and holds his own defensively. Impresses me so much, let's all hope he becomes the long-term successor to Seamus.
-Both Davies and Baningime were truly awful, Tom especially put in one the worst performances I've ever seen anyone put in an Everton shirt.
-I still don't understand what Sigurdsson does. For £45million we have ourselves an already ageing player who can't shoot, finish, run, tackle, beat a man, cross a ball, provide assists, take a set piece like we expected him to etc etc. He literally does nothing for 90 minutes. Nothing. Zero, zip, zilch, nought, nada, nothing. I cannot believe he cost £45million. It's insanity. It's not like he does anything wrong, he just doesn't do anything.
-For Rooney, see Sigurdsson, but with the potential to actually kick the ball into the back of the net every so often.
-NIasse was fairly ineffectual in the first half, I'll always say that he's best used as a sub second half attacking into the Gwladys Street. Anyway, in that second half he was absolutely magnificent, gave the Watford back line a torrid 45 minutes, creating havoc left right and centre. Niasse makes things happen. I remember when we signed him people said that a lot of his goals from Russia were him just running aimlessly towards the goal with the ball and somehow bundling it in (with no skill). It's true, but there's no problem with it!
///////////////////////////////////////////////////////////////////////
-Unsworth's team selection for the match was rubbish again. I'll keep saying it again and again - setting a team up to play in the Premier League in 2017 is simple. You play a back 4, a midfield 3, 2 wingers, and a striker. He started with no wingers. I appreciate Lennon and Lookman aren't the greatest players in the world, but you simply have to play wingers. When they came on the game changed and everyone knows it. Without them there is no service for the strikers and you don't score. Basic stuff.
-Where on earth has Nikola Vlasic disappeared to?
-Going forward the team has got to set up something like this:
Pick a striker to start: Rooney or Calvert Lewin
Pick two wingers: Vlasic, Lookman, Lennon, Mirallas, perhaps try and re-introduce Sandro into the team as a winger.
3 midfielders: Sigurdsson (or Rooney as a midfielder), Davies (try Klaassen again? Cost £24million), then a DM in Gueye/Schneiderlin/Baningime.
A left back - Baines
A right back - Kenny
Two centre backs - personally for me that's Keane and Williams
And Pickford.

Andy Meighan
127
Posted 05/11/2017 at 20:38:17
The txts and what's apps from the Red Shite are conspicuous by their absence tonight
Colin Glassar
128
Posted 05/11/2017 at 20:39:08
Des, well we've had the Holy Trinity, almost got the (Nuno) Holy Spirit so why not, the Immaculate Conception?
Dennis Stevens
129
Posted 05/11/2017 at 20:39:23
Yes, George #116, I do. Unsworth inherited a complete shit-show, the players are not of his choosing & he's had no time to work with them. I think he's done remarkably well so far & will probably continue to progress, if given the chance. Any new manager will benefit from the work Unsworth has done, but will also have to start from scratch in terms of getting to know the players & what they're (in)capable of. Imo. this would be taking one step back in the hope it will lead to two steps forward.
George Cumiskey
130
Posted 05/11/2017 at 20:40:06
Andy I want a better team selection than what Unsworth picked, and then get out of jail by a backs to the wall effort. Which had nothing to do with his tactical nous.
Tony Stanley
131
Posted 05/11/2017 at 20:40:50
I can't tell you how much my nerves were frayed listening to the game on a live radio stream in the States, and I had no idea I could do a backward somersault and that my dog can't dance when Watford missed that penalty.
Steve Ferns
132
Posted 05/11/2017 at 20:40:51
James, Rooney was erratic today. There was three two footed lunges at least. Two missed, one connected. If the two that missed had been a second earlier he'd have been sent off.
But that also contrasts his never say die, never stop running attitude. He ran his heart out and got taken off just after he run out of steam.
Couldn't fault Wayne today, except for those mad and pointless lunges. He needs to look at them and reconfigure something in his head to not make stupid lunges in DEFENSIVE positions when playing on the left of a front three.
Gavin Johnson
133
Posted 05/11/2017 at 20:41:47
Interesting point is Wayne Rooney. Can we play like we did in the last 25mins with him the team??
He's our best player in some respects but I'm starting to wonder if he does slow our play down. Maybe we could make the most of his passing ability by playing him further back in midfield instead of Gana or Schniederlin?!
Colin Gee
134
Posted 05/11/2017 at 20:42:26
Well, we still can't defend! But where did those three goals come from?
Pace!
Instead of side to side, stop, side to side, stop, backwards, stop, side to side, stop It was players running forwards and getting to the bye line and getting crosses in or knocking through balls for players to run onto! Who would have thought it?
Hopefully Tom Cleverley's missed penalty will be the Kevin Brock back pass moment for the current side!
Steve Ferns
135
Posted 05/11/2017 at 20:47:21
Let's focus on the positives today. It's easy for good players to play badly in times of desperation. If we can get a few wins, then let's hope the good players can find their form and play like the team they are meant to be.
On another note, has there been any talk on here of schneiderlin and Mirallas' fight? I'm interested to know more, all I've heard is rumours at the ground.
George Cumiskey
136
Posted 05/11/2017 at 20:49:49
I hope uncle Bill didn't let Marco Silva get on the Watford bus without getting a promise from him to consider the Everton job.
But then again Unsworth would be the cheapest option and he's Everton through and through.
Justin Doone
137
Posted 05/11/2017 at 20:51:49
Chuffed for Unsworth getting a win but time for him to get the U23s back on track.
If all is okay in terms of money and ownership, the ambitious talk needs backing up with a winning mentality and manager in Roberto Mancini. Otherwise, we should have kept Koeman who's a good manager.
I don't want this month's favourite in charge like the last tabloid love-child, Martinez. NSNO Roberto Mancini.
Dave Williams
138
Posted 05/11/2017 at 20:54:20
Steve- tell us more- there is something wrong with Schneiderlin- his general demeanour looks like he has the weight of the world on his shoulders.
Des Farren
139
Posted 05/11/2017 at 20:56:05
Good response Colin but...a Baines recommendation on,anything frankly,wont fly. Like angels possibly.
Under new management he,along with Jags and Williams will,rightly,be first out the door.
Steve Ferns
140
Posted 05/11/2017 at 20:56:17
I don't know Dave. Rumour at the game was him and Mirallas had a fight yesterday. They were sent home and suspended for three days. Neither were in the team or on the bench.
Does anyone else know more?
Andy Meighan
141
Posted 05/11/2017 at 20:56:47
Steve I didn't know Schneiderlin had any fight in him
Kevin Tully
142
Posted 05/11/2017 at 20:58:42
Absolutely wonderful three points. A shame Unsworth was dealt such a shit hand. I hope he goes out and proves himself outside of the comfort zone of the reserves. Seems a real good guy.
Peter Mills
143
Posted 05/11/2017 at 20:59:38
Not going to get analytical tonight, I'm just back from a rocking Goodison, going to have a glass of Rioja, forget the bad parts of the performance and revel in the effort and guts shown in the last 30 minutes.
Just one thing. I'm looking forward to having a look on MOTD at the Watford penalty miss. It was down at my end and it looked like Pickford was very aggressive, rushing off his line as Cleverley was running up to take it. Good on him!
Steve Ferns
144
Posted 05/11/2017 at 20:59:48
I disagree Des. Baines is still a top left back.
Do we need another left back? Yes we do. Is Baines playing well? Well he did today, but he still got beaten a few times and he's been very poor recently.
I think Baines is knackered. I think he needs a rest. He's only 32. He's not old. He just cannot play 40 games a season and be expected to charge up and down the wing like . well a 21 year old.
Luke Shaw would be a risky signing. But he was good 2 years ago. He's only 22. And I think he could rediscover himself in the right side. For less than £10m, he's worth a gamble.
Christy Ring
146
Posted 05/11/2017 at 21:02:27
A huge 3pts, a huge relief at the end, thanks Clev. The subs and change of formation made a huge difference, we were totally being outplayed. Sigurdsson and Rooney in the one team, I keep saying, doesn't work, Niasse worked his ass off, total heart.
Today's result doesn't paint over the cracks, Unsworth has inherited one of the worst squads in the Premiership from Koeman. If we can get McCarthy back after the break, and Barkley, it would be huge, but the Jag, Williams and Baines are passed there sell by date.

Dave Williams
147
Posted 05/11/2017 at 21:03:26
Unsy has had to work without a credible defence, the likely replacements all out on loan, no striker and an unbalanced squad. It's not one of those jobs which just need a bit of work- we don't have the right balance in the squad and no players to dramatically change it around. Unsy has got them scrapping a bit and will be learning all the time. Any new guy coming in starts a few games further back again.
I'd give Unsy more time but suspect a new guy will be in next week.
Dennis Stevens
148
Posted 05/11/2017 at 21:06:56
Hear! Hear! Dave #147
Richard Lord
149
Posted 05/11/2017 at 21:07:37
Amazing feeling today ending the week with a win, forgotten how good it felt! amazing effort from all the players. We've been playing much better with unsworth at the helm and been a bit unlucky at times until today. If he doesn't get the job then I think he's certainly made a difference in bringing the team spirit back and should be thanked for that. I would have him over Dyche and Sam, I think we need to aim higher than that. Good times edging back hopefully. And what a complete non story on tonight's panorama - what a waste of tax payers money on that supposed expose...!
Darren Hind
150
Posted 05/11/2017 at 21:09:36
Quite amusing to read people who claimed Koeman should be given more time now calling for tactical nous and for Rhino to be ditched after a fortnight.
The players want to play for him that was evidenced today, we haven't had a balanced side for Yonks now all of a sudden we should have one . . with the players at his disposal ?
Unsworth didn't create this situation. He is the man being tasked to get us out of it. The Goodison crowd acknowledge that and gave him superb support today.
Those criticising Unsworth would be putting their time to better use by holding hands and dancing around in a big circle singing ding dong the wicked witch is dead
Des Farren
151
Posted 05/11/2017 at 21:10:29
Fair enough Steve. I just want him to defend which he won't,or can't. He has been very poor going back to Martinez' time and has had his place on the team assured which has led to him producing many below par performances. As you know we do not have a proper replacement on the books.
Jamie Crowley
152
Posted 05/11/2017 at 21:11:02
I had to watch, while driving (yes... I know not safe) in north-bumble-fuck Florida on my way back home from "parents weekend" at Florida State in Tallahassee.
The stream was so poor, I'm looking forward to watching the 20 minute highlights later this evening.
The one thing I take away from today? You have to give Unsy the job right now.
As Darren Hind pointed out already, whomever comes in is going to be in one hell of a difficult situation. Today and at Chelsea in the 2-1 loss, we've seen a team play until the bitter end, never giving up, and with real passion.
You can't ask for more.
Unsy for me, come what may.
Steve Ferns
153
Posted 05/11/2017 at 21:13:12
Garbutt may not be a bad replacement. Well we don't know, because Koeman didn't think he needed to register a replacement.
I mean what's the chances of a 32 year old being too tired to play every game (50+ game season easily) or god forbid, get injured!!
Dave Williams
154
Posted 05/11/2017 at 21:16:37
Steve- sheer lunacy. Galloway,Browning,Connolly,Pennington and Robinson would all have been useful to come in and he sends them out on loan.
How anyone can describe him as a good manager is beyond me!
Steve Ferns
155
Posted 05/11/2017 at 21:17:56
Agreed Dave. What on earth was he thinking?
Raymond Fox
156
Posted 05/11/2017 at 21:18:47
Justin 137, 'Koeman whose a good manager'.
Where have you been!
Off this seasons performance, he could not manage a piss up in a brewery.
He could not have got things more wrong if he'd actually tried to.
Steve Ferns
157
Posted 05/11/2017 at 21:20:16
I missed that one Raymond!
Wow. Justin needs to get his tin hat on!
Mike Keating
159
Posted 05/11/2017 at 21:22:28
To all those faint heart knobheads who left the Park End after they got their second;
I hope you enjoyed the fireworks when you got home!
Jason Wilkinson
160
Posted 05/11/2017 at 21:23:11
Defending starts from the front. That doesn't mean literally. We can't defend because we don't worry teams with any pace going forward. When we had Jelavic we had a threat left on the half way line. Lukaku gave us the same advantage.
This is why I truly believe Wayne can not be picked as a first choice. We must use him as an impact player. 10/20 mins to impose his ability when the raw pace has been sapped from the opposition .
So who starts? For me give Sandro 3 games (starting) if after that he still looks like he won't make it move him on. All the players behind our forwards are suffering because there is no forward pass to be played as no one shows for the ball.
Defenders look poor because the midfield are 2yds in front of them but all over the place chasing the ball instead of setting up the counter attack.
I do like Pickford, he still has a bit to learn but so far has been a worthy replacement for Robles and Stek.
Manager/head coach? Read the above and if you can fix it we will do OK.
Ray Skellorn
161
Posted 05/11/2017 at 21:24:46
Well talk about Everton taking you on a roller coaster ride of agony and emotion. Todays game was all that and more. When I first saw the line up I was a bit shocked to see no vlasic or Mirallas, not even on the bench, but nothing should surprise me anymore these days. 1st half was pretty poor with only the baines effort any real clear site of a goal. We seemed more nervous in the 2nd half than we were in the 1st and I believe watford sensed this and started to build up more confidence.

When they went 2 up most of us thought shit here we go again, we really are deep in the brown stuff. Lookman and calvert lewin started having a go and that unsettled watford quite a bit, how lookman never starts I am lost for words. Even at 2-2 I still believed we would shoot ourselves in the foot, but when baines scored that pen you could sense the pressure being sucked out of the fans fears, but we still almost managed to blow it big time, but how ironic that it would turn out to be tom cleverly as our hero when he missed that pen.

A real roller coaster of emotions and I was so chuffed for unsworth, if that was his last game in charge, well at least he ended it on a winning note. If our choice of new manager is between allardyce, Moyes and Dyche, then none of them really inspire me and I would stick with unsworth until somebody with a higher profile comes along.

Apart from kenny who I thought had his best game today, the rest of the defence, including pickford didn't inspire me with any confidence. This part of the team as much as the striker situation has to be seriously sorted out in january.
Steve Ferns
162
Posted 05/11/2017 at 21:25:25
The lad next to me was scathing about Pickford before the game, and I looked at him in a different light today. I have to say if you hold Pickford to the highest standards he was not good at all today, and he could have been sent off when he wrapped his arms around the strikers waist. I'll need to see a replay of it on TV, but it was right in front of me in the Park End.
Also, he was bullied by André Gray on corners. I have said, why doesn't the keeper stand in his goal and run out when the corner is taken if the opposition try to put a man on him to stop him coming?
Steve Ferns
163
Posted 05/11/2017 at 21:27:00
Mike, what was that big fight in the Park end about. It was too far from me to see anything once everyone stood up.
Christy Ring
164
Posted 05/11/2017 at 21:27:31
Justin @137 'If we don't get Mancini, we should have kept Koeman, who's a good manager'. What have you been watching this season. He left Unsworth the most unbalanced squad in the Premiership, after squandering £150m.
Brent Stephens
165
Posted 05/11/2017 at 21:28:14
Just back from the game. Raw emotion, from one end of the spectrum to the other. Oh ecstasy at the end.
Analysis beckons tomorrow. Except to say - Niasse take a bow.
Steve Ferns
166
Posted 05/11/2017 at 21:30:22
I think it's one of them games where you don't need to analyse it. It was a battle and we fought and we ran. We actually tried hard. Even the players who were shit like Davies tried hard. The result is all that matters. That and the effort.
The next game will be more about tactics and formation and that's assuming Unsworth is still there, which I doubt.
Neil Copeland
167
Posted 05/11/2017 at 21:31:32
Not long back from the game - wow I didn't expect that!
A quiet first half although Baines should have done better with his chance as should Siggy in the second half. When Watford scored a minute into the second half I feared the worst and when they made it 2-0 I thought that was that.
To Everton's credit they didn't give up and the subs helped. Once Niasse scores you feel something special was in the air, the crowd lifted, the roar was back and Watford were suddenly rocking a little.
Anyone who says Niasse is not an asset is talking through their arse. The man never gives up. There was a moment in the second half when he got in a tangle with the defender and they both fell into the advertising hoarding. The defender was clearly aggrieved, Niasse dusted himself down and offered a hand to the defender who refused. Niasse laughed with a look that said "don't be such a knob". He is just so refreshing, no wonder Goodison loves him.
Overall there is lots to improve on but what a great comeback and game. I think many of us have worried that the players don't care enough, well there was no evidence of that today - there was real effort and togetherness. Kenny's reaction to going 2-0 was admirable with him visibly telling the others to get their heads up.
A fabulous result if not the best quality on show - I don't really care, the result was all that mattered, the quality will come.
The fans were magnificent and I am proud to say I am hoarse.
Is Unsy the best man? Really don't know but there is no doubting he has the players with him, the fans with him and everyone is pulling in the same direction. My gut tells it may be too soon for him but if he gets the role I will be with him every step of the way.
It feels good to be blue again tonight, long may it continue.
Mike Dolan
168
Posted 05/11/2017 at 21:34:24
You have to start somewhere so it may as well be with a big dose of luck. In a way given the dreadful luck this team has had in the last 12 months it was almost inevitable that our turnaround would happen just like this today. This win must surely give the players a huge dose of confidence. Lets just hope that this relative avalanche of goals by Everton lifts the collective monkey off their backs.
It's not the smartest of ideas to change managers in the midst of a season but its probably only compounding a problem when you feel obliged to change managers twice. I'm sure that the club has a list of names of potential managers and coaches written into some file, just in case. I cannot for the life of me imagine that Sam Allardyce's name would have been even considered as a possible Everton manager at anytime in his long and boring history. If that is the case lets stick with the interim manager till at least the seasons end when if needed a rational appointment can be made. I was never for firing Koeman but lets take our time and have as Everton Manager someone we at least want to be there.

Neil Copeland
169
Posted 05/11/2017 at 21:35:13
Mike 159, there were a few in the Top Balcony that left as well. Their loss!
Chad Schofield
170
Posted 05/11/2017 at 21:35:16
I haven't read all the comments yet, but I agree Darren #150.
Unsworth has stepped up. The Leicester first half wasn't brilliant, but then had he simply set up as per RK the n people would discredit him anyway. The disappointment in Lynn was that we'd gone with a clear game plan... I believe we went too early with change, but (as I wrote at the time) if he'd simply used his subs reactively, again he'd have got shit. Schneiderlin badly let us down that night, and I'm sorry that there are those decrying not starting with a recognised striker was an embarrassment, but it was less embarrassing than being thumped at home by Lyon or getting our area handed too us on a much larger defeat
- anyone remember our experienced manager Davey Moyes record in Europe?
Unsworth has got our faltering team playing with a bit of passion. What is it that you expect some other coach to achieve in the same space of time - some sort of black magic?
Do we really need to spend £12M+ on another manager (that'd be a basic £4M 3yr contract... Add compensation for a manager at a club and Fat Sam for an 18 month contract is going to reach for close to 10 plus bonuses, I'd imagine). Nobody's going to give a mercenary manager or possibly still a flailing manager an open chequebook come January... And how many up and coming superstars are wanna sign for a manager who's been recruited to stave off relegation?
Good or bad we've undertaken this jobs for the boys journey. Any outsider is going to struggle in my eyes. We either need an old boy or back Unsworth, and if it doesn't work rip out the guts and start from scratch... And yes that will mean good bye to Kenwright too.
Brent Stephens
171
Posted 05/11/2017 at 21:37:17
Mike Keating, yes, those who left at 0-2 - eat your heart out! How sad.
Steve Ferns
172
Posted 05/11/2017 at 21:38:25
Agreed neil. But I think there was something in the air all game long. I think niasse fed off it. He seemed to bounce off the crowd and chase harder with every roar of encouragement.
At 2-0 there was a few jeers, but the next time niasse chased you felt the energy back and I had no doubt we would win. Not one. I just knew. There really was something in the air. And at 1-2 I knew for sure we would win and the atmosphere was such you could sense the roof was going to come off and it did at full time.
Best atmosphere for a long time. It was like when Williams scored against Lyon, but only it lasted for more or less 90 minutes, not just 5. It was a really snarly, intimidating atmosphere. Really aggressive. And Watford didn't like it.
Steve Ferns
173
Posted 05/11/2017 at 21:39:51
The park end was full at full time. I think they just went the loo. Loads leave their seats and go down and stretch their legs and watch the TV. I think they sneaked back at 1-2.
Tony Abrahams
174
Posted 05/11/2017 at 21:41:14
Lovely to look around Goodison under the floodlights, full of noise, passion and pure energy, with the extra noise from the fireworks, fitting in perfectly with the occasion! (Until those kopites stopped letting them off, haha!)
We lacked quality, but I'm sure a lot of this is down to confidence, especially when you consider how poorly both Baines and Siggy, both reacted when they had a free shot at the goal?
Sigurdson, especially lacks confidence, but he took the ball out the sky under pressure, and gave it to Lookman, whose pass then made the first goal. Davies, is also struggling, but the kid has got such a fantastic quality for one so young, and never ever hides. His pass to Lennon, which got us the penalty, was also very good play, and although he struggled, I'm sure he was kept on for his guts?
First time I have left a genuinely happy Goodison, since Lukaku, scored two against Chelsea, in the cup (okay maybe Arsenal last year) and it was great to see the crowds reaction to the players effort.
Darren Hind, I know better than to argue with you when it comes to Everton managers, but I wouldn't give Unsworth the job though mate. It might take something away from the Under 23'S, but whoever comes in, I would hope they would have the nouse, and the balls, to make Unsworth, our first team coach.
The kids were the heartbeat today, sometimes they lacked quality, but they never once lacked fight, and I feel Unsworth should be around, to keep helping what is hopefully a big part of our future?
Simon Dalzell
175
Posted 05/11/2017 at 21:41:14
Andy Crooks.I think you're being unfair to George.He obviously doesn't want immediate success,or "expansive football",but like the large majority, can see that Unsworth is NOT the answer.Working close to the new manager,YES. Manager, PLEASE NO !!
Steve Ferns
176
Posted 05/11/2017 at 21:45:54
Who then Simon?
And rest assured the new manager will get rid of Unsworth (from the first team) and Ferguson.
Allardyce had a list of 18 staff he wanted us to get. Any decent manager will. The manager should have his own men. Forcing partnerships has never ever worked.
Neil Copeland
177
Posted 05/11/2017 at 21:46:03
Another thing about Niasse, how many players would have managed to get the ball in the net after being pulled back by the defender? Someone sitting by me commented that he scores some crap goals, I replied saying I thought it was actually very good when you take into account his sheets effort and tenacity. Most players would have gone down, given up on the ball and hoped for a penalty - not Oumar, he is fast becoming a Goodison legend.
Bill Gienapp
178
Posted 05/11/2017 at 21:46:17
I enjoy reading the message boards of the opposing team's fans after a match, just to see the sort of stuff that's being said. Having lost three in a row, many Watford fans are now convinced that *they're* in a relegation battle, that Silva's been exposed, that they'd be far better off bringing in Sean Dyche to shore up their defense, etc...
It just goes to show that every fanbase exists in its own private bubble. We may be convinced that we're the "laughingstock of English football," but I guarantee that fans for almost any club outside the top six feels the same way more often than not (and probably some in the top six, as well - most notably Arsenal and ManU).
Incidentally, I definitely think Silva's a top young manager, certainly more Pochettino than Martinez... though there is something uncomfortably Martinez-esque about the way Watford plays.
Steve Ferns
179
Posted 05/11/2017 at 21:48:40
Silva is my preferred choice Bill, but what you say is exactly why I want to wait and see with him. I think it's too early to get him in. It'd cost big to get Watford to let him go, big wages, and probably a big transfer pot too. He'd also want to sell off a load of players cheap which would also cost.
Simon Dalzell
180
Posted 05/11/2017 at 21:53:31
Steve Ferns,Fair comment ,I concede the fact that the new manager will want his own staff,and our options are limited. Dyche if we can't get a Tuchel. Not easy ,is it ?!
Dave Abrahams
181
Posted 05/11/2017 at 21:53:32
I'm with Jim Lioyd (63) and Ed Fitzgerald (81), not interested in discussing the game. Just made up with the result and the magnificent Goodison crowd with the old fashioned Goodison Roar back to it's best because the players ( at last ) gave us something to shout for.
Niasse was immense, even in the first half with his non stop running and effort, Kenny with another great performance, lovely to be there and see the joy on so many Evertonians faces, brilliant, it was only one game but let's enjoy it for God's sake, I can just picture George McKane and his gang dancing in the Dark House now and singing there heads off, A great day to be a Blue.
Tom Bowers
182
Posted 05/11/2017 at 21:55:11
I know it's a hint of sour grapes but Wenger is right about refs getting worse. The 3rd. goal by City was a sure fire offside and the linesman was right there and was incompetent.
City were deserved winners any way but even Everton got a ridiculous penalty when Lennon was never going to get to the ball and the defender clearly slipped.
These officials just don't seem to be proficient enough and when you see time and time again defenders subtly
committing fouls in the box without punishment you just wonder what kind of training these referees get.
Steve Ferns
183
Posted 05/11/2017 at 21:55:34
If tuchel wanted it, there'd be some talk. There's no talk. It looks like he doesn't want it.
Is Dyche really a better Everton manager than Unsworth? He's a better Burnley manager no doubt. But Dyche would have to change. So is it not safer to stay as we are and wait and see?
John Daley
184
Posted 05/11/2017 at 21:55:35
George Cumiskey,
Still pissed off at the 'unbelievable decision' to have Lennon sat on the bench instead of slung in a skip? What a waste of a sub spot that was.
How many posts is that you've put on here having a pop at Unsworth since the full-time whistle went? "I think he was going to bring Niasse off before he scored. No evidence that was his thinking but, for some reason, it just makes me feel better to try and piss on his chips at every opportunity and, if there is no opportunity, I'll just pull one out my arse crack"
Why try so desperately to slate a guy who has been asked to sift through a massive sack of someone else's shit and somehow find the ingredients to put on a winning spread?
Why bang on about him losing 3 away games, immediately after an absolutely vital home win? This is a squad of players who have failed to win a single away game in 9 months. You really think that sort of calamitous form can be turned round at the drop of a hat? By anybody?
He's got to find a way of adding goals to a shot shy side who seem to think the only time they should be seen in the opposition box is right before a set-piece. He's got to somehow solidify a defence that has got into the habit of dropping multiple howlers every match. He's got to conjure up some sort of creative outlet in a midfield crammed full of overpriced ordinariness. He's got to inject pace and movement into a sloth like pack who make Paul Potts look sprightly. He's got to restore confidence, passion and fight in a demoralised bunch who were a fraction away from hitting rock bottom.
It's like handing Victor Frankenstein a box of body parts containing three right legs, a torso, eight vaginas and no head, then berating him for being a meff because he can't bang it all together to make the bloke out of The Munsters.
Surely the experimentation is a response to the shite results not the root cause? There is continous chopping and changing because Unsworth (and even Koeman before him) is desperately searching for some permutation of personnel and formation that will actually prove capable of picking up three points, instead of folding under pressure.
If (the suddenly ballooned in popularity amongst blues) 'Big' Sam was stood on the touchline today, looking like a featherless Foghorn Leghorn in a clinging Farah suit with a big fuck off ball of chuddy bulging in his corrupt cheek, people would be highlighting how his attacking substitutions changed the game and turned what looked like a nailed on defeat into a leg dampening win. Actually, they wouldn't need to because he would still be stood there now pointing it out himself in his post-match presser.
All Unsworth can do is his best in difficult circumstances (does anybody truly believe he's not giving it his all?) for as long as the club dally over making a decision. Whether his best proves good enough or not, he doesn't deserve dogs abuse from froth gargling gobshites (like the guy who labelled him a 'penis' and a worthless 'cock sucker' on another thread) who think pure unadulterated fume or criticism of every single call equates to 'passion' or some askew display of 'ambition'.
Darren Hind
185
Posted 05/11/2017 at 21:57:21
Tony A
You may be right mate, I just feel whoever we bring in will be a huge gamble. I prefer to put my faith in a guy who lives, breaths and knows Everton. I don't fancy an outsider coming in and taking weeks/months to try to make sense of our basket case of a club
I just watched an interview with Rhino being asked directly if he thought he would get the job. He was very honest and said it wasn't his decision, but he did say if he didn't get it, He would throw his full support behind the guy who did - class .
Steve Ferns
186
Posted 05/11/2017 at 21:58:15
Neil #177. We wouldn't have won today without Niasse. He was like the emodiement of the crowd on the pitch. He was immense. He might not be Messi, but he was what we needed.
Denis Richardson
187
Posted 05/11/2017 at 21:58:39
What a relief that was. Would have taken 3 points anyway they came.
However, we absolutely spawn a victory at home to watford and people are calling for DU to get the job permanently. Let's not get carried away. We got real lucky tonight. Our pen was due to their defender slipping and the first was down to their crap reserve keeper making a howler. Add to that the missed pen at the death (wtf was Cleverley doing taking it when someone like gray would have been better?). We seriously got out of jail tonight (Thank God). Now we need to get an experienced manager in to sort this shower out. We're out of the bottom 3 but still a long way from being all right.
The starting XI and formation was a joke. Again no pace or width at the start.
Rob Halligan
188
Posted 05/11/2017 at 21:58:58
Oumar Niasse must be the clumsiest player in our squad, but at the same time have the biggest heart. The man would literally run through the proverbial brick wall for the team. He deserves to remain in the starting eleven until January at least, when hopefully we can add a striker or two to the squad. If, however we can't sign any strikers then we know that at least Oumar will not let us down. Keep it going Oumar lad.
Steve Ferns
189
Posted 05/11/2017 at 21:59:34
Great post John Daley.
Simon Dalzell
190
Posted 05/11/2017 at 22:04:36
We can't allow Unsworth to " cut his teeth " in the situation we're in.Dyche any day over Unsworth at this moment in time. History just does not support the rookie option.Dyche i think can addapt to the new challenge,im sure.Change i dont understand.
Paul Holmes
191
Posted 05/11/2017 at 22:05:59
Great game to watch ,exciting,goals errors and worth the admission money for the drama alone.Atmosphere was great under the lights and we got that bit of luck that we did not get at Leicester (lennons penalty shout).
We are out of the bottom 3,but in the international break we do need to sort the defence out (including Pickford).The goals against column in the premier league and the europa league is awful.We look like conceding with every attack or any balls crossed into the box.Pickford is a rough diamond and prone to errors and the centre backs look like they are playing with diving boots on (can any of them actually win a header).There are shoots of recovery after today but the defence is more of a concern than ' we did not sign a striker' shouts we have heard all season to why we are struggling.Fuck me Keane,Jags ,Williams (and Mori) need some serious coaching !.
James Lauwervine
192
Posted 05/11/2017 at 22:06:02
Darren 77, I haven't agreed with many things I've seen you write in the past on here but I 100% agree re Unsworth. He should be given a chance based on what I've seen these four games compared to how we were playing before.
I wasn't at the game today (live 200 miles away) and was getting evils from my wife for checking my phone throughout when at her parents for Sunday roast. Seeing the way game went made the meal a lot more pleasant!
It wasn't just the result and the comeback, I'm actually really pleased for Unsworth himself who has no doubt been under immense strain. He has, for me, done a very good job of instilling a much-improved attitude in the team and has started to give me hope that things will change for the better again. Looking forward to a meagre MOTD2 slot, especially hearing the Goodison roar again.
Neil Copeland
193
Posted 05/11/2017 at 22:07:00
Steve 186, absolutely - he revels in it and the crowd in him.
John 184, spot on
Rob 188, he is immense at the moment. What an example he sets to others.
Steve Ferns
194
Posted 05/11/2017 at 22:07:03
Dyche would still be an option in January when the window opens.
Why not see if Unsworth can make progress. By January we should be at least 12th. He should have us playing better. There should be a settled side.
If not, we can say at least we gave him a go. If we lose the next three games then it's still November and Dyche would still have plenty of time.
Neil Copeland
195
Posted 05/11/2017 at 22:07:48
Type or paste your comment here. PLEASE capitalise initial letters of proper names and use proper grammar. No txt-speak; all-lowercase posts are likely to be deleted
Oliver Molloy
196
Posted 05/11/2017 at 22:10:15
Three massive points today and all the luck we didn't get in other games we got today.
Couldn't believe Cleverly missed that penalty.
To come from two nil down and win doesn't happen very often with Everton so it's a nice feeling for a change.
I had a friend that was waiting on Watford for around £11 grand today and he's absolutely sick , I feel bad for him even though I told he had made a mistake including Watford in his bet but when they were 2 nil up he must have have been dancing !
I think that we can rule this Silva guy out of the running now , his biggest mistake was not killing the game after scoring their second.
In all honesty I haven't a clue who should get the manager's job , whoever gets it has a lot of work in front of them and dead wood to shift , add all the shite going on with players falling out and the board it's not going to be easy to say the least.
Dennis Stevens
197
Posted 05/11/2017 at 22:13:24
Hear! Hear! John #184
Shane Corcoran
198
Posted 05/11/2017 at 22:14:26
Rob #188, in jest, how would one literally run through a proverbial brick wall?
Neil Copeland
200
Posted 05/11/2017 at 22:14:58
Steve 194, makes sense particularly when given the boost that everyone will get from today.
John Graham
201
Posted 05/11/2017 at 22:16:52
Mediocrity is not something we should accept.
Great our team won but if things don't change fast we are going to be in a relegation fight.
We need a new manager. They've have had plenty of time to discuss any candidates and hopefully we will have someone in before the next game.
To use the excuse we don't have a center forward when we have players like Mirallas, Niasse, DCL, Sandro and Rooney.
We do have the players if we get the right manager.
Simon Dalzell
202
Posted 05/11/2017 at 22:19:22
3 "ifs" 3 "shoulds" and he might say "piss off " in January, but i'm more wrong than right generally ! Brilliant and vital as todays win was,some of Unsworths decisions have been strange at best. Two down and chaotic as ever at one stage.This should not cloud our judgement.
Rob Halligan
204
Posted 05/11/2017 at 22:23:08
Good point Shane. 😯😯😯
Keith Monaghan
207
Posted 05/11/2017 at 22:34:29
A very welcome 3 points - but we were oh so lucky!
The MotM's for us were their sub keeper & the ref who gave us a pen that never was.
Baines took it great under such pressure; he's we past his best but shouldn't be hounded for the 1st half "miss" - he's a left back.
A rubbish selection again by Unsy - bringing Lookman & DCL on changed our play and gave us a chance.
Rooney should be on the bench at best - maybe on for the last 20 mins if needed.
Lennon should no way be ahead of Vlasic, Mirallas & Lookman.
We may as well stick with Unsy for this season - squad can't be changed in next 11 games - may have to rebuild in Championship next season.
BK & BAGGAGE MUST GO

Neil Copeland
208
Posted 05/11/2017 at 22:35:17
2nd up on MOTD2, we are privileged!
Neil Copeland
209
Posted 05/11/2017 at 22:39:17
Keith 207, if they continue to show the same spirit every week as they did today we will be fine, the quality will come.
Stan Schofield
210
Posted 05/11/2017 at 22:39:29
John@184: Spot on and eloquently put.
John Pierce
211
Posted 05/11/2017 at 22:48:48
So 3 points! Served with a rollercoaster of emotions and a huge slice of luck which everyone needs now and again.
If Gomez survives his collision and stays on the pitch, we aint gonna get that luck, Watford were 5 minutes or so away from drawing the sting from a fairly poor game before the fireworks started.
For 60 odd minutes we were pretty poor again to be fair, Unsworth retrying what had unravelled in Lyon. Tighter more compact to start with, opening up later in the game, this time out of necessity.
Niasse, is limited but will always run in behind, this is the only player in the side to do this. DCL is tidy and neat but not the bull in a china shop that Niasse is.
For me, ad nauseum its Unsworth until Xmas, I can see tiny improvements in each game. He has work it out quickly but whilst finding a way to eke out a draws and wins without consecutive losses, it maintains confidence and momentum.
Sadly, Rooney is worth a place in the team but not regularly. Lookman, Niasse, & Sigurdsson are the amunition and the rifle. He has to encorporate them each week.
Lennon, is Lookman's balance, and despite not being the player he was gives the team shape. Vlasic should be involved and Unsworth needs to see that. The casualities are Koeman's signing's and they need to be brought back in, if Unsworth remains he needs to 'get over' that and clear the slate.
I hope Pickford does get a rest, in the dead rubbers of the EL. A pre-game thread definitely identified he needs to be calmer and today was no exception, luckily the Watford forward chose to stay up for the first goal. A pen and a red card were there if the referee has a different view.
Nice to win, lets hope our internationals all 'pull out of the squad' and get 2 weeks training in!
Tony Abrahams
212
Posted 05/11/2017 at 22:50:15
Darren, I haven't got a clue who we are going to get and nobody really stands out for me either, but when I look at football managers now, I wonder how much work the manager does on the training ground, and how much work he leaves to the coach?
I don't reckon Koeman, was out there grafting his bollocks off, every day on Finch/farm, trying to get the players to grasp his ideas, but I reckon if he was given the chance then Unsworth would be?
Martinez, is probably a good coach, but he's not a very good manager. His problem was that he probably spent too much time coaching, and not enough time managing, whilst Koeman probably did the complete opposite?
I just get the feeling that Unsworth, is probably most at home, in amongst the players on the training ground, and this is were he might just serve us best?
Steve Ferns
213
Posted 05/11/2017 at 22:57:09
Tony, Koeman did little. Erwin Koeman led the training, probably under his brother's direction. But he is said to have strode about the training pitch watching as the other coaches did their bit.
Nothing wrong with that, Ferguson was a master at it. But whoever comes in, the coaching must improve. It was not good enough. The players are not fit enough. The defence is all over the place and needs to be better drilled. It's not just the back 4, you defend as a unit, particularly the centre of midfield.
There is little movement in attack, and that is something you hammer into players in training. You need them to make certain runs without thinking about it. It should come "natural" as it has been drummed into them.
We need a manager who is either a top coach, or will make sure the team is coached by top coaches. The coaching staff must be in tune with the manager and coach to the same plan (which is why the manager cannot include Unsworth and Ferguson on his staff).
Unsworth is a great coach. The youth players tell you so, both expressly and indirectly by how they play, move, and have developed. Let him show he can be the man to coach the first team too.
Mike Gaynes
214
Posted 05/11/2017 at 23:06:26
John #184 and Darren #185, I couldn't agree more that Unsworth has shown courage, character and passion, and that he's played a very bad hand the best that he could. I too am disgusted by the abuse he has taken on this board and on the live forum. He deserves heartfelt applause.
But he's still not qualified for the top job.
His lineups have been even more bewildering than Koeman's (if that's possible) and nothing has changed tactically or strategically -- we're still disorganized and slapdash at both ends of the pitch, and we still don't appear to start the game with a plan. We won today on a contagious passion sparked by Niasse, not on good coaching.
I'll give Rhino full credit for making some fine decisions on previously unused players (Beni, Niasse and Lennon) and some good subs... although while bringing Lennon on today was a stroke of genius, I thought bringing him on for Siggy instead of the ineffective Davies was outright foolish.
But we desperately need a manager with some tactical vision and organizing skills to sort out this mess, and Rhino ain't it. He'll make a fine Prem manager some day, but today isn't that day. This is no job for rookies.
I'll stand and applaud him as he comes off, but he needs to be subbed out.
John Pierce
215
Posted 05/11/2017 at 23:11:51
Steve,
I would not despite a preference for Unsworth until Xmas see if Gus Hiddink, good manager would take over, with Unsworth good coach as an assistant until seasons end. That has a good mix of the old and the new.
Hiddink I think would be open, its short term and perhaps if Unsworth is not the answer after six months with a well rounded manager then other better options than currently available will be there in the summer.
Simon Dalzell
216
Posted 05/11/2017 at 23:14:47
Mike Gaynes @ 214 Thank goodness.Best, balanced post by a mile.I was starting to question my own beliefs.Well said.
Roger Helm
217
Posted 05/11/2017 at 23:22:42
Football, bloody hell...
A great day and good to be an Evertonian at last! Three invaluable points due to willpower, a big helping of (overdue) luck, a decent ref for once and a brilliant effort from the fans.
DCL did really well, as did Niasse and Lookman when they came on. Still a massive job to do - we seem slow and physically weak, even the CHs get brushed off the ball. We are a lot quicker without Rooney on the field and what is the point of Siggurdson? What does he offer? Hopefully it's just a run of bad form he will get over.
Pickford is still doing his blocking shots back into the danger area thing; and shouldn't their CH have been red carded for tripping Niasse as he scored?
John Pierce
218
Posted 05/11/2017 at 23:25:15
Mike, 214.
Most of your post is right, soundly put to. Unsowrth is picking up the pieces if a vase smashed to smithereens. Were I differ from you is that in each I've seen a plan in each game and some attempt to execute it.
The games have not been without some grave errors both from Rhino and the players, however he has glued together several of those tiny smashed pieces and I can see and visualise what he wants.
A stint until Xams would in my opinion allow us to measure the progress and the state of that vase more clearly.
I believe the strentgh of league is extremely poor at at the moment and the bottom 12 teams all have very real fears to address. Perhaps one side will be adrift at Xams but we won't be. Unsworth has that room to breathe, and Everton should not be rash in appointing quickly.
West Ham, West Brom, Bournemouth, Stoke & Swansea have horrendous records going back as far as ourselves from the last 10 games of last season. There is wriggle room for Unsowrth if we can step back a bit and show some courage.
Time yet for the rookie to stake his claim and stick that vase back together!
Frank Wade
219
Posted 05/11/2017 at 23:31:42
I have no clue who the 'best' option for Manager of Everton should be, however my view is that we should leave Dave Unsworth in charge for the time being. I can't understand the flak he is getting for the loss of the 3 away games v Chelsea, Leicester and Lyon, as if anyone could turn around the mess he inherited. I think we can all agree that none of those games would have been won under Koeman, yet Unsworth is useless when he fails to win them. He has been dealt a poor hand with a lopsided unbalanced squad.
Let's say a new manager comes in. First step is to analyse the strengths and weaknesses of the current squad. Second step is to devise a formation to win matches and make best use of the resources he has. Third step is to win the support of the players for his 'vision' and instill a winning spirit In my opinion, no stranger to the club would be in a better position to do the job than Evertonian Unsworth.
Every new manager brought into the club will bring a large amount of upheaval, may be necessary of course, will be expensive and will provide absolutely no guarantee of success. WE as supporters just don't know any better than the much maligned Kenwright and Moshiri. It's a lottery. I'll admit to being in the Frank de Boer camp last time out. Good luck to them in their decision making.
Classic ToffeeWeb post for the archives today as one poster was advocating the sacking of Denise Baxendale. I can understand the frustration of fans but that's just plain ridiculous.
Gavin Johnson
220
Posted 05/11/2017 at 23:32:03
Apparently Schniederlin and Mirallas were both sent home from training yesterday for being bone idle and having a bad attitude. With the emergence of Beni I don't think we'd miss Schniederlin. We're overloaded with central midfielders so a couple of them need to be sold.
Terry Underwood
221
Posted 05/11/2017 at 23:39:17
Oumar Niasse is not going to be a 20 goal striker IMO, but, I recon paired with a nippy, pacey partner, he could be half of a 30 goal pairing. Would love to see him paired with Lookman, determination and strength partnered with pace, think Sharp/Heath. As for manager, I don't know who we will get, but Allerdyce and Dyche are no no's for me. Their only ambition for years has been to avoid relegation, we need, no fuck it, we demand more than that.
Phillip Warrington
222
Posted 05/11/2017 at 23:40:38
Yes a win, but unless we beat Crystal Palace in the next league game then that's all it will be – a lucky win. Lets be honest, Watford outplayed us in terms of playing football. I disagree when people say its the worst Everton team ever, because of earlier results Everton have been set up to play defensive football and the constent changing of the team has never allowed players to be confident or attack the opposition for fear of being dropped.

Christ when Martinez first took over Everton we were acknowledge for their lightening counter attacks with pretty much the same bunch of players so to me it's not so much the players but it's finding a top notch coach who knows how to win and not one that knows how to survive.
Michael Williams
223
Posted 05/11/2017 at 23:43:31
Unsworth is definitely the person to manage this team right now!
Everton is filled with talented youngsters that need to be developed and that is Unsworth's specialty. Everton need to start over and build with the youngsters. Once a solid core, hopefully a large one, is created that will be the time for the club to look to think about hiring a manager to take us to the next level.
Andy Williams
224
Posted 05/11/2017 at 23:43:39
John Daley/ Darren Hind - spot on. Shearer and Wright on Motd saying how well Unsy has done considering. Just look at all the formations and combinations that TW posters have forwarded - no consensus whatsoever because virtually nobody playing with confidence and the squad unbalanced. What chance has DU had? But today, I saw a team. It wasn't pretty and there were mistakes but they fought back (first time we have come back to win from 2 down in 23 years). We scored more goals than we have in the league all season - against a good Watford team. That was like nothing I have seen all season. That would not have happened under Konman. Progress.
Mike Berry
225
Posted 05/11/2017 at 23:45:46
Credit for the lads today for digging in and digging out a win, also for Unsworth changing, what was an awful starting line up of a crowded midfield with no outlet, to one of width and pace.
Niasse won us the game today as he was a constant nuisance and deserved his reward.
Being at the game I have to say our football was dire, the number of aimless punts and bad passing losing possession to Watford who could have been out of sight, on other days we wont get away with it.
Bill Gall
226
Posted 05/11/2017 at 23:46:28
I was not happy with the starting team selection as we were once again, playing with no width.When Watford scored their second goal I was ready to throw my shoe through the TV but as I only bought it last week sense prevailed, and I opened up a beer.
The first half was no better than what we have been served up for the last number of games, and although I got caught up in the excitement of the second half it, still does not disguise the fact a game is not for 45 min, it is for 90+min and some poor play by Watfords defense let us back in the game. This may have provided what some people term a great comeback but we may not be giving the same opportunity next time with another team. You cant afford to play poor in the first half every week and hope to get back into it the second half.
I think Unsworth will make a good manager in the future and has achieved partial success under a very difficult situation, but I am not sure he can do it over the season. I don't know who the new manager will be, but if it is not Unsworth, I hope whoever comes in retains him for his knowledge of the club and the players who are available.
On another note those people who say it was not a penalty ,even if a player slips and looses his balance and by doing so he stops a player getting to the ball by taking his legs from underneath him, it is a foul anywhere on the pitch.
Oliver Molloy
228
Posted 05/11/2017 at 00:00:14
Gavin,
Rumours are
Schniederlin could well be on his way come January if Everton can get anything close to what they paid.
Apparently he acts the prima donna quite a bit.
Mirallas we all know about and the kid Vlasic has been told to tell his sister to shut the fuck up on social media which he hasn't taken to well , perhaps that's why he's been left out of the squad.
Unsworth definitely putting markers down he won't have any slackers around him.
Dennis Stevens
229
Posted 06/11/2017 at 00:09:30
Bill #226: "You cant afford to play poor in the first half every week and hope to get back into it the second half." You do know it was nil-nil at half time?
Steve Ferns
230
Posted 05/11/2017 at 00:15:34
It was a certainly penalty. It was unlucky for the Watford player, but Lennon turned him. The player impeded Lennon getting the ball and therefore that means it is a clear foul, and so a penalty.
As for Unsworth's selections and changes. May I please refer you to Sam Allardyce, whom some here want appointed in Unsworth's stead. Allardyce performed great feats at first Sunderland and then at Palace and kept both up. Did he immediately find a winning solution? No he did not. I apologise, but this is the first article I could find and it's from a disreputable paper, but it shows my point:
Warning link to the Scum Newspaper
Allardyce's Palace where in a bigger mess after 7 games than they had been under Pardew. Basically it took Allardyce those 7 games of chopping, changing and messing about to get things sorted. There's a similar situation at Sunderland.
Would allardyce have done any better than Unsworth in those three games? No, surely not. Can he sign players? No he can't. Ok he can bring Lennon in from the cold like Unsworth did, but in terms of promoting players, Unsworth has the inside track there.
Having now seen Match of the Day, I was able to confirm my view, that Kenny played well. He was not at fault for the goals. I've been clamouring for the lad all season, but before the game, I was considering saying I was wrong. That Ronald was right. That Kenny was not ready, and he was right to leave him out. Well Ronald was right. He was not ready, and his performances were not good enough. But now, finally, they are improving. He was better today. He will be better the next game, and hopefully, he will keep picking up and become the player we expect him to be. He should grow in confidence now. Defensively, he is assured and has enough pace not to get skinned, more awareness of the position than Holgate or Martina, and whilst Martina has got forward better, so far, Kenny has much more potential. There was a couple of great crosses today, than came to nothing, because we lacked height up top.
I still stand by mantra on the manager. He must be a coach. Everton's problems are all solved, bar one, on the training ground. Even that shaky back 4. Jags still has enough pace, more than Keane, to play centre half, and there's no reason he can't play as well as he did at the end of last season. The only thing he is missing is an effective Shneiderlin shielding that back 4.
On the point on Schneiderlin, there is something on sky sports news now:
Schneiderlin and Mirallas sent home
Let's hope Schneiderlin can check his attitude and sort himself out and become the player he was last season.
Peter Mills
231
Posted 05/11/2017 at 00:20:09
So, Mike#214, my friend. You credit David Unsworth for bringing in courage, character and passion. You praise him for making full use of previously unused players. And you even suggest he has shown a stroke of genius today. All inside 4 games. Yet you still think he is not up to the mark?
Steve Ferns
232
Posted 06/11/2017 at 00:24:40
Oh, and can I also mention a media point. I think Unsworth has been absolutely top class in his handling of the media. He has also spoken to the fans through the media and he has handled us well.
Since the Thursday fiasco, he has kept saying the same simple message. "Sunday is like a cup final". What did he mean by this? What was he trying to gain by saying this? Of course on a personal level, it was a cup final for him. Win or he's out (of the job). But he was speaking to the fans. He was telling us, he wanted the atmosphere like it was a cup final. Did he get a cup final atmosphere today? You betcha. The crowd were amazing. He wound us up, we were all ready. We did our part. We were the 12th man. Watford, and probably any neutrals watching would have shit themselves at 1-2. The crowd was deafening and thereafter we roared the blues all the way to 3-2, and Cleverly missed a terrible penalty in front of a very hostile Park End.
Unsworth has the skills to manipulate the media in the short term, and I expect he can do so in the long term.
Kim Vivian
233
Posted 05/11/2017 at 00:25:43
George C's gone quiet, hasn't he? Must be constructing his reply to John D's excellent bollocking at 184.
Well said, John, by the way. Fkn well said.
The difference that second half made to our perception of where we are is staggering. The players will take a massive boost from that as will the supporters. We've had glimpses (2nd half against Chelsea and others) of what we can produce, but does anyone besides me see the common denominator being 'Mo Lookman.
For me, I'd like to see Rhino given until Xmas at least and see how it's going. If he can keep making these small improvements. with the prospect of some incoming in Jan and some returns from injury he may earn the berth until the end of the season.
He's not been there long but with the improved spirit he's already building he has already left a big pair of boots to be filled if and when a new manager is tasked with the job.
Victor Jones
234
Posted 06/11/2017 at 00:27:43
Correct Bill Gall. If a player slips and takes an opposing player with him. Then its a foul. Clever play by Lennon though. His little touch made it impossible for the ref not to give the penalty. His legs were taken from under him. It was a stonewall cert penalty.
Now who remembers the penalty that Osman won a few years back against Sunderland. He stubbed his toe on the ground. Then fell over. Now that was lucky. Lennon's was not lucky. Lennon's was a penalty.
Just one other point. Was Pickford not a little lucky to have stayed on the pitch after giving away the other penalty? I thought that he was. But Sunday seemed to be our lucky day. Let's just enjoy it.
Gavin Johnson
235
Posted 06/11/2017 at 00:27:49
Oliver
Fair play to Unsworth. If Koeman was still manager I have no doubts he would still be pairing Schniederlin with Gana no matter how shit they play. We don't need any passengers from now until the end of the season. It's players like Schniederlin who need to be on their A-game. He's in the age group who are meant to be at the peak of their career.
While I don't like the idea of playing two kids in Beni and Davies it's become apparent that Schniederlin isn't the same player as last season and Beni has taken his chance with both hands. Ideally I would have liked to have tried to move Besic and McCarthy on in Jan, but I have no problem with Schniederlin going if we get an offer in the region of £15m for him.
I'd also make Celtic an offer for Dembele and Tiernay and see if Ajax will do a part exchange involving Klaassen for Kasper Dolberg. I believe Dolberg is in the final year of his contract now.
Bill Gall
236
Posted 06/11/2017 at 00:29:15
Dennis I 229 I now it was nil-nil at half time but it was not a very good performance from us, and we had to go 2 goals down before we livened up.
Ian Pilkington
237
Posted 06/11/2017 at 00:31:52
It was one of the most memorable
games I've ever seen at Goodison, but it doesn't alter my view that Unsy is not at all ready to become permanent manager. In despair at 2-0 down, I sat there imagining the awful spectre of Allardyce being brought in to save us from relegation. That unpalatable option has been averted but Moshiri must think bigger than managers like Dyche or Silva. Hiddink could prove a good interim manager with Unsy perhaps as first team coach. The Dutchman would certainly have the clout to improve the squad with new signings in January and start the inevitable clear out.
Steve Ferns
238
Posted 06/11/2017 at 00:35:26
Dolberg and Dembele were both misfiring this season. Dembele has reignited in recent weeks, and now has 6 in 12. Injuries have played their part.
The big Dane, my personal preference as a Target man all summer long, has just 2 in 9 games. A dutch friend told me he is not better than Calvert-Lewin and this was apparently the verdict of Koeman.
I think the striker needs to be a leader and should probably be in the age range of 27-31. He also needs to be big and strong. We have mobile strikers in Calvert-Lewin and Niasse. I'd like us to have more variety to our play.
Of course, if we could make a dream signing like Cavani, and can do a bit of everything, then great. Otherwise, someone big and strong, in the Giroud mould.
For left back, I'd like us to gamble on Luke Shaw and revive his career. Providing United don't fleece us for more than £10m. Tiernay didn't look too hot against top class opposition in the Champions League, but that's just Celtic as a whole.
Steve Ferns
239
Posted 06/11/2017 at 00:36:16
Bill, don't forget we missed a sitter from Baines. 1-0 and it was different game.
Steve Ferns
240
Posted 06/11/2017 at 00:41:02
I got Hiddink mixed up, too many celebratory beers!
But at 70 he is too old.
Simon Dalzell
241
Posted 06/11/2017 at 00:45:26
kim @233 George has probably gone to bed .I don't blame him,some of the rubbish thats appearing." the difference that second half etc UNBELIEVABLE.
Chad Schofield
242
Posted 06/11/2017 at 00:50:44
Steve Ferns 230, excellent post. There's a lot of excellent posts in fairness, I don't just mean the ones advocating sticking with Unsworth. There is a lot of hyperbole and magic wishful thinking that some wizard will arrive and turn our fortunes around so after surving our relegation battle, we'll have a Champions League winning squad assembled this time next year courtesy of Sam Allardyce or Burnley's manager.
We need someone to check a number of underperforming pre-Madonnas. Looks like Unsworth's already ahead on that already.
I'd like to see him haul the squad (those that aren't required by their countries) Thursday clear the air, with extra training following week.
We've had a lot of games, but very little trying time.
Alternatively we can speculate media coverage of who it might/could/should be, avail someone and the watch the next 10 games as they tinker and try and work out what they have. That takes us until Christmas (including Europa games that we might as well set up for damage limitation and pride). But yeah, reckon by then we'll be ready to eye up our Jan targets after a congested run of games.
Jamie Crowley
243
Posted 06/11/2017 at 00:52:06
It's like handing Victor Frankenstein a box of body parts containing three right legs, a torso, eight vaginas and no head, then berating him for being a meff because he can't bang it all together to make the bloke out of The Munsters.
Not only do I agree with John's analogy (metaphor?) but I think it's one of the funniest, brilliant things I've read on these pages.
Spot on.
Chris Watts
244
Posted 06/11/2017 at 01:04:29
Just goes to show how fickle us fans are. When we were 2-0 down I doubt many wanted Unsworth as the manager.
It was a great comeback but he chose the same unbalanced side for the first 60 minutes. I'd thank him for giving us 3 points and something positive before the international break but we need a manager of world class now to keep going up the table. The job will be a lot more attractive now we are not in the bottom 2 and we are only a few wins from the top 6. I worth despite the brilliant come back is not that man in my opinion
Dennis Stevens
245
Posted 06/11/2017 at 01:08:57
Chris#244 How many applications do you think the Club will have received from managers of world class??
Gavin Johnson
246
Posted 06/11/2017 at 01:15:52
I'd still like us to bring in a manager during the international break. But after the rousing 2nd half display against Watford I think there are signs that Unsworth can get some consistency out of the squad.
I don't think Unsworth's the answer long term but I don't think the new manager has to be a fire fighter in the shape of Big Sam now. If Allardyce was the option until the end of the season, I think we saw enough against Watford to give Unsworth the job over him until the end of the season. I don't think we'll go down under him. That said, if we can get Silva, Dyche, or Tuchel long term. I'd give them the job next week.
Steve Ferns
247
Posted 06/11/2017 at 01:17:34
I thought Koeman was on an absolute fortune at £6m a year and many would want the job for that money.
Mourinho puts this into perspective. He earns £12m a year and has just asked for a £3m a year payrise!!!
Still £6m a year is massive money and more than pochettino is on.
Steve Ferns
248
Posted 06/11/2017 at 01:21:34
Manager update:
Tuchel - no talk at all
Silva - refused to take any questions on Everton job after the game.
Allardyce - on MOTD (Saturday?) said he was unlikely to get it. Dunno full details here someone else can elaborate.
So silva looks most likely right now. He's my preferred candidate. Even ahead of Unsworth. But I have doubts. Some big doubts. I'd rather wait and let him prove himself. No one else will nick him. West Ham can't outbid us. Let's see how he does and how Unsworth does for the rest of the season.
Simon Dalzell
249
Posted 06/11/2017 at 01:26:38
Dennis @ 245, I say Mr watts is correct. okay there isn't a queue of top class managers,but we desperately need an experienced manager.How many applications from managers with NO senior experience? 2 nil down,as bad as ever, could have been more.Why on earth didn't Lookman start? Vlasic has been about the only bright spot.left out altogether.A missed penalty at the end. Now it seems Unsworth is the answer.How on earth can this be the preffered option? We all admire him for his U23 achievements,but this is Not how a premier league club should operate..A vital 3 points bagged,none the less.Goodnight all.
Don Alexander
250
Posted 06/11/2017 at 01:38:32
Don Alexander
251
Posted 06/11/2017 at 01:38:32
Everything revolves around Moshiri's true intentions re his self-publicized "project" and then the size of his wallet when it comes to our next manager.
To me Unsworth is just too "Kenwright-acceptable" for comfort, "Kenwright" being complacent, conniving and comfortable in his own mind.
Allardyce will clearly demand a mega-contract (after all, he demonstrably loves money doesn't he?) but the only thing that sustains him is his proud boast, if he still has it, that he's never been relegated. Does he still have it though, given that the England job was always the pinnacle of his ambitions?
Dyche to me is the better bet but does anyone really know the true character, if any even exists, of those currently employed at Finch Farm? If "character" is as lacking as I fear it is most of them will consider themselves a cut above the Ginger Mourinho and the damage to Moshiri's wallet increases exponentially, and that's anathema to most successful accountants such as he.
Frankly I just don't trust Kenwright and nor, sadly, do I trust many of the long signed players or, in light of obvious events to any but the blind, Rooney.
In short, Moshiri's much vaunted "three-year-CL-project" will at the very best only get off the ground next summer because up to now everything's been faffed up by, or for, him.

Don Alexander
252
Posted 06/11/2017 at 01:38:32
Everything revolves around Moshiri's true intentions re his self-publicized "project" and then the size of his wallet when it comes to our next manager.
To me Unsworth is just too "Kenwright-acceptable" for comfort, "Kenwright" being complacent, conniving and comfortable in his own mind.
Allardyce will clearly demand a mega-contract (after all, he demonstrably loves money doesn't he?) but the only thing that sustains him is his proud boast, if he still has it, that he's never been relegated. Does he still have it though, given that the England job was always the pinnacle of his ambitions?
Dyche to me is the better bet but does anyone really know the true character, if any even exists, of those currently employed at Finch Farm? If "character" is as lacking as I fear it is most of them will consider themselves a cut above the Ginger Mourinho and the damage to Moshiri's wallet increases exponentially, and that's anathema to most successful accountants such as he.
Frankly I just don't trust Kenwright and nor, sadly, do I trust many of the long signed players or, in light of obvious events to any but the blind, Rooney.
In short, Moshiri's much vaunted "three-year-CL-project" will at the very best only get off the ground next summer because up to now everything's been faffed up by, or for, him.

Ed Prytherch
253
Posted 06/11/2017 at 01:39:00
I think that there is not much risk in giving Unsy a run until Christmas. I am bemused with some of his team selections but he must be credited with the the great fight back today. I am not a fan of Fat Sam's football but he is the man if we are still in the shit in January.

I would not want a team with ten Niasses but there should always be room for one like him.
Gavin Johnson
254
Posted 06/11/2017 at 01:44:42
Steve #248
Joey Barton reckons he's heard that we'll have Big Sam until the end of the season. That report was before yesterdays game. But Barton does talk a lot of shite and he started the rumour that Kenwright didn't want us to buy a striker to keep the books looking good.
After the performance against Watford, I don't think we're do something as drastic as bring Allardyce in now. I don't think we should get carried away with Unsworth though. He's a novice and we still need someone long term.
Steve Ferns
255
Posted 06/11/2017 at 01:53:48
Joey Barton does talk a lot of shite. He also hates Unsworth.
Big Sam didn't seem too bullish on match of the day. Use google to find the clip. Reading between the lines, Dyche, Allardyce and Silva are the front runners and I think silva appears more likely. Moshiri will pick. Not Kenwright.
Mike Gaynes
256
Posted 06/11/2017 at 02:04:16
Peter #231, yes, my friend, I'm more convinced of it than ever. The first 65 minutes today was the worst I have ever seen from Everton -- they were unprepared, oddly positioned, and absent any indication of strategy or tactics. Just as they were in the three previous games.
Certainly Unsworth has all of the fine character traits I mentioned and he's an inspirational figure, and yes he was able to stitch up the holes today with some good subs. But everything I've seen in these four games indicates that he is hopelessly out of his depth managing at this level. I believe that if it hadn't been for Niasse's crazy effort and Gomes' injury, we would all be talking about taking Rhino's head as a trophy right now.
My Uncle Harvey also had courage, character, passion and touches of genius, but it didn't qualify him to be a Prem manager. I stand by my compliments to Unsworth, but I also stand by my assessment of his abilities. He's a youth coach, a raw amateur at this level. This is a job for a professional.
Mike Gaynes
257
Posted 06/11/2017 at 02:16:10
Gavin, Oliver and Steve... thanks for that info on Mirallas and Schneiderlin. I'm not surprised about Mirallas... he does tend to sulk.
But I'm honestly bewildered at what's happened to Schneiderlin. When he came to us he was ferocious and brave, and all over the pitch helping the team. I thought he was largely responsible for our fine play then. But his game has gone completely to hell... he's become lazy, timid and sulky. And he has bottled two challenges in the area that cost us goals.
You know, he got married in June, and he hasn't been worth a crap since. I wonder
Dennis Ng
258
Posted 06/11/2017 at 02:23:20
Steve 255, if Moshiri is to pick, I would like to think he will look above those names and try to sell the project to better names. Just my gut and I could be wrong.
Mike 256, I'm with you. Watford defence looked lost without Gomes and we lucked out with Niasse's goal. We looked spirited only from then on and had to fight really hard to get out of the hole we dug ourselves in the preceding 65 mins. We all wish it would be a blue to take us forward but we don't really have good options from the lot. I don't think Allardyce is an upgrade nor enthusiastic about Dyche and Silva. I truly hope Moshiri has a few good names in mind as we shouldn't get a man just to get us out of the problems we're in, we want him to reinvigorate the project.
Gavin Johnson
259
Posted 06/11/2017 at 02:30:46
Just looking at Marco Silva's CV at its quite impressive for a manager who is only 40. He got his first club promoted in Portugal. Then got the job at Sporting where he won their equivalent of the FA cup and their first trophy since 2008. He was inexplicably sacked for not wearing a team suit before going to Greece where he won the league with Olympiacos.
I'm surmising but I can see it being between Dyche (Bills Choice) and Silva, who Moshiri is reported to rate. I don't mind us getting the Ginger Mourinho but I think I'm edging towards Marco Silva.
Lee Brownlie
260
Posted 06/11/2017 at 02:35:56
Ceverley still on our books, then? Anyway.. phew, a win! Hopefully this can help change our mentality.
Ernie Baywood
261
Posted 06/11/2017 at 02:43:16
I don't believe Unsworth is ready, but I wouldn't be rushing to replace him unless we have a really top alternative.
His four games so far have been more enjoyable to watch than the crap Koeman served up. It's pretty clear that the players are putting in - he's got them motivated. He's also given opportunities to a few players who have justified his faith in them. Kenny, Beni, Lennon, Niasse.

I wasn't impressed with his starting line up but if the rumors about Mirallas and Schneiderlin are true then it's fair to assume he lost a winger and opted to go 'solid'. I'll back him against those two.
Clive Mitchell
262
Posted 06/11/2017 at 02:59:30
What a fantastic afternoon! Outplayed for an hour, the opposition as usual bigger, stronger, faster, sharper. We looked what we are - a sub-standard Premier League side that would battle to stay up without big changes.
But boy did we show some guts. Tom Davies coming in for loads of stick - he put more effort into that game than Schneiderlin puts into a dozen. Baningime, Gueye, Kenny, Keane fought like mad. Jags is done for, but bloody hell he put in a shift. Ditto on both counts Baines. You couldn't fault anyone for effort and commitment, though Rooney was poor and Sigurdsson dire.
And then there was Oumar Niasse. He did it again, bringing Goodison to its furious, hysterical, deafening best, and when the chance came for Oumar to link up with a fresh and lively DCL Watford's composure cracked.
One great thing about this win is what it'll do for the young lads. They've heard Goodison roar for them, they'll be stronger for it. They need the experienced heads around them, but that'll have to be Keane, Gueye, McCarthy, Coleman, Barkley - we just can't affford to field a starting 11 that includes Baines, Jags and Rooney.
I've no idea who our next manager should be. As one blue said on the radio this week, this is the only club I care about, so being Everton manager is the hardest job in the world. But whatever the immediate future holds for him, David Unsworth can take pride in the maturity and magnificent attitude shown by Davies, Kenny, Baningime, Calvert-Lewin, Lookman. Unsy spoke about Beni as being 'a humble lad', and he's too classy to make public his contempt for professionals who don't respect the game and their own performance. As for me, I'll not be sorry if I never see Mirallas or Schneiderlin in a blue shirt again.
Bobby Angwin
263
Posted 06/11/2017 at 03:20:58
Got to say that was the best second half of football I've ever seen live! Atmosphere was rocking and to silence the away fans with their "that's why you're going down" chants all match was pleasing to say the least. Voice is still hoarse but worth it.
One clear observation was that we basically really miss Coleman. There were so many times in the first half when Kenny was in the overlap position on the right and didn't have the pace or skill to do anything with it. They targeted him all match and he looked totally lost until Lennon came on and defended in front of him.
We need an outlet every match and Niasse on his own is not enough. The game changed completely when DCL came on. Then we started to get the ball hoofed up at every opportunity and put their back line under complete pressure. We looked like scoring every time the ball went up their end. It may not be pretty but it's what we need right now - we'll win more matches playing DCL, Lookman and Niasse up front with 3 midfielders and leaving Rooney to come on as an impact sub than the team that started today.
Tom Davies stank the place out today, absolutely dreadful for the majority of the match. I know it's not trendy to have a go at the young homegrown players but that's the harsh truth.
I liked Beni and Gana in the midfield and with Siggy through the centre with that front 3, options from the bench and a manager with sense ie Unsy we'll be fine this season.
Unsy deserves proper credit today. His subs were match changing and if Guardiola had done the same there would have been talk of genius. I'd love him to stay on this season, I'm not worried about relegation and think he'll do us until the Summer at least.
John Pierce
264
Posted 06/11/2017 at 03:26:30
The balance as it seems to me in the attacking areas is Niasse to stretch, Lookman to trick, Lennon to keep our shape and bring the right back into it. Sigurdsson behind pulling the strings.
Amit Vithlani
265
Posted 06/11/2017 at 05:21:13
Absolutely delighted for the long suffering GP faithful. A stirring comeback and long overdue fighting spirit.
Our problems run deep and need to be fixed but for the time being I will enjoy the next two weeks and the glow the comeback has brought us.
John Boon
266
Posted 06/11/2017 at 05:38:02
Glad as could be to win but we still played lousy. I really don't blame Unsworth for our previous three games but I don't agree with his starting eleven. Mirallas and Vlasic should both be on the field, preferably at the start, I know that Mirallas was sent home but we don't know why. If he wasn't trying hard then give him extra training. Sending him home maybe just what he wants and also just seems childish. More the action of a frustrated PE teacher. We still have such a long way to go but hopefully a victory may improve confidence.
Brian Porter
267
Posted 06/11/2017 at 06:28:27
To those who still want to knock Niasse, the PL stats now have him as the league's top scorer per minutes played this season. That's a pretty good return for the amount of time he's spent on the pitch. Who cares how he does it? The lad scores goals!
Isn't that what we want from a centre forward? Would Rom have carried on chasing and harrying at two nil down? I doubt it. Every time Niasse git the ball you sensed the crowd were willing him on, sensing the desire he emanates whenever he's on the pitch.
Who knows, if Koeman had swallowed his pride much earlier and used Niasse as his main striker instead of moaning that we hadn't got a centre forward when we clearly did, maybe we wouldn't be where we are, and Koeman might still have a job!
Christopher Timmins
268
Posted 06/11/2017 at 06:50:57
A fantastic result yesterday. If Unsworth gets the job on a more permanent basis great, if not, he leaves the role on the back of a fantastic comeback, something you don't often seen in this league any more. He is proud to be our manager and if he gets the nod I wish him every success.
Rahman Talib
269
Posted 06/11/2017 at 07:18:30
ALL YOU BLOKES ARE MISSING THE POINT BY A MILE!!!!!!
OUR PROBLEM NOW IS WE ARE GIVING AWAY EASY GOALS!!!!!!
The two Watford goals would not have been goals when Moyes was in charge.
Unsworth would not have let the second goal in the way Jagielka did.
Nobody can catch us easily on the counter when Moyes was in charge.
Martinez destroyed what was good that Moyes had built for us and that is a sturdy defence.
Even wonder why Moyes never complained about Hibbert not doing much attacking wise?
Unsy will be able to solve this problem and when he does we will be fighting for a place in Europe come April 2018
Rahman Talib
270
Posted 06/11/2017 at 07:21:33
If Koeman had played Niasse as a target man CONSISTENTLY from day one, he would still be in charged.
The difference today is that for the first time we are playing with a clear target man.
And we automatically improve all over.
Niasse may not be Giroud or Costa but he is a target man nonetheless that is required to balancce the team
Paul Mackay
271
Posted 06/11/2017 at 07:23:40
The subs won us the game, all three did well, been impressed with Lennon in particular. I like him and he brings an injection of pace to our side.
Rahman Talib
272
Posted 06/11/2017 at 07:26:37
The players are responding to Rhino.
That alone is a strong enough reason to let him run until the end of the season.
Koeman was stupid.
The answer was staring him in the face in the form of Niasse and he refused to take it.
Rahman Talib
273
Posted 06/11/2017 at 07:29:57
With 2 Defensive Midfielders we should be able to play the flanks consistently i.e. putting Vlassic and Lennon on all the time.
But why are we still getting caught by counter attacks?
WE BADLY NEED TO GET RID OF JAGIELKA AND WILLIAMS.
The opponents are capitilizing on their lack of speed.
And this Keane dude is not helping,
He was at fault for the first goal yesterday.
This goal leak problem must be solved.
We are giving away EASY GOALS FOR FUCK SAKE!!!!

Rick Pattinson
274
Posted 06/11/2017 at 07:56:41
A circus not a football match We got a win dreadful performance as usual though. We need a complete clear out come January. Well done Niasse you're reaching legend status...here have schneiderlins locker
Bob Parrington
275
Posted 06/11/2017 at 08:03:17
Steve Ferns #230. Just one issue with Jags that concerns me and that you didn't mention. For their headed goal and again at least 2 other threatening times he could not jump or didn't have the strength to block their guys to headers. Otherwise, he had a fairly solid game IMO better than having Williams in the starting 11 as he is becoming something of a liability.
Great to have the win!
Hugh Jenkins
276
Posted 06/11/2017 at 08:17:08
I subscribe to several Everton fanzine sites.
Consequently, I see the same observations made by different fans ( unless they are the same ones using different pseudonyms), saying similar things, all the time.
"Why no width?"
"Why isn't this player - or that player starting?"
"Why isn't .......... on the bench?"
"Why did he make that substitution?"
I am sure, if the writers stop to question themselves, instead of questioning the manager and his decisions, they will see that:-
1) He is making these decisions based on what he knows at the time - i.e. so and so had a knock in training - or Mr X "felt his hamstring" in the warm up, etc.;
2) His strategy is based on what he knows about the opposition and their style of play;
The whole point is, the manager is there because of his experience in the professional game, his intimate knowledge of his own squad and,
usually, his proven experience to set up a winning strategy, taking these factors into consideration.
So, given that , in all probability, 99.9% of posters on these sites have none of this inside knowledge at their disposal, why do they think they know better than the man that is actually in charge?
I don't care who may have been appointed manager immediately after Koeman, I seriously doubt anyone would have got better results
in the first three matches, given the demoralised state of the squad and the personnel available to pick from.
Who, for example, would have started Beningime against Chelsea? - yet the kid was acknowledged as being MotM for most Evertonians.
Who, for example, would , realistically, given the squad to pick from, have picked a side to have won the other two games, played away form home, with a demoralised squad, who had forgotten how to win?
People need to start to realise what a gem we have in Unsworth and, instead of clamouring for him to be replaced by almost anyone, embrace the revolution, and let him start to nurture and develop his own side, in his own way.
Don't forget, after Koeman dismissed and ostracised Oumar, it was Unsworth who took him into the U23's, rebuilt his confidence and gave him a chance - and now he is showing us what he can actually do.
We need to do the same with David Unsworth - give him a proper chance and let him show us what he can do!

Eddie Dunn
277
Posted 06/11/2017 at 08:26:38
It was a terrible performance until Gomez got bashed and Niasse bludgeoned them into submission. Prior to that it was a disaster. I like Unsworth and wouldn't mind him getting until xmas to see if he can sort out the defence but I am not convinced yet.
It is still a step up from Koeman though.
Niasse is key, the hammer to smash holes in a back line, and some pace too. He is a rough diamond but he shakes things up creates panic and mistakes. I love the guy.
Our defence is terrible though, and Davies needs to bring some control to his play- his energy is great but he needs to focus on his role.
We need a big commanding centre half even more than a striker in January. Oh, and is it possible to recall Dowell?
Steve Brown
278
Posted 06/11/2017 at 08:51:37
Hugh#276, whatever internal matters and insights were at play, Unsy picked a team that was every bit as imbalanced, slow amd disjointed as Koeman. The defensive organisation was terrible and the midfield overpowered. There was no pace in attack.
What he did bring was the willingness to change things and a passion in the players that has been completely lacking. My advice to Unsy is drill the team on our defensive shape intensively and build out from there, get some physical presence in midfield, play Sigurdsson as CAM behind Niasse and use width.
Hugh Jenkins
279
Posted 06/11/2017 at 08:55:42
Eddie Dunn(277) - I note your question regarding the recall of Dowell.
I agree - he should never have been sent out on loan.
But the same is equally true of Galloway and Browning, et al.
Galloway was excellent for us when brought in at left back, a while back, yet now, on loan at Sunderland, he can't even make their bench - why?
some of these guys go on loan to get "experience" and actually go backward in their development.
Come January, I think we need to look for a good striker - and , as for the rest, spend maybe up to £5m ( no more) on buying out the loan contracts for the players we already own.
That will probably be the best investment we can make.
Paul Tran
280
Posted 06/11/2017 at 08:57:46
Good on Unsy for sending Mirallas and Schneiderlin home. I'd have had Mirallas out 2 or 3 years ago. He's trouble. Schneiderlin has been off the pace all season and looks like he's playing for a transfer.
If they don't want to be here, ship 'em out.
I hope he gets an extended chance at the job at least. Whatever we do, it's a gamble. The so-called candidates don't excite me right now.
Hugh Jenkins
281
Posted 06/11/2017 at 09:11:17
Steve (278) - agreed - but the point I was making was that Unsy could only pick from the squad available to him and, if some of those players weren't available due to injury or potential injury - as then unknown to we masses - then his team may well look unbalanced or even unwieldily - but it was all he had to pick from.
I'll give you an analogy - you are picked to play the word chess champion - then, as you approach the chessboard you are told that you are only allowed to start with pawns, whilst the champion has all the pieces at his disposal.
It is the best of three - and you lose 3-0 - is anyone surprised?
It is not and was never Unsy's fault that he only had pawns to start with - but he has managed to get a couple of them to far end and turn them into stronger pieces.
As each game goes by, he get's more and more pawns to the line and turns them into stronger pieces.
But - it's not going to happen overnight.
Brent Stephens
282
Posted 06/11/2017 at 09:25:33
Hugh #276 and #281 - really interesting posts. Very convincing cases.
Jon Gorman
283
Posted 06/11/2017 at 09:32:50
I was astounded by the lack of criticism of Pickford's performance on last nights MOTD.
No player should be considered above reproach. It's been reassuring to read some more realistic assessments of this particular players performances on these pages in recent weeks.
He may well develop into an undisputed first choice goalkeeper but, on current showings, Robles deserves a chance.
Sam Hoare
284
Posted 06/11/2017 at 09:35:56
Hugh@279 Dowell should absolutely have been sent on loan. He is a player of fragile confidence and being in this low form Everton team with angry crowd and relegation pressure might have ruined him. As it is, being a regular and the creative fulcrum for a solid mid-table Forest team will be the making of him and I hope he will come back to us with the self-belief and consistency that was lacking from his game.
Brent Stephens
285
Posted 06/11/2017 at 09:36:08
There's plenty to, as usual, criticise the team for y'day. But I take away from that game the ATTITUDE change under Unsy. More pressing, more fight, more persistence. Niasse (and others) take a bow).
Already: Young Pickford. Young Keane. Young Jonjo. Young Tom. Young Beni. Young Dominic. Two-thirds developed by Unsy.
And more to come (Young Liam. Young Kieran. Young Morgan (Feeney). Young Gibson). All developed or being developed by Unsy.
Chris Watts
286
Posted 06/11/2017 at 09:41:47
The echo reckon big Sam has had talks with the mosh and is nailed on as favourite. Disappointing really, although he will certainly make us organised and clear out the players who aren't up to it
Brian Harrison
287
Posted 06/11/2017 at 09:48:06
I said yesterday it was time for our fans to step up to the plate and they did in bucket loads. A long time since I have heard Goodison like that, we just need as fans to do it more often as you could see the players grow the louder the cheers got. I think speaking to the lads around me at the match the general consensus before the game was please not Allardyce.
I have heard today that both Mirallas and Schneiderlin were sent home for lack of effort on the training ground. Obviously this is 2 players thinking Unsworth is only here for a few more days in charge so we canplease ourselves. No wonder we have been struggling with these 2 at the club, what the youngers players made of their attitude I don't know.
I think the team that finished the game was more of an Unsworth team than the one that started the game. He has took over a poisoned chalice, the record buy and the highest paid player are just not doing it, but if he had left both out he would have been crucified. But we ended up with Kenny,Davies,Lookman and DCL which gave us a lot more energy. Why Koeman chose to freeze Lookman out of the side I don't know the lad looks a talent to me.
Yes there are still major problems, I am far from convinced about Michael Keane, he is so slow and loses his men to often for my liking. Now whether its just down to lack of confidence I don't know but it needs to be put right quickly. Niasse may not be the striker we want but chases everything and his head never goes down. I also thought when DCL came on they worked well together. I know Watford lost their keeper and missed a penalty at the end, but I know I am biased but I thought our effort in the 2nd half deserved all the points.
So now a big decision for the board, I would like Unsworth to be given an extension. But if the board think they need a man who has managed in the Prem then for me they could do a lot worse than Marco Silva and make Unsworth his assistant.
Hugh Jenkins
288
Posted 06/11/2017 at 09:51:04
Sam (284) - I take it that from your comments that you are a personal friend of Kieron Dowell and are also a qualified phsychologist?
If not, how do you know what his mental state is at any given time - other than the opinions you read on sites like this?
Most people, who suffer from the malaise you are suggesting he suffers from crumble to dust when taken out of their familiar home environment.
Yet this young lad has left home, gone to anther city and is thriving in a new environment, in a team of players he hardly knows and has not grown up with.
Fragile confidence - do me a favour.
Lack of opportunity under a pig headed manager at Everton - I will agree with that!
Danny Broderick
289
Posted 06/11/2017 at 09:56:41
Everything has been said already on this thread. But what a pass that was from Tom Davies for the penalty that Lennon won. Absolutely sublime left foot pass to play him in. He didn't have a great game yesterday, but i'd have him in my team every week. Great attitude and 100% effort. Should be the minimum for any player, but it sadly isn't. I thought Jonjoe Kenny had a good game also. And DCL was a handful when he came on, him and Niasse turned the game.
Steve Ferns
290
Posted 06/11/2017 at 09:58:15
I was too young in 1984 to remember the analysis, so over to you older fellas.
In 1984, when Inchy scored from that famous backpass, against Oxford, did anyone talk about the performance, and all the over criticisms above? Because for me, this does not really matter. The result matters. The performances over the coming weeks matter. We had to win, no matter how, and the win is all that matters.
The question is how to build from here.
John G Davies
291
Posted 06/11/2017 at 10:06:44
Steve,
A freezing cold night, we were standing in the open end if I remember correctly.
Nobody mentioned the performance, the result was the be all and end all.
Tony Hill
292
Posted 06/11/2017 at 10:06:53
We remain in serious danger. Yesterday was great fun in the end and we can all enjoy it, but there was nothing in the form of players or our threat as a team which suggests that we are going to go on a run and glide away from the bottom 6. In truth, we continue to look like a relegation quality side.
The choice of manager needs still to be founded, therefore, on the question of who will give us the best chance of securely escaping trouble over the next 7 months.
Safety first, I am afraid.
Laurie Hartley
293
Posted 06/11/2017 at 10:13:08
What a relief - I was dreading this game. At last a change of luck and three previous points.
John Smith
294
Posted 06/11/2017 at 10:19:46
Lennon has been strong since he's come back. Doesnt deserve the hate. And in this game, he won us the penalty. He's won us penalties and free kicks, many many times.
Tony Everan
295
Posted 06/11/2017 at 10:53:52
The patient is still very ill , off colour and bed ridden.
Yesterday was a tonic ,a painkiller. A shot of morphine into the system.
Unless the patient gets the best doctor in soon , his health will deteriorate yet again.
Paul Tran
296
Posted 06/11/2017 at 11:08:48
Steve, we were terrible that night at Oxford. Clueless. Me and my mate were in the Oxford end and agreed that we'd got away with it and Oxford had missed their chance.
These situations only become turning points when you carry on working your socks off and doing the right things.
We did it then, let's hope we do it now.
Dennis Stevens
297
Posted 06/11/2017 at 11:17:07
Is right, Paul #296. I made my one & only visit to the Manor Ground that night & we were a mess. There really was no sign of how things would unfold in the next few months & years.
Sam Hoare
298
Posted 06/11/2017 at 11:33:36
Hugh@288
The pressure he is under at Forest is clearly much less than the pressure he would be under at Everton. And the standard of the league is lower.
That's why he was sent out on loan and clearly he is thriving in a way that would be far less likely than he stayed.
I've seen him play enough for the U23s to recognise a fragility in his temperament compared to the likes of Tom Davies. And actually I do have qualifications in psychology. Do you?
Peter Lee
299
Posted 06/11/2017 at 11:45:55
Made up with the discipline and shape at Lyon, at least until they scored. Expected that we learn from that and do same with some personnel changes but keeping the width.
Err, no. No shape and no discipline. On the other hand Watford, a team of players on average much less talented than Everton, had that and should have out of sight before we came back into it. We went headless after their second and so did they. Great fun but not the stuff to see either team prosper.
Case in point. At half-time their subs were out and they were worked. Ours strolled around flicking balls this way and that. For the start of the second half their coach laid out cones for them to sprint over as they came onto the pitch. They score within seconds of the restart. Coincidence. Maybe. But they were professional in all that they did.
David Unworth has learned nothing and changed little in his spell in charge, Big job, but not for him. That's okay, he goes back to the day job now. Thanks.
Dyche or Sam. Announce it today and give the guy two weeks to work on a shape that will, as a minimum get us nil against at Palace and Soton. We need to be taking a minimum of 12 points from the next 8 games. In that period we play almost all of the rest of the likely relegation candidates and we can't afford to lose to any of them.
Oliver Brunel
300
Posted 06/11/2017 at 11:51:09
What I maintain is that yesterdays result, and I am made up with the commitment, needs to be repeated ad infinitum in terms of effort.
Okay, so we had a few of them putting in commitment but my concern with this squad is that they perennially fall back into coasting mode once they are lauded for the occasional win...
Let's not get too excited.
John Wilson
301
Posted 06/11/2017 at 12:19:10
Why are Everton not getting Moyes until the end of the season. Why is he replacing Slobbychops at West Ham until the end of the season.
Gordon Roberts
302
Posted 06/11/2017 at 12:28:01
Peter Lee #299 makes very valid points re discipline and also Unsworths suitability for the role.
Kenwrights insistence on bringing Rooney home may well prove a bigger millstone than first anticipated. Let's hope the new manager is able to make his own decisions.
Oliver Brunel
303
Posted 06/11/2017 at 12:38:00
Gordon, good point. I heard that Kenwright has been 'advising' Unsworth about resting certain players, ffs. We are at the stage now were I think Kenwright needs to be ousted in a coup. Can we phone the CIA or something?
Trevor Peers
304
Posted 06/11/2017 at 12:42:07
Unsworth's popularity will fluctuate according to results, understandably, the owners should have the balls to back him or replace him.
The worst scenario would be to do nothing, knowing the board, that's exactly what will happen, so if we get beat at Palace expect the speculation to begin again and intensify.
The uncertainty will cripple any confidence that has been gained after the win on Sunday.
Frank Bortoli
305
Posted 06/11/2017 at 12:48:27
Finally there was some fire in their bellies and a will to fight for the club which has been absent for many weeks.
There were other issues which needed to be addressed but with that fight back comes confidence and hopefully some better results, a big big box was ticked off with yesterday's performance.
This season is now written off thanks to Koeman and we need to concentrate in keeping clear of the relegation scrap which hopefully we can now do.
I don't believe any other incoming manager could have turned around a broken club in the 4 difficult games Unsworth had but I think we need to respect that and give him at least another 4 games to prove himself. I'd love for him to turn this club around and get the job if he deserves it.
Oumar and Benni were great and hopefully Unsworth can talk Barclay back from the cliff edge and inject some creativity into the side. COY Blues
Gordon Roberts
306
Posted 06/11/2017 at 12:53:58
The managerial appointment will indicate who really is in charge at Board level.
Let's hope the club listens to its fan base and improves the lines of communication as the current structure, if indeed one exists, is diabolical.
Colin Glassar
307
Posted 06/11/2017 at 13:06:04
Oliver, you can call Rent-A-Coup on 0800 .
Dave Wilson
308
Posted 06/11/2017 at 13:07:22
Simon Dalzell and Gavin Johnson
That's an awful lot of posts from you two to tell us you don't want Unsworth in charge. I wonder why ?
I think you'll both be disappointed. The old lady was rocking yesterday for the first time in ages. That would not have been lost on the members of the board.
Koeman has gone, he wont be coming back. May as well enjoy the ride guys

Jamie Evans
310
Posted 06/11/2017 at 13:20:18
Some miserable bums on here. Just sayin like.
Jamie Evans
311
Posted 06/11/2017 at 13:20:19
Some miserable bums on here. Just sayin like.
Raymond Fox
312
Posted 06/11/2017 at 13:25:48
David and Silva are both best priced 14/1 which is saying they wont be our permanent manager.
For all you sensitive souls who don't want Sam Allardyce he's as short as 4/9 in one place, he seems to be the only one attracting money!
The betting is all over the place though, so it appears that anything can happen yet.
Sam will do for me, but only on a 18 month contract.
Paul Holmes
313
Posted 06/11/2017 at 13:36:06
Jon Gorman 283 your post is spot on Pickford looks like a very rough diamond at the moment in a very dodgy defence,maybe Stek or Robles would come out for the crosses more making the defenders job a bit easier.I am in your camp im not convinced he's any better than the two goalkeepers he's replaced (look at the goals conceded column in the premier league and the europa league,awful !).
Unsy is doing ok,the young players like him but the senior players (miralles,schneiderlin) seem not to rate him,maybe a more respected manager will be needed to keep control of the squad.Or keep unsworth,play more of the kids and get rid of alot of the senior players !.Ill take the second option at the moment because the future for Everton is the youth (you cant beat youth)!.
Gavin Johnson
314
Posted 06/11/2017 at 13:42:28
Dave #308
Check out my post #246. I'm not against Unsworth being given the job in the short term. I don't think we need an interim manager like Big Sam after what we saw yesterday. I was very worried last week, but do have some hope that we can pull things around without that kind of intervention now. We still need a long term appointment though, and it's not David Unsworth. I'm hoping the appointment will be made during the international break.
Andrew Clare
315
Posted 06/11/2017 at 13:49:29
Walter Smith, David Moyes, Roberto Martinez and now possibly Sam Allardyce , they sure are names to set world alight aren't they?
No wonder we have been bang average for so long.
A big club continuing to be run by amateurs.
Tony Everan
316
Posted 06/11/2017 at 14:14:28
Allardyce may have the opposite effect well get us relegated . The accepted consensus is appoint Sam and 17th place min is guaranteed. I don't buy it.
He will split the fans and I m not convinced his style of football would be successful here.
Eddie Dunn
317
Posted 06/11/2017 at 14:16:27
I would hold fire for now and just see if Unsworth can sort out our defence now that he has the players(not on international duty) for a couple of weeks.
I see no need to get on the phone to Slippery Sam or Scary Sean just yet.
Wins give confidence and at last lady luck smiled on us and we got a result.
Now we will see just what Unsworth can do.
Dave Wilson
318
Posted 06/11/2017 at 14:42:56
Gavin @314
I did check out your posts, that's why I raise the point. You say (post 103) " We still need a new manager and Marco Silva or Sean Dyche will do for me. Its the wrong time for Unsworth. I'm not going to get sentimental because he's a blue"
"Today wont gloss over that we still need a proven manager"
Post 246- "I'd still like us to bring in a new manager during the international break"
You seem to be spending a lot of time saying Unsworth shouldn't be given the job (especially before yesterdays game) and now you have posted several times afterwards to promote the claims of others.
I not contesting your right to discount Unsworth, or your opinion of the managers you are advocating, but the reason you give is "you are not going to get sentimental" I assume you think the half of the fan base who want to give Unsworth a chance are daft enough to do so for sentimental reasons.
This is a serious issue. Its a little foolish to think any Evertonian would allow sentiment to cloud his judgment
Dennis Stevens
319
Posted 06/11/2017 at 15:03:17
Peter Lee #299 "We need to be taking a minimum of 12 points from the next 8 games."
Unsworth should be your man then, as he's already performing at that level - 2 League matches this season: 1 defeat ; 1 victory!
After a bit more time on the training ground he may even have the players performing better.
Or we could start all over again with a replacement that will be, undoubtedly, somewhat less than stellar.
Tony Marsh
320
Posted 06/11/2017 at 15:19:56
Unsworth needs to be thanked for trying and 're instated as reserve team coach. How many on here would be calling for Unsworth to continue if Cleverley has slotted home his penalty on Sunday?
As exciting as the game was against Watford we were all over the place at times. The team selection was once again a shambles and only down to us being down 2-0 was it changed. We got lucky with the penalty but we were due a bit of luck but Watford should of been home and dry by then.
We can't run a football club in the Premier League
on sentiment and lucky breaks hoping it will all come right because Rhino is one of the lads. Watford are on a poor run at present a top side would of shredded us on Sunday..
If Unsworth does stay in charge I hope he has realised we function much better with two strikers on the pitch and not that other nonsense he has been experimenting with.
Gavin Johnson
321
Posted 06/11/2017 at 15:28:59
Dave #308
Correct, I do want Marco Silva or Sean Dyche as long term manager, hopefully installed this week.
Yesterday, doesn't gloss over that we need an established manager. We're still shipping in goals for fun and I don't think we should get carried away with sentiment. There were some positives. They seem to want to play for Unsworth and he's been decisive with some of his man management. At the same time, Unsworth's tactics have been found out at times and he is still a novice, and novice's don't have a very good record in the premier league.
I've moved my own stance on the situtuation, Dave. Last week I would have done the unthinkable and brought in Big Sam until the end of the season as a stop gap. After yesterday I don't think we need to go down that road so I think we're on the same page there. That's unless you're saying you think David Unsworth should be given the job as a long term appointment, in which case I think you're completely wrong.
Keith Monaghan
322
Posted 06/11/2017 at 15:29:54
PLEASE DON'T APPOINT ALLARDYCE AS OUR NEXT MANAGER
We shouldn't throw more money away on a wing and a prayer appointment - what future would Big Sam give us?
If we can't do better someone like what we really need to take the team forward, I'd stick with Dave Unsworth; if we ended up going down, it doesn't have to be disastrous - a quick rebuild, given the quality of many of our young players, coming back up next season is achievable.
Whatever Unsy's short-comings (& yes, I've been baffled by some of his selections in the last 4 games) he knows the club, its players and fan-base, and has the respect of most of our players.
Many think RK lost the support of the fans; Allardyce would start with at least half of us not supporting him.
Franny Porter
323
Posted 06/11/2017 at 15:46:39
I don't think that its a coincidence that we improved after Rooney went off.
He is ill disciplined in possession, ill disciplined positionally and some of the "challenges" he puts in are borderline red cards.
Luckily for us he has missed his target every time with these wild lunges, a red card yesterday would've done for us.
Brent Stephens
324
Posted 06/11/2017 at 15:46:43
Keith " if we ended up going down, it doesn't have to be disastrous - a quick rebuild, given the quality of many of our young players, coming back up next season is achievable".
I'd be less optimistic. Look at the number of clubs that go down and fail to come up the next season. Or in the next 5 seasons. Or at all.
Lawrence Green
325
Posted 06/11/2017 at 15:52:09
Whichever way you look at it, the appointment of Everton's next full time manager is crucial. I'm in the camp that would let Unsworth carry on for a while longer and see how it goes and who knows a candidate may emerge that is more suitable to the owner, the board and perhaps the supporters.
However, should Everton lose the next two league games we will be right back in the mire again, given those fixtures are against Palace and West Ham. In which case would we have missed the boat in our attempt to bring in a fire-fighter?
Of course a new manager could be in charge by the time we play Palace and the results could still go against us and if the man in charge is unpopular with the fan-base where will that leave us?
I don't envy the decision makers at the club, because there are so many variables to consider in appointing or not appointing a new boss and I'm hoping that their collective minds are focussed on the near and mid term future of the club. I must admit Moshiri still concerns me as he seems hell bent on bringing in a name to take the club forward, it's not the profile of the manager that is of utmost importance it is the ability he has as a coach and whether he'll be a good fit for the players and the club.
We await the white smoke in the coming days and weeks, but I don't think whomever they choose will quite satisfy a fair proporion of the fanbase.
Robert Workman
326
Posted 06/11/2017 at 15:52:12
A few unrelated observations. For me the turning point was the injury to Gomez. It was ironic that he should be injured in making a great effort to stop us scoring. Had he not done so well, thus avoiding injury, it could have been a different outcome as the reserve goalie was not impressive (except when almost saving our penalty).
Why so much criticism of Niasse ability? I have agreed with such comments in the past, but yesterday I saw some skill allied to effort. He played a good pass to Rooney, who set up Baines. Better still was his perfect pass to Sigurdsson, who should have scored (which would also have meant no injured goalie).
I have noticed how in many football matches there is more atmosphere and effort when a team comes back from 0-2 to make it 1-2, as opposed to when it is 0-1. Same difference in reality, but somehow the fact that the team has scored seems to give everyone renewed impetus. Of course it helps if the goal follows soon after the opponents second. Stating the obvious?
Franny Porter
327
Posted 06/11/2017 at 15:59:54
Spot on Robert.
Although his first touch is questionable, its no coincidence that his last two goals have been very similar. Its due to the fact he put so much effort into harrying and causing panic.
He starts every week for me.
Chris Gould
328
Posted 06/11/2017 at 16:00:06
It's been reported that Allardyce has asked for Craig Shakespeare to be his assistant if offered the job.
Shakespeare was clearly very effective at Leicester as assistant to Ranieri.
I don't hate that idea. A lot of experience between the two, and they could well be a decent blend of old and new. Leicester played exciting counter attacking football when winning the title, and Allardyce's teams are always well organised defensively and as a unit.
Walsh will also be aware of Shakespeare's qualities.
We will need to spend a very large sum of money in January whoever comes in.
Jay Wood
329
Posted 06/11/2017 at 16:01:26
Keith @ 322.
I have to echo what Brent said.
You're not the first to moot this idea in the last week. It WOULD be disastrous.
Not only the humiliation city-based Blues would be exposed to by our Pinkie neighbours, but financially. This includes seeing the Everton 'brand' devalued.
There is a HUGE gap now between the riches of playing in the PL as opposed to the Championship. The 'parachute payments' relegated clubs previously received to soften the blow of demotion have been removed so relegated clubs no longer have that advantage over other clubs in that league.
Even a single season outside the PL effectively counts as two seasons against you as you lose access to the fatted calf.
Furthermore, there is absolutely no way anyone can guarantee an immediate return should the very worse befall us.
Relegation brings so many unknowns, not least of all in the quality of player you can retain and recruit.
Personally, I can't fathom any Evertonian being so blase about the consequences of demotion from the PL.
Tony Everan
330
Posted 06/11/2017 at 16:14:08
Tony Marsh 320 , well put, not many would be advocating David Unsworth as permanent manager if Cleverly slotted that penalty. We need a manager And fast. But as Keith322 says , if Big Sam is the best we can get I would stick with Dave Unsworth without hesitation.
Silva and Dyche were both coy when asked about the job , I reckon either could be persuaded.
Both the above would be good for the club and improve things. For me Silva would get us playing more entertaining football .
Whatever we do from here is not risk free but Mr Moshiri has to make a decision quickly for the good of the club.
Keith Monaghan
331
Posted 06/11/2017 at 16:16:14
Franny @ 323 - agree totally. It happened in an earlier game too (Bournemouth?). Loads of MU fans were making similar comments in his last 2 seasons there. He shouldn't have been brought back and should be on the bench at best.
Brent @ 324 - I know there's no guarantees re coming back up - Burnley did it, but took a little longer, & Newcastle at 1st attempt.
There's also no guarantees re a new manager - another 11 games (inc, MU on NYD) at least before he can bring in new players. We'll still be in a relegation fight then whatever decision the club takes in the next 2 weeks, and what quality players of required character will want to join us then?
It's gonna be a long winter however it pans out.
Yesterday's was a very welcome result, but most of us know the performance was awful for 70 mins & we got lucky big style with our first goal (& Clev's miss).

Kevin Tully
332
Posted 06/11/2017 at 16:19:30
I would actually take a sacked Slaven Bilic before Allardyce!
John Pierce
333
Posted 06/11/2017 at 16:22:09
The question I ask myself is to why would a board which ultimately bowed to the pressure of the fans, the abject misery Koeman was subjecting us to consider a man who would start with no goodwill and be under pressure as soon as we lost?
Stupidity? Vanity? Ego? And so on.
Those who think Allardyce would help us short term, don't even actually want him!
What basis is that for an appointment?
The board need an appointment that the majority of the fanbase can get behind. We all know there are huge failings at the club handicapping any new incumbent but we need a new guy without baggage.
We need a break from the humdrum, mediocre appointments. Either stick with Unsworth or find a real foreign coach not Anglophiles who 'know' the british game.
Either sort would carry the goodwill and breathing space to evaluate and rebuild.
Eddie Dunn
334
Posted 06/11/2017 at 16:31:39
Franny, Rooney was a frustrated boy when we had him in his youth, regularly getting in trouble. He improved at the peak of his powers but now in his decline, he is once more a frustrated man.
I presume Bill arranged his return hoping for a romantic ending to his story but despite some flashes of brilliance, his presence is more of a problem in that it is hard to know where to fit him in.

Raymond Fox
335
Posted 06/11/2017 at 16:40:19
Andrew 315, we've been bang average as you put it because with an odd exception we have as a club had/have bang average players.
You know the ones that actually perform on the field.
Tom Bowers
336
Posted 06/11/2017 at 16:43:33
Keith, 331, I agree with your last paragraph but a win is a win no matter how it was achieved. The gloom has been excrutiating over the last month or more for the diehard Blues fans.
Yes , there are still lot's of problems but with hard work and the right spirit they can be more optimistic about getting to January with a fighting chance of keeping respectable. No need to worry about other competitions now.
Yes, it was nip and tuck in the second half but the lads who came off the bench showed the kind of tenacity needed in these tough times.
With the right offensive signings in January and the likes of Lookman, Vlasic, Davies, Benny, Kenny and DCL improving all the time we have to expect better times in the new year.
Tony Hill
337
Posted 06/11/2017 at 16:53:09
If it is accepted - and it ought to be - that relegation would be disastrous for Everton then why is Allardyce ruled out by so many? Should we not be calculating who will give a very vulnerable side the best opportunity of staying up? All of the other candidates would carry significant risk and that very much includes Unsworth.
I understand the moral case though think it is overstated in the stinky corporate world of football (I am not sure that many managers would survive much scrutiny, still less the owners). Can we truly be so fussy?
On the footballing front, he's the only one with a consistent track record of working successfully with relegation teams and there is no logic in saying that he's bound to fail some time. Nor, I am afraid, do I agree with the view that his sides are always woeful - the Bolton and (later) Palace examples have been finessed away on here, but they were proper achievements.
I don't think for a minute that he's an attractive personality nor do I feel very strongly about him being appointed but I do wonder why, in our perilous state, we can so confidently and vehemently dismiss him.
I'm interested to know because I find myself on the polar opposite side of the debate from people with whom I tend usually to be in agreement.
Robert Workman
338
Posted 06/11/2017 at 16:54:15
Just watched highlights and noticed something I certainly missed yesterday. After Pickford fouled their player in the penalty area, another Watford player hit the bar from no distance. So we actually got out of jail twice in one incident!
John Keating
339
Posted 06/11/2017 at 16:58:26
Robert the ref blew the whistle immediately Pickford fouled that lad and before the other guy smacked the bar.
I doubt it would have stood had it gone in.
The ref was a bit quick there and didn't allow play to go on a bit.
Dave Abrahams
340
Posted 06/11/2017 at 17:00:36
Robert. (338),it was pointed out on MOTD that the referee had already blown up for the penalty just as the Watford player was shooting at the goal, so no goal would have been awarded.
Mike Gaynes
341
Posted 06/11/2017 at 17:52:20
Kev #332, interesting idea that. Bilic is certainly a passionate guy and a lot of fun to watch, and he's had success with some under-talented sides at West Ham. Plus he was briefly a Blue.
Dave Speed
342
Posted 06/11/2017 at 18:45:22
One statistic overlooked (although I haven't read every post) - before yesterday we only had 2 PL goalscorers; after yesterday we had 4! Got to count for something for Rhino! Also, did anyone agree that Gaye had a decent game, something that had been missing playing alongside Snidylein (deliberate spelling)? Furthermore, how many 'kids' can we bring in without ruining them? Baningeme (sorry if I've spelt it wrong lad) is a breath of fresh air. No problem there. Get Dowell back. Get Onyerkuru back. Get Galloway back. The energy levels all went up after Lookman and Calvert-Lewin came on. Nobody did a Roy-of-the-Rovers but the difference was there for all to see. We don't need to play hoof ball and pick up the second ball (Sam). We should be picking up the second ball all over the pitch anyway, but the ball always seems to fall to an opponent. Also, the amount of times that our opponents receive the ball in space is ridiculous. When our players receive it they are surrounded and have limited options. Hansen (spit) was right when he always talked about pass and move, and movement off the ball to make space. Everyone seems to be doing it. Finally, every team seems to have a back line of 6 foot plus beasts with Duracell bunny amounts of stamina. When you look at their transfer prices it makes me baulk to think what we paid for some of our players. Finally (finally!) how can practically every team we play waltz through the middle of the pitch and be at our back line with ease?
Neil Copeland
343
Posted 06/11/2017 at 19:02:16
Sky reporting now about big developments at Everton - report on now!
Neil Copeland
344
Posted 06/11/2017 at 19:05:28
Apparently there have been talks held between Moshiri and Allardyce, although Unsworth not out of the running.
West Ham fans don't seem over enthused with news about Moyes
Peter Lee
345
Posted 06/11/2017 at 19:13:52
Wayne Rooney is taking some stick here but the problem is a lack of team structure. Under Ferguson Rooney would play wherever he was told in teams where everyone knew their role and did it.
This season we have played with little shape and discipline. Nobody ever gets a bollocking for being out of place. Everyone runs around headless most of the time. Rooney is an intelligent footballer and sees gaps, and sometimes opportunities, and reacts.
I believe that, in a team with a clear notion of how to play he could play a number of roles, up-front, off DCL, in the hole, even defensive MF. If everyone else stuck to their jobs he would do the same and both Rooney and the team would be the better for it.
Oliver Molloy
346
Posted 06/11/2017 at 19:30:33
It's not so much breaking news...
Moshiri spoke with Allderdyce last week and was taken back with what he wanted to save us !
Sam wants a big load of money + performance related money to take the job till the end of the season.
I don't blame him for milking Everton for every penny he can , he knows it will be a short term fix.
Personally I'd rather have Unsworth and finish 17th than Sam Allderyce.
Neil Copeland
347
Posted 06/11/2017 at 19:32:55
Oliver, yes agreed regarding Unsworth.
Jim Wilson
348
Posted 06/11/2017 at 19:45:41
Tony Marsh - your earlier post with me seems to be correct.
The performance yesterday was alarming and there is no sign of a settled balanced team. The team looked shot and we have now had two freaky wins at Goodison. Thank God
The midfield is not solid enough and the strikers are so raw. We are lacking steal, creativity and cohesion and any good team can hammer us at the moment.
I want Unsy to do well but can't see it after yesterday.
I got slagged off when I said it 15 years ago but I would take Martin O'Neal in a hearbeat.
He would organise us and he is a character and is made for Everton.

Joe McMahon
349
Posted 06/11/2017 at 19:58:40
Jim, I can't help thinking that Martin O'Neal blasted Randy Lerners money on over priced crap, and eventually down the line meant Villa were relegated. I also think that Martin O'Neal blasted Ellis Shorts money on over priced crap, and eventually down the line meant Sunderland were relegated.
Looking at us it looks like it's big Sam. Not a problem for me really, we ain't a big player in Europe (not even in PL league, nowt since 1995 and the state of Goodison Park tends to underlind this. I'm just a happy man it's not David Moyes, 11 years of not winning at Anfield was enough.
Jim Wilson
350
Posted 06/11/2017 at 20:11:19
Some good points Joe but Martin O'Neill, and I think I've spelt his name correctly this time has also done well at clubs and Ireland and has the ability to motivate players which is what we need. He doesn't leave clubs in a bad way. Only Sunderland was a failure and he left apparently because of a dispute with the club. Yes the ginger tosser took Sunderland down, and yes Moyes also started this embarrassing run at Anfield.
With O'Neill I would be confident we would go for it at Anfield and get some wins.
He is head and shoulders above our last 4 managers!
Neil Copeland
351
Posted 06/11/2017 at 20:14:44
Whilst we are on the subject what is Allardyce's record against the RS and top PL teams like?
Ian Lang
352
Posted 06/11/2017 at 20:18:43
Oumar Niasse is 3 league goals behind Lukaku having also played 760 minutes of less football and playing in a team that has been shite all season. Niasse for the Golden Boot, you heard it here first blues!
John McFarlane
353
Posted 06/11/2017 at 20:19:31
Hi Dave, [181] & [340] it appears that you and I have a similar outlook on matters relating to Everton Football Club. So many have posted negative comments regarding yesterdays game, and as you rightly say, the look of joy on the faces of both young and old supporters, was worth the agony we've had to endure in recent times.
I don't understand how some fans left the ground when Watford scored their second goal, I feel that the definition of a supporter is one who supports.
Those of us who remained were treated to a match that contained all the drama and excitement that sent every Evertonian home in high spirits.
I also acknowledge that there are shortcomings in the structure and performance of the team, but let's "LIVE THE MOMENT".
I believe too that anyone who has either played football or has supported a football club, will have experienced [as Watford did yesterday] a game where they were denied a result that their efforts merited. It happens, and as I say we have all had a share, some more so than others. My philosophy has always been if you can't take defeat don't play, and if you can't watch your team lose don't go. I will be there for the game against Atalanta with my 13 years old Grandson. If Everton are at home I'm programmed to attend, and that's the way it's been since 1948. I'm afraid I've sentenced him too, to a lifetime of the ups and downs of an Evertonian, but he assures me he wouldn't have it any other way.
Joe McMahon
354
Posted 06/11/2017 at 20:21:15
Jim, I can't argue with you there, he would have won at Anfield, and yes look at our last 4 managers. Martin O'Neill was also a success at Leicester. Also love your description of David Moyes!
Neil (351) Big Sam won at Anfield with Palace in April this year.
Neil Copeland
355
Posted 06/11/2017 at 20:22:10
John 353, absolutely spot on. I will also be there at the Atalanta game, Everton is either in your blood or not I guess.
Neil Copeland
356
Posted 06/11/2017 at 20:25:19
Joe 354, thanks and yes of course I had forgotten that game. In fact, didn't Palace get some god results against the top 5 teams when they survived last season?
Brian Hennessy
357
Posted 06/11/2017 at 20:26:24
Having endured Martin O'Neill's team selections, post match tantrums with the media and playing style with Ireland over the past few years, it's a big no from me
Raymond Fox
358
Posted 06/11/2017 at 21:11:53
With regard to Allardyce, he can get a team playing attractive football when he has the right players to do so.
Is not a good manager one that gets the maximum out of his players, is flexible and plays a type of game that gives you the maximum chance of success.
Against an inform City you are not going to beat them playing them at their own game, at least not very often.
Same goes for Arsenal, Spurs at the moment, our neighbours or maybe Utd.
As for the rest of the teams in the League, by all means play them with a more attractive passing style of play which we at our best can at least hold our own with them.
Nothing needs to be set in stone.
Steve Ferns
359
Posted 06/11/2017 at 22:00:51
John McFarlane 353, I don't think people left the ground. Left their seats yes, but not the ground. I don't like leaving my seat during the game. I recall going the loo once and we were losing and there was a load of people on the concourse in the Park. They probably went there. At 1-2 they'd have come back up, because at the final whistle, I could not see an empty seat.
Neil Copeland
360
Posted 06/11/2017 at 22:25:55
Steve, there were certainly some empty seats in the top balcony and from what I could see in other areas of the ground also (although I only glanced around so possibly not the Park End). However, I would agree that there weren't many and the ground was very near full at the final whistle. Not a major issue, lots of potential reasons I suppose good and bad. I hope those without good reason have learned the lesson!
Andy Crooks
361
Posted 06/11/2017 at 22:26:38
Such nonsense about how if Cleverly had not missed the penalty we would not call for Unsworth. Such utter shite from people who were evangelical about Unsworth a couple of weeks ago and now, God almighty, want Sam Fucking Allardyce.
Say Baines had taken his chance, say Pickford had done a bit better. We got a result. We won. No one on here, not a one, thinks all is well but it was a start. If Allardyce comes and his first match in charge results in a defeat and a team selection that doesnt appeal to some, what then?
We can all change our minds but I think most fair minded people will not do it in two weeks.
John McFarlane
362
Posted 06/11/2017 at 22:55:34
Hi Steve, [359] If people were leaving their seats and not the ground, [as you say], my apologies to those people. But I have, from my seat in the Park End, witnessed on more than one occasion, a mass exodus when Everton have conceded goals. In fairness I must add that it has usually been later than the 67th minute [the time of the Watford goal].
I also appreciate that it's the individuals right to leave whenever they choose, but I still can't understand it. I can only add that the rush to leave their seats, was more apparent than their return, and for anyone who didn't return they missed out on what turned out to be a memorable fight back.
As I said in my original post, to witness the joy of young and old alike, and to share it with my Grandson compensated for all the disappointments of the last three months. Like all Evertonians I trust that this is the start of a new phase in our history. Best wishes to "Webbers" old and young.
Jamie Crowley
363
Posted 06/11/2017 at 23:47:23
Keith at 322 -
Regarding this, "if we go down, rebuild and get back up" sentiment I've seen flouted about.
Hell no.
In my decade I've seen the following relegated:
Villa
Bolton
Birmingham City
Portsmouth
Fulham (and hell yes I want my Craven Cottage Christmas back!)
Sunderland
Reading
Middlesborough
Hull City
Blackpool
Blackburn
Wolves
QPR
Norwich
Cardiff
Wigan
and probably a few others I'm forgetting.
Now, none of these are as big as Everton, save maybe Villa who have a rich history. But they've all gone down, returning not to the Premier League.
There's some decent sized clubs in that list. Going down is a death sentence, and one that should never in my opinion be seen as a reorganizational endeavor!
Never. Jesus man perish the thought. I'm squarely behind Unsworth. But if we look trash around Christmas we've got to turn to drastic measures to avoid relegation.
Rob Hooton
364
Posted 07/11/2017 at 07:24:05
Some great points of view on this thread, thank god for the win!
Unsworth has spent most of the time in charge on the road and probably only had a few sessions with the players, he is also making some big decisions and has the players with a bit of fire in their bellies at long last.
Someone mentioned that 10 out of 11 caretakers were sacked - well 11 out of 11 of the experienced managers before them were also sacked!
Thomas Rigby
365
Posted 07/11/2017 at 17:24:09
I have changed my mind.I have argued for Allardyce in the past but it is clear that a large number of fans are definitely against him.They should be listened to because if we appoint Allardyce we will be a club divided from day one.
But I do not think Dyche is the answer .Doing a good job but see too many similarities with Moyes in the way he approaches games.
But do not want Unsworth far too inexperienced. That leaves the top foreign coach .well if it is Simeone absolutely great .but do I really believe. someone of that stature will be appointed not really because I do not trust the club anymore.
The club is a disgrace because any half decent business would have been planning years ahead... asking itself "who would we go for when it is time to appoint a new manager There should have been files kept on every manager/coach in the top European Leagues... in fact the net should include South America.
So the club should be in a position to say for example at any moment "as things stand today these are the top 20" and the process should be constantly reviewed and kept up to date.
I fear the worst if Kenwright retains all the power in making the appointment he will be tempted to go for the "in house" solution: Unsworth... so keeping his influence in the club.

John McFarlane
366
Posted 07/11/2017 at 23:07:47
As a 79 years old, and an Everton supporter since the age of 10 years old, I have no wish to see Sam Allardyce appointed Manager of Everton Football Club, but I will continue to attend matches at Goodison Park no matter who is manager of the club.
I respect the right of every supporter to express their displeasure in any way they see fit, providing it's legal, I know one two others (including Jim Lloyd and John Keating) have stated their intention to back the team and manager, whoever he may be.
In my youth I believed that Everton was my club, and that the Board of Directors were merely custodians, but even then (as it is now), we supporters had no say in Manager appointments nor did we wish to.
In the modern world of football, it's an unfortunate fact that the Club is not my club at all, it belongs to people with a lot of money who hope to make even more money from their investment, and some years ago I ceased to be a 'supporter' and became (against my will) a 'customer'.
I respect also, the right of everyone to voice their opinion, but it saddens me to see such vitriolic exchanges between fellow Evertonians, who presumably share a common passion for Everton Football Club, and wage verbal warfare over something, of which they have no control. I plead guilty to being "Old School", but the level of abuse I witness on some of these threads, we used to reserve for our "illegitimate cousins" from across the park.
I trust that no matter who may be in charge, we as supporters get behind the team, and recreate the atmosphere we experienced against Watford. Apologies if this post sounds like a sermon, I really do mean well.
Jack Cross
367
Posted 08/11/2017 at 10:44:56
Well I'm prepared to have Unsy for the long haul. But I don't think that will be the case.
I certainly don't want fat Sam.
But if I could choose anyone it would be Nagelmann from Hoffenheim. Who I believe Buyern are interested in.
Kevin Dyer
368
Posted 10/11/2017 at 08:41:39
Hugh #279 and #281. Bit late but here you go: I live in the NE now and the Sunderland fans I know slate Galloway, reckon he can't defend and prefer Oviedo. I was mystified he couldn't get a game last season at WBA as he looked promising but looks like his development has stalled and he needs to be moved on. Some players make it, most don't. Ditto with Garbutt. Have to shake my head that some still think he'd be an alternative to Baines. Good grief.
Your chess analogy is overstating Unsworth's problems - a lot. Were not a league 2 outfit punching above our weight. DU states that he picks the best team available to win a football game so I'll take him at his word. We gave it a good go at Chelsea but lost to a reserve team.
Your initial post is another variation in "manager knows best", essentially. Yes, he works with the players etc, I agree he is privy to information we don't have. But I don't need that to predict that Sigurdsson is ineffective as a wide player; demonstrated at Spurs, not seeing anything to change my mind with us. He's probably had an hour total in his actual position this season, you know the one that made us kerplunk £45m on him. Sheer idiocy. Rooney puts a shift in but deploying him on the left at 32 is just stupid. That Vlasic has been dropped is foolish to say the least.
Unsworth plays favourites just like Koeman did. He motivates the team and seems like he has potential as a manager but he is an utter novice. For a club of our status to gamble on him would be irresponsible. Compare his resume with Silva's, who is 4 years younger. If Unsworth has ambition to manage at this level he needs to head up a league1 club, impress for 2-3 years then we'll see. Right now? Absolutely not. Oh, Fat Sam can fuck right off.
Add Your Comments
In order to post a comment, you need to be logged in as a registered user of the site.
Or Sign up as a ToffeeWeb Member — it's free, takes just a few minutes and will allow you to post your comments on articles and Talking Points submissions across the site.