Allardyce denies having spoken with Everton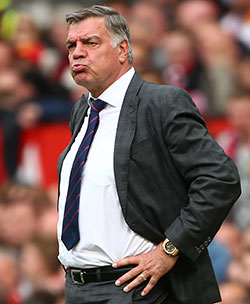 Sam Allardyce has reiterated that he would have to discuss a job as big as the Everton managerial role but says he hasn't spoken to Farhad Moshiri.
The former Bolton, Newcastle, West Ham, Sunderland and Crystal Palace manager who was fired as head coach of the England national team last year for unethical conduct, is regarded by the media as the front-runner to replace Ronald Koeman at Goodison Park, although much of the speculation seems to be driven by betting markets.
Nevertheless, both Sky Sports and The Telegraph, along with rumours among Everton fans on social media, have claimed that Allardyce met with the club's major shareholder, either last week or over the weekend to discuss becoming the next Blues' boss, even if only on a shorter-term contract.
Sky now say, however, that they have been told by "sources close to Allardyce" that talk of him being handed a £100,000-a-week contract at Goodison until the end of the season is "totally inaccurate".
Allardyce spoke with Jim White on his TalkSport programme this morning and denied having held talks with Everton.
Asked if there was anything he could say about the Everton situation, Allardyce said: "Nothing at the minute.
"I haven't [spoken with Farhad Moshiri]," but he admitted he would have to listen to the Iranian-born businessman if he did come calling.
"It's like everything else, if somebody comes calling there's the opportunity to speak, there's no doubt about that."
---
---