Everton vs Huddersfield Town

155 Comments [Jump to last]
Friday 1 December 2017
Match Preview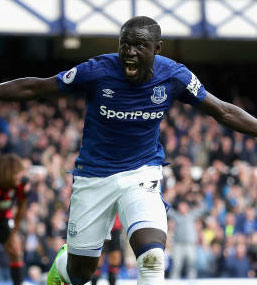 Oumar Niasse is eligible again after serving a two-game ban
Sam Allardyce takes charge of his first match since agreeing to become Everton manager as Huddersfield Town come to Goodison Park for the first time in the league for 45 years.
The 63-year-old's appointment as Ronald Koeman's full-time successor was confirmed yesterday and he now begins the task of building on Wednesday's 4-0 win over West Ham, with the focus now on closing the nine-point gap that has opened up between the Blues and the seventh place they occupied at the end of last season.
Allardyce had his first press conference as Everton boss at Finch Farm this morning and he outlined his first jobs as galvanising the current squad and getting some of the nine injured players back on the field before looking ahead to what would be required in the January transfer window.
Though he spoke to the team briefly before Wednesday's game and stressed the need for a clean sheet and scoring the first goal — the Blues achieved both in David Unsworth's last game in charge — tomorrow's match and the training sessions in between will be his first real chance to assess what he has inherited from Ronald Koeman.
"The first and foremost thing is to get back to winning ways, bring some stability to the club and get them playing as well as they did the other night consistently," Allardyce said.
"Hopefully that will happen tomorrow. It will tell me an awful lot if we can hit that level of performance again which tells me we're moving in the [right] direction.
"If there's a falter in the performance and the result doesn't go our way will tell me an awful lot about and the players we have at this moment in time. But certainly, I was so impressed the other night — to come back from the two previous results and win like they did showed they have an outstanding character."
In addition to Oumar Niasse who missed the last two games through suspension, Allardyce will have Michael Keane back in contention following his recovery from a head injury. Phil Jagielka and Leighton Baines are both ruled out, however.
Given the result against the Hammers, Allardyce might be tempted to keep the starting XI more or less the same and, as he suggested in his presser, regard substitutions as a key component of the match.
Niasse's goalscoring record compared with that of Dominic Calvert-Lewin could sway the new manager to selecting him over the young striker while Keane would be an obvious replacement for Mason Holgate if experience were the only consideration but that would be hard on the former Barnsley man who acquitted himself superbly in his more natural central positiom.
In midfield, Wayne Rooney is set to continue in the deeper-lying role in which he thrived against West Ham, scoring a hat-trick that included that brilliant strike from 58 yards out. Allardyce joked to the media that "it's not rocket science" where the veteran player fits into Everton's formation after that performance in midweek.
Huddersfield, who had initially made a good start to life in the first season in the Premier League under David Wagner, will be looking to bounce back from a 5-0 hammering by Arsenal on Wednesday evening and a 4-0 reverse at Bournemouth in their previous away game before that. Indeed, since beating Crystal Palace at Selhurst Park on the opening day, the Terriers have picked up just one point on their travels without scoring a single goal.
So, while Huddersfield have been dropping down the table having occupied third place heading into September, Everton can continue moving in the right direction if they can capitalise on their opponents' poor away form. Depending on results elsewhere, the Blues could jump to as high as ninth this weekend and set themselves up for the Merseyside derby at Anfield eight days later.
Kick-off: 3pm, Saturday, 2 December, 2017
Referee: Chris Kavanagh
Last Time: Everton 2 - 2 Huddersfield Town (December 1971)
Predicted Line-up: Pickford, Kenny, Holgate, Williams, Martina, Gueye, Davies, Rooney, Lennon, Sigurdsson, Niasse
---
Reader Comments (155)
Note: the following content is not moderated or vetted by the site owners at the time of submission. Comments are the responsibility of the poster. Disclaimer
Gareth Clark
1
Posted 01/12/2017 at 18:30:03
Lennon was a bit off the last game... I'd give him a break & play 2 up top. Williams had a very good game, despite the stupid pent.
4-3-1-2:
Pickford
Kenny Holgate Williams Martina
Davies Idrissa Rooney
Sigurdsson
Calvert-Lewin Niasse
Subs: Robles, Keane, Schneiderlin, Lennon, Vlasic, Lookman, Sandro
Rick Tarleton
3
Posted 01/12/2017 at 18:40:15
Can anyone tell me what is the situation with Barkley? How bad is his injury? Is he back in training?
There seems to be a dearth of information about our most talented player. Is this injury responding to treatment? has there been surgery?
The last thing I read online was that he was pushing himself back from his hamstring injury, but that was in October.
Steavey Buckley
4
Posted 01/12/2017 at 18:48:16
If Everton are to play big Sam's way of playing the ball forward at every opportunity, Everton will need 2 upfront with one less player in midfield.
Dermot Byrne
5
Posted 01/12/2017 at 18:49:17
Thought Kenny and Lennon linked well so should keep them playing.
Raymond Fox
6
Posted 01/12/2017 at 18:57:12
I hope Allardyce gets us off to a good start but its football isn't it, nothing is ever simple!
Same team as beat West Ham, they will fancy beating Huddersfield too, although I think 4-0 flattered us somewhat.
John Keating
7
Posted 01/12/2017 at 19:01:56
I think Lyndon's line-up might start but if he kept with Calvert-Lewin, it wouldn't surprise me.
Gareth (#1) I'm quite surprised regarding your comment on Lennon. I thought he was one of our better players and did well throughout covering defensively. In the pub after the match any mentioned him doing well.
I also thought Sigurdsson did well covering the full back and hopefully things will only get better from him.
Another clean sheet would be fantastic but 3 points even better.
Steve Ferns
8
Posted 01/12/2017 at 19:05:56
Oliver, I think Allardyce will love Calvert-Lewin. He's in the Heskey / Davies mould, at least. He puts in a shift and works hard and brings others into the game. He can jump, did you not see his goal against Watford? He is very good in the air, and I think Allardyce will see the raw materials there he needs to create another Kevin Davies.
As for the team I predict that Sam will play:
Kenny Keane Williams Holgate
Gueye Rooney Davies
Lennon Calvert-Lewin Sigurdsson
Mike Keating
9
Posted 01/12/2017 at 19:06:25
Gareth,
I thought Lennon set a great example.
Like Calvert-Lewin, he never stopped running.
Oliver Brunel
10
Posted 01/12/2017 at 19:12:41
Steve, Calvert-Lewin is just not an Allardyce type player. Calvert-Lewin is a reactionary. By that I mean he reacts far too late in his movement so midfield players lack options.
The best strikers anticipate the play and get bombing at the right time. Ronaldo. This is absolutely essential in the transition. Quick pacy strong strikers who can actually jump.
What the hell does Dunc do with him in training?!
Steve Ferns
11
Posted 01/12/2017 at 19:18:49
We must be watching different players then Oliver. Dom is only 20 and is there to be moulded. I believe a manager with Allardyce's self-belief will believe he can make him into whatever he wants him to be.
Brent Stephens
12
Posted 01/12/2017 at 19:21:12
Calvert-Lewin has been operating largely in an isolated position but manages to win a very good share of the high balls lumped up to him, and even to then take / retain possession. He's a grafter, covers a lot of ground and gets stuck in.
And while Lennon is not the most gifted of players his work rate is unsurpassed in the present squad and on more than one occasion has got us out of a fix in his tracking back.
John Keating
13
Posted 01/12/2017 at 19:24:55
I just hope that all the anti-Allardyce brigade who have vowed never to go back to Goodison whilst Allardyce is there, have had the decency to give their tickets to young kids who will appreciate them.
Paul Kennedy
14
Posted 01/12/2017 at 19:26:56
Okay, so was not over excited about Sam when I knew he was coming. Got to say listening to him speak on the Sky and BBC reports, he comes over really well, talking sense hope and realism. Could work out to be a good un!!!
For the first time for many weeks, I am actually looking forward to the game.
Jay Harris
15
Posted 01/12/2017 at 19:36:44
If Keane is ready and confident enough o come back we could consider playing Jonjoe at left-back and Holgate right-back
Midfield trio of Davies Rooney and Gueye
Give Calvert-Lewin a rest after all the running the other night and go Lennon Niasse Sigurdsson (or give Rooney a rest and put Siggy there and play Vlasic).
Steve Ferns
16
Posted 01/12/2017 at 19:40:59
Jay, Holgate is supposedly two-footed. Kenny is not. That said, Holgate was certainly not two-footed at left back against Sunderland. But I do think Holgate is more comfortable on that side than Kenny or Martina.
Tony Graham
17
Posted 01/12/2017 at 19:42:58
I think Huddersfield will be a right testing game... don't underestimate them/
I hope we can play well and win again. If we graft and show passion and believe in our capabilities, we should get our confidence back.
Sam Hoare
18
Posted 01/12/2017 at 19:46:36
Oliver, Calvert-Lewin can definitely jump.
In fact he's in the top 8 in the entire league for aerial duels won per game beaten only by the likes of Carroll, Benteke, Crouch, Duffy and van Dijk.
He's also been clocked as one of the fastest players on our team, perhaps not that surprising given what a slow team we have!
He's still a bit raw and obviously needs more goals but I'd say he looks very much an Allardyce type player.
Paul Hughes
19
Posted 01/12/2017 at 19:47:37
I thought both Calvert-Lewin and Lennon put in a real shift on Wednesday night, not pretty, but exactly what is needed at the moment. I agree, though, that Niasse is much more of a goal threat at the moment.
Overall, I prefer, until our confidence returns, a 'Dogs of War' approach.
Derek Knox
20
Posted 01/12/2017 at 19:48:19
Agree Steve that Martina is useless on either side and exposes the Centre Back to cover the hole he has left when foraging forward. Holgate would be better suited there to accommodate Keane in his usual slot.
John Davies
21
Posted 01/12/2017 at 19:49:12
John Keating #13. Spot on mate. All the whingers can stay away.
Rick Pattinson
22
Posted 01/12/2017 at 19:49:14
John @13. Well said mate. Support fat Sam and the youth of today!!! You'll all be singing fat Sam's praises come January... I know this will work.
Darren Hind
25
Posted 01/12/2017 at 20:13:52
He takes over a team heading north as opposed to one in free fall.
With the exception of Funes Mori, all his defenders will be fit.
He has the added bonus that Rooney seems to have put his personal problems behind him and is firing on all cylinders.
His attacking options are increased with he return of Niasse.
Confidence will be surging through the players on the back of their best performance of the season.
He is up against a shell-shocked team who had 5 going on 10 put past them the other night and who are desperate away from home.
The batty arl woman who hangs around Wessie Road "minding cars" could take control of the team tomorrow and beat this crew.
Allardyce will name an unchanged team, He knows if he makes changes and loses, His honeymoon will turn into the mother of all shit storms.
Clive Mitchell
26
Posted 01/12/2017 at 20:16:56
Based on Wednesday night – well done lads – I'd start out with
Pickford
Kenny Holgate Williams Martina
Davies Rooney Gueye
Lookman Niasse Sigurdsson
Obviously Keane, Calvert-Lewin, Lennon, Baningime might all get starts. No problem with those possibilities, just no Schneiderlin please, even if it means Besic.
Paul Kossoff
27
Posted 01/12/2017 at 20:18:38
Can't wait to see the difference in the teams attitude. They downed tools under Martinez, then Koeman, then didnt play for Unsworth, will they try for Fat Sam?
Shame they don't play for the fans and themselves really, isn't it?
Coyb👦👦👦
Declan Martin
28
Posted 01/12/2017 at 20:32:29
We had a lot of luck vs West Ham. Pretty much every penalty / save / bounce / crossbar hit went in our favour. That happens sometimes. Not sure if we were 4-0 a better side.
That said, Rooney seems much more comfortable in midfield, so leave him there. I hate going with Williams – a complete liability – but can't be helped.
I agree that Schneiderlin is for the bench. He has epitomised everything that has been wrong this season.
Calvert-Lewin did okay on Wednesday. May keep his place.
Ray Robinson
29
Posted 01/12/2017 at 20:34:51
I agree Darren that he may well start with the same team against Huddersfield – great for morale and confidence after all. However, when I read your list of points, they read like a damned if you do, damned if you don't verdict. If we win, then that's all that was expected of Allardyce and it was Unsworth's team anyway. If we draw or lose, then it was all squarely Allardyce's fault.
Correct me if I'm wrong but it already sounds like a subtle undermining of Allardyce's position? We can expect the full anti- onslaught after the derby match maybe?
Mike Hughes
31
Posted 01/12/2017 at 20:36:35
There should be a good atmosphere tomorrow. New dawn and all that.
I think Allardyce is very much the right man for us at this moment in time. I am confident he will be a marked improvement on the last two permanent clowns.
I'm pretty sure he'll have them fit, practising set-pieces, well-drilled and have a strategy to win. And a Plan B. There will be no room for slackers. And no bullshit in press conferences.
Even if results don't immediately go our way, we need to give him time – just like any other new manager.
2-1 to us tomorrow as I think we'll still concede. Then a first win at Anfield in this millennium (Divine Intervention).
COYB
Chris Gould
32
Posted 01/12/2017 at 20:37:48
Darren,
I think he's taking over a team heading North (slightly) because his presence was the kick up the arse these players obviously needed. Shameful as that is.
Sounds like you're setting him up for a fall?

Darren Hind
33
Posted 01/12/2017 at 20:51:07
Chris
We hear he didn't even meet the team until after he was appointed ... He hadn't even met some of them at all.
How is it you think he influenced the game on Wednesday? ... Telepathy?
Raymond Fox
34
Posted 01/12/2017 at 21:12:14
Darren, he has said during one of his many interviews that he did go into the dressing room before the game and said a few words.
He did also say that the win was all David's own work.
John Keating
35
Posted 01/12/2017 at 21:16:37
I think/hope now Allardyce is here he at least gets things in motion to keep us away from the bottom.
As we all saw on Wednesday the players are still woefully short of confidence and fitness.
With his team shortly in place the groundwork will be in place so that come January we can get at least 2 or 3 in we desperately need.
As long as we can keep picking up points against the teams just above and below us we'll be good at seasons end.
Any win tomorrow by any score will do me. Whether you like Allardyce or not the only important thing is to support Everton
John Pierce
36
Posted 01/12/2017 at 21:27:58
Tells you everything about the fella as he spilled the beans in the presser
he
met with the players, then said "take nothing away from David". You took everything away Sam.
Even if it was you that transformed this bunch of shirkers, which I doubt, have the good grace to say nothing and let a man who stepped into the breach take the credit.
Nah not you lad, all about you. Didn't the last fella make it all about him?
If he has any sense he won't rock the boat too much. Niasse for Calvert-Lewin, Keane for Ashley "penno" Williams.
But then again, it is all about BS!?
Don Alexander
37
Posted 01/12/2017 at 21:30:00
Aww, come on lads, Darren's feeling well jilted so let's cut him some slack.
The time to begin to begin assessing Allardyce as our manager will arrive in mid to late January as far as I'm concerned because by then I hope to see a physically fitter, faster, purposeful football team. Right now I'm expecting a drubbing on the 10th but I will not hold him accountable if it happens. Tomorrow I expect a win though, ugly but honest will do, just like "our" Sam, heh-heh.
Gavin Johnson
38
Posted 01/12/2017 at 21:32:31
Darren, whether Allardyce had a meet and greet with the players is immaterial. The players would have known he was watching and would have wanted to impress.
Allardyce stated that he had a chat with Unsy in the afternoon before the game. Probably advised him to play Rooney in midfield I reckon. ;)
Kim Vivian
39
Posted 01/12/2017 at 21:34:56
Darren...
"With the exception of Funes Mori, all his defenders will be fit"
Coleman?
Chris Gould
40
Posted 01/12/2017 at 21:42:37
Darren, come on mate, surely you must accept that the players were probably looking to perform/impress in front of their new manager? How on earth do you explain their apathy and awful performances in the games prior to Wednesday?
I did laugh today when you mentioned Unsworth's 50% win rate. I assume it was tongue in cheek? You do recall that Koeman had a 66% win rate after 6 games? Which also meant nothing.
I like Unsworth, but the performances were dreadful. We were outplayed by every team he came up against, except West Ham. But even they had us under pressure in that second half, and if their penalty had gone in, I would have feared the worst.
Anyway, time to move on and get 100% behind the new manager. Perhaps Unsworth will get another crack under more favourable circumstances in the future. He gave it his all and will have learned from his mistakes. He can't be blamed for the players' lack of effort. They should all be ashamed.
Terry Farrell
41
Posted 01/12/2017 at 21:44:18
Darren, you are at it again! You were relentless in your pursuit of Koeman's sacking. Unsworth, your choice as a replacement, has not been given a fair crack of the whip but has now returned to the U23s.
We now have a new manager. Can't you at least see how he gets on til the end of the season? We need some stability and – dare I say it – loyalty! I know you are a true blue so the last bit means solidarity.
Raymond Fox
43
Posted 01/12/2017 at 21:48:08
It was a direct question John, 'Did you go into the dressing room' you wouldn't want him telling porkies at his first press conference, would you?
Gavin Johnson
44
Posted 01/12/2017 at 21:54:53
Curious that Unsy was absent from the U23s against Leicester. Would anyone be surprised if he left now for a manager's job elsewhere?
I would have liked to have seen Unsworth continuing to work with the 1st team in the place of Big Dunc with Dunc taking Jeffers job in the U23s. IMO Franny Jeffers shouldn't be employed by the club in any capacity.
Darren Hind
45
Posted 01/12/2017 at 21:57:11
Raymond
He stuck his head in to wish them good luck (you know like so many did as they made their way from the car park). He did no team talk and still hadn't been introduced to some of them until today,

Don
Having listened to the likes of you and Gavin get it so spectacularly wrong over the last two managers, I think I can live with not agreeing with you again, in fact it kinda comforts me... no need to cut me any slack.
Sam Allardyce – 30% win ratio from the dressing room and 100% win ratio from the stands.
Ask yourselves this: If players are so shit scared of fat Sam, how come his teams are always shite? How come he loses more than he wins? And how come all these hundreds of players who have been so incredibly in awe of him have never gotten within a mile of winning anything for him?
We must have some of the most gullible fans in football.

Ray Robinson
46
Posted 01/12/2017 at 22:04:12
Maybe he loses more than he wins Darren because he fire-fights when teams are in trouble. Not a bad record at Bolton though. Let's not start another anti-manager tirade just yet eh?
Tony Abrahams
47
Posted 01/12/2017 at 22:07:58
Agree that he should go unchanged Darren, but can't agree with you that either Allardyce, Shakespeare, or Lee, never spoke to that team before we played West Ham.
I agree that players can change their attitude, but how come we looked organised defensively despite conceding 9 in our previous two games?
Forget the past, but Allardyce praised Martina, and after the first clean sheet forever, I don't think he will change our defence Steve.
I'm also Looking forward to going to Goodison tomorrow, so that can't be a bad thing after the previous 3½ years, which have mostly sucked the life out of me with regards to watching Everton playing footy.
It might be short lived, and don't ask me why? But I have a genuine good feeling about this appointment, even if I can't put my finger on exactly why that is!
Jay Harris
48
Posted 01/12/2017 at 22:09:45
Steve,
I don't rate Holgate that highly at full back so my thinking was he would be less of a risk at RB with Lennon in front of him.
The other option seeing as they play 3 at the back would be to go with three and have Kenny and Martina as wingbacks which would suit Martina's game more.
Just a request boys can we please make the next few games about Everton and not about Allardyce and Unsworth.
Darren Hind
49
Posted 01/12/2017 at 22:12:17
Not starting one Ray
I will never accept the desperate claim that he was somehow responsible for Wednesday's performance. Unsworth had left out the shirkers and to suggest the players he selected hadn't been giving their all is an insult to them, it's an insult to Unsworth and it's an insult to the intelligence.
I'm all for not having anti-manager tirade, but I don't want to listen to the fawning sycophancy which all but destroyed this club. He must be the only manager in the history of football to win a game when (by his own admission) he had fuck all to do with it.

John Keating
50
Posted 01/12/2017 at 22:12:36
Well we might as well pack up now.
If Allardyces teams are ALWAYS shite and he loses more than he wins, well we should have stuck with Koeman as we will definitely go down.
Can't wait to hear the boos and banners supposedly coming out tomorrow. Well there'll be none from my seat.
Tony Abrahams
51
Posted 01/12/2017 at 22:15:29
Gavin, I read Unsworth saying he was having a few days off before he went back to his Under-23s job. I hope he takes them all to Cyprus next week and the team to face Liverpool spend a full week training at Finch Farm, which would be the ideal way to.prepare for Anfield.
Brian Hennessy
52
Posted 01/12/2017 at 22:21:09
I think its no coincidence that Kenny's form has improved since Lennon came into the team. Lennon does an awful lot of defensive work and has taken some of the pressure off the young lad.
Totally off topic, but I see the Everton club shop is practically giving away any clothing with Europa League branding – not surprising I suppose. Some nice bargains if you can take the slagging about our European campaign...

Peter Gorman
53
Posted 01/12/2017 at 22:21:29
"Ask yourselves this: If players are so shit scared of fat Sam, How come his teams are always shite? How come he loses more than he wins?"
Darren - Big Sam's record;
Limerick - W14 L 3
PNE - W3 L5
Blackpool - W44 L 35
Notts County - W53 L50
Bolton - W153 L113
Newcastle - W8 L10
Blackburn - W32 L34
West Ham - W68 L67
Sunderland - W9 L13
Palace - W9 L12
Total - W397 L343
I don't like him because he is a corrupt thug – but he has demonstrably not lost more games than he has won.
Aside from keeping those last two clubs in the Premier League, he managed to keep Bolton there for 6 years.
Gareth Clark
54
Posted 01/12/2017 at 22:23:54
I don't think Lennon was poor – he always brings a lot of energy, which I really like. He was a little lazy in our bad spell in the second half, in terms of back tracking.
I just prefer 2 up top for a game against Huddersfield – can always bring Lennon off the bench to solidify the team & bring a lot of energy.
Derek Knox
55
Posted 01/12/2017 at 22:27:43
Granada Reports showed Unsy picking up an award last night for his coaching work getting the youngsters through. So would account for his absence.
I am looking forward to this game tomorrow, and I haven't said that for a while, be very interested to see if he changes much or starts with the same team as Wednesday.
I think Calvert-Lewin will give way for Niasse, Holgate for Keane, but like I said before I would slot Holgate in at left back, I know It's not his natural side, but he has to be better than the hapless Martina.
I hope Vlasic gets some pitch time too, because I do like the lad, as also with Lookman. Even an ugly win will put us in the upper reaches, but a long way off the top.
Paul Underhill
56
Posted 01/12/2017 at 22:27:45
All I can say is: give him a chance. Bolton did fine, he was employed for the England job, he's our Boss now – support him and the team and stop calling him corrupt, you whiter-than-white do-gooders!
NSNO... "Unity in Strength"
Jay Griffiths
57
Posted 01/12/2017 at 22:29:20
All pretty positive posts on here so far. Two exceptions on this thread laced with negativity. Both look to discredit if he wins and destroy if he loses. To me, all the people almost hoping for Sam's failure to appear are thinking in parallel with Koppites. That's what that lot are hoping for too.
You may as well wear red for the duration. Don't divorce our team when it needs you most. Those that can admit to utter contempt for the man, yet still pour all their will into Everton's progression are true supporters. Those that stop going have to agree their hatred of Sam is stronger than their love of Everton.
Gutted that its come to this as a club, as a team, as a supporter, fan base.
Hope Calvert-Lewin gets another run tomorrow. He's honest yet raw. He can definitely leap for flick-ons; I just wish someone would take a chance and run beyond him.
There was a huge improvement in effort Wednesday. I was a little miffed that they never worked that hard for us at Brighton, Palace and Southampton but there are variables we know little of so I'll wipe the slate clean. I suppose when the headmaster sits at the back of the class and says "Carry on, don't mind me", well you do mind him regardless of who the teacher is.
We as supporters, not fans, supporters, have work to do too. Again, I salute those that resent the man yet offer unrequited support for our team.
Huddersfield will be a tough assignment tomorrow I feel. They'll be looking for a response. The 5-0 had similarities to our 4-0.
Darren Hind
58
Posted 01/12/2017 at 22:30:05
Peter
I didn't realise we were taking lower leagues into consideration. The guy claims he deserves a top job so let's look at his record in the top league – and we wont even mention his relegation.
Since he left the high financial backing/no pressure situation he enjoyed at Bolton, he has managed five teams and he has lost more than he won – by some margin.

John Keating
59
Posted 01/12/2017 at 22:33:06
Gareth from where I sat when we were under the cosh second half, Lennon and Sigurdsson were the two that put the effort in. When they attacked wide both supported the full backs and when Lanzini had it in the centre they both closed him down.
Must have just seen it different from you. Only thing I can say is that of Lennon, Lookman, Vlasic, and Mirallas the only one to support defence and attack is Lennon.
Paul Birmingham
60
Posted 01/12/2017 at 22:35:30
Time to support the club and look forward and not back on the last 7 months under Koeman and Unsworth had a broken cup, and a broken team, and in my view he was on a hiding to nothing, but he tried his best.
So far, Allardyce has shown more empathy and nous for Everton than Koeman ever done. I think Koeman was a great player but a poor manager and will never be a man-manager, and not a top football manager due to his lack of tact and people skills, that's his legacy.
Yes, I hope the Huddersfield game is a full game performance, when was the last time we had one? City last January at home, and before then, a long time.
Next week the RedShite, but let's hope we get a decent referee. Surely their referee luck ran out with Stoke? Will we get the elusive penalty at Anfield?
I'm dreaming, but we must have a go and not cack the shorts before they get on the pitch like the last 2 years. I'm sure Sam will want to get one on Klopp... we live in hope and a good weekend to all Evertonians, everywhere.

John Keating
61
Posted 01/12/2017 at 22:40:34
Darren,
You don't have to go on and on proving you detest Allardyce, I think you've made it quite obvious.
Just come on here after every defeat, have a gloat, tell us all you told us so and have a celebratory drink.
When Allardyce leaves, maybe it'll be someone you like that replaces him.
Me I'll support his successor just like I'll support Allardyce until he fucks up, something you obviously are unable to do.
Mike Jones
62
Posted 01/12/2017 at 22:48:29
Good appointment.
Don Alexander
63
Posted 01/12/2017 at 22:48:36
Darren (#45 and ad nauseam), you're in dream-world if you think you ever read me praising Martinez on this site. I was actually (and rightly) sort of banned from it for a while for stating what I truly thought of him.
With Koeman I always stated my hope that this season, after a major signing spree (albeit he wasn't provided with what he stated he wanted), he'd do with us what he did for Southampton after two successive signing sprees that were successful. He failed of course, but even now I don't share the views of some, you included, who think he was solely to blame. The board have a great deal more responsibility in my opinion, and I've singled Kenwright out because he's repeatedly shown before and since Moshiri got on board that he's a sentimental old fart under whom we're going nowhere.
As for Allardyce I don't like the football he's resorted to in his career, Bolton aside occasionally, but I am going to concentrate on the "now", and his/our future. I hope he doesn't disappoint, but the notion that we are "gullible fans" is once again offensive to me, and I guess many others on here. After all, enough of us have repeatedly taken you to task about your attitude to Everton fans and supporters, but sadly to no avail.
With regard to Unsworth, I've never criticized him. I've criticized what I and many others perceived as the poor attitude and effort made by the players. I've also said that given his age I'm concerned he may well have left it too late to try to start being a manager with a view to earning a top job, but that's his concern and is not a criticism.

Peter Gorman
64
Posted 01/12/2017 at 22:49:59
Darren, come on mate, that is being selective. His records at Palace, Sunderland and probably even Blackburn can be discounted too since he inherited a bad situation (which he then improved upon).
I honestly don't know why I am arguing the toss over this; I am seriously underwhelmed and think you are 100% correct to have your reservations about the man as you had with the last two managers. You once said the manager is a mere employee and only we the fans love the club unconditionally. I agree.
Moyes (for all his sins) left the club in rude health and two bungled appointments later, here we are. I am waiting to see what Allardyce can do but will not be holding my breath.
Dave Pritchard
65
Posted 01/12/2017 at 22:55:11
I thought Lennon played well on Wednesday. Also referring to our manager as 'fat' seems to be a pointless exercise (whatever his weight is).
James Thornhill
66
Posted 01/12/2017 at 22:55:47
Gareth (#1), how was Lennon a bit off? The lad was brilliant. He never gets any praise for the sheer amount of donkey work he does.
Watch the West Ham game again, see how he drops in enabling Kenny to get forward for the 2nd goal, the ground he covered when on the left & right flank, closing down from the front, he gives so much balance to the team & should be praised for it.
Mark Morrissey
67
Posted 01/12/2017 at 22:57:02
This is the best club Allardyce has been at. His win % has always been likely to be slightly short of Alex Fergusons % rate because Sam has always been at struggling clubs. Whys that ? because English clubs don't promote the use of English managers which is precisely why the likes of Pardew, Pulis etc end up on the Managers merry-go-round.
This appointment is a good appointment and Sam Allardyce is going to surprise people. I expect him to come away with a win tomorrow and he'll turn us around. He's a better choice than Martinez and Koeman and dare I say Moyes too.
People find him a fraud, a conman, a joke. I don't. With some shrewd business in January in the striker and defender areas we'll be fine. So glad I'm not going to be hearing "So okay, this is football". NSNO
Michael Lynch
68
Posted 01/12/2017 at 23:02:04
Sam's points per game ratio is a glass half full/glass half empty argument. Yes, there are managers with better ratios than Sam, but yes Sam usually inherits a team in trouble and on every occasion he has improved that team's points per game ratio substantially.
But, whatever your view on his past record, the only points per game ratio that counts is the one he gets while he's at Everton. To take the optimistic view, if he does what he's done in the past and improves our record accordingly, we're probably going to finish top 8 this season.
Right now, I'll take that. And if he does achieve that, he's earned the right to see what he can do next season.
Darren Hind
69
Posted 01/12/2017 at 23:02:09
Look Peter
I have one issue here: the fact that some people who have niggled away at Unsworth are now trying to suggest that a guy (who by his own admission) had nothing to do with the game was somehow responsible... from the stand.
Now that is, as far as I'm concerned, as gullible (or ungracious) as it gets and if it offends delicate little ears, I can't help that.
Contrary to strange arguments put up here, I will be there tomorrow, I have never suggested otherwise, haven't even hinted at it. I will of course be desperate for Everton to win – it's one of the reasons I paid for three season tickets.
This is my last word on this; the guy who is being credited with winning the match from the stands has had enough trouble winning from the dressing room – 30% I think I read. I only mentioned that to highlight the absurdity of the claim. It's a disgrace that we have fans taking the trouble to come on here and attempt to rob Unsworth of the credit and recognition he deserves.
I don't have the energy for more managerial battles and I don't have the patience to listen to people extol the virtues of a guy who hasn't even overseen his first game.
Been there, done that.
Karl Meighan
70
Posted 01/12/2017 at 23:03:15
Calvert-Lewin is a Championship quality striker imo. His age should not matter, putting a shift in is the least that is expected. Just don't see him having the tools in his locker to be a striker capable of getting 15/20 goals a season in the Premier League.
Clive Mitchell
71
Posted 01/12/2017 at 23:10:03
Karl, do you realise that when he was Calvert-Lewin's age, you had never heard of Harry Kane?
Michael Lynch
72
Posted 01/12/2017 at 23:10:43
I love the way Calvert-Lewin works the channels, he's got that nasty side to him that helps a striker wind up defenders, he's got a good first touch and plenty of pace. I think he needs to work big time on his positioning and runs in the box – he always seems to be in the wrong place at the wrong time. His finishing seems pretty decent, but he just doesn't create enough opportunities for himself to get the goals.
I think Sam will go with Niasse for the moment – he's got the goals and he's an even bigger nuisance than Calvert-Lewin. Calvert-Lewin is still young and learning, he won't peak for another five years yet IMO.
Derek Thomas
73
Posted 01/12/2017 at 23:12:19
Huddersfield will keep it tight... 0-0 or 1-0; and that could be either way too.
Clive Rogers
74
Posted 01/12/2017 at 23:30:42
Calvert-Lewin certainly has attributes, but doesn't seem to be a natural finisher. He has had a lot of game time for one goal last season and one this (in the league). Kane got 31 goals in his first season at 21.
Brian Cleveland
75
Posted 01/12/2017 at 23:33:33
Clive (71), you took the words out of my mouth.
Calvert-Lewin often reminds me of Harry Kane at that age. Kane looked really cumbersome and awkward, like he was going to scuff everything, but he's not doing so bad now. Also, he only started getting the occasional run out in the Spurs Europa League games against lesser teams and was already older than Calvert-Lewin is now.
Calvert-Lewin is having to shoulder a lot of the burden for trying to get us up the pitch with hurried clearances that arrive at neck level or sail over his head! I feel sorry for the bugger as he's had nothing to work with of late but keeps working for the team. Not sure what people are expecting him to do in the current situation!
If Calvert-Lewin can get anywhere near where Kane is now we'll be in for a treat!
Clive Mitchell
76
Posted 01/12/2017 at 23:38:30
Calvert-Lewin won't be 21 until March. In the season before he was 21 Kane scored 3 Premier League goals.
Clive Rogers
77
Posted 01/12/2017 at 23:43:36
Clive (#76), he only started 10 games though.
Mike Jones
78
Posted 01/12/2017 at 23:51:53
Darren Hind... what do you want?
John G Davies
79
Posted 01/12/2017 at 00:01:01
Sam's de man.
Let's see how it goes.
http://www.metrolyrics.com/tiger-feet-lyrics-mud.html
John Kavanagh
80
Posted 01/12/2017 at 00:03:01
Any coach manager would normally steer well clear of changing a winning side, especially one that has won 4-0 – so I think he'll go with that (even Williams). Lennon's been up for the fight more than most of our other senior professionals and deserves to start. The same applies to Calvert-Lewin who won us the all important pen for the first goal and caused Hart's panic clearance for the third; the key moments in the match along with Pickford's penalty save. I think he'll use Niasse's pace and disruptive skills in the second half or if we need to chase the game.
As for the debate on Allardyce, he is here now so there's no point arguing. You never know it might become a case of Everton changing him rather than him changing Everton. However, for me Allardyce's real test is what he does in January – both ins and outs – and with Unsworth's core of Under-23s who have all shown fight.
The euphoric posts about bring on the RS in a week's time on the back of beating Wham are a complete triumph of optimism over experience. I'd prefer a heavy snow postponement and taking them on in January with a few key players back, new signings and the bad influences out of the door.
Tomorrow I'd be more than happy with a typical Allardyce 1-0 win. Two clean sheets with Williams in defence is no mean achievement. Forecast: 2-1 and 11th place.
Brent Stephens
81
Posted 01/12/2017 at 00:03:44
Disappointing that one or two minds are already set against the new manager, especially when they were never set against Unsy. Unsy was dealt a bum hand and did reasonably well. Let's see what the new manager can do before we slag him off.
Justin Doone
82
Posted 01/12/2017 at 00:07:09
Still pinching myself, still feeling the pain. So Fat Sam really happened... which is still unbelievable!
Can I point out that other Premier League clubs sacked and appointed managers in those long 5 weeks and Fat Sam was never mentioned or linked to any of them. Nor was he mentioned as a possible replacement for other Premier League teams should we have taken their manager.
I don't know if that's because he's such a turd or if behind the scenes this was always likely to happen but I find the whole shenanigans questionable..?
Simon Connor
83
Posted 02/12/2017 at 00:12:19
Evertonian in exile - Isle of Wight.
I think some people on Merseyside may not realise that the game on Wednesday put EFC back up there on a global level. People down here - which is not exactly famous for its football - are all talking about it.
My brother in Spain has a similar view. You can check out some highlights on the internet from loads of countries all around the world and it is Everton, Everton, Everton.
We play/have played for longer than any other club in the best league in the world. If that game on Wednesday night coupled with a new manager plus David Unsworth and Duncan still there in important roles does not give that squad confidence then they should go and 'play' somewhere else.
We will beat Huddersfield Town tomorrow. Who would you bet on winning if your life depended upon it..?
More confidence from EFC and we have a new and quite well off 49.9% shareholder with yet more global connections.
COYB
PS Might even beat LFC for once?

Paul Birmingham
84
Posted 02/12/2017 at 00:17:45
Well in, Brent at #81.
Lets look forward, life is too short, and support the team.
Focus on winning tomorrow and supporting the club, on par, and let's try and salvage this season.
Next week, we could beat the RedShite, no-one expects and they will now be thinking, I'm sure, about the game next week.
Justin Doone
85
Posted 02/12/2017 at 00:21:22
Being optimistic, I think, other than the derby, Fat Sam does have a decent run of games to pick points up starting tomorrow.
Win, Lose or Draw, I won't be shocked nor will I be criticising Fat Sam too much. I understand he needs to try out players and formations, albeit, I don't see him changing from his favored 4-5-1.
Unfortunately I do think both Schneiderlin and Williams will be back in the first team and given far too many chances to show they're not out of their depth. That I will blame Fat Sam for. Keep another clean sheet and I will be ecstatic.
I do believe Calvert-Lewin, Kenny and Davies have massive futures ahead of them. It now needs their effort to progress potential into consistent good performances whilst still learning and that means game time. I am very worried about the future lack of game time these players will have under Fat Sam.
One positive the appointment has brought is almost certainty who our next manager will be: Mr Shakespeare – and I for one have more time for him than Fat Sam.
Laurie Hartley
86
Posted 02/12/2017 at 00:25:47
Brian (#52) – you are right in your assessment of Lennon's influence on Kenny. He has not only supported him defensively but also given him the confidence to get forward.
In the lead up to the second goal Lennon flicked the ball on to Kenny who charged up the field with Davies. Lennon stayed in the left back position in his own half.
A very experienced and honest footballer is Lennon.
Brian Williams
87
Posted 02/12/2017 at 00:34:36
Justine (#85).
Stop referring to him as Fat Sam, ffs.
Brent Stephens
88
Posted 02/12/2017 at 00:46:59
Bryan (sic) #87 stop referring to Justin as Justine!

Tom Bowers
89
Posted 02/12/2017 at 00:58:51
I think there were positives from the game against West Ham despite the fact the Hammers are poor.
The covering by both Rooney and Lennon was good especially Rooney helping out the weaker Martina.
Calvert-Lewin was also showing some good work and is learning all the time along with Tom Davies but I have to mention Gylfi who I though. was a big improvement.
Probably Sam will go with the same starting eleven tomorrow as he will need time to get a handle on things although I don't like the idea of Martina, Williams and Holgate playing together but perhaps Keane or Jags may be fit anyway.
Tony Mace
90
Posted 02/12/2017 at 01:09:04
Justin
Doone by name
Doom by nature
Jeez
Ever heard of "Optimism" or "Bottle Half Full"
Keith Monaghan
91
Posted 02/12/2017 at 01:38:14
We were lucky at times on Wednesday as some have said – but I hope it's done the team good. Predictably, Rooney's contribution was way over-hyped, due to his truly amazing 3rd goal – the 2nd was a tap-in and the first a gift following a poorly taken penalty. Also, the cheap gifting the ball away as usual was too frequent.
For me, there's little argument for changing the team, except possibly Keane (but what's happened to his form since pre-Spurs?) for the awful Williams.
Holgate deserves to continue at centre-back – easily better than Williams & Jagielka, and he's better there than at full-back. Martina did okayish at left-back -– he doesn't look good but is a better defender than the declining (for 2 years) Leighton Baines. Kenny had done very well of late – he was much better than Baines at left-back when forced to switch in the drubbing at Saints.
I really don't get those knocking Calvert-Lewin – he's worked extremely hard to make something of generally very poor service. An alert & nippy striker (no, sadly Niasse for all his enthusiasm isn't up to this) playing off him could get a decent no. of goals.
It was great to see Davies getting back to a good level on Wednesday – a pity a certain Ross Barkely has never shown his appetite & team ethic.
Sam Allardyce wasn't my choice, but I'll support him like any loyal supporter should, and hope he can (next season) get us back to being competitive at the top end of the league – it's a big ask, particularly if we continue to sell our gems like Stones & Lukaku and have too many behind the scenes who are there for sentimental reasons rather than their ability to do the job required.
Andrew Presly
92
Posted 02/12/2017 at 01:38:39
This is all grim as fuck – like every single second will be whilst this person is manager of Everton.
John Ronnie
93
Posted 02/12/2017 at 03:17:24
Andrew,
Deary me... it must be a right laugh going the match with you
Come on, FFS – give him a chance, let's have some hope!
Surely can't be any worse than some of the shite we've had to put up with for the past 20 years or so.
Peter Fearon
94
Posted 02/12/2017 at 04:25:10
I just hope Nil Satis Nisi Optimum doesn't become Calcitrare et Curro.
Steven Kendrew
95
Posted 02/12/2017 at 05:11:09
I think we need to have a look at this appointment from Allardyce's point of view.
He's been in the wilderness for a while and is also generally viewed as a short-term fixer and he's probably a bit tired if that label. He blew his England chance and this appointment is actually one of the best he has had for a while with a lot of potential for him with Moshiri's money behind the club.
It's possibly the biggest chance he will have of managing a team that might actually be properly successful such as making the Champions League (not this season... lol), before he retires.
Who knows? It might just turn out better than most of us appear to expect.
Steven Jones
96
Posted 02/12/2017 at 07:10:54
Presly (#92) – Sam Allardyce is the best technical manager since Kendall and Catterick. He also is great at relationships and I am loving his science, man-management and leadership. He is building an exceptional coaching team which is far from grim. Not sure using the F-word gives you an more credibility.
Sam has great personal attributes that are so in evidence in his pre-match conference. Go and watch all the video tapes of him and I am sure you will thaw – miles better then the last three managers' approach.
There is every chance that we can now build a trophy-winning side with Sam – if not, and he fails, he moves on.
Rob Hooton
97
Posted 02/12/2017 at 07:42:07
I feel like I'm one of the very few who actually likes Sam Allardyce! I reckon he will surprise many (I sincerely hope so) and will bring quite a lot to the party.
It's probably his last big chance and I also think he's a great personality and has some good ideas.
Tin hat on! COYB, let's get another win today
Colin Glassar
98
Posted 02/12/2017 at 07:44:51
My god, the Big Sam devotees are out in force today. I won't be worshipping at the Big Sam temple but neither will I be sniping at him from the grassy knoll. I will give Sam the benefit of the doubt and hope he does well but no Carte Blanche backing anymore from me.
Everton to win 2-0 btw.
Sam Hoare
99
Posted 02/12/2017 at 07:49:24
I think you have to play the same team as in Wednesday unless any of the players are injured or fatigued.
I'm not yet convinced by the deeper Rooney. He will have some good moment but he also gives the ball away a lot in a position where it is difficult to do so. And doesn't have the pace to recover. I think he is well worth playing there against Huddersfield who will look to defend but would be a risk against stronger teams.
Ironically for all our central midfield players, I think we lack a genuine all rounder who can get about the pitch quickly, tackle well and also pass forward effectively. Perhaps Gueye is the closest thing but some of his passing this season has been woeful.
Gio Mero
100
Posted 02/12/2017 at 08:26:58
How can one possibly think of not playing Niasse? In the face of all the big-name signings who saddened the socks off me, where would we be now without him?
Kim Vivian
101
Posted 02/12/2017 at 08:36:42
Colin. I'm with you.
I am right behind him but sitting firmly on the fence re the wisdom of Sam's appointment at the mo'. He's saying pretty much the right things but I think we are all a bit carried away by the euphoria after Wednesday evening and have forgotten the state we're in.
I am wishing Sam the best of luck, hoping for a reversal in our fortunes and have predicted the same scoreline as you: 2-0.
Dave Pritchard
102
Posted 02/12/2017 at 08:36:52
I would bring Niasse back in for Calvert-Lewin for a couple of reasons.
Firstly Niasse is more of a goal threat and secondly Calvert-Lewin ran his socks off on Wednesday and will be better coming off the bench today. Will be interesting to see what the new manager does.
Dave Pritchard
103
Posted 02/12/2017 at 08:41:31
Colin and Kim, I agree and think most reasonable supporters are expressing the same views. No problem with those who say they don't want Sam as manager but the few who have to call him 'fat' to back up their argument are a bit pathetic.
Tony Everan
104
Posted 02/12/2017 at 08:52:08
Rick
Barkley 2 weeks away – we should have him and Bolasie ready to play some part over the Christmas and New Year.
Damning Calvert-Lewin at his age is unfair; I think he has the attributes to be a top striker. At the moment, I think his strength and frame is a bit boyish but the next few years will see him get tougher.
With his insatiable work ethic and experience, in a couple of seasons time, he will be a decent Premier League goal scorer for us. He's never going to be an Aguero, but he offers other qualities and will be invaluable.
I also think a fresh Niasse should start today, and Calvert-Lewin be given a breather. I will be surprised if Oumar doesn't bag one today.
Tom Dodds
105
Posted 02/12/2017 at 09:15:05
Heard from a good 'sauce'... Barkley's off to Chelsea in January. He wants to go to Spurs but they won't pay any kind of real fee for him so the club have done a deal with Chelsea. I don't know the fee.
Apparently he really is pissed off with what's been going down in Liverpool with his social life, needs to start somewhere well out of it.

Jamie Evans
106
Posted 02/12/2017 at 09:17:27
Good luck today,blues. If like me you didn't want our current manager then tough, he's here now so let's get on with it. Full support!!!
The crowd played its part on Wednesday and against Watford before that so let us have more of the same today please. Only 8 more wins and a draw or 2 and we'll be safe.
Altogether now, "We found love in a hopeless place."
Clive Rogers
107
Posted 02/12/2017 at 09:17:58
Tom, that 'sauce' must be HP then.
Paul Strudwick
108
Posted 02/12/2017 at 09:20:07
I'm really excited about the start of Sam's reign. Whilst his football style is questionable, I think he is actually a step up from both Koeman and Martinez.
Jon Withey
109
Posted 02/12/2017 at 09:23:34
Nice to have some optimism about a football match again – there is a chance for a win here and a less frightening league position – but I agree with others there is still a way to go to get some stability and it will have to involve several signings.
Personally I just don't want to see Schneiderlin back or even Keane until they get their stuff together – both have been abject.
Cards on the table: I called for Sam early on so I'm interested to see if he can get us back on track for a top ten finish – at least he is one who will be thinking about his job at our club and not the next one.
Then give him a chance to help build in the summer and see where we go from there.
Geoff Lambert
110
Posted 02/12/2017 at 09:28:21
I think he might play the more experienced lads today, that is his style.
Andy Osborne
111
Posted 02/12/2017 at 09:33:43
Not my first choice. Probably not my second, third or fourth choice... either but he's our manager now and I hope he does well.
Whoever we approached, and however many we approached, they all said no. Would Unsworth have turned it around if he was given until Christmas? I don't know but maybe it was too big a risk to take?
All that said, I will cheer the boys on, I will support the new manager, and I hope he gets our players playing to their true potential and putting in a decent shift every game. If he does that, it's a win/win.
I don't understand the fascination with young, good-looking, foreign managers. I don't care who the manager is as long as they win games and win trophies. If Sam Allardyce does that, he'll do for me. If he doesn't, we will move on and try someone else.
It should be an interesting few months!
Ray Roche
112
Posted 02/12/2017 at 09:33:45
Geoff, that would mean leaving out Kenny and Davies who were excellent on Wednesday.
Dave Abrahams
113
Posted 02/12/2017 at 09:36:57
This season has been fucked by the time we had played eight Premier League games. Where the blame falls is a matter of opinion; I'd leave David Unsworth out of that argument. If we stay up, I'll be happy with that for this season. There was a real danger we could have been relegated; that has been eased a bit. Let's see what Allardyce has us playing like in a few weeks.
Calvert-Lewin will do for me. I expect him to be a very good player in the future. He got a penalty the other night and forced Joe Hart into a stupid kick out which enabled Wayne to score an incredible goal, besides running his plums off, mostly on his own.
As for Aaron Lennon, I would never leave the lad out of the team and I hope Sam sees it that way. Lennon makes mistakes but never gives up and is up and down that wing helping to form a good partnership with Jonjoe. After what Aaron has been through this year, get off his back and give him a pat on it instead.
Anto Byrne
114
Posted 02/12/2017 at 09:39:14
Calvert-Lewin needs to score more. Quickest player at the club and was much better at centre-forward his work got Rooney his the goals. A good performance should be enough for Huddersfield Town 3 nil big Sam bounce will be 3 or 4 games.
I want to see Lookman playing and working with Lennon. Mirallas might have to work with Sam otherwise can see him leaving. I wonder if we can Sammy Lee can work Gana and Schneiderlin. Be a bit productive in the top end.
Got a couple of games before the Red Shite so it could be like a cup game nothing to win at Anfield to lose. COYB
Tony Abrahams
115
Posted 02/12/2017 at 09:41:32
When it comes to managers, I think Darren talks more sense than most. He's said many times, that people are too quick to praise the man in charge. I have to agree and also think that sometimes things are too black or white, for a lot of people when it comes to Everton FC.
I don't agree with him about Unsworth on Wednesday, but whoever asked Darren, what he wanted on this thread, asked a silly question in my opinion, because the answer would be simple I'm sure. I'm sure that more than most things in life, Darren just wants to see a successful Everton manager?
Anyway I've got to go out in a minute, and I'm worried I might be to busy to get back on my iPad, in time to read George's eulogy. Hurry up George, more inspiration is needed, and whatever lyrics you choose today, I can't wait to read them! EVERTON FC= COSMIC GROOVES + POSSO WAVES! Please Stop arguing until the footy has finished!
Ian Bennett
116
Posted 02/12/2017 at 09:48:37
Niasse has to start. Calvert-Lewin put in a good shift on Wednesday, so that's a big ask to do again 3 days later.
Hope some of the lads at the back are fit again too. I do think you should reward wins with keeping the shirt, but I think you can change this team.
Kevin Tully
117
Posted 02/12/2017 at 09:56:53
Tony, it's not exactly difficult to say the next Everton manager will not be up to scratch. In fact, it's probably a 95% certainty you'll be proved correct. We've been crap for 30 years, it's just that some see the glorious 6th place finishes like winning the title.
Eddie Dunn
118
Posted 02/12/2017 at 09:59:33
Darren, I know that Sam said he had a few words with the team before the game and he told them "to keep a clean sheet and score first".
He may well have been stealing some of Unsworth's glory there, but I think that the fact that he was there and the players all knew that the new guy was watching was why they pulled their socks up and delivered for a change.
Unsworth had tried all sorts of combinations but things really gelled on Wednesday night and I personally think it was psychological.
I would think he will leave the team the same with Keane and Niasse on the bench.
Kim Vivian
119
Posted 02/12/2017 at 09:59:53
Tom (105). I fear you're right. Sam was a bit evasive at the presser yesterday when asked about Sam, and having read Steve Fern's observation about 'nose touching' I watched it again. If it has any credence I simply don't know but most of the replies were pretty open but when Ross came up, the body language changed dramatically. I believe Unsworth might have succeeded in retaining Ross but dubious about whether Sam will even try.
I think also we may be seeing the last of Lookman (to the Arse?), Sandro on loan (Valencia?) and maybe Vlasic on loan somewhere. Schneiderlin's body language on the bench on Wednesday did not look like someone in a happy place (from the TV anyway) and with his performances to date I would think he is dreading his one-to-one with Sam. We may have seen the last of him but I predict Sam will give him a 'trial' game on Thursday.
But back to Barkley – I hope your 'insider' is wrong but suspect he is right. However, Barkley has suffered two pretty major injury set backs now and that may affect his game going forward. Mindful of that, Spurs/Chelsea may want to see how the season goes for him before committing resources. That might just give us some hope.
Colin Malone
120
Posted 02/12/2017 at 10:02:08
Peter @53.
Not very good stats for Allardyce. As we know money is king in football. How many of those clubs had money to spend?
There's no doubt, listening to Big Sam, that he picked Wednesday's team, with Rooney in midfield. He is here now, so let's get behind him.
COYBB
Simon Hermansen
121
Posted 02/12/2017 at 10:09:15
Allardyce might not have given a team talk on Wednesday but the idea his appointment and presence had no influence on the players' performance is frankly ludicrous!
Rick Tarleton
122
Posted 02/12/2017 at 10:10:32
Thanks, Tony (#108). It seems sad that Barkley sees his future as a bench player at Chelsea, fighting Drinkwater for that place as well, rather than playing for Everton. Allardyce would not have even been on my long list, but there you are, he's the manager and as such I hope he is successful.
Justin Doone
123
Posted 02/12/2017 at 10:17:53
I'm usually an optimistic person but realistic. I'm now probably more hopeful than anything with Sam Allardyce in charge. Didn't and don't want him in charge but full support to the team. However I don't want this board to think 80% of us fans have forgiven them for the balls up in this whole fiasco.
I mean no disrespect to anyone and I'm not sizest. My use of FS is in reference to Fireman Sam as he is so often referred as. I'll try harder to use the Sam Allardyce but old habits and a young family mean Fat Sam is almost natural.
I don't believe we needed a firefighter to ensure Premier League safety. We have been playing poorly as a team but have enough quality to turn it around quickly with a good manager and 3 quality additions in January.
If Allardyce fails his audition over the next 5 to 8 games, then what? Being hopeful we should be putting enough points on the board to be safely mid table. So I won't judge him on the Huddersfield game anymore than on the derby. But we need to judge him on a par with Koeman and Unsworth. We can't leave it until after the transfer window closes. I'm hopeful all will be good but the board should continue their search for a longer term manager.
Why it's publicised it's an 18-month contract I don't understand. It's a private matter; why can't it stay that way? Can you imagine what excuses the players will have for next season after the World Cup and final season for Allardyce?
I am optimistic that he can bring in a big, strong, tough centre-back and centre-forward. That's what we need now if only as a Plan B.
Let's hope for 3 points but I would be delighted with a clean sheet and no Williams or Schneiderlin near the team. Realistically, both will be back in the team for Allardyce to judge which is understandable.
Daniel Lim
124
Posted 02/12/2017 at 10:32:52
Someone posted before the West Ham game that if Unsworth stayed in charge, he would be richer by £800.
Congratulations!
Ian Hams
125
Posted 02/12/2017 at 10:33:18
My thoughts, for what they're worth, Niasse seems better coming on as a sub and Lennon is a better bet starting on the right giving Lookman a good 30 mins late on, not a 5-min cameo when we're 3 down.
And as for Wayne in centre midfield is plain for all to see, the way he drifted into the box late was Cahill-like against West Ham.
Huddersfield will be harder but confidence is returning — same starting 11 for me!
Tony Twist
126
Posted 02/12/2017 at 10:35:50
Got to be the prince up front and then Calvert-Lewin for a second half appearance, Sandro for the Europa League match. Need to keep the strikers sharp and getting game time. Same team and tactics as last match otherwise and hopefully with a tighter defence as this will be a tough match (in other words, don't give Huddersfield a sniff of goal). Good luck, Blues.
Mike Connolly
127
Posted 02/12/2017 at 10:42:13
With the long-time injuries easing off, perhaps Sam could get the best out of McCarthy. Also Sam would not be bullied by O'Neill and Keane, like our last two managers were.
Geoff Lambert
128
Posted 02/12/2017 at 10:42:51
Ray (#112),
I am not advocating that is what he should do – far from it, I agree with you. Just stating that it is Sam's preferred way to manage.
Brian Williams
129
Posted 02/12/2017 at 10:43:49
Brenty (#88).
Sorry, Brenty lol. I was on the bus without my glasses.
Jack Convery
130
Posted 02/12/2017 at 10:45:42
I expect EFC to beat Huddersfield, whoever is in charge. Dr Evil and Mini Me need to get off to a good start. 3 points today and not losing at the RS. Over to you Dr Evil – let world domination commence.
Phil Walling
131
Posted 02/12/2017 at 10:55:46
Very much back to normality with Everton 10/11 to beat the Yorkshire boys (well there's three of them in the team).
I suspect Fat Sam will opt for an unchanged side with Niasse coming on late to clinch a second win of the week. But I can't see more than a half-dozen of this team surviving beyond Xmas regardless of new signings.

George McKane
132
Posted 02/12/2017 at 11:09:45
Good Morning Blues:
Little grey here in New Brighton - - but still I look down The River and above the greyness is the Bluetiful Yellow Winter Sun breaking through the clouds like Turner's "Sun Rising Through The Vapour" - - that's how I feel this morning.
Sitting in my writing room - - had a quick blow on the harmonica -:
"Bow down to her on Sunday
Salute her when her birthday comes
Bow down to her on Sunday
Salute her when her birthday comes
For Halloween give her a trumpet
And for Christmas, buy her a drum"
Been a tumultuous week especially on TW - - going/not going - - made me think. Remember when Carey was sacked, but was too young really to have an opinion on it, so just got on with it - - first time I said "wasn't going " was when Alec Young was dropped - - recall saying that I would never enter Goodison again after Bally was sold - -- got annoyed when Mountfield was replaced by Watson - - never took to Lineker - - had no heart for Lukaku - - - but still kept on going - - wasn't going to let those individual incidents stop my whole match day pleasures - - also I like a bit of a fight sometimes a swim against the tide - - that's what we do isn't it - - Evertonian's - - just put on a bit of Lennon:
God is a concept
I don't believe in magic
I don't believe in I-Ching
I don't believe in Bible
I don't believe in tarot
I don't believe in Hitler
I don't believe in Jesus
I don't believe in Kennedy
I don't believe in Buddha
I don't believe in mantra
I don't believe in Gita
I don't believe in yoga
I don't believe in kings
I don't believe in Elvis
I don't believe in Zimmerman
I don't believe in Beatles
I just believe in me
Everton and me
And that's reality
And so dear friends
You just have to carry on"
Just sitting here at home - - in a bit of a rush this morning - - had to get some bits done on my wife's car - - but trying to get myself ready, prepared, into those cosmic dreams and thoughts - - ready to Float Over The River On The Astral - - Into The Mystic - - just listening to a bit of Van - - Lifting Me:
"I want to know did you get the feelin'
Did you get it down in your soul
I want to know did you get the feelin'
And did the feelin' grow
Sometimes, when the spirit moves me
I can do many wondrous things
I want to know when the spirit moves you
Did ye get healed
It gets stronger when you get the feelin'
When you get it down in your soul
And it makes you feel good
And it makes you feel whole"
This is a time of Healing at Everton - - no doubt - - we are certainly on The Threshold - - of what - - well that is the question and maybe we have to wait a little - - in hope - - in dreams - - in reality - - maybe good things come to those that wait - - let's see:
"I'm a dweller on the threshold
And I cross some burning ground
And I'll go down to the water
Let the great illusion drown
I'm a dweller on the threshold
And I'm waiting at the door
And I'm standing in the darkness
I don't want to wait no more"
For me - - it's simple - - I could not give up, by choice, this feeling of getting up early, excited, bouncing and dreaming, getting myself ready to go off to The Dark House to meet with my daughter and grandson, sit with friends - - yes friends - - to discuss everything Everton - - wait for team news - -do my little bet - - do the coupon with the gang (never ever won anything - - but we still do it every week) - - I refuse to ever say a "Liverpool win" for the coupon no matter who they are playing and the gang moan and say "what about our winnings" - - wait for team news off Liam - - get back to TDH for Scouse - - a butty around 6.00ish and then discussions on the game - - everything dissected - - opinions given - - arguments accepted - - Everton quiz around 8.00 - -home around 10.00 - - bed and MOTD on Sunday morning - - you're kidding - - give all that up - - absolutely no way whatsoever"
Bit of Marvin Gaye in the background:
"Honey, you do me wrong but still I'm crazy about you
Stay away too long and I can't do without you
Every chance you get you seem to hurt me more and more
But each hurt makes my love stronger than before
I know flowers go through rain
But how can love go through pain?
Ain't that peculiar?
A peculiar-arity
Ain't that peculiar, baby?
Peculiar as can be
Oh, you tell me lies that should be obvious to me
But I'm so much in love with you, baby, 'till I don't want to see
That things you do and say are designed to make me blue
It's a doggone shame my love for you makes all your lies seem true
But if the truth makes love last longer
Why do lies make my love stronger? (stronger, stronger, stronger)
Ain't that peculiar?
Peculiar as can be
Ain't that peculiar?
A peculiar-arity, hey, hey"
Ahhh - - just by chance on my Music App - - "Say It's Allright - - Curtis:
"When you wake up early in the morning
Feelin' sad like so many of us do
Hum a little soul, make life your goal
And surely something's got to come to you
And say it's all right
Say it's all right
It's all right, have a good time
'Cause it's all right, whoa, it's all right"
Might put my Shot Green Mohair Suit - - nice black silk hankie in top pocket - - on with my Ox Blood Como's for TDH:
"When they see me walkin' down the street (hey, hey, hey)
None of the fellas want to speak (hey, hey, hey)
On their faces they wear a silly smirk 'cause they know I'm the king of the cool jerk, whoo
ha, ha, ha
Look at them guys lookin' at me like I'm a fool (cool jerk, uh-huh)
But, aww, deep down inside they know I'm cool (cool jerk, uh-huh)
I said, now, I said now, the moment of truth has finally come (cool jerk, uh-huh)
When I'ma to show you some, some of that cool jerk (cool jerk, uh-huh)
Now, give me a little bit of drums, by himself, there
Now, give me a little bit of bass, with those 88's
When they see me walkin' down the street (hey, hey, hey)
They think twice and then they speak (hey, hey, hey)
On their faces they don't wear their smirk
'Cause they know I'm a King of the cool jerk"
I am now full of my own posso waves - - ready to face anything - - Me - - I could bite a lions bum - - if I wanted to - - little bit of Jackie Wilson:
"Now once, I was down hearted
Disappointment, was my closest friend
But then you, came and it soon departed
And you know he never
Showed his face again".
So off to get ready - -Gosia will drop me at TDH at around 11.50 - - collect my winnings off Mick The Bookie - - £50 from Wednesday's 4 - 0 - - and will do the same bet today.
"Oh That Magic Feeling - - One Sweet Dream - - Soon we'll be away from here - - step on the gas and wipe that tear away"
Maybe a little ee cummings:
"I carry you in my heart(I carry it in my heart)I am never without it".
Every day in my life I think about certain things - - my family of course, friends - - Everton yes - - Vincent Van Gogh - - Primo Levi - - Anna Akmatovah, Mandelstam - - so a few little quotes for today from Vincent- - my best mate:
"Great things are done by a series of small things"
"What would life be if we had no courage to attempt anything"

So My Blue Friends - - Take Heart - - no matter we have each other - - I am going to TDH in a few minutes - - I promise I will raise my first pint of Golden - - around 11.55 - - and say "To Everton and Evertonians - - God Bless Them All:
"The coolness of the riverbank, and the whispering of the reeds
Daybreak is not so very far away
Enchanted and spellbound, in the silence they lingered
And rowed the boat as the light grew steadily strong
And the birds were silent, as they listened for the heavenly music
And the river played the song"
Up The Blues - - With A firm Handshake and True Blue Cosmic Grooves to All - - George

Mike Powell
133
Posted 02/12/2017 at 11:14:10
I think Sam might make a couple of changes. I think he will bring Keane in for Holgate and Niasse in for Calvert-Lewin.
Sorry but I'm not a fan of Calvert-Lewin; I think he brings nothing to the team. He is a Championship player at most... but we are not blessed with strikers, so what else can we do?
Phil Greenough
134
Posted 02/12/2017 at 11:16:25
Love your post, George, thanks.
Ray Roche
135
Posted 02/12/2017 at 11:18:09
Thanks George, puts me right in the mood for the match... Cosmic Grooves in return. Mohair suits... indeed!
Derek Knox
136
Posted 02/12/2017 at 11:19:03
Tony #126, It's funny you should allude to Sandro being given a Europa League run out, I have just been reading elsewhere that Everton are looking to offload him in January, with Valencia being the mentioned Club who want him. Okay, it is probably journalistic speculation, but quite often, no smoke without fire.
I would hope that Sam runs the rule over each and every player, rather than adopt his predecessor's assessments. I feel to let him go this early in his Everton career may prove to be a mistake; he may be able to get him playing like the player we thought were getting with all the pre-season expectations.
I feel with Sandro, and I include Klaassen in that, there is a decent player in there somewhere, who needs to be coaxed with the right treatment. I am not suggesting that we are the only Club that buy players with specific reputations and strengths, only to see them appear like a fish out of water.
Quite often, it's a case of horses for courses, certain players perform well for certain managers, and I think Sam has got a better rapport with players than Koeman did.
Koeman seem to persistently stick to playing Schneiderlin, when it was blatantly apparent to the world and his dog, that it was just not happening. Yet, with the likes of Sandro it was either cameos or not at all, this would not have helped his confidence one bit.
I am not alluding to Schneiderlin keeping Sandro out, but just using it as an example. I have always said we actually have a decent squad of players to work with, okay there are a couple who need to move on, and we are definitely light at Centre Back, Left Back and Striker options.
Hopefully between now and January, the right targets will be in the sights, and Sam is given the means to make it happen.
Hope for a good game today, with a decent result come 16:50.
COYB
Terence Tyler
137
Posted 02/12/2017 at 11:22:19
George, You have got me bang up for it now.
David Midgley
138
Posted 02/12/2017 at 11:29:38
George. Billy S was right!!
The pen is mightier than the sword.
Bill Griffiths
139
Posted 02/12/2017 at 11:41:18
Well said, George. I feel exactly the same as you, wish I could express them as eloquently as you do.
Brian Hennessy
140
Posted 02/12/2017 at 11:43:15
George, magical stuff, how lucky are we to have your brilliance to look forward to before the match.
I'm off to dig out Astral Weeks from Van the Man, what an album... Just saw it came out in 1968.. wow that far back!
Les Martin
141
Posted 02/12/2017 at 11:51:47
If The Roo finds his true position in midfield for Everton, and continued form, I would be interested to see if Ross and Roo could form a special partnership there?
I also think Rooney will have a shout in Barkley's ear and be influential in getting him to stay.
Brent Stephens
142
Posted 02/12/2017 at 12:00:58
My match-day hit of George Mc. – King of the cool jerk (despite the mohair suit)!
"This is a time of Healing at Everton" - indeed it is. The patient came round on Wednesday night, and now wants to get out of bed. Nurse! Nurse!
Dave Abrahams
144
Posted 02/12/2017 at 12:34:53
George, carry on with your pre-match post it moves and gladdens the heart of a lot of Evertonians, you should be in Everton's dressing room at 2:40 pm every home game giving the players some inspiration, speaking your thoughts.
Keep it up, George, I'd have 4-0 bet myself but I'm an effing jinx, so I'll leave you to it and hope it comes up again.
Karl Meighan
145
Posted 02/12/2017 at 12:41:40
Clive@71 I may not have heard of Kane at 21 years of age but when he started playing in the Premier League everybody soon saw his quality.
From memory Spurs fans couldn't wait for him to start as his appearances in Europa League and from the bench were top notch, and the lad looked dangerous and had that knack what good strikers have of being in the right place at the right time. I certainly don't remember him looking cumbersome as another poster did.
You seem a well informed fella Clive and whilst I applaud Calvert-Lewin putting in a shift iv yet to see anything that tells me he is going to frighten and rattle seasoned Premier League defenders and bag goals the way Kane does.
Stan Schofield
146
Posted 02/12/2017 at 12:41:48
Brent@142: Maybe our players had each had an epidural, which of course numbs the legs for a while, and the effects had worn off by Wednesday.
Dave Ganley
147
Posted 02/12/2017 at 12:45:50
Excellent George, makes me feel good about going to the game today. Well we are born optimists (well most of us are) are evertonian. We have to be.
Dave A whatever you do don't bet on the blues, I've stopped doing that years ago,it always jinxes them.
Onwards and upwards and hopefully a good win today.
Derek Knox
148
Posted 02/12/2017 at 12:46:06
Stan, I don't think it was their legs that were numb, as for their brains, well that is a different matter entirely. :-)
Andy Osborne
149
Posted 02/12/2017 at 12:52:22
Les (141) I agree. If Rooney does find himself in that position and flourishes, he might even catch Shearer's 260 total. 15 goals a season for the next four seasons, not beyond the realms of possibility?
Laurie Hartley
150
Posted 02/12/2017 at 12:56:29
George – received with thanks.
Dave Abrahams
151
Posted 02/12/2017 at 13:02:15
Dave (147), I don't just jinx Everton but every team, horse, dog or whoever I back, I'm made up when I back a non runner and get my money back!!!!
Andrew Wayne
152
Posted 02/12/2017 at 13:11:02
Absolute musts today:
- Do not concede - especially not first!
- Keep our shape and organisation
- Stop them getting down the flanks and getting crosses in where we are clearly vulnerable. Midfielders to cover if the defenders get forward
- Try to resist dropping deep and to play the game in the middle or opposing end of the pitch, not in front of our own 18-yard box
- Play Rooney in the same role as Wednesday and without two holding midfielders
- Someone to step up and give some leadership on the pitch
Easy this managerial lark.

Brent Stephens
154
Posted 02/12/2017 at 13:20:14
Stan #146 - epidural? You have that when you're in labour, don't you? Ah, yes, we were in labour, all right! We were the ones suffering.
Geoff Lambert
155
Posted 02/12/2017 at 13:25:35
http://ToffeeWeb.com/comment/live/
Jay Wood
156
Posted 02/12/2017 at 13:29:01
Dave @ 151.
Never thought of having a weekly punt on Liverpool, just for spite like...?
Dave Ganley
157
Posted 02/12/2017 at 13:56:20
Dave (#151), that just about sounds like my gambling skills too.
Jay, yeah we should do that really, just can never bring myself to back a RedShite win.
Stephen Davies
158
Posted 02/12/2017 at 13:56:36
No Jags or Williams.
Dave Abrahams
159
Posted 02/12/2017 at 13:58:18
Jay (156), yes I've done that quite often, but not this season, the benefit of backing Liverpool is when the bet goes down you still feel like you have won, and when the bastards win you've won with them, even if they draw they have lost two points.
James Marshall
160
Posted 02/12/2017 at 14:01:13
Same team as Wednesday – no surprise there!
Geoff Evans
161
Posted 02/12/2017 at 14:02:10
Rooney has to play midfield, it's always been his best position. He hasn't got the legs to play up front anyway.
Still our best player by a country mile.
James Marshall
162
Posted 02/12/2017 at 14:04:34
Absolutely – Rooney can be a star for us in midfield, pulling the strings. He can run the game from there.
Add Your Comments
In order to post a comment, you need to be logged in as a registered user of the site.
Or Sign up as a ToffeeWeb Member — it's free, takes just a few minutes and will allow you to post your comments on articles and Talking Points submissions across the site.