Sigurdsson strikes as Everton register another win
Monday 18 December 2017

271 Comments [Jump to last]
Everton 3 - 1 Swansea City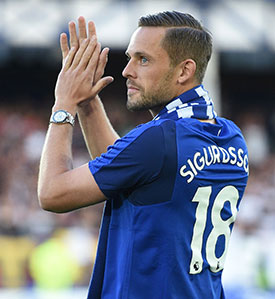 Gylfi Sigurdsson's trademark strike made it 2-1 against his old club and Everton eventually prevailed comfortably
Gylfi Sigurdsson scored a spectacular goal that proved decisive against his old club as the Blues eventually saw off the top flight's bottom club.
The Icelandic star ignited what was another largely dire performance with a wonderful curling strike in front of the Gwladys Street End that put Everton 2-1 up after Dominic Calvert-Lewin's equaliser in first-half stoppage time had cancelled out Leroy Fer's opener.
Wayne Rooney, whose spot-kick for the equaliser had come off the post via Lukas Fabianski's fingertips, added a third, again from the penalty spot, as Sam Allardyce oversaw his fourth win in five games and a return of 10 points from 12 in the Premier League.
The manager made no changes from the team that started at Newcastle, Sandro Ramirez making the bench with Oumar Niasse missing from the team sheet this time, but for 45 minutes his charges turned in a display horribly reminiscent of those under Ronald Koeman earlier in the campaign.
With two holding midfielders, they created hardly any chances and were back to conceding the first goal — from a set-piece no less — as well.
Despite losing Wilfred Bony to injury with just five minutes gone, Swansea had been rewarded for their industry and desire to get forward, particularly down the flanks when they took the lead 10 minutes before the break.
Everton had been forced to cede an uncomfortable amount of possession to the visitors in the early stages but and had just an attempted flick over Fabianski that sailed over and a routine Calvert-Lewin shot following impressive control on his chest from Holgate's long ball to show for their own efforts.
For the visitors, Narsingh had surged past Martina and cut inside but shot over the bar while a missed tackle by Schneiderlin in midfield led to Dyer sprinting through on the Blues' back line but he appeared to be foiled by a terrific sliding tackle from Holgate. Referee Jon Moss adjudged it be a foul, though, and booked the young defender to the disbelief and anger of the home crowd.
Pickford got down to save the resulting free kick but the sense of injustice galvanised the home faithful who had had little cheer up to that point.
Swansea took the lead, though, in frustratingly familiar circumstances. Tammy Abraham won a corner which was swung into the six-yard box where Fer arrived unmarked to convert.
Martin Olsson then hammered a long-range effort that flew inches past the post as Swansea looked to compound Everton's misery.
The first half was drifting to an unsatisfactory conclusion from Everton's point of view as it moved into first-half stoppage time but a throw to Rooney was moved on to Aaron Lennon, arguably the Toffees' man of the match, who jinked into the box and was tripped by Roque Mesa.
Rooney, who struggled to find his form all game, stepped up to take the resulting penalty and while his spot-kick was pushed onto the post by Fabianski, Calvert-Lewin followed up to ram the rebound home.
The second period was 11 minutes old before Everton had a chance to threaten the Swans' defence when Lennon won a corner but it came to nothing. Calvert-Lewin headed another corner well wide before Tom Davies came on for Schneiderlin with an hour gone and that helped change the pattern of the match from the hosts' perspective.
And Sigurdsson, having done a trial run earlier in the half from an almost identical location, scored the decisive goal not long afterwards. With Martina bombing past him as a decoy, the midfielder lined up a curling effort that he bent around Fabianski and inside the far post from 20-plus yards to bring Goodison to its feet.
Everton were still flattering to deceive as an attacking outfit but they were awarded another penalty when Jonjoe Kenny was tripped by Olsson as he drove past the fullback from Lennon's pass.
Replays suggested the offence took place right on the edge of the box but Rooney took the honours of the spot-kick again and this time he slammed home a more powerful effort than his first to make it 3-1.
Sigurdsson's neat pass between the two fullbacks with five minutes left put Calvert-Lewin in for one more opportunity but he was challenged as he shot and his effort was saved.
The football may not yet be pretty but Everton's improvement under Allardyce continues. The win marks a sixth game unbeaten for Everton in all competitions and moves them over Watford into ninth place, to within one point of Leicester and just six behind Tottenham Hotspur.
---
Reader Comments (271)
Note: the following content is not moderated or vetted by the site owners at the time of submission. Comments are the responsibility of the poster. Disclaimer
Ciarán McGlone
1
Posted 18/12/2017 at 19:08:59
Replace Schneiderlin and Sigurdsson and that would be my line-up... As it is, we still have under-performing players getting selected, players out of position and no balance.
I expect us to win this comfortably, but if we can't show some decent offensive intent against this Swansea side, then we don't have it in us.
Tom Bowers
2
Posted 18/12/2017 at 19:12:29
When playing the bottom club one always expects a win but with this Everton nothing is certain and Swansea will be desperate and probably park the bus which makes for another borefest.
Oviously a couple of early goals would help.
Roger Helm
4
Posted 18/12/2017 at 19:36:47
With a reasonable defence and Bony, if fit, on scoring form, they won't be a pushover. Also they have a good record against us, with the last six for them P6, W2, D4,L0. A gritty 1-0 to us would do me.
Jack Convery
5
Posted 18/12/2017 at 19:38:40
Get 3 points tonight with Gueye and if he gets booked we take our chances against Chelsea, which is still a tall order even if Gueye is in the team at the weekend.
It will harder tonight than many of us expect but you never know – if the feel good factor is really alive and well, then perhaps Everton will break a habit and put them to the sword early doors. It will be interesting whatever happens.
Ashley Roberts
6
Posted 18/12/2017 at 20:40:07
Gana and Shneiderlin dreadful as well as Sigurdsson. The midfield is just bereft of any quality going forward. This has got the look of defeat written all of it.
Ciarán McGlone
7
Posted 18/12/2017 at 20:44:09
Please get Vlasic and Lookman on... this is dire. Being given the ball by Swansea and have no idea what to do with it. Sigurdsson is utterly useless... And Schneiderlin has a fear of going forward.
No need for this deep defensive line.
Jay Wood
8
Posted 18/12/2017 at 20:53:40
Well, grateful to get to half time level.
Well done to Calvert-Lewin for being alert enough to follow up on the penalty. Calvert-Lewin and Lennon in particularly offering our best penetration going forward.
Ball retention, being strong on the ball, is sadly absent from our better footballers – Rooney and Sigurdsson. Gana off beam with his passing. Schneiderlin playing better.
TBH, Swansea looked untroubled and comfortable. They have real pace down both flanks we need to be alert to.
Strong words from Sam needed at half-time and a higher tempo and intensity required by all in the 2nd half to secure a win from here.
Christy Ring
9
Posted 18/12/2017 at 21:39:09
Davies's introduction has made us a lot more positive, a lot quicker, and more attacking than Schneiderlin.
John G Davies
10
Posted 18/12/2017 at 21:57:50
Another 3 points. That will do me.
Gana MotM again.
Best part of the game for me: Calvert-Lewin, Holgate, Davies all fronting Fer up. With Kenny snarling on his chest like a Staffordshire Bull.
Great team spirit instilled in these kids by Unsy. Fight one – you have to fight them all.
Ciarán McGlone
11
Posted 18/12/2017 at 22:03:53
Very strange game... like a training session and the crowd were being weird.
Holgate and Gana the best of our bunch.. Sigurdsson took his goal well, but other than that, lost the ball far too often.
We looked better when Schneiderlin went off... him and Williams slow the play down too much.
Could've been far more adventurous against a very poor Swansea.

Jay Wood
12
Posted 18/12/2017 at 22:04:01
Comfortable in the end. Marked improvement on their individual performances by many in the 2nd half.
The change of Davies for Schneiderlin made a difference. Morgan had a better game tonight, but with Gana taking up the deeper defensive midfield role, Rooney dropping further back into midfield and the running and forward movement of young Tom, the side had a much better balance and carried far more offensive threat.
Sigurdsson's goal was a peach. Got lucky with the 2nd pen - the foul was clearly outside the box.
Special mentions again for Lennon, both offensively and defensively – a greatly under appreciated player by some – and Calvert-Lewin. Still needs to sharpen his finishing, but what a target and hold up man he is proving.
The league table is looking better and better.
Chuffed.
Mike Hughes
13
Posted 18/12/2017 at 22:08:38
And, lo, the deaf could hear
And the blind could see
And those who despised him
Came to love him
And, the high principled ones,
Silenced by their own bollocks
Cried on their knees, 'we love you Big Sam'
The Book of Allardyce
Chapter 1, verse 5
OTT? That's nothing compared to the flack Allardyce got on here a month ago.
People were preferring relegation, burning season tickets etc.
Not 'the beautiful game'?
Boo friggin' hoo
(Check out the results prior to 29th November)
The best ever start to a managerial career at EFC?
Beautiful.
Well done EFC.
6 points behind media darlings Spurs.
Up the Blues.
:)

Colin Malone
14
Posted 18/12/2017 at 22:09:08
You won't see the best of Sigurdsson until he's in his rightful position. He's wasted at the moment.
Jay Harris
15
Posted 18/12/2017 at 22:13:44
Long may our luck continue.
I thought Sigurdson played very well, Rooney forgot what a ball was but the kids were all outstanding.
Jonjoe has cemented his position for me, Holgate looked like the player we hoped Stones would become, Calvert-Lewin's unselfish contribution is first class and Tom Davies brought the energy to the game that we were sadly lacking throughout.
For me, the kids carried the so-called "senior" pros and that is a big worry.
Paul Wyndham
16
Posted 18/12/2017 at 22:16:29
Schneiderlin mustn't start against the Rent Boys or we will get torn a new one, he was terrible again tonight. Get him on the transfer list for January and get him off the wage bill, waste of £25m.
Gio Mero
17
Posted 18/12/2017 at 22:17:50
In my opinion Schneiderlin should take on greater responsibility when in possession. He's got technical ability but his positioning is one of a player who's happy to do the minimum required.
He's obviously tactically disciplined and that's probably enough to get him a place in the starting XI at this stage but we definitely need someone with more attributes in that area.
George Cumiskey
18
Posted 18/12/2017 at 22:18:52
Schneiderlin brought nothing to the team again tonight; we looked a lot better going forward when Tom Davis came on.
Why didn't he give Sandro more game time, when the result was already in the bag?
Dermot O'Brien
19
Posted 18/12/2017 at 22:19:24
Well said Mike. It's the first time I've been interested in the post match interview. He was not happy with passing back to Pickford and playing defensively. He will play to our strengths, which does not include hoofball.
Ciarán, the crowd WAS weird, but that comment made me laugh.
Roll on the Chelsea skanks.
Steve Dowdeswell
20
Posted 18/12/2017 at 22:25:05
I wasn't keen on signing Allardyce but you can't argue with the string of results he has put together. I am happy enough to eat my words and come out and say keep up the good work Sam.
The squad seem to be building confidence by the day and playing to the strengths he has identified. The younger players are keen as mustard to play for the blue shirt which is so great to see after the shocking start to the season.
Rooney is once again playing some great football along with the likes of Gana and Calvert-Lewin.
It would be good to see Lookman and Sandro given a chance of a longer run out over a few games. I rate Lookman and think Sandro could provide goals given the opportunity.
So much has improved over a short space of time I am going into the Christmas period of games looking up the table thinking the likes of Burnley and Leicester are going to start dropping points soon. Is sixth place or higher possible this season after all? Who knows... but we are no longer looking over our shoulder – that's for sure.

Tony Abrahams
21
Posted 18/12/2017 at 22:25:41
It shouldn't be, Jay, because, other than Rooney, what have our senior pro's ever really achieved? It was like we were trying to conserve energy for Saturday, well that's what I hope anyway, because if that's the best start ever made by an Everton manager, then I should be a lot more inspired than I am.
Not taking nothing away from the new manager because he's got us organised, and he's also taken away the fear of relegation, but other than Sigurdsson's fantastic goal, it really was a very boring game to watch.
Laurie Hartley
22
Posted 18/12/2017 at 22:29:36
Jay Harris (#15) –
"long may our luck continue"
. I agree.
I really think our luck has changed going by some of the events that have occurred since the Southampton game. This is something we should enjoy.
Kiern Moran
23
Posted 18/12/2017 at 22:29:45
Have to say was not convinced when I new manager was appointed but Big Sam is definitely growing on me. Onward and upwards.
George Stuart
24
Posted 18/12/2017 at 22:37:22
Watch out Man City.
Interestingly we are the highest ranking team with a negative goal difference.
Bring on Chelsea. With our luck running the way it is...
Liam Reilly
25
Posted 18/12/2017 at 22:37:32
Didn't need to get out of second gear tonight.
It wasn't pretty but treating the bottom dude with respect was professional and I'd take a 2 goal win.
Different test on Saturday though.
Jamie Sweet
26
Posted 18/12/2017 at 22:38:18
It's raining penalties!
Can't remember us winning so many in such a short space of time. Wasn't there a season when we didn't win a single one until the final game?
Derek Knox
27
Posted 18/12/2017 at 22:44:25
Made up with the result, but not getting carried away, results have been against poor teams, big test on Saturday against Chelsea, if we get something from that I will believe we have turned the corner.
I do hope, and I think from his comments post-match, that Schneiderlin has been sussed by Sam, and he is, 'the epicentre of negativity'!
Dan Davies
28
Posted 18/12/2017 at 22:45:44
Well done, the players and management. Long may it continue. COYBB.
Drew O'Neall
29
Posted 18/12/2017 at 22:55:17
Great run from Martina in to the box to open it up for Sigurdsson to strike. He's doing a good job at left back.
We still aren't playing well by any stretch so expect a fall from grace for some at the weekend.
Jamie Crowley
30
Posted 18/12/2017 at 22:57:38
Excellent result. Great time here in the States with the five sons all of us watching the game.
I thought we looked very pedestrian the first half, and thanks to Lennon we got the pen and equalized the hard way with Calvert-Lewin.
The second half was a professional display that we controlled in the main. We deserved the three points.
Roll on Chelsea. Have to say, any result against that team and I'll be thrilled.
Good stuff.
Brian Wilkinson
31
Posted 18/12/2017 at 23:00:05
With the mess Sam was left, I think he is doing a great job. The defence is more solid, add to that you have players like Baines, Coleman, Bolasie, McCarthy and Barkley sidelined.
He could have easily stuck with Keane and dropped Williams, but he stuck to his belief and seems to have fixed the defence. I have to say playing Holgate at centre half has been a big plus.
For all the flak Martina gets, the guy is playing on his less favoured left side, but certainly giving a good go of it.
Both Siggurdsson and Rooney have come into their own under Sam.
Lennon is doing everything required, made up for the guy.
But for me Calvert-Lewin just gets better, feeds off the scraps and his control bringing the ball down whether with his chest or feet has improved vastly.
I know fans want beautiful football, for me results are more important than trying to play like Barcelona, so a big thumbs up from me for Sam and the team.
Geoff Evans
32
Posted 18/12/2017 at 23:03:55
Mike (13). Absolutely brilliant son.
Michael Lynch
33
Posted 18/12/2017 at 23:03:57
Looking more solid by the game, and we're definitely benefiting from Big Sam's depth of experience – the man does seem to be a pretty decent tactician, and is getting an improved performance out of almost every player.
Deffo shouldn't get carried away though. We're still nowhere near the Top 6 clubs at the moment. I'd love us to sustain the momentum with at least a draw against Chelsea, but realistically I'm still of the opinion that Top 8 would be a decent showing this season after the nightmare first three months.
Barry Williams
34
Posted 18/12/2017 at 23:06:20
Go back not very long ago and I for one couldn't see where the next points where coming from, never mind a win, we were that abject with the worst defence in the league and an inability to create chances or score. I thought we were nailed on for relegation for the first time in over 60 years.
Step forward a month and we are not just tight defensively, but scoring and winning without playing well, a good sign. We got a point at Anfield, managed our first away win in 11 months and players who seemed not up to it are performing well.
That brings me onto Martina. The last few games he has defended well, made some excellent runs and today some of his passing bordered on the cheeky. I know many will not agree, but he has played well recently and has been an integral part of a defence that has become stingey.
The team looks organised, players know their jobs, all in stark contrast to the previous 12 league games or so (not to mention Europe). Am I watching Everton?
Kenny has proven to be a proper right back, but the biggest surprises for me are the form of Holgate and Calvert-Lewin. With each game they are looking more and more accomplished. I wasn't sure whether they'd be robust enough to occupy their no doubt very important positions on the park, but they really have been more than up to it.
We have excellent youth coming through and growing together and being familiar with each other's game. Kenny, Holgate, Davies, Baningime, Calvert-Lewin, Lookman and the likes of Dowell etc. does bode well.
On top of that there were 3 local lads playing at Anfield, none for Liverpool. Speaks volumes about how the game has gone.
We are looking like a team again!

Meandering over!
Kim Vivian
35
Posted 18/12/2017 at 23:08:04
And no yellow card for Gueye, thank the lord. Get it on Saturday and get the suspension out of the way against West Brom.
Peter Warren
36
Posted 18/12/2017 at 23:13:19
Can't believe anybody who went to the game think Schneiderlin is getting better. He was rubbish just played two yard balls sidesaysnor backwards. Gana excels when he's out the way too.
I still think Rooney, Gana and Sigurdsson best in middle with 2 wide players and striker up front
Jamie Crowley
37
Posted 18/12/2017 at 23:13:51
Couldn't agree more Kim. Gana was put on "best behavior" mode this evening.
Could care less if he gets stuck in against Chelsea and picks up a yellow. That approach will probably be needed against that well-to-do bunch of arrogant jackwagons.
Terry White
38
Posted 18/12/2017 at 23:16:07
George (#18), you are never happy, always have to complain about something. And, what's more, our player's name is DaviEs, not Davis.
Colin Glassar
39
Posted 18/12/2017 at 23:16:14
Not a pretty game but I'll take scrappy wins like that. Once we're on 40 points we can start to showboat a bit.
I thought Rooney had his worst game so far this season but still did enough. As others have said, the kids were great and getting better with each game.
A word for the unjustly, imo, criticised Schneiderlin. He does a Busquets type job for us. It's not pretty, it's not eye catching but it's effective. It's no surprise that all three managers have used him this season. And he'll be in the French World Cup squad next summer without a doubt.
Dave Abrahams
40
Posted 18/12/2017 at 23:17:07
Very good performances from Gana, Lennon, Kenny & Calvert-Lewin, Tom Davies still not at his best but brought much needed energy to the team.
Great goal from Sigurdsson and we won so I'm happy with the result, I think it is best not to say too much about some of the other players' performances.
Jamie Crowley
41
Posted 18/12/2017 at 23:22:18
Best moment of the game for me...
Kenny hacks down some dude on the break in the second half – Leroy Fer gets up in his gourd.
Every single "kid" on the pitch – Calvert-Lewin, Holgate, and Davies run to Kenny's defense and basically jump in and say, "not today, no, no, you're not fucking with one of ours..."
That's the team spirit and togetherness I want to see. Great to see all the youngsters sticking up for one-another and coming to aid when needed.
Loved that.
Thomas Surgenor
42
Posted 18/12/2017 at 23:30:28
For once, I disagree with you, Colin.
I don't think Morgan will make the squad. I also think he was poor again tonight. His best 5 minutes was right before he got hooked off. He just goes too sleep a bit too often. Doesn't follow the runner and seems very casual in his approach.
Another thing to look out for is the fact he either chooses the wrong ball or dallies a bit too much for my liking. While he doesn't directly give the ball away, the player he passes too more often than not will. I'm not sure if that's due to his decision-making or him telegraphing it and the receiving player being closed down before the pass is even played.
I much prefer our deep laying player to recycle the ball and dictate tempo. He seems to do neither
Jay Harris
43
Posted 18/12/2017 at 23:32:19
Colin I think the problem with Schneiderlin is his safety first approach always passing back or sideways and never pushing us forwards.
Compare that with Gueye or Davies always looking for a forward pass and lots of drive and energy shown.
When Davies came on I felt for the first time tonight that we weren't just sitting back and coasting.
The energy that the kids bring inspires one or two of the seniors to liven up whereas Schneiderlin, Williams and Rooney all slow the game down and then find themselves closed down.
Sean Patton
44
Posted 18/12/2017 at 23:32:34
I bet you he won't, Colin, and seeing as I have money on France to win it, I bloody hope he isn't either!
Lev Vellene
45
Posted 18/12/2017 at 23:33:10
Ahh, one point behind Leicester, 3 points in front of Watford, and ninth! Still 6 points up to 'Tottingham'! Then Burnley, Arsenal and Liverpool 1 point better than the others!
We ain't dead yet!
Colin Glassar
46
Posted 18/12/2017 at 23:40:59
I understand the criticism of Schneiderlin in that he's not very adventurous (yet) going forward but he often looks up and there's simply no pass forward possible so he passes either sideways or backwards. He'll get better as the team gets better.
Ian Linn
47
Posted 18/12/2017 at 23:41:06
13 points from 15 with some very average performances, we can take heart that there are some teams out there a lot worse than us. Will be interesting when we play some of the decent teams.
Don Alexander
48
Posted 18/12/2017 at 23:46:00
Allardyce's middle name may just be "Pragmatic" rather than something less savory and for now that'll do for me. Our next two home games are against Chelsea and Man Utd in between which we're away at Bournemouth and West Brom. Then the window opens. I'll be delirious with eight points from those four matches, happy with six.
Brian Denton
49
Posted 18/12/2017 at 23:47:10
Jesus, that was hard work (watching it I mean). I hope it's not the shape of Sam to come. I'm off to bed.
Danny Broderick
50
Posted 18/12/2017 at 23:50:35
Schneiderlin was rubbish. I'm hoping he won't make the Everton squad next summer, never mind the French squad!
Schneiderlin and Gueye are too defensive. A blind man can see that the team shape is better if you put Gueye and Davies in the middle, with Rooney just in front. We can't get up the pitch effectively with Schneiderlin babysitting Gueye in front of the back 4...
Jay Wood
51
Posted 18/12/2017 at 23:52:07
Schneiderlin was better tonight and I recognize the role he plays at the base of the midfield in front of our defence.
However, he still tends to dwell on the ball before knocking safe little sideway or backward passes most of the time. He is not always alert to threats around him when the other team are in possession and simply loses his man or lunges in late to concede cheap free kicks in dangerous positions too often.
I've long held he usurped Gana's position in which he excelled before Morgan arrived in January and to accommodate the 2, Koeman moved Gana forward 10-15mts in midfield where he proves less effective.
When Morgan went off, Gana looked so much better and more comfortable in that deeper lying role.
Davies' introduction also allowed Rooney to play from deep (I agree with Colin Glassar: until Rooney made this switch, it was his worst game since returning), whilst Tom had license to run from midfield attacking their back line.
The balance and threat from the team looked so much better for it.
John Keating
52
Posted 18/12/2017 at 23:55:05
I thought before the game we should only play one defensive midfielder.
The first half proved that thought to be right. It was absolutely dire. Apart from the kids the rest were abysmal. I think Rooney had his worst game since coming back.
It was so quiet in the ground and matched the footy.
Chelsea will be a totally different matter where I think we will have to play 2 defensive midfielders. Cover for both full backs will be imperative.
A dire game, a great result. God only knows how lucky we've been this season.
Jon Withey
53
Posted 18/12/2017 at 23:55:45
First half was pretty bad although we still looked pretty solid, goal mess aside.
Schneiderlin giving way to Davies helped a lot because at least he moves forward.
Impressed with Gana, Holgate, Sigurdsson, Calvert-Lewin, Lennon, Rooney, Kenny – actually most played pretty well, if not fluently.
This is a team that could get better and we are already winning – so I'll leave the Sam sniping to the media.
Chelsea a much bigger test of course.
Kim Vivian
54
Posted 18/12/2017 at 23:57:24
I was thinking we might have seen the last of Schneiderlin when he went off today but with 5 games in 14 days starting on Saturday some rotation is going to be requisite, plus it is likely that Gana will not be around for one game. I guess we will see Morgan against West Brom and Bournemouth, but hope Sam benches him for Chelsea, Man Utd and Liverpool.
A challenging and character building schedule we have over the next couple of weeks or so. It's going to be interesting to see Sam's strategies for handling this.
Andy Williams
55
Posted 18/12/2017 at 00:01:07
Just back. Not a pretty first half but the second was much better.
I did think Schneiderlin was better than he has been but not by much and the bar is low.
Gana was MotM and seems much more assured when Davies is alongside him.
Rooney was terrible first half but looked in total control when he moved further back in the second.
Sigurdsson is definitely improving and his goal was superb.
Lookman seems to be growing in height by the week and is bulking up. He looks like he could be the real deal. Mirallas must be fifth choice winger now.
Much better organised and the spirit and confidence is certainly growing. Actually starting to enjoy the game again.

Lev Vellene
56
Posted 18/12/2017 at 00:01:53
Now for Goodison to actually help our team vs Chelsea! The fans should at least have a more-than-slight belief in our ability to win that one!
Kevin Tully
57
Posted 18/12/2017 at 00:03:01
Can't believe our luck at the moment. We are truly blessed. Whoever your God is, (mine is Howard Kendall) we are fucking turning into the redshites with decisions we are getting. I'm into us winning the Champions League by default at 100000000/1 tomorrow. Anyone want a piece?
David Barks
58
Posted 19/12/2017 at 00:09:23
The starting 11 was wrong. There is no reason to have Gana and Schneiderlin in the starting 11 together. It's detrimental to the team in attack which means we suffer defensively as well. They don't work together because you don't need two men to do the same job.
The football in the first half was dreadful. And it was poor to start the second half. It improved when Schneiderlin went off and we looked far more dangerous when Lookman came on.
The positive is the reaction from the team after going down, which should have never happened, but it did. Instead of heads going down they seem to now believe that they can still win. That's the mental aspect of the game. And that's also the purpose of sports psychologists. I'm glad we won. I also do not want to see Gana and Schneiderlin in the starting 12 again.
James Flynn
59
Posted 18/12/2017 at 00:21:09
Preaching to the choir, but we need some sprinters in the side. Home or away, every opposing manager sets up to attack us constantly because he has no worries of a rapid counter-attack.
Dull as we look, Sam knows it too and manages accordingly. Just have to live with it for now.
Also, a Tip-o-The-Cap to Leroy Fer. These 5-6 years later, that knee is still holding up.
Eddie Dunn
60
Posted 19/12/2017 at 00:29:19
Jamie Crowley – yes, good to see young Kenny flying in and his buddies backing him up, the team spirit is there for all to see. Holgate is looking classy.
Jason Wilkinson
61
Posted 18/12/2017 at 00:29:44
Even the most pessimistic of us must have thought 3 points were pretty much expected tonight. Whilst the 1st half didn't really reflect that I don't think Sam wanted us to change our shape until we had to.
We still look vulnerable from set pieces and a little suspect clearing our penalty area when the high ball comes in. This is one of the easier frailties to coach out of the players. The harder part is to get the forwards to make space, offer an option to get the ball and hence play in the opponents half.
Sam needs to (have the option) get a player with pace and a good first touch to allow the team to get 20-30 yards up the pitch and turn opposing defenders. Calvert-Lewin is doing his bit but it's not enough and he then becomes isolated too quickly and loses possession.
De Bruyne, Manè, Sanchez etc. All look very good on the break because other players in their respective teams give the passer options giving them space to turn and carry the ball. I think Sam knows he has the very player coming back to fitness in Bolasie.
Vlasiç, Lookman and Lennon need to learn to offer themselves, pull defenders away, make space for others to get in good positions then go again and look for the next ball.
Once we see a bit more movement from the forwards I think Sigurdsson, Davies and Rooney will start to become very effective as a midfield unit. I think the whole team will get to play 10-15 yards higher up the pitch.
Small steps at the moment but a good display second half. Confidence must be getting better.
Peter Lee
62
Posted 19/12/2017 at 00:32:17
Jason, spot on.
Jerome Shields
63
Posted 19/12/2017 at 00:32:42
Good result. Consistent progress, but it's a worry a early goal from a set piece. Good character showed to make a recovery, but we were up against the bottom Club. We can't afford this situation against Chelsea, we will be punished on the counter. More work needed. I hope Oumar isn't being isolated again.
John Malone
64
Posted 19/12/2017 at 00:33:15
David (#58), may I ask what Lookman did to make us 'look' more dangerous when he came on??
All I seen him do was try an take on five players into a crowded box and lose the ball, then on another occasion cut inside put it threw someones leg's then give it straight back to them – hardly 'dangerous' to the opposition!
Lookman has got tons to learn before he earns a start in the Premier League he is a kid street footballer with a nutmeg up his sleeve playing against grown men who know how to run, jump and tackle a lot harder and faster than him!
He has definitely got ability but, in my opinion, Deulofeu offered more going forward at this stage and he wasn't deemed good enough in the end!
I will second the luck shouts! We've had more pens than WH Smith's lately!
Nicholas Ryan
65
Posted 19/12/2017 at 00:33:27
'Another victory' – Not a phrase heard too often, by Ronnie Edam!!
Brent Stephens
66
Posted 19/12/2017 at 00:37:23
Every time, Schneiderlin turned backwards. Every time, Davies turned forwards. What a difference that makes.
Gana was strong. Calvert-Lewin yet again battling effectively, so often on his own.
Almost no need to mention Kenny. Solid as usual. What else did we expect? My word, that says everything about how he has settled in!
Brent Stephens
67
Posted 19/12/2017 at 00:43:17
The other impressive thing about Davies tonight was that he was being asked to do a job on their #14, which he did. But also found the energy and wit to break forward with the ball.
Mike Keating
68
Posted 19/12/2017 at 00:43:35
David @ 58,
I agree – I at home against bottom of the league we should not be playing Gueye and Schneiderlin. However, Colin is right to say the Frenchman had an improved game tonight.
Davies really injected some enthusiasm into the midfield and Gueye was MotM.
Bring on Chelsea!
David Barks
69
Posted 19/12/2017 at 00:49:51
John Malone,
Yes, you can ask. He took on half the Swansea team at one point, beat them single-handedly, before getting the ball pinched. But he sucked the entire defense toward him. The problem was we didn't have enough players willing to support him and offer for a quick one-two.
He also took the ball and turned up field every single time. The defense knew he was a threat with the ball and had to commit to him. As opposed to when Schneiderlin would get the ball and they drop off knowing he will just play it safely backward or sideways.
The entire point of his game is to take a man on and force them into mistakes. Of course, it doesn't work out every single time, just as it doesn't for the world's best at Man City. But the point is that you try and you impose yourself on the defense. You make them commit and force them into mistakes. It's the same thing Kenny did to win a penalty today.
Davies did the same today, better than I've seen him do just about all year. His first touch was always to turn toward the opposition goal. Put the defense on the back foot instead of letting them safely press up field. Of course he has room to improve. It would be a real shame if we spent £10 million on a teenager who was as good as he'd ever be. Just look at what Pep is doing with Sterling and De Bruyne.
Derek Knox
70
Posted 19/12/2017 at 00:54:12
Considering where we were only a few days ago – well, it has probably evolved into weeks now, but not many, while keeping things in perspective too. Apart from winning by baseball scores, could any other Manager have done better than Sam has?
I have observed from his very candid and sensible comments that he is a little taken aback himself with what he has achieved in such a short time. I have always maintained that we have a nucleus of good players but there are a few issues of flotsam and jetsam to be addressed in January.
I give all credit to the man; he has quite simply identified the problems and applied an effective remedy. But there is a caveat. of course: can it be maintained?
We have a testing set of fixtures approaching; if we can achieve respectability and remain unbeaten in those matches, then Sam is King in my eyes.
Long Live The King! :-)
Mike Keating
71
Posted 19/12/2017 at 01:01:53
Agree, Derek – if we carry on like this, We'll name a stand after the fucker at Bramley-Moore Dock!
Derek Knox
72
Posted 19/12/2017 at 01:16:13
Ronald will be very dishappointed with that, "He has come in readjusting the team I have built, and they name a shtand after him, okay but dat ish football"!
"I shtill have my £10M booty!"
Laurie Hartley
73
Posted 19/12/2017 at 01:17:27
He is a very shrewd man-manager, Sam Allardyce.
In the post-match interview when the game against Chelsea came up, he said this about his players – "We will see what they are made of on Saturday."
That is music to my ears.
Paul Ward
74
Posted 19/12/2017 at 01:29:09
As one who never anticipated ever being managed by big Sam, I give him the utmost credit in his ability and knowledge to improve this team.
To the many posters who condemned Sam Allardyce, please read (Mike Hughes @ 13) his post is brilliant.
I am not getting carried away with our wins, luck or standard of play, because we just don't have the top class players that are able to win and entertain.
The anti Sam brigade that still believe in the mythical "School of Science" – just dream on because it will never happen.
Dan Parker
75
Posted 19/12/2017 at 03:26:43
I was quietly confident that Sam was the right man, he's proving it so far.
As a Kopite friend said to another friend who's a Cherry fan as a sly dig at us: 'At least you tried to play football'. Guess what, Kopite clowns – it's about points on the board.
With the talent at his disposal, Sam doing a sterling job thus far. Long may it continue.
Drew O'Neall
76
Posted 19/12/2017 at 03:34:46
A lot on here saying Gana and Schneiderlin shouldn't play together, which I don't necessarily disagree with, but do you add a winger outside Sigurdsson or keep him out wide and play Davies in the middle?
My view is the latter against Chelsea and the former at home against the likes of Swansea.
Sigurdsson and Rooney seem to be building a (to quote a former manager) footballing partnership, looking for each other most of the time in the final quarter this evening. That may work well if they are both central to retain possession before having he option to hit the 'runner' on either side.
Barry Jones
77
Posted 19/12/2017 at 03:44:37
David Barks, what is happening with the fire at Santa Barbara/ Ventura? Have you been affected by it?
Steavey Buckley
78
Posted 19/12/2017 at 03:47:04
Everton are now where they are in the league because big Sam, little Sam and Shaky have too much experience between them in football to be ignored. Certainly a refreshing situation after the turbulent years of Martinez and Koeman.
They will in time improve the team with new acquisitions, but they will make sure that the players who are playing play to their best in positions best suited to the team to get results – that's what counts at the end of the day.
When Everton were getting beat 1-0 at home last night there was no panic from the bench, because the manager and his assistants knew, if the players stuck to their instructions, it would be alright on the night.
David Barks
79
Posted 19/12/2017 at 03:52:26
Barry,
The fires didn't get my house, luckily stayed a couple of blocks away. My parents were evacuated in the middle of the night that first night but were able to return home a few days later. Thanks for asking.
The fire has been horrible. A lot of our friends lost everything. And until yesterday the air quality has been horrific. But it's been amazing to see the miracles those fire fighters work.
Alan J Thompson
80
Posted 19/12/2017 at 03:52:50
See PSG are looking for a defensive midfielder, any chance they might fancy a French international?
Jay Harris
81
Posted 19/12/2017 at 04:07:44
David although the fire didnt get to you it must have been a harrowing experience for all and sundry.
I am sure all ToffeeWebbers will wish all California blues a safe and secure holiday period after what you have all been through this year.
Paul Ward
82
Posted 19/12/2017 at 04:35:36
I find it very hard to find any excuses to include Schneiderlin in this team. Some posters concede he was a little better today, at doing what?
You could be forgiven if you saw him for the first time and had no idea who he was, he looks like a complete novice. He receives the ball with team mates in front of him, he stops, does his little pirouette then makes a sideways or back pass. His tackling is untidy and he seems unaware of who to mark.
It just baffles me that this is a seasoned international who I rated highly 3 years ago at Southampton. Surely he must be let go in January.
Jay Harris
83
Posted 19/12/2017 at 04:52:26
I would also like to give a shout out to Aaron Lennon whose selfless running had a lot to do with that result tonight and who played a part in getting both pens.
Darryl Ritchie
84
Posted 19/12/2017 at 05:27:43
A few observations after another win;
Coleman is going to have a hard time getting his old job back. Kenny is playing lights out.
Lookman is going to be a star. Pace, quick feet, not afraid to take on his man, always looking for a shot on goal.
Calvert-Lewin will only get better. A couple of quality finishes will get his confidence up.
Sigurdsson is finding his form.
Rooney has found his form.
Schneiderlin hasn't.

Laurie Hartley
85
Posted 19/12/2017 at 05:31:05
Jay Harris (#83) – that is a good call. Aaron Lennon is making a significant contribution to the team. He and Kenny seem to be forming quite a partnership on the right hand side of the field.
Darren Hind
86
Posted 19/12/2017 at 05:54:21
Sublime strike by Sigurdsson illuminated another drab affair.
We have to be pleased at the luck we are getting (always better than the alternative) but did the crowd like it? It was like a church in there, I could hear the players from the Top Balcony for most of the game.
I keep hearing that the football will get better, it will have to, much more of this will empty the place.
Christopher Timmins
88
Posted 19/12/2017 at 06:28:06
Gana and Schneiderlin starting together just does not work. It did not work under the former manager and lets hope the new boss does not take too much time discovering that it won't work for him either.
Calvert-Lewin is going to be a really important player for us, he already is!
Not much talk of the "R" word on the forum anymore. Keep it going boys over the busy Christmas period, big games against Chelsea, Man Utd and Spurs in the coming month – oh, and an FA Cup tie to take care of.
Gareth Cooper
89
Posted 19/12/2017 at 07:01:21
The speed at which Big Sam has tightened us up defensively has been astounding. Make no mistake, we were awful only 4 weeks ago and devoid of any confidence. The Southampton game was as poor a performance as I think I've ever seen, both offensively (barring Gylfi's strike) and defensively. Remember we shipped 4 goals to a team that have struggled in front of goal all season.
I was not supportive of the idea of bringing in Sam, but I have to say he has done a great job so far. First job to stop us conceding and return some confidence check. He has also done and stuck to what he has said. The frustrations of Martinez (positive mumbo jumbo) and Koeman (deluded nonsense) have been replaced with clear directives and intentions. His man management has also been shown in flickers; collective challenging of the team, praise appropriately dished out in the media and a lid kept on the dressing room.
Now, stage 1 has been impressive and was delivered far quicker than (at least I) expected. It's the next step where Sam will really earn his stripes. It's one thing to make us hard to beat and steady the ship, it's a totally different proposition for us to take it to teams and add some flair. This is also where Sam doesn't have quite as much form or experience. He is also working with an unbalanced (mis-managed) squad. I think he has earned some patience for this transition. I will certainly afford him a few more weeks of cautious, conservative football until he is able to restructure in January. I fully expect a similar approach to Chelsea as we saw vs Liverpool and then similar style as we saw last night v West Brom/Bournemouth. If we return 6 or 7 points from those then I can stomach it . for now.
Personally, after such a bad start I'm willing to stick it out until around February before I expect to see a more adventurous approach from Sam. But, to have any longevity at Everton he will need to find this formula, in all expectation before the season is out. The next few months will be very interesting to see if Sam is really a one-trick pony or, as he once claimed, he really can deal with big jobs if given an opportunity.

Tony Everan
90
Posted 19/12/2017 at 07:14:20
Well it was a win, sometimes you have to win ugly, and that was damned ugly.
Apart from Siggy's Stardust.
We need to be pragmatic here and take these wins in context. We had without doubt the most disjointed recruitment window in the club's history. Maybe Koeman's overbearing influence adversely affected transfer policy.
For me one player deserves special recognition and that is Dominic Calvert-Lewin. Goodness me, for a very young man to be thrust into leading the line on his own he is doing an amazing job. Battling non-stop, winning headers, giving as good as he gets to opposition defenders. For 90 mins too. There's no resting or hiding from the lad.
I just can't praise him enough for what he is doing for the team. He's going to get smarter and stronger too and it was great for all concerned giving him a new long-term contract.
Jim Harrison
91
Posted 19/12/2017 at 07:25:08
Darren (#86),
That's about as close to a positive post I think I have ever seen from you, yet it still came with a barb. You put it down to luck, the recent improvement. Yet would you class the early Europa League start with two of Europe's stronger teams, a run of fixtures that would have made Pep a touch sweaty, significant injuries at right back, wing and centre back as bad luck?
Can't remember who said it, maybe an actor, but the quote goes along these lines, " the better I play the luckier I get". Perhaps the upturn in performance (didn't take much and is not nearly enough) has meant we are getting in positions where lucky calls pay off, and the opposition are getting less lucky breaks in and around our area as the def nice has tightened up?
Big Sam has a lot to do to convince that he can be anything more than a short term solution, but credit where it is due, he has turned a sticky situation around very quickly and seems to have managed to get Rooney and Sigurdsson in to some sort of groove.
The jury is still out. But ugly wins provide the platform. I would never expect you to drop your standards, but in the short term perhaps you can appreciate the upturn in results as a step back towards where we all want the team to be?
Jim Hourigan
92
Posted 19/12/2017 at 07:33:00
The only redeeming feature of last night's football was the result. The football was dire and those of you satisfied with what we saw have very low expectations. The only difference between 'Sam's football' and 'Ronald's football' was the result; yes, we are in the results business but for god's sake don't get carried away with the dross that is being served up under the name of football.
Andrew Wayne
93
Posted 19/12/2017 at 07:33:36
Last night was no different a performance than I have seen many times under Moyes and better than some of the dire rubbish served up under Martinez and Koeman. We have been a middling team for years with the occasional flurry of good football with the odd semi-final thrown in.
The idea that under Allardyce we are playing anti-football compared to a hazy vision of past Everton glories overlooks that we have achieved three-fifths of nothing for decades. Sam Allardyce has done what seemed unlikely just two or three weeks ago and got us playing solid organised, if unexceptional football. I have been watching this for years at Goodison Park with the occasional outburst of excitement.
Geoff Williams
94
Posted 19/12/2017 at 07:35:41
The first half was dire. Rooney was slow and caught in possession numerous times. His passing was poor too. Lennon was the bright spot with Calvert-Lewin working his socks off. Bringing on Davies and dropping Rooney deeper made a difference and the team preformed much better.
Schneiderlin and Williams are simply not good enough with Martina nothing more than a stop gap.
We mustn't get carried away; Liverpool apart, we've played some very poor teams of late. Chelsea will be the litmus test.
Dermot Byrne
95
Posted 19/12/2017 at 07:43:46
I doubt anyone would be ecstatic with the style of play last few games. And nobody is watching this and seeing their dream become reality. So let's not get into the "I have higher expectations than you" tired old argument.
However, it must surely be some relief to move from a relegation position to a top 10 place. Sigurdsson is finding his feet and Kenny is a great player in the making. Liking Holgate too.
There is no doubt that others range from poor and indifferent to having bad days and Sam really needs to make sure he never plays Schneiderlin again. But, there is progress under Sam in a very short time... not a dream, but progress.

Paul A Smith
96
Posted 19/12/2017 at 08:01:04
Compared to what I have watched all season previous to Allardyce and every game under Koeman, I don't feel the football has got worse whatsoever. In fact we move the ball forward quicker now.
What is the point in trying to keep with football narratives when they don't make sense? It's clear in my mind that these players are nowhere near good enough.
In your ideal world, does Calvert-Lewin start up front? Sigurdsson wide? Martina? Williams? – The list goes on. If they do, you can carry on waiting for them all to hit the same level. If you don't see these players in your ideal team, you can't moan about the football.
If we want to move on as a club we need less of the mindset comments that come related to Allardyce and seriously look at what he's got to work with.
Paul A Smith
97
Posted 19/12/2017 at 08:08:30
Scheiderlin looks as cumbersome a player I have ever seen. His movement is absolute dreadful and he turns like a ship.

Bill Gienapp
98
Posted 19/12/2017 at 08:30:50
We're darn lucky to have Sigurdsson. Throw out the first part of the season – this past handful of matches has started to show us what he can do.
If you want to argue we overpaid for him, have at it... but to suggest there's any scenario in which we're better off with him on the bench than on the pitch is simply daft.
Michael Lynch
99
Posted 19/12/2017 at 08:41:15
Even by ToffeeWeb standards, the negativity of some on here is astonishing. We've won four out five, after a long period of flirting with the relegation zone. The only team in the Premier League with a better record than us since Sam arrived is Man City.
God knows what the moaners will say when we actually lose a game!
Jon Withey
100
Posted 19/12/2017 at 08:41:26
Agree on Sigurdsson – he's no bargain but he's a great player and finding his stride.
I suppose if you upgrade to Eriksen, Coutinho, De Bruyne, Pogba it will cost you £70-100m nowadays.
A special mention for Pickford, Holgate, Kenny, Davies and Calvert-Lewin – 5 young English lads competing in the Premier League all at once and doing a decent job at the moment.
Is there any team around or above us who comes close to that? Tottenham maybe ?
John G Davies
101
Posted 19/12/2017 at 08:42:15
Winning ugly, it's called. And it's an apt description of what we are watching at the moment.
As opposed to losing beautifully... I will take it every time.
Les Martin
102
Posted 19/12/2017 at 08:42:29
It's another three points that while back we were dreaming of. Sam and his team are doing a great job; okay, it's not always pretty to watch and he is very honest in his post-match comments.
Give him time and also January and we could yet have a great season.
Nitesh Kanchan
104
Posted 19/12/2017 at 09:18:10
Geoff, how do you define poor teams?

Huddersfield beat Watford away 4-1;
West Ham beat Chelsea,held Arsenal and beat Stoke 3-0 away right after we beat them 4-0.

May be you mean out-of-form teams when they played us.
Laurie Hartley
105
Posted 19/12/2017 at 09:34:11
Apart from the 13 points from 5 games, 10 of which have come under Sam Allardyce's stewardship, I like the fact that we are not the laughing stock of the Premier League anymore.
In fact if we keep this up they will start not liking us again.
Bring on Chelsea, I've got a mental impression of our manager shoving another chewy in his mouth and Conte running his hands through his hair in frustration.
Dave Abrahams
106
Posted 19/12/2017 at 09:35:04
The squad as a whole is simply not good enough so the job Allardyce is doing with them will more than do for now, but I think we are all aware that Sam has got these very welcome points against all the bottom teams. The big test is in the next two home games. I would be happy with two draws but, with our luck at the moment, I will not be surprised by two wins.
Ray Robinson
107
Posted 19/12/2017 at 09:41:49
I agree with Geoff #94. Big Sam has instilled confidence and organisation into the back four and we are riding our luck at the moment but the litmus test will be Chelsea. I really can't see a back four including Williams and Martina, well though they are playing, holding out for much longer into the season when faced with a quality, incisive attack (although they did against Liverpool) – which makes it all the more important to keep bagging the points now while we can. Despite the improvements in results, I can't help feeling we are still a very fragile unit. But I will take the poor performances at the moment as long as we keep picking up points.
On the plus side last night, I thought Gana answered a few critics with a fine performance and Calvert-Lewin is proving to be a fine footballer. His problem is going to be – when the club eventually do sign a striker – is where is he going to fit into the team, given that he is clearly not a natural finisher, the one area that he really does need to improve in. Rooney had a stinker but showed bottle, Sigurdsson, despite not being worth £45m, scored the type of game-changing goal that only quality players do, and Kenny continues to improve his all round play. Holgate too.
The team just seemed to pick up when Davies came on and it was great to see so many young lads on towards the end.
Craig Walker
108
Posted 19/12/2017 at 09:46:54
A month ago, we would have lost that game. I didn't think we were great but to take the positives, we've won 3-1 and come back from a goal down again. In fact, we must be one of the best teams at recovering from a deficit this season.
I thought Rooney was too slow in possession last night but he came up with an assist and took the second penalty well. Idrissa Gueye and Jonjoe Kenny had good games and Lennon was one of the few positives from the first half.
Sigurdsson is the one player we have who will try and shoot from outside the box. Another great goal from him but I still think his corner deliveries could be better. We'll have to be an awful lot better to get anything against Chelsea.
I was against Allardyce as manager but I'm impressed with what he has done in such a short space of time. I hope he uses the January window well though and strengthens in the areas that obviously need it. He was hinting last night that we might not need too many new signings but I still see a lot of areas that need improving in this Everton team. At least we have our pride back though.
John McFarlane
109
Posted 19/12/2017 at 09:48:10
Hi Andy [55] I fully agree with your assessment of last night's game, I think a lot of people are expecting too much too soon.
A few, in my opinion, are using Manchester City as the yardstick, which is not a bad thing to do; however, a little patience is required, and I never like it when one player is vilified – it's unlikely that he's playing poorly on purpose.
To all Blues fans, I would like to think that we are all after the same thing for our club, but it appears that some are a little less patient than others.
Stan Schofield
110
Posted 19/12/2017 at 09:55:19
I believe there is much more scope for getting further improvement from the squad, regardless of any new signings in January. In fact, we have to be wary of depending on new signings, it can distract from what should be the central focus, which is good organisation and using that to get the maximum from the players you already have.
That is what Allardyce is improving on so far, and there is every reason to believe that we'll improve further and significantly. So if and when he intimates that there may not necessarily be any new signings in January, I can see where he's coming from.
Steven Jones
111
Posted 19/12/2017 at 10:04:59
Jay (#15) – good point about the youngsters I always look at embryos of potential league winners and you can see a journey for Calvert-Lewin, Holgate, Kenny and Lookman to turn into real strong cogs in a top 4 team.
On Rooney he looked fit last night and tried a lot of things to create something – he was brave and even if he was caught or lost the ball a few times he kept on trying. His quick flick pass got us the penalty. His assist to Sigurdsson, his penalties and his presence were worth it in the end.
When Tom came on, he was finding passes quicker to Wayne and others and allowed them to create more and keep possession and put Swansea on the back foot.
No more Schneiderlin for me.
Sam Hoare
112
Posted 19/12/2017 at 10:07:43
The first half was everything I feared from having Big Sam as our manager: relatively solid but still with a mistake or two lurking around and almost zero movement or creativity whilst on the ball.
The second half was everything that has pleasantly surprised me from having Sam Allardyce as our manager: well organised and very solid at the back whilst still being able to create chances moving forwards. And a helpful dollop of luck!
I'm delighted with how the last month has gone and not a lot more could be asked for. We needed results, solidity and improved confidence and have received all those things in abundance. We've played a fair few teams who are low on points and confidence but in this league those teams can always surprise you but we have put them away (if not with aplomb). The test now will be how we perform against clubs in the top ten and whether we can see a bit more fluency on the ball to accompany the defence which is looking comfortably more comfortable.
Like others I loved the Kenny flare up moment and the likes of Holgate and Davies coming to his side. These kids give me hope and I hope that they are not brushed aside in the January window. In particular I think we are seeing a truly rounded striker beginning to emerge in Calvert-Lewin who has looked so much better in the last 5 games (3 goals and 3 assists?) than at the start of the season. I hope if we get a new striker it is to support and supplement and not to replace him.
I also thought that Gana was MotM. His energy around the middle is fantastic and his passing was much better too last night. second most tackles per game in the league. Top player.
Michael Williams
114
Posted 19/12/2017 at 10:10:35
To me, Sam Allardyce seems to be doing what Koeman and Unsie couldn't do, successfully integrate the new players and build a team. Even with these new players and youngsters this is not a great team based on talent. Fortunately there is room for this squad to get even better and I have confidence Sam Allardyce can do that. However, even at best, this is not a top 6 club.
Peter Lee
115
Posted 19/12/2017 at 10:15:21
The football we are seeing now is better than anything we saw in the first part of the season. The bar might not be set high but improvement is solid.
Our third goal was a penalty but the lead up to it involved half-a-dozen players and 15 passes including a fantastic cross-field ball from Gueye and a great reverse ball from Lennon.
I'll take that every game.
Roy Coleman
116
Posted 19/12/2017 at 10:16:06
I am interested to see what everyone's thoughts are about Rooney in this game.
If you take the 2nd Penalty out of the equation did he have a good game.
For me he took too long on the ball and more often than not had the ball nicked of him.
Laurie Hartley
117
Posted 19/12/2017 at 10:22:28
I thought it was quite significant that Sandro made the bench at the expense of Niasse.
From what I have seen of Sandro his movement off the ball is very good. I have a feeling he and Calvert-Lewin are made for each other.
Perhaps if the manager wants to go with two up top at some stage this is the partnership he has in mind.
George Cumiskey
118
Posted 19/12/2017 at 11:00:50
Terry@ 38,
I'll repeat what I said in case you misunderstood, Schneiderlin was crap; we played a lot better when Davies came on, and Sandro needs more game time.
That's observation – not criticism.
Amit Vithlani
119
Posted 19/12/2017 at 11:05:45
It is a good feeling to have strung a series of wins together, but lets face it, big tests of this horribly mis-shappen squad lie ahead.
Swansea had no way of testing our full backs and I thought Ayew posed Kenny a problem with his direct running. Full back area is a big problem and in our next game Pedro, Willian, Zappacosta, Alonso and Hazard will certainly pose a major threat in wide areas, especially to Martina.
The Chelsea game is less about progress for me, and more about seeing the extent to which we need the January window to rectify a squad ill equipped to compete with the Sky 6, requiring Allardyce to resort to highly defensive tactics. Allardyce is a good organiser but will he be able to adequately paper over the cracks?
I watched the post game analysis with a wry smile. The managerial failure that was Sherwood was dispensing advice that we needed to open up more, and play better football. He knew nothing about the abilities of this squad.
The current lot assembled by Messrs Martinez, Koeman and Walsh has proven itself incapable of doing the basics during a game, including defending crosses, defending the flanks, and defending set pieces.
Until we get players in who can mix Artistry with Artisanship, and also a squad where players all play in their proper positions, I expect to see a similar pattern as we have seen over the last month.
Namely against the Sky 6, deeply defensive and negative tactics in the hope of scraping a result, and covering up our inadequacies.
Against the rest, hoofball interspersed with good bits of play and individual magic, ie, what we witnessed last night.
January is a big window in the grand ambitions of Moshiri. If Walsh and Big Sam get the signings we need there can be no justifications from thereon for performances like last night which paper over the cracks, nay chasms, in this squad.
Kim Vivian
120
Posted 19/12/2017 at 11:08:48
Roy - Rooney was instrumental in every goal. Played Lennon in before he earned the pen, played the ball to Sigurdsson's feet before his goal, and scored the third from the spot. Sure, his first pen was saved onto the post but if you believe what you read, he strikes the ball in such a way (with topspin) that it makes a rebound likely so someone can follow up. I can swallow that as fact.
To me, Rooney is a huge influence in these games. You can see him orchestrating, guiding and encouraging particularly the younger players throughout he games and he always has a potential defining moment in his locker.
No player will ever have a fault free game on the ball, and I just felt sometimes last night he was trying to be a little too clever at times which led to him ceding possession, generally in a non-threatening position. If more of the little flicks, back-heels and so on had come off, there would be little or no criticism from this game.
The guy's experience and vision are invaluable to the team right now and if we can attract in a couple of quality individuals to plug the gaps in our squad and keep the current players improving I believe we might see a really 'Pirloesque' role evolving from Wayne.
Moving on from Rooney – the recent games have thrown up some real surprises for me. Not least of which has been Martina. I was pretty surprised when we announced him and was one of his biggest critics, but he has developed way beyond my own expectations. He still has weaknesses but is playing way better for us than he did with Southampton.
It's fantastic to see the camaraderie back on the pitch, Sam seems to be enjoying the moment and appears to have embraced the 'Everton' thing. Long may this resurgence continue.
We will inevitably take backward steps and suffer setbacks along the way, but as long as the general progress remains forwards overall I shall remain happy.
Stan Schofield
121
Posted 19/12/2017 at 11:09:21
John@109: You make a very good point about individual players getting criticism. Like you, I prefer not to see individuals being vilified, and as you say it's unlikely they play poorly on purpose.
I believe the basis of any good performance is good organisation of the team by the manager. Once you have that, players can start to excel, to express themselves. Without that organisation, they are very likely to struggle, regardless of whether some folks perceive them as not putting a shift in.
In all my years of supporting Everton, I have never criticised individual players, even the relatively mediocre ones. As far as I'm concerned, once they put that royal blue jersey on, they're beyond my criticism.
At least Allardyce seems to be organising us effectively, at least at the moment, which makes a pleasant change after the management we've seen over the last few seasons.
Brian Harrison
122
Posted 19/12/2017 at 11:21:45
Excellent result – just a pity the performance was poor, but collecting the points is more important for now than the performance. Definitely improved when Davies came on, looked more of a threat.
despite him scoring the rebound off Rooney's penalty I just don't think Calvert-Lewin is anywhere near ready to play the lone striker role. His goal return per games is poor, not his fault he shouldn't have been put in this position in the first place.
I though both Holgate and Kenny were very very good, and Williams looks like the defender we bought from Swansea. Maybe having Holgate with his extra pace has helped Williams.
Gerry Quinn
123
Posted 19/12/2017 at 11:26:22
@Jim #91, your quote, "Can't remember who said it, maybe an actor, but the quote goes along these lines, "the better I play the luckier I get".
I think you meant Gary player's statement, quote, "The more I practice, the luckier I get!"
Brian Porter
124
Posted 19/12/2017 at 11:32:04
I agree with Brian at #122 re Calvert-Lewin. I think Niasse would be burying most of the chances that are currently falling to Dominic. As you say, Calvert-Lewin isn't really ready or quite good enough yet to play the lone striker role.
I hope Sam isn't going to push Niasse out the way Koeman did. The lad has proved he can score if given the chance.
Sam Hoare
125
Posted 19/12/2017 at 11:32:43
Brian @122,
Calvert-Lewin needs to add better finishing to his game certainly but he has now been involved in more goals for us than any player bar Rooney.
He's got more goals this season than the likes of Benteke, Deeney, Andre Gray, Jermaine Defoe, Jay Rodriguez, Josh King, Rondon, Arnautovic and Gabbiadini to name a few.
I'm not sure it's at all fair to say he's not ready when you compare his output to some of the seasoned pros and players we have been linked to in the past. He has many areas to improve on certainly and I think we have already seen him begin to do that. If he is going to be replaced in our team it needs to be someone of a noteably higher calibre (such as Giroud perhaps).
Tony Everan
127
Posted 19/12/2017 at 11:38:33
Niasse's exclusion?
Maybe we have accepted a decent offer and he is off in January. He would be further down the pecking order once Giroud, or whoever comes in.
Jim Marray
128
Posted 19/12/2017 at 11:51:58
I watched the match last night and wasn't to impressed with the first half which was slow and lethargic with occasional moments of light. Second half when Rooney moved back to play midfield was when we really started to make things happen. I agree with others Schneiderlin really shouldn't be alongside Gana.
The most important thing for me is that when I first suggested Allardyce as the manager to take us through to next season, it was when we were third from bottom and I saw that our run up to Christmas and New Year was predominantly against the teams immediately above us at that point (as well as a couple below). The results thus far are what I wanted, ie, wins against the other relegation candidates. Extra points picked up against tops 5 or 6 teams are icing on the cake. The next target has to be 42 points.
The only thing I want at this moment in time is safety; what comes after that will be an unexpected reward for a team that are slowly coming together as a unit and playing for each other as well as for the fans.
Ian Hollingworth
129
Posted 19/12/2017 at 11:53:20
I am warming to big Sam big time. He does not baffle us with nonsense just says it how it is. He is clearly getting the players back to basics which they desperately needed. Rooney has already stated that weeks ago we would have lost that match last night.
I accept the performances have not been great but that is not down to style of play or management it is a quality problem. We still lack quality in too many positions.
However the performances have been bad for a long time and I would rather be winning with a clear sign of improvement than losing like we were doing.
Well done Sam, I think it is very difficult for anyone to criticise the excellent job you have done so far.
This may be just the job he always craved and if the board back him we may just be starting out on an interesting journey.
Colin Malone
130
Posted 19/12/2017 at 11:55:07
Rooney was not getting a start under Unsworth. It was Big Sam who put him in the team for the West Ham game.
David Nicholls
131
Posted 19/12/2017 at 11:55:10
I think it's pretty harsh to criticise Calvert-Lewin. To be leading the line the way he is doing aged 20 is pretty impressive. I agree that Niasse currently has more dynamite in his boots when it comes to shooting but I think Dom is already ahead in terms of movement, link up play, hold up play and in the air.
I like his physique, tall and lean with plenty of room to beef out without becoming bulky. He already gives defenders a hard time physically and I reckon in a year or two he' be pretty imposing.
I remember last season when Koeman kept picking him and we could not work out why as he wasn't really producing. I think we are seeing this season, what Koeman had been seeing in training.
His goal ratio may not be anything to write home about but neither was Kane's, Drogba's or Costa's at the age of 20. A good piece of scouting by Rhino I believe!
Brian Williams
132
Posted 19/12/2017 at 12:02:06
I see Allardyce has been quoted as saying we may not need to do much in the January window. I can understand why he/Moshiri might look at things that way.
January prices are always inflated (as if they weren't enough already). It "appears" we should be safe this season with a mid to upper mid table finish. Anyone we did buy isn't going to lift us into the Champions League slots (realistically speaking). So the thinking may be that if the players we may buy in this window won't make a huge difference, don't buy 'em but wait 'til the summer.
Just my take on things before people start to rage when it looks like we won't be drafting in a plethora of world beaters in January.

ps: Calvert-Lewin is an outstanding player, absolute gem. I can't understand how some can't see that.
Jay Wood
133
Posted 19/12/2017 at 12:08:16
The two Brians, @ 122 and 124.
Sharper finishing is the one area Calvert-LewinL needs to improve on more than any other aspect of his game. Even then, he is only behind Rooney in goals and assists for Everton this season.
Sam @ 125 neatly compares his goal return to other 'known' strikers in his role.
At only 20, I think he is having a wonderful season and if he maintains this form I could see him as a candidate for both the club player and young player of the year award.
And by way of another comparison, can somebody please explain to me how – on this season's first team club form – the Swansea sub Tammy Abraham and the Liverpool fringe player Solanke got selected ahead of Dom for England in the recent internationals against Germany and Brazil?
Ludicrous!
Colin Glassar
134
Posted 19/12/2017 at 12:30:42
Brian, I think a left-back and a centre-forward are an absolute must. Returning players (Bolasie, Baines, Coleman etc...) will obviously strengthen the team no end.
Sam also needs to clear out a few, eg, Mirallas, Stekelenburg, possibly Klaassen and maybe try and get a more creative type midfield player in. Our present bunch are all too similar in style.
Sam Hoare
135
Posted 19/12/2017 at 12:38:45
6 weeks ago I thought a centre-forward was an absolute must. I'm not so sure now. That's how well I think Calvert-Lewin is doing. If someone really high class is available (unlikely in Jan) then sure but I don't want to see someone pedestrian like Benteke coming in and denying him the minutes he needs to keep progressing. If there's someone interesting to be had or a good bargain to come in an support Calvert-Lewin great but i'd still like to see more of Sandro. We've scored 14 goals in our last 6 games so not doing too badly.
For me the priority is left-back. Martina has done manfully but is playing out of position and is not the long term solution. If Allardyce likes the look of Connolly or Robinson who have both been doing okay on loan then great but otherwise i'd see if we can find someone to be the next Baines, who I think no longer has the physical attributes to play as a Premier League full-back. Luke Shaw would deserve some attention if available.
Phil Walling
136
Posted 19/12/2017 at 12:47:00
Jay Woods: I have spent 20 minutes trying to deliver on our wager for EitC. They don't want the money, it seems but will drop in a cheque in the next few days!
Good win last night – although only available @ 4/5.
Thomas Lennon
137
Posted 19/12/2017 at 12:49:38
Partnerships showing up everywhere at the moment – don't underestimate the defensive work Sigurdsson does on the left with Martina.
Calvert-Lewin has been involved in 11 goals after 18 games – at the same age Lukaku had his first season with us and was involved in 21 at the end of the season, admittedly scoring more but assisting less. Keep developing young man.
And lucky! Give it a rest. Luck is made when you take a chance and it falls your way. In the past, we haven't been taking those chances.
Moshiri will be wanting more entertainment for his new stadium. We have moved so quickly from an impending disaster to safety and routine wins it has been mind-boggling. What was Koeman doing?? Perhaps he was trying to develop a game that could take on the top 4 but doing it waaayyy too fast for these players. I would prefer entertainment to come second to stability and results, once we have the latter then lets try for the former.
John Keating
138
Posted 19/12/2017 at 13:01:32
Brian Williams 132. Agree completely.
Hopefully we will continue in this vein and probably finish around this position- up or down 1 or 2 - even if we spent a shedload on January overpriced players.
Possibly 1 or 2 loan signings who can help us and themselves with the World Cup coming up and needing regular playing time.
The rest of the season should be on identifying who and what we need and get them in very early doors close season.
Eric Paul
139
Posted 19/12/2017 at 13:07:03
Niasse in before Calvert-Lewin?
Do me a favour – the only thing Koeman got right was his assessment of Niasse (but not his treatment of him). Don't let sentiment get in the way he's another Stracqualursi!!!
Chris Gould
140
Posted 19/12/2017 at 13:11:23
Calvert-Lewin has a sublime touch and great work ethic. Can't believe anyone is criticising the lad. He is absolute class and will only get better.
Personally, I hope he gets the full season as our lone striker because if he continues to develop at his current rate then by next season he will be better than anything we will be able to attract/buy.
When he was put through by Sigurdsson last night he did everything right. He cut across Fernandes and may well have finished it if Fernandes hadn't – illegally – tugged his arm as he was pulling the trigger. It was a clever bit of defending as opposed to a poor finish.
Steve Ferns
141
Posted 19/12/2017 at 13:15:27
More discussion on Dominic Calvert-Lewin after last night's game then. I think the discussion should consider the fact that nearly every team in both the Premier League and Europe play with a front three. This front three is either wide, like presently (Sigurdsson, Calvert-Lewin, and Lennon), or narrow like we were last season (Mirallas, Lukaku, and Barkley). Narrower sides can have those wider players much more withdrawn.
A look across the park will tell you that they also play a front three (of Salah, Firmino, Mane). Salah is on fire and scoring all the goals, whereas Firmino is clearly a 10-goal-a-season man.
Calvert-Lewin is showing himself to be a terrific focal point for the side. He is improving at a rapid rate. Forget the goals for a minute, and look at the way he plays as the outball for the long ball team we are becoming, and he is top notch. The one he took on the chest last night was world class. He gets his head on everything, he chases his own flick-ons and he occupies an entire defence on his own. The term "a handful" really does apply to him.
Allardyce has only been here five minutes, and he's not spoken too much about Calvert-Lewin, but the one time he did, I could see a twinkle in the old fella's eyes. He clearly thinks a lot of him and consider the big number 9s Allardyce loves, well Calvert-Lewin is it. Goals for the Number 9s have never been essential. Just ask Heskey and Davies. Kevin Davies had a 22-year career. He broke the 10-league goal barrier just twice, once as an 18-year-old kid in the 4th tier, and the second time at his peak as a 32-year-old in the Premier League.
For Allardyce, goals from the Number 9 is not essential. Hold up play, link up play, the outball, these are all the things Allardyce is looking for from Dominic. And I doubt anyone can say that he is not at least good at them. I would put good money on us not signing a number 9 this January, such is the performance and development of Calvert-Lewin.
Back to Firmino and the evil reds. Firmino is similarly a good link up man for them, and brings others into the game, or takes defenders away to create space for others. The others mainly being Salah. And that's what we need to do, use Calvert-Lewin to do what he is doing very well, and to expect others to play off him and score. To be fair, in the second half at least, we did that with Sigurdsson, Lennon and Rooney all doing so.
I'm not writing off Dominic's goal-scoring abilities, I think he has them, I think he is going to be a top player, but let's appreciate him for all he brings to the table, and it's much, much more than goals, and as long as others score the goals using his strengths, then it's job done.
Dennis Stevens
142
Posted 19/12/2017 at 13:19:23
Hear! Hear! Brian #132 - In an ideal world we'd pick up, perhaps on loan, a talented left footer who's primarily a left back but can also do a decent job in central defence & on the left side of midfield. That would be a handy short term boost to the squad, but I also expect the main business to be taking place in the summer.
Jay Wood
143
Posted 19/12/2017 at 13:29:38
Phil Walling @ 136.
Phil, are you – like me – stuck on this page?
It has a form for personal details to fill in and under that an option to make a donation? But when you select the amount and click a Single Donation button . it opens the same page in a new tab!!!
That page comes with the message: "Everton in the Community couldn't operate without your generous help. You can donate here, right now."
And then they make it impossible to quickly and easily donate!
Barking! Everton and their IT and official site structure are really woeful, I'm afraid to report.
I've sent an email to them, explaining the road to nowhere loop and am waiting on an answer. If and when I hear anything, I'll share the info with you.
Tony Heron
144
Posted 19/12/2017 at 13:32:36
Steve @141. Agree completely. I have to admit that last year I wondered what all the fuss was about with Calvert-Lewin, but this year, my oh my !!, what a terrific leader of the line he's become.
I think he's going to become the complete package but I would still go for a striker in the window as he will need a break from time to time.
Steve Ferns
145
Posted 19/12/2017 at 13:33:16
Yes Dennis, the club assembled a big squad ready for Europe. Okay we weren't actually ready for Europe in the end, but we have 31 or 32 senior players. If we get back into Europe, then fine we will need them. If we come up short (by one of the "rest" of the league winning the League Club or getting to the final of the FA Cup) then we will need to reduce the playing staff by 7 players, and by more if we intend to bring others in.
I think Moshiri will want us to wait. I base this on his conversation with Jim White live on deadline day on Sky Sports News where he said Koeman has the players he needs. I'm guessing here, but I believe Allardyce got the job telling Moshiri that he could build a team out of the present squad and keep us up.
If so, Moshiri is unlikely to open up the chequebook and allow us to bring in another 3 or 4. Maybe, if we can ship a few out, for what we paid, then we will bring others in. But Moshiri sees the squad as an investment and he wants a return on that investment; he won't simply write a load of players off and invest more money.
Ray Robinson
146
Posted 19/12/2017 at 13:34:18
Steve (#141),
I agree with you up to a point but that still doesn't excuse his (relatively) poor finishing. He was one on one with the keeper last night and managed a powder puff finish, one shot in the first half was lame and he should have buried a chance at Palace.
I absolutely rate the lad, always have, but he does need to improve his finishing – even if deployed as a target man. It is possible to do both!
Colin Glassar
147
Posted 19/12/2017 at 13:35:50
Asking for a centre-forward is not a criticism of Calvert-Lewin. I've backed this lad since day one and think he'll be our centre-forward for years to come but, he's still only a kid who's learning his trade. He gets kicked to hell in most games and will probably start to tire, and pick up niggling injuries, as the season progresses hence the need for an additional striker to share the load.
Same goes for Jonjoe, Tom, Beni and Co. I'm sure Big Sam agrees with me.
Steve Ferns
148
Posted 19/12/2017 at 13:37:28
Ray, imagine if he did improve his finishing and started scoring 20 goals a season. Before you can say "Bright Future" he'd be off to play Man Utd or Chelsea. Maybe it's a blessing that his finishing needs to improve!
Stan Schofield
149
Posted 19/12/2017 at 13:42:37
Steve @141: Spot on regarding Calvert-Lewin. He has done remarkably well considering the state we were in organisationally on the pitch before the change of manager. Since Allardyce arrived and introduced better organisation, his performance has accelerated. Similar applies to the other younger players, particularly Kenny and Holgate.
This underlines, IMO, the massive importance of getting the organisation, the tactics, right. Without that, players will struggle relatively, and no amount of transfer window dealings will solve that. In this sense, I can't say I'm particularly bothered about the January transfer window.
Of much greater interest is seeing how we improve with the players we have. In my mind, that has always been most important, and it's just been the case that Martinez and Koeman didn't seem up to the task of organising us to maximise performance. So far, Allardyce seems to fit the bill.
Ray Robinson
150
Posted 19/12/2017 at 13:45:55
Steve – very true but for his own progression from an already admirable base position, he needs to be presenting us with that problem!
I agree with Colin too, he is shouldering an enormous burden for a 20-year-old in his first full season.
Jay Wood
151
Posted 19/12/2017 at 13:48:21
I agree with Brian Williams @ 132. We do not need to recruit heavily in January. I think part of the problem we experienced under Koeman at the start of this season was trying to bed in simultaneously too many new signings.
Now we have some stability, continuity and form, let's not jeopardize that by going gung-ho in the January market.
Martina is doing okay as a makeshift left back but, as was widely recognized by many, loaning out so many youngsters who could cover that position and not recruiting a more seasoned pro left us overly dependent on the fitness and good form of Baines.
That is one position that does need looking at as I don't believe the loanees can be recalled. Of course the rarely spotted Luke Garbutt is still at the club, but he hasn't exactly pulled up trees at his loan clubs in the last couple of seasons, so I really don't know if he is up to the task.
Otherwise, defence and midfield is largely covered. Attacking options could certainly be added to. I guess it really depends on who is shipped out and who – if the timing and price is right – is available to recruit.
But I'm with Brian. Let's not go filling our shopping trolley with shiny glittering toys which we barely play with or even take out of the box after January.
Stan Schofield
152
Posted 19/12/2017 at 13:49:57
Steve @148: Another valid point. Unless the higher management culture changes (with loads more money, say from someone like Usmanov), we've learned to anticipate the club selling on players not long after they become high profile performers. And the likes of Calvert-Lewin, Kenny and Davies are unlikely to be exceptions from this.
Ray Robinson
153
Posted 19/12/2017 at 13:53:35
But we're a better club for having coveted players though, Stan!
Steve Ferns
154
Posted 19/12/2017 at 13:57:17
Stan, I think Unsworth is overlooked in the praise that is dished out to Allardyce. If everyone is honest, then they will agree that at the very least, Everton "bottomed out" under Unsworth and were on the way up, particularly with the final game.
But it's not just that. Unsworth's tactics for the U23s are interesting. He played under Kendall, Royle and Moyes. All British managers who loved a tackle, hard work and were more direct in their play. Kendall's 80s teams could play, but Unsworth played under Kendall Mark III. Unsworth was also heavily influenced by his friend Martinez who taught him a thing or two about coaching. Fortunately, Unsworth retained his ability to setup a defence and maintains a preference for getting the ball forwards (or playing on the front foot, as he calls it).
This meant that Allardyce inherited a team that was already being drilled to be more direct than Koeman, Which means that he can build upon what was already going on, rather than having to rip it all up and start again, which is what Unsworth was having to do after Koeman.
Then there's the players thriving, as you mention Stan, Kenny, Holgate, Calvert-Lewin and I'd throw in Lennon and Davies, as being all Unsworth players in and around the first team who are already in tune with that more direct style of football and so take less time to adjust.
Rooney is often called a street footballer, and no doubt his natural style is direct. Gueye and Schneiderlin have started to figure more and have played more direct, but Gueye looks better without his old partner as without him he plays direct easier. Sigurdsson is clearly starting to adjust and looks better in a more direct style of play.
Michael Neely
155
Posted 19/12/2017 at 14:03:28
I just want to point out to all who thought we played better when Schneiderlin went off, that, at that point Gueye had given the ball away far more than anyone on the park, including Rooney. This alone should have been reason enough to yank him off before Schneiderlin.
The fact that Davies made a difference is neither here nor there, he probably would have done so with either of them on the park.
Schneiderlin last night wasn't a stand-out player, but neither was he as bad as some are making out.
Dennis Stevens
156
Posted 19/12/2017 at 14:12:07
Interesting points, Michael (#155). A sharp contrast to the BBC:
"Man of the match – Idrissa Gueye (Everton)
Idrissa Gueye won possession for his team 10 times and made more passes (71) than any player on the pitch during a dynamic display"
It's all a matter of perspective, I suppose.
Stan Schofield
157
Posted 19/12/2017 at 14:18:04
Steve, I agree with you totally about Unsworth. In this sense he did a great job as a caretaker manager after the chaos of Koeman. Allardyce has steadied things further but from that base, as you say. The name 'Allardyce' as manager equates to his management team of Shakespeare, Lee and Unsworth.
The match against Limassol was surely heavily influenced by Unsworth's efforts, and his advice to Shakespeare. I think Allardyce himself refers to the whole management team, not just himself, in getting the improved organisation of the pitch that we're seeing.
Steve Ferns
158
Posted 19/12/2017 at 14:18:40
Dennis, that's football in a nutshell!
One man watches Guardiola's Barcelona and says it's the best football he's ever seen, another labels it boring.
Some say the Premier League is the best league with end to end football and excitement. Others say that it's error strewn and low grade on a technical basis and therefore less interesting to watch. Others say Serie A is boring, too slow, whilst some say it's an enthralling tactical battle between highly technical sides.
It's always perspective.
John McFarlane
159
Posted 19/12/2017 at 14:39:07
Hi Stan (#121),
From some earlier posts of yours on other threads, I think you and I are of the same age group. Forgive me if I'm putting years on you, after all isn't that what Everton have been doing quite well for a very long time.
I Sympathise with those supporters who have never seen a successful Everton team, and I appreciate the fact that there are some, who have experienced those heady days, and would love a return to the former glories.
I include myself among the latter, and if I may be so bold as to pass on what I have learned over the years, which is to recognise the qualities of the opposition, and make allowances for human error.
An example I make whenever I discuss football is this, if Gylfi Sigurdsson scores a screamer as he did last night, the consensus of opinion is, "No goalie in the world would have stopped that".
Fast forward 10 minutes and Tammy Abraham scores an exact replica then the cry goes up, "Ashley Williams should have closed him down, and anyway, no goalie should be so badly positioned". It's exactly the same goal but seen in a different light.
I hope you forgive the ramblings of an old man; like any football supporter I don't enjoy a defeat or indeed a sub-standard performance, but I have learned to accept that the players are not robots. They're just the same as you and I, other than that they can play football to a higher standard, and like us they are prone to make mistakes.
Brian Harrison
160
Posted 19/12/2017 at 14:49:46
Just to make clear, I said Calvert-Lewin is not ready yet to play as a lone striker, and yes in 12 to 18 months time I hope he is ready to play that role. He has because of our very poor transfer policy has been asked to do a role that in my very humble opinion he wasn't ready for and still isn't.
Yes, he is improving week by week, but at this moment this team need a more experienced lone striker. But just to reiterate I think in time Calvert-Lewin could become a very good centre-forward.
Dennis Stevens
161
Posted 19/12/2017 at 14:52:15
Absotively, Steve! You only have to think of post match discussions in the pub. Everybody has a different take on any particular incident, not least due to sitting in different parts of the ground which results in quite literally different perspectives.
Steve Brown
162
Posted 19/12/2017 at 15:24:41
Mike (#13), you've gone very biblical so thought I'd remind you of the proverb "those who have no sense deride their neighbors, but those who have understanding hold their tongues."
You seem to revel in our club sticking to the lowest common denominator. Those who challenged the hiring of Allardyce accepted that he would dig us out of a hole. That is his modus operandi and the only reason he has been employed as a manager for over 25 years.
The reservations centred on whether he was the right appointment to build a sustainable challenge for a Champions League spot. Despite comparisons made by a poster to Pep and Jose in how he will develop a free-flowing brand of football (comedy gold), everyone knows this is beyond him. So let's enjoy the hard fought wins when they come and grimace at the dire football until the inevitable happens and he leaves. Hallelujah to that.
Kim Vivian
163
Posted 19/12/2017 at 15:30:13
Regarding Calvert-Lewin (who for some totally obscure reason was getting a bit of stick from a couple of people on the forum last night) and England – I think not getting selected just yet has done both him and us a favour. It would clearly be a wonderful feather in his cap but I personally am grateful his inevitable selection has been deferred.
If the development of the previously mentioned Solanke and Abraham are any form of yardstick, the added burden of an England berth has done them no favours. Dom seems to be improving with every match for us and long may it continue.
Colin Malone
164
Posted 19/12/2017 at 15:34:38
Schneiderlin has not suddenly become a bad player. He needs to play as a single holding midfielder, who sweeps up and then gives the ball to an advancing midfielder, ie Davies or Barkley. It's no coincidence that his form has dropped since Ross Barkley has been out of the team.

Stan Schofield
165
Posted 19/12/2017 at 15:36:05
John@159: I'm 63, so yes about the same age group. I agree that there are different views of the same event, be it a goal or whatever.
The subject of mistakes is interesting. When players make mistakes, they are as you say simple errors like we all make. They make them at random if you like, in that there's no systemic underlying problem, apart from loss of form or injury or the like that's beyond their control. Such mistakes can be forgiven, it's what we all do.
In contrast, there are systemic mistakes, like ones that owners and managers make. Errors that are within their control, and which are often repeated in the face of warnings to the contrary. These are mistakes that I will happily criticise, as opposed to the 'random' mistakes that we all make from time to time.
As I say, I've never criticised players (expressed frustration privately, yes, but not criticised), which I think is just instinctive. But the above distinction between 'random' mistakes and systemic ones gives me some logic behind that instinctive response.
I recall in the past even Alan Ball and Howard Kendall being criticised from the terraces when they've made 'random' errors. I suppose you can't please all of the people all of the time!
Raymond Fox
166
Posted 19/12/2017 at 15:41:22
I see some are still complaining about the quality of football.
Have we not seen enough to know/suspect that the majority of our players are not skilled/good enough to play both a winning and great flowing passing game, ie, Man City like.
It takes a special type of player to be able to produce both consistently. Martinez failed because he wanted us to play like Barcelona with players who were not capable of producing football of that quality. We don't really want to go down that road again do we?
Give Sam a chance, he's not been manager for more than 5 minutes.
I'm not denigrating our players, we have some very good players but they don't quite match up to the very best in our League unfortunately. As we are now I think we have to win in any way we can and hope to improve the squad in the summer.
We are about to go into a very difficult spell of games, where wins are likely to be thin on the ground. Allardyce said that Saturdays game will tell him/us how good we are. There's a few more in the near future where the same could be said. I think most of us are willing to wait and see what happens and where we are at the end of the season.
I'll tell you what – we are in much better shape than we were a short time ago, and I don't know about you, I'm feeling more optimistic than I have for a long time.
John Pierce
167
Posted 19/12/2017 at 15:42:27
Davies is still finding form but it really is night and day compared with Schneiderlin.
Davies can beat a player, once in between the lines the defensive line has to come out and a player commit.
It's just a matter of can Tom find the vision to play the killer pass?
Schneiderlin offers something different, that's all I can muster on him.
Jay Harris
168
Posted 19/12/2017 at 15:46:39
One point I would like to make about Calvert-Lewin is he certainly contributes to our defense in that they boot ridiculous long balls up the pitch and not only does the lad get to it but he invariably retains possession for us allowing our slow coaches to get up the pitch.
He is often isolated on his own with little support and that is where I expect an improvement soon because, with a bit of one-twoing up front, his goalscoring ratio will go up significantly.
Jim Harrison
169
Posted 19/12/2017 at 15:54:26
Gerry (#123), I think Christopher Lee quote regarding the high profile roles he was getting late in his career.
Clive Mitchell
170
Posted 19/12/2017 at 15:54:39
Brian (#160) – I take a different view. The much vaunted Tammy Abraham made no impression last night, while Calvert-Lewin was effective on his own up front. Both are 20. You can see Calvert-Lewin's confidence growing by the week.
Tom Davies was superb last night, changed the game. Best thing of the night was watching the three newly contracted youngsters and Tom applauding all sides of Goodison at the end after the seniors had trooped off. Their togetherness is hugely encouraging.
Jay Wood
171
Posted 19/12/2017 at 16:04:10
The Chelsea game comes at a good time to see, as Sam Alardyce mentioned last night, just where we are with this group.
The league table very accurately reflects our season so far. Compare the following – our record against teams above us and our record against teams below us. It's very stark:
Results v teams above us:
P W D L F A Pts
8 0 2 6 4 19 2
Results v teams below us:
P W D L F A Pts
10 7 2 1 20 11 23
NO wins against any team above us in the league. The Southampton debacle was the only loss to teams below us. And look at the respective goal tallies.
This is clearly not a team under threat of relegation, but it is equally clear how much we need to improve against teams currently above us.
Paul A Smith
172
Posted 19/12/2017 at 16:05:39
Calver- Lewin is doing what he can for the team. Nothing against him whatsoever. That includes the fact he is not the finished article, he doesn't threaten a great deal and still has loads to learn.
The lad is progressing and doing us proud. There is no need for anyone to jump in his defence when its obvious he would be 2nd choice if we had bought a striker.


Tony Everan
173
Posted 19/12/2017 at 16:18:32
I think we will get one quality striker in. Niasse will be sold, and sadly, Sandro will go back to Spain.
Maybe it's a good idea to let Sandro go on loan and give him a fresh start next season? The lad has got some quality about him and he may adjust better in 9 months time.
I hope Sam doesn't go after Benteke. Calvert-Lewin is better already and improving.
John G Davies
174
Posted 19/12/2017 at 16:22:25
Calvert-Lewin reminds me a lot of a young Graeme Sharpe. To put it in perspective, I think I'm right in saying Sharpie was still at Dumbarton at Dominic's age.
He's going all the way for me, this kid.
Steven Jones
175
Posted 19/12/2017 at 16:23:40
Sorry, Brian – I can't agree on Calvert-Lewin. He is ready because that is who we have got and with him we have won matches and he has been a key part of the team set up and tactical jig saw - he runs better, wins more in the air and has better control, stamina and teamwork than last years centre-gforward – who went off down the road for £90Million.
Tony Everan
176
Posted 19/12/2017 at 16:31:09
I agree, Steven, I bet there's not many Evertonians who would do a straight swap of Lukaku for Calvert-Lewin. Not purely for football; I just feel happier about the club and future without him.
Paul A Smith
177
Posted 19/12/2017 at 16:52:01
John G, I see a bit of Sharpy in Calvert Lewin too. Only Lewin is way faster.
Tony (#176) anyone who says that is a loon. I mean can you imagine Lukaku where Calvert Lewin broke through last night. I'd put anything on Lukaku slotting that all day. Give me that over running around all day too.
I have to admit I don't really judge players quality until they play a top team/teams and are well established as a Premier League player.
Calvert Lewin, Davies, Lookman, Vlasic all have great futures if they get the right breaks from the team and carry on enjoying football. Schneiderlin, Williams, Martina, and Keane I feel I already know are not good enough for top teams. Lennon has give his all lately and played okay but he has seen his best and can't hurt top sides.
Jay Wood – great post, highlighting the issues. We need a very well-planned summer recruitment to take this club forward.
Dave Abrahams
178
Posted 19/12/2017 at 17:07:03
Roy (#116), I thought Rooney was poor over all in the game.
Kim (#120) you saw a completely different Rooney to the one I watched, but that is football and opinions.
John McFarlane
179
Posted 19/12/2017 at 17:08:49
Hi Stan, I'm afraid that I did put a few years on you for which I apologise, I take your point regarding the different recipients of criticism, I was referring to the (for want of a better word) abuse directed to players, who by nature of being professional footballers are superior to the 'abuser.'
Like any supporter I have on occasion, been critical of top class international players, the criticism being the result of frustration, I can honestly say I do not give opponents stick, and I never subject our own players to some of the vile comments I hear from some fans who sit near me in the Park End.
I understand that being what some might refer to as "Old School", and acknowledging the fact through the internet medium, today's supporters are more concerned with matters off the field, my sole interest has always been what I see before me.
I have always believed that I can influence events by encouraging the players, whereas regarding the events off the field, I consider I have no control over them, so I try not to get involved.
Steve Ferns
180
Posted 19/12/2017 at 17:38:22
Jay, those raw stats are certainly an eye opener. They read like the Moyes stats from when we used to finish 6th or so every season.
I don't think we are ready for the Chelsea game. We're still recovering and we still need to play some more cannon fodder before we can attempt a more expansive game. That means we will need to revert to backs to the wall football, as enjoyed at Anfield.
One final thing on Calvert-Lewin: if 7th is the best we can hope for, and assuming 6th or better is it for Europe (ie, someone qualifies through League Cup or FA Cup) then the season is something of a write off. Is it not better that we have come through the season developing the likes of Calvert-Lewin, Davies, Kenny, and Holgate? If we put Calvert-Lewin back on the bench and he plays a handful of games, and if Coleman comes in for Kenny, and if Davies is kept out by Schneiderlin, and if Keane comes back in for Holgate, then these lads development will pause. They are Premier League ready, they need games.
Calvert-Lewin was not head and shoulders better than Abraham and Solanke, in fact the neutral press rated him last of the three, and asked questions as to why he was starting games in the U20 World Cup. Now he is head and shoulders better than the other two and so it all comes down to games. Cut off the oxygen supply to his development, that is games, and it may be to the detriment of the club in the long term.
I think we should be looking to buy someone to support his development not to hinder it, and that anyone taking his place would need to be top class – not Troy Deeney or Christian Benteke.

Don Alexander
181
Posted 19/12/2017 at 17:45:34
Re Brian's post at #132 on the possibility of a quiet January in the window I just wonder if the "gelling" factor needs to be addressed before we wait until summer before more signings come in?
That said, "gelling" to me seems a bit of a mystery. We're talking about playing football after all where the best teams seem to mostly rely on Allardyce's time-honored maxim "keep it simple, stupid" or "KISS".
(Apologies if the image of Allardyce and a kiss has put anyone off their tea by the way!)
John Wilson
182
Posted 19/12/2017 at 17:50:43
Calvert-Lewin is a good player but the lad couldn't score in a brothel.
David Barks
183
Posted 19/12/2017 at 17:53:30
John Wilson,
Didn't Calvert-Lewin score last night?
Jay Wood
184
Posted 19/12/2017 at 17:55:55
John @ 182.
So his goal last night is null and void and we only won 2-1 then...?
Got it!
Brian Williams
185
Posted 19/12/2017 at 18:03:36
Ohhhhh John!
Peter Mills
186
Posted 19/12/2017 at 18:06:57
Apologies if it has been mentioned or discussed elsewhere, but from about 70 m away, I thought Mason Holgate made a superb tackle last night. I was dumbfounded when the ref decided it was actually a yellow card offence.
Did it look like a foul on the telly, or to anyone who was closer to the incident than me?
John G Davies
187
Posted 19/12/2017 at 18:11:44
In all likeliness he can score in a brothel.
Jay Wood
188
Posted 19/12/2017 at 18:14:44
It wasn't a foul, Peter.
Mason took the ball clean as a whistle, consistent with the trajectory of the ball following his excellent tackle.
Dunno if the club can appeal such yellow cards these days and have it overturned.
Steavey Buckley
189
Posted 19/12/2017 at 18:18:19
Calvert-Lewin for me, is the player of the season so far. He is basically been taking the attack to the opposition since there has not been too much support from midfield. When he starts putting opportunities away more often, Everton may find there will be at least £80 million on the table from clubs who want to sign him.
Maybe a fit Bolasie could help him or a rejuvenated Niasse or another striker, because this young man is awesome.
Brent Stephens
190
Posted 19/12/2017 at 18:20:26
As Jay says, a clean tackle. It's as a defender you feel great about. Everybody at the ground rose as one in outrage. And Holgate himself knew it was clean.
Calvert-Lewin seen coming out of a brothel last night – looking decidedly weak at the knees.
Nigel Munford
191
Posted 19/12/2017 at 18:25:45
What a stupid comment, John!! Doh!!!
Peter Mills
192
Posted 19/12/2017 at 18:25:46
Thank you Jay and Brent. I was wondering whether it was for two feet off the ground or something. As a great fan of tackling, it looked perfect to me but, as I say I, was down at the other end.

Barry Williams
193
Posted 19/12/2017 at 18:38:41
John Wilson (#182),
I don't think he needs a brothel!
He has scored 7 and assisted 4 in all competitions. He has been learning his trade in a very underwhelming team too!
You are aware he scored last night!!??
Nitesh Kanchan
194
Posted 19/12/2017 at 18:39:16
Thomas Lennon (#137).
Koeman was not trying to bring entertainment,he was only bringing misery to us fans.The way he messed up in transfer window on the final day going for golfing instead of working to bring in a striker. Even Martinez was doing his job till the last minute of transfer window, when he called up Lukaku on deadline day and convinced him on a loan move.
Thing is he never really cared about this club. The treatment to Niasse, ignoring Kenny, constantly playing players out of position, allowing players to drop their heads in the final games of last season instead of finishing strong, blaming the players in the media when his own tactic and lineups was not understandable by a single fan before the game. It was a forgettable nightmare and thank God it ended before it got worse.
Bryan Houghton
195
Posted 19/12/2017 at 18:43:28
Peter – I can only imagine the yellow card was not the fact that he cleanly took the ball away from the attacker (excellent tackle) – but for the fact that as he slid in, taking the ball cleanly, he then lifted the leg to trip the player.
It's harsh, because its almost impossible for the sliding foot not to raise in those circumstances, but when I watched it again, this is the only other reason why it could be both a foul, but also deemed deliberately fouling to impede play (yellow).
Alternatively, it could just be a yellow because John Moss is a bit of fuckwit.

Col Walker
196
Posted 19/12/2017 at 19:08:25
This Holgate tackle caught my attention too! From the laws:
"Getting the ball first has minimal relevance as to whether a foul has occurred. There is no reference to making contact with the ball in the section relating to Fouls and Misconduct in the Laws of the Game, but it may be considered by the referee in deciding whether contact was careless, reckless or excessively forceful."
IMHO it wasn't careless, reckless or excessively forceful, but he did take out the man after just about winning the ball. Bottom line is: 1. It's the refs call, ie, it may be part of his consideration, it may not... he gets to judge it; and 2. Winning the ball (per se) is a myth!
Sorry to be pedantic but the facts of the matter are... it's a foul if the ref deems it's a foul – or, in other words, it's difficult to say or prove that the Ref is 'wrong' unless of course he simply never physically contacted him in any way, in which case why is he deeming it a foul!
Personally, my own view would be, whilst it may have arguably been a foul, it was not worthy of a yellow card!
Anyway, it does appear our luck has changed; I thought they were by far the better football team in 1st half and could have easily led by 2. Long may it continue
Peter Mills
197
Posted 19/12/2017 at 19:09:08
Bryan, I had readily and happily come to accept your alternative conclusion, but I appreciate your analysis of the tackle!
Steve Ferns
198
Posted 19/12/2017 at 19:34:54
I don't think that Dominic Calvert-Lewin does need to score in a brothel, have you seen his missus?
Clive Rogers
199
Posted 19/12/2017 at 20:02:45
Steve, I was told at the match they have split.
Colin Glassar
200
Posted 19/12/2017 at 20:45:22
Why is Kelly Dalglish back on Sky Sports News? Didn't she quit about 5 years ago to go and play golf in Dubai with her dad?
How come she just walks back into her old job (which she's extremely crap at btw)? Is it another sign of the RedShite domination of the media?
Barry McNally
201
Posted 19/12/2017 at 20:50:55
Colin, look on the bright side – at least it's not Kenny!
Colin Glassar
202
Posted 19/12/2017 at 21:05:41
It's a bloody travesty, Barry.
Nicholas Ryan
203
Posted 19/12/2017 at 22:23:21
Just rewind to a few days before Koeman's sacking. Anyone who had said, then: 'We will take 13 of the next 15 points' would have been flung in the Mersey, by men in white coats!
Steve Ferns
204
Posted 19/12/2017 at 22:25:21
So that's why he's scoring in Brothels? Maybe Wayne is a bad influence on him afterall.
As for Kelly Cates, I've met her and she was a nice lady. She knows more about the game than her brother! In the days of increasing the number of females in football, we've been flooded on the BBC by a load who are well below standard. I don't think she is at all.
It's a shame Gabby Yorath (I forget her married name) didn't stick around in football as she is a much better presenter than Gary Lineker.
Steve Ferns
205
Posted 19/12/2017 at 22:26:52
Well I was called "complacent" for expecting us to turn things around quickly, Nicholas.
Paul Tran
206
Posted 19/12/2017 at 22:38:07
Nicholas/Steve, I was called 'deluded' for saying I'd not even considered relegation. I've said all season that we have a decent squad just waiting to be organised and clearly directed.
I'm looking forward to getting paid out on 4/6 & 1/1 to stay up.
John Keating
207
Posted 19/12/2017 at 22:45:27
Nicholas – things are definitely improving and so far so good.
We still have a long way to go and will have some set backs along the way. This season is more or less a right off, lack of pre-season, embarrassed in the Europa League and horrendous pre-Allardyce league campaign.
When we do have a reverse, Saturday will be a test, expect the knowledgeable, holier than thous anti Allardyce mob to tell everyone they told us so.
This won't be a sprint. Allardyce was brought here to stabilise the Club in the short term, in my opinion that means this season, not half a dozen games. He's off to a good start but for some it will never be acceptable.
Bobby Thomas
208
Posted 19/12/2017 at 22:53:59
Steve
Before you continue to trumpet your omniscience, I'd highlight that things have been turned around by precisely the manager that you stated, on numerous occasions, that you didn't want.
Laurie Hartley
209
Posted 19/12/2017 at 23:09:19
John Keating (#207) – we will of course have a reverse (and by that I mean a loss) but it might not be on Saturday.
If we can go to Mordor and come from a goal down to draw the game, I reckon we can get a result against Chelsea at Goodison if the 12th man turns up.
John Keating
210
Posted 19/12/2017 at 23:17:15
I hope you're right, Laurie. In fact I hope you're right every game until the end of the season!
The point I was trying to make was that we have to not get too excited by Allardyce's start, as good as it is.
As you know, there was quite a strong anti-Allardyce feeling prior to his appointment and, rather than give him the benefit of the doubt and a fair crack at the job, many have just refused to accept him, which is their right.
Although many have been quiet during this period of decent results, not so much performances, I would expect them out in full force after our first reversal.
Tony Everan
211
Posted 19/12/2017 at 23:20:04
Moyes's West Ham beat them and deserved to. They harried and closed down throughout.
We beat West Ham 4-0.
We are capable of getting at least a draw against Chelsea, and I expect Sam won't accept the half-arsed dross we showed in the first half against Swansea.
We are capable of doing what West Ham did to them, especially at Goodison Park.
Tom Bowers
212
Posted 19/12/2017 at 23:36:06
Everton will have to keep possession better and improve their passing to have any chance against Chelsea and Man Utd. What we saw against the Swans was poor up until the Gylfi goal.
I am still concerned about the current back four who still look shaky at times, so that is also an area that will need to improve greatly for the next 2 games.
Laurie Hartley
213
Posted 19/12/2017 at 23:42:56
John (#210) – I understood where you were coming from in your post. I actually posted an article suggesting we should appoint Sam Allardyce a few days before it actually happened.
His appointment was always going to polarise us at least in the short term. I have hope that he will continue the good work he has done in restoring some pride to our club.
I expect him to do so. In fact, I will go out on a limb and say he will win the vast majority of fans over in the coming months because I believe he is capable of producing a football team that will do us proud.
Time will tell.
Darren Hind
214
Posted 19/12/2017 at 00:36:53
Jim Harrison @91
Virtually everything I post is positive (unless I'm talking about managers – I have been banging on about our youngsters for a year now. I was calling for the inclusion of Kenny, Calvert-Lewin (in his right position) Holgate and Davies when Koeman was saying they were not ready. If he had realised they were and played them in their correct positions, he may still be in a job. I don't think my comment was barbed, The luck we are enjoying is obvious. At least it is to me.
Calvert-Lewin can be anything. He's skilful, brave, quick and his finishing will improve with maturity, but he is being asked to perform the "Kevin Davies" role. He's better than that. The excessive amount of get-after-that balls being knocked up to him at the moment is shocking and is not going to help him develop his finishing. That needs to stop... now would be a good time.

Derek Thomas
215
Posted 20/12/2017 at 00:45:23
Tony Everan @ 211; Although the 4-0 bit doesn't logically follow, all the rest is spot on...
Can we get Naismith back in as a ringer for one game, nobody will spot him, it being nearly Christmas and that.
Steve Ferns
216
Posted 20/12/2017 at 02:11:58
Bobby, as I've made clear plenty of times, I believe things were already turning around before Allardyce. I still don't like him, and I still don't think we need him. But I'm not going to keep arguing that, as the results are going well.
I hope it continues and he becomes an Everton legend. I still won't like the man, even though I'd clearly be wrong about his ability to play expansive football.
Paul Johnson
217
Posted 20/12/2017 at 02:21:16
Steve Ferns – spot on. He would never be on my Christmas list but an FA Cup win will buy him a good bevvie. But I would want Peter Reid alongside.
Paul Kelly
218
Posted 20/12/2017 at 03:18:44
Fernsy, (that's your name... now), here we go, after the posting limit initiated/discussed, I thought, judging by other people's opinions that some/a lot we're talking about you.
Your posts in this thread and how your coming across is much better than your tactical deconstruction previous. Keep the posts coming, and don't mention Schneiderlin unless you fuck him off!!!
Cheers.
John Keating
219
Posted 20/12/2017 at 04:56:46
I note that a few posters have mentioned that we were never relegation candidates and that things had turned around before Allardyce was announced as manager.
Just to remind myself to ensure I wasn't living in a parallel universe I had another look at our results since the season started and I just cannot see any improvement in results that would qualify any sort of improvement.
In fact in the few days before Allardyces appointment was announced we had been beaten by the mighty Atalanta at home 5-1 and the equally impressive Southampton 4-1 away.
Now some may say that the West Ham game was this so called turning point but I also remember the false dawns that were Bournemouth and Watford.
I suppose we will just have to accept that under no circumstances will Allardyce and his staff get any credit whatsoever from his detractors. A shame really as it seems quite small-minded; some people are never wrong.
Paul A Smith
220
Posted 20/12/2017 at 06:47:48
Things were turning around before Allardyce came in?
If ever there was a comment that has no foundation whatsoever...
Tony Everan
221
Posted 20/12/2017 at 08:04:26
As Rooney said, Sam has steadied the ship, gone back to basics.
He is trying to get over clear and simple messages to the players, making them clearly understand the simple things he wants them to do.
I think in this short time Sam has brought in this fundamental change. The fact that the players actually know their position and are made fully and clearly aware of their responsibility for that position.
Each player's role in the team is simple and clear. This lets them concentrate fully on the job in hand. I was skeptical about Sam's appointment but I believe he is the right man at the right time. I am hoping for incremental progress from him and his team, along with better balance in recruitment.
Where there was confusion, now there is clarity. It's good for the players, and good for the club.
Kim Vivian
222
Posted 20/12/2017 at 08:10:30
Paul Kelly – #218. What are you blathering on about? Weird...
Peter Lee
223
Posted 20/12/2017 at 08:45:19
Things were turning, and turning and turning ever faster. In fact we were in a flat spin.
Anyone who watched the Southampton game and wants to tell me what positives there were should form a queue outside the Lion on Moorfields at 11 am this Saturday and I'll buy you all a pint. Your carers too.
I'll have a tenner in my pocket, should be enough.
Mike Connolly
224
Posted 20/12/2017 at 09:21:53
Things were turning before Sam turned up!
When Sam sat in the stand for the West Ham match – that's when things started to happen. Before that, we were no better than Swansea and look where they are.

Kevin Prytherch
225
Posted 20/12/2017 at 09:48:41
Things were turning before Sam came in.
I'm not saying that Unsworth would have got the same results, I highly doubt he would.
However...
We didn't see any passion whatsoever before Unsworth came in, we saw it against Chelsea and the 2 league games we got points out of. This started to build confidence and getting Kenny and Lennon in the side permanently was a big plus.
The players responded to Allardyce being in the stands the same way they responded to Unsworth for his first few games when they thought he might get the job. They stopped again (Atalanta and Southampton) when it was clear he wasn't going to have the job on a full-time basis.
Allardyce has undoubtedly done better than Unsworth would have done and the defence in particular is where Unsworth failed. I think there's a potentially great manager in Unsworth though, and a couple of years learning under Allardyce could bring out the best in him.
Unsworth did a good job under the circumstances, but Allardyce has built on it and done a lot better.
Tony Everan
226
Posted 20/12/2017 at 10:18:22
Demerai Gray will be serving a ban after his dive of the month yesterday. Or will it be overlooked?
And while they're at it, Vardy was up to his old leg-dangling tricks trying to win a penalty. He should be banned too.
Maybe MotD could have a Dive of the Month competition. As voted by viewers. There's normally about 20-30 to choose from.
Eddie Dunn
227
Posted 20/12/2017 at 10:29:45
It is obvious that it was the fact that the club had made a decision and Allardyce was the new boss, watching them in the stand that focussed the team on the job in hand. For too long the club had drifted from game to game, with the unfortunate Unsworth left to try to get them to concentrate.
The worrying thing for me was that we have now witnessed 2 episodes that have seriously undermined our season.
Firstly, the failure to replace Lukaku despite knowing for so long that he would leave.
Secondly, the decision to sack Koeman without a successor lined-up.
These two events suggest that there is a lack of unity within the hierarchy of the club, perhaps a power struggle. It smacks of amateurism. Allardyce should take the credit.
Unsworth is a loyal Blue, but he had no authority with the first team, and if it were not the fact that he was one of us, he would have been slated more harshly for the strange selections and poor results. However, Unsworth did a good thing in bringing both Kenny and Lennon into the team, and they have gone from strength to strength.
Jon Withey
229
Posted 20/12/2017 at 11:30:32
For sure we owe Unsworth but I think Sam + team was always going to be a better way forward.
Clive Mitchell
230
Posted 20/12/2017 at 11:35:58
The sooner this absurd policy of charging people with "successful deception of the referee" is dropped, the better. The only sensible approach is that the ref is always right – especially when he's wrong.
Anyone who wants to argue that things were already on the up before Allardyce's appointment needs to see footage of two things: the way we warmed up on the pitch before any match at Goodison this season; and the way we did so before the Huddersfield game. The contrast was stark. In the latter case, the players were being yelled at sergeant major style as they went through the drills. It lifted your optimism for the match quite a bit.
Jay Wood
231
Posted 20/12/2017 at 12:38:10
Steve @ 216.
Things were turning around before Sam arrived?
Before the 4-0 trouncing of West Ham, we had just been twatted 5-1 at home by Atlanta and 4-1 away to Southampton.
Now I, seemingly like you, honestly believed we were never in threat of relegation. Why? Because of the following data I've already shared on this thread, but will repeat here:
Results v teams above us:
P W D L F A Pts
8 0 2 6 4 19 2
Results v teams below us:
P W D L F A Pts
10 7 2 1 20 11 23
The correlation is very clear. This is a team that was never in real danger of relegation.
I anticipated an upturn in fortunes when, as has happened, we had a run of fixtures against bottom half clubs. But let's give this some context.
The Southampton debacle is the only loss to teams below us.
In the 12 games before playing us the Saints had scored a paltry 9 league goals all season. Their only other league wins this season reads as follows:
H WHU 3-2 in August
A Palace 1-0 in September
H WBA 1-0 in October
That's it. How were those respective teams performing in those months and where did/do they lie in the league?
In the 5 games since playing us Southampton's form reads L-D-D-L-L with 4 goals for and 9 against.
As I've repeated many times, I genuinely wanted David Unsworth to succeed. He didn't. The West Ham result was a wonderful send off to him and the Goodison crowd showed their appreciation for his efforts and the dignity he showed in seeing us through a difficult time.
Other than that, there was little or no sign that the core issue – greater defensive solidity – was being addressed or arrested.
Acknowledge it or not, but Sam and his team appear to have done just that.
Paul A Smith
232
Posted 20/12/2017 at 12:40:36
I can't believe there are some people holding on to the West Ham game in Unsworth's favour just to simply justify their reasons for not wanting Allardyce. These are the same people who think he would make Barcelona a long-ball team. 'Pathetic' doesn't touch the sides.
I have a lot of Everton love for Unsworth but it wasn't working, simple as that. The fact players have spoken about this sort of confirms it but you minority keep searching your souls for justified reasons to knock the appointment of a man much smarter than most in English football.
Give it the old – "I might be wrong though" instead of "I am wrong so far." Keep that open line for yourself and you can say "I told you so" if it turns out bad.
This is possibly the worst Everton squad I have seen in my 35 years.
Phil Bellis
233
Posted 20/12/2017 at 12:53:14
Paul A... Worst since 1982?
I think you are possibly wrong.
Amit Vithlani
234
Posted 20/12/2017 at 13:09:01
Allardyce v Unsworth is a pointless.comparison.
One was announced as the permanent manager on an 18 month contract.
The other was told he would be manager game by game, and was kept on for 7 games when the board fucked up their managerial search and had to revert to someone they originally turned down.
Would Unsworth have done equally as badly if he was given an 18-month contract? We will not know. Its a pointless comparison, but by the same token, dismissing Unsworth's efforts without acknowledging the shit hand he was dealt with by the cretinous owners is plain wrong.
As for the nonsensical fixture comparison, I think we have won once away to Southampton in 10-odd years so our defeat there was true to form. West Ham is pretty much a home banker. We have done okay in recent fixtures at home against Watford, but have had a mixed bag against Leicester. Palace away we have usually collected a result.
It was the appalling performances against Atalanta, Lyon and then Southampton (even though the loss went to form) which forced the board to panic.
It's right that they did appoint a full time manager, but Unsworth was hung out to dry over 7 games.
Whats more, he was doing his admirable best with a horribly imbalanced squad bequeathed by the cretinous team of Koeman, Walsh, Kenwright and Moshiri.
Allardyce's early successes do not need to be toasted at the expense and denigration of Unsworth's managerial abilities.
If anyone needs eviscerating it is the board and Walsh who presided over
1. Disastrous Summer Window;
2. Disastrous last 6 months of Koeman's reign, which saw us play a losing brand of football and alienate members of the squad such as Barkley;
3. Disastrous search for a manager, which undermined Unsworth and must have affected results after Koeman's departure.
All of which resulted in the pressing of a big red button marked SOS for Big Sam.
John Keating
235
Posted 20/12/2017 at 13:14:32
Jay 232.
Jay, I might be wrong but are your teams below us stats misleading as they are based on the present?
Surely the ONLY point we got prior to the Southampton game against teams below us was against Palace in a 2-2 draw?
Obviously after West Ham points accrued have been against teams below apart from the RS.
Surely if, in your opinion, we were in no danger of a relegation battle why then change the manager?
It's easy now to say we would never have been in a dogfight but, had Koeman or Unsworth still been here, can you honestly say our poor form and zero confidence would have improved? Personally, I doubt it. We can guess and have an opinion but to say definitely?? Thankfully and hopefully we will never know.
Barry Williams
236
Posted 20/12/2017 at 13:19:39
Lots of negativity on here! Given the circumstances of not long ago, I am just happy in the moment! 13 points out of a possible 15, the youngsters putting on a display abroad, and players looking a million times better than in the previous 20-odd games!
As for style of play, well it is open to interpretation, and yes we are practical at the moment; given what has gone before, that is fine. But on Monday the two penalties were the results of quite good and aesthetically pleasing moves and Sigurdsson scored a worldy. No-one seems to mention that!
Tony Abrahams
237
Posted 20/12/2017 at 13:24:29
I've seen a lot worse squads Paul A, but I've never seen one so badly coached though. Even the other night Everton were very pedestrian at times, but the way they "simply" moved the ball, from back to front for Sigurdsson's goal, shows we have got some decent players in this squad.
Before Allardyce, came in, Everton were an absolute mess, and although I agree with the people who said we wouldn't go down, I'm not sure that this would have been the case if we hadn't appointed a "strong" manager.
Paul A Smith
238
Posted 20/12/2017 at 13:50:29
Phil Tony. Its as bad as I have seen. Which other squad had no striker, no replacement left back, a replacement right back playing left back, no pace at all no goalscoring midfielders and 3 managers to get a performance from us.
We may have had worse managers in this time. But man for man, a worse 11 or squad? I can't think of one.
Tony they will be pedestrian in a lot of games. Write down the quality we have. It becomes more apparent then.
The three managers this season have worked with slow, 2nd level players.
One manager has himself to blame; the other two have done very well to gain any points from the lack of quality we have.
We beat Swansea the other night. The way they moved the ball through us sometimes showed they have some okay players?
Not really. Just 2 teams full of bottom half players having okay moments in the game. The goal was a great finish.
Do Chelsea let us through like that? We will see but i very much doubt it.
Stan Schofield
239
Posted 20/12/2017 at 14:08:36
So far as I can see, for this season thus far, there's a simple fact:
Under Koeman we were aesthetically poor AND losing badly, whereas under Allardyce we are aesthetically poor but the results are massively better.
Even if we don't improve aesthetically, getting decent results is an improvement on what went before. If we continue a trend of decent results, any aesthetic improvement is a big bonus.
We may well improve aesthetically, so from any angle it's looked at we're progressing. Therefore, no complaints from me so far.
Jay Wood
240
Posted 20/12/2017 at 14:12:15
John @ 236.
I can understand where you are coming from, but the facts are these:
Koeman was sacked 9 games into the season after the 5-2 home tanking by Arsenal. In those 9 games we played - and lost, heavily in most cases - to the following teams:
Arsenal (as mentioned), Chelsea, Spurs, United and Burnley. The only point garnered from teams NOW above us was of course the draw at City.
The other 'positive' results came with wins against Stoke and Watford and a draw at Brighton - all NOW below us.
Even on that small data range, you could see a correlation. I never considered as you appear to have done, that after a mere 9 games we were in a relegation battle. Even with the continued bad results under Unsworth, that belief has proven correct.
I looked ahead to our fixture list and - like our resident punter Paul Tran - I could see a trend that suggested to me we would not realistically be in a relegation battle.
I only wish I had been as shrewd as Paul to back my hunch at the bookies with hard cash.
The way the team performed in those opening 9 games (and I haven't included the EL games) and Koeman's disposition led to the inevitable decision that his position had become 'untenable'.
Like many, as I've said, I had a genuine desire to see Unsworth succeed. Like I've also said, he didn't. Maybe if the board had appointed him as full time manager, rather than merely caretaker, he could have carried more authority and got more from the team.
The appointment of Sam Allardyce has been made and - as I also clearly referenced in my previous post that you seem to be challenging - he and his coaching team have immediately and successfully addressed the core issue: make as more resilient defensively and stop conceding goals.
I was replying specifically to Steve Ferns claim that "things were turning around before Sam arrived."
You and I clearly thought otherwise. Unlike you, I genuinely believed with the fixtures to come we would - and have - rapidly climb away from the wrong end of the table.
The rest, as you yourself say, is all very speculative.
As for my 'split results' data, we are 1 game shy of completing half a season, so they accurately reflect how we have performed against every other team in the league (apart from WBA - we haven't played them yet), so IMO they constitute legitimate data as we approach half time in the season.
John Keating
241
Posted 20/12/2017 at 14:26:36
Thanks Jay.
Yes I was only looking at things up to the West Ham game. There was nobody really below us - I think we were about 18th at the time ? We were abysmal to put it mildly.
Confidence and strategy was nil and to be honest regardless of the opposition I just couldn't see where the next point was coming from. We certainly showed no sign up to West ham of turning anything around, in my opinion.
I remember coming out the ground after the West Ham game and just wondering where that result had come from. Had that shot gone in and not hit the bar or the pen gone in it could have been curtains.
As we agree it's a moot point about a relegation battle or not as we will, hopefully, never know.
Tony Abrahams
242
Posted 20/12/2017 at 14:29:49
I think back to when Walter Smith, had Steve Watson, playing upfront Paul A, or when Kendall, used 3/4 right backs, and it was still the most isolated position on the pitch?
I would like to see Vlasic, Lookman, or Bolasie, play out wide, and I would like to see Sigurdsson play more central, and then I think our midfield will become so much better overnight.
I'm aware of how bad it was when Big Sam came in, and I'm aware that our defence still needs overly covering, because of how poor it had been, but I've seen much worse squads, and although you rightly point out it's deficiencies, look at some of our most recent goals, and you will have to agree that only footballers with genuine quality could have scored them.
Paul Tran
243
Posted 20/12/2017 at 14:48:00
John #235 & Jay #240
Thanks for the name check Jay. If I'd done your statistical analysis I'd have lumped on more (if they'd let me!).
My take was that we have a decent squad that needs a left back and striker. Problem was that the players looked unfit, didn't know what they were meant to be doing and did it slowly. That's why Koeman had to go. On that basis, I thought that as soon as we got a manager that could communicate and organise, we'd climb the table.
There's a tendency on here for some to swing from one extreme to another and miss the big picture. A badly performing manager doesn't make good players poor players. Football is a simple game best kept simple. Only an elite few managers can make it complicated and articulate what they want. Our last two managers palpably couldn't. We now have one with a track record in communication and simplicity for whom the job is a step up. That's why we're on the way up for now.
Let's see if he can take us where we want.
Gerry Quinn
244
Posted 20/12/2017 at 14:50:24
HAPPY BIRTHDAY, EVERTON...
On this day, 138 years ago, Everton Football Club played their first ever game.
It was a good start as well, a 6-0 win over St Peter's in fact, as the Everton players had to adopt a Sunday League-approach of carrying the goalposts, and marking out the lines.

Gerry Quinn
245
Posted 20/12/2017 at 14:51:00
John G Davies
246
Posted 20/12/2017 at 15:00:22
Just away from the topic for a minute.
I had to post this one to show the obvious intelligence on show.
The loon who has been gaoled for kicking Sterling outside the trading ground verballed him with the following pearler.
"I hope your mum and child wake up dead"
😂😂😂😂
Stan Schofield
247
Posted 20/12/2017 at 15:02:54
John, he's obviously been watching too many vampire films.
Seamus McCrudden
248
Posted 20/12/2017 at 15:15:32
An acute case of zombieapocalypseitis
Paul A Smith
249
Posted 20/12/2017 at 15:40:19
Tony, not having a go mate I know we had Watson up front. We had Radzinski with him there too. He was lightening. Not one player this season has shown lightening speed bar Calvert Lewin who still is learning his trade.
I have seen some awful sides like yourself. I don't see more ability in this side as some of the other worse ones and in this day and age we lack all the ingredients to do anything dangerous against the best sides.
In all them bad sides we have spoke of, we could still go to good sides places and beat them.
Steve Ferns
250
Posted 20/12/2017 at 16:29:52
To answer various people above, yes things were turning around. You can keep lambasting Unsworth's reign all you like, but to use the 5-1 Atalanta game is deeply unfair. I was one of the very much less than 17,000 who reportedly turned up. So the game meant something to me, but I couldn't blame the club (because I don't for a second believe the board were not complicate) for the selection used, the fast that everyone stayed away told you that we knew such a second string team would be played and so it was. Despite a dreadful performance, which is to be expected where the away fans outnumbered the home fans, it was 2-1 with 5 minutes or so left.
If you look at the Unsworth league games, because that is all he can be rightly judged on, then we went LWDLW, and after a succession of defeats, it was very clear to me that things had bottomed out under Unsworth.
He lost to Leicester and Southampton, both of which were away. The latter were 8th last season and Leicester still have a very good team, defeats (but not the manner of them) are no great shame. Victories over West Ham and Watford at home. A draw with Palace away. Then he had a run of games that he was denied, the playoff team at home, the derby, a promoted team away, bottom of the league at home. Are you seriously telling me that you did not expect Unsworth to build on the 3 points against West Ham, and to add another 2 or 3 wins and to push us up the table more.
As Jay's stats show, a lot of our worst moments this season played out because of the hand the fixture list computer dealt us.
No one is arguing that Allardyce hasn't got good results, they are certainly a point better than I think we could have realistically hoped for. But let's not dismiss Unsworth role or say that Allarduce came in and waved a magic wand. Unsworth had bottomed us out, and turned us around, and Allardyce's job was far easier than anyone was expecting. He even said so himself.
Paul A Smith
251
Posted 20/12/2017 at 16:35:11
Love your twist on the Unsworth situation Steve. Lambasting.
I won't use Atalanta as an example. Lyon was bad enough. Southampton awful and the Palace Leicester games no good either.
Steve Ferns
252
Posted 20/12/2017 at 16:48:33
Koeman:
W Stoke h
D Man City a
L Chelsea a
L Spurs h
L Man Utd a
L Burnley h
D Brighton a
L Arsenal h
sacked after 9 games with 5 points and in 18th place
Unsworth:
L Leicester a
W Watford h
D C. Palace a
L Southampton a
W West Ham h
tenure ends after 5 games, winning 7 points, and 13th place
So how on earth is that not turning things around?
Turning things around means that things are getting better, we won more points in almost half the games, we were 5 places higher in the league. Things had got better. It doesn't mean things were great. It doesn't mean that it would all be plain sailing from here on in. But the run of games that came next were ones were we were always expecting to pick up points.
Jay Wood
253
Posted 20/12/2017 at 16:50:00
Steve @ 250.
There were and are PLENTY of people who sympathized with Unsworth and the hand he was dealt. Even in this very thread.
So people are not lambasting him, just describing the cold hard facts as they interpret them.
To blithely dismiss the Atlanta and Southampton results as you attempt is to ignore what David Unsworth himself said about the two performances:
v Atlanta: "To concede the way we did and in the schoolboy manner we did was just not acceptable and the players know that wasn't acceptable.
"It takes a special type of player to have the guts to get on the ball at Goodison Park. There was no pressure on the game tonight and it was an opportunity for players who haven't been playing to stake a claim. But when we concede and lose the game in the manner we did, they can't complain when they're not in the team."
v Southampton: "I am absolutely gutted. The second-half performance from all our team was unacceptable. I'm sorry for all the Everton fans who came down here and all the ones who were watching as well.
"We can't keep performing like this, it's just not good enough."
Note in particular that last quoted sentence.
The man himself clearly did not consider that 'things were turning around' as you continue to insist.
Steve Ferns
254
Posted 20/12/2017 at 16:52:03
The facts speak for themselves Jay.
LLLDL to LWDLW is an improvement and ergo getting better.
Jay Wood
255
Posted 20/12/2017 at 16:55:34
So you wish to deny and refuse to acknowledgement the words of David Unsworth himself about the team performances?
Fair enough. Carry on.
Michael Kenrick
Editorial Team
256
Posted 20/12/2017 at 17:01:02
Tony Abrahams
He's going to be here for another 17 months. Please can you at least try to get his name right?
It's Allardyce (two 'A's)... NOT 'Allerdyce' as you keep typing it (and I keep correcting it).
Thanks!!!!
Steve Ferns
257
Posted 20/12/2017 at 17:06:09
Were things worse under Unsworth than Koeman, despite those 7 points in 5 games and shooting 5 places higher in the league?
Brent Stephens
258
Posted 20/12/2017 at 17:06:09
"Deulofeu" must have kept you busy, Michael!
As I did when, as you'll remember, I inadvertently referred to you as Michael Kenwright!! It was an honest error but I should have been banned for that – what an insult!!
Steve Ferns
259
Posted 20/12/2017 at 17:07:38
Michael, can we also have the correct name for Ramiro Funes Mori as well then, please? 'Funes' is the most important name of the three, and the only one he will pass on to his children. 'Mori' is his mother's maiden name.
Paul A Smith
260
Posted 20/12/2017 at 17:10:13
Steve you mean turning things around from Koeman's results? Allardyce is turning Unsworth's reign around then? Draw that game sequence again. This time for Unsworth and then Allardyce.
In theory, what we all suspected is probably true? You don't want to like Allardyce and never will as you said so your basically saying Unsworth set up our recent run of results?
You could also put into the argument the opponents we had under Koeman compared to the other 2. Like I said I hold nothing against Unsworth. Performances were nowhere near what they have been since Unsworth moved. Nowhere near it.
Jim Harrison
262
Posted 20/12/2017 at 17:14:20
Steve Ferns (#252),
Look at the fixtures you posted, mate.
Rhino got it easy comparatively and didn't shower himself in glory. Not his time.
Big Sam has given the team a bounce. How long it lasts is yet to be seen, but if we had continued with Unsworth, I think we would have struggled for the rest of the season.
Bill Watson
263
Posted 20/12/2017 at 17:19:10
Steve: I've been a Blue, hone and away since 1958 so have seen the good and the bad in both managers and teams. I was at Southampton, Leicester and Crystal Palace away plus all the homes.
It wasn't just the defeats that were concerning, it was the manner of the defeats. The complete lack of team organisation and fight was the worst I've ever seen and we were in free-fall, without a parachute.
Initially, I wanted Unsworth to get the job but as time went on it became clear he wasn't the man. Although he installed a bit more effort into the side he, patently, failed to address the defensive shambles he inherited.
Make no mistake: we were nailed on relegation fodder. Even if we lose the next few games I'm pretty sure we'll finish halfway, or higher. I certainly couldn't have said that after the Southampton game!

Jay Wood
265
Posted 20/12/2017 at 17:25:46
Steve, over all 18 PL games this season Everton has conceded 30 goals.
Ten goals - 33.33333% of the overall total - were conceded in just 4 games - 22.22222% of our total PL games - on David Unsworth's watch.
And that's without including a further 10 goals conceded in the 3 cup games against Chelsea, Lyon and Atlanta under David.
In his 5 games to date, including the 3-0 win in Cyprus, Sam Allardyce's Everton has conceded just 2 goals.
THAT is addressing and turning around the key problem Everton has faced all season, both under Koeman and Unsworth.
Brian Williams
266
Posted 20/12/2017 at 17:27:27
Deulofeu? Ffs some can't even spell Barkley's name!
"Barclay" is the favourite wrong 'un.
Michael Williams
267
Posted 20/12/2017 at 17:28:05
Please please please. I think we all agree Unsworth did a good job getting players to play harder and improved the team. I think we can all agree SA has done a good job as well. I suggest we thank Unsworth for a job done under trying circumstances and support Allardyce as it's now his turn.
David Israel
268
Posted 20/12/2017 at 17:28:36
Brent #258, I'm told by a friend in Barcelona that Deulofeu means 'God made him' in Catalan!
David Barks
269
Posted 20/12/2017 at 17:32:12
Why are we still freaking debating the merits of Unsworth as manager. He's gone, no longer involved. Sam is here for the remainder of this season and next. There is a reason Unsworth wasn't given the job, he wasn't good enough. Nobody outside some people on this forum and other Everton forums thought he was qualified.
Before the Southampton game, we were still getting demolished. The relegation fears were real, and they were being shouted all over the media in England as well as in the US. It was clear to all unbiased, objective observers that the club needed to act and act quickly to get the permanent manager in. It was then quickly reported that Sam was in negotiations, and then he was present in the Director's box for the West Ham game.
Up until that match with West Ham, we had accumulated a whopping 4 points under Unsworth. We were leaking goals like we were the Titanic. Then the new manager is in the stadium the players see the man that they will need to impress going forward, and suddenly they give their best performance against a club that had also just changed managers. It was no coincidence that there was a response as the new permanent manager was named.
You want to give Unsworth credit for that West Ham match and ignore the impact of the new manager being in the stadium and watching, fine. I don't care. All I ask is to please move on from talking about David F'ing Unsworth as manager because it didn't happen and isn't going to happen.
Michael Kenrick
270
Posted 20/12/2017 at 17:35:21
Really? This again???
Can we not just say things under Koeman were increasingly poor.
Things were mixed under Unsworth – good, to shockingly poor... ending with really good again (that last one with an unquantifiable Allardyce factor thrown in).
Since Allardyce took his first game, things have been increasingly better in terms of results... brilliant, in fact – although poor to (at best) mixed in terms performances, Swansea first half being one of the worst.
So it's up and down... it's a roller-coaster. It's football!!!
No need for this annoying point-scoring nonsense, please!!!
Henrik Lyngsie
271
Posted 20/12/2017 at 17:38:35
Steve 252 and 254.
I like to analyze it against what I would define as expected points. I would take the liberty to define us as the 7th best team in the Premier League.
I would expect us to win at home against the 13 non-Sky 6 clubs and draw at home to the SKY 6 clubs.
Then I would expect to draw away to the 13 non SKY 6 and loose away to the 6. That would give 58 points which is normally 7.
If you want to compare results this way you can factor in the strength of the opponents. And I think we can all agree that we had a very difficult sequence of matches early on.
If you then compare Koeman's 9 matches with Unsworth's 5 matches. You will see that Koeman in 9 matches was 3 point short of expected. While Unsworth in 5 matches was 2 point short of expected.
Looking at the expected points tally when Allardyce was appointed we were only 5 short of the expected. With that angle I thought it was a bit panic reaction to talk about relegation battle.
But when we look at our performances and the way we surrendered then I could see why Koeman had to go. We were really awful in our losses and lucky winning against Stoke and Bournemouth.
Expected point wise Unsworth and Koeman were comparable. I am afraid that our performances (off course this is subjective) did not improve much under Unsworth. Lucky win against Watford and somehow a little hope. But the way we again surrendered against Southampton was again unacceptable like the Arsenal, Spurs, Chelsea etc games under Koeman. Credit to Unsworth for kick-starting our good run of results with a win against West Ham.
At that time I thought we were a bit lucky against West Ham and did not play very well. Moreover it was like Unsworth did not have a plan, and it was like preseason with trying different players and tactics.
It was an ungrateful job for Unsworth but I don't think he did much better than Koeman. I thought it was good he was replaced. However, like many others I did not want Allardyce. But his results are accepted. (And he is on plus 3 compared to expected results)
Tony Abrahams
272
Posted 20/12/2017 at 17:39:30
Agree to disagree Paul A, I think the biggest thing is Ability, then comes attitude. I'm just glad our new manager has changed the attitude. We have seen some shite over the years, but up until Big SAM came, I'd never seen an Everton team play, with such little heart?
Michael, our new manager has took that much stick, that I was just trying to put an "E" in his name mate. Sorry for my deliberate mistake! but surely he's going to be here longer than Ronald?
Steve Ferns
274
Posted 20/12/2017 at 17:45:08
It's all sprung up because people seem to want to argue a point that was not made. Most arguing with me seem to be acknowledging things did get better and seem to be trying to argue I was saying it's all credit to Unsworth and not Allardyce. Unsworth turned things around, that's a fact. And Allardyce has built upon it by beating two promoted sides and the bottom of the league.
Jason Wilkinson
275
Posted 20/12/2017 at 17:52:48
Sod off with this expected points per game nonsense. I expect us to compete 11 v 11. We might not be able to beat Man City etc. by playing pretty attacking football but there are ways. West Ham and Huddersfield gave them a good go and we should be hammering both of them.
We have some very expensive recruits who have played Premier League football. If. and for me it's a big if. They need to be organised to play as a team then there is something very wrong with their mind set. Under Koeman and Saints away you would think half of them had never met each other.
The only thing Sam should have to do is pick the best 11 and kick them round the dressing room when they play a first half like they did against Swansea.
I expect 100% every game from every player. Sadly this has not been the case all season.
Brent Stephens
276
Posted 20/12/2017 at 17:56:31
David #268 - God didn't finish his work properly, then!
Jay Wood
277
Posted 20/12/2017 at 17:56:48
No Steve. I'm not allowing you that cop out.
From what I read people are not disputing your stated position over mere semantics.
They are disputing your interpretation of game data and actual performances, some with supporting evidence to counter your claims.
That includes an evaluation of the situation pre- and post-Unsworth and on the man's watch itself.
As David Barks says, Rhino has gone. Sam is the man.
Accept it.
Michael Kenrick
278
Posted 20/12/2017 at 18:00:14
For fucks sake... you're not gonna drop it, are you. Well I am!
John Daley
279
Posted 20/12/2017 at 18:10:04
Jay @253/255,
As an honest guy, Unsworth was always going to hold his hands up when a team under his charge produced pish performances, as they surely did in more games than the two you pinpoint. Yet, his final assessment of his interim spell in charge shows that Unsworth (for what it's worth) did feel he ultimately improved the situation he was saddled with, albeit not drastically or swiftly enough for many supporters or the board.
"I took over when we were in the bottom three and we've managed to get out of that over the period of six weeks so I'm satisfied."
That's what it boils down to really. We were in deep shit before his first game and slightly less shit after his final game in charge.
However haphazard, horrendous or hole tightening the performances, however patchy or slight any positive signs, Unsworth did still manage to pick up enough points to push the team a few places up the table and provide the bloke coming in with a little bit of breathing space.
Not a roaring success by any means, but certainly a less rancid baton to pass on than the one Ron had left protruding out of a surrender monkey's arse six weeks earlier.
So far, Allardyce has picked it up and ran with it and here's hoping he's got the legs to keep such momentum going over the coming months. He certainly wouldn't have been my choice for Everton manager, but credit where it's due he's done about as well as anybody could have expected thus far and we're looking a much tougher proposition to take points off as a result.
Eddie Dunn
280
Posted 20/12/2017 at 18:15:00
A few weeks ago I was playing my regular 6-a-side, with the usual mixed bunch, and one of the guys (a rather clumsy lump ) started running around like a man possessed, taking the free kicks (he is useless at them) and putting in some big tackles...
The reason... his wife was watching up on the balcony! (Not even his new manager!)
Add Your Comments
In order to post a comment, you need to be logged in as a registered user of the site.
Or Sign up as a ToffeeWeb Member — it's free, takes just a few minutes and will allow you to post your comments on articles and Talking Points submissions across the site.