Allardyce full of admiration for 'unstoppable' City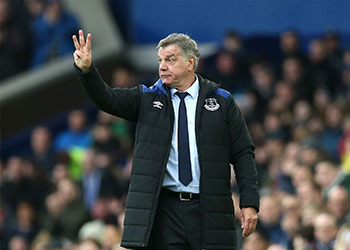 Sam Allardyce pointed to Manchester City's overwhelming superiority and his team's avoidance of a massacre in the wake of Everton's 3-1 defeat to the Champions-elect at Goodison Park this afternoon.
Pep Guardiola's team and their inexorable drive towards reclaiming the title meant that the Blues were no match for them as they ran out 3-1 winners, although the Premier League record 82.13% possession for an away team has not sat well with Evertonians, even if few expected a home win.
It's the second time that Everton under Allardyce have set a new low for possession statistics this season for the Premier League era — the first occasion was against next Saturday's opponents, Liverpool, in the Merseyside derby last December — but the manager took heart from the fact that his team didn't fold further at 3-0 and "won the second half."
"You have to admire a top-quality team when, particularly in the first half, they're too good for you," Allardyce said. "As hard as the lads tried to cope with the quality they've got, it wasn't something we could cope with.
"At certain points in the game where we tried to open up, they've scored the third goal but the real turning point of the game — and who knows what might have been; we might not have got any more out of it] — was when we should have gone to 1-1 and within a minute they've gone 2-0 up.
"So that was a massive turning point for us and then it made life very difficult when they scored the third on the counter-attack.
"In the second half we fought, we battled, we tried, scored a goal and we tried to go right to the very end to get more out of the game.
"But you've got to admire the opposition — all 11 players are fantastic in that system and that's why they are so far ahead in the Premier League. We knew it was going to be very difficult and that's exactly what it was, especially in the first half.
"The trouble in the first half was that three or four of the front line would go and the lads at the back and the midfield in front of them and wouldn't react to what they were doing," the manager continued, referencing his player's inability in his eyes to press or drop off together as a unit.
"If you do that against Man City… we all know they have the quality to play around you and through you brilliantly. But they can do anything; they're that good.
"Today we tried our best but [because of injuries] we hadn't got a lot of midfield players to choose from. Morgan is probably the only midfield player we had today but, in the end, we did as much as we could and it wasn't enough.
"We won the second half," Allardyce said in a separate interview for evertontv. "It's no consolation to everybody but on the basis of what happened in the first half, we didn't want it to become four or five or six."
---
---