Allardyce: Lack of public backing has fuelled speculation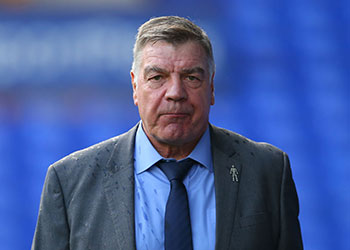 Sam Allardyce admits that persistent talk about his future at Everton could have been lessened by a definitive statement of support from the club's hierarchy.
The manager has faced routine questions about his standing at the club in recent weeks amid the increasing clamour among Blues fans for him to be moved on this summer now that his initial remit of keeping Everton away from relegation danger has been fulfilled.
He insisted just a fortnight ago that he had received the clarity he sought over his future from the club's major shareholder, Farhad Moshiri, after a meeting in London but in the wake of further questions following Saturday's poor performance against Southampton, Allardyce indicated that he would have benefitted from public backing.
"It would have helped, yes," the 63-year-old said, "but I can't control the board, I can't control what they say.
"They are my bosses, so I can't be dictating and telling them what they should or should not do obviously, but that has fuelled more speculation. I think results speak for themselves personally.
"You know, at the end of the day it is where it is."
Allardyce was appointed as Ronald Koeman's successor at the end of November last year when he took the reins from interim boss, David Unsworth on an 18-month deal. Moshiri spoke about him in glowing terms around the time of the Annual General Meeting in January but the naturally media-shy Monaco-based businessman has said little publicly on any topic since.
The length of his initial contract suggested that Moshiri and the Everton board might have had a short-term time horizon when they hired the Premier League's renowned "firefighter" and there has been plenty of media speculation over the past few weeks that the Blues could move to replace Allardyce with a longer-term candidate capable of rebuilding and reshaping the team over the next few years.
Marco Silva, the man originally targeted to succeed Koeman before Watford refused to let him go, remains the subject of newspaper chatter, as does his compatriot Paulo Fonseca whom Everton also approached last autumn. Other more up-and-coming managers also crop up in the various press stories, including the likes of Mikel Arteta and Patrick Vieira.
---
---