Allardyce insists Rooney has not asked to leave Everton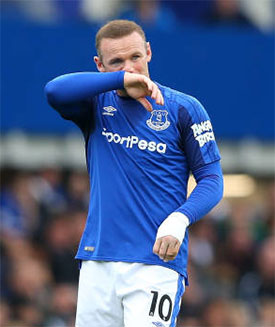 Wayne Rooney is the subject of reports linking him with a summer move to MLS club DC United
Sam Allardyce says he was due to speak to Wayne Rooney today to get clarity on the player's future after DC United's manager confirmed his interest in the 32-year-old.
Allardyce said he would be comfortable with any player leaving Everton this summer if that is what they wanted but he was adamant that, as far as he knows, Rooney has not told the club he wants to move to Major League Soccer in the United States.
Ben Olsen, head coach at the MLS club, told TMZ: "The deal is not done but there is some interest from our end."
Rooney was seen leaving the Blues' Finch Farm training complex shortly after the conclusion of Allardyce's pre-match press conference amid reports he has not recovered from the knee problem that kept him out of last weekend's draw with Southampton.
Allardyce, for his part, had told the media that Rooney was fit and training so had a chance of being passed fit to play this weekend but it is now claimed he will undergo treatment on his knee and won't figure in Sunday's game at West Ham.
"My understanding is there have been some negotiation somewhere along the line but as to whether there is clarity in whether Wayne is leaving or staying, I'll find out more today," Allardyce said in what was an increasingly testy exchange.
"I don't get involved in transfer negotiations in or out. All I know is that there appears to be interest from DC United but where that is and where that lies and where Wayne lies with it I can't tell you at the moment.
"Only after I've spoken to him today will I find out where the situation actually lies.
"If the player wants to go, if any player wants to leave I'm always comfortable with it. Or if any player doesn't want to leave.
"But let's get this right: Wayne Rooney has not asked to leave and. neither has he had a confrontation with me. And we've not been in any difficult situations since the time I've been here, because we're two adults and we talk."
Allardyce was probed further on the issue later in his presser, specifically about whether he would try and persuade Rooney to stay at Everton but refused to answer any further questions on the player's future.
"I've answered five, six questions on Wayne," he told his questioner, "and you've just asked it in a different way. I can't say anything more about Wayne than I've already said. I can't be tripped into saying something different to what I've already answered.
"I don't want to create the headline, 'Sams says Wayne can leave if he wants to go', It's 'Any player can leave if they want to leave', in my opinion. Whether they can or they can't is another matter.
---
---