Allardyce insists Rooney has not asked to leave Everton
Friday, 11 May, 2018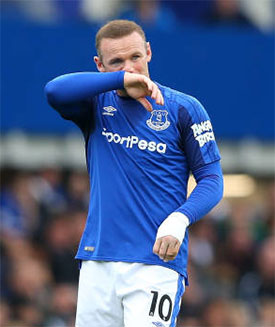 Wayne Rooney is the subject of reports linking him with a summer move to MLS club DC United
Sam Allardyce says he was due to speak to Wayne Rooney today to get clarity on the player's future after DC United's manager confirmed his interest in the 32-year-old.
Allardyce said he would be comfortable with any player leaving Everton this summer if that is what they wanted but he was adamant that, as far as he knows, Rooney has not told the club he wants to move to Major League Soccer in the United States.
Ben Olsen, head coach at the MLS club, told TMZ: "The deal is not done but there is some interest from our end."
Rooney was seen leaving the Blues' Finch Farm training complex shortly after the conclusion of Allardyce's pre-match press conference amid reports he has not recovered from the knee problem that kept him out of last weekend's draw with Southampton.
Allardyce, for his part, had told the media that Rooney was fit and training so had a chance of being passed fit to play this weekend but it is now claimed he will undergo treatment on his knee and won't figure in Sunday's game at West Ham.
"My understanding is there have been some negotiation somewhere along the line but as to whether there is clarity in whether Wayne is leaving or staying, I'll find out more today," Allardyce said in what was an increasingly testy exchange.
"I don't get involved in transfer negotiations in or out. All I know is that there appears to be interest from DC United but where that is and where that lies and where Wayne lies with it I can't tell you at the moment.
"Only after I've spoken to him today will I find out where the situation actually lies.
"If the player wants to go, if any player wants to leave I'm always comfortable with it. Or if any player doesn't want to leave.
"But let's get this right: Wayne Rooney has not asked to leave and. neither has he had a confrontation with me. And we've not been in any difficult situations since the time I've been here, because we're two adults and we talk."
Allardyce was probed further on the issue later in his presser, specifically about whether he would try and persuade Rooney to stay at Everton but refused to answer any further questions on the player's future.
"I've answered five, six questions on Wayne," he told his questioner, "and you've just asked it in a different way. I can't say anything more about Wayne than I've already said. I can't be tripped into saying something different to what I've already answered.
"I don't want to create the headline, 'Sams says Wayne can leave if he wants to go', It's 'Any player can leave if they want to leave', in my opinion. Whether they can or they can't is another matter.
---
Reader Comments (52)
Note: the following content is not moderated or vetted by the site owners at the time of submission. Comments are the responsibility of the poster. Disclaimer
Ian Jones
1
Posted 11/05/2018 at 14:55:47
Glad that's all cleared up. I like a bit of clarity or not!
Phil Walling
2
Posted 11/05/2018 at 15:11:10
Looks like Sam is being' kept out of the loop' !
Brian Williams
3
Posted 11/05/2018 at 15:11:26
It's very clear that nothing is clear.
Jerome Shields
4
Posted 11/05/2018 at 15:19:20
Rooney is looking after his own interests. If he gets an offer he will be gone.
Kevin Tully
5
Posted 11/05/2018 at 15:27:43
Let's just hope Moshiri has put Kenwright in his place and has told the relevant parties that he is up for sale. His fee and wages will pay for a world-class manager for the next three years.
I know what I would do if I were calling the shots. There would be a first-class ticket in Wayne's locker if he wasn't taking the hint. It suits Rooney to be here, as no other club with ambition would have gone near him. When will we stop being a retirement home for Man Utd cast-offs? They've had our kecks down for the past 20 years. No more, please.
Steve Ferns
6
Posted 11/05/2018 at 15:37:31
I like Wayne. I still think he has something to offer. I think the manager has not helped him. He should never be left in a two, where the other player is Schneiderlin. If he's in a three with Gueye and Davies and told to take it easy in defence and to try to get on the ball and make things happen.
That said, £150k a week could be better spent and £12m could go a long way to paying for a better player.
James Flynn
7
Posted 11/05/2018 at 16:16:36
Which comments re-enforce my opinion that the Club is making moves with Sam on the outside looking in just like the rest of us. Another indicator that he's gone.
That the manager would not be in on negotiations, Ok. That's not the manager's or business.
But Sam's comments since the Rooney-move rumours gathered steam, shows he knows no more than we do. Because the Club sees it as player comings and goings is no longer any business of his.
I'll guess we'll have the Brands/Silva combo announced.
Kenny Smith
8
Posted 11/05/2018 at 16:27:45
Allardyce insists Rooney has not asked to leave Everton . Hope he asked you to leave though Sam !
Pat Kelly
9
Posted 11/05/2018 at 16:47:34
Looks to me like Rooney has thrown his toys out of the pram. Thinks he's too good to be dropped or substituted by Allardyce. The "injury" is a convenient excuse for Rooney who seems to have decided he's not going to play again for Allardyce. The fact is neither of them are good enough for Everton and the sooner the powers that be recognise that the better.
Kunal Desai
10
Posted 11/05/2018 at 16:59:18
Moshiri in now accountable. I expect him to clarify the situation surrounding both the manager and Rooney after sundays game if not then early next week. Time for Moshiri make his stand.
Derek Turner
11
Posted 11/05/2018 at 17:03:35
Allardyce insists that only a few fans don't like him, that he has plans for next season, that he is responsible for all wins, including West Ham, that a point against Swansea is a good result and that the players are to blame for all losses. Allardyce insists Rooney is an Adult and that they talk, except about him leaving, obviously.
Alan J Thompson
12
Posted 11/05/2018 at 17:09:48
Why would Allardyce be involved or is it just self deception? Whatever, he hasn't yet been told and he's trying to make out that it means he's staying. Roll on the World Cup.
Liam Reilly
13
Posted 11/05/2018 at 17:18:23
See Sam is telling us that he"s already got next season's plans sorted (no doubt for his assault on 8th place).
Can someone please escort this buffoon out of our club?
Anthony Hawkins
14
Posted 11/05/2018 at 17:21:59
Allardyce is simply trying to manage a situation he has zero control over. It is quite possible Rooney hasn't requested a transfer but he's clearly been given the go-ahead to speak to another club!! Sam's clueless and trying to indicate he's in control when quite clearly he is not.
My preference is for Rooney to retire at another club. He's been a willing servant and was amazing whilst he was here (the first time) but his time has come.
The club needs to be moving forward and that's without Rooney plus others.
Darren Murphy
15
Posted 11/05/2018 at 17:44:15
We (or most of us) would like you to jog on, though. Delusional.
Joe O'Brien
16
Posted 11/05/2018 at 17:53:30
If any player wants to leave, I'm comfortable with that! Unbelievable statement. I think Sam has just realised that the players along with the supporters don't want/rate him. Roll on next week. Please God let him be gone.
Darren Murphy
17
Posted 11/05/2018 at 18:00:06
What Fat jobber meant was, he'll buy Deeney and bring Kevin Davies out of retirement, then play a 9-1 with Davies playing solo up top and Deeney on the bench. That's his mentality. @ Joe, I pray as others like me do mate. STH can do one otherwise all the way from London every week. Maybe I'm the mad one lol.
Mike Allison
18
Posted 11/05/2018 at 18:52:51
Rooney is waiting to see who the manager will be, then he'll have to wait and see if that manager will want him.
I've seen some reports (of unknown veracity) that Wayne doesn't want to play for Allardyce. A new manager might want to introduce a high tempo pressing game that Rooney wouldn't be capable of. So there are different scenarios in which he would leave, but also one where he would stay, namely that a new manager is appointed quickly and equally quickly makes it known that he wants Rooney involved.
Neil Cox
19
Posted 11/05/2018 at 18:56:57
It's a farce. The club isn't drifting when it needs decisive management from a forward looking board. We haven't got that unless there's plans afoot .
Chad Schofield
20
Posted 11/05/2018 at 19:13:00
"If you accumulate all those goals as to where you need to finish goals-wise for the top six, that's the challenge.
"You have to address that one first, then across the board, probably a midfield player for me and then another defender. And if they were three high quality players for me that would be enough to make Everton challenge higher up next season."
So for £6M his plan is:
- A defender (no mention whether CB, RB, LB)
- A midfielder (regardless of type)
- A number 9
He might as well just start with an Englishman, a Scotsman and Irishman.
Andy Meighan
21
Posted 11/05/2018 at 19:24:31
Rooney needs legs around him... ie, pace. We must be one of the most pedestrian sides in the Premier League and, while Allardyce is in charge, we will continue to be so.
Maybe if a new coach comes in he may identify that problem and, if he does, Rooney might still have a part to play. He's not going to alter his game or adapt while he's got Schneiderlin, Sigurrdson etc playing alongside him
Anyway, as someone earlier said, he looks like he's thrown the dummies out and won't play for him again.
Kim Vivian
22
Posted 11/05/2018 at 19:37:34
First off, as anyone who has read any of my posts knows - I want him gone.
But y'know, I really do think he wants to try and make a fist of it but simply doesn't quite know how. He is good at what he does but not at what most clubs (fans) aspire to.
I think he realises this is his biggest (bar England) job to date and isn't deliberately being the cock he comes across as. He just doesn't know better.
I also think he would have been a good England manager but he seems to have a self destruct button which he presses too easily. I'm confident the waters will clear considerably in the next 7 days (for better or worse) and we will see what the future holds.
I'm seriously hoping not to waste another year of my life.
Paul Birmingham
23
Posted 11/05/2018 at 19:57:37
Hopefully by Sunday night, the club will have the guts to confirm their plans for the future, so we can all move on.
This despicable lack of ownership and responsibility by the board, these past 30 years, surely must rank as the lowest point in the club's history.
We live in hope.
Paul Tran
24
Posted 11/05/2018 at 20:08:38
Well, he hasn't mentioned it to Sam
The bombast has gone, now he's coming across as a bitter man consigned to his fate.
Strap yourselves in folks, from Sunday evening it's going to be an interesting ride!
Eric Paul
25
Posted 11/05/2018 at 20:33:09
Allardyce isn't delusional, it's what he does; when he knows he's out, he starts to talk about next season's planning to wind the fans up who he knows wants him out. He's already gone.
Tony Abrahams
26
Posted 11/05/2018 at 20:34:53
I've heard today that he's going to America regardless, and Steve Fearns is going to be delighted because Silva is going to be our next manager!
It came from a very good source, much better than the one who told me that Allardyce is getting a £4 mill pay-off and taking over from poor Darren Moore at West Brom.
Mike Berry
27
Posted 11/05/2018 at 20:35:15
First half of season he was worth his place. In the second no. Example was the derby match: when Rooney was on, we had no energy; after he went, we improved so much – we should have won!
Stephen Bird
28
Posted 11/05/2018 at 20:39:00
Let's get it right. Rooney has played regular top-level football since the age of 16. He has served his clubs and country fantastically... but now, due to his mileage, at 32 has the legs of a 37-year-old.
He had a dream to return to his first love and, as in real life, it hasn't quite been what all parties had hoped.
I like the guy, I believe in his desire to do well for us... but take the money and progress.
Sam Hoare
29
Posted 11/05/2018 at 20:46:58
Tony @26, hope you're right on both counts.
Silva in charge. Brands as Director of Football. Lookman back in the team. A younger, faster, fitter team who play decent football. Sounds good to me.
Eric Paul
30
Posted 11/05/2018 at 20:47:30
Stephen,
You are right — he's played top-flight football for half his life but he has served only one club fantastically and the reason for his 37-year-old legs is his lifestyle, not football.
Jay Harris
31
Posted 11/05/2018 at 21:02:03
I think its a bit of both Eric but it does prove that health and lifestyle are so important to a players career as evidenced by Gareth Barry and dare I say it James Milner.
In Waynes case I think it has dulled his thinking too. I sometimes think he is drunk on the pitch with some of the passes straight to the opposition
James Flynn
32
Posted 11/05/2018 at 21:47:19
Eric (30) - Nonsense.
He played in high-pressure games, in a club after multiple trophies every season, game after game, year after year. If Wayne stayed here, Fergy would have got another talented player. He always did.
He would NOT have gotten another Wayne Rooney A brilliant, all-action player, attacking and defending, who finally ran his legs out from under himself a couple years ago.
Gascoigne, Best? Two brilliant players whose lifestyle cut short their top-league careers. Rooney is a tee-teetotaler compared to them.
It's "his lifestyle, not football"? Nonsense.
Tony Williams
33
Posted 11/05/2018 at 21:52:31
You all seem to think that Tony (#26) is right. I hope he is, if he is I owe him a pint for making me sleep a bit better tonight.
Ever Blue
Ever True
EVERTON
Peter Lee
34
Posted 11/05/2018 at 21:58:35
Chad, we needed those three buys last year, they needed to be quality. We got quantity and overpaid for some of those.
It will take time to assemble a team capable of challenging top six, never mind top four, but we can only do it a couple of quality pieces at a time.
Eric Paul
35
Posted 11/05/2018 at 22:14:52
James,
I have to agree on one point that Rooney gave his all for one club but so did Giggs who played till he was 40.
But as a smoker, he was never going to play much past 30.... and as for getting caught drink driving in the early hours with another woman during an international break when he should have been resting... yeah, real teetotal. Drink driving is where the comparison with Best ends.
Andy Meighan
36
Posted 11/05/2018 at 22:20:31
Tony (#26),
Ah yes... that old chestnut 'a good source'. The city is full of rumour-mongers or people who claim to know him or him... The truth is none of us (us on here anyway) know what's going to happen.
Go down County Road after any home game and you'll get about 15 different conflicting stories within 2 hours after the game has finished. You could well be right but the likelihood is you're not.
I was actually told today Allardyce is seeing his contract out. Like I said, rumours... I Wouldn't believe anything that comes out from that club until I actually see it with my own eyes.
Mike Galley
37
Posted 11/05/2018 at 22:37:37
I had mixed feelings about Wayne coming back last summer. I was very much of the opinion that he's here, let's back him. I personally felt he started reasonably well, but quickly fell off the pace. The drinking/arrest incident probably told us all we needed to know about Wayne's attitude to his profession.
I think it would be best for everyone involved if he moved on to the states or wherever. But, if we're are going to progress as a club, we need to stop these sentiment driven transfer policies.
Tony Everan
38
Posted 11/05/2018 at 22:48:37
Tony Abrahams (#26),
I desperately hope your man is right. Optimism and hope would be restored overnight. The new season would be one of opportunities.
More importantly it would be something to look forward to rather than dread.
Who knows what we could do with a couple of quality additions? Without the ball and chain of the Europa League, next season could see us top 6 and a cup.
Darryl Ritchie
39
Posted 11/05/2018 at 23:01:47
Whatever the reason, Rooney just doesn't have the legs to play top level anymore. Too bad. I was really hoping that he could last, at a top level, for another couple of seasons at least. Just another reason this season has pounded me into a near coma.
Hopefully, the powers that be (whoever that will be) can right the wrongs, and allow an apathetic fan base a glimmer of hope for a brighter future...but then again, the future's not what it used to be.
Keith Monaghan
40
Posted 11/05/2018 at 23:10:36
James @ 32 - you're the one talking utter garbage, not Eric @ 30.
Added to which, when Rooney was good enough to be a real player, he shafted us well and proper and couldn't get away form the club he loves so much quickly enough. He & his sicko mate Paul Stretford trying to fill their pockets with more easy dish whilst there's still a chance.
Loads of players contributed much more to this club after he left more than he will ever do - the only person on his list is his greedy self-centred self, with the morals of an alley-cat!
Dick Fearon
41
Posted 12/05/2018 at 01:11:55
Lets be honest about Lookman. He did in flashes no more than Besic, Delafeu and half dozen more. Perhaps he does need an extended run in the first team yet the same consideration would apply to the others.
The problem was our precarious league position. It did not allow the luxury of experiments. Despite his mistakes, it was non-stop hard work that earned Davies his place. The same cannot be said for the rest who tended to go missing for much of the time.

James Flynn
42
Posted 12/05/2018 at 01:48:12
Keith (40) - Oh boy! Haha. Lighten up junior.
I didn't call Eric's post "utter garbage" (whatever that is). He stated Rooney was washed up because of his lifestyle. Which I called "nonsense", which opinion correctly remains. Nonsense.
Completely away from Eric's post and my reply to his: You're still mad at Rooney because Kenwright was broke and dumped him for pocket money? All these years later, didn't realize there were still Evertonians dumb enough to blame Wayne for his departure?
Jerome Shields
43
Posted 12/05/2018 at 05:17:36
Beginning to think that Rooney's transfer was leaked by his agent to boost his profile, unlike his football prowess, after a very middling season. I hope the transfer goes through because I don't want to be thinking about a player who isn't fit to play in the Premier League before I decide at the end of the season to put in place my own personal ban to follow Everton's transfer sagas this summer. In my opinion the greatest unsatisfying waste of a summer possible.
Lee Brownlie
44
Posted 12/05/2018 at 06:07:52
Not surprised Wayne hasn't asked [Allardyce] to leave, as I'm pretty sure he doesn't really see him as his manager.. well not into the coming season, leastways..
Regardless of whether that means a new manager here for Rooney to consider the merits of, and hopefully to speak with, or another manager at his next club, still I'm sure Rooney's thinking 'Fuck Sam Allardyce'..
After all, who, hand on heart at Everton Football Club, isn't hoping for so much better of our coach?
Keith Monaghan
45
Posted 12/05/2018 at 09:16:57
James @42.
Get in the real world - the point is the reason for Rooney's demise over the last 4 years is HIS LIFESTYLE.
Totally unprofessional for a professional sportsman and a demonstration of self-inflicted body abuse.
Did you see David Silva's energy and movement against us recently? There's only 3 months difference in age between them. Compare also to the longevity of Gareth Barry and Giggs, guys, who whatever flaws they had, showed how to look after themselves to remain contributors at the top level of their sport for years longer than Rooney.
Also, compare to our Tim Cahill - a guy who really made the most of himself and served this club very well over several years. Compare his record, playing in an inferior team to England, in World Cup Finals to that of Rooney - Rooney's most memorable contribution was slagging off England fans when leaving the pitch after another poor performance!
Tony Abrahams
46
Posted 12/05/2018 at 11:54:26
I remember that Keith, the only time Rooney, was really ever fit for a World Cup, and his head was gone because he had that many injunctions with the press, because one of his infamous misdemeanors was about to come out?
I have heard the stories about Wayne, not possibly looking after himself as much has he could have done, but looking at all the examples you give, how many of those players were almost carrying their country to a major final at 17, almost singedly handed, before they got injured?
Rooney, has been a great, and has never shirked a challenge, he's always played on the front line, because he has got the heart of a lion. Maybe his lifestyle has contributed to his downfall, but not many players have been at the very, very top of the game, as much as Wayne Rooney.
David Johnson
47
Posted 12/05/2018 at 14:33:16
Rooney's transfer fee was our only transfer pot for almost the entirety of the Kenwright years. No wonder Bill loves him.
Darren Murphy
48
Posted 12/05/2018 at 17:26:40
@26 Tony... hahahahaa that cracked me up man, nice one.
Too many people on here bang on about the Sheedys and the like etc, reminder that the redshite are religious for it "history", it's the future ffs not the 80's . And some of you call the RS bitter lmfao, get a grip and go watch our games regularly like me and loads on here.
Darren Murphy
49
Posted 12/05/2018 at 17:33:01
@ Kim, just read that mate, fucking funny as fuck, you could be my twin lad. Love it. Even my daughter cracked up.
James Flynn
50
Posted 13/05/2018 at 00:22:26
Keith (45) - Ok. I try to avoid talking this way the last few years. But you leave me no choice with that post.
You're just fucking stupid. His "Lifestyle"? Here's his lifestyle: Wayne has played over 800 games for club and country. At 32-years old!
An all-out action, brilliant, TEAM player since he was a mid-teen. Didn't work his way up thru the lower leagues. Not him.
There's only one reason Wayne is where he is at 32-years old. He spent the entirety of his career, since a teen, playing 100s, 100s. and 100s of games giving every fiber of his being towards his team winning.
His legs simply gave out.
Don Alexander
51
Posted 14/05/2018 at 00:37:35
James (#50), he's been a phenomenally gifted footballer in a team stuffed to the gills and beyond with other phenomenally gifted players but unlike many of those raised in sunnier climes with way better diets and lifestyles than the likes of the Rooney family could ever provide him (through no fault of their own by the way) he really didn't help himself by boozing/smoking throughout his career and shagging, or maybe it only trying to shag, whilst Colleen was away. Stress does zilch for anyone's health and he'll have had plenty of stress, deservedly, off her. All of it, the booze, the fags, the diet, the stress, did nothing for his performance on the field, brilliant as it still was for United a few years back.
Ed Prytherch
52
Posted 14/05/2018 at 01:32:01
I don't agree with the "over the hill" at 32 sentiment. Linford Christie was Olympic champion at 32 and world champion at 33 and could have been Olympic champion at 36 but for a bull shit disqualification. Carlos Lopes was Olympic marathon champion at age 39. I believe that it is mainly mental. When John Walker was the first man to run under 3:50 for the mile he got a case of beer from the meet director. Wayne looks a little over- weight and he would most likely be better at the end of a game if he reduced his body fat and that is up to him. Maybe he needs to be motivated to adjust his life style. It is not too late.
Add Your Comments
In order to post a comment, you need to be logged in as a registered user of the site.
Or Sign up as a ToffeeWeb Member — it's free, takes just a few minutes and will allow you to post your comments on articles and Talking Points submissions across the site.