"Honoured" Brands relishing the challenge at Everton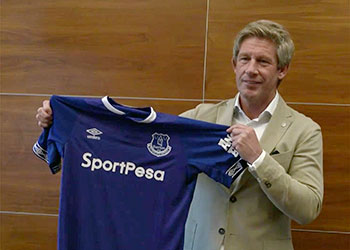 Marcel Brands has given his first interview since being appointed as Everton's new Director of Football and he spoke about his short-term objectives as well as a long-term plan he will institute at the club.
The highly-regarded Dutchman doesn't officially start his new role until 1st June but he is already involved in the hiring of a new manager with a modern approach and willingness to work with young players as a high priority and he took time to speak to evertontv about the honour of joining the Blues.
Brands, who describes himself as "a people manager" who believes "in a strong structure with people working together in an open and transparent atmosphere" arrives from PSV Eindhoven in his native Netherlands where he helped the club overturn Ajax's dominance of the Eredivisie with three league titles in the space of three years. He also oversaw a hugely successful recruitment process that Everton's board hope he can replicate on Merseyside.
"After eight years [at PSV] I've taken the decision to go to Everton, to the Premier League, and I think that is another step in my career at a very special club," Brands said. "There are a lot of things to do at the club but that's also a big challenge for me.
"It's an honour to be asked by a big club like Everton, in one of the biggest competitions, and I will do my best 24 hours a day in my new job.
"It's important for the club that we play football at the highest level with good players and, for me, the youth academy at the club is very important."
Having relieved Sam Allardyce of his duties as manager last week, Everton are searching for a long-term successor to Ronald Koeman who was sacked in October. Brands's arrival prior to any new appointment was seen as crucial and the 56-year-old is leading the process of bringing the new man on board as part of his immediate brief ahead of 2018-19 and in a transfer window that will close before the new season kicks off for the first time.
"The priority in the first month is the first team and to be ready for the start of the next Premier League season," Brands continued. "The [overall plan] has to be long-term, though. That's also the goal I was given in the conversations I had with the club.
"What the people around the club will see is new signings but behind the scenes there will be a lot of work and, of course, the first thing is a new manager.
"I think it is important that he wants to work in the new philosophy, the new strategy of how we want to work with a football director. I think it is important that he creates the environment for the long-term, and I think it is important that he is a modern coach. If you think about what Everton's plans are, I think a modern coach will fit into that profile.
"Then, of course, his philosophy and how he wants to play is important. I think it has to be a coach who wants to work with young players. Then we don't have to only hire a coach who wants to buy players. It's also important that whether it's this summer or maybe next summer that our academy [has] an important [place] in that philosophy."
Brands is in agreement with Everton's major shareholder and new Chief Executive, Professor Denise Barrett-Baxendale, that, "the most important aspect is structure and that we have good people who want to work very hard," and he will also be undertaking a review and overhaul of the club's recruitment and scouting processes.
All the while, his focus will be on analysing the current Blues squad — The Telegraph report that he will be meeting with Ademola Lookman's agent to lay out his vision and convince him his future is at Goodison Park — and identifying potential new signings but he stresses that this will be done in partnership with the new manager.
"I have watched several Everton games and I have looked at the players," he explained. "I also saw some who were on loan to other clubs but if we are going to take decisions about players — whether it's the ones that are here now, maybe new players or players that want to leave — it is important that the manager is involved in that because he is going to work with them every day.
"I will take care of the long-term strategy but the first job now is to find a manager as soon as possible and straight away go to work with the squad."
→ Watch the full evertontv interview
---
---