Anderlecht reject Onyekuru claims as striker looks for loan elsewhere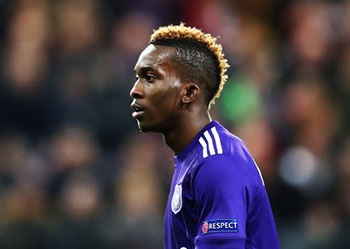 RSC Anderlecht have responded to accusations made by Henry Onyekuru and certain observers in his native Nigeria that they deliberately withheld him from their team in recent weeks.
The 20-year-old was signed by Everton in a £6.8m deal from KAS Eupen last summer and immediately loaned to Anderlecht for the season where it was hoped he could continue his promising career in Belgium and attract the attention of Nigeria when it came to naming their squad for this summer's World Cup.
He scored nine goals in 19 games but was then struck down by a serious knee injury, only returning to fitness in the latter stages of the season. He was not selected by Anderlecht, a decision he believes was taken by head coach Hein Vanhaezebrouck to keep him out of the reckoning for Russia 2018.
Onyekuru hoped that by being selected by his country, he could earn the required number of caps to qualify for a work permit to play in the English Premier League starting in 2018-19.
"Anderlecht knew I needed the World Cup to get a work permit to play in England, " he said, "and by not making me play, the chances of going to Russia were nil, and so I could not join the Premier League.
"That may be how Anderlecht hopes to keep me for another year — a ridiculous reasoning; I can go anywhere."
Following suggestions from Anderlecht staff that Onyekuru looked tentative on his knee in training and unready for first-team action, the Belgian giants issued a statement refuting the forward's claims.
"Henry is a great player and his injury in December weakened the squad and reduced the chances to participate to the World Cup with his country," a club spokesman said.
"RSC Anderlecht, nor the technical staff never made any promise to Henry concerning his selection.
"RSCA is a professional club and it wouldn't be very professional to make promises to players. The coach selects the best and fittest players for the games."
Despite those assertions and the fact that Everton have an agreement with Anderlecht for him to return there on loan next season, Onyekuru appears to have made up his mind that he will be playing his football elsewhere.
He has already explored a season-long loan opportunity with Borussia Moenchengladbach, although it doesn't appear as though anything has been agreed on that score.
'I was fit, but I did not play," Onyekuru explained. "So I'm not staying with Anderlecht. He (Vanhaezebrouck) has not spoken to me for weeks. I know what he said about me.
"Thanks to the media, I had to learn that I was not ready, so to speak. I have worked very hard in the last few months to come back. This was not enough for some."
---
---