Sigurdsson makes scoring return from injury
Saturday, 2 June, 2018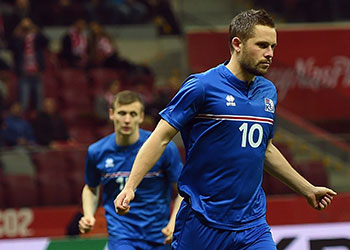 JANEK SKARZYNSKI/AFP/Getty Images
Gylfi Sigurdsson played 27 minutes of Iceland's friendly against Norway this evening, scoring once in a 3-2 defeat.
It was the Icelandic Talisman's first action since he injured his knee in Everton's home win over Brighton & Hove Albion in March and an important step in building his fitness ahead of his country's first appearance in the World Cup Finals.
Sigurdsson stepped off the bench to put Iceland into the lead after Alfred Finnbogason's penalty had cancelled out Bjorn Johnsen's opener but goals from Josh King and Alexander Sorloth handed the Norwegians victory.
Iceland have one more friendly against Ghana before they begin a tough assignment in Russia against Argentina to kick off their group phase campaign.
---
Reader Comments (47)
Note: the following content is not moderated or vetted by the site owners at the time of submission. Comments are the responsibility of the poster. Disclaimer
Steve Ferns
1
Posted 03/06/2018 at 01:09:26
That must have been some 27 minutes if they went ahead but then ended up losing. Good to see him back ahead of the World Cup. That indicates he's not quite been rushed back before he's ready (like Beckham and Rooney famously were) and so can have a good tournament and come into the new Everton full of confidence and ready to work.
Stephen Williams
2
Posted 03/06/2018 at 01:28:50
Steve,
How do any of us know if he's been rushed back or otherwise?
It might or might not be 27 minutes or 27 days late or early. His health is more important than the date of his return.
Personally, I'd prefer him to be excused from the World Cup as I'm only interested in Everton.
Steve Ferns
3
Posted 03/06/2018 at 01:39:22
In worrying about Everton, Stephen, is it not important that the player is as happy as he can be to give us his all? If he missed the World Cup, then that could have a detrimental effect on attitude and application, particularly if we'd held him back.
I'm glad he's gone. He's an ambassador for Everton there. We need more players flying our flag there to raise "brand awareness". I just hope he comes back fit and healthy and ready to work.
Mike Gaynes
4
Posted 03/06/2018 at 02:35:15
Stephen, that's not too realistic. Considering this is Iceland's very first trip to the World Cup, the entire nation has gone mad and Sigurdsson is their captain and talisman, he'd probably play with one leg missing and not give it – or Everton – a second thought in the matter.
Besides, any manager or club official trying to prevent him from going would have an enraged Viking horde in his front garden before breakfast tomorrow. With big axes.
Darren Hind
5
Posted 03/06/2018 at 07:32:23
I understand your concerns, Stephen.
World Cups have, in the past, knocked the arse out of players who have already had a long hard season. They don't get much down time to recover before being expected to start the next season in prime condition.
I don't think this is the case with Sigurdsson: rather than go into the competition on the back of a hard season, he will need the games; if he comes back sharper, it will actually be to our benefit. It's a gamble either way.
Half an hour is a decent amount of time. They are showing a welcome responsibility. I do take your point though.
The question is: Will he be an automatic pick for Everton? We have all seen he has talent and he works very hard, but I don't think can cover the ground quickly enough for Silva's liking. I suspect once the new boss gets his own men in, our boy Siggy will be warming the bench... or gone!
Dermot Byrne
6
Posted 03/06/2018 at 07:48:04
I do like this guy but share Darren's concern re pace in a Silva side.
But we have a good few weeks to hopefully see the whole picture and how individual pieces fit. This limits to some extent how we can judge individual players. Remember, Andy Gray & Peter Reid seemed madness.
The only thing that could be worse than the last two bosses is we discover that, all along, it is a Moshiri obsession. Brands and Silva go out and buy another 6 Number 10s because it is Farhad's lucky number!
Paul Tran
7
Posted 03/06/2018 at 08:13:55
Siggy lacks pace, Darren, but he makes up for it with his passing, awareness and intelligence. It does mean that we need pace around him, so it's a matter of who we bring in. I suspect he'll keep his place unless Silva and Brands surprise us with their signings.
John G Davies
9
Posted 03/06/2018 at 08:34:47
Good point, Paul. The list of good players without pace is endless.

The first few yards is in the mind, if you see the situation early, as Sigurdsson does. If we play him in his natural position, he will become a fixture in the team.
Ajay Gopal
10
Posted 03/06/2018 at 08:34:54
We were just beginning to see the best of Sigurdsson before he got injured, unfortunately for us (and Sam). I think he has another 2-3 years at the very top level to give us. Siggy in the middle of a Midfield three, with two of Davies, Gana, McCarthy, Baningime, or the rumoured Carvalho providing the protection and forward running around him should see the best out of him.
I would like an attacking three in front of him to run on to his passes and play a 'all for one, one for all' style – I am thinking Walcott, Tosun, Lookman taking up that role – our own version of Salah, Firmino and Mane.
Hugh Jenkins
12
Posted 03/06/2018 at 09:47:44
Dermot (6) - LOL!!
James Marshall
13
Posted 03/06/2018 at 09:53:02
This is great news, I'm delighted he's back playing, not just for him because he deserves to play in a World Cup, but I also got Iceland in my work sweepstake.
Ísland fyrir bikarinn!!
Stephen Williams
14
Posted 03/06/2018 at 11:39:48
Within the age-old debate of club v country, I think my main point has got somewhat lost.
Given that Gylfi is so important to them and they would want him available at (almost) all costs, we really can't be sure at all that they aren't rushing him back. He might be ready but, on the other hand, he might not. We just don't know... and, if he isn't, then it's only us who will pay the price.
Jack Convery
15
Posted 03/06/2018 at 12:12:35
Good News for him and us.
Steve Ferns
16
Posted 03/06/2018 at 12:30:01
Tom Cleverley was a big player for Watford under Silva; is Gylfi really any slower?
The Number 10 doesn't need to be fast, he just needs to be mobile and to press. Gylfi can do that.
Eric Paul
17
Posted 03/06/2018 at 12:45:32
It doesn't matter how fast you are – the ball is always faster!
Darren Hind
18
Posted 03/06/2018 at 19:06:39
I find it amazing that people who claim they know all about Silva think he will overlook Sigurdsson's lack of pace.
He won't. Silva will quite often go to a five at the back. It's difficult enough to press the opposition whilst doing that. You simply cannot have passengers or people closing down after the event. Your Number 10 has to take his responsibility too.
Nigeria's goal last night was a classic example of what happens when a pressing team get caught between two stools.
All the clichés in the world will not alter this situation. The ball may move faster than the players, but I'm yet to see it press.
Sigurdsson may survive until Silva can get in somebody more suitable to his plans... but he's not going to get quicker, he will not close down as quickly as Silva will want him to.
Get used to that bench, Siggy lad. This fella wants to counter his opponents with a speed that you or your brain don't possess.
Mike Gaynes
19
Posted 03/06/2018 at 19:32:34
I disagree, Darren (of course!) – Silva isn't going to leave his best #10 and best attacking player on the bench because he doesn't close down quickly enough. Especially when he finds out that nobody else we have knows what to do with the ball after we win it back. Sigurdsson's the only one who can deal a proper attacking pass.
Also, I doubt Brands is going to spend big bucks on a pacier #10, considering the success PSV have enjoyed with Van Ginkel – a strong, intelligent, imposing but slow #10.
One of Silva's strengths as a manager is supposed to be that he can adjust his scheme to fit his players. I suspect he'll do exactly that to keep a player of Siggy's quality on the pitch.
However, if you're right, Siggy might have a bit of a future as a TV host: https://www.youtube.com/watch?v=hPb0O-YYJNA
Jay Wood
[BRZ]
20
Posted 03/06/2018 at 19:41:48
Nice to see someone else familiar to us made the cut for the Oz World Cup squad – Tim Cahill. Never too old, even at 38.
If he plays and scores in Russia, he will join an exclusive group of 3 other players who have scored at 4 different World Cup Finals: Pele, Uwe Seeler and Miroslave Klose.
John G Davies
21
Posted 03/06/2018 at 19:51:51
No 10s with no pace:
Bergkamp.
Zidane.
Hagi.
Laudrup
Baggio.
Sneijder
De Bruyne
Totti
etc, etc

Not saying Sigurdsson is on a par with any of them.
Just to show pace is not a must to play the position.

Mike Gaynes
22
Posted 03/06/2018 at 20:20:01
I would love to see that, Jay. Terrible Timmy is one of my all-time favorites.
Kase Chow
23
Posted 03/06/2018 at 20:52:56
Steve (#1),
How do we know whether Sigurdsson has been rushed back or not?
I don't quite understand?
Tony Abrahams
24
Posted 03/06/2018 at 21:44:45
You might be right, Darren, but maybe if Sigurdsson can play in his proper position, then he might not be too slow?
His goal at Anfield, he was with Can, in the middle of the pitch, then he left him for dead, possibly because he possesses a real speed of thought?
Pressing, is a team effort, it's about hunting in packs, and more often than not, it usually fails because not everyone is on the same page.
Different positions but I often look at Firmino who is nowhere near the quickest runner, but the kid is so effective because he's got one of the quickest brains.
It was obvious that Sigurdsson was over-priced, but I still think he's one of the best footballers around, and he's definitely someone I will be expecting to do really well next season.
Paul Birmingham
25
Posted 03/06/2018 at 22:53:43
Gonna be interesting to see how Silva builds a balanced team.
For me, Sigurdsson would start in this current squad. Last season, more often than not, he was out of position but his cunning and eye for a pass will, I hope, be seen by Silva as an asset to the team.
Keith Monaghan
26
Posted 03/06/2018 at 22:58:09
With regard to Tim Cahill:-
Interesting to note that playing for the "mighty Australia" he has a much superior record in World Cup Finals to Rooney who played for England of course!

Don Alexander
27
Posted 04/06/2018 at 00:21:57
The fact that Gylfi was recognized far and wide at Swansea as a very good player, minimum, season after season indicates to me the hopelessness of last season's transfer policy and the paucity of talent we've displayed in any vestige of attacking.
Think about it, he shon at Swansea with bog standard forwards but with us he's seemed duff. I expect the new DoF/manager team to visibly transform our attacking capabilities, eventually perhaps (in months, not years though), and he will then show himself again to be the talented footballer I've long thought him to be.
Kieran Kinsella
28
Posted 04/06/2018 at 03:46:18
I am excited to see how Tim does. I would love him to score at another World Cup.
James Kirrane
29
Posted 04/06/2018 at 09:48:18
John (#21), I have to disagree with your comment. Kevin De Bruyne is very quick, as was Michael Laudrup. Not sure about all of the others, but those two are/were definitely a lot quicker than Sigurdsson.
James Marshall
30
Posted 04/06/2018 at 12:13:51
People always come on here saying our players have been rushed back, but with zero insider knowledge, it's just fans claiming to know better.
I don't mean to disrespect anyone on TW, but it's always only about opinions, and never facts. It's just a discussion board, not a fact-based meeting room.
I'll always back players to play in a World Cup, and wish them every success – I was only ever good enough to play amateur football and go on the occasional tour, but I would have loved the buzz of playing in a World Cup. People who claim Everton is more important are entirely missing the point (again, with respect) about being a footballer – you play for your country for very different reasons, and none of us have the right to deny that, in my view.
Darren Hind
31
Posted 04/06/2018 at 18:22:03
I'm still scratching my head here. The conversation is about how lack of pace may count against a Number 10 in a Silva system?
So somebody puts up a list of players who are better and faster than Sigurdsson and who have never and will never play for Silva in their careers...

John G Davies
32
Posted 04/06/2018 at 18:47:00
I'm scratching my head here...
Can somebody please explain why a Number 10 with pace is an absolute necessity in a Silva system?
Steve Ferns
33
Posted 04/06/2018 at 19:10:41
It's not John. He's favoured a 4-2-3-1 for the most part. That means the 10 close to the 9. He doesn't need pace, particularly if he's got pace wide. Cleverley doesn't have pace, but he can turn quickly and shift the ball.
At Estoril, the 10 was Evandro
At Sporting, he played 4-3-3
At Olympiacos, it was Fortounis (very fast)
At Hull, it should have been Evandro again
At Watford, it was Cleverley.
The front 4 at Olympaicos were rapid though. Breaking at pace is unstoppable with technically competent players. But Gylfi can do it if the ball goes wide and buys him time to get into position. It means we need speed on the flanks though, and a deep midfielder to smash it long quickly and no reliance on Sigurdsson to initiate the counter.
John G Davies
34
Posted 04/06/2018 at 19:17:01
Thanks, Steve, I'm sure you realise I have the same opinion as you on this point.

I was hoping for an explanation from the person who made the point, to be honest.
Darren Hind
35
Posted 05/06/2018 at 07:01:35
There is a debate about whether Silva wants pace in his Number 10. Having seen his teams often and studied his tactics as opposed to referring to formations he used for Estoril and Olympaicos, which probably nobody on here saw, I don't buy Steve's pearls of wisdom; it's selected information about systems he never saw.
He has come out with too many gems and, although Cleverley is the guy who Steve repeatedly tells us was brilliant for Watford ("Zindane"), I saw an average player play slightly better than decent games in a system and surroundings that suited him. He could probably give Sigurdsson 5 yards and still do him over 50, so that point is moot.
Steve makes an awful lot of points about Silva. Frankly he has said so much, he has began to contradict himself. He has claimed that he will definitely play a pacey back three... including Keane as his main man. I'm afraid the innocence of a lot of his posts will be exposed as the season goes on.
We are talking about how Silva will set up and what he wants from his Number 10. At no point did anyone claim it was "absolutely necessary" for a Number 10 to have pace, However, the question was asked – legitimately in the context of Silva's preferred system. This is just another case of a certain poster distorting the question in a desperate attempt to make a moot answer fit. Introducing world class players who played in different systems to this debate is as moot a point as anybody could raise. We don't have any.
John G Davies
36
Posted 05/06/2018 at 07:12:37
Nobody claimed it was a necessity for a Silva No 10 to have pace?
"I find it amazing that people who claim they know all about Silva think he will overlook Sigurdsson's lack of pace."
"Sigurdsson may survive until Silva can get in somebody more suitable to his plans... but he's not going to get quicker, he will not close down as quickly as Silva will want him to."
Do you reckon Isco would get in the Everton side?
Steve Ferns
37
Posted 05/06/2018 at 08:34:15
Darren, I never described Cleverley as Brilliant once. I never commented on his performances at all. I merely pointed out this is the guy Silva used. Particularly as most said how crap Cleverley was for us
Keane in a fast back three. Again not me. Silva rarely used a back three. I think all of the games were in charge of Watford too. 4-2-3-1 is his preferred formation 4-3-3 second and 4-3-1-2 third.
I did say Keane could play a part thinking of how Silva likes big lumbering centre-halves like Vitoria and Ranocchia, the latter is a decent Italian ball playing centre-half. Keane can do that. However, I think he will play a higher line and try to press with Everton, which is why I said he might go with Holgate instead.
Darren Hind
38
Posted 05/06/2018 at 09:01:00
Steve.
zIf it isn't you who has repeatedly mentioned Cleverley's performances even going as far to call him their "Zinadine Zidane", I apologise.
And if you didn't say that Keane would be Silva's "John Terry" I apologise for that too.
Look Steve. I believe many of your points about Silva will be exposed as being one-eyed and innocent. I would love to believe they were all credible, but they're not and in your desire to promote Silva, you have contradicted yourself.
As proof of my desire to see you proved right about Silva (in most of your predictions), I will donate 20 quid to a charity of your choice if Sigurdsson starts 20 Premier League games.
Chris Gould
39
Posted 05/06/2018 at 10:06:29
Putting your money where your mouth is, Darren. But what do you get in return if you're proven right?
I would love to see young James Maddison come in as he really is a player with huge potential and plays like a kid in the park with his mates. Just loves playing and believes in himself. He plays with speed and directness and is everything Sigurdsson is not. He takes players on and will get you off your feet.
I like Sig and would have him in the team, but couldn't he be an effective no. 8? Wouldn't sitting deeper suit him as he'd have more time to pick a pass? I would also much rather see him on the left of a front 3 than Bolasie.
In one position or another I expect him to start most games next season.

Brian Williams
40
Posted 05/06/2018 at 10:09:26
Darren (#38).
Any chance you could donate say £100 to the Brian Williams benevolent fund if he starts say three games? Please?
Steve Ferns
41
Posted 05/06/2018 at 14:03:41
Darren, I never called Cleverley Watford's Zidane. As for Keane, I never intended for you to read that Keane can be John Terry. I think Keane has physical attributes to be a "stopper" type defender. The best proponent of that position is Terry (in recent years). I do think Keane can be a stopper if he can adapt the mental side of his game. He's a bit too timid, and needs to be more aggressive. Aggression is something you have inside you, and it can be unlocked, but it may be that Keane is just not aggressive enough. Let's hope Silva knows how to unlock it.
With Sigurdsson, I cannot envisage how we have appointed a coach and that said coach will not be instructed to work with our most expensive player. Now I don't mean interfering in Silva's work, but I envisage Moshiri hiring Silva on the basis of his coaching ability, and getting from Silva promises over using what he has now, and the minimal need for transfer funds over the new few windows. Silva must have told Moshiri he sees how to use Sigurdsson to good effect, otherwise he wouldn't have the job.
Moshiri has spent over £200m. This squad has been bought for over £250m. Moshiri is entitled to think if these players were so expensive, so highly rated at one stage, then why can't we get a top coach in to bring out the best in them and find a team within the squad. I do believe Silva would have told Moshiri he can do it.
If you check back, I was against Sigurdsson coming in. Very much against it. I wanted to retain Barkley, and thought £40+m was a ridiculous fee. I also thought Barkley had more to offer. It appears that I was wrong about Barkley as he has sunk without trace at Chelsea. But now we have Sigurdsson we have to use him.
Same goes for Keane. Although at just over £20m, it's a bit more palatable to have the lad sat on the bench.
If Sigurdsson comes back from the World Cup fit, and doesn't start 3 (or more) of the first 5 games, I'll happily pay £20 to your charity. Mine is Pancreatic Cancer UK.
Darren Hind
42
Posted 05/06/2018 at 19:41:09
A worthy charity, Steve, and as I lost my arl fella to pancreatic cancer, one which is close to my heart.
I didn't make my statement to lure you into making a similar one. Sigurdsson's fitness is far from certain at this moment and I won't hold you to your commitment.
Apart from being reminded by my Mrs that I don't contribute anywhere near enough to charity, the main reason for me making my statement is simple: I don't hold with the popular belief that our boy is a Number 10 at all.
Sigurdsson has some outstanding talents he has a thunderous shot on him, he strikes a very mean dead ball, and his ability to put crosses into that zone (between defender and goalie) is second to none... but Number 10? When?
How often have you seen him thread a ball through the centre of defence? Or spot and pick out a ball that has lead to a goal? He doesn't have pace to go past people. He doesn't see the pictures a real Number 10 sees. He doesn't have a quick enough brain. These shortcomings prevent him being a top Number 10 and make him meat and drink to the like of Kante.
Sigurdsson has played under several club managers, but here he is, nearing his 30s and he still hasn't been able to make the Number 10 shirt his own under any of them. They none of them have known quite what to do with him. Most of them have eventually decided he is more use out wide.
I said he would not start 20 games, what I really meant was he won't start 20 games at Number 10, (that is the point of this debate), Silva will get a close look at that fantastic technic when striking a ball, so he will utilise him... but not at Number 10? No, not for long anyway. Sooner or later, he will find out what all those other managers have found out.
BTW, Steve, You may want to check out post #55 of Lyndon's Article entitled "Allardyce heading for the exit" dated 14 May 2018.


Steve Ferns
43
Posted 05/06/2018 at 20:08:39
Darren, I'm very sorry to read you lost your father to this horrible cancer. I'm going through the same with my father right now. Hopefully he can be one of the lucky ones. As always football remains a good means of escaping from the trials and tribulations life throws at you.
Regards Sigurdsson being a Number 10, I think the last of the great real Number 10s retired with Riquelmhe and Veron. Neither of whom were blessed with pace, though Veron was known to beat a man. They could thread a pass though.
Silva likes his teams to burst forward at Speed. There's three main passes his teams immediately look for: the ball to the left flank, the right flank, and the ball over the top. The latter relies on the pace of the striker rather than the pace of the number 10. Sigurdsson is far more likely to play centrally as Silva would lose pace on the flanks. The middle is congested and so the counter-attacking out ball needs to be hit into space. Which rules out the spot where Sigurdsson will be. Meaning he has time to get forwards. I don't think he is as slow as you make out.
A trick that Silva teams often utilised was to pour forwards down the flanks. Coleman could gallop down the right, lay it inside to Sigurdsson who then completes a triangle by releasing Walcott who races down the right wing, before smashing a low cross to the left wing spot where the Left Winger (Lookman / Bolasie / New Player?) arrives unmarked to tap in.
Or Coleman and Walcott play a one-two down the right, Sigurdsson has come over to offer support, he picks it up, and quickly turns and switches play to the Left Winger who races into the box unmarked. Silva has used the tactic of overusing and overcrowding the flank and getting the number 10 (or is it better to just call him a central attacking midfielder?) to hit a pre-rehearsed pass to the other flank.
Football is all about using space, creating space, finding gaps, and creating overloads, in order to increase the chances of scoring. This is something Silva clearly gives a lot of thought to, and does a lot of work with his players on.
You don't need to be a world-class passer to simply hit a ball to a man in space, Tom Cleverley was doing it well for Watford. You just need to be competent and for everyone to learn and make the runs and passes. I think Sigurdsson is more than competent and so should do this for us.
Silva is not predictable though. He has different ways of playing, and he might decide on a completely different tactic to get the best out of this squad.
Andy Crooks
44
Posted 05/06/2018 at 20:09:28
Darren, an excellent post. Sigurdsson is not a 30-game Number 10. He should be in the team but where? He has great technique but he is a luxury player and as such, must be really special.
He is a main man player and he and Rooney cannot play together. There is a monumental task for Silva to fit his luxury players in. Lookman, Dowell, Bolasie, Sigurdsson and, perhaps, Rooney. Also, Walcott might fit in there too. Add Vlasic and we can see that our new management team have a job on their hands.
As for the holding role, it us even more populated. Then there is Klaassen, Besic etc. We have too many players and, because of poor management, we have not a clue who is best.
Players need a run in the side to show how good they are. We have 20 players who need a run in the side. It is all down to luck, balance and a coach who will decide what he wants, pick the players and give them a chance. Alf Ramsey?
We need, more than anything, luck. We are not used to it.

Darren Hind
45
Posted 05/06/2018 at 20:18:15
Steve,
I lost my dad 20 years ago, I still miss him at times, but the grieving process is past. Huge strides have been made since then. Fingers and everything else crossed for your dad.
Tony Abrahams
46
Posted 05/06/2018 at 20:27:27
I also thought that was a very good post, Darren, but I'm not sure how you could call Sigurdson a luxury player though. Andy, surely he works too hard to be given such a title?
Steve, I also echo what Darren, has just written, and hope for the best for your father, mate.
Paul Tran
47
Posted 05/06/2018 at 20:54:28
I'm not sure about this fixation with No 10s, No 8s, etc. It can get you thinking about the role rather than the player.
Sigurdsson can pass, has great awareness and makes himself available, can link up well with team-mates, works his socks off. And he can shoot & score, as we saw last season.
So why not use that, instead of focusing on what he isn't? Like many of our more attacking players, I suspect he'll look even better in an energetic team that looks interested in getting in the other team's penalty box.
Steve Ferns
48
Posted 05/06/2018 at 21:55:15
Thanks for the positive thoughts. I really believe it helps.
Andy Crooks
49
Posted 05/06/2018 at 22:06:03
It does, Steve, all the best to you and your family.
Add Your Comments
In order to post a comment, you need to be logged in as a registered user of the site.
Or Sign up as a ToffeeWeb Member — it's free, takes just a few minutes and will allow you to post your comments on articles and Talking Points submissions across the site.