Robles's departure could be confirmed soon
| Wednesday, 06 June 2018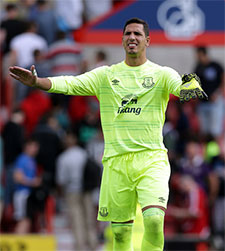 Joel Robles looks likely to complete his oft-mooted move to Getafe this month with Spanish radio reporting that the Liga club are looking to bring him in.
Robles is officially out of contract at Everton at the end of June and has been linked with a return to Spain with Getafe for a while now.
The former Atletico Madrid man, who has spent five years with the Blues without being able to claim the first-choice goalkeeper spot full-time, is unlikely to be offered new terms even with the management team of Marco Silva and Marcel Brands in place at Everton.
SER claim that Getafe have chosen Robles to replace the departing Dani Guaita.
---
---
Reader Comments (23)
Note: the following content is not moderated or vetted by the site owners at the time of submission. Comments are the responsibility of the poster. Disclaimer
James Flynn
1
Posted 06/06/2018 at 18:15:52
Always liked him. But he's 28 this month and presumably is sick of sitting and watching.
When he did get the call, I thought he did a pretty good job.
Good luck.
Steve Ferns
2
Posted 06/06/2018 at 18:22:46
I like Robles. He seems a good guy. I'm glad he's leaving for the sake of his career and I wish him well.
Stekelenburg is an able backup for the next 12 months (before he really gets too old) and why not have the lad Hewelt as the third choice? I've only seen highlights of him but he looks alright. I think the third choice lad should be playing for the U23s every game anyway.
Robert Leigh
3
Posted 06/06/2018 at 18:44:35
Torn here – as above, he was an able deputy but never a Number 1. I can't blame him for going.
Stekelenburg is an okay Number 2, but seems to be made of glass most of the time and gets injured - even in training.
I've said on another couple of threads, I'd like to see us move for Sam Johnstone of Man Utd. He's had a good season at Villa, and at 25, he has years left to play.
Jay Wood
[BRZ]
4
Posted 06/06/2018 at 18:55:37
The backup option to your first choice keeper is always a tough one. Anyone of true ability or ambition won't settle for it for long, so you have to opt for either an experienced, good quality but aging (twilight years career wise) 'keeper, or a younger lad with potential.
Robles was a nearly-but-not-quite man. I was never one to jump on the 'bash Tim Howard' bandwaggon, but there was a case to be made for Robles to have an extended run in Martinez's 2nd season – Howard's last – when the US stopper got injured.
Strangely, Martinez had one of his stubborn fits, declared Howard as his #1; although Robles did enough to keep the shirt, as soon as Howard recovered, Robles was benched again. A vital time in his development missed.
And as others have said, Joel comes across as a really good lad.
Paul Birmingham
5
Posted 06/06/2018 at 19:42:22
Good Luck to Joel, and I hope he fulfills his career.
Brown Shoes set him back, and he never had a fair crack.
He'll go with my best wishes and thanks for his service to EFC.
Darryl Ritchie
6
Posted 06/06/2018 at 20:01:49
If Robles leaves, I wish him the best. He would be an excellent back-up to Pickford, but I think he wants to start, and that's not going to happen at Everton.
I'm not all that thrilled about Stekelenburg as second choice. Is there a young keeper in our system that can step up, or should we be shopping for a goalie as well?
Derek Knox
7
Posted 06/06/2018 at 20:43:11
I too wish him all the best, but feel it is probably best for all parties, for him to seek pastures new.
Whether it was down to limited appearances, but he would either have a blinder, or a complete nightmare, so ultimately you were never sure what you would get from him.
Kenny Smith
8
Posted 06/06/2018 at 21:34:53
Gave everything and, yes, he made a couple of rash decisions but that's keepers.
Good luck to him, hope he goes on to be the Number 1 somewhere and pushes for the Spain squad.
Kristian Boyce
9
Posted 06/06/2018 at 21:55:12
Robles always needs a few games under his belt to ensure he doesn't make stupid mistakes. Being a back-up, this doesn't happen often.
If you remember his first season backing up Howard, the stop-start appearances made him look a bit dodgy. Once he actually had a decent amount of games under his belt in that second season, when Howard was out injured, he outperformed his seasoned peer.
Unfairly, Martinez's loyalty to Howard meant that once he was fit, he got back in the first team immediately.
Phil Sammon
10
Posted 06/06/2018 at 22:25:18
Jay Wood (#4),
That episode with Robles and Howard was, for me, when Martinez lost his last shred of credibility.
Howard has always been a shaky keeper in my book. He gets injured, Robles comes in, keeps clean sheets and plays superb. Martinez then reinstated Howard.
The actions were bad enough but it was his words that had me dumbfounded. He said that Tim Howard was our Number 1 and it was 'his position to lose'. Surely that's one of the most bizarre, counterproductive statements to come out of a manager's mouth? In a squad of professionals – where competition for places should be a real motivator – he actually states that competition is dead.
I reckon that will have been completely demoralising for Robles. It's to his credit that we've never heard him moan or complain about his treatment. Good luck to him.
Ian Burns
11
Posted 06/06/2018 at 22:32:13
Martinez treated Robles with contempt; he should never have played second fiddle to Howard once he had recovered from his injury.
Like others have said, I wish him nothing but the best with Getafe. (I actually think he is good enough for a better team but at least he will be a certain Number 1.)
Jay (#4), good point you have raised. A second-choice keeper is very difficult to call.
Mike Gaynes
12
Posted 06/06/2018 at 23:56:28
Sorry, I disagree, Phil, Ian & Kristian. Robles may have been ill-treated by Roberto, but he was never a #1 Premier League keeper, and he proved it last season.
Remember, Koeman handed Robles the job in December and gave him an extended run. But every couple of weeks, Joel would make another odd error. Most of them he got away with, but when he committed those back-to-back howlers in the April wins over Leicester and Burnley, Koeman properly pulled his plug.
I certainly don't think he was in the same league with Howard, at least not until Howard's final season.
Wish him all the best back home in Spain.
Ciaran O'Brien
13
Posted 07/06/2018 at 08:19:07
I wish Robles well and thank him for his 5 years if service but it never ceases to amaze me why so many on here overrate and glorify every single mediocre to shite player we've had. Robles was never a starter, he was prone to too many clangers and there was a reason why he was second choice for 4 managers. He was second choice when he was at Wigan too under Bobby Brown Shoes.
I don't get why Howard gets so much stick but when he was here and in his prime he was one of the best keepers in the league if not the world. Osman was one of our only technically gifted homegrown players but was constantly ridiculed while Stracqualursi and Naismith were treated as legends despite they were mediocre. Besic too, everyone says he should be playing based on his form for Middlesbrough in the Championship, but guess what: it was in the bloody Championship – not the Premier League or a top European league.
I also don't understand us being linked with (and some advocating spending millions on) the likes of Grealish and Maddison who are untested at a higher level.
Ash Moore
14
Posted 07/06/2018 at 08:32:25
I agree with you Ciaran re the likes of Grealish. Just another Cleverley type, can do a job but not any or much better than what we have relative to cost.
Have to disagree with you slightly on Tim Howard. Tim was always good for a clanger a game, and it used to anger me how his top performances always came for the US. That's why Ferguson got rid; not because the guy wasn't talented, but because the concentration wasn't always there.

Phil (Kelsall) Roberts
15
Posted 07/06/2018 at 08:37:51
What am I missing?
A reserve-team defender, midfielder, forward runs around for 90 minutes in a U-23 game or a reserve team game. Asking them to be on the bench the next day for a Premier League match could be a risk as they may be needed in the first 5 minutes and have to play 85 minutes and are already too tired.
But a goalkeeper – do they tire themselves out? Mentally maybe? But do they? So why does the backup keeper not also be the reserves keeper and then sit on the bench for the first team?
We have only needed a sub goalie 7 times in the last 15 seasons so it is not exactly a regular problem and the back-up keeper should be playing every week in the second team.
Jim Harrison
16
Posted 07/06/2018 at 08:39:56
Nice bloke blah blah blah. Not good enough to be first choice. Doesn't want to be sub. Laters.
Nicholas Ryan
17
Posted 07/06/2018 at 15:54:42
'Howard has always been a shaky keeper...'. 400 Premier League starts, including 200 consecutive and uninterrupted, would suggest otherwise.
Mike Gaynes
18
Posted 07/06/2018 at 18:42:29
Nicholas (#17), bravo. Ash (#14), if Howard was worth a clanger a game, he wouldn't have lasted 4 games in the Premier League, let alone 400.
Phil (#15), makes perfect sense – if you're confident the reserve keeper is good enough to step into the top job for an extended period of time in case the starter is injured. Hewelt can certainly play with the reserves and sit on the bench for the first team the next day. Whether he's ready for a string of Premier League games if Pickford breaks a wrist is another question altogether.
Bill Gienapp
19
Posted 07/06/2018 at 18:54:18
I also think this myth that Robles was putting in De Gea-level shifts and was unjustly robbed of the starting job when Howard returned from injury has become a bit overblown.
I recall Robles managing to string together a few clean sheets, through no particular effort of his own. For example, we beat Crystal Palace 1-0... Palace should have scored less than five minutes into the match, when Robles was caught awkwardly in no-man's land, but Jagielka was able to clear the shot off the line.
At any rate, he's always had a positive attitude and is a perfectly serviceable backup keeper, so I'd be happy for him to continue in that role... but I certainly don't begrudge him the opportunity to start elsewhere.
Denis Richardson
20
Posted 07/06/2018 at 20:58:16
I wish the lad all the best. I think Martinez fucked him over for Howard back in the day and he was never given a proper run.
I hope he gets regular games after his move. He seems a good pro and didn't complain (in public anyway).
Good luck, JR.
Steve Ferns
21
Posted 08/06/2018 at 17:31:06
This is now confirmed on Evertonfc.com
Mike Gaynes
22
Posted 08/06/2018 at 17:35:37
Best of luck, Joel.
Dermot Byrne
23
Posted 08/06/2018 at 17:37:46
The exit of a true legend!
Add Your Comments
In order to post a comment, you need to be logged in as a registered user of the site.
Or Sign up as a ToffeeWeb Member — it's free, takes just a few minutes and will allow you to post your comments on articles and Talking Points submissions across the site.
© ToffeeWeb