Everton History
Gentleman John
Rob Sawyer

13/11/2018
14

comments | Jump to last
Share:
The Biography of Johnny Carey by Roy Cavanagh and Carl Abbott
Review by Rob Sawyer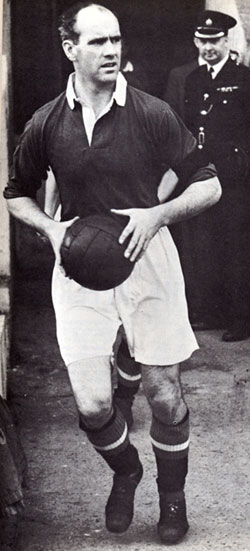 For Evertonians, Johnny Carey is forever associated with his 2½-year tenure as team supremo. The infamous circumstances of his dismissal in 1961 have entered football folklore. However, there was so much more to Carey's life which makes the focus on that taxi ride unjust.
In 2015, I wrote a ToffeeWeb article about Carey, with the assistance of his son, Mike. What I learned made it seem remarkable that no-one had fully documented his life in book form. Roy Cavanagh MBE and Carl Abbott have now righted that omission with the publication of Gentleman John. The authors are both Manchester United supporters but Cavanagh has also previously published Two Men for All Seasons, a biography of Harry Makepeace and Jack Sharp – the Everton stars of the early 20th century who also excelled at cricket for Lancashire and England.
Using contemporary reports, family archives, and the man's own words, the authors cover the whole of Carey's life. There is the Irishman's childhood in the Dublin area. Ostracised in Gaelic Athletic Association circles for attending an 'English Dance' as a teenager, he focussed on Association Football (frowned on in some quarters) and duly signed as a goalkeeper with Home Farm – a club that would be associated with Everton in the 1990s. Carey would later play outfield and came to the attention of Manchester United's head of scouting, Louis Rocca, when playing for St James's Gate, an Irish football club based in Dublin, in 1936. Within a year, Carey would debut for Manchester United's first team, at inside-forward. His Ireland bow would follow just two months later.
The wartime period is covered in the book – Carey continued to play for Manchester United (and, on occasion, as a guest for Everton) as well as doing war work at the Metropolitan-Vickers factory in Trafford Park. In spite of being Irish, Carey enlisted with the British Army (being posted to Italy).
As one would expect, the book covers in some detail the Irishman's illustrious post-war playing career for Man Utd. Incoming manager Matt Busby converted him from a forward to a calm, cultured right half-back and, later, a full-back. Busby's remarkable run of silverware began with the FA Cup being lifted by Carey in 1948. Four years later, Carey would lead United to their first league title in 41 years. On the international front, Carey was captain, and Man of the Match, when Ireland (FAI) shocked England 2-0 at Goodison Park in September 1949 – with the Blues' own Peter Farrell (a typo in the book refers to him as Peter Harris) netting.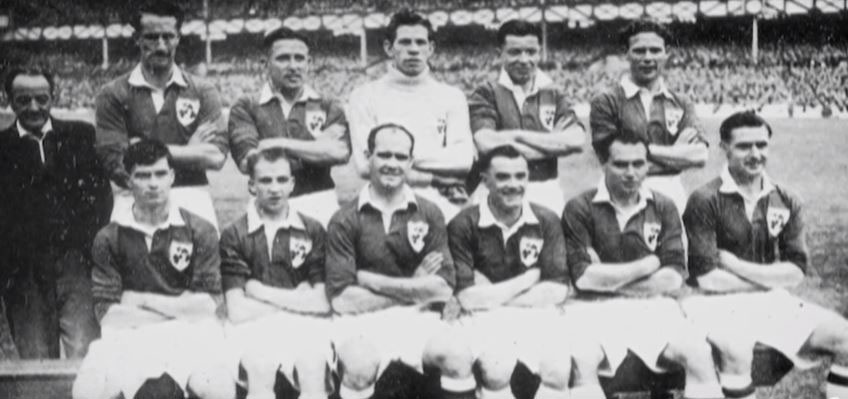 FAI team at Goodison Park, 1949
Impressive feats in Carey's first managerial role at Blackburn Rovers are well-documented. Here he reared 'Carey's Chicks' (a popular press term used as a nod to the Busby Babes) including talented young players such as Bryan Douglas, Roy Vernon and Ronnie Clayton. This exciting team won promotion to the top-flight in 1958 with a brand of fast, open football that emulated that adopted by Carey's mentor, Matt Busby. Cavanagh and Abott explain how Carey never lost his love for Manchester United and, in the wake of the Munich Air Disaster, he dashed to assist his former club and manager in any way he could – flying out to Germany to visit the injured in hospital.
Subsequently, Carey was tempted to cross Lancashire to manage the then sleeping giant that was Everton. He was fortunate to inherit the recently-signed Bobby Collins and the two of them steered the club to safety in the 1958-59 season. John Moores gradually took direct control of the club – culminating in taking the chairmanship in the spring of 1960. With him came the funds to purchase players of the calibre of Jimmy Gabriel, Roy Vernon, Tommy Ring, and Alex Young – but the new-found spending-power also brought the pressure of expectation from supporters and the directorate.
There is no doubt that Carey's teams produced some of the purest football seen at Goodison Park but there was also a frustration at inconsistency that kept silverware out of reach. Perhaps Carey lacked the ruthless streak to get the best results out of his team, or perhaps, if he had been given more time, thrilling success would have followed... We'll never know as John Moores's patience ran out in March 1961 and the manager learned of his fate in the back of a London hackney cab.
For many readers, the next chapters in Carey's life in football will be less familiar. It was a surprise when Carey accepted the offer of shoe magnate Larry Zussman to manage Leyton Orient (known as the show-business club for its links to the Grade brothers). He got them promoted to the top flight with a dramatic last-day victory over Bury in 1962. When Carey his team rolled up to Goodison Park in September 1963 (a 3-0 defeat), he was warmly received by the 51,000-strong crowd. A week later, he could, perhaps, allow himself a smile at a 3-0 victory over his alma mater at Brisbane Road in the return fixture. All the while, Carey was fulfilling the role of manager of the Ireland football team (for 12 years until 1967) – although it should be noted that team selection was via an FAI committee. With his stock again on the rise, Carey joined Nottingham Forest where his team challenged for the 1967 League title.
The book also documents the fire at the City Ground during a match against Leeds United in August 1968. The need to relocate and/or reschedule fixtures impacted on the team's performance that season – a factor in Carey's departure at the end of the season. The fire (in which, miraculously, nobody was killed) also served as a warning about stadium safety – one which was not well heeded (as evidenced at Valley Parade in the 1980s). These elements of Carey's career, in London and the Midlands – overshadowed by his time as a player and manager in Lancashire – are well-covered by the authors.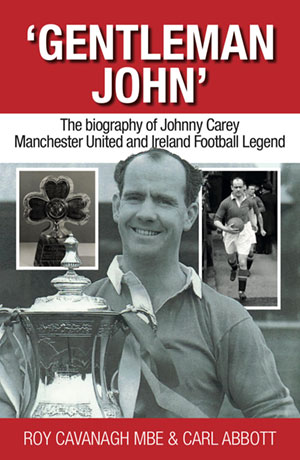 After a period back at Blackburn Rovers in a more administrative role, which ended in 1971, this great of the game became a local government officer in Trafford, doing a spot of scouting for Manchester United under Tommy Docherty in his spare time. He passed away in 1995, aged 76, having suffered with Alzheimer's for his final years.
In conclusion, this book is a fitting and long-overdue biography of one of the greatest players for club and country level of the immediate post-war period. Carey was a foundation stone of Manchester United's elevation to super-club status under Matt Busby, indeed the authors can't help wondering what might have happened if he had succeeded the Scot at United in 1969. Certainly Carey was an advocate, as a manager, of playing football the 'United way'.
Although Evertonian readers may be slightly disappointed at the brevity of the sections covering his spell at Goodison Park, it should be remembered that he was there for a small fraction of over three decades involved in the sport. The biography should appeal to supporters of the clubs (and country) Johnny served as well as those wanting a better understanding of football as it was, for better and worse, long before the Premier League era.
Gentleman John is available through Amazon for £8.95 (or £3.50 for Kindle version) via these links: Paperback | Kindle Edition

Follow @robsawyer70
---
Reader Comments (14)
Note: the following content is not moderated or vetted by the site owners at the time of submission. Comments are the responsibility of the poster. Disclaimer
Dave Abrahams
1
Posted 13/11/2018 at 09:32:31
Whenever I think of Johnnie Carey, I always think of Peter Farrell, the Everton captain, another quiet Irish gentleman, both a credit to football and themselves.
I think one fact, that Leyton Orient achieved promotion with a last-gasp victory over Liverpool in 1962, is wrong, Leyton Orient were promoted with Liverpool that year but both their league games were drawn, if my ageing memory is correct.
David Longmore
2
Posted 13/11/2018 at 17:01:20
Thanks for the article, Rob, very informative. As an added bonus I managed to track down a copy of 'Two Men For All Seasons' on ebay!

John Keating
3
Posted 13/11/2018 at 17:15:42
Yes, I do wonder what would have happened if Carey had been given a bit more time by Moores. Might have been a bit of a Kendall moment.
Catterick was more ruthless for sure but, even under him, we never really achieved consistency in winning trophies and stamping our authority.
Christy Ring
4
Posted 13/11/2018 at 20:05:31
Enjoyed the article, we'll never know what he would have achieved if John Moores had given him more time.
The signing of Gabriel, Vernon, Young and Ring (my late dad's first cousin), showed the type of football he played, and they finished 5th, their highest position since the war, but he still got the sack.
Des Farren
5
Posted 13/11/2018 at 20:30:01
Johnny Carey was one of the finest footballers of his generation. His sacking, to me at the time was a huge disappointment.
His spell at Everton, his philosophy on how the game should be played and his ultimate fate remind me, at times, of Roberto Martinez.

Dick Fearon
6
Posted 13/11/2018 at 20:56:25
In a time of lunging two-footed waist-high tackles, when even keepers took a physical battering, and except for inside forwards and wingers, a shortage of ball skills, Carey and his philosophy stood out like a beacon for the level of artistry our game is capable of.
In those days, tin pots were the top priority and the Beautiful Game took a back seat.
Myself included, we learned to admire the Catt's hard-nosed yet successful method. Nonetheless, I remember the Carey days with sweet nostalgia.

Rob Sawyer
7
Posted 13/11/2018 at 20:59:35
Dave (1) - my error. Leyton Orient beat Bury to clinch promotion in 1962. I have now asked Lyndon to correct it for me! Thanks for the good spot.
John Raftery
8
Posted 13/11/2018 at 21:12:26
An interesting article. My father was one of many who were disappointed by the sacking of John Carey. I think the poor run of results after Christmas 1960 sealed his fate. He was not helped by Spurs running away with the title and ultimately winning the double.
John Moores clearly felt that, with the money invested, we should have been doing better. Many of the players inherited by Catterick formed the core of the squad which won the title two years later. The signings of West, Stevens, Kay, Scott and Morrissey added strength in depth with the likes of Brian Harris and Derek Temple having to settle for a place in the reserves.
Catterick was not alone in failing to build on a title win. In the sixties and the first half of the seventies, no club was able to win successive titles.
Peter Mills
9
Posted 13/11/2018 at 21:45:59
Very interesting read, Rob. Johnny Carey to me was mostly "the taxi man", so it is good to read some more about him.
Fascinating to read the comments too. If our current manager could match Harry Catterick's two titles and an FA Cup win in the next 10 years, I'd take it!
Bill Watson
10
Posted 14/11/2018 at 01:23:50
Thanks for a fascinating review, Rob.
Carey's Everton sides played great football but lacked consistency and backbone. Purely from memory (without checking records) I can recall 6-1 at home to Chelsea (6-1 at half-time too), 8-3 v Cardiff and an 8-2 thrashing away at Newcastle. His away record was very poor.
One striking insight is that a man who played, and managed, at the highest level for two decades was forced, by his early 50s, to seek employment in local government.
John Raftery
11
Posted 14/11/2018 at 09:54:00
Bill (10),
You are right about the poor away record. They liked to turn it on in front of 50,000 plus crowds at Goodison. The 8-3 win at home to Cardiff was the final game of the 1961-62 season under Catterick. By that stage, Denis Stevens and Gordon West had replaced Collins and Dunlop respectively.
Christy Ring
12
Posted 14/11/2018 at 14:29:03
Peter @9,
I agree, I can't fault Catterick's achievements, at the time, Shankley, Revie, Nicholson and Busby were talked about as great managers, but very little about Harry, who won 2 league Championships with 2 different teams, and an FA Cup.
To this day, I still can't understand why he sold Alan Ball, in his prime, and who was totally devastated leaving Everton.
Bill Watson
13
Posted 14/11/2018 at 20:33:23
Christy #12,
Harry said it was a purely financial decision; Everton were offered twice what they'd paid for him.
Rick Tarleton
14
Posted 22/11/2018 at 11:48:03
There was a pattern with Catterick. Independent-minded players, like Collins, Vernon, Gabriel and Ball were got rid of as soon as possible. He preferred his players not to question any of his decisions.
Add Your Comments
In order to post a comment, you need to be logged in as a registered user of the site.
Or Sign up as a ToffeeWeb Member — it's free, takes just a few minutes and will allow you to post your comments on articles and Talking Points submissions across the site.
© ToffeeWeb