Report
Fine brace from Richarlison seals win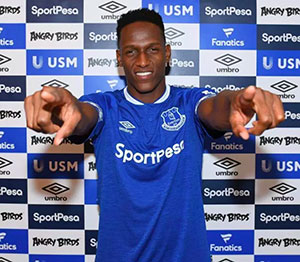 With Kurt Zouma ineligible to play at Chelsea next weekend, Silva says Yerry Mina will be ready for the trip to Stamford Bridge without starting today
Everton 3 - 1 Brighton & Hove Albion
Three excellent goals, two from Richarlison and one from Coleman, sealed the win over a resistant Seagulls side.
Yerry Mina remained on the bench until the final minute, Richarlison rising to the challenged and finally delivering from his unaccustomed role at centre-forward. Shane Duffy was stalwart in defence for the visitors, who kicked off and moved the ball about zippily, Everton less so, with some unforced turnovers.
A fine move down the right, and layback from Coleman set up Gylfi Sigurdsson for a fine finish that burst the net... except it didn't — a dreadful touch by the Icelander squandering a guilt-edged chance to put this game on the right track, an unbelievable mishit.
Everton perhaps realised they should be doing better and tried to build but Richarlison was tapped by Dunk who saw a very early yellow card.
Another fine move, this time down the left, saw a fine cross that picked out Sigurdsson again, but his shot under pressure hit the side-netting when it looked easier to score.
Richarlison turned his ankle overstretching to try and keep the ball in play, he tried to play on but then went down for treatment, eventually coming back on.
Walcott had a fine run into the area but his cross was blocked behind. From the corner, Digne picked out Zouma who really should have done far better than heading it wide. Brighton had a free-kick that was competently defended.
Everton pushed and probed, winning another corner that Duffy cleared strongly. Bernard exchanged passes with Richarlison, back to goal, ineffective and unable to turn; no chance ensuing.
Brighton won their frst corner that was floated in hig, Zouma releasing Sigurdsson, for a fantastic break down the left, he exchanged crisp pases with Bernard before playing in Richarlison who finished brilliantly into the roof of the net. Much better!
The fans wanted a penalty when Digne went down but it was questionable. Another corner, again met by Duffy as Brighton come under pressure. Digne swapped sides but played an overhit forward ball to nowhere.
Another Brighton corner, recycled well, and a very good ball to the back post, over Zouma, headed in by Dunk to level the score, pIckford with no chance to stop it.
Richarlison picked the ball up, turned and ran on goal but his shot going wide was blocked behind as Bernard was deemed to have fouled, running into a defender.
Digne went on a run and decided to shoot rather than cross, a horrible choice, lashing it high and well wide. Walcott looked to be playing a little more brightly but was blown for offside.
A good spell of Everton pressure saw the ball pinging around the Brighton area without creating a clear chance and, on the counter, they won another corner that went all the way back to Ryan.
Despite getting more possession, it was Brighton who finished the half with a free-kick that Keane headed away.
A fine cross from Coleman after the break initiates an unbelievable spell of play, Gueye hitting the post, Bernard putting it back in the mix where Walcott blazes wide at the far post from point-blank range. Another horrible miss.
In the next spell of pressure, with nothing really on, Coleman fires a lovely dazy cutter drilled into the far corner off a half-assist from Gomes, his first goal in over 18 months since that horrible leg-break, and what a celebration!
Some great attacking play dominated by pinpoint passes from Gomes won a corner that Digne swung in well but cleared at the near post. Everton continued to press but Bernard was too easily dispossessed by Bong. Bernard put in a great ball to Walcott but, with first touch lacking, it bounced back off him.
Gana won a soft free-kick that Sigurdsson put on Keane's head but too much contact saw it fly wide. Richarlison pressure won another corner flicked across brilliantly at the near post by Richarlison. A free-kick from the left was lashed goalward by Sigurdsson but blocked.
Richarlison flung himself to the ground when touched by Dunk but the free-kick, played short, failed to develop any threat. Gomes kept driving Everton forward, a third goal very much required but the big men in Brighton's defence making it hard, and Barnard was the first to be switched out by Silva, with Ademola Looking getting 25 mins, but the corner kick was powered over everyone.
Good play on the left saw Sigurdsson almost play in Richarlison. After trying down the left, Everton probed down the right, winning a free-kick that Digne put to the far post where Ryan collected.
Richarlis leapt onto a poor backpass, cleverly beating a defender and carrying it wide around Ryan and finishing cleanly to finally give Everton the lead their play deserved.
Pickford had to react to a snap-shot from Duffy, who then got whipped out by his teammate Bong. Yerry Mina finally got his Everton debut, coming on for the final minute plus four added.
Everton played out the game confidently to secure the points and consolidate their place in the upper half of the Premier League table.
Scorers:Richarlison (26', 77'), Coleman (48'); Dunk (33')
Everton: Pickford, Coleman, Keane, Zouma, Digne, Gueye, Gomes, Sigurdsson (89' Mina), Bernard (68' Lookman), Walcott (85' Calvert-Lewin), Richarlison
Subs not Used: Stekelenburg, Baines, Davies, Tosun
Brighton & Hove Albion: Ryan, Saltor, Duffy, Dunk [Y:10'], Bong, Jahanbakhsh, Stephens, Kayal (79' Andone) , Izquierdo (63' Knockaert), March (70' Bissouma), Murray.
Subs not Used: Locadia, Balogun, Steele, Bernardo.
Referee: David Coote
Attendance: 38,966
---
Reader Comments (119)
Note: the following content is not moderated or vetted by the site owners at the time of submission. Comments are the responsibility of the poster. Disclaimer
Phil Smith
1
Posted 03/11/2018 at 14:49:02
I think Zouma should come off with 15 minutes left to give Mina a taste of the pace of English football, if he is to start against Chelski.
Jay Wood
[BRZ]
2
Posted 03/11/2018 at 16:01:16
A thoroughly entertaining half of football, but we really should be out of sight already, not still on equal terms.
I am really surprised how much space we have down both flanks, both in front and in behind their defence. Seamus is much improved on his performances this season and he and Walcott are dovetailing very nicely down the right. Digne and Bernard to a lesser degree on the left, but still decent.
Sigurdsson should have had at least one goal, but is still playing well. Our breakaway goal from a Brighton corner was a thing of beauty and quality all round by all concerned.
The equaliser conceded was a soft one, but well played Brighton for the short corner which shifted our zonal marking (which in recent weeks is working very, very well) half a yard which opened the space when the ball came in.
Gomes very passive and a little loose, but otherwise we are looking very good. Need to start putting the chances away we are creating.
Steve Ferns
3
Posted 03/11/2018 at 16:04:07
Watching in Portugal. You'll be interested to note we're the main game on here. The Portuguese links at work?
We should be two up. Need better finishing in the second half.
Jay Wood
[BRZ]
4
Posted 03/11/2018 at 17:07:51
What Evertonian could not enjoy that game?
That 90 minutes alone was far more entertaining than the entire stint on Sam Allardyce's watch. The Goodison faithful clearly enjoyed it, judging by the SFX of the crowd.
Didn't Seamus enjoy his goal? The way he celebrated suggests he has not been deaf or blind to some of the questioning of his performances this season, but he was outstanding today.
Richarlison up to six goals now, including a 3-match suspension in his time with us. Superb finish from a wonderfully crafted goal, back to front, for his first, and how long is it since we had a player on our books to show the alertness, guile and ability to score in the fashion he did for his second?
The defence barely ruffled in the 2nd half. Gomes once again had a better 2nd half than 1st. Gueye immense. Nobody performed badly.
This is a team coming together very nicely, thank you very much.
Terence Leong
5
Posted 03/11/2018 at 17:11:23
I think it's our best performance to date, in terms of the link up play all around.
Bernard still looks under-utilized, but does what he can.
3 points!
Peter Fearon
6
Posted 03/11/2018 at 17:15:19
Judging by Seamus Coleman's somewhat defiant celebrations, it seems he is very much aware of the totally erroneous views expressed by some Evertonians that he is not the player he was before his injury. He doesn't agree. Maybe some of those who have being giving him stick should switch back to supporting him.
Jay Wood
[BRZ]
7
Posted 03/11/2018 at 17:24:10
Cummon Peter @ 6 - don't overegg it.
Seamus has been poor since his return from injury, not just this season, but last season also, other than his storming return game against Leicester.
It hasn't been a witch hunt against a hugely respected player (and man...). Nor has there been blanket dismissal that Seamus could return to the standards of old.
Very legitimate evaluations have been made by several posters about the standard he was performing at, which has been well short of what we know he is capable of.
Today, he demonstrated he still has got 'it'.
It is now down to the player to maintain that standard.
Peter Fearon
8
Posted 03/11/2018 at 17:30:49
Jay, if it's true that Coleman has been struggling to find his old form – I actually think he has not been helped by the efforts of Walcott – then surely he should be supported in his struggle and not merely dismissed, as some have, that he is crocked. I think he has put that one to bed, not just with his goal but with his entire contribution. Walcott was also rocking today and that certainly helped.
Fran Mitchell
9
Posted 03/11/2018 at 17:33:16
Seamus's celebration didnt seem like he was 'proving fans were wrong'. He has hardly been heckled, but he has been much below par and he probably knows that, and suffers that, more than anyone.
He was better today, yet he did give the ball away much too much. Hopefully, he will improve.
Walcott also improved today, his movement is so intelligent, his pace is deadly but his final ball is lacking.
Gomes and Gueye are an ideal midfield partnership. And Digne is brilliant.
Eddie Dunn
10
Posted 03/11/2018 at 17:35:28
Seamus played well today and that goal celebration is proof that some of the players read what the fans think. In my opinion, in terms of criticism, he has been cut some slack due to the severity of his injury, and because he is such a lovely lad. Other players have had worse stick.
However, there is no room for passengers on the pitch and, if he plays well, he gets lauded, so if he plays poorly, he should also take the flak. Let's hope it was just poor form and now he will continue in this vein.
Paul Thompson
11
Posted 03/11/2018 at 17:36:31
Probably the best performance of the season. Brighton a tough team coming off a run of 3 1-0 wins and we tore them apart at times. Defence largely comfortable, with Digne as ever superb. With Gomes linking play, Gueye breaking it up and Sigurdsson driving it forward, we have a much better and more balanced midfield.
Richarlison's goals were sublime and he ran them ragged throughout. Bernard and Walcott quieter, but they kept things moving, and Walcott defintely upped his game from recent weeks. Well done to the lads and the manager all round.
Paul Smith
12
Posted 03/11/2018 at 17:41:06
Seamus set a high bar to live up to hence our frustration with his recent form. Made up for him today.
Still feel we fail to exploit all the corners and crosses we get in due to our flying wing backs and Gylfi.
Gomes is outstanding, we must do everything we can to make him love Everton and the local area.
Gavin Johnson
13
Posted 03/11/2018 at 17:42:44
The best performance under Silva and the best football since the early days of Martinez. It was a joy to watch. I think this game showed that we are a club on the up. The real test is improving our abysmal record against the established top 6 clubs with the next few away games being pivotal. But even if we finish 7th the football is so much better. I doff my cap to Marco Silva and Marcel Brands.
As for individual performances, I thought the whole team was excellent. Coleman and Walcott raised their game after some criticism this week. As did Richarlison. Quite a few people were starting to make noises that he couldn't cut it as a centre-forward and he scored two fantastic goals. What a riposte.
Gomes was actually my Man of the Match. He was everywhere. He keeps the ball and is creative with it. He also allows Gana to sit deeper between the centre-backs and to do what he does best. Finally, the midfielders have clearly defined roles.
It was a great game. I'm looking forward to watch us play again. Even at Man Utd last week, I was optimistic we could get something from the game. Our team is set up to beat teams in away fixtures on the break. We have the pace to hurt teams. Let's see what happens in these coming away fixtures, but today, it feels good to be Evertonian again.
My only criticism is that we still look shaky defending from corners. My heart's in my mouth every time the opposition get one.
Carlos Nunes
14
Posted 03/11/2018 at 17:53:22
Jay Wood,
I thought the exact same thing when Seamus ran to the crowd to celebrate his goal and you are correct that there have been discussions here about his and Walcott's performance on the right hand side.
It was good to see him and Walcott have a better game today!
Davie Turner
15
Posted 03/11/2018 at 17:57:24
Some of the stick Seamus has got has not been right for me, but not all of it. He deserves today, quality lad and made up for him. His celebrations have always been full on, I personally wouldn't read too much into his celebration today.
Jim Bennings
16
Posted 03/11/2018 at 18:00:38
I fully expected us to win given the way we have played lately; Brighton were level at half time but were never truly in the game.
Richarlison was fantastic today and a class above Duffy and Dunk and that's six goals now already, the challenge for him now is to do it next weekend at Chelsea?
Gomes has shown us what we've been missing with tolerating Schneiderlin and Davies in that role; well, Gomes is pure Rolls-Royce, a different level.
As I said yesterday, an out-of-form Coleman is still better than Kenny (nothing on Kenny as he did a decent job) but Coleman, when on fire, can do things like that today.
Zouma and Keane simply owned Murray and the only comforts I can take from that partnership being broken next week is that we have Yerry Mina coming in.
All-in-all, a very comfortable and satisfying victory and I'm enjoying Marco Silva and I feel like he's enjoying us; it's a completely different landscape to the Allardyce tenure.
Special mention today for Gana, bloody immense today he was!
Dave Evans
17
Posted 03/11/2018 at 18:03:26
Jay @ 7
I loved Coleman's reaction to some fans after his goal. Too many people dismiss players as 'shite' after a poor run of form or even a couple of average games. It is some fans who lack foresight and perspective who are prone to 'over egg' things.
I see Barkley, that Chelsea player, is still "shite".
Jay Wood
[BRZ]
19
Posted 03/11/2018 at 18:07:47
Peter @ 8, as Eddie notes @ 9 if anything, because of the severity of his injury and the very high-esteem Seamus is held in by (I'm sure) the overwhelming majority of knowledgeable Evertonians, our #23 has been cut considerably more slack than other players, perceived by some to be 'underperforming'.
So I refute your implication that he has not been supported in his struggle to return to form from his injury, or that he has been broadly dismissed as permanently 'crocked'.
Nor do you convince me with the further implication you make that his poor form is down to being paired with Walcott, rather than his own shortcomings.
Because in spite of all your claims, Seamus has been in poor form for the bulk of the 9 months and 18 Premier League games he has played for Everton since returning against Leicester. That's a very broad time and game span to make a considered evaluation of his performances since the turn of the year.
For that reason, I also consider it way too premature on your part to claim his performance today 'put to bed' the legitimate doubts expressed by some about Seamus's capacity to recover to his previous high standards.
I am sure, like yourself, I am not alone in being absolutely delighted with the way Seamus played today and his goal. That doesn't blind me to the reasonable evaluation that today was his second best performance (after that Leicester game) since his return from injury and for the bulk of the other 16 games he has played since then he has been well short of the standards we know he can perform at.
As I said earlier, today Seamus demonstrated he can still perform at those standards. It know befalls to the player to maintain that high standard on a consistent basis. Because a Seamus Coleman performing at those levels is a golden asset and example to the entire team.
Sam Hoare
20
Posted 03/11/2018 at 18:12:15
Whisper it quietly but we are now moving very clearly in the right direction after several years of standing still and even going backwards.
Many steps to be taken still and no doubt some will be false ones but I think you can tell that we are all feeling deep into love with Everton all over again. Excitement and optimism is beginning to seep out. Even Jim Bennings says he's enjoying Marco Silva.
Shane Duffy said after the game that Everton are going places and I think (Hope) he might be right. Next week will be a good test. We were unfortunate at times against Man Utd but Chelsea are tougher nut than them.
Terry Farrell
21
Posted 03/11/2018 at 18:13:41
All the people on here questioning Coleman, Walcott, Richarlison at centre-forward, etc learn to trust Marco Silva. Great football played today. Litmus test against Chelsea.
Davie Turner
22
Posted 03/11/2018 at 18:18:36
@ Jay
Think rolling up all the criticism and saying it's fine maybe a bit much, in here and at games some of it has definitely crossed the line beyond genuine criticism into some pretty nasty abuse.
Personally cut him more slack than some and it takes the conversation away from an excellent performance.
Also, I doubt that celebration was meant for anyone but the odd idiot in the crowd if anyone at all. Let's not make it something it likely wasn't.
Brian Murray
23
Posted 03/11/2018 at 18:19:17
Litmus test is Anfield and going there with no fear and coming back heroes.
John Keating
24
Posted 03/11/2018 at 18:33:02
Good all-round performance by everyone today. Gana immense and, for me, my MotM.
Keane is improving every game.
The big test comes against Chelsea. We bottled it against Man United; if we do the same against them, it won't be a one-goal difference.
Joe McMahon
25
Posted 03/11/2018 at 18:44:05
Sam, if Jim's happy, we are all happy!
Charles McCann
26
Posted 03/11/2018 at 18:53:25
I agree with Dave Evans (17).
Seamus Coleman has come in for some unnecessary stick from some posters on here recently. After the injury he had, it was always going to take time to get back to the level he had been at before the injury. That being said, he was actually still playing well, just maybe not reaching the very high heights he had been at in years gone by. Today, he was magnificent and I'm so pleased for him.
I feel Evertonians are too quick to turn on their own players particularly those homegrown like what happened with Barkley and has been happening with Davies more recently. I find that hard to understand.
But anyhow, fantastic performance today. Some beautiful football played. Silva and Brands are beginning to make a very positive impact on this club.
Dave Abrahams
27
Posted 03/11/2018 at 18:58:18
We wouldn't have been flattered if we had scored six or seven, definitely should have scored more than three.
That first goal could be in the running for goal of the season with the quick execution from one end of the field to the back of the net, brilliant. Seamus scored a very good goal and played very well then Charlie scored another brilliant individual goal to finish the scoring.
We played very well, I thought, but were Brighton as poor as I thought they were, particularly the two full-backs and the centre-backs when the ball was on the floor? I think I'll go with: We made them look poor.
Whatever it was, we are now a pleasure to watch this season and Goodison Park is a very happy place to go to now; roll on the next game.
One serious moan, why is Pickford glued to his line when corners, centres and free kicks are played into his six-yard area? He shouldn't have allowed that header for their goal, he should have been well out to it and punched it away: a recurring fault of his in a lot of games; moan over.
Pat Kelly
28
Posted 03/11/2018 at 19:15:21
The game against Chelsea wil reveal whether we are making sufficient progress to test the better teams.
Dermot Byrne
29
Posted 03/11/2018 at 19:24:35
Having had a post beer kipper (enough now D), watched again
Without going OTT, this team is getting better week by week. And that pass inside by Bernard for first goal was perfectly in his stride.
And... we have choices!
Moshiri must have loved that!
Dermot Byrne
30
Posted 03/11/2018 at 19:26:16
We may not yet, Pat, but only a few months since Sam!
Stephen Brown
31
Posted 03/11/2018 at 19:28:49
Can we sign Gomes in January before he gets any better and Barca want him back?! Make an offer! £40 million?
Colin Glassar
32
Posted 03/11/2018 at 19:35:35
I don't think he wants to return Stephen and I don't think Barca would want him back. He had a terrible time there – injuries, loss of form, crowd on his back etc... He looks happy with us and I'm almost certain he will sign a long-term contract in the summer.
David Barks
33
Posted 03/11/2018 at 19:36:00
Pat,
No it will not. The game against Chelsea will be worth the same amount of points as those won today. Every match is judged on its own merits. We're winning matches, playing well, week-in and week-out. Only done in by poor refereeing against Man Utd. It's clear to anyone watching we are going in the right direction and Chelsea will just be one more match.
Eddie Dunn
34
Posted 03/11/2018 at 19:41:35
Charles (#26). I think you are wrong there. Seamus had put in a couple of very poor performances, where his touch was awful, his crosses rubbish and defending below par. He has to hold his place in the team just like all of the others. He is lucky that we only have a rookie in Jonjoe to compete for his place.
I have always admired Coleman and hoped he would get back to playing and for him to get to this stage shows great character. However, other players have had poor form and lost their places (Tosun, Holgate spring to mind).
He is getting the plaudits from many of those who had the temerity to criticise him. It works both ways.
Let's all hope he continues to improve. Who knows, the criticism may have spurred him on to greater things.
Stephen Brown
35
Posted 03/11/2018 at 19:56:01
I hope you're right, Colin (#32) but I'm worried if he plays really well they might want him back or might want a huge fee!
The new Arteta!
Grant Rorrison
36
Posted 03/11/2018 at 20:12:48
David 33.
I disagree. If we want to become a top side rather than just monopolise the best of the worst/7th place then we need to win a few take notice matches like the one coming up against Chelsea. We then play Liverpool and Man City in the following two away games. So plenty of opportunities coming up.
Jamie Crowley
37
Posted 03/11/2018 at 20:19:00
I was relegated to watching bits and pieces on the phone as my 9-year-old had a game this morning.
Seems we played very well. Thrilled for Seamus.
One thing about the game, but not really about the game at all,... And I've mentioned this before, and might do 100 times again in the future.
As we were driving to my boy's game, I put on the official feed. Before the moment of silence, I said to my son, "Listen to this - NO-ONE will make a single peep."
Deafening silence. Not a cough, a throat-clear, a shuffle - nothing.
After the silence, my kid said, "That's amazing!" I followed up with, "THAT'S how you do it and show respect."
Every single moment of silence brings a very slight tear to my eye. It's done so, so perfectly and reverently in England, and Goodison does it superbly. Near forty thousand (for effect, forty thousand) people and not a pin dropped.
It's become one of my favorite things in all of sport.
It's something I think every English, Irish, Northern Irish, Welsh, and Scottish fan should be very, very proud of.
It's a jaw-droppingly beautiful thing, and I'm glad my son's first exposure to such raw class and respect was heard being done at Goodison.
Awesome.
Jim Bennings
38
Posted 03/11/2018 at 20:21:32
I'm with you Grant 36#
We are playing some dazzling football and for me we are the best of the rest even though I applaud Bournemouth, Wolves and I think West Ham and Watford are decent.
But what we really need or what I would love is to see us go to one of these top six venues and get a statement result that makes the top sides take notice.
People say we are a work in progress and it's too early to expect that, yes we are a work in progress but we are playing well enough to go and get a result against a top side there's no doubt about that, we don't have to wait for that and we shouldn't have to.
Look, Bournemouth won 3-0 at Chelsea earlier this year and we are better now than Bournemouth were in February so why can't we go and make a real statement of intent somewhere?
I think we can.
David Barks
39
Posted 03/11/2018 at 20:22:49
It's only the 4th month of Brands/Silva's reign. Progress isn't judged by one upcoming match. That knee-jerk mentality is what successful management ignores.
The progress is clear to see throughout the team and with the results that have followed after the team has gotten healthy and beginning to come together. This isn't about where we are after 12 matches or 14 matches or 20 matches. It's about what we are doing to become competitive with the best in the coming years. And nothing so far has shown me that Brands and Silva aren't working toward that goal. Chelsea is just another match.
Colin Glassar
40
Posted 03/11/2018 at 20:32:22
Well said David, I couldn't agree more. Once again we are in a rebuilding process but it feels so different from the haphazard transfer business of recent years,
Stephen, they (Barca) will certainly want a decent fee for the lad (£25m?) but we can always offload the likes of Niasse, Schneiderlin and Vlasic to cover that.
Jay Wood
[BRZ]
41
Posted 03/11/2018 at 20:40:22
Jamie @ 37. The point you make about the total respect, nationwide in the UK, about how a minute's silence at sporting events is so immaculately observed, resonates very much with my Brazilian wife.
Like you, she is in total awe of the 'hear a pin drop' silence. The first time I called her attention to it, she asked me if there was something wrong with the audio setting, or had I muted the sound? She literally jumped when, at the end of the minute's silence, the 40,000 crowd roared and applauded, so unexpected was the moment for her.
This is totally alien in Brazilian culture. Yes, the players wear black arm bands. Yes, both teams line up around the centre circle. Yes, the referee blows the whistle to signify the start and end of the minute's silence. And yes, the TV commentators make mention of it.
But there the similarities end. There is zero, but ZERO observance by the match day crowd. Partisan chanting continues unabated. Flags and banners wave. The Samba bands continue to play.
This is the case, even if the memorial is dedicated to one of the competing teams own former players.
As your 9-year-old commented, the universal respect shown by 40,000 individuals at an emotional event such as a football match in the UK is truly 'amazing' and a credit to the attendees.
Pat Kelly
42
Posted 03/11/2018 at 20:43:15
David, I'm talking about whether we're making sufficient progress to compete with the better teams now, not in the coming years. If Chelsea and the other top six is just another game then let's see if we can we get anything out of these ordinary games.
Gaute Lie
43
Posted 03/11/2018 at 20:43:19
Good game.
There is now a will to go forward in the team, and that's something we did not really see last season.
I'm glad Coleman is back in the shop. His injury took its toll on him, like it usually does. He offers plenty when in form.
Perhaps we should be worried about our poor dead-ball handling? But, for now, we should be satisfied.

Martin Berry
44
Posted 03/11/2018 at 20:49:50
We were superb today and 1-1 at half-time was a travesty!
And for those who say Brighton were poor, I say we made them poor by hunting them down in packs when they had the ball. We did almost everything right apart from missing the cross for their goal.
If we play like this away, then Chelsea are going to have a game on their hands.
The team looks solid and we have strength and tactical options off the bench. Proud to be Blue with the minute's silence today, eerie silence – as it should be.
Fran Mitchell
45
Posted 03/11/2018 at 21:00:35
Gueye was immense today, totally dominated the midfield. Brilliant, a shame he hit the post, would have been a goal he deserved.
I feel he is greatly under appreciated by many fans, he gets criticised as being limited, even seen posts calling him 'not Premier League level'. Which is just ridiculous. Look at the criticism he got after being wrongly penalised at Man Utd, the ref made a mistake, yet fans still criticised Gueye.
Gueye is essential to this team, to how Silva wants us to play. His energy, his pressing is just amazing. Look at the ball at any given time, and Gueye is there, how he has the engine is just a miracle.
Brilliant player, irreplaceable and first name on our team sheet. I really hope Davies is studying his teammates game, because this is what Davies should aspire to be.
Jamie Crowley
46
Posted 03/11/2018 at 21:01:33
Jay @41 -
I'm definitely with your wife (and you) on this one.
Here in the US, you'll always get some wisenheimer yelling out, or some shuffling, a cough, a section starting a quiet chant – something.
The minute's silence in the UK is just beautiful. I can think of no other word to describe it.
And it absolutely has an inexplicable emotional affect on me. It's one hell of a powerful minute.
And all the Blue participants should be proud. It represents them very well to a global audience.
Class.
John G Davies
47
Posted 03/11/2018 at 21:33:33
The signs are there, we are definitely heading in the right direction. The football is miles ahead of anything we played since Roberto's first season.
The feel good factor is back amongst the fans. And most importantly, the negativity has disappeared.

Eddie Dunn
48
Posted 03/11/2018 at 21:35:23
Silva kept the same side despite many calling for him to forget Richarlison in a central role, and to drop Bernard or Walcott. However, despite Calvert-Lewin and Tosun coming off the bench to score in the last home game, Silva held his nerve and the team responded.
We are beginning to gel. Continuity is paying off and we are playing some sublime football from back to front.
Bill Watson
49
Posted 03/11/2018 at 21:53:03
Lots of good performances, today, but Gana was immense. He has this knack of suddenly getting in front of the player on the ball and nicking it off him.
Close behind him was Gomes. He brings assurance, calmness and incisive passing to midfield, something we've been lacking for years.
Colin (#32), I hope you're correct and we manage to sign him. He's a huge talent.
Tom Bowers
50
Posted 03/11/2018 at 22:01:51
I can see what Silva is trying to do and that is get a settled starting eleven but it seems that's okay for the first 15 minutes or so and then some players seem to switch off. Bernard and Walcott looked very lively early on but faded.
That's not to say they let the team down but sometimes they were not used in certain attacks when Digne and Coleman were well forward. Luckily the half-time talk seemed to have worked as they came out smokin' in the second half. What a powerful finisher they now have in Richarlison!!!
Four wins out of five with that toughie at Old Trafford that should have been at least a point. There were also games against Wolves and Bournemouth that should have produced more but, all-in-all, this team is way ahead of what Koeman and Allardyce were turning out last season.
Gomes is looking like a real good acquisition.
Tony Abrahams
51
Posted 03/11/2018 at 22:13:22
I said yesterday that I would like to see Sigurdsson drop deeper to partner Gomes so Bernard can go and play as a 10 but not if Gueye plays like he did in the second half though.
We had some very good performances but little Gana was absolutely brilliant the longer the game went on today.
I thought the minute's silence was impeccable, the Last Post brings back memories of a funeral of one of my old football mates who lost his life in Northern Ireland and, despite my bad memory, I saw his face very vividly for the first time in years today.
Very sad, but also very touching, and it's also great to see the vibe returning to Goodison Park, especially when the floodlights come on and Richarlison scores two goals of real beauty and I think how far we have come since we beat Silva's Watford this time last year!
I've also been thinking about ToffeeWeb's great character George McKane, I haven't read anything inspiring from the great man lately; I hope he's okay, and I also hope "The Toffees" have inspired him today.
Andy Crooks
52
Posted 03/11/2018 at 22:19:27
Jamie, @ 37, a really top post that I have read several times. Top stuff.
Brent Stephens
53
Posted 03/11/2018 at 22:19:30
Great to enjoy not just the result but the performance. I feel we're now getting to synergy – the whole is more than the sum of its parts; we're becoming again a settled team of players who are starting to understand each other and their role in the whole setup. And it's still only early days.
I love Digne – understated, quiet, undemonstrative but what a player. Gana immense again. And a nice partnership developing between Keane and Zouma. Richarlison hard as nails and no little skill (somebody on the Live Forum thanked Richarlmum and Richarldad for Richarlson!).

Brent Stephens
54
Posted 03/11/2018 at 22:21:30
... and, of course, that partnership developing between Gana and Gomes.
John Pierce
55
Posted 03/11/2018 at 22:26:00
JaC, a very good post. It resonates every time I see a British public event with impeccably observed silence.
Conversely it saddens me now 5 years in the USA and whilst I do understand there are cultural differences so many events are spoilt in the fashion you describe.
Working in sport I'm exposed to it all the time.
But it is a thing of stunning beauty, hair standing on end and the roar of the crowd at the end following a cresendo of respect.
Nice one JaC!
Ernie Baywood
56
Posted 03/11/2018 at 22:46:18
I haven't seen Seamus taking stick on here. I've seen plenty of people say his performances have been below standard and question whether he can get back to his form from before his injury.
That's entirely fair.
I'd guess that his celebration was less about responding to internet forums and more about his own understanding of where his form has been at. He doesn't need anyone to tell him that he hasn't got back to top form after a potentially career ending injury.
Terry Farrell
57
Posted 03/11/2018 at 22:46:58
David, can't you see that if we want to break into the top 6 then we need to beat some of them and not just at Goodison Park? If you do then next week is a test! I agree we were victims of terrible refereeing at Man Utd.
Simon Smith
58
Posted 03/11/2018 at 22:54:44
Great performance at home in front of a packed Goodison Park, absolutely brilliant to see.
Richarlison was brilliant, as was Gana and Gomes in centre-mid. Walcot was lively, Bernard looked decent too and was a little unfortunate to get taken off (although expected as subs need doing and he was probably not quite as good as the others), Sigurdsson worked really hard but wasn't his sublime best if I'm honest.
The lads at centre-half were excellent too, Keane especially.
Digne and Coleman were both at it al game too, truth be known we should have hit at least 5 today.
Great to see Lookman getting a few extra minutes now too, and Mina even got a run out.
Going the Everton match now is enjoyable, me and my boys are back to being excited going the game.
Keep it up blues.
Andy Williams
59
Posted 03/11/2018 at 23:06:01
Fantastic. So much and so many to applaud. Gana, Gomes, Digne, Richarlison.
But special mention to Keane. Nobody demonstrates more how a player can be affected by confidence. So unsure last season but growing by the week. He was immense today. Won almost everything in the air, intercepted and out-muscled virtually everything else Brighton had to offer and constantly threaded passes through midfield. Superb.
Jim Bennings
60
Posted 03/11/2018 at 23:24:42
Andy
I don't even think it was so much down to confidence last season with Keane, he suffered a catastrophic injury that possibly could have ended his career, awful luck when you have just signed for a new club.
He also wasn't helped that for large chunks of last season he was partnered by the walking disaster that was Ashley Williams and we had Cuco Martina playing left back.
This season we are seeing the Michael Keane that we knew we were buying and the one that Klopp wanted at Liverpool in the same summer.
Andy Williams
61
Posted 03/11/2018 at 23:34:38
Jim, yeah, obviously the other factors played their part (and their part in the decline of his confidence) but he is a completely different player. Anyway, I don't care as long as he continues to play so well.
John Raftery
62
Posted 03/11/2018 at 23:34:40
We scored three well worked goals today but conceded a very soft one against opposition who hardly created anything worthwhile in ninety minutes. The transformation from the shambles of twelve months ago is encouraging. Credit must go to Brands and Silva for a much better recruitment programme than the equivalent in the summer of 2017.
As a result we are watching a new team and a more attractive brand of football, the key to which is the pace and quality of Richarlison and Walcott in attack supported by the guile of Gomes in midfield. Digne and Zouma have settled in well while Keane is looking more like a £25m centre back after overcoming last season's foot injury. Sigurdsson is benefiting from playing centrally. Thankfully Pickford is having less to do, at least in our home matches.
We should however resist getting carried away. Three successive home wins have come against opponents we should expect to beat; a poor Fulham team, while Crystal Palace and Brighton were both easily beaten earlier this year with Allardyce in charge. We defeated a Leicester team on their own pitch only after they were reduced to ten men.
With the focus on attack we continue to concede goals far too easily. That is less of a problem at Goodison facing teams in the lower half of the table but we will continue to be punished when up against the stronger teams especially away from home.
At the other end of the pitch not enough promising moves are converted into chances and efforts on target. More ruthlessness is required, not only from the forwards but also from the rest of the team. We have been heavily dependent on Richarlison and Sigurdsson to score our goals so it was good to see Seamus get on the scoresheet today.
I now hope to see an improvement in away results but in all probability that will not happen this side of Christmas. At least we look secure in mid table which was far from the case twelve months ago.
Lewis Barclay
63
Posted 03/11/2018 at 23:39:30
I read earlier that we are two or three players off of a great side.
As much as I want to celebrate things:
Man City can put out a second string side that would likely finish in the top six of the Premier League.
This is what Everton are up against.
To be anything more than a "Leicester City", we have to build a squad that will be almost impossible to beat, not just a first eleven.
Will Mabon
64
Posted 04/11/2018 at 00:18:53
I knew I'd be busy today and couldn't watch, also hearing the radio would be patchy. So I decided to avoid all coverage of the football for that surprise factor later.
A good scoreline, an entertaining game, Evertonian, Brighton fan or not. The "Impartial" producers of Match of The Day must agree, as we were promoted one place in the running order; next to last.
John Boon
65
Posted 04/11/2018 at 00:26:06
Lewis (63),
Just enjoy the moment. We had a good win... that's all. Because of that, I will now fully enjoy the weekend.
Will we become a great Premier League champion team? Who knows ? I have watched Everton since 1947 and I have seen us win the league and the cup. If we do that again I will be delighted, but at the present time I am delighted because we beat Brighton 3-1.
Don't look too far ahead because all you will do is trip over your own feet. Celebrate the small steps while you still can.
Ray Smith
66
Posted 04/11/2018 at 00:33:58
David 33 & Terry 57
Referees.
Guys I share your views re poor refereeing at Man Utd last week.
I have attended 5 of our 6 home fixtures and IMO I am yet to see a referee strong enough to get a grip of any of the away sides.
Southampton: Lee Mason allowed them to kick us up in the air and waste time repeatedly, typical Mark Hughes who will use bully boy tactics without fear of sanction. Yes it's a mans game, but we got no protection from Mason.
Huddersfield: Stuart Atwell
they continually wasted time, feigned injury, came for a draw and got it. Atwell allowed Huddersfield to pull all the tricks in the book without sanction. Early days at the time, but still poor refereeing.
West Ham: Martin Atkinson
Least said the better, they ripped us apart so a bit unfair to criticise the ref on this one.
Fulham: Roger East
I accept that they caved in, in the second half, but East never got a grip of the petty fouls and time wasting.
Palace: Anthony Taylor
Didn't attend so unfair to comment.
Brighton: David Coote
Who? Poor decision making by him and his assistants, a bit out of his depth I feel.
However, great result today throughout the whole team.
Definitely on the up, and a point next week at least is on the cards IMO.
Tony J Williams
67
Posted 04/11/2018 at 00:35:19
I know it was only Brighton but that was our best 90 minute game in a few years.
I am glad to be eating my hat about Gana, as he is becoming immense with each passing game.
Don Alexander
68
Posted 04/11/2018 at 00:39:59
Just watched MotD and couldn't help recalling the very few matches over the last 20 years when we scored three goals, regardless of the opposition. I was also impressed with the number of our players in and around Brighton's penalty area, which has also been a rare event in the past 20 years. Thus I'm again obliged to point a very accusing finger at the self-proclaimed "Greatest Everton Fan" who's still somehow attached to a position of even minor influence in the resurgence of the club.
If anyone's wondering who he might be, he's the one who's surrounded himself for years with yes-men non-entities at the coaching end of the club whilst seeking the "assistance" of financial sharks for the alleged "benefit" of the club (rather than his own financial killing of course) who'd pillage their own mother's pocket for an extra bob.
Hopefully he's shown the door very soon. His presence stinks the place out in terms of our world-wide credibility, Farhad.
Simon Smith
69
Posted 04/11/2018 at 00:39:59
Could we have asked for a better replacement for Leighton than what we have in Digne? I think he is class. A couple more additions in January or the summer and we might have quite a team on our hands.
Great to see positivity on here again. I have a good feeling about this season.
Colin Glassar
70
Posted 04/11/2018 at 00:42:00
We got all of 30 seconds post-match commentary on MotD. Danny Murphy looked like he was going to puke.
Fran Mitchell
71
Posted 04/11/2018 at 00:47:11
Interesting thing about today, Richarilson got 2 goals, yet hardly anyone one here suggests he was MotM. That is quite an achievement.

For me, Gana was the best man on the pitch, and I doubt anyone had as good a performance as him today in any league.
Ed Prytherch
72
Posted 04/11/2018 at 01:00:27
Brent Stephens talked about synergy and that is the same word that I would use to describe our midfield three. It seemed like we had an extra man in there whereas so often in the past we looked like we were playing a man short.
Gana, Gomes and Gylfi complement each other so well and, for the first time in a long while, we have a balanced midfield. Gana and Gylfi are able to play their natural roles because Gomes has come in. He is the piece of the puzzle that was missing.
Mark Wilson
73
Posted 04/11/2018 at 01:05:04
This Coleman nonsense really depresses me. It's like every Everton fan is aged 10 shouting at each other in the schoolyard.
There have been a few really balanced posts here that get it spot on. Coleman is a hugely popular player, a captain, a smashing guy and a very decent footballer. We are lucky to have him at our club. But he isn't beyond the odd balanced bit of criticism, for pity's sake, and it's just daft to see the shite being written about his goal celebration.
Why do fans "deserve" that disrespect in his deliberate goal celebration? Why? So a few idiots were abusive. Ignore them, all players get stick when things go wrong. Mostly it's reasonable, even if angry but the keyboard morons will always exist.
Shay is a captain and has to deal with it better. He's a wonderful asset to our club, I rate him very highly but hey, he's been a bit crap at times this season and last. He's back after a terrible injury. He doesn't quite look at the races some games but today he was really very decent.
That injury has clearly had a deep impact and he may never be quite the player he was. Or he will, like others, deliver at his usual high standard in an improving squad. I hope it's the latter but if Schneiderlin or Keane of last season had done that celebration today, there would be a very different reaction.
It's okay to say someone's off their game, it's just a view and it's often a view formed not just on one match but a number. Get over it, Coleman, your a star and highly respected here, put the dummy back in and carry on with performances like today. You were gutsy, clever, and worked your heart out and got a lovely goal. We love you, okay... so take the hands away from the ears, please.
Nicholas Ryan
74
Posted 04/11/2018 at 01:25:58
I think the relationship between Gomes and Barca is fractured beyond repair; the real risk is that someone like Real or Bayern make Barca an offer they can't refuse.
Ernie Baywood
75
Posted 04/11/2018 at 02:04:51
Well, if one of those teams make an offer for him, then we will have had a fantastic season. It won't happen otherwise.
For what it's worth, I don't see a player who is at that level.
Bob Parrington
76
Posted 04/11/2018 at 06:03:18
Maybe Seamus was not trying to make a point to a particular section of the crowd. In the heat of a cauldron of noise, does anybody honestly reckon a player thinks this way? IMO, he was so delighted to score again, with a bleedin' great shot, that he just couldn't keep it bottled.
He's still struggling with some parts of his game since his horrific leg break. Good luck to the man. May he long wear the Everton #2 shirt.
In regard to Gomes, I reckon he will sign for us. There's just that look of enjoyment on his face many times during the games, even when the move hasn't quite worked.
Digne looks quality as does Zouma. Richarlison's play speaks volumes so no need to comment. But what about Sigurdsson's and Gana's performances and, yeah, Keane's.
It is fantastic to see the team playing this kind of football (Soccer for my fellow Aussies)!
COYB! That first goal was sheer class!
Laurie Hartley
77
Posted 04/11/2018 at 06:36:39
That is Silva's best starting eleven without a doubt in my opinion. The team looked completely balanced in all departments. I had my doubts about him but it looks like Silva knows what he is doing.
Much as I wanted Mina in the last window, I think it is a real shame that the partnership of Keane and Zouma has to be dismantled for the Chelsea game. They look perfectly matched.
Good performances throughout the team but my Man of the Match was Gueye. He has got some motor.
David Ellis
78
Posted 04/11/2018 at 06:46:23
I can't see the likes of Bayern or Barca coming in for Gomes... nor would he have the confidence to go there. He'll definitely want to stay at Everton because he knows he fits in here... and he also knows a move to "bigger" club can go pear-shaped as he's lived through it once. So don't worry. We'll sign him over the summer.
All very encouraging. Nice to see Chris Hughton praise Everton as a top side and acknowledge they were simply out-classed this time out (after winning 3 on the bounce).
Bournemouth and Watford both very unlucky to lose on Saturday... but they are the clubs we need to get past (but I would have wanted Bournemouth to beat Man Utd anyway... I still have hopes we can finish above Man Utd despite losing the 6-pointer last weekend).
Duncan McDine
79
Posted 04/11/2018 at 07:11:28
I took my 5- and 6-year-old daughters for their first game at Goodison yesterday and they're hopefully Evertonians for life now. I thought we were excellent – even when we conceded, the result was never in doubt. Some excellent performances throughout the side... it feels like after a good few years of looking for it, we're starting to get our mojo back!
Amit Vithlani
80
Posted 04/11/2018 at 07:40:04
Brent speaks of synergy and I think he is on to something. Gylfi, Bernard and Digne were interchanging passes beautifully and their variations make it very difficult to defend. I noticed Brighton were unsure whether to step up (which could be broken through via one-twos) or defend deep (making them vulnerable to dangerous crosses).
That is a sign of a top team.
I was delighted for Seamie and he can cup his ears, do a mooney and launch an almighty raspberry for all I care. I am glad to see he really put in a good performance and I hope for his sake this is the start of a resurgence in form.
I feared we had seen the last of the dangerous marauding RB of old. The curse of injuries cutting down our best players in their prime has a long history at our club. Southall, Ratcliffe, Sheedy, Bracewell, Arteta, Jags were lost to long stretches of bad injuries at their very peak, often missing key games in the process.
Shaun Robinson
82
Posted 04/11/2018 at 07:55:00
Gana had an immense game yesterday. His fitness level must be unbelievably high when you consider the ground he covers; if only his shot hadn't come back off the post, it would have been a near-perfect performance.
Ray Smith
83
Posted 04/11/2018 at 08:39:50
Nicholas 74
I'm not sure what say Gomes will have when it involves Barca, however, I can't see Bayern outbidding us, and would Barca sell to Real? I doubt it. Fingers crossed he looks real quality and appears very happy at Everton.
Another downside of dealing with Barca is the 2-year buy-back clause for Mina. Sod's law says that, if they don't want him back, they will make it awkward for us to keep him! Time will tell.
We have got 3 quality players from Barca, so hopefully Brands is keeping his powder dry in respect of any future dealings he may have in place with them.
Eoin Cullen
84
Posted 04/11/2018 at 09:48:52
The 3 Gees. I was lucky enough to see The Holy Trinity of Kendall, Ball and Harvey in their pomp. With Gylfi, Gana and Gomes: the 3 Gees, I really believe we potentially have another high-class midfield trio. Yesterday, they were superb.
Rob Dolby
85
Posted 04/11/2018 at 09:52:09
Good win, with Gana my MotM. I was surprised how open Brighton played. Most teams come to Goodison with a point in mind.
We will miss Zouma next week; the lad has surprised me at how good he is. Last season at Stoke, he looked pretty average in a relegated team.
3rd game in a row that Bernard hasn't looked good. He obviously has talent; maybe he is better suited playing inside and should drift in more. Lookman can't be far off starting on the left.
Nice to see Duffy clapping the Park End after the game; he still has affection for the club.
Now that we have a few guns of our own and have put the knives away, I am looking forward to testing ourselves against Chelsea next week.
Coyb.

James Marshall
86
Posted 04/11/2018 at 11:08:28
One word: 'balance'. That's what we showed yesterday, round pegs in round holes all complementing each other. It ain't rocket science; as a manager, you just have to have the right vision & understanding of the players at your disposal and play them in the correct roles.
Gana Gueye & Gomes, our GGG (for anyone of a boxing persuasion) in midfield really glue this team together. Gana doing all the legwork, his tenacity & tackling yesterday was off the scale.
Gomes is a Rolls-Royce of a footballer, absolute quality, you can see why Barca bought him. He has the touch, vision, power, quality in either foot, movement when he receives the ball, passing, you name it, the kid has it. He's exactly what we're lacked for years in midfield, a player who really can run the game, control the tempo and keep it ticking over. The way he collects the ball and gets himself into position immediately is the very thing we've lacked to keep moving the ball quickly. Too many pedestrian passers over the years. We need to sign him.
Silva is picking the right team every week, a settled outfit with pace, power and a lovely balanced look to it with decent backup on the bench. I can't remember the last time I said that about an Everton team!
Colin Malone
87
Posted 04/11/2018 at 11:41:12
I completely agree, James (#86), Gana and Gomes were superb. I still think Bernard is wasted on the wing, him or Sigurdsson for the Number 10 role.
Walcott needs to do more off the ball, instead of standing still, Theo should be dragging players out of position and of course giving Coleman more protection.
ps: I hope Silva has bigger bollocks than Martinez. Happy Blue Boy.
Jay Harris
88
Posted 04/11/2018 at 12:30:39
Mark #73,
I totally agree... in fact, it was probably the criticism that stung Seamus into his best game for some time.
That should not detract from an excellent team performance with Gana outstanding and Richarlison not far behind him.
Neil Gribbin
89
Posted 04/11/2018 at 13:37:26
Colin (#70), I said the same thing to my dad about Murphy. He couldn't even make one comment about us, the sour-faced nugget. Makes it even more enjoyable.
Terry McLavey
90
Posted 04/11/2018 at 13:51:00
Does anyone else think that Gomes is one of the reasons for our improvement, steadying and creating in the midfield? A real quality player in my opinion.
Paul Tran
91
Posted 04/11/2018 at 14:32:27
Excellent performance yesterday. This is what happens when you buy footballers and hire a coach that clearly drills them on the training pitch, gets them fit and playing with purpose.
Yes, we're beating teams we 'should be beating' — but that's the point. Get on a roll, winning against those teams, and build momentum for the inevitable win against a 'top' side.
We need to be more ruthless in both boxes if we're going to progress the way we want. Right now, I'm enjoying watching us and there's evidence to be optimistic.
On another note, where's Darren Hind? Is he okay?
George Cumiskey
92
Posted 04/11/2018 at 15:06:58
I think Bernard was okay yesterday, a lot better than Walcott. If Lookman does come in, it should be for him. I don't know why he is getting so much stick.
Jamie Crowley
93
Posted 04/11/2018 at 15:35:46
I've re-watched the Seamus goal and I honestly believe he wasn't having a dig at anyone.
It seemed to me he cupped his ears in an, "I know I've not been up to my / your standards, lemme hear ya!"
I thought it was entirely positive to ignite the crowd.
Just my opinion.
A lot of talk about a lot of various players, all positive. I think Richarlison deserves a mention. Class.
"Can't pass" Gana seems to be on his game as well. I always liked the kid and couldn't understand some of the comments directed at him previously.
And Paul @ 91 - Yes, where is Darren Hind?
Brian Murray
94
Posted 04/11/2018 at 15:48:47
Seamus's goal celebration. If he was telling us he's back to his best, then maybe he should wait 10 games then shout the odds!!! His form has been atrocious, so let's wait and see...
Brian Murray
95
Posted 04/11/2018 at 16:24:05
All we ever want is a team who play without fear against anyone. Go to the Bridge and the Piggery and give it a real go. You never know in football plus it would be the making of us for years to come. Self-belief would be through the roof.
Michael Kenrick
96
Posted 04/11/2018 at 17:30:28
Talking of Barkley (I know I shouldn't but they had two ex-Blue pundits in Leon Osman and Don Hutchison hyping up him and his move to a "big club" surrounded with "star players" on Radio 5 Live for a full half-hour before Chelsea kicked off this afternoon) but he was awful for almost the entire game. Kept losing the ball, no bite, no urgency... jogging around like he was on drugs. Finally subbed after Palace equalized, Hazard comes on and Chelsea immediately score twice to wrap the game up.
I hope he plays like that against us next week but knowing our luck...
Sam Fitzsimmons
97
Posted 04/11/2018 at 17:44:16
Brian @94 — "his form has been atrocious"
To quote Father Jack: "Arse!" Seamus may not have been at his best since coming back from his injuries.... but seriously, "atrocious"?!?

Brian Murray
98
Posted 04/11/2018 at 17:45:56
Okay, I'll re phrase:
Seamus's form is ordinary at best. Not the level we want anymore.
John Boon
99
Posted 04/11/2018 at 18:38:17
Michael (96),
Agree completely. The fact is Barkley was playing exactly like he was when he was with us. If he is observed closely he has been playing like that all season for Chelsea. He is a good average footballer at best and we don't really miss him at all this season. I hope he is in their team next week.
Tony Abrahams
100
Posted 04/11/2018 at 18:48:35
Been wondering about Darren H for a while myself, and George McKane, I hope they are both alright.
I was watching Barkley, Michael, and nothing much has changed, except he didn't even try and go past anyone all day.
He said he's only just starting to learn the game, but the only thing he does naturally is when he plays "off the cuff" or maybe it was just one of them days!
Ray Smith
101
Posted 04/11/2018 at 18:49:05
Brian 94 & Sam 97
Are you two serious?
Get a life guys, Seamus played a blinder, along with the rest of the team.
Were either of you there, because I was, and you are both bang out of order!!!
Harry Hockley
102
Posted 04/11/2018 at 18:52:12
Fantastic performance, Richarlison was immense, Sigurdsson the player we know he can be, Seamus, Zouma, Keane all had very solid and assured performances.
Digne is a top quality left-back, Gueye was the second-best player in the pitch after Gomes who's my pick for MotM, he was sensational all game pure class, just the partner Gueye has been crying out for since he arrived and he will get better.
Anyone seen Merson? He's on the missing.
Max Murphy
103
Posted 04/11/2018 at 19:20:23
Yes, it was a good game... but progress can only be measured in terms of beating the top teams away. So a win at Chelsea next weekend would certainly go a long way in convincing me we are in fact moving in the right direction.
Christy Ring
104
Posted 04/11/2018 at 19:25:10
Seamus scoring the goal released all the emotions he has gone through since his horrendous leg break and getting back to full fitness.
Christy Ring
105
Posted 04/11/2018 at 19:32:32
James @ 86 Absolutely spot on, Gomes has given us complete balance in midfield beside Gueye. I'm not saying they're Reid & Bracey but it's great to see.
Brent Stephens
106
Posted 04/11/2018 at 19:38:10
Ray #101 - I think Sam #97 is disagreeing with Brian.
Jay Harris
107
Posted 04/11/2018 at 20:48:39
Apparently Sarri is now the manager with the longest unbeaten run in football.
Are they due to do an Everton next week?
Ray Smith
108
Posted 04/11/2018 at 20:59:09
Brent 106,
Take your point; I have reread Sam's post and reserve my comments for Brian!
Apologies, Sam.
Andy Meighan
109
Posted 04/11/2018 at 21:02:53
I've been Sigurdsson's biggest critic – and, at times, with some justification – but he's been brilliant these past couple of months and he's really made me eat my words. Long may it continue.
He's now starting to look like the player we paid the fee for. I thought his ball to Richarlison for the 1st goal was sublime. That, added to the goals he's getting, is a real bonus.
As for Gomes, how good does this kid look? He seems to have taken to the Premier League like a fish to water and he complements Gueye in the engine room. Compare him to when Schneiderlin plays alongside him. At least Silva has seen through that pairing and knows it doesn't work... Thank God!
Onwards and Upwards
Justin Doone
110
Posted 04/11/2018 at 21:08:42
An excellent 3 points which were fully deserved and a really good performance by the whole team.
Lots of good performances but I'll give my MotM to the player I have always supported and who should be one of the first names on the team sheet: Gana.
Having Gomes is a great 'get out' for Gana knowing he'll be nearby, ready and willing to accept a pass, even in a tight situation, and therefore more confident to look forward to see what else is on.
Without wanting to nitpick individual performances, Brighton are a below average Premier League team who still managed to score an all-too-simple goal from a set-piece and looked dangerous on others.
Id like to be more confident at both defending and attacking set pieces and, as Pickford isn't a big commanding goalkeeper, the defenders need to be. So I'm really looking forward to a proper test against an in-form Chelsea and seeing how good Mina is.
As always, I'll accept a loss against a top team with World class players in as long as we are able to put in a good performance, playing attractive attacking football when possible to cause them problems.
Richarlison will not get the time and space upfront against Chelsea and I think he should play on a wing with Walcott dropped for Calvert-Lewin and play on the counter-attack. Let's see what happens.
Oliver Molloy
111
Posted 04/11/2018 at 22:02:34
Seamus Coleman's celebration was of course born out of frustration to say the least.
As I said last week, he is not going to get any quicker and will now rely on his experience and right now he is still way ahead of young Kenny. He is 30 so of course this "new" Everton will be / are looking at replacements right now.
Good result yesterday but, as others have pointed out, it was Brighton we were playing.
Michael @ 96.
I don't think Barkley will make the grade as a top top player, he is just too inconsistent (even with better players round him), I could be wrong but when I have watched this Chelsea team it seems to me that there are a few Chelsea players reluctant to pass the ball to him.
I hope he plays against us and has a nightmare, scores three own goals and runs into a football post while following up on the penalty that Pickford will save; however, being an Evertonian Murphy's law usually has a say!
Sam Fitzsimmons
112
Posted 04/11/2018 at 23:26:26
Ray 108, I only wish I could've been there on Saturday, unfortunately my trips to Goodison are limited to a couple of games a season. As far as Seamus is concerned, I'm a huge fan, perhaps since returning from his injuries he's still to reach his own very high standards.
But I would still have him in the team for a host of reasons including his experience, his passion, his leadership and his ability to deliver a performance like yesterday.
Gary Hughes
113
Posted 05/11/2018 at 01:23:22
Is it too early to say that Andre Gomes is the finest thing in a blue shirt since Kevin Sheedy took control of the centre of midfield in our last title-winning season?
Phil Sammon
114
Posted 05/11/2018 at 06:10:00
Gylfi Sigurdsson will be sick if he reads this thread (and I know he will). The bloke is scoring goals of the month, providing rip-roaring assists. Meanwhile, people are promoting André Gomes to legendary status after a couple of assured performances.
Perspective!
Tony Abrahams
115
Posted 05/11/2018 at 14:36:00
Perspective indeed, Phil, but I bet you that Sigurdsson is even more made up with Gomes than we are!
Tom Bowers
116
Posted 05/11/2018 at 15:07:39
It's not been often in recent seasons that Everton have won with 3 excellent goals befitting match of the day. However they were still way down the Linaker pecking order when being shown on Saturday night. I wonder why?
Still it was a fine win against a team not highly rated but in good form defensively before Saturday.
Obviously we would all like the Blues to step up to the next level and beat one of the top teams particularly away so why not Chelski on Sunday ?
When that landmark is reached perhaps then we can say welcome to the big bash but in the meantime 4 wins in 5 games ain't too shabby.
Frank Crewe
117
Posted 05/11/2018 at 16:50:22
Gary #113
Yes it is but he is certainly heading in the right direction. I only hope Tom Davies is watching and learning.
Also, how about a shout for Bernard who I thought played really well. Remember it was his pass to Sigurdsson that allowed him to pass it to Richarlison for our first goal.
Not to mention his cross for the sitter Walcott missed. He really puts in the effort and appears to be happy to be at Everton. Looks like the blue bug has bit him.
Ernie Baywood
118
Posted 05/11/2018 at 21:40:17
Fortress Goodison...
That's always the starting point and something we seemed to have lost in recent years.
Don Alexander
119
Posted 05/11/2018 at 21:52:40
Phil (#114), my take on Gylfi is that he's ALWAYS been a top, top player even when he was playing for others. He's also got the innate maturity to deal with what I also agree is some very rapid aggrandizement of Gomes. For what it's worth though Gomes is to me also looking like a top, top player too. I'd hope he and Gylfi see this in each other, and Bernard, and Richarlison, and Zouma, and Digne.
So Yerri, no pressure on you then mate as you go on to prove that M&M in summer this year went out and completed the most successful bout of recruitment by any club in the whole history of "transfer windows"!!
Dermot Byrne
120
Posted 06/11/2018 at 17:21:23
Forgive me for looking back to our win last week.
I keep games taped and watch after the emotion has rebalanced.
Just some things I noticed.
1. The boss never plays to camera and is v thoughtful as game goes on. To me...a great sign. Seems to know what we, and he, wants.
2. Look at that first goal. What struck me in an attack that was so good, was Bernard passed forward into Siggs path. And...Siggs was running forward in that move, and in others earlier. This is v different to what we have digested for years...the sideways or backwards pass.
3. The spirit. Watch them when we score. This is a team at last. Who did he hug after his second? A player not on pitch!
So, sorry for hanging onto the past!
But hey. Good progression?
Chelsea? Don't yet expect a point there but, this time I think there may be a chance.
Haven't felt that for a wee while.
Dermot Byrne
121
Posted 06/11/2018 at 17:35:29
Reply from FA re Man Utd game:
"Hi,
Thank you for your email.
We can confirm that no further action will be taken against Anthony Martial.

The FA assess whether there is a clear and overwhelming case of successful deception of a match official before referring to the panel.

The Martial incident does not meet this high threshold.

Football is a game of opinions and we thank you for taking the time to write and share your opinions with us."
Kind regards

Add Your Comments
In order to post a comment, you need to be logged in as a registered user of the site.
Or Sign up as a ToffeeWeb Member — it's free, takes just a few minutes and will allow you to post your comments on articles and Talking Points submissions across the site.
© ToffeeWeb