Report
Horrible Pickford error gifts Liverpool in last minute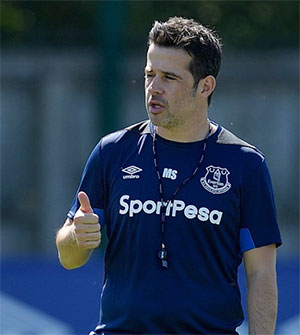 Marco Silva: "Words like 'fear' do not come into our dressing room. We have to be strong in all the moments in the match to win it but that is all that's in our minds"
Liverpool 1 - 0 Everton
Marco Silva choose an unchanged side for today's Merseyside derby at Anfield. And they played really well, missing two glorious chances in the first half... only to give Liverpool all three points on 96 minutes with the most astounding goalkeeping howler by Jordan Pickford.
No start for Ademola Lookman, who was on the bench with Tosun, Calvert-Lewin, and Tom Davies.
Both Bernard and Walcott have been lacking in end-product, while Richarlison absolutely needs to take even the slightest half-chances that come his way.
Everton got things going and attacked down the right where Pickford came out and made a poor clearance giving away a very early corner that was defended away.
Everton mounted an attack that saw Bernard fouled by Alexander-Arnold. Sigurdsson faked, then Digne whipped in a brilliant shot that Mina headed wide when it seemed easier to score! A terrible miss from the big man.
A series of giveaways almost let Liverpool in, Alexander-Arnold's cross blocked out for another Liverpool corner that Keane headed clear. Bernard got a chance to run at Liverpool but just fell over with the ball.
Shaqiri chipped a clever ball over to Salah but Digne did enough to put him off. Liverpool were surging forward with urgency whenever the got the ball, and another cross in went harmlessly behind. Mane got through on a bouncing ball after another turnover, but lashed his shot over.
Another Liverpool attack over the top and Coleman defends it very well, Salah miskicking his shot with some hilarity but Pickford equally fluffing his clearance straight out for a throw.
Everton were struggling to get out of their half, until Richarlison, with a rare touch, was fouled but no advantage as the Reds forced yet another turnover with their relentless pressing. But Richarlison had a great run, exchanging with Bernard into the area but stumbled at the crucial moment and fell, as he does so often.
Another Red swarm, Salah in to Firminho who drove his shot wide. Mane then deliberately handballed to control it, but, of course, no yellow card.
A fantastic Everton move saw Bernard cross to Walcott whose perfect header back to Gomes saw in incredibly head it straight at Allison with the goal gaping — the rebound off Gomes bobbling in... but it was cleared off the line by Liverpool by Gomez.
Everton had weathered the early storm and had two brilliant chances squandered. Gomes was in his element, toying with Alexander-Arnold down the Everton left, as Everton started to play some really nice football, winning a corner. Somehow, Walcott got himself offside.
Bernard got hounded by Alexander-Arnold to give away a corner played deep and eventually defended away, a brilliant Keane header to deny Van Dijk. Firminho fired a curly in that Pickford gratefully grasped.
Everton had another fantastic chance with Sigurdsson playing in Richarlison who again failed to deliver, allowing Alexander-Arnold to get his toe on the ball and deny him a decent shot.
Gomes was fouled by the snapping dogs, Everon doing a little better to make space but also conceding a lot of space. More turnovers and mistakes from both side, Shaqirir clipped Bernard and saw the first yellow.
From the Everton free-kick, Shaqiri then got free somehow with only Pickford to beat but he did very well to save with his thigh. At the other end, a fantastic chance for Everton again from a tremendous ball by Sigurdsson, the ball through to Walcott but his first touch allowed Allison to get his hand to the ball at the Everton player's feet.
Pickford came out quickly to deal with a long ball and Richarlison was fouled again but not given, as Liverpool pushed Everton back deep. Another clearance to Richarlison who again went to ground so easily under the slightest opposition presence behind him. Everton now pressed inside the Liverpool half and forced a turnover but Gana spoilt it by passing behind Walcott.
Coleman had to shadow the ball back to Pickford with Salah snapping at his heels. Richarlison dispossessed Gomez and looked to Bernard who slipped and the ball was turnover yet again. A Liverpool free-kick wide on the Everton left was headed away by Digne.
Gomes did brilliantly to beat his man on the right wing this time and cross just 2 feet in front of Walcott... and Allison gathered, bringing to an end a very good first half with two guilt-edged chances for Everton that were painfully squandered.
No changes at the break. Walcott had a good run into a cul-de-sac. At the other end, Salah saw space and curled a shot wide of Pickford's post. Two poor passes from Gomes, saw a very dangerous Liverpool attack, Gueye stopping Salah from shooting, but Liverpool getting a corner that needed more stout Everton defending.
From an Everton clearance, the ball was back at Mane's feet behind everyone in no time but he passes the ball wide of the near post. Wijnaldum caught Walcott on his heel, as Everton's passing forward was lacking the required successful completion rate, with the tempo slowing compared to the frantic first half.
Shaqiri had a couple of bites of the cherry, both blocked on the 18-yard line. Richarlison fouled from behind but no yellow card given. Liverpool were having most of the possession, however, Everton standing off a little, Mane again firing wide.
Bernard and Rich looked to combine down the left but Richarlison's pass was too far ahead, but the ball was rotated across to the other side where Walcott got a shot off at Allison. Salah was correctly flagged offside as Lookman readied himself on the sidelne, as Richarlison claims slap in the face. Walcott came off.
Gomes and Richarlison advanced but too slowly to confound the home side, with Lookman wide open, and the ball was worked back to Pickford. Coleman did well to get forward but his cutback was not quite good enough.
Lookman went on a fantastic run, playing in Bernard who shot wide instead of curling it into the top corner. Crucial defending in the Everton area saw Liverpool denied again. Everton tried to build patiently with some better passing until Digne's cross was headed clear. Gomez fouled Richarlison yet again but Digne's free-kick was headed clear by a blue shirt.
Keita replaced Shaquiri, as the Anfield crowd started to get a little antsy that their Reds had not yet scored, Everton defence being tested and passing with fair marks. Salah tried to get a foul, feeling Gomes's arm on his neck. Everton structured an attack, Lookman almost beating three men, as Salah went off for Sturridge.
Brilliant back-tracking by Richarlison won the ball and ran at Liverpool only to be cut down by Firminho for his efforts. Sigurdsson got a shot away but it hit a defender, as Everton pushed forward with increasing confidence.
Everton had some considered possession but were unable to create anything, finally giving the ball away. Richarlison was dragged back by Gomez: yellow card. A great free-kick from Digne? but defended away, no-one close to it, and Liverpool countered, Firminho shooting across goal.
Lookman looked to dribble again but played his pass straight to Van Dijk. A Liverpool free-kick was headed behind by Mina. From the corner, Alexander-Arnold could not beat the first Everton defender, but the recycled ball was crossed by Sturridge.
Everton were penned back but eventually clear the ball, Gomes finding Bernard but Everton slow on the build and finally giving up the ball for a fearsome counter, Origi coming so close to beating Mina, and another cor corner, with Origi hitting the post from 1 yard. Gomes was booked in the follow-up.
Calvert-Lewin replaced Bernard for the final minute. Richarlson almost get s loose but Lookman has to back-pedal. Sigurdsson gets booked then subbed by Zouma, Everton content with a point; Liverpool not so much with 4 minutes added. Gueye picked up an injury and needed treatment. Handbags at two paces between Richarlison and Gomez.
A late free-kick, and it was volleyed high into the air for Pickford to collect but he fluffed it horribly, pawing it back into play onto the bar and then Origi's head and into the Everton net, with all the Everton defenders standing back. A horrible horrible misjudgement by Pickford — why did he not let it hit the bar and go out? Game over.
To add insult to injury, Klopp galloped out of his technical area to hug Alisson and leap around like a clown. But no punishment for him, that is certain.
So Everton were really going to win this? Not with utterly stupid misjudgement like that from our wonderful England goalkeeper. A shocking, shocking error.
Liverpool: Alisson, Alexander-Arnold, Gomez [81'], Van Dijk, Robertson, Fabinho, Wijnaldum, Shaqiri [Y:33'] (71' Keita), Salah (75' Sturridge), Mane, Firmino [Y'76'] (84' Origi).
Subs not Used: Mignolet, Matip, Moreno, Milner.
Everton: Pickford, Coleman, Keane, Mina, Digne, Gueye, Gomes, Sigurdsson (90+1' Zouma), Bernard (89' Calvert-Lewin), Walcott (63' Lookman), Richarlison.
Subs not Used: Stekelenburg, Baines Tosun, Davies.
Referee: Chris Kavanagh
---
Reader Comments (274)
Note: the following content is not moderated or vetted by the site owners at the time of submission. Comments are the responsibility of the poster. Disclaimer
Jim Bennings
1
Posted 02/12/2018 at 15:27:58
Can't think of much to say other than let's hope for once we turn up and send the fans home happy!
It's been far far too long since the Kop net bulged after Kevin Campbell's winner and it's high time that a new blue hero emerged in the modern era.
Phil Malone Jnr
2
Posted 02/12/2018 at 15:46:50
I thought Lookman would be in with a shout over Walcott today.
Gerry McGuirk
3
Posted 02/12/2018 at 15:55:28
Has to be our best chance to bloody their noses for many a year. Let's hope we don't bottle it and give them a good rattle! The old saying is so true "it's the hope that kills you" .so come on lads we've waited far too long...our time has come!!!'
Neil Humphreys
4
Posted 02/12/2018 at 16:04:14
Have hope today. Two reasons- Gomez and Mina..
Jim Scales
7
Posted 02/12/2018 at 16:09:57
Come on Lads turn up, We deserve a performance against these.
Christy Ring
8
Posted 02/12/2018 at 17:06:24
Gomes outstanding, should be ahead, Wallcott not in the game. Hope we play as well in the 2nd half.
David McMullen
9
Posted 02/12/2018 at 17:06:44
Am I selfish if I say it's 50/50? We've given as much as we got. Shud b winning!
Jay Wood
[BRZ]
10
Posted 02/12/2018 at 17:12:55
Cracking half of football.
Are we seeing a different Everton performance at anfield in the 21st century, or what?
Silva has been true to his word: we will play OUR game, whoever the opposition.
I loved early on how the red-tinged commentators, Carragher and Redknapp, were counselling 'Ohhh... Everton shouldn't be playing out from the back like this in the first 15 minutes of a Mersey derby...'
Der, dunderheads! It is a deliberate tactic to invite teams on to us for us to bypass their oncharging forwards and midfields to create space and chances for us in the opposition half.
Yes, we lived dangerously at times, but the 'poo are reknowned for being fast out of the blocks, but we comfortably weathered that storm.
With their midweek game against PSG kicking in more and more as the game progresses, we are well, WELL in this game.
Mina should have scored with his early header. Alison has kept his team in it with his saves from Gomes and Walcott.
Nobody is playing badly, just unfortunate slips at critical times.
And...is Gomes THE man, or what?
Anish Dosani
11
Posted 02/12/2018 at 17:56:50
We're missing any sort of presence up front. Take off Bernard, whose been quite average, move Richie to the left and DCL up front. Will have much more about us.
Ernie Baywood
12
Posted 02/12/2018 at 18:09:53
Fucking hell
Jay Wood
[BRZ]
13
Posted 02/12/2018 at 18:10:04
NOOOOOOOOOOOOOOOOO!!!!!!!!!!!!!!!
NO! NO! NO!
Jay Wood
[BRZ]
14
Posted 02/12/2018 at 18:10:50
NOOOOOOOOOOOOOOOOOOOOOOOOOOOOOOOOOOOOOOOOOOOOOOOOOOOOOOOO!!!!!!!!!!!!!!!!!!!!!!!!!!!!!!!!

Andy Meighan
18
Posted 02/12/2018 at 18:11:12
Wouldn't happen to us, would it....
Unbelievable. I feel like crying.
Neil Copeland
19
Posted 02/12/2018 at 18:11:15
Un-fucking-believable!!!
Jay Wood
[BRZ]
20
Posted 02/12/2018 at 18:12:39
OH FER FECK'S SAKE!!!!!!!!!!!!!!!!!!!!!!!!!!
Ernie Baywood
21
Posted 02/12/2018 at 18:13:10
Horrible error. Freak goal.
I asked the question on here the first time we threw an extra centre-back on. I was told it was a very strategic move.
He's done it three times in recent weeks. At some point, we would concede doing it.
Do we still defend the most basic thinking possible?
Chris Gould
22
Posted 02/12/2018 at 18:14:53
It was going over the bar. I can't believe what Pickford has just done. Never seen that before. It was over the flipping bar and he pulled it back into play? WTF?! He looked nervy today. His kicking was also erratic.
That aside, a very good performance and we thoroughly deserved a point or more.
Ernie, it's worked well in recent weeks and had nothing to do with us conceding that freak goal.
I actually feel better after that than I did with the draw last season. We matched them, and they know it.
David Hallwood
23
Posted 02/12/2018 at 18:15:08
We will never beat them. There's a witches curse going on here. They were gone devoid of ideas. Calvert-Lewin shudda been on earlier.
Vijay Nair
24
Posted 02/12/2018 at 18:16:53
We did not deserve to lose that. :(
Dave Cook
25
Posted 02/12/2018 at 18:18:56
When do we start a "Virginia for keeper" shout?
Phillip Warrington
26
Posted 02/12/2018 at 18:20:10
For fuck's sake, we are just destined never to beat Liverpool. Christ, for the whole game we have matched Liverpool, then one crazy moment of madness by a player who was having a good game and we're screwed.
Doesn't matter now how we played, we got beat again, as usual. What do we get to brag about? How well we played, but what was the score? Oh, we lost again. Now I have to replace the shit I've smashed in frustration.
Tony Marsh
27
Posted 02/12/2018 at 18:20:25
I said months ago Pickford is not good enough; I got slaughtered on here.
Absolute Joke... but, as soon as Gana started fucking around feigning injury, I knew the time extra would go on and we would pay. Fucking shithouses again.
Regardless of the manager or the players we have, we never fail to disappoint in derby games. Any other team would of been 2 up at half time but not Everton. Let Man Utd have Pickford if they want him — he is a liability.
The same old faces let us down every time. No referee to blame this time. Walcott, Gana, Pickford — simply not good enough. Another clear-out in January is needed. Pickford should be dropped — the fucking smart arse has just ruined Christmas for Evertonians everywhere. We should just concede derby game points instead of embarrassing ourselves every season.
Well done, Jordan, the idiots who follow the National side might like you but you are now a Merseyside legend for all the wrong reasons, you Dope!!!
Simon Dalzell
28
Posted 02/12/2018 at 18:20:27
SAME OLD STORY!!! Amish is right. Should have brought more subs on again. We were tiring and it was inevitable they would score.
Match after match, game management, and especially sub management is appalling. We now have the players, they're just not being used correctly. Bernard on far too long. Maybe Davies and Calvert-Lewin on to stem the tide.
We should have started with a centre-forward today, and 95% of us said Lookman should start.
Andy Crooks
29
Posted 02/12/2018 at 18:21:09
The worst ever. Really, really fucking shocking. The most awful derby I have ever endured. Once again no MotD.
Mike Gaynes, so sorry for you. That was as bad as it can ever be. Pickford has had this in him for some time.
Gerry Ring
30
Posted 02/12/2018 at 18:21:45
What an unbelievable mistake from an international goalkeeper.😡
We needed fresh legs in midfield. Gomes had a great game but got tired.
Sickened to the stomach!
Dave Cook
31
Posted 02/12/2018 at 18:22:05
It's okay, though, Pickford won't blunder like Alisson.
Maybe he should have caught it in his big mouth.
Simon Smith
32
Posted 02/12/2018 at 18:23:20
This game never ceases to drive the life out of me! A pretty good performance only for that to happen. Absolutely demoralising.
John Cook
33
Posted 02/12/2018 at 18:26:41
Classic Everton!
Jamie Crowley
34
Posted 02/12/2018 at 18:26:49
My soul hurts. We didn't deserve that. Played splendidly.
Jon Hirshman
35
Posted 02/12/2018 at 18:26:58
I know Gana was injured in stoppage time but I don't understand why we were still playing. The ref had done really well up to that point but he added too much extra on.
Yes, Pickford made an error but he didn't look nervy today and his kicking was fine, he also made a brilliant save as well.
As for Gobshite Carragher's comments – no, he's not an erratic keeper, he's a very good one... better than that Allison bloke. This is why I never normally have the sound on during the match when we're on Sky.
I thought we did really well today and certainly deserved a point from the game. As per usual, the Red Shite got lucky.
Denis Byrne
36
Posted 02/12/2018 at 18:28:00
If we signed the 1970 Brazil team, and Cruyff, and Maradonna, we still wouldn't be allowed to beat the Sperm of Satan.
Paul Gallagher
37
Posted 02/12/2018 at 18:28:46
Shades of a few years ago, when Mane scored in injury time to win. Merry Christmas, Everton, again from the RS. I thought we were good enough for the draw, clearly psychological we cannot beat the RS. They have to be the luckiest team on the planet.
Danny Baily
38
Posted 02/12/2018 at 18:28:53
As we're out of the League Cup, there's only really the derbies and any FA Cup fixtures we might have to get excited about. One down!
Always an embrrassment. Always.
Roll on January and the Third Round.
Shaun McGough
39
Posted 02/12/2018 at 18:30:16
Absolute idiot, Pickford, you've made a rod for your own back. Every derby game now, they will absolutely love you.
No judgement, no reading of the situation. You are a shorter version of Joe Hart with very slightly better reactions to compensate for your lack of common sense.
Neil Copeland
40
Posted 02/12/2018 at 18:31:43
Terrible error from Jordan but, once again, if we had taken our chances it wouldn't have mattered.
Gutted... but still lots to be optimistic and proud of, the best Everton performance in a derby for some time and at Mordor for a very long time. We have shown once again that we can match the best teams in the league. It is very early days and it will come.
James Byrne
41
Posted 02/12/2018 at 18:32:49
Probably the best football we've played at Anfield for years.
After that error by Pickford, I'd drop the lad for a few weeks. That nonsense is totally unacceptable at this level.
Dave O'Connell
43
Posted 02/12/2018 at 18:35:10
Let Man Utd have Pickford. No excuses for that horrendous mistake –he has totally ruined me. I feel sick. I've never been impressed with him anyway. Look at the Liverpool goalkeeper compared to that idiot: time and time again, his erratic kicking puts us under pressure.
The boys worked their balls off for 96 minutes for him to do a schoolboy error. He believes his hype because he has saved a couple of penalties and he is England goalkeeper... absolutely pissed if with him.
John Audsley
44
Posted 02/12/2018 at 18:35:48
After the 2001 Goodison derby, I felt so bad I got into a fight. I think I've scared the wife and kids with my screaming after what happened today.
We played very well but that doesn't matter at the moment.
Life just plain sucks
Craig Walker
45
Posted 02/12/2018 at 18:36:05
I feel sick. Really sick. Somebody up there hates us. We did some good stuff today but the same old outcome.
Pickford is no Martyn or Southall. He's gifted them two Anfield wins in 2018.
There are positives but it doesn't feel like it. I just KNEW they'd score from that free kick.
Jon Hirshman
46
Posted 02/12/2018 at 18:36:58
Also wanted to say, let's not go berserk and crucify Pickford over the goal; he made a terrible mistake but he has also saved us on lots of occasions as well. Our fans are better than theirs and we shouldn't criticise our goalkeeper the way the shite did with their keeper against Madrid. He does have to learn from this and I'm confident he will.
Max Murphy
47
Posted 02/12/2018 at 18:37:14
Don't believe the hype. Selection for England doesn't make him special. I said from Day 1 he was not good enough for Everton. A disgrace.
OK that makes 1 point from a possible 12 against the top teams. Two to go: Spurs and Man City. Prediction now, 1 point from a possible 18.
Groundhog Day.
Jim Bennings
49
Posted 02/12/2018 at 18:39:21
It's hit home again today that I've really fallen out of love with the predictable nature that is supporting Everton Football Club.
Even if we won our next two matches 8-0, it still wouldn't make up for the fact that, yet again, another Merseyside derby has passed and they haven't scored at Anfield, another game against a top six side has passed us by.
No matter how positive I've been feeling about the small steps made this season, and beating the teams that really we should be beating given the money spent, this result has ruined our Christmas as Evertonians yet again and no result between now and then will make up for it. Man City I hope will beat us in two weeks time to keep these Red bastards at arm's length.
Pickford needs to go and have a good word with himself because that's two trips to Anfield this year that he's cocked up late on for us and yet again we let that invisible man-carthorse, Origi, score in a derby for an unbelievable third time and he's hardly kicked a ball for them.
Everton Football Club could spend any amount of money it wants but the same things will always happen, it's just this club and what it stands for.
David Connor
50
Posted 02/12/2018 at 18:40:28
What a fuckin bellend Pickford is. The team worked their socks off only for the dickhead to hand it to 'em on a plate. Do us all a favour, Jordan. Stop your fucking around.
Lenny Kingman
51
Posted 02/12/2018 at 18:41:09
Watched the second half and it was business as usual in this fixture. No force, pussy-footing around and then the climax.
The goalie has a penchant for the moment. Diving under it, over it or just keeping the ball alive. It used to be known as showboating. Then his action led to the inevitable.
I feel for the Blues fans right now, outside that shitehouse stadium, surrounded by shitehouse supporters, gloating.
Andy Walker
52
Posted 02/12/2018 at 18:41:31
Words fail me.
Andy Meighan
53
Posted 02/12/2018 at 18:41:43
I couldn't have put it better myself, Jim @49. I'm taking nothing positive from that. We've lost to them again – end of. But hey the Liver Building and the Liver Birds are swathed in blue – that's the main thing, isn't it?
Frank Crewe
54
Posted 02/12/2018 at 18:41:43
We dropped a point. At that point we were not going to win. It's unfortunate but Pickford is 24. A baby in keeper terms.
We played well. Gomes was Man of the Match. A world-class player. Hopefully we'll have better luck at Goodison Park. But we have nothing to be ashamed of. We gave them a game and that's all I ask.
Rob Dolby
55
Posted 02/12/2018 at 18:41:57
We invent new ways to get beaten by them. We probably won't see a goal like that again.
How can anyone explain what happens there? Ref was good, most of the team were good. Deserved a draw and yet a goalie practically throws one in his own net.
It only ever happens in derbies. Too long in the tooth to be surprised by it.
I wonder how we will contrive to throw the game away at Goodison Park.
Simon Smith
56
Posted 02/12/2018 at 18:42:05
Sensible words, Jon (#46), but why oh why is it always something stupid that takes the wind out of our sails?
I was nervous pre-match but felt quite comfortable for a lot of the game, only to have my heart ripped out (even though it was over the bar) and put through the mincer once again!
Once again, football is dead to me until next game.
Neil Lawson
58
Posted 02/12/2018 at 18:43:23
I have been supporting Everton for 60 years. What occurred is almost what we come to expect. It is utterly devastating.
However, for all those so-called true blues to pile in on Pickford is appalling. Yes, a howler, but magnified horribly by the timing and the circumstances. Up until then, and apart from a couple of dodgy kicks, he had been a central part of a team who didn't deserve to lose.
Horrible shit happens to us and to individuals. Spare a thought for how he must be feeling knowing that one horrible misjudgement has destroyed the elation we would have had following such a positive and encouraging performance.
Nobody moaning venomously at Gomes for missing an absolute sitter.
Mike Moore
59
Posted 02/12/2018 at 18:45:20
Too many knee-jerk reactions to Pickford's cock-up. He's been great for us, his save in the first half from Shaqiri was top draw.
We deserved at least a draw, no fear factor, matched them for 90 mins...
Gutting... but important to get six points in the next two games. As for the RS... fuck them!
Paul Ellam
60
Posted 02/12/2018 at 18:45:46
Standard fayre from Everton. It doesn't even shock me anymore how we somehow manage to lose with our inferiority complex towards them. And, to be honest, it hasn't for about 20 years.

Andy Crooks
61
Posted 02/12/2018 at 18:46:11
Neil, good post. I need a scapegoat now. Pickford is it, really, but I guess he is more gutted than any of us.
Frankly, I think he is a good shot-stopper but a Sprake-like flounderer with a howler up his sleeve any time. Lineker would get a hat-trick against him every other Saturday.
John Keating
62
Posted 02/12/2018 at 18:46:19
Tactics, substitutions, how well we played, how much we did not deserve to lose — all count for absolutely nothing. Nothing.
We lost 1-0 to an absolute fuck-up from a goalie who was indeed not 100% all game.
To those who think we have to move on and learn by his. Well, you go in the pubs tonight and walk around town next week and listen to all the crap from the Orcs.
Same shit, different year.
Jim Bennings
63
Posted 02/12/2018 at 18:47:07
These games against the top sides continue to prove why every transfer window is crucial to getting better players in.
When it comes to the top six, we still can't lay a glove on any of them in terms of scoring goals and we look pretty impotent outside of Sigurdsson and Richarlison and neither of those are 18-goal players.
Nothing comes from out wide and nothing comes from the bench.
Stephen Driscoll
64
Posted 02/12/2018 at 18:47:55
When Liverpool are failing to beat us themselves, we beat ourselves for them. 😑
Phillip Warrington
65
Posted 02/12/2018 at 18:48:21
I still cannot believe why, why was Pickford trying to tap a ball back into play that was going out... Why???
Incidents like that make you think about match-fixing because why else would a goalkeeper do such a ridiculous thing? — And especially when he wasn't under pressure from any Liverpool player? It's just pure madness.

Max Murphy
66
Posted 02/12/2018 at 18:49:06
Frank (#54), What crap! "A baby in keeper terms"??? He played for England in the World Cup, for God's sake! He has continually made bad errors and poor decisions for as long as I've been following him.
Utter shite! Don't defend the indefensible (typical Evertonia trait)
Michael Lynch
67
Posted 02/12/2018 at 18:49:22
I'd like to see us bounce back from this by sticking five past the Barcodes on Wednesday.
Going to be a real test for the young players and for Silva.
RIght now, I'm going to try to forget today ever happened and concentrate on sticking pins in this Klopp doll I've just made. What a massive fucking bellend that cunt is.
Dave Pritchard
68
Posted 02/12/2018 at 18:49:34
It is frustrating but we played well and we should be proud of the team and give them massive support on Wednesday. Pickford has saved us so many times and it was a bad error but support the lad, do not vilify him.
Silva talking now on TV and he talks well. We still need a striker as Richarlison is not the answer and needs to be played in a different role to be effective.
Tony Twist
69
Posted 02/12/2018 at 18:50:08
Same old, same old. Pickford's error is neither here nor there, we were drawing anyway!
And as for "This is a team for the future and growing and will get better and be like them in a few years" — what a load of rubbish. If we are hanging our hopes on that, then we truly are screwed. Until the team does the business on the pitch, we are just all talk and full of hot air.
Everton just never change, turn off those blue lights shining on the Liver Building... it's just embarrassing thinking that it is rubbing the RS noses in it when we can't beat them year upon year.
Andy Crooks
70
Posted 02/12/2018 at 18:51:08
Absolutely spot on, John. Same old shite, brand new way of having it served up.
Brian Wilkinson
71
Posted 02/12/2018 at 18:54:22
Bad mistake our downfall, had Virgil caught it clean, it would have hit row z, he didn't and we dropped a clanger.
Like others have said, we must have a gypsie's curse on us at that ground; no-one can have that much good fortune, season after season.
Now that is out of the way, the positives: we are still 6th, we turned up and took the game to them, Klopp has been there a number of years and won nothing. He is building a team that has blown other teams away; that did not happen today.
We cannot expect Silva and the team to do so much in less than half a season. We are getting there, no question about that, a couple more windows to allow Silva and Brands to build the team they want and we will be up there.
Very pissed off with that goal but come to expect it there, no matter how well we play, Lady Luck or a bad mistake shafts us year on year, that's two goals now Pickford has gifted them in the final minute.
However, I saw enough today to be very optimistic in the coming months, hopefully a centre-forward added in January.
Chin up, Blues, onwards and upwards.
Joe McMahon
72
Posted 02/12/2018 at 18:55:26
I remember, donkey's years ago, a John Bailey own-goal in injury time winning the game for them. Nowt has changed, has it? How many times have we lost in injury time???
I'm wondering if we ever win at Anfield again in my lifetime. FFS, I was still in my 20s last time... now I'm bloody 49, arrggh!!!
Sam Hoare
73
Posted 02/12/2018 at 18:58:16
I'm gonna buck the trend and say the performance is more important than the result. I watched it with a RS fan in Prague who said we'd not worried them this much in years and years.
We played without fear. Without inferiority. We matched them for most of the game and were undone by a freak goal.
Very disappointing of course but I saw enough to say that the gaping gulf between these teams over the last 5 years is on its way to being closed. I'd rather we finish above them in the league than win the derby and for the first time in a long time I believe such an eventuality could be in sight.
Barry Jones
74
Posted 02/12/2018 at 18:58:58
Why did Gana stay down injured in OT? That cost us. It made no sense. He also had to leave the field after treatment. Stay on your feet and play out the minutes. Brainless decision.
Also, why did Zouma just stop and let Origi follow up that final attempt completely unmarked. I can't understand these basic errors at this level.

Mike Keating
75
Posted 02/12/2018 at 18:59:46
Sorry but Pickford crucified US. I was waiting for the extra-time dagger through the heart but that was too much to bear. And his kicking was crap.
Take a good look at yourself, Jordan, because you gifted the RS a victory they never deserved on home soil.
Kev Dooley
76
Posted 02/12/2018 at 18:59:58
Klopp running on the pitch; last-minute goal.
I really can't articulate how much I hate that Club.

John Reynolds
77
Posted 02/12/2018 at 19:00:26
That had made me regret the immense pleasure I took in Karius's performance in the Champions League final. Karma's a bitch.
Christy Ring
78
Posted 02/12/2018 at 19:00:45
Devastated. We didn't deserve that, Van Dijk miskick, sadly Pickford didn't want to give a corner kick away.
Gomes was class, but his legs were gone with 10 mins left. Silva should have brought on Davies. Sickened.
Jim Bennings
79
Posted 02/12/2018 at 19:00:45
I'd personally rather Napoli put those smug false bastards out of the Champions League than us win another game this side of Christmas.
It might sound stupid but let's be honest we will finish 7th because we are good enough to beat teams below 7th but can't even come close to beating a top 6 side and that's the difference these days to why we can't finish higher.
January 2017, the last time we beat a top 6 side. Blame Pickford for today but that's becoming an embarrassing record in its own right.
Mike Galley
80
Posted 02/12/2018 at 19:01:07
I'm afraid I'm getting sick of this. I was at Arsenal and United earlier on in the season and watched this and the Chelsea game on telly. For all the talk of better performances, new mindset etc, we haven't won any of them.
I'll believe in this new Everton when we get a win at one of these grounds.
Tony Twist
81
Posted 02/12/2018 at 19:01:40
Maybe Pickford's head was turned trying to make that save with all the talk of moving to Man Utd.
Dermot Byrne
82
Posted 02/12/2018 at 19:02:32
No Tony. Are we losing it?
James Morgan
83
Posted 02/12/2018 at 19:03:50
Only against us does an awful red shite 95th-minute centre-half shanked volley somehow end up as a goal. It's unbelievable. We deserved a draw.
If they can't create magic for them to score don't worry cause we will throw it in for them. Cursed we are.
Dermot Byrne
84
Posted 02/12/2018 at 19:04:46
Manager - months. Six
Richard Duff
85
Posted 02/12/2018 at 19:04:56
So freaky, it really doesn't matter; we are on our way to greatness. The RS will be disbelieving of their own luck. We know that an individual mistake from someone who is willing to own up will actually make us stronger. This is what makes teams!
James Doran
86
Posted 02/12/2018 at 19:06:42
I am gutted, but take solace in the fact that we play far better football now than we have for years. Richarlison was relentless and Gomes is class. With a couple more transfer windows under our belt, we can challenge for honours.
Craig Walker
87
Posted 02/12/2018 at 19:07:17
Watch us go and get points against Man City and give them some more gifts. Gomes was superb today but that miss was the worst since Madar. He's class though.
Not looking forward to work tomorrow. It's just never going to be, is it? Remember the Westerveld bizarre ending which didn't go our way?
I knew that free-kick was going to end in our net today because that's what happens. I hoped we'd get a flag for a goal kick and it was somehow behind but it just sums up being an Evertonian. It's the hope that kills you.
Mark Taylor
88
Posted 02/12/2018 at 19:08:22
I don't think this was 'same old' as some are claiming. A year ago, we were basically thrashed in a 1-1 draw, with barely a serious attempt on goal.
Here, we gave pretty much as good as we got and were let down by an absolute aberration from Pickford. God only knows what he was thinking, maybe to prevent a corner?
We are a much better team than last season, that was very apparent in this match. To me, that is important.
Peter Morris
89
Posted 02/12/2018 at 19:11:10
Someone should have a good look at the studs our two Brazilian deploy. In the first half in particular, it was like the both of them were on an ice rink.
Congratulations to Andre Gomes. Another class performance. If only he has miscued his header a bit, we would have gone ahead.
Souness claims the ball from Van Dijk's miscued shot was coming back in play anyway. I don't think so. I think the touch from Jordan took the pace off the ball causing it to take on more backspin and drop onto the bar and back in. They are such lucky bastards. Jordan won't sleep tonight, but the only remedy is to put Newcastle to the sword on Wednesday. COYB.
Gary Russell
91
Posted 02/12/2018 at 19:11:21
Barry, why ya focusing on Gana? Play out the minutes? Maybe, just maybe, he couldn't. It's all well and good you saying he should have done this, should have done that, he cost us. You make no sense. Brainless post.
Why didn't Ogiri have a heart attack? Why, why, why? Zouma had been on the pitch a few minutes. I can't understand your very basic thinking. The players are not robots.
Pat Kelly
92
Posted 02/12/2018 at 19:12:52
Even at our best, we are still not good enough. Get a striker and we might make progress.
Neil Copeland
93
Posted 02/12/2018 at 19:14:13
For once I thought the ref had a very good game and was not intimidated. Typical that we did not take advantage. However, as others have already said, we are miles better than we have been for a number of seasons.
Jordan Pickford is a fantastic keeper, we are lucky to have him. Every keeper makes mistakes, he will learn from it I'm sure.
There is no reason why we cannot finish in the top six this season. No-one will relish coming to Goodison and perhaps we can spring a surprise at Man City and Spurs.
Paul Armstrong
94
Posted 02/12/2018 at 19:15:07
Nothing changes. Managers do but the big results do not. Would we expect to beat them in added time? No. Would we expect to lose in added time? Yes. Because we do. Yet again, all talk and no delivery.
Brian Day
95
Posted 02/12/2018 at 19:15:19
Not just Pickford's fault. 3 Everton defenders just stood and watched. Origi kept playing.
Brian Foley
96
Posted 02/12/2018 at 19:16:03
Guys and gals, absolutely gutted. We did not deserve to lose. I've had a shower now but still annoyed with Pickford. (I feel like Coleman's face at the final whistle when Pickford apologised to him.)
Silva's substitutions were awful. Both the personnel and the timing. Me and my son were calling for Calvert-Lewin on 71 minutes. Bringing Zouma on showed negative intent and just as bad was Gueye wasting time that the ticking clock was to our advantage. Daft as anything considering he just carried on, not his best game by a long way.
George Cumiskey
97
Posted 02/12/2018 at 19:17:26
Although we had a really good go at them, I thought Walcott and Sigurdsson were poor again.
Sam Hoare
98
Posted 02/12/2018 at 19:17:41
Every journey upwards is likely to have a stumble or two. In no way was that match 'same old, same old'. We're on the up. Have no doubt.
Ray Jacques
99
Posted 02/12/2018 at 19:17:50
Gutted but not surprised. Pickford needs to focus on football and not crass baby parties that he puts in the media and his fuckin 3 grand Christmas tree from Bents.
Positives are we are improving every week and, despite initial misgivings, I think this manager could be good for us.
To all those shouting and screaming, it's a year ago this week that we appointed Allardyce. You can't expect to start beating the top teams away when we haven't done it for years. We're going in the right direction.
Neil Copeland
101
Posted 02/12/2018 at 19:19:14
Sam #98, spot on
Julian Wait
102
Posted 02/12/2018 at 19:24:25
Pickford made a mistake. Get over it. I wouldn't trade him for anyone, and certainly no-one that would come to us until we're Champions League.
All-in-all, a good performance and a useful benchmark. We need a top striker. We need a right winger/midfielder. We need alternatives in center-midfield when players are below par (like Sigurdsson and Gana both today).
But, as gutted as I am, and as unsurprised as I remain, I think we really scared the RS today and it's up to us if we can move forward from this and take the positives and eliminate the mistakes. If we do that, we can start challenging for top 6 and then top 4 in short order.
Peter Dodds
103
Posted 02/12/2018 at 19:25:44
As much as it hurts right now, I can still take some comfort in that for 94 minutes we were at least their equal and really should have had at least two goals, from Mina and Gomes. I felt pretty comfortable all match. It takes time and experience to learn to close out games and that's something we lack at the moment.
Gomes was brilliant – the accuracy and weight of his passing was a joy to behold. Bernard's touch was incredible – the ball seemed to stick to his foot each time he pulled it out of the air. I don't understand the calls for earlier subs other than 'Mola for Walcott – Bernard was still looking likely to provide an incisive pass at any moment.
We're getting there, slowly but surely.
David Pearl
104
Posted 02/12/2018 at 19:29:20
Substitutions didn't beat us. Silva did fine. Every single player played their part and took the game to the second-best team in the league. 3 or 4 of their front players did nothing all game.
Not every player needs to play a blinder. What they need to do is put a shift in and every one of them did. Unfair to single out anyone... okay maybe one!
Bizarre, unlucky, stupid... call it what you want but we did not deserve that. Not that any of us are surprised.
So it's onwards and upwards. There's a long way to go this season and a couple of windows before we can really take this top 4 on. You know it, I know it... and soon enough everyone else will. Coyb
John Boon
105
Posted 02/12/2018 at 19:33:38
Game is over an hour or so gone. Must write just to clear my mind and mend a shattered heart.
That was the flukiest goal I have ever seen in my long life. But, on reflection, we are so much better than last season that, even after such an ending, we have a lot to look forward to. We have a great manager, a good team that can only get better and superb support from over-taxed, frustrated fans.
Even today, I would still prefer to be a losing "Blue" than a supporter of the luckiest team ever put together... The RS. Their unbounded delight is proof that they knew just what a travesty had occurred right in front of their own eyes.
David Donnellan
106
Posted 02/12/2018 at 19:35:19
Freak of a goal! What a sickening way to lose to them!
And then seeing that cunt Klopp celebrating like they had just won the Champions League!
Andy Meighan
107
Posted 02/12/2018 at 19:36:05
I'm glad my phone is broke. I couldn't be doing with them gobshites tonight.
Iain Latchford
108
Posted 02/12/2018 at 19:39:36
If De Gea leaves Man Utd and they offer £70M for Pickford as reported, I'd have their arm off.
Brent Stephens
109
Posted 02/12/2018 at 19:40:39
Just back from the game. I actually felt physically sick when they scored. Pickford error from what I could make out from our end. But we played well. Remember we still don't have an out-and-out striker.
I read the Live Forum on the train home. I understand disappointment but some posts are utterly brainless. One Tasker sounds as if his parents shouldn't allow him on social media, every comment is childish anti-Everton (or WUManish). And we get people blaming Kenwright there as well! I didn't notice what time he came on as sub.
And shouts to sell Pickford and play Virginia (doubtless not having watched him regularly). And shouts about Everton bottling it - it was one man's error, not the team's. I despair at times.
A gut-wrenching defeat, gut-wrenching, but that performance was progress. Six months in, as Dermot says, six months in and we gave them a game. Roll on the return fixture at Goodison Park.

Johan Elmgren
110
Posted 02/12/2018 at 19:42:10
A very good performance, a heartbreaking end... mistakes will always happen, not just to us. We matched them at Mordor and could as well have won.
Sure, it's gutting to lose this way, especially after all the dubious losses we've had against that lot over the years, but there's lots of positives to take from this performance and we are getting better and better.. Anyone who can't see that needs to buy some new specs...
We will soon win our fair share of matches against the so-called "top-six". Onwards and upwards, COYB!
Tony Abrahams
111
Posted 02/12/2018 at 19:44:55
Understand the frustration, but because I think I also understand a little bit about football, then I'm going to take it on the chin, and hope the saying about learning more in defeat is true.
Those bastards can't hurt me anymore, even though losing that was hard to take, but if anyone can't see that we are an improving team, with a decent squad of young players and a manager who sets his team out to "have a go" then hopefully once the pain eases then this might change.
They say it's our cup final, those smug, phoney Kopites, but you only had to look at the scenes at the end, to really understand what those fraudulent reds are really all about.
Brian Williams
112
Posted 02/12/2018 at 19:48:13
I suppose its just as well they scored in the 96th minute because, if they hadn't, we'd still be playing 'til they did.
Derek Thomas
116
Posted 02/12/2018 at 19:55:09
The longer the 2nd half went on, the more we were getting into it. Silva rolled the dice with Lookman. But, in the last 15 mins, the lack of a half-decent 2nd, even 3rd replacement of Lookman's calibre cost us.
They were there for the taking but we couldn't find another mental and or physical gear.
From 88 mins on, we settled for the draw and fannied about time wasting in the time added on – then, thanks to Pickford, who had been a bit erratic in his kicking... always a sign of his overall performance not being 100% – we got served our usual dose of 'Everton That' karmatic rebound.
Would it spoil some vast eternal plan, disrupt the very fabric of the space-time continuum for us to get it right just once?
It seems the answer is – yes, it would.
Marcus Taylor
117
Posted 02/12/2018 at 20:00:28
Johan #110,
"We will soon win our fair share of matches against the so-called 'top-six'."
In 4 games this season against the 'top-six' we haven't scored a single goal from open play. We won't beat them unless that problem is addressed. A new striker has to be the priority in the transfer window. Richarlison is far more effective playing out wide.
Derek Thomas
118
Posted 02/12/2018 at 20:00:49
Oh, and for all the wrong reasons, in years to come, when these games are recollected, Pickford will now have a derby named after him.
Mike Oates
119
Posted 02/12/2018 at 20:01:54
Whilst Pickford was the scapegoat, it can't hide the issues which still cause us more trouble, namely our inability to take easy chances. Arsenal, Man Utd away and today we should have been 2-0 up in all games before the half-hour was up - we didn't and we end up losing all 3 matches. Richarlison is not a No 9 – he needs to go back wide and pick up balls and run at full backs.
Whether Calvert-Lewin can do it as a No 9, who knows, and will he be given at least 4 or 5 games to prove his worth. And what do you do with either Bernard or Walcott if Richarlison goes wide, never mind what to do if you give Lookman a chance.
We need to find out and ASAP, before the January window kicks in. I'd like to see a front 3 of Richarlison, Calvert-Lewin and Lookman against Newcastle on Wednesday.
I'd also like to see Davies be given a game instead of Gueye. We've also got Watford at home after Newcastle, so Silva needs to explore his squad; can the youngsters fill in at the right level required to maintain 6th place?
Derek Knox
120
Posted 02/12/2018 at 20:02:46
Tony @111, hopefully we will learn from that, but to lose in that manner is gut-wrenching. Without bias, I feel we were the better side today in every area of the field.
The thing is that, of the chances created, we just didn't convert them. I feel for all blues after that result, but encouraged by the performance. What a pity Mike Gaynes couldn't have witnessed our long-awaited Anfield victory.
I think the return fixture will be a different kettle of fish. I believe that Andre Gomes got the MotM award, and deservedly so.
I just hope and pray that we can secure his services on a permanent basis without too much ado, and not having to pay a ridiculous amount, although, on his showings, he is worth it.
Even Souness, Redknapp and Carragher were commenting on how well Everton played, and gave that special mention for Andre Gomes.
Julian Wait
121
Posted 02/12/2018 at 20:02:47
Brent Stephens, #109 – right on. some perspective is required here. We played one of the 10 best teams in Europe, #2 in England right now, and their strongest team since Slippy G's 2nd place, perhaps stronger front to back, and we matched them for 95 minutes. It was a bad mistake but one I would venture he won't repeat (hopefully). One of the strangest goals I have seen.
Let's keep on moving on!
John McFarlane Snr
122
Posted 02/12/2018 at 20:04:53
I didn't see the game (I listened to it on Radio Merseyside) but the impression I took from the commentary was that Liverpool enjoyed most of the possession, but Everton dealt with situations adequately.
Having watched Everton since 1948, I have learned to accept that anything can happen in a game of football. I am as disappointed as any Evertonian but I can't believe some of the criticism that is being directed at Jordan Pickford. Of course it was a grave error of judgement, but football is played by humans and humans make mistakes.
I should imagine that Jordan Pickford will be as disappointed as we are, but what I can promise him is that I will be at Goodison Park on Wednesday night, giving him my full support. I believe that is the part I play in the scheme of things.
Older Evertonians will recall the abuse and ridicule Sandy Brown endured as the result of his own goal, also against Liverpool; these things happen. My philosophy has always been "If you can't lose, don't play; if you can't see your team lose, don't go."
I must apologise if I've ruffled a few feathers, and I must confess that age and experience has played a large part in my outlook on "The beautiful game".

Trevor Peers
123
Posted 02/12/2018 at 20:06:06
That's twice Pickford has screwed up at Anfield. He wants to be careful, I don't think Silva will tolerate any weaknesses.
We were well worth a point, they had five class strikers to choose from we had one. But we matched them in most other departments and surpassed them in midfield.
Stephen Bird
125
Posted 02/12/2018 at 20:09:07
So much doom and gloom... I get the frustration and anger but do not let that cloud the fact that this Everton team and bench are far removed from the crap of recent years.
Chances came and went; to improve further, that has to change but surely everyone can see an improvement in personnel, set-up and mindset.
Silva has been here less than half a season and I personally see the upturn as a fantastic positive thing. We can consolidate 6th or 7th this season, that and a decent run in the FA Cup will be a fantastic start to his tenure. I hope we can then improve season on season.
We never embarrassed ourselves for once against them today. I don't see this as proof of lack of change or development as so many of you appear to do on here tonight.
Eric Paul
126
Posted 02/12/2018 at 20:09:34
For me, there were 3 game-changing moments: Mina and Gomes headers and Pickford's mistake; without the first two, the third doesn't matter in terms of the result.
Alden Barlow
127
Posted 02/12/2018 at 20:09:48
GUTTED! Been watching the blues since I was 10 years old (1973-74 season) and have NEVER felt this sick. If there IS a god, then the inbred mutants will see their red filth beaten in the next European final.
Jay Harris
128
Posted 02/12/2018 at 20:10:59
I just feel really sick. I can't even answer the phone. Why does the luck always go their way. Why did the ref add 4 minutes when there had hardly been any injuries in the second half and then proceed to add 2 minutes for Gueye's injury. Why was Klippetty allowed to run on the pitch when the game was still in progress and why wasn't time added on for that.
Luck apart, I think it was the best football we've ever played in an Anfield derby and I have to give Silva credit for turning around the worst Everton team I have ever watched in 60 years to one that can now start to compete with the best.
Get Richarlison back to the left, give Calvert-Lewin a run until January at centre-forward and then get some money for Tosun and get a top goalscorer in and we should be in better shape.
Terry Farrell
129
Posted 02/12/2018 at 20:11:05
Tony Marsh, that is a disgraceful message. Jordan Pickford is the salt of the earth and will be distraught tonight. He saved and made them miss 3 one-on-ones and he is class. He's a goalkeeper and, once in a while, will make a mistake. We are all hurting but let's stick together, not spill bile and turn on each other.
Dave O'Connell
130
Posted 02/12/2018 at 20:11:24
How much more can we take against them? It makes you feel empty inside. I've now lost interest in future games and fallen out with the missus because I'm in a foul mood.
Paul Tran
131
Posted 02/12/2018 at 20:12:30
In 1983 we took a promising team to Old Trafford for a quarter-final. Played very well, lost to an injury time winner. I feel the same as I felt that day. We're a team on the up and today's defeat will be turned into wins. Mistakes like that happen.
We desperately need a finisher and I think it's time to throw Lookman on at the start. Otherwise more of the same will see us finish 6th.
Clear heads, chins up, move onwards and upwards.
Len Hawkins
132
Posted 02/12/2018 at 20:14:39
John McFarlane, 100% agree. None of the Everton Players went out there with anything but winning on their minds. Yes, humans do make mistakes and ripping the lad to shreds over it won't do him, the team, or Everton FC any good.
In the words of the Screaming Skull, Shankly, "It was a Travesty!"
Dave Lynch
133
Posted 02/12/2018 at 20:16:29
I took the dog for a long walk, got in on 90+4 and thought "Job done". Thinking to myself that I had saved myself from developing Tourette's and anxiety meltdown, I witnessed Pickford take leave of his goalkeeping senses.
Cue Tourette's, bought of uncontrollable anger and a gasket well and truly blown! Next time, I'm going to hit the Benzo's big time.

Pat Kelly
134
Posted 02/12/2018 at 20:18:26
There's still the FA Cup. When we'll get to see Silva field a second string.
Don Alexander
135
Posted 02/12/2018 at 20:19:33
My heart goes out to Jordan. He'll be gutted inside and he's a bloke who never leaves an ounce on the pitch.
Unlike some, I don't despair of the fact that, in terms of results, we're still lagging behind the five or six teams consistently above us. In terms of performance, it's already way different and hugely better, and that matters to me.
It matters because Silva's had less than 20 games to effect the changes he wants to develop in further improving us. Klopp's had more than 170, shedloads more money and the ref/FA protection-for-the-chosen-six, and yet even he was behaving like the classless knob he is when they got their fluky goal.
Marco, on the other hand, oozed class. He deserves time, money to spend, and support.
Tony Twist
136
Posted 02/12/2018 at 20:20:01
Unfortunate goalkeeping. Never mind... short-arse goalkeeper trying to convince everybody that he doesn't struggle with high balls in or around his goal. I am sure he will learn from this mistake.
Bill Gienapp
137
Posted 02/12/2018 at 20:21:07
Glad to see at least some perspective and common sense on here. By all means, criticize Pickford for his mistake, but these clowns claiming "I said from day 1 he wasn't good enough, we need to get rid" – stuff a sock in it, you're embarrassing yourselves.
I know emotions are running high, so here's an idea – step away from the keyboard, take a long (and I do mean LONG) walk around the block and spare us the drivel.
Dave O'Connell
138
Posted 02/12/2018 at 20:23:40
Neel @58, how can you defend Pickford after his gift to the Red Shite? How much does he earn a week? Absolutely no excuse. I will never ever forgive him. I hope we sell him to Man Utd.
Leighton Cooper
139
Posted 02/12/2018 at 20:24:50
Pickford is not the reason why we lost that. He couldn't just leave it. Where did the ref find the extra two mins from??
David Pearl
140
Posted 02/12/2018 at 20:25:32
We should arrange a ToffeeWeb outing for the next derby for all those who don't have tickets to the game. Then one of us checks the result and we either go watch a rerun or go home.
Nobody saw that coming. Reds all over the Echo, proclaiming how great they are.
Gerry McGuirk
141
Posted 02/12/2018 at 20:25:39
8 points to 5th place and it would still have been 7 even if we had got a point today. It's obvious that we are in a battle for 6th and that's as good as if gets.
Terrible kick in the guts today but we were never going to win and, in the end, it was only a 1-point difference.
We need to put the heartbreak behind us and come out and bulldoze the Barcodes on Wednesday. Oh, and Jordan — a couple of penalty saves would go down a treat!!
Peter Mills
142
Posted 02/12/2018 at 20:26:06
I'm just back. To be in the Kemlyn Road stand (whatever they call it now) in that last minute was deeply unpleasant. I assure you, from 80 minutes onwards, many of them were leaving, and those who stayed were on the backs of the RS and saying they were going to lose. Then, of course, at the end they were baying and crowing, as they have been so often. At the moment, I am gutted, and re-living my astonishment at Pickford's actions.
I am also sick about our lack of finishing composure in the first half. Chances like those presented to Mina, Gomes, Walcott and Richarlison (twice) have to be taken, so those players are just as culpable as Pickford.
Somewhere within me, I can also acknowledge that we played very well. Gueye, Gomes and Bernard took the game to them, and Keane played well, but Walcott and Richarlison were poor. Silva needs to have a word with Richarlison, his antics are embarrassing and working against him.
Trying to take the positives, we were far, far better than when we played there in the FA Cup in January. We are improving. But I'm gutted.
Christy Ring
143
Posted 02/12/2018 at 20:26:30
Gutted but proud of the performance, and a lot more positive than the draw we secured last season under big Sam. We still need a striker in January, and put Richarlison back in his proper position.
I thought Walcott was poor today, and Gueye and Sigurdsson got caught in possession. I'd put McCarthy in the squad for Wednesday night.
Ray Griffin
144
Posted 02/12/2018 at 20:27:03
I think Pickford has adopted the mentality of a lot of Premier League goalkeepers have now, ie, the fact that they are now being transferred for fees equivalent to the top players (rightly so) and the Pep theory that goalkeepers should be comfortable on the ball seems to have convinced them that they are a bigger part of general play.
Pickford's displays lately have been littered with poor decisions, trying to play short passes to marked defenders when it's blatantly not on, ambitious balls that don't come off and, in today's case, attempting to pull off the more dangerous option just to be in the limelight — basic goalkeeping to flick the ball over the bar for a corner rather than trying to show off.
Charles Barrow
145
Posted 02/12/2018 at 20:28:32
Agree. The kid didn't intend to fuck up! Give him a break.
If he learns from this, all well and good. Six points from next two games will assuage the pain.
Paul Columb
146
Posted 02/12/2018 at 20:30:28
It hurts more 'cause we took them on and earned, at the very least, a point. The players will be hurting as much as us.
I never felt quite this sick and shell-shocked after a derby but, now that the dust is settling in my head, I can reflect on a very, very solid performance. I pity all locals having to deal with usual for the next week or so. We'll turn them over in the return.
Let's admit it: we've come miles since this time last season so let's keep perspective, suffer the pain awhile (we'll practiced), and get right back behind a solid set-up.
John Pierce
147
Posted 02/12/2018 at 20:33:04
The game was almost a carbon copy of the Chelsea one. The focus can be on Pickford if you like but for me the greater error was the five defenders who switched off as that ball came down. It was up there for ages. No excuses for me.
We had four presentable chances; Mina, Gomes, Walcott & Bernard. We hit the target once from those four. It's been the case in so many of our away trips, a clear reason for not winning this type of game.
The quality finish is just not there. Until we score in those fleeting and vital moments and hurt the better teams, we will always come away with nothing.
The bigger test is can the team turn itself around and win both the homes games this week?
Tony Abrahams
148
Posted 02/12/2018 at 20:34:42
Yes, Derek@120, I'm gutted for Mike, but I hope he has enjoyed the experience, and hopefully we might see him at Wembley in May!
I'm thinking like John McFarlane, and Brent Stephens, and hoping like Paul Tran. I thought we were as good as Liverpool, Derek, but not better though. We looked more controlled than them (Gueye excepted) but they had that little bit more than us in the final third, because were they ran in behind a few times; we never quite done that enough imo.
I see the Red Echo are trying to twist Silva's words to make a big story, but I finally think we have got another manager who is only interested in the football, which is the only thing that should matter to us Blues.
Dave Lynch
149
Posted 02/12/2018 at 20:35:03
No-one intends to fuck up, Charles, but bottom line is... He did — big time — and it's cost me a world of pain in work tomorrow.
I'll forgive the lad though, in a day or two; he has saved us a few times this season.
Paul Kelly
150
Posted 02/12/2018 at 20:35:53
Live by the sword, die by the sword, Pickford deserves all the praise when he plays well and he'll rightfully be vilified by all in sundry when he cocks up, and bejesus did he cock up. I'm baffled to what he was thinking, brain fart of the highest order.
I'm sure he's hurting but certainly not as much as some of us fans, believe me.
We're playing better, certainly not as bad as previous seasons, but results at Mordor remain the same; to think how bad things were under Smith and that was the last time we won there is unbelievable.
I get the feeling Silva don't trust/rate our subs judging by minutes on the pitch today; some fresh legs were needed sooner. The less said about Walcott, the better in my opinion, miles off pace.
Just another game? No, this fixture never has been... Raw? You bet — and will be for a little while longer.
Clive Mitchell
151
Posted 02/12/2018 at 20:36:00
Very good performance, we just didn't quite believe enough. Gomes was Man of the Match by a distance, Bernard was class too. Digne and Coleman did well.
I'm just hoping they respond to an undeserved disaster at the end by tearing Newcastle apart on Wednesday night. And hoping Marco decides it's time to let Lookman play from the start in place of Walcott, and rest Keane to give Zouma a game.
Whoever we start, it's a night game at Goodison Park and we need to shout the roof off. COYB!
Johan Elmgren
152
Posted 02/12/2018 at 20:36:54
Marcus #117. Yes, you are right, and I trust Marco to find a solution to that particular problem, maybe even in January, and then "soon" might already be here. With a little rational thinking, getting one in the summer is more likely, though.
Brian Wilkinson
154
Posted 02/12/2018 at 20:38:17
Well said, Bill.
Clive Mitchell
155
Posted 02/12/2018 at 20:40:32
Respect to all posters, but I do think we've undeniably come an awful long way when Walcott is invariably our worst offensive player!
Michael Reid
156
Posted 02/12/2018 at 20:41:02
Everton supporter since 1970. First time l have commented on the site.
I felt proud of the lads today. Maybe that's why the result today is so sickening. Too often in recent years, we have been dominated in the derby and have been well beaten or have got a point but never looked like winning. Today, we could have won.
I don't know what is worse, losing when you could have won, or losing when you were shit. Everton are playing better football than 12 months ago. We are improving in all areas. Nearly another clean sheet. We created good, scoreable chances. We had the best player on the pitch in Gomes.
Pickford's mistake was a sickener, but he has made important saves this season. I hope he will be better for this. COYB
Tony Sullivan
158
Posted 02/12/2018 at 20:41:46
John McFarlane @122 well said, I agree entirely with your view and it does you credit as an Evertonian.
Perhaps Michael Kenrick might take a lead from your reasoned words.
Like you, I too am extremely disappointed, but I am sure Jordan Pickford feels worse.
Russ Quinlan
159
Posted 02/12/2018 at 20:43:38
Just my two penneth, having supported the Blues since 1963.
The longer the game went on and we didn't convert the chances, I was almost resigned to a sucker punch and it came at the usual time. I could blame Pickford like a lot on here but, up to the beginning of today, I think most Evertonians agreed he is the best keeper we have had for years and some of the saves he has made have given us a more solid back 5.
Of course, he made a total cock-up, but he's only 24 ffs, so he will make mistakes. The fact it was in a derby is just more galling but we really should have been at least a goal to the good by then.
The performance today was what a lot of us wanted, a vast difference to the last few years. It showed belief and balls but it showed that M&M MUST buy a proven goalscorer in January or we will be lamenting similar performances again until we have someone who is a natural finisher.
I am totally gutted (again!) but the improvement this season shows it's a work in progress. When Marco came in, I don't think anyone would have expected such a turnaround after the previous dross. The reason we are so pissed off today is because we showed we are their equal despite all the hype. As soon as we have someone who can lead the line... I think we are heading in the right direction.
Today sucks though!!
Dan Davies
160
Posted 02/12/2018 at 20:44:50
Think we should make Aaron Ramsey an offer he can't refuse in January.
Gordon Crawford
161
Posted 02/12/2018 at 20:46:33
We are all hurting, it sucks the way we lost, but there are some real positives today.
Silva stuck to his plan and had a real go at them, respect.
Gomes was outstanding and dominated their midfield, he needs to be signed up ASAP.
The back five were very steady and they didn't play through us once.
Bernard worked very hard and has improved. He is getting sharper as his fitness improves, though I do think he is out of position.
Lookman looked lively when he came on.
Richarlison worked his ass off and was a nuisance all day; though he needs moving to the left.
Yes, it will hurt like hell for a while, but that's a long way from last season.

Tony Abrahams
162
Posted 02/12/2018 at 20:47:01
Dave @133, I watched the match in total silence with cotton wool buds in my ears because my neighbors telly is ahead of my box, and I could hear them screaming at our wastefulness!
Anyway, my red-nosed-bastard of a partner came home on 90+4 minutes, and it was the only time I hadn't felt relaxed all day.
I booted the kids' toys everywhere, told her to fuck off, the horrible red nosed fucker, and my little daughter started crying.
"It won't be the only time Everton make her cry," was my thoughts once I'd calmed down, but she told me it was because Everton had lost, and not because her dad had lost it!
Danny Baily
163
Posted 02/12/2018 at 20:48:11
Forget the performance, today couldn't have gone worse for us. We couldn't have written a better script for the RS. We'll see that goal at least twice a year for the next decade.
Keith Monaghan
164
Posted 02/12/2018 at 20:48:56
Devastated at how that game ended!
Now is the test for us all, the team, backroom staff & us – be strong and support our team, including the keeper who's done us proud since joining. It was a horrible error on his part, and he'll learn from it, quickly!
I find some of the defeatist and self-pitying comments above pathetic; it was the best we've played against the RS for years and everyone at the club deserves credit for that.
Stick together and roar the team on, starting on Wednesday – let's show everyone what great supporters we are. COYB
Jer Kiernan
165
Posted 02/12/2018 at 20:50:17
How poxed are that lot?? No matter how badly them fuckers behave, they always seem to have an endless pot of good fortune to drink from.
The worst shot of the match and it could go anywhere on Merseyside but it sits right on the feckin crossbar...
I think Pickford was really good today apart from the error and I hope he doesn't suffer for it, I really like the lad's attitude and character and he has a confidence about him that I hope is not affected by this. He is and will be a top keeper for a long time
We played them off the park today at times, gents... when is the last time that happened?
Overall, an excellent performance that warranted more. I hope Pickford has a stormer in the next couple of games to get himself back on track.
John Wells
166
Posted 02/12/2018 at 20:52:18
I have just walked the legs off my two dogs. As soon as that ball went into the net, I walked out of the house and have literally just come back. I'm glad I did because I honestly think I would have broken the TV screen. I fucking hate them more than ever if that's possible. Feel so sick...
Mike Jones
167
Posted 02/12/2018 at 20:52:24
I am devastated tonight. But I have had a belief for a couple of months that something is changing for the better. That is the best I've seen us play at the shite's place since the Kanchelskis days.
The Red Shite celebrated like they had won a cup. Apparently beforehand, the likes of Gomez (Joe) were suggesting their superiority. It wasn't there.
I like the attitude of Silva and Brands and the approach of players like Richarlison, Mina and Digne. We are becoming a professional outfit at last. I'm really positive for the future... none of the away games against our competitors has been a walkover and that's after one transfer window and five months of a new regime.
Please, Blues, keep with this new regime. I see good things ahead. By the way, Klopp is a tit; if their team wins the league, then it shows how shite the league is... and second, by the way, Van Dijk is a pompous twat. Up the Blues.
Paul Jones
168
Posted 02/12/2018 at 20:53:17
Well, here we are again. Another derby, another defeat.
Negatives:
Lack of clear-cut chances to win the game despite good possession.
Failure to make subs on 60 minutes that would have capitalised on their tiredness.
Misplaced passes when we could have worked their back 4 (Coleman, Walcott and Bernard).
Pickford's fuck up.
Positives:
Feeling they couldn't break us down in open play.
Strong and calm set-piece defending.
Midfield superiority.
Untarnished refereeing.
Comparison between now and 12 months ago. We are so much better now.
Paul Birmingham
169
Posted 02/12/2018 at 20:53:59
As over many years, today sums up the way it goes. I said a few days ago, I fear the RS more than Old Nick, in terms of football spawny decisions etc, and the Luck of The Devil. And so it was.
Today, you see the flukiest derby goal for a lifetime. I'm hurting but in a different way to the recent matches under the Klogg Allardyce and Bobby Brown Shoes.
Today I take big hope and heart, in the season and I'm backing the team to bounce back against the Barcodes.
Forget the Echo, it's a miracle how it gets a license to be a news paper. We look after ourselves and we learn from today. Against any team, but versus them, remember Graham Poll dissallowed Don Hutchinson's goal as Vestervelt threw it at him and it went in, at the Street End... and he said he'd blown up and the replay prooved he hadn't.
A lifetime of anguish in the main playing the RS, but if we can get more confidence to shoot and finish (a proper forward) is on the New Year wish list and signing Gomes, this squad can kick on.
Overall, I felt our players put a shift in but didn't quite have the belief or guile to finish them off when we had our prime chances at key stages in the game.
Jordan Pickford will learn the hard way but I hope he's not gonna be pilloried for this mistake.
Hopefully he'll pick himself up, as will the team, and we move on.
Paul Kelly
170
Posted 02/12/2018 at 20:55:58
I'm sorry, but I don't think Pickford feels any worse than I and some people I know, and I very much doubt he has years of heartbreak building up, festering like the open wound this fixture has become.
He'll feel bad, but don't underestimate how bad some Blues will be feeling tonight, tomorrow and days later.
Bill Watson
171
Posted 02/12/2018 at 20:56:05
I glanced at the clock as the ball was looping up as I expected Pickford to either catch it or flip it over the bar but, of course, he inexplicably did neither and gifted them the goal.
Absolutely gutted and even more so on the 14 bus back to town, having to put up with the foreign RS, singing etc.
However, there are positives... one of which was the towering MotM performance from Gomes and the general overall team play was an improvement on the usual derby.
Gueye had his poorest game for a long time and I think it's time Richarlison was moved back to his best position which is on the left. He came into the game in the last 20 minutes but he's not a centre-forward. Walcott continued his average form and may be better coming off the bench to run at sides, late on.
A much better game from Bernard and some of his flicked passes were sublime.
This game showed, once again, that an out-and-out striker is a must in the January window.
Oliver Molloy
172
Posted 02/12/2018 at 20:56:11
We should have won this match, but we didn't; so same story. It's no good getting the plaudits for taking them on and playing some decent stuff – they still won the fecking game.
I watched it on telly and there is no doubt that the Sky commentator and Carragher were willing them on to a win.
Next up: Watford... Murphy's fecking Law!
Dave Brierley
173
Posted 02/12/2018 at 21:03:34
John McFarlane #122. I did see the whole game and it wasn't "a grave error of judgement"; it was a mistake, pure and simple.
Pickford has saved us on so many occasions so, to all the fucking idiots on here who are pillorying our brilliant keeper and who cannot forgive a mistake, I say grow up and get a grip.
I was so energised by our performance. For the first time in God knows how long, I thought we were better than them and deserved to win. We have so many better players than them too.
Good times are on the way and, once you've got over the injustice and disappointment, there are lots of reasons to be cheerful.
Derek Knox
174
Posted 02/12/2018 at 21:04:38
Dan @157, "Think we should make Aaron Ramsey an offer he can't refuse in January."
A bit drastic there... besides, where would we get a Racehorse's Head, without injuring any animals in the process?
Seriously, though, I think he would be a welcome addition but, assuming we hang on to André Gomes, where would he fit in?
Simon Dalzell
175
Posted 02/12/2018 at 21:06:04
Oliver @ 169,
Next up Newcastle!! My first visit this season (due to infirmity). I cant wait.
Tony Abrahams
176
Posted 02/12/2018 at 21:08:02
Gomes had a great game but I thought our left-back was absolutely fantastic once again. He gets tight, knows how to defend, and he's another reason to feel positive right now.
It looks like Brands & Silva are what we have needed for a long, long time, and Jay Harris @128 (2nd paragraph) says it best for me.
Sam Hoare
177
Posted 02/12/2018 at 21:09:48
Oliver@169
"we should have won this match, but we didn't; so same story "
How many times can you say we deserved to win at Anfield? Very few that I recall in recent times. That's why – even if the result is familiar – the story has changed.
Michael Reid
178
Posted 02/12/2018 at 21:11:11
I think l am going to be numb for a few days after losing like that. It was heartbreaking. But l was proud of Everton today. We turned up, could have won and showed class in defeat. I can't wait for Marco and the lads to show class in victory against the RS at Goodison Park next year. COYB
Justin Doone
179
Posted 02/12/2018 at 21:14:25
On one hand, it's the same old, same old... and yet, on the other, I think I'm still in shock.
You make your own luck – or so they say. Moshiri's next task is to find who's in charge of our luck-making department and give them a kicking.
I've never felt so many emotions in the space of 10 seconds: shock, sickness, stomach-wrenching dread, laughter, more shock, crying and at the same time a sense of satisfaction that, for long periods, we controlled the game.
I mentioned on another post earlier today that it sometimes comes down to luck to win these close games – and boy does our luck run bad.
Overall, a good game with many positives and, despite the result, we are clearly moving in the right direction and much improved from the last 4 seasons.
Pickford is small for a modern-day goalkeeper and I wish he had another few inches in his reach but he's still a good goalkeeper. He needs to learn and get over it. No idea what he was thinking of but I agree, he needed to go for the ball because even I sensed it could drop into a dangerous area.
Before that, it was probably his worst game in terms of his distribution, far too many poor kicks, so he's had a bit of an off-day; it happens, it just better not happen again soon because we have no worthy understudy to challenge him. It wasn't quite a Karius moment but he'll have nightmares about it tonight.
The game highlighted a few points for me that I disagree with with Silva about.
Richarlison is wasted upfront and should be involved and on the ball more often playing deeper or wider where he's much more dangerous.
Gomes is the type of player we have lacked for years, bloody brilliant! We should do all we can to wrap the deal ASAP because I'm sure every other team in the league will be sniffing around him.
We play too many free-kicks backwards, why? It's really starting to bug me because, 5 seconds later, we hoof it forwards anyway when our players have already retreated.
Digne is a good crosser but his free-kicks and corners are not. More work on the training ground needed as we don't look any nearer to scoring from a corner despite the threat we now have.
Richarlison's and Bernard's work rate is fantastic and it's great to have talented players prepared to put a shift in along with the rest of the team. It's why Walcott keeps Lookman out of the starting 11.
I'm looking forward to the Man City and Spurs games with optimism and hope for the January transfer window.
John McFarlane Snr
180
Posted 02/12/2018 at 21:17:34
Hi Tony [#155], I appreciate the frustration and disappointment that Evertonians are experiencing tonight. At 80 years of age, I dare say I have had to endure these feelings a little longer than most Toffewebbers. And I believe a lifetime of these setbacks has conditioned me to accept what's thrown at me.
With regard to Michael Kenrick, I don't think that we sing from the same hymn sheet, and anyway it's not really my intention to influence anyone. I'm quite content to express my opinion, for what it's worth.

Brent Stephens
181
Posted 02/12/2018 at 21:18:17
Everton fantastic going forward in the first 34 minutes. Not me saying that but Carragher.
Brent Stephens
182
Posted 02/12/2018 at 21:19:29
John #177 - your opinion is worth a great deal!
Laurie Hartley
183
Posted 02/12/2018 at 21:22:13
Fed up.
Anthony Murphy
184
Posted 02/12/2018 at 21:25:40
I'm starting to worry this could be their season. Man City are in a different league, but may turn their attention to the Champions League later on and will have a bad patch at some point. I think the RS might go out of the Champions League soon which will let them focus on the Premier League.
Also, I think if they are in with a shout with a few matches left, we will see new levels of spawniness – never mind today. They're not playing that well but still...
Someone do me a favour and tell me it won't happen.
By the way, I'm made up with our manager. We'll get there with this fella!
Dave Abrahams
185
Posted 02/12/2018 at 21:29:46
The game plan worked, we had frustrated them and their fans were streaming out of the ground with over 10 minutes to go, as Mike Gaynes said to me, "I can't believe so many fans are leaving with the game still 0-0."
We played well, not as many chances as them but really ones we should have benefited from.
I was more than happy with the performance; we are getting better and will continue to do so. We are short of a good striker; he'll come sooner than later.
Bad luck or jinxes had nothing to do with us losing; we all know why we lost.
The future is bright for me and I've got plenty of patience to watch us go forward under Brands and Silva.
Mike Jones
186
Posted 02/12/2018 at 21:31:12
Anthony Murphy, I share your fear although the incredible thing I'm thinking is they aren't that good compared to Man City. Today is the first time I've watched the Red Shite this season, only because they played us. Either they have been lucky so far or the Premier League is poor. I've watched Man City most times... except against the Red Shite, and they are a world above.
If the shite win the Premier League, there is definitely a Faustian pact... my 19-year-old son has told me they won't win it because the shite are shite. I do hope so. I do like what Silva and Brands are doing... and Denise Barrett-Baxendale off the field too.
Dave Brierley
187
Posted 02/12/2018 at 21:32:52
John #177 You have nothing to apologise for. I'm not far behind you on age and like you I understand the frustration that some of our correspondents have. But sometimes it gets really too bitter and personal. Some of these guys need to grow up. If they can't see the massive improvement in our development under Silva then, well to be frank, they're pricks.
Like you, I very rarely sing from the same hymn sheet as Michael Kenrick.
Jay Burke
188
Posted 02/12/2018 at 21:34:06
I was 6 years old in 1977 when my 'arl fella took me to Goodison Park for the first time. Over the ensuing 40 years, like many others on here I've experienced some incredible highs following the blues. But, barring some notable exceptions, what I've learned is that Everton have an uncanny habit of playing the perfect stooge to the other lot, letting you down when it most matters in a manner which, lets face it, only serves to enhances their already over-inflated egos, sense of superiority and the media's obsession with them.
So, though I was naturally gutted today, I was far from surprised, and able to look at what was a good (albeit not great) performance,take the positives and many plaudits.
But, what do I say to my 8-year-old lad whose eyes welled up the second the goal went in and has gone to bed dreading school tomorrow because of the stick he's going to get. Not to mention the daggers I'm getting from his mother, as if to say, "It's your fault!"
Thank a bunch, Everton. They can always be relied on to deliver a swiift kick in the bollocks, which hurts just as much, even when it's fully expected.
Paul Birmingham
189
Posted 02/12/2018 at 21:34:57
We were smarting after Maine Road semi-final robbery in 1977, thanks to Clive Thomas, and again there in the League Cup Final replay, when we lost 3-0.
After that game, I felt it brought tempered steel into the Everton of that season and we soon enjoyed our halcyon years in modern times.
This loss today I'm hopping will spur us on, I'm convinced we can learn and get stronger from today.
Barcodes and Watford and we move on to Pep.
The killer instinct is what we need upfront so, hopefully soon, this is found.
Let's get behind the team and dust down and bounce back vs The Barcodes. Let's unite and stick together, and get behind the team and move on.
Liam Reilly
190
Posted 02/12/2018 at 21:35:37
Some disgraceful comments on Pickford. I'm as gutted as the next man but this needs some perspective.
The lad has saved us a few times this season and will learn from it. Looks like he jumps to collect the ball and launch a counter but misjudges it.
We're cursed at that ground; I mean how many times does a ball bounce twice on the bar and of course fall right into the path of an RS?
We didn't deserve to lose and played some great football, especially from Gomes.
Mike Price
191
Posted 02/12/2018 at 21:36:31
I think we're all in shock. We've got to channel this feeling of injustice to turn things around against them.
The nagging thing that gets me though is that they gambled and won again. Strikers on, going for it, whilst we were putting defenders on and dropping deep.
Horrific ending but we weren't going for it like they were and then they got the ridiculous luck that we all dreaded.
Des Farren
192
Posted 02/12/2018 at 21:39:47
I don't wish to blame anyone for what happened today.
But those who think we are making ground on top 4/5 are, despite a hugely improved performance, sadly, delusional. The gap between us is immense.
It is not closing, in any shape or form.
Pat Kelly
193
Posted 02/12/2018 at 21:42:27
It's not that we're cursed or unlucky. We don't have the players capable of scoring whereas the top teams do. It's as simple as that.
Mike Jones
194
Posted 02/12/2018 at 21:44:30
Love your positive approach, Des, I do disagree — something different happening with this football management team and this organisation management team. You can't turn round 30 years in a few months... but you can in a few years. Think of the kids...
Mike Jones
195
Posted 02/12/2018 at 21:47:41
Been on RAWK ... I couldn't help myself; sad deluded cunts. It's another reason to hate them so much again.
James Doran
196
Posted 02/12/2018 at 21:48:07
Pat @ 190 – Never a truer word spoken – besides, the top, top keepers don't make that kind of mistake.
Peter Mills
197
Posted 02/12/2018 at 21:50:03
Tony #159, I'm still languishing in my gloom, but your post has made me laugh.
Shane Corcoran
198
Posted 02/12/2018 at 21:55:39
Oliver, Carragher was more than fair in commentary, even giving us the benefit of the the doubt at times when I wasn't so sure.
Pickford has that in him but hopefully he'll improve.
Hopefully Gomes stays due to the Silva factor as there'll be plenty after him.
Best performance at Anfield in years by a mile.
Stephen Williams
199
Posted 02/12/2018 at 21:57:40
There are some so OTT comments on here – even by TW's standards. However I'll let them ride as I'll put them down to gut-wrenching disappointment at such a good display.
Those that lambast Pickford for us losing the game, are you also blaming Mina and Gomes in equal measure given that each of them were culpable for a single goal (either not scored by us or conceded against)? No? Thought not, so best to support them (and the team) to recover and move on.
I believe the points to focus on are:
1. It's astronomic how far we've come in such a short time. Massive progress. Onwards and upwards, and
2. We came up against probably the best Liverpool team in the time since we last beat them and not only played really well and should have beaten them, but also put the shits up their fans as witnessed by Anfield being as quiet as I can ever remember it.
Heads held high – they can't goad us as they know how lucky they were.
Eric Paul
200
Posted 02/12/2018 at 22:02:54
Tony Marsh,
You obviously know as much about football as Cyril Smith did about hang-gliding.
Anthony Burke
201
Posted 02/12/2018 at 22:08:33
I'm absolutely gutted as we deserved more. I was upset with Pickford at the time of his howler but how many times has he come to our rescue?

I seriously believe this team is going places. Silva is a top-class manager and I'm glad we have him. We are a top quality striker away from competing with the top 4.

Gomes is unreal. Get him signed up ASAP. It's not all doom and gloom, be positive. COYB
Jamie Crowley
202
Posted 02/12/2018 at 22:09:46
I can't read all the comments... prob about 100 or so, but one made me just say, "enough", and post.
Brent Stephens @109, take a bow sir. Well said.
Anyone saying we should replace Pickford hasn't watched.
This kid is an outstanding keeper. Outstanding. To come on here, after he's made a howler that will undoubtedly be talked about for the next half century, and say he's not good enough? That to me just isn't taking into account the entire body of work.
It disappoints me when people crucify our own. Jordan Pickford doesn't deserve that treatment. The number of times he's saved our bacon is a very, very high number.
I understand people are frustrated. I told my wife after the game, I've seen some awful defeats in my life. This one was the worst.
My Dad died in 2007 from necrotizing fasciitis. Flesh-eating disease. A freak occurrence that you have a better chance of happening to you than getting hit by lightning. He was gone in four hours. I held the man's hand while he died.
When I got home, my wife asked, "how are you?"
My only response was, "I feel like I just got punched in the gut." It was this despair, air knocked out of you, kind of thing.
I told my wife after the game, I had the same feeling. Now my Dad was a 10 out-of 10 on the shit scale. This is a game. But it was like a 4 out-of 10 on the shit scale; the exact same feeling.
What just happened? How did this happen? Someone punched me in the gut.
So ya, it hurts.
But to vilify Jordan Pickford? No thank you. Not me.
Light up that Liver Building in Blue. We should be proud of the performance and the players, despite that horrific feeling we have.
We have good players. We're on the up. We have class. We have a coach who doesn't fucking run on the pitch celebrating like a completely classless asswipe. We have great, great fans. We're building a new stadium. We're wonderful to watch.
For the first time in years I truly believe we're going places.
I can not wait for the derby at Goodison. I think we'll roll them over. And that revenge for that moment, and all the snide-ass comments you poor folks will have to endure from the red people over there, will get turned around and tossed right the fuck back at them.
I truly believe that.
This sucks. But things are undoubtedly on the up and positive on the whole.
I hope Jordan Pickford, when his name is announced Wednesday, gets a roaring applause. The kid's been wonderful for us.
Sorry for the long rant / post.
Jack Ledwidge
203
Posted 02/12/2018 at 22:09:52
Look it's a right kick in the arse. A point would have been wonderful. Pickford squirmed away 1 point, not 2 if we were winning. Looking at the entire game, we are on the upward curve.
Let's get points in Wednesday and push on. Despite how the day has gone we are in a much better position than this time last season. Silva and Brands will kick on. Maybe a new centre-forward.
This is a small blip on a longer road. Coyb.
Chris Leyland
204
Posted 02/12/2018 at 22:11:07
I'm going through all the emotions tonight; despair, dejection, mixed with hope and optimism. But, the fact is we still lost and it is despair and dejection that is winning the day.
For all the optimism at the fact we gave it a go, ultimately football is a results game. We went there last season with Fat Sam, defended for 90 mins and came away with a point. At the end of the day, that is a better result, no matter how we played, and that is all the record book will show.
This season, we have been to four of the so-called big six and come away with a solitary point and one goal from the penalty spot. Yes, we've played better in patches in those games but ultimately we've got very little to show for it.
Our quality in front of goal is simply not good enough to win these games. Gomes played really well today but he had a free header from 5 yards and placed it straight at the keeper. Those are the margins and the differences.
Jamie Crowley
205
Posted 02/12/2018 at 22:17:49
Chris at 201 -
Yes, it's a results business.
But do you not see the galactic improvement? Do you not think that this team, under Silva, will indeed start to turn some of these disappointments into three points in the near future?
I do.
Mike Jones
206
Posted 02/12/2018 at 22:20:53
I think the future is really promising. Silva mentioned the shite by their name twice this weekend as far as I could see. The future is about us, not about us compared to them. Get used to it.
Anthony Burke
207
Posted 02/12/2018 at 22:24:39
Jamie #199, spot on, mate. I blamed Pickford at the time and was furious but I've had time to reflect and he's been immense for us. At the end of the day, someone pointed out we only lost a point, it's not the end of the world.
Top 6 should be the aim this season, top 4 next season with a top-quality striker added to our side; it's not all doom and gloom. COYB!!!
John McFarlane Snr
208
Posted 02/12/2018 at 22:29:44
Hi Dave [182]
It's a pity that the Blues couldn't do it for Mike Gaynes in particular. I thoroughly enjoyed Friday evening and regret that I didn't get a round in, but hopefully there will be other opportunities to do so. I think you will appreciate that I'm not a skinflint. I just found that our company was a bit fragmented to begin with, and by the time we were able to find a seat, it was time for me to leave.
Regarding Jimmy Greaves, he was born on 20 February 1940, and like yourself, a mere 78-year-old whippersnapper, his League record was as follows:
Chelsea – played 157 games, scored 124 goals
Tottenham Hotspur – played 321 games, scored 220 goals
West Ham United – played 36 games (plus 2 sub appearances), scored 13 goals. Not bad, was it?
I'm going downstairs to watch Match of the Day now.

Raymond Fox
209
Posted 02/12/2018 at 22:34:09
You could not make it up, but the big picture is we are at last getting some grudging respect as a club.
Why, because we have now some class players that can go toe to toe with the usual top six sides.
Oh, and an Everton manager who has the ammunition at long last to compete with the aforementioned clubs and is not afraid to do so.
Things are on the up, I can say confidently.

Tony Abrahams
210
Posted 02/12/2018 at 22:39:12
Fair point about the record books, Chris, but Everton FC, having 20% possession, and even less of a clue, is not something I ever want to watch from my team again.
Of course It's a results business, but when we consider where we were six months ago, then only Tyson Fury has made more progress than us in such a short space of time and, just like Wilder, them Liverpudlians know they were very, very lucky today!
Neil Copeland
211
Posted 02/12/2018 at 22:47:10
On reflection, I think I would have been more gutted if they had equalised. I never want us to lose, ever, but if we had been 1-0 up and that had happened, I think it would have been worse.
We are on the up and all that watch or play against are acknowledging that fact. They were lucky that we fucked up today and they know it, that mistake may have saved their title hopes.
No doubt that we need to sort out the striker position, I will be surprised if M&M do not already have a plan because they have for everything else so far.
We have a good team that is developing into a very good team and there are great times ahead if we continue to progress. I am looking forward to Wednesday because we really need to exorcise today as quickly as possible.
The fans need to get behind Jordan and show him forgiveness, he is a fantastic keeper and character. So come on guys, we will have our revenge at Goodison Park but, in the meantime, we need to show the team that we are proud of them and the improvements seen.
And oh, the Liver Birds look absolutely awesome!
Andy Crooks
212
Posted 02/12/2018 at 22:54:05
John, you are not a skinflint, so stop that nonsense. What you are, though, is perhaps the most knowledgeable Evertonian I have ever met.
Your stuff on this site is superb and your comments on the game today bring some perspective. You see the big picture, I am trying to. I look forward to meeting you again.
Still gutted, though. Really hurt.
Brent Stephens
213
Posted 02/12/2018 at 23:00:14
Jamie #199, "I hope Jordan Pickford, when his name is announced Wednesday, gets a roaring applause. The kid's been wonderful for us."
Yes, Jamie, and he made several important saves today, and several pieces of anticipation that avoided the need for a save.
He'll get that applause on Wednesday.
Tom Dodds
214
Posted 02/12/2018 at 23:34:23
It was like a scene from 'I dream of Genie'.
Honestly.
Tom Dodds
215
Posted 02/12/2018 at 23:49:46
Sorry... I meant 'Bewitched'... ie, "Please master, let me fix it for you to win the league."
The Whining fucks.
John McFarlane Snr
216
Posted 02/12/2018 at 00:06:01
Hi Andy [209],
I have just watched Match of the Day, and while I know they only show a small percentage of the game, I was quite impressed. It was a far cry from the 4-0 or 5-0 drubbings we have had to endure in recent seasons.
Regarding a possible meeting, I'm relying on some Toffeewbber to provide an excuse for such an occasion. I am led to believe that my 80th birthday bash was the first such arrangement, and together with Friday's, it was great to be able to put faces to names.
Patrick Fennell
217
Posted 03/12/2018 at 00:18:10
While it broke my heart, there were a lot of positives from the game. We were in it and fighting the entire time. For sure, some big improvements have been made.
We definitely need to buy Gomes... don't let him go back... the attitude was definitely different today. The players weren't playing scared.
Christy Ring
218
Posted 03/12/2018 at 00:23:46
Gomes has to be our No 1 signing in January.
Steve Brown
219
Posted 03/12/2018 at 00:45:45
An excellent performance where we dominated midfield and threatened them constantly. So we should all suck up the pain and recognise that we are a striker away from being a better team than them. It was a massive error by Jordan but cock ups usually are when keepers make them – just ask Karius.
Phil Smith
220
Posted 03/12/2018 at 00:47:15
I still can't believe that ending. I've been in a foul mood since. Gana was awful and that was Richarlison's worst game for us by far.
Plus point was André Gomes. He gets better each time I see him. Have to sign him up!! The only other positive I can take today is at least the ladies showed the men how it's done. 2-1 winners against the Red Shite today!
David Barks
221
Posted 03/12/2018 at 00:47:50
I'm still sick and gutted from that loss, and that hasn't been the case for years. We deserved more and I just can't get past the stupid mistake that cost us the loss. I don't give a single fuck about the point, only the fact that we gifted them 3 points.
That being said, I'm buying a ticket for the return leg in March and will be dragging my Granddad to the match and bringing my football loving cousin over with me. I hope to be able to see some of you over that weekend.
Fuck, that was painful but, fuck, it feels good to have that level of belief back. Double-edged sword. We'll thrash them at Goodison and I'll lose my voice cheering them on in person.
Mark Wilson
222
Posted 02/12/2018 at 01:08:31
We played pretty well at times. We lost because four players failed to take chances, two of them absolute sitters and the keeper misjudgement was actually really quite poor under any circumstances, especially this game.
You get no points for travelling in the right direction;
You get no points for making progress;
You get no points signing a few decent players;
You get no points for being unlucky;
You get no points for nice midfield passing;
You get no points for working hard;
You get points for a draw or a win, end of.
When will we get it? Really. When will we understand. I'm not proud of playing well at Anfield when we lose. I want a win at any cost, any way, any how.
It cannot take five years to get there. No manager's getting that much time. We have to break out of this nightmare set of stats against the top 5/6. We simply must start winning a few of those games, just one or two even. It's about momentum and confidence – not patting yourself on the back because we were gallant and underserved losers. Last few years we got more as we played less open and stylish and we were awful to watch. The season league table included games saved by Jags and Rooney. I'd rather play unattractively and win at Anfield or frustrate the hell out of them and draw. I'd rather anything than today watching Pickford's casual mistake destroy all that effort.
But apparently I'm out of step. We are going in the right direction, so it's okay. No, it fucking isn't – we can't beat the best teams – ever! And we need to start soon or being king of the 7th-placed castle really will reduce the Bramley-Moore Dock capacity debate to irrelevant editors. I love it when we play gorgeous football, enjoy it hugely, but I'd rather play shite and win than lose and suffer the endless commiserations of fans so used to finding something positive from defeat it's become a mantra – we are going in the right direction.
Winning is all that really matters. It honestly is.
Jamie Crowley
223
Posted 03/12/2018 at 01:38:25
David Barks, happy for you you're going back.
Nicholas Ryan
224
Posted 03/12/2018 at 01:47:04
What matters, is not that 'shit happens' because it does; what matters, is how you react to it, and we will find that out, against Newcastle.
By the way, couldn't help noticing: 220 posts, and no-one's criticised the referee!
Ste Traverse
225
Posted 03/12/2018 at 02:02:21
Laughable some joker earlier in this thread claims Silva took over the worst Everton side he'd seen in '60 years' of watching this club.
Evidently this bloke must have taken a year off in 97-98 when the true 'worst Everton team' most people remember somehow dodged relegation on goal difference.
David Ellis
226
Posted 03/12/2018 at 02:25:02
To put things in perspective... my (Chinese) wife was sporting a new pair of bright red yoga pants this morning. I gave her an earful, how could she the day after we lose to Liverpool? She said (with genuine innocence). "What? Liverpool wear red?"
It hurts but it hurts differently this time. We can match them now. Very fine margins and a freak goal goes against us. Spurs, on the other hand, got shellacked.
It doesn't change the season, we are still 6th and we need to keep moving on. I'm looking forward to playing them again later in the season... No fear, Blues.
Gavin Johnson
227
Posted 03/12/2018 at 02:50:12
Someone earlier in the thread made the point that the team's progress can be measured in how Walcott is now our worst offensive player, and I have to agree. When we signed Theo in January of this year, he was one of the first names on the team sheet. He now looks like our weakest offensive player in the starting 11 — a player who is only getting in the team these days on reputation. Lookman looks far more dangerous, has more vision with a pass, and has more skill on the ball. He has to be starting games now. We looked more dangerous when he came on.
If we finally buy another 20-goal striker and Richarlison gets moved back out wide, you've got to wonder if Theo will be sold.
Going back to the game, it had 0-0 written all over it. They couldn't break us down and we matched them in every area. There has to be darker forces conspiring against us. It does make you wonder if there's some gypsy curse hanging over us because we really didn't deserve that today. There is an inevitability that we would be jinxed and luck would be on their side.
Having read most of the comments I think some of the comments against Pickford are excessive, and some are plain ridiculous, like calling for Virginia to play. There's lots of variables and what-ifs, like the ref adding on extra time, Van Dijk slicing the ball, the defenders not tracking back when the ball was in the air for an age. Pickford not being a couple of inches taller.
Like I say, there's a lot of what ifs here, but what can be concluded is that it was a freak goal so Pickford shouldn't get all the blame. He was justified in going for the ball, and if he was a taller keeper I suspect he would have dealt with it. But he isn't, and it was just one of those things. It's just a major pity it happened there of all places.
Steven Kendrew
228
Posted 03/12/2018 at 02:51:15
So many bells on here pissing their pants about Pickford's mistake. Typical losers' mentality, the lot of you. We matched the shite today and played the best there for a long time. Look how fucking relieved they were at the end. It's like they won the League.
Get your shit together and move on. We are on the up!!
Chris Leyland
229
Posted 03/12/2018 at 03:20:39
Steven, 228 - strange comment about the people being upset about a stupid mistake and losing have a 'typical loser mentality'
Being content to 'match the shite' after losing to them demonstrates far more of a 'losers mentality' to me. Do you think they would have been content that they'd 'matched us' if the same thing happened down the other end?
Amit Vithlani
230
Posted 03/12/2018 at 03:49:01
Well, I am sick by what happened but those focussing on Jordan's mistake and forgetting the preceding 96 minutes can just do one.
I badly want us to draw them in the FA Cup at Anfield in the 3rd round. We will end our wait to win at theirs, and follow it by battering them at ours.
A message to Marcel Brands: get us that centre-forward we so badly need in January. Can you imagine this team with a complete No 9, putting away chances laid on by Gylfi & Co?
ps: Wrap up the move for Gomes.
Bob Parrington
231
Posted 03/12/2018 at 06:39:57
There are Demons at that Kop End goal. Anti-Everton Demons.
What a fricken disaster! When your luck's in, it is in... and when your luck's out, you don't stand a chance!
Tony Abrahams
232
Posted 03/12/2018 at 07:07:53
Ste @225, it was Jay Harris who said that, and although I can only go back 44 years, then that last season was the worst football I have ever seen off any Everton team.
We have watched some absolute shite down the years. I know certain games are all about the result, but I can take losing to Liverpool yesterday because I think the future is going to be better, and that's more important than anything right now.
Learn off it, is all's I can say. Learn Pickford and learn all those Evertonians who don't realise how snide most Liverpool fans can be.
Bitter blues, it's our cup final? I know they hate us, but because of how poor we have been, they have been able to easily mask it, but in the space of 12 months, we have gone from playing like a non-league side to watching a team with genuine talent, and hopefully this is only going to be the start?
Dave Woodhead
233
Posted 03/12/2018 at 07:16:40
Some comments on this site beggar belief... just about every team in the Premier League would take Pickford all day long! Win as a team, lose as a team! Everyone makes mistakes... Some so-called supporters on here need a reality check!
We matched Liverpool and gave them more than a game; we're playing better football under Silva and we need to get behind the lads – not take lumps out of them.
A 20-goal-a-season centre-forward and we're not far off at breaking into the top 4 again. Patience is a virtue... building a team doesn't happen overnight. I feel we're ahead of time as it is, I've every confidence we'll keep improving...
Ernie Baywood
234
Posted 03/12/2018 at 07:27:45
You buy young players, they improve, they soar in value.
The downside is they might occasionally make a mistake they can learn from.
Can't have the good without any bad. That's life. Jordan's given us far more good performances than mistakes. And even then, his mistake needed a freak outcome to count against him. Never seen that happen in my life.
Same goes for Silva. Hopefully he (and people on here who called it a strategic decision) have learned that throwing another centre-half on is a self-fulfilling prophecy. You have more players defending, but you have to defend more.
You might get away with it a couple of times, but be prepared for stick when the opposition are picking up every clearance and grab a late winner.
Graeme Beresford
235
Posted 03/12/2018 at 09:20:31
What makes it even worse – it was never a free kick. Zouma stuck his leg out to the side and quite clearly wins the ball. They moaned about the antics of PSG, yet if you watch their player he throws himself to the ground, always going down and cons the ref into the free-kick giving them the ability to launch it.
Only real mistake the ref made in my opinion and also added 4 minutes which became 6. Madness. When does that happen? Didn't give us any opportunity to go up the other end and have a go because as soon as the ball left their area he blew the whistle.
Can't believe their luck, will it ever end?!?
Laurie Hartley
236
Posted 03/12/2018 at 09:27:52
Still fed up but, since my first post, I have watched the full game and both managers' post-match press conferences and can honestly say, with my hand on my heart, I am glad I am an Evertonian today and not one of them and I wouldn't swap Silva for Klopp in a million years.
I am not given to hating but — I cannot abide them, their players, or their manager.
We lost that game; it was our own fault for reasons already stated above. But, unlike previous teams and managers, this team and manager won't curl up in a foetal position and carry it into the next derby. They will feed off this disappointment because they are a different breed.
I have been for sticking with Walcott but I reckon Lookman will start against the Barcodes. If Silva does decide to move Richarlison back to the left, it will be at the expense of both Walcott and Lookman because Bernard is a very, very clever footballer and puts a terrific shift in, so I can't see him being dropped.
Charles Brewer
237
Posted 03/12/2018 at 09:44:10
Half a day later and I have two reflections on the match.
First, their goal was a ludicrous abomination. I suppose Pickford might have done better, but I suspect the ball was spinning furiously after that atrocious shank of a "shot" and its trajectory was probably impossible to predict. Presumably Van Dijk will win two "hit the bar" prizes after that one.
Second, and more significantly, it was clear from Klopp's reaction that this was their cup final, and it was the kind of thing I would expect to see if Accrington Stanley beat Barcelona. The RS manager and players clearly felt they had got (another) extremely undeserved and lucky win.
Craig Walker
238
Posted 03/12/2018 at 10:14:38
I've calmed down a bit. I keep replaying that goal in my head and still can't believe what happened. Is there a more gutting way to lose a derby than in the 96th minute with a complete freak of a goal?
I was proud of our performance yesterday. We went there and had a go and there were a lot of positives to take from the game. We're definitely heading in the right direction as a club.
We need 6 points from the next two home matches.
Mike Kehoe
239
Posted 03/12/2018 at 10:22:48
This is yet another moment of self-inflicted agony to add to the extensive catalogue of horrors to tickle those lovable red rascals and all the familiar pain that we have become accustomed to. I feel this game typifies everything about RS: an outrageously lucky goal and then Klopp losing his fucking mind and running on the pitch to celebrate: absolutely no class.
I cannot imagine the hysteria if this happened to them, as we all know, their sense of outrage knows no limits and is unrestrained by decency or reason. We are such a better team than last season and a measure of that progress can be found in their wild celebrations. Everton's football was excellent at times and more than matched them, something not seen for far too long.
I hope we have a top striker when they come to Goodison and we give them a good hiding, but I wouldn't want Silva acting like Klopp: revenge is best served cold.
I had a lot of respect for Klopp but not after seeing that. They are so quick to take offence at any perceived slight but are blind to their own offences.
John Ballinger
240
Posted 03/12/2018 at 10:51:32
Understandably, a lot has been said about Pickford after yesterday's game. I still think he's a great keeper but with some way to go before he peaks.
In my view, his biggest problem is that he's too impulsive – something he will hopefully grow out of. I can recall 3 clear errors he made yesterday:
(1) Very early doors when he sliced a ball away, giving them their first corner;
(2) An instant before half-time when, instead of calmly taking a bit of time out of the game, he hammered the ball upfield, giving possession straight back – Sigurdsson was furious with him about that;
(3) And finally, the catastrophic error that handed the game to them when, on balance, I thought we had been the more dangerous side.
As I say, I think he'll grow out of the impetuousness; and hopefully, the trauma of what he did yesterday will hasten this time.
Stan Schofield
241
Posted 03/12/2018 at 11:00:04
Football can change quickly, and it has changed quickly for us in the space of a year. We now have the capability to beat anyone. It's not just a case of "we're progressing, we're moving in the right direction" – it's a case of "We're there". We just need that extra bit of experience working together, with the current squad, and perhaps ONE addition, to compete consistently at the top.
We nearly beat the opposition yesterday, but were simply unlucky. Shit happens, but now we know it's just 'random shit' rather than a systemic problem.
We'll win consistently by continuing to do what we're doing now, and riding the inevitable occurrences of bad luck.
We have style, we have class, we generally compete fairly, and we have a capable and very professional manager who's making us play exciting entertaining football.
Let's put yesterday down to useful experience, that will motivate us even more to beat the best, to ride the bad luck that comes the way of every team.
Come on you Blues.
Brian Murray
242
Posted 03/12/2018 at 11:04:57
We are the gift that just keeps giving. No doubt we will draw or beat Man City to help them even more.
A striker and a classy right back imperative in January.
Colin Malone
243
Posted 03/12/2018 at 11:41:31
It's the last chance saloon for the Athlete, Theo Walcott. Play him as a centre-forward; if that don't work, get shut in January.
Frank Thomas
244
Posted 03/12/2018 at 14:39:16
Pickford and others have made unprofessional mistakes and later apologised.
Maybe the best way for all such players to apologise is to give their wages for that week to charity. In donating their week's wages, it would give them empathy with the fans who have spent their money to watch them and it would give them a good feeling helping others. Hopefully it will encourage them not to miss open goals or to 'gift' goals to the opposition.
I think I am correct in saying that was not that long ago when Donavan used to donate £1,000 to charity every time he scored — remember him?
Jamie Crowley
245
Posted 03/12/2018 at 14:57:07
Mike Kehoe at 239 -
I, too, had a lot of respect for Klopp prior to yesterday.
What he did was inexcusable. The complete lack of respect shown was awful.
The one positive I can take from it was Klopp was frightened to death of us. Why else would he react like they'd just won the Champions League FFS? He knows were a really good side, so that'll do for me.
I hope we score on the return fixture at Goodison, and whomever scores runs right the fuck by him on the sidelines, pumping their fists with glee like a foot away from him. Get right up in his grill and rub it in.
He's got it coming to him.
Rob Young
246
Posted 03/12/2018 at 15:10:55
As if David Moyes never ran onto the pitch in celebration.
Btw, Walcott is absolutely shite and surely it is time for Lookman to come in.
Also, I've not been impressed for weeks now by Bernard.
Jamie Crowley
247
Posted 03/12/2018 at 15:30:36
I never saw that Rob. If it's pre-2007, it's before my time.
And excusing Klopp's actions just because a former manager went on the pitch?
If everyone jumped off a bridge...
Rob Young
248
Posted 03/12/2018 at 15:52:03
Jamie, not excusing anything – just saying we had a manager before who did similar at times and that was fine.
Like you said, maybe before your time... yet you still dismiss it. If anyone is jumping off the bridge, it's not me.
I've lived through 19 years of shit at that ground now so no point trying to convince me of anything today.
James Newcombe
249
Posted 03/12/2018 at 15:54:14
Honestly wouldn't worry about Klopp running onto the pitch. Getting offended by everything is Kopite behaviour! He was also full of praise for our team (admittedly with three points in the bank) after the game. We'll get there, lads!
Also: Gomes needs signing up quick.
Jamie Crowley
250
Posted 03/12/2018 at 15:58:17
Rob – 100% fair enough. I will not try to convince you of a single thing today!
Derek Knox
251
Posted 03/12/2018 at 16:47:22
Just making an observation, having been through all the posts several times, I find it extremely strange that Steve Ferns has not posted at all, especially after that performance by the blues.
I also thought it strange that, when a few of us TW'ers met at the Midland on Friday to meet Mike Gaynes, Steve Ferns, who had indicated only a couple of days before that he would join us all, but it wouldn't be till after 7 o'clock, never showed at all despite most of us staying till about 10.
I do hope he is okay, as he has been through a lot just recently, but still always found time to contribute to TW. If you do see this, Steve, let us all know that you are okay, and that you have been missed!
Dale Rose
252
Posted 03/12/2018 at 16:53:52
I was well pleased with the performance. The goal was a fluke. The shite were frightened of us yesterday, we are a rapidly evolving in team at the moment. Positives in every performance so far.
On a different note, some on here need to get behind the players instead of slagging them off.
Brian Williams
253
Posted 03/12/2018 at 16:55:25
Derek #251.
I second that, mate.
Tom Bowers
254
Posted 03/12/2018 at 17:00:13
Boy, what a fluke it was. Origi will probably never score for RS again.
Could only happen to RS.
I cannot remember Everton ever getting the benefit of any ''controversial'' results against the RS and I have been watching derby matches since the early Sixties.
Small consolation that Klopp has been charged.
Tony Waring
255
Posted 03/12/2018 at 17:22:09
Just a point about Gomes's header. Walcott headed the ball towards him; there was little or no power so Gomes had to add what he could to it. He did well to add to the force and the keeper made a save. Another time he might have flapped at it and conceded a goal.
No doubt he was MotM and I sincerely hope we persuade Barca to sell him to us come January or whenever. Bernard had a good game also. Some of his passing and ball control was first class but, as others have opined, Richarlison is better out left and Lookman should be starting in place of Theo.
Klopp's antics are not even worthy of discussion.
Steve Taylor
256
Posted 03/12/2018 at 17:43:51
Basil Klopp of the Ministry of funny runs.
Brian Furey
257
Posted 03/12/2018 at 18:59:09
We are all entitled to our opinion and we all have one but some are more vocal than others. Some people shoot from the hip and don't think through very well what they are really trying to say.
It's so easy to say this guy is shit and this guy should be dropped but you are dealing with people here who are human and make mistakes.
Yes, you gotta weed out the ones that are always making mistakes but, FFS, Pickford is the England No 1 keeper. Yes, he made a bad call and, in hindsight, I bet he wishes he had've punched it over but he didn't.
We made more clear-cut chances in this game than we did in several other games last season, with no shots on target quite often. This is against a team who have only conceded 5 league goals all season.
It's as well as I've seen us play there for years and I think it bodes well that we could be sitting above Man Utd, who have spent far more than we have, come Xmas.
Tony Abrahams
258
Posted 03/12/2018 at 19:09:59
True Derek, I hope Steve is okay.
Simon Smith
259
Posted 03/12/2018 at 19:12:48
Is it just me, or is this one going to take a long time to heal? I still can't even think about football.
ToffeeWeb is my only comforting place.
Tony Abrahams
260
Posted 03/12/2018 at 19:28:02
I can't wait to get to Goodison Park on Wednesday night Simon, because for some reason this result hasn't really bothered me that much.
We are turning into a good team, and after the shite we have had to endure for years then that's the most important thing for me.
Save Liverpool for the FA Cup, or put a big nail into their hopes later in the season. Trust me, it will mean more when it eventually happens.
Rob Halligan
261
Posted 03/12/2018 at 19:39:12
Tony, it's a good job there is a midweek game this week, as it leaves very little time for the team to dwell on yesterday's result, bearing in mind the game against Watford is not until next Monday.
Should be an electric atmosphere on Wednesday, and with Newcastle only taking the lower sections of the Bullens Road, hopefully we can drown the Geordies out and Pickford will not hear any taunts from the away section.
Early goal for us and I'd fancy a 4-0 or 5-0 victory.
Brian Murray
262
Posted 03/12/2018 at 19:46:33
Tony,
Hope you are right and the great times are just round the corner. I'm numb over derby defeats. The years do that to you... 1986 will never leave my heart and brain. I can't describe the pain.
The next generation deserve to at least get a taste of being proud and exited Evertonians with no fear against Jeff Stellings golden boys.
Tony Abrahams
263
Posted 03/12/2018 at 20:57:32
I hope you're right, Rob, because scoring a few goals is the best way for this new Everton team to keep moving forward.
Brian, Wembley was horrible in 1986 but coming home from Oxford, bumping into Liverpudlians coming home from Leicester, was probably the worst I've ever felt in all my years watching the Blues.
Silva looks like he's instilling both the style and, more importantly, "the belief" and hopefully soon "our day will come". And when it does, I'm not sure the phoneys will be able to take it...
Pickford's mistake was costly, but maybe it was worth it to get rid of another "red Merseyside derby myth". Our cup final? Don't let the bastards kid yer!
Simon Dalzell
264
Posted 03/12/2018 at 21:19:39
Brian and Tony @ 262/3.
1986 was character-building, to say the least! I was 21 and came down to Wembley from Cumbria with my younger brother. (We were at the '85 defeat to Man Utd also.) We had a bird's eye view about a third of the way back behind the goal.
When Lineker scored at the far end, there was a massive surge, and I ended up on the floor, buried, trampled, and fearing for my life! The thrill of the goal eased the pain of my cracked ribs for a while. The journey home in a train full of singing RS was torturous.
Ever hopeful, I can't wait until Wednesday.
Iain Jones
265
Posted 03/12/2018 at 21:52:16
I still think we are cursed against that evil lot!!! I hope we make a couple of changes against Newcastle. Calvert-Lewin upfront to use his pace and Lookman and Richarlison on the wings.
Simon Dalzell
266
Posted 03/12/2018 at 21:56:38
Spot on, Iain. I would have made those changes for the previous game (maybe even earlier).
Steven Kendrew
267
Posted 03/12/2018 at 22:43:59
Chris 229 -
I think people reacting to Pickford's one mistake (albeit a big one) in such a negative way is very poor. Earlier, he saved a certain goal from Shaqiri (was it?).
Even the best keeper is going to make the silliest of errors occasionally. It just so happened, as our shite luck would have it, that it was in the 96th minute against them.
Losers concentrate on the negative which may then prey on the minds, winners on the positive, and there was a lot to be positive about.
Matching the shite at their place at our stage of team development is fine by me for the moment. Onwards and upwards! (sigh...).
Tony Abrahams #260, – 100% agree. I feel the same.
Plus, I see many more reasonable comments on here today which heartens me.
COYB
Keith Harrison
268
Posted 03/12/2018 at 00:01:48
Gutted after a fine display but, like most posters, I believe we are going firmly in the right direction. With a worldie striker on board, Gomes in, and another ball-playing midfielder to overtake Gana, once Lookman finally vanishes Walcott, we will be a match for any team at any gaff.
Gutted for Mike Gaynes to witness his first live loss, as I really believed he was our totem after the Burnley and Leicester games I got him tickets for last season.
Also gutted to miss the get-together Friday night for Mike and meet you lads there that I don't know. Rob and Pete tell me you were all sound, but the small matter of my 60th coincided, and a week drinking in Prague, then a week with kids and grandkids – and more drink – simply burnt me out.
Pickford will make more mistakes, all goalies do, but the scales are still tipped firmly in his favour as far as I am concerned. The future, like the Liver Birds, is blue lads. Dare to believe.
Finally, I thought Klopp was over-enthusiastic in his celebrations, petty in bringing up Funes Mori's foul on Origi, apparently lied when he said he apologised to Silva, and Marco himself showed the class that Klopp has not got, in his own interview.
Roll on Wednesday night, see you there.
Keith Harrison
269
Posted 04/12/2018 at 00:08:21
Sam Hoare, if you're still in Prague, try the Irish Times bar, or The Dutch Bar. Both very nice, great food and reasonable drink.
A visit to the Church involved in Operation Anthropoid is also a must. Enjoy.
Steve Brown
270
Posted 04/12/2018 at 00:49:04
Parallels with the League Cup Final in 1984 for me. We lost the replay, but everyone knew – us and them – that the tide had turned and that two teams of equals would be competing on Merseyside. The rest is history.
Acquire a striker and we will become a top, top side. Well done to Silva, like many I was unsure about the wisdom of hiring in due to his relative lack of experience. But then, when I think about it, Howard Kendall was a relative managerial novice when he took over and look where that ended.
Brian Murray
271
Posted 04/12/2018 at 01:12:56
I actually meant to include the Oxford game in my post. Although the Southall injury tipped it their way that season.
As I say, the top 4 are in for one hell of an awakening by us if Marcel keeps finding the right players.
Time for Virginia to start on Wednesday (joking... for now). Although them shower showed Karius no mercy!!!
Stan Schofield
272
Posted 04/12/2018 at 09:30:43
I know quite a few reds, and I've heard absolutely nothing from them. That's unlike in the past, where every chance has been taken to have a dig, a snigger, or to be patronising.
Fact is, they've won nothing for a long time now, not as long as us, but still a long time. I think they're now frightened of us, they can see the quality and attitude, and they're especially frightened that we'll win something after they've failed to do so despite all the investment they've had.
They won't be looking forward to the next derby game, that's for sure.
Derek Thomas
273
Posted 04/12/2018 at 09:59:34
Stan, true. their (relative) silence speaks volumes.
My – not a bad bloke for a rs - brother-in-law says 2 things:
Yes, we were robbed, they got out of jail, and second, we should break the bank for Gomes and if we don't, they should.
Andy Meighan
274
Posted 04/12/2018 at 12:57:59
Great post from Mike @239 and true in everything he says about them. If there's any justice in this world, we'll slaughter them at Goodison in the return derby. Unfortunately for us Blues, there isn't no such thing as justice where they are concerned.
As Mike says, not a prayer Silva would act the way the German did – he's got far more class. That didn't bother me; the man loves the limelight and is under the distinct impression everyone loves him. Not true, of course.
My issue was with that no mark from their coaching staff (I think) pumping his fists at our bench Haven't got a clue who he was but someone off our bench should have took issue with him.
By the way, does anyone honestly think the German would have praised us if it had ended a draw? No chance; it'd have been all about them, the patronising fucker. I thought we were brilliant Sunday but Pickford is off my Xmas card list, Bill.
Dave Abrahams
275
Posted 04/12/2018 at 16:58:20
Steven (267), "people reacting to the goalkeeper's mistake is very poor" or words to that effect. No, Steven, I don't think it is.
I was thrilled with Everton's performance on Sunday; we showed what way we are going and the goalkeeper played his part in that. We had earned and deserved that point... then, it was ripped out of our hands by the ridiculously stupid mistake by the custodian of our goal.
Every time I think of that last minute, it is like a punch in the solar plexus; it won't go away. What the goalie did was more than very poor — not our reaction to it.
Jay Wood
[BRZ]
276
Posted 04/12/2018 at 17:20:45
Dave @ 275.
I agree. What Jordan did, in the last minute of such a big game, was very poor and cannot be defended or some how 'balanced out' because he made good saves earlier in the game.
That said, I don't think it merits going to the other extreme as some have done and churning out the old chestnuts that he is too short, too tempremental, too 'Johnny Big Boots', technically unsound and should be dropped or sold off asap.
I know you and Mike Gaynes were sat at that end of the park (hope your cover wasn't blown and that the corset and high heels didn't pinch too tight...), but I wonder what your thoughts were on something about their goal I've not seen any one else raise:
As the ball is lofted hopefully in, Yerry Mina meets it, under no pressure whatsover. Surely, he has to make a better clearing header than he does? He gets no elevation, no power or distance on his header. A straight powerful header down the pitch would have turned the 9 'poo players in and around our penalty area and we could have re-grouped and the whistle would have blown.
His weak angled header gave them the chance to hook the ball back in so Everton could once again contrive a way to lose a Derby.
Not excusing Jordan for his horrible gaffe, but Mina's poor header allowed that lot to keep the ball alive in a dangerous area.
What's your reading of that, Dave?
Michael Kenrick
277
Posted 04/12/2018 at 17:25:54
Spot-on, Dave (#275). That sums up my reaction exactly, and I wasn't right there, like you and Mike, but only watching from afar. It was astoundingly stupid and there is simply no getting away from that.
Pickford made some great stops in the game, but that does not somehow eradicate, pardon or balance out such a horrible misjudgement, as so many seem to claim. The world simply doesn't work like that. The game was lost as a consequence. The well-earned point gone. The error is on video and will be replayed ad nauseam.
I've been tempted to challenge the likes of Tony (#158) and Dave (#187) for their veiled non-specific name-calling that was aimed at me presumably for daring to point out the lad's error in the context of the match report. Not quite sure what that was all about...
Dave Abrahams
278
Posted 04/12/2018 at 17:42:41
Jay (276), to be honest, me and Mike were closer to the half-way line in the Upper Centenary Stand, an absolutely brilliant speck, so I was looking at our goal. The way Liverpool have the cameras swinging all over the pitch, if you had a good picture on your TV, you most probably had a better view than me. If you are correct and Mina should have done better with his clearance, fair enough, but Jay I don't think it alters the fact that the goalkeeper should have done much, much better.
Me and Mike were introduced to a couple of red fans by (my son) Tony's mate who gave us the tickets. These fans were okay and we had no problems. Had a good chat to the red on the left of me; he told me he was biased, I told him I was a Blue, he just shrugged no problem.
The same fan got up screaming at Gana when he went down: "Get up, you cheating bastard." Fair enough, I thought. I then told him what turned out to be the truth:
"Sometimes, going down helps the other team because more time is added on."
Little did I know...
Mike Gaynes
279
Posted 04/12/2018 at 18:04:48
And may I just add that I have never had a more pleasurable experience at a game than watching it with Dave Abrahams.
You, sir, are everything an Evertonian should be. Thanks for a lovely afternoon (final minute notwithstanding).
Mike Gaynes
280
Posted 04/12/2018 at 18:06:30
Regarding the goal, we really couldn't see what happened from our vantage point high over the center line, and I haven't seen a replay yet because I've been on trains, planes and automobiles ever since. I'll check it out on my DVR when I get home tonight.
Jay Wood
[BRZ]
281
Posted 04/12/2018 at 18:23:14
My bad, Dave and Mike. I thought your seats were in the end where the goal was scored.
As I wrote myself Dave, Mina's poor clearance (as I deem it) does not get Jordan off the hook for his brain fart moment, but it was a mitigating factor.
You reference another action that had a consequence, also. Four minutes was the official injury time. Gana's 'injury' added another two minutes... and do we need reminding what happened in the final seconds of those additional 2 minutes..?
Dave Abrahams
282
Posted 04/12/2018 at 18:35:02
Mike (279), stop it, Mike!!!!
Good job my wife doesn't read these posts, she would think she's married to someone else!!!!
Seriously, Mike, enjoyed the afternoon myself, apart from the obvious, glad you got home safe and sound.
Jay (281), my mistake that, when I told Mike that Tony had managed to get his ticket, I said it was in the Liverpool End; I should have said it was in the Liverpool section.
Mike Gaynes
283
Posted 04/12/2018 at 18:37:19
Keith #268, happy birthday, mate. You don't look a day over 70. Missed you at the Midland.
To Jay, Barry and others who seem to be doubting Gana's injury, sorry but I think that's a crock. I saw him cramp immediately on going over the top for that midfield header, and I have never known him to be one to stay down or stall unless genuinely unable to contribute. He's pure warrior, and I must say I don't care much for the aspersions being cast here.
Paul Tran
284
Posted 04/12/2018 at 18:40:30
Mike #280, I'm glad you had a good time apart from the obvious. Sorry I missed you again, but I'm sure you'll be back soon!
Jay Wood
[BRZ]
285
Posted 04/12/2018 at 18:59:21
Strewth, Mike. Calm down! 'Aspersions', my arse!
You're reading way too much into seeing the word 'injury' in inverted commas.
Love Gana to bits, me, as my posts since he joined us consistently show.
John McFarlane Snr
286
Posted 04/12/2018 at 19:22:41
Hi Mike [283] I thoroughly enjoyed your company on Friday evening, it's a pity that the result wasn't what we had all hoped for. I trust that you derived some pleasure from the old programmes, and if I'm still around next time you come over, I'll dig some more out for you.
Brian Murray
287
Posted 04/12/2018 at 19:31:50
dup
Steve Ferns
288
Posted 04/12/2018 at 19:50:48
Mike, sorry I missed you on Friday night. Glad you had a good time despite the end to the game.
Brian Murray
289
Posted 04/12/2018 at 19:56:40
On the subject of Gana, his level is exactly where we are at the moment. Exceptional at breaking up play but can't pass to save his life. Marcel will find a Gana-esque top-4 player when he gets a window or two, no doubt.
Kevin Dyer
290
Posted 05/12/2018 at 14:53:06
Belated comment since we're playing again in 5 hours but I read the first 50 posts and have to make a few points:
1. I should be used to the negativity on here but Jesus, some of you wear it like a badge of honour. Wanting us to lose to Man City, Jim B to stick it to Liverpool? Fuck off. Man City will win it anyway, if LFC are the better team, good luck to them. I want EFC to win every game. Shove the bile, it's pitiful.
2. Pickford makes an honest mistake. Shire, overrated, sell him to Man Utd. Talented young goalie highly thought of by experts? Nah, he's crap
3. Gana etc being slated. One of the best defensive midfielders in the country.
4. Same old same old. Did you watch the fucking game? They were out of ideas, their star man hauled off. We matched them at Anfield. We attacked, played with character and ambition. We lost to an absurd fluke goal. LFC are a powerful team with a great home defensive record. You can't see massive improvements, in both approach and display, you know nothing about football.
4. After reading this thread it's time to put to bed this "best fans in the country" shire. Pickford a disgrace? The team a disgrace? No, some of the posters on here are the true embarrassment.
Roll on tonight's game and a steady breaking down of Benitez's Newcastle, who will park the bus. 2-0 prediction, for us.
Add Your Comments
In order to post a comment, you need to be logged in as a registered user of the site.
Or Sign up as a ToffeeWeb Member — it's free, takes just a few minutes and will allow you to post your comments on articles and Talking Points submissions across the site.
© ToffeeWeb