Report
Abysmal New Year fare at sorry Goodison Park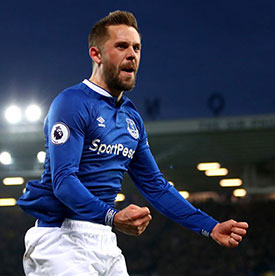 Gylfi Sigurdsson scored a spectacular winner in the reverse fixture in October and returns to the starting XI as Captain today
Everton 0 - 1 Leicester City
Everton put on a terrible display to lose the first game of 2019 on a dismal New Year's Day at Goodison Park.
Jonjoe Kenny makes his first start in almost two months in place of Seamus Coleman. Gylfi Sigurdsson and Dominic Calvert-Lewin return to the side as the Toffees revert to a back four with Mina and Bernard dropped to the bench, where Tosun replaces Niasse.
James Maddison drops to the bench for Leicester City, while defender Jonny Evans returns from Injury. Hamza Choudhury and Rachid Ghezza both start in place of Marc Albrighton and Demari Gray.
A session of head tennis in the Leicester half ominously followed Everton kicking off in the chilly 2019 sunshine as the players struggled to really get going. Walcott was first to show some intention, but it ended predictably as he was double-teamed and lost the ball. The early pattern of non-football resumed...
Gueye gave away an early free-kick. Vardy ran into Keane, Richarlson advanced and Digne had the first shot, while turnover after turnover riddled the 'game'. Sigurdsson played in a good early ball but no-one anticipated it. Vardy fired wildly at the corner flag. Atrocious stuff.
Sigurdsson was gifted a clearance and found Richarlison who shot into the chest of a defender. If the quality could get any worse... it did as they looked utterly dreadful — both sides full of schoolboy errors all over the park, too many to document. Gomes went long, and Walcott headed out.
Gueye defended well for The Foxes first corner, easily headed clear. Digne crosses through everyone and Keeny lashes a tremendous shot onto the angle and away. Richhaerlison tried to beat three men and fell over, wanting a foul of course. Digne fired in a meaty cross behind Sigurdsson. Richarlison was fouled but the free-kick was played backwards and ended up with Pickford.
Kenny picked up a loose ball and crossed for Calvert-Lewin to head well wide. Chezzal tries a shot at the other end. Kenny Gomes and Walcott tried triangles but it broke down at Walcott.
Richarlison went down in a tackle and writhed around clutching his knee for 5 minutes until Leicester finally put the ball out when he received extended treatment on his ankle. He limped back on still in pain. Then, with the ball, he scampered around a bit and then ran into Choudry, incredibly winning a free kick this time! Zouma headed the free-kick goalwards. Simpson dragged back Richarlison illegally.
The ball was worked slowly toward the Foxes area, but Richarlison's flick failed and Zouma decided to run forward, shooting from great distance, not that far off target. Slightly better ball movement almost saw Sigurdsson shoot... but he couldn't.
Some better pressing won the ball but a better sequence of passes ended with Walcott again being double-teamed. A Zouma up-and-under in midfield summed up the utter nonsense that the game had reverted to...
A couple of Leicester City corners briefly threatened the Everton goal. Walcott turned well and picked out Kenny who picked out a defender with his poor cross. At the other end, Ricardo fired over. Kenny and Walcott attacked but Walcott lost the ball. Walcott then crossed and Maguire may have handled it behind for a corner, punched out by Schmeichel.
More scampering around as Everton tried in vain to get the ball closer to the Leicester goal, Richarlison driving in without the ball and dropping to the turf as the half-time whistle mercifully blew. Welcome to the Premier League, 2019.
Puell made a change, bringing on Albrighton, who came in strongly on Pickford. But the football showed no sign of improvement, Leicester seeing a lot more of the ball in Everton's half. Pickford weakly palmed a high cross, almost causing a problem.
Everton finally got forward, Kenny crossing well to Sigurdsson. Gomes was booked for a late challenge from behind on Mendy, as Davies was readied to replace Gomes — a very early move by Silva. Gana gave Richarlison a chance to run in from the left but his cross was woefully overhit.
There was a moment of better play, Everton attacking better but still not close enough to the goal, winning a corner that was cleared. But another corner, the ball was cleared, a poor mistake by Keane, Vardy pounced and Pickford easily beaten. Unbelievable.
Davies was pulled back from the touchline, and Everton continued to probe but now with a toxic atmosphere enveloping Goodison Park. Kenny picked out Walcott brilliantly but of course Walcott lost it. Walcott did better to head back for Sigurdsson to fire over, and Bernard now replaced Gomes.
Everton looked to up the tempo with more tenacious play ut it ended being overhit past Richarlison and out. There was much more intent as Everton pushed forward, trying to break through the parked bus. Kenny played in a good cross but Sigurdsson could not reach it.
Richarlison was fouled but Digne wasted the chance, straight into the wall. Everton were trying harder but Silva decided to switch out Walcott for Tosun. Kenny roused the crowd with fine tracking and tackle on Chilwell.
Ricardo danced into the Everton area and forced an error from Pickford, but the corner was kindly played straight to Bernard. The play was switched to the right and Richarlison saw his shot blocked behind, a couple of corners ensued and the ball almost fell to a blue shirt but was eventually cleared from the crowded area.
Tosun got a chance off a mistake by Evans, leathering the ball at Schmeichel. Tosun was then fouled by Evans, booked, but Sigurdsson this time could not beat the wall. Vardy got free again but lamely crossed to Pickford.
The Blues set siege to the Leicester area again until it broke down and another counter was on, Choudry firing weakly at Pickford.
It became scrappy again as Everton got frustrated, and yellow cards came their way. A foul by Kenny saw a fantastic ball delivered to Maguire at the far post but he somehow missed an open goal, although 2-0 would have been a better reflection on the play in the second half overall, the Foxes sensing blood in poor Everton.
Bernard skipped into the area and drilled in a brilliant cross but somehow Calvert-Lewin just watches it fly by him. A free-kick from Digne is easily headed clear as time ticked away.
Tosun wins a corner as 3 minutes of added time were shown, and Tosun gets a chance to beat Schmeichel with a close-range header but he failed. Time finally ran out on an utterly dismal and desperate start by Everton to 2019.
Scorer: Vardy (58')
Everton: Pickford, Kenny, Keane, Zouma, Digne [Y:79'], Gomes [Y:52'] (62' Bernard), Gueye, Walcott (70' Tosun [Y:81']), Sigurdsson, Richarlison, Calvert-Lewin.
Subs not Used: Stekelenburg, Mina, Coleman, Baines, Davies.
Leicester: Schmeichel, Simpson, Maguire, Evans, Chilwell, Mendy, Choudhury, Ndidi, Ricardo Pereira, Vardy (90+3' Gray), Ghezzal (46' Albrighton).
Subs not Used: Soyuncu, Maddison, Ward, Okazaki, Fuchs.
Referee: Martin Atkinson
Attendance: 39,052
---
Reader Comments (399)
Note: the following content is not moderated or vetted by the site owners at the time of submission. Comments are the responsibility of the poster. Disclaimer
Colin Glassar
1
Posted 01/01/2019 at 11:34:22
Seamus out. It's a shame but I suppose time catches up with everyone. I hope Kenny grabs his chance with both hands.
Ian Lloyd
2
Posted 01/01/2019 at 11:36:35
Probably about the best team he could have picked..?
Thoughts?
Ian Lloyd
3
Posted 01/01/2019 at 11:38:22
Maybe Bernard for Walcott?
Mark Murphy
4
Posted 01/01/2019 at 11:40:30
I hope Kenny has a good game and links up well with Walcott – I love Seamus but he needs a rest.
Hoping Dom gets a decent run in the team now.
Come on you Blues!!
Michael Kenrick
5
Posted 01/01/2019 at 11:41:25
Seemingly sensible decisions, dropping three players who have been below par, and giving Kenny some long-awaited game-time. Hope he's not too ring rusty!
And let's hope the armband enlivens Sigurdsson. He is just too ice-cold for me... how about some passion from the great man, leading the Blues?
Happy New Year to all our readers — and especially the contributors of posts and articles!
George Cumiskey
6
Posted 01/01/2019 at 11:42:43
Seamus having a rest good, Walcott keeps getting selected not so good does nothing match after match. Let's hope he does something today.
Chris Donnelly
7
Posted 01/01/2019 at 11:46:08
What has happened to Lookman??? He makes things happen! Is he injured or out of favour?
Jay Wood
[BRZ]
8
Posted 01/01/2019 at 11:47:38
Reverting to a flat back four with Keane and Zouma as the centre backs - good.
Kenny in for Coleman (even if it is just for rotation) - good.
Gomes selected again - a little concerning, as he looked fatigued against Brighton. I doubt he has ever played 5 top level games in 17 days as he has for Everton this Christmas period.
Sigurdson back - good.
Calvert-Lewin back as centre-forward - good.
Richarlison presumably back wide left - good.
Walcott in - bad! A toss up, admittedly, on who was the poorest last game, but Bernard maybe just edges it on being retained rather than Walcott.
Give us a show, Everton. We need it.
Martin Berry
9
Posted 01/01/2019 at 12:03:01
Just about as good a team as it can be with the squad that we have.
That said, if Lookman was fit, then he would have started instead of Walcott.
Brian Hennessy
10
Posted 01/01/2019 at 12:04:56
It will be very interesting to see how Kenny performs having Walcott in front of him. I think a big part in Coleman's performances have been due to having an underperformaing and and at times lazy winger in front of him.
Ian Lloyd
11
Posted 01/01/2019 at 12:08:20
Just listening to Silva talk about fatigue again so he's changed the formation. Fatigue is when you've worked down the pit for 12 hours trying to support the kids on £2 an hour!!!
Let's get a grip on reality, please!
Raymond Fox
12
Posted 01/01/2019 at 12:18:46
I'll be watching with trepidation, I'm not sure we merit being an even money chance.
Neil Lawson
13
Posted 01/01/2019 at 12:21:02
Fatigue? Bah humbug. In 1999-2000 my local team were winning every competition including the FA Vase and fixtures piled up. They played 8 games in 13 days at the end of the season with an effective squad of 16 players at best most of whom had day jobs. They won most of the matches and the Vase. Now that's fatigue.
How you can ever be tired on £50k+ a week is beyond me.
Having said that COYB
Neil Lawson
14
Posted 01/01/2019 at 12:21:49
Forgot to say Tiverton Town.
Ian Lloyd
15
Posted 01/01/2019 at 12:31:28
Ian Lloyd
16
Posted 01/01/2019 at 13:13:39
Like watching paint dry 🙄
Ian Lloyd
17
Posted 01/01/2019 at 13:19:46
What I want to know is who keeps saying we are playing better football??!?
Brian Wilkinson
18
Posted 01/01/2019 at 13:21:15
Can only get better the second half, I hope anyway.
Nice to see Steve Naismith in the crowd, still one of my favs of the past seasons, both on and off the pitch.
Charles McCann
19
Posted 01/01/2019 at 13:24:46
Spot on Brian Hennessy #10, whilst Kenny is performing fairly well its very difficult playing alongside Walcott as he continually loses the ball. The fact Silva can't see this is worrying. I think this is one of the reasons why Seamus hasn't hit the heights of the past.
I've seen many times Seamus bombing forward not expecting Walcott to give up possession so easily which then leaves Coleman looking stupid. Silva needs to sort this out. Bernard is a much better option on the wing. And also Lookman when fit.
Jay Wood
[BRZ]
20
Posted 01/01/2019 at 13:27:49
For the first 20 minutes, it could have been a case of 'who can string together 3 consecutive passes to the same coloured shirt can claim the 3 points'. Dreadful, from both sides.
But since then, Everton have clearly been the better team with the more influential players.
Jonjo is having a storming game. Gueye showing how vital he is to Everton, not just in his break-up play, but his passing as well. Excellent in all he is doing. Zouma solid and has brought the ball out from the back nicely a few times. Sigurdson with some nice flicks and passes.
Where it has broken down nearly everytime is when Walcott gets on the ball. Gomes again looking a tad fatigued which effects the sharpness of his play and passing. Bernard in for Walcott has to be an option.
A bit more joined up football and clinical finishing when a chance comes, please Everton.
Gerry Ring
21
Posted 01/01/2019 at 13:32:10
What's happening with McCarthy? Silva says he's fit. Surely he's good enough to get a place on the bench ahead of Davies? Probably be picked to play against Lincoln. Be a shame to see him transferred if he has put his injuries behind him because he's a good player.
Ian Lloyd
22
Posted 01/01/2019 at 13:49:02
We are hopeless.
Joe McMahon
23
Posted 01/01/2019 at 13:54:09
Embarrassing again. This season is going to be He'll for all of us come May. we will be bottom 6.
Ernie Baywood
24
Posted 01/01/2019 at 14:00:54
Walcott having a bad day... but how on earth does Richarlison avoid similar criticism? He's stunk the place out for months. I can't remember the last time I saw him beat a man or even take a decent first touch.
We might as well just give the ball to Leicester as play it towards him.
1-0 down. Keep throwing strikers on. This is horrible yet again.
Jim Marray
25
Posted 01/01/2019 at 14:02:24
70 minutes gone and not a shot on target. In fact Schmeichel hasn't made a save. Says it all. A new striker in the window isn't required they would never get a chance to shoot or head a goal anyway.
Paul Chaloner
26
Posted 01/01/2019 at 14:06:49
This is frustratingly familiar. Nearly 30 years of it and no sign of change. Beginning to dread next Saturday.
Tony Twist
27
Posted 01/01/2019 at 14:11:05
Relegation form and a manager who is clueless. Everton supporters must have been very bad in a previous life as this is torture year upon year.
Paul Setter
28
Posted 01/01/2019 at 14:19:42
We are muck!
Frank McGregor
29
Posted 01/01/2019 at 14:19:43
Get ready for relegation, I wonder if "Big Sam" would come back and save us again.
Is this what the people say we are better to watch this season?
Hull City played better than this when they were relegated.


Ian Lloyd
30
Posted 01/01/2019 at 14:20:53
Surely people on here can see we are a shambles?
Give Silva time? You having a laugh?
Michael Kenrick
31
Posted 01/01/2019 at 14:23:02
That was utterly atrocious.
Kieran Kinsella
32
Posted 01/01/2019 at 14:23:45
Another year ruined.
Danny Baily
33
Posted 01/01/2019 at 14:25:13
This 13 pts we need are suddenly looking difficult to come by.
Paul Smith
34
Posted 01/01/2019 at 14:25:22
That was as bad as anything under Fat Sam, Bobby Brown Shoes, or Koeman. We're going backwards.
We never looked like scoring. Again!
Joe Foster
35
Posted 01/01/2019 at 14:25:48
What a way to start the year!!
Kase Chow
36
Posted 01/01/2019 at 14:27:58
I was hoping that Silva was the right man but now even I'm starting to have doubts... That was appalling.
Since the derby defeat, we've totally collapsed.Bereft of attacking ideas and creativity. What's our style?
At start of the season it was the high press. What were the tactics today?? I have no idea
Kieran Kinsella
37
Posted 01/01/2019 at 14:28:53
It honestly looked like a pub team of hungover players trying not to move much in case they provoke a bowel movement. Forget Sam and Ron, that was a Howard Kendall III performance though with less effort.
Machiel Barnard
38
Posted 01/01/2019 at 14:28:55
I said a few weeks ago we are useless, clueless, utter rubbish in the final third.
Also, there was one ball that Bernard was able to hit across the goal and all it needed was a touch from someone, guess what, there was NO-ONE in the 6-yard box!!!
We need a Striker, surely it is clear for Brands to see?
Jim Marray
39
Posted 01/01/2019 at 14:29:10
Silva will tell everyone how we were the better team again and didn't deserve to lose to yet another pathetic goal. But the truth is Leicester came with a plan and executed it near perfectly.
Everton came for a kickabout and no clue. Bar 1 or 2 moves, by the time Everton had the ball outside the Leicester box they were already setup and waiting for us. Modern football is all about speed and we are still playing like statues.
Craig Walker
40
Posted 01/01/2019 at 14:29:49
Exactly what I thought would happen today and I'm sorry to say but this is how I envisaged life under Marco. We are nowhere near good enough.
Only Zouma did okay today. There are problems all over the pitch. Different manager and players but all too familiar story. What makes life worse is that the RS are a good team now and we are miles off an ordinary Leicester. No heart, no pace, no guts, no speed or creativity. No idea and no hope.
I've unfollowed the official feed on Facebook because I can't stand the positive spin on a football club that has lost its way and its sense of purpose. If we cannot get points at Goodison, then we have no chance of doing anything but making up the numbers.
Jim Harrison
41
Posted 01/01/2019 at 14:30:14
??? How can we go from manager to manager and still seem to be the same? One team seemed hungry, the other dazed.
Need to have better options within the squad. First 11, all firing, yes we are good, but the back-ups are decent at best.
Kenny looked no better than Coleman, no surprise as he is a developing lad, but really when we drop one player and his replacement offers no improvement we need to ask questions as to our priorities in the next transfer windows.
A quality forward would add more goals of course, but we need to stop conceding so many!!
Richalison needs a break. As does Walcott.
Ah fuck it. open another beer and crack on.
Andy Mead
42
Posted 01/01/2019 at 14:30:33
One of the worst games of football I have ever watched. From the first minute to the last, we CONSTANTLY GAVE THE BALL AWAY! It was like watching two schoolboy teams.
Leicester are awful but we are even worse. No creativity at all. Didn't even test the keeper. No Plan B from Silva either. I had my doubts about him but, after this last month, I have no doubt now. He is Martinez Mk II.
It's not working but he can't change it. Mid-table also-rans at best. Moshiri cannot pick a manager to save his life. Koeman, Fat Sam... and now this clown.
Justin Harris
43
Posted 01/01/2019 at 14:30:44
I very rarely post but I am seething after that display!! For so many so-called professional footballers not to be able to pass a ball 5 yards, control a ball, and look just generally completely uninterested is unacceptable. Every team looks fitter and hungrier than us and, at the moment, I can't see where a goal or any points are going to come from!!
Sean Patton
44
Posted 01/01/2019 at 14:30:50
Shocking performance made worse by watching a gormless display by the manager who had no answer to a one-dimensional opposition.
Special mention to Atkinson for his usual shitness as well.
Tommy Coleman
45
Posted 01/01/2019 at 14:31:07
The end.
Leicester so comfortable.
I like Silva's signings but he's clueless – naive tactics and team selection.
Inconsistent team selection; inconsistent performances. He's another Martinez.
I'd like Big Dunc to have a shot.
Michael Lynch
46
Posted 01/01/2019 at 14:32:25
Leicester came with a plan. We haven't had one of those all season.
If that isn't Silva's fault, whose fault is it?
Ernie Baywood
47
Posted 01/01/2019 at 14:32:32
What a horrible game that was. No brains, no brawn, just nothing of any substance. Hard to tell what this team is about right now.
If I were Gana I'd be reassessing my position because he doesn't deserve to play with shower of shite.
Pickford 6
Kenny 5 – tries hard but he's nowhere near the standard. Give it up.
Keane 5 – not bad generally but huge error for the goal
Zouma 6
Digne 7 – quality player
Walcott 4 – Non event at the moment
Richarlison 3 - When he's playing poorly (and he has been for months) all you're left with is a whinging cheat
Sigurdsson 5 - probably my biggest disappointment today. He hid and I don't expect that from him.
Gana 7 - never stops.
Gomes 5 – disappointing today
Calvert-Lewin 5 – shame. I thought today was a big chance for him.
Silva 3 – does exactly what you'd expect him to do. Does exactly what you'd expect a 12-year-old Championship Manger player to do. No new ideas. No idea of any kind really. If we're winning he throws on more defenders, if we're losing he throws on more attackers. I've never witnessed a more basic manager. What do these blokes get paid so much for?
What must Moshiri be thinking?
Peter Jansson
48
Posted 01/01/2019 at 14:32:53
This is maybe the most useless game I have seen Everton play for several years.
We looked better during Sam Allardyce. Only Kenny is coming up to standards and Bernard that have a decent 20 minutes.
We cannot hit a simple pass or a crossball in the penalty area. We don't win a single header. The game forward is way too slow. Why is not Mina on the pitch??? The only player we have that can win a header?
Calvert-Lewin is never going to be the striker we need. Walcott... what has happened to this guy? He was brilliant last season. Gomes is loosing his form.
This was the wrong team selection 4-2-3-1 is simply not working for us – change formation. The selection and the strategy was flawed. Bernard and Mina should have started. Then we would have had dribbling skills and muscles that was much needed to lirk-up a strong Leicester defence.
Completely useless this.
Kiern Moran
49
Posted 01/01/2019 at 14:33:11
I am starting to incline seriously to the view the manager needs to be sacked. Keep Brands. Get in Chris Hughton or Eddie Howe.
Peter Jansson
50
Posted 01/01/2019 at 14:36:39
We are so predictable and too easy to read for the opposing team. Same problem as with Martinez. When things don't work we don't have a Plan B.
Come on for fuck's sake. We always need a Plan B and a Plan C. Now we have one plan that does not work.
The players are not either good enough for the only plan we have. Then we end up not winning games. It is as simple as that.
Jay Wood
[BRZ]
51
Posted 01/01/2019 at 14:37:29
Dreadful second half.
Two nightmarish 'touches' from Walcott and Keane and once Vardy is running in on goal like that, there is only going to be one outcome.
After that, Leicester were very cute in how they managed the game. All credit to Puel. Allegedly, his job under threat after a narrow penalty shoot out defeat to City barely two weeks ago, since then, wins in the Premier League against Chelsea, City and now Everton.
Everton... the club that is always giving. The commentary said you have to go back to 1938 – 81 years! – since Leicester won an away game on New Year's Day. Happy to oblige, Foxes!
Silva in recent games has gone all 'gung-ho' on his substitutions when going behind. Today, he was too ponderous.
Gomes was evidently fatigued and needed substituting, but Walcott was gash all day and wasn't even the first man replaced. Silva cannot continue playing Walcott based on a long run of games now. That is a priority that needs addressing.
The saving graces today were Gueye, Zouma, Kenny and Sigurdson. The rest...? What can you say?
Henry Lloyd
52
Posted 01/01/2019 at 14:40:23
Marco Silva, take your coaching staff and the shit players you have brought in and all you gear and get the fuck out of my football club!!!
The man will not be here for next season. I will ask again – anyone want to bet on it???
There was just one taker last week... do you still want to bet??? Let's say £1,000???
Marco Silva relegates Hull, finishes mid-table at Watford.... What the fuck are you doing at Everton?????
Craig Walker
53
Posted 01/01/2019 at 14:40:58
What were people saying about how Silva transformed teams and is a proper hands-on coach? How about practising getting a £45m player to take a dead ball and beat the first man? I can do it with both feet at 44 years of age with no coaching on a muddy field. Why can't Sigurdsson or Digne or whoever else attempts a corner? At least Roberto stated we didn't bother practising them.
The players today were a disgrace to all the Everton family members we've lost. The team played like they were still doing their remembrance. Spineless performance.
John Audsley
54
Posted 01/01/2019 at 14:41:06
Really bad again from Everton.
It doesn't look like the manager, staff and players are bothered.
Finish 12th and Silva will consider job done.
Embarrassing... and Silva is really running out of credit with the fans.
Danny Broderick
55
Posted 01/01/2019 at 14:43:22
We seem to have forgotten how to attack. Most of the players do not combine well right across the pitch. For the second game running, the back four have been okay. Beyond that, Gomes has stunk the house out the last 2 games. Gueye has done okay. But the front four beyond them have done absolutely nothing again.
Walcott and Richarlison were passengers. Sigurdsson ran about a bit but produced no quality at all. And Calvert-Lewin barely touched the ball. Bernard and Tosun brought some energy at least, but not much end product.
We've got too many lightweight players who have gone missing. Bernard, Walcott, Sigurdsson, Calvert-Lewin, Richarlison – they've all been shite now for weeks.
I don't know what the solution is. A striker will help, but with our wingers and Number 10s all playing crap, Harry Kane wouldn't be scoring goals if he was backed up by that lot.
Henry Lloyd
56
Posted 01/01/2019 at 14:43:51
Let's get him out then!!
Paul Jeronovich
57
Posted 01/01/2019 at 14:43:56
I was depressed before reading the comments; now I'm on my third bottle of bleach...
Happy New Year!
Ernie Baywood
58
Posted 01/01/2019 at 14:44:47
Just saw a stat... this is Silva's most successful Premier League employment in terms of win percentage. Let that sink in...
We've just gone from a guy who had a completely different idea to us of what success looked like.
Eugene Kearney
59
Posted 01/01/2019 at 14:44:48
Frustrating. Very frustrating having to put up with these losses when we are supposed to be getting better.
A work in progress yeah, but it's not easy to stomach being tenth (or worse) in the table while smaller teams than Everton are doing well all around us.
We NEED a striker – URGENTLY.

PLEASE.
Roman Sidey
60
Posted 01/01/2019 at 14:46:31
Still not making a decision on Silva, but, a couple of players in fairly key positions that were inherited are really not making his job easy. Walcott and Keane today were dreadful, Sigurdsson didn't really do much, and Pickford could have done better for their goal, as bad as the lead-up was from Keane.
Calvert-Lewin isn't a footballer and has regressed so much this season, it's unbelievable. That's the spine of the team plus a winger not performing to their best.
Silva selects the players, sure, but these players, and the others not mentioned, are all capable of playing better than they are. It speaks volumes about this club that one of our most solid players is a loan player in Zouma who is clearly playing for a contract at his parent club.
Henry Lloyd
61
Posted 01/01/2019 at 14:46:36
I'm Watching on beIN Sports in Indonesia and they haven't even bothered to interview the prick!!
Moved on to talk about the Red Shite!!
And they don't play till Thursday!!
John Reynolds
62
Posted 01/01/2019 at 14:47:56
Let's hope it's true that the darkest hour is before the dawn, because that was pretty black.
Darren Alexander
63
Posted 01/01/2019 at 14:48:41
Just awful. Saturday needs to be a good one for us to save our season – which is assuming we don't get dragged into the dogfight at the bottom, and will somehow manage to win 5 more league games.
Keeping Sam for the remainder of the contract he was paid for – while taking the time to line up a proper, long-term manager – doesn't seem so daft now, does it?
Tommy Coleman
64
Posted 01/01/2019 at 14:49:02
Did anyone comprehend Silva's post match interview? I didn't.
Garbled gibberish.
Brian Wilkinson
65
Posted 01/01/2019 at 14:49:06
How many managers have we had over the past 4 seasons?
We can simply keep changing managers, but nothing will change if we still have the same players.
Digne and Kenny were hitting first-time balls into the box, even Sigurdsson, that is where the answer lies, we do not have one centre-forward at the club who can get on the end of them, a Mitrovic type forward, even with corners, we have no-one to win the ball regularly; we may win the odd header.
We either get rid of Silva, like some are saying, not me by the way, or we allow him to build his own team. A winning mentality needs to be installed into the current squad, a leader on the pitch, address that and the rest will follow.
Getting rid of another manager will not sort out the disease that has spread throughout the team. We will be back to square one again 12 months down the line, unless we let Silva sort this mess out.
Getting that centre-forward in will be a big start, sooner rather than later.
Michael Lynch
66
Posted 01/01/2019 at 14:50:27
Unfortunately, we need another reboot. Silva was a gamble and it hasn't paid off – he has no form in the Premier League, and he looks clueless.
We need to step back a bit, stabilize the club with an experienced manager who can get a tune out of this squad. Not a mercenary like Sam, but I wouldn't say no to Hughton or someone like that. A pro with tons of experience in the English game.
Problem is, all the money is going to be soaked up by the Bramley-Moore Dock project soon. We're not going to be challenging the Top 6 for at least half-a-dozen years.
Time to be realistic. We're still a lot more Moyes than Pep.
Ian Lloyd
68
Posted 01/01/2019 at 14:52:17
Silva's interview is just as embarrassing as the results — mumbling garbling shite!
Shambles and a charlatan — yes, I've said it all along... and I know I'm right.
Joke — I am so annoyed right now.
Warren Bede
69
Posted 01/01/2019 at 14:52:45
Give Dunc the job – at least these over-priced lazy players will not take the mickey out of him.
Silva, please stop standing on the sideline with your hand over your mouth, it's getting irritating, start screaming at someone or do something... anything.
Silva, what would be nice is if you stop making excuses for these over-priced lazy players and start apologising to fans who work hard every week to afford a ticket to come and watch a club they actually care about, not make excuses about how tired they are.
Harry Hockley
70
Posted 01/01/2019 at 14:52:56
Why don't fans get it? We don't need to buy a striker right now, were in no danger of getting relegated nor are we going to breach the top six, so no point in paying top dollar in January. Let's not judge all off one window, the team has improved and will again next year.
Derek Knox
71
Posted 01/01/2019 at 14:53:27
There was nothing on show today to indicate that we are getting any better, in fact it is the opposite, we actually seem to be getting worse.
I am almost at the end of my tether, I was prepared to give Silva time to turn things around but he doesn't seem to have a clue, no noticeable system or team plan, passing seems to get worse every game, what is he doing at Finch Farm during the week?
Walcott was again diabolical for the umpteenth game apart from Burnley away, yet he still gets picked week after week, could someone please explain why that is?
Jim Bennings
72
Posted 01/01/2019 at 14:53:41
Utter garbage!
No application whatsoever and the lame excuse to blame tiredness.
Tiredness didn't stop Leicester taking 9 points from 12.
We are no further down the line in terms of shape, fitness or putting a decent team on the pitch than this time in January 2016 under Martinez and he had never had all the millions to spend that have since been made available.
Pathetic and limp, pretty much just sums up Everton Football Club nowadays.
Simon Smith
73
Posted 01/01/2019 at 14:54:03
We seem light years away from where we were even 6 weeks ago.
I remember being quite proud of the boys after the Chelsea away game. I am currently feeling the exact opposite!
Shameful performance, Everton really are testing my interest level in football!
Henry Lloyd
74
Posted 01/01/2019 at 14:56:19
SILVA OUT SILVA OUT SILVA OUT SILVA OUT
Colin Glassar
75
Posted 01/01/2019 at 14:57:22
I hate the touchline antics of the likes of Klopp, Conte, Guardiola, Santos etc... but I'd really like to see more signs of life from our current manager.
Looking all cool and debonair doesn't cut the mustard at this level, you have to be able to cajole and motivate your team during the match. Arms crossed and looking clueless doesn't help anyone.
Jim Bennings
76
Posted 01/01/2019 at 14:57:57
As for our striking options, well I wouldn't put any of them in a Christmas cracker.
Idiots reckoning we should give Calvert-Lewin a long run in the side, he's awful, offers no threat, his touch is atrocious and he's never a goal poacher.
Tosun, the sooner the better he's shipped off for some decent return financially the better, the lad is nowhere near good enough.
Vardy got one chance today and showed us what a striker is.
Stephen Davies
77
Posted 01/01/2019 at 14:59:01
Colin #75,
He could get some gum – just like Sir Alex. :)
David McMullen
78
Posted 01/01/2019 at 14:59:49
Certainly not the same "team" from a couple of months ago. Whether we can shake this off this season is questionable; we'll be lucky to finish 8th like last season.
I think it's too early for the "sack the manager" lark. But if feels like we can write this season off now.
Lee Whitehead
79
Posted 01/01/2019 at 14:59:56
Hi Henry@52,
I'm as pissed off as you (watching that utter shite)- but we can't keep changing managers, we need to give him time to sort these fukin wankers out.
£10 he's still there next season?
Roman Sidey
80
Posted 01/01/2019 at 15:03:41
I have read a couple of posts calling for Dunc to be made manager. Not having a go, but that cannot be a serious claim. I would say, since he has been coach at the club, our football has been mostly rubbish, and he was never a winning footballer.
Colin Glassar
81
Posted 01/01/2019 at 15:03:44
Read any book on Guardiola, Benitez, Klopp, Mourinho and Wenger (when they were at the top) etc and there's one common denominator – Drills. Their teams would practice passing, patterns and movement off the ball for hours on end until it became second nature. Their players could find each other blindfolded.
Everton, on the other hand, look like they meet up an hour before kickoff and it shows with our truly pathetic passing and lack of fight.
Michael Lynch
82
Posted 01/01/2019 at 15:03:44
David, I'd be astonished if we finished as high as 8th, looking at our fixture list.
David Hallwood
83
Posted 01/01/2019 at 15:07:00
I think the forwards were summed up today by Bernard's run into the box and perfect cut back, which neither Tosun or Calvert-Lewin gambled on. Where's the poacher's instinct? Not one of them made a move toward the 6-yard box, for what would have been a tap-in.
However, unfair just to lay the blame on those two for that sorry, sorry, Walter Smithesque performance, with only Gana & Zouma coming out with any credit.
George Cumiskey
84
Posted 01/01/2019 at 15:07:34
Got to agree with all the pessimism, I'm afraid.
Walcott – terrible again.
Sigurdsson – poor again.
Gomes – poor again.
Keane – poor again, the weak link at the back.
Calvert-Lewin – the new Harry Kane... lol.
I really wanted Silva to succeed but he looks more clueless week by week. Brands saying we won't be buying in January beggars belief.
Puel, the Leicester manager, favourite for the sack – you really couldn't make it up.
Gavin Johnson
85
Posted 01/01/2019 at 15:07:41
Silva's tenure is starting to mirror his time at Watford – Looked a good manager until Watford's form fell off a cliff. He had the excuse of being tapped up by us.
He has no excuse now. We have winnable fixtures coming up so, if we don't start picking up points, he'll have to go. Go for Eddie Howe
Tony Twist
86
Posted 01/01/2019 at 15:08:30
I can't believe that big Dunc has been suggested to take over from Silva. Love is blind I suppose.
Marcus Taylor
87
Posted 01/01/2019 at 15:12:23
Gavin #85,
I think Howe and Everton would be a recipe for disaster:
@OptaJoe "Bournemouth conceded more goals per game (1.78) than any other side within the top four tiers of English league football in 2018. Cherry-pick."
He's got Martinez/Silva written all over him. His team can't defend.
Kieran Kinsella
88
Posted 01/01/2019 at 15:15:31
Silva is like Saddam Hussein. People talk about the weapons in his armoury but we have never seen any evidence to back it up.
Terry Farrell
89
Posted 01/01/2019 at 15:15:47
Henry, have a lie down on your sunbed! Silva has been here 6 months and the players introduced are better than last season's. Any new manager needs time.
If it's like this in 12 months time, I'll take note of your comments. What job do you work in that changes overnight!
Jim Bennings
90
Posted 01/01/2019 at 15:17:53
I think people get mixed up when labelling Calvert-Lewin the next Harry Kane.
Harry's cane more like!
The lad doesn't even really run that much anymore like last season and when he's not doing his Marcus Bent Forrest Gump impression, he's just a very limited striker.
But it's not even his fault, it's the management for not signing a decent centre-forward.
Paul Kelly
91
Posted 01/01/2019 at 15:18:40
Don't worry, chaps, were in transition... apparently.
Warren Bede
92
Posted 01/01/2019 at 15:20:14
Job opportunity Everton football player requirements
On the day of the game, pass the ball to anyone preferably in a blue shirt unless you are playing away. If so, then confirm with you manager beforehand what colour shirt you need to pass the ball to. As you pass the ball to the player with the same coloured shirt as you wave him good bye. Do not worry about him losing the ball just funnel back to your shape the manager told you about; marking an opposition player is not a requirement.
You do not have to run too hard as you might be tired for the next game, just make sure it looks like you are putting in some effort and you will get paid at the end of the week.
At the end of the game smile at the opposition have a good chat with them, be friendly, wave at the crowd and remember, you are the most important professional on the field and the club should be happy to have someone of your standard playing for them.
Your working week is mainly 90 minutes, but you might be asked to work a little extra every now and then. Of the 90 minutes you can work hard for 15 minutes and the rest as you see fit.
Michael Lynch
93
Posted 01/01/2019 at 15:20:37
Terry, if the players introduced are better than last season's, there's even less excuse for Silva to have the same points as Allardyce Unsworth and Koeman did at this stage.
How can you defend a manager by saying he's getting less out of better players than our most-reviled manager in living memory?
Will Mabon
94
Posted 01/01/2019 at 15:20:45
Gavin, those "winnable" fixtures are basically 'til the end of this month – and no certainties there given our current form. After that, things get a little more trying. Our very demanding home games schedule from now on couldn't have been better designed to put a team under mounting pressure toward the tail end of the season.
Team needs to knuckle down and get back to business again. I see no need for excessive pessimism but we need to be mindful. We could slip into an uncomfortable area of the table.
Gary Willock
95
Posted 01/01/2019 at 15:21:15
You just need to look at the bench and I think one big problem is clear: there's a lack of genuine quality and competition in this squad! 3 defenders and two full backs on the bench today ffs.
Couple that with a 'favourites policy' and we are seeing players cruising. Pickford, Keane, Gomes, Sigurdsson, Walcott all poor recently. All still in the team next game, and they know it.
GK - need someone to really push Jordan and threaten his place.
RB - sorry its not Kenny, good defender but not the 'fullback' the modern game needs; we desperately need a new first choice.
CB - Keane needs shaking up. If Mina and Zouma can't play together give Jags a swan song for a few games.
LB - Okay for now, but Baines needs to be replaced as a backup in the summer.
CDM - Unbelievably lightweight, especially since Gomes seems to have lost his spark. Desperate for a general here to push Gomes and Gana and offer a chance of a 4-3-3.
LM - Okay for now, stick with Richarlison and leave him there. See if Lookman can push him more.
CAM - Bernard vs Sigurdsson whoever is playing better keeps the place. At this moment that's Bernard.
RM - Walcott has been awful. Loses possession so, so easy. We have no-one pushing him either. This for me Is a priority area.
ST - Vardy, one shot, one goal. Calvert-Lewin, Tosun and Niasse not good enough for Number 9.
So, whilst Marcel doesn't like January, we are a squad in trouble.
We desperately need a quality right-back, right-midfielder and striker. A midfield general would be a bonus.
Tosun, Niasse, Schneiderlin, etc need moving on ASAP.
Anthony Murphy
96
Posted 01/01/2019 at 15:22:31
We'll be the media favourites for an FA Cup 3rd Round upset. Silva cannot take chances with this.
Stan Schofield
97
Posted 01/01/2019 at 15:23:58
It looks like the wheels have fallen off since the beginning of December. What is happening? It's the same group of players and the same manager who produced high energy performances like in the derby.
We could change the manager again, but then there would be another honeymoon period, followed by the usual collapse when there's a bit of misfortune.
There seems to be a very serious problem, going a lot deeper than who the manager happens to be. We've got a group of players here who have shown they can play a very good high pressing game. What the fuck is happening?
John Boon
98
Posted 01/01/2019 at 15:25:25
After watching that rubbish it is more than a challenge to remain optimistic. Digne and Gana alone showed anything. I no longer feel we should be going overboard to keep Gomez, and Richarleson has resorted to his later Watford form.
I really did want Silva to succeed but I find him totally uninspiring. I would start to worry about relegation if we didn't have some awful teams below us. Unfortunately most fans have been reduced to numbness. Nobody really has a clue just what to do. I am now seriously worried about the visit of mighty Lincoln City.
Joe McMahon
99
Posted 01/01/2019 at 15:27:06
We are light-years away from competing; the board have left it too late; the stadium 15 years too late, 30 years of Category C managers (Royle aside), Ferguson on the coaching team, Unsworth on a jolly up.
I've given up now, we need to hide when the Yanks win the title.
John Pierce
100
Posted 01/01/2019 at 15:28:22
Silva is now overdrawn with me, his line of credit is under review.
He set the team up as you'd expect. Opted to change one part of a underperforming tandem in Coleman.
That's all I can give him. He failed to breakdown a very stubborn Leicester and they deserve credit for it.
In isolation, you could be tempted to say oh well just one of those days. But my views are not just on one game. His tactical nous, is being outwitted by too many opponents. The drive and tempo to dictate games just isn't there.
He simply cannot squander the next five games. It will put too much pressure on the games we have remaining, with the best coming at home and our horrible away record.
We've beaten no team of note and not dominated any game. Plenty to concern me.
Terry Farrell
101
Posted 01/01/2019 at 15:29:14
Michael, purely on hope that it will come good and that changing managers over and over doesn't work. I was against sacking Koeman for the same reason.
Mark Burton
102
Posted 01/01/2019 at 15:29:32
Warren Bede, I would love that job. I am 62 – what length of contract can I expect?
Nick White
103
Posted 01/01/2019 at 15:29:50
Very poor again today. However, what we need is stability, another managerial change at this time will just set us back and restart the cycle again. If the answer was as simple as changing the manager we would be fighting the reds for the Championship by now.
We are just entering the 2nd transfer window for Silva and Brands, pretty much everyone was in agreement the 1st window was a success and I am sure the next window will be as well.
Patience very much needed (hard as that is as it is currently painful to watch currently).
ps: Hughton, Howe or Ferguson as replacements??? I thought we wanted to improve?
Matthew Williams
104
Posted 01/01/2019 at 15:33:13
It seems like Brands is being very shrewd with Moshiri's dosh (wise), but would a punt on a lower league player who might fire some goals for us and maybe finally ignite our season be such a risk as we stand?
I recently read that the Mackem's could be in for the lad Shankland at Ayr Utd for the princely sum of 200,000 – maybe we could scupper that deal and be as shrewd as in the Coleman deal and bag ourselves a cheap Striker while Brands works out how to move on our many underperforming players.
A front three of Shankland, Tosun and Lookman might just give us the spark we need up front as we try to solve how to supply them all from Midfield... that is Silva's job, for which he is very well paid for as it is.
We need to gamble on something NOW or I fear our season will collapse completely.
Peter Barry
105
Posted 01/01/2019 at 15:34:25
Utter dross. We can't pass, can't tackle, and can't shoot... but hey, that's what you get when you buy overpriced foreign mercenaries with no local or national pride.
Michael Lynch
106
Posted 01/01/2019 at 15:34:26
Does anyone else need sub-titles for Silva's post-match interviews? I don't want to knock someone because their English isn't very good, but I can't understand a fucking word he says. It's all a bit Scorchio isn't it?
I think I'd prefer him to do the interviews in Portuguese with a translator, at least I might actually learn what his excuse is for another pitiful performance.
Frank Crewe
107
Posted 01/01/2019 at 15:34:31
We need leaders on the pitch. Unfortunately, that requires a leader off the pitch.
Sides are a reflection of how their manager sees football. Martinez was all attack. Allardyce was all defend. Koeman was a bit of both. But Silva... I can't see how he wants his sides to play at all. At the moment we neither attack or defend as a side with higher ambitions should.
On to the next match, I suppose. I would expect to see a lot of changes though. Players need to rest and maybe reflect on whether they are doing enough.
Fran Mitchell
108
Posted 01/01/2019 at 15:35:58
Something has certainly gone wrong since the derby; I wouldn't state that it is time to panic and change manager, but Silva needs to arrest the rot.
Certainly, some players are much below the standard, but it seems more than just a case of individuals not performing – the morale of the squad seems low. There is a lack of confidence, a lack of ideas.
Maybe a new striker, or the impact of someone like Lookman coming in, could give us a boost. We have a run of 5 games where we should be aiming to go unbeaten, and take as many points as necessary.
Now is the time for Silva to learn and show his supposed potential.
Alan J Thompson
110
Posted 01/01/2019 at 15:38:22
Two very poor sides played an abysmal game decided by a typical Vardy goal.
Digne had a good first half, Kenny had a good game and Gana was our MotM; Bernard when he came on and Zouma were reasonable but the rest were atrocious. They talk about the lack of chances under Allardyce but what did we have here? Kenny hitting the bar and Tosun's late header.
The midfield consisted of Gana breaking up the opposition's attempts at attack and Gomes desperately looking for someone to play with and what does our "Supercoach" do? Takes him off to leave Bernard alone in midfield! Did anyone actually see any indication of any coaching as the players just didn't seem to know where they should be playing and what they were supposed to do.
Somebody said you can set your watch by the timing of Silva's substitutions and he did the same today, every hour, on the hour. Should we now be thinking, it's time!
Phil Greenough
111
Posted 01/01/2019 at 15:38:33
Warren @ 69. How would Dunc motivate a team of millionaires? Take them round the back for a hiding? Yeah, I'm sure that would work.
There is nothing you can do to get them to work harder or play better, they get paid regardless of how well they play. If you bench them... so what, money for nothing. And there's always another club that'll buy them if you try to offload.
Sad to say but they hold all the cards, along with football managers. I don't know what the answer is, but Duncan Ferguson isn't it.
Will Mabon
112
Posted 01/01/2019 at 15:38:48
"There seems to be a very serious problem, going a lot deeper than who the manager happens to be. We've got a group of players here who have shown they can play a very good high pressing game. What the fuck is happening?"
Stan, it's that same weird, cultural, in-the-fabric thing that seems to hold through all other shorter term changes. Like clubs having the benefit of previous European successes for example - years later, when all the players and staff are completely new people that weren't there for the past wins. Just what is that "History" or "Experience" anyway?
There is something culturally off kilter at Everton, I agree. It's a strange one.
Martin Berry
113
Posted 01/01/2019 at 15:39:30
We played like mugs who got mugged! The number of times we were exposed by their long ball over the top, with more composure Leicester could have made it even worse for us.
Added to that, we were clueless going forward. What exactly is being done in training because nothing is evident on the pitch at the moment?
Before long, Silva will not only lose matches but the dressing room too because no-one seems to know what they are doing on the pitch.
Will Mabon
115
Posted 01/01/2019 at 15:41:21
Michael @ 106:
"Scorchio"! Excellent stuff. Back from the days when I used to watch TV, when some of it was worth watching.
Anthony Murphy
116
Posted 01/01/2019 at 15:42:06
Worryingly similar pattern to that of Watford last season. A collapse in December with one win (Boxing Day) in 12. Richarlison having similar problems. Players not fit enough to execute the manager's plans over a sustained period perhaps?
Kevin Dyer
117
Posted 01/01/2019 at 15:42:40
The festive fixtures are ruthlessly exposing our main problem: a total lack of quality depth at the club. Players that get tired, or lose form, we have no options. Even if they're dropped, they'll come on as a sub.
Case in point: everybody's favourite – Gomes. He was awful at Brighton and today. With a team with any depth he'd have been rotated out for a needed rest. Ditto with Sigurdsson. He's needed a break since busting a gut in the derby. All he's had is being dropped to the bench for 1 game, when he came on as a sub, so little actual rest. Today, I heard the alarming stat that Walcott has played every game for us this season which says everything really.
I said this weeks ago but we have the kernel of a top 6 team with about 8 players that are of that level. We've 3 positions that are weak – right-back, striker and arguably right wing – and need upgrading. We have depth that are either not there yet (Davies, Kenny, Calvert-Lewin), erratic (Bernard) or soon to be exiting the team (Tosun, Schneiderlin). Right now I'd say Lookman (when fit) is pressuring the misfiring Walcott and maybe Kenny because Seamus is struggling to get anywhere near what he was.
One of our 3 primary centre backs seems to be having a howler every week, which isn't helping.
We desperately need quality additions, but cannot splurge £25m in January on players who are not upgrades (see: Tosun). if we can't nail someone like Lozano, we should just look at young prospects. I thought at the time the panic buy of Tosun, a 26-year-old that had never played in a top league was a gamble and so it's proved.
Compare with Digne, for example, who at 25 had played in 3 top leagues (France, Italy and Spain) and all for major teams. Now he's England so it's only Germany he hasn't played in, out of the Big 5 leagues. And you can see the difference: almost always one of our top performers.
Mark Tanton
118
Posted 01/01/2019 at 15:44:39
I fear I am standing alone, and possibly an affront to logic here, but Silva needs more time. I fail to see who's out there who can do any better with this lot. We cannot keep changing manager, it's just not the answer. God knows what is.
Kunal Desai
119
Posted 01/01/2019 at 15:45:22
I worry about the fundamentals of the game: lack of fight, passion, drive, commitment, determination and motivation. None of these characteristics have been evident for some time with players at Everton.
Also, I really do worry about the remaining home fixtures, five of the top six still to play as well as Bournemouth and Wolves who will play similar to Leicester and will nick a win.
Desperate, desperate few months coming up.
Dan Davies
120
Posted 01/01/2019 at 15:48:38
World class striker wanted. Problem is... who would want to join us? What about that Jesus guy at Man City? Worth a punt?
Pat Kelly
121
Posted 01/01/2019 at 15:49:19
Silva is not a communicator. His post-match interviews are garbage. Deliberately incomprehensible.
I'm sure the players haven't a clue what he wants. He's lost them and been found out again. Cut our losses and replace him for next season.
Jim Bennings
122
Posted 01/01/2019 at 15:50:43
Bournemouth and Wolves will travel to Goodison in the next month and see it as a winnable game for them.
Our home form has become as gash as our away form.
Play like that against Bournemouth and they'll beat us too, likewise Wolves.
I get the feeling the next few months is going to be very arduous for Everton and Marco Silva.
Eddie Dunn
123
Posted 01/01/2019 at 15:51:48
Kevin, we have a defensive lapse every week but it wouldn't matter if we managed to score goals ourselves. This is where our problems lie.
The defence is okay, the midfield average but up top we are awol. The lack of replacement of Lukaku is still the problem and to be waiting all this time with stop-gaps and kids is totally unprofessional.
Brands needs to get somebody in in January for us to have any chance of climbing the league. Never mind the poor January window, we didn't get anyone in the summer, so we need to now.
Christy Ring
124
Posted 01/01/2019 at 15:57:03
Depressing, our game against Lincoln is a big one for Silva?
Dan Davies
125
Posted 01/01/2019 at 15:57:17
Well there's always Mourhino to fall back on I suppose if we are desperate like....
Peter Jansson
126
Posted 01/01/2019 at 15:57:29
It is too easy to just criticise Gomes for not playing good. As the team is set up, he will struggle with having good passing alternatives. He will end up with coming under pressure over and over again as we are simply outnumbered in the midfield.
It is too easy to play against us. You just put high pressure on our two defensive midfielders. When they get under pressure, the whole 4-2-3-1 system falls apart. The problem is that this is easy to do, you can just put 3 players in the midfield and they will have a problem.
When the two defensive midfielders struggle, we are left to play on the flanks and long balls. This does rarely work. Since we do not have anyone in front that can win a header, long balls will never ever work.
The solution could be to add presence in the midfield. When Silva takes out Gomes and puts Bernard in, it just does not strengthen our midfield.
James Stewart
127
Posted 01/01/2019 at 15:57:53
We need a serious elite-level manager to sort us out. Newcastle somehow managed to get Benitez in and we need the equivalent of that appointment. We will obviously stick with Silva til the end of the season but it's hard to come up with any reasons for doing so.
There hasn't been a manager since Moyes who has improved the players at his disposal. We can't keep throwing away money on mediocre players and managers.
Charles McCann
128
Posted 01/01/2019 at 15:58:14
Eddie, you might be right there but I'd say you could have the best striker in the world there at the minute and he wouldn't score because our team are not creating any chances for them to score.
I think our problem runs deeper than simply having a world class striker up front. Also, what world class striker would want to join us the way we're playing!
Kevin Dyer
129
Posted 01/01/2019 at 15:59:31
The media claptrap about "Where we better with Sam?" is in full force. Lazy shit that is essentially saying: don't dream, be content to be mid-table, Allardyce and his ilk is all you should be looking at, tread water, get those 40 points, bore the arse out of your fans.
Fuck that.
Silva is trying to change the philosophy. Pep moved straight into a brilliant Man City team, made changes and additions on top of a strong foundation. What did Silva have in place? Pickford, Coleman, who sadly looks finished as a top fullback, a star player that had been criminally mismanaged in his debut season (Sigurdsson) and Gana. Everyone else were either recent additions (Walcott) or struggling (Keane). Plus a lot of youth that had either been thrown into the managerial merry-go-round and seen their progress stunted (Kenny, Davies) or been ignored (Lookman, Vlasic) and a squad full of old or substandard players. Into this add 5 major additions in the summer, all earmarked as starters.
When Spurs sold Bale and bought half a squad they struggled badly. And they still had the core of a good team. We, sadly didn't, through some criminal mismanagement of squad rejuvenation and long-term planning going back to the end of Moyes's time. This is a massive task for Silva and Brands.
If we finish 12th this season but integrate all the new players fully and get our style of play in place, then I'm okay with that. I don't want to spend £50m on short-term panic buys that help us secure 8th or 9th.
Then we need significant investment in the summer, to upgrade those deficient starting positions and provide serious competition and hopefully bring back in talents like Vlasic, Holgate and maybe Dowell that are (or hopefully will) benefit from playing time elsewhere. For example, the way he's been playing for CSKA, if Vlasic's loan suddenly ended, does anyone doubt he'd be a major addition to the squad now?
Will Mabon
130
Posted 01/01/2019 at 16:03:13
Kevin, much of what the media say is actually intended to maintain the status quo, without many of the participants even realizing they're doing it. Same old "Talking points" and barely worth listening to.
Sean Roberts
131
Posted 01/01/2019 at 16:05:05
I can't understand why everyone is so upset!!!! We are Everton – we should be used to this by now.
Another false Dawn I am afraid, the manager looks clueless and his team selections over the Christmas period have been poor.
The honeymoon period is well and truly over and the performances are progressively getting worse. The atmosphere at the ground is getting as toxic as ever too.
Only positive to this season is the fact that there are teams who already look like they are relegation bound after half a season.
I for one look at the upcoming fixtures that should be winnable but I am not confident of getting many points and can see the manager making wholesale changes for the Lincoln game which we all know Everton don't do very well.
It's going to be a long winter into the spring that won't be helped by our neighbours who look like they are indeed going to have their year.
Sack Silva or not sack Silva? I don't know the answer to that and there should be people at the club more qualified than any of us to make that decision but what I do know is it's not good enough.
Happy New Year, Blues!!!
Kevin Dyer
132
Posted 01/01/2019 at 16:07:40
Eddie #123, I agree striker is are obvious glaring problem; trouble is replacing a prolific forward is not easy, particularly for a team that can, basically just offer a concept and a big salary right now.
In January? Almost no chance. Players we've been linked with (or bid on) in previous January windows – Tosun, Ramirez (now at Wolves, who I like but is not a 15-20 goal striker), that big lump playing in Portugal, Jannsen (bust at Spurs). All would have cost approx £25-30m. None would have been an obvious upgrade in terms of goal output.
If we can't somehow nail down a great buy in the window then we either take a chance on a talented prospect or hang on until the summer.
Dan Davies
133
Posted 01/01/2019 at 16:08:07
Yep, sending Vlasic on loan is looking more foolish by the day.
Brian Wilkinson
134
Posted 01/01/2019 at 16:09:14
You are not alone, Mark @118, have a read of my post @65.
I think we are both singing from the same hymn sheet.
Paul Birmingham
135
Posted 01/01/2019 at 16:11:22
Another Birthday tarnished by the most abject and passionless performance. Then again... that could refer back to most of the last 25 years.
Struggling to take any positives today. Gana was on his own and Kenny done okay. The rest stunk.
I hope the excuses of too many games and fatigue don't get raised by the coaching staff.
Gonna be a long year to bear and grind at this rate. Perfect storm of EFC spiralling and the RS flying high.
Let's hope Lincoln have an off-day.
Another great start to the New Year!
Kevin Dyer
136
Posted 01/01/2019 at 16:12:05
Peter #126, no criticism of Gomes from me, at least. He looks jaded, is all and needs a rest. He had no pre-season and missed the start of the campaign. He's played well until Brighton but has hit the wall.
You could see how it was going to go for him today with that terrible pass less than 1 minute in. Sigurdsson, badly in need of withdrawing himself, immediately was pulling the strings when Gomes came off and he dropped back to central midfield.
George Cumiskey
137
Posted 01/01/2019 at 16:13:45
People keep saying we've got five winnable games coming up – there are no winnable games coming up for this Everton side.
Silva comes on and says we were poor, very honest and commendable. Then picks the same players, uses the same tactics and makes the same poor substitutions in the next game.
As Einstein said, to keep doing that and expect a different result is madness.
John Keating
138
Posted 01/01/2019 at 16:13:55
Well another completely wasted day.
I must admit apart from playing Walcott the team picked seemed to me spot on. However, after 5 minutes and seeing not one Everton player could pass to another, Gomes seeming to be the worse, general consensus around me as that things needed changing.
To be honest, Gomes should have been subbed after 15 minutes. It was quite obvious that he was completely non-existent.
Walcott played his usual 15 minutes and disappeared. Calvert-Lewin got absolutely no service whatsoever.
Again, we could have played all day and not scored. Totally devoid of any guile or inspiration.
Karen Mason wrote an article a day or so ago about patience being a virtue in which I mentioned the team needed to show more effort. Stan Schofield did not agree with me. Well, Stan, I wonder if you might change your mind after today's effort?
We can go back to Huddersfield when our movement without the ball, putting our foot in, winning 50-50s was abysmal. Too many games have been similar and today was no exception.
Just home and haven't seen the excuses after that crap but have no doubt it will be the same as the last few. We are an embarrassment and unfortunately the buck stops with the manager.
I'm off tomorrow for a bit of sunshine; the only game I'll get when on holiday is Lincoln and I won't be that surprised if we fuck that up too.
Joe McMahon
139
Posted 01/01/2019 at 16:14:41
Way too early making the liver birds blue; days later, Pickford's title gift to Reds, and we have been shocking since.
Pat Kelly
140
Posted 01/01/2019 at 16:14:46
Brands must know by now his immediate priority is to decide whether Silva is up to the job. Another few games like this and he will have his answer. One win in eight is a downward spiral. If not arrested soon the game is up for Silva.
So what if we have to change the manager again. We spend far much more on individual players and they get the chop if they don't do the job.
Eddie Dunn
141
Posted 01/01/2019 at 16:16:41
Charles, Kevin — just look at strikers outside the top six. Rondon, Mitrovic, Arnautovic, Vardy, Wilson, Deeney, even Glen Murray. All of these guys would be an upgrade on Toscun or Calvert-Lewin. None would break the bank. We might not be able to get them now, but why have we missed out on them?
We won't ever get another Lukaku, so forget a 20-goal striker. They won't come to us even if available, but we could get by with a target man who can hold it up and link play and get 10-15 goals (Premier League) a season.
Garry Corgan
142
Posted 01/01/2019 at 16:18:43
D'you know what? Given our paucity if striking options, I'm half-minded as to whether we should recall Sandro. He actually looked decent pre-season and he couldn't be any less effective than Calvert-Lewin, Tosun or Richarlison up front!
Realistically, I'm sure that particular ship has sailed though.
Charles McCann
143
Posted 01/01/2019 at 16:19:33
Fair enough, Eddie. Point taken! I definitely have big doubts about Tosun and think Calvert-Lewin could be one for the future... so maybe you're right. : )
Jim Bennings
144
Posted 01/01/2019 at 16:20:21
Calvert-Lewin did get some service and the ball from Bernard across the box on the ground was absolutely begging to be tapped home.
We can't keep bemoaning service; Vardy has one chance and scores that's the difference.
The best strikers make the game come to them, Calvert-Lewin is a passenger, a paperweight.
I'm not bothered what he's going to be in four years, here and now he's not anything like the level we require.
He's not alone, Tosun is nothing and Richarlison picks and chooses the games he fancies playing in and today, like Brighton, was one he couldn't be arsed with.

George Cumiskey
145
Posted 01/01/2019 at 16:22:31
Can someone please tell me what evidence there is to warrant people saying Calvert-Lewin is one for the future?
Kevin Dyer
146
Posted 01/01/2019 at 16:22:46
What we cannot be doing is panicking. There is not the slightest chance we'll be dragged anywhere near the relegation zone. We have almost zero chance to finish 6th.
Blowing a ton of money on players in January would be stupid, but sacking Silva would be a total idiocy. Jumping from manager to manager, particularly if changing playing style and making major changes to the squad is almost guaranteed to end in disaster.
Is Silva the answer? No idea, but he needs to be given a chance to fix the shit-show of a team he inherited from the previous clowns. So far we have:
1. He knows how he wants us to play;
2. He wants to play attacking, entertaining football;
3. The additions the new managerial team have made have been from okay to excellent, based on a half-season's evidence;
4. He's playing our best player (Sigurdsson) in the correct position.
What we don't have (yet):
1. A viable top 6 striking option;
2. Consistency;
3. Squad depth;
4. A good return of points (see 1, 2, & 3 above for a partial explanation).
David Hallwood
147
Posted 01/01/2019 at 16:24:12
This is the problem with a high press pass, pass, pass, approach. You get ruthlessly exposed when the team isn't working at 100%, and everyone looked slow and leggy and obviously unable to carry out the manager's instructions.
However, this is where good teams get clever; the overview of the 70s-80s RS team and the Mancs is that they played exciting attacking football — but only 80% of the season, and the other 20% they found ways of scraping a point or 3.
At present, we seem to be incapable of this. The last 2 defeats have been defensive lapses ruthlessly punished.

Jim Bennings
148
Posted 01/01/2019 at 16:27:36
George,
It's a thing that football fans believe every young player is going to be something extraordinary in four years time.
Just humour it because if you try to argue it then you just get hit with "What evidence have you got to say he won't be a legend "
Errr, I just respond with "What evidence have people got to suggest he WILL be a legend"?
They must have Calvert-Lewin 3D World glasses that make him appear on the pitch like Lionel Messi. I need to get a pair of these glasses.
Tony Abrahams
149
Posted 01/01/2019 at 16:28:54
Henry @52, I've been waiting for you to tell me how much you wanted to bet. Give us a shout when you are back here, and I will come an see you over that bet.
No use making to many excuses but Gana's workrate was fantastic, but obviously helped because he hasn't played as much football lately.
Same with Jonjoe, some say he's not good enough, but like Silva, I'd prefer to give him a chance.
Knee-jerk? Let's break the bank for Gomes, after he's played six games, just like I don't want to get rid of a manager, who hasn't really got a recognised centre-forward, after 20 games.
Clive Rogers
150
Posted 01/01/2019 at 16:29:05
John @138,
Calvert-Lewin was completely anonymous today and, although the service wasn't brilliant, the problem is that he is not a Premier League centre-forward and never will be.
He had a full 90 minutes today for no shots, no headers on goal, no forward passes. His movement in the box is dreadful and towards the end, he gave up trying to get on the end of crosses.
Tosun is not the answer, but at least got a couple of shots in when he came on.
George Cumiskey
151
Posted 01/01/2019 at 16:30:00
That post really made me laugh Jim, anything to alleviate the misery.
Darren Hind
152
Posted 01/01/2019 at 16:32:32
Are people really that stupid as to blame Calvert-Lewin for today's performance. Why single him out?
Contrary to foolish claims made the service he received was pathetic. Vardy was put clean through one-on-one When was the last time that happened to Calvert-Lewin? We've got senior players underperforming all over the park and yet, after every game, he is singled out by the same fools.
The funny thing about it, they were moaning like fuck when he wasn't selected last time.
Pat Kelly
153
Posted 01/01/2019 at 16:33:38
As for Silva's additions, Mina looking decidedly iffy as time goes by. Couldn't get a game today. Bernard hasn't got a shot in him. Richarlison play-acting rather than playing.
Ian Bennett
154
Posted 01/01/2019 at 16:34:23
Terrible performance again. No shots on target of note for the second game running.
Walcott's selection is just embarrassing – he just can't be in the starting XI with such limited input. Gomes looks knackered again. And despite improved performances, Keane's mistake is something we have seen too often in the past.
I felt sorry for Gueye and Zouma, as the rest where woeful.
John Williams
155
Posted 01/01/2019 at 16:34:40
A truly dispiriting performance against an organised but distinctly average Leicester team. After one of the worst halves of football I've seen, Everton descended into a shambles in the second half.
This was as bad as anything served up over the past 4 years. I thought all bar Zouma, Gana and Kenny had awful games with Richarlison, Calvert-Lewin and of course Walcott really dreadful.
Our results and performances over the past month have been those of a relegation side. I did believe that Silva, like any new manager, should be given time and patience but I think we should be really concerned that his Everton career is starting to follow a familiar trajectory seen at Hull and Watford – initial promise and improved performances tailing off into winless runs with some heavy defeats.
From what we've seen so far in terms of team selections, substitutions, tactics and team motivation, Silva doesn't look like a top Premier League manager. As the umpteenth free-kick and corner was placed unerringly on the head of a Leicester player, as passes went everywhere except to a blue shirt, and the paucity of the attacking play, one had to ask: Where is the evidence of Silva's much-vaunted coaching skills???
If Brands statement about little or no transfer activity this window is correct then I can't see where we go from here. The team is not good enough, the manager and coaches are not good enough.
Clive Rogers
156
Posted 01/01/2019 at 16:35:17
Darren, it doesn't happen to Calvert-Lewin as he never makes the right runs or is in the right place.
He has made over 60 appearances and is 22 in March. How long should we wait? He is not going to make it.
Tony Abrahams
157
Posted 01/01/2019 at 16:35:35
Paul @135, did you exclude Zouma because he's only a loan player? I thought he was deffo our best player today.
John Keating
158
Posted 01/01/2019 at 16:35:42
Jim 144,
I haven't seen the tv coverage of the game so can't be 100%.
I seem to remember one great ball across the 6-yard box by Bernard. You seem to think that was the opportunity that Calvert-Lewin should have made a name for himself. Maybe you're right maybe he should have been on the end of it.
Thing is for the other 89 minutes Calvert-Lewin got piss all service plus from what I can remember – might be wrong – Calvert-Lewin was the only player near that cross. Where were the others, Richarlison, midfield runners?
Like so many games last season, the youngsters were the only bright spots in another abysmal exhibition. Kenny and Calvert-Lewin at least put in a shift, how many others can truthfully say the same?
Dave Williams
159
Posted 01/01/2019 at 16:35:50
Walcott apart I agreed with the starting team but my goodness what a dire display!
We are failing in the most basic move in football- pass the ball to your own player, control it then move it forward to your own player. Even our better players like Gomes, Sigurdsson and Bernard are constantly missing their passes and even kicking the ball out of play. I'm sorry Marco but this is not due to fatigue, it is rock bottom basics and we are failing in our attempts to do them properly.
Okay, Gomes does look jaded to the extent that I would think very carefully about lashing out a huge fee on him after so few games. Walcott must be dropped. Sigurdsson is not someone who can rouse a team from playing badly but looks good when the rest of the midfield plays well – I still have doubts about him and his set pieces are awful.
I thought Kenny had a good game and with someone other than Walcott ahead of him he would be better still. Gana and Zouma were decent and I thought Keane was doing fine until his error for the goal.
Having booked my West Country Blues coach ticket for Saturday, I am now wondering what I have let myself in for. A good walk with the dog has caused me to ponder on Baines in midfield. We seem to be trying to play short and sharp passes and maybe it is too quick and that is why our passing fails to reach the right man.
Baines is probably the best passer of the ball at the club in terms of short and sharp and maybe he would be worth a try against Lincoln either wide left or on the left of the middle three? On the one hand, I fear a much changed selection and an exit from the cup but on the other hand we will be dumped out anyway if we play today's team playing the same way.
I wanted Arteta as manager with Royle alongside him but will stick with Silva for now. As others have posted, he has a few games coming up which are winnable – lose those and we then have home games against five of the top six. His fate will surely depend on those winnable games.
And for those slagging off Calvert-Lewin yet again, Ronaldo would struggle to look good in that team today. The lad had zero support, Richarlison did sod all throughout the game and Calvert-Lewin needs help, not criticism. All game he had two men tight to him with no movement from midfield or wide men to create some space. Give the kid a chance.
Jay Wood
[BRZ]
160
Posted 01/01/2019 at 16:35:57
I like John Pierce's opening line to his post @ 100:
'Silva is now overdrawn with me, his line of credit is under review.'
It's astonishing to think that as recently as 2 December – with the packed fixture list, just 7 fixtures ago – right up until the 96th minute of the game at Anfield that day, there was a majority 'good feel' factor among supporters. Even post-match, there was positivity about how well we played that day, and in previous games.
Contrary to the claims of some, we were looking a decent team and taking on the elite clubs in their own backyard. The performances were good, even if the results were just falling short.
Since Pickford's gaff, the solid defence, the guile in midfield, the movement and potency of the attack that was evident before then, has fallen off a cliff. And the manager himself has been unable to arrest it.
If someone is appointed Everton manager, or signed as a player, they initially get my support – even Sam Allardyce! What alternative do I have as a mere supporter who wants his team to win every game in great style?
As expressed by many, I had my doubts about Silva – his record in the Premier League, the number of goals his team conceded and evidence that he struggled to turn things around when his team went on winless runs. But, once appointed, it was in my club's best interests that he did well and I got fully behind him.
Like John Pierce, once the team settled into a rhythm early season, Silva built up further good credit in my 'bank'. Sadly for me, like John, the dreadful December we have just endured has seen a lot of goodwill and credit towards Silva dwindle. Such is the way of the world.
IMO, it is still way, way too premature to call for a change of manager. But Silva's line of credit with the fans is already overdrawn for some, and close to being so for many more.
Having said that, Moshiri, with 5 managers to his name in 3 years, will also be looking at the ledger book and weighing up the credit and debit columns. He has already shown he is not shy in pulling the trigger on a manager.
As Stan @ 97 (correctly, in my view) observes, we have good players who were showing good form. His morose cry 'What the fuck is happening?' is one repeated by many an Everton fan, over many a year, not only now on Silva's watch.
It defies logic that for nearly 3 decades now, with a constant change of personnel, of both managers and players in those years, every time you think Everton is on the brink of 'cracking it', the inverse happens: we crack.
It doesn't make sense that there is something inherently wrong at Everton that it permeates the team and manager, whoever is in situ, in whatever era. But it does appear to be the case.
Everton. Barely half a day into 2019 and you've punctured my New Year already.
What a frustratingly enigmatic club we are.
Anthony Murphy
161
Posted 01/01/2019 at 16:36:07
Joe, unfortunately that's the level we've been reduced to – small victories here and there.
Calling our city centre store Everton 2, Shining blue lights on the Liver Building, calling ourselves 'the People's Club'.
What a fucking joke.
Mark Andrews
162
Posted 01/01/2019 at 16:38:18
Silva. Phenomenal Bob 2.0
Bug fixes; the developers have managed to cut out the over exuberant use of ridiculously positive adjectives but have made no progress whatsoever with defensive capabilities or midfield guile. Future bug fixes may include a striking option.
Guys, what did we expect? We took a manager that got relegated and had 10 good games with Watford and thought we'd sneaked Pep in through the back door.
Why do we always pick the wrong managerial option? This is truly dreadful fayre. The football is more attractive than fat Sam but we have fewer points.
"Give him time". To do what exactly? He seems bereft of ideas.
What a shambles; we're unwatchable.
Stephen Davies
163
Posted 01/01/2019 at 16:40:38
Phil #111,
There's a lot of truth in what you say. We lack players who want to win at all costs. That winning mentality cannot be bought by simply buying good players (but it does help); if they don't want to win every game, then you can have the spending power of a Man City but won't win anything.
A couple of talented leaders are definitely required who play and lead by example... nothing much will change otherwise.
George Cumiskey
164
Posted 01/01/2019 at 16:40:53
Darren, it was the fucking idiots who keep on moaning about him not getting picked who put him in the firing line. Nobody is blaming him alone for today's performance but it is patently obvious he's not a Premier League quality striker.
The worst case of using a scapegoat is poor Tom Davis who gets the blame for most defeats.
Roman Sidey
165
Posted 01/01/2019 at 16:43:33
John Keating, "Calvert-Lewin got absolutely no service whatsoever." I have to disagree with that. I counted at least half a dozen balls into him that he either miss-controlled, missed or entirely, or simply wasn't willing to move to the right place.
People on here saying that Silva isn't going to work out for us after six months in the job then saying Calvert-Lewin should be given plenty of time in the side to get better really confuse me. Are we a Championship club blooding young players or a club aiming to break into the top end of the Premier League? The only teams at the top of the league that blood young, untried strikers are ones with more experienced, reliable strikers already playing.
Pat Kelly, at the end of the match today, there was a look on Silva's face that could suggest that Brands has already told him what the situation is. I don't think it will happen this month, but Silva had the same look on his face a lot of managers do when they know they're on borrowed time.
Jim Bennings
166
Posted 01/01/2019 at 16:45:02
Darren,
I don't need reminding the last time Calvert-Lewin was put through one on one (Arsenal away) and he nearly killed himself deciding whether to shoot or pass.
He doesn't get put through regularly because he doesn't make runs forwards, just runs into the corner flags and then doesn't move to go in the box.
He doesn't ruffle defences enough for me, even a big yard dog like Deeney or Austin would get involved and ruffle defences. Maguire could have been puffing imaginary cigars, it was that easy for him today.
Calvert-Lewin is not the only one guilty of that, I'm blaming all our forwards because it's painfully shite to watch us going forwards at times, and it's not helped by substandard quality that we possess in those areas.
Silva and Brands didn't sign Richarlison last summer to be a striker so that baffles me they thought what we already had would be good enough.
I had reservations last summer about Tosun regardless of him getting five goals he lacked physical presence and was not and is not mobile enough.
It's over to the management to sort it.
Tony Abrahams
167
Posted 01/01/2019 at 16:51:01
Michael @106, I very rarely hear him making many excuses and that's why I'm prepared to give him more time.
We were poor today, so excuses mean nothing anyway, but I've been reading this thread backwards, and Kevin Dwyer is someone I tend to agree with, although I'll probably be in the minority.
Kieran Kinsella
168
Posted 01/01/2019 at 16:51:31
Aston Villa 2. We are in the same situation they were. One poor decision after another. Too much managerial turnover throwing good money after bad. Ditto Sunderland, Newcastle late 90s, Leeds.
The only glimmer of hope is Spurs who were like this for a long long time but finally turned it around without relegation and near bankruptcy.
Roman Sidey
169
Posted 01/01/2019 at 16:54:08
Darren Hind, I wouldn't blame today's result or performance on Calvert-Lewin, but as the 21-year-old charged with leading the line, I would love to see the young player dig in and try and show us why we should give him support. He doesn't do that. He stands up at the centre of the box and waits.
Everton are often undone by strikers at lower-end clubs (the likes of Deeney and Austin) because those players know their limitations and make up for them with effort and mongrel. Against any team outside the top 6, effort and mongrel are going to give a player a very good chance of succeeding.
David Connor
170
Posted 01/01/2019 at 16:55:06
13 points required to avoid relegation. Simple as that.
This expensively assembled squad is absolute dog shite. Even worse than last seasons if that's possible. Even Gomes looks like he is a Championship player at the moment and not worth buying.
This lot need dismantling ASAP. At least 10 players need moving on and 5 or 6 class players need bringing in. Same old shite from the same old shitty run club.
We are a bottom-half club for certain and, if Silva doesn't sort these useless fuckers out, they will get him the sack... That's a certainty. The man has 2 windows to sort the mess out or he will be gone this time next year.
These players need a good kick up the arse and be told if they want to be around next season they'd better start getting their act together our they will be sold to the highest bidder... If there are any takers, that is.
What a bunch of wankers we have representing our club. They stink.
Dave Abrahams
171
Posted 01/01/2019 at 16:55:37
Another game where you couldn't defend the tactics of the manager or the performance of the team. I didn't see any pattern, plan or style to that, second on the run, half-hearted performance by the majority of the team.
I thought Zouma had a good game, kept trying to get the team moving, looked like he was interested. He is the best centre-half on the books and he's not even our player!
Kenny came in and did a good job, one or two mistakes... inevitable after being out for over two months. Digne, another who keeps going and tries to get others involved in the game.
And finally Gana, who never stops running, tackling and intercepting pass after pass. We would be much worse without him but, I've got to say, his 8 or 9 rating slips to a 5 or 6 because of his atrocious passing and I'm sorry about that, but it's the truth.
As for the rest of the team, less said the better, except for Bernard – there is a very good player there but it's not coming off for him. Maybe his brain is too fast for some of the players? They don't anticipate some of his moves; playing like statues doesn't help them either.
Another very sorry day at Goodison Park. I'm getting to the point where I think someone has blown out the light at the end of the tunnel...
Tony Abrahams
172
Posted 01/01/2019 at 16:58:23
Karen Mason wrote a good piece which I generally agreed with, and Jim Bailey wrote another about us fans accepting mediocrity.
Well, Michael Keane has definitely improved, massive improvement in fact, but he's always going to be a middle-of-the-road defender, imo, and not because of his mistake today.
He was actually one of our better players up until that point, but teams look to isolate him for a reason: it's because he's too slow down the sides and even slower with a ball that's hit over the top.
Anthony Murphy
173
Posted 01/01/2019 at 16:58:53
Can't we recall Onyekuru from Galatasaray and give him a shot? He can't do any worse than what we've got surely. What about sticking Fraser Hornby on the bench and giving him a run out?
Not advocating that both of those mentioned would provide the answer long term, but if a striker is hard to come by in January, then why not? Worst that can happen is we revert back to what we have.
John Keating
174
Posted 01/01/2019 at 16:59:41
Roman 165,
Like I said I haven't seen the tv coverage of the game but when I say Calvert-Lewin got no service whatsoever in my mind it means at least a half chance.
Firing in balls to any centre-forward on the half-way line with his back to goal in my uneducated mind doesn't count as any sort of service.
Now if we are talking about half-decent crosses from either wing which gives him even a slight chance to get on the end of. Or, maybe even a bit of a through-ball like the one Vardy got to score then I would say that, in my opinion, is half-decent service.
Even the best strikers in the world d not score every chance they get. Thing is our inexperienced striker doesn't get hardly any chances.
Might be down to piss poor service and tactics rather than Calvert-Lewin being useless. Maybe??
Tony Abrahams
175
Posted 01/01/2019 at 17:02:31
I know what you mean, Dave, because at least if it was a bridge, we would be able to fuckin jump off it!
Ajay Gopal
176
Posted 01/01/2019 at 17:04:47
To summarise, it was a very poor performance from our front 3, Richarlison, Calvert-Lewin, Walcott, with Sigurdsson and Gomes also well below par. I don't know what the answer is, maybe give someone a chance from the academy like that Simms kid.
Kenny did okay, Keane's mistake was awful, but that is the thing, every single mistake of ours seems to be getting punished recently. The derby goal, the Spurs gift goal, today's mistake by Keane.
I think Silva should rotate the squad more – rest Coleman, Sigurdsson, Gomes, Digne, Keane, Walcott.
I agree – replacing Silva is not the solution at this point.
Kevin Dyer
177
Posted 01/01/2019 at 17:06:45
Eddie #141,
The problem with your argument is they are all Premier League teams, awash with TV cash and with no incentive to sell, except if a player is disgruntled or the offer is crazy. I'll break them down:
Rondon – definition of inconsistent. 29, no upside. Never scored 10 league goals for WBA. Managed 5 so far this season. Better than what we have? Dubious.
Mitrovic – better than anyone figured. Looked like his erratic persona would hold him back, hence why Newcastle offloaded him. Doing well this season, clearly better than anyone we've got. Maybe a target if Fulham go down. Would he settle well with us?
Arnautovic – one that eluded us (and better teams). Massive talent, easily good enough for an elite side but a difficult character, which has held him back. I'd have liked us to take a punt on him last season, although it could've been a horrible bust (actually I'm sure Koeman and /or Sam would've wound him up). Not obviously a striker until last season. Now 29. No way West Ham would sell him anyway.
Vardy – turned down Arsenal so why would he sign for us? may have a chance now as doesn't appear to enjoy playing for Puel. All about his pace and if we signed him in the summer he'd turn 33 halfway through. Definition of a short-term buy.
Wilson – notorious crock. Would pay through the nose for him too (Transfermarkt has him listed at £22.5m as I type so no doubt he'd cost at least £40m. Did I mention he was injury-prone?
Deeney – 13, 10, 5 and so far this season 3 goals. Starts most games. Ridiculous money when he was linked with team a couple of years ago for what is an honest battler and not a prolific forward. Also, 30. Upgrade?
Murray – late-bloomer that nobody thought could hack it at Premier League level. Took him until last season to put up good numbers (12 goals). Has 8 this season. Is 35 so last hurrah. When would we have bought him exactly?

Justin Harris
178
Posted 01/01/2019 at 17:10:19
Hunger and desire is a lot of what we are missing at the moment. Is it any coincidence that a lot of the teams directly above us contain players who have come up from the Championship and have that hunger to prove themselves?
I remember a few good championship players we signed ie Jagielka, Lescott etc and – whilst I'm not saying we shouldn't be aiming higher than this – I'm sick of us spending big money and high wages on bang average lower Premier League players who seem content to go through the motions and pick up their golden pay cheque every week!
Sorry for the rant but that display today has really made me mad!!!
Rob Dolby
179
Posted 01/01/2019 at 17:14:36
#119 spot on.
2 incidents today highlighted the fact that we don't have any team spirit or fighting instinct.
Evans leaving one on Richarlison. Not one player confronted Evans or gave the impression they cared less.
Vardy shouldered Zouma into the advertising at the street end. Again nobody backing their team mate up or even looking arsed.
The old saying about "It's not the size of the man in the fight, but the size of the fight in the man" applies to the entire team.
This squad are all good footballers, regardless of how limited we all feel they are. If you don't have the desire to win a game, tackle, score a goal regardless of ability, you will get beaten in this league. Give me attitude over ability all day long.
It's down to the coaches to spot this and rectify. Silva has put the noose around his own neck this Christmas. Without a change of attitude on the pitch, he could be gone by the end of the season.
Tony Everan
180
Posted 01/01/2019 at 17:16:21
All the shits...
Shit passing, shit crossing, shit control, shit tempo, shit closing down, shit concentration, shit dribbling, shit composure, shit heading, shit teamwork, shit vocal motivation, shit hunger, shit desire, shit defending, shit midfield, and shit attack.
One of the very few Everton players who was not shit was Zouma and guess what, he's not an Everton player.
I expect better; since the Divok Origi goal we have become a nonsense outfit. A bunch of clowns. Newcastle, Watford, Tottenham, Leicester at home have been very very poor, Brighton meek and ineffective... I am putting Burnley down as an aberration due to the 1st-minute goal. The train is definitely off the rails.
Gomes looks like his mind is elsewhere... has his agent lined him up with Juve or Inter already? His game has collapsed.
We need to get a grip of it right now, what we are seeing is unacceptable.
Eddie Dunn
181
Posted 01/01/2019 at 17:17:41
The reason Calvert-Lewin found it tough is that Leicester always sat deep, with bodies in the space. Vardy got his predictable goal on the break.
The crosses were provided, time and again, but Calvert-Lewin failed to outjump his markers. Him and Sigurdsson got in each others way a couple of times and Richarlison was static (when not rolling on the deck).
Not all down to Calvert-Lewin, who did put in a shift, but the team laboured again against a team defending deep. Not enough movement off the ball and too many passes overhit.
Sigurdsson was as culpable as any and Bernard brought on too late. I would have played him on the left and perhaps pushed Richarlison over to the centre or right, just to keep them guessing.
A poor quality game, a tired looking team bar Digne and Gana. Kenny did well, and if only his shot had gone top corner! It's going to be like this a lot more for the rest of this season.
Silva certainly will not and should not be sacked. What kind of message would this send out? He needs backing, which will help him control the players. At present, I fear he is losing his grip on them. He feels like he has to play Mina, Richarlison, and Walcott, despite obvious failings. Gomes is carrying a knock or is woefully unfit.
It is bad timing to have Lookman injured as Richarlison and Walcott need competition. I would play Bernard every time – the lad has such good feet and his cross should have provided the goal.
Dave Lynch
182
Posted 01/01/2019 at 17:18:27
Well, I'm totally numb.
I worked a 12-hour shift on a busy NHS ward last night, got up after 3 hours of kip to watch that!!!
I can't even get angry anymore, Calvert-Lewin has no desire nor the acumen to make a top striker and Silva has neither the acumen nor the intelligence to make a top manager.
Darren Hind
183
Posted 01/01/2019 at 17:18:31
George,
When you say "fucking idiots" are you referring to your Calvert-Lewin bashing partner, Jim Bennings? Because that is who I was referring to when I spoke about critics moaning he was left out last time.
You two are hardly the "hard-edged" critics you think you are. You don't give any thought to what you say — one whinge fits all.
Vardy was put clean through because one of our fucking lighthouse defenders let a ball bounce off him. That's not a luxury other defences are affording our strikers.
Why not moan about Sigurdsson's lack of combativeness? Why don't you mention Gomes walking around in a coma? Or the fact that our goalie and defenders seem to be taking it in turns to present goals on a plate for anyone who is prepared to take them?
Na, that's all academic... its all the fault of the young guy who may not be Aguero but who represents our only form of attack.
Breaking news: we know his shortcomings, but you two seem to be oblivious to that fact. And you two think you are in a position to come on here and call other posters idiots? Have a word with yourselves.
Brian Wilkinson
184
Posted 01/01/2019 at 17:20:19
Paul @135, belated happy birthday. I may not agree but I thought Zouma had a decent game. It was between him and Gana for the best Everton player on the pitch today, imho.
Chris Jenkins
185
Posted 01/01/2019 at 17:21:55
Peter @105- You are absolutely correct about hiring foreign mercenaries as players and their total lack of local and national loyalty.
However, I would also include Silva and Brands in the same category. The latter, whose credentials were totally over-hyped when were looking for a replacement for Steve Walsh, comes out with ludicrous statements about no signings needed in this transfer window and the former's record as a manager in the Premier league is pretty patchy, putting it politely. Only Everton would have appointed Silva and Martinez with relegation on their CVs.
Silva's had long enough particularly as it's getting more and more difficult to see where the next 13 points are likely to come from. Fire him now, appoint a sound, competent interim manager who can steady the ship and prevent us being dragged into a relegation tussle. During the remainder of the season, carefully examine potential candidates along with the performance of the interim manager and then make a decision.
Stan Schofield
186
Posted 01/01/2019 at 17:21:59
Up to the derby game, we had 22 points from 13 games, which is 1.69 points per game, which would have given us 64 points or thereabouts at the end of the season if that points average had been maintained.
Now, we have 27 points from 21 games, giving about 49 points on that new points average.
We played very well in the derby, probably shocking a lot of people. We played a high-intensity press, something we've been after for several years but which had eluded us in previous seasons. We did similar against Chelsea and Arsenal, but it was particularly pleasing against Liverpool, because it was probably our best derby performance in a very long time, something which many of us have wanted so much. Of course, that's why the end result was so heartbreaking and why the opponents couldn't believe their luck and behaved like they'd won the league.
On this basis, and given the precipitous drop in points averaging from 64 to 49 since the derby misfortune, I would be extremely reluctant to be calling for Silva's head, or questioning the ability of our players. Something has gone wrong that has undone the cohesion of the team, that has made playing matches akin to climbing a muddy slope instead of the high-intensity pressing and cohesion we had up to the end of the derby.
Whatever it is that has caused this, the problem does not lie with Silva, nor does it lie with individual players, none of whom are setting out to play worse than they were.
Some claim that Silva's tactics have been found out, and that's why we're now struggling. I don't buy that, it's simply not plausible. If it were the case, he would have been found out by the time of the Chelsea game, and the derby.
We might need a witch doctor or a psychiatrist, but what we don't need is another change of regime.
Clive Rogers
187
Posted 01/01/2019 at 17:23:08
Anthony, #173, no we can't. He hasn't got a work permit which is why he is on loan. Needs to play for Nigeria.
David Hallwood
188
Posted 01/01/2019 at 17:26:30
Let's take time as you do at this time of year to look back. At the moment Arsenal are 4-1 up, remember the game against them, where Peter Cech shared the MotM with Jon Moss? Okay, we got beat but we were done by a worldie and a goal about 3 yards offside.
So which Everton team will emerge in 2019? The one that matched the RS stride for stride, or the Christmas nightmare? If it's the latter, can we return it in the January sales?
Brian Wilkinson
189
Posted 01/01/2019 at 17:32:53
With all those crosses coming in today from Digne and Kenny, Steve Naismith sat in the main stand today watching, must have been wishing he was still here to challenge some of those crosses. He certainly would have been there for the ball across the box from Bernard, instead of scratching his arse like our forward line.
We need to get rid of Tosun, Calvert-Lewin, Niasse and bring in two strikers who can bloody challenge in the box and stick it in the back of the net.
David Connor
190
Posted 01/01/2019 at 17:35:25
Just listened to Silva's after match interview...
Is it me or does Silva spout more shite than Bobby Brown Shoes? Fucking unbelievable!!!
Paul Tran
191
Posted 01/01/2019 at 17:44:21
Silva is currently a worried-looking, downbeat man presiding over a worried-looking downbeat team.
Nothing like Martinez, he appears more Koemanesque to me. Uninspiring, inaudible, incoherent. He won't get the players' mojo back until he finds his.
Len Hawkins
192
Posted 01/01/2019 at 17:47:22
Although today is probably the worst day to smile as there is absolutely nothing to smile about as far as Everton are concerned, I have to admit a slight smirk has broken out on my boatrace.
"Sack Silva" seems to be the answer but just give a slight thought to the £20+millions Mr Mosh has forked out dispensing with the last 3 car crash managers do you think he is in the boardroom counting out another Lottery Win to pay Silva off.
I don't know what it is at Board, Manager, Player, Coach, Canteen Staff, Groundstaff level that suddenly turns decent players into a pile of shite that look like they've just walked out of a faraway jungle, seen other people, cars, planes and trains for the first time, and been thrown a football.
Obviously, if you can't eat it, shag it, or wear it, is kicking it the next stage? Apparently at Everton NO just put it on the pitch on a match day and let them get on with it as most of them look completely uncomfortable should the pill roll anywhere near them.
I think the only answer is a psychiatrist or hypnotist to get into their heads and explain the basics of football.
John Boon
193
Posted 01/01/2019 at 17:48:34
Re Jim Benning (148) and the need for glasses. After that display all Evertonians need glasses... Preferably those that can be filled to the top with the strongest Scotch possible.
Still "Happy New Year" to all the patient Evertonians. Do such beings still exist?
Will Mabon
194
Posted 01/01/2019 at 17:49:16
Brian, you're right about Naismith. His reading of play and his movement were excellent, his best attributes. So often he would appear in the space of his own five-yard circle with seemingly little effort. Alas, these abilities are mostly intuitive and not easily coached in.
Jim Bennings
195
Posted 01/01/2019 at 17:49:57
Darren,
Wind your neck in, or send me the rose-tinted glasses you have; either way, we'll get a bit of peace.
Everyone is entitled to an opinion. I'm not a fan of players that don't offer anything, regardless of age, position etc.
I don't rate Calvert-Lewin as a here-and-now performer and I don't think he can blame service because other strikers at least make it a hard afternoon for defenders by backing in, closing down, challenging for every header or loose ball – and that's how you lead by example from the front.
Calvert-Lewin is 21, soon to be 22, not 17.
It's not just him; the rest need to hang their heads in shame too regarding the lack of effort.
Gomes is either not fit (if so, then why the hell has Silva played him every game over this period???) or he's just starting to show his limitations, Schneiderlin-style.
As I say, collectively it was woeful today; same at Brighton and against Spurs, Man City, Watford, and Newcastle.
In fact, we could all blame Pickford if we want to share the criticism, for sticking the biggest pin ever in the balloon, at Anfield with that cock-up.
Sam Hoare
196
Posted 01/01/2019 at 17:50:33
Has a derby defeat ever had such a seemingly catastrophic effect on a team?! Extraordinary turnaround in form! Indicative of our total lack of resilience.
Also, is it pure coincidence that the only game we've won recently saw Richarlison dropped? Current lack of goals in the team is concerning. Always easy to big up whoever's out of the team. But I do think Lookman would add something, he scored and created goals in Germany.
Colin Glassar
197
Posted 01/01/2019 at 17:51:54
It looks like most of players buy into our secret motto "Mediocrus Aceptus". They wear that badge with pride.
Dan Parker
198
Posted 01/01/2019 at 17:54:09
I think the team realistically thought they had a shot at challenging the top six and after the derby they've just given up on the goal for another season.
Gerry Ring
199
Posted 01/01/2019 at 17:55:01
Doesn't appear to be any motivation or determination with our players. They don't seem to mind being beaten.
As for Walcott, sure why would he care? He hasn't had a good 30 minutes in the last 4 months but keeps being picked.
Coleman was the fall guy & while he hasn't being playing to his best, if he had put in the exact same performance as Kenny did today, he would have been lucky to get a 5 rating.
Marcus Taylor
200
Posted 01/01/2019 at 18:00:27
Stan #186,
There's one fatal flaw to your numbers. We can't play at home to the bottom 8 teams every other week, for the entire season.
People hide behind the fact that we've played 5 of the Top 6 away, but ignore uncomfortable truth that we've had all the so-called 'home bankers' – with the exception of Burnley.
Even for a side in 'transition' It's not unreasonable for fans to expect a higher points return that we've managed so far. The amount of points we've dropped at home against average/poor opposition is ridiculous – regardless of who the manager is.
The majority of the remaining home fixtures will be tough and a lot of the teams we have left to play away will be fighting for their lives towards the end of the season.
Time for Silva and the players to step-up, start performing and prove their worth. No more excuses.
Appendix:
We've taken 7 points from 12 games vs Top 12 teams (W:1 L:7 D:4)
...and 20 points from 9 games vs Bottom 8 teams (W:6 L:1 D:2)
Remaining Home games: Bournemouth, Wolves, Man City, Liverpool, Arsenal, Chelsea, Man Utd, Burnley.
Remaining Away games: Southampton, Huddersfield, Watford, Cardiff, Newcastle, West Ham, Fulham, Palace, Spurs.
John Keating
201
Posted 01/01/2019 at 18:02:44
Sam,
I think it's a bit sloppy implying we've gone a bit downhill since the derby defeat. I think a draw there would have been a good and fair result and without doubt, unlike most seasons we did compete and more than hold our own.
However, if you really look at the season since the opener at Wolves, can you really say we have totally controlled a game or played joined-up football that some seem to think we have been playing?
We have failed to see games out, play a controlled 90-plus minutes, dominate teams, overall been unlucky – though some will mention the Arsenal game.
What we have been is mystified by tactics, or none, team selections and set-ups, substitutions, fitness levels motivation and basic things like effort.
Somehow implying the derby was a turning point is as sad as the present excuses, such as transition period and tiredness.
Tom Bowers
202
Posted 01/01/2019 at 18:05:47
What a mess. They are an embarrassment to watch.
Silva has no clue how to motivate them after a defeat (or even a victory). They were useless after the shambolic late goal defeat at Anfield and, after beating a useless Burnley, show no intensity whatsoever in 2 games since.
What kind of manager's ploy has Jonjoe Kenny marking Maguire at a corner kick?
At this rate, it's freefall time to the basement as somehow Silva flounders and Brands says no money will be spent.
Who really gives a monkey's about a new stadium with these plonkers at the helm? The midfield is still a mess and the passing is woeful
Brian Harrison
203
Posted 01/01/2019 at 18:05:47
What has happened to the side who played in the derby? We quite rightly went into that game feeling optimistic, and bar for a stupid mistake by Pickford would have got a draw. Since then we haven't been the same team, I think Silva is struggling to decide what's the best formation or the best team.
I would suggest after the Lincoln game where, like it or not, he will use the fringe players, then he picks what he thinks is our best 11 and sticks to a set formation. Then maybe we will get back to being the side we were before the derby game.
I think Vardy underlined how important it is for sides to have a quality striker in the side. Today, he was feeding off scraps but, when the mistake came, he punished us. Our front 3 have been poor for weeks now, Richarlison has weighed in with goals but his general play has been pretty average. How Walcott is picked on a regular basis is a puzzle to me, mind his replacements haven't been that good either. I don't know whether Calvert-Lewin will make it but he sure isn't ready to lead the line at the moment, but he is better than Tosun who offers nothing.
I would think that, if we had Vardy as our main striker, his movement would help our midfield, and he certainly would have been on hand to tap in Bernard's cross late on. Any striker worth his salt would have put that chance away, yet our forwards just looked on as the very rare chance we created went begging.
I know some want Silva out but all that would do is send a message to every manager, if Everton come looking, then demand at least a 4-year contract as you will be gone in a season if you'rer not in the top 6. But, with a 4-year contract, you will walk away with between £10 and £15 million, just as Koeman and Martinez did – not forgetting the £6 million that Allardyce got. But that's not to say that Silva is bulletproof; we need to give him all of the next 2 seasons to see where we are.
Alan J Thompson
204
Posted 01/01/2019 at 18:08:03
Sam (#196); Sorry, I can't have Lookman, he's not one of this super-coaching manager's players.
Trevor Peers
205
Posted 01/01/2019 at 18:08:24
Good managers, let alone great ones, never allow their team to give away so many mis-placed passes. I counted 8 in the first 5 minutes of today's game and it continued throughout the whole game.
To my mind, there's no coming back for Silva from this series of abysmal performances, pathetic – Burnley excluded – and that was mainly because we scored in the first few minutes.
A few more defeats at home in the league, could see the end of him and who would be surprised. Why Moshiri appointed him will remain a mystery to most of us, given his awful record.
Another bad appointment could leave us rooted in the championship. Villa being the obvious example of years of Everton's type of bad mismanagement from owners with no idea of what is needed to provide stability, never mind success.
Michael Kenrick
206
Posted 01/01/2019 at 18:12:18
Anthony (#173),
Fraser Hornby has been out injured for the last three months.
Ellis Simms has been brilliant scoring goals for the U18s. But on stepping up occasionally to the U23s, he really hasn't delivered. I can't imagine could do any better than Calvert-Lewin.
Eddie Dunn
207
Posted 01/01/2019 at 18:16:36
Tom,
Kenny marking Maguire is down to zonal marking, mate!
Nuts!
John Keating
208
Posted 01/01/2019 at 18:23:20
Trevor,
I think Silva will be given another year. That'll see him and Brands get this coming transfer window plus the Summer.
If we are still seeing the same shit as we are so far this season, he'll be out, and quite rightly so. What we've been exposed to so far this season is for sure better than last but an improvement on that could have been obtained by Hibbo's dog.
What mystifies me more is something I brought up when Silva was appointed. Why was he given a 3-year deal?
We have been stung by Martinez, Koeman and Allardyce with long-term contracts and in comes the relatively unknown and unproven Silva with a 3-year deal.
A 2-years contract with a 1-year option I can understand. Not 3 though. Emery, a supposedly better and more known manager, only got a 2-year deal at Arsenal. We just seem to put ourselves in an awkward place with these contracts.
Neil Copeland
209
Posted 01/01/2019 at 18:25:02
Rob #179,
The challenge on Richarlison wasn't good but he doesn't help himself by going to ground every time an opposing player comes within 3 yards of him. Crying wolf too often and someone on the coaching staff needs to have a word with him.
Vardy to his credit, went straight to Zouma to check he was okay and several of our players did the same.
Brian Patrick
210
Posted 01/01/2019 at 18:25:40
Can someone please let me know at what stage of 'the project' are we?!
Sean Kelly
211
Posted 01/01/2019 at 18:26:40
Jesus, what a miserable place is Goodison Park at the moment. Over for the game today. Should have stayed at home and brought the dog for a walk.
I won't be back until the board get rid of Silva, Big Dunc, Billy and half of that squad.
Dave Abrahams
212
Posted 01/01/2019 at 18:28:02
Trevor (205), I was counting with you; nearly all of those dreadful passes happened without any pressure from the opposition.
As the game progressed, the passing never got any better from either side. I'm not interested in stats but it would be nice to know how many misplaced passes were made by both teams, could possibly go into the Guinness book of records, whatever they were it gives no credit to both teams and their managers, disgraceful, and this is supposedly the best league in the world.
Stan Schofield
213
Posted 01/01/2019 at 18:29:41
Marcus @200: I'm not sure that my use of numbers is flawed as you indicated. I did say that the 64 points would be the total IF the points average had been maintained.
Of course, none of us know what results will transpire, particularly in the Premier League in which there are many utterly 'unexpected' results. So we don't know what effect there would be in playing the remaining teams, or what the effect of home versus away will be.
All we can do is look at results and the details of particular games, and if we do attempt any extrapolation, surely doing so purely on the basis of ongoing results is the one that uses least assumptions?
But, whichever way you choose to look at it, the fall in our form has been dramatic. You don't even need to have seen the games to deduce that, all you need do is look at the general tone of comments on ToffeeWeb and the dramatic change in this tone over December.
Neil Copeland
214
Posted 01/01/2019 at 18:30:19
Brian, we are still planning so not really started yet. Perhaps stage 1 will be against Lincoln.
Raymond Fox
215
Posted 01/01/2019 at 18:36:34
To support this club is beyond frustrating. I was disappointed with last week's performance and embarrassed with this one.
Where the hell do we go from here? Another manager? I don't think so – we've tried that one before, I seem to remember.
The only solution I can come up with is pray for an owner that has much more money than Moshiri and is willing to spend it. Other than that, I'm clueless.
Marcus Taylor
216
Posted 01/01/2019 at 18:41:05
Stan #213
"But whichever way you choose to look at it, the fall in our form has been dramatic."
I agree with you 100% on that, Stan!
Brian Patrick
217
Posted 01/01/2019 at 18:42:23
I've never felt so completely confused by an Everton team; there has been some good football but it's always one in three, there is never any discernible progress.
Tony Abrahams
218
Posted 01/01/2019 at 18:44:02
All those mis-placed passes prove one thing to me, Dave, and that is that the Premier League is definitely not the best league in the world.
It's probably the most competitive, definitely the most physically demanding, and after 4 games in 10 or 11 days, then a lot of the players were on their knees.
Paul T, I think Silva has got a look on his face that says he knows some of the players in his squad will never be able to grasp what he wants off them out on the pitch.
You made a great point the other day, saying that, if the players can't adapt, then maybe them rather than the manager should be the ones to leave the club, and that's the stage I think we're at right now.
Neil Copeland
219
Posted 01/01/2019 at 18:46:13
The game against Lincoln is crucial. The FA Cup is our only realistic hope of getting something from this season. A win and decent cup win may bring back some of the confidence and self-belief.
I sincerely hope that Silva does not make wholesale changes, the team is desperate for any sort of win. If he does make lots of changes and we lose, it will really darken the mood.
Neil Copeland
220
Posted 01/01/2019 at 18:49:19
Tony #218, I agree, changing the manager is not answer.
Julian Exshaw
221
Posted 01/01/2019 at 18:50:20
I am as frustrated as everyone else after that but I don't necessarily dump all the blame on Marco Silva.
First of all, those accusing him of jibberish in his post-match interview, give him a break! He's still learning the language.
I would imagine Silva sent them out today with specific tactics in mind. Most of these tactics would probably have assumed that the players have the ability to pass the ball to each other with a degree of success. They didn't.
Tactics and plans also don't allow for individual mistakes, as we have seen today and throughout the season. Since Jagielka's sending off on the first day of the season, you can say with some justification that we have been unlucky. I admired the ballsy effort against Man City, Arsenal and the red shite. The derby defeat was a kick in the 'you know whats' and we haven't recovered.
In short, I am happy to stick with Marco while admitting he has work to do to fully convince me yet. On the other hand, the players have to take just as much of the responsibility for the results lately. Surely as a coach I can assume his players can pass!
And finally, the element of luck of which we deserve and need a bloody large slice. Seasons change on small moments, on flukes, on a moment of brilliance. Today sucked but let's keep going, trust in this new management for now and see where we are in May.
Joe Foster
222
Posted 01/01/2019 at 18:53:16
Hey, I get it – we don't need a striker. We need two.
Dermot Byrne
223
Posted 01/01/2019 at 18:54:29
I totally agree re drop in form. I was so hopeful re earlier play in the season. Why does this Blue curse happen? It is as if people arrive (eg, Gomes, Schneiderlin) and they become rubbish or at best play the Everton Way.
I don't blame Silva as the drop in form and style is too similar. There must be the influence of Moyes types (Ferguson et al) and that dewey-eyed prat still on board and that "People's Club" shite.
To any kid, regardless of family, you would have to have learning needs to support Everton. Sad but reality
And if you think we represent reality on TW... dream on! How many of us are under 40?
Look back and enjoy the sparse memories... We just were unlucky to be born with our faith.
Paul Tran
224
Posted 01/01/2019 at 18:56:01
There's a double-edge to my point though, Tony. If a manager comes in and wants the team to play a certain way, I think he should be allowed to do that and it should override everything.
The concern for me is that he's brought in several good players, presumably with a view to playing his way, and it's currently not happening.
Does he really know what his way is and can he get his message across?
Lennart Hylen
225
Posted 01/01/2019 at 18:56:09
The problem with Everton, as it has been for many many years, is that everything seems fragile. One bad result and everything falls to pieces. Then that season is written off as a disaster.
There is no stability. That has been lacking since the days of Howard Kendall as manager. It is always a nightmare supporting Everton.
How many days has this club marred for Evertonians? I do not think a new manager is the solution. There is something much deeper down that is wrong with this club.
John Keating
226
Posted 01/01/2019 at 18:59:21
Tony, you are right about players playing to the manager's tactics. The thing is, so far, we haven't really seen any sort of definitive tactics.
Also, if we do not have the players to do what the manager wants and requires, do you not think it might be an idea to modify those tactics, temporarily, to suit what the players can do?
Maybe in another couple of windows, Silva will be able to show us what his tactics are and what his players can do. Right now it seems everyone, including Silva, is confused.
Neil Copeland
227
Posted 01/01/2019 at 19:00:10
Dermot #223, I know we have little else to help us sleep at night but I think Everton spends its life looking back.
I'd still rather be unlucky with my faith than even contemplating inauguration to the other lot!
We need to look forward. Come on, Blues, ffs – give us some hope!
Gary Fenton
228
Posted 01/01/2019 at 19:12:08
Lennart (225), I agree something really is wrong at Everton; we can not be cursed with so much bad luck.
What is wrong? Why has the powers that be not found the problem and started to sort it out? We seem to stumble from problem to problem to more problems with no answers or solutions.
Someone please please help this great club of ours. I cannot take much more of this shit play... shit everything about Everton.
Geoff Lambert
229
Posted 01/01/2019 at 19:14:06
I think Dom Dom could get a hatfull on Saturday if he plays for the St John's Under-12s.
The guy is useless. He was in our half when most of the attacks started, can't win a challenge or trap the proverbial bag of cement.
And don't get me started on Walcott Why does he just run into a group of opposing players and lose the ball every time?
Rubbish today.
Graham Coldron
230
Posted 01/01/2019 at 19:14:23
How many of us thought when Wolves beat Spurs and Palace beat Man City "We couldn't do that"? Yet, on paper, we are better than those two teams. Silva has been seen today as being bemused as to why we were so shite today.
For some reason, we have a mental fragility that seems to affect the club every season on a regular basis. If that can get sorted, maybe we can move on.
Ralph Basnett
231
Posted 01/01/2019 at 19:15:04
At home, we change the weak right-back by putting him on the bench which gives us a goalkeeper, left-back, right-back, centre-half, defensive midfield, Tosun and Bernard – absolutely nothing to change the game.
Same names, nothing changes, for fooksake put at least one kid on the bench.
Bollox to this 'not being ready', none of the fuckin seasoned first teamers are.
Another shite display and I feel a lot worse to come.
Tudor Davies
232
Posted 01/01/2019 at 19:38:19
Why don't we blood a few youngsters on Saturday against Lincoln? If they have a good game, play them instead of this shower of shite.
Silva needs to give us some hope, if we're not going to sign anyone, otherwise what's the point.
Future managers – I like Eddie Howe, but his teams do concede a lot of goals, but so do we!
I'd like to gamble on a young, ambitious, manager from the lower division, because at the end of the day, which top class manager would come here! We haven't had one before.
Colin Malone
234
Posted 01/01/2019 at 19:41:55
Gylfi Sigurdsson has so much skill but is very very casual in his play. He's not a Number 10, in my opinion.
John McFarlane Snr
235
Posted 01/01/2019 at 19:43:23
Hi Tony [149] and Dave [171], I'm afraid I failed my latest fitness test, being unable to cover the 10-metre dash in less than 5minutes. As I regard both of you as fair-minded Evertonians, not prone to making knee-jerk decisions, and [by coincidence] tending to look at all things football, in a similar way to myself, I place great faith in your evaluation of the team's (and individuals') performances.
I feel that some supporters have been unfair in their quest to replace Marco Silva after half a season. You will recall that had Everton and Manchester United taken an early decision on their managers in the fairly recent past, then the achievements of both clubs may never have been realised.
I know that we all think we know a little bit about football, but that's just what it is, a little bit. I'm not sure that there are many ex-professional football managers who contribute to ToffeeWeb threads.
I believe that it's not worth the bother trying to change things I have no control over, that's not to say that I don't have the best interests of Everton Football Club in mind. I wish for every Blues fan to enjoy their association with Everton, just as much as I have in my lifetime.
Paul Smith
236
Posted 01/01/2019 at 19:47:10
Andy Hinchcliffe nailed it in commentary re zonal marking: "Zouma & Keane with free space to clear corners but if it's delivered to the back post, it's McGuire against Keeny."
Nuts!
Tony Abrahams
237
Posted 01/01/2019 at 19:52:56
I knew there would be more to it, Paul, because reading your posts it's obvious that you think about the game.
I see a team that is looking mentally tired, possibly more than it's physically tired even. I see some good players brought in but not enough back-up in the squad.
Gomes plays a few good games and he's the saviour but, because he raises the bar, then there is a reluctance to replace him, keep him refreshed until he adapts to the physical demands of this very testing period, which can become counter-active.
I think it would be a good idea to modify in the short-term, John, it goes without saying really, and I think this is what I'm reading off Silva in both body language and words right now.
Will he change? Now that we're back to playing mostly once a week, I'm not sure. It depends on how much belief he's really got in this squad because I'm sure he really believes in himself, and it also probably depends on if we sign a centre-forward during this window...
Joe McMahon
238
Posted 01/01/2019 at 19:53:08
Gary @228, my wife is convinced there is a Hex on Everton.
Now, after many years, I believe her.
Rob Dolby
239
Posted 01/01/2019 at 19:55:14
Neil, Maybe you are missing the point I am trying to make.
The lack of team spirit in not backing your mate up when he has been clobbered by the opposition is basic stuff.
Whether he dives or not, that lad is our best chance of winning football matches and his team mates can't be arsed even trying to back him up.
Centre-back gets fouled by the opposition striker. Centre-back's partner should at the next opportunity put one on the striker.
It's called backing up your team mates. You don't take one on you take the team on.
This current crop of players don't look arsed about each other, the results, or the performance.
Did anyone else spot our corner at the end of the first half where not one of our players went to get the ball off Schmeichel. No urgency, not arsed to even take a corner.
With 5 minutes to go, Pickford was taking his time taking a goal kick. Again a total lack of understanding the situation.
It looks to me that we have a squad of players who aren't arsed about winning football games, relying on Sigurdsson and Richarlison to do something.
Tony Abrahams
240
Posted 01/01/2019 at 20:01:57
I hope you can make it to the Lincoln game on Saturday, John Mc, and I wish you all the best for the New Year!
George Cumiskey
241
Posted 01/01/2019 at 20:04:48
Darren, read my old posts about Sigurdsson. I've said it before and I'll say it again: he's the worst £45 million ever spent in the history of the Premier League.
And to believe Calvert-Lewin is some kind of Harry Kane just waiting to emerge is mind boggling.
In my opinion, of course.
Sam Hoare
242
Posted 01/01/2019 at 20:06:45
John Keating @201 Not sure why it's sloppy to imply the derby was a turning point? It clearly was.
Coming into that game, we were sitting 6th with a pretty respectable 22 points from 13 matches. Since then, we've had 5 points from 8 matches. Looks like a pretty clear turnaround in form to me!
Sure, there are many factors at play but it seems a bit of a coincidence that such a galling last-minute defeat happened as this downhill slide began.
Alan McGuffog
243
Posted 01/01/2019 at 20:06:57
I may have sat through this movie before... help me out chaps.
A gutless clueless apathetic shower who wear the famous royal blue are pitted against a bunch of very fit motivated and hardworking lads currently top of Division 4 (old money).
What happens next?
George Cumiskey
244
Posted 01/01/2019 at 20:13:53
And Darren, you were the one who started calling people fools for daring to criticize Calvert-Lewin.
Neil Copeland
245
Posted 01/01/2019 at 20:16:31
Rob, I think your point overall is correct and I agree but didn't think the 2 incidents you highlighted initially were the best examples.
You got me thinking though and I seem to remember our players being much more supportive of each other earlier in the season. I can't think of any specific examples though.
The corner at the end of the first half and Pickford taking the goal kick showed a lack of desire to me also. It could also be down to a lack of focus or confidence with players too scared to express themselves.
Terry McLavey
246
Posted 01/01/2019 at 20:20:11
Waiting for Calvert-Lewin to mature is like waiting for Barkley to... it won't happen; maybe the odd glimpse of brilliance but that's it.
We are brilliant at selling off our best players to the top clubs and buying back second rate players past their sell-by dates. Why would they sell us players that were any use?
We used to have "winnable" games; I think those days are past. We get creamed by the top six and beaten by the teams around us.
It's always 'jam tomorrow' with this club; fine words... but the trouble is, I can't support anyone else.
As for a derby revenge? Pull the sofa away from the wall and put down some cushions for comfort for that one, or just watch through your fingers!
Don Alexander
247
Posted 01/01/2019 at 20:20:31
Lennart Hylen (#224) says,
"There is no stability. That has been lacking since the days of Howard Kendall as manager. It is always a nightmare supporting Everton. How many days has this club marred for Evertonians? I do not think a new manager is the solution. There is something much deeper down that is wrong with this club".
He's absolutely right as far as I'm concerned but do we fans and supporters choose to put up with it, or ponder whether the club has a "hex" over it, or just get real, as the fans of other top clubs do after a season or three of mediocrity, not our decade or three, in taking whoever's been in overall charge to task in such a way that he's finally reduced to buying his own fucking season ticket even if he boasts of being the club's greatest fan?
With respect, folks, our supine attitude towards the boardroom and chairman as fans and supporters has allowed the club to regress to the alarming extent it has over the past 30 years and I just don't understand why Moshiri doesn't just cleanse the club of the Everton losers at every level.
Then he might start seeing an upward trajectory in his investment and our non-monetary fortunes.
Andy Meighan
248
Posted 01/01/2019 at 20:24:16
The only player to come out of that game with any credit was Zouma. He was the only one who actually wanted the ball and ended up playing like a playmaker. Richarlison and Sigurdsson just hid like the pair of cowards they are.
Kenny and Gueye had good first halves but were anonymous in the second. We've got a squad of players that is riddled with mediocrity... bereft of pace, guile, creativity, heart, fight, passion – they possess none of those qualities whatsoever.
I keep reading on here that we've got good players Can someone please tell me who they are because all I'm seeing from where I sit is a crowd of very average footballers. I'll say this: if that whole squad was put up for sale tomorrow, not one club in the top 7 would bid for any of them.
And please don't anyone say Richarlison. A so-called winger who can't beat a man or cross a ball and goes down when anyone breathes on him. His antics are a fucking disgrace and have got no place at this club. Shocking!!!
Sigurdsson and Digne, who I keep hearing are cultured footballers (and what a joke that is) can't beat the first man with either of their deliveries.
I see a side that looks unfit who don't give a flying fuck about the fans and a side that's just going through the motions. If Lincoln's manager and his staff have watched that today, they'll be thinking "These are fucking shite; we can bully them" – and that's what they'll do.
At the moment, we don't look like we've got 13 points in us. I had them down to lose at Burnley and Brighton and draw today, so 2 points more than what I said. But the Burnley result was exactly what it was – a fluke!
I can take losing but losing when the players don't look like they care is another matter altogether. Their keeper never had a save to make all game – what a sad stat that is for a home side.
And to think there was some clown on here only a few games ago saying there's not much between us and Spurs... What do they watch??? Utterly laughable!!!
Eddie Dunn
249
Posted 01/01/2019 at 20:28:19
Rob and Neil – I also wondered why Pickford took so long to get the goal-kick taken when the seconds were ebbing away. Is it because he is just thick?
John McFarlane Snr
250
Posted 01/01/2019 at 20:32:15
Hi again, Tony [240] the Lincoln game's not possible, but I've pencilled in the FA Cup Final day, followed by a celebration night at the 'Midland'. I'm not sure which is the worst, the physical pain I'm enduring, or the mental pain inflicted on me by Everton.
When I was asked how Everton had shown an improvement, I answered "They now lose games more attractively" – a tongue-in-cheek remark, but unfortunately the account of today's game suggests that it's back to business as usual, but it's part of my life ruled by the doctrine, ''Everton – right or wrong''.
James Doran
251
Posted 01/01/2019 at 20:33:39
Don @ 247,
Would you remove Big Dunc from the First Team's Coaching Staff? I can't help but wonder how he has kept his role as a First Team Coach through several First Team Managers' sackings.
Paul Tran
252
Posted 01/01/2019 at 20:33:50
Mentally tired, or mentally weak, Tony? I suspect it's the former (plus injury) with Gomes. As for the others, I'm not sure.
When you're mentally weak, you look for reasons to pull out of things, you're less likely to go the extra mile, you expect things to go wrong, you're more risk-averse.
I'd say that applies to most of the team at the moment. Their body language is shouting it.
Silva's job is to find a way of guiding them out of it.
Justin Doone
253
Posted 01/01/2019 at 20:37:27
A loss is always bad but that was a terrible loss in terms of play, performance, team cohesion and general spirit from the squad and fans. We supporters are supposed to support our team through thick or thin but today the whole vibe was negative.
This is the tough part of the season when a run of wins or losses can make a huge difference in such a short space of time and we have failed.
Not scoring at home is simply not good enough, once again we missed the target with some decent chances. But what has cost us a point is another mistake. The goal keeper and central defender's keep over thinking it. They have all had a bad game, made a mistake that had led to a goal.
Silva needs to choose his best centre-back pair and stick with them a while but they are taking it in turns to look good one week, and sloppy the next, so it's a tough call.
I just hope Holgate enjoys his loan with plenty of game time because for me he and Zouma could possibly be the best pairing in a season or two.
Yes we need a striker but is also new looking for a top class goalkeeper. Pickford's main asset is distribution but it's been poor for several weeks now. Time to change so new can refocus.
Neil Copeland
254
Posted 01/01/2019 at 20:44:11
Eddie #249, ha ha, never considered that.
Darren Hind
255
Posted 01/01/2019 at 20:46:20
Jim Benning,
"Everyone is entitled to an opinion."
So what gives you and your Calvert-Lewin bashing partner the belief that you are in a position to call them "idiots" when they do?
Calvert-Lewin may not be top notch (you won't find a post from me saying he is) but you were bleating and whining when he was left out last time and now you are back to singling him out for the Benning pearls of wisdom.
Whining when he isn't picked and whining when he is... You're a little confused there, fella. Anyone would think you were whining for the sake of it.
Tony Abrahams
258
Posted 01/01/2019 at 20:46:40
The mentally weak are also making the manager look mentally tired Paul.
Silva has got loads of belief I'm sure. He's also got some very good players but not enough of them and this seems to be the biggest problem right now.
His he strong enough mentally? I personally think he his but the chips are down right now and this is definitely the time when you learn if people are good enough or not. So let's get ready to rumble; it is the best I'm hoping for right now.
Peter Gorman
259
Posted 01/01/2019 at 20:48:33
I would moan about ruddy Everton ruining my Christmas and New Year but, to be fair, they ruin most weekends so why should it be any different?
I think for all the early optimism that thank-god-he-ain't-Allardyce, the players are now playing for the future of their manager. The buck stops with him and if he can not get a tune out of this bunch of shitheels then he has to go.
I recall Man City being utterly ruthless when it came to dispensing of Eriksson and Hughes. But they didn't stop there. Both Mancini and Pellegrini had a win percentage of nearly 60% and a league title apiece but they were packed off for something better. That is how a club with ambitions operates.

Tony Abrahams
260
Posted 01/01/2019 at 20:49:03
Okay John, I will see you in The Midland on Sunday 19 May, "God willing!"
Dermot Byrne
261
Posted 01/01/2019 at 20:51:55
Boss "Marco Silva felt his players were 'too nervous and anxious'."
Happens all the time with all recent managers and often at Goodison Park.
Someone tell me why with clear specs.
Tony Abrahams
262
Posted 01/01/2019 at 20:55:00
Recent, Dermot? That just shows how much David Moyes had everyone kidded, and also why his team played so few really big games during his 11 years in charge.
Paul Tran
263
Posted 01/01/2019 at 20:55:09
Tony, I hope you're right. Currently the team is a reflection of their manager. I hope his demeanour is more positive at Finch Farm during the week. I'm expecting 'stories' to 'leak out' any day now.
Hopefully he'll dig deep, get them out of it and well be laughing about it very soon.
Bill Watson
264
Posted 01/01/2019 at 20:55:10
A truly awful, dreadful performance today, hard on the heels of a similar display at Brighton. Once again sloppy passing at the back gifted the opposition a goal but even with 30 minutes remaining we looked more likely to concede another than score, ourselves.
I'm all for giving young players time but how much time does Calvert-Lewin need? He's had around 60 games and is nearly 22. He just doesn't have that striker's instinct of being in the right place at the right time and this was clearly illustrated by his complete failure to anticipate Bernard's gift of a cross. I'm afraid he's never going to make a top six striker however much we all hoped he would.
Walcott's continued selection is baffling. He has good movement but the end product is never there and hasn't been all season. Some have suggested he's the reason Coleman has been off the pace all season but I don't buy that. Seamus has struggled in all aspects of his game despite always giving 100%. Benching him was long overdue.
Only Digne, Gueye, Zouma, Kenny and Bernard (for 20 minutes) came out of the game with a modicum of credit. The rest were woeful.
Which brings me to Silva's use of substitutes. It's usually too little, too late and often a case of desperately throwing on strikers in the last 20 minutes. Against Brighton, and again today, it was painfully obvious that at least one change needed making at half-time but he delayed and delayed until we, inevitably, went a goal down.
The Lincoln game now takes on a huge significance for us all – fans, players, management and the club. Failure to win will be catastrophic, not least financially. I hope Silva doesn't make too many changes because Lincoln won't be a pushover but I would like to see one of our young, free-scoring, strikers on the bench, either to give a run out to if we're comfortable or, as a last resort, if we're desperate (more likely).
Where do we go from here? Well, there's a lot of TWs a lot more tactically aware than I am so I'll pass that to them. Silva and his coaching staff certainly don't appear to have any answers! A half-decent striker may help as would some basic passing practice.
Next Tuesday's AGM should be interesting. At least Bramley-Moore Dock won't be the only issue raised!

Tom Bowers
265
Posted 01/01/2019 at 20:58:42
I think Pickford is just one of the whole squad who is showing a lack of confidence for whatever reason. People like Walcott, Sigurdsson, Coleman and Bernard are just not producing the kind of performances required to compete at this level.
To be honest, they were not that wonderful against Burnley despite the scoreline. They seemed to have responded well to the new gaffer early in the season and now have gone off the rails.
Gana and Gomes do not make a strong holding midfield pair and that was so evident again today. The link up with whomever is supposed to be the next link to the frontmen is very poor.
Gomes seems to be going backwards all of a sudden and doesn't seem to be 100% fit.
Perhaps a fully fit James McCarthy may improve things so maybe the cup-tie will be an opportunity for some others to stake a claim.
Len Hawkins
266
Posted 01/01/2019 at 20:58:56
Joe #238, Have Everton ever had a player called MacBeth who should have been renamed the Scottish Player? Or perhaps Kenwright told McCarthy to Break a Leg before his last league game?
If Everton were ever used on a Spot The Ball Coupon, there would have been thousands of hexes put on them.
James Doran
267
Posted 01/01/2019 at 20:59:23
Dermot @ 261,
I think our players might be having 'keep possession and build play up patiently from the back' drilled into their heads so repeatedly, that they have forgotten how to drive the ball forward at pace.
Dermot Byrne
268
Posted 01/01/2019 at 21:00:48
Tony... about the fear. Why?
Gavin Johnson
269
Posted 01/01/2019 at 21:07:54
Calvert-Lewin isn't the answer but he's the best we've got once you take Richarlison out of the equation.
Brands doesn't appear to like the Jan window so maybe the best we can hope for is a loan player, someone like Barbosa coming in as a replacement for the exiting Niasse. That also aligns itself with the 1 player in, 1 player out strategy Brands has spoken of. Personally I think that would be good and also realistic business. We won't splash crazy money out on a striker this winter.
But going back to Calvert-Lewin, his goals-to-mins stats have improved this season. He's not nearly as bad as some make out on this forum.
Geoffrey Williams
270
Posted 01/01/2019 at 21:08:52
There are a few on here who are so predictable and of course blame Calvert-Lewin for everything, such a shame for him that Tom Davies wasn't playing as he is the other whipping boy.
Richarlison and Walcott offer absolutely nothing to the team if they don't score. They continually lose possession of the ball, fail to track back at crucial times and disappear for large parts of the game.
I've yet to see Sigurdsson win a tackle or a header. What a shame Calvert-Lewin doesn't get the same breaks from the fans as these three do.
James Doran
271
Posted 01/01/2019 at 21:20:41
Geoffrey @ 270,
Of the players you name, only Richarlison has the class required to help our Team progress. He spends far too long with his arse to the pitch whinging; but that should be easy to coach out of him. Over to Marco Silva.
Joe McMahon
272
Posted 01/01/2019 at 21:23:10
Len @ 266, FFS man see the funny side. It is just bizarre that as soon as Everton get money they are even shiter then they already were. Millions spent and nowhere near a Champions League place. Are we not allowed to be baffled?
Paul Brown
273
Posted 01/01/2019 at 21:23:15
Eddie @249 — "Is Pickford just thick?" Have you heard him interviewed? That should answer your question; I have him down as a retard.
Someone on an earlier post said you need to have special needs to support Everton? I think by the end of this season I will be sectioned because of watching this shite.
I have said it before that we lack the basics in playing the game; you know... passing, controlling the ball, corners etc. I swear I see kids kicking it round a school yard better than these overpaid clowns.
At the end of the day, it's not rocket science or brain surgery... but football. These pricks all need pulling to one side. If I was Silva, I would make everyone of these bastards go in The Oak or The Brick right after the game for a proper wake-up call. Job would soon be sorted
James Doran
274
Posted 01/01/2019 at 21:25:05
Sigurdsson too...
Derek Taylor
275
Posted 01/01/2019 at 21:44:08
Sacking managers in the midst of a bad run is what happens at most football clubs and has always been so. Blowing £20M on severance of three or four of them is cheap compared with the money wasted on non-performing players and the cost of relegation when it finally happens. Ask Randy Lerner.
But by all means continue to keep faith in our latest chancer if you truly believe he has what it takes to keep Everton mid-table because that's what so many seem content with these days. Personally, I'd have a new manager every season if, like Chelsea, they kept us in the Euro Champions elite. Hand on heart, wouldn't most of us? Really?
Oh, damn it, I forgot. We are Evertonians and like to keep faith in no-hopers like the present incumbent. That's what we do. We're not like mere mortals – they support lesser clubs who merely win things.
Tony Everan
276
Posted 01/01/2019 at 21:47:24
Where is the leader on the pitch? The only player today who wanted to try to take the initiative was Kurt Zouma.
Everyone else is a bit shy and retiring; no leaders of men there. No on-pitch organisers or motivators. Who is there to give out orders and bollockings? No-one.
We have too many players who are of the passive and subservient type. It is just their personality. No leaders or Eye of the Tiger winners. We need one.
We look like a team of disparate entities, forced to work together. I can't feel the team spirit or willingness to fight together and improve together. It feels like a team of individuals with their own agenda always somewhere on their mind, rather than full focus on improving the clubs standing.
The only player who comes close to being captain material is Zouma... has a loanee ever been made Everton Captain?
Alan McGuffog
277
Posted 01/01/2019 at 22:23:19
Peter @259... And so did Everton once upon a time. Forgive me if I've got certain facts incorrect. The club was moribund in the 40s and most of the 50s. We even enjoyed three years in Division 2.
Johnny Carey was appointed and he began to assemble a decent looking team in the late 50s, bringing south the likes of Alex Young, Jimmy Gabriel and Tommy Ring. He was, seemingly, one hell of a nice bloke.
After finishing 5th in 1961 he got the arse and collar in the back of a taxi. Not good enough for Mr Moores.
Cue the arrival of the miserablist Catterick who introduced steel and a will to win. Hence the pretty wonderful 60s. Ruthless. And effective. Compare to 30 years of transition and mediocrity.
Forgive me if some of my points are incorrect. You get my point.
Stan Schofield
278
Posted 01/01/2019 at 22:25:12
John @201: It seems to be a simple fact that the derby was a turning point, a cliffs-edge one, firstly by comparing 22 points from 13 games with 5 points from 8 games, and secondly by comparing relatively coherent, entertaining, and high-pressing football that we showed up to and including the derby with the mess we've witnessed since.
It's as if, for the derby, EFC had said to us, right you Evertonians, we're going to play the best football against Liverpool that you've seen for a long-time, we're going to really rattle and shock them, show you what we're capable of achieving against the top teams, show the rest of the world that Everton is on the rise, that we've finally turned a corner, and that we're on our way back to the top.
But in the last minute of the game we're going to ruin all that by giving the opposition two extra points by making a daft mistake, and then, after the derby, we're going to mentally collapse and revert to being shite, just to piss you lot off and bring you back down to earth with a thud.
That's what it feels like.
Chris Jenkins
279
Posted 01/01/2019 at 22:38:24
I cannot understand why so many contributors are against David Moyes returning, even if only on an interim basis until the end of the season.
The evidence is indisputable in that he achieved far more than the current and two previous charlatans have managed.
With Moyes, we qualified for the Champions League. With the present incumbent we will be fortunate to avoid the Championship which is where we would have ended up with Koeman and Martinez if they hadn't been shown the door.
Silva is proving to be a disaster.
Jerome Shields
280
Posted 01/01/2019 at 22:51:33
Just like Crystal Palace showed the way in for Martinez, Newcastle showed the way in Silva's time. All the teams that have defeated Everton since then have followed the same set-up and tactics.
Silva has been totally exposed, but the signs have been there since the start of the season, and nothing has been done to address them. Things are beginning to snowball as a result.
Silva was the only candidate for the job; Brands had to start a week before his contract started so he could talk to Silva before he was selected. . . but the deal for a 3-year contract was already done.
Silva is the problem. A better manager would have got a better result from this squad, because he would have addressed these signs of weakness. Silva still doesn't know the signs.
Oliver Molloy
281
Posted 01/01/2019 at 22:55:03
Not one Evertonian can really be surprised at today's result. The truth is we are just very ordinary and have problems all over the pitch. The Burnley result, now that was a surprise.
No leader, or leaders on the pitch, Digne seems to be the only guy who shows any emotion when we lose. He must be wondering what the fuck has he got himself into!

Don Alexander
282
Posted 01/01/2019 at 23:01:39
James (#251), with respect it's not about fixating on pinpointing Ferguson, Unsworth, Ebbrell and the like as an individual cause/s of our consistent inadequacy in matches, it's a case of trying to eradicate a horrible miasma that has seemed to engulf every player who arrives at Finch Farm in the past few years, reducing just about all of them to being less than the sum of the parts we thought we'd bought, no matter who's in the manager's office.
That said, just about everyone in charge of Ferguson at every club he played for before us said his attitude stank, but then Kenwright employed him as a coach, devoid as he was of any qualifications! What a Chairman!
And yes, Ferguson's served since under several managers during which I've failed to spot any notable development in any forward we've ever had, Lukaku aside in terms of goals, but even he's shown himself to still be a serial shirker, a la Ferguson, by acknowledging that Eden Hazard's public bollocking of him as such in the World Cup was fully justified. Those now in charge at Man Utd seem to concur with Mourinho's opinion of him too.
Maybe, just maybe, the coaching staff there at Finch Farm throughout several managers are culpable of serial failure. Harsh as it may be I'd sack the lot and allow M&M to appoint those of their own choice. If any of them go on to another club and excel, we could always try to re-employ them couldn't we?
It'd be a helluva lot cheaper than Moshiri's futile expenditure to date, that's for sure.
Gavin Johnson
283
Posted 01/01/2019 at 23:11:17
On a different note from the much-mooted need for a centre-forward, we defo need to move Stekelenburg on and bring in a decent backup.
We're not going to get Jack Butland to play 2nd fiddle but there's Tom Heaton and Fraser Forster who aren't getting games at Burnley or Saints. Now these are good keepers who will challenge Pickford and keep his head on the ground.
David Thomas
284
Posted 01/01/2019 at 23:15:36
The last two games have been dreadful I don't think anyone can argue with that.
I don't honestly see what system, tactics ets we are trying to play it just looks like 11 strangers thrown on the pitch. To be honest, it's looked like that since the end of Martinez's first season.
I keep getting told we are in transition and the football's so much better to watch but I can't honestly see anything different – it just looks the same old crap to me.
We must surely have the worst strikers in the league: Tosun, Niasse and Calvert-Lewin shouldn't be anywhere near a supposedly half-decent Premier League team. The fact that Calvert-Lewin is starting games for us and that he is the best of our 3 options is, in my opinion, a disgrace.
Everton must be the only club who could be bang average with no money and continue to be bang average once they have spent a shed load of money.
The club is still just treading water, like it has done for years.
Phillip Warrington
285
Posted 01/01/2019 at 23:22:55
I think we are jumping on the "blame the manager" wagon me as well, but then I think "Hey all the past managers can't be all that bad". So there must be something else that is so rotten in the club that it affects everything around it.
Is it the fans no probably the most loyal fans around, is it the ground no ground has lots of atmosphere and history. Is it the owner well, question mark seems to be doing all the right things but thought he could buy success rather than build it.
Training facilities no Everton's up there with the best, talent coming through the youth teams and U/23 being questioned but plenty of English youth internationals who have reached semis and won youth World Cups.
So it only leaves the players who have been at the club for a long time, as new players seem to be good players at other clubs but come to Everton throw the towel in and forget how to play football.
Moyes was a good fit for Everton at the time because he was not very technical but a fighter and he took no crap, and his teams reflected that it's only when he tried to be the technical manager he stuffed up. Moyes and Brands would have been the perfect match, so to me, the only way to correct the present is to get rid of the old and start afresh.
That doesn't mean we just go out and buy new player after new player; first, we have to get rid of all the deadwood and that won't be easy given the wages they are on at the moment. It means to give the youth players extended runs and if we lose or play badly, don't panic and drop them after the first bad performance. After all, the current squad don't play that good football and lose quite often. Sure, this won't win us the Premier League but will keep us in the Premier League until we can offload underperforming players and build recruiting programs around the globe that will put us in a position financially. Hopefully by then, we will have a clear pattern as in how we want to play and only recruit players who fit that pattern.
Then finally, our Club theme song is lame compared to others; I wish it was like You'll Never Walk Alone. Sorry but it is one of the lamest around and does not inspire passion for the Everton badge. And last of all, it doesn't matter the style but Everton's home kit should be royal blue top, white shorts and white socks no matter what.
Neil Copeland
286
Posted 01/01/2019 at 23:31:39
Don #283, You raise a very good point, I have always found it to be a bit odd that has not happened with any of our recent managers.
I appreciate that Unsworth has done really well with U23s but none of those players ever seem ready for the premier league. Likewise with U18s, many seem to struggle when stepping up to the U23s. I don't care about winning Premier League 2 if the first team is performing well and would rather have coaches that will make this happen.
As many have said, what do many of them even contribute?
So, as you suggest perhaps we need a full clear out - regardless.
Liam Reilly
287
Posted 01/01/2019 at 23:35:03
Ate my Christmas Turkey with the same shit taste as my Roast on New Years Day.
Thank you Everton.
Mark Wilson
288
Posted 01/01/2019 at 00:05:15
A few days ago, there was a post about Marcel Brands suggesting it was unlikely anyone would arrive in the January window.
Around the same time, Sílva was saying much the same thing but adding a bit of what felt like uncomfortably pre-arranged anxst that the press keep asking him about his team badly needing a striker, which he tries to suggest is wrong.
In late December, the club issued its transport survey which I think many of us found a strange enquiry, and very negative, almost pursuing a scare strategy that was designed to condition us all that getting to and from the new stadium would be a bit of a nightmare and don't you dare try to get your car any nearer then Widnes.
As for disabled supporters who have rather less choice travel-wise, well, there were no requests for our contribution... which was disappointing.
Then today's there's another bit of stadium conditioning by a Keith Harris, managing expectations about the great capacity debate and somehow managing to turn a reasonable discussion into another strange and unsettling bit of commincations that hinted, at least for some of us, that 52,000 might actually be at the top end of the final figure
Before all this, the annual accounts and further evidence of the damage done by Mr Moshiri, Steve Walsh, Bill Kenwright and Ronald Koeman, Allardyce in just three transfer windows with the crazy Lukaku sale and no replacement and a handful of vastly over-priced players arriving on absurd salaries.
Put together, there's a feeling for me that the lack of squad building "net of sales" money is actually very real now, and the salary-to-income ratio is dangerously high. There's little money and a few concerns emerging around the stadium which are regularly denied but progress remains slow: a year behind schedule, and I'm guessing two years in reality.
What's this got to do with another pathetic, embarrassing defeat against a very average Leicester, despite their win vs Man City? Well, take a look at the contributors comments on that Brands thread. It's a stream of folk applauding Brands for his "reasonable" approach, his pragmatism, his good stewardship, his balanced take on things after a short time in post and the dreaded words "transition" and "patience" and that nonsense about "going in the right direction". It's how we are starting to respond as we are treated to something that's got bugger all to do with transition and development etc etc.
We are in another mess. I'm not shouting "Sack Silva" but those of you getting all high and mighty about any, and I mean any, criticism of Silva – his tactics, his approach and his players – should have a word with yourselves. With just one win at a relegation-threatened team aside, we are pretty much in free-fall. Losing to both strong and weak teams, giving poor lacklustre performances home and away. It's starting to stretch beyond a bit of a bad spell.
The squad feels like it should be much, much, better than this. I'm not suggesting top six and apparently that's something the manager now says he never said either. But we are chopping and changing, throwing away any chance in the League Cup, never seeming to know our best team and frankly looking tired, dispirited and lacking any sense of urgency that an entire season is just folding into a mediocre mess of almost disinterested failure... but it's okay because it's 'transition' and we were simply bound to be this dire – so shut up and accept it.
Not me, sorry. It's Year 1 of a new managerial team but, far from going in the right direction, I'm not seeing any genuine signs that we can become a team that wins games, regularly. I don't give a monkey's about the pretty football argument, as you will have gleaned from earlier posts. Winning is the only progress.
So all those carefully placed comments about "money" need to be read and seen for what they are, basic conditioning that we now must sell to buy... and anyway buying seems unlikely. Well if that's the case, then the rest of the season will see more of this rubbish in December or worse.
Struggling teams rarely attract the best quality players, even if we try to bribe them with OTT salaries. Teams whose momentum is backwards, not forwards, are not seen positively by those we need and the coming fire sale of returning loanees and those here now who are just painfully not good enough, well, it creates a picture of a struggling club... and – in our case – it's accurate.
At least in terms of the playing side, which these days comes a poor third to Bramley-Moore Dock and Everton in the Community where "focus" is concerned, I just don't see the urgency or the acceptability of the club meandering thru this season whilst the RS win the title and promoted clubs and others make more progress then we look to be doing.
Forget this proud boast of clearing all our bloody loans. The January risks are well known but we clearly need two, probably three positions vastly improved – and quickly. If we don't at least make a professional effort to put right the kind of toothless, gutless, leaderless showing we saw against Leicester, it will have huge repercussions at the end of this season and into the summer. Who wants to come to a club going in the wrong direction-?
Dave Bowen
289
Posted 02/01/2019 at 00:43:44
To think we spent £27 mil on Keane when we could have Johnny Evans for £3 mil. Seriously, I can accept losing (I'm a Blue after all). What I can't accept is M&M saying we won't be signing anyone in January.
Anybody watching today could see the difference between the teams. Vardy had one chance and took it, we don't have anyone worthy of the name striker.
However much it costs, we simply have to buy a 1-in-2 or 1-in-3 forward. Walcott, Bernard, Richarlison have 1 or 2 nice moments during a game before losing the ball. Calvert-Lewin is an impact sub only for his heading ability.
Tosun should just do one. I'd rather see Niasse & Mirallas in there. At least they try and make up for their obvious deficiencies by never giving up.
Roman Sidey
290
Posted 01/01/2019 at 00:44:20
Something that hasn't been pointed out that really was typical Everton showing, was the mistake Leicester made on the edge of the box in the second half. They simply passed the ball to an Everton player who I think passed straight to Tosun who was in space. What does he do? Stand still and shoot at the keeper. Not run it in a step or two and place a decent low shot that would have probably found the net.
Other teams, like Leicester today, take those mistakes and turn them into goals. And today was the third that I can think of recently where one of our players has had a ball bounce off his legs and lead to a goal – Coleman vs Watford, Gomes vs Brighton, and now Keane vs Leicester. It's just purely bad football to be so unaware of your surroundings and not be able to trap or kick at short notice.
Anthony Murphy
291
Posted 02/01/2019 at 00:44:48
Mark #288 I applaud your post. Not sure I agree with all of it, but it's passionate and thought provoking. Not read the Keith Harris stuff today, so will take a look. Nice one mate.
Paul Birmingham
292
Posted 02/01/2019 at 01:27:36
Joe @238, zackly, the same. And I must be even more deluded than ever.
It's the way it is, and being totally honest and no sugar coating, the first team and what goes with it needs, EFC, needs to take a real stoke of where it is, and plans to go, as the current lack of any genuine and sustained momentum, is eroding all potential and goodwill, elsewhere, in terms of business planning and sponsorship.
The club doesn't get paid for best supporters, if so, they'd be doing very well.
I'd like a 12-, 24-, 36-month plan, to be shown to the supporters, but there's sweet fuck-all chance of that.
Very, very tough times, and another season in purgatory and no sign of ever escaping as the market forces are playing against us, and won't be good business sense, bar a Lazarus turn around in the second half of this season, which won't happen.
It's Diablo, beyond words, the last 6 weeks, the basic fight has gone out the team and mentally I fear it's worse, and will end up soon where they don't want to be playing at Goodison Park, due to natural crowd reactions to very bad results.

Please, someone tell us that, in 12 months, it will be good.
Jack Cross
293
Posted 02/01/2019 at 01:47:30
I can't for the life of me understand why the majority on here expect instant success from a manager that as only been at the club for 7 months. All this rubbish about finishing in the top 4 or 6, it's just madness.
With additional players added in the summer to the quality we have, I can see just that a top 6 finish. But that's next season and not this season.
We don't need any panic buying in January; were not in a relegation battle. And calling for Marco's head it's bloody stupid. Give the man a chance.
Has for scoring goals, what about having Lookman on the right wing (when fit) and Richarlison back on the left with Walcott playing Number 9, similar to when he was at Arsenal.
You want to get one thing straight in your heads, Gomes, is on loan, he isn't ours and he might never be ours. And if the unthinkable happens, he'll have to be replaced. With someone his equal. So Marco's task is anything but plain sailing. So give the man a break.
John Pierce
294
Posted 02/01/2019 at 02:20:36
Silva's hit a buffer at the most important part of the season. Widen the lens out and our home schedule has a very difficult look about it. Wolves and Bournemouth require two wins, it's really that simple.
Fail to win both, confidence will undoubtedly be low and the pressure on those consecutive home games against the big sides will huge.
Our away record, even at the most modest of sides is horrible. So I can't just let Silva have another 2/3 windows blah blah blah. Progress and results need to go hand I hand. The very best coaches regenerate teams quickly and development is obvious.
This point of the season is pivotal and the short-term goals need results. Five league games until Man City. We really need to win 4 of them.
Pete Owen
295
Posted 02/01/2019 at 02:28:23
"??? How can we go from manager to manager and still seem to be the same?"
I don't believe the problem lies in which manager or which players we have; the problem 9 times out of 10 is the "support".
We must have the worst home crowd of any current premier team, year after year, nay, decade after decade when the inevitable lack of form bestows itself amongst the players, as is normal for most teams, our "support" sits, arms folded with the dour scowl of a scolded child!
"Support" is singing the songs whether we're winning or not; it's urging the team onward, being that 12th man. But no, oh no not for Everton, we moan and sulk and groan at the players, where are the chants? The songs?
Oh sure, they perk up when we score... not for long, mind, just a chorus or two... then back to that pathetic self-pity that plagues us.
The sooner we ALL realise this, the better, stop feeling sorry for (y)ourselves, and show your support!
Jesus — I hate this shit!
Peter Barry
296
Posted 02/01/2019 at 02:38:21
It all starts with the Manager and the coaches and quite clearly ours just aren't good enough.
John Malone
297
Posted 02/01/2019 at 07:02:04
Tell me this: How can an energetic, tenacious, and – I'll say it – quality midfielder not get into a side that is flat out on its feet!
David Thomas
298
Posted 02/01/2019 at 07:24:10
Don't worry, everyone!!! Pete's cracked it — it's not the players, coaches or managers who are at fault; it's us — the fans who turn up week-in & week-out at Goodison Park!!!
Tony Abrahams
299
Posted 02/01/2019 at 07:34:40
The fear Dermot? I'm really not sure. What's noticeable though is how quiet the crowd is. I sat by these two Brazilians yesterday, and one was complimenting the crowd, he said you can't hear yourself think in Brazil.
Back row of the Upper Gwladys Street, and one of them said how cozy/comfortable he felt, and I said it's too quiet because maybe we are not really used to this patient football?
Maybe the players can hear loads of individual shouts when they make a mistake? I don't know, but the only time the noise went up in the first half yesterday, was when the play got scrappy, but some people might say I'm talking shite, because the whole game was scrappy.
Tony Abrahams
300
Posted 02/01/2019 at 07:39:49
James @267, good point that. People have commented about Gueye's distribution for a long time now, and how much of a better footballer does he look when he just runs forward with the ball?
Gary Fenton
301
Posted 02/01/2019 at 07:46:29
Pete (295), I agree something is wrong deep down; how can we have all these managers and still play the same shit football well with a good game every few weeks to cheer us up then back to the utter crap?
Goodison Park is very quiet and I can understand why, the players do not seem to be bothered and have not been for years. Even when new players arrive they seem to get their mojo sucked out of them, not even able to pass to another blue shirt.
I have no idea what the answer is but someone must have an idea, a plan, a vision?
Please, Everton, get this sorted out, give us something to cheer about, just try hard, make us proud to be Evertonians again.
Tony Abrahams
302
Posted 02/01/2019 at 07:51:37
John Pierce, sometimes in sport, progress doesn't give instant results, although results are what most people look for.
I like your posts, John – intelligent and thoughtful – which is why I'm scratching my head when you say we have got to win 4 out of our next 5 games.
Derek Taylor
303
Posted 02/01/2019 at 08:38:52
Garry, I don't know whether you attend matches regularly but what the hell are you expecting those who do to get enthusiastic about? Pretty passing along the back? So-called strikers who shame the title? Or perhaps the goalkeeper who certainly keeps his colleagues on their toes ?
Don't get me started on the overpriced, overpaid and certainly overrated midfielders who ponce about to little effect.
The Goodison crowd has always been discerning and they can spot poseurs as soon as they appear. Cheer if you like but don't blame us payers for the sins of the obscenely paid!
Eddie Dunn
304
Posted 02/01/2019 at 09:38:40
It is clear what the problems are and the reasons for our malaise. Our players are simply not good enough.
Cast your minds back to preseason when Bernard, Gomes and Mina where not available. The squad was threadbare. These guys have contributed at times. Gomes started very well, but looks to be carrying a knock. The absence of another of his quality means that he has been played too much.
Bernard will, I am sure, become a valued addition when Silva can work out where to use him. To me, he looks hungry and I like his directness.
Mina is a colossus and is still adjusting to this league. We now have three big centrebacks – something we have been calling for since Distin left.
Digne is proving to be one of our best players. The system sometimes leaves him exposed upfield but he is proving to be a good buy.
Zouma has been solid and would be a fine signing. These guys have improved the squad but remember why they are here and not at Spurs, Liverpool, Chelsea etc. They are a step down from the very best.
Of the rest of our squad, I would include Sigurdsson, Keane and perhaps Walcott in the same category. The rest of the squad is very ordinary, and I include Pickford in that group.
Silva's additions are better than what we had so I feel he should be given time to bring in more faces. Whether he is getting the maximum out of the rest is another matter, but it would have been the same for any incoming manager.
What is clear as day is the difference between us and Leicester: Jamie Vardy. We need a striker.
Brent Stephens
305
Posted 02/01/2019 at 10:14:38
Eddie #304, for me, that's a very reasonable assessment, with the exception that I think Walcott has usually been poor. But, yes, a striker is vital.
Clive Rogers
306
Posted 02/01/2019 at 10:30:25
I would add to Eddie's 304 comment by saying we need some pace injected into midfield and the burden of goals should be spread apart from a new striker. Bernard, Gomes, Gana will be lucky to get 5 goals between them all season.
Derek Knox
307
Posted 02/01/2019 at 10:31:49
Eddie I can second Brent's praise of your candid assessment, having read all the other posts too, and all manner of reasons why we are not performing, but at the end of the day, it's all down to Silva and his coaching team.
Some have even blamed the quietness of the crowd at Goodison, while the continued loyal support is unquestionable in my estimation. The crowd are not going to applaud poor passing, and burst into song when witnessing a shambles on the pitch.
At the end of the day we all love Everton, but also they are, these days, more than ever in the entertainment business. If they are not entertaining, it hardly enthuses the crowd to be vociferous.
I can only hope and pray for an improvement, but I feel there has to be more commitment from certain players and the coaching staff for this to be visible on the field of play.
Tony Hogan
308
Posted 02/01/2019 at 10:46:07
Confucius! He say: "Pood player with most possession makes good team." "Poor player with most possession makes poor team"
No coincidence that our best performance this season was at Burnley without the headless chicken that is Idrissa Gana Gueye.
Strikes me that there is a general impression among Everton supporters that, if a player runs round a lot, that makes him a top player. Some obviously never saw the quality of Colin Harvey, Peter Reid etc who could actually pass accurately to a teammate.

Dave O\'Connell
310
Posted 02/01/2019 at 10:46:26
A very worrying time... this is as bad as it was with Walter Smith. Silva looks like a rabbit in the headlights: poor tactics and no shape at all.
Brands saying we won't be buying in January... well, he'd better think again or we will get sucked into a relegation battle.
Mark Jolly
311
Posted 02/01/2019 at 10:48:06
I posted on here 2 months ago and said we would be a top 8 side. We have a new team on and off the pitch and this takes time to bed in and we will lack consistency this season.
I am as pissed off as anyone at the results and the manner of football we have been playing lately, but to get rid of another manager at this stage is the season is crazy and just throwing money away as we have been doing year after year.
Let's wait to see where we finish in the Premier League come May and then decide whether we think M&M deserve another season! COYB
David Graves
312
Posted 02/01/2019 at 11:02:12
Tony, your mock indignation may be better directed to those that continually under perform rather than singling out a player who actually 'puts a shift in'.
Gueye was our best player and was probably the best player on the pitch. He certainly covers more ground than anybody else but he is hardly a "headless chicken".
He wins the ball back more than anyone else and makes more interceptions and was one of the only players (Zouma probably the other) who actually tried to speed the game up and get us going forward.
As for giving the ball away, consider the performances of Sigurdsson, Gomes, Keane and Walcott. You might be able to make a more informed comment then.
Bill Watson
314
Posted 02/01/2019 at 11:07:57
I've never been a fan of changing the side for cup matches because, apart from the usual early exit, it disrupts the continuity of the team re the Southampton game and devalues the competitions.
However, having had time to reflect on the shambolic displays vs Brighton and Leicester I reckon we're mentally and physically shattered. Gomes, in particular, looks drained and probably hasn't ever had to contend with such a demanding schedule in his career.
So, I've changed my mind on not making wholesale changes for the Lincoln game. The recognised first team should be given a complete break from all involvement for a few days and, hopefully, they'll come back refreshed.
We have plenty of players who should be able to step up and get us through; Baines, Mina, Jagielka, Kenny, McCarthy, Tosun, Schneiderlin, Niasse, Davies, Lookman (if fit) and Baningime.
James Doran
315
Posted 02/01/2019 at 11:39:32
Bill @ 314,
I'd like to see Gomes rested for McCarthy and Bernard played as 'the 10' behind Richarlison. I'd bring Mina in for Keane and would give the Portuguese kid a chance to prove his worth in goal.
Ray Smith
316
Posted 02/01/2019 at 11:49:45
I haven't posted for a while, and do not intend to try and point the finger at any individual as it's a team game.
However, I'm now going to contradict myself and ask how Walcott retains his place in the starting 11?
James Doran
317
Posted 02/01/2019 at 11:58:41
Ray @ 316,
I'd like to think it's purely because Lookman is unfit – but then Bernard started on the bench yesterday, before being switched to the right wing late on in the match.
Bill Watson
318
Posted 02/01/2019 at 12:07:12
Ray #316,
He's great in training?

Jay Wood
[BRZ]
319
Posted 02/01/2019 at 12:18:36
I side with David @ 312. I do wish some folk would evaluate the game and player performances on a game-by-game basis, rather than repeating erroneous stereotypes and inventing a stat based on an extremely tenuous coincidence, as Tony does @ 308.
Gueye was our best player yesterday, arguably the best player on the pitch, and he most certainly was not the one constantly hitting stray passes. I recall just a couple of misplaced passes by him early in the second half.
Other than that, not only was he busy doing his day job - time after time after time, getting in tackles, intercepting the ball, breaking up Leicester's attacking play - but he, more than any other Everton player on the park, looked to carry the ball forward and demonstrated an accurate and varied range of passing to the heart of Leicester's defence, switching play out to the flanks and little give-and-goes.
Whatever the current issues are with the side, Gueye comes way, way down the list of players or tactics in need of remedial treatment.
Peter Gorman
320
Posted 02/01/2019 at 12:34:13
I've seen Gueye have bad games but never a bad attitude.
Brent Stephens
321
Posted 02/01/2019 at 12:47:29
Tony #308 – you quote Confucius – well he was at the game yesterday and rated Gana our best player.
Brilliant attitude, top class tackler, covers a massive amount of ground, never runs out of steam. His passing can be poor but not yesterday.
Dave Abrahams
322
Posted 02/01/2019 at 13:01:02
Jay (319), good to see you praising and backing Gueye as you do so well in your next to last paragraph. I also like him a lot and the team would be a lot poorer without him.
However, his passing is dreadful: two in the first five minutes when not under pressure. He did make plenty of good passes as well but they were in-between many bad passes as well.
Maybe it is because he so busy, he doesn't give himself time to relax, make sure his passing goes to an Everton player, or possibly needs better players with him in midfield to take some of the pressure off him.
Ray Roche
323
Posted 02/01/2019 at 13:10:40
Dave,
Gana has looked a better player with Gomes next to him, despite the fact that Gomes has struggled the last couple of games. With Schneiderlin next to him, he looked a bit crowded; it looks like he has thrown the shackles off this season.
Jay Wood
[BRZ]
324
Posted 02/01/2019 at 13:13:04
Pete @ 295.
"I don't believe the problem lies in which manager or which players we have, the problem 9 times out of 10 is the "support".
Mind boggling.
Agreed, the intimidation a home crowd at Goodison could generate is seen and heard too infrequently these days. Silva could not these days pull a Howard Kendall trick, as Howie did away to Stoke in a tricky FA Cup tie, when he opened the dressing room windows to allow the fans singing to come through and said: "That's your team talk today. Don't let those fans down."
But we, the matchday support, are '9 times out of 10, the problem'..?
Tad exaggerated, don't you think?
Let me share a wee anecdote with you. I lived in Portugal for a good number of years and adopted Sporting as my team. I attended many a game in the company of one of my very best Portuguese mates, an avid Sporting fan, who I cursed for all time by converting him to making Everton his English team.
Under Moyes, the season we played both Benfica and Sporting in the Europa League, we attended both games in Lisbon. Now my mate is not a couch-potato fan: he attends games and knows his football.
At the Benfica game – tanked 5-0, heavily weakened side, Seamus making his debut at left back for the injured Baines – he was in awe of the sheer number of travelling Blues for a mid-week Europa League away game. We took more away fans to that game than most teams (outside of the top 3 in Portugal) get in total for their own home games.
He was in awe of the volume they generated during the game, even whilst getting tanked. He was in awe how they continued to defiantly sing the club's praises on leaving the stadium.
He summed it up thus:
"Isso é loucura!" – "This is madness!"
It was the Everton fans that night that cemented the link for him to be a Blue. He was electrified by the passion and devotion and sacrifice of those thousands upon thousands of travelling fans.
Whatever our current problems our, our match-attending support is not 90% responsible for them as you write, Pete.
One final end note. My Sporting-Everton mate and I had a long video chat New Year's Eve and inevitably football formed a large part of our conversation. He still decries the stupidity and maliciousness of the (now evicted) Sporting President for inventing a pretext for sacking Marco Silva. "This is so typical of Sporting. We always get rid of good people, and retain the bad".
My mate insists: Marco Silva is a great coach. Smart, intelligent, innovative and who, in particular, creates a great working environment at a club. He truly believes Silva can turn things around at Everton and that, in time, he will be mentioned in the same breath as the very best coaches in the world.
Hard to credit for some, I'm sure. But I'm just the messenger transmitting what another knowledgeable fan shared with me about our manager.
Jay Wood
[BRZ]
325
Posted 02/01/2019 at 13:16:47
Dave @ 322,
Not that you would want to, but play yesterday's game back and watch Gueye carefully.
He was head and shoulders our best and most innovative passer of the ball yesterday, besides also doing his 'day job' as I previously listed.
Marcus Taylor
326
Posted 02/01/2019 at 13:20:57
Tony #308,
"No coincidence that our best performance this season was at Burnley without the headless chicken that is Idrissa Gana Gueye."
And I'm sure it's a total coincidence that he was absent for our worst performance this season – the 6-2 thrashing by Spurs – where we were completely overrun in midfield without him...
Tony Abrahams
327
Posted 02/01/2019 at 13:35:01
Big statement off your sporting mate, Jim, but I've also seen some very good things watching Everton, this season.
I keep saying Silva, will eventually play three centre-backs, but that's because the biggest problems I see, is that his teams can be a bit too open defensively.
I know you don't agree with this, but let's leave this discussion for a better time, hopefully, because my head is hurting with Everton, and the kids are also still off school!
George Cumiskey
328
Posted 02/01/2019 at 13:48:18
How can Wolves be in talks to sign Tammy Abrahams for £18 million and we're not??? He is a real prospect and scores goals wherever he's been.
Beggars belief!!!
Jay Wood
[BRZ]
329
Posted 02/01/2019 at 13:57:28
Tony @ 327:
"Big statement off your sporting mate Jim..?
No wonder yer head hurts, Tony. That's one helluva hangover lad, two days on, mixing me up with (presumably) Jim Bennings!!!
ps: The solution for the noisy kids? Pack them off to grandad! I'm sure Dave would welcome them with open arms...
Dave Abrahams
330
Posted 02/01/2019 at 13:57:29
Jay (325), well I wouldn't disagree that Gueye was possibly our best passer yesterday for the simple reason there was hardly any competition; most of the players were as bad as each other, including the Leicester players.
I like to think I take notice of the games we play and the performances of the players. Gueye stands out in every game for his terrific work rate, interceptions, tackling and keeping Everton on the move but his poor passing is very noticeable as well.
Dave Abrahams
331
Posted 02/01/2019 at 14:03:00
George (328),
Our Tammy (joke) has scored quite a few goals, but not many in the Premier League.
Here's a better joke (to you): Calvert-Lewin will turn out to be a better player than Tammy.
Marcus Taylor
332
Posted 02/01/2019 at 14:06:33
2018-19 Premier League passing completion stats:
Gana: 83.8%
Gomes: 85.8%
Sigurdsson: 76.7%
Davies: 82.1%
Bernard: 76.8%
Walcott: 73.6%
Schneiderlin: 90%
Richarlison: 66.7%
Lookman: 84.4%
George Cumiskey
333
Posted 02/01/2019 at 14:07:41
Dave, if you mean Calvert-Lewin, please say you're having laugh to restore my faith in ToffeeWebbers.
Dave Abrahams
334
Posted 02/01/2019 at 14:08:04
Jay (329), yes, it's lovely to see the kids come... and it's lovely to see them go!!!
James Marshall
335
Posted 02/01/2019 at 14:14:12
It's funny, and generally down to perception but I've seen a fair bit of praise for Kenny yesterday, and some people laying in to Gana — if you look at the stats, Kenny was by far our worst passer of the ball, with a paltry 35% completion rate.
Rubbish basically, yet he gets all the "works hard, gets stuck in" type comments a lot of the time but is generally a pretty useless passer of the ball.
James Doran
336
Posted 02/01/2019 at 14:16:02
Marcus @ 332,
It would be interesting to see what the percentages were if you discounted backward passes made between a holding midfielder and a defender.
Marcus Taylor
338
Posted 02/01/2019 at 14:20:46
James #336,
I knew someone would say that. From some of the comments on here, you'd think he is incapable of even the simplest of passes – which is clearly not true. Yes, he gives the ball away sometimes but he's not the only Everton player guilty of that.
Brent Stephens
339
Posted 02/01/2019 at 14:23:04
James, it would also be interesting to see what the percentages would be if you discounted backward passes made between forwards and other forwards and midfielders.
Also interesting to compare, in those stats provided above, the "thrusting" Davies's percentages with Gana.
James Marshall
340
Posted 02/01/2019 at 14:24:50
Bottom line in my view = we need a decent striker.
Dave Abrahams
341
Posted 02/01/2019 at 14:34:12
James (335), never mind the stats, what did you think of Kenny's game yesterday? In your opinion, did he have a good, bad or indifferent game.
Jay Wood
[BRZ]
342
Posted 02/01/2019 at 15:00:33
No surprise to learn I side with you on Jonjoe, Dave, given the mutual respect we hold for the lad.
Along with Gueye, Zomoura and Sigurdson (for me), Kenny was one of the few players who came out of the game with some credit.
How so? Quite a novelty: a defender who timed and didn't flinch his tackles beautifully.
You can confirm maybe what I thought I heard on my dodgy internet feed: Kenny's crunching tackles were well appreciated by the match day crowd and represented some of the very few moments they had a chance to cheer and show some appreciation yesterday.
Don't know if you saw it from your seat in the second half, Dave, where a ball was played over the top into Kenny's full-back position as he was near the half-way line supporting the midfield when things broke down, and he chased back like a mad man, whilst waving to (Keane..?) to come across out of his centre back position to cover him.
The centre-back didn't oblige, but still Kenny got back and put in a clearly angry challenge on the Leicester player to knock the ball into touch. kenny turned to his fellow defenders and gave them a mouthful then shook his head in exasperation to himself.
I would humbly suggest it is that kind of 'Everton 1980s attitude' we need to see more of from our players, not less. That it came from one of our greenhorns rather shames the more seasoned pros around him, IMO.
Bill Watson
343
Posted 02/01/2019 at 15:21:25
Tony #308,
As someone who has been to every game, bar one, I can assure you that, although Burnley was our best score, it was far from our best performance.
Gueye has to be one of the first on the teamsheet as he has one of the best interception percentages in Europe. Yes, some passes do go astray... but most reach a blue shirt.
James Doran
344
Posted 02/01/2019 at 15:35:55
Marcus @ 338 and Brent @ 339,
Granted, we could interrogate the '2018/19 Percentage of Premier League Passes Completed' data that Marcus presented above all day and beyond.
I think Gana's will and work ethic are 'second to none' and I believe him to be best in the league at breaking down the opposition's play. If I was Marco Silva, he would be my deepest-sat midfielder 'week-in & week-out'.
IMO, the only reason why Gana isn't 'the' complete holding midfielder is that he doesn't hit the vast majority of his passes and shots with the correct weight plus trajectory plus direction.

Dave @ 341,
Jonjoe Kenny played better than I expected him to yesterday. IMO, the highlights of his game were his will and work ethic; the heavy, legal tackle he made in the first half (I'm not sure who it was on, but it was by the Family
Enclosure/Gwladys Street corner flag); and the run and shot which he hit the crossbar/post angle with (obviously, this was also in the first half).
IMO, he did enough yesterday to warrant a place in our starting 11 on Saturday. That said, I think that at his peak he will be a lot more 'peak Hibbert' than 'peak Coleman', and I would like to see us bring in a top right wing-back; either this month or in the Summer.
Tony Heron
345
Posted 02/01/2019 at 15:41:57
Jay @342.
I noticed also that when Keane miscontrolled the ball that led to Vardy's goal, instead of busting a gut to get back he ambled back towards the area. I like Keane and was pleased when we signed him but the attitude from him and some others is concerning.
Can you imagine Klopp accepting Keane's lack of effort after his mistake? He would be screaming at him. Yet Silva is as apathetic as his players. Attitudes have got to change.
Andy Meighan
346
Posted 02/01/2019 at 15:46:21
342??? — Sigurrdson came out the game with credit!!! That's why you were watching on a dodgy internet feed. He was awful once again. Everyone sitting around me said the same and in the pubs later. Chasing a game with 5 minutes to go and he's trying stupid little flicks.
Gueye and Kenny had very good first-halves but faded in the second. Maybe Kenny did suffer from lack of game time recently...
Zouma was the only one who had any fight in him and was actually willing the team forward. Not sure about Zoumora though.
Brent Stephens
348
Posted 02/01/2019 at 15:52:56
Tony #345 my feel is that it wasn't so much that Keane didn't want to catch up with Vardy, but that he couldn't - pace.
John Pierce
349
Posted 02/01/2019 at 15:53:57
JJK was no better yesterday than Seamus had been, nor was he particularly worse than the rest of the starting XI.
But Seamus has long enough to lose the shirt and I think barring any complete disasters JJK should be given the same chance.
His age gives him a higher ceiling to grow into, his crossing of which he did plenty yesterday is much better than Coleman's.
He did get shredded in transition yesterday, often when he and Walcott contrived to cough the ball up he was treading water.
You could also see the lack of game time catch up with him after 70minutes, he looked cooked. That match fitness should come.
He was perhaps unlucky to loose the shirt at the start of the season. However he has to improve quickly or Everton will pass him over for an import come the summer.
Tom Bowers
350
Posted 02/01/2019 at 15:55:41
The main criticism has to be that all the players who get on the field do not perform all the time on a consistent match basis.
Sure we can say Gylfi played well today and Gana was great in the last two games etc.etc. etc. but as a tight knit unit they are all at sea in most games and therein lies the problem.
Those playing in the middle third have to be dominant otherwise all other teams can and will take the game to you and as we have seen in many games always look dangerous against Everton from the word go.
Yes, individually, players that we have look good on paper but they have to perform every game.
It doesn't matter if you get eleven men behind the ball if they are not tackling well or at least closing down quickly.
I have noticed that Everton are very poor in that area compared to other teams.
What I don't see is Marco Silva showing enough passion or intensity on the touchline which worries me.
Alan J Thompson
351
Posted 02/01/2019 at 15:56:05
I don't know why Gomes was substituted yesterday but I got the impression that after the first 20 minutes looking for someone who wanted the ball, other than Digne, he gave up and looked for longer balls as nobody was coming short or moving and then when that seemed to stop working he almost gave up. The answer might be to find somebody as creative to play midfield with him.
James Marshall
352
Posted 02/01/2019 at 16:13:39
Dave @ 341
I thought Kenny was OK, but he's still very naive and gets flustered. Coleman hasn't been great recently in view and appears to have lost some pace (naturally), but Kenny doesn't convince me either.
To be honest, the whole team was pretty rubbish/slow/lifeless, although Bernard showed some guile and both Digne & Gana were decent. I still think they look like a team without a plan, and Silva is beginning to look a bit like Martinez stood there appearing to do bugger all when things are looking bad.
He has the look of a man who doesn't know what to do to fix things when the team is struggling, so does nothing (at say half time for example) and that bothers me. Throwing on loads of forward players isn't going to make a difference when they don't have a plan bar lumping it forward in hope.
If we go a goal down we're basically fucked.
Brian Harrison
353
Posted 02/01/2019 at 16:19:54
Jay 324
I think Pete 295 was wrong to blame the fans for whats happened over the last few years, but were I do agree with him is the atmosphere inside Goodison is the worst I can remember for a long time. I don't know why its become so quiet, but its not what it used to be thats for sure. I am just glad we no longer sell cushions to put on the seats as we did back in the 60s/70s otherwise I could see the ref having to take the players off the park in some games.
I have never thought booing players achieved anything, but as the saying goes they have paid their money so they can do what they like.
James Hughes
354
Posted 02/01/2019 at 16:26:08
Well Brian, that's real fans for you. You know the real fans who turn up and erm cheer the team on.
Dave Abrahams
355
Posted 02/01/2019 at 17:21:12
James (352), well James I've got to admit where Jonjoe is
concerned I'm biased in his favour, so I thought he
played very well, considering it was his first senior game for nearly three months, he also hasn't played a lot of football at any level in that time.
I don't think Seamus is finished at the top level yet, there is hopefully plenty left in his locker but I think
Kenny can make that position his own in the future. Jay
(342), yes I noticed him give Keane a few words, and I think when he eventually gets established in the first team he will give a few players a piece of his mind when they deserve it, a captain in the future or is my bias
showing itself again.
Sometimes the younger players have to take seconds
when it comes to incidents with the senior players, one young lad, not Jonjoe, took a smack ( punch) off a senior player after the recent Spurs game, it's been noticed,
think the older player will be going in January.
Allardyce was right on to two players when he first came, in a training session they made it obvious they
didn't like each other, Allardyce told them to sort it out,
the young player didn't take seconds in this case, it had been going on for a few months, the older player was told in plain English that he was the cause of the trouble, which he knew, and he could one in the future,
this kid was no mug, but he isn't a trouble causer either.
James Doran
356
Posted 02/01/2019 at 17:24:23
Dave @ 355,
You are clearly 'in the know'. Name names please.
Ian Hollingworth
357
Posted 02/01/2019 at 17:29:31
Yes come on Dave give us a bit more info please lol
James Doran
358
Posted 02/01/2019 at 17:33:44
Ian @ 357,
This is no joke, but it is a massive opportunity for Dave to gain 'ToffeeWeb-cred'.
Dave Abrahams
359
Posted 02/01/2019 at 17:45:04
The goings on I talked about were to illustrate what goes on at a lot of clubs, not just Everton, between the players, the first story I got told second hand, so can't verify it,but no doubt the story is doing the rounds now.
The second story came from someone I trust and it came from the horses mouth, it's a true one but the players names will stay with me, I'm afraid, I like a bit of
gossip myself but my shawl has just come off.
Brent Stephens
360
Posted 02/01/2019 at 17:47:44
Dave already has ToffeeWeb cred. But come on Dave!
Surname starts with D? Or the young lad Baines?!
Brent Stephens
361
Posted 02/01/2019 at 17:51:32
Dave did you used to sell flowers by Paddy's Market - dressed in that shawl?
James Doran
362
Posted 02/01/2019 at 17:52:50
It's alright Dave. My mate told me that Lee Bowyer and Kieron Dyer once fell out eith each-other; as did Gareth Batty and Graeme Le Saux. I can't verify either occurrence though.
James Doran
363
Posted 02/01/2019 at 17:54:26
with*
David Batty*
Dave Abrahams
364
Posted 02/01/2019 at 17:58:54
Brent ( 361-362),yes that's the very same shawl, and I
remember you taking hours to pick the cheapest bunch
of flowers for your beloved, no wonder she gives you a
crack over the head now and again.
Oh and keep guessing, even if you get it right I wouldn't
confirm it.
James Doran
365
Posted 02/01/2019 at 17:59:37
Baines 'young' Brent?
Colin Glassar
366
Posted 02/01/2019 at 18:05:57
24 hours later and still incredibly sad, and worried, about what is happening at Everton. I can't see a way out right now but thinking long and hard I think it would be a huge mistake to sack Silva right now.
We need some stability after going through four managers in recent years and sacking another manager will just make us look like an even bigger laughing stock. We aren't going to be relegated so let's see out the season and see where we are.
I think it would be suicidal to continue with this sacking sickness. If Brands and Moshiri chose Silva then they need to hold their nerve and stick with him till the summer at least.
Brent Stephens
367
Posted 02/01/2019 at 18:07:40
Baines is youth. The future.
James Doran
368
Posted 02/01/2019 at 18:09:12
What Colin said @ 366.
Jon Withey
369
Posted 02/01/2019 at 18:27:26
Did Brands choose Silva though ?
Anyway, sacking Silva is not ideal - he's had one transfer window and a pretty good one. The squad is ok, barring a striker and we can't seem to play 4 at the back without Gueye.
My faith in him was shaken after to Tottenham result however and the poor results are piling up now. I can't blame him entirely but honeymoon period is over now I reckon.
Sean Herbert
370
Posted 02/01/2019 at 18:40:03
Jim Benning@ various.Once again I note you are slating players such as DCL,yet not a word of criticism about the likes of Walcott(absolute garbage),Siggi(yet to show any consistent creativity) and do and so forth.Whilst I understand all the frustration at least call all the players who are underperforming,long list though it is!!
I have yet to see any of your posts criticise any senior players and the 2 mentioned are worse than most.Goals apart Siggi has been woeful,Walcott even worse.But lets just blame the kids eh?
Sean Herbert
371
Posted 02/01/2019 at 18:43:42
Jim Benning@ various.Once again I note you are slating players such as DCL,yet not a word of criticism about the likes of Walcott(absolute garbage),Siggi(yet to show any consistent creativity) and do and so forth.Whilst I understand all the frustration at least call all the players who are underperforming,long list though it is!!
I have yet to see any of your posts criticise any senior players and the 2 mentioned are worse than most.Goals apart Siggi has been woeful,Walcott even worse.But lets just blame the kids eh?
Simon Dalzell
372
Posted 02/01/2019 at 18:57:28
Brent 373. You're right. I have. I will learn from this.
Brent Stephens
373
Posted 02/01/2019 at 19:00:12
Simon
10. Give your head a wobble.
11. End of.
Kieran Kinsella
374
Posted 02/01/2019 at 19:12:53
Dave Abrahams
The cryptic "gone in January" makes me think the puncher was Niasse given we have been told he will be "gone in January" and that last summer he was apparently bullying Tom Davies. With that being said, I don't really care if they punch each other as long as they perform. When I was in college we had this pretty good six-a-side team and myself and this Liverpool fan used to go at it all the time, fighting etc. Eventually the team became pretty good and we got to the semi of a local tournament against some pretty high level opponents on the way . wait a minute, come to think of it, that was after the RS fan quit the team and started a rival side, so maybe there is something to be said for team morale and not punching each other. Hmmm
Alex Willett
375
Posted 02/01/2019 at 19:15:27
Can't wait for the AGM, a bit more vocabulary from the audience if you please
Brent Stephens
376
Posted 02/01/2019 at 19:16:28
Self-censoring, Simon?!
12. We're going backwards.
Jay Wood
[BRZ]
377
Posted 02/01/2019 at 19:20:23
Kieran @ 374, that scurrilous piece about Niasse was pretty much disproved at the time as pure invention.
Plus, there is lots of footage - in-game, at Finch Farm - where there appears to be genuine affection between Niasse and Davies.
Whoever Dave alludes to (assuming it is even true...), whilst one or the other may have been one of the two players involved, I very much doubt it was between each other. They look like real 'bros' and have done for some time.
Dave Abrahams
378
Posted 02/01/2019 at 19:24:09
Keiran,(374), keep guessin'.
I hope you wasn't bullying that poor Liverpool supporter, By the way are you still playing, best days ever playing football, even, in my case, if it was only in the street, literally played for hours and nobody ever seemed to get tired.
Simon Dalzell
379
Posted 02/01/2019 at 19:25:27
Possibly Brent, but, you did me a favour. I've now entered a period of self contemplation.
13. Please can we keep No.s 1-9 our little secret.
14. I hope there is no 15.
Tony Abrahams
380
Posted 02/01/2019 at 19:25:50
I don't know about selling flowers, but he used to do tarot-card readings in Southport fair, when he wore that shawl Brent.
Kieran Kinsella
381
Posted 02/01/2019 at 19:27:06
Jay 377
I remember. I was being somewhat tongue-in-cheek and assuming maybe Dave was regurgitating that particular piece of innuendo.
With regard to the youngsters though, I've seen Mason Holgate more than once with a look of annoyance on his face when he has say gone surging forward and his senior team mates have failed to drop back and cover. I think part of his problem is that he has a footballing brain, but some of his older team mates (e.g. Ashley Williams last year) don't. So he ends up looking like the fall guy for going out of position but he is operating on a different wavelength. He is kind of the opposite of Ross Barkley.
Kieran Kinsella
382
Posted 02/01/2019 at 19:29:27
Dave 378
I had to pack it up. Broke my heart but my knees gone. I think it is from years and years playing football 24/7 on concrete, parking lots, playgrounds, fields, anywhere a group of people were assembled and something resembling a "ball" (coke can, tennis ball, etc) was on hand.
Brent Stephens
383
Posted 02/01/2019 at 19:29:30
Simon
16. Who deleted 15?
Kieran Kinsella
384
Posted 02/01/2019 at 19:31:27
James Dorran 362
Funnily enough Graeme Le Saux was talking about that incident with David Batty during match commentary the other week. If I recall, the flair up happened during a CL game while they were at Blackburn. May have been against Rosenborg. I think the Bowyer/Dyer fight also happened during a match.
Simon Dalzell
385
Posted 02/01/2019 at 19:34:16
Brent. 18 Me! My contemplation hasn't worked yet. ( I deleted 17 also )
Brent Stephens
386
Posted 02/01/2019 at 19:38:56
Simon
Infinity minus 1 - thought I'd save us some time - your go.
Sam Hoare
387
Posted 02/01/2019 at 19:45:41
Interesting what Pochettino said about Spurs and Everton both suffering over the festive period as teams that cover alot of ground.
By mid November we had covered the third most ground in the league after Arsenal and Spurs. And had done so with relatively little rotation.
I do think we have struggled in the last month with not being able to exact the high press and successfully. Not that this is an excuse. It's up to the manager to work out other ways to play and win or to rotate the squad when tired. I do think though the results and performances may improve when we go back to one game a week. Let's see.
Dave Abrahams
388
Posted 02/01/2019 at 19:47:33
Kieran (382)yes I know how you feel, funny enough
Tony and my other son Michael started a fruit and veg
business a few years ago, they had to pack it in after a
few months, Michael said " I can't work with him, every
time he sees a game of football on the round he joins in and leaves me to carry on.
Simon Dalzell
389
Posted 02/01/2019 at 19:48:19
Brent. ~ Being a big Toy Story fan, this could drag out for some time.( If it hasn't already.) I have to set off for work at 5:30 a.m though. P.S. ~ represents infinity,in this case.
Phillip Warrington
390
Posted 02/01/2019 at 19:51:15
I used to have this coach who would say "What's the quickest way to get the ball to the other end and score?" The first thing people would say, "Get the ball to blah blah because he is the best player and can do this and do that."
The coach would say, "No, the quickest way is player A to pass the ball to player B, but player B has to be smart enough and want the ball to make space for player A.
Football is a very simple game when played right: make space, receive, pass and then make space you don't have to be the best players in the world to do that you just have to be committed.
Brent Stephens
391
Posted 02/01/2019 at 19:56:31
Simon, very good.
Simon Dalzell
392
Posted 02/01/2019 at 20:03:00
Brent. Thank you and good night.
Jason Wilkinson
393
Posted 02/01/2019 at 20:04:31
I have now read most of the posts (post match) and there seems to be a majority swell of opinion that a/ Silva is getting his set up wrong and b/ we are desperate to get a top notch striker into the starting 11.
Having had time to reflect on the game I have come to these conclusions. 1/ Andre Gomes is not that effective. 2/ Gana can pass more than 5yds. 3/ Gylfi does nothing once his planned pass has failed. 4/ DCL does too much work away from the penalty area. 5/ Zouma is pretty decent with the ball at his feet.
That's the players. As a team I thought we were unlucky to have not taken a lead in the first half. I would have taken Richarlison off at half time (for Tosun) gone two up top.
Leicester came with a well rehearsed plan. Defend, soak up what pressure comes and wait for the opportunity to hit us on the break. They did their bit perfectly.
I'm not so sure most of you would have been happy to see Tosun replace Richarlison though. As I started. Silva did get his tactics wrong in the second half. We do need a top class finisher in the Roy of the Rovers mould as none of our midfield/ wingers would have supplied enough even anything for them to finish.
Gana and Zouma two best on the pitch for me. The rest were either poor or below average.

Paul Birmingham
394
Posted 02/01/2019 at 20:19:59
Superb read this thread. I'm long in the tooth but In essence it's the analogy of yet another failed crop, which will most likely provide a far lower than expected yield by 05.2019.
This is the story of the last 25 years more or less, but the lack lustre and lethargic displays this season, with a massive lack of fight and care, ( was the first half v The RS) such a unique showing the team, have since forgot how to play?
It's the lack of care that to me, shows some basic traits in the tempo and psyche of this team and squad.
As an example surely JP is coached by MS to hit it the ball as far as he can clear it, with. More and more slices out, and to the opposition? I can't see it and it makes you wonder, who takes the training.
DCL works hard but in my view his positional sense to set pieces and crosses, is generally wrong and rarely can he get a run and attack the ball.
This thread has highlighted more or less the whole team,every player with flaws, but these two above in vital key positions, what will happen this season, if the team doesn't learn?
I can take the RS verbals but the increasing worry is EFC, will by results and form, become a lower, very low priority for any potential Stella transfers.
All views welcome on how the plight of EFC, can be fixed.
It's the, half way house this season, but Saturday surely, is a great chance to reignite the spark for this season, and then build game by game?
I hope that the strongest available team is picked for Lincoln, and lessons from past games is learnt, - Soton, Norwich etc.

I'm sure we've only won back to back games only v Palace and Leicester awayback in 10.2018. This shows that whilst there's potential which every player, and football squad has, but based on results this season and for so many seasons bar BBS first season, we've been very, unreliable and generally poor. The results don't lie, so what's wrong?
Clearly the end of the road age, for many of the current squad, and also many not being good enough, for EFC, but to replace these players is gonna one hell of a challenge.
Not the time to sack the manager, but results must improve now. The negative effects of this bad form will hamper all development of the club and that includes BMD and new players coming in.
Let's hope Marcel has found some diamonds and gold nuggets, via his scouting network, and his new chief coach will have his work cut out for sure.
Eddie Dunn
395
Posted 02/01/2019 at 20:43:41
Paul Birmingham, I have also found this thread a very interesting read.
On the upcoming Lincoln game I also agree that we need to play our strongest side. Too many times in recent years have managers played second string lads who have come up short, only to have to throw on the very players he had hoped to rest, and into a fevered finale much more likely to create injuries.
For me, get the best 11 on, get the game won and then pull off the three most weary, like for like.
A Cup defeat would only further erode what little confidence this lot have left.
Confidence is at a premium and this coach and his staff need to work on that as much as the fitness and skill.
Gerry Ring
396
Posted 02/01/2019 at 23:03:35
Interesting stuff coming out here.
Just 2 observations: I honestly believe that, if Seamus had put in the same performance as Kenny did against Leicester, he would still be slated.
Second comment relates to the rumour that McCarthy is going out on loan. If this is true it's a disgrace. I'd prefer to see Schneiderlin or Davies go. McCarthy is exactly what we need now, somebody who will give 100% and is fully committed.
Looking at Everton at present reminds me of one of those charity teams pulled together having retired years earlier. Everybody taking it easy and avoiding any potentially damaging tackles for both sides and not really concerned about losing.
Alan J Thompson
397
Posted 03/01/2019 at 05:09:57
What ever happened to the idea that the manager knows the players better than we do because he sees them every day at training? You might have thought he would have noticed some of them are knackered.
In the same way, he might have noticed Leicester at halftime moved another man over to cut off Digne getting forward as much as he was. It took until Bernard came on to switch to the other wing.
Dave Williams
398
Posted 03/01/2019 at 09:25:00
Bit unfair on Kenny there, Gerry. He put in a few very tasty tackles and Richarlison actually did too. I thought the effort was there but the quality was not.
Kenny along with Zouma were probably our best players on the day.
Tony Everan
399
Posted 03/01/2019 at 10:19:40
Everything boils down to not having a striker.
We need one. Getting in a quality center-forward would lift the entire first team and bring the belief flooding back. The sooner the better, and I am 100% sure Marco Silva is telling Brands to get a move on. As with all these things they seem to go down to the last day, but I really think we need to do some good business sooner.
Look at Lukaku last night, one glimmer of a half-chance and he is on it and the ball is in the net. He is a hungry goal hound, with many, many faults, but so what if the goal monster scores 25?
We need one, someone whose mere presence at center-forward makes Leicester, Brighton etc defenders say to themselves, "Oh Fuck! this twat will give us a nightmare today."
Think what Jags and Williams thought processes were when Diego Costa turns up. He gives a relentless display of desire to score, by whatever means, opposition defenders can't stand the sight of him. That quality inspires the players surrounding him to produce the goods.
At the moment it is a walk in the park for such average opposition defenders. That lack of stress gives confidence in abundance to the opposition and we get picked off from mistakes or set pieces.
Marcel and Marco will be fully aware of it and will be full on now 24/7 to get something done about it. Don't listen to the ''No players in January'' comment, they will be going hell for leather to get the right man in. More likely on an initial loan.
Eddie Dunn
400
Posted 03/01/2019 at 12:49:12
Costa will do for me, Tony.
Fran Mitchell
401
Posted 03/01/2019 at 13:19:40
The problem Tony, how many top class goal hounds are available for loan in January?
What you get in January are either: players who are not getting game time, or youngsters/lower division players.
I see that Tammy Abraham may well be available. He's young, but prolific in the Championship. Faltered at Swansea, but they were a terrible team. Worth a punt maybe. Would Calvert-Lewin be as prolific in the Championship?
George Cumiskey
402
Posted 03/01/2019 at 17:05:02
Fran @ 401 exactly what I've been saying, at 18 million got to be worth a punt. Top class prospect, in my humble opinion DCL will not become a premiership striker.
Gordon Crawford
403
Posted 03/01/2019 at 17:13:44
He already is a premiership striker. Not worth a punt in my eyes. We need someone proven at the highest level.
George Cumiskey
404
Posted 03/01/2019 at 19:30:19
Gordon, he plays in the Premier League, striker I'm afraid not.
Joe McMahon
405
Posted 03/01/2019 at 19:50:39
Gavin @283, for what it's worth I'd have liked us still to have Joel Robles. Pickford scares me every time a cross comes in the 6 yard box, and at free kicks.
Gordon Crawford
406
Posted 03/01/2019 at 21:48:15
George his position is striker and he plays in the premier league, that makes him a premier league striker.
But he might not turn out to be a good one.
Anyway I'll agree to disagree. :)
John Wells
407
Posted 03/01/2019 at 22:01:33
Rumours about McCathy going on loan, has anyone seen him in action lately? A fully fit Mac is badly needed.
Bill Watson
408
Posted 03/01/2019 at 22:21:09
Apologies if this is a bit off topic but I've had a total news and social media blackout since 8pm.
Just switched the laptop on and looked at the footy results through my fingers!!!
Neil Copeland
409
Posted 03/01/2019 at 22:26:17
John #407, ivread that rumour too and thought the same as you but then I thought that perhaps he is struggling and a loan may help him get match fit for next season. He had a terrible injury so may take some timeget and mat not return as the player he was. I sincerely hope I am wrong.
Add Your Comments
In order to post a comment, you need to be logged in as a registered user of the site.
Or Sign up as a ToffeeWeb Member — it's free, takes just a few minutes and will allow you to post your comments on articles and Talking Points submissions across the site.
© ToffeeWeb