Report
Blues had no answer to Saints' desire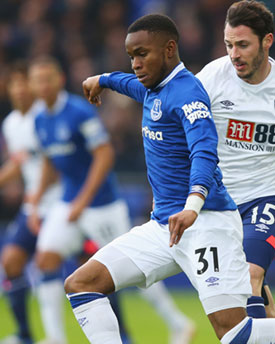 Ademola Lookman was facing his former Leipzig boss, Ralph Hasenhuttl
Southampton 2 - 1 Everton
Everton had no real answers to the greater energy, stronger desire, and a clearer focus on scoring goals by Southampton under their new manager, Ralph Hasenhuttl, raising ever more question-marks about Marco Silva's tactics and coaching.
Everton were unchanged with Calvert-Lewin on the bench and Richarlison continuing in his ineffective role as 'centre-forward'.
Everton last won at St Mary's in August 2015 thanks to two goals from Romelu Lukaku and one from Ross Barkley. But only three of the team that took to the field that day remain at Goodison Park: Seamus Coleman, Phil Jagielka and James McCarthy, with only Coleman playing today.
The Saints got things going, and pushed up into the Everton half without really threatening from a series of throw-ins ending in an Everton goal-kick. Everton's first foray won an early corner, Digne swinging it beyond everyone, Gana winning another from the other side, taken short by Lookman, then overhitting the cross.
Ward-Crowse almost got a shot off, winning a corner for the Saints that was defended away. Gueye made an important interception but Gomes could not control the ball and Everton tried to play it out painfully slowly from the back.
Everton were really struggling with the high pressing play from their hosts, denying them space on the flanks, the Blues' passing nowhere near good enough until Sigurdsson intercepted and Lookman had a chance to play himself into the area.
Lookman crossed in well but there was no shape to take advantage and a spell of really scrappy play saw Southampton break fast, winning a corner, a greater header form Ings was saved late but very well by Pickford.
Everton had to defend against Redmond, Zouma denying Ings at the far post. Saints were now pressing Everton into the middle third, and forcing long balls lofted to Richarlison which were not working. But Richarlison got in a central run and Bernard's cross that was perfect for Sigurdsson in space but he failed to shoot effectively.
A far far better move saw great passing ending with Lookman's fine shot blocked away for a corner as Everton finally showed signs of playing football, Richarlison at least staying on his feet, just, when losing the ball too easily in a fair challenge.
Everton worked the ball well enough until Sigurdsson lost it in what was a pretty even contest. Gomes passed straight to a Saints player and the ball came quickly to Ings whose fantastic shot Pickford was well positioned to palm away. It was a good spell for the home side, winning a corner. Richarlison broke on a great run only to touch the ball generously to a defender with Everton players in support, a really poor piece of play from the Brazilian.
Sigurdsson and Redmond had a long conversation with referee Scott as Target needed treatment. Redmond got free and sliced his shot off the side of the far post and behind, a real let-off, as Targett was replaced by Cedric after illegally trying to stop Lookman, who made nothing of it.
More good spells of passing by Everton in the forward third came nowhere near the Southampton area, whereas the hosts were able to deliver killer balls into the heart of the Everton area, where Zouma stood strong to deny the shot.
A dreadful giveaway allowed Ings to advance, Gomes clipping it off his feet and onto the face of Pickford's post. Everton very lucky not to go behind, after showing very little quality at times.
Bernard won a turnover but his high ball to Richarlison in the Soton area was too difficult to control. At the other end, Pickford saved off a shot from Valery. A couple of neat flicks from Bernard and Sigurdsson got Richarlison running down the left wing but there was no-one in the middle. A Digne cross went straight to untroubled keeper McCarthy.
Bernard got clattered and needed treatment. Gomes got an elbow in his face, and the half ended pretty lamely. Much better quality needed in the second...
Everton put the ball out from the kick-off. Everton did get forward and Lookman got bundled over in the area, but no real shouts.
Digne overlapped and crossed superbly, Sigurdsson's header to the near post forced a good save from McCarthy. A couple of corners followed but nothing came of them.
however, from nothing, Ward-Crowse took the ball off Gueye's toe, ran forward and fired a great shot that beat Pickford all hands down despite a desperate dive. What now, Mr Silva???
With their tails up, Saints pressed but Everton got forward with Bernard running free in space only for the lamest square-ball giveaway. Southampton won a corner that was cleared with Bernard again running forward and yet again just passing the ball to a defender rather than a Blue shirt. 'Pathetic' is not enough condemnation for such atrocious quality.
Sigurdsson delivered a cross in while Calvert-Lewin received extensive instruction from Marco Silva before replacing the hapless Gomes. But the shapeless formless painfully ineffective 'playing from the back' continued to break down soon after they crossed the half-way line, Sigurdsson the next one guilty of a direct turnover.
The ball switched to the Saints and immediately Redmond was in on goal, Digne helping the ball beat Pickford inside the post. 2-0. Utterly pathetic from Everton, with Tosun on for the awful Richarlison.
Handbags from Redmond and Gueye, Scott taking his time. Gueye telling Redmond he stamped on his foot. In fact, all Redmond did was to kick the ball away from under Gueye who was down on all fours. Not the sort of misplaced aggression we need to see from Gana Gueye. Yellow cards for each.
Lookman started a better spell that finally saw Everton apply some pressure but again Southampton broke fast with a long ball over the top to Redmond who completely messed up a great chance to make it 3 for the home side.
Calvert-Lewin was having as much success as Richarlison against Bednarek and Valery... ie, none at all. Walcott, the final throw of the dice, on for Bernard.
Lookman picked up the ball but ran straight into a defender. Redmond was seemingly always two yards behind the Everton defenders yet never offside. Everton continued to struggle, showing no sign that could threaten McCarthy's goal.
A half-hearted Everton attack switched the instant Lookman lost the ball again and the Saints scampered forward, winning a corner, powered just wide off the head of Stephens.
A simple pass to Walcott produced a ridiculous dummy step-over that went straight to the shadowing defender, the naivety simply shocking for Everton. Coleman showed how it should be done but it seemed to come high off the top of Calvert-Lewin's head under pressure from the keeper.
At the other end, Zouma went down, falling heavily on his lower back, as Long got in and fired at Pickford who saved this one well, the resulting corner needing some defending, Digne surprisingly getting a free-kick to relieve some late pressure.
In a bit of a scramble, Sigurdsson passed the ball into the net from the edge of the Southampton area. A brilliant opportunistic strike... too little, too late.
In the dying seconds, a better bit of play from Walcott, a cross from Digne was inches too high for Coleman at the far post. There was more action with Long getting a head injury but the game was effectively over despite 4 added minutes becoming 8 as the home side became desperate, Pickford up for a late corner that did not reach him as the whistle finally went on a really poor display from Everton.
Scorers: Ward-Prowse (50'), Digne (og: 64'); Sigurdsson (83')
Southampton: McCarthy, Bednarek, Stephens, Vestergaard, Valery, Hojbjerg, Romeu, Ward-Prowse, Targett (33' Cedric), Redmond [Y:66'], Ings.
Subs: Long, Armstrong, Gallagher, Gunn, Slattery, Ramsey.
Everton: Pickford, Coleman, Keane, Zouma, Digne, Gomes (57' Calvert-Lewin), Gueye [Y:66'], Lookman, Sigurdsson, Bernard (74' Walcott) Richarlison (65' Tosun).
Subs not Used: Stekelenburg, Baines, Mina, Davies.
Referee: Graham Scott
Attendance: 29,989
---
Reader Comments (322)
Note: the following content is not moderated or vetted by the site owners at the time of submission. Comments are the responsibility of the poster. Disclaimer
Andy Walker
1
Posted 19/01/2019 at 14:44:29
I'd have dropped Sigurdsson, played Bernard at 10, Richarlison on the left and brought in Calvert-Lewin as centre-forward.
It'll be tough!
Ernie Baywood
2
Posted 19/01/2019 at 15:24:43
I'd drop Richarlison and play a striker. Maybe even Walcott. When did Richarlison last play well? In fact, when did he last control a ball?
Hard to believe it's the same player as early in the season.
Ernie Baywood
3
Posted 19/01/2019 at 15:47:53
Until we pick a striker we're not worth watching. Get the ball in half decent positions but have to do something miraculous to create chances. Southampton know we can't cross it.
Wasting everyone's time right now.
Jay Wood
[BRZ]
4
Posted 19/01/2019 at 15:58:51
Silva has a decision to make.
The ball is breaking down most around two players: Gomes in midfield, Richarlison as 'centre forward'.
When he first came in the side, Gomes was very good at protecting the ball, turning away from players and laying the ball off.
PL teams and managers learn quickly. He now has 2-3 players closing him down whenever he is on the ball. The result is, he coughs up possession a lot and even when he does get a pass off these days, it often goes to the opposition, rather than a blue shirt.
Today, Silva has him playing a lot deeper - even with Gana in front of him at times - presumably to get him on the ball more with more time. It's not working.
Richarlison simply cannot play with his back to goal against one solid PL centre back, never mind the 3 he faces today. He is virtually redundant playing the role he is being asked to fulfill.
It needs a shake up. Gomes off, Gana staying deep, Sigurdson dropping back to more central midfield, Bernard into the number 10 role vacated by Sigurdson, Richarlison wide left, DC-L at centre forward.
I doubt Silva will do it, but what we have at that moment won't cut it, today or in future games.
Ashley Roberts
5
Posted 19/01/2019 at 16:00:13
Getting totally outplayed by a team fighting relegation. Shows how crap we are. No midfield as I said yesterday. Just walking through us. Also can't any of these guys shoot??? Sigurdsson and Richarlison are having shockers and Zouma is a disaster waiting to happen!!!
John Hall
6
Posted 19/01/2019 at 16:03:08
That was pretty hard to watch.
Gomes, Gana and Sigurdsson look like they are not interested. and cannot make a simple pass to each other.
Coleman getting roasted.
Zonal marking a joke. Ings, has a free header with 6 defenders around him in the box and nobody attempts to go for the ball with everyone watching each other.
Second half has to be better than what we have just witnessed.
Fear for us if they score as we don't seem to have anything up front.
Midnight for me, off to bed. Can't watch any more of this crap.
Tony Abrahams
7
Posted 19/01/2019 at 16:06:27
Agree with that Jay, and must add that if Silva, thought he had to make changes against lowly Lincoln, then he's got to make them today?
It's the lack of urgency that's so frustrating, and as Ernie said, we desperately need a striker, but we also a lot more coming from the middle of the park.
Wide open Everton, an accident waiting to happen
Ian Lloyd
8
Posted 19/01/2019 at 16:13:54
Get him out - farce
Ernie Baywood
9
Posted 19/01/2019 at 16:25:47
I've just gone and looked at the other starting lineups around the Prem today.
Every team has picked a striker.
Most of them aren't playing the striker of their dreams but they play them anyway because that's football.
Ings, Barnes, Wood, Ayew, Carroll, Rondon, Deeney, Niasse... I could carry on but you get the idea. We talk about needing a striker that is Premier League standard - well there's your Premier League standard. It's not a high bar!
Yet we're the only team that thinks we're too good to play with a Niasse, Calvert-Lewin, Tosun, or Walcott up front.
How long do we watch Richarlison stink stadiums out?
Ashley Roberts
10
Posted 19/01/2019 at 16:26:09
I am sorry, I am now convinced Sílva does not have a clue!!! Changing Tosun for Richarlison when 2-0 down. Unbelievable against one of the worst teams in the Premier League.
Max Murphy
11
Posted 19/01/2019 at 16:28:44
I predicted a 2-0 defeat on another thread yesterday – but I may be wrong. It could be more.
Silva has to go. We cannot continue with garbage performances against garbage teams.
Paul Setter
12
Posted 19/01/2019 at 16:30:14
Had my fill of Silva the quicker he goes the better!! Can't and won't change the tactics shoehorning his favourites in the side week in week out. We are a poor side no doubt about it
Ernie Baywood
13
Posted 19/01/2019 at 16:30:29
And now we see the sum total of Silva's in game tactics.
If we're losing, throw strikers on.
If we're winning, throw defenders on.
Brilliant stuff.
Lennart Hylen
14
Posted 19/01/2019 at 16:43:00
How om earth can we pay millions a year to a manager like this? I doubted the appointment from the beginning. Just look at his win percentage. You do not have to be Einstein to calculate that he would not be a hit. Dreadful.

Max Murphy
15
Posted 19/01/2019 at 16:45:30
Wasn't David Unsworth sacked after this fixture last season?
So let's hope the board are consistent and get rid of this fraud Silva as soon as possible.
Kev Dooley
16
Posted 19/01/2019 at 16:49:13
Pack of uselesss overpaid deadwood.
Feel sorry for Morishi,
im Fucking done
Christy Ring
17
Posted 19/01/2019 at 16:50:24
Another shambolic performance, nothing upfront,and midfield very poor. We're completely wide open, and what does a player have to do, to get dropped by Silva?
Alan J Thompson
18
Posted 19/01/2019 at 16:51:37
How bad do you have to be to get dropped or doesn't that apply to this Manager's signings! Silva shows no inclination to change a losing system.
Max Murphy
19
Posted 19/01/2019 at 17:00:40
Was Digne trying to outdo Sandy Brown's OG in the derby, 50 years ago?
Pantomine season continues for Everton FC.
Jeff Armstrong
20
Posted 19/01/2019 at 17:03:49
Do we still want Gomes? He's been well sussed out by other teams,we may have already seen the best of him.
Andy Meighan
21
Posted 19/01/2019 at 17:04:32
Kev @16,
How the fuck can you feel sorry for Moshiri??? It's that prick that hired Koeman, Allardyce, and now Silva. The man hasn't got a clue about football and his first appointment has set our club back 3 years.
Silva, like Allardyce, was left a poor poor squad – mind you, his signings now look ordinary players after the early optimism.
No point talking about sacking Silva because this clown Moshiri would hire someone like Pardew or someone of his ilk We are going to have to bite the bullet with Silva – no matter how bad it gets.
Jamie Crowley
22
Posted 19/01/2019 at 17:04:43
Please Marcel and Mosh, get on the horn to the Spanish fella down the road, you know the one who used to play at Goodison?
Ask him if he fancies a job managing the Blues if we get dumped out of the FA Cup next week please?
Dan Parker
23
Posted 19/01/2019 at 17:06:13
Crunch time for Silva, he'll not get a better chance at the top level unless he turns this around.
George Cumiskey
24
Posted 19/01/2019 at 17:06:39
I really wanted Silva to succeed but I'm afraid he won't last till the end of the season. Same team selection same tactics and same performance every week.
He doesn't seem to have any idea how to make tactical changes during a game, same subs thrown on every match and hoping for the best.
Awful management.
Brian Wilkinson
25
Posted 19/01/2019 at 17:06:40
People are happy to let McCarthy go out on loan as well, Jeff.
He has to keep hold of McCarthy and put him in the team next week in the FA Cup.
Gordon Crawford
26
Posted 19/01/2019 at 17:08:19
We need stability but not of this kind. I'm starting to get worried by these inept performances and by a manager who only has a plan A.
Paul Tran
27
Posted 19/01/2019 at 17:08:32
Disorganised
No purpose
No ideas
Toothless
Part of me thinks it would be daft to get rid of another manager, part of me thinks we might just have to.
Stephen McNally
28
Posted 19/01/2019 at 17:08:43
The season has descended in to farce. I wonder how Marcel Brands views his summer recruitments? He needs to start finding talent, that are value for money for poor Moshiri. Everton's major shareholder, has provided successive managers and DOF with plenty of money but the end result is a very average team. Perhaps, in the past, the right appointments weren't made but, Brands needs a couple of more windows before he can be truly judged.
Robert Williams
29
Posted 19/01/2019 at 17:10:04
KD @16...
Hang down your head,Kev Dooley
Hang down your head and cry
Hang down your head, Kev Dooley
Poor boy,we're bound to die!!!!!
Hanging by a thread with the trap door beckoning – oh boy, we're going to die – unless something drastic happens... soon.
Is this merde the incentive I need to renew my Season Ticket??? Methinks not.
Tom Dodds
30
Posted 19/01/2019 at 17:10:19
I JUST WISH WE'D FLUSHED THAT TURD DOWN THE TOILET 22 FUCKIN YEARS AGO.
THE AWAY SUPPORTERS MUST ALL BE ON SMACK/CRACK COCAINE AND VALIUM.

Mark Andrews
31
Posted 19/01/2019 at 17:10:30
Can we just drop Silva, permanently? He's like phenomenal Bob Martinez but with even less tactical acumen and no charisma. Everton is not the place for this managerial lightweight to learn his trade. The stats don't lie, he's been awful in this country, yet some seem to think he's going to be the new messiah, I'd have to ask, on what basis do they make this judgement?
Frank Crewe
32
Posted 19/01/2019 at 17:10:46
Just another fraud manager in a ever lengthening line of fraud managers. The real winners are managing the top clubs. The rest are just in it for the money. Silva is just another manager riding the sack train. Just waiting to get off when it reaches his stop. Which, as sure as night follows day it inevitably will.
52,000 seater stadium. For this side? If I was Moshiri until I see sustained improvement on the pitch I would not stump up another penny on any stadium. It's a suckers investment.
Jay Wood
[BRZ]
33
Posted 19/01/2019 at 17:10:46
Everton no longer does back-to-back home-away wins, do we?
Other than the (nicely taken) Sigurdsson goal, I can only recall two other chances we might have got something from: Sigurdsson's header at the start of the 2nd half, and Calvert-Lewin 's header under pressure from the centre back and keeper.
Silva initially made a good first substitution, but only after coughing up the first goal, and even then the tactical tweak wasn't a good one, keeping Bernard and Lookman wide and playing both Richarlison and Calvert-Lewin down the middle. Effectively a 4-2-4 with Sigurdsson withdrawn to play more alongside Gueye. Only, that left too many spaces from an organized Saints, who pressed us well all day, to exploit.
Once again, evidence for me, that Silva goes too gung-ho, too soon, when going behind. It's schoolyard football tactics: sod defence, attack-attack. Attack-attack-attack.
He compounded that further by withdrawing possibly our most creative player on the day, Bernard, for Theo 'Why?' Walcott.
The goals we conceded were dreadful, in keeping with too many games this season in which the opposition don't have to work too hard or do anything extraordinary to score or win against us.
The passing was again poor – back to underhit, dribbly, 'it's-behind-you!' balls, easily picked off by the opposition.
One win in the league all season for Southampton before today.
Where has the team pre-Liverpool game gone?
Poor fare. Very poor fare.
Good luck to anyone trying to pick an Everton MotM out of that lot.
Jason Wilkinson
34
Posted 19/01/2019 at 17:12:02
Ralph Rabbithutch got a lot more desire than Marco out of his players. Neither side were any good but Jesus! I would make five or six changes and let this lot know I am seriously pissed off if I were Marco.
In reality? Walcott will probably come in for Lookman and Richarlison will start up front. Gana will have legged it to PSG and Davis will get his shirt.
I'm depressed
Derek Knox
38
Posted 19/01/2019 at 17:13:16
This has proved almost beyond reasonable doubt that Silva is way out of his depth, we seem to be getting worse; rather than signs of improving the passing is getting worse each game, there is no passion from the players.
There does not seem to be any game plan, two players running for the same ball and neither getting it, it has become a joke!
Silva was not my choice, but I was prepared to give him time to turn things around. I am afraid that time has run out for me, the man is clueless.
Tony Twist
39
Posted 19/01/2019 at 17:14:53
Apparently, the second half of the season will improve if the bullshit from AGM is to be believed. We have had bullshiters at this club for decades.
Unfortunately, sorry to burst the good feeling bubble but I think Brands seems to be another one. We, as supporters generally, are not stupid and believe that actions speak louder than words.
From Moshiri, from Brands, from Silva, it is all talk no trousers with regards the footballing side of things. For the next manager can we please just get a competent, someone who hasn't relegated anyone, type of manager.
Tony Everan
40
Posted 19/01/2019 at 17:15:14
Disappointing, fuck me I'm tired of using that word. Permanently disappointed.
Anyway to try to say something positive and fix things a bit please now Stop playing Richarlison as a centre-forward. He is not ready for that yet . He is ineffective. Out muscled and overpowered. He cannot play to his strengths in that position.
Silva has to take him out of it for his own good. Physically and mentally. Either sign a proven centre-forward or loan one; failing that Calvert-Lewin gets more change out of defenders .
Put Richarlison on the left, Calvert-Lewin as centre-forward and Lookman on the right.
Tommy Coleman
41
Posted 19/01/2019 at 17:15:48
Hardly one or two Southampton players could get into our team but the best team won.
Sloppy, lazy passing. Awful defending and organisation. The players clearly not training properly. Just looks like Martinez is in charge again.
Dave Ganley
42
Posted 19/01/2019 at 17:16:47
Very poor today. There's no excuses at all, that was just a show of going through the motions with no heart and passion. I'm not sure what the answer is. At this level heart and passion should be a given. I know plenty of amateur teams that show more than the professionals week after week.
This has all gone south since Kenwright declined to hire a top-level manager when Moyes left and gave the job to Martinez. It's been a fucking disaster ever since. Don't give me any nonsense about Martinez first season, it means nothing when he left us in such a shit state.
I can't remember the last time an Everton squad showed collective pride in the jersey since Moyes left and before you all start, no I don't want Moyes back, but at least effort and pride was the minimum requirement when he was here.
I'm quite sure that we will finish mid-table due to quite a few awful teams below us but that masks the lack of ambition from the club. I get that a bad result can set you back (the derby result) but to be still sulking about it several weeks later, well the whole squad/manager need a quick reality check.
Bad things happen, get over it and start again, don't just let your heads drop for an eternity. This has gone beyond a "hairdryer" moment. The manager needs to ask the question who actually wants to play for Everton FC, because on current form there are plenty who apparently don't want to.
A bit of harsh tough love is required. Players literally need to be knocked into shape and those who cry about it, drop them. I can't believe we have such a brittle squad now with absolutely no leaders. Well done, Kenwright – you've overseen a complete shambles. Hang your head in shame. You are responsible for what we're seeing now
Ian Lloyd
43
Posted 19/01/2019 at 17:17:06
I said this guy was a charlatan months ago and got shot down by a lot of people - I knew / know were not going anywhere except backwards with this
I'll say it again - we head hunted this guy?!?!!
Paul Burns
44
Posted 19/01/2019 at 17:18:06
Heartless, gutless, clueless. A diabolical disgrace and a mere ghost of the club Everton used to and should still be.
The dead hand of Bill Kenwright has poisoned this club for decades and almost to extinction.
Who wants to follow a joke, a shambles going through the motions and making up the numbers while making a crowd of useless mercenary shite multi-millionaires? Nobody, that's who.
It's heartbreaking.
Fran Mitchell
45
Posted 19/01/2019 at 17:20:07
Hate to say it, but the clock is ticking for Silva.
He is not getting what is a technically gifted team to play even basic level football. Very poor.
Jason Wilkinson
46
Posted 19/01/2019 at 17:20:24
Our squad needs help. Something really wrong behind the scenes for me.
Raymond Fox
47
Posted 19/01/2019 at 17:20:54
Change the manager again! We've sacked a Belgium, Dutch and an English manager already, the biggest reason we are moderate is because the players are moderate.
Silva was not a smart appointment but these players will get anyone sacked.
Derek Knox
48
Posted 19/01/2019 at 17:21:17
Stephen @28, in all fairness I don't think Brands can be blamed, he doesn't coach them, most of them were playing okay up to the derby defeat. If it's psychological, again it's down to the manager.
Machiel Barnard
49
Posted 19/01/2019 at 17:21:35
It's easy, Southampton wanted the win more than the bunch playing for our beloved club. There is no desire, they are just going through the motions, getting paid, go to practice, rock up for the next game and so it continues...
Stephen Williams
50
Posted 19/01/2019 at 17:22:25
Despite what his cheerleaders say (there's one champion in particular) Silva is tactically impotent and there is absolutely no recognisable style of play. We are so slow in possession with no clear desire to get forward and turn the opposition midfield and defence. Therefore we give them an age to get set so that everything is then played in front of them.
This is pathetic, turgid football and don't anyone dare argue that this isn't Silva's team and tactics. He's had long enough to stamp his mark on the way we play, spent a fortune and brought 5 outfield players in - half of the team represents his signings. Its arguable also that at least half of the rest would be acceptable to him. No other manager would expect to sign a full team before they make a difference.
After the Liverpool game I said to judge him after the Cardiff away game. If we haven't picked up 26 - 29 points from those 14 games then he will have dug his own grave. By my reckoning, he's already at least 10 points behind that modest target. Even if we win all the games to Cardiff, we'll still be 1 - 5 points behind (and those games include Wolves home, Watford away and City home - no chance.
Silva is rapidly running out of time to make a difference but the problem is - he looks way out of his depth.
Shame - but I remember Sir John Moores once saying that 'the ultimate responsibility for the team performance rests with the manager'. Nothing's changed in that regard.
Jim Bennings
51
Posted 19/01/2019 at 17:23:18
Blame Silva for a lot but how about this list?
Blame Moshiri for pursuing him?
Blame the players who seem oblivious to hard work and have failed under god knows how many managers?
It's just a vicious roundabout of one failure after another.
Tommy Coleman
52
Posted 19/01/2019 at 17:23:35
Can't see Silva lasting long.
Replacement?
Who would you rather have next?
Big Dunk or Jose Mourinho?
Dave Abrahams
53
Posted 19/01/2019 at 17:25:02
Jason @33, that's what Silva does every week repeat repeat and repeat unfortunately all the wrong moves.
Sorry, it's only January... but hold my hand up: I was wrong about you, Mr Silva, you will not last.
Jerome Shields
54
Posted 19/01/2019 at 17:25:15
The team was not set up right from the start. They played right into Southampton's hands.
The game showed that Silva has no tactical solution to a team who plays a high defensive line flooding midfield. What's more, maybe he doesn't know what the problem is, since his player selection was the same as last week, and they all had the same problems this week, contributing to the same farce.
His substitutions must have been lucky last week to pull him out of a hole, because he didn't follow them this week, continuing the farce. He wasn't even able to get his aggressive tactic of the ground so deflated were the players as they were overwhelmed by Southampton.
I can't see Silva turning things around, unless Brands has an input.
Tony Abrahams
55
Posted 19/01/2019 at 17:25:26
The passing was like the performance, it was an absolute disgrace.
Really poor today Everton, with only Digne, brave enough to take real responsibility, with a lot of players, willing to hide, or just pass the buck. (Same thing)
Who wouldn't like to play against Everton, when in possession? There is enough space for the opposition to do whatever they like, the way our team is set-up.
Andy Riley
56
Posted 19/01/2019 at 17:25:27
Think we have to go and get Mourhino. A proven winner who is available. Think he'd come with something to prove and would wind Klopp up.
Martin Nicholls
57
Posted 19/01/2019 at 17:25:32
I personally have no idea who I'd replace Silva with – have any of you other posters?
Alan J Thompson
58
Posted 19/01/2019 at 17:25:42
I'm amazed at how some of you can go on at length blaming previous managers and Kenwright without even mentioning Silva. We've seen what this man has to offer and it doesn't work!
Justin Doone
59
Posted 19/01/2019 at 17:26:05
Really disappointing result. We learnt nothing from last week. Stood off them and dithered on the ball. Lacked options, no movement or forward runners into space.
I'm not calling for anyones head and I'm not sure if it's the coach or players but it needs a bit of a shake up.
This is the Premier league. You can't coast unless your 3 goals to the good with 5 minutes to go.
As a player if the short passing game isn't working that the manager wants you need to change it just so it's not predictable and get us further up the field.
Ric is a top player but I'm one of the many who's of the opinion he's wasted up front. It's not that he's a useless striker it's just that the service is poor. Get him involved in the game more by playing him deeper.
Bernard isn't a typical winger. He's not strong or fast enough to get the better of modern day Premier league full backs. I like him but he needs freeing up. He always looks dangerous on the ball but he scares me when near the left back position covering Digne.
I'm still a fan of Gomes but he needs to up his game. We can't afford to give the ball away when playing deep knowing the opposition have pushed up on us. Far to risky. Again Silva needs to take some blame and improve things.
James Stewart
60
Posted 19/01/2019 at 17:29:00
We have now sunk so low that appointing Moyes would now be a positive step. That is how bad we currently are.
No effort, no spirit, no quality. Something has to give and we all know what that is under the current administration.
Jim Bennings
61
Posted 19/01/2019 at 17:29:03
Tommy,
I wouldn't have Big Dunc anywhere near the job, that's everything that's wrong and has been wrong with this club for too long.
When you look at the players we have, they are mainly just cast-offs from other teams where they have failed.
Paul Hewitt
62
Posted 19/01/2019 at 17:29:07
Go and get Benitez, for god's sake.
Paul Burns
63
Posted 19/01/2019 at 17:29:42
The club has no standards whatsoever.
It goes far deeper than managers and players, the whole organisation (!) has been stolen by people with no idea how run a football club, employ a proper coaching and scouting set up, build a team or engage with true supporters.
Goodison has become a rats nest of bullshitters making fortunes off the back of the club's ever more distant history.
John Keating
64
Posted 19/01/2019 at 17:30:22
On the match thread yesterday, I asked how many points we realistically can expect from our remaining home games. I was accused of showing the white flag half-way through the season.
Well it's not me that should be accused of that it's the cowards that are playing for and managing our team.
Hopefully all the excuses like transition, fatigue etc have been put to bed and we can call it how it really is.
A set of lazy cowards coached by someone who doesn't really have a clue. No tactics and even less motivational skills.
I have no doubt that, if there has been no vast improvement this time next season, regardless of signings or not Silva will be back on the dole.
Jeff Spiers
65
Posted 19/01/2019 at 17:31:18
No-one, but no-one could manage this corrupt football club.
Frank McGregor
67
Posted 19/01/2019 at 17:35:45
Looks like a carbon copy of the Aston Villa demise heading to the Championship. They sure are playing the type of football that is nice to watch, better than last season.
Could someone explain the improvement as I can't see it!!
Jim Bennings
69
Posted 19/01/2019 at 17:44:08
It's gone past the stage of managers.
We could get Eddie Howe in next and he'd be getting the same grief in six months time.
The club has just been existing on memory for too long, too clueless of how to move forwards and be bold on and off the pitch.
David Connor
70
Posted 19/01/2019 at 17:45:17
Absolute mid-table dross as usual from a seriously underperforming team. We are no better now than we were under fat Sam. Now that is very scary.
If PSG are serious regarding Gana, then sell him, he offers fuck all to the team. When he wins the ball, he usually gives it straight back to the opposition. Sigurdsson again piss poor as was Gomes and Richarlison.
Silva has a huge job between now and this time next season. If there isn't a massive change in personnel and performances, he will suffer the same fate as the last 3. He doesn't seem to have the players who care about the club, they just all seem to care about there big fat pay packets.
They are a fucking disgrace to our club and they need kicking out quickly What a gutless bunch of twats we have representing us.
Derek Knox
71
Posted 19/01/2019 at 17:47:48
James @60, I think Moyes took us as far as he could with the resources available, and I think he was stitched up with the Man Utd job.
However, it can't be denied that he had a team ethic and spirit that has never been matched since his departure. I am not advocating his return, by any means, but we have done a lot worse in the meantime, and at what cost?
Sam Hoare
72
Posted 19/01/2019 at 17:48:29
Benitez, big Duncan or Mourinho. Sweet Jesus.
Sur Jo
73
Posted 19/01/2019 at 17:49:12
Before we start dreaming about anything, we need players to play with passion, heart and being hardworking. We have sunk very low on these since Moyes's departure. We have apparently hired the finest tacticians in between Roberto, Koeman and Silva. Three appointments and Koeman and Silva have simply wasted money around. We are still the same since Moyes left. Hate the man, though you get a shift out of his players.
Bring Moyes, Unsy and Big Dunc for the interim. Let us steady the ship and bring people who will get the best out of our current crop of expensively assembled squad before we think about the next stage.
Hate it or like it: Moyes got us into Champions League qualifying with an average team based on hard work and grit alone. He also got us to an FA Cup Final. Qualifying for the Europa League was a given toward the end of his tenure. What have we inherited since then?
Paul Burns
75
Posted 19/01/2019 at 17:51:30
There seem to be absolutely no consequences for anybody for the appalling performances we've witnessed for years, the madness just continues on to the next charade to the point where its become the norm, expected by the media and apparently even by most of our remaining fans.
We've been dying slowly of lazy incompetence, egotistical, lying directors, and apathy for years.
Anthony Murphy
76
Posted 19/01/2019 at 17:53:27
Jason, that's the worry here. I don't think it's as straightforward as blaming the manager, or players, or Kenwright, or whoever. There is something fundamentally wrong that none of us are really sure about. I think the only thing we can do is show a bit of patience and have faith that Brands will get it right, but right now I'm not sure.
We may need to press the re-set button. Go back to basics, keep clean sheets and stabilise. I hope Silva gets it right, but patience is a rare commodity in the Premier League.
I just wonder if Brands sees him as the right man? Did Brands have a say in his appointment? If not, maybe Brands doesn't really fancy him and Silva knows it? Maybe Brands has seen enough and has other ideas? Who knows, but I feel something ain't right behind the scenes.
For a manager who was so sought after (by Moshiri) and is so young, yet managing a fairly big club in the Premier League, he looks and sounds a bit demotivated. He doesn't look like he's enjoying himself at all. He shows little emotion and I'm not convinced the players are turning up for him.
He has form for falling out at clubs. Fuck knows, but spending money hasn't worked and whatever people say of the squad, too many are underperforming now. No-one is playing to their potential at the moment.
Alan McGuffog
77
Posted 19/01/2019 at 17:54:09
How, and indeed when, did this state of affairs come about? Mediocrity has been tolerated (embraced?) for decades now. It shows no sign of ending.
The club has been pathetic for over thirty years thirty sodding years with the exception of a year or two in the mid-nineties when we celebrated the miracle of the "Dogs of War". That's right... we look back fondly to the days of Ebbrell and Parkinson. And Big Dunc. Why have we accepted this for so long? I genuinely want to know.
As someone pointed out on the live stream today, we are fixated on Liverpool not winning the Premier League rather than examining our own shortcomings. Ffs, what has happened to this once proud club?
James Byrne
78
Posted 19/01/2019 at 17:54:16
I've mentioned for a while now: What does Big Dunc bring to the table as the first team coach? It just seems too coincidental that for the past 3 or 4 managers he's the consistent factor. He's always been there.
Of course Silva will get more time but I'm worried about more millions being spent to solve our problems. It's just not what Everton are about.
I know it annoys some fans but, if a poll was put out to the ToffeeWeb community on who the Manager should be, I'd have picked Moyes many managers ago.
Daniel Bentley
79
Posted 19/01/2019 at 17:54:24
This team is really bad. I think Everton need to get back to basics and the board need to stop listening to fans booing. We need a manager that can win home games and gain points away regardless the performance.
Go and get Rafa, Big Sam... any manger who tries to play football at this daft club is not going to get the time or the patience with the fickle fans.
Justin Doone
80
Posted 19/01/2019 at 17:58:00
Just said I'm not calling for the managers head so I'm not going to shout support for other managers. I did that last season and it got nowhere so I'm happy to give Silva until the end of the season. He was never in my top 5 but that doesn't matter because he is our manager now.
Like a young player the best way to learn and improve is by giving them chances, support and a bit of time. I'd personally tell him no more funds until the summer and he still needs to get rid of 5+ players beforehand. He needs to prove he can improve results and performances of the current squad.
Those calling for McCarthy to be loaned, no, he needs to be sold! If not sold he'll soon be back on the treatment table. There are worse players we need to offload but I think he's done at this level. If not sold, I have no issue with giving him a chance.
Brian Wilkinson
81
Posted 19/01/2019 at 18:02:06
Just to rub it in more, Onyekuru scores a hat-trick today.
If a striker is not brought in before the window closes, it will cost Silva his job.
The BBC will be rubbing their hands that they picked our cup game to broadcast to the nation next week.
Julian Exshaw
82
Posted 19/01/2019 at 18:06:56
Many of you are asking for players to be dropped. Fair enough. But who do you replace them with?
At the beginning of the season our squad was bloated, now it looks threadbare. How fortunate we are that we haven't suffered any major injuries. Ironically, there is more talk of other players leaving in January than there is of serious recruitment.
I have never really played the game nor coached it. Yet, I wonder who is to blame for players misplacing passes? Who is to blame for an apparent lack of fitness? Who is to blame for the lack of a clear leader on the pitch?
Our previous coaches were no idiots yet they failed miserably at Goodison. Bobby's first year apart, this has been a truly rancid 6 years since Moyes left. Moyes, rightly or wrongly, has been heavily criticised on this forum but he got some things right.
The present incumbent would appear to be on thin ice now and so early in his tenure. Is it all down to him, though? That's what I'd like to know before calling for his head. Where does the blame lie in all of this?
Brian Murray
83
Posted 19/01/2019 at 18:06:58
It's obvious our owner can't pick a winner as a manager but at least he shows passion – albeit misguided. He really needs to look at who is next to him and the losers he has on the coaching staff. I'm saying nothing new but nothing ever gets learned.
As for the position we are in... be grateful if we stumble to the 10 points needed.
Alan McGuffog
84
Posted 19/01/2019 at 18:07:00
We are going to be faced with a huge problem in a year or two. Bramley-Moore Dock stadium will be packed to the gunnels with 52 thousand inside and tens of thousands outside hammering on the gates to get in to watch these galacticos.
No more short-termism, I say — 70 thousand capacity a minimum! Forza Azurri!
Pat Kelly
85
Posted 19/01/2019 at 18:08:35
Even if Moshirii is generous (foolish?) enough to cough up more money for players, would you trust Silva with the job any longer?
Moshiri has a difficult decision now. It would be cheaper and less risky to replace the manager and invest in a proven winning manager. Better not to throw good money after bad.
John Pierce
86
Posted 19/01/2019 at 18:09:08
Silva's tactics in response to going a goal down are championship manager circa 1994. Lash every foward on, arrows full forward.
His persistence with Richarlison at centre-forward is ruining the lad, negating his strengths.
If we cannot buy/loan at centre-forward you have to give the next best a run. That is Calvert-Lewin.
He is quickly running out of alternatives to his staid and predicable line ups and formations.
Brands perhaps might be better served scouting a manager rather than players.
Ashley Roberts
87
Posted 19/01/2019 at 18:09:11
I am not sure I can watch these guys again; it is just too painful!! After the turgid effort against Brighton, I said I was finished for this season but relented today only to be reminded we are worse than I thought.
For me, there was just a huge vacuum between defence and attack. Every time the ball went loose in midfield, it was picked up by Southampton as we had nobody in sight. We have problems all over the park and, let's be honest, without Pickford today, it would have been a hammering.
Zouma may be a stopper but he certainly is not a footballer so why do we keep giving him the ball to play out of defence??? He is just not capable of doing this.
Gomes is a good player but he can't do the midfield role on his own. Has anybody really figured out Sigurdsson's role in the team? He was totally anonymous today and his passing was abysmal.
Bernard I like... but again, he is not a winger so why are we persevering with him in this position? Move him central and let Richarlison move out wide. Playing Richarlison as a lone striker has been shown now to be a complete failure and so why again do we trot him out in this position week after week?
The reason behind all of these limitations rests right at the door of Marco Sílva and I, for one, was prepared to give him a chance but I am afraid, after the last few games, I have changed my mind because he does not change his tactics and his substitutions smack of desperation. This is a sure sign he is an imposter.
I think he will be gone before the end of the season. I just hope we can get the 10 points to get to 40 and safety. On today's showing, I am not sure where those points are coming from because we were totally undone by a team in the relegation struggle.
Allan Board
88
Posted 19/01/2019 at 18:09:56
Sack as many managers as you like, but the real issues run deep. To be successful in any sphere of life, you have to be ruthless when required and not suffer fools gladly. Not since Mr Catterick or Mr Kendall have Everton been anywhere near to that.
Winners are not popular; losers are loved. The organisation needs a ruthless streak.
Derek Knox
89
Posted 19/01/2019 at 18:12:44
Anthony Murphy @76, I don't think Brands had much of a say, if anything at all in Silva's appointment, Moshiri was chasing Silva when he was still at Watford. As I recall, there was no mention of Brands possibly coming to us, till well into the year.
I did wonder myself if there was anything more to Brands being elevated to Boardroom level, at such an early stage in his time with us. As it stands I can't fault Brands on any of his signings, although possibly we have paid slightly over the odds in some cases.
Up to the Derby match we were starting to look reasonable, but since then have seemed to lack not only direction, but confidence, the whole gamut to be bluntly honest.
Now in my book, the buck goes no further than the manager, he has them virtually every day, yet we seem to be getting worse and worse. I think basically he has lost the belief of the players, and in similar fashion to those at United, who in turn, accelerated the dismissal of Mourinho, it is also happening with Silva.
Players don't suddenly become poor overnight, unless they have lost belief in their leader, that for me too, has evaporated. Coupled with the team selection and 'style' of play it must be an opposition manager's dream to know pretty much, that Silva with stick with the same formation that didn't work the week before!
Having said all that, it seems that Moshiri was the one intent on appointing Silva, or so we are led to believe, so he can't complain too much about the situation we are in now, when he has been the root cause of it.

Dave Lynch
90
Posted 19/01/2019 at 18:13:38
Said it when Silva was appointed.
We missed a trick with Bielsa.
David Greenwood
91
Posted 19/01/2019 at 18:15:06
Daniel @79,
Not entirely sure where to start with your post.
'The board need to stop listening to the fans booing.'
'Get Rafa, Sam.., any manager who tries to play football'.
Let's go wih these two beauts.
Are you saying that it's the match going fans who are responsible for these hopeless displays?
When did Sam try and play football?
There are many things wrong with the club at the moment but to blame the most patient, loyal, group of people who follow the club home and away is insulting to them. Very poor post.
Peter Jansson
92
Posted 19/01/2019 at 18:15:19
I think Marco Silva has to go. It seems like he does not know what he is doing.
Our club is right now wasting talent and money due to mismanagement. As I see it it we seem to have 2 serious problems.
1. Silva as a manager is not good enough.
2. Silva does not either have adequate help from the backroom staff including Duncan Ferguson.
Brands want ut to add value to our squad, to develop the team, with a plan for the long term future. But as we look today it seems like we do the exact opposite but adding value to our players.
Why am I sceptical to Silvas managerial skills?
1. Good players are going backwards in development. Like two of our most important players Richarlison and Gomez.
2. Silva does not seem to be able to adapt his game strategy during games. When we are down 1 goal we are absolutely dead.
3. It seems like Silva has a motivator problem. The players does not seem to be motivated enough as we seem to lack fighting spirit. Maybe they do not believe in Silvas strategy or maybe we do not train well enough.
4. Passing is bad and is getting worse.
5. The midfield is almost non existent and does not work at all. The midfield is the engine of the team, when it does not work it has a negative affect on both the offense and defense.
6. Players seem to be isolated on the field rather than working together.
7. We play with plan A only and does not have a plan B. This can not continue. We have have a manager that can adapt strategies when things does not work.
8. Since I see so many problems it cannot be only Silvas fault I think. If we had good traing sessions several of these poins could be erradicated. So as I see it we must have a problem in the training staff. They cannot be good enough.
I can add more point here, but I wont.
Marcel Brands want us to add value to our club to work on the players we have. But right now it seems like we are doing the total opposite. Come to Everton and deteriorate and then we ship you out for free. It is an absolute joke.
Is Niasse really so much worse as a striker than Richarlison. I am not so sure.
Is James McCarthy not good enough for our midfield? I do not think so. If he is close to his old standards he should be playing for us.
Is it good value to have Baines on the bench? I do not think so.
We need a manager who can adapt the strategies to the players we have. We don't need a manager who says "we are going to play this kind of football". That is just way too easy if you are not Barcelona, and it just does not work for us.
We also need a backroom staff that improve our players.
As it is right now we seem to lack the most basic things in football.

David Connor
93
Posted 19/01/2019 at 18:15:31
We as us fans know that the vast majority of our squad is dogshit and I believe Silva does too... but, at the moment, it looks like Mr Moshiri isn't willing to blow more millions on shite mercenaries that plague football.
More of us are starting to have serious doubts as to whether Silva is good enough to manage our club. At the moment, you would have to say he isn't. But only time will tell....
One thing is for certain: he should be getting more out of the useless bastards than he is. I would definitely invest in Zouma but, as for Gomes: Is he worth in the region on £35 to £40 million? No fucking way!!!
The team look passionless and clueless, as if they couldn't give a flying fuck about our club. What a bloody disgrace they are to Everton Football Club. They will be driving their fancy cars back to their mansions tonight, safe in the knowledge that they get paid even when they are garbage... It's a hard life.
John Hughes
94
Posted 19/01/2019 at 18:16:24
For me, when Everton promoted the Head of EitC to CEO of the Club, it said it all. Very noble, very politically correct... and very Everton.
Nothing against Denise Barrett-Baxendale, a very bright individual, I'm sure... but it occurs to me that the Club seems to be as focused on community work as it is on winning trophies.
A fellow blue said to me recently, after another notable good deed was carried out by the club: "You wouldn't find Liverpool doing that". No you wouldn't — they've got their minds on other things. Like football.

Ben Attwood
95
Posted 19/01/2019 at 18:17:30
For the sake of all concerned I hope this joker is shown the door on Monday. He is not up to the job and never was. Anybody think this team will beat Millwall next weekend?
We are no better than last season or Martinez's last 2 seasons despite all the promises and money spent since. Average at home and terrible away.
Why do we expect managers who are relegated with previous clubs to be successful? Martinez = Wigan. Silva = Hull. Watford went into freefall last season before Silva was fired. We need a winner not a wannabe.
Get rid of this 4-2-3-1 crap once and for all. It does not work which is proven by the fact Silva himself gets rid of it when we go behind. Lets have 2 up top rather than 1 playing against 2 or 3 defenders. I think we are quickly learning it is Gomes or Siggurdsson not both. Gueye is a great chaser but offers little else. Give McCarthy a go. How about moving Digne forward and bringing Baines in? Change it up? Do something. We are getting too close to the bottom 3 for my liking and we still have to play them all.
Silva has lost the support of Moshiri clearly evidenced by no transfer funds being made available this window when they are desperately needed. His look to the Chairman after the second goal last week said it all for me.
Fingers crossed he goes soon. I never wanted him in the first place.
Any managers with a proven Premier League record available …?

John Keating
96
Posted 19/01/2019 at 18:17:52
Brian you are right we do need at least one striker however it seems the board have told Sílva there's no more money in January.
If we'd had 6 to 8 points less I think they would have been forced to find the cash.
At the end of the day we could sign Messi and he'd have problems playing in this zoo
We are absolutely abysmal and so far tactically a shocker
I watched Wolves v Leicester now Arsenal Chelsea. All four plus So'ton are showing everything we are incapable of.
I have no doubt if the manager had any sort of motivational skills we would not be in this situation. He is incapable of playing any other way than what we already are.
Since the day Martinez arrived until today with Martinez II we are a poor excuse of a football team. Sad times
Jim Bennings
97
Posted 19/01/2019 at 18:20:23
I reiterate what I say.
When you keep signing other teams cast-offs you get results that are mediocre because they are players whose limitations have obviously been laid bare at their previous clubs.
Barcelona will be laughing all the way to the bank if we seriously do cough up £40 million on Gomes, a midfielder that hasn't shown anything other than a great ability to pass sideways (ahem the early Schneiderlin days).
We've already paid £20 million plus for Mina who can't get starts regularly.
Richarlison at £45 million is too in and out and regardless of him being young, don't we need more consistency in players who cost such money?
Sigurdsson was overpriced and has many anonymous games but he's the only midfielder that ever looks like to score a goal in the whole squad.
Coleman has been kept on far too long and there's no club better than Everton for acting like sentimental old fools.
Walcott was unwanted by Arsenal but they managed to milk £20 million off us.
Tosun is a disaster and simply needs selling ASAP.
DCL is a sub at best.
Lookman is another who can be decent or dreadful there's no in between.
Bernard just doesn't look like there's any real end product in him.
Gueye is a woeful passer and offers zero going forward.
It's just the whole squad really, it's full of mediocrity.
Kieran Kinsella
98
Posted 19/01/2019 at 18:20:58
I have made a handy template for optimists to copy and paste after every dismal failure:
Lose to Man City "Well, their team is better than ours"
Lose to Man Utd "Well, it was do or die for Mourinho"
Lose to West Ham "Well, they were due a win"
Lose to Soton "Trying to impress their new boss"
Draw with Huddersfield "They are fighting for their lives"
Jay Wood
[BRZ]
99
Posted 19/01/2019 at 18:21:45
If people seriously want to nominate alternative managers to the present incumbent (and I can understand why the disquiet is growing to a growl), can they come up with some serious alternatives, please?
Thus far in this thread I've seen Moyes, Unsworth, Big Dunc, Rafa Benitez and - Hells Bells! - even the return of Sam Allardyce as candidates to 'steady the ship'.
If he is as thorough and professional as we've been led to believe (and on his performance to date, I see no reason to doubt that), then Brands as DoF as well as scouting potential playing targets will no doubt be keeping tabs on the progress and availability of emerging or established, proven managers also.
Again, we are being told that on the financial and commercial side of things we are becoming a slicker more professional, corporate run business, and that Moshiri genuinely wants to lead us to the promised land.
If that is the case, then sooner or later he needs to pick a top, top manager so the key component of the football club - the playing side - is placed in safe hands and can develop accordingly.
To date, Moshiri has picked chancers and nearly men.
In the last year it was confidently reported by the Echo that Diego Simone's representatives had approached Everton - not Everton approaching him - curious to know about 'the project'.
THAT is the caliber of manager we need to be looking to recruit if we are serious about wanting to sit not just at the top table of the PL, but ON TOP of the table.
Marcus Taylor
100
Posted 19/01/2019 at 18:25:00
David #70
Gueye offers nothing to the team? He's the only player who can win the fucking ball. He's made more tackles (83) than any player in the Premier League this season - and almost 40 more than anyone else in our squad. Gomes, in comparison, has made 22 tackles.
Anyone who thinks we're better off without him is cluless. As is anyone who thinks his absence against Spurs made no difference. He's doing his job reasonably well. It's up to the likes of Sigurdsson, Gomes, Lookman and Bernard to provide the creative spark, not Gueye. They are not in the team for their defensive capabilities, that is for sure.
https://www.premierleague.com/stats/top/players/total_tackle
Michael Kenrick
101
Posted 19/01/2019 at 18:25:13
Well said, John Hughes. This massive focus on EitC has clearly taken our eye off the ball. The club should be about one thing and one thing only:
Playing football that wins trophies.
One single purpose. Let's hive off all this "community" stuff to an actual charity and only focus on the football. Making her CEO has taken the club in exactly the wrong direction because she is a charity person, not a football person.
Kieran Kinsella
102
Posted 19/01/2019 at 18:28:27
The EiTC reminds me a bit of when baseball player Mark McGwire was called before the senate and accused of using steroids. His response was a tearful "but I gave a lot of money to charity."
Yes, I do think the club does a lot of good in the community and I support that, but I also think its an extension of Blue Bill's cynical promotion of the "People's Club" as a way of damping expectations as if all our players and managers are pulled off the docks and thrown together every time we have a match.
Kevin Moorcroft
103
Posted 19/01/2019 at 18:32:48
Just leaving Southampton... This is one of the worst teams ever. No organisation at all.Results are now showing up this manager.
Forget transition. Your Man at Old Trafford doesn't seem to have a problem.
It's time our management came down to earth. I'm wasting no more time on this lot after 60 years... Sorry, Guys.
Pat Kelly
104
Posted 19/01/2019 at 18:35:20
EitC is a very admirable program. Working with those who have lost their way and need focus and direction.
But do we have to include them in the first team every week?
Paul Burns
105
Posted 19/01/2019 at 18:37:12
Many of our "fans" have to take as much blame as the fools wrecking our club from the top, clapping that buffoon Kenwright when his smug gob appeared on the big screen, failing to back efforts to change things by the Blue Union with marches (we're not kopites!!!!)
The mind fucking boggles.
You reap what you sow and the harvest of mediocrity is a hard one to dispose of.
Jack Convery
106
Posted 19/01/2019 at 18:37:28
Everton FC - What's the point? If there is no fight against Millwall and we lose, then there is no point is there and the project will well and truly be off the rails yet again. I said half-heartedly a couple of weeks ago that we were in a transition decade! Now it looks like I was more right than wrong.
Mark Murphy
107
Posted 19/01/2019 at 18:38:38
Just back from the game – I feel like the joy has been sucked out of me!
But anyone who thinks we should let Gana go needs their head examined! Without him today we would have been destroyed!
Keep Gana (and Digne) and sell the rest! They are not good enough to play for this club!
"Shit team shit fans" was ringing in my ears near the end and I couldn't even think of a response!
Another fucking weekend ruined!
Terry Farrell
108
Posted 19/01/2019 at 18:40:00
The managers who come in and hit the ground running winning consistently e.g. ole gunnar sari surprise surprise have taken over a top 6 team with an expensive squad. Koeman was doing well but his summers transfers were expensive to play catch up and mostly disastrous. Were they his or walshs we didn't find out but the dye was cast and most on here wanted him out. This summer the buys were good. Silver had to assess this squad and the amount of players on decent wages we have to shift out is frightening. Do we really think he can propel us up the league without any set backs? Grow up! Silver may not be capable but he needs 2 seasons minimum. Calls for Moyes to return Jesus. I don't think there is another club with fans like ours. It's embarrassing. Next game at GP will be a morgue + groans. It's not great but let's not start from scratch again for the 4th time in 2 years.
Ian Edwards
109
Posted 19/01/2019 at 18:40:32
Formation doesn't create. One up front( who isn't even a forward) . Two holding midfielders that don't serve any useful purpose as they don't protect the Defence, and leave us light in attacking creativity at home. Zonal
Marking from hell. We must go 442.
Jim Bennings
110
Posted 19/01/2019 at 18:42:08
Kevin
Transition is just another term to use as an excuse for watching shit football.

It's the same as the tiredness excuse, well Southampton just played 120 minutes of football on Wednesday night yet they outran and outfought us all game today with more zest and energy.
Excuses excuses, I've heard them all before at Everton but nothing ever changes.
Can't win at Anfield? Blame bad luck.
Can't win a trophy? Well the big six take them serious.
Can't win away to a top six club? Well they've spend more than us.
As I say, it's all just excuses that we've now become accustomed to over the years.
It'll be the same next season, more millions splashed out on overseas players with "potential" and then we'll have the apologists coming out with the "work in progress, transition" blah blah blah.
How many more seasons can we keep on writing off as transition and watching limp wristed dross like today?
Dermot Byrne
111
Posted 19/01/2019 at 18:43:28
Kieran .I share the disappointment but EitC is not the prob. A lot of what they do is funded from elsewhere and what they do, with remarkable impact, costs about as much as one player's weekly wage.
As I said, agree with frustration re team but I know from my job, EitC is not the problem and if we were winning we would be so proud of it.
Ian Lloyd
112
Posted 19/01/2019 at 18:43:52
I hear what people are saying about sacking manager after manager and we need to blame the players not just the manager as I agree that the problem runs deep however I know silva isn't the right man
If we were to appoint a "mourinho" type, then we would see a vast improvement for sure - it's about having some sort of organsisation and at least having some sort of pattern - however the last few managers cannot even do this simple game plan, especially silva who cannot be classed as even a championship level manager - poor poor recruitment of this guy ! Why??!?
I also agree the problem runs deep to higher level management and there is something seriously wrong - we've invested millions and no improvement since the Moyes era - also who is scouting these players? 40+ million pound signings who are clearly mediocre mercenaries
I am proper peed off and cannot drink enough Stella tonight to make me feel slightly optimistic about our beloved club
The end
Lennart Hylen
113
Posted 19/01/2019 at 18:45:10
What do they do in training during the week??? Silvas record speaks for itself. At best he is a middle of the table manager. Someone said that he was sorry for Moshiri. It was he who hired him!! We will not win anything with this clown as manager, that is for sure.
I have supported Everton since the 1971-72 season. But enough is enough now, I am sorry to say. How do you delete an account at ToffeeWeb?
Overpaid both the players and the management staff. :(
George Cumiskey
114
Posted 19/01/2019 at 18:45:17
Pat Kelly brilliant .
Ian Edwards
115
Posted 19/01/2019 at 18:45:34
Marcus 100.
Gueye only has to make that many tackles because he has to chase back from wherever he has left his position and ran to. He is supposed to protect the Defencevand fails miserably. He should watch some videos of Kante or Carsley.
Gavin Johnson
116
Posted 19/01/2019 at 18:49:00
We've been awful since the derby. I was open minded about Silva's appointment. He wasn't my first choice but soon won me over. I am beginning to have reservations he is the right man now.
What happened to the guy who won the league with Monaco?
Sigurdsson's goal was a delight to behold, but everything else about that performance including Sig was rubbish. I can't single any player out for praise.
Jim Bennings
117
Posted 19/01/2019 at 18:49:37
It will be the same next week at The Den.
Millwall are shit but one thing you can put bet your life on is they will turn up and play out of their skins and want to hurt us in front of a hostile nasty crowd.
Hand on heart, can I see our meek little lambs turning up there at 5.30pm under the floodlights at that place and rolling up their sleeves and being prepared to win the battle before the game itself?
No I can't to be honest.
I'm praying we can get a replay against a shit Championship team just because I know they'll be more up for it than us, how sad is that?
Chris Jenkins
118
Posted 19/01/2019 at 18:49:54
The return of David Moyes would, without doubt, be the best solution for this worsening crisis which still has the potential to see a relegation battle emerge .
Since David Moyes left, apart from Martinez' first season when his short lived success then was, to a large extent, due to the fact that he was fortunate to inherit a decent team, we have been plagued by poorly performing players and over rated managers. The Board are culpable for a lack of due diligence before making these appointments along with that of Walsh as a director of football, a position which many would argue is an unnecessary distraction and a ludicrously high cost overhead.
The present shambles is not remotely acceptable and there has to be an immediate resolution. All this talk about transition is misplaced and just serves to prolong the agony.
David Moyes would sort this mess out within weeks just as he did when he inherited a club in free fall after the dismissal of Walter Smith. He would not need any assistance from the likes of Marcel Brands whose own record hardly justifies a board appointment, but then how on earth did we get lumbered with Barrett - Baxendale, another one who is a totally unnecessary high cost overhead .
Time for a large scale clear out and for the money saved by getting rid of these freeloaders to be given to David Moyes who has the proven ability to unearth hidden jewels for next to nothing rather than squander resources by over paying for third rate players,
Give David Moyes the opportunity and he will do an excellent job and have us up where we belong
Alan McGuffog
119
Posted 19/01/2019 at 18:50:20
Ah it becomes clear now. The reason obscenely overpaid " footballers" cannot keep possession of the ball or find a team mate with a simple pass is because the club is working with the homeless and disaffected teenagers.
Let's start pissing on the disadvantaged and watch the results stack up !
Kieran Kinsella
120
Posted 19/01/2019 at 18:51:40
Dermot
Just to clarify I support Eitc and don't see it as a problem in itself but I do see the officials hiding behind it to distract from other issues. The problem is with the people at the club not the EITC program
Steavey Buckley
121
Posted 19/01/2019 at 18:52:55
Everton got off to a bad start by playing an out-of-form Richarlison up front against 3 centre backs who were marking him. So Everton had little or no chance making any headway against a Southampton defence. But bringing on Tosun and taking him off was also a waste of time.
Ian Edwards
122
Posted 19/01/2019 at 18:53:25
Moyes should have gone 5 years before he left. Stale negative defeatist attitude and tactics. No wins in 11 years at any big team. If he returns we can give up ever winning at Anfield. It would also finish me as a fan after 40 years.
Ken Kneale
123
Posted 19/01/2019 at 18:53:51
Man good comments already said - I think we can genuinely question the how many of the present staff have a love of Everton and a dedication to the cause. Certainly not those involved at any level of the first team or coaching staff. I am no supporter of David Moyes after his engineered exit and some of the tactics and football he employed but for most of his tenure I did not doubt his ethic toward the club - how telling Silva picked him out to (quite rightly) stick one back at Sam Allardyce.
My question is as always - what do we do about it - we are sleepwalking with the club to being second tier of the English game where staying in the top flight is enough - we are sitting just above Villa, Blackburn and others with a long and proud past but no future other than the odd upset.
I cannot fathom how this is allowed to happen around the Boardroom and nobody seems to outwardly give a fig - we hear and see the same platitudes and self congratulatory noises from all at every level of the Club.
We need to wake up. shake up and get them to buck up - I hate comparisons with the RS but look at the change their supporters forced over the last decade or so.
Jim Marray
124
Posted 19/01/2019 at 18:54:12
When lots of people on here were calling for Silva to be appointed in the summer, I told myself the club would not be so stupid a second time, appointing a manager because his teams play "pretty football". In fact I said that perhaps we should bring in a manager who could get six goals out of 11 appearances from Lookman (and his team beat us today).
This club needs a big clean out. It needs coaches who understand the basics as a starting point. Some on here say we need a striker, I say you could bring in the world's greatest striker and we would still struggle because we don't create chances for the striker, we can't even pass to the one we have now.
I just checked the stats for every premier league game today. Everton had joint equal number of shots with Brighton. Every Premiership team, even Arsenal and Chelsea at half time, had more shots than Everton in 90 minutes. A new striker is not going to solve anything; in fact I doubt that new players would fix the problems.
Fix the basics, get the coaching right and the basics skills embedded and things might start to improve. Continue as we are hiring and sacking managers who play "pretty football" and we will continue to go backwards.
Ian Edwards
125
Posted 19/01/2019 at 18:59:53
The answer is simple. 4-4-2. Two recognised forwards.
Pickford
Coleman Zouma Mina Digne
Lookman Gomes Sigurdsson Richarlison
Tosun Calvert-Lewin.
Gary Willock
126
Posted 19/01/2019 at 19:03:39
Like under Bobby, we just keep playing 4-2-3-1 even though others have sussed it.
Andy Meighan
127
Posted 19/01/2019 at 19:04:03
Great post, Jim @124,
Get Messi, Salah, Suarez, Neymar, etc... and nothing would change
The service is virtually non-existent.
John Pierce
128
Posted 19/01/2019 at 19:05:10
So whilst I don't want Silva gone, if you said he'd just been sacked I wouldn't bat an eyelid. Apathy already.
He is allowed a bad run, although his time in England did come with that warning, but he shows no signs of invention or tactical nous to stop the rot.
That's the biggest worry, no vertical balance in the team, in transition we got riced in the middle of the park by a bottom feeder in Southampton, by a guy who has been in the league all of 5 minutes.
John Hughes
129
Posted 19/01/2019 at 19:06:43
Alan (119). I'm sure that we all admire what the club has achieved with EitC but as Michael said let it stand alone as a charity. To appoint the Head of EitC as CEO of Everton FC causes me to question the Club's focus. No-one, as far as I can see, is suggesting that we "piss on the disadvantaged".
Colin Wordsworth
130
Posted 19/01/2019 at 19:07:52
Since Bernard and Gomes have been introduced into the side we seem to have lost our power and athleticism in midfield. We also seem very one-paced with no end-product. Davies and a more traditional centre-forward need to be brought back.
Kieran Kinsella
131
Posted 19/01/2019 at 19:10:38
Brands should be on the phone to China. They thought Arnautovic was good, here is a highlight reel of Sigurdsson, Richarlison, Bolasie and Mirallas — their best moments. Take the lot for £50 million.
Gary Willock
132
Posted 19/01/2019 at 19:16:55
The worrying thing about this manager, is everything is a "moment". That moment has lasted 2 months kid.
Brent Stephens
133
Posted 19/01/2019 at 19:20:30
Did Richarlison actually win a header? I think Calvert-Lewin won 3 in his first ten minutes. The ball lumped up to Richarlison was a waste.
Paul Hesketh
134
Posted 19/01/2019 at 19:20:45
Ian @125, nail on head! But somehow I think Silva will be too stubborn to change.
Now where have we seen this before?
Phil Rodgers
135
Posted 19/01/2019 at 19:23:06
The players should look at that league table and be thoroughly ashamed of themselves.
John Malone
136
Posted 19/01/2019 at 19:23:24
Seen enough of this guy Silva now he is tactically naive another barm pot dreamer like Martinez sticking to a system that isn't working and leaving us massively exposed at the back.
We have had only one convincing win all season against Burnley away every other win we've had the luck go our way. And we have been beaten by poor sides and gave away poor goal's.
This guy is a fraud!!!!
Tell me how West Ham sign an ex premier league and champions league team manager a we seen fucking Relegate Hull and fell apart Watford manager fucking Marco Silva!!
Ive had enough already Silva out Rafa in!
Alan McGuffog
137
Posted 19/01/2019 at 19:24:29
John...agree up to a point. From a football point of view my feeling is that we haven't had a focus for over twenty years. Dunno if it is down to coaching but our performances boarder on the inept and have done so for years. So I stand by my point doesn't matter a tinkers damn whether or not the charitable work of the club "stands alone" if players cannot make runs, control the ball, pass accurately and threaten the opposition goal.
I do agree that the club appears to be run along the lines of an old boys association though. " Hes one of us..give him a job mindset "
colin wordsworth
138
Posted 19/01/2019 at 19:27:13
Has to be Jose .
Jim Bennings
139
Posted 19/01/2019 at 19:27:15
Colin @130,
'Davies' and 'power' are two words that do not belong in the same sentence.
colin wordsworth
140
Posted 19/01/2019 at 19:31:12
Jim, when he was in midfield early season we showed our best form, extremely underrated by us all and he does more purposeful running than Gomes and Bernard combined.
Joe Foster
141
Posted 19/01/2019 at 19:38:06
It's got to a point in my family that we very really talk about Everton except for " fucking shite this lot".
Marcus Taylor
142
Posted 19/01/2019 at 19:38:24
Ian #115
Absolute conjecture. As you pointed out earlier, we play two defensive midfielders - yet despite evidence to the contrary, you single out Gueye for defensive criticism over Gomes. Gueye snuffed out two chances in the first five minutes alone today. Bar almost scoring for Southampton, I can't recall one notable contribution from Gomes in his own half.
I honestly don't know what some people expect. Gueye's got players alongside and ahead of him, strolling around, doing nothing, yet he's expected to single-handedly 'protect the back four' and have the creativity level of Zinedine Zidane. He's not Superman.
Oh, and Chelsea just lost 2-0 to Arsenal. Kante obviously failed miserably...someone get a Lee Carsley VHS in the post to him asap.
Daniel Bagan
143
Posted 19/01/2019 at 19:38:40
Completely agree with Jim Marray further up the comments.
We need a complete clear out of the whole club not just a "striker". Too many dead wood still in the club including coaches. Tosun - love his enthusiasm towards the club but he's just not good enough. Bernard - don't rate him at all, terrible touch and the Russian league is no where near the Prem, rather have Aaron Lennon. Walcott - just don't get me started, he's finished. Tom Davies - like Barkley he just does me head in, scored that goal against City, gonna be the next best thing since sliced bread then starts playing like a crab, Alan Whittle would be turning in his grave! Schneiderlin - just do one!
Personally I don't like Marco Silva and I weren't happy when he was appointed but as people are saying we can't just keep going through managers like there's no tomorrow - but I blame the board for that, because let's be honest they've got nothing right since Moyes left the club. From what it looks like since them comments were made at the annual meeting about current form it looks like Silva weren't happy and he's had a dig at the board in the pre match conference and now post match conference.
Suppose we'll finish around 10th and then see what happens in the summer. Probably sign another 60 mil player for him to be garbage! What annoys me about them scum over the Park is the siignings they've made over the years who have cost near enough f**k all - Salah, Suarez, Coutinho, Torres, Fowler, Owen etc. Now tell me this, is it bloody luck they they find gems for next to nothing or is it the scouts? Who've we ever got? Rooney, Stones? I say clear the whole f**kin club out! Sick of it mate.
Neil Copeland
144
Posted 19/01/2019 at 19:39:05
Mark #107, good to meet you today mate and hope you got home safely. Still on the train, can't brlueve how poor we were today.
I am normally very positive but getting very worried now. Looking at our remaining games, how many points are we realistically going to get?
If they don't show any fight against Millwall we can forget the cup as well.
Only positive (other than meeting a fellow TW'r) was that Marcel Brands was on the train from Crewe to the change at Wolverhampton. Nice bloke, I asked him what is happening with a forward but he wouldn't say anything other than he knows what is required which could mean just about anything.
Jim Bennings
145
Posted 19/01/2019 at 19:41:55
He's not and never has been the answer to our woes Colin.
The team as a whole was playing with a freshness and confidence early in the season it was not down to Davies presence in midfield.
We really are in trouble if we think bringing him back to the fold is the key to our woes.
I know people don't like it, but January needed a few signings quick fixes to bring fresh impetus and new blood into the ranks.
We are now in a season that is simply sleepwalking into a dead end of mediocrity yet again.
We needed a January window akin to Moyes in 2012.
Jim Marray
146
Posted 19/01/2019 at 19:44:39
Not sure what a Mourihno type is but I certainly wouldn't recommend it. He had one of the best squads in the Premiery league and struggled to pull together a run of wins and had 90% of the squad hating him.

Kieran Kinsella
147
Posted 19/01/2019 at 19:45:30
Silva second to Puel with bookies now in the sack race at 10/1. They had Wagner at 25/1 when he went .
Colin Wordsworth
148
Posted 19/01/2019 at 19:48:48
Jim, as a team we are a sum of all our parts, arguably our best form under koeman was with Davies and Schneiderlin yes him! in centre midfield. At the time we had a proper centre forward who led the line and moved as a centre forward. So, to answer you, he certainly can't be any worse.
Jim Marray
149
Posted 19/01/2019 at 19:49:56
Jay Wood, Simeone's representatives may have contacted us to find out more about the "project" and I bet Everton would have grabbed him if they could but, once he saw the weaknesses in the club as a whole he probably decided moving here was not worth it.
As for a manager of that calibre, sorry I don't think that would work. We need to build from the bottom up and even Simeone would struggle with players whose basic footballing skills have been allowed to degrade to the level they are at now. That means a manager who can focus on the basics and build a team and those managers are not the top manager but the managers who have shown they can do it in the lower leagues.
Some people on here are shouting about bringing back Moyes, in my view that is wishful thinking and the evidence thus far at Everton and elsewhere is that managers returning for second spells rarely do as well as the first time round. However, I would look at an up and coming lower league manager who has built a team and brought them a level of success but who is struggling to bring them further due to a lack of monetary resources. That kind of manager would be perfect right now to get us to a position where a Simeone or similar would be able to walk in and take a perfoming team to a higher level.
Tony Twist
150
Posted 19/01/2019 at 19:50:11
I think the performances recently tell their own story. This sort of thing seems to happen when players feel that there is a need for new recruits to freshen things up but all that comes out the club is there is no one on the way. We need a centre forward but a certain type of player who if he is not scoring goals he is terrorising the opposition's defence or pulling the central defenders all over the place to make space for his team mates. If we can't find a player with these qualities then we will have to struggle on without and just hope that there are three teams more incompetent than us for the rest of the season.
Colin Glassar
151
Posted 19/01/2019 at 19:50:13
My main concern about Silva is that at Hull he almost pulled off a miracle by keeping up a really bad team until they ran out of games and went down.
Last season at Watford they came full pelt out of the gates and I think they were in 4th place after about 10 games before Everton's "interest" derailed him and his team.
This season, with Everton, progress was slow at the beginning but it was progress nevertheless. Ever since the derby defeat we look like both manager and players have given up the ghost and can't be bothered to even try any more.
Why is it that most teams have an upturn with new managers but at Everton there always seems to be the opposite? Is it because the demands from the board are not as strenuous as at other clubs? I'd love to know.
I used to get angry after every Everton defeat. Then sad. Then worried. Right now I can't be arsed. If they don't care, why should I? Sorry, but that's how I feel right now.
John Raftery
152
Posted 19/01/2019 at 19:55:54
At least we are trying to play stylish football, no?
We were outfought and outthought in all areas of the field. Last season's 4-1 scoreline could very easily have been repeated were it not for the woodwork and three very good saves by Pickford who was our man of the match. In front of him was a collective shambles. Individually several players lived down to their recent poor form. Some reached a new low including Gomes, Sigurdsson, Bernard and Richarlison.
If our players were outthought, so was our manager, overwhelmingly so. He appears to be trapped in a tactical cul-de-sac, unable to move away from his favoured 4-2-3-1 formation until the game is lost. Silva seems not to have grasped that committing four players to attack leaves the midfield and defence undermanned and exposed to quick breaks. Opposing coaches have worked out that if they can maintain a solid defence we do not possess enough pace and quality to create many chances. They have most certainly worked out that we are vulnerable to quick breaks by players such as we witnessed today in the pacy Redmond.
Where do we go from here? First and foremost Silva must make his team less of a soft touch. The midfield needs reinforcing with an extra player to snuff out trouble. Inevitably that will mean sacrificing one of the front four with a more defensive minded player. Given how poor they all were today it will be a tough decision as to who that might be. Based on the evidence of this match Millwall will fancy their chances in next week's cup tie.

Jim Bennings
153
Posted 19/01/2019 at 20:02:49
If nobody at Everton can actually see it then again it's poor leadership.
We should have had plans for this transfer window incase of a situation like this.
The squad is on its knees (why it's so knackered I don't know when no Europa) but it's race this season is clearly run, theres little else left in the tank.
I can't see how we turn this horrid run in reverse now.
Since the Pickford brain fart in the derby it's all just been one way and that's down.
It's a clear example of how mentally fragile they are that they still haven't remotely recovered from that Liverpool defeat.
Jay Harris
154
Posted 19/01/2019 at 20:03:36
Lets be honest we can blame the players change the players but at the end of the day the book stops at the manager. Just ask Solskjaer, Nuno Esposito etc . working with the players and motivating them is what good management is about.
For the past couple of months the players look as if they wish they hadn't left the house.
I have always maintained even before Martinez was appointed that a top club should never consider any manager that has taken a club to relegation.
Darren Hind
155
Posted 19/01/2019 at 20:04:38
At least the Toby's who have singled out DCL and Davies virtually all season have had their judgement exposed. Now they are beginning to see the senior pro's as the main reason we are so fucking poor
The confidence in this squad has been destroyed by a stream of calamitous, unprofessional individual howlers. Its showing in everyone's performances. the players clearly don't have confidence in each other.
Silva doesn't seem to be able to correct it, in fact he looks like his confidence has been blown to fuck too.

Wonder what odds you'd get for Rhino being asked for the third time to step in and get a tune out of a team who have zero self belief.
Jim Bennings
156
Posted 19/01/2019 at 20:11:36
Darren
What senior pros have really let the team down this season?
Sigurdsson is regularly bashed but where the fuck would we be without the 10, yes TEN goals he's scored?
How long do we keep calling the 22 year old DCL a young player?
When is the last time we watched Tom Davies and say he brought energy, power, creativity or goals to the side?
Richarlison is the same age as DCL yet he's regularly bashed because cost so much and doesn't deserve any protection for shit performances (rightly so) any more so than DCL.
It's not just about senior or young players.
Collectively it's a complete mess from fuckin top to bottom and it's on, one our owner and the lack of organisation on searching for the right managerial team and two, on having a blind spot when it comes to signing a bloody striker that can actually play as a proper striker should and be physically strong, hold the ball up and get involved in the game.
Every time Danny Ings plays against us he shows us what a striker should be doing, Danny fuckin Ings!!!!
Robert Williams
157
Posted 19/01/2019 at 20:13:54
CG 151 – Me too, mate... not arsed!

Paul Tran
158
Posted 19/01/2019 at 20:14:11
Hard to see right now, Silva may be a good coach, maybe he'll dig him and us out of this trough of form. More hope than evidence right now.
The best managers/coaches can communicate & motivate, get into the soul of their players. Silva still has to convince me he can do that. I'm getting concerned that this team is a mental reflection of their manager. Hope he proves me wrong.
Robert Williams
159
Posted 19/01/2019 at 20:16:12
Any chance of a Steve Ferns Tactical Analysis or better still a Marco Silva Tactical Withdrawal?
Derek Cowell
160
Posted 19/01/2019 at 20:17:40
I would like to be optimistic about Everton, I really would but it always amazes me pre every match, including this one, when a lot of fans predict 2-0 and 3-0 wins for us, especially away! One poster even bet on us winning today! He may as well have set fire to his pounds! The same people will be predicting an easy win against Millwall and then against Wolves etc etc .based on what evidence, wishful thinking? I hate to say it, the horrible truth, we are rubbish!
We have to earn the right to play and in the first instance that means showing some fighting spirit and I am afraid that this lot just don't care enough! Sunday league players with little natural talent show more spirit in parks every week. Maybe Silva should take the team to to a park to show them what it looks like!!
Others fans on here often say other teams are inferior to us and that their players wouldn't get in our team. Get real as most Premier sides are better than us because many of them are actual 'teams'! We are 11 players on a pitch with no idea how to play together.
Managers? don't even get me started!
Jim Bennings
161
Posted 19/01/2019 at 20:20:01
Silva has reiterated no signings this month, he seems certain.
Well in that case and given the games we have left this season at home (forget how easy on paper the away games are because we don't win away hardly) we will probably finish 12th.
The squad is just too weak and fragile to win enough games across the remainder of what's left.
Finish 11th or 12th this season and then it's going to be a major uphill battle next summer to attract decent quality and try and improve the league positions.
Andy Crooks
162
Posted 19/01/2019 at 20:21:12
Serves me right. First bet I've had on Everton for many years and I thoroughly deserve the outcome. Grown men should know better. Anyway, that's neither here nor there. What is upsetting me is the very worrying signs on the pitch.
We have stopped, since the derby, being unlucky. We are simply poor and the coach seems utterly bewildered. He has drifted into the mindset of his lamentable predecessors. He will shoehorn his favourites in, never mind the lack of shape and cohesion. How much longer will Richarlison play in the centre? Are we all wrong? Does Silva sees something different from us.
Finally, please stop suggesting Duncan " the legend" Ferguson as our new manager. This talentless freeloaders should have been fucked out with Martinez.

Gavin Johnson
163
Posted 19/01/2019 at 20:23:51
Someone asked who we could replace Silva with and I asked where the coach who won the league with Monaco was. I just looked online and Leonardo Jardim is available.
There's still time for Silva but it's starting to look like a rerun of his time at Watford. I My own requisite for Silva was to reach 7th with better football. I'm not sure we'll do that now.
Alan McGuffog
164
Posted 19/01/2019 at 20:29:57
Daniel 143...I know things are bad but has Alan Whittle really joined the ranks of the Choir Invisible ? If so, should he be told ?
Ian Riley
165
Posted 19/01/2019 at 20:31:36
Anyone watch the game against Bournemouth last week. We played shite but won. If Bournemouth had taken their chances we would have lost. Did the management look back on that game? If they didn't they should be sacked Monday morning.
I can take losing but when the commentators report Everton players haven't turned up today then we have problems. Big problems! A high number of our players are season professionals and yes more must go before buying. After a week's training that's what we serve up. The club should refund all travelling fans as they showed more desire today.
Again we are sliding down the table. A cup run can save this season but I won't be getting excited. Sadly Silva has no plan b and that shows. May can't come quickly enough for me!!
Colin Wordsworth
166
Posted 19/01/2019 at 20:32:15
jim, when was the last time Davies or DCL played in their correct positions?...or been given a run of games? I think it is extremely unfair to target these boys. How many chances does Bernard for instance need, nice on the eye, but what else?
Peter Mills
167
Posted 19/01/2019 at 20:34:34
I saw definite signs of progress today - the zonal defence, where nobody moves and everyone just watches what is going on, has now moved on to zonal midfield and attack.
Jim Bennings
168
Posted 19/01/2019 at 20:35:26
What is Davies correct position Colin?
He's not physically strong enough or quick enough to play holding midfield.
Not creative or quick enough to play a ten, can't shoot like Sigurdsson and can't head the ball like Tim Cahill could so I'm struggling to see what real improvements he'd make to this struggling pile of rancid shit.
Darren Hind
169
Posted 19/01/2019 at 20:36:45
Jim
Feeling like your judgement has been exposed ? Why ? I mentioned no names.
Firstly I didnt say Calvert-Lewin was a young player. Secondly, no matter how desperate your efforts have been to make him 22. He isn't - Stick with it fella. This is one lie which will come true if you repeat it often enough.
I'm glad you popped up, because you have been probably the most dogged in your singling out of these two. The fact that you even have to ask what senior players have let the team down with individual errors says just about everything to me.
Iain Johnston
170
Posted 19/01/2019 at 20:37:37
Christ I need therapy... so much for the summer signings, only one on the pitch at the end and one can't even get a game.
We started with three left sided forwards, Bernard, Lookman & Richarlison, the latter playing as a striker. If Koeman or Martinez had shoehorned the same there would be howls of derision on here, mind you it's like watching a Martinez team from 14-15 or 15-16 anyway.
Question: is Gomes the new John Ebbrell?
For fuck sake lad, if you have a clear shot on goal, have a go. Don't pass it wide to an out of position central defender to try a cross...
Colin Wordsworth
171
Posted 19/01/2019 at 20:40:29
Jim, how do you know? .he hasn't been starting since the Leicester game away and the recent cup game. Ridiculous.
Colin Glassar
172
Posted 19/01/2019 at 20:43:01
Fonseca was my choice but some said he was too defensive minded. I still think we have to stick with this fella until the summer and see how the rest of another shit season pans out. Who replaces him? I haven't a scoobeys but unless there's a 180* turnaround replaced he will be.
Jay Wood
[BRZ]
173
Posted 19/01/2019 at 20:44:50
Jim @ 149.
My post you responded to simply reported what (David Prentice, I believe) emphatically reported in the Echo: Simone/his reps initiated the approach to Everton, not the other way around.
I don't speculate on the legitimacy of the reported approach and I make no comment on how the club responded, or the thoughts of Simone on what he heard back, because I don't know.
YOU choose to speculate, not me.
I offer my opinion THAT is the caliber of manager we should be targeting, not the chancers and nearly men of recent years.
To say as you do that a manager of Simone's caliber, 'wouldn't work', further stating "We need to build from the bottom up and even Simeone would struggle with players whose basic footballing skills have been allowed to degrade to the level they are at now", misses a very simple point:
Managers such as Simone would not tolerate such 'degradation' from day one, or at any time on his watch. The organization and levels of fitness of a Simone team are legendary. He has shown himself to be an extremely astute recruiter of exactly what a team needs at bargain prices.
You, by contrast, appear to be proposing more of the same (taking a punt on a lower league manager who hasn't performed at a high level of football) when you claim we are in need of a manager to build a team from a low starting point "...and those managers are not the top manager but the managers who have shown they can do it in the lower leagues."
Quite frankly, I find your logic bewildering. Why does manager recruitment have to follow your linear model? As in, get a hungry manager from the lower leagues who 'knows the basics', then upgrade when the club is stabilised?
Everton is a PL club awash with money and an ambitious majority shareholder. We can AFFORD to recruit a really top, top manager. I would go so far as to say we can't afford NOT to recruit a really top manager if Moshiri is sincere in his ambitions for the club.
So why not follow the monied Chelsea and City models (and - no! - I'm not talking in terms of big money player recruitment...I'm talking ONLY about manager recruitment).
Abramovic at Chelsea inherited Ranieri and wasted no time in appointing Mourinho, and then a succession of high profile managers every couple of years. No 'stabilising of the club with an unknown' for him.
City the same, once the Arab money arrived. They went from Sven Goran Erikson to Mark Hughes, to Mancini to Pelligrini to their dream manager, Guardialo. Their starting point saw them lower than us in the league.
Your proposal would perpetuate the 'transition' we need to break out from.
Boldness is required, not a tepid tippy-toe, slowly-slowly approach you advocate.
Len Hawkins
174
Posted 19/01/2019 at 20:45:14
Ian #165 What on earth have the Prime Ministers orgasms got to do with Everton.
Paul Birmingham
175
Posted 19/01/2019 at 20:45:47
Bring in the shrinks as there's some basics lacking in this squad that's required in all team games and none more than football.
Overhaul FF, clear out the dead wood soon,as EFC, will become Atlantis and disappear as a football club.
Give the next contract to Dynarod and Bunker Busters, as the stench that never leaves GP and FF, is now more than a health risk to Evertonians, it's becoming terminal.
In context the way the club can't put b2b wins together for more than two games, and the manner and lack of style and care, commitment this current first team squad of footballers lack.
Step over the line and it's down to the players, but do they care and do they believe in EFC? I can't see how they do. These players today have dragged the name of EFC, down to a season low, for a poor season in the worst lull of form in the clubs history.
No leadership on the pitch, Pickford is verbal but we need an outfield player to rally and kick arse, on the pitch. We don't have one.
I'm not gonna go back to mentioning The mid 80s Immortals, but this lot are on top dollar and clearly don't really give a crap, about the results.
Back to basics again today, and it makes me wonder if EFC has some imposters in the ranks putting dope in the food and drinks.. a team smashed by a Championship team in mid week playing extra time played and died for their cause today.
EFC got sfa, as they deserved sfa. It sickens me to the teeth and I'm sensing an anti climax next week in the nicest place in South London. Happy memories from the 80s, got to know Surrey Quays and around that patch well.
Next week is our season, and let's hope for a miracle and recovery of some passion and care for the shirt.
MS must play DCl up front next week, keep Charlie on the left. Our lack of goals doesn't need a genuius to work out, but flogging Charlie upfront, is destroying the lads mojo.
Play to the strengths of the players we have in their best positions, not easy with many square pegs in round holes, but next week is massive.
The club should refund all the EFC fans who went today, and no. Wonder the atmosphere at GP is now fading as fast as this squad is.
Divine inspiration needed this week for EFC.
Now to seek solace in the beer.
Christy Ring
176
Posted 19/01/2019 at 20:49:01
I know Richarlison didn't put in a great shift, he was on his own against 3 centrebacks, he's not a striker, he should be played in his proper position. I have no problem with taking Gomes off, but replacing him with a striker, left us completely open in midfield, no balance whatsoever. Southampton could have scored 3 or 4.
We're lacking confidence, no drive or passion, and I know it's the FA cup next week, he doesn't have to rest players, no he should DROP them.
David Greenwood
177
Posted 19/01/2019 at 20:52:02
DCL is the best centre forward we currently have at the club. He should be starting (and should have started) every game for us this season.
He might not be everyone's cup of tea and he's got a long way to go but Marco has scandalously underused him.
The similarities with the end of Bobby's regime are pretty scary. Unfit, out of form players played every week in the same formation, without any pressure to play well to keep their place, two defensive midfielders that can't keep clean sheets and a lack of chances being created.
At least he's not mentioned phenomenal.
Peter Jansson
178
Posted 19/01/2019 at 20:55:19
Our squad is good enough. We have seen that they can play football. Our manager is not enough.
If we have a manager with motivational skills combined with some strategic football thinking and som help from the trainers this could be turned around.
But unfortunately I think Silva is not the man to do it.
He is starting to look like Koeman did in the end. He looks concerned, nervous and empty. Contageous?
John Raftery
179
Posted 19/01/2019 at 21:01:43
So appalling was today's performance it will be hard to accuse Silva of fielding a weakened team in next week's cup tie. Plainly he cannot turn up with today's system or personnel unchanged. The current blend is just not working. The midfield needs bolstering as a priority. The system of having four creative players in attack is failing badly. It might work if the team was well stocked with world class stars but it isn't.
Away from home we need to get back to the boring fundamentals of solid, safety first defensive play to eke out a few draws and perhaps an occasional narrow win. Many fans of course do not want to hear about defensive play but that is what must be done when a team is being beaten regularly and all too easily.
It is worrying when we hear opposing managers and fans praising our style of football and mouthing words like 'a strong Everton team trying to play the right way'. It is code for 'we enjoy playing this team because they are a soft touch'. I would prefer to hear managers and other clubs' fans bleating about our horrible negative anti-football style after they have failed to beat us.
I hope Silva is bright enough to learn that. I fear he isn't.
Stephen Brown
180
Posted 19/01/2019 at 21:08:25
I'm 41 ! I haven't read all the thread but this is how I feel :
It's really shit being an Evertonian!
It's terrible in fact !
Frank Crewe
181
Posted 19/01/2019 at 21:08:46
If we don't want to continue among the also rans we need a step change in recruitment. We are currently locked into a pattern. All the managers since Moyes have followed it.
They push the boat out on one top player. RM bought Lukaku. Koeman bought Sigs. Silva bought Richarlison. Even Allardyce splurged £27 million on Tosun (the best he could do given the cash he had). But the rest of their buys are just average players for average money. We buy players for £20 million when the top players cost £40/50 million. We buy young players with an eye on their selling on price and think we have done well instead of buying mature players that will have little or no sell value on at all. We are simply padding out the squad with average players and kidding ourselves that these are top players. Until we are prepared to pay top dollar and top salaries for players in ALL the positions on the park we will just have to accept we cannot break into the top six let alone the top four.
Just look at Arsenal today. Two £50 million+ forwards on the park. Yet our two recognised strikers cost £28.5 million combined. We have to decide what we are going to do. Wait for some genius manager to put together a fantastic side on the cheap or go for broke and buy top talent at premium prices.
Neville Jones
182
Posted 19/01/2019 at 21:09:31
The usual problem, plenty of possession breaking down when we get close to the penalty area, awful defending on occasions and a complete failure to score.
We need to open up teams and lack decent creativity in the midfield. In Gomes we have a good midfielder to do that job but whose form has dipped, might I suggest by overplaying him in December. So, we need to bring one in as soon as possible but if not in January, then we need another solution. Rest Gomes for at least 2 games to the subs bench and try McCarthy who will work hard alongside Gueye and give us the possession and make it hard for the opposition to break. The creativity would have to come from the wings, adopt 4 4 2 with Lookman and Bernard, one tricky, one fast.
Use 2 strikers upfront, not Richarlison who needs benching but Dom and ?, well not Cenk and Niasse as he is going on loan. That leaves Sigurdsson playing much more forward or a better solution is that we buy.
Surely, we could bring in a stop gap until the summer possibly on loan or buy a striker who could do a job without costing too much. Otherwise, we will have to look at playing Walcott as a striker or looking to the under 23s. We need to mix things up, look at the opposition and pick the players within 4 4 2 to suit so we need options which we don't possess currently.
We could do with a similar player to Dunc, at least someone with experience who can rough up the opposition and give Dom proper support. Mix things up, surprise the opposition and make substitutions where necessary.
Finally, the defence. At present any opposition that scores a goal generally will either win or draw. No or 1 from us doesn't result in a win so we need 2 goals every game or even 3. A possible solution (apart, obviously scoring more ourselves) would be stopping the opposition.
We seem to get plenty of possession so why is it we concede virtually every game? One reason is that Keane is going off the boil. He is solid on balls put into the area and generally when he is facing the player. The problem is with players breaking away, he is slow and he does not compensate by his judgement and positioning. We use zonal marking so when opposition players attack his area of the pitch, he fails to react, thus we see one on one and Pickford forced into making a save. A I don't want to be hard on him but he is going the same way as last season.
Bring in Mina, slow, possibly but he possesses better judgement and has very valuable experience. He couldn't do any worse than Keane who never seems to get dropped. Oh and quite clearly, dump the zonal marking.
A word about Zouma, the more games, the better he gets. Pace, judgement and with luck more goals.
Poor Lucas, comes across to cover and unluckily scores an own goal. Zouma, Digne and Lookman playing reasonably even Sigurdsson and Bernard on and off but that's it.
We won't get consistency if we keep sacking Managers every time we got in a bad run. I didn't want Silva but he needs 2 seasons to be judged. We are expecting too much, too soon.
Colin Malone
183
Posted 19/01/2019 at 21:12:49
Sitting in a safe position in the table; new strategy at the club with a director of football; we're playing the football we like to watch;we had the best first transfer window than the last two managers; and, after 23 Premier League games — calling for a new manager is crazy.
Frustrating, I know but... give them time.
COYBB
Rob Dolby
184
Posted 19/01/2019 at 21:17:15
That was a hard watch today. Did anyone actually play to their normal standard whatever that is.
A Saints team that got a good working over from Derby during the week fully deserved the win.
Silva is proving to be a one trick pony. Making subs but keeping the same formation. Richarleson playing up top obviously isn't working and hasn't done for a while.
No real threat, backwards and sidewards, safety first until we give the ball away isn't getting the best out of anyone.
I like Gomes he is obviously a talented footballer but over the last half dozen games he is playing deeper and just passing square. He is turning into Schneiderlin. Tom Davies would be getting slaughtered on here for performing as badly.
The motivation the formation the tactics come from Silva and his team, it isn't good enough. Moshiri has put his faith in Brandes to run the football side of the club Silva must be on thin ice.
I don't expect us to win every game but I do expect a certain level of tactical nous, effort and passion. Today was poor on all levels.
John Keating
185
Posted 19/01/2019 at 21:30:46
Some posters seem to think we only started to play shit after the derby
I Celt we deserved a point at the Emirates but that was about 6 or 7 games in. Until then we were pretty poor at best.
Got a point at Chelsea but the other games we played from Arsenal to the RS we weren't exactly exciting.
In my opinion the whole season so far has been totally underwhelming after the hype some had given us when Sílva was appointed.
Although I'm waiving the white flag - apparently - I can see these comments and these threads being repeated more often in the remainder of the season
John Raftery
186
Posted 19/01/2019 at 21:32:08
Rob (184) I would probably absolve Pickford of any blame. He has been poor this season but today was one of his better games.
I agree with the Gomes v Schneiderlin comparison but I wish Gomes had just stuck to square passing today. I lost count of the number of times he gave the ball away cheaply with loose forward balls straight to an opposing player. People got very excited about him after a few decent games in October and November. At the time I thought we should wait and see how he is playing in January before we commit ourselves. I think his price is falling by the week as is the number of likely suitors.
Tom Davies is still getting slaughtered by one or two even though he wasn't playing today.
Chris Gould
187
Posted 19/01/2019 at 21:34:17
Sacking the manager would be a diabolical and desperate decision. Whoever we brought in would have the same problems and face the same impatience and backlash.
Silva gets a free hit for me this season. Give him time to learn and allow him to develop and evolve. He isn't the finished article and he seems intelligent enough to take advice and adapt. His tenure is very much in it's infancy. We aren't in any danger and he needs our full support to get through a tough period.
Why do so many just write him off and chuck in the towel? He's going through a difficult couple of months. Let's see how he responds and get behind him instead of shouting for his head. Some of the suggested replacements make me want to cry.

Paul Birmingham
188
Posted 19/01/2019 at 21:35:32
It's the pits tonight, and the EFC club, must take note and stock, as time and history don't wait.
It happens and now EFC is in my view, in the benign doldrums going no where,, which is not the place EFC, should be in.
Next week, but the core plan in terms of the football side needs reviewing as it's not working and hasn't being working properly for over 25 years.
That's me over, for this weekend, all the Best Evertonians, and have Ball, this weekend .⚽️👍🍀🍺🍺🍺🍺🍺
Kevin Prytherch
189
Posted 19/01/2019 at 21:42:48
Best thing to do now is to plan for the future now.
Let's face it, we won't go down, we won't finish in Europe.
Get Kenny, Davies, Lookman and Calvert-Lewin all on the pitch between now and the end of the season. Maybe even play Baningime and ship Gueye off to PSG while we can get the money.
Stop playing Zouma and Gomes. They're not our players.
Personally, I now think it's a shame we let Dowell and Holgate go. We could have played all 6 for a run of 10-15 games and given them all the game time they need. Then make a decision on them after a sustained run in the side. I guarantee we'd show a lot more fight than at the moment.
Laugh all you want, but a team of Pickford, Digne, Kenny, Keane, Holgate, Baningime, Davies, Dowell, Lookman, Richarlison / Bernard and Calvert-Lewin would at least put up a fight every week and might get you back to being proud to watch us again.
We'd then be in a better position next season as we wouldn't have a squad of promising youngsters needing games, we'd have more of a squad of young players with games behind them.
Peter Gorman
192
Posted 19/01/2019 at 21:55:43
As much as I think Silva has hardly had time, the buck stops with him.
A big club wouldn't tolerate such a shite run of form. Are we ever going to be a big club again?
Raymond Fox
193
Posted 19/01/2019 at 21:57:21
Talking about managers, what top manager is going to come here? We've no top-six quality players, firing managers out the door like there's no tomorrow; if we do 'find' a top player, they want out!
I'd like Silva to succeed but he looks a bit on the fragile side to me. Yeah tactics, subs, motivation and the like are down to him but, if the players can't find space, beat a man, pass to a team-mate, raise a gallop, play with some passion — what chance has he got?
I think our players, apart from lack of quality, have their large pay cheques rolling in every week and they feel that top six is unlikely, so middle of the table will do, so why break sweat!
Max Murphy
194
Posted 19/01/2019 at 22:05:21
Chris (#187),
Why should Silva get special treatment? Our current form is bottom 3. I think now, he's having a worse run than Allardyce.
Silva should be shown the door immediately.
John Austin
195
Posted 19/01/2019 at 22:07:02
We have to give Silva time but he's worrying me. I said it weeks ago and it's getting worse. We know he's got dead wood in the squad but a number of the players were his or Brands' choices at the beginning of the season. Any manager worth his salt will work with what he has at his disposal and come up with a system to get the best out of the players. He simply isn't doing that. The performances consistently lack motivation, commitment and organisation. We have just passed the midpoint of the season and we already want it to end.
Silva's post-match comments are in danger of competing with those of Martinez. Absolute drivel. Today he concedes that Southampton were more aggressive than us with or without the ball (an indictment in itself). Then he finishes by saying that the players kept trying and fighting to the end. From what I have heard and read – no they didn't!
Having said that, the players should be totally ashamed of themselves. Another gutless, pathetic and shameful performance. Millwall must be licking their lips. It will be a bear pit next week and can anybody see our players having the bottle for it? They keep saying they enjoy working with Silva, so why the lack of commitment and professionalism? It's beyond me, it really is.

Daniel Bentley
196
Posted 19/01/2019 at 22:11:29
Responding to Dave @91.
Q1. I think not all but a good number of fans boo too early; if we misplace two paces, we boo. We're not Barcelona and never have been.
Q2. Me personally, I think we should get Rafa or Big Sam to get stability back at the club. Plus these know how to get points, regardless of the performance. A lot of Everton fans are too quick to judge and, after all, what have we done over the last 30 years to judge?
Q3. As for the match-going fans, I am sure you're the same as me. I have been all over the world watching this club. And if any fans deserve any silverware – it's us. Everyone has a right to boo and have their say. And no, it's not the fans' fault for the team playing like this – it's down to the board bringing in managers with no good history.
Q4. Why don't we go and get a tried and tested manager how has won trophies and who is ruthless?
Jay Wood
[BRZ]
197
Posted 19/01/2019 at 22:12:15
Why wouldn't a top manager come to Everton with the right package and an inspiring job remit?
Benetiz went from Real Madrid to Newcastle (as well as having an extremely impressive CV of previous clubs). Hell! He was even relegated with them and stuck around to get them out of the Championship, back to the Premier League.
Another former Real Madrid manager and Premier League winner with Man City (as well as other top European titles), Pellegrini, is currently at West Ham Utd.
If you say Everton cannot attract a top manager because we don't have top six players, or for whatever reason you want to put up, you are effectively accepting we are inferior to the likes of Newcastle and West Ham Utd.
John Keating
198
Posted 19/01/2019 at 22:15:48
Sacking Silva this season would achieve nothing other than more chaos and confusion.
Unfortunately, he and his tactical naivety have been well found out.
I can't see anything other than riding this waste of a season out and see what happens next summer.
Once again, we have shot ourselves in the foot and given another manager a contract longer than we should have.
Steve Ferns told us we would see Silva style and approach shortly after the season started. Write this one off and, if no improvement next season, then pay another shed load of money and bin him.
Jerome Shields
199
Posted 19/01/2019 at 22:20:48
I agree with most of the threads. Everton are not in transition – they are in crisis. To put out the same team as last week, after that performance, was stupid. Silva does not have a clue. He is like Koeman – talks about the high press but hasn't a clue how to implement it.
His selection of Richarlison to lead it is nonsense. The midfield trio is made redundant and they are not coached who to pass to, hence they are getting caught in possession and passing weakly.
Paul Birmingham
200
Posted 19/01/2019 at 22:24:51
Ray, agreed... and this is my last input on this dire football weekend for EFC.
The Apocalypse in terms of EFC, in football terms, is getting closer, in context of being part of the Premier League, as a few more years of this, and this is what we've been saying for years, will see us as permanent has-beens.
It can be stopped but requires big descisions and loads of money. As Einstein once said, and the definition of madness...
People will never loose their beliefs and religion in EFC, but generally it's tough times and people will realise that, as the complexity of recovering to historical glories becomes even tougher, year on year, we strive and without a pit of money, we will not compete.
No more crap value bargain buckets, unless proven value bargain buckets.
The previous thread on TW, about the Blight we've bought since 1992, says it all.
I'm deffo done now and All The Best for the Weekend, Evertonians.🍀👍⚽️🍺🍺🍺🍺🍺
John Malone
201
Posted 19/01/2019 at 22:25:11
Big Sam pissing himself laughing!
Albert Einstein has got you down for being insane, Marco!
Repeating things over and over again and expecting a different outcome!
It's not rocket science, Marco: if the system isn't working, change it to suit the opposition, FFS!
David Connor
202
Posted 19/01/2019 at 22:45:59
Having thought long and hard after another absolute fucking shite performance by our overpaid overrated team, I think we should show Silva the door. He is clueless as a manager. Sacked by his last 2 clubs doesn't bode well.
Show a bit of ambition, for fuck's sake, Moshiri and break the bank for a top-rated manager instead of blowing millions on overrated coaches and even more overrated footballers, for all our sakes.
I really don't know how much more of this depressing club I can take. We are a fucking shambles.
Chris Perry
203
Posted 19/01/2019 at 22:47:14
Today was the day football died for me. I went with great anticipation and expectation, as I have on limited occasions for the last 45 years.
Today was the lowest of the low. Worse than any Moyes, Martinez, or Allardyce performance. Today saw an expensive collection of misfits directed by a one-dimensional creativity lacking so-called manager.
Have we not learnt? We are not good enough to go to Bournemouth, Southampton and play the way we did; the players look shit scared of passing forward.
Sadly today I have decided to forget about Everton. All shirts, programs, books etc have been packed away and will end up in the tip or in the loft. Today my love of Everton has gone.
Thanks, Silva and fucking Co.
Colin Glassar
204
Posted 19/01/2019 at 22:53:56
Where the hell Is Mina? We spent almost £30m on him and he's warming the bench while we are getting a Chelsea player match sharp for him to return to Stamford Bridge in the summer. Only Everton.
P.S. I think Mina will be a great player for Everton but he needs to be playing.
Mark Wilson
205
Posted 19/01/2019 at 23:06:31
Same story now for two months, but truthfully for most of the season long "moment" as Marco would say. Not a shred of progress, not a single thin thread of it as far as I'm concerned. We are in free fall despite the Bournemouth win, a game we could easily have drawn or lost.
I'm expecting us to win in the cup next week, mainly because so many now think we will lose, that's just how EFC is these days. But overall we are steadily getting worse. This defeat to a relegation team was pathetic, gutless, disorganised, without any spirit or sense of urgency. No shots to save for their keeper until Gylfi's goal. Most performances at level 3 or 4 in anyone's honest assessment.
If we don't take a risk or two now before the window closes, we will regret it for two more years. We have to recognise the damage being done here goes way beyond arguments about transition or going in the right direction, it's about players of quality seeing us as worthwhile, having forward momentum and not just waiting for another year of false hope and crushed optimism.
Sam Hoare
206
Posted 19/01/2019 at 23:09:06
Crisis?! We're only 3 points off 7th which I think most people would say constitutes an unspectacular but decent season. Even if we came 11th it would be very poor but life carries on.
The result today was poor and the performance even worse. But Southampton beat Arsenal a few weeks back and their manager thought they played better today. Give them some credit.
As for Silva I have defended him constantly but ultimately the proof is in the pudding. He'll get the rest of the season to get a tune out of these players and whether he's here next year will depend on how that tune sounds. I worry that we're seeing a lack of genuine tactical flexibility and mostly that he's struggling to motivate these players out of their cure malaise. We seem to be getting worse rather than better.
We're not getting new players so it's up to Silva to get the best out of this, admittedly unbalanced, squad. If we can get 7th-9th and a decent cup semi then I think he might deserve another season. If we finish bottom half then that's not good enough and Brands and Moshiri will have a tough decision on their hands.
Andy Meighan
207
Posted 19/01/2019 at 23:15:22
Colin, if you think Mina will be a great player for us, you're kidding yourself. Even this early on, he looks like a mistake waiting to happen. Same as any of our centre-backs... Zouma, Keane, Jagielka — all of them are ordinary players.
The lot of them are average at best. Is there anyone actually at that club that can spot a footballer? Because, from where I'm sitting, all I see is a squad riddled with mediocrity.
Gerry Ring
208
Posted 19/01/2019 at 23:22:34
Colin #204,
I couldn't agree with you more regarding players on loan. We bought a centre-half for big money and still persist on playing a guy on loan instead. Same applies to Gomes. No logic in trying to build a team with players on loan. Sign of a desperate manager.
It looks like McCarthy will be moving away... If I were him, I would, but I believe it's a mistake that Silva won't give him a chance. He could be the guy that could do a job for us – especially when you look at the lack of midfield aggression.
James O'Connell
209
Posted 19/01/2019 at 23:22:55
We're shit and you know we are.
Constantly excepting mediocrity has killed this once great club.

Jeff Armstrong
210
Posted 19/01/2019 at 23:26:52
Mina will not be a great player for Everton because he is crap, slow in thought and pace, yellows and reds waiting to happen, penalties given away etc. Not Silva's choice... so not playing.
Brands chose Mina so Silva has no confidence in Brands either; he seems to be the current flavour of the month whereby he's getting no stick, but Brands brought in the 3 Barca players and none of them, including Digne, are playing well right now.
So maybe Brands is not all he's cracked up to be.
Scott Phelps
211
Posted 19/01/2019 at 23:30:49
The board should go get Mourinho in!! Pay him them wages he wants and back him with Moshiri's dollar.
Think he will whip these players into shape and get our club moving forward.
Jay Harris
212
Posted 19/01/2019 at 23:33:59
Kevin #189,
Thats what Villa tried and look where they are since.
We need a total revolution which I thought Moshiri was going to do.
Clear out Kenwright and all his old boys.
Find a top class manager that can motivate and direct the players.
Don't say it can't be done because there are glaring examples of success. Solskjaer, Nuno, Emery... all managers that we could have considered in preference to a manager with a dubious Premier League history.
We need to be ruthless.
Dave Abrahams
213
Posted 19/01/2019 at 23:45:29
Moshiri told or warned Silva at the AGM that the results were not good enough. Since then, in the last two games, Silva has played mainly the same players with the same style and system. wWe were lucky to win last week and apparently didn't deserve anything from today's game.
Isn't this manager seeing how poor the performances are? He is not even trying anything different. It doesn't, to be honest, look like he has anything in his locker to improve the team. He seems to massively lack the ability to motivate the players, lacks the passion to inspire or even frighten them to do better.
I am now not even expecting Silva to change Everton for the better. I don't think he has it in him. So, while he will most probably stay in charge, the end is inevitable for him now; it's just a matter of when he goes... And, to be honest, it doesn't look like it would bother him if it was next week.
Kevin Prytherch
214
Posted 19/01/2019 at 23:52:11
Jay @212,
Aston Villa tried it from a totally different position. We only need 3 wins in 4 months to be safe, it's virtually pressure free.
Pickford
Kenny, Mina, Keane, Digne
Baningime, Bernard, Davies
Lookman, Calvert-Lewin, Richarlison.
Pick Gueye instead of Bernard or Richarlison for the games against the top 6.
Fuck the rest of the money-grabbing overpaid shite.
Neil Copeland
215
Posted 19/01/2019 at 23:56:31
Is anyone else concerned about a possible points deduction in relation to the poaching Silva fiasco?
Peter Gorman
216
Posted 20/01/2019 at 00:22:25
Not atm Neil, but I'm certainly not worried about any another club having points deducted for poaching Silva off us.
Christy Ring
217
Posted 20/01/2019 at 00:32:08
Millwall next Saturday: play McCarthy.
Drive, passion... what have we got to lose? Nothing.
Dave Bowen
218
Posted 20/01/2019 at 00:53:17
I'm so glad we've decided to bin our two top scorers from last season. So we're left with Richarlison, who currently can't trap a bag of cement; Tosun and Calvert-Lewin, who are both impact subs at best (in Tosun's case, not even that); and Bernard and Walcott, who simply aren't strong enough. Only Lookman looks up to it.
I'm prepared to give Silva a chance but only if he buys a striker in January. If not, do one.
Kevin Dyer
219
Posted 20/01/2019 at 01:00:36
Stale, again. The Richarlison as striker experiment has to stop. If he's to play, it has to be on the left. He's still in his infancy so needs to play in his natural position because he's offering nothing up top.
Rest Gomes, he's a passenger at the moment. Give Davies a couple of games or drop Sigurdsson back. The squad is desperately short of quality depth with no reinforcements likely so Silva has to mix it up and try other players.
Start Calvert-Lewin or Tosun, Kenny and Davies. If we have no wage budget available maybe try for a loan, we need something different.
Phil Lewis
220
Posted 20/01/2019 at 01:02:42
The most important player in any successful team is the goalkeeper. A commanding keeper who stabilises his defence and instills confidence from the back is a must.
At present, we don't have one. Pickford may one day fill that role, but too many errors of judgement so far have proved otherwise. I have come to expect mistakes far too often these days. Stekelenburg frankly is useless at this level from the few times I've seen him.
If the younger keepers on the books are not yet ready to be promoted, then we should immediately buy an experienced proven keeper to steady our listing ship. We are all aware of the deficiencies in other positions, the most obvious being attacking midfield and weak striking areas.
But for me, the priority should be a goalkeeper to at least give Pickford realistic competition. He is far from being the finished article. I wonder has he got what it takes to ever be?
Chris Hockenhull
221
Posted 20/01/2019 at 01:24:25
Anyone been watching the "Sunderland Till I Die" series on Netflix?? If you haven't, do... there is a very eerie similarity to a club we have a special interest in and how I believe they could very easily go the very same way as Sunderland.
Don't kid yourselves this could not happen to Everton. Other big names have done so too thinking they were "too big". This could get very very uncomfortable unless we get wise and real.
(If you do watch it it's very odd the number of players from us who filter in and out playing for them – and Rodwell covers himself in glory too!!)
Will Mabon
222
Posted 20/01/2019 at 01:41:42
There was some disheartening fayre in evidence at St Mary's but can we please stop the relegation talk.
For those that still choose to sweat over the numbers, 35 points will be a guaranteed escape this season – five points more than we already have.
Bill Watson
223
Posted 20/01/2019 at 02:20:06
I was at the game today and it was worse than awful. No cohesion, no midfield, a centre-forward who failed to win a single ball in the air and cannot hold the ball on the floor and a right-back who, sadly, should be nowhere near the first team.
Two attempts on target tells it's own story but both of Southampton's goals came from misplaced Everton passes.
The football, tactics, passing ability and lack of passion is shocking.
Failure to beat Millwall, next week, and it will become toxic for Silva.
Ron Marr
224
Posted 20/01/2019 at 02:45:31
Everton 7 shots:
Sigurdsson 4
Lookman 2
Calvert-Lewin 1
Shots on target 2
Sigurdsson 2
Richarlison and Bernard 0 shots? WTF???
Soren Moyer
225
Posted 20/01/2019 at 03:36:48
Ffs! Drop Richarlison, Gana and Sigurdsson for the next few games. Find a decent Number 9 from somewhere. And please bin the zonal defending as it's one of the reasons we are leaking so many goals.
John Pierce
226
Posted 20/01/2019 at 05:11:40
I see the ToffeeWeb game bot has been posting again. Dear Lord.
Andy Mead
227
Posted 20/01/2019 at 05:13:38
Why can't we just play 4-4-2? The system isn't working no matter who plays. With what we've got, I would go with:
Pickford
Coleman Keane Mina Digne
Bernard Gueye Sigurdsson Richarlison
Walcott Calvert-Lewin
If we can't create then at least put pace and a target man up front and play more direct. Richardson is a winger full stop. Sigurdsson continues to struggle at No 10 so don't play one. Really frustrating watching the same rubbish that isn't working, week-in & week-out.
Andy Kay
228
Posted 20/01/2019 at 06:47:27
Couldn't agree more Andy Mead, the formation is the " Elephant in the room" 4-3-3 can work with the quality of a City or Barca but we simply don't have the personnel to play it. Players need to be dropped despite reputation. Don't put square pegs in round holes. playing wingers as strikers ect. playing favourites out of position to see if its works. Its bollocks. Get rid of zonal marking and play 4 in midfield with an eye for goal and two strikers. If it upsets someone being dropped then tell them to play for their place or ship out. Its been happening for too long now. Basics and a 442 required .
Laurie Hartley
229
Posted 20/01/2019 at 07:23:49
Andy and Andy ;) - I agree we need to go to 442 after watching the full recording of the game but my starting line up would be very different and would mean dropping a few favourites:
Pickford,
Kenny*, Mina, Zouma, Digne
Sigurdsson, Gueye, Gomes, Baines
Lookman,
Calvert Lewin.
No start for Richarlison, Bernard, Coleman, Walcott, or Keane.
Zouma is playing his heart out for us - sign him.
Don't sell Gueye whatever we do.
We are light on in the middle of the park (overrun might be a better way of putting it). Give Baines a run their to see how he goes - at least Gueye would have someone else to pass to in the middle of the park - at the moment Gomes is running round with target on his back.
If the Baines experiment doesn't work swap him for Bernard and get another centre mid in in the summer.
Play Calvert Lewin every game for the rest of the season. If he is not up to it sign a a centre forward (or sign one anyway).
Silva lost that game when he took Gomes off instead of Richarlison.
Wake up Mr Silva - you are coming under increasing scrutiny.
* Once described as "an excellent young man".
Its hard work this being an Evertonian.

Tony Everan
230
Posted 20/01/2019 at 07:55:05
I have been very concerned too about the ineffective formation we seem to wheel out every week.
Any team can deal with it. Overcome it . We have 2 wide men every game that are never able to use their pace, never able to get behind the defence. Every week our midfield formation is nullified easily by the opposition. The ball goes out wide from a sideways pass ., we lose the ball when it comes back sideways to the CM positions, then we are disorganised and under pressure, often leading to a chance for our opponents.
This system has to change.
To win games we need a top quality CF, someone who wont be outmuscled by average PL defenders . Someone who can hold it up a bit and create a goal out of nothing.
We need then a solid midfield 4, a midfield that is disciplined and can control a game . It's been a while !
Then a number 10, the luxury player, the messi player, with pace and skill. Give that man a free role to go wide or find space or link up with the CF.
The team Laurie has above would be a definite step in the right direction . For me it looks like Gomes's mind is eksewhere lately, Id take him out of it.
Sigg would need to be focused and disciplined . Lookman as no10 must understand he has to produce as competition for that role is fierce.
Pickford
Kenny Zouma Mina Digne
Sigg Gana Mccarthy Baines
Lookman
DCL
Terry McLavey
231
Posted 20/01/2019 at 08:28:03
I like to watch MotD just to remind me what football looks like.
I started watching it live near the end and, as it wasn't us playing, so I waited as I thought we'd be on last as we usually are.
Ironically we weren't so I went to the iPlayer, I was glad of this as it allowed me to repeat Silva's post-match interview.
Did I hear right? "We didn't deserve to win, we had no tactics!" WTF!
I am still at a loss, and am starting to sound like a broken record, saying why did we employ a man who has been sacked from his last two jobs for failing?
For me, it's got to the point where I don't expect to win anymore, and I'm often right.
Something is radically wrong at the Club and it needs sorting.
Col Walker
232
Posted 20/01/2019 at 08:40:38
James @78.
So... have I and answer? — clearly nothing!
David Reed
233
Posted 20/01/2019 at 08:47:43
I'm not a regular contributor but can't hold back any longer. I've waited overnight to let feelings settle and would offer:
1. There's no intensity in the play no matter what eleven go out. The vast majority of passes are back or sideways while we try to get a foothold in the game whilst the opposition always get at us. Momentum is lost from the kick-off.
2. There's no leadership either on or off the field. Seamus is obviously struggling with his form and should not be captain even if selected. But who else has the bottle to drive this lot on? I've watched Silva and he seems incapable of motivating himself – let alone anyone on the park. There's no spark anywhere... it's demoralizing.
3. The rest has been said above.
Signed: a blue for 65 years.
Phil Rouse
234
Posted 20/01/2019 at 08:54:35
I thought when Silva was appointed, that the club really showed no ambition at all. Every morning, I wake up hoping to read on the BBC website that he has been sacked and this nightmare will be finally over. Moshiri is seriously not a good judge of a quality manager.
Martin Berry
235
Posted 20/01/2019 at 08:59:12
Tony @230 Is on the right lines here.
To win games, you have to control the midfield, even if it's not pretty. Joe Royle knew this with his "Dogs of War".
Maybe we have to go to 4-3-3 and ditch the Number 10? Get three scrappers in the centre and keep three fast artisans upfront.
Frank Sheppard
236
Posted 20/01/2019 at 09:19:49
We won't get relegated, which is good. We won't get into Europe (although with the money spent and the squad we have, we should have been nailed-on ) which is also good. So... safe mid table is our lot for this season.
But, as of 19 January, we have exactly half the points tally of the unmentionables. "Underachieving and embarrassing" does not begin to cover it.
Derek Taylor
237
Posted 20/01/2019 at 09:25:44
Phil at 124, how right you are. Silva continues in office by the same reasoning that sees Theresa May do the same. Sooner or later, he must get things right. Or not.
The trouble is, they've both run out of time and only their stubbornness sees them continue to make the same mistakes which inevitably ends in repeated defeat.
The problem is, of course, that we've lost faith in their masters to ever get it right so they soldier on. In every way, Everton and the UK both present as a busted flush.
The days of greatness are a long time past. Aston Villa-like.
Roger Helm
238
Posted 20/01/2019 at 09:52:26
To prosper in the premier league you need either world-class players, who we can't afford and wouldn't come here if we could afford them, or a team of fit, strong, well-organised and motivated battlers, such as we haven't seen since the early Moyes years.
The present squad, like those before them, seem slow and weak and poorly organised. We haven't had a warrior on the pitch since Tim Cahill left. The rest of the season is a dead rubber so we may as well give our own lads ie Kenny, DCL, Beningme, Lookman etc a run to either make them or break them, as it were. At present only Pickman, Gana and Digne are earning their wages.
Derek Thomas
239
Posted 20/01/2019 at 10:08:36
With a local time 1.00am start I watched it in the morning. I lasted 35 mins, by then I'd finished my breakfast so I turned it off and headed for the bog...both of those decisions proved to be the high point of the morning thus far
Same shite, different manager and season but same old shite.
We know all the questions...see above paragraph...its answers we need...and results
Over to you Moshiri, Brands or Silva - or somebody...the toffee lady, anybody.
Ken Kneale
240
Posted 20/01/2019 at 10:22:04
Peter Mills. The same progress you outline has been ongoing and all came together for this game. Also good to see the Duncan Ferguson attack coaching is working
Terry Farrell
241
Posted 20/01/2019 at 10:49:20
Jeff you say Digne isn't playing well? Completely disagree with you. The lad is class and works his bollocks off.
Mark Murphy
242
Posted 20/01/2019 at 10:57:59
David both good points but especially point 2.
We need a strong motivational pain in the arse whinging ref barracking driving captain in the middle. We are simply too nice!
The only time we showed a bit of fire yesterday was when little Gana Gueye quite rightly got angry having been stamped on! The refs are happy to give us nothing as we just accept every decision.
Even our fans now seem to think a robust challenge on our guys is jolly unfair - people around me yesterday were screaming for free kicks for shoulder charges on our fragile players. We need to give it back in spades! We must be the nicest bunch of chaps to play against and we need a couple of nearly bastards in the middle to make the opposition think twice.
I love Seamus to death but he's not a) in the right place to be a captain and b), very sadly, no longer good enough to play in the first eleven.
First on the shopping list should be a Dave Mackay type captain
David Hallwood
243
Posted 20/01/2019 at 11:24:34
Spot on Roger (#238),
We're not getting relegated (with a caveat that this is Everton we're talking about and if something can be fucked up it will) and top 7 or best of the rest is not looking good.
Bench Gomes and Sigurdsson, both of them look like they're running on empty, and play Davies and Baningime with Bernard as No 10; as well as giving Lookman and Calvert-Lewin an extended run.
As they won't be in a dogfight and just playing for their careers, we will finally get to see if they're good enough for the prem. And we'd have a reasonable bench as well.
Sean Kelly
244
Posted 20/01/2019 at 11:35:18
"Silva's problems mount".
They are entirely of his own making. He keeps playing players that are consistently failing and the fool is tactically inept.
Get rid as the next headline will read "Everton's problems mount".
Sam Hoare
245
Posted 20/01/2019 at 11:46:10
I'd be up for playing a younger, more energized team for a few weeks and seeing what happens. Get some enthusiasm back in the team (and the crowd).
Having said that, Unsworth tried it last year and as soon as we lost a game or two the crowd and indeed most of this site turned on him and the team.
I'd be quite happy to watch this lot given a few games:
Pickford
Kenny Keane Mina Digne
Davies Baningime
Lookman Bernard Richarlison
Calvert-Lewin
No loan players. All under 26. A good few academy products. They may lack a bit of finesse so get them to play the ball forward quickly with Calvert-Lewin, Lookman and Richarlison running the channels.
Neil Wood
246
Posted 20/01/2019 at 11:51:35
Virginia
Kenny Keane Zouma Digne
Baningime Gomes
Bernard
Adedoyin Lookman
Calvert-Lewin
Bench: Pickford, Feeney, Adeniran, Hornby, McCarthy, Sigurdsson, Gueye, Richarlison.
Graeme Beresford
247
Posted 20/01/2019 at 11:55:15
Silva out! Another poor acquisition. Hasn't got a clue.
Brian Harrison
248
Posted 20/01/2019 at 12:21:00
Yes, just like every other Blue, I am frustrated and angry in equal measure.
For the past few weeks most on TW have been calling for Silva to play a settled team in a settled formation. So after beating Bournemouth last week Silva did what most have asked for and picked an unchanged side with the same formation. But, after another away defeat, TW is now full of posters telling him he has to make changes, and all manner of team selections have been encouraged.
As infuriating as it may be to some we just have to not panic and let the manager and Brands have the time to put things right. Obviously after a run of bad results particularly away from home the calls come in about sacking the manager. Surely the one thing we should have learned over the last few seasons is changing managers every 18 months doesn't work.
As I have said before the comments Moshiri made at the AGM were not helpful. I really struggle to see why he made those comments publickly when they should have been said behind closed doors. He was prepared to give Watford £10 million to secure Silva, now he is saying it was a big gamble.
For what it's worth, I would suggest that Moshiri keeps his comments inside the club in future: he has sacked 3 managers and appointed 2 none so far have been a success. So maybe before making comments about a man less than 6 months into a new job, he may need to question what criteria he uses to select a manager.
I think we have to give Silva at least all of next season to see if he can turn results around. It's easy to sack someone but it's finding the right man that we have found so far to be elusive... except on a couple of occasions over the last 60 years.
Paul Burns
249
Posted 20/01/2019 at 12:21:29
The only things that separate so-called big clubs from the rest are expectation and desire. We've shown neither for the past two decades. This has to come from within the club and Goodison has become an empty vessel.
Like I said earlier, there appear to be no consequences for consistently appalling performances from all concerned from what is one of the richest sports leagues in the world.
Directors, coaches, managers and players are hired and fired willy- nilly with no cohesive playing plan or methods. The same mistakes are repeated over and over with the same predictable results.
We, as fans, appear powerless to change things, to try and drag Everton finally into the 21st century. Vote with your feet, don't go the match until we get guarantees that the club moves away from its default amateurish approach on everything from marketing, publicity (what publicity? – we're practically invisible), coaching and, of course, playing to win at all costs.
We've been a soft touch since being walked all over after Heysel when the club did, and continues to do, nothing to right the disgraceful and shocking injustices that still affect us to this day yet are being whitewashed from history at the expense of all Evertonians.
Change everything. Grow a backbone. Start now.

George Cumiskey
250
Posted 20/01/2019 at 12:33:19
Brian @ 248,
I think you've got it wrong there mate, people were asking for change even though we beat Bournemouth, because we were crap against them. They should've never lost that game.
I understand saying give him more time if it looked like we were progressing in any shape or form, but the truth is we seem to be regressing.
He employs the same tactics week after week which, to anyone with any nous about football can see, that it's not working. Were do we go from here sadly I don't know.
Frank Crewe
251
Posted 20/01/2019 at 13:08:32
Silva already has one foot out the door. After the money spent in the summer, if we end up in the bottom half of the league, I don't see how he will still be manager next season outside of winning the FA Cup this season. An unlikely occurrence to say the least.
Also, why does Silva persist with playing Richarlison as a striker? As far as I know, he never played him there when he had him at Watford so why do it here? He's useless as a striker. Just gets muscled out by the oppositions centre-backs.
Managers complain about getting the sack but sometimes, through their own obstinance and lack of tactical flexibility, they bring it on themselves. Picking the same out-of-form players in the same ineffectual formation isn't doing Silva any favours. But it's his funeral.
Bobby Mallon
252
Posted 20/01/2019 at 13:49:46
Mark Murphy @107 I concur whole heartedly. Gana kept that score down. If your two midfield partners don't perform... you're fucked.
Richarlison, Gomes, Lookman, and Pickford were a bloody disgrace yesterday.
Derek Knox
253
Posted 20/01/2019 at 13:59:38
Frank, "Silva has one foot out the door" – the other is on a bar of soap! As you succinctly say the culpability of blame lies solely at his door, and his door alone.
While the players are clearly under- performing, it was only a short time ago when people were lauding the recent recruits, and congratulating Brands on his astuteness and acumen in his first transfer window.
I still believe that the players have not suddenly become poor overnight, or in a short period of time; I believe it to be down to poor coaching and a lack of a game plan.
While I have never been an advocate of people getting sacked (apart from Koeman and Allardyce), it reflects strongly upon getting the choice of Manager right in the first instance!
I will be surprised if Silva lasts the season should results and performances follow the current trend. Also, I am getting sick and tired of the excuses, especially directed towards the loyal fans home and away, who turn up at great personal expense, to be put through that torture.
Fran Mitchell
254
Posted 20/01/2019 at 14:12:38
The system is not working, the 4-3-3, trying to attack and press – it is just failing and we are just letting games pass us by.
I'd like to see us go back to basics, and by that I mean go to 4-4-2. It seems like a formation is past its sell-by date, and maybe it has to be a top team, but, for now, maybe it is what we need.
The midfield three just ain't working, the forwards are isolated and the midfield exposed.
I'd go with Gana and one other, maybe Davies, and try for an energetic midfield two, that battle and win the ball.
Then 2 wingers, Walcott and Lookman being my preferences. Hog the lines, use pace and get the ball into the box.
Then Tosun or Calvert-Lewin and Richarlison. Two strikers, playing off each other, not isolated.
And Kenny at right back, Coleman's time is up.
Sean Kelly
255
Posted 20/01/2019 at 14:20:58
Everton have lacked ambition for so long now that we are just drifting along with the tide. God help us if that tide changes. We sign unproven young players or rejects from other clubs and leagues.
Players joining Everton lack ambition because they also want to drift on the good ship Everton.
Sean Kelly
256
Posted 20/01/2019 at 14:25:05
Leadership and ambition has to come from the top. They should stop appointing managers with potential and go get a proven manager.
Stagnant and stale. Forget about a new stadium – it will just become a white elephant.
Eddie Dunn
257
Posted 20/01/2019 at 14:47:25
Despite our high hopes for the new dawn, good football and better players, it seems that the reality is, we have a manager who has struggled tactically, in selections, and in motivation. The squad is still full of deadwood, poor signings and average journeymen.
The club is treading water, staying in the money in the Premier League, with little chance of breaking into the top 6. The money is not on offer, and the hierarchy are keeping what they have for the possible ground development.
Moshiri is doing just enough to protect his investment but we simply are lacking in both the finances and the intent to make the next step.Silva is unproven and we have been taken for a ride in the transfer market.
Hopefully, Brands can change things but it is going to take 2 or 3 years to drain the swamp and refill with guys with talent, strength and spirit.
Clive Rogers
258
Posted 20/01/2019 at 15:03:15
Eddie, #257, agree with all you say, but if we assume Richarlison was a Silva signing and possibly Zouma, Brands may well have been the one who wanted Mina, Gomes and Bernard who have not set the place alight. He "must do better" also.
Karl Mark Zarb
259
Posted 20/01/2019 at 15:09:47
Does Silva need more time?
Hasenhuttl joined a hopeless Southampton in December, and they are already better than us — beat Arsenal and drew Chelsea.
Also, every time Gana wins the ball with a perfect tackle, he loses it again when he tries to pass it. And Richarlison's morale will get lower if he continues to play him as a centre-forward.
Alan J Thompson
260
Posted 20/01/2019 at 15:25:54
I'm left in amazement at some of the suggestions on here about where the problem is.
Some are calling for the 'keeper to be replaced as he has poor distribution. How I wish that was actually the reason we play so poorly.
Others say Gomes should be dropped and replaced by Davies but all that would lead to is Davies having nobody to pass to either. As I've said previously, Gomes gets the ball in space but everyone runs away from him and the opposition player just sits so that all he has had is to play wide to Digne which oppositions have seen and cut off which leaves him with just a long ball to non-target men or to play it backwards to Keane or Zouma which merely leaves them in the same position.
The style, line-up, tactics, something, call it what you will has to change and this is the Manager's responsibility. We have to have options such as taking them on in at least even numbers in midfield which will either lead to the midfield becoming overcrowded or freeing up space for Digne or Coleman or getting the forwards in a one-on-one position with a central defender, or actually outplaying them in midfield. Whatever, the manager has to be able to change tactics if necessary as the game progresses.
Then, if he has time, the manager can move on with other problems, poor zonal marking with nobody looking like they actually know what the opposition does in such circumstances particularly set pieces and, apart from the one set piece goal involving Schneiderlin, see if we can come up with some set piece movements of our own.
After that we should be halfway to where we want to be.
Jamie Crowley
261
Posted 20/01/2019 at 15:26:16
Frank Crewe @251 -
I think this may be one of the more intelligent things I've read on TW:
Managers complain about getting the sack but sometimes, through their own obstinance and lack of tactical flexibility, they bring it on themselves. Picking the same out-of-form players in the same ineffectual formation isn't doing Silva any favours. But it's his funeral.
I think this surmises Marco's predicament perfectly. Everyone could see his preferred lineup wasn't working for a few games - at least not garnering the type of display you'd need for continued success.
Yet he persists.
He'd better get flexible pretty darned quick because right now he's looking like going down the Martinez mark II lane. And without a 72 point season I might add!!
Andrew Laird
262
Posted 20/01/2019 at 15:37:33
Silva needs to start wielding the axe and stop trying to be everyone's best mate (Gomes, Richarlison, Bernard and Walcott in particular). Richarlison can no longer start as striker to accommodate Bernard, this is about as clear to see as a haystack on top of a needle. The first few games where Richarlison was out wide actually gave the opposition something to worry about, he also works his nuts off for the team defensively too so put him back wide or leave him on the bench.
Bernard is technically excellent but having 2 diminutive wingers at the same time (lookman or Walcott both not big enough either) leaves us with little chance of playing long diagonal balls when we are countering or trying to stretch the opposition to create more favourable situations. Our Long diagonals are always hit in the air to the player and not in front of them so don't have both options on the wing under 5ft 5 to let a 6ft defender easily win the ball back. If the idea is to have 2 wingers who are technically good and can play 1-2 touch with a marauding full back then great, but not if you only have 1 full back now capable of getting up and down the pitch. I would love to see Bernard behind the striker where one pass or man beaten leads to a chance. This is also pretty obvious?
If we continue to play 2 central midfielders then Gomes needs a rest as the speed and physicality of the Premier league and the constant opposition targeting of him has caught up to him and will result in a red card to go with him rushing and squandering possession. In a central midfield 3 he would be much better, the weight on his shoulders is too much, if that means sacrificing a wide man or number 10 then why not? We don't create any chances now anyway.
In order to proceed I think Silva has to change not just the eleven but the squad as every week its the same players getting minutes and it hasn't worked for far too long now. The same squad, every week, yet the only subs Silva ever seems to make are "like for like" wide men or a striker.
Or maybe Silva knows this shower isn't good enough so he puts them in positions they cannot succeed in to show Brands and Moshiri that he needs upgrades? The problem with that is if you are completely inflexible to a starting formation it's your fault Marco, time to "work with what you have" as you keep telling us and find positions that work for the personnel you have because at the moment you are being found out every week by teams, managers and players who are inferior to what you have.
Mark Murphy
263
Posted 20/01/2019 at 15:43:46
Hey Neil (125) nice to meet you too mate.
Btw, just like the team, Kanchelsis didn't turn up!!
Bobby (252) I think that's the first time anyone has even read one of my posts let alone agree with it. Thanks!
Still can't see how people are picking teams with Siggy and Gomes as a midfield two and leaving Gana out - knife through butter comes to mind!
Peter Jansson
264
Posted 20/01/2019 at 16:04:19
Seriously, it is not Richarlisons fault he is playing bad, or Siggy, or Gomes etc. We have a failing system. The 4-2-3-1 system does not work! How many times do we have to say that? The 4-2-3-1 system does not work for us! We do not have the proper players to play it.
How the f could Gomez ever look good when he have no one to pass the ball to? He almost all the time only have the back four and Gana Gueye to pass the ball to. And he can not pass the ball to Gana Gueye too many times because then we lose possesion.
So tell me. How the f*ck are either Gomez or anyone in front of him ever be able to play good when we have 4-2-3-1 system that does not work?
I guess the players understand the problem, but Silva not. Then the moral is crasing like a plane on fire.
If Silva does not change the system ASAP or put some better suited players into he has to go. Gana Gueye does not fit into this system. The most terrifying thing is that is seems like a lot of other people do not under stand this problem. Yes we need a new striker, but this is not our main problem, it is the midfield!
There is no striker that would shine with us because of this. And add sharply falling moral to this and we could easily lose 8 of the next 10 games without problem.
Peter Jansson
265
Posted 20/01/2019 at 16:04:19
Seriously, it is not Richarlisons fault he is playing bad, or Siggy, or Gomes etc. We have a failing system. The 4-2-3-1 system does not work! How many times do we have to say that? The 4-2-3-1 system does not work for us! We do not have the proper players to play it.
How the f could Gomez ever look good when he have no one to pass the ball to? He almost all the time only have the back four and Gana Gueye to pass the ball to. And he can not pass the ball to Gana Gueye too many times because then we lose possesion.
So tell me. How the f*ck are either Gomez or anyone in front of him ever be able to play good when we have 4-2-3-1 system that does not work?
I guess the players understand the problem, but Silva not. Then the moral is crasing like a plane on fire.
If Silva does not change the system ASAP or put some better suited players into he has to go. Gana Gueye does not fit into this system. The most terrifying thing is that is seems like a lot of other people do not under stand this problem. Yes we need a new striker, but this is not our main problem, it is the midfield!
There is no striker that would shine with us because of this. And add sharply falling moral to this and we could easily lose 8 of the next 10 games without problem.
Darren Hind
266
Posted 20/01/2019 at 16:28:59
Some bollocks being spouted about the transition we are in being used as an excuse.
Let's get one thing straight here: Unless you have just landed from the moon or you are exceptionally stupid, you will know we are in transition; half the team is new; we have rid ourselves of so much deadwood with more to go. Our dressing room was littered with ordinary players who couldn't believe their luck when they were paid a fortune to sign for us.
We have appointed a Director of Football, brought in a new coach, and we are trying to change the shaming perception of being the last-on ugly sisters of the Premier League...
How much of a fucking evidence of transition do you want???
I despair at the foolishness of people claiming it is an excuse; it's not an excuse — it's a cast-iron fucking fact!!!
I knew Everton would not finish any higher this season, there is far much upheaval for that. I know I will be accused of using hindsight but, before a ball was kicked this season, I stated that I would not put a penny on us to finish above Wolves, and I got slaughtered for it at the time.
We have spent years being managed by cowards – real gutless fuckers like Koeman who didn't dare trust his own coaching skills and come out and play, despite spending more than any manager in our history. Allardyce picked up the anti-football flag and ran even further with it. Do people not remember those 10-man defences?
The soul had been ripped from this club; restoring it is the biggest part of the transition. Yes, the cowards had found the ugliest of ways to finish 7th or 8th, but a club of Everton's standing could not continue to conduct itself in that way.
Nothing will erase the shame of setting our stall out to avoid a home defeat against a Championship bound West Bromwich Albion. The club had plunged the depths by allowing managers to make us the ugliest side to watch in the Premier League for three consecutive seasons – even Stoke didn't manage that.
I don't give a flying fuck if we finish between 7th and15th. I want to see life breathed into the heart and soul of the club. I want to see the deadwood flushed out. I want to see the painstaking and sometimes despairing efforts of restoring this club.
I don't care how many setbacks we have to endure in the rebuilding process: the transition must continue. I want the days when Everton embarrassed me by going into football matches without any thought of winning erased from my memory... Forever!
Brian Williams
267
Posted 20/01/2019 at 16:41:30
Darren, I feel your pain and agree with a fair bit of what you say.
I'm all for giving Silva time too because I think given the time he and Brands will do well (certainly Brands will).
But! Taking everything you've said into consideration, we should be going to the likes of Southampton and beating them because they're a poor side on a poor run and, although we're in transition, it can't be used for every failure.
Southampton wanted it more than us and tried harder than us and had more desire than us — being in transition doesn't make that acceptable, IMHO.
Michael Kenrick
268
Posted 20/01/2019 at 16:47:52
So, Darren, to paraphrase: "Have patience, he needs time. Jam tomorrow..." etc.
I recall you coining the damning phrase 'zombie football' last season as a succinct descriptor of what we were forced to suffer. I wonder if the clock has started yet on how long it will take for similar lucidity to strike you this season...??
Frank Crewe
269
Posted 20/01/2019 at 16:50:45
Anyone watching the Fulham v Spurs game? Look at Spurs losing 1-0. No Kane or Son. Just playing the ball backwards and forwards across the midfield.
Take away their cutting edge and they're no better than anyone else, including us. If a side wants to be any good, it needs strikers. Players who can put the ball in the net.
No finishers = no success.
Everton need strikers. Simple as.
Darren Hind
270
Posted 20/01/2019 at 17:14:49
Nothing to do with Jam tomorrow, Michael. I'm too old to be patient.
But the money-grabbing cowards who served up the Zombie Football did untold damage to this club... and they did it for years.
I don't know if Silva is the man for the job and I think you know that, if he had simply been charged with restoring the team, like other managers, I would have been well on his case by now... but there is so much more to rebuilding Everton. Previous employees and managers have cast such a feeling of hopelessness around the club and the remaining players, I'm beginning to think we need a fucking exorcist.
Jam tomorrow? Right now, I'd settle for a glimmer of light at the end of the tunnel.

Michael Kenrick
271
Posted 20/01/2019 at 17:37:02
So Silva gets a pass from you (at the moment) while others on here are "spouting bollocks"?
He's rebuilding the club, and needs to be given more time, while other managers and their cohorts were a dead loss from Day One? Have I got that right?
Just seeking clarification here as I'm perhaps guilty of being swayed by those (spouting bollocks?) comparing the lack of progress now with the lack of progress under those previous regimes?
George Cumiskey
272
Posted 20/01/2019 at 17:42:57
Darren, we'd all settle for a glimmer of light at the end of the tunnel but there doesn't seem to be one.
Neil Copeland
273
Posted 20/01/2019 at 17:50:00
Just being able to find the tunnel entrance would be a start!
Darren Hind
274
Posted 20/01/2019 at 18:02:54
Michael,
Rebuilding the team is important, but this is not simply a team rebuild. The club has taken a different approach to the past. Why? Because it wasn't working.
New positions have been created. we haven't got a manager, we have a coach, we have a Director of Football, we are undergoing upheaval right throughout the club. If there is a team in this league trying to get rid of more deadwood than us I don't know about them.
Anyone who tries to deny we are in transition is indeed spouting bollocks. This upheaval may not be successful, but changes had to be made... Otherwise we may as well have stuck with Sam Allardyce, finished 7th every season and happy clapped our way to miserable trophyless early graves,
This fella may not be the one to make the omelette but, if we don't start employing coaches with the bollocks to break a few eggs, we are finished as a club who wins things.

Derek Taylor
275
Posted 20/01/2019 at 18:19:07
Villa did just as you suggest, Darren, so just look at them now. They, like us had a well-meaning owner who didn't know Jack Shit about the game. He blew a big hole in his fortune by backing crap managers and eventually saw his club relegated.
Same thing is happening before our very eyes... Ignorance is a poor forgiver!
Marcus Taylor
276
Posted 20/01/2019 at 18:34:37
Frank #269,
No Kane or Son and yet Spurs still showed the will to win (2-1) having conceded the first goal - something we haven't done all season. We've conceded the first goal 10 times this campaign and clawed back just 2 points (Huddersfield and Newcastle).
Good strikers are important, clearly, but a bit of resilience, self-belief and determination helps too. Our players' heads go down as soon as we concede the opening goal.
The last time we won a Premier League game having conceded first was against Swansea at Goodison in December 2017. Last time we did it in an away game was at West Brom in October 2016. Pitiful.
John G Davies
277
Posted 20/01/2019 at 18:35:17
Darren Hind.
Get fucking paid.

Tony Abrahams
278
Posted 20/01/2019 at 18:35:35
Darren @266, will do for me mate, especially the last two paragraphs.
The soul has definitely been ripped from our club and I don't know how we are going to restore it if we don't go and sign a Number 9.
Of course, there is a lot more wrong than just this at the minute, but to play without a proper centre-forward eventually becomes soul-destroying and this is definitely affecting some of our players right now because the ball is going backwards a lot more than it's going forward – and the same is happening to the team.
We fans should be up in arms over this but it's easier to say the managers shite or "I never wanted him in the first place," which seems to be the most common phrase right now.
Those people might be right, especially since the manager doesn't appear to be very pragmatic at the minute, but surely we can still use the loan system to try and help the team?
Paul Tran
279
Posted 20/01/2019 at 18:39:31
Completely agree with you, Darren. Apart from Wolves finishing above us; I found 7/4 that we'd finish above them.
Peter Jansson
280
Posted 20/01/2019 at 18:42:28
Darren and everybody else. What does transition have to do with it? I don't give a shit if we are in transition or not. A football club is in constant transition all the time in one way or the other. Just cope with it – don't use it as an excuse.
The only thing I want is a manager that can make the best of the available players and sources we have. Right now, I believe we don't have one that serves that purpose.
Right now, I see an owner in Moshiri that does not really know what he is doing. He is hiring managers that have got other clubs in Premier League relegated. That is equivalent for any private firm to hire the employees of his worst competitors that were so bad they got fired. Does that sound like a smart and winning strategy?
And please stop talking about how big of a football club we are and the glory days when we were winning trophies. It is not going to help us now and it is not going to help us in the future. We have been a midtable club for about 25 years. We have to look at where we are now and do the best thing about it.
Sean Kelly
281
Posted 20/01/2019 at 18:53:01
Darren, I think we have just discovered the tunnel is now a cave.
Ian Hollingworth
282
Posted 20/01/2019 at 19:32:54
So we've been in transition for a long, long time now.
So we've got a coach and not a manager. When is he going to start coaching them as our players are not improving – if anything, they are going backwards.
I get the transition we are in but we have to see improvement from one of the many transitions we get ourselves into.
Confidence is a big thing in football and players need motivating. Whose job in Everton's new setup is it to motivate the team?
I agree with Tony A, we need a real Number 9 to help halt the slide.
John Keating
283
Posted 20/01/2019 at 19:49:53
So the Everton definition of transition is for players to not pass to each other, not put in a decent shift, not give a flying fuck for the shirt, play boring slow sideways football, have no discernible tactics, and allow most teams to embarrass us?
I hope we're not in this transition thing too long...
John Phelan
284
Posted 20/01/2019 at 19:50:38
I have to sympathise with Darren. Everybody wants a quick fix and everybody wants us to be challenging the 'Sky 6' now. And before the Liverpool game, that seemed to be happening.
Once Gomes came into the side we had a coherent pattern of play and players who looked confident and would deliver. There were people, myself included, who thought that Gana, Gomes and Sigurdsson were a better middle three than Liverpool had.
However, though we had a front 3 nowhere near the quality of theirs, we did have promise in Richarlison, Bernard, Lookman, Calvert-Lewin and even Walcott. The madness of the derby defeat blew a hole in that.
We now have players lacking confidence, out of form and struggling - Gomes, Seamus, Siggy, Richarlison Is it the manager's job to put that right? Yes. But he hasn't got a pool of resources that enable him to radically change the side, he has to ride it out. It's frustrating but that's the way it is.
For some, the answer seems to be sack the manager and find a better fit. For what? And then when they've got us 8th next January, sack them? Think back to the games from Fulham to the derby. Did you think we were on the right track then? I did.
We have to stick to Silva, we have to see through a radical restructuring of the squad and we have to hope that he and Brands can deliver the football and the trophies that every Evertonian wants to see.
But let's stick together guys. Let's give our backing to Silva and Brands and have faith that they will deliver. If they haven't succeeded in showing progress by the end of the next season, then show one or both the door, but can we please avoid the non-stop revolving of the last 30 months?
Eric Paul
285
Posted 20/01/2019 at 20:13:28
To all the posters screaming for a striker, how many goals have we scored this season from players playing the striker's position compared to other sides with a "striker" – in other words, the position?
Tony Abrahams
286
Posted 20/01/2019 at 20:34:18
I don't fully understand the question, Eric, but it's not just about the goals. It's about the lack of genuine movement, the lack of hold-up play, and the lack of movement down the sides.
I watched Ings coming short, then trying to pull defenders out of position; I watched him keep it, or play it off quick, and I watch Richarlison not really doing any of these things naturally...
Eric Paul
287
Posted 20/01/2019 at 20:57:18
Tony,
After reading it back, I didn't understand it myself.
What I meant is: How many full-time recognised strikers that play every week in the position have scored more than our rotating strikers? — if that makes sense...
Gerry Ring
288
Posted 20/01/2019 at 20:59:52
There is a lot of discontent & worry amongst the Everton faithful which, unfortunately, is well placed. The same level of concern doesn't appear to be in evidence at the level where it matters.
I look at Silva, who has little or no knowledge of the fabulous Everton traditions, and a lot of the time, he appears quite smug, which is off-putting.
Darren Hind
289
Posted 20/01/2019 at 21:11:58
John Keating,
Nowhere did I give the definition of transition. Nor did I defend recent performances. Yet again you have created another straw man,
You were one of those who regularly happy clapped Allardyce and his Zombie football. What you are seeing now are the consequences. Complete overhaul right throughout the club, Why? Because the faithful had had enough of years of Zombie football and going entire games without managing a shot on target. They were disgusted...
No excuses being offered here; just a reminder to people like you that you can argue until you are blue in the face but Transition on several levels is happening at our club.


John Keating
290
Posted 20/01/2019 at 21:34:41
Darren
I will give 50 quid to any charity you want if you can show me one post where I supported Allardyce
It was an appointment I was totally against but understood why it was made
I consistently commented to any concerned poster that Allardyce would be gone at the end of the season and no way he would last his 18 month contract
You are talking shit
Like many many posters I don't accept that transition as you call it means we have to put up with crap football and tactics
I don't expect an apology for your comments about the lies about my happy clapping suffice to know that I know it's lies
Peter Jansson
291
Posted 20/01/2019 at 21:57:35
#289 Darren. First of all, I am not an Allardyce fan. But, this is not the result of Sam Allardyce football. This is a result of mismanagement starting with Martinez and with the absolute low of Koemans moneywaste that created the imbalance in our beloved club.
Allardyce did not do that much really. He bought Walcott, that turned out to be our best player last spring. Also he bought Tosun. He managed to get us on 7th spot. This did not hurt us too much really.
Now Silva seem to continue where Martinez ended. With no strategy at all playing this useless 4-2-3-1 formation with no ability to create a functional defence, no ability to create a good strategy and no ability to motivate the players. He is like Martinez moving development backwards.
This has absolutely nothing to do with Allardyce. If this negative development continues it is only a matter of time before we get a visit from the relegation ghost.
Eric Paul
292
Posted 20/01/2019 at 21:59:28
Tony,
I played centre-forward till the ripe old age of 46 and injuries caught up with me. I judged my performance on the complaints of the defenders and I noticed yesterday that the defenders didn't start complaining till Calvert-Lewin came on.
Stephen Brown
294
Posted 20/01/2019 at 22:01:21
You know when your season has gone tits up when you're delighted that Fulham and Huddersfield lost today as I'm worried where we can get 10 points from to reach the magical 40!
We hardly ever win away and our home games are a nightmare!
Too many serial losers in our team I'm afraid! Pickford – relegated, Keane – relegated, Zouma – relegated, Gana – relegated, Sigurdsson – in regular relegation battles! That's right down the spine of our side!!!
Laurie Hartley
295
Posted 20/01/2019 at 22:10:32
John # 284 – I'll hold my hands up – I actually posted that our midfield three was better than Liverpool's. You are also right about our form in the lead up to the derby.
I also said I liked the way Silva sets out to win every game. If I am honest, I am completely bamboozled by what has happened since the derby.
Perhaps the remedy really is just as simple as us signing a tried and tested centre-forward. If so, Moshiri should get him one – if there is one available.
In the meantime perhaps Silva should show a willingness to change his tactics until we can get him one.
After reading all the posts and weighing it all up, I think we need to get behind Silva and Moshiri needs to get him a centre-forward. If that works out it will be best for all of us.
In the meantime as Winston Churchill once said – "If your going through hell... keep going!"
Neil Copeland
296
Posted 20/01/2019 at 22:25:18
Laurie #295, great quote although Hell seems much bigger than I had imagined.
Don Alexander
297
Posted 20/01/2019 at 23:07:14
Well said Laurie and well said Darren in his longest post above. I realise Mike in Texas (and others!) may frown when they see my name but we really need to consider the personnel in the club year after year after year courtesy of Kenwright.
Might it be prudent, Mr Moshiri, to stop splashing out for what turn out to be mediocre managerial appointments as you have done whilst you welcome/endure the "Everton-ness" of the monster grabber and just pay whatever it takes to get rid of him in every way, totally, absolutely and finally, and the acolytes he's stuffed Finch Farm with.
Maybe, just maybe, M&M can then delegate their own choices to try to achieve what they and we fans (and you?) want?
And don't feel sorry for them either. If they're any bloody good they'll surely thrive at another cub, not that any of them have "coached" anywhere else of course.
John Austin
298
Posted 20/01/2019 at 23:33:35
Many of us are saying "Give Silva time" and I agree. But surely any coach worth his salt should be able to motivate the players he has and get the best out of them.
Somebody said earlier that he looks like a rabbit in a headlight when standing on the touchline. I couldn't agree more. His body language says it all. Brands should be reading the riot act to him — as we would expect if we were seriously under-performing in our jobs.
Alan J Thompson
299
Posted 21/01/2019 at 04:30:23
Well, that's really put my mind at ease, that we are rubbish on the field but we won't always be rubbish because this is known as transition. Now, when did that last work for us... 30 years ago?
Right now I might be encouraged if I saw the Manager doing something that appeared an improvement — not on what last season's managers did – but on his own presently failing ideas.
Darren Hind
300
Posted 21/01/2019 at 06:09:34
John Keating,
I cant copy and paste on this thing, but I can search back. How about this for irony given your constant attacks on Silva?
"We all have to support Allardyce as we do all our managers"?
Anyone who can be arsed to look back will find numerous examples of your support and attacks on other posters for criticising Allardyce. In his very first game, you told a guy on here, who had watched since Catterick's days, that he "didn't know what he was talking about" when he criticised Allardyce's tactics.
Like I say, there are quite literally numerous examples of your support for the Night King, but I'll leave you with this little gem you posted before he even signed:
"We were happy to pay Koeman £6M a year, so I'd grovel back to Sam with a £3M offer till the end of the season, with a £1M bonus for staying up" – John Keating, 7 November 2018.
When you call other people liars, you kinda force them to track back. I don't expect an apology from you, but I do expect you to send 50 quid to Cancer Research.

Tony Abrahams
302
Posted 21/01/2019 at 08:15:08
So leading the line s not just all about goals then, Eric?
Marco Silva, is struggling. Marco Silva, has been here for six months. Marco Silva's team, look very niave, to the point we're they don't even look like a team at the minute, but let's get behind the man, and his players.
He showed some great intent before the wheels came off and might possibly have won a few more games if he'd had a genuine centre-forward.
Let's get behind this team because it's much better than it's currently playing and, even if you don't want this manager, you would have to admit that football and life is a lot easier once people get behind you.
If they go out the cup to Millwall, which is quite possible the way they are playing, then this might change... but right now the players and the manager need support.
Eddie Dunn
303
Posted 21/01/2019 at 08:18:48
Eric Paul, very good point. Their central defenders were on holiday until Calvert-Lewin came on.
The boy is far from the finished article but I can see that big Dunc has been working on him. He wins a lot of headers and is putting himself about more than he used to. He will beef up naturally which will help, but he has mobility.
I hope Silva takes the difficult decisions to drop one of his personal favorites and keeps Dom at 9. I would have Gomes, Sigurdsson and Gueye in the midfield with Richarlison on the left with Lookman on the right.
If things need changing there is always Bernard to pop in instead a winger or Tosun to help Calvert-Lewin. What we don't want is the middle exposed to raiders running right through the empty space.
If Silva can't see this then there is either something wrong with him or his players are ignoring his instructions.
Eddie Dunn
304
Posted 21/01/2019 at 08:26:19
Tony ~302.
With that in mind, it's a blessing that we are away in the Cup as the away fans will get behind the team, especially with Millwall as the opponents.
Imagine if it had been at Goodison, with a large away support and our crowd getting fidgetty, then grumbling and finally hissing.
I personally have a feeling that we will come through that fixture unscathed. The lads will focus on the only thing they have left to keep their season interesting (as long as Silva puts out his first team).
Tony Abrahams
305
Posted 21/01/2019 at 08:40:37
I hope you're right Eddie, but Millwall, is definitely "the Lions den" so the players have got to "pull together and fight for each other."
When I write the words pull together, I think this is were Silva, is going really wrong. His formation is stretching us, and when it's backs to the wall, you don't want your nearest mate, 20 yards away.
Dave Abrahams
306
Posted 21/01/2019 at 09:22:53
I agree with a lot of what Darren Hind is saying, the club is changing it's outlook on the way we run the club, on and off the field, and I still think Brands will improve the club and the team in time.
Regarding Silva, he is just not listening or learning; he's had his cards marked at the AGM but still carried on with, what are to me, his sterile tactics, which are, patently obvious, not working.
Instead of defending deep with a compact midfield, especially away from home, he carries on in the same old way, leaving the team bankrupt defending; teams just go through us at will.
Upfront he plays a man who demonstrates with every game that he is not a striker and is next to useless there. This while he has a player, Calvert-Lewin, who can play there and will get better the more he is used there.
Unless Silva has a rethink on his game plans, he is leaving himself wide open to get his comics and his P45 before very long. I hope he learns, and quickly.
Steve Croston
307
Posted 21/01/2019 at 09:35:23
Silva has a rubbish record in English football, has mostly served up a load of old rubbish with us so far, keeps in with his easily sussed-out 4-2-3-1 formation and is generally just not very good.
The writing is on the wall; another failure. But, we are stuck with him for now.
Despair doesn't even come close... I'm truly gutted at the state of our team.
Sam Hoare
308
Posted 21/01/2019 at 09:52:59
I think part of the reason Silva was appointed was that I believe, for every single club that he has gone to, he has improved on the points per game ratio of the previous manager. In other words he has improved them. Not many managers can boast this.
I was going to say that was until Everton but apparently its currently still true of us where he has 1.44 points per game compared to Allardyce's 1.42!
Obviously we are in a bad rut at the moment both performance and results-wise and if Silva cannot remedy that by the end of the season then I imagine there's a fair chance he won't be here next year. But to say he was a bad appointment is very easy in retrospect.
Who were the obvious alternatives? Pellegrini? His West Ham are almost as inconsistent as us and only one point better off. Sarri? He's coming under serious pressure at Chelsea. Sean Dyche? His Burnley will be lucky to survive relegation at this rate.
I thought Silva was the right choice at the time but surely we all know there are no guarantees. Doesn't mean Moshiri deserves some of the abuse hurled at him. We have a tradition of giving managers a decent shot which I approve of and think it makes it more likely to be able to attract candidates. Of course, that patience is not infinite, but I think its highly unlikely that Silva will be sacked before the Summer.
As Darren Hind says, this is a serious rebuilding job, our squad is bloated, overpaid and yet unbalanced. Buying more short-term fixes (like Vardy!) is not going to help.
Brands has a serious job on his hands to shift the deadwood and loaning out Niasse (who the'd much rather have sold) is a sign of how hard it is to shift poor players on good wages who have not been getting game time.
How the team performs over the next few months will determine whether Silva is with Brands this Summer... or whether he's not up to the job of getting the best out of this crop.
Brian Harrison
309
Posted 21/01/2019 at 10:14:55
Surely, despite our poor form of late, do fans really think the answer is sack Silva after 6 months in charge?
Just let's assume Moshiri did just that at the end of the season, how do you think Everton would be viewed by any potential managers. They would think yes I can go there and make a few bob with a decent pay off after 6 or12 months if we are not in the top 6. But what sort of calibre manager would take on this basket case of a club would be dubious.
You can rule out any manager of substance considering us, so we would be back in the position of appointing someone who would be a bigger risk than Silva.
I would hope that Silva not only gets the rest of this season and all of next. Obviously, if results then haven't turned around, then maybe we would need to consider our options.
But, as with players, short-term policies with managers never work... unless you are Chelsea who can still attract the World's best coaches; sadly, we are not Chelsea.
Paul Cherrington
310
Posted 21/01/2019 at 10:16:17
It looks like all those Evertonians who said they would be happy with less points and a lower-placed finish under Marco Silva will have their wish come true at season's end. But wait, that's okay because he plays more 'attacking' football. The old adage of being careful what you wish for has never been so true. Being more attacking does not mean throwing both full-backs up at every opportunity and leaving your centre-backs exposed at every turn.
If Allardyce had had the disastrous run the current manager is experiencing, he would have been called all the names under the sun. People had a go at Sam even when he was winning! What we wouldn't give for a manager like him that could make us hard to play against and motivate the players to show some desire.
What is funny is that this is just a re-run of the Martinez debacle. A lot of fans moaned that Moyes had been too negative so we employed someone next who ripped up all that had been good under him and played not more attackingly, but simply more naively. The same has happened once more as Silva has ditched all the good things that Allardyce had instilled in us for the sake of higher possession stats and a few more shots on goal.
This current manager is not good enough for us and he is now doing what he has done at most of the clubs he has managed. He starts off well but then that quickly fades into a long losing streak that he has no idea of how to halt. It happened at Watford before he joined us but the majority of fans were too blind to see this. Why is he playing a winger as our centre-forward when we have people like Tosun and Calvert-Lewin on the bench? Why was Niasse allowed out on loan when he at least has the knack of scoring?
You can only imagine the outpouring of vitriol if a Moyes or Allardyce made these mistakes. but hey, let's just give him more time to mess it up – strange that people didn't give the last manager that luxury when he actually performed much better. Don't give me childish name calling about Big Sam in response – the table and points accumulated do not lie.

David Midgley
312
Posted 21/01/2019 at 10:42:46
So many interesting and varied opinions on here about the club and what needs doing. All of them from the heart and feeling the pain of the situation that Everton are in.
It doesn't matter whether you've followed them for 1 year or 60, it hurts and it will continue to do so for a while.
There are many suggestions about who we should bring in. I don't have the answer to that but my biggest gripe is about the way we play and our set up.
Roger #238, in his opening paragraph, makes two statements. I partially agree with the first but totally agree with the second.
I watched Saints vs Derby on TV, a great game of football; both teams played really well. Note: 'Teams' — Everton aren't playing as a team.
Saints new manager has only been there for half a dozen games and has got them organised and playing as a team. How?
Derby played really well and I thought deserved their win. They had two wide men playing down each wing, moving very quickly in attack or defence and crossing the ball in at every opportunity. They had defenders who defended and midfielders who tackled and brought the ball out. They were very fit, had a plan, played as a team and were motivated. At the time, I thought "I wish Everton were playing like that." Lampard has only been in management for 5 minutes. How has he got them playing like that?
And no!! I don't want him as manager. Why aren't Everton fit, motivated and playing as a team?
It's a sad indictment of my club when I would like them to play like Derby...
Read Sarri's comments about Chelsea after the Arsenal game.
Marlon Hoff
313
Posted 21/01/2019 at 12:36:03
Is it only me that feels all our problems started When Big Dunc was promoted to first-team coach in February 2014?
Moyes left for Manchester United 2013. Martinez started the season with a bang till the new year. Once Dunc was in place, nothing went right for Martinez and nothing has gone right since.
Every New manager that is appointed cannot let Dunc go, why is that? Normally managers come in with all their own but, at Everton, Dunc must stay... and, to me, it seems like that is when our passion went out the window.
I don't doubt his status as a club legend but maybe he doesn't quite cut it as a coach. Could this be why most managers since Moyes just seem an unhappy bunch, along with the players.
ps: Imo, I think Pickford is overrated (don't slay me)!
Rant over.
Bill Watson
314
Posted 21/01/2019 at 13:02:34
Marlon #313
I agree, it's a bit odd that Duncan Ferguson always survives managerial changes. Maybe that would suggest he's an excellent coach?
The problem is we have no way of knowing if the coaches are good, bad or indifferent. That's why it amuses me when posters call for this, that or the other coach to be sacked!
Pickford is one of the best shot-stoppers around and kept us in the game last Saturday with two excellent stops.
Stephen Davies
315
Posted 21/01/2019 at 13:20:59
Marlon #313,
Im no lover of Duncan nor do I dislike him. But I am a little puzzled as to his qualities as a coach (although his talents in this respect appear to apparently indispensable...
When Managers have been sacked, he remains. Why is that? Is he an exceptional Coach?
Peter Jansson
316
Posted 21/01/2019 at 14:41:38
Duncan Ferguson – maybe that is where the main problem is.
Jeff Spiers
317
Posted 21/01/2019 at 14:53:21
Peter @316,
He has not set the strikers on fire with passion...
Marcus Taylor
318
Posted 21/01/2019 at 15:03:59
Sam #308
The figures you quote are wrong, so your point in the second paragraph is – to date – invalid.
Premier League stats.
Silva. Pl: 23, Won: 8, Drawn: 6, Lost: 9, Points: 30 = 1.30 points per game
Premier League Win Percentage: 34.78%

Allardyce: Pl: 24, Won: 9, Drawn: 7, Lost: 8, Points: 34 = 1.42 points per game
Premier League Win Percentage: 37.5%

The Silva PPG figure you've quoted is inflated by tagging on the easy cup wins against Rotherham and Lincoln. You don't get points for cup wins, so I don't see how they can be added to a 'points per game' comparison.
And before anyone asks, the 4-0 West Ham game is NOT included in Allardyce's total.
ps: Overall win percentage (including cup games) may prove your point – depending on whether you attribute the Apollon Limassol win to Allardyce, who was 'technically' manager for that game.

Source:
Silva: https://www.transfermarkt.com/marco-silva/leistungsdatenLigenNational/trainer/19631
Allardyce: https://www.transfermarkt.com/sam-allardyce/leistungsdatenLigenNational/trainer/445
Dave Abrahams
319
Posted 21/01/2019 at 15:04:54
Bill (314), yes, Jordan made three or four first-class saves, but where was he for Southampton's second goal? He wasn't awake for that goal.
Michael Lynch
320
Posted 21/01/2019 at 15:06:25
Re Allardyce: I was happy to see him replaced by Silva for two reasons: Firstly, it would improve the dreadful atmosphere at the ground. Secondly, even if we didn't improve our points per game, we would at least be watching attractive football. It was that simple.
Problem is, it hasn't happened. The atmosphere is still shit, we haven't improved our points per game, and we're still playing shit football. What a fucking waste of time.
Sam Hoare
321
Posted 21/01/2019 at 15:15:37
Marcus @318, thanks. Weirdly I also used transfermarket this morning, I'm sure it said 1.44 and double checked it; either they have updated it with the Soton result since then or (very possible) I misread it twice.
Either way it makes more sense that Allardyce has more points per game at this 'moment'. I still hold to the rest of my post though.
Dave Evans
322
Posted 21/01/2019 at 15:17:16
We have been poor in the centre of the park for years now. Until this is sorted, we will continue to have the same conversations about the fragility and consistency of the team as a whole.
Whether it be with three, four, five, a diamond or two rabid dogs linked at the hip, central-midfield needs sorting. We need players to be a bit more dynamic and get their 'bite' back in there.
Until this is sorted, there is usually only marginal improvement in other areas of the pitch.
Marcus Taylor
323
Posted 21/01/2019 at 15:23:35
No worries, Sam.
Hopefully the the Silva ppg figure will be above Allardyce's in a few weeks time!
Eddie Dunn
324
Posted 21/01/2019 at 15:38:25
Please, blaming Duncan Ferguson for anything other than the centre forward's displays is ridiculous. I presume that Kenwright has told incoming coaches that Duncan is part of the furniture.
Personally, I think he is improving Calvert-Lewin 's game. If you want to look for reasons for problems, then don't go up this side alley.
Tony Abrahams
325
Posted 21/01/2019 at 15:56:08
Stephen @315, if Duncan was an exceptional coach, then surely he'd have been asked to manage the team by now?
Duncan is obviously getting looked after by someone, but I would personally have to ask if it's for his abilities as a football coach, because although I don't go to Finch/Farm, it never looks like Ferguson, has got much responsibility?
I might be wrong, he might be great, but I'm sure he'd have been promoted if he was because, after, all he's seen off three or four managers in 3 years, whilst Everton have not improved.
Roger Helm
326
Posted 21/01/2019 at 16:25:03
I agree with Eric @292 – a proper centre-forward is an essential part of a team, especially in England, and we have a great heritage in our club; Lukaku, Ferguson, Sharpe, Royle, Lawton, Dean and others. An Everton team without one to me seems incomplete.
As Eric says, there's more to it than scoring goals. A centre-forward unsettles defenders, offers an outlet, plays other forwards in. At present, opposing centre-halves seem very comfortable when we are attacking, and when we defend, as soon as we get possession and play forwards, the ball bounces straight back again.
We have some very clever forwards in Richarlison, Bernard, Walcott and Lookman, as well as Sigurdsson in midfield and I think they would do a lot better with a big centre-forward to play off.
Ken Kneale
327
Posted 22/01/2019 at 10:31:57
No disrespect to Calvert-Lewin but, if that is the sum total of Duncan Ferguson's contribution to the cause, we are all sunk. Ferguson is clearly in my view toadying up to someone within the Club to hold onto a job whilst all about him fall about – it is at times like this the manager should be able to rely on his team and as with several previous posts.
The only common denominator of Ferguson's tenure has been the regular departure and arrival of persons above him – it beats me how he survives. He is not the sole cause of our problems but very symptomatic of the issues holding us back and sending us further away from ever being the Club we all seek.
Get rid of him, Marco – show some guts – and finally rid the backroom of staff who are little more than coat hangers for a tracksuit.
Brian Murray
328
Posted 22/01/2019 at 11:05:29
Let's have it right, the only reason Dunc survives is because of a teary-eyed twat in the stands who should be long gone and is always holding us back in his usual bumbling ways...
Tony Waring
329
Posted 22/01/2019 at 16:46:11
Zidane is currently out of a job. Do you think he'd be interested?
Jeff Spiers
330
Posted 22/01/2019 at 18:39:34
Tony@329. Why not. Same personality as Silva, Koeman, Martinez!! Dour. Seriously, I don't think this group of players will make anyone happy.
Max Murphy
331
Posted 22/01/2019 at 20:10:05
Why do people think our problems will be solved if we got a decent centre-forward? Bollocks! The whole team is crap.
Brian Porter
332
Posted 24/01/2019 at 07:23:32
Tony Abrahams #278, totally agree with you, particularly this line, "We fans should be up in arms over this".
If we were in say, Italy, Spain or France, I think there would be fan protests at every game, banners, chanting, anything to get their feelings across to the club. It just seems a particularly British thing that we don't do such things over here.
Simply booing at the end of yet another dire performance has no discernible effect on the upper echelons of the club management.
Until the paying public begin to demonstrate in some way that they are not happy or willing to accept the 'product' on offer from the club, then there will be zero reaction from those in charge. What the hell? We virtually fill the stadium every game, won, lose or draw, so the crowd must be happy... right?
We can rant on all we like on here but until the club are made to realise just how unhappy the fan base is, nothing will change and we will blunder on from one disaster to the next.
Moshiri's appointment of Silva has again, in my opinion, shown his overall naivety and lack of experience and knowledge when it comes to running a Premier League football club.
Now in my 60th year as a supporter of this once great football club and I must admit, my fervour and belief in the club I love is diminishing week by week and has been for the last three disastrous years of useless and ineffective managerial appointments.
It shouldn't be like this.
John Raftery
333
Posted 24/01/2019 at 14:16:16
Fans were up in arms about Sam Allardyce last season. There was a reaction by the club; they sacked him and appointed Silva along with Brands as Director of Football.
Time will tell if that was in the long-term interests of the club. In the short-term, although we have signed some better players than were available to Allardyce, we have a worse team.
Add Your Comments
In order to post a comment, you need to be logged in as a registered user of the site.
Or Sign up as a ToffeeWeb Member — it's free, takes just a few minutes and will allow you to post your comments on articles and Talking Points submissions across the site.
© ToffeeWeb