Report
Black cat underlines Silva's lack of ideas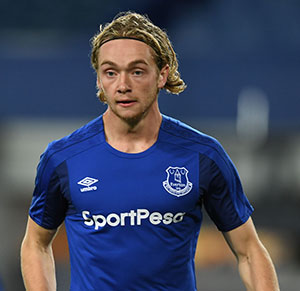 Tom Davies started again in midfield after his better display at Huddersfield
Everton 1 - 3 Wolverhampton Wanderers
Everton conceded an early penalty at Goodison Park but got back in with a brilliant Gomes effort, only to concede lamely from a stupid free-kick, with a back cat stopping play after the visitors had hammered home an easy third goal to win the game on 65 minutes.
Leighton Baines is passed fit to start. Idrissa Gueye misses out again. Theo Walcott is recalled in place of Bernard as the only change to the winning line-up at Huddersfield. Lucas Digne suspended. Tosun leads the line up-front.
McCarthy, Lookman, Bernard, Kenny and Calvert-Lewin and Schneiderlin are on the bench. No Yerry Mina, out injured.
Wolves kicked off, Richarlison getting caught by Neves early on. Baines curled in the kick but it was not attacked. However, the open early play from Wolves suggested a more appealing game, if Everton could pass it forward rather than sideways or backwards. The Everton players tried, but they were simply not on the same wavelength.
Davies played a fantastic ball to Richarlison, who challenged for it well but let the ball run away from him when he seemed in with a possible chance. At the other end, Baines had trouble holding off Doherty, and clumsily caught his trailing leg for a very poor penalty, converted confidently by Neves.
Wolves, with their heads up, Jota needed good shepherding by Coleman. But the Blues set for a massive task from the off. A long ball over the top far too easily foundJota could not quite control it and he followed through on Pickford.
Tosun returned the favour, playing for and winning a foul in a dangerous place outside the Wolves area, Sigurdsson driving it into the wall not once but twice. No imagination. Zouma lunged in on Jimenez and tapped his foot slightly: yellow card.
Wolves were able to run around the Everton defence with ease after Davies was clumsy, and Dendoncker had a free shot at Pickford with Jimenez onto the rebound, but it was cleared at panic stations.
Baines sold Richarlison a hospital ball, some terrible play from a very unsettled Everton side, getting the runaround. Walcott did get behind off a brilliant ball from Sigurdsson but he took an extra touch rather than hitting it first time and the keeper blocked it away.
Davies clumsily fouled Jota for an unwanted set-piece, thankfully punted behind by Moutinho.
But, out of nowhere, some lovely football, Gomes running forward with the ball and lashing the ball with fearsome pace into the roof of the net past his compatriot Rui Patricia. How to score goals, 101! Fantastic effort.
Gomes then collided with Jota behind Lee Mason, who just assumed the Everton player was at fault. Richarlison's cross was deflected out for the first corner from Sigurdsson, davies's pass intercepted setting up a breakaway by Jota, Coleman doing another great job to push him out wide at the expense of a corner to Wolves. But a throw-in taken quickly was called foul by Mason as Richarlison galloped away, the Brazilian lucky Mason did not see him hurl the ball away in wild anger.
Gomes and Richarlison combined well but the clever ball to pick out Walcott was covered by the defender. Jonjoe Kenny replaced Baines, who probably wasn't really fit. Kenny slotted right in, and played some great early balls. Keane did well to stop a Wolves foray just outside the Everton area. Davies tried to feed Tosun with an intelligent ball, and Richarlison was well covered on the other side of the area.
Richarlison went down and stayed down with a head knock, challenging for an aerial ball. Despite the extra space Wolves were giving them, Everton were not playing the most beautiful football, still passing backward needlessly to Pickford for the mind-numbing punt upfield.
Keane stupidly pulled back Jota off the ball and was given a yellow. Idiotic. From the free-kick, an easy near-post header from Jimenez beat Pickford with consummate ease. Utterly unnecessary. Utterly pathetic from Everton.
A Sigurdsson free-kick did not have the same effect at the other end, but won a corner, which pinged around until Mason blew his whistle for a weak challenge from Davies. The Blues played it around again without finding a decent forward ball, and the half-time whistle blew, with boos for Lee Mason in the main.
Good work by Kenny down the left won an early corner following the restart, fired in well enough into the mix, with Zouma flying in, but cleared by Wolves. Neves needed treatment and eventually went off, replaced by Saiss. A better cross in went through to Kenny but his effort on goal was not that great after he changed feet.
Gomes caused panic, giving the ball away but Kenny rescued the situation. Tosun was caught but Mason played advantage, Rcharlison playing a poor ball in, wasting the advantage. Blues were getting possession and time on the ball, but generally not using it well enough, much to the frustration of the Goodison faithful, the ball going around and about but nowhere near the Wolves goal.
Coady was booked belatedly for the foul 5 mins earlier on Tosun. Walcott got to the byeline and crossed but it was intercepted as Silva decided to switch out Walcott for Lookman before the hour mark. Lookman tried to beat two men but couldn't as the build-up showed few signs of penetrating a well-organized Wolves defence, Everton basically lacking meaningful ideas until their pass-the-parcel rotation inevitably breaks down, with Wolves looking more and more comfortable.
And when they did get the ball, they simply waltzed forward and powered the ball into the Everton net, after Jota's initial attempt was blocked, falling to Dendoncker, who smashed it past Pickford for the winning goal, with 25 minutes left.
Poignantly, a black cat ran around the pitch, refusing to be caught, as Mason halted the game, while Tiddles scampered the full length of the pitch, and finally off at the far corner. Jota looked like he would score again, Keane holding him off and Gomes dispossessing him well before he was fouled.
Davis saw a shot blocked, Jimenz fouling and Sigurdsson setting up to shoot at goal, with Coleman sacrificed for Calvert-Lewin, a desperate last throw from Silva, who will come under yet more pressure after this display. Sigurdsson clipped the free-kick to the far post, it fell to Keane but the shot was blocked.
At the other end, Jimenez danced into the Everton area and belted a tempting ball right across the face of Pickford's goal. Coady blocked Calvert-Lewin, the Blues fans screaming for a second yellow that Mason was never going to show. The free-kick from Sigurdsson was a gift spurned by the line of Everton strikers who could not get their heads on it.
Lookman wiggled the ball through to Sigurdsson who was falling as he took a weak shot straight at Rui Patricio. Richarlison launched himself after a soft bodycheck from Bennett, no foul called.
Kenny picked out a lovely through ball to Tosun who pathetically lost the ball under the slightest attention from his marker. An example of rare but perfect service played up to an incompetent striker.
Calvert-Lewin got a nice delivery form Kenny, bouncing off his head to the keeper. Why does Dominic not use his neck muscles to direct the ball? Seven minutes of "Cat stopped play" time ensued with the pattern of the game played out.
Scorers: Gomes (27'); Neves (pen:7'); Jimenez (45'), Dendoncker (65')
Everton: Pickford, Coleman (73' Calvert-Lewin), Zouma [Y:15'], Keane [Y:44'], Baines (37' Kenny), Davies [Y:76'], Andre Gomes, Walcott (59' Lookman), Sigurdsson, Richarlison, Tosun.
Subs not Used: Stekelenburg, McCarthy, Schneiderlin, Bernard.
Wolverhampton Wanderers: Patricio, Bennett, Coady [y:56'], Boly, Doherty, Dendoncker, Neves (49' Saiss), Moutinho, Jonny, Jimenez (89' Traore), Jota (77' Costa).
Subs not Used: Ruddy, Cavaleiro, Gibbs-White, John.
Referee: Lee Mason
Attendance: 39,380
---
Reader Comments (343)
Note: the following content is not moderated or vetted by the site owners at the time of submission. Comments are the responsibility of the poster. Disclaimer
Chris Gould
1
Posted 02/02/2019 at 14:10:21
Great news Baines is fit enough to play. We need to be on it today. It's going to be tough, and we will need to show character. I wonder if Walcott will show some fight to keep the jersey. Tosun deserves his chance after his efforts at Huddersfield.
Not feeling optimistic or confident, but still hopeful of a win.
Jay Harris
2
Posted 02/02/2019 at 14:51:01
Pleased to see Bainesy fit but just hope he is 100% because it looked like a sore one the other night.
Dont rate Tosun but hope he makes me eat my words and disappointed Lookman has been left out again.
Jay Wood
[BRZ]
3
Posted 02/02/2019 at 14:58:32
This is going to be an interesting watch and comparison to the reverse fixture on the opening day of the season.
I was mightily impressed that day how Silva, even in adversity after Jags got sent off before half-time, kept the team playing on the front foot in the 2nd half, deservedly re-taking the lead, before unfortunately conceding an equaliser.
I was disappointed with Wolves that day, given the fanfare they had received on their return to the PL. I thought Espirito Santo and his team were too timid, even against 10 men.
However, since then you could well argue he has been the better of the two Portuguese managers this season.
Yes, they have had 'mini-slumps', but nothing as bad as Everton's Silva. They've won 3-1 away to Spurs, had two 1-1 draws away to United and Arsenal, drawn 1-1 at home to City, beat Chelsea 2-1 at home and knocked out the 'poo in the FA Cup.
TW and the whole of Evertonia would be delighted with those results.
They certainly seem to be benefitting with the association they have with Ronaldo's 'super agent' - possibly the most powerful and respected agent in football, Jorge Mendes.
We, by contrast, last year announced a 'special relationship' with Lukaku's now ex-agent, the obnoxious Mino Raiola, the man who on welcoming Lukaku into his stable said publicly 'If I was Romelu's agent at the time, he would NEVER have signed for Everton...' The man who said a few months before Lukaku left that a new contract at Everton was 99% certain.
That's paid dividends thus far, hasn't it...?
Any type of win will do for me today.
Justin Doone
4
Posted 02/02/2019 at 15:02:35
I not sure how Baines can be passed fit with a busted rib? If he's not 100% he'll never last which means if I was wolves I'd be targeting him for some rough treatment.
I think Mina is out until the temperature is back above 10c, he didn't look up for the fight against Millwall and is probably glad of the rest.
Unhappy about Schnides being on the bench. He's another wet blanket up his own arse. He clearly has no future here so why bother?
No new faces because the board are not sure if Silva will be here next season. Its up to him now to get the team winning and playing well.
Go and play to win. 100% effort, sweat, guts and use your brains lads. No messing around at the back, play the simple balls forward and man your man. Don't be letting them run off you into space freely. Sigy needs to mark Neves out of the game to prevent the quick counter attacks.

Annika Herbert
5
Posted 02/02/2019 at 15:26:26
As good and as loyal a player as Baines has been, he is finished at this level. No need for him to make that tackle. Not to mention yet another Siggi free kick that does, nt clear the wall
Andy Mead
6
Posted 02/02/2019 at 15:50:24
Zonal marking again! The tallest player they got on his own. When is Silva going to learn? His pride is going to cost him his job. We are awful. I would sack him now and give somebody the rest of the season to settle in. Enough is enough
Terry Smith
7
Posted 02/02/2019 at 15:52:13
When will he get shut of zonal marking ? It doesn't work and we are dropping points because of this.
Christy Ring
8
Posted 02/02/2019 at 15:55:52
Shocking defending again, and how did Baines even start, he was clearly wasn't fit.
Jay Wood
[BRZ]
9
Posted 02/02/2019 at 16:01:01
How many degrees of stupidity can Everton produce in a single game, or a single half of football even?
It was quickly evident Baines was not moving easily. Why risk him?
Stupidity #1 by Silva.
Baines impaired movement contributed to the loss of a really, really bad penalty.
Stupidity #2 by Baines.
We do not have a great record of coming back from going behind this season, and Wolves continued to look dangerous easily outnumbering us both in attack and defence.
But we actually started looking a bit more fluent than of late with some nice interplay and the equaliser was a beaut. Great turn and lay off by Tosun - again leading the line well - and great feet and shot in a tight position from Gomes.
But then, stupidity # 3. There was absolutely no need for Keane's cheap foul. Zouma had the ball under control. You feared the worst, given our defending from this sort of position... and stupidity #4, our defence parted like the Red Sea to gift them the lead going into half-time.
Stupid is as stupid as does, as Forrest Gump was given to say.
Stupid, stupid, stupid, STUPID Everton!
Andy Meighan
10
Posted 02/02/2019 at 16:03:37
Jay Wood,
It's the agent's fault we can't defend, isn't it?
And there is no argument about the two managers: One is fucking brain dead and the other has worked wonders, having just come up from the Championship.
Ciarán McGlone
11
Posted 02/02/2019 at 16:04:56
Michael Keane may have improved this season, but he's still an awful player... zero mobility and awful decision-making on and off the ball.
Tom Davies needs to be loaned out.
Justin Doone
12
Posted 02/02/2019 at 16:08:21
An injured Baines starts and makes a mistake. Tut tut.
Neves given to much space and time. Much better when Sigurdsson got on him. Needs to continue that in 2nd half or let Davies mark him.
Set piece defending, far to easy and simple. I don't understand why concede so many free kicks when we can't defend them.
Let's go. Get Lookman on for Walcott and, if we're not winning with 20 mins to go, Bernard on to replace Sigurdsson or Calvert-Lewin for Davies.
Max Murphy
13
Posted 02/02/2019 at 16:12:22
Before this game is over, Everton have confirmed they are no better than a mid-table Championship side.
The zenith of their season has been an away win at Leicester. Any team with heart and desire, simply walk all over them.
I sincerely believe that the best thing for EFC is relegation. They need a clear-out and a reality check. There is no God-given right to suggest we are a top 4 or top 6 side. If it doesn't happen this year, I hope it happens next.
Onwards and downwards.
Max Murphy
14
Posted 02/02/2019 at 16:15:10
We cannot continue with this manager. He has to go. How many chances does he need???? GET RID!
Annika Herbert
15
Posted 02/02/2019 at 16:29:06
This is not the result, or performance, we were all hoping for. I have backed Silva all the way so far, but even I am starting to have my doubts now!!
Paul Setter
16
Posted 02/02/2019 at 16:31:06
Not getting any better is it?? Why are we clinging on to Silva?
As managers go there aren't many who are worse in the Premier League. No other club would put up with it... Why do we??
Max Murphy
17
Posted 02/02/2019 at 16:32:56
At the beginning of the season, we almost beat Wolves away. Now, we're getting thrashed at home.
Does that mean we've deterioated? If so, that is down to the manager.
GET RID OF SILVA NOW!
Neil Lawson
18
Posted 02/02/2019 at 16:34:01
Thank goodness for Fulham, Cardiff and Huddersfield. 33 points may see us safe. What total shite.
Mike Woods
19
Posted 02/02/2019 at 16:34:02
I fucken give up! Soo frustrated!!
Danny Baily
20
Posted 02/02/2019 at 16:34:42
Paul 16, I doubt we can afford to sack Silva.
Annika Herbert
21
Posted 02/02/2019 at 16:35:20
Mind you, we now have all this attacking talent on the field and I still see little, or no, creativity form Sigurdsson — supposedly our main man!!

Max Murphy
22
Posted 02/02/2019 at 16:35:20
First win for Wolves at Goodison in 40 years...
Joe McMahon
23
Posted 02/02/2019 at 16:51:44
Oh Dear, we can all celebrate at The People's Club — EitC doing well, Bramley-Moore Dock to be built in approx 8 years time.
Did anyone expect us to win today really? Wolves' recruitment and Manager puts us to shame.
Daniel Bentley
24
Posted 02/02/2019 at 16:51:59
We are the only team that have spent this much money and gotten worse. I really don't know what the answer is. Glad I gave my season tickets up last season.
Boycot the games.... The club might get their arse in gear then.
Christy Ring
25
Posted 02/02/2019 at 16:53:27
Depressing, and we still have five of the top six to play at home.
Daniel Bentley
26
Posted 02/02/2019 at 16:57:30
Never seen a team so comfortable at Goodison Park.
Alan McGuffog
27
Posted 02/02/2019 at 16:59:38
BBC fella just referred to the "race for seventh place". If you didn't laff..
Peter Jansson
28
Posted 02/02/2019 at 17:02:38
This is absolutely useless football. Totally absolutely useless.
We did not have a single chance in the second half. Not a single good chance.
I am so sick and tired of watching sideways piss football.
Can anyone please remove this clown of a manager we have?
Why the fuck did not we sell Gueye and bring in some kind of reinforcement in the window?
What the fuck is wrong with the players? We are down 1-3 with 10 minutes left, and we play sideways and almost no forward movements. Don't they want to win the games?
For fuck's sake, can anyone get into the dressing room too get the adrenaline and willingness to win up or what?
Take Silva off please, I can't watch this shit anymore.
Fran Mitchell
29
Posted 02/02/2019 at 17:02:43
Time to put Silva on gardening leave. That was woeful, showing we have improved not one jot. Any team that knows how to put more than 2 passes together gets a free pot at goal.
Woeful, absolutely woeful. We are getting progressively worst with Silva in charge.
I have now lost any faith in his leadership, and I was very confident upon his arrival.
Unsworth until June, and a comprehensive search for a new manager.
Miserable.
Dave O\'Connell
30
Posted 02/02/2019 at 17:04:08
No surprise at all. Wolves are a far better team than us — and the worrying thing is the board didn't think we needed new players in the January window!
Thank god there are 3 worst teams than us...
Andy Mead
31
Posted 02/02/2019 at 17:05:06
This team is leaderless. What is our style of play? Tactics and general know how are totally lacking.
What's really worrying is Silva standing on the sideline like a stunned mullet. Looks like a man who has lost the dressing room or run out of ideas.
Moshiri must take the full blame for this. He wanted Silva and he has picked 3 out of 3 totally terrible managers.
We are relegation fodder atm. We won't go down as thankfully there a 3 even worse teams than us, if that is possible.
The system is not working. Zonal making is not working. Players are not performing. Shambles from top to bottom.
Mike Price
32
Posted 02/02/2019 at 17:05:16
That was our last chance for a long time to secure safety. We're in free fall with a weak team that lacks character and heart.
It's actually pathetic that we have to hope the bottom 3 keep losing to make sure we don't get dragged into it. There's a lot of much better teams below us, just about all but the bottom 3 have more actual value in their squads and they've got better managers too.
John Audsley
33
Posted 02/02/2019 at 17:06:59
The players don't want to play for him and he has no idea what to do.
If we sack him, the next bloke has no money for players and we can't sell the shite we have
I'm so very fucking despondent tonight, watching that was horrible.
Andrew Keatley
34
Posted 02/02/2019 at 17:07:49
I'd take any manager who:
Understands the merits of marking;
Can get the players making runs off the ball;
Is prepared to change tactics and formations based on the game as it develops, and the opposition;
Can organise the team to defend as a unit, not a bunch of strangers.
Linda Morrison
35
Posted 02/02/2019 at 17:08:54
I'm trying very very very hard to think of something positive to say but can't. I doubt Silva will be sacked as he was Moshiri's choice, like Koeman before him. It would not reflect very well on Moshiri.
I think this will go down as one of Everton's worse seasons for a very long time. I could never understand why Moshiri wanted Silva, but thought he must have been aware of something the rest of us were not. Wrong!
I do not see the point of changing the manager now, we won't go down as every now and again the team manages to play football. I can't see Gomes staying and I can't see Moshiri shelling out the big bucks for a striker in the summer.
I think life was happier when we had not a lot of money and went for players that wanted to play for us as opposed to the big money grabbers.
Jay Wood
[BRZ]
36
Posted 02/02/2019 at 17:09:26
Well done Wolves. By far, far the better TEAM.
Well prepared. Well disciplined. Had a game plan for every situation. A thoroughly professional performance from manager to players.
Everything we are not.
We have a team of fireflies. They flicker and fade, flicker and fade, but don't endure.
How many times do opposition players simply burst through a 'tackle' against a blue shirt, even when the Everton player is seemingly the favourite for the ball?
The stupidity of the first half continued in the second half and Coleman's short underhit pass to Lookman exposed him and the defence and the third goal resulted.
Wolves are 7th on merit. Unless there is a radical change of form and fortune, we ain't reeling them in.
The difference between the effectiveness of the two Portuguese managers today was very, very stark.
For me, one Everton player stood out from the rest and he didn't even start the game: Jonjoe Kenny.
Firm in the tackle. High energy, getting up and down the pitch. Firm in his passing, with cute angled balls to men forward of him. And clearly someone with passion for the club, his own and the team performance.
Less fireflies are needed at Everton, and more fire-spitting dragons like Kenny most certainly are needed.
We are a MESS!
Roman Sidey
37
Posted 02/02/2019 at 17:09:28
There is just too much wrong with this team of players.
They don't know how to attack crosses and free kicks. Almost every time there is a decent cross the ball is behind the last man, because whomever that player is, he doesn't know how to read the flight of the ball and overruns it. Unintelligent.
They very rarely win the second ball when in loose play. This goes back as long as I've followed the club, so is obviously an ingrained attitude at the club.
Throw-ins have always been a waste of time as long as I've followed the club. Digne this season has been the only bright spark in this department in 18 years of my attention. Unintelligent.
There's never any urgency with these players. At 1-3 down at home with 10 minutes to go, the players play like they're up 4-0 against 9 men. This also goes back as long as I can remember following the club. Unintelligent.
Pickford can't kick. He is so bad at it I get nervous whenever the ball goes back toward him. Add that to the long list of things he is bad at and doesn't seem to improve on.
Keane is a fucking idiot.
Finally, the Baines debacle today just shows the club has kept hold of a player too long. He should have been let go or phased out a few years ago, and now we're left with a suspended left-back and a back-up who has lost any semblance of being an effective player. Total mismanagement by the club to not sort this out. It is also alarming that the same situation could arise regarding Jagielka. How much is he being paid to do absolutely nothing?
I said it in the forum, and I'll repeat it here: these players are making me hate Everton. That's not right.
Before anyone gets upset with "whataboutisms", I am not absolving Marco Silva of blame. He is part of this, but the players are the ones on the pitch not doing the basics right.

Tony J Williams
38
Posted 02/02/2019 at 17:09:53
You can blame the manager as much as you want but the players are just as to blame. Stupid free kicks, terrible passing, rubbish defending and zero commitment.
Looks like they're already on holiday to me...

George Cumiskey
39
Posted 02/02/2019 at 17:09:54
Completely outplayed all over the pitch.
Sigurdsson anonymous again... has been for months.
Keane a nightmare at the back.
A team who can't pass or trap a moving ball.
Two strikers who are nowhere near Premier League standard.
A manager who's tactically clueless.
Besides all that, we're doing great.
By the way, I'm like a lot of posters – glad we didn't sign anyone in January – because this squad will do us proud. Lol.
Frank McGregor
40
Posted 02/02/2019 at 17:10:29
Sorry, all you ToffeeWebbers — this season is a dress rehearsal for next season, when Everton will be next season's Huddersfield.
This situation is beyond just changing the manager. The club structure from top to bottom has got to be changed.
Frank Crewe
41
Posted 02/02/2019 at 17:10:43
The sack clock is definitely ticking on Silva. Once he started blaming the players, it just became a matter of time. He's finished. Stick a fork in him and move on.
Peter Jansson
42
Posted 02/02/2019 at 17:10:54
Andy #31. We have no style of play. The only way we play is sideways. Make it slow and don't play the ball forward. Try not to do something that makes the opposition surprised. Try to loose the ball in the midfield so the opponents can get a counter-attack.
There is no strategy whatsoever about anything. This is not even Championship standard.
I don't have a single idea how Silva is thinking we are going to score with this football. I could have watched another 1,000 minutes and we would not have been close.
Paul Tran
43
Posted 02/02/2019 at 17:12:06
The players look lost and lethargic. They seem like strangers, running into each other, passing to where they were. All waiting for each other to do something. Most of them unable to do the basics.
Silva's not getting through to them. He's confusing them. Certainly isn't motivating them.
Whatever happens, I hope Brands is looking for the next man, lining him up for the next tilt.
Paul Armstrong
44
Posted 02/02/2019 at 17:12:26
We could easily ship 10+ goals over the two games against City and the other lot. Let's hope that triggers an underperformance get-out clause in his contract so we can get shut. We want him to succeed but there isn't a glimmer of hope, inspiration or fight.
Tony J Williams
45
Posted 02/02/2019 at 17:12:52
Double bubble then, George? What decent manager could get these shite players playing? Probably none.
Tony Everan
46
Posted 02/02/2019 at 17:13:02
Disappointing.
If things don't improve incrementally between now and May, Silva won't be retained.
It is do or die time for him now, time for him to prove he can arrest this burgeoning slump.
Phillip Warrington
47
Posted 02/02/2019 at 17:14:33
Utter crap — we never looked like scoring; we could have had the best centre-forward on the planet and it would not have made any difference.
Again, two schoolboy errors and we give them their first two goals. If Baines was not right, why the hell was he playing? Lookman seems to want to be somewhere else, but unfortunately so does the rest of the team. There is no urgency, no spark... it's 11 players going through the motions without over-committing themselves or showing any fight.
I can't wait for the season to finish and hopefully, we are still in the Premier League.
Peter Jansson
48
Posted 02/02/2019 at 17:16:02
The second half today is the worst football I have ever seen Everton produce in my whole life.
Please sack Silva. After 40 years, I am close to finding another team to go for. Watching this lowers life quality. A total waste of time.
Mike Kehoe
49
Posted 02/02/2019 at 17:16:37
Same predictable shite: Walcott does nothing, Tosun is garbage, too slow moving the ball, and the usual shocking zonal defending.
The season is over so why not try something different? It has got to be obvious that we don't have the players for this formation and we need two up top because what we have is nothing like good enough.
Silva has had two windows now and the personnel is not good enough; that much was obvious right from the start. But to be this clueless is unacceptable. To be punished for the same tactical stupidity week after week is unforgivable, to obstinately stick with failing tactics and ineffective players is Silva's piss-poor decision-making. Looks like another dickhead manager through the revolving managerial door...
Since Moyes, we have had a succession of inadequates, these "phenomenal moments" bullshitters have consistently talked a good game and delivered chaos and excuses. Next time, get it right because this has eerie echoes of Aston Villa.
Eddie Howe has performed miracles at Bournemouth and surely has achieved all that is possible at a club that size. The last time I made this suggestion, people were outraged, shrieking "Such a move is beneath us". Anyone expecting Simeone or Ancelotti is absolutely deluded because we are utterly shite.
Mark Siddons
50
Posted 02/02/2019 at 17:19:05
The black cat was the best Evertonian on the pitch... but what a farce.
Eric Paul
52
Posted 02/02/2019 at 17:20:28
Tony @38,
Professional football players follow the manager's instructions to the letter... so therefore it is the manager's fault by a country mile.
George Cumiskey
53
Posted 02/02/2019 at 17:20:41
Tony, any decent manager with a bit of tactical nous would see what he's got to work with and play accordingly.
The same tactics every week: throw the ball out to the full-back, he passes to the centre-half, he passes back to the full-back, who gives the ball to the opposition.
Easy to suss out and, if that doesn't work, wait till we give you a set play and score from that. Easy again.
Paul Armstrong
54
Posted 02/02/2019 at 17:23:24
Dermot Byrne
55
Posted 02/02/2019 at 17:24:17
We just need patience...
Sorry, couldn't resist it!
Rugby is good.
Mark Siddons
56
Posted 02/02/2019 at 17:24:40
Paul @43
Brands is hardly covering himself in glory either... Big bucks for what?
Moyes didn't have a DoF, had to do it himself –and did a hell of a lot better.
Jim Bennings
57
Posted 02/02/2019 at 17:24:58
You'd need to perform miracles to get this bunch of lazy shithouse shirkers playing well.
Utter embarrassment that and none of them should be anywhere near an Everton shirt after that effort today.
Piss-poor and we are playing for 12th now and even that would flatter us the way we've piss-farted away the last two months.
The 3 years Moshiri has been here have been an absolute catastrophic failure to date
Danny Baily
58
Posted 02/02/2019 at 17:26:01
If we're stuck with him then it's time to impose a decent coaching staff on Silva, take some of the decision-making off his hands.
Kase Chow
59
Posted 02/02/2019 at 17:26:44
What is everyone whinging about?
Most people on here said "Let's not get a new striker in January. Let's persist with Calvert-Lewin and Tosun."
Well, you got your wish. And this is the result and will continue to be the results. You wanted this, so grow up!
David Pearl
60
Posted 02/02/2019 at 17:27:17
I didn't want Silva and I don't want him now. His subs are so predictable. He lost the players a long time ago. The last time we played good football was with Martinez, I'd've preferred for him to stay and build on that style of play.
A groaning Goodison is something I'm not able to get used to, I'd rather stay away. And no, it's not all Walcott's fault. Again... get the best little Spaniard we know on the phone and let's get some style back into this club. As it is, I'd bring Moyes back for a few months to sort out this defence.
Roman Sidey
61
Posted 02/02/2019 at 17:27:24
Exactly, Danny. Ferguson needs shifting off. He's been here 4 or 5 years, which coincides with us being quite shite.
Jamie Crowley
62
Posted 02/02/2019 at 17:28:19
I don't see any improvement. This isn't a case of a well-coached team dropping points and having an off day.
We're not getting better. We are getting worse.
Same tactics every game.
Our midfield you can drive a truck through at points – way too much space.
It's time for him to go. He's not changing, not motivating, we're on the gerbil wheel of death.
Pat Kelly
63
Posted 02/02/2019 at 17:28:31
We have to wait till we reach rock bottom, apparently. Problem is, no matter how bad we are we can always be worse. Silva is a dead man walking and has looked that way for some time now. Put him out of our misery.
Paul Smith
64
Posted 02/02/2019 at 17:29:09
No time to lose... sack him. It's diabolical.
Jay Wood
[BRZ]
65
Posted 02/02/2019 at 17:30:31
Kase @ 59.
Still being silly and blaming TWers for our transfer policy I see Kase.
Who is the one who needs to 'grow up' again..?
Kevin Prytherch
66
Posted 02/02/2019 at 17:32:40
Jay Wood – the difference is that he feels something for the club, unlike the bunch of overpaid superstars we have.
We have nothing to play for, so what is the point of fielding the same so-called senior players who have done nothing for the club?
Put Kenny, Davies, Lookman, and Calvert-Lewin in the same team and watch them fight for each other. Not just for 30 minutes at the end of the game, but for a run of games. Put McCarthy in, he'll show some fight.
Playing Coleman, Sigurdsson, Walcott and Tosun teaches us nothing. They won't be here for the future and they're not good enough now; barring Coleman, I'd be looking at getting shot of all of them.
It's a shame now that we've let Holgate, Baningime and Dowell go out on loan, and haven't recalled Joe Williams. I'd play all 8 for a few games and give the senior players a kick up the arse.
Kevin Prytherch
67
Posted 02/02/2019 at 17:33:51
Jay - I was referring to post 36 and not 65
George Cumiskey
68
Posted 02/02/2019 at 17:34:07
Kase @ 59 — well said, where are all these posters who were very happy we didn't sign anyone?
Julian Exshaw
69
Posted 02/02/2019 at 17:35:09
Roman @37, I totally agree.
There was one moment in that game which summed us up. Early in the 2nd half, Coleman picks the ball up on the centre circle, all the players were up the pitch. Instead of chipping a nice ball back into the danger zone he plays it back, under no pressure, to Pickford to hoof it away and lose possession.
No conviction, no courage, no fire, no urgency and frankly no skill.
Roman Sidey
70
Posted 02/02/2019 at 17:38:30
George and Kase, I don't think any fan would be happy we didn't sign anyone in January. Most of the people supporting Brands's position are probably just happier not wasting too much money on players not worth it, which has happened nearly every January for the past decade.
If the right deal could be made, then I'm sure every supporter would have been stoked, but £35M for a striker with very few goals in the league didn't strike a lot of us as good value.
Tony Twist
71
Posted 02/02/2019 at 17:38:32
Plain and simple, Silva is exactly what was expected.
Everton just don't change, they just haven't got a clue and, let's face it, Moshiri is ideal for Everton — he hasn't got a clue, the proof being that he apparently pursued Silva for months.
Why do Everton do this? Is it the un-quenchable urge to be the underdog? I'm tempted to say it is the seventies all over again but I think I am being unkind to the Everton players and managers of that time.
Silva should be sacked for gross incompetence. He is the coach and his team can't even do the basics.
Jay Wood
[BRZ]
72
Posted 02/02/2019 at 17:39:09
Kevin @ 66.
Your comment addressed to me, "the difference is that he feels something for the club unlike the bunch of overpaid superstars we have."
Are you referring to my earlier praise of Jonjoe Kenny, or my comment directed @ Kase?
If it's my praise of Kenny, and your call to blood more youngsters now, this season (we're not going to get relegated; we're not going to challenge for a European place) then we're in agreement.
If it's in reference to Kase, then I can respond I am also deeply passionate about Everton FC.
I am not so silly as Kase, however, to attribute our current ills to TWers as he did on the closing of the transfer window and again now in this thread.
My post-post edit: Kevin, just seen that whilst I was typing the above, you added your own post to clarify which of my posts you referred to. We're in agreement then.
Kevin Prytherch
73
Posted 02/02/2019 at 17:39:32
And I'd make Kenny captain for the remainder of the season.
He's captained the U18s, U23s and England U20s.
He loves the club, let him lead by example.
Jim Bennings
74
Posted 02/02/2019 at 17:39:37
Don't people stop to ask why our last four managers have "lost the players" before actually questioning the players' attitudes at some point?
The players have been stealing a living off this club for too long, none of them hurt or are good enough, let's be honest. The few who do hurt, Davies, Kenny just aren't good enough for a club with aspirations of top 7 football.
Something has gone badly badly wrong at this club over the last five years.
Kevin Prytherch
75
Posted 02/02/2019 at 17:41:02
Jay - it was your comment about Kenny. Must have been typing it the same time you responded to Kase.
Ed Prytherch
76
Posted 02/02/2019 at 17:42:49
Many of the players are as apathetic as they have made the fans. You would think that Walcott would want to take his chance after being rightfully dropped for the previous games but he wandered around expecting someone to create something for him.
Lookman's first contribution was to be asleep and robbed of the ball leading to the first goal. There is no desire to impress the boss. Maybe they have given up on him.
We had most of the possession but we passed it around like it was a hot potato "after you" then no "after you" and we end up with Keane trying to make a forward pass.
With the top teams, you always have 5 or 6 players who are constantly trying to make something happen. At Everton, you always have 5 or 6 players waiting for someone else to make something happen. I saw a lot more effort from Preston NE against Derby yesterday.
Paul Burns
77
Posted 02/02/2019 at 17:43:09
For fuck's sake, when will you all realise, as long as Kenwright's there, it doesn't matter who is manager, what the team is, or what the tactics are — it's all irrelevant.
To move on, Everton have to remove the biggest loser, liar and phoney in the club's history. He's practically killed us on his own, the Idi Amin of football.
Roman Sidey
78
Posted 02/02/2019 at 17:45:45
Certainly not disagreeing with that, Paul Burns. His loser stink rots through the whole club.
Kevin Turner
79
Posted 02/02/2019 at 17:47:49
Paul #77.
I didn't see Blue Bill on the pitch today... so what's that about???
George Cumiskey
80
Posted 02/02/2019 at 17:48:55
You got me there, Roman, why expect our worldwide system of scouts to find anyone in January? When we can save our money and wait for all the top class players to be queuing up to join us in the summer.
Jay Wood
[BRZ]
81
Posted 02/02/2019 at 17:53:04
Paul @ 77.
You'll get no arguments from me about how we have atrophied as a club since the formation of the Premier League under Bill Kenwright.
However, I don't think you can hang the continuing malaise at Everton on Kenwright alone. Farhad Moshiri has been here 3 years already.
He has been the one calling the shots on who to hire and fire, be it managers or directors of football. Koeman and Walsh, Allardyce, and now Silva and Brands.
It is Moshiri who choose to keep Kenwright on as chairman. It is Moshiri who has reshaped the boardroom. It is Moshiri driving the new stadium project.
It is his money and his final decision that has sanctioned the spending spree in those 3 years on too many not-fit-for-purpose players, on fat long-term contracts.
I repeat, Kenwright's association with the club needs to end. But for the last 3 years, there are others far more culpable than him for the stagnation – regression, even – that we continue to see at the club.
Dermot Byrne
82
Posted 02/02/2019 at 17:53:57
Can the solo geniuses stop saying "You all blah blah blah."
I don't know anyone here who is always right or always wrong.
And to fall into the easy line of blaming fans who may have disagreed with you is bloody pointless. Not one of us picked the side or kicked a ball.
We are shite... blame does not lie with a single TW contributor.
Justin Doone
83
Posted 02/02/2019 at 17:55:24
Silva needs to realise that having 90% possession means very little when most of it is with your central defender's on the edge of your own box. Martinez all over again.
We should be a counter attacking team with the players and pace we now have and a midfielder who can pass the ball forward accurately and quickly.
I don't want Silva to fail but Moshiri has to take the blame for basically keeping no consistency in play or players by hiring managers with almost opposite footballing philosophy.
Therefore he has to be prepared to keep funding his own mistakes. It may be players, managers or both but if he wants success or his money back there's a long road to travel down first.
Silva to the end of the season and go from there. Go where I'm not sure. Moshiri needs to have the plan even if it's passing the buck too Brands. But if Silva isn't too continue please no more possession obsessed managers.
In all honestly if we can't get better than Moyes then he becomes the default man. I'm not wanting Moyes back but we have not had anyone since who can get more out of average players and so he becomes the benchmark and has probably learnt a few things since he left.
We could and have done far worse but Silva has just over a dozen games to change things for the better. We all need to get over this poor showing and defeat otherwise we'll be on the end of a Man City cricket score.
Mike Price
84
Posted 02/02/2019 at 17:55:42
The club is a cash cow and a joke. Players, managers, directors of football, coaches are all sucking from a huge amateurish tit.
All this Arteta crap is pissing me off too. Just because he's Pep's mate – he's done nothing, is a quietly spoken character and basically another Brian Kidd. No way can we take such a stupid risk.
We have one more chance to get it right before we go into total meltdown, we have to get Benitez!
Rob Marsh
85
Posted 02/02/2019 at 17:57:56
I wrote a few posts last night to give Silva until the end of the season and said we're safe, let's make the best of it and we probably are safe.
With football like this though, I can't pick any game from the fixtures that I'm confident we can win, we've played a very poor bottom team and just about survived for the win, the rest of the teams can all have a go.
What to do now?

Phil Greenough
86
Posted 02/02/2019 at 17:58:28
Can anyone answer me this? I've just listened to the same old shite by Silva and the interviewer asks the same old questions. Why can't these interviews ask Silva important question like, "Why do you keep playing zonal marking, when it evidently doesn't work?"
Listening to the phone-in on Radio Merseyside, at least Goodlass isn't a lickspittle to EFC. I'm just sick of the whole shooting match, the players need to take a hard look at themselves as well.
Ian Lloyd
87
Posted 02/02/2019 at 17:59:15
Back from the game... Absolutely shite — how long are we going to put up with this?!?
David Hallwood
88
Posted 02/02/2019 at 18:02:15
I'm as angry and frustrated as everyone on TW, but I'm bewildered as to what the fuck has gone wrong? Where is the team that gave a good account of themselves vs Arsenal, Man Utd, Liverpool and Chelsea?
A team which we all thought was going to kick on, has lost it's way since the derby. M&M will earn their money turning this around.
Final point; the only positive thing to say about Lee Mason is that he isn't Jon Moss.
Shane Corcoran
89
Posted 02/02/2019 at 18:02:47
Rob, outside of maybe Huddersfield, we're probably the worst performing team at present in the league.
Does Moshiri wait til the summer, try to get even more shite out the window and give Silva another window?
That's the big 'un.
Paul Tran
90
Posted 02/02/2019 at 18:03:02
Jim makes an interesting point about various managers 'losing' the players. I'd say the one thing that did for Martinez, Koeman and will do for Silva is that they can't get their messages through to the players. That's why they couldn't and can't do the basics, they're being confused.
It's nothing to do with them being 'foreign', it's poor communication. These guys might have their badges, but if you can't motivate a bunch of people to do the basics, you won't last long managing anything.
Do they do anything on communication & motivation when doing their badges, or is it all fitness & tactics, measuring the easy to measure?
Roman Sidey
91
Posted 02/02/2019 at 18:04:32
George Cumiskey, 80, I'm certainly not disagreeing with you. I wish we'd signed someone in January, but there is absolutely no point in just buying for the sake of it.
Phil, 86, one of my good mates is a sports writer in Australia. He's served time working in England as well. He's an Everton fan too, by chance. What he always tells us is these journos who get the pressers are all in a boys club, and any who ask the tough questions that managers don't want to answer find themselves on the outer very quickly. They ask easy questions because to them, being part of that inner circle is much more important than rocking the boat before being thrown out of it.
George Cumiskey
92
Posted 02/02/2019 at 18:09:37
Roman, I don't agree with your first paragraph, lol. But I totally agree with your second.
Tom Dodds
93
Posted 02/02/2019 at 18:10:27
Yeah, like were ALL gonna turn up for the Man City game.
Niasse havin a good game at the moment. Btw.
Ffs.
Well you reap what you do (or don't) sow.
Brands is Randolph Scott.
(And its 11:50)
Rob Marsh
94
Posted 02/02/2019 at 18:12:52
Shane #89
I suspect this time around it will be Brands who calls this one, no doubt he'll be looking at how Moshiri reacts to results like this.
If I remember correctly Brands inherited Silva, his hands are clean, he can if he wants pull the trigger.
Would that do any good at the moment though?
I doubt they've got anyone to replace him anyway, only rhino, It will be the end of the season me thinks, that's providing we can scramble somehow to 36 points?
Grant Rorrison
95
Posted 02/02/2019 at 18:13:17
Justin 83. I wouldn't have thought he was in any of his jobs since he left here long enough to 'learn' anything.
Moyes back? No thanks!
Kevin Turner
96
Posted 02/02/2019 at 18:18:58
Well said, Phil #86 – a Champions League manager waiting for a club with ambition and the cash to make sure it happens – oh hang on. Well, imho, he'd be the right guy, not sure about our club though.
Dave Williams
97
Posted 02/02/2019 at 18:19:05
We don't have a squad of potential Champions League players but it is a squad of pretty decent players who have all shown ability at some point in their career to date. Sigurdsson was a top player at Swansea likewise Keane at Burnley and you could go through the squad and list most of them in similar vein.
So the simple problem is that the manager is working very hard trying to coach a style of play and the squad isn't taking it on board or sod all is being done at Finch Farm and the players (exceptions of Tom and Jonjoe) couldn't give a stuff.
Inadequate players will still work hard because anyone who cares doesn't like losing. Most of our players should be at least adequate but very few of them seem to be stung when the team is losing. The crowd has lost its passion because the team is not showing any and from his performance on the touchline the manager isn't showing much either.
Nil satis nisi optimum – it seems like we have lost sight of our proud roots and traditions and are accepting even less than mediocrity from the key employees of the club. Remember who we are; remember what this club used to stand for – wherever the fault lies (and its not Moshiri or Bill or DBB or the club cat for not scoring when he came on) – this is down to manager or players and it has to be sorted out now because if it isn't the next six home games could get very humiliating.
David Hallwood
98
Posted 02/02/2019 at 18:20:57
Just watching England collapse vs the Windies. Great weekend
Tom McEwan
99
Posted 02/02/2019 at 18:21:22
I'm a bit bemused by posters who state, "we ain't getting relegated".
On what evidence do these posters base that? The same evidence regarding Silva's credentials to manage our club, by any chance?

Dave Abrahams
100
Posted 02/02/2019 at 18:24:38
Gomes scored a really great goal, but before and after that it was a putrid performance from well paid players managed by a man who is proving with each passing (how did that word get in an Everton post?) game he is just out of his depth.
How can we expect a different result when we had five or six players not good enough or not even looking like they care.
For me, Gomes and Zouma had decent games with a young lad coming on, first out of position and then going to his own and trying to cajole, scream at and tell the other players to fuckin' have a go. Well done Jonjoe, shame on most of the other players.
Wolves deserved their win, could have been more, in truth their win was hollow, they beat a very, very poor team who have many more hidings to take in the coming matches. Heaven help us.
Kevin Moorcroft
101
Posted 02/02/2019 at 18:24:44
I think Everton will be very lucky not to be relegated and even at this stage it could happen.
This manager is frankly clueless. No defensive policy which should be priority.
We've no real strikers so goals will be hard to come by anyway. Just took the dosh for Lukaku and let things ride (What idiots!)
We have REGRESSED since Allardyce without a doubt. At least we worked hard to save a sinking ship under his rule He was a temp to save us so why do people knock him. Those who do and did should realise his was a stop gap. He must be laughing his head off like the rest of the Premier League.
This manager – well, words fail me and he lets it go on and on and on. How can anyone respect him!! He's no track record and should never have come here.
Rotten club from top to bottom nowadays... John Moore's would turn in his grave!!
Shame on Everton FC.
Jim Bennings
102
Posted 02/02/2019 at 18:26:43
The funniest things today kind of summed up Everton at Goodison.
That cat that got on the pitch, initially it started in the oppositions penalty box yet ended up all the way back to Jordan Pickford.
A bit like our football, let's be honest... lol.
Peter Jansson
103
Posted 02/02/2019 at 18:27:07
I have saidi it before. I think we have problems that go deeper than the manager.
Starting at the top – Moshiri – it seems like he does not know at all what he is doing. So how is he going to be able to listen to the right people and hire the right manager?
Backroom staff and among them Duncan Ferguson. I don't think he is the right man to be the head coach. And there must be a problem with trainers etc as we look totally awful. The players play like they have never played football before.
Silva – certainly he is not the right manager to lead the team. He needs to go asap.
We can only hope for the clueless Moshiri to be lucky with the hiring of a good manager. One thing is for sure. He has to hire someone that has a track record of winning football games.
Roger Helm
104
Posted 02/02/2019 at 18:27:21
The club has been rotten for years. Even the stewards can't be bothered to get off their fat arses to catch a cat.
Chris Jenkins
105
Posted 02/02/2019 at 18:29:44
In a results-based business, the buck stops with the manager.
On the credit side, Silva is obviously not responsible for the signings made before he was appointed but he is responsible for those he has signed and for the imposition of the zonal marking tactics. The evidence is quite clear in terms of the results and generally poor performances.
There has to be a change of management regardless of the cost in terms of compensation payable because the cost of Championship football would arguably be catastrophic
Peter Jansson
107
Posted 02/02/2019 at 18:30:55
I'd take Moyes or Unsworth for the rest of the season any day compared to this.
I cannot believe how anyone can prefer this compared to how we looked under Moyes? It's beyond logic to me.
Henry McDonald
108
Posted 02/02/2019 at 18:30:56
Does anyone on this thread want to defend Silva now? Surely its over for him.
Mind you it should be over for most of that defence, in particular, Michael Keane who has been consistently useless. If we have to suffer Silva until the end of this dire season can we be assured that he will be gone in the summer. How on earth can our club be trusted in his hands?
I never wanted him in the first place but was prepared to be open minded. However, he is nothing more than Martinez Mk II. The appalling lack of defensive strategy exposes us every single week and he still can't see it. Who will he blame this week for our defeat? The black cat?
Moshiri and Brands surely cannot tolerate this run much long although I fear they won't be moved.
Paul Birmingham
109
Posted 02/02/2019 at 18:31:45
Well my clearly optimism has been again relaxed and it's pretty dire and depressing being an Evertonian these days.
FairPlay to Wolves who didn't disappoint and played us off the Park, bar 15 mins in the first half.
No heart, bottle, guts, belief, the full basic book of requirements, physical, mental, and skill, belief, desire, heart have gone.
In my opinion, the ship is on course to run aground very soon. I don't want to see Silva sacked, I want him to succeed, but it's as if the away teams play on the fear and lack of spine in this EFC team.
God help us the next two games and the rest of the season. Please, pray the players don't come out with usual King Edwards about how they care etc. Clearly they don't.
Not much more can be said other than what's been said already on this thread. It's unholy, what's going on and the Everton Brand is being dragged into the pits of despair and I don't see what's going to happen, if the form doesn't improve.
Who in the right mind, will come to Everton, this summer? It's worse now than in the doldrums days of the early 90s, and Walter Smith era.
We are all thick skinned and proud as hell of being an Evertonian, but the clubs aspirations will never happen, if the appalling form doesn't improve.
Wednesday and next Saturday at the Hornets is massive.
Have a good weekend and don't let this shower of pretenders, spoil it.
Tony Hill
110
Posted 02/02/2019 at 18:31:51
One of the reasons why I wanted to keep Allardyce was because he is an obnoxious, ugly bastard – quite outside the Kenwright cocoon of sentimentality and guff. He would have had us very hard to beat and I believe he would have built us up over time.
But that was then. Now we have a young manager who is looking to go a different route and who produced some hugely encouraging performances up to and including the derby, and the best away performance for ages when we played Burnley.
At the moment, we are shite... but I still see Jay Woods' flickering, firefly moments (including the superb goal today) and we need to fan those into flames.
We simply cannot keep sacking managers nor should we just throw away what so pleased us earlier in the season. I believe we will buy (and sell) well in the summer; we must trust Brands and we must hold our nerve.
I, along with many thousands of others, have just renewed season tickets and every game will be sold out again next season. Let's stand firm and back this man. I think we will reap the rewards. Any other possible manager (and there will not be a rush to join us) is just another punt.

Pat Kelly
111
Posted 02/02/2019 at 18:32:50
I've just seen Silva's post-match comments. It's utter gibberish. I doubt the players understand a word this man spouts. He will drag this Club down as far as we let him.
John Keating
112
Posted 02/02/2019 at 18:32:56
That was a disgrace.
Silva had no idea how to change things; every game is exactly the same. He looked like a little boy lost on the line today.
Well we should give him to the end of the season and if no improvement he will have to go as his non-tactics, non-man-management and non-motivational skills will have us down next season.
I asked a few weeks ago how many points we'd pick up at home the rest of the season. I thought 6, Wolves and Burnley. That's gone by the board.
Our away games are against teams that either have to get results and/or have more guts than us. We may well get few if any points against them either.
I was accused of waving the white flag half-way through the season. Well it might be true but I think the players are also waving it.
If the so-called senior players had any balls they'd do a Martinez on Silva and tell him to stop the shit non-tactics he plays every week regardless.
Play the youngsters every week. We'll still get beat but at least you'd see a bit of passion and bottle.
Rob Marsh
113
Posted 02/02/2019 at 18:34:09
Henry #108,
I was neutral or maybe a bit defensive last night and said, "Give him until the end of the season."
I'm having that sinking feeling now.
Dan Parker
114
Posted 02/02/2019 at 18:34:54
What worries me about Sílva since the derby is his demeanour. He doesn't exude confidence or enthusiasm, he looks defeated. Much like Mourinho at Man Utd.
Sacking him now and frantically searching for a solution isn't probably the answer. Some quiet succession planning of key personnel, manager included required and led by Brands.
The club needs a spring clean.
Anthony Murphy
115
Posted 02/02/2019 at 18:35:27
Another 'Everton' weekend.
Moshiri will be locked in talks with his closest advisers on how to get himself out of this fucking mess. How to walk away and recoup his investment. There is not a chance he'll stick this out.
The rhetoric at the AGM, the rising cost of the stadium, the gap growing between the top 6 and the rest... he will want out. There is no way he thought we would be in such a mess after three years and fairly considerable investment. He surely at the very least has his doubts?
Alan Smith
116
Posted 02/02/2019 at 18:37:04
We need a younger, better looking, more Iberian manager than this one.
I hope a new one wins the Portugese Cup so we can buy him.
There must loads of Polish, Swedish, Greek, Croatian etc, managers with league and cup doubles thinking "If only Mourinho was from my country, I could blag any number of Premier League clubs I was a genius and get £5M a year."
Dave @97
The players are shit, mate. Think about it, not one would be signed by Man Utd or Arsenal. Who themselves are stinking at the minute by their standards.
You've referenced Sigurdsson and Keane. They've both been jibbed by top 6 clubs. Years ago. Standards have gone up since. Since they were deemed shite. I never wanted either of them.
We haven't made a good signing since Barry and Lukaku. They were Champions League level quality. Not one since has been. Barkley got slagged for playing miles better than Gomes, who everyone loves.
Wake up, Evertonians. Demand quality players stop being happy with Brands and Moshiri delivering mediocrity.
It's embarrassing to hear fellow blues getting carried away with Gomes, Richarlison, Pickford... Fucking embarrassing.

Jim Bennings
117
Posted 02/02/2019 at 18:37:27
It's got to the point where it's actually funny now.
How can a club spend so much money over three years to actually go backwards, not stand still, but go backwards.
Wolves were and are everything that Everton are not.
They possess a team of players that want to play for their manager and play for their fans, they have signed good players that actually make a big impact on games not just talk a good game.
Their manager Espirito is a clever canny man that can see things unfolding and knows how to manage.
We are a shit show, an embarrassment of a club now and it's really hard to actually see more than two more wins from this fucked-up season.
Dan Parker
118
Posted 02/02/2019 at 18:37:40
Not to mention the Premier League is just shite, it's a con. All hype and big money.
Grant Rorrison
119
Posted 02/02/2019 at 18:39:07
Peter 107. How we looked under Moyes was a product of 11 years of work and building. Operating under completely different levels of expectation than those he, or anyone else, will be expected to deal with now.
Also, we were, by and large, shite, during that period too. We won absolutely nothing and instead gloried in finishing above the nothing clubs and under-achievers each season with a settled and consistent squad.
Brian Wilkinson
120
Posted 02/02/2019 at 18:40:31
Chin up, lads and lasses... City up next.
Goodison will be almost empty before half-time.
Ryan Holroyd
121
Posted 02/02/2019 at 18:42:53
Moyes was 10x the manager Silva is, Koeman was, Martinez was.
Grant Rorrison
122
Posted 02/02/2019 at 18:43:57
Ryan 121. By what standard of measurement?
Jim Bennings
123
Posted 02/02/2019 at 18:44:44
The Moyes era has past and gone, a long time ago now but I can understand the gist of what people say.
It alarms me that we don't possess players anymore that can even do basic things like take a throw-in and maintain possession or simply head clear set pieces, pass the ball and move into space, they were even too brain dead to realise that with ten minutes left rather than passing sideways all the time just fling the bloody ball into the area and get loose balls.
I think you could teach 6-year-olds far quicker than training our players.
At least under Moyes towards the latter years we had players who could do the basics like Cahill, Arteta, pass a ball, head a ball and defenders that actually could defend a bit.
Bill Watson
124
Posted 02/02/2019 at 18:45:04
Same old, same old. Sideways, backwards, sideways and then pass to the opposition and give away a cheap foul. The Wolves goalkeeper must have had one of his easiest games of the season!
Silva must be getting to the end of the road. He doesn't appear to learn or, if he does, he certainly doesn't appear to be able to communicate to the players.
A drubbing beckons on Wednesday and, surely, a taxi must be beckoned for Silva.
Paul A Smith
125
Posted 02/02/2019 at 18:48:21
Grant @119. Expectation is entirely up to fans.
I was one of a few that knew how the level of player we have signed since Moshiri arrived has been absolutely dire. I come on here to read the complete opposite.
"We have good players."
"We have potential."
Where? I can't wait to read Steve Ferns's explanation for why our "top manager" as he puts it, has the slowest centre-backs in the Premier League defending in their half, thus putting himself in trouble everytime a ball goes over the top.
Wolves' tactics today were basic because that's all they had to be. Win your battles, walk before you run. We just sacked a man doing that to bring in a genius (haha Moshiri said he's a genius), that has poor footballers playing poorer football than they have ever played.
I expect a Bramley-Moore Dock statement this week so all Moshiri's fans can forget quickly.
Peter Laing
126
Posted 02/02/2019 at 18:49:20
Mourinho
Rob Marsh
127
Posted 02/02/2019 at 18:49:40
Brian #120,
My mind boggles what the score might be in that one. Could be a stampede for the exits. Police reporting public order offences as Goodison Park staff try to lock them in!
Man City need and want the win more than we do, if you go by the way our players stroll around Goodison, looking frightened or disinterested.
Jay Wood
[BRZ]
128
Posted 02/02/2019 at 18:50:06
David @ 98.
"Just watching England collapse vs the Windies. Great weekend."
Tuned into Ireland-England rugby meself and was well-rewarded.
An Everton collapse is almost as inevitable as an England collapse at the clikky these days.
90 minutes of heartache at the footy is enough for a single afternoon!
Neil Gribbin
129
Posted 02/02/2019 at 18:52:59
Utter, utter garbage today. Depressing how poor we were. I think they have stopped playing for him.
Trevor Peers
130
Posted 02/02/2019 at 18:53:27
Sack Silva, put Moyes in charge till the summer if he's willing. That would at least ensure some tactical nouse and earn us a few points.
Otherwise, we are going to get totally humiliated, for the remainder of the season, especially in the games against teams above us in the league who are all likely to score at least four goals against us starting with Man City on Wednesday night.
Moshiri can then look to Brands to advise him who will be our manager next season. Heaven help us if we get it wrong again though.
Mike Price
131
Posted 02/02/2019 at 18:53:42
If we'd have kept Martinez we'd be better off, he'd have about 18 months left on his Kenwright contract extension and we would have saved about 60 million in payoffs.
Rob Marsh
132
Posted 02/02/2019 at 18:53:43
Peter #126
I doubt Moshiri is in the mood to spend another £200 + million.
Rob Dolby
133
Posted 02/02/2019 at 18:54:22
A result that wasn't entirely a surprise. Wolves are no mugs and look good on the counter.
Schoolboy defending again from Baines with the first and Coleman for the 3rd. Not sure about the 2nd as it looked like the lad run across the back of Keane and the ref blew up. The defending for the subsequent free-kick was pathetic again.
Ref was piss-poor again. The throw-in farce in the first half, the mystery foul for Wolves early in the 2nd half bemusing. The lack of protection for Richarlison whilst almost every time a Wolves player hit the deck he gave a foul.
Could be a rugby score on Wednesday.
Time for Kenny to get a run in the team until the end of the season. I don't see what's wrong with playing the ball forward and missing out the midfield every now and then. We are so predictable. Wolves played with 2 up top away from home and easily won the game. It's going to be a long winter. Roll on Wednesday.
Derek Taylor
134
Posted 02/02/2019 at 18:54:57
Moyes is the only one who might be prepared to take the job until the end of the season as Benitez will want a 3-year contract.
We have an Aston Villa look about us and, although we need only a handful of points to stay up, it's difficult to see who this manager can get the better of.
One more defeat and Silva is toast!

Paul A Smith
135
Posted 02/02/2019 at 18:56:09
"One Black cat and 11 Dogs" should be the Headline in The Echo on Monday.
Rob Marsh
136
Posted 02/02/2019 at 18:57:15
Derek #134,
It's not the defeat that will get Silva sacked against Man City – it's how bad the defeat is.
Jay Wood
[BRZ]
137
Posted 02/02/2019 at 18:58:14
Dave @ 100.
Were you one of the few who stayed to the bitter end? Goodison looked very, very empty on all sides by the final whistle.
It's lucky the club doesn't hand out cushions at the game anymore. There would have been more than a black cat on the pitch long before Mason brought an end to the misery.
You can at least take pleasure at how Jonjoe played today, Dave. Our best player by the length of County Road, and then some.
Peter Neilson
138
Posted 02/02/2019 at 18:59:45
I can't see Moshiri sacking Silva right now after chasing him for so long. Maybe we limp home to a mid-table finish which says more about the quality of the Premier League than it does about how awful we are.
I was at Huddersfield this week and we were little better than today. No idea what sort of side we are meant to be - pressing, counter-attacking? Players seem totally lost like the last days of Martinez. Hopefully Brands will have a credible replacement lined up.
We need to clear out the training staff as well and stop handing out important jobs to ex-players. The club needs a change in mentality imposed from the top. We're making hard work of this having money malarkey, worrying thing is we're now spending a fortune on players nowhere near the first team. P>I'm fed up but sadly not surprised by another inept performance.
Paul Swan
139
Posted 02/02/2019 at 18:59:53
Unforgivable. Bunch of shithouses gave up with over 30 minutes left on the clock.
Usual suspects absolute garbage: Sigurdsson, Richarlison, Keane, Tosun, Walcott all stealing a living from the club. Lookman lightweight and zero influence. Calvert-Lewin has a touch like a baby elephant. Pickford has issues I'm sure, rooted to his goalline again.
The only good thing is that the grass at Goodison is looking excellent these days — because it's been covered in donkey shit for 3 years now.
Denis Richardson
140
Posted 02/02/2019 at 19:00:18
I'm not sure why people are surprised tbh. Silva is a bit of a fraud of a manager (yes I mean that). He is out of his depth in the premiership. This is his 3rd stint in the league and for the 3rd time he's delivering well below expectation within just a few months. He simply isn't a Premier League manager.
People say give him time but what's the point? He keeps playing the same formation/tactics every game regardless of opposition when its clearly not working? It's not going to magically change by giving him more time.
He's also spent £100m on players, not even including wages, for no discernible progress on the pitch. We finished 7th in 2017 and 8th last year, I doubt we'll be matching either of these this year.
Blame the players all you want but they do not seem motivated enough and this is the first and foremost task of any manager. There's no hunger or aggression and we're regularly out-fought as well as out-thought.
Never mind questionable tactics played week in week out and why does almost every team we play seem fitter and more organised - literally every other Premier League side we've played except for the Burnley anomaly. Even a couple of our wins this season were flukes where we were outplayed.
It may not be Silva's fault alone as IMO there is a deeper problem within the club. Every now and then, we hear snippets about the regime not being switched on when it comes to players' diets and fitness – may explain why we appear lethargic in most games compared to the opposition. Vlasic mentioned something along those lines, Lennon before him and others as well.
Regularly players come to us who were playing well at their old clubs but struggle to maintain their previous performance after a short while at Finch Farm. Williams was playing out of his skin before coming to us; Sigurdsson was regularly the best player on the park when at Swansea; Walcott seems a shadow of the player he was at Arsenal, Keane was like a rock at Burnley etc – just what is it with Everton in recent years?
I absolutely do not want Moyes anywhere near the Goodison Park dugout but at least we matched almost every side we played in fitness, if not ability. Now we can't even seem to manage that.
I don't have the answers but I'm sure they don't start with Marco Silva. The club should start the hunt for a new manager with a view to making a change in May. This guy should never have been chased, let alone appointed.
Man City at home next, so that'll be another home defeat. Last 6 home league games have yielded 1 win, 2 draws and 3 defeats.
Jay Wood
[BRZ]
141
Posted 02/02/2019 at 19:00:47
I also don't see Moshiri sacking Silva now.
All bets are off come the end of the season, though.
Paul A Smith
142
Posted 02/02/2019 at 19:00:49
Rob and Derek, let's be honest. Deep down, a defeat to Man City will an Evertonian's best result of the season.
Knowing us we'll beat them well and won't know what to think.

Paul Birmingham
143
Posted 02/02/2019 at 19:01:43
The thimble of hope is empty and the current rank form will if we loose vs Man City and Watford, set some rotten record. Get them in tomorrow, but then again what do the players do at Finch Farm?
Fine them all for being lazy arses, and not caring and refund every Everton fan, for today's breach of trading standards in terms of EFCs performance.
The players are so scared now of themselves, too scared to try... the bottle went a long time ago, and the same old pathetic efforts at pretending to be an Everton team.
Moshiri and Brands etc must be taking stock. There's a lot at stake. God help us when the top 6 come here, it will be very painful. I'd bring in a few of the U23s for City, they will put a shift in.
Terrible days... As Jim has said, only EFC, could invest so much in players and be even worse than the year before.
I sense this week is pivotal for Silva, and I sense by the body language on the bench, and the players, that this malaise won't be cured this week, nor this season.
The Black Cat didn't bring us any luck, and that's EFC and another season over half-way through.
John Pierce
144
Posted 02/02/2019 at 19:03:13
For me it's the manager's lack of self awareness which is getting me worked up. He has a style which played at tempo and with better players, especially at centre back and the base of midfield can be both elegant and successful.
We have seen elements of that and in parts looked good. But he knows that he doesn't yet have all the players to execute his vision. So what has destroyed my support for Silva is his inability to adapt. Look, he might even have tried to adapt but the product on the field is the same, week-in & week-out.
He has essentially tried to run before he can walk. He is meant to be an excellent coach, something I wanted in the new man. Has any player improved markedly under him? I'm struggling to name one.
The biggest crime is the team's apparent lack of grit. Whilst football has moved on from blood and thunder, our support is bred on effort and heart. The team has the fortitude of a wet napkin.
It's a dead horse and there ain't much left to be flogged. Proper brassed off.
John Audsley
145
Posted 02/02/2019 at 19:07:27
The questions the Everton.com interviewers ask Silva after the games are utterly pathetic. They and Silva have no idea what being a Blue is all about. I know they aren't going to roast him but ffs ask something that at least makes him think.
Shameful performance and a pathetic managerial job by Silva.
Apart from Kenny, you're not fit to wear the shirt and the crowd are way too nice to you.
Bjoern Haall
146
Posted 02/02/2019 at 19:08:56
Thank you, Paul Swan #139. I have never read a funnier post on TW. At least something good came out of this match.
Kim Vivian
147
Posted 02/02/2019 at 19:09:23
Who was our captain today? Serious question because I genuinely don't know. I saw no-one acting like a leader on the pitch. Just a
bunch of individuals who CAN play but look like they've only just met.
Over-paid, over-rated, mercenary and gutless prima donnas with few exceptions.
Roll on Wednesday then, and a Man City who are still hurting still after Newcastle. We could be good for their goal-difference.
Paul Brown
148
Posted 02/02/2019 at 19:11:53
I think Silva is a dead man walking.
If you recall, Moshiri subliminally gave him a verbal warning at the AGM, so off-loading him will be already in motion and performances like today's only gear things up.
Also, no money given for this transfer window? When everyone knows we need a class centre-forward, that tells me he has lost their support. No coincidence that results have plummeted since.
Who do we get?
Don't know... but no fucking Moyes.
Andy Riley
149
Posted 02/02/2019 at 19:12:47
For me, there is no passion and no fight. I think we just now have a load of mercenary journeymen.
I wanted Silva to be a success but it's clear now that the guy just hasn't got it at this level. It pains me to say it but I think we need to go back before going forward.
So I think the answer immediately is to sack Silva and get David Moyes in for the rest of this season. Otherwise, just get Mourinho in.
Rob Marsh
150
Posted 02/02/2019 at 19:15:42
Paul A Smith #142,
The only way we'll beat Man City is if the doctor turns up with syringe in hand and insists all the players have his miracle new vitamin/energy injection.
Unbeknown to all, he was, just a ½-hour before, down a County Road back alley, buying his concoction, which consists of Methamphetamine and pure Speed with a dash of LSD.
Glenn Wms
151
Posted 02/02/2019 at 19:16:59
Non satis est. Satis dictum.
Grant Rorrison
152
Posted 02/02/2019 at 19:17:05
What would a Mourinho do here in 1 or 2 seasons before his customary mental breakdown and consequent removal?
I didn't see any evidence at Sunderland or West Ham that Moyes had any magical ability to sort out the defence either. What we achieved here under him was either a product of a lot of time or a different Moyes to the one I've been watching and laughing at in his most recent outings.

Phil Rouse
153
Posted 02/02/2019 at 19:19:16
Surely he has to go now. Do you us fans have to endure any more embarrassment?
Tony Hill
154
Posted 02/02/2019 at 19:19:37
We must lose the notion that we are a good side waiting to happen. We are, instead, a side (and a club) which has been soggy and mediocre for much of the last 50 years.
We had a chance a few years ago in Martinez's first season but we blew it (the 2-3 Palace game being the killer) and have never recovered. Holding on to Martinez too long and the disastrous recruitment of Walsh & Koeman fundamentally disabled us.
Accept that we are not very good at all and that we are now about where we should be and then accept that what is needed is a thorough re-build. We are about a fifth of the way into it if we stay steady. It was always a lie, contrary to some fantasies on here, that we just needed a coaching tweak and all would be well.
If we can't recognise the nature and extent of the problem, then we can't set about fixing it.
Craig Walker
155
Posted 02/02/2019 at 19:20:44
All the signs were there pre-season. It was so predictable how this would turn out.
Silva isn't good enough and that was evident from his time at Hull and Watford. I said on here that Watford were 2-up against us at Goodison and we somehow won. All I got on TW was how their keeper going off changed the game and that he's a real tactician.
I'm afraid that expectations are high at Everton. We expect to win and to perform. It's a massive difference to the likes of Sigurdsson doing well at Swansea or Keane at Burnley. We tend to sign players who can't hack it. We don't sign winners who hate losing. The crowd get restless and it permeates throughout the team. Who can get the team going again because the manager can't? Very sad days.
Please though, do not bring Moyes back. He is a dinosaur in today's game. We had some good times under him but he outstayed his welcome and it never works out when a player or manager returns.
We need a manager who has won things at the top level. I'd like to see Rafa given a chance. If not then Eddie Howe has done okay with limited resources and deserves a chance to step up but I think we need to start recruiting winners.
Peter Laing
156
Posted 02/02/2019 at 19:20:49
We need a winner, a ruthless bastard who says it how it is and then some. Silva is Martinez Mk 2 (Season 14-15), he is intransigent and stubborn and clearly unable to see the error of his ways with formation, zonal marking and tactical acumen.
Yes, we have a whole host of players stealing a living from the Club but unfortunately you cannot sack the players. There needs to be a fire sale at the end of the season and Moshiri will need to swallow his medicine with huge losses which, to be honest, he can only blame on himself and his advisors for a lack of strategy and poor choice in Managers.
I mentioned Mourinho and maybe it's fanciful, maybe such a suggestion is pie in the sky. But we need somebody who has a history and track record of winning — not a Manager with 'Relegation' stamped on his CV.
Rob Marsh
157
Posted 02/02/2019 at 19:26:02
Peter #156,
Mourinho is not pie in the sky, he would be just plain expensive to Moshiri unless he agreed to moderate his demands.
He'll come to us if he thinks we'll back him, I've no doubts.
Glenn Williams
158
Posted 02/02/2019 at 19:26:19
Non satis est! That has been my overriding feeling since the 4th league match, home against Huddersfield. Our players to a man are just not good enough passers. Non satisfied est.
Even as Bernard and Gomes came into the squad, they are clear upgrades but still not good enough passers. Not just our attempted final balls but any attempted forward passes, our forward passes to open players more often than not miss the mark. And our attempted one-twos are simply abysmal. We simply make more unforced errant passes than any other team. Non satis est.
As a true lover of underdogs I primarily watch matches involving the bottom 14 and no one misplaces open passes more than these Blues. It was incredibly noticable today that Jonjoe Kenny's forward passes found their mark much more so than any of the starters. I'm not talking about searching, creative passing attempts but rather clear passing attempts to open teammates.
I think we got Sigurdson 1 or 2 seasons too late. He just doesn't have 70 or 80 top mins in him any more, just 2 or 3 cameo splashes per match. Gomes for his undoubted quality still misdirects 8 or 9 forward passes per match. I don't think it's even worth discussing the passing ability of any other players as they clearly are not great passers that other teams covet.
Season long I think Digne has been the most consistent in terms of accurate forward passing but I wouldn't class him as elite. Non satis est.
I've only been a fan since 2000 but already I feel the despair of long term fans. The modern big money era seems to have passed us by. The current ownership and sporting regime are clearly an upgrade (Moshiri & Brands) but I fear the gap is too large and too much of the squad is... non satis est.
It will take them too much time to transform the squad and the top 6 will not stand still. I'll remain loyal and hopeful but quite sanguine.
Ross Edwards
159
Posted 02/02/2019 at 19:26:36
I really wanted to be wrong when we got Silva but we're stuck with a fraud. I never thought, after Martinez, someone even more stubborn would come along but this man makes him look like Pep in comparison. I'd happily have him back tomorrow over this right now.
No Plan B, the same static 4-2-3-1 every week and as for the zonal marking, it's a shambles. That 2nd goal was a joke. Giving one of the most in form strikers in the league right now a free header. We knew in August it wasn't working yet he still persists with it.
We never looked like getting back into it today. It must be a great confidence booster for the opposition knowing that, if you score early against us, you've basically guaranteed a point minimum before we've even got going. In the 10 times we've conceded first, excluding the derby as it was injury time, we've lost 8 and drawn twice and that was at home to Newcastle and Huddersfield.
Playing like, this I genuinely can see us losing the 5 home games and probably Watford and Spurs away. Watford especially will be motivated after everything that went on with Silva and Richarlison.
If we are to lose on Wednesday, part of me hopes it's a Spursesque battering not only to help Man City's goal-difference but to see Silva gone — cos I don't think I can go through another season of this.
Len Gowing
160
Posted 02/02/2019 at 19:29:26
Most noticeable word missing for a long time now from many an after match report "profligate". Think that tells us a lot.

Ken Kneale
161
Posted 02/02/2019 at 19:32:22
Very hard to come away from this game without a sinking feeling.
Terrible team selection and rotating captains sent out on the pitch without any cohesion. Players look totally clueless and effortless, with no attacking intensity at all.
I hated the Allardyce era but, in fairness, we have regressed. We are heading backwards at an Aston Villa rate of knots. At director level, we're clueless and fans are left to wallow in sorrow and mediocrity. Sorry, I just cannot be positive.
Clive Rogers
162
Posted 02/02/2019 at 19:33:04
How can Kenwright continue as chairman after this disastrous season? He has presided over twenty years of decline.
Moshiri has stated the finances were a shambles and the club was more of a museum when he took over. He was initially giving football advice, but that has ceased and Brands put on the board. He was in charge of transfer negotiations but has been booted off that after £45M was paid for an average midfielder at the tail end of his career.
He now seems to be merely a figurehead, which is the last thing we need. We need an inspirational, dynamic chairman who can inspire the whole club and bring us out of our amateur "old boys and chums" mentality.
We have been taught a football lesson today by a newly promoted club who will certainly move on to bigger and better things next season, leaving us in their wake. He has to go.
John Keating
163
Posted 02/02/2019 at 19:34:40
A few weeks ago I was going to suggest that we actually throw the Man City game but to be honest we should just go out and play our normal game. The result will be the same.
A number of posters, a while ago now, were complaining that we played "hoofball" Well the only difference now is that we don't hoof it straight after getting the ball, we pass it square 20 times before passing back to Pickford to hoof it.
Half-decent managers can adjust tactics, systems and players before and during the game. We don't have a half-decent manager.
The only reason I say keep Silva on until the end of the season is that he can't say he wasn't given a chance to prove himself. So far, we have almost gone backwards.
Frank Crewe
164
Posted 02/02/2019 at 19:36:04
I would bet that at least 95% of managers never win anything in their entire careers. They are as journeyman as the players they allegedly "manage".
Real winning managers gravitate to clubs that have long records of success behind them already, including recent success not just the good old days. They are not interested in 'projects' because failure hurts their reputations. They want ready made clubs with good players and plenty of money to buy more. Then reap the praise for what brilliant managers they are.
As we all know, the big name managers are as rare as hen's teeth and are usually already at successful clubs and are extremely unlikely to come to a provincial club that hasn't won anything in nearly 25 years.
For some managers, such as our last 5 managing Everton, could be seen as a step up but for the real big names it would be a step-down. A step they are not willing to take. The only exception I see to this at the moment is Benitez. He has had experience and success at the highest level and I'm sure that, with the right inducements, he could be tempted to bin the Barcodes.
Paul A Smith
165
Posted 02/02/2019 at 19:36:14
Rob Marsh. I agree mate I was just being cynical for a potential laugh. Burton Albion may feel some realisation after Wednesday...
Silva will probably get the Portugal or Switzerland job if he is sacked. That's how it works lately.
I would love to know what put Moshiri in a trance over Silva coming here? What did he see that Arsenal and Chelsea's board didn't see when they needed new managers?
Grant Rorrison
166
Posted 02/02/2019 at 19:37:38
John @163.
I think the result will be worse if we play our normal game. We should definitely attempt to 'throw' it.
Kevin Turner
167
Posted 02/02/2019 at 19:43:53
Can anyone who wants to talk cricket on here just go somewhere else please. Plenty of forums for that elsewhere.
Anthony Murphy
168
Posted 02/02/2019 at 19:45:29
Silva is going nowhere this season. We won't get relegated and will probably finish about where we are now. Worst case scenario we finish about 12th. It's shit I know, but that's probably what'll happen.
If we want to progress, we need to start the search now for a manager with an elite pedigree to take over in the summer. I know the arguments for and against and I know attracting a manager with a history of winning won't be easy, but I cannot see any other way.
The Eddie Howe types are not going to push us on. We need someone who expects to win things and can handle that pressure. The problem with Silva, Koeman, Martinez and even Moyes is that they all came from smaller clubs with no real expectation of winning silverware or finishing top four.
We need to change that mentality right through the club including fans. For me only the right manager can do this – not a Director of Football but a man who is the face of the club – someone the fans can totally buy into and is a talisman who people respect for what he has achieved.
I would invest heavily in the next manager, offer him an eye-popping salary, and bring in a backroom staff fit for the modern game.
Rob Marsh
169
Posted 02/02/2019 at 19:47:31
Paul #165
That's a very good point about the 'big' clubs not seeing anything in him; I actually apply that to players also.
Chelsea didn't see an awful lot in Lukaku and neither did I, but we bought him and played him in a system that suited him and brought his best out; Man Utd bought him and have found out he's not a big-time player, he's not far off being useless at times.
Would you pay £75m to bring him back to Goodison Park? Where Lukaku is concerned, we got away with it.
Taking something out of the above point, Moshiri needs to leave the football to those who have the understanding and experience.
Shaun Laycock
170
Posted 02/02/2019 at 19:47:41
The whole of EFC (coaches and players) should be made to watch just the Ireland vs England game from today. How to have a plan, execute it to perfection and put your body on the line for the cause. Anyone who doesn't buy in, then piss off!
Starting to have my doubts about Hi-Ho...
Si Cooper
171
Posted 02/02/2019 at 19:49:49
I saw the last 35 minutes or so and it was the worst I've seen all season. No energy, fire or cohesion. Wolves just sat back and waited until we had played ourselves into a bad position and then countered.
We needed to have players dropping well off their defenders and dragging them all over the place to open up some channels or draw free kicks. Instead, we just played it sedately from flank to flank and then tried to thread it through narrow gaps. Most times, it was easily picked off.
I'm of the mind that zonal marking isn't the issue if it is executed properly. If the ball is coming anywhere near your zone then you have to be taking responsibility for getting to it first. We just don't seem to have the desperation to get there first.
I know it had no effect on the result, but I thought the body check that floored Richarlison was heavy enough to dump him on the ground. It was a definite yellow card (defender's only aim was to stop him getting past) and yet Lee Mason didn't even see it as a foul. That decision alone should have him spending a few games reffing the lower leagues.
Davies, by contrast, was booked for a tame trailing leg and I hadn't noticed a succession of fouls by him if it was a case of totting up.
Daniel Bentley
172
Posted 02/02/2019 at 19:50:16
21 points we have lost at home up to now this season.
And still we've got to play all the big guns at Goodison... Wow!
Andy Crooks
174
Posted 02/02/2019 at 19:52:27
I was right behind Silva even though I had a little doubt, just a little, about signing a relegated coach (Roberto was the worst coach, in my view, that any club ever appointed).
How fucking bad is this new one, though? I took on the views of posters I respected, and still do.
But, for the love of fuck, how can anyone defend this utterly bewildered, inept, useless excuse for a coach??? He must be gone — and take Duncan the fucking legend with him.

Raymond Fox
175
Posted 02/02/2019 at 19:53:04
Today's result was on the cards, they were the form team playing us at the right time. It's good to have big ambitions but we have not got the tools to back that up.
Does anyone think that another change of manager will make top six players out of this lot. Yes, you could find a better one than Silva and he may make some difference, but top six don't make me laugh.
We can't sign the very best players, so we have to win by any way possible... if that means boring stuff, then so be it as far as I'm concerned.
As things stand, as a club, we are stuck in a never-ending rut that we don't look like escaping from.
Paul A Smith
176
Posted 02/02/2019 at 19:53:52
Rob I would pay that to bring him back, mate, definitely. Didn't Mourinho say he wanted him to stay and fight for his place at Chelsea? Then re-signed him for Man Utd.
If there is a cheaper obvious player that could get 20 goals I would take that player but who is that? Richarlison was £40M and Lukaku is a striker which always costs more. Lukaku's record for goals speaks for itself but he is not a world-class footballer.
If Moshiri tells an AGM crowd it would cost £200M to replace him I would be mental to not buy him back for £75M.
Si @171, you could literally feel the stuffing knocked from the players as they restarted after the 3rd goal.
Andy Crooks
177
Posted 02/02/2019 at 19:58:33
Raymond, I believe you are one of the most balanced and thoughtful posters on this site (I am not) but can you consider that maybe the squad have lost faith in the coach? That every single thing about him screams that he is utterly out of his depth, looks bewildered, and is inept and bereft of ideas. He must go.
Tom McEwan
178
Posted 02/02/2019 at 20:02:58
Mike Price @131. And no doubt pushing for 7th in League One, mate.
Paul McGinty
179
Posted 02/02/2019 at 20:04:30
We didn't lose the game because of Lee Mason but what a frustrating performance from this guy. The early foul after about 15 seconds on Richarlison was nasty; the blatant foul in the 8th minute at the Park End of Bullens Road was so clear it just looked like Mason was sending some sort of message.
As to the Blues, once again playing against a back three we were out-played. Apart from the 15 minutes after the equalizer we were predictable, and then, desperation set in, all over the place.
Kenny from afar seemed to be the guy geeing up the team, and though its tough to point fingers about lack of effort, we really never looked like getting back in the game. So penalty, free header and a suicide pass from Seamus cost us this week. Honestly we look really open defensively and though Pickford made a couple of good saves, he hardly dominates.
If the manager isn't going to be fired, if it was my money bankrolling these players I would get in defensive and goalkeeping coaches quickly. Seeing Goodison accept defeat with so many empty seats should send alarm bells ringing to ownership. We look like a team in a downward tailspin.

Andy Riley
180
Posted 02/02/2019 at 20:05:09
After Man City on Wednesday, which I think is a defeat, there is Watford on Saturday. All the issues over Silva mean that is probably a defeat as well. There is then a 2½-week gap till the next game away to Cardiff, so I think he'll be gone after Watford, if not before.
Dave Abrahams
181
Posted 02/02/2019 at 20:05:20
Jay (137), I've got a seat right next to an entrance, but I never leave early, stay to the bitter or glorious end, but I never linger always on my toes ready for the final whistle.
It couldn't come quickly enough today, really soul destroyingly poor, and to see the worry and despair on the faces of lots of dedicated fans, who deserve much, much better, only makes it worse for me. It is almost guaranteed worse days at Goodison will be provided by this gutless team and clueless manager before the end of another sickening season.
Jonjoe Kenny showed what it should be like to play for Everton, to see him clapping his hands and telling senior players to buck up, instructing them where to go and constantly urging them on was more than heartening for me. An Evertonian playing, really truly playing and wearing the shirt with pride.
I wish we had a few more proud Scousers playing for our club, not going through the motions but sweating and giving everything they've got for the team. I might get a few in my dreams tonight.
Si Cooper
182
Posted 02/02/2019 at 20:08:53
Andy, I feel the look of bewilderment could easily stem from watching your players fail to execute all the stuff you have carefully gone over with them during the training sessions.
People talk about coaching but too many of our problems stem from players not doing the basics properly, and those things are not tactics nor should they require coaching. Get to crosses first, don't force passes, pass and move, don't give away needless free-kicks.
I see players who have lost all confidence but not (obviously) players who are against the manager.
Max Murphy
183
Posted 02/02/2019 at 20:09:39
Why is that fraud Silva still in a job?
A huge mistake hiring him, and Moshiri must take the blame.
Trevor Peers
184
Posted 02/02/2019 at 20:12:55
Moshiri must have legislated for this scenario, he's on record admitting Silva was a gamble. Therefore, now the gamble has failed, he must have a backstop.
Raymond Fox
185
Posted 02/02/2019 at 20:18:19
Andy C, I would not have hired Silva in the first place and, as you say, he's struggling to get a tune out of our players. By all means try to find someone better who is tried and tested, Benitez would be ideal if he would come.
I do think though that 80% of our problems are that the players we are able to sign are a level below the very best.
Darren Hind
186
Posted 02/02/2019 at 20:21:46
Koeman and Allardyce have much to answer for. It's going to take a monumental effort to rid this club of the stench of Zombie football. Unfortunately, I don't think Silva is the man to do it. I so hoped he would be. I wouldn't be at all surprised if Rhino gets another call.
Hope the white flag wavers give their tickets to enthusiastic kids for the Man City game. We have enough cluelessness on the pitch and in the dugout without people in the stands surrendering before a ball is kicked.

Jay Harris
187
Posted 02/02/2019 at 20:22:02
I said before the game that I doubted Baines could be 100% fit but it took us shipping a penalty for the penny to drop with Silva.
Also Michael Keane is too much of a liability to build on.
As for Silva, words fail me. This ridiculous 4-3-2-1 obviously leaves our midfield very weak and open to the opposition. The sooner he goes and we can start building a proper team the better.
Denis Richardson
188
Posted 02/02/2019 at 20:25:18
Andy @177 - I've thought that for a while now. Too many senior players don't seem to be busting a gut for him and it's a slippery slope once that starts. Little fight and aggression and the worrying thing is this is also happening in home games – Fortress Goodison is a long faded memory with home defeats this season to the mighty Wolves, Leicester and West Ham.
On paper at least, we do have some decent players so its a head scratcher why they play like they've just met a few days ago. Something not right behind the scenes.
Our next 5 home games?
- Man City
- Liverpool
- Chelsea
- Arsenal
- Man Utd
Even the most optimistic blue can't surely see us getting more than 2-3 points from those 5 games. We'll no doubt get the odd win or couple of draws from the remaining away games which will probably see us limp to around 12th-14th come the end of the season.
We've only finished outside the top 10 twice in the last 10 years and you have to go all the way back to 2004 for the last time we finished below 11th. IMO, Silva is on course to finish in our lowest league position for 15 years. Only slight silver lining is that our remaining 7 away games are mostly against lower-half teams – albeit some will be fighting for their lives when we play them.
Shane Corcoran
189
Posted 02/02/2019 at 20:27:49
Agreed Si, the amount of misplaced passes under no pressure in the last few months beggars belief. Tom Davies was atrocious today, as was Gomes apart from his goal and a couple of nice pieces of defensive play.
I thought Coleman actually improved today and Kenny did his best out of position.
Walcott is just a mystery to me. He didn't do much wrong cos he generally just stays out of the game, wage in the pocket and everybody's happy.
The fact that we will finish mid-table says a lot about the Premier League.
Jim Hardin
190
Posted 02/02/2019 at 20:27:50
So was it wrong of me to be a Cardiff City fan for today!
Brilliant crowd, effort, and with a manager who actually cared! The song for a player who never even suited up for them, along with the number of pictures, #27 shirts and the special scarves for Sala were absolute class.
Reminded me that life isn't all about wins and losses! Don't dwell too long on this loss to Wolves as there is always next week and the chance that Silva will do something different!
Ian Lloyd
192
Posted 02/02/2019 at 20:55:06
I literally got hammered on here in November when I said this "manager" is a joke and a charlatan and said he wouldn't last until Xmas – well I don't know how he has but any other club would have got rid well before now
The "Silva is a god" clan have well and truly vanished, I see!
To be fair I think Alex Ferguson would struggle to sort this mess out but the buck stops with the manager and he has to go
I watched today sat in the freezing cold and I cannot see 1 player that is anywhere near world class ! What exactly have we spent £200 million on?!?
I am fast losing interest in a club I have supported since 5 years old and travelled the length and breadth of the country to watch.
The players will still collect their £90k at the end of the week – I don't know how they have the bare faced cheek to – I'd donate it to charity if I were them every week!!
To say I'm pissed off is an understatement!!
Mike Kehoe
193
Posted 02/02/2019 at 20:56:57
Being a blue for so long has infused me with an irrepressibly cheery disposition: I'm all fucking rainbows and unicorns all over the place.
If Silva doesn't fathom that the players he has at his disposal are not up to the task of realising his 'vision' on the pitch he will be binned off with an absolute fortune as a reward for his ignorance and incompetence, like so many before him.
The people who delivered Koeman and Walsh and Allardyce and Sammy fucking Lee will once again exercise their extensive football knowledge and appoint a Messiah. Or not.
I have read and observed many clubs as they crash and burn out of the Premier League, each one with their own issues: hapless owners; poor managers parading through revolving doors with the unearned gold of the faithful; mercenary players protected by get out clauses so relegation doesn't ruin their day; we've all seen it, we all have the same worry.
My question is: What would happen if Moshiri got sick of paying off shit managers and pissing up fortunes on players and managers that fail to deliver on the most basic of their promises? I am sickened by football in general and appalled at Everton in particular — and it is not even my money.
If Moshiri called time on his Everton adventure what would be the financial implications? The wage bill is a massive and much of the deadwood returns in May. If we commit to a new stadium and the team lurches from crisis to calamity, from expensive charlatan to experienced charismatic snake-oil salesmen, who's to say he won't turn around and say 'Fuck it, enough' and spend his days living the life of a billionaire playboy. Where would that leave the club?

Henry McDonald
194
Posted 02/02/2019 at 20:59:40
If Silva goes (hopefully) then let Rhino take over till end of the season. At least you can rely on Unsworth to boot the shirkers and the cowards up the fundament.
And yes I totally agree with other Evertonians when they suggest a crowd should descend on Finch Farm next week and verbally harangue the bottlers in the squad. If you want to unfurl the banners, do it at the training ground and let those overpaid chancers know what the loyal fans think of them.
Better still, why doesn't Moshiri fine today's 11 and donate one week of their wages to Everton's chosen charities. Or, better still, why don't the 11 plus guilty men (let's not forget Walcott et al) voluntarily give up their weekly wage as atonement?

Paul A Smith
195
Posted 02/02/2019 at 21:01:46
Koeman and Allardyce played zombie football? My god, this is worse. The penny never drops.
There is absolutely no chance of great football with these players. Get it in your head. Trying to get a cat to bark will be one long wait for you.
Gana cost £7 million, Fernandinho cost £30M how many years before? Pickford £30M, Allison £60M and what is De Gea worth?
Tosun £28M, Aubameyang £60M and he's not the best either. What do you fans wanting glorious football expect?
5 or 6 teams in the whole of the Premier League play great football that gets success but only if they play to their strengths. Does this not spell the quality we need to the deluded and what we REALLY need to spend?
Fans with caveman theories calling ex-managers cavemen is hilarious.

Eddie Dunn
196
Posted 02/02/2019 at 21:03:27
I missed the first half hour but from what I did witness was our player's minds shrouded in a fog of lethargy.
Sigurdsson is lost, floundering in a sea of strangers. Davies is rudderless, drifting, dragging his anchor,and Goodison is the Marie Celeste " Of timber and tar and strong wooden beams.
Of the name, "Amazon", she'd soon be shorn, become Mary Celeste, transporter of dreams."
Unfortunately this theatre only puts on tragedies these days and the only actors worth their salt are the visiting players. Well done, Wolves and their vocal fans, proper footy and great support.
Our Captain should walk the plank.

Paul Burns
197
Posted 02/02/2019 at 21:04:04
Tom Davis got dropped for being shit a while back. Why did anyone think he'd be any better a month later?
We've got so much useless dross on the books, it's beyond belief. It goes deeper than sacking managers, why are questions never asked by those on the gravy train wrecking the club?
Everton are like a country club for non-achievers. a hobby for luvvies and their acolytes. Goodison needs fumigating. These people are ruining lives here with impunity and it's got to stop.
John Boon
198
Posted 02/02/2019 at 21:04:16
It is amazing and admirable that at least 190 posters have been able to even have the energy to analyse the game and the performance of Everton. Personally I am speechless, while agreeing with what 99% of what loyal Evertonians have to say.
ps: Thank God to the cat that ran on to give us some real entertainment.
Rob Marsh
199
Posted 02/02/2019 at 21:11:27
What ever manager comes in after Silva (have I just sacked him?) will have to work with what he's got and maybe 1 or 2 other quality buys.
I'm pretty sure about that; this club is done spending until whatever coach is in office can prove he can get results with what he's got.
The Special One will immediately demand £250m to spend – look what happened at Man Utd were he was whining for more to spend. It wasn't money that got them moving, but good coaching.
Anthony Murphy
200
Posted 02/02/2019 at 21:11:53
Silva now 6/4 favourite with the bookies for next manager to be sacked.
Tom McEwan
201
Posted 02/02/2019 at 21:12:01
Paul A Smith @165, "I would love to know what put Moshiri in a trance over Silva coming here?" You and me both, mate!
Some time ago, I pointed out that Silva's Premier League record at Hull (regardless of the fashionable 'if he had more time' argument/bullshit) was similar to the man he replaced, Mike Phelan.
One poster asked me if I was seriously comparing Phelan to Silva, to which I replied "Yes". Anyone can compare these records themselves and if we look at his Watford record (no we didn't 'turn his head') the comparison is just as valid.
So, if everybody has access to the figures, disregarding supposition (if he had more time/we turned his head) why did our hierarchy choose to ignore them?
Whatever anyone's view (was it too personal, axe to grind etc) on Gerry McKean's recent article, he did make some pertinent points about nepotism and amateurish practices behind the scenes.
But the most important for me was the impression that this 'cosy' attitude has resulted in a complete lack of football nous on the board. Which in turn, has surely had to have an influence on how blind we appear to be on all things related to the playing side.
Recent Manager/Coach appointments (and I am going back as far as Martinez here) together with an ongoing transfer strategy that borders on the ridiculous, surely bear that out. Just how has it come to pass that we have hired not one, but TWO, managers with relegation on their CV under TWO different owners?
There has to be a theme here, right? It surely isn't just a random equation. Is Paul not too far off the mark when he talks of inducing trances? Maybe it's an equation that contains a bit of both. Maybe, the 'hypnotist' still operates within.
Well, Mr Moshiri, 3, 2, 1 – you are back in the room and just look at the fucken state of it!
John McFarlane Snr
202
Posted 02/02/2019 at 21:16:32
Hi Dave [181],
Like you I always stay to the bitter end, and like you I single out Jonjoe Kenny for the spirit he showed, while so many of his team-mates appeared to be going through the motions.
Owing to my accident, this was my first game since December 7th, the Newcastle United 1-1 draw, but Josh has kept me informed of events and performances, and his appreciation of football was vindicated today.
I fail to see where our next points are coming from, but I cling to the hope that something I have drummed into Josh – 'Anything can happen in a game of football' – bears fruit in our favour.
I don't know what the answer is (and I'm reluctant to criticise individuals), on or off the pitch, I simply say what is presumably obvious to all Evertonians: We're not good enough.
So, all-in-all, it wasn't a happy return for me today but, as unpleasant as it was, it was preferable to listening to it on Radio Merseyside. I felt as though I could have some sort of influence, like my 38,000 plus fellow supporters. Alas, it wasn't to be, but I will be there on Wednesday evening, for, after all... 'anything can happen in a game of football'.
Paul A Smith
203
Posted 02/02/2019 at 21:20:55
Tom, I am bewildered, mate. Fans used to back the club for craving success. Some cannot handle a negative comment if its the truth or not. Since Moshiri came in, the club has been amateur but the talk of stadium papers over the cracks.
On a crazy note, the amount of times I type Moshiti with the R being next to the T, then retype, seems as big an omen as that black cat.
Peter Jansson
204
Posted 02/02/2019 at 21:22:06
Moshiri – here is the evidence that he lacks some basic logical thinking.
He said that it would cost £200 million to replace Lukaku.
I mean seriously?
How can you sell a man for 75 million if you have to pay £200 million to get the similar quality?
Moshiri, we, in this logic, sold Lukaku on a £125 million pound bargain. If it takes 200 million to replace the quality, then he was worth £200 million, not £75 million. Period!

Tony Everan
205
Posted 02/02/2019 at 21:24:34
Paul #197, has said what everyone knows is true in the football world: 'Everton are like a country club for non-achievers'
We need somehow to get back to being a proper football club, Kevin Ratcliffe and Big Nev will be gutted at what they are witnessing, we are a million miles away from their standards, their pride in the shirt, and unflinching commitment. We are not a team.
Paul A Smith
206
Posted 02/02/2019 at 21:27:59
Peter @204, exactly mate. The nonsense he has got away with spouting is beyond belief and he's got more fans here than Lukaku had.
What worries me is he wasn't saying this to the teenagers at the back of the Gwladys Street, it was an AGM crowd of what you would suspect is grown-ups that had an education or some form of success in life.
The comebacks he got were about the liver birds being blue should continue because "their heads are falling off" My god. How embarrassing.
Top of the Premier League worried what tint is on those birds so precious to an Everton shareholder?
Is that success these days? If it is, we are heading for straight-jackets.
Neil Copeland
207
Posted 02/02/2019 at 21:29:25
I think one good thing may have come out if today; we have identified our future leader on the pitch: Jonjoe Kenny. Also, Gomes showed up much better than he has for some time.
Something that really worries me is if we think our defence is bad now what happens when Zouma goes back to Chelsea. And why would he and Gomes want to come here?
We need to get rid of Silva now, what is the point in keeping him? He looks completely lost and his pressers are just a repeat if the previous one. He seems unwilling or unable to try different tactics. Keeping him will simply drag the players down further.
Put Unsworth in charge and restore some discipline and sort out which players are really pulling their weight. Then, go and get Benitez in the summer when his contract expires.
By the way those wanting Eddie Howe; Silva's away form in the Premier League is second worst to Eddie Howe – who has the worst record.
Brent Stephens
208
Posted 02/02/2019 at 21:34:25
I've got to the stage where I don't feel angry, don't feel desperately low; I just have a feeling of empty resignation, of fatality.
I don't expect goals from us; I just expect goals from the opposition. I don't even expect many shots from us or chances created, or even attractive and attacking football.
Got my ticket and travel arranged for the Watford game. I will enjoy the day out. The train is good. Beer is good. Getting home is good. And Watford might provide some attractive football... What has this come to?
I watched Ireland vs England in the rugby when I got home today. What a totally different game that is. I might be "on the turn"!

Peter Jansson
209
Posted 02/02/2019 at 21:34:35
About our squad. Yes we are not Champions League material but we have some quality in our team. It must be possible to get our guys to fight their asses of to win every game?
That is the only thing I expect. Fight your ass of to try to win the game. Today I do not see that happening, that is mainly why I am so frustrated.
It is very simple. If you don't fight you don't win. This is not only true for Premier League football but also for backyard football played by amateurs. If you don't fight and run you don't win. If you don't win then you have to run more! Yes, run more! Not less but more.
I am sure with good training and management we can have our bunch of players perform better. Silva just does not know how to do it, so we have to bring in a new manager. Also, we need to bring in better backroom staff and get rid of Ferguson.
And yes, we need to enforce the midfield with at least 2 players, and one striker at least to start with.
I think that Brands or Moshiri (or both) do not trust that Silva is the right man to bring in these reinforcements. Why else did we not to any business in the transfer window? Maybe Silva's time is already up?
Brian Wilkinson
210
Posted 02/02/2019 at 21:38:04
Silva is turning out to be as stubborn as Martinez with no Plan B.
Same personnel week in week out, same subs, same zonal marking, same tactics, every team has got us worked out before even kicking a football.
What can be done, or should be done, start from the back, never thought I would say this but stick Stekelenburg in goal, if fit get Jagielka and Kenny in defence, scrap the zonal marking.
Give Davies and McCarthy a shot in midfield, link Calvert-Lewin and Hornby in attack, with Richarlison and Lookman running the lines.
Sounds crazy, but just cannot be any worse than what we are doing at the moment.
Peter Laing
211
Posted 02/02/2019 at 21:42:22
Denis #188,
Those are exactly the games that we should be licking our lips over with the top teams coming to our place and giving them a game. It's a pity that we no longer have the fight, nous or capability to compete. Sorry time indeed to be a Blue.
Brian Patrick
212
Posted 02/02/2019 at 21:43:16
Brent I know what you mean, I'm now watching more rugby than football. Todays Ireland vs England game showed total commitment; when you think of some of our players.... it's sad.
Brent Stephens
213
Posted 02/02/2019 at 21:43:36
Jim #102 "That cat that got on the pitch, initially it started in the opposition's penalty box yet ended up all the way back to Jordan Pickford. A bit like our football, let's be honest".
Very good.
Tony Hill
214
Posted 02/02/2019 at 21:46:02
Unsworth back in charge? No. A good man and a fine Blue... horribly out of his depth.
Neil Copeland
215
Posted 02/02/2019 at 21:46:35
Speaking of the cat; did anyone else hear the Wolves supporters chanting "That fucking cat, that fucking cat, that fucking cat" when the 7 mins was announced? Very funny, I thought.
Robert Williams
216
Posted 02/02/2019 at 21:49:52
I would if I could but I can't defend this sort of performance. But the man that would is not responding. Or has he just given up on his mucker.
Steve... oh, Steve — where art thou? Would you please give us an analysis of the shite we have witnessed again today?
Come out of hiding, you have had enough time to confer with whoever and time enough to make your excuses for the man that would be manager of Everton.
Brent Stephens
217
Posted 02/02/2019 at 21:50:31
And that black cat – seeing us cross his path he must have felt so unlucky... Poor bastard.
Mike Oates
218
Posted 02/02/2019 at 21:52:55
I think we are very close to meltdown. We have no identity on the pitch, no leaders, no fighting troops, no ideas at all.
Silva has come with a Plan A only. He wants us to produce a certain style of football he favours, high press, fast passing football, playing from the back through the centre-halves, with one tactical ploy.
His ideology might get results with a team containing world class defenders, one or two world-class midfielders and a most definite world-class striker(s). We have none of the above and also contain a number of " Championship" standard players.
The biggest challenge Silva has now is to come up with a brand of football, with defined tactics that this lot can actually play to – it's probably a long ball from the back, bypassing our error-strewn defenders, who constantly lose the ball.
Then we must try to win the forward punt or get the 2nd ball and build from that, in their half. We must jettison zonal systems and give a clear instruction who's picking who up. Whenever we loose possession in our own half we give away an easy goal.
The crime, and unless he solves it asap, is that Silva isn't changing or won't change anything even though its clearly not working, continual like this and he's out of the gate, probably in March or April to give the "new team" time to list their summer signings.
We are caught in no man's land - we cant deliver quick enough to establish a 6th/7th base to work from, in future years, and this will lead to continual change till the point is reached when Moshiri quits us as a bad job. He's not going to pump in £millions more for players, ground whilst the ship is sinking.
Roger Helm
219
Posted 02/02/2019 at 21:55:14
The club needs gutting – getting rid of Kenwright, Ferguson, Silva, the fitness and conditioning coaches, if we have any, and nearly all the players, who either are not Premier League standard like Tosun, Mina, Bernard, Keane and Walcott and all the fringe players, or past it like Coleman and Baines.
That leaves Brands, Moshiri, for his money, and a few players like Pickford, Gueye, Richarlison and Kenny, and a few kids for the future, who may or may not make it, like Calvert-Lewin, Holgate, Lookman and Davies.
Good luck to whoever takes on that job!
Mark Wilson
220
Posted 02/02/2019 at 21:55:19
John #33 George #39 nearly summed things up on a terrible afternoon.
I'm slightly surprised to read so much criticism. For a month now, anyone suggesting that we were desperate for at least one, preferably two, arrivals in the January window, attracted the wrath of a lot of supporters attracted to this measured, steady panic free long-term transfer view adopted by Brands, largely in my view because the owner told him he wasn't going to fund any purchases but dressed up as rock solid management.
So you should have known what was coming shouldn't you? We've done nothing to address a pathetically under performing squad. Once out of the cup the judgement is very clear from Mr Moshiri, tough I'm not arsed if you go backwards as long as we don't go down. 33 points, need say 41 tops. 8 from 14 no problems and sod the fact that another season is over in January.
Honestly, I don't think anyone at the club cares and that's crazy isn't it. But it really, really, feels that way. Silva is now doing a Martinez, giving identical pressers post match that repeat the same mantra which I think basically blames the players for not following his brilliant strategy and instructions.
He may have a point. For the first time in my life following Everton, I can honestly say I wouldn't care if any player from this squad left the club. Not one. They lack spirit, guts, urgency, awareness and are so average it's untrue. Yes, it is because they are mostly way below average.
Silva is a big part of this and no mistake. He threw away a possible League Cup run with something akin to contempt, almost as if he knew we'd be challenging for top six and FA Cup and didn't want the distraction of the best chance we ever have of a trophy.
He's seen that poor judgement come back to haunt him in spades as one of our worst FA Cup "performances" saw his sad team bow out of the competition with a whimper. Now he sees himself in the midst of a dire run with home games against the top remaining and not much to hope for in our away fixtures.
Three and a half months of nothing. No pride, no fight, little talent and apparently we are not supposed to care because it's early days in Silva's reign and yes it's all about transition and going in the right direction.
Best do something then to show the steady eddy lot they are right and us impatient "desperate – for a sign of progress" seeking fans are just too impatient and not forgiving enough of more dross and shameful performances.
No idea how we are going to improve unless you try something different defensively Marco and frankly I'd play a couple of kids now as they cannot possibly do worse than this lot you are sending out each week.
Paul Brown
221
Posted 02/02/2019 at 22:09:48
Kenwright must have done a good impression of the hypnotist in "Little Britain" Kenny Davis, when he first met Moshiri:
"Look into my eyes, not around my eyes, you're in the room."
( fingers click )
"You will pay over the top for this worthless pile of shit, pay off all the debts I ran up and pay me £80M for starters."
"You will bankrupt yourself if need be... And sell me back my club for a fiver when you are on your arse"
(clicks fingers)
"You're back in the room, now go and get your cheque book."

Ron Marr
222
Posted 02/02/2019 at 22:14:06
I think Silva will stay for this season and it will be sayonara if the Blues get off to a bad start next season. Maybe accountants from Monte Carlo should not be making big bets?
Eddie Dunn
223
Posted 02/02/2019 at 22:14:51
I've just watched Silva's interview. He never explains his decisions, only talks generally about nothing in particular. He said he had told the players his thoughts on the game...
I bet they were fascinated but, come Wednesday night, he will set us up the same way with mostly the same players under the same instructions and we will get despatched in the same way.
Peter Jansson
224
Posted 02/02/2019 at 22:20:20
Mark #220, "I wouldn't care if any player from this squad left the club. Not one. They lack spirit, guts, urgency, awareness and are so average it's untrue. Yes, it is because they are mostly way below average."
I think the squad is better than it looks now.
How did Man Utd look the last months with Mourinho? A lot of people said that Man Utd's squad was not good enough. What a crach of bs.
What do Man Utd look like now? This change was made more or less instantly with a new manager entering the dressing room.
By no means we do not have the same squad quality as Man Utd but I am sure our squad possess better than I watched today. If we had quality if fitness/training coaches and good manager, I believe we could play some more effective football.
Chris Jenkins
225
Posted 02/02/2019 at 22:23:53
My father first took me to Goodison Park in the early sixties to watch a side that included Alex Young, Roy Vernon, Jimmy Gabriel and Derek Temple et al. There were no fancy tactics then, just hard work, enthusiasm and pride in wearing the shirt.
Over the years, despite living abroad for a substantial time, I have never wavered in my support for the club through thick and thin years, very often thin – until now!
What I saw today made me extremely worried for the future of a club that has spent longer in the top flight than any other. Surely it is not names we need now in terms of managers and players. Or an immediate move to new stadium – although the latter would be welcome in the foreseeable future. Instead, now we need to keep it simple with honest endeavour, a fighting spirit, sensible tactics, and balls in the back of the opposition's net!!!
Mike Littler
226
Posted 02/02/2019 at 22:28:23
Silva needs to go. He was a gamble and it hasn't paid off.
We need to get someone in who has experience of managing a big club, not an Eddie Howe or David Wagner – they aren't good enough. Mancini, Benitez or Arsene Wenger if possible.
Mike Jones
227
Posted 02/02/2019 at 22:30:01
I logged on hoping he'd been sacked. He hasn't. I'm logging off again. I'll check back in a couple of hours.
Neil Copeland
228
Posted 02/02/2019 at 22:45:36
Mike #227, I'd leave it until at least Monday, mate.
Danny Baily
229
Posted 02/02/2019 at 22:52:45
Mike 227, enforced gardening leave would-be cheaper. Or have him coach the U23s until he leaves if his own volition.
I doubt Kenwright would have pursued Marco at all costs given his record. You do have to question Moshiri's football nous, bad decision after bad decision so far.
Cardiff away, Fulham away and Burnley at home are massive matches. Who said the season was over?
Sam Hoare
230
Posted 02/02/2019 at 23:03:43
Ian Lloyd@192, every time we lose, you bang on about the hammering you got! You got a hammering because you suggested Silva would be sacked before November. Which was ludicrous. And you were obviously wrong. Let it go!
Now, however the prospect of Silva getting sacked is looking much more real. I've supported him from the start as I saw signs of progress. But those signs are gone. Now, we are getting worse, not better. Shame, as I really don't want to change manager again but obviously he's failing to fix whatever is broken.
I would imagine Brands and Moshiri want to give him till the end of the season but, if we lose the next 3 or 4 or 5 games in a row, then surely their hand will be forced?
Sean Kelly
231
Posted 02/02/2019 at 23:21:11
Rubbish today again. Can anyone tell me if any COACHING goes on at Finch Farm?
And I don't mean parking a bus... But that would help.
Soren Moyer
232
Posted 02/02/2019 at 23:25:07
Useless manager! Useless squad! Coleman, Baines, Davies, Sigurdsson, Walcott, and especially Keane — are all useless. None of them are Premier League material. Pickford is not good enough. And Richarlison should be benched.
Denis Richardson
233
Posted 02/02/2019 at 23:25:23
Sam 230, it's probable we'll lose to Man City and, after that, Watford I think will be the deciding one. Lose that and that'll be three on the bounce – I don't think he'll be surviving that.
On a bit of trivia, we were just on MotD. Apparently, that was Wolves' first win at Goodison Park in 40 years... September 1979 was the last time we lost to Wolves at Goodison Park.
Mark Wilson
234
Posted 02/02/2019 at 23:33:56
Peter #224,
I hope you are right in your view that the squad is better then it looks. Emotion and frustration apart I'm not sure myself.
There's a lot been made of the "draining" effect of Pickford's terrible mistake against Liverpool. We had been on a short but good run. This seems to have wiped out memories of a series of dropped points early on due to the fact that we couldn't defend and a clean sheet was a rare sight.
Also, despite slightly better performances, we continued to lose or get the odd draw versus top six clubs. Essentially, even before the derby game that seems to have undone us, we were not good.
We have collapsed now and when you are pretty much the second worst team in the league it tends to sort the men from the boys. We've no men and our boys are pretty disappointing.
I do think we can do better. But I'm not sure that's going to happen under Silva. We are in a terrible mess financially as far as the playing side is confirmed. Far worse than most of us appreciated because Mr Moshiri is intent on paying off loans and the stadium enabling payments, rather than accept he's been a massive part of the problem with his naïve casino style transfer spending and signing off on some top four size wages. He's turned off the tap because he and Brands have written off this season but, in my view, he's getting it totally wrong.
The squad may be better but unless they start to show it, anything like it, how can this club attract the best, even within our level, in the summer when we are playing like we will finish with barely a few points above the 40 traditionally associated with avoiding relegation?
The entire club feels like it's given up and is just hoping that things will get better in the summer but this isn't the way to get us there. There's so much you could say about the squad. Coleman's sad slide from such a fine right-back, Baines the loyal servant needing to call it a day, the lack of a commanding centre back, Richarlison wasting so much of his talent on the ground and dropping his head so easily when things don't go his way. The failure to replace Rom with even half the goal return, so stupidly defended by the owner, the long list of over paid failures out on loan or warming the bench with zero standout youngsters waiting to push the rubbish aside.
All this and then Silva. What can you say except how he's any different to any of our managers since Moyes I'm not sure. I wish he would show us and give us the tiny sign of positive progress we are so desperate for.
The only progress is winning.

Brian Wilkinson
235
Posted 02/02/2019 at 23:45:07
To think we could have got £26 Million for Gueye with Silva threatening to resign if we sold Gueye. I would have taken a hit on Gueye if it meant Silva walked.
I have stood by Silva and many times said he needs to be given time.
Same old set up every week... god help us if he is still here for the derby after Man City have smashed us.
Derek Thomas
236
Posted 02/02/2019 at 23:46:37
You know you're in trouble when it's hard decision for MotM and the 2 main contenders are a black cat and a young kid playing out of position.
Tom McEwan
237
Posted 02/02/2019 at 23:52:59
Paul @203, I agree mate and that last paragraph made me lol! But many a true word spoken in jest eh?
Peter @ 204, spot on!
Danny @229, are you talking about the same Kenwright that appointed Martinez, "given his record"?
Mark @234, good post!
David Hallwood
238
Posted 02/02/2019 at 23:54:29
Lot's of unhappy Blues on here-and rightly so. I don't want the manager sacked, but he's got to realise the formation isn't working, the defending isn't working.
Sigurdsson is too slow to be a No 10, and should look at vids of Montino, who played like a quarterback, switching the play from right to left, just popping simple balls into the channels for their excellent wingbacks to run onto. I've heard a lot of criticism of Walcott, but did you see a single pass to him that Wolves were doing all game – and that's his strength!
This is going to be a long, hard end to the season, and we'll probably be lucky to scrape 40 points. Silva's a stubborn man, but he must realise that, if he fails here, the chance of him getting a 'big' club will probably be less than zero. Change your ways, Marco, or you'll be an ex-manager.
Phillip Warrington
239
Posted 02/02/2019 at 00:14:48
I think everybody agrees, we need a big shakeup – not only the first team but the youth setup as well. Unsworth, a great Evertonian, as a coach... undecided. I find it strange we are blessed with some really good naturally blessed players that, instead of blossoming into really fine players, go backwards.
People can say that's just a natural evolution, but I look at it like this: We had players in all the England teams who beat and outplayed the top youth teams from other countries in recent tournaments. Look at the England U21 team – most of those players have kicked on and established themselves – except the ones from Everton – which, to me, says a lot about our youth system and how we are allowing that resource to slip away for the sake of employing ex-players.
The black cat was exactly like the first team everybody stood around waiting for someone else to take the initiative, even though I hate Barkley with a passion for what he did to the club when he was playing he demanded the ball with the intention to do something with it.
Walcott – why do we persist with this player, play Bernard and Richarlison wide on the wings with Tosun pushing up as high as he can. If McCarthy is fit play him alongside Idrissa to anchor the midfield with Sigurdsson in front of them.
As a football club, we are in one hell of a mess, we have players on ridiculously high wages we can't even give away. We now have an owner who is starting to wind down the money he is putting in, and a so-called new stadium which has been put on a back burner and fans who are now showing their frustration and disbelief on the terraces of what they are witnessing and players who want to hide instead of playing.

Forget new players, top six, new stadium, new coach, new investment — what we need is someone who is prepared to make the hard choice's even it means giving some players free transfers and selling them at a loss. Then look at why we are not producing world-class players from our youth academy given the natural talent that's there.
David Connor
240
Posted 03/02/2019 at 00:16:47
If we lose heavily to Man City next week Silva should be sacked the next day. The football is dire, the players are garbage. Most of them are not his signings, granted, but any coach who is half decent should be getting more out of this massively overpriced and overrated squad.

I just wish we could sell all of them and start again because not one of those players should be putting an Everton shirt on again. They are that fucking bad. First time in a long time we have a man willing to spend money and they totally fuck it up.

How long will Moshiri stick around? Not long, I suspect, if this shite continues. I really am starting to wonder if we are cursed. What a shambles we are from top to bottom.
Mike Jones
241
Posted 03/02/2019 at 00:23:20
Two hours later. Is he still here?
Martin Berry
242
Posted 03/02/2019 at 00:38:39
Unfortunately, the previous Hull, Watford and now Everton results have revealed that every cloud does not have a Silva lining!
Will Farhad Moshiri persist with him until the end of the season? Yes, he needs time... but there is no progress or glimpses of hope at present.
We have had mainly a fit and active squad during this season so there can be no excuses, and I cannot see how there is any way that matters will improve.
Peter Jansson
243
Posted 03/02/2019 at 01:06:52
What struck me with the black cat was that no one at the stadium took the responsibility to remove the cat to continue the game.
We were down 2 goals with 20 min to play and no one actively removed the cat at our home ground? It looked like the players did not want to continue to play, but would rather look at the cat. And it looked like all other people at the stadium did not give a shit.
Wolves were just happy with the cat using up matchtime.
Are we so paralysed and have such lack of decisiveness that we cannot even remove a black cat interrupting a crucial game at our home ground?
Andrew Presly
244
Posted 03/02/2019 at 01:18:27
Peter – I agree. A cat took up 3 minutes.
Cowards.
Harvey Miller
245
Posted 03/02/2019 at 01:47:24
The only question is: who wanted Silva so bad even if everybody and your dog knew that the poor bastard has never achieved nothing worth mentioning?
A couple of titles in some low leagues. Always gets fired, never stays more than one season. Got his team relegated, the alarm bells should have been on. The special master mind who hired this genius is the cause of our misery.
Imagine: if you could have switch managers before the game, I believe Nuno would have won with Everton against Silva with Wolves. He is clearly a better manager. Silva has showed that he is not up to it.
Clive Mitchell
246
Posted 03/02/2019 at 02:30:03
It takes me five hours to get home from Goodison Park and when I arrive I've got better things to drink/do than get the game off my chest.
So... five hours on... the pundits who never actually watch us tell the world we're inconsistent. We're not; we're one of the most consistent sides I've seen; we're very poor every game, some of which we win.
Everton fans know what it takes to compete at this level. Tosun is simply not good enough and should never wear the blue shirt again. Alan McInally saw through Walcott immediately and so do we; the extraordinary thing about him is that his finishing is Premier League but every other aspect of his game is nowhere near good enough.
Baines is finished - although today he wasn't fit to start; and the way our coaches had Kenny warming up before the game began showed they KNEW Baines wasn't fit to start.
You could go on. But there's no point. Everything about our club is amateurish. There are dozens of examples of the truth of this, like the half-hearted way we warm up before a game, the fact that we're always off the pace at the start, the total absence of determination to win.
But let's focus on one: we've been dire for years now; Why the fuck is Duncan Ferguson apparently immune from the normal consequences of professional failure?
James Hill
247
Posted 03/02/2019 at 04:05:11
Watford did us a huge favour not letting him go last year. We would a 100% be playing in the Championship now. We dodged a huge bullet.
Derek Knox
248
Posted 03/02/2019 at 04:48:50
Clive, I have always admired the sacrifices in both time and money that many loyal fans like yourself make each week, to watch our beloved Everton.
You must also feel betrayed by a group of players, led by an absolute joke of a manager, who don't even reciprocate a quarter of the effort you guys put in. Quite frankly, unless they improve dramatically, which I fail to see under this imbecile, they don't deserve that support.
He persists with the same futile tactics, inept defending and no cohesion or game plan regardless of who the opposition are, and expects it to work.
Recently, he has started blaming the players for shambolic displays, rather than be a man and admit that he is the heart of the problem.
The players have to take some responsibility too, but I don't accept that they have all recently become bad in a short period of time.
I just hope and pray that, for the sake of our once beloved Club, and supporters who have had to endure more than enough, that Silva does the decent thing and admits his imbecility and resigns; he would gain more respect that way, than to continue dragging Everton closer to the abyss.
Brian Murray
249
Posted 03/02/2019 at 04:56:27
The only contribution we have made to the Premier League this season is hand the initiative to the shite and no doubt do the same on Wednesday by grabbing at least a point. Everton that! As they say.
Alan J Thompson
250
Posted 03/02/2019 at 05:44:26
Please don't make Jonjoe Kenny captain, it's the kiss of death, the Chairman's vote of confidence.
Look at those who've held it this season; Jagielka, Baines, Davies, Coleman...
Laurie Hartley
251
Posted 03/02/2019 at 07:05:00
Dave # 181 - I was really concerned about the thought of JonJoe Kenny starting out of position at left back but he showed everyone what is lacking in a lot of those players on the pitch today - courage, commitment and pride.
And that is my big worry for the future of the club. Do these players have the mental strength required to play in the premier league?
I don't like to bag individuals but there was one player in a blue shirt yesterday who looked like he is just going through the motions at the moment - I can't recall him going for a single fifty fifty ball.
As for Silva, mainly because of his substitutions, I have finally come to the conclusion that he is way out of his depth in the premier league and needs to be replaced.
With 60 minutes gone even the commentators were saying that Everton needed someone to create a few openings so what does Silva do ? Like for like Lookman for Walcott - meanwhile the cleverest footballer is sitting on the bench. Then again at 70 minutes he throws on DCL - against three big centre backs.
I don't know who we can get in as a manager but I do know it will have to be a man who when he walks into the first training session at Finch Farm gets their immediate and undivided attention.
Darren Hind
252
Posted 03/02/2019 at 07:12:02
Paul A Smith
Although a few acolytes of zombie football have surfaced during this crisis, the rest of us did see a vastly superior brand of football prior to the cock up Pickford made at Anfield. You do understand that, right ?
If you don't I will leave this conversation as there would be very little point debating with you, It would suggest that you really do believe the "cat has to bark"
Silvas biggest failing has his inability to cut out the basic individual errors which have become pandemic throughout his squad. These errors have destroyed our season, the players confidence and his own self belief, maybe even his career.
That the results are still the same as they were when we had managers who cowardly shirked the fight would suggest Silva is not the man to move us out of the dark ages . .but that doesn't mean we should return to shameless prideless shithousery
The fact that you would question whether Koeman and Allardyce were advocates of this club shaming anti football would suggest that is you who is cave dweller around here.
Paul Bernard
253
Posted 03/02/2019 at 07:50:29
Strange game yesterday for me. Started off okay trying to maintain possession, but in typical Everton fashion we give the opposition a free pass, this time with a soft penalty.
I said to my grandad before we kicked off that we had to start with two up top. Three centre halfs having two forwards playing between them causes havoc - you have to keep passing the attacker on to one another until it breaks down. Only Juventus have done it right with Chiellini, Bonnuci and Barzagli in recent years.
With the two up front you push your full backs onto their wing backs, tell the midfield two to peotect the back four, this allows the wingers to get in behind the wing back, effectively making the attack four on three against their back line, at the very least the wing backs get snuffed out.
Zonal marking? We could be here all day. Nice to know salem the cat from Sabrina the teenage witch is doing okay though.
Im a Silva in guy until the summer at least, that is being tested though with his refusal to sort the zonal stuff out and reluctance to change the shape. Martinez was sacked for it too.
I thought Silva would be like Martinez but with a little more about him. Rafa Benitez would be my first choice simply for his tactics which manage to get his team to pick up points they shouldnt.
Also massive, massive thumbs down for Richarlison. Did not want to know at all.
Steve Solomon
254
Posted 03/02/2019 at 08:20:26
Careful people you may injure yourselves with all that knee jerking. Surely we weren't expecting trophies this year? Top ten is the best we can expect because this is a rebuilding year.
We still have a squad that stinks of mediocrity and still have a squad that is overloaded and only 25% of which are Silva choices.
Maybe the system or formation isn't working, sure, but maybe the players we have cannot play the Silva way because they aren't good enough. Most of them are much too slow. When you look at the players still on our books Bolasie, Walcott, Keane, Baines, Schneiderlin, Martina, Besic, Niasse, Sandro, Onyekuru, Williams, Mirallas, Vlasic, (I believe all these players are still on our books, correct me if I'm wrong). this is staggering bloat.
Did we sell Klaassen? I can't even remember.
So many of these players need to move on before we can move forward.
Give Marco a chance, this season was never going to be anything but a transformation and to fire him would be the death knell of our once great team.
Trevor Peers
255
Posted 03/02/2019 at 08:32:28
Moshiri will be the sole judge of Silva's fate not TW, all the signs are he will be lucky to last till the end of the season.
Personally I can't see any difference to the shite we're serving up now and the shite we've watched in previous seasons when things have turned sour. It comes to something when a black cat provides more entertainment than the home side.
Our next 5 home games should provide further evidence of Silva's suitability for the job if he lasts that long.
Tony Abrahams
256
Posted 03/02/2019 at 09:17:13
Agree about the basic errors Darren, but I don't think that it's a fluke that we keep getting punished for them though. I've called for 3 centre-backs all season, and wether people like it or not is an irrelevance, because this looks to be the system anyway, except we are a man short in the middle of our defence.
I've never seen a team as strung out as Everton, the gaps between the lines, are absolutely staggering for top level football, and all's it does is expose and isolate the defence, which usually consists of just two central defenders?
Every team makes mistakes, but most of them have teammates next to them, to cover the danger, but not Everton, who seem to be getting set-up, like they are already winning 5-0.
Dennis@233, I'm sure that game was Andy Grey's debut for Wolves?
Peter@243, the lack of urgency in trying to catch the black cat, told me everything about the players and their desire to win. At least Tosun tried! (Well as hard as any player bar Gomes, Kenny) But I'm not sure he could catch a cold, so he had fuckin no chance in trying to catch a cat!
Paul Mackay
257
Posted 03/02/2019 at 09:21:06
I think we need a freshen up and a change of formation is what's required to this side.
I suggest we go to a back 3 and chuck Jags in, old head amongst the younger CBs.
Pickford
Keane Jags Zouma (Mina)
Coleman Siggy Gueye Gomes Digne
(Baines)
Tosun Richarlison
3-5-2
This allows Siggy to play deeper which allows him to infuence the game more. Richarlison to play in behind Tosun, he's more mobile than Sigurdsson and can help link up the play more. Coleman and Digne (when he returns) focused on getting forward more which is where they are more effective. 3 CBs to stop shifting goals from set plays.
Oliver Molloy
258
Posted 03/02/2019 at 09:35:23
Jay Wood @ 36.
The stupidity of the first half continued in the second half and "Coleman's short underhit pass to Lookman exposed him and the defence and the third goal resulted."
That's not what I saw. I saw Coleman pass to Lookman who LOST the ball - he let the Wolves player nip in front ( happens regularly with Lookman) but even worse he just trots back instead of breaking his balls to make up for his error, and this is happening with lots of our players.
Coleman's form like most of this team has not been good, but he doesn't do a Lookman.
As for Richarlison, every team in the league now know how to play him, his play acting is coming back to haunt him, a joke he is.
Tony Abrahams
259
Posted 03/02/2019 at 09:43:34
Paul@257, I think one of the main reasons Silva, abandoned the 3 centrebacks formation, was because Seamus, was really struggling to get up and down?
Denis Richardson
260
Posted 03/02/2019 at 09:47:21
Steve 254,
You forgot Williams, mirralas, Rooney, Jagielka in your list. We sold Klassen for a 50% loss last year.
You're right no one was expecting trophies this season (there's a laugh), nor top 6. However, it's pretty clear Silva isn't the man. Despite spending £100m and signing half the outfield first team, we are actually worse.
Paul A Smith
261
Posted 03/02/2019 at 10:00:52
Darren Hind.
Why even go into it. I love the way fans seen some wonderful turn in form just because we stayed organised against Liverpool.
I love the way we fail to mention Huddersfield at Home and West Ham but I am so used to the likes of yourself being selective that its no real suprise.
So our one tidy 89 minutes has you believing we can be great. What a guy.
Why are you not backing Koemans 4-0 win over City
All your posts reek of obsessive opinion.
You can't mention Silva without bringing the last manager into it or the one before that.
All these managers have signed players the top sides would not buy to play "great football"
The zombies are the fans stuck in their opinion and expecting change when they can't change themselves.
Shameful you even expect regular 'great football' from players who are not good enough.
How many top internationals do we have Darren?
Moutinho still gets picked ahead of Gomes for Portugal.
Wake up.
Les Moorcroft
262
Posted 03/02/2019 at 10:06:07
I agree our football is shite. Manager stubborn. But this crap its a bad time to be a blue? Whats this about. Is it modern day talk. We say born a blue so get over it. Me personally proud to be blue.
Tony Abrahams
263
Posted 03/02/2019 at 10:11:56
One of Silva's other big mistakes has been playing Michael Keane, instead of Jagielka.
Keane has got better, and he might be more comfortable with the ball at his feet, but he just isn't in the same league as an out and out defender, which really contradicts Silva's thinking imo.
What's the good in being able to take the ball off the keeper, if you're not quick enough defensively? Especially playing in a system that constantly iscolates the men playing in the middle of our defence?
Paul A Smith
264
Posted 03/02/2019 at 10:13:50
Les 262 I am sure you know my dad and went to school with him?
Mark Murphy
265
Posted 03/02/2019 at 10:35:21
We're not getting relegated so patch up and make the best of the rest of the season (I don't think Silva will go before then)
End Zonal marking
Kenny long term in for Seamus
Digne left back every game
Gana back in for Davies
Lookman replaces Walcott end of
Bernard in for Sigurdson
Persevere with DCL up top
Then in summer.
Sell England's number one for the money that being so will generate.
Sign Zouma and find him a better partner than Keane.
Sign Gomes
Sign a replacement for Gana, someone who is captain material.
Sign a striker.
Bring in Eddie Howe as we should have done already.
Darren Hind
266
Posted 03/02/2019 at 10:48:30
Paul A smith.
You do make me laugh.
I didnt include the game against West Ham or Huddersfield. just as I didnt include games against Southampton, Fulham, Palace Brighton. or very good away performances at Wolves. Leicester and Chelsea when we were actually having shots on target (something which had stopped happening asway. under your zombie heroes).
In fact I carefully avoided using any examples so I didnt have to face the brainless claim that I was being selective . . Incredibly. you made it anyway.
After making the mistake of accusing others of being selective, you embarrass yourself by selecting one match yourself.
I loved the City result you trawl back for, but unlike you I don't delude myself that it was anything other than a freak result, were we escaped City's dominance and for once score with every attack. Koeman soon reverted to type and was justifiably sent packing.
You continue to make a mug of yourself by asking how many internationals are in the squad. The dumbest question I've ever heard. Try counting them
Paul A Smith
267
Posted 03/02/2019 at 10:51:41
Darren you keep proving you see what you want to see.
Top internationals I said and I picked one off displays because to show it doesn't make a team and going into the derby we had just as many bad displays,
So you think we were looking a top side until the end of the Derby?
More fool you.
We could go through game by game and everyone still knows we give every side chances and have looked as vulnerable at the back.
If you could see progress good on you. I can't and couldn't because i would't have judged him until half a season at least.
Half a season in, we look worse than we did before Silva end of story really.
Plus i won't be the fool expecting great football from players that won't play for great sides.
Spurs got rid of Sigurdsson when they were as good as us.
That about sums it up.
Les Moorcroft
268
Posted 03/02/2019 at 11:05:25
Paul @264. I went school with Paul Smith in town. Everton area. And Gary. Take it it's your dad is sos.
Geoffrey Williams
269
Posted 03/02/2019 at 11:15:26
The disappointing season continues. I have absolutely no confidence in Silva to turn things around. I think he is totally inept tactically, the players seemed lost on the field and there is an obvious lack of confidence throughout the team.
I disagree with many on here about the quality of the players and how they make scapegoats of certain players for the team's poor results. Football is a team game and, if part of the team isn't functioning properly, then the team will underperform.
For me the three players who are the most disappointing are Walcott, Richarlison and Sigurdsson. Neither wide player seems capable of beating the full back and crossing the ball. They continually give away possession and offer very little in defence. Sigurdsson runs and runs but never makes a tackle and never wins a header. There is very little evidence of his talent as a deadball specialist.
Pickford's indecision spreads uncertainty in the defence and is reminiscent of Tim Howard's last few seasons.
Everton need to control midfield and dominate teams. Put steel and aggression there. Give the players specific responsibilities. Set pieces should look as though they've been rehearsed.
I would go back to basics, pick players who are prepared to work hard and make life difficult for the opposition.
Selecting a team from the current crop of players is difficult and I suspect we'd struggle to get two people to pick the same team. My team would be:
Pickford
Kenny, Keane, Zouma, Digne.
Gueye, McCarthy, Gomes
Bernard,
Tosun and ?? Probably Lookman
With the width coming from the fullbacks.
Bring Richarlison or Calvert-Lewin on around the 60th minute against a tiring team.
At the moment I wouldn't entertain including Richarlison, Sigurdsson or Walcott in a starting XI. Surely there must be players in the U23s capable of contributing more than these three.
Relegation is still a possibility as I really can't see where a win will come from. We are hopeless. Silva is competing with Walker to be Everton's worst-ever manager.
Steve Brown
270
Posted 03/02/2019 at 11:22:03
Half a season in, we are bad but we don't look worse than before Silva! Because that was the period of having the lowest shots on goal and assists in the league, backward tactics and an atrocious style of play. End of story, definitely.
Frank Crewe
271
Posted 03/02/2019 at 11:35:06
I see a lot of talk here about three at the back. I think it's mainly because we currently have three centre-backs. Yet one of those, Zouma, is loaned and so to continue this system next season would require we buy another centre back or try to buy Zouma. In either case, it will take cash away from our number 1 priority. Strikers.
The fact is that three at the back, just like our current 4-2-3-1 (or 4-3-3 since I can't make out what formation we are supposed to be playing) is overly complicated. I keep saying this and I will say it again the simplest system is 4-1-3-2. It allows proper defensive cover and a decent level of attacking options. Also it allows us to go to two banks of four when we don't have the ball.
Put our three most creative player Sigurdsson, Gomes, and Bernard in the middle. Stick Gueye in front of the back four for cover and put Tosun or Calvert-Lewin and Lookman or Richarlison up front to give us pace and physicality. This formation worked for us in the past and I see no reason why it wouldn't work now. This would be my own particular line up but I'm sure Calvert-Lewin for Tosun or Kenny for Coleman etc would work just as well.
Pickford.
Coleman, Keane, Zouma, Digne
Gueye
Bernard, Sigurdsson, Gomes
Tosun, Richarlison
I see no reason to continually play with two defensive midfielders. It simply hurts our attacking potential as one slow striker is simply left isolated and marked out of the game and it stops quick counter-attacks. We need an out ball and two forwards instead of one gives us that ball as long as we don't get too posh to hoof it.
Obviously, I doubt this will happen and Silva will stubbornly persist with 4-2-3-1 until he gets the gets the boot in the summer. At least we won't have to look at his miserable hang-dog expression anymore.

Darren Hind
272
Posted 03/02/2019 at 11:37:35
Paul A Smith.
I most definitely don't see what I want to see. Right now, I see a complete shambles.
I also see you making a complete Toby of yourselves, calling other fans "cavemen" for seeing the zombie football you don't have the ability to recognise, then compounding your foolishness by putting up strawman argument after strawman argument to try to substantiate you claim.
Nowhere do I say we looked a top side. (That's just your latest dumb strawman argument.) I said we looked vastly superior to when we were playing the shithouse stuff we were served up by the previous jokers... A statement I stand by.
Don't tell me we give up chances as if you've just discovered the mystery of our problems. I have been saying it all season. I even put an article up about it, months ago. Before a ball was kicked this season I also got slaughtered on here for saying I wouldn't put a bean on us finishing above yesterday's opponents.
Still, it's good to hear you say you won't be a fool in future... that's definitely a step in the right direction.
You hindsight merchants make me laugh!
Paul A Smith
273
Posted 03/02/2019 at 11:54:38
Darren, I couldn't find the time to be so detailed in why your beliefs are caveman. The fact you call Allardyce anti-football when he bought Eidur Gudjohnson who went on to play for Chelsea and Barca says it all really.
'Strawman' is one popular get out on this site. The veteran ToffeeWebbers love it.
I would rather speak bluntly in person but to not be so straw or selective I will say, you keep believing these players will play the great football you crave and I won't.
Let's see who is less surprised. And by the way, I couldn't stand Koeman and think Allardyce is a smug twat so in no way are they my "heroes". I just recognise the quality they had at their disposal.
Yaroslav Zavolovsky
274
Posted 03/02/2019 at 11:58:28
Immediately apologize for the English language. Using the translator (I am from distant and snowy Kiev, Ukraine).
Yesterday I watched my second Everton game. The game with Huddersfield was not bad since the enemy was even worse.
So yesterday, to my deep regret, I saw even more humiliating football. But nevertheless, I believe in the best. Since I liked the team, history and traditions. And it seems to me that I'm sure there will be more victories.
And I personally am pleased to be part of those people who from childhood are for the club no matter what. Although I have never been to Liverpool and I do not know whether I will. But it is felt even at a distance.
Tony Williams
275
Posted 03/02/2019 at 12:04:15
Ever since the derby, we have been shambolic.
One thing I have been on about for a while is this zonal marking with no one on the posts. Yesterday, a cross came across from a free kick and, because of this zonal making, a header went in from an unmarked player just inside the post, if we had someone on the post it wouldn't have gone in.
Why he persists in this ridiculous system is beyond belief when, under his very nose, this is happening every game.
Eddie Dunn
276
Posted 03/02/2019 at 12:04:34
The problems we have are due to confusion. Could it be that the coach is failing to get his charges to understand just what he wants? Or are his instructions too ambiguous?
Silva has said we are playing a mixture of zonal and man-for-man marking. This system, which he insists, most Premier League teams use seems to have our lads in a complete lather.
The header yesterday was a prime example and MotD pointed out Richarlison letting his man run into the space between him and Coleman. This kind of thing has happened on a regular basis. Is it a lack of concentration or is the message being delivered in a poor way?
There certainly is a lack of cohesion right through the team and it could be (as others have pointed out) the way we are strung out so wide with huge gaping holes across the middle. Gueye probably makes up for this vacancy with his harrying but with the less mobile Gomes and Davies (who had a stinker) the gaps are simply too large.
One clear thing that is evident and has nothing to do with systems or confusion is that Keane is ridiculously slow and is being turned or simply outpaced every time he is one-on-one. He is fine in a backline sitting deep, winning headers but he has been both calamitous and statuesque this term.
Last season, I thought it was down to his horrible ankle issue but despite his early improvement, he has proved to be a liability. The only mitigating factor was that we were unbalanced with Baines being started (why?) and having to depart after giving the pen (which looked down to his inability to compete with his sore ribs).
Digne will hopefully bring some balance but I hope Kenny will replace Coleman who has lost his speed and whose crossing has turned to shite.
I would actually bring in Schniederlin for man City and sit him in front of the defence and encourage Gomes to do what he did yesterday... what a goal!
Alan Smith
277
Posted 03/02/2019 at 12:16:44
Hindsight made a comment only 2 or 3 days ago that strawmanned me.
In fact, that's all his post was. A one-sentence strawman.
Boring cliché now. 'Strawman' on this site has completely lost its impact.
Neil Copeland
278
Posted 03/02/2019 at 12:18:35
Hi Mark (#265), I hope you are well. I agree with your points other than Eddie Howe. Whilst he is doing a good job at Bournemouth in an attacking sense, defensively he is no better than Silva and actually has a worse away record in the Premier League.
My choice would be Benitez if he would come but don't really know who else if he wouldn't.
Alan Smith
279
Posted 03/02/2019 at 12:22:28
Benetiz was "serving up" worse football than Allardyce last season. And whilst there may be off-field reasons for not liking Allardyce, surely there are equally poor reasons for Benitez not being suitable. What about his "small club" jibes?
Neil Copeland
280
Posted 03/02/2019 at 12:28:25
Benitez is a proven winner at the top level, I really don't care about his small club jibes – he was manager of the RS at the time and simply winding us up.
I can't see any meaningful comparison between Allardyce and Benitez, they are poles apart.
Darren Hind
281
Posted 03/02/2019 at 12:30:25
Paul A Smith,
You have at least cheered me up this morning, Going back 20 years for an example of the type of player Allardyce brought in. Comedy gold!
This enemy of football has long since realized that, even with truly gifted players, he simply didn't have the brains or coaching ability to win anything, so he became a master of anti-football.
He knew that, if you got 10/11 people behind the ball and made them forget about the true purpose of the game, he could make a living out of mug Chairmen who thought it would be good for their clubs – strange how many of them struggled to recover when he left.
The trouble with his plan was that the "cavemen" (fans who understand football) associated with his clubs all ran him out of town.
You see, unlike you, these thousands of knowledgeable people didn't see cowardly tactics –designed to destroy the game – as a "quality".

Stephen Davies
282
Posted 03/02/2019 at 12:33:50
Alan #279.
Yes, that's true... but it was basically with the same Championship players that he had the previous year.
There's no getting away from the fact that he's taken teams to two Champions League Finals and a Europa League Final.
I've no doubt that he would improve the defence, improve the team, stabalise it and he still has respect in football circles that he could attract quality players.
And... he would come.
Peter Gorman
283
Posted 03/02/2019 at 12:45:10
Christ, I am in a bad mood with Silva but what on earth is this revisionism going on with Allardyce?!
Took me 2 seconds to Google Allardyce at Everton at a glance, in case I really imagined the whole 'shit football' thing:
Goals: 27 (11th ranked in Premier League)
Shots: 213 (20th)
Ave. possession: 44.2% (13th)
Passing accuracy: 72.9% (16th)
But hey, apparently he could defend corners so that's something.
Appointing Allardyce made me genuinely embarrassed to be a fan. I think Silva is proving to be a no-hoper but, gun to my head, I'd have him any day over Fat Sam and his anti-football.
Dave Ganley
284
Posted 03/02/2019 at 12:50:47
I'm still pretty angry about yesterday's game. It was terrible. All 3 goals given away yet again so avoidable.
Baines was blatantly not fit and shouldn't have started, although it's debatable whether It would have made a difference as regards giving away the penalty.
As far as the 2nd goal is concerned, does anyone think that Pickford should have come for it and cleared out the wolves player who scored? Genuine question really. I've not seen any replays but, from where I was sat yesterday it looked like there was ample time for Pickford to come and collect the ball. That would have been meat and drink to big Nev.
Too many players have gone missing. If he's not scoring then has anyone any ideas as to the point of Richarlison? Yet again he was completely anonymous, as were quite a few others. The same sideways passing or going back to keep the ball is soul destroying. Nobody is willing to take a chance and look to play others in.
I guess we all see things differently but in the grand scheme of things I thought Gomes and Davies did ok as a pair, certainly seem to compliment each other better than Gana and Gomes. They just never had anything in front of them helping out making runs or creating. All 3 goals of our own making. Pitiful.
They are making it really hard to go to the game and enjoy it. I'm sick and tired of being made to hate going to the game. I've not really enjoyed it on a sustained basis for about 5 years now such is the lack of heart and fight in successive teams.
The scouting system seems to have been on holiday for the last few years. There was an argument on another thread the other day about quality of recruitment and buying proven quality with some saying we shouldn't be looking at players from rival clubs or below or in the Championship. Well this lazy way of buying players is what has done for us in recent years.
Look at the players we have had from lower clubs and the unknown players. Lescott, Stones, Jagielka, Baines, Pienaar, Arteta, Coleman, Cahill, Distin, etc, all players who came from lower clubs. The talent is out there, we just choose not to look anymore, preferring foreign imports who just aren't good enough. The players above you could count on doing their best for the full season, not just half a dozen games when they can be bothered.
Now let's see if Brands can earn his money to unearth hidden gems like above with the necessary right attitude. Sometimes you need to go down the league to find players who will appreciate having the chance to play top level football and will give their all. It's all about attitude and our players seem to have a rotten attitude.
I do still have sympathy for Silva as most of the squad isn't his; however, he needs to start playing a team that deserve to be on the pitch and not players who are on the pitch just because they may do something but ultimately don't. We are an embarrassment at the moment.
Man City will destroy us on Wednesday. We keep gifting chances to the opposition. It would be better if the opposition outplayed us, I can take being beaten by a better side but when goals are constantly being shipped due to our own mistakes it is just criminal that it keeps happening. The likes of Man City and others don't need a helping hand yet we keep on giving it. It's an utter shambles. Someone somewhere surely has to take responsibility to stop the rot. We can all see what's going wrong so why can't the powers that be?
Football is a simple game, a.ways has been always will be. Slow ponderous football allied with shooting yourself in the foot will never win games consistently. We have been doing this for 5 years now, why are we still doing it?
As I say, it's soul destroying and the single reason why there's a terrible atmosphere at Goodison Park. They manage to suck all the life and joy out of going to the game.
Darren Hind
285
Posted 03/02/2019 at 13:05:25
Agreed, Dave;
It's probably a little unfair to compare Young Pickford to the great man, but if big Nev faced that cross, it would never have ended up in our net.
Two things would have happened: the ball would have been cleared and somebody would have got hurt.
Steve Ferns
286
Posted 03/02/2019 at 13:11:52
There's no point debating who would replace Silva. It's a one-man shortlist. Phillip Cocu. The last manager Brands worked with. Someone Brands speaks very highly of. He got sacked by Fenerbahçe last October. Brands will get him in for sure.
Silva doesn't go from being hailed a genius to be sacked by the same man so quickly.
We live in such sensationalist times. Why can't someone just be doing "crap" and then wait and see if they sort it out. He's still only been here 6 or 7 months. The league position is similar to last season.
The performances also are similar. The difference being that we're as horrendous in defence as we were in attack, but our attack is as competent as our defence.
It's amazing how many people just want to label someone 'crap' before they come in, go silent all season and then appear to try to grab the glory of an "I told you so". When's the last time an Everton manager didn't fail? It's easy to slag them all off and, of course, most of the time you will be able to say I told you so.
ToffeeWeb is the bastion of the angry. We sit 9th. You'd think we were 19th. 33 points is not what we will finish on, but it'll be enough to stay up.
Rob Halligan
287
Posted 03/02/2019 at 13:14:18
Tony # 275.
I have to disagree with your post regarding the headed goal (the second goal). You say if we had a player on the post then they wouldn't have scored that goal.
From where that free-kick was taken, I have never ever seen a team defending the free kick with players on the post. Holding the edge of the penalty area was correct. It was the desire to win the ball and man-to-man marking which was not evident. Richarlison should have blocked Jimenez making his run for the header.
I also think Pickford should have been right off his line to gather the ball or punch it clear. We had a similar free kick in the second half, and their goalie was right off his line to punch clear, taking Zouma out in the process.
John G Davies
289
Posted 03/02/2019 at 13:20:52
Got to take issue with the comments on Southall coming out to take crosses.

Neville was a line keeper. Very rarely came outside the six yard box to take or punch crosses.
Tony Abrahams
290
Posted 03/02/2019 at 13:32:35
Frank @271, if you read my post, I was just saying that Silva has got his fullbacks playing that high and that wide that the one thing missing from his formation is a third defender.
I only care about one system, one that works, and 4-5-1 or 4-1-3-2, or even a basic, most easy to understand 4-4-2, would do for me, if the manager could just get the players to understand it.
Eddie Dunn
291
Posted 03/02/2019 at 13:33:53
Steve, there are very few people on here who fit your description. The majority of us (even those like myself who wanted Howe) have been willing to give Silva time.
The problem is, unless there is a sea change of results, we are going to pick-up very few points over the next 5 games and could very well receive a few spankings along the way.
If it were not for three truly woeful sides at the bottom, we would all be wondering if we could get sucked in to the relegation mire.
Our early season form is the only thing keeping us in mid-table. We must be bottom 3 on current form.
We got dumped out of the FA Cup and the fans see the same mistakes every week.
If Silva had anything about him, we would have seen the evidence already.
You say he has only had 7 months, but we have had plenty of time to see his methods, an as for the excuse that it isn't his team, well most managers never have time or resources to pick all their own signings, part of the job is working with what you have.
The example of Man Utd is a good one... same players, different coach. Our players are pretty good, as good as Wolverhampton's, but look at the difference yesterday. Silva is failing and he continues to make the same mistakes, and that is why my patience is gone. if we were undone in different ways every week, it might be different... but, as many have said, it is Groundhog Day every game.
Paul Brown
292
Posted 03/02/2019 at 13:47:42
In my best Harold Shand accent:
"This club used to mean something, always at the forefront, the best in every way, the first! Yes, the fucking first to lead the way!!! Everton were a great club... but now? Fucking now!
"What have we got here is a fucking shambles, a gaff where taking part is what matters... Football clubs??? I've shit 'em!"
Yesterday, while we are being given the run-around by Wolves, who last season were in the Championship, the ground breaks into applause — not for some brilliant piece of football, but to applaud for some poor kid killed last week. For him, his Everton misery is over; ours unfortunately continues...
That's where we excel now — not in football... but in grieving the dead and feeding the homeless. Football is no longer on the agenda in L4.
It seems the only thing left for us supporters is, after watching a lifetime's worth of shite, to have your kipper plastered on the scoreboard at half-time and those still here can clap you along into a more peaceful time. A final reward from our once great club, it seems: "We have had your money... now fuck off!"
Walking up to the game past the EitC, everything looks fine and dandy — a 'community cafe'!! "Coffee served inside", the sign says... they should have a notice saying "No ball-games allowed" as football hasn't been in these parts for years...
We fucking stink! I have said it for a while that the players should be publicly shamed and then sacked or fucked off. Four managers cannot all be duds... there again, only us could be that unlucky!
Come Wednesday, we will probably win! Thus handing Liverpool the Premier League title — it's the Everton Way, don't you know? "Merseyside" — and all that shite. Kenwright will probably pick the trophy up off Man City and go over himself to drop it off, no doubt with a tale or two about him and Uncle Cyril wanking over Billy Liddell and all the other cunts there.
I long for the day when we clap our heads off at his picture when it's up there because, until he croaks or fucks off, we will deteriorate and morph further into this non-football entity we have become, where jobs for the boys are rife and no-one on the inside rocks the boat.
"What doesn't kill you makes you stronger," Nietzsche wrote before he died of insanity — obviously he hadn't come across Everton as, to watch them these days, you need to be insane in the first place.
Alan J Thompson
293
Posted 03/02/2019 at 13:52:06
Stephen (#282); You say Benitez has respect in football circles but the problem is he has no respect for Everton and has said so. Whoever the next manager may be, there has to be release clauses if certain minimum standards are not met.
Fran Mitchell
294
Posted 03/02/2019 at 13:59:14
I've been willing Silva on, but something is clearly going wrong. Performances are gradually getting worse, good players are playing way below their potential, and Silva has neither shown humility in interviews, nor shown any tactical adeptness to try and change things.
Each and every game, is basically the same formation, same personnel, same shape, same mistakes. Silva is failing miserably.
The reason we are in 9th (for now) is the desperately poor level of the mid-level teams in this league. If this team does not improve drastically, we could be embarrassed in the next derby. Which is basically the only game we have to play for this season (whilst our neighbours challenge for domestic and European honours).
Top managers do not suffer such profound slumps. If they do, top teams fire them.

Craig Walker
295
Posted 03/02/2019 at 14:11:55
Steve. I love your analysis of football in general and you're far more knowledgeable than me on tactics and football outside of this country. However, I don't want another manager like Cocu or any other unproven boss in a less-competitive division.
We need someone with experience of winning in the top divisions, including the Premier League, someone who has actually won silverware, won derbies, handled big egos and managed at clubs when the fans have turned on him.
We need Benitez. I said it when we got Silva and it is more relevant now. Let's stop going for "the up and coming" and get proven winners. I don't care what he once said about us. If he'd come then it would be a statement of intent.
Wenger or Mourinho have the credentials but they wouldn't touch us. I think Rafa would because we are an upgrade on the Barcodes and he has an affinity for the area.
Christy Ring
296
Posted 03/02/2019 at 14:22:09
We're an absolute shambles, and conceding goals from set pieces with zonal maring is criminal. Did Silva learn nothing from the Milwall match. He needs to bring Jagielka back, and to start Baines who was clearly not fit, that's inexcusable, and bad management. At the other end we are totally toothless. Is it in Sigurdsson and Richarlison's contract that they can't be dropped. Tom Davies kept giving the ball away, if he wasn't good enough 2 months ago, what's changed. There's no drive or passion, Kenny was trying to tell the senior players to book up, seriously? What does McCarthy have to do, to get a game? Silva is a joke.
John Keating
297
Posted 03/02/2019 at 14:32:18
Steve 286
I hope you are wrong about Cocu simply because it would appear to give another "mate" a job, this time from Brands. I think we've had enough of that at the Club.
Steve, I appreciate you were supportive of Silva's appointment after studying both him and his methods. However, did you honestly think we would be having these sorts of discussions on numerous threads, at this time of the season?
Max Murphy
298
Posted 03/02/2019 at 14:46:18
Ferns (286). Amazing how some supporters are quite content with mediocrity.
On current form, we are probably lying in 19th.
Oliver Molloy
299
Posted 03/02/2019 at 14:58:35
Steve Ferns,
But 33 points is not good enough, is it? Doesn't matter if we are safe or not. The players at Everton will eventually get him the sack, next week, the month after, in the summer, who knows but players will never blame themselves and so these days football is awash with the manager merry go round.
Has Keane come out and said "That was a fucking big error from me yesterday" No he hasn't, nor will he.
Lookman trotting back after losing the ball, has he said "I could have done more," no he hasn't, nor will he.
The list of errors are fucking endless.
For me the similarities with Martinez with defending are there for all to see, it is the one biggest issue.
Either Silva is incapable of fixing our defending, or he is just as Martinez was: my way or no way, I suspect a little of both, to be honest.
You can not knock anyone on here who was not convinced when Silva took over, his record in England is not good. Silva coaching philosophy is "you score one, we score two" type of game. If that doesn't work, he's seems clueless.
I don't agree that it will be Cocu neither just because of Brands. I haven't a clue who Moshiri and Brands will get in, but the likes of this Simone character is what we need.
If Everton are embarrassed in the derby, Silva will be sacked, that's my prediction... Moshiri likes a positive headline!
Gerry Ring
300
Posted 03/02/2019 at 15:09:56
Silva is proving to everybody exactly what he is, a below average manager living up to his miserable, mediocre record. The minimum you expect from a manager,at this level, is to learn from mistakes!
This guy reminds me of Bill Murray in "Groundhog Day" except he realised that he needed to do something different to get a different & better outcome. Silva keeps doing the same thing!
And then he brings back Walcott & an injured Baines! A non-league manager wouldn't be that naive. He's proven beyond reasonable doubt that he doesn't have what it takes.
Tony Everan
301
Posted 03/02/2019 at 15:24:09
We are too expansive in midfield, we need to be more compact and combative. We are exposed and vulnerable every game. The formation and system of play must change to make us a fighting unit.
McCarthy knows what it takes to win midfield battles; get him in now, alongside Gueye and Gomes. Play Davies too as a midfield 4 with Sigurdsson as a No 10 linking midfield and attack. Use Calvert-Lewin or Tosun as centre-forward.
Sorry... no spaces left for Richarlison, Lookman, Walcott or Bernard, but Sigurdsson needs to be told the No 10 slot is up for grabs — he is not a shoo-in.
Until the midfield is sorted, nothing will be sorted. I am convinced that midfield line-up would create a better balance to our team and tighten the way we play right up.
if the expansive method was working with 2 wingers we would all be be in raptures . But it isn't and its not going to work .
They key is the midfield.
Dave Abrahams
302
Posted 03/02/2019 at 15:40:28
Clive (246),
I can only add my admiration to Derek's (248) for your support of our club and taking so much time, effort and cost in making, at the moment, a lot of so much for next to nothing in return. What a long sad journey home it must have been for you and a lot more of our loyal fans.
On the subject of the performances in the last few weeks, I cannot understand Silva playing a high line of defence with Keane at centre-back. He is so slow, you have to play with a deep line of defence and a compact midfield... so bleedin' obvious.
I've seen Stubbs and Weir play this way; done in a very professional way, frustrated many teams, including Liverpool at Anfield: it's obvious to many on here but not the "manager at the moment" as Ken Buckley once famously said about another manager who didn't last too long after that remark.
Alan J Thompson
303
Posted 03/02/2019 at 15:47:57
Tony (#301); Not too sure how that works.
If we play four in midfield and I assume four at the back, who is the one forward and why does Sigurdsson link with him?
Wouldn't the four in midfield have to link with the two (strikers?) in front of them? Although I do agree the midfield needs sorting.
Soren Moyer
304
Posted 03/02/2019 at 15:58:32
Arsène Wenger and Marcello Lippi are available but both are nearing the retirement age (or might even have passed it)!
Jon Withey
305
Posted 03/02/2019 at 16:08:18
If only we had kept that early-season form – look at the table and amazingly we are still in 9th, above Leicester and West Ham who haven't been saving money recently either.
Clearly we have been terrible and it doesn't look good for the manager – I haven't looked forward to watching Everton for a while now.
All that said, maybe it is time to support the manager for a change – unless he doesn't give a damn.
Joe McMahon
306
Posted 03/02/2019 at 16:08:57
A couple of months ago, we were above Man Utd, changes in management went well for them. Yes, I also know United's squad is full of quality that we will never have.
George Cumiskey
307
Posted 03/02/2019 at 16:21:32
Why, oh why, oh why do people keep suggesting teams with Sigurdsson in them, when he has been poor for months.
In my honest opinion, he is way too slow for the Premier League as it has evolved into.
Andy Crooks
308
Posted 03/02/2019 at 16:22:28
Steve, this site may well be the bastion of the angry. I have supported Marco but have been concerned by the lack of a sign. In my view, there is none. Only the sign that he will (not this season) relegate us...
I am embarrassed that I supported his appointment. His set-up of the defence is truly lamentable. He MUST be fired.

Bill Watson
309
Posted 03/02/2019 at 16:33:51
It was very noticeable that, when we conceded the early penalty, there was not one player trying to gee the others up. They all just trudged, dejectedly, back to the centre circle.
Alan Smith
310
Posted 03/02/2019 at 16:43:05
For people crying 'strawman' all the time, I never once said Benitez wasn't better than Allardyce or that I didn't want him; I do.
But he is ultra defensive in organisation and tactics. Nothing wrong with that. I'd have that in a heartbeat as it's the only way we will upset the big boys without paying massive wages. But his Liverpool connection should be a massive put-off if dodgy Allardyce is.
And if you're talking about anti-football, give me an example of Allardyce doing worse than what Benitez did at Goodison Park last season?
A yes, fucking yes, well done, Benitez — you had you shit players. And, as you get better ones, you will quite rightly improve the play.
But Allardyce is shit because he had great players who could build from the back, like Martina, Kenny, Williams and Keane. Schneiderlin and Davies in midfield the mercurial Gana Gueye. And the legend of Iceland, Sigurdsson.
We may have been packed with a galaxy of international stars but we did finish 8th above the masterful Benitez.
I don't want Allardyce back but throwing out ridiculous unsubstantiated clichés like anti-football and listing 13th at this, 20th at that, 15th at this. And the saying Benitez, who's been more defensive and an ex-red who slagged us to fuck, isn't as anti-football? I'm afraid you're falling into English fan trap of following bandwagons.
Hind, in particular, poo-pooing someone's example because it's 20 years old? Give us any Silva example then. As shit as Allardyce is, he always had two wingers and a real centre-forward. He's the only Everton manager to start 3 forwards against Liverpool.
Paul at least tried to back up his argument with an example and I've heard him say this before: he got Zaha back to his best at Palace. He's had Ankela and Defoe scoring, who are hardly long-ball Number 9s, them two! And everyone knows quite well we'd be at least 7th and still in the FA Cup if he had these players.
Dominic King has quite rightly called Silva's tactics "an act of vandalism" if he doesn't do better. Allardyce — he's a worse manager? End of story. And he's more anti-football?
Or please explain when God sent the 2nd Coming to earth to explain that true football is being shit at the back, having a soft under belly, and trying to play like Man City when you're shit.
Do stop accusing people of strawman arguments whilst strawmanning yourself. If you have evidence of anti-football, give it. Especially the hindsight slagging someone for giving an example when you can't give one to back your own arguments is hypocritical.
If only Silva arrived when Allardyce did. We could have had Martina playing like Carlos and Kenny like Cafu... It would be in the Championship, like... but at least it wouldn't be "anti-football"
"The Rolls-Royce" (or Schneiderlin) would be good as well in that league!
AN ACT OF VANDALISM
Darren Hind
311
Posted 03/02/2019 at 16:59:08
J G Davies
You are only half right. Big Nev came off his line like a man possessed for crosses (take a look at Andy Townsend's hooter for evidence of that). The trouble was, he would clear house and wasn't too fussy who he took out. We were picking up injuries too... even in training. The players (and I got this from one of the horses' mouths) had a word, telling him they were in control and, with some reluctance, he agreed to stay on his line.
So yes, he did spend at least the second half of his spell as a "line keeper".
It was a funny old game back then, we had defenders who would talk to each other and everything...
Alan Smith
312
Posted 03/02/2019 at 17:03:07
😂 😂
Darren Hind
313
Posted 03/02/2019 at 17:08:22
Alan Smith.
I have never discussed the prospect of the FSW taking over as our manager. Not ever.
If you want to stop people of accusing you of straw man arguments . . you need to stop making them.
Simple
Denis Richardson
314
Posted 03/02/2019 at 17:22:53
Tony 256- I doff my cap to you and your memory, quite incredible.
You're right, that previous Wolves win at Goodison Park, 40-odd years ago was indeed when Andy Gray made his debut for them. Wolves had just broken the then UK transfer record of £1.4m(!) to sign him - he duly obliged by scoring against us in a 2-3 win.
(Wasn't at the game myself, was 4 years old at the time...)
Dave Abrahams
315
Posted 03/02/2019 at 17:31:38
Denis (314), not going against the facts, but how many times have we played Wolves in those 40 years? They have been in the second and third divisions and also the Championship for many of those years surely.
James Hill
316
Posted 03/02/2019 at 17:38:42
Alan Smith #310 Great post. I'm not a great fan of Allardyce and I remember his Bolton days he had some great footballers in a much better footbball league that today's set up IMO. The fact he has become a firefighter to get clubs out of the shit has meant horses for courses.
I'm just please it was Allardyce that came last year and not Sílva. We're not out of trouble yet the run of games coming up could easily see us in a relegation battle. Which is my biggest fear.
Let's hope not and Sílva can turn it round. Let's stop using Allardyce to deflect from the real issue which is Silva's ability which should be our key focus.
Tony Abrahams
317
Posted 03/02/2019 at 17:42:54
My memory is not that good Dennis, I thought we lost 2-1. They have had very hard times those Wolves fans Dave, but they are definitely a proper football club.
Fans make the club, and I was told by a Wolves kid many years ago, that when Wolves, were really suffering in the old third division, the club would never tell anyone if Steve Bull was injured, because, if people knew, it would take about ten thousand off the gate.
Soren Moyer
318
Posted 03/02/2019 at 17:58:34
Everton v Wolves flashback:
Paul Tran
319
Posted 03/02/2019 at 18:04:44
Initially it worried me that I remembered that last Wolves win at Goodison, then I realised that if I have strong memories of games from 40 years ago at the age of 54, that's a good thing.
That's cheered me up, as well as Apple's Jade, Le Richebourg & La Bague Au Roi!
Tony Abrahams
320
Posted 03/02/2019 at 18:09:22
Thanks, Soren. Man City winning is cheering me up, Paul, but not as much as tomorrow night if West Ham win 2-1, at 25/1 though!
Trevor Peers
321
Posted 03/02/2019 at 18:09:54
Someone mentioned zombie football, we've got a zombie manager at the moment.
I'm just watching Man City vs Arsenal — both managers are highly animated. Silva is just passive in comparison. No passion at all.
Brian Denton
322
Posted 03/02/2019 at 18:14:01
Paul Tran, you've got a few years before you catch me up, and I can remember games from the 60s!
Oddly, the only thing I can remember from that Wolves game was that we lost and ironically Andy Gray scored against us.
Andy Crooks
323
Posted 03/02/2019 at 18:20:07
I think Silva should go. I think that anyone talking about the appalling Allardyce coming back should be sectioned.
John G Davies
324
Posted 03/02/2019 at 18:29:27
I didn't and don't recall Southall as a keeper who came off his line at all after the injury for Wales, Darren.
So maybe I'm three-quarters right... 😁

Allan Board
325
Posted 03/02/2019 at 19:30:21
As for the mention of whether Tim Cahill has his badges yet. Does it matter? From what I've seen served up by the present and 3 previous coaches, it wouldn't seem they listened at all on the days when basic football was being taught on their courses. Pretentious, lazy, sponging lot who couldn't read a game of any standard.
Basics underpin anything you do in this life-these player's never practice basics, that's why they're useless. When things are not going for you, you rely on the core basic elements to reset your game.

It ain't rocket science, just good attitude.
Christy Ring
326
Posted 03/02/2019 at 20:03:22
John @324 Big Nev didn't have to come off his line that often, with Rats and Watson, and before him Mountfield in front of him. It's gas, in his book, he says the save from Falco was routine.
Eddie Dunn
327
Posted 03/02/2019 at 20:45:58
Paul Tran,
I'm 58 and was at that game and remember Gray scoring for them. I remember the previous year we beat them (I checked: it was 2-0) and it was nice and sunny in the Street End. The old grey cells surprise me at times.
Tony Williams
328
Posted 03/02/2019 at 20:53:17
Rob (287) you are absolutely correct, I realised when I read it I boobed, I was trying to make a point but not very successfully.
Mike Allen
329
Posted 03/02/2019 at 20:59:44
Just didn't and still don't know what Silva had on his CV – other than 'foreign' and 'young' – to warrant even consideration for this high-pressure high-profile job.
Yes, he inherited some pretty ordinary players, to say the least, but he looks well out of his depth and, from playing not that bad and looking promising, to being a pretty clueless bunch from top to bottom.
Neil Copeland
330
Posted 03/02/2019 at 21:06:25
Eddie #327, do you remember another game against Wolves? I think it was around '72 or '73, we scored 3 in (I think) 5 mins towards the end of the first half. The rest of the game was pretty dour and we won 3-0. I think George Telfer scored 2.
John G Davies
331
Posted 03/02/2019 at 21:36:54
Christy,
The best keeper I have seen in all my years of watching football.

Laurie Hartley
332
Posted 03/02/2019 at 21:43:28
Yaroslav Zavolovsky # 274 - thank you for your post - it cheered me up. You must be made of strong stuff. Welcome to Everton brother.
Geoffrey Williams # 264 - "At the moment I wouldn't entertain including Richarlison, Sigurdsson or Walcott in a starting XI." I try to take on board everyone's point of view and can see were you are coming from with that comment.
That is over £100m pounds worth and would make me shudder if I was Moshiri. No wonder there was no money for transfers this window and why he would have sold Gueye for £35m. Scary stuff.
Jay Wood
[BRZ]
333
Posted 03/02/2019 at 22:46:49
Steve Ferns @ 286.
Even the most infrequent of TW visitors will probably be aware how firmly you nailed your flag to the Marco Silva mast.
We all do it. Pick a favourite (manager or player) and stick with them, no matter what. I regular defend Gana Gueye and Dominic Calvert-Lewin, for example, against their critics.
I can agree with you, in part, that the easy access people now have to social media and fans forum such as TW means that outrage is instant and 'sensationalism' results.
Like you I roll my eyes at the 'I told you so' crowd who wade in when things get rough with exaggerated (invented, even) claims of what they did actually say months before, elevating themselves to enlightened martyrs and victims of imagined ridicule and abuse.
Where I have to disagree with you, Steve, is when you label TW as 'the bastion of the angry'.
No, it isn't, Steve. It is a much, MUCH broader church than that.
Yes, you have some who just rant... but what I am seeing in reaction to our present plight is many, MANY a mature and balanced poster, who, like me, had my doubts about Silva's appointment but, once he was appointed, he got my total support.
Those same posters, up to and including the game at Anfield, could see a plan, could see a better style of football, intended not to simply make up the numbers, but to attempt to win home or away to the Premier League's best teams.
That was game 14 of the Premier League season. 11 Premier League games on, plus two iffy FA Cup ties, the belief of many reasonable posters on TW has been (justifiably) eroded.
On Moshiri's watch in 3 years – the first time in the Premier League era that Everton have had some real money – we have made bad managerial appointments and spunked enormous fees on players in a scattergun transfer policy.
We have sold the very best of our young talent and replaced them with poorer players (or not at all, in the case of Lukaku).
This model is unsustainable. Everton is desperately in need of a period of stability, followed by consolidation and growth. We can't be changing the manager every year, or even worse, twice every year.
But nor can we remain passive and not do anything if, as currently appears the case, the sitting manager is not working out.
And Steve, you berate TW's 'angry mob' for labelling the manager 'crap' and ask that he be given more time as he has only been here 6 or 7 months.
Well...y ou have been part of your own 'angry mob' on TW at times when taking umbrage at (legitimate) challenges about Silva's CV before he was appointed – and you didn't even give Allardyce one day in the job before calling him 'crap'.
Now interestingly, in his 'Groundhog Day' report of the Wolves game, Lyndon, in replying to a poster, linked to an article he penned in May last year, BEFORE Allardyce was sacked, evaluating the two leading candidates at the time, Silva and Fonseca. Link to the article below:
You contributed to the thread and your post @ 93 in that thread neatly listed 5 reasons why you considered Silva the best candidate. They were:
1) He is a World Class Coach – 'unquestionably one of the best managers out there on the training pitch. His ability to transform players is well documented'.
2) Pragmatist – 'Silva is a man who has a Plan B and a Plan C and a Plan D. Through his excellent and intensive preparation, his teams are able to play a variety of ways. Expect different strategies for different opponents as Silva seeks to capitalise on weaknesses'.
3) Winner – Silva wins trophies.
4) Preparation – 'Silva is a workaholic who does a lot of work himself on the opponents'.
5) Charisma – 'Silva is a charismatic guy. Expect him to come in and say the right things'.
Steve, I don't know how you now rate Silva in the five categories you listed, but I find it unsurprising that a growing number of many reasonable fans are not giving him a pass grade on many (if any) of them.
The disquiet has grown to a grumble, to expletive-filled anger for a reason, Steve.
Moshiri clearly fired a public warning shot over Silva's bows at the AGM. Farhad has shown he is not averse to firing and hiring new managers.
If Brands is being as professional in his role as we are led to believe he is, you can be sure he has a contingency plan in place if and when Silva is replaced.
Phillip Cocu, as you say, by association will in all likelihood be on his list. Unlike you, I very much doubt that Brands will draw up a list of one potential candidate for the post, however.
Either Silva steps up as you believe he is capable of in the remaining 13 games of this season, or he risks following the fate of Koeman and Allardyce under Moshiri.
Peter Jansson
334
Posted 03/02/2019 at 23:58:56
I cannot understand you guys that believe that Silva will turn this around. Where and how do you see that coming? Please enlighten me!
It it probably a bigger probability that Santa Claus shows up on Finch Farm tomorrow with Messi and Ronaldo than it is that Silva is turning this around. And I am normally an optimist.
Peter Jansson
335
Posted 03/02/2019 at 00:06:14
And Sam Allardyce compared to Silva.
Allardyce took 34 points in 24 games. Of these 24 games 7 were against the best 6 teams (man u, man c, arsenal, liverpool, chelsea and tottenham).
Siliva has this season 33 points in 25 games. Of these 25 games 6 were against the best 6 teams.
In other words Allardyce did it better last season than Silva has done it this season. That is just a fact.
Then you can talk about shots on goal and all kinds of statistics. At the end of the day football is about winning and taking points.
Peter Jansson
336
Posted 04/02/2019 at 00:09:51
I forgot to say that, in addition, Allardyce had worse player material to work with than Silva. He did not have Richarlison, Gomes, Zouma, Mina, Bernard and Digne.
So more points from Allardyce with harder fixtures and worse player material.
In other words, relatively Allardyce did much better than Silva.
Don Alexander
337
Posted 04/02/2019 at 00:58:31
Peter, I haven't checked the stats you present re Allardyce and Silva but, contrary to all rules of logic and experience, Everton fans simply do not want to tolerate the likes of Allardyce "football". Currently Silva "football" is on a par admittedly but most of us on here are of a certain vintage where 50 years of support is the norm, 55 if you include the 1963 team, as I do.
Had Allardyce appeared at Bellefield as a manager, he'd have been burned on a bonfire. Compared to him Gordon Lee was akin to Guardiola (for the younger folks that's a joke by the way). Currently, Silva is bumbling around like Billy Bingham.
So we both advocate change Peter, big-time whether in personnel or attitude, or both, as soon as. It's just the nature of the change that remains uncertain. Oh for some fucker on the board who knew what to do.
Fran Mitchell
338
Posted 04/02/2019 at 00:59:24
This whole compare with Allardyce is ridiculous.
Silva's incompetence does not in any way justify Allardyce's reign.
Allardyce adopted anti-football. God awful to watch, mind-numbingly bad infact. As a long term manager, he invests in high cost, high wage, >27-year-olds to the detriment of any youth player development. He's a percentage manager, who has a history of clubs that when he leaves, were in a worse place than where they were before. He has no interest in developing the club.
Yes, he does generally get results in the short-term, he did do well with Bolton (20 years ago). But his time with was a dark time, and kind of represents what is becoming an increasingly dismal period. Allardyce received £18 million for his 6 months of 'keep tight and lump it forward' football. Koeman another who received the GDP of a small country for his short-term, negative reign.
Now we have another, seemingly clueless manager.
Let's go for someone who can guarantee solid improvement, without the expectation of any miracles, nor without being desperately negative.
For what it's worth, I'll throw the name of Rudi Garcia into the ring, he has done a good job at both Roma and Marseille.
Peter Jansson
339
Posted 04/02/2019 at 01:56:52
I don't like Allardyce, I don't like his football and I don't want him back. I am just showing some statistics and statistics do not lie.
To be honest, I think Silva's football is worse than Allardyce's. It is not nice or entertaining football in any way, it is rather very frustrating to watch.
The last 45 minutes against Wolverhampton is the worst football I have ever seen Everton play. Compared to that, I prefer the Allardyce anti-football bullshit. That is how bad I think we are at the moment.

Alan J Thompson
341
Posted 04/02/2019 at 06:14:30
Peter (#339); Many would remind you of an expression, "There are lies, damn lies and statistics".
A former colleague of mine used to say, "Statistics show that 50% of people who throw themselves off tall buildings change their mind halfway down."

Steve Brown
342
Posted 04/02/2019 at 06:41:16
Peter @ 283, hallelujah facts! Let's repeat Allardyce's stats so they sink in and those who can't tell what's before their own eyes can absort them:
Goals: 27 (11th ranked in Premier League)
Shots: 213 (20th)
Ave. possession: 44.2% (13th)
Passing accuracy: 72.9% (16th)
And they only took two seconds to look up, while some in here have evidently spent hours word-smithing their argument that 'good old Sam weren't that bad'.
James Hill
344
Posted 04/02/2019 at 06:50:44
Give me 3 points every week and one shot on goal that hits the back of the net. I'm sure we are all being entertained by the number of goals we're shipping. The good football will come when we learn to win first and do it consistently. Then we will get the swagger and arrogance that comes and the silverware.
I could not care about the shit stats that go one today. Only one stat matters, how many points you get on the board. Otherwise, Sílva would be perfectly suited to Everton.
Bet Man City pass the ball back to the keeper more than any other team. Goodison has a history of winning and we've played rubbish at times and won ugly with every great team we have had.
James Hughes
345
Posted 04/02/2019 at 06:52:32
Everton and Sam A should not ever be put in the same sentence. It was a disgrace that man was appointed manager of our club. IMO anyone who tries to justify his time here needs their bumps feeling.
Lenny Kingman
346
Posted 04/02/2019 at 07:51:51
The elusive black cat was reminding all the suffering Evertonians to tune in to Sunderland Till I Die. A circumstance that is possible for the mighty Blues unless someone on the bridge steers the club away from the looming iceberg.
Paul Cherrington
347
Posted 04/02/2019 at 15:36:10
I am so glad that we got Marco Silva in – this masterful attacking football we were all promised is so good to watch... I for one am relishing the chance to lose games every week and play with no desire or passion.
I can see why people were so desperate for it now and to get rid of Allardyce with his insistence on being organised, tough to beat, and realistic in what could be achieved with the players he had.
Who wants to actually play in a way that might move us up the table and pick up points when we could pass the ball around aimlessly for 90 minutes? I for one got fed up with playing in the opposition's half and actually getting balls in their box with the intention of trying to score.
It is not the pro-Allardyce people who need to wake up – if any section of fans need their heads reading, it is the people who can't look past the hype to see the simple facts of what he did and what is going on now.
How can anyone say Allardyce left us in a worse position with a straight face?! Look at the table from when he took over and when he left.
Bill Gienapp
348
Posted 04/02/2019 at 21:01:39
"The last 45 minutes against Wolverhampton is the worst football I have ever seen Everton play. Compared to that, I prefer the Allardyce anti-football bullshit. That is how bad I think we are at the moment."
Glad to know you preferred us allowing four goals in the first half against Arsenal, when we were so "organized and tough to beat."
I'm honestly not sure what people think actually happened during the Allardyce era.
Alan J Thompson
349
Posted 05/02/2019 at 03:41:48
A couple of weeks ago I was out with a mate watching another game while waiting for the broadcast of the Everton game and over a few beers when he asked if I'd read the item on ToffeeWeb about finding football boring.

As he asked a player about 15 yards out from the opposition's penalty box passed back down the line to his full back who passed more square than backwards to his centre half who passed it to his fellow central defender who passed it back to his keeper who played it out.

I asked why wouldn't the first player have crossed it into the opposition's area rather than have it passed back to his own penalty area. I don't remember but I don't think either team was leading handsomely at the time and there was about 20 minutes to play.

And we wonder why we question statistics and commitment, is it a matter of possession rather than optimism and percentage.
Paul Cherrington
350
Posted 05/02/2019 at 09:44:08
What happened during the Allardyce era was that we didn't roll over like a bunch of nancies for teams we should be beating – especially at home. No-one is saying we won every game or played the best football ever seen on the planet but let's have it right.
We are embarrassing now and a soft touch – teams can't wait to play us, like when Martinez and Koeman were here at the end of their stints. You ask any of the same teams when Allardyce was here – I bet they didn't relish playing us quite the same then because they knew they would get a game.
The Arsenal example is not really a fair one as which of our managers have ever done consistently well against them? Plus the players Big Sam had to choose from were no match for them in many positions. If people really think we did not get more organised under Allardyce compared to the shambles our defence was in (and is now again) when he came in, then you are on another planet. But then, if people cannot understand that going up the table and picking up points makes him a decent manager, then it stands to reason.
Look past unfounded personal prejudice and you will see Allardyce was the manager we needed and he could have gone on to do well for us. Instead, thanks to the fans who never gave him a chance, we have Marco Silva. Cheers for that.
Add Your Comments
In order to post a comment, you need to be logged in as a registered user of the site.
Or Sign up as a ToffeeWeb Member — it's free, takes just a few minutes and will allow you to post your comments on articles and Talking Points submissions across the site.
© ToffeeWeb