Report
"Well, It's Groundhog Day... Again!"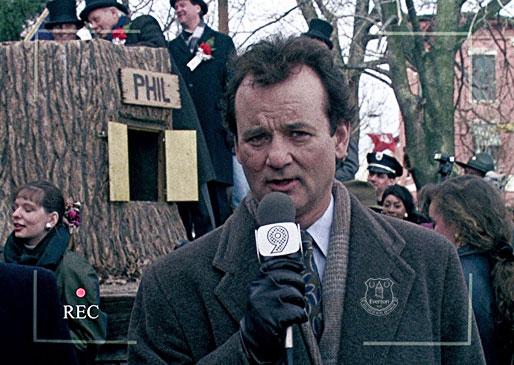 Everton 1 - 3 Wolverhampton Wanderers
This is all starting to look horribly familiar. If there was one thing you were hoping Marco Silva wouldn't be it was the second coming of Roberto Martinez — a suave, young Iberian coach ready to tap into the supporters' yearning for the reopening of the School of Science with ideas of adventurous, energetic passing football who ultimately shot himself in the foot with a stubborn adherence to failing methods and an incorrigible failure to organise a defence — because that's what the doubters predicted but the evidence is stacking up against the Portuguese.
Few Evertonians had many delusions about Tuesday's win at Huddersfield, one that owed as much to the Terriers' woeful attack as anything else. Nevertheless, the hope was that the grit that was on show from the players was a sign that, post-Millwall, there was a metaphorical spine to this team and that three points, secured despite the dismissal of Lucas Digne, would inject some much-needed confidence into the Blues' veins.
Who knows; if, perhaps, a visibly unfit Leighton Baines hadn't felled Matt Doherty in only the sixth minute of this game and handed Wolves the lead via the penalty spot, there would have been a chance for the green shoots that sprouted during the win at the John Smith's Stadium to further take root.
Somehow, you doubt it, because there was little question that the better team won on the day and you found yourself wondering if Everton had hired the wrong Portuguese manager. Because Nuno Espirito Santo, while only four years Silva's senior, was the one who looked like he had everything together; the one presiding over a confident team, capable of using the ball effectively and ruthlessly, and exposing the weaknesses of their opponents.
In some respects, even though Wolves only came up from the Championship last season, that is to be expected. Espirito Santo has patiently built an enterprising team with an impressive mix of muscle, Continental flair and goalscoring ability that has seen them live up to their pre-season billing as serious top-seven contenders. He has had money to spend and, unlike the previous regime at Everton, he has done so wisely.
His compatriot in the home dugout this afternoon has not had the same luxury but even allowing for Silva's comparatively short tenure at Goodison Park, this performance and result can only leave significant doubts that he will ever be capable of taking Everton forward. How many times have Everton fans said that about their manager over the last six or seven years? It literally was Groundhog Day and like the beleaguered Phil Connors in the seminal Hollywood film, we keep finding ourselves stuck in this repeating purgatory with no end in sight.
Silva made one change to the team that started at Huddersfield, a baffling decision that reintroduced Theo Walcott to the starting XI with no justification other than, perhaps, satisfying an expensive player begging for game time, and kept Baines at left back just days after he had injured a muscle in his ribs. Jonjoe Kenny had acquitted himself well enough out of position for 20-odd minutes against Huddersfield and Baines would last just 36 minutes, putting Kenny right back into the role he probably should have given from the start.
Damage had already been done by that point because Baines had been unable to compete physically with Doherty as he bustled his way into the penalty area and he ended up falling onto the Wolves man's legs leading to a stonewall penalty decision for referee Lee Mason. Ruben Neves put the resulting spot-kick away in confident fashion to hand Everton an early and unwanted set-back.
It almost got worse before it got better for the Toffees and probably should have done. Diogo Jota sauntered in behind SIlva's high defensive line to collect Conor Coady's flighted ball over the top but was foiled by Jordan Pickford's quick thinking and movement away from his line.
Then, after Tom Davies had been easily dispossessed in midfield, the keeper had to make an excellent save to deny Raul Jimenez and Leander Dendoncker was closed down as he sought to seize upon the rebound.
As usual, Everton were enjoying the bulk of possession but struggling to do anything meaningful with it. Cenk Tosun, leading the line again, was exhibiting some fine touches and nice link-up play but the Blues couldn't consistently get Richarlison into the game and there was precious little involvement from Walcott until the 24th minute. Gylfi Sigurdsson slipped the winger in with a lovely pass but Rui Patricio narrowed the angle and beat away the shot.
Three minutes later, though, in a welcome but all-too rare moment where he took the game by the scruff of the neck, André Gomes started and finished a fine move to register his first Everton goal. It was his sweeping cross-field pass that found Seamus Coleman wide on the right and after continuing his run, he picked up Tosun's ball, drove to the edge of the box and hammered an "Exocet missile" past Patricio.
However, the goal didn't prove to be a catalyst for the hosts — indeed, they had played better when they were a goal down and the urgency of the situation was spurring them on — and their worrying openness at the back was almost their undoing before their familiar defensive weakness at set-pieces reared its ugly head just before half time.
Sigurdsson's corner at the Park End was cleared where Davies gave the ball away and Wolves countered quickly with Coleman the only player in blue anywhere near the ball but the Irishman scampered back to eventually snuff out the danger.
They were on their heels once again in the closing stages of the first half, however, following yet another needless and brainless foul conceded in a dangerous area in their half that invited the visitors to retake the lead. While Keane's lack of mobility had been exposed again by Jota as the ball was played through the defence, Kurt Zouma was in complete control of the situation but the Englishman inexplicably and unforgivably tugged his opponent back by the arm.
That set up Joao Moutinho to float in a free-kick just where Jimenez, unimpeded by anything as quaint as marking, had the freedom of the area to place a header beyond Pickford.
Not surprisingly, the second half was the kind of struggle to which Evertonians have become accustomed since the wheels fell off the season at Anfield in December. Time and again, when there was enough movement around them, players took the wrong option and eschewed the easy pass unless it was sideways or backwards.
Even then, seemingly in the simplest of situations they would just pass the ball straight to the opposition trying to play the ball out from the back, something they have shown themselves incapable of doing in recent weeks. Gomes got away with it early in the second half just outside his own box but Coleman was punished midway through the second half.
His ill-advised pass to Ademola Lookman who had come on for the ineffective Walcott in the 59th minute, was intercepted in simple fashion and fed quickly to Jota. He turned Coleman with similar ease as the defender tried to recover and though Zouma put in a brilliant sliding block to keep the Portuguese's shot, the ball fell to Dendoncker who slammed it home on the volley to make it 3-1.
A long interlude as a black cat wandered around the pitch with a "heat map" in the penalty area that put Everton's players to shame, afforded Silva and his charges the chance to gather themselves and regroup but, frankly, they never recovered from the body blow of conceding the third goal.
Silva threw Calvert-Lewin on for Coleman in attempt to chase the game but it wasn't until a couple of minutes from the end, by which time many disgruntled home fans had filed out despondently, that the Blues looked like reducing arrears.
Jota muscled his way past the weak Keane once more but Gomes was on hand to shut the attack down before Wolves could inflict further damage before Keane's shot following a corner was blocked at close range, Sigurdsson had a similar effort charged down and Calvert-Lewin had the best chance at the end but could only head straight at the goalkeeper.
All of which leaves Everton right back in the doldrums and a growing element of the fanbase questioning whether Silva and his staff will be able to prove over the remainder of the season that they are capable of realising the club's ambitions going forward.
The answer on the evidence of the past few weeks is no. As much as you want him to succeed and as fervently as you want to avoid further upheaval at the club this summer, there aren't enough signs at the moment that the manager is willing or able to change his defensive ethos and a failing system or inspire a badly under-performing group of players back to some level of acceptable form.
The visit of title-chasing Manchester City, essentially Wolves on a boatload of steroids, in midweek won't offer him an easy way back to winning ways either. Another heavy home defeat to a top-six side really would intensify the feeling of deja vu among supporters and the unease at boardroom level that more difficult decisions are on the horizon as the Farhad Moshiri project continues to wobble.
---
Reader Comments (72)
Note: the following content is not moderated or vetted by the site owners at the time of submission. Comments are the responsibility of the poster. Disclaimer
Jim Bennings
1
Posted 02/02/2019 at 20:28:02
Season is dead.
Atmosphere is dead.
Style of play is mind numbing.
Players don't look arsed, no pride in the shirt, no pride in personal performance (why would you when you still pick up those wages)?
Nothing on the horizon for the summer or next season to get me even remotely excited or believe that we will see anything different.
I don't trust Moshiri to make the right choices anymore, I thank him for the money he's ploughed in, but I don't trust his judgement.
I don't trust the lavish signings we make, I feel they are here only to make money, there's no real desire or will to win for Everton Football Club.
I don't trust the manager to get it right because I don't think he's got the credentials or persona to bang heads together or be flexible.
I don't think Marcel Brands is all he's cracked up to be and stupid statements like "Lookman and Calvert-Lewin being the envy of the rest of the league" is frankly just ridiculous, almost as cringeworthy as Moshiri's own "Fab Four" last year.
The hardest part of it is accepting that right now I see no real answers on the horizon either.
We have sold or lost too many players over the five years that were able to keep us around the top 7 and replaced them with pretty players of little substance.
There's no kid like Rooney coming through in 2002 which was a shining light in a bleak time, but the emergence of Wayne and arrival of Moyes was a boost back then.
There's just no real positive I can see right now about this club.
Jim Wilson
2
Posted 02/02/2019 at 20:31:12
I think Silva has to go. Every player except Gomes, Kenny and Pickford were terrible and it looks like he has lost the confidence of the players.
The defence can be opened up with ease and two nailed-on home humiliations are coming very soon. Jagielka needs to be brought it to organise the most horrendous defence I've ever witnessed. There is no organisation and the marking is non-existent.
There is no excuse for the shambles I witnessed today. It was shocking. And I have no confidence in Silva sorting this mess out, especially as he is the one who has caused it.
Pat Kelly
3
Posted 02/02/2019 at 20:48:19
Dead man walking. The game is up. It's just a matter of time. End it now. Give the players someone to rally around till the end of the season.
Jim Bennings
4
Posted 02/02/2019 at 20:53:40
Moshiri should have spent the summer trying to coax Wenger here on a 2-year contract with Arteta as his number two and the possibility of eventually taking charge.
The fans probably would have been understanding of what we were trying to do and it would have been hard to question a manager that had spent his entire career in England at the top end of the Premier League.
Peter Mills
5
Posted 02/02/2019 at 20:56:00
It was a shameful performance.
Peter Gorman
6
Posted 02/02/2019 at 20:56:41
Jim, I still have faith in Brands and the role he is developing at the club. His remit is to structure the club and provide the long-term vision, leaving the manager free to *cough* motivate the team and provide tactical organisation.
Since Silva seems incapable of either, he can get to feck, hopefully without derailing us totally.
Tony Everan
7
Posted 02/02/2019 at 20:56:43
It is Groundhog Day, every Saturday is Groundhog Day, anyone could predict it.
We will concede from set pieces, make schoolboy defensive errors, persist with zonal marking, we will struggle to get within 30 yards of the opposition goal, we will create little, the team will be unbalanced, disjointed and ineffective.
The fans will have their Olympic flame style optimism extinguished by half-time when reality has snuffed the flame out until the next match. Lyndon will do his eloquent report of the latest malaise; the rest of us will wallow in the quagmire of our never-ending disillusionment.
Does Bill Murray know anything about managing a soccer ball team?
John Raftery
8
Posted 02/02/2019 at 20:57:50
Utterly pathetic. In a sense, we have brought this on ourselves. A year ago, we had a manager who was able to organise a distrait group of players into something resembling a team. That team eked out enough results to take us to 49 points and 8th place.
That was not enough for the vocal elements of our fan base. Oh no, "We want open, stylish football", they cried. So Moshiri and the Board gambled by appointing a manager who was to put it mildly unproven at this level.
Now we are reaping what we sowed. The match at Cardiff at the end of the month is likely to be significant not for chasing 7th place but for staying out of relegation trouble.
Mike Doyle
9
Posted 02/02/2019 at 20:58:30
What a contrast between what Nuno has achieved with Wolves and the state we are in.
Wednesday could be seriously embarrassing.
I bet Gana's glad he's staying!

Ralph Basnett
10
Posted 02/02/2019 at 20:59:36
Quite simply shite.
I will no longer attend whilst he is at the helm; unfortunately, I'm a season-ticket holder so will try to recoup some of my hard earned pennies via StubHub.
Jim Wilson
11
Posted 02/02/2019 at 21:01:31
Jim Bennings – Absolutely spot on!
Another great opportunity missed.
Robin Cannon
12
Posted 02/02/2019 at 21:01:32
He seems to be a suave, young Iberian coach with a stubborn adherence to failing methods and an incorrigible failure to organize a defence...
combined
with very few ideas around adventurous, energetic passing football. What's been adventurous or energetic about our football in the past couple of months?
My wariness about replacing him now stems from two main things: 1) The general worry about just continually churning managers, and bringing in new managers who change things again, and there's never any consistency; and then 2) If we change managers again in the middle of the season, we'll just make a rushed decision mid-season that'll make 1) even worse.
I just don't feel like we ever go through a genuinely rigorous selection process. All of our manager hires are painfully predictable, like Kenwright (or Moshiri now, I guess) get an idea stuck in their head and just don't want to explore things in any more detail. You'd have thought Silva's problems with Watford after we expressed an interest in him might have given some pause for thought, or a re-examination of our desire to hire.
Rick Tarleton
13
Posted 02/02/2019 at 21:06:57
Madness is to repeat the same mistakes and expect different results. Silva is certifiable.
John Keating
14
Posted 02/02/2019 at 21:10:49
Lyndon it sounds to me that like the manager and players plus many many hundreds of supporters – if in any doubt witness what happened before the end of the game with so many walking out – you're slowly raising the white flag!
Like a few others, by far the minority now, it's better to stay after the final whistle to see the players put more effort in to getting off the pitch, into their Bentleys and head off for a night out.
I would imagine, like Groundhog Day, your headline will be repeated over and over after the remaining games, and that flag will get higher and higher!!
Peter Gorman
15
Posted 02/02/2019 at 21:14:57
John Raferty – your mind is playing tricks on you. We have dropped a mere place from that manager that could organise 'something resembling a team' (if a team is a group of people who openly surrender half the games) and we are just as awful.
The solution to Silva is not more Allardyce, ffs.
John Raftery
16
Posted 02/02/2019 at 21:15:16
Huddersfield are really poor but I am struggling to think of another team in the Premier League worse than us.
Having watched Cardiff and Niasse on BT this evening, they look much better equipped than we do to escape relegation. They also have a better manager.
Jobe Ocoltd
17
Posted 02/02/2019 at 21:27:42
Silva is sounding more and more like Koeman every game.
Not showing enough aggression? How about starting with showing some passion? The completely ineffective zonal marking Silva doggedly retains blind faith in clearly doesn't suit our system and has cost us at least 5 games this season.
His persistence with "past their sell dates" Walcott and Coleman leave us wide open down the right. The lack of service from our "wingers" limit Tosun who has proved he can score around the box.
The pressing high up the field has disappeared up Silva's arse, there's no counter-attacking and Gylfi is so isolated with "headless chicken" Davies that we are starting games 4 men down.
It is Groundhog Day and I wonder and worry when or how Silva can turn this round.
Bill Watson
18
Posted 02/02/2019 at 21:39:57
I've been to every game bar Chelsea away and we've become progressively worse so that today's shambolic performance was similar to the shambolic performances v Brighton, Southampton, Leicester and Millwall.
In between, we've scrambled to unconvincing wins against Bournemouth and Huddersfield.
Mr Moshiri; end it now.
Gerard Carey
19
Posted 02/02/2019 at 21:41:04
What was it Bill Murray said, "Have you ever had déjà vu?" To which she replied, "No, but I can check in the kitchen".
When was the last time we had a good, competent manager? Big Joe maybe, and that's 25 years ago.

John Maxwell
20
Posted 02/02/2019 at 21:46:55
Coleman is done, Davies, Walcott shite.
Too many failed signings from previous managers still at Everton, all need to be shipped out... But I expect the clubs they are on loan to will send them back cuz they're shit Those players aren't Silva's signings though and I do think he needs at least till Xmas next season or we have to pay off another manager anyone got any stats on the money we pay the ex-managers??!
This season is completely dead, several long weeks ahead... our only hope is Man City winning the league.
Desperate times at Everton again.
Pat Kelly
21
Posted 02/02/2019 at 22:08:41
Baines wasn't fit to play and cost us the first goal and arguably the game as the rot had set in early. That was Silva's fault. He belatedly had to replace him.
Yet he blames the players for his tactical mistakes. He is so far out of his depth it, has become embarrassing to watch him on the sideline and his team on the pitch.
Andy Crooks
22
Posted 02/02/2019 at 22:13:58
Lyndon, another fine piece. I look to your writing for what is implied. I witnessed it through the dying throes of Koeman and Martinez. I believe you are on the cusp right now.
Silva must go, with hindsight, his appointment was abysmal. Put up the article — you know you must. You have influence. Use it.
Ian Riley
23
Posted 02/02/2019 at 22:19:44
I haven't got a clue anymore. Sack him, keep him, or get rid of players. All I know is this will be the same next season. Mid-table, out of the cups, and sailing to the end of the season. Our squad isn't good enough and whatever the management are implementing isn't working due to that.
Let's be honest – today's result was not a surprise. Wolves have progressed as the season has gone on. We have gone stagnant. The club have sold quality and bought average. We are paying for that method. Don't worry, though – we have our history.
Ste Owens
24
Posted 02/02/2019 at 22:26:34
Garbage once again. We make our own problems by continuously giving the ball away by players who cost us millions and are paid thousands of pounds a week.
But, on the plus side, I received my season-ticket renewal form in the post this week...
I don't know how I'm going to defend them in work this week. Absolutely awful right now.
Mal van Schaick
25
Posted 02/02/2019 at 22:45:42
It's not working. There's not a lack of effort, there is no bonding in team effort. It's disjointed, out of sync, and apparently no leadership.
Sorry, we need to start afresh soon. Everton won't be the first team or last team to continually change management to achieve success.

Mark McLoughlin
26
Posted 02/02/2019 at 22:59:22
Being a Blue in Bedfordshire is something more than horrible at the moment. If being surrounded by Plastic Kopites isn't bad enough now I'm constantly hounded by bitter Watford fans with tales of "Serves you right."
I just can't bear to watch what's happening to our Club. Big Duncan for manager with Rhino as assistant sorting defence out. Back to basics, please.
Anthony Murphy
27
Posted 02/02/2019 at 23:03:19
In a nutshell, I think Silva is a sulk merchant. Martinez was the opposite – not a sulker, always a believer but just as deluded. Silva is a thrower in of the towel. Not getting his way so his head goes.
Tom McEwan
28
Posted 02/02/2019 at 23:04:44
Lyndon, please take this post as the constructive comment it is meant to be.
Before Silva was appointed, you wrote an article on here in full praise of Silva's 'attributes', largely based on supposition.
Together with a few TW posters, you all 'supposed' that, given the right environment Silva could be a successful manager of our football club.
It seemed to me, at that time, that in the main, all the 'evidence' for your support of Silva being our next manager, was based on nothing more than 'ifs' and 'maybes' and – given the previous fiasco with Martinez – I was pretty gobsmacked that you, of all people, had chosen to 'throw your hat into the ring' with (in my opinion), fantasists.
Every one of you chose to ignore his previous Premiership record and it prompted me to post for the very first time. Whereupon, when arguing with a well known Silva supporter on here, you decided to interject (as a poster) on his behalf.
There then followed a pattern on this site where it appeared preference was given to pro Silva advocates and anyone dissenting was allowed to be abused and subject to name-calling. Indeed, I think it's fair to say, you lost a lot of old and interesting posters because of TW's blatant pro-Silva stance.
When the abused (such as myself) became abusive (in some editorial eyes) in return, they were immediately banned or had posts altered.
Since then, most readers have been subjected to what I would consider Groundhog Day. Interminably long and dreary posts from a very small amount of posters preaching their own opinion on all things Portuguese and Silva, and championing their own uniqueness in 'seeing' what the rest of us plebeians are incapable of.
You allowed the 'negative' people to be abused and barred any right of reply on the groundless basis that 'some' might take offence. Therefore, in my opinion, this thread appears somewhat hypocritical.
Will you now accept being abused as a 'dickhead' a 'negative bastard' and so on and so forth, for merely stating your revised view in this article?
I very much doubt it, just as I very much doubt this post will be allowed in its entirety. After saying all that, it may surprise you to know, that as a loyal Evertonian of some years, I still hope that I am wrong regarding Silva.
Although, once again, I very much doubt you will believe me and I very much doubt that I am wrong.
Brian Patrick
29
Posted 02/02/2019 at 23:10:49
Tom, the truth is not something valued in the media. Everyone has their vested interests; look at the Liverpool Echo and Radio Merseyside. Have they ever called Bill Kenwright or Barrett-Baxendale for what they are?
No; let's not upset our apple cart...
John Audsley
30
Posted 02/02/2019 at 23:20:45
Moshiri is supposed to have wanted Silva since early last season. The question is why??
What's the reason for his crazy, expensive decision??
I just don't see it and, like Lyndon, I really, really wanted to as well.
Tom McEwan
31
Posted 02/02/2019 at 23:27:42
Brian @29, in a nutshell mate. However, credit where credit is due for TW airing my post in its entirety.
Jerome Shields
32
Posted 02/02/2019 at 23:28:59
Unfortunately, the problems are both on and off the pitch. They have been for years.
If you are going to play Tosun you need players who can play to feet. Neither Walcott nor Richarlison are able to complete a pass. Walcott because he is peripheral and Richarlison because he is the worst Brazilian passer of the ball in history.
The midfield needs a defending midfielder. Wolves just waltz through. Coleman should not be playing and neither should Baines after his injury. Silva cannot and never will be able to coach defending set-pieces.
Silva looks like an unemployed Manager who was given a job he knows he is not up to. . . .
Even if Everton had Wolves' Portuguese Manager, they would still struggle with the worst Board and Backroom team in the Premier League, which would also struggle in the Championship.
The Everton performance has the threat of relegation written all over it. What is Moshiri going to do? Sack the Manager. He needs a clean out of the off-the-pitch Management at all levels
Jim Bennings
33
Posted 02/02/2019 at 23:37:08
By the way, why wasn't that cat signed on loan in January?
It showed miles more movement than any of our slag heaps.
Andy Crooks
34
Posted 02/02/2019 at 23:41:29
Tom, top post.
Paul A Smith
35
Posted 02/02/2019 at 23:50:25
Tom 31, it's a shame you felt the need to post your first post but I can fully see everything you mention in other instances I have seen and felt.
I feel gullible on here sometimes because I will still engage with those I have never agreed with. I don't think there are many like that.
I have had the editor's names brought into posts and wondered if people just want popularity or a chat about the game or club.
Looking forward, I will seek out your posts, Tom, and be open-minded on your opinion.
Simon Smith
36
Posted 02/02/2019 at 23:52:07
Imo our biggest issue is as a club we have no identity. Look at Chelsea for example, they sack managers more than us and they still kick on.
Yes, I understand they have much better players, but they also seem to have a model on what they want. They get managers who seem to want to be disciplined, Italian style managers like Mourinho, Conte, Ancheloti, Avram Grant and so on; they've now got Sarri who's similar. They only once tried an outgoing attacking manager in big Phil Scolari who didn't last long.
I don't know why they chose this model, maybe it's about keeping rich superstars in line, I don't know, but for me it's a model, a philosophy or whatever you want to call it.
Liverpool had Rodgers, they've now got Klopp, both very attacking managers.
Even a Swansea had Martinez, Rodgers, Laudrup, Monk and so on, all managers who want to keep it down and play.
Southampton want managers to promote youth etc.
My point is we don't have that.
After Moyes, we went with Martinez, all smiles and happy-tappy football. He went and we changed up to Koeman. Koeman for me is similar to a Chelsea style manager, a man who rules with discipline, an iron fist etc, a complete change.
Once Koeman flopped, we went with Sam, a man who hits long balls and plays off second balls, a stat man who demands percentage football.
Now, we have an expansive style manager who plays the football you want to see, but he's unable to defend set plays etc.
Hopefully Silva works out but if not then for me we need to set up a model of what we want to be as a club, we can't make up a new identity every other year, we can't continue to do that as the players can't change up, as shown in recent results.
Hopefully Silva gets his mojo back, he jibs zonal marking which isn't working with this group of players, and truth be known hasn't worked at all with any of his 3 Premier League clubs, but if not we need a manager with similar ideas or Digne, Richarlison, Mina and co will end up looking like Schniederlin, Williams, McCarthy and Co who looked good at stages under previous managers but don't fit into Silva's style.
Stick or twist, it doesn't matter as far as I'm concerned, we just need to work out what we want as a club. It comes from the top, Moshiri has to work out his model for Everton as a club and move forward accordingly.
John Raftery
37
Posted 02/02/2019 at 00:06:46
Last summer, for many supporters it was a case of anyone will be better than Allardyce. I believe we have some better players than we had twelve months ago but we have a much inferior team. We have a team undermined by its set-piece defensive record, currently the worst in the Premier League. This is hardly a surprise because Silva had a similar record at Hull and Watford.
Nuno Espírito Santo is the latest in the host of opposing managers saying we are a good team before laughing all the way home after they have taken three points from us. We are such a soft touch, they wish they could play us every week.
Anything less than 40 points must bring about Silva's departure in May, along with that of his virtually anonymous support team. I would be delighted if we could reach last season's points total and position in the table but that looks increasingly unlikely.
John Keating
38
Posted 02/02/2019 at 00:09:43
Simon @36,
You say "we went with Sam, a man who hits long balls"
Have you watched us the past few months? That's all we seem to do, but it takes us 20 square passes before we pass it back for Pickford or the defenders to hoof it long.
Then you say "Now, we have an expansive style manager who plays the football you want to see" — Sorry, Simon, I haven't seen any of that.
Apart from being unlucky in the derby and not getting a point at the Emirates, overall we have got exactly what we deserved. In fact, you could say some of our points have been very lucky.
Colin Wordsworth
39
Posted 02/02/2019 at 00:12:32
In my opinion, we should go on bended knee and ask Jose to rebuild our club. He and Benitez are the two best managers available, Benitez probably won't come for obvious reasons... So Jose. A proven winner who always seems to leave on poor terms, but builds teams that continue to be successful afterwards.
If we don't move quickly, we will become another Aston Villa. The football is slow and predictable at the moment; only Davies and Gomes and perhaps Kenny looked up for it today, and Pickford does not command his area.
Oh yes, we also seriously need a striker which, for a club the size of Everton, is unforgivable. Silva out for me. I'm on the fence re Brands.
Jerome Shields
40
Posted 03/02/2019 at 00:13:36
Reading through various posts, a lot of ToffeeWebbers think that there is no answer to Groundhog Day other than a complete overhaul of the club from top to bottom.
What is sacking Silva going to achieve in the way of change to get us out of Groundhog Day? It's that bad, it will achieve nothing.
The cause of the problems are deep-seated and as predictable as a goal against the Everton defence from a set-piece.
Jerome Shields
41
Posted 03/02/2019 at 00:27:07
Tom #28.
I think we knew well in advance that Silva would be the next Everton Manager. He was the only candidate for the job. I myself was looking for positives in his selection for the job.
In the dark days of Big Sam, it was important that Everton at least tried to play football. I even thought that Silva would be able to develop existing players and with a few additions gel the team together. But the previous transfer / contract mess that existed was a real barrier.
The inability of Silva to change and adapt where weaknesses arose only emerged as the season progressed. It also further became obvious that Silva could not coach a defence to defend set-pieces or similar type attacking plan.
Silva's team selection today was never going to be a team that could beat Wolves.
Lyndon Lloyd
Editorial Team
42
Posted 03/02/2019 at 00:41:05
Tom (28), you're right. The
piece
I wrote on Silva (if that's the one you were referring to) was based on ifs, buts and supposition; I don't recall coming to any solid conclusion because, with barely a season's worth of Premier League experience under his belt at two clubs in very different circumstances, there was no way anyone could say with any certainty how well he would do at Everton.
In the article, I pondered whether he had the potential to be the next Martinez or Pochettino – and the latter had a similar pedigree to Silva when Southampton hired him. I said in the piece that, in the absence of a bona fide top-class coach, sometimes you have to put your faith in an up-and-coming progressive manager; and, in the context of Moshiri's pursuit of Silva in late 2017 (and the assumption that he was going to be first choice to succeed Allardyce), I was highlighting his positive attributes, yes. But I also weighed those against the negatives, particularly his time at Watford. Again, I didn't throw my hat into the ring at all – it was a balanced attempt to take a look at someone who was still something of an unknown quantity.
So, I'm not sure where you got the impression that this was a "pro-Silva" website. You may well end up being proved correct for writing Silva off but there was no way you could know for certain and neither could anyone. So, if I was guilty of anything, it was trying to look for the positives in an imminent decision but I suppose it makes a change to be lambasted for being optimistic after years of this site being labelled as negative!
Anyway, as I explained to you at the time, members aren't censored for their views if they are put across in a non-abusive fashion as you have done so above. There is a natural discrepancy between how posts might be viewed by different people on the moderation team (i.e. Michael and myself) and there may be times when certain posts and threads aren't vetted at all. And I don't ever recall anyone being "barred any right of reply on the groundless basis that 'some' might take offence." But if you or anyone feels they are being abused and name-called, I would ask that you simply flag the offending posts so we can deal with them. (And there is, obviously, a difference between actual abuse and vehement, sustained disagreement.)
Don Alexander
43
Posted 03/02/2019 at 00:54:27
It seems to me that zonal defence requires players who are 100% switched on to the dark arts of "accidental" obstruction, holding, wrestling and whatever else it might take to stop an opponent making a run towards the incoming ball. Patently our players can't or won't do any of these (illicit) things and the goals flow in against us. The very imminent arrival of 100% VAR will also hamper the "success" of zonal.
Unfortunately, the alternative seems to me to be old-fashioned man-to-man marking but, given the flaky characters throughout the squad, I very much doubt they'd be up to the challenge of man-to-man either. Man-to-man demands physical courage to put your anatomy in harm's way regardless but the modern "professional" player seems to me to to be more willing to shag a black cat than make a committed challenge in play.
Others have commented as I have on just why it is that good players at other clubs seem to almost always deteriorate once they've gone to "work" at Finch Farm. I really do think that, unless Moshiri urgently gets to grips with the fact that the so-called good ship Everton he thought he'd bought is, below the surface, home to huge numbers of useless barnacles who only hamper progress, caused by a previous owner who searched the world for decades to find a proper land-lubber buyer who wouldn't know anything at all about his indolence in causing what was going wrong below the surface, we really will soon emulate other "great" clubs by being relegated.
And what then for us fans and supporters?
Harry Hockley
44
Posted 03/02/2019 at 01:38:59
That's the way football is these days: no one's getting near the top 6 so this is it for the moment; stick with Silva for now.
Harry Hockley
45
Posted 03/02/2019 at 01:40:44
Like Einstein said the sign of insanity is doing the same thing over and over again but expecting different results.
Silva may want to read this.
Ste Lewis
46
Posted 03/02/2019 at 01:53:13
It's been a piss-poor run. Do managers only get one piss-poor run now? Pretty sure Moyes was given a few, sinking lowest the season before 4th. This team needed breaking down and rebuilding in every sense, last season we went into games with zero ambition, it was embarrassing. Even Allardyce knew we couldn't open up against teams.
Looking at Silva's early games vs top teams we missed our chances and fell short but you could see that this was a more progressive way to go about things. A huge shift from the play for a point, no shots on target mentality. I'm as disappointed as anyone at our inability to find any sort of performance post derby but it wasn't all going to be plain sailing. We've had our confidence shook and are struggling to get it back.
There is no miracle manager or magical players on the horizon. We gambled on a promising young manager just as we have to gamble on promising young players. We can't afford the flawless ready-made stars and need to love and build what we have. We aren't going to see any fulfill their promise if we don't show them our love and support.
We seem like a failing marriage, we remember the good times fondly but feel angry and bitter about our current situation. I don't know how we fans can get therapy for this but we do still love them.
I sat next to a guy at the Lincoln game who was so nervous and worked up, even against such lowly opponents, he could only spout negative bile. It was clear he loved us but the relationship had reached a point where he was expecting to moan... and didn't know how to do anything else. This was the default setting.
I feel this at Goodison now. Its either this or, even worse, apathy. We've had so many let downs we feel like giving up. I like Brands, straight talker with a vision, plus the experience, self-confidence and presence to suggest he can carry it out. Managerial comings and goings shouldn't deviate the plan too much with him at the helm.
Let's try to keep our knowledgeable calm, patience and positivity rather than joining the ranks of media drive knee jerk buffoons riding the faux extreme joy/despair from match to match. If we change in the summer, so be it, but difficulties like this hopeless run should have been expected.
David Pearl
47
Posted 03/02/2019 at 02:56:31
Ste, Moyes had bad runs yes but his budget was often a couple of loans and half a million. A far cry from what has been spent the last 3 years. The impatience stems from us wasting the first real chance we've had in years... we've blown a fortune.
I loved that team that Moyes built with Baines and Pienaar, Coleman, Jagielka and Distin. Arteta, Cahill and Fellaini... Of course a top striker would've made the difference, close but just short.
So fast forward to today and we have contracts to the likes of Mirallas and Sandro that I don't even want to think about. We look expectantly at this new team given the investment but nothing has gelled.
Allardyce was hated but I know he would've got a hell of a lot more from this squad. So too Martinez, and that first season we played some wonderful football... and again I'd of kept him as with some money spent on new defenders I think he'd of turned it around.
The first game I watched under Koeman I knew it wouldn't work out as I saw no style of play... maybe a hangover from Martinez. This time, however, I want Silva gone. Look at Walcott's dead-pan emotions to tell you how he feels. People say he's finished along with a few other older players. I say that Silva is falling way short on the training ground.
A lot of top teams play zonal marking... yet fingers are pointed at the system as we fail consistently to implement it. We need a manager that can galvanise the players, someone they look up to. That's not Silva. If we can get Henry Onyekuru back from loan to take a look at him, that would help.
We've drastically reduced the age of the squad... lots of young players with big futures. Too much expected of Davies and Calvert-Lewin and too soon. But l do believe the future is bright. As long as we get rid of who we need to and keep building, I'm sure we will challenge again for the top 4 in the next couple of years. We are not that far off. A couple top additions (and a change of manager).
Rick Tarleton
48
Posted 03/02/2019 at 07:52:28
Next time we play, Silva will put out the same team, in the same formation, with an inadequate midfield, that lacks energy, wingers who are incapable of dropping back to help defensively and an insistence on using his six international defenders(Pickford included) in a zonal system that manifestly does not work. Yet he expects a different result.
Answers on a postcard please. Is he not mad by definition?
Still our next result will upset Liverpool.
Alastair Kelly
49
Posted 03/02/2019 at 08:56:56
We don't have poor players but there is no confidence and no direction. I can't believe I'm advocating a change of manager but Silva does appear to be out of his depth. Unbelievable decision to risk Baines which cost us.
I think we need two things:
1. Leadership from the club- what is the plan, where are we going. Not sound bites but the mission which can bring the club and supporters together.(needs to be able to be drilled down to tangible elements which can be achieved).
2. A commitment to Silva or we move him on and get a manager in on a temporary basis (at first) to end of season. Someone who can organise a team. Two that come to mind would be Moyes & Wagner.
Colin Wordsworth
50
Posted 03/02/2019 at 09:19:40
Gents, with all due respect at this rate we are heading without a rudder for the bottom 6 not top 6. Our upcoming run of games are as hard as they can be and we have struggled all season against the 'easy' teams. silvas defensive record is identical to when he was at Hull worst in the league from set pieces. He has spent over 100 million improving the side from last season who finished at the end a comfortable 8th! arguably the football is no better, how many shots were on target yesterday, how many chances created? This man is not the answer.
Ian Riley
51
Posted 03/02/2019 at 09:55:41
I still believe the quality of the players we have is poor. Chelsea sack managers because they know the quality in their squad is there and should be doing better. Our recruitment of players in the past three years has been poor.
I am all for going for a top manager with real success and whom will gain respect but is the owner going to hand a further two hundred million to rebuild the squad? I don't think so. Is this squad capable of reaching the top four with just a world class manager? No!
I like Silva but no area of the pitch are we progressing. Any player stand out? Style of football depends on the players you have. We are not improving. I don't think we will be relegated but it may come eventually in time. I base this on the young players are not good enough at this level and the squad lacks real quality.
Next four months will tell us more about Silva as a manager. If things don't change then he must go in the summer. Whatever people say Moyes and allardyce they could turn a team heading south around. My expectations of our squad is mid table. They haven't disappointed.
Paul Burns
52
Posted 03/02/2019 at 09:59:30
David Pearl, the first part of your post is spot on but your sense of optimism is, in my opinion, terribly misguided.
The future for me is not bright, its terrifying.
This sense of aimless, scattergun recruitment smacks of panic and constant lack of leadership from the top of our club. There is a feeling that every gutless, shapeless defeat is forgotten about by the next morning and the whole pathetic charade continues unchanged and without comment or reproach by the very people whose job it is to shape performance, policy and standards.
We've become a soft touch, a retirement home for other club's failures who pay out massive wages and demand nothing in the way of a return apart from showing up.
There are no consequences for failure and that, exacerbated by a deafening silence from the boardroom spells catastrophe sometime in the near future unless things drastically change.
I doubt they will.
Prepare yourselves.
Dick Fearon
53
Posted 03/02/2019 at 10:17:11
Another good report Lyndon and I welcome the hardening of tone when you speak of Silva. Like most fans I am bitterly disappointed at our recent woeful history. I not only know about our pre premier league history I was there on the terraces as it happened.
They were happy times shared with fellow blues while travelling to away games on bone rattling football 'specials'? The latest edition of Charlie Buchan's Football Monthly helped fill the time until we reached our destination.
Since that golden period and for ensuing years the fan base has accepted a lowering of standards on the managerial and playing side.
While that gradual deterioration was happening our board of directors that included some of the country's richest tax dodging multimillionaires were shown in the destination Kirkby enquiry did not put a single penny to benefit the club.
All in all it has been a sad and sorry state of affairs and my sympathy goes to those wonderful supporters who have not seen any glory yet are still loyal to the cause.
There have been times when I have been a small voice but more and more are also refusing to accept self serving bullshit from any quarter.
I see ToffeeWeb as the voice we need .
Please keep up your good work.
Wes Ray
54
Posted 03/02/2019 at 10:36:24
Managing in the PL is one of the most stressful and demanding jobs one can imagine. Only the most professional, smartest and toughest will succeed in it, so not surprising that so many will fail. Silva being obviously one of those who have failed, although repeatedly.
The next question is what the board and owners are doing to protect their investment? The investment being EFC, not Marco Silva.
Every match, actually every minute of the play we are currently witnessing is pulling the club and team down, making it more difficult and considerably more expensive to get the right people in to correct things.
Grant Rorrison
55
Posted 03/02/2019 at 11:00:58
Wes 54. Absolutely. Paid a fortune. Money you receive anyway regardless of whether or not you succeed. Get a few months on holiday and then show up somewhere else where your past is forgotten (by the board) and you get presented as being the salvation of your new club.
Sounds like a terrible way to make a living.

Ian Bennett
56
Posted 03/02/2019 at 11:05:20
He let in the most set pieces at Hull and Everton, was 3rd worst at Watford in a league where 1/3rd of goals come from that source.
You can't teach stupid... If he doesn't learn, he deserves the sack.
Tom Dodds
57
Posted 03/02/2019 at 11:17:49
Everton till I die.
Yes, I was referring to the parallel.
Steavey Buckley
58
Posted 03/02/2019 at 11:20:25
A lot of Everton problems are to do with the spending spree of Koeman and Allardyce who were lazy with their spending opting for players passed their mid-twenties for instant success.
Now, Everton have a squad of players and many players out on loan are nothing more than average that all could be sold and replaced with a manager who knows what he is doing, if such a person exists for Everton FC.
Simon Smith
59
Posted 03/02/2019 at 11:32:09
John @ 38.
If that's all you got from my post, mate, then I'm flogging a dead horse !
Forget what style Silva plays, he's clearly struggling, but his full-backs push on and he only plays one holding midfielder, that in the Premier League is classed as an expansive style.
My main point was to show we had no long-term model, nothing more or less; we need an identity as a club under Moshiri and Brands – no matter what manager runs the team.
Tom Dodds
60
Posted 03/02/2019 at 11:43:31
Just to add to my previous post @57.
And Sunderland are called the Black Cats.
Spooky.
Pat Kelly
61
Posted 03/02/2019 at 11:53:42
Most of us of a certain age will most likely never see Everton win anything. We are light-years away from competing successfully, unless the players' attitude changes.
The manager and players are paid the equivalent of lottery winnings every week. Fans pay their hard-earned wages to see them at least give their all for 90 mins. They are athletes at the peak of their fitness, or should be. Week-in & week-out, they are short-changing the paying fans.
We don't expect success against better teams but we do expect them to put up a fight. That fight has gone out of this team.
Colin Wordsworth
62
Posted 03/02/2019 at 11:57:07
Steavey,
Allardyce, for all his faults, bought to my knowledge two players: Tosun and Walcott, both of whom he got a tune from last season and played well.
The buck stops with Silva, he has had two transfer windows to improve the side and spent over £100 million in the process, he has failed.
Phil Lewis
63
Posted 03/02/2019 at 13:02:16
I am currently reading a book about the life of Brian Clough. In it, he states unreservedly, that the reason for Nottingham Forest's success was down to the signing of Peter Shilton, his command of the defence and the work done on the training ground to perfect keeping clean sheets. Without that foundation, he believed that they would have achieved nothing.
Similar historical comparisons include Clemence at Liverpool, Southall at Everton, and Schmeichel with United. Pickford will never be joining that list. Not now, not ever. Do not be fooled by the odd acrobatic leap or penalty save. His positional sense is not in the same league as these goalkeepers.
Until we sign someone who is. we will never compete at the highest level. This I believe is the root cause of our present ills. It needs to be addressed above all else in order to progress.
Tony Abrahams
64
Posted 03/02/2019 at 13:57:30
Good point, Phil.
I know very little about goalkeeping, but one of the most important aspects of this position has got to be about the saves that they don't have to make and this is something Pickford has got to really improve on if he's ever to become a "top-cat"!
Ken Kneale
65
Posted 03/02/2019 at 14:27:54
Dick at 53. Spot on. No other big club would or has accepted the declining mediocrity we have as a fan base. We need Lyndon and others to use their eloquence and passion to really sort this disease out which seems to affect all levels within the club.
John Moores, Harry Catterick and Howard Kendall were in my view the three responsible for the Everton of my love and lifetime. All set high standards and insisted on School of Science football to do it. <>If they are looking down from 'Blue Heaven' they must be as sick as we are at the dearth of style and elegance on display by just about all connected with Everton currently.
Come on, Lyndon – get our views noticed at board level as soon as possible.
Joe McMahon
66
Posted 03/02/2019 at 14:37:58
Gerard @19, there were folk on this site yesterday on this site wanting Unsworth til the rest of the season. Has history not shown anyone anything. We yet again would be laughing stock.
Lee Brownlie
67
Posted 03/02/2019 at 14:59:03
How did Silva's not up to it – as per the general apparent consensus on here – suddenly become its all Jordan Pickfords fault??? Our one true top player!!!
Even the above (#64) post starts off talking about 'the work once put in [presumably by the coaching staff AND the keeper] on the training ground' before jumping to saying Pickfords not as good as Shilton or Southall (okay, who is???) then jumping again to saying him not being of their level 'is the root of all our ills'.. What the fuck... Really???
Undeserved scapegoat-mongering at the lowest level or what??? Without Pickford, we'd be several places below where we are now... simple fact.
So sorry-not-sorry, but I'm calling the snide comments for the total bullshit they so clearly are!!! And now flag me, as I don't actually give a fuck when it comes to saying what I think about such utter drivel!!!
John Keating
68
Posted 03/02/2019 at 16:46:54
Groundhog Day at the Etihad too.
Maybe this marking at set pieces is only an issue for managers who come from the Iberian peninsula and whose name ends in a vowel?
Andy Meighan
69
Posted 03/02/2019 at 21:27:21
Lee 67,
Pickford our one true top player? Sorry but where do you get off with a statement like that???
The derby aside, he's been poor all season and, if he were to be dropped, which I very much doubt, I don't think anyone on here could complain.
Coming off the back of a good World Cup, the kid started believing his own press. He's been average at best and it wouldn't bother me if I never saw him between the sticks again for the rest of this season.
Mark Murphy
70
Posted 04/02/2019 at 09:34:17
Personally I think we should cash in on Pickford whilst he's still "England's Number One" and go for a younger taller keeper who'll command his own 6-yard box. The funds can be better spent elsewhere in the team — if we're stuck with Zonal marking we need a more commanding keeper.
Also, Pickford was always revered for his distribution – what the fuck happened to that??
Bob Parrington
71
Posted 05/02/2019 at 07:52:51
Mark, Er Hmm! I've commented several times on various threads that I think Jordan has lost composure since that fateful derby blunder. This has affected him terribly in ways that affect the team performances.
He has been more animated, twitchy, nervous and all this means his composure is currently down the drain. So, what's my point? In sports that have goalies (Football, Ice Hockey, Hockey etc) the GK sets the tone of the play. A good one will slow the pace at times, will speed the distribution up at others and give the side confidence that their backs are covered.
A good GK will distribute well most of the time and with purpose. In Ice Hockey, the GK is a Top Dog signing situation . Shots on, Shots saved etc etc etc are vital stats.
Coming back to Jordan, he's still a youngster. One skill he hasn't lost is his response/reaction times in making fab saves (witness Huddersfield with 2 world class saves when we were down to 10 men). But in too many aspects his lack of composure has put considerable pressure on the outfield players (including utter frustration).
My view is not to sell him now (but with hindsight you might well be proven right in future years). He's young and he needs a great GK coach, who understands the psychology associated with the position, to bring him back to where he was! IMO only. I've been a coach but never a Goalie!

Stan Schofield
72
Posted 10/02/2019 at 14:21:37
Bob @71: I agree totally. If, say, instead of cocking up in the derby, he'd fisted the ball out and we'd ended up 0-0, then he and the team might have progressed nicely. Or, even better, if he'd caught the ball and distributed it rapidly to a forward leading to a goal, he would have been an absolute hero, and who knows how our form might have been different from then on.
We are clearly too fragile in the face of such a cock-up, and have been for a few years now. Unless that mentality changes, it's always going to be an uphill struggle.
Add Your Comments
In order to post a comment, you need to be logged in as a registered user of the site.
Or Sign up as a ToffeeWeb Member — it's free, takes just a few minutes and will allow you to post your comments on articles and Talking Points submissions across the site.
© ToffeeWeb