Report
Points even but the Hoodoo remains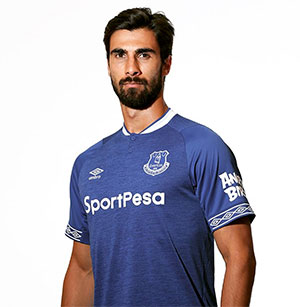 Andre Gomes came off the bench after sitting out almost all of Tuesday's win over Cardiff
Everton 0 - 0 Liverpool
Marco Silva created some waves with a team selection for the Goodison derby that included Schneiderlin and Walcott, with Richarlison, Gomes and local lads Jagielka, Davies and Kenny all on the bench.

And no sign of Ademola Lookman in the Everton squad. Dominic Calvert-Lewin was selected to lead the line.

It was a manic start in dreadful weather conditions, Everton giving up an early free-kick, Liverpool flagged offside. Coleman was up for it, conceding another angry free-kick. Poor passing from both sides set up a red attack that came to nothing. The frenetic lack of quality continued unabated.

Bernard won a throw near the left corner for what seemed to be a beautiful cross to Walcott who should have wellied it at goal but failed and then chased down Origi for a stupid yellow card. Coleman crossed into Allison's hands.

Sigurdsson surged in and crossed toward Walcott at the far post but Van Dijk put it behind. But Liverpool broke at pace from the Everton corner, Gueye fouling Sane, and won their first corner, easily cleared out by Gueye.

A bouncing ball that could have easily been converted was finally grabbed by Pickford, the pace of the game at least very lively, which was good for the Blue crowd. Everton were pressing well, but Henderson played a brilliant ball over the top to Salah, who then picked up the ball from the throw-in, but Pickford grasped it well.

Calvert-Lewin pressed Van Dijk and Allison but with little support, as Liverpool won another soft corner, headed away by Digne and behind by Firminho. Pickford played a rugby-style goal-kick, straight into touch.

A progressively more determined Liverpool attack made Everton look a little less confident in defence, getting pushed back with more consistent pressure, Everton unable to play anything approaching forward play.

Bernard attempted a forward pass that was cut out and Alexander-Arnold was off to the races, his cross blocked. Bernard tried to overlap on the left but his cross was blocked out for a throw, Digne deep into the 6-yard box but headed away. Calvert-Lewin was chasing Van Dijk but getting little change for his efforts.

Suddenly, Salah was all alone galloping forward and looked certain to score but Pickford did very well to save from close range. Another Liverpool attack caused havoc as Everton were rocked back, but the Gwladys Street goal remained intact. Desperate stuff though.

More rugby efforts from Pickford found Walcott inside the touchline, but were snuffed out. Everton tried to play out from the back, Keane passing it straight out of play. Meanwhile, another mazey run by Salah came very close, Everton under increasing pressure and, with 11 men back, unable to profit from turnovers.

Walcott got behind off a great ball from Coleman but lashed his shot miles off-target, a very rare chance totally wasted. Another up-and-under from Pickford saw Calvert-Lewin easily outwitted by Van Dijk. Robertson was given acres of space to cross deep, Digne making a vital interception at the far post.

Schneiderlin gave away a sloppy free-kick centrally, headed behind by Van Dijk. Pickford's goal-kick went straight out on the half-way line, honours kind-of even at the break.

No changes for the restart, Blues under pressure, Schneiderlin hoofing it to nowhere. Liverpool attack, Everton try to play out and run into snapping red legs. Walcott shoved away by Van Dijk, Coleman and Fabinho having words as Everton make a rare foray close to Liverpool penalty area.

Walcott snaps up the ball and Sigurdsson takes over, Coleman crossing in low, winning a corner well delivered by Digne, heaeded goalward by Calvert-Lewin but nowhere near nenough power to beat Alisson, another chance gone begging, and Liverpool break, Gueye fouling Sane.

Another Pickford hoof straight into touch, but no lineout. Salah got free, Keane in brilliantly to deny him. Keane heading the corner away, the game now more stretched, the atmosphere more intense.

A terrible spell, where Everton played pass the parcel, eventually back to Pickford and hoofed straight out of play. Desperately poor stuff. Walcott was taken off, to be replaced by Richarlison, surely a good positive move by Silva?

Richarlison won a corner off Origi, Digne putting it onto the top of Zouma's head and over the bar. Everton again tried to build but Sigurdsson was easily dispossessed and Liverpool launched a fearsome attack, Sane heading back across but Gueye there to clear.

Coleman overlapped well down the right but played an early cross straight to Van Dijk. Richarlison got on the end of a cross but headed weakly at Alisson. Zouma gave away a poor header in the centre-circle and again, Liverpool had a corner a split second later. In the second phase, it seemed a simple conversion for Firminho but another brilliant interception saw the Red Swarm thwarted.

Bernard tried to run forward but ran into trouble, and again the red shirts galloped forward, Salah crossing straight to Pickford. Riacharlison, Ueye and Barnard all got forward, pressing the Liverpool area, but easily repelled, the build-up far too slow. Tosun and then Gomes on.

Calvert-Lewin set R down the right, he paused and played a great cross for Bernard who could not convert at the near post. Robertson booked for fouling Richarlison, from the free-kick by Digne, a brilliant ball for Tosun but he hopelessly miskicks his shot.

Everton had done well to raise their game into the last 10 minutes of this very tense affair, the crowd appreciating the changes made by Silva that had increased the intensity but so far with no end-product.

Coleman got forward, crosses for Gomes who shots at Alison from a very narrow-angle and Liverpool break again, Pickford eventually collecting, and finding Bernard on the edge of the Liverpool area but the little Brazilain could not make the shot.

A Liverpool corner looked perfect for Matic, who completely misjudged it. Then a Liverpool free-kick taken quickly and a mad scramble in the Everton area that the Blues somhow survived. Richarlison got forward well and crossed but no-one could take advantage. From the other side, Digne was fouled running in to the box. From a golden set-piece opportunity, Digne launched it over everyone, Zouma going down to an elbow in the face.

Gomes drove forward and played in Tosun who was a yard behind the ball and kicked the defender. Into 3 minutes of added time, and still the tension was gripping, but Everton just could not create the chance that would give them a precious victory. Richarlson chased down a lost ball and crossed but no-one had anticipated his effort and the final whistle went without further ado.

A little better quality from Everton and they should have won this game, but you could roably say the same about Liverpool, wheo were supposedly below par, and dropped another 2 points in their quest for the Premier League title.

Kick off: 4:15pm, Sunday 3 March 2019

Everton: Pickford, Coleman, Keane, Zouma, Digne, Gueye, Schneiderlin (76' Gomes), Walcott [Y:7'] (60' Richarlison), Sigurdsson, Bernard, Calvert-Lewin (74' Tosun).
Subs not Used: Stekelenburg, Jagielka, Davies, Kenny.

Liverpool: Alisson, Alexander-Arnold, Matip, Van Dijk, Robertson, Fabinho [Y:79'], Wijnaldum (63' Milner), Henderson [Y:75']. Mane, Salah, Origi (63' Firmino).
Subs: Mignolet, Keita, Sturrdige, (884' Lallana) Shaqiri.

.

Referee: Martin Atkinson

Attendance: 39,335
---
Reader Comments (232)
Note: the following content is not moderated or vetted by the site owners at the time of submission. Comments are the responsibility of the poster. Disclaimer
Lev Vellene
1
Posted 03/03/2019 at 15:17:16
Zouma and Bernard in the team.
Andrew Keatley
2
Posted 03/03/2019 at 15:17:43
Richarlison and Jagielka benched in favour of Bernard and Zouma - otherwise same team from Cardiff.
No place for Lookman on the bench.
Paul Curwen
3
Posted 03/03/2019 at 15:19:38
How in hell's name is Walott starting? Dark forces are at hand...
Paul Tran
4
Posted 03/03/2019 at 15:20:07
If Lookmam isn't even on the bench, why didn't we just take the money for him?
Mike Gaynes
5
Posted 03/03/2019 at 15:22:03
Schneiderlin.
Walcott.
Gawd almighty.
Paul Columb
6
Posted 03/03/2019 at 15:24:19
I was hoping for the scouse lads in the starting line-up alongside Gomes and Walcott dropped. Not impressed by the line-up at all but, then again, neither was I for the Cardiff game.
David Pearl
7
Posted 03/03/2019 at 15:27:02
Well, I'm impressed that Silva is finally using his squad and what he sees in training. Having the balls to drop Richarlison. CoyBlueees
Ralph Basnett
8
Posted 03/03/2019 at 15:30:11
Shit line up, as Davey Moyes would say "taking a knife to a gunfight".
Will we never learn???
Mike Gaynes
9
Posted 03/03/2019 at 15:31:54
Paul, I'm not impressed with any lineup that includes the word Schneiderlin.
Mike Gaynes
10
Posted 03/03/2019 at 15:37:16
Yes, I've seen the games he has played this season, and last season, and I stand by my description of him in the Forum last week as a toothache in cleats.
Craig Walker
11
Posted 03/03/2019 at 15:38:29
Gonna have to keep their front four of Salah, Mane, Origi and Atkinson quiet.
Ciarán McGlone
12
Posted 03/03/2019 at 15:38:47
I hope there's method in the madness of that team selection... because it's not our strongest eleven.

Ashley Roberts
13
Posted 03/03/2019 at 15:51:28
I cannot believe we have reverted to Gueye and Schneiderlin as the defensive midfield duo. It has never worked and never will. I am fearful of a thrashing today with the line-up we have. Liverpool 's subs bench is stronger than our first 11.
Jay Harris
14
Posted 03/03/2019 at 15:53:25
The starting 11 are less important than the team being motivated organized and determined. Having said that, I worry about Schneiderlin in a game that's likely to be too fast-paced for him.
Training is nothing like a derby game
Anyway, COYB — it's long overdue!
Peter Fearon
15
Posted 03/03/2019 at 15:57:35
There is NO WAY Richarlison should be on the bench. He is the only player likely to instill any fear at all in the RS. When you have better players on the bench – like Gomes and Richarlison – than on the field, something is badly amiss. And Lookman is not staying if he isn't even making the bench. He'll be out of here faster than you can say Deulofeu.
Andy Crooks
16
Posted 03/03/2019 at 16:00:05
This is it for Schneiderlin. His big chance to save his career. I would have started Jags but otherwise, I think Silva has got it right. Walcott has it in him to be a game changer. This is it for him too. Let's win.
Andy Walker
17
Posted 03/03/2019 at 16:01:13
I don't think the line up should be a surprise. Schniederlin worked well with Gueye at Cardiff, it allowed Gueye to get forward and have what I thought was his best game of the season for us. Gomes has been poor all this year and doesn't deserve a place in the starting line up.
Richarlison was hopeless against Cardiff and Bernard looked very sharp when he came on. A good call for me.
Zouma for Jagielka a no-brainier.
Neil Lawson
18
Posted 03/03/2019 at 16:06:10
Struggling for a sensible and meaningful contribution. Like others, I was singularly unimpressed, almost aghast, at the team selection against Cardiff... and we won. So the best I can say is: whatever the team, please put in a performance for us to be excited by. Surprise us. And if all fails, kick lumps out of them.
Fearing the worst and not, in truth, even mildly optimistic, but, as a True Blue, I know that very occasionally things go our way.
Dave Williams
19
Posted 03/03/2019 at 16:08:25
As I said before the Cardiff game, it is a selection to get the manager sacked. Cardiff is a totally different proposition to this lot with the atmosphere it will generate and Schneiderlin is a disaster waiting to happen whilst Walcott just amazes me.
Hope I am as wrong as I was with the Cardiff selection.
Kase Chow
20
Posted 03/03/2019 at 16:10:02
I am beyond nervous, beyond worried. Pls pls pls win boys
Neil Lawson
21
Posted 03/03/2019 at 16:11:58
And since when has coming from Yorkshire made Jags a "local lad"?
Justin Doone
22
Posted 03/03/2019 at 16:13:00
Schnides starts I'm stunned. I could only be more stunned if he scores a 95th winner.
Jay Wood
[BRZ]
23
Posted 03/03/2019 at 16:13:11
Just get the job done, Everton.
Peter Cummings
24
Posted 03/03/2019 at 16:30:03
Sorry, lads, I can't see us getting anything from this one after seeing the line-up, in fact it could be over by half-time.
A good result against a rock bottom Cardiff may have been a light at the end of the tunnel but this is Everton so forget it.
Peter Fearon
25
Posted 03/03/2019 at 16:34:32
Silva's approach to this game seems little different to Fat Sam's...
Christy Ring
26
Posted 03/03/2019 at 17:00:07
We're sitting back letting them dictate, Schneiderlin anonymous.
Paul Setter
27
Posted 03/03/2019 at 17:02:33
It's all set up for the mutants to win this. We really are like a rabbit in headlights when we play the victims...
Ben MacKenzie
28
Posted 03/03/2019 at 17:04:42
Peter @ 24. We've got to half time and it's not all over.
Oliver Molloy
29
Posted 03/03/2019 at 17:06:57
Anyone else think Bernard coming off the pitch with Salah at half time was asking for his fucking shirt!

Simon Dalzell
30
Posted 03/03/2019 at 17:07:18
So frustrating. Terrible team selection. We have better players on the bench or not even in the squad. How does Walcott keep getting a game? Going back to Schneiderlin is diabolical. Richarlison, Gomes Lookman, Davies . At least 2 should be playing.
Mike Kehoe
31
Posted 03/03/2019 at 18:10:37
Well happy with that, played well at times, Calvert-Lewin worked hard and deserves a lot of credit.

Michael Kenrick
32
Posted 03/03/2019 at 18:12:17
Can't believe Blues were so happy at the end for what was a poor draw. We threw everything at them and were unable to score. What an indictment. That says everything to me. The quality was at times simply shocking. Yes, the effort was there, but so little else.
Danny Baily
33
Posted 03/03/2019 at 18:14:00
Michael 32, couldn't agree more. Gutted. Nothing to play for now until August.
Gerry Quinn
34
Posted 03/03/2019 at 18:15:27
Virgil Van Dijk tells Sky Sports: "Yes of course (we are disappointed). We deserved the three points and it says a lot that they are celebrating. We had chances to win the game and did not finish them off. We go again.
"I like these kind of games and we came here for three points and did not get them. It is time to recover and be ready for the next game.
"We focus on our next game, everyone wants to be top of the league and we cannot change the situation at the moment."
Jay Wood
[BRZ]
35
Posted 03/03/2019 at 18:16:25
EXCELLENT 2nd half from Everton, excellent!
We were the better team over that 45 minutes.
I am so, so pleased for city Blues.
Yep! Still not beaten them, but it certainly makes going to work in the morning or meeting your red neighbours a hulluva lot easier. They won't be so lippy now.
Just a few short games ago, they were 10 points clear of Man City. Now they are one point behind.
Some fight and some decent joined-up football from the Blues.
Justin Doone
36
Posted 03/03/2019 at 18:16:58
Good point. Poor game from both sides. We had no quality or game plan from what I could see.
Bernard, Calvert-Lewin, Gana, Sigurdsson played well. The 4 defenders decent but a few mad moments from Digne.
We need to practice defending and attacking set-pieces. Why bunch up in the middle all the time? Ever heard of a back post?
Tbh, I'm happy after that starting line up but Schneiderlin does nothing. 3 forward passes all game. Gave the ball away in dangerous situations 3 times. Game over for him. Pull his plug and dump in the summer!
Tony Twist
37
Posted 03/03/2019 at 18:17:12
Fucking useless. Sorry but I can't be happy with a draw against Liverpool. When are we going to beat them? Some time in the next decade, possibly, maybe. Not with this team and this manager.
Who is going to beat them? Man City have defeats in them so we were the last challenge they had left.
Jamie Crowley
38
Posted 03/03/2019 at 18:17:53
Very happy with the effort. My God we played hard today.
Someone sign the ballboy!!! He gets it!
Terry Underwood
39
Posted 03/03/2019 at 18:19:10
I'm well satisfied with 0-0. I watched on TV with some plastic reds. They were gutted, even more so when I said I could have done better than Salah — and I'm in a wheelchair!
Come on, Man City!
Jamie Crowley
40
Posted 03/03/2019 at 18:19:22
I think the "not good enough" folks are being a tad unrealistic.
We played very well today. There were never going to be a ton of chances.
Rob Marsh
41
Posted 03/03/2019 at 18:20:38
Obvious inferiority complex, but players like Richarlison and Bernard don't seem to feel it and get stuck in, we need more fresh blood and a few wins to build confidence.
Andrew Keatley
42
Posted 03/03/2019 at 18:21:36
We have a massive confidence shortage, and no killer instinct. Twice in the game there were crosses from the right, and Bernard just watched them – happy to be in the box but with no desire to really get on the end of them.
I'm not having a go at Bernard - I thought he played relatively well – but I think it's indicative of a wider problem.
Mark Murphy
43
Posted 03/03/2019 at 18:21:55
Virgil lad we'd have been happier if we had won but:
A) You couldn't beat us, and
B) We knocked you off the top!
Suck it up, you twat!
Stephen McNally
44
Posted 03/03/2019 at 18:25:36
Michael Kenrick, what are you smoking? I thought Everton played well, against a team that is challenging for the Premier League. Furthermore, Liverpool have one of the best defensive records in the league; so, to give them a tough game where, with a little bit of luck we may have taken all three points, is no disgrace.
Everton are building, and need time and patience from all connected to become a top team once again. Well done, Blue Boys.
Andrew Keatley
45
Posted 03/03/2019 at 18:25:47
Mark (43),
We didn't knock them off the top; Man City knocked them off the top.
We limped to a scoreless draw against Liverpool in what might have been their worst performance of the season.
John Graham
46
Posted 03/03/2019 at 18:26:48
Great result. I was a bit worried when I saw the starting line-up but it worked out great. We frustrated them and gave them very few chances to score, then when Richarlison came on we had a few chances to get the win.
Good team performance although we need to get the confidence back to string more than two passes together.
Hopefully this will kick start our season again and give the players a boost until the end of the season.
COYB
Dermot O'Brien
47
Posted 03/03/2019 at 18:26:49
Michael, I understand your comments and normally I would not be happy with a point at home, especially against those wankers, but they are title challengers for a reason. We lacked quality at key moments and that is frustrating but the quality wasn't going to materialise overnight just because it's a derby.
We played fairly well and the players were up for it, which bodes well for rest of the season. I am not happy with a draw, continuing our wretched run, but it does damage their title hopes somewhat, which is nice.
Rob Marsh
48
Posted 03/03/2019 at 18:27:35
Overall, I'm happy with the commitment shown today, there wasn't a collapse; they need to build on this game and start performing.
Craig Walker
49
Posted 03/03/2019 at 18:27:49
Apparently, it was the wind — that's why they didn't beat us in our World Cup final.
Gerry Ring
50
Posted 03/03/2019 at 18:30:48
Very good point but could have been three.
Schneiderlin & Walcott, as I predicted, haven't the belly for this type of game. Schneiderlin's game summed up by his dive to the ground having missed one of a number of tackles. He's not good enough & neither is Walcott but Silva, for whatever reason, doesn't see this.
Peter Fearon
51
Posted 03/03/2019 at 18:33:41
Much better in the second half. If only we had a striker! I'm afraid neither Calvert-Lewin nor Tosun are up to Premier League standard.
Still 27 points on the board for the taking.
Peter Jansson
52
Posted 03/03/2019 at 18:33:54
If we are looking at what we looked like a couple of weeks ago, I think we played well today. With some luck, we could have won today and deserved a point.
We must use this as a positive thing to get the positive ball rolling again.
Dave Lynch
53
Posted 03/03/2019 at 18:34:03
I can understand the disappointment of some as well as the positivity of others.
The bottom line is this. If our manager had any type of idea when it comes to attacking effectively, we would be a much more dangerous outfit.
Rick Tarleton
54
Posted 03/03/2019 at 18:34:52
Just glad we didn't concede a late goal and kept a point. Michael is right, it was a poor quality game where skill was at a premium and energy was all.
Dermot Byrne
55
Posted 03/03/2019 at 18:35:16
Ha ha ha ha Ha ha ha ha
We are not great, have weaknesses but today we cared.
Crowd did their job.
Man City?
Ha ha ha ha Ha ha ha ha
Rob Marsh
56
Posted 03/03/2019 at 18:37:32
I've just looked at my #48 statement, are things that bad that I'm happy we didn't collapse.
I'm caught right in between Micheal Kenrick's view of the game and praising them for a draw. We've spent £250m — we should have murdered them in cold blood.
Dermot Byrne
57
Posted 03/03/2019 at 18:37:35
At the moment they are better team. Reality. But today? No.
John G Davies
58
Posted 03/03/2019 at 18:40:29
Dave @53,
You have to have attackers to attack.
Simon Smith
59
Posted 03/03/2019 at 18:41:38
I'm happy with the effort put in. We were the far better team in the second half – especially with Richarlison and Gomes on the pitch.
The crowd were superb.
Dave Williams
60
Posted 03/03/2019 at 18:41:44
Some people are very hard to please! We have been poor, listless and disengaged since early December but today every one of them played their hearts out. You can't just click your fingers and expect flowing football, especially in a derby.
I enjoy Michael's reports but feel he was unduly harsh today – I acknowledge the right to one's own opinion but I thought we did really well and we can build on this. Richarlison gave us more threat and Calvert-Lewin did very well on his own up front. Last-ditch tackles from Keane and Digne were to play notch defending.
Can we play better? Too right we can... but, taking into account recent form, the occasion and the quality of the opposition, I am proud of our players tonight.
Stephen McNally
61
Posted 03/03/2019 at 18:41:45
Rob Marsh, money doesn't make a good team. Liverpool are a better team atm, so a draw is a fair result. If people give Silva and Brands more time, I'm sure they will make a good fist of things. Keep the faith.
Dermot Byrne
62
Posted 03/03/2019 at 18:42:20
"A little better quality from Everton and they should have won this game, but you could probably say the same about Liverpool, who were supposedly below par, and dropped another 2 points in their quest for the Premier League title."
Fair enough, MK, but though we want to win it all, this is fun to piss them off.

Jerome Shields
63
Posted 03/03/2019 at 18:43:34
I thought Silva got the selection right today and the substitutions where timely and the correct ones. Play in the final third was better, but still not clinical enough and finishing needs to improve.
Everton could have won today.
Liverpool are higher in the table than they are capable of. Klopp has a glass ceiling just like Moyes – it's just slightly higher up the table, but it Is still there.
The Prancing Clown will never win the Premier League.
Peter Cummings
64
Posted 03/03/2019 at 18:43:58
What did Van dickhead expect us to do at the end, not celebrate a thoroughly hard-earned point we fully deserved??? Talk about sour grapes. Only for his defending in the last five, we could have sneaked it like they did at Anfield.
Paul Tran
65
Posted 03/03/2019 at 18:44:30
We worked hard and lacked quality in the final third. I can't see where the goals are coming from.
I was glad to see the level of commitment out there – for the whole game. Back four and keeper were superb. We need that in every game.
Dermot Byrne
66
Posted 03/03/2019 at 18:44:33
#62 did I write that?!
Dave Williams
67
Posted 03/03/2019 at 18:45:54
Typo- top notch defending!! I should add that I don't think Gana put a foot wrong all day
Stephen Brown
68
Posted 03/03/2019 at 18:46:05
Man of the match - the Goodison crowd!!
That amount of effort from the players is a must for every game. The new standard has now been set.
Dermot Byrne
69
Posted 03/03/2019 at 18:47:19
Mood? Quite chuffed myself.
Grant Rorrison
70
Posted 03/03/2019 at 18:48:01
Klopp should never have called it a final with his record.
Jamie Crowley
71
Posted 03/03/2019 at 18:51:08
Dave Williams @ 60 -
Spot, spot on. Well said.
Rob Marsh
72
Posted 03/03/2019 at 18:52:47
Oh for a Peter Reid in that game, we never ran at them through the middle of the park and no defence-beating passes.
Ernie Baywood
73
Posted 03/03/2019 at 18:54:07
Loads of effort first half, improved quality in the second. Richarlison's best contribution in months.
Okay, it's just a draw but I always feel a sense of relief when we draw a derby. Inferiority complex? Absolutely. This club has beaten it into me my whole adult life!
Something to work off there.
Special mention for the much-derided Calvert-Lewin. Tough job against Van Dijk but he scrapped like hell, held the ball up when given the opportunity. I thought he did a good job in a tough role.
Rob Marsh
74
Posted 03/03/2019 at 18:58:31
Steve McNally #61
Leicester proves that one, I think I'm just a bit tired of all these false dawns, like many.
We've spend a bundle and I built my hopes this time, I'll be as good as new for next season, I'm like a fucking emotional yoyo with this club.
Jon Withey
75
Posted 03/03/2019 at 18:59:25
Sure it would have been nice to win – but these games should be about letting Liverpool know they are in a battle – so it's nice to hear sour grapes from Vin Weasel. Well done, Goodison.
I wonder if they will find their stride again? We have certainly set them back following their Watford game.
James Flynn
76
Posted 03/03/2019 at 18:59:58
Been a while since I sat watching for 90 minutes without saying a word, just nervous.
A few things came to mind:
(This really over the length of the season) Walcott's #1 fault is lack of vision. A lot has to happen around him for him to have an impact.
Their 3 subs and ours were about equal in talent and ours had a bigger effect on the game. We really do have good players.
For me, Bernard is now officially up to speed as a 90-minutes Premier League player.
With everything to think about him, I never realized just how slow Schneiderlin is. Slow-footed with zero pace.
Gomes. I think 2 years of hardly playing, then recovering from a bad injury, and then be pushed in as a 90-minutes man in a new, fast, physical league finally caught up to him and we saw the drop-off in performance. Today, he looked like the fine mid-fielder we saw earlier.
9 games to go and no glory left to shoot for, we need to have a great run-in to finish on a positive note.
Dave Brierley
77
Posted 03/03/2019 at 19:01:35
We could have won that game with a little luck. I for one was well pleased with the effort and commitment. Could well be a turning point for our season and future. Onwards and upwards.
Julian Exshaw
78
Posted 03/03/2019 at 19:02:45
Very harsh words from some on here but we are all passionate Evertonians entitled to our own opinions. Sometimes progress has to happen in stages, the first of those being commitment and passion which we showed loads of today and that alone deserves credit.
Most of us had doubted that passion for much of this season. So let's keep on making progress. With the attitude shown today, a lot can be achieved. Well done, boys!
Jeff Armstrong
79
Posted 03/03/2019 at 19:05:16
This time last week, if we'd been offered 4 points from our next 2 games EVERYONE on here would have been delighted with that return, but what do we get? More moaning. We are not a great team, so 4 points this week is an excellent return. Oh and we're safe, BtW.
Ciarán McGlone
80
Posted 03/03/2019 at 19:09:16
We were abysmal in the first half. Hoofing the diagonal ball at every opportunity. That isn't effort... that is lazy and desperate football.
It took 75 minutes for Silva to rectify his selection mistakes. 75 minutes... I don't know how anybody can be happy with that.
I'm happy with the fact that we salvaged some pride in the second half... Am I happy with the performance overall... ?? Not in the slightest.
Silva is making too many fundamental mistakes for my liking.

Brian Hennessy
81
Posted 03/03/2019 at 19:09:27
Big shout out to all the fans who attended the game today and made a fantastic atmosphere.
First game ever at Goodison for my eldest son (21) who has been a fan since he was born – you all made it a memory he will never forget.
Jimmy Hogan
82
Posted 03/03/2019 at 19:10:05
First half: much angry shouting at the TV about our loose passing, inability to win a 50/50 ball and Pickford's awful distribution.
Second half: much quieter.
Brian Murray
83
Posted 03/03/2019 at 19:11:12
The men of the match by a country mile was the 39,000 (give or take a Norwegian). It just goes to show the potential of this club — the support home and away is second to none.
Now Brands and Moshiri need to evaluate Silva and make the call: Is he really the man to take us forward?
Darren Hind
84
Posted 03/03/2019 at 19:13:53
A bit too lightweight in certain areas, didn't find the final ball again and we didn't gamble enough to win.
All that said, we have put a dent in their season and, if the truth be known, that's what most of us wanted. It'll just about do for today, but we need more... we need a lot more.
Jamie Crowley
85
Posted 03/03/2019 at 19:14:25
Greatest Tweet of all time!
God @TheTweetofGod
Sorry about the wind Liverpool! #MyBad
Raymond Fox
86
Posted 03/03/2019 at 19:15:19
Made up. We played a team that can score for fun so we must have done some things right.
Now's not the time to be critical surely, we know we are a middle-of-the-table team, quality-wise but at least they cared about the result.
I would have taken a draw before the game all day long.
Dave Evans
87
Posted 03/03/2019 at 19:20:46
We are where we are in terms of the quality of some of our players. But, given that, surely every Everton fan must be pleased from the efforts of our team. We all know we ain't title challengers, so let's celebrate the positive.
I couldn't make it to Goodison tonight but I am with them – a good night.
Jason Wilkinson
88
Posted 03/03/2019 at 19:22:03
Saw enough today to give me hope. Against Man City, Wolves, Watford, Spurs and even Huddersfield away we looked a really poor outfit. I think we are missing a Cottee or Heath type player. A player who makes the runs an out-and-out centre-forward like Calvert-Lewin can't.
Mane and Salah gave us problems (neither play centre-forward); Van Dijk looked comfortable because no-one ran off him to make him think. Matip is average, as is Robertson. We got at Robertson but we only had one up against Van Dijk and Matip. This has been our problem since Richarlison got to play centre-forward.
Marco, please give Calvert-Lewin and Richarlison a go in a 3-5-2 next game. Our season is over now, we won't go down and 7th is looking a bit beyond us. Barring some miraculous business in the summer (can't see it, myself) we have to tinker with what we have.
John G Davies
89
Posted 03/03/2019 at 19:23:55
I'll take that all day. 100% effort and the players turned up for the manager and for the fans.
Robin Cannon
90
Posted 03/03/2019 at 19:25:25
Some miserable sods on here. :)
I thought it was a positive, improved performance that we can build on. The team played for each other, were looking to win the game, had some flashes of quality as well as some sloppy play. I think Liverpool were the same. So, basically, we went pretty much toe-to-toe with a team challenging for the title. Nobody is saying that a draw with Liverpool means all is rosy, but I come out of that game feeling good about the team.
For all I hate them, for the health of football in general I actually hope they do win the league. Better Liverpool than a City team based on an (even in today's environment) unbalancing degree of near unlimited wealth, built from human-rights abusing UAE government oil fund.
Dave Williams
91
Posted 03/03/2019 at 19:25:43
The disenchanted should examine the league table especially based on form since December and realise that what we saw today was a step forward.
Lots of work to do, I am still unconvinced about Silva but today he sent out a motivated team – albeit one which few of us agreed with – and they showed effort and guts against a team with just one defeat all season. Credit where it's due.
Martin Mason
92
Posted 03/03/2019 at 19:28:32
I thought that we were very good today and that we are on a bit of a run now. I think that Bernard and Calvert-Lewin cemented their places in the short-term and that some like Keane and Sigurdsson are just first on the sheet.
I believe that something special is happening at the club and that we must be patient and be like that wonderful crowd that was at Goodison today. I hope that Liverpool win the league rather than Man City btw.
Brian Williams
93
Posted 03/03/2019 at 19:31:01
Some of the "not happy with that, we're shite" brigade need to have a bit of a reality check IMO, including you, Michael.
The cheering at the end wasn't so much about getting a draw but more to do with the fact that those fuckers will be pig sick. If you can piss them off royally that's gotta be worth a cheer.
Now with regard to the game overall, they are a much better team than us with much, much better players. We, at the moment are a mid-table team with mid- to upper mid-table players so a bit of perspective is required.
Anyone expect us to play em off the park and win 3-0? Anyone expect the opposite? The opposite was always the more likely outcome but it didn't happen. We battled well and outfought them in the second half. At the moment, bearing in mind we lack top quality in attacking areas, that is probably as much as we can expect.
Sean Dyche made a statement some time ago and it's one I use regularly. "Minimum requirement is maximum effort." I think we had that today and with, hopefully, quality additions in the summer we'll do better.
Yeh we'd have loved to win and do to them what they regularly do to us but that wasn't very likely was it?We are where we are, and we are what we are. Sometimes teams beat others who have much better players but today wasn't one of those occasions.
Am I totally happy with a point? No. Am I happy those twats didn't win? You bet I am. I hope that's the result that means they finish with fuck all again.
We now need to concentrate on 100% effort for every remaining game and continue rebuilding in the summer. Over to you, Mr Brands.

Jim Bennings
94
Posted 03/03/2019 at 19:39:27
Just got in exhausted and fucked after that battle and slog.
I wanted to win but I'll take 0-0 all day to put a dent in the mutants title bid.
We have sat and watched better Everton teams lose to worse Liverpool teams so as far as I'm concerned we've held them again at Goodison and if you can't win then don't lose and we didn't.
If they didn't have Van Dijk I'm not sure they would even be in the top two.
Proud of the atmosphere there today, that was what Goodison can be like every week and it SHOULD be.
The players lack quality going forward no arguments about that but they left everything out there today on the pitch, that's all I've asked for all season.
Brian Hennessy
96
Posted 03/03/2019 at 19:43:14
You couldn't make this up
Official LFC
@OfficialLFC
STATEMENT: LFC is aware of an incident in which a 12 year old ball boy appeared to be sarcastically applauding Jurgen Klopp. We have this evening notified Everton FC, Merseyside Police, UEFA and FIFA.
Dave Abrahams
97
Posted 03/03/2019 at 19:44:00
I was happy with the result and the performance. To win we had to have eleven men giving their all, two went missing, Schneiderlin was pathetic, lazy, always giving the ball to man nearest to him, don't know how he can look at himself, never mind pick his wages up.
Walcott hasn't looked to me that he wants to be here for months, chickened out of two or three tackles today. I was happy with the rest of them, couldn't fault them, apart from Pickford's distribution, terrible.
We know we are two or three men short of being a top six team but we went toe to toe with them today. Did they look miles ahead of Everton today? Not by along chalk, they were kept together by a world class centre-back. There is only a point between them and Man City, but the difference in class is a lot wider... erm, on and off the field.
Well done, Blues, I hope this gives us some confidence for the rest of the season.
Eric Paul
98
Posted 03/03/2019 at 19:47:16
Brian,
Didn't he appear to threaten to give the boy the back of his hand?
Neil Lawson
99
Posted 03/03/2019 at 19:49:01
The remaining games this season are now pretty meaningless . Playing just for pride, for cash based upon the finishing position, and for Silva's job. Surely, therefore, the time to experiment wisely and to become more expansive and entertaining.
If we just struggle on as before with a series of uninspiring performances, then there can be little reason for optimism next season but maybe good reason for a new man at the helm.
Graeme Beresford
100
Posted 03/03/2019 at 19:49:11
The difference today for me was the fans. Goodison faithful gave it their all and I actually for once agree with Silva, if the fans are like that every home game instead of the negativity and aggressiveness then the job is 30% done.
Well done today Everton! Although we didn't win, we played well, as we did at Anfield, but we didn't gift them a win! Brilliant.
Pat Kelly
101
Posted 03/03/2019 at 19:49:18
If we play with that commitment, no-one will want to play us. Without it, we're nothing. The wind has changed.
Jeff Armstrong
102
Posted 03/03/2019 at 19:51:43
Brian #96. Proving once again they are always the victims.
Just watched the video and even when Klopp approaches him, the kid doesn't back down. Klopp thinks twice and jogs on, after all, the ballboy is in his own house, Klopp should not have made anything of it but, if LFC do, it just shows what a bunch of mealy-mouthed victims they are.
Brian Murray
103
Posted 03/03/2019 at 19:53:30
Martin Mason. You are a very strange man
John Reynolds
104
Posted 03/03/2019 at 19:54:01
Nothing to complain about today. Great effort and application, could have edged it. The lack of a striker telling again.
Only 5 days ago ToffeeWeb was stuffed with people forecasting two defeats and a relegation dogfight. Progress people, progress....
Dennis Stevens
105
Posted 03/03/2019 at 19:54:20
I'm sure EFC have top-notch ball-boys, but can it be determined how sarcastically a 12-year-old is clapping?
Pat Kelly
106
Posted 03/03/2019 at 19:56:24
It's official. Klopp is suffering from the clap.
Christy Ring
107
Posted 03/03/2019 at 19:56:57
The crowd were superb today, Goodison was rocking. Keane was a real leader today, and good to see Coleman playing well.
I thought we were a lot better when Gomes and Richarlison came on, Schneiderlin looked slow and pedestrian, his touch was poor, and it nearly cost us, and how Walcott gets a starting place is beyond me.
John G Davies
108
Posted 03/03/2019 at 20:00:49
Fair comment, Pat.
If he doesn't win the league, he's a gonna 'ere.
Pat Kelly
110
Posted 03/03/2019 at 20:02:57
Touché John
Jamie Crowley
111
Posted 03/03/2019 at 20:05:04
Brilliant John.
Jim Bennings
112
Posted 03/03/2019 at 20:05:10
I'm actually going to revel in the Redshites bitter moans because it was clearly evident today that their bottle is starting to go and they look like the pressure is starting to tell.
Klopp is a fairy dust arse hole and, as far as I'm concerned, he can moan or complain about whatever he likes — it means we've got under his skin.
Everton need to show the same level of commitment and work ethic in every remaining game as we did today, it makes the no-shows at the likes of Southampton and Brighton all the more galling.
Nobody, and I mean nobody should out-battle us.
John Boon
114
Posted 03/03/2019 at 20:05:45
I always follow Toffee Web and enjoy the banter win or lose. Today we showed character and with a bit of bounce AND good luck we could have won. Far too much negativity from a small number of fans. We still should always have high expectations but we did play relatively well so give credit when it is due. I think every Everton player put in a good shift.
For further amusement go to BBC Football and read the post game reactions. I got tired of reading them after about fifty posts. All were pro Everton, and not because we were gallant fighters but because 99% of them despise Liverpool and their support from Norway etc etc etc.
I did not want us to win or draw just to help Man City. I always want to win because I have supported Everton since my first game in 1947. However, if we did help City that is also a plus. What is ingrained in my soul and in my heart is that I dislike Liverpool almost as much as I love Everton. nb: I did say "almost"... COYB
Paul Burns
115
Posted 03/03/2019 at 20:07:19
For once, I don't give a rat's arse about performance or hoodoos, we've fucked up the self-pitying, lying, hypocritical rats, their fucken destroyed and I'm delighted and I don't care what the Heysal monkeys think or say.
Gerry Ring
116
Posted 03/03/2019 at 20:11:42
Dave #97 Couldn't agree more regarding Schneiderlin & Walcott. 90% of contributors to ToffeeWeb would have correctly said, before the team was announced, that these two wouldn't have the belly for it. All proven right but what does that say about the manager?
In my opinion, Silva should have ensured McCarthy had enough game time under his belt since December, when he declared him fit, so as he would be an option for this game, which is perfectly suited to his style of play.
We were soft through the middle at times. I'd like to see Macca getting a chance before he ends up replacing Scott Brown at Celtic. Gomes will be gone in May I think!
Paul Birmingham
117
Posted 03/03/2019 at 20:11:48
Best atmosphere for years, and why can't the squad do this every game?
The team showed guts today and done a very good job. The referee in my opinion and regardless of his previous dire displays in our games mainriabed his consistency and was harsher on Everton than the RS.
All said and done a great result and spikes their aspirations for the title. Disappointed if honest in Walcott, I seriously see that he's pretending to be interested and he's not.
Schneids done ok, he crapped out of a few fifty fifty's and a few poor controls and passes put them in, but very pleased today, and the fanatical bear pit atmosphere returned at last to GP.
This is Everton, and aim not gonna get carried away as the mist could descend again this Saturday with the Barcodes, but imagine playing to this atmosphere every home game.
Goodison has been Collesuem arena, we're away teams dreaded to visit.
Today the self acclaimed champions elect by many RS fans, showed their metal. From the off VVD, looked stressed and I saw their team playing guns ho. Yes they had chances but the RS body language today said a lot.
Long way to go, but hopefully by the end of May 2019, this will be a vital result.
Looking forward, DCL, in my view had his best game, but Everton, can't wait for ever for a top class, goal scorer.
Crazy season, as if the Game at our old ground had been a draw, then over two games, we have been equal to the RS.
Finally Mr Ed, shows his true self. What a lack of class, all week, compelled by his total lack of character, and experience, after the game with the spat with an EFC, ball boy.
The AH of the season, can't take the strain. I hope the the FA ban him to the stands.
Happy night Evertonians, be proud and we didn't loose. There's a lot to be happy about tonight, for a change. Lucky cats, Moggies are all welcome at GP.
Bar ćodes, next and we move on.
Steve Ferns
118
Posted 03/03/2019 at 20:14:21
Michael K, dunno if you were there, but the weather was not as bad as forecast. It was challenging conditions, and the wind was meant to be swirling inside the stadium, but it was not as predicted.
Anyway, I thought we did well. It was hardly champagne football, but it was job done. 4 points from 6 since the break, and a platform to build on. We can better, and we are getting better. Let's see if we can finish the season on form by clawing back those 6 points to 7th.
Andy Crooks
119
Posted 03/03/2019 at 20:17:18
Top posts from Brian @ 93 and Jim at 94. We hurt them today.
Steve Ferns
120
Posted 03/03/2019 at 20:19:12
Paul, I thought the atmosphere was better than last year's Derby, but I don't think it was the best for years. It was like the match was lit and it was waiting to go off, but as the goal never came, it never did. If a goal had gone in, it would have gone to another level.
Best atmosphere since Martinez' first season was Watford. City 4-0 was close but it lacked that real fighting atmosphere that raises the roof. Watford was the one where the roof came off, it was like a game from the '90s.
Tony Hill
121
Posted 03/03/2019 at 20:22:47
You should have seen the snarling gobshites coming out after the game, full of their customary good grace after they haven't won.
We still lack, of course, the players we need to make a serious challenge but I will take the ugly things first, the sort of stuff we were pretending to ourselves last season that we didn't need.
It was enough to disrupt that arsehole's band of bottlers, and their godawful fans, and that will do for now.
Neil Copeland
122
Posted 03/03/2019 at 20:23:27
Brian #93, spot on.
Just back home from the game. I was listening to BBC Merseyside on the way back and an interview with Jordan Pickford. He said the crowd made a big difference to the team and particularly immediately before kick off. Whoever had the idea to use the "Tony Bellew entering the ring siren" before Z Cars pulled a masterstroke - it really fired the crowd up who were amazing all game. Very few teams will take 3points from GP when it is on that sort of form.
I thought we played very well defensively. The whole team gave 100% but Schneiderlin was off the pace I thought. Wallcott was better than he was on Tuesday but still looks not good enough. There was an opportunity in the first half where we outnumbered the RS defence but he chose to shoot rather than cross. I would drop him and play Richie and Bernard through to the close season.
Pickford played very well other than his distribution which is erratic even when taking the wind into account. If he can get that sorted out it will make a big difference.
Michael Keane was immense, his best game since joining us.
Surprised not to see Lookman on the bench, is he injured?
Overall, I would have taken 0-0 before kick off and although I am little disappointed not to win the effort shown was beyond question. As others state, we need that quality in the final third to move forward.
Roger Helm
123
Posted 03/03/2019 at 20:27:18
Just back from the match but I missed the ballboy incident. It was a great atmosphere and the lads battled hard but we didn't have the quality to make chances.
With two wingers who don't contribute assists or goals, two midfielders who don't pass forwards, and centre-forwards who don't score often, we were always going to need a lucky break, and we didn't get one today.
But the defence was good enough to keep a clean sheet so with a bit better recruitment in the summer, there are hopeful signs for the future.
Paul Birmingham
124
Posted 03/03/2019 at 20:34:00
Steve in my view, in context, bearing that that last few seasons have been hell, when it counted, as today, bearing what was at stake before during and after, for me today the crowd made the difference. The old enemy is and always will be the RS.
I respect your view, interest and knowledge on all matters EFC.
Great to have such commitment and passion, and let's hope for the same commitment from the squad for the rest of this season.
If Marco Silva has a job to do, then, it's a huge challenge, and for me a couple of natural strikers, who can finish is needed.
Open to all views and feedback, but until we get such players, we ain't gonna win too many games.
There must be some bargain basement potential in the UK, Europe and South America.
Hopefully Marcel Brands has his scouts doing overtime to find some genuine first-class strikers.
John Davies
125
Posted 03/03/2019 at 20:34:08
Theo Wallcott was completely anonymous again today. The lad doesn't give a shit. He never has done, even back in his Arsenal and Southampton days.
It doesn't bother him one jot that he gets subbed off just about every game he starts. And his pathetic "hand tapping" applause for the fans as he departs the pitch each week sickens me.
Still he gets his nice fat pay cheque each week eh, so what's to worry him? A fraudster but yet, mind numbingly, Silva keeps picking him. Surely that must be the last time we see him start a game? But as I said earlier, it won't bother him at all.
As for the match, overall our quality was still lacking but at least the team had a go second half and put in the level of effort that should be shown every game, not just in the derby. Whine on all you RS. COYB!!!
John Keating
126
Posted 03/03/2019 at 20:40:20
Best thing by far about today was the crowd and atmosphere, best it's been for ages.
Number 2 on the list was the result and effort to get it.
Now the actual footy.
As usual a game of 2 contradicting halves. First half was poor. Some of our passing, tackling, failure to win second balls was piss-poor. Some have moaned about hoof all and zombie football, well here it all was in the first half.
Second half much improved and the midfield actually turned up .
Pluses. The defence were excellent and up top Calvert-Lewin ploughed a lone furrow brilliantly from the first minute.
Negatives. Poor midfield especially Schneiderlin and Walcott.
Pickford's distribution erratic to put it kindly and why the fuck he can't command his 6-yard box is unbelievable.
A good result we have to build on and hopefully a little bit more of a confidence booster.
Nigel Munford
127
Posted 03/03/2019 at 20:41:15
Pat #106 he's also had a bit of a problem with wind apparently, I'd prescribe some Rennie ;-)
Joe Corgan
128
Posted 03/03/2019 at 20:44:30
Just home from the game. My reading of the mood at the final whistle wasn't that we were happy with a point – we were happy to have taken two off Liverpool to put Man City back in control of the title.
Steve Ferns
129
Posted 03/03/2019 at 20:48:47
Paul, they made a difference and it was a marked improvement. I just think there was another level we were ready to go to, but the game did not take us there.
Bobby Mallon
130
Posted 03/03/2019 at 20:52:15
I think some in here are being a little harsh. We played really well. Yes, they had two maybe three chances to score but so did we. Two powder puff headers that went straight to the goalie and Bernard's nearly sliding attempt. In the last 25 mins, we were the better team.
Neil Copeland
131
Posted 03/03/2019 at 20:57:00
They didn't register a shot on target after Alexander-Arnold's effort around the 56th minute.
Paul Birmingham
132
Posted 03/03/2019 at 20:57:55
Steve, all in all today, could be a phyrhic victory for us in context, that hopefully, City, don't mess it up.
We've big games to come, welcome back Ross, Big Head, Arsenal, so, erring with all due caution,as we all know, it would be great to see the sample focus shown, in the second half today, in all our remaining games.
We are all human, and we need some hope for next season.
For me today is the best result of this season, in context of what happens in May.
All have a Ball tonight, and well earned.
Tony Hill
133
Posted 03/03/2019 at 20:58:16
We were the better team towards the end, Bobby @130 and that was very heartening. A shout out too for Zouma who I thought was excellent today.
The near miss from Richarlison's cross showed again why we need a proper striker. That has happened a lot this season, near-misses that would have been goals with a finisher.
It will make a world of difference when we get such a player. We will find out shortly if Mr Brands is the talent spotter we all hope he is.
Dave Pritchard
134
Posted 03/03/2019 at 20:59:35
Richarlison showed far more commitment and team ethic today when he came on. The same could be said about most of the team today but I thought it was very noticeable from him.
Kase Chow
135
Posted 03/03/2019 at 21:03:56
Came on here and expected much more positivity than what I'm reading.
For the first time in ages we appeared to put in 100% effort and desire. We defended generally well aside from a few lapses
2nd half we carried the fight to them.
Yes, we didn't create many clear-cut chances but we all know we haven't got an established striker (and most on here didn't want to buy one this January) – so what do you expect? BTW, I thought Calvert-Lewin put in a great shift against them and helped push us forward in the first half when many went missing (especially Walcott – what has happened to him?!)
So, given our awful run recently, we've picked both up 4 points including against the Red Shite who we always lose to. And we played reasonably well – surely grounds to be positive?
Anthony Murphy
136
Posted 03/03/2019 at 21:03:57
Mixed feelings for me. Crowd was up for it, just a shame it takes potential derailing of the RS title challenge to get us pumped up. Bit embarrassed by the cheer at the end.
I did, however, think we gave it everything with what is a limited squad -– lack of clear cut chances and no cutting edge cost us. Sigurdsson wasted great free kick opportunity and VVD was the main difference for me. I hope I'm wrong but think their run in will tip it in their favour.
Really pleased with the commitment today so on to Newcastle. This game is just as important as a defeat there will undo so much good work. Hope Silva can keep them motivated and picking up points
ps: the ballboy was my MotM.

John Cook
137
Posted 03/03/2019 at 21:05:46
What we did was to neutralise both their full backs so that they couldn't get forward. In that respect both Bernard and Walcott – and later to more effect, Richardson – did an excellent job.
John Keating
138
Posted 03/03/2019 at 21:07:00
Bobby, I taped the game and going to watch it with a few beers but I have to disagree with you about playing really well.
Maybe I missed a load when watching it but some of our passing and movement in the first half was dreadful. Apologies if I'm wrong but, if you took the crowd out of it and just looked at the footy, that first half was a non-event.
Second half we improved for sure and didn't hoof it as much. Yes, a point against our cousins for our sakes and City's was not to be scoffed at but we are still well short, I'm afraid.
Mal van Schaick
139
Posted 03/03/2019 at 21:08:05
+49 goals better than us and 30+ points ahead of us but two points worse off because we fought hard and okay our season hasn't been the greatest but we've impacted on their title challenge.
Let's finish the season strong and look ahead. Not back.
Jamie Crowley
140
Posted 03/03/2019 at 21:08:58
Neil @ 131 -
They didn't register a shot on target late game at all.
I don't know the numbers, and it might just be me, but it seemed we had a ridiculous number of shots blocked? Everyone was throwing their bodies in front of shots today.
Jamie Crowley
141
Posted 03/03/2019 at 21:15:05
John Keating -
When you re-watch, please post your take on it.
Mine was we played very well first half, but saw two horrific giveaways / personal-mental errors almost burn us. Take those out of the equation, and the first half was a good one.
That's my recollection and take on it. I think some are being very harsh with their analysis. I'd be curious what you saw.
Ivan Varghese
142
Posted 03/03/2019 at 21:18:03
Thank God less 'Go back to move forward' tactics. Schneiderlin and Gana provided the extra men in middle to break up Liverpool play. DCL and Ligne was amazing.
Bill Fairfield
144
Posted 03/03/2019 at 21:25:14
Disappointed Gomes didn't start... was he injured, tired? To leave a player of his class out seems strange.
Brent Stephens
145
Posted 03/03/2019 at 21:27:21
Man of the Match – the ball boy confronting and clapping Klopp.
Comment of the thread – John # 108 (after a comment that Klopp is suffering from the clap) "If he doesn't win the league he's a gonna ere".
A battling performance from us. We restricted them to few chances; we made chances of our own; great atmosphere; let's take that into the remaining games of the season.
Ivan Varghese
146
Posted 03/03/2019 at 21:29:58
Bill #144,
The defensive shape required Schneiderlin. Silva's tactic to push higher and put in Gomes was masterful. Also, Richarlison in for Theo was brilliant.
Neil Copeland
147
Posted 03/03/2019 at 21:36:16
Jamie #140, that's my point really – we didn't allow them to get the shots on target (by that I mean forcing a save from Pickford as opposed to a defender getting a block in). Stats often can be misleading but I still think that is telling and testimony to a very good defensive performance.
Ed Prytherch
148
Posted 03/03/2019 at 21:41:20
Benching Richarlison appeared to do the trick. He was disinterested in the last game and he was up for it when he came on today. Same with Seamus, he has been much better since his couple of games on the bench.
There may be players in the squad who are beyond being motivated and they should have no future with us but Silva may be able to get the rest of them fired up. The next few games will tell.
Lee Courtliff
149
Posted 03/03/2019 at 21:44:01
Proud of us today. They are much higher in the table for a reason, they are much better than us
But today we showed real spirit, determination and we didn't throw it away in the last minute.
We can build from this and finish strongly, 7th place gets us European football and that's something we desperately need if we are ever going to make that leap into the 'Big 6'.
Learning how to juggle numerous games, learning how to handle continental opposition and developing the right mentality that more games equals more success.
Mark Murphy
150
Posted 03/03/2019 at 21:49:46
Andrew (45)
Gosh your right
I feel stupid now!
Thanks for putting me right.
If I meet Virgil I'll apologise.
We should have clapped them off the pitch and wished them well.
My bad!

John Reynolds
151
Posted 03/03/2019 at 21:49:48
Hard to expect Schneiderlin to be fully up to speed making only his second start since September. He did okay in his primary role of shielding the back four. Seamus did well. Things are looking up. Our ball boy is destined for greatness.
Neil Copeland
152
Posted 03/03/2019 at 21:58:02
Mark #150, I thought you had it spot on personally. Horrible twats that they are.
Paul Birmingham
153
Posted 03/03/2019 at 22:07:36
All in and my last write this good night, is aside to Schneiderlin, taking lots of stick, based on performance, and in many cases correct. I recall his father passed away earlier this season, and in life, such issues are paramount and put footy into insignificance.
I for one will bear in mind as knowing the pain, when this happens, my dad passed the night before Chelsea 2015, and life is not the same. But, EFC, was his journey.
I'm sure he ghosted the Chelsea hotel the night before and Goodison Park, on the day.
So all in all a great day and some hope and understanding, for the future of EFC, and perhaps, cut some reasonable slack for Morgan Schneiderlin. He wasn't our worst player today, nowhere close.
All the Best and a good week to all Evertonians
Rob Marsh
154
Posted 03/03/2019 at 22:09:14
Mark Murphy #150
When we lost the last one in the 96th minute, they did not exactly celebrate in a quiet and respectful way in acknowledgement that the goal was a fluke and we'd matched or bettered them for large parts of the game and should have got something from it.
Just imagine last game of the season if we'd have been relegated and they came 2nd, does anyone think they wouldn't take that as consolation?
Paul Jones
155
Posted 03/03/2019 at 22:11:12
It would seem only our manager cannot see that Walcott & Schneiderlin are so badly out of form they are a massive liability. Particularly latter whose loss of the ball almost gifted them the game on a few occasions.
The result was fair but could have been better if the manager picked players on form rather than past performance with previous clubs.
Phil Greenough
156
Posted 03/03/2019 at 22:12:34
I'm really getting pissed off with the biased reporting by Sky Sports. They've interviewed Klopp, Van Dijk and Henderson. Now it's Souness's turn. 8 minutes now and still no talk about Everton. Now they're talking about Man City. Unbelievable.
Just talking now to Silva, even then they had to get Carragher talking about Everton. Our sum total of reporting, 2 minutes!!
Gerry Ring
157
Posted 03/03/2019 at 22:20:19
Paul #155. 100% correct. How can Silva continue to pick Walcott and, of late, Schneiderlin??? See how our performance improved today after the substitutions. Basic selection errors which will cost us and nearly did today.
Bobby Mallon
158
Posted 03/03/2019 at 22:20:29
I'm with Jamie @141, my only concern with the 1st half was a couple of miss placed passers and Pickford kicking the ball out of play at every goal kick – it drove me mad and has done all season.
Raymond Fox
159
Posted 03/03/2019 at 22:21:40
BBC no better Phil.
League betting now is :- 1/3 Manchester City 9/4 Liverpool.
Stephen Meighan
160
Posted 03/03/2019 at 22:23:46
Rob Cannon @90,
You obviously don't live in the city. We all hate the red shite bastards and if you can't get to sense that... then... well...
Keith Harrison
161
Posted 03/03/2019 at 22:25:11
I thought that shower could walk through the wind and the rain?
Best atmosphere at Goodison for donkeys, since we beat Man Utd in opening game on a Monday night. None of which was contributed by reds. I left the ground with a spring in my step.
We have decried quality, and commitment since the Anfield match, and when the team finally show effort and commitment, they get berated on here by a good number of posters. Are these posters the ones that attend the games? I am proud of my team tonight, as virtually all at Goodison today appeared to be.

Eddie Dunn
162
Posted 03/03/2019 at 22:29:44
Sorry folks, I have been down my local enjoying my night after a hard-fought point. I haven't read the last 3 hours of posts but I am happy for our club and all of our players, staff and fans in that we have helped to thwart their chances of winning the title.
I will go to bed happy; thank you, EFC; thank you, Marco – I am willing to wait and see what you can do till the end of the season. Fair play!
Neil Copeland
163
Posted 03/03/2019 at 22:32:17
Keith #161, dead right. Feeling much more optimistic and looking forward to the Barcodes on Saturday.
I also think Silva deserves credit for 2 clean sheets in a row and having the bottle to change things, ie, Schneiderlin (who had a decent game at Cardiff) when under extreme pressure.
Bill Fairfield
164
Posted 03/03/2019 at 22:33:26
Ivan 146 This was as masterful as a Sam Alardyce set up
last season
John G Davies
165
Posted 03/03/2019 at 22:33:41
The lovable neighbours have complained to Merseyside police and UEFA about the ball boy applauding Klopp.
Is there no bottom point that club can reach?

Brent Stephens
166
Posted 03/03/2019 at 22:38:32
John, is that true? Where is that reported? Unbelievable if true.
Ron Marr
167
Posted 03/03/2019 at 22:42:42
Klopp says "the wind didn't help us" — well don't eat beans before the game, soft lads!
Derek Thomas
168
Posted 03/03/2019 at 22:42:44
Whatever Silva has been giving them during that 17-day break, keep dosing them with it – it's working.
Those 17 days could be the longest Kevin Brock Moment in history.
I've said before that given the teams poor performance since the Pickford Derby and with the lack of a credible replacement candidate, Silva has been, in effect, his own caretaker manager... and results (like at united) will go a long way to deciding if the caretaker keeps his job.
Every game is an examination for Silva... must try harder and keep trying harder all the way to the end of the season.
All with the added bonus that the title is out of their hands again.
Nice one Blues.
Tony Hill
169
Posted 03/03/2019 at 22:43:54
I suspect they're trying to take the piss with this stuff about the ball boy. Let's not walk into any traps.
John G Davies
170
Posted 03/03/2019 at 22:57:05
Looking back on the game, I thought there was a potentially good link-up between Seamus and Richarlison to solve our right side issue.
Am I right in saying Richarlison plays wide right for Brazil?
Bill Gienapp
171
Posted 03/03/2019 at 23:00:47
A little perspective, please. A few weeks ago, we were dropping matches left and right and couldn't keep a clean sheet to save our lives. We come out of the 17-day layoff and immediately produce four points to put any lingering relegation concerns to bed, along with back-to-back clean sheets – we now have a potential platform to finish the season with the sort of positivity that it started with.
Anyway, I thought just about everyone on the pitch acquitted themselves well, with the exception of Walcott (not terrible, just didn't offer anything) and Schneiderlin (at best anonymous, at worst poor). It's time to end this little mini-experiment and restore Gomes, who looked very sharp off the bench.
Paul Birmingham
172
Posted 03/03/2019 at 23:03:26
Derek,@168, a great point, let's hope so.
Just watched MotD, and seen the crap chat from Mr Ed about the fecken wind. Surely this sauerkraut is a broken record?
Same weather for both teams, the RS and Teutonic Dumpkopfs, are well and truly deluded.
It's Sunday 03/03/2019, the RS, spawny twats, got a draw at Goodison Park, and were lucky.
Love it! EFC, in my heart and soul.
Ivan Varghese
173
Posted 03/03/2019 at 23:10:30
Bill Fairfield #164, Maybe like big Sam, but they needed to break up Liverpool's play and they did. Calvert-Lewin and Bernard did well with Digne and Coleman is support. I feel this draw is a win and Silva can shape the team around a few consistent players. Pickford also stood out.
Si Cooper
174
Posted 03/03/2019 at 23:13:44
At times, the quality was not great but, to be realistic they currently have a team who can run riot if you give them a chance. It was always going to be mainly about containment, especially seeing how bad we have been since the previous derby.
I thought this was a much improved effort, with us getting stronger and more threatening in the second half. Bernard and Tosun very nearly played in for goals that wouldn't have flattered us following good attacking play.
Coleman, Bernard, Richarlison and Gomes looked up for it and capable but we need them to now sustain for the rest of the season. A lot of praise has to go to the supporters who made a real difference today. The atmosphere really came across on the live broadcast but appeared to have been severely muted for MotD.
Roman Sidey
175
Posted 03/03/2019 at 23:22:10
I think people need to understand that there's a difference between being happy and being satisfied. I'm not satisfied with a draw at home, especially to Liverpool, but I am happy that the players are showing better effort and the fact that we've dented their title hopes.
I think the logic behind Schneiderlin playing ahead of Gomes, aside from Gomes being a little out of form before the break, is that Schneiderlin is either part of Everton's future or the club needs to put him in the shop window to sell him. Gomes is still a Barca player and whether or not he stays is anyone's guess – I'd lean towards him returning to his parent club.
Either way, I don't think Schneiderlin has been as awful as people are claiming, but he certainly does have a way to go to get back to the player Everton thought they bought. There's a player in there.
Calvert-Lewin played really well considering he was up against one of the best centre-halves in the world. Still a long way to go for him, but a couple of encouraging matches in short space is good.
Richarlison looked a lot better on the right than he ever did on the left, so it would be good to see him and Bernard both starting the next match. It may sound silly, but I think when you have two players from the same foreign country playing together, especially Brazilians, you can get some better performances out of them.
Set piece defending seems to be improving too, which is a massive relief. I think Pickford has as much to do with that as anyone. He is playing with a lot more confidence these last two matches; just needs to sort out his kicking.
Last but not least, huge cheer for the Goodison crowd today. I've been critical of the atmosphere for some time, but today they sounded excellent.
Peter Mills
176
Posted 03/03/2019 at 23:24:09
I'm a bit surprised at some of the negativity on here. Of course, compared to where we want to be, this was not a fantastic performance. But compared to where we have been over the past 3 months, it was good.
There were faults. We were not particularly creative. Walcott was very poor. I don't think Schneiderlin was as bad as some are saying, his positional discipline allowed Gana to have an excellent game, as he did in mid-week.
But there were some fine performances from Coleman, Keane, and Digne. The latter two each made superb last-ditch tackles. Bernard played well, giving everything.
I was desperate for us to score in the last five minutes, because Goodison would have absolutely erupted. We didn't, so I have a degree of disappointment. But I am mighty happy we have pissed off the Red Shite.
Mike Price
177
Posted 03/03/2019 at 23:25:49
How any Evertonian can hope they win the league instead of man City is beyond comprehension and a complete disgrace and makes me physically sick.
The crowd were fantastic and it felt like 'Everton' again.
The ballboy was fantastic and showed Klopp up as a 'give it but can't take it' 'twat.
We are years away from getting rid of very expensive deadwood and making any significant steps forward.
We have the worst strikers in the top two leagues; we really are that bad. The Allardyce winter window was a major setback.
I was actually proud of Everton for the first time in a long time.
Roman Sidey
178
Posted 03/03/2019 at 23:27:50
Also, the Klopp reaction to the ball-boy is a non-story. Good on the young lad for taking the piss and not backing down, but it looked to me as though Klopp was really just playing along with him.
As much as it pains me to say this about the manager of Liverpool, Klopp is a very good manager with a pretty good head on his shoulders – and plenty of ToffeeWeb contributors were crying out for the club to bring him in when he was at Dortmund. He acts a clown a bit and makes the odd statement like his World Cup Final and wind comments around this match, but he's no fool.
Justin Doone
179
Posted 03/03/2019 at 23:39:28
In trying to be positive Schneiderlin must be one of the best trainers week in, week out and you have to presume 4 managers all agree there is something he brings to the team.
I fail to see what that is and again presume his time away from the match day squad is because he has failed to bring the training ground promise to matchday performances.
I want him gone but it's not my call.
Just as concerning is Lookman's omission. I'm guessing Silva must be feeling the pressure to go back to the experienced players over youth and potential which I hope is reversed ASAP and we can now practice what next season may look like and give game time to Lookman and the like.
We have very little to play for this season and can afford to be a little more risky. I'm not saying all at once but Lookman, Kenny and the like need to be given game time this season.
We need to figure out what our loan signings are likely to do. I'd keep both Zouma and Gomes but if they are unlikely to stay bench them and hope Mina, Davies etc. Can play half the remaining games at least.
If not already started, next season's preparations start now so we can hit the ground running.
Darren Murphy
180
Posted 03/03/2019 at 23:54:46
Just a little note before I'm offski...
The most nuts I, my pals have been for a game this season supporting our boys... Great support which I want every feckin' game, lol.
Draw? ...we looked okie dokie second half for a win in several places.
Hope Sam Hoare enjoyed the first visit to Goodison man... it's electric on derby day son... good man yourself.
I'm offski to Erbil... can't say where obviously... see you all soon lads n lasses.
Think we're safe now... that's what I hear every day lol... no, but we are, rebuild for next season.
Hopefully be back to chat on the live feed... COYB's
ps: Fuck you Red Shite! ;)

John Raftery
181
Posted 03/03/2019 at 23:58:09
The last three months have been dire. Today's performance and result gave us something to build on. We saw a huge improvement in effort, application and defensive organisation compared with any home game this season. The crowd also gave their best 90-minute performance for several years.
The whole match was played at a frenetic pace. Consequently passes went astray but both teams suffered from that.
The weather was nowhere near as bad as forecast and certainly did not affect the flow of the game.
The test now for our team is to maintain that level of effort in the coming weeks. If they do so, I can see us beating one of the three top six teams still to visit Goodison.
Derek Knox
182
Posted 03/03/2019 at 00:08:34
At last I can post after Internet issues, I never thought I'd be happy with a 0-0 draw before the match, but it was the manner where we were almost unlucky (again) to not get all three, that tipped the scales. I just hope we can carry that attitude forward in the remaining matches we have.
On the Live Forum (I think) someone suggested it was like 9 against 12 jokingly, they had the ref, and we had Schneiderlin and Walcott, but that was pretty much a true word spoken in jest. Maybe a bit harsh on Walcott, but he keeps getting picked.
There were a few players in Red who could easily have picked up Yellows early doors, but no, although he must have been embarrassed later and did book a couple.
Stewart Oakes
183
Posted 04/03/2019 at 00:28:55
Just so everybody's aware, the tweet about the ball boy is not from Liverpool's actual official twitter page.
Dennis Ng
184
Posted 04/03/2019 at 00:56:40
The ball boy story is a head-scratcher. I thought both had a laugh from it. Why is it "controversial"?
Good point. Should have had more in my opinion. I keep hearing commentators saying how they are off their A-game but they fail to credit us enough. Of course those wayward passes doe't help. Hopefully we can build from this result.
James Flynn
185
Posted 04/03/2019 at 01:50:36
Dennis (184) - "I thought both had a laugh from it. Why is it "controversial"?"
You have it right. There is no controversy.
Gavin Johnson
186
Posted 04/03/2019 at 02:30:02
We didn't break the hoodoo but we put in a committed display and the league table places went out of the window.
It felt like derbies from the '90s when we were shit, like Kendall MK 3 and Royle when he first took the job; We would be struggling in the league but we always gave them a game.
The feeling I've had in both derby games under Silva is that we could score and beat them. It's not yet happened, but we've nullified their attacking play in the most part.
It would have been amazing if we'd have beaten them, but drawing with them has put a big dent in their chances of winning the Premier League.
Matt Woods
187
Posted 04/03/2019 at 03:52:01
Earlier in the season with confidence growing we went to their place and went toe to toe. We blackened an eye and gave them a real fright.. We all know the rest.
Today, with confidence fragile and a huge sense of occasion we battled for a well-earned point. I think because of the paper-thin confidence Silva's instructions were don't play out from the back.. take no chances and play it long out of trouble. It's a sensible tactic when confidence is low against the high press.
It became increasingly obvious that Liverpool's genuine weakness is creativity from midfield. In short, we did a number on them and exposed their weakness to the nation. We don't want to see this football every week but we demand the application and commitment.
I hope the players have the desire to fight and scrap without the ball for the rest of the season and add a touch of style. Come on, Toffees – finish the season strongly and redeem this poor run of form.
Bob Parrington
188
Posted 04/03/2019 at 05:18:48
I'm a bit dumbfounded with the extent of the Schneiderlin criticism on here. Given the kind of game this was he put in as much of a reasonable performance as the rest and certainly didn't look overwhelmed.
As far as misplaced passes there were more than enough from both teams. Somebody was saying to me it is because he is French (centuries of conflict with England???) but I cleared this up with confirmation that Zouma and Digne are also French and they don't get even 10% of the criticism that Schneiderlin gets.
Possibly its because of his performance (or not) last season and some T webbers are unforgiving. Some I discuss the games with reckon that the team looks more balanced when he is playing. Me, I just reckon his last two performances have been quite reasonable and the criticism as been somewhat OTT.
Steve Brown
189
Posted 04/03/2019 at 05:51:06
The crowd rocked, amazingly the wind blew off the Mersey in winter, it might not be their year (again) and the ball-boy owned Klopp. What was there not to like?
The performance in the second half was better than the first, but overall the performance was dogged rather than quality – this level won't be acceptable next season. But, we went into this derby in much worse form than the Anfield game and came away this time with a decent result.
Add 3-4 more quality players in the summer, get rid of the dross and retain the fighting spirit and we might have a half-decent team.
Bobby Mallon
190
Posted 03/03/2019 at 06:20:17
I'm a bit confused, but since Schniederlin has been back we have kept two clean sheets and four points. He's not Ronaldo but he hasn't been that bad.
Walcott, on the other hand, has been rubbish and needs benching.
Mark Murphy
191
Posted 04/03/2019 at 06:31:30
Rob @ 154,
I refer my learned friend to posts 43 and 45!
(150 was sarky!)
Jamie Crowley
192
Posted 04/03/2019 at 06:39:27
We've seen Silva, despite his faults, pull some excellent managerial motivational moves.
Giving Schneiderlin a chance the last two games, and Schneids stepping up and playing very well over those games, despite one giveaway today that was admittedly atrocious.
Benching a sulking Richarlison, to motivate the boy during his substitute performance today.
Getting Gana to play like Messi at points, despite wanting a move away.
Keeping Calvert-Lewin and Cenk in the fold for striker duties. Each of them has worked very hard the last few weeks when called upon.
Motivating Gomes by not playing him, keeping his role as a substitute.
All these, and I'm sure there's a few more I'm missing, are creating competition for places. During our malaise, I seem to remember the same lineup being trotted out?
I'm normally a fan of sticking with 11 players. But these players seem to need a kick up the backside every now and again.
Keep lightly rotating the line up Marco, and keep everyone on their toes. Again, competition for places!
Playing for Everton is not a right, it's a privilege. I think a few players over the last few weeks have learned that. Well played Marco. When starting lineups are announced, I'm starting to question them less and less, and just "going with it". Marco has his reasons.
And to my eyes, the players are responding with a new found attitude, effort, and vigor.
Two thumbs up. Credit where it's due.
Now get Lookman in there and Davies, and motivate anyone thinking they're an "auto-starter" into ratcheting up their game a bit more.
Brian Porter
193
Posted 04/03/2019 at 07:00:57
Good performance, but why oh why is Walcott keeping his place in the team week after week? On the (very) rare occasions when he finds himself in space in the box, he either shoots (usually off target) when a pass is the better option, or tries to beat one too many men before being dispossesd or running the ball out of play. He is the clear weak link in the team yet Silva starts him uneeringly virtually every match.
Walcott is the past, Lookman, Bernard and Richarlison the future for Everton. I'd rather see the black cat starting in place of Walcott who is more of a hindrance than an asset to the team. Why can't Silva, see what we can see and bench him and give Lookman a run of games to let him really bed in to the team?
Has Walcott done anything since Christmas to justify his constant selection? Not in my eyes, and, I think, many others.
George Cumiskey
194
Posted 04/03/2019 at 08:32:16
Brian Porter, spot on, he must be fantastic in training because he's crap on the pitch but still gets picked week after week.
Why can't Silva see it?
Paul Tran
195
Posted 04/03/2019 at 09:15:20
Defensively we were spot on. I felt a sense that they were on a personal & collective mission to keep a clean sheet. Should be like that every game.
We were more balanced with Schneiderlin in there and the back four was undoubtedly better protected. We need a stronger, more physical version of Morgan, who can pass better. In this game, it was a good idea bringing Gomes on later when the game was stretched. I think they were wary of him, especially as we finished the game stronger.
I've been critical of Silva recently. He's got plenty right these last two games. The players have showed they're fighting for him. If he's wise enough, he'll use yesterday's atmosphere to create a closer relationship with the fans.
My overriding feeling is that this team, especially going forward, is like a jigsaw puzzle with some good pieces and some pieces missing.
Brands's brief for the summer has to be a strong, passing deep midfielder and at least two forward players with genuine scoring ability.
Ray Smith
196
Posted 04/03/2019 at 09:33:29
Phil @156,
Totally agree with your comments about Sky.
You can add Jef Stelling and Paul Merson to the anti-Everton brigade.
Colin Malone
198
Posted 04/03/2019 at 11:39:14
Just shows how one player can make another player look average, it's been happening all season.
Seamus Coleman was having a good game defensively but, with the change from Walcott to Richarlson, we've seen the old Seamus flying down the wing, threatening their defence, Richarlison physically getting stuck in up and down the right wing.

Paul Cherrington
199
Posted 04/03/2019 at 12:24:58
I thought the team played well yesterday and that a draw was a good result. Yes, it would have been nice to win but I think some of our fans need to be realistic. When you look at the players they have and the scoring ability they have, a win was not very likely. in fact, most Everton fans I spoke too beforehand were more worried about getting thrashed. With that in mind, a draw is okay to be fair.
I have to credit the manager too in the last few games. seems like the break has done him and the players good. 4 points from 6 is decent and, although I am not his biggest fan, will be happy to change my mind if they carry on like this. finally showing some fight and will to compete. It does seem to have come about since Schnederlin has been back in the team. maybe him in there just gives us better balance even though he might not be the best player. Sort of like the Lee Carsley or Phil Neville effect.
If you cannot enjoy the draw, then just enjoy the moaning and whinging of their fans haha. They know this result has killed their title hopes. I love hearing Klopp trying to claim he prefers being in 2nd... haha! Not when you have blown a big lead to be there, you don't!
Daniel A Johnson
200
Posted 04/03/2019 at 12:45:22
I thought Schneiderlin has played very well for the last two matches now his bereavement counselling is over. Just shows that once the fans have it in for you, you are done. I witnessed more stray passes from Bernard and Gueye than Scheiderlin but no knives out for them.
Credit to SIlva though as well, he's dug himself out a massive hole the past few weeks.
Chris Corn
201
Posted 04/03/2019 at 13:15:47
I agree, Daniel at 200. Schneiderlin will always divide opinion . Some past criticism is justified but it's not a coincidence to me that we have looked a more solid outfit with him and Gana playing the last two games. He can play when his mind's right.
We had to go back to basics and stop conceding stupid goals and that is what we have done recently.
I can't really understand the criticism of that performance as we were never going to outplay them. Even my usual suspects such as Calvert-Lewin came out of that game with credit. I can't say the same about Walcott though. He needs to do a lot more for someone of his Premier League experience.
Clive Rogers
202
Posted 04/03/2019 at 13:31:14
The hoodoo will continue until we sign some proper strikers. Although Calvert-Lewin has improved slightly with his passing, he put no pressure on Van Dijk and never attacks the goal.
Van Dijk headed countless balls clear of the area with Calvert-Lewin nowhere near him. He never tries to dribble or turn defenders for a shot as he doesn't have that in his locker. A squad player only I am afraid.
Gordon Crawford
203
Posted 04/03/2019 at 13:42:42
It was a very good point. I was very pleased with the effort. Certain players stepped up to the plate.
And at least they didn't ruin my birthday. So, all-in-all, I'm happy.
Clive Rogers
204
Posted 04/03/2019 at 14:23:29
Jamie, Brian, something has obviously gone wrong behind the scenes with Lookman. He wasn't trying in his last two games and Seamus had a right go at him when he gave a goal away. He has not figured since. He may well leave in the summer.
Ian Bennett
205
Posted 04/03/2019 at 15:01:15
Big credit to Schneiderlin. I thought he was pretty decent in the last two games. Him playing has definitely steadied the ship in the middle.
Let's see how it goes. It's still a team short of pace, and goal threat for me. And with big question marks over a huge number of players at the club and out on loan. Hopefully we've hit bottom, and can build from here.
Jay Wood
[BRZ]
206
Posted 04/03/2019 at 15:14:07
Carnival weekend (month, if the truth be known) in Brazil, and it was a challenge for me to find a quiet(ish) corner to watch the match on my cell phone. away from the beating drums and scantily-dressed ladies, but I made the sacrifice.
I don't think Schneiderlin is anywhere near the long-term answer to the position he plays, but in the two games he has played since being recalled he has not been out-and-out rank as some are portraying.
Yes, he clumsily lost the ball in the play which was quickly fed to Salah who you would have backed to score but for Pickford's save. But for me the poorest part of that play was a common systemic failure under Silva: Digne the full-back was pushed on far too much, ahead of where Schneiderlin lost the ball, meaning Liverpool's most dangerous player had a free run on goal. Not clever. Yet another example of what Tony Abrahams has been flagging up all season about us being too open at times. Digne was so far adrift of Salah he gave up chasing back.
I was also livid with Digne (and Sigurdsson) with the free kick on the corner of their penalty area in the dying minutes. From that side and that angle, it should have been the Ice Man's right-footed take, be it a direct shot on goal or a cross. Digne's cross was truly woeful. Opportunity lost to make an even bigger statement, for me.
Personally, I don't think we played as well as we did against them over the park in early December, but we prevented them from scoring, got a point, and were definitely the team looking more likely to win it in the final quarter of the game.
Now some match goers say the wind was not as big an issue on the day as was feared ahead of KO, but maybe they can tell us if it did play any part in Jordan's very, VERY wayward kicking.
In the main, I recognize and understand what Pickford attempts with his kicking and it can be spectacularly good. Yesterday, both from hand and dead ball, his kicking was spectacularly bad. Turning over the ball to the opposition so many times as he did by kicking directly into touch, or straight through to their 'keeper, could have cost us dearly on another day. I believe his pass completion rate was under 25%, and Walcott's wasn't much better.
Like others, it is mystifying how Walcott continues to be selected ahead of a number of alternatives. But I side with Clive @ 204. There must be something behind the scenes going on with Lookman we are not privy to if he can't retain his place, or even get on the bench, in what has been an out-of-form team for so many months.
That said, I would echo a number of points Jamie C makes @ 192. During the recent poor run, Silva very rarely changed the core starting XI. In recent games, he has.
Both Gomes and Richarlison were introduced at a timely stage of the game yesterday and both performed much better than they have in recent weeks. Sometimes it takes dropping a player, a kick up the backside, to galvanize them into performing again.
I would also agree with James Flynn @ 72. Increasingly for me, Bernard is showing signs he is more than capable of handling the Premier League. He doesn't have blistering pace to get and stay ahead of a defender, but he does have excellent control and quick feet to show a defender the ball but the ability to beat him at close quarters. He is also nicking the ball off the opposition and turning plays to our advantage.
I'd be interested to hear from city-based Blues how t'other lot are reacting today to yesterday's result. A bit more subdued than might have been, I'm sure, if they had won.
John Keating
207
Posted 04/03/2019 at 15:25:14
Jay, I don't know what it was like on the pitch but the wind didn't appear that bad to me. Then again, if after Pickford's first atrocious clearance, he thought the wind affected it – then stop doing it! It was another Groundhog Day – he just kept on doing it and kept on looking stupid.
As regards telling the Park End to calm down after another shit kick, well that was out of order. He gives us enough heart attacks not commanding his area without compounding this with nonsensical distribution.
Brian Williams
208
Posted 04/03/2019 at 15:56:46
The wind DID play a part. We had a free-kick just inside our half in the second half and when the ball was placed on the pitch it started to move due to the wind. There was also a goal kick which reached the halfway line before being held up in the wind.
It came and went and was coming from different directions during the game so it was hard to judge at times.
Pickford's gesture was reminiscent of John Stones's gesture at the same end some seasons ago and shows that players ARE aware of the mood of the crowd and their groans when seeing something they don't like.
To my mind, if the crowd voices their displeasure then it's a players right to react.
Let's not demonize any more players than we already have and ruin our relationship with them.
Pickford was directly responsible for us not conceding, a chance that Salah puts away with ease 99 times out of 100.
John G Davies
209
Posted 04/03/2019 at 16:07:20
Jay,
What did you think to the cameo of Richarlison and Seamus linking well together yesterday. Does Richarlison play wide right for Brazil?
Ross Edwards
210
Posted 04/03/2019 at 16:19:43
I think yesterday was the day when Silva finally 'became' our manager. A game where he made his first mark. Our performance included everything we had doubts he could get out of them. We stood up to them, dug in and we were aggressive. He went for it with his subs too and more importantly from the perspective of the main criticisms I've had of him lately, 2 clean sheets in a row and defensively sound at set pieces in both.
It finally looks like he's finding solutions to our recent problems. Long may that continue. My main frustrations up until Cardiff with him were that it seemed like he was oblivious to our constant errors or he wasn't able to solve them. If we can go on a run now he will be fully backed come the summer I'm sure.
What an atmosphere by the way. Amazing. Like the Goodison of old. I really hope it's like that for the rest of the season cos like Silva said half their jobs are done for them on that pitch if the crowd gets behind the team.
To finish, a shout out to the PA putting on Born Slippy before kick off. Up the snide bitter blues.
John Keating
211
Posted 04/03/2019 at 16:32:59
"demonizing players" ?????????
Mike Price
212
Posted 04/03/2019 at 16:42:28
Pickford owed us after Anfield so he should calm the indignant attitude, he better hope they don't win it by a point or two because one of the worst moments in derby history will be immortalised and they'll probably send him a medal.
Jay @206, I'm with you on Digne pushing so far forward, especially when he's limited for pace and the ridiculous free kick at the end was incredibly stupid.
They are a horrible bunch, they love to give it but can't take it at all. Even the little friendly golf match on Sky between Tommy Fleetwood and Stubbsy and Dalglish and Redknapp. Dalglish had a dig saying how would you know you've hardly been in Europe! I just wished one of them had asked him, 'And why was that, Kenny?'
Brian Williams
213
Posted 04/03/2019 at 16:52:34
John @211.<>Yeah, like "we" did with Stones, Barkley and to a certain extent Rooney.
We get on their backs and, before you know it, we're never off them and they just can't win.
You never heard the term "to demonize"?
John G Davies
214
Posted 04/03/2019 at 16:55:40
Richarlison.
"Because it's important for us here too, if they win the match, they would go back to the first place, and we did not want that."
He's getting the picture early.
John Keating
215
Posted 04/03/2019 at 17:06:21
Yes Brian I have heard the word demonize but I didn't think it applied to any form of criticism.
So from now on we can only praise players regardless if they fuck up or not. No opinion so self thoughts just praise.
Well I' sure that'll make going to the match really enjoyable especially when we see an opponent stick it in the net and then clap him for scoring an excellent goal against us.
Outside the ground didn't seem too bad before the game. As mentioned IF Pickford was having trouble hoofing it out then don't do it but to continually do it and put us under unnecessary pressure is not on and as a match payer I, and others, have every right to voice an opinion.
Also as mentioned Pickford has and has had enough issues without adding to them. The last person in that squad to tell supporters to calm down is Pickford.
Demonize might be a bit strong for me maybe constructive criticism.
But then what do I know I'm no English language expert
Jay Wood
[BRZ]
216
Posted 04/03/2019 at 17:16:05
John G @ 209.
No John, Richarlison plays more centrally for Brazil. To date, it has been him or Firmino in that role.
But don't confuse the central role he plays for Brazil with the thankless central role he has been asked to play for Everton.
As you would expect, there is more emphasis with Brazil on keeping it on the ground, good movement and sharp interchanging of passes.
I thought Seamus played well throughout and Richarlison played well when he came on.
If you are promoting the idea of pairing the two down the right in remaining games, with Bernard and Digne left (with the option for both 'wingers' to switch sides), I certainly wouldn't be vehemently against it.
Brian Williams
217
Posted 04/03/2019 at 17:22:25
John. Not wanting to start an argument, mate, but I've seen it happen so many times, especially on here where it starts as a certain type of criticism. An almost "how dare he" approach and then it just seems to grow arms and legs and the player can do no right.
If yesterday proved anything, it proved that the players react positively to the backing of the crowd.
I just don't feel that Pickford's reaction in the heat of a derby was either "out of order" or in need of "dropping the attitude".
On a different note, the infamous ballboy's dad has said his lad asked Klopp how he'd enjoyed his World Cup Final. 😁
Class!

John Keating
218
Posted 04/03/2019 at 17:44:18
Good stuff, Brian, worse things in life!!!
Brian Williams
219
Posted 04/03/2019 at 17:58:26
This'll give you a laugh too!
http://www.kopspot.com/posts/game-over-again-trophyless-season-some-liverpool-fans-hit-out-at-klopp-over-decisions-at-everton
Brent Stephens
220
Posted 04/03/2019 at 18:05:59
Brian #217,
"On a different note the infamous ballboy's dad has said his lad asked Klopp how he'd enjoyed his world cup final."
A future Everton captain in the making! Balls and bite. (The kid, Brian, not you.)
Brent Stephens
221
Posted 04/03/2019 at 18:08:38
Jay #216 - re Richarlson down the right - does he ever get that position for Brazil? To any effect? Much preferable to Walcott and leaves the left open for Bernard.
John G Davies
222
Posted 04/03/2019 at 18:21:53
I am, Jay. It's something I would like to see.
Jay Harris
223
Posted 04/03/2019 at 18:27:17
Brian, thanks for a good laugh.
The ballboy should be invited to one of the luvvies productions. Love that kid.
Brian Wilkinson
224
Posted 04/03/2019 at 19:23:13
Over the past few Goodison derbies, the atmosphere has not been like it has yesterday.
I draw this on the same lines of our Wimbledon last Day survival, a feel of loss and emptyness, then Vinnie Jones pipes up about Goodison not being a frightening place like Chelsea which seemed to fire up the Goodison crowd.
Klopp did the same with his World Cup comments and had the same effect yesterday, I said a few Days back, Klopp has done our team talk for us.
Goodison was rocking and the team put in a performance.
We only have a few years left before we kiss goodbye to the old lady.
A few more fans chants like that is the least we can do for the old Lady before we say farewell.
Max Murphy
225
Posted 04/03/2019 at 20:04:05
I think it's fairly unanimous amongst supporters that Walcott was awful and has been for most of the season. The big question is, why does the manager keep picking him?
Correct team selection is the difference between winning, losing or drawing, and bad team selection, or bad substitutions, will inevitably mean dropping valuable points. Is it possible that Silva has some magical plan that will turn all our bad players into world-beaters?
I for one, cannot fathom what goes on in this man's head. If he does pick the team from names in a hat, then surely the laws of probability would suggest Walcott would be omitted for a few games. I'm baffled.

Jay Wood
[BRZ]
226
Posted 04/03/2019 at 20:31:21
Brent @ 221.
No Brent, he has yet to take up an out-and-out wide position, left or right, for 'a seleção.'
His position is more fluid than a traditional # 9 role, and whilst he takes up wide positions in game for Brazil, it is not his default starting position.
Brent Stephens
227
Posted 04/03/2019 at 20:34:27
Thanks, Jay.
Jason Wilkinson
228
Posted 04/03/2019 at 20:47:36
Dear Mr. Ed,
Listen to that awful dirge your lot sing before every home game.
"Walk on through the wind, Walk on through the rain" (frozen rain comes down as hail or snow)
Leicester evidently brought some with them, Man City got grass to grow in December (most gardeners give up mowing around the end of October), We made the wind blow.
What next? Are Spurs going to confuse your players by wearing white shirts? You are turning into Jose Mourinho.
I freely admit to googling the lyrics as listening to it turns my stomach.
Bitter and proud.
Tony Abrahams
229
Posted 04/03/2019 at 20:51:27
So March is the month of the carnivals, Jay, the month when life becomes one big party. What a time to be alive in Brazil!
Jay Wood
[BRZ]
230
Posted 04/03/2019 at 21:13:33
Tony, lad, the partying never stops in Brazil.
Carnival (which started for many 3-4 weeks ago) is just Brazil on steroids and then some, dressing up (or down, as the case may be, judging by some of the most scant costumes).
Tony Abrahams
231
Posted 04/03/2019 at 23:04:09
My type of place, Jay. It seems like you made a wise choice emigrating to the sun, sea, sand, soccer, sex and samba!
Geoff Lambert
232
Posted 04/03/2019 at 23:33:51
Brian #219 – and most of the twitter names are pure scouse... Not.
Jamie Crowley
233
Posted 04/03/2019 at 23:46:23
Brian @ 217 -
Made my day! How'd you like your World Cup Final? That kid is hilarious! Wonderful wit. Give it to 'em ball boy!
Jason @ 228 -
I'd never considered the words of "that" song and the irony of bitching about the wind.
"Walk on through the wind... Though your dreams be tossed and blown..."
Idiot. Too funny. What an asshat.
Excuses, excuses, excuses. It will never end. Poor soul, it was a little windy. Fuck off.
Paul Cherrington
234
Posted 05/03/2019 at 09:36:21
I'm not defending Walcott's form but I think he gets picked because he is quick, direct and does give us an out-ball at times with the positions he takes up out wide. That's all I can think of anyway!
I would still put Richarlison there to link with Seamus instead though, as suggested. I just wonder if Silva prefers Walcott's greater Premier League experience for now, too.
Tim Gerrard
235
Posted 04/03/2019 at 10:44:37
We have been poor for months. Frankly I don't understand any Blue who is not happy with the outcome of the game on Sunday. A level of commitment we have not seen for ages from both the crowd and the team. Hopefully something to build on.
John G Davies
236
Posted 05/03/2019 at 11:12:02
Ed the weather man still reckons its not fair.
https://youtu.be/91LRPk8x14s

Eric Myles
237
Posted 05/03/2019 at 11:58:00
Darren #280, Herrir is not as secret as the Americans would like to think!
Add Your Comments
In order to post a comment, you need to be logged in as a registered user of the site.
Or Sign up as a ToffeeWeb Member — it's free, takes just a few minutes and will allow you to post your comments on articles and Talking Points submissions across the site.
© ToffeeWeb