Wolverhampton Wanderers vs Everton
Friday, 10 August, 2018
Match Preview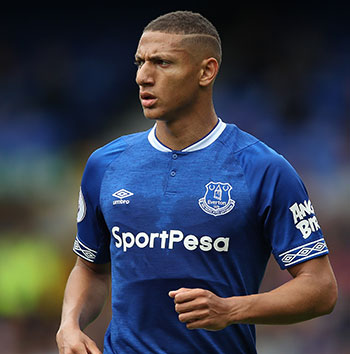 Evertonian eyes will be on Richarlison as the exciting Brazilian makes his expected full debut
Everton's 2018-19 Premier League campaign begins in front of the BT cameras in the late-afternoon kick-off at Molineux against newly-promoted Wolves.
With a succession of pre-season defeats sowing nagging fear into the hearts of Evertonians and the bulk of the Blues' summer transfer business going right to the wire, this fixture had been taking on an ominous air.
The new players drafted in by Marcel Brands and Marco Silva on deadline day might not feature but the arrival of Bernard, Andre Gomes, Yerry Mina and, perhaps, Kurt Zouma has transformed the outlook for the season and hopefully given a timely fillip for fans and players alike on the eve of the new season.
It's a good thing, too, because while Everton avoided any of the top six in their first game, the impressive manner in which Nuno Espírito Santo has bought this summer promises to make the Midlands side a very difficult opponent than normal.
The promoted teams, hopped up on the adrenaline and enthusiasm of coming up, often get off to a flier anyway but Wolves have conducted their summer business like an established top-flight side, actually outspending Everton in their bid to stay up on their return to the top flight.
Diogo Jota, Willy Boly, Ruben Vinagre and Leo Bonatini, loan players who were instrumental in Wolves' promotion push last season, have all been tied down with permanent deals.
Full-back Jonny and striker Raul Jimenez have come in on season-long loans this time from Atletico Madrid and Benfica respectively, while Rui Patricio was snapped up on a free transfer in the wake of the controversy at Sporting that prompted the goalkeeper to cancel his contract with the Lisbon club.
Adding pacey winger Adama Traore and one-time Blues targets Joao Moutinho and Leander Dendoncker, it makes for a well-rounded transfer policy well executed. There are no guarantees that those new ingredients will all gel perfectly on the opening day but, again, they make for a tougher game than was perhaps anticipated when the fixture list was first published in June.
Prior to their deadline-day spree meanwhile, Everton looked worryingly ill-equipped for the many tests that lie ahead and, barring a turnaround in form, confidence and fitness from the central defensive pairing, they will carry some of those frailties into this game. Again, it's unlikely that either of the new recruits in that position will play much, if any, part in this game. Mina only returned to Barcelona from his post-World Cup break a week ago and while Zouma is probably further down the road in terms of readiness, neither player will have had any time to mesh with their new team-mates and take on Silva's plan and instructions.
That leaves Phil Jagielka, a player who finally started looking like his 36 years were catching up with him in pre-season, partnering Michael Keane who is still lacking confidence and adequate positional sense. It may be a case of either hoping they have used the past week to focus their minds and bodies or trying to simply muddle through at Wolves until further changes can be rung at the back. (It would not be a surprise to see Silva impose his desire to usher in the new era by replacing Leighton Baines with new signing Lucas Digne.)
Morgan Schneiderlin carries similar concerns. At one point almost nailed on to leave Everton this summer — he still might if he can secure the return to France he admitted privately that he craved at the end of last season — the midfielder looked better against Valencia but not completely assured. He is a good bet to start alongside Idrissa Gueye in the middle of the park at Molineux, with Gylfi Sigurdsson deployed in front and Cenk Tosun leading the line flanked by Richarlison and Theo Walcott.
If they can keep the door closed at one end, then it's that front line and the changes in approach that Silva has been trying to impose that hold the key for Everton against Wolves. Tosun looked sharp last weekend, bagging a poacher's goal with a very nice finish across the goalkeeper, Walcott seemed to hit the ground running despite not having played much of the pre-season programme, and Richarlison has been the pick of the Blues' players in the last couple of games, often by some distance.
Summer friendlies can often be very false indicators of what is to follow when the serious action of the Premier League gets underway. It wouldn't be the first time Everton have struggled through an abysmal pre-season, only to come to life when required.
Hopefully the shot in the arm provided by the new signings and the excitement of the big kick-off will see that happen again. Of course, if it doesn't, it won't be the end of the world; it's just the opening game and you get the sense that Marco Silva is only just getting started in his project to turn Everton around.
Kick-off: 5:30pm, Saturday 11 August 2018
Referee: Craig Pawson
Last Time: Wolverhampton Wanderers 0 - 0 Everton, May 2012
Predicted line-up: Pickford, Coleman, Jagielka, Keane, Digne, Schneiderlin, Gueye, Sigurdsson, Walcott, Richarlison, Tosun
---
Reader Comments (183)
Note: the following content is not moderated or vetted by the site owners at the time of submission. Comments are the responsibility of the poster. Disclaimer
Steve Barnes
1
Posted 10/08/2018 at 06:20:51
Let's hope that their raft of new players gel together as well as ours did last season. Good side, Wolves, but hopefully we will at the very least avoid a kicking.
Can't see that our new boys will make much of an appearance, but who knows!
COYB!
Peter Anthony
2
Posted 10/08/2018 at 06:21:03
COYB!
Victor Yu
3
Posted 10/08/2018 at 06:22:45
Jags + Keane = asking for trouble
Even if Mina doesn't know the system very well yet I would still prefer to have him anchoring the defense instead.
Kunal Desai
4
Posted 10/08/2018 at 06:32:13
The new signings (assuming Zouma deal goes through) should give both Keane and Jagielka the motivation to raise their game, essentially a kick up the backside to perform. Both know there is now serious competition for their places and there will be absolutely no room for complacency. I would take a hard-fought draw away at Wolves.
Eugene Kearney
5
Posted 10/08/2018 at 06:40:17
I'm a bit nervous but COYB.
Peter Bourke
6
Posted 10/08/2018 at 07:05:30
I would say that Mina and Gomes aren't even in the country right now. They will be watching from the grandstand if at all. Only new signing to get near the pitch will be Digne. He will be on the bench and make a 10-15 minutes cameo.
David Greenwood
7
Posted 10/08/2018 at 07:06:25
2-1 win. Tosun and Bernard. COYB
John Keating
8
Posted 10/08/2018 at 07:15:24
Agree with Lyndon regarding starting 11
I believe Gomes is still carrying an injury and can't believe Silva would consider any of the others until they actually meet their teammates and have at least a week's training and assessment under their belts.
Mark Andersson
9
Posted 10/08/2018 at 07:16:10
That's the spirit, David Greenwood...
A good performance regardless of the score is important for morale..
As usual our fans will be full of good voice beer and cheer...
Derek Knox
10
Posted 10/08/2018 at 07:37:48
Excellent and candid pre-match assessment there Lyndon, as you say hopefully the last-minute signings may hopefully induce better commitment from those in the side that are fighting for their places.
There is no reason why we can't get a result there, but with the staff available, it won't be easy either. Looking forward to the game, but doubt if any of the late arrivals will feature at all.
COYB
Stephen Davies
11
Posted 10/08/2018 at 07:48:51
We won't see Gomes for weeks yet due to his injury. Mina not yet match fit... and I read somewhere that Bernard hasn't played since March?
I'm excited for this coming season but fans must play their part too and have some patience... it will take a little while to gel... but they will get there in the end.
Wolves will come out fast from the blocks and it will be a tough game.
John Raftery
12
Posted 10/08/2018 at 07:49:00
The only debate about team selection for this game will concern Baines or Digne. From what we saw last Saturday, the new signing has quick feet and competes well in the air. He was dozy when caught in possession on one occasion and we did not see enough to assess his defensive play. Throwing him in tomorrow evening would be a risk. Although Baines has been on the wane for the past year he may be keep his place for a game which is likely to be played in a cup tie atmosphere. It is a 50/50 call in my view.
As Lyndon says, it won't be the end of the world if we lose this one. The new coach will have a brief honeymoon period while the half-dozen new signings settle in. A home win against Southampton will be essential to generate belief among players and fans.
Jon Withey
13
Posted 10/08/2018 at 07:55:39
Difficult decisions for Marco – at least in defence – we didn't look right.
At this point a tactical change might be better than a change in personnel – the new guys have only just turned up.
Having Pickford back is a positive however.
Colin Glassar
14
Posted 10/08/2018 at 08:01:54
I'd start Bainsey at LB and give Digne 15-20 mins if we are coasting. No need to rush the new players in unless absolutely necessary. 2-2 draw.
Mark Tanton
15
Posted 10/08/2018 at 08:02:46
I am hoping to see some of our new faces. Looking at how we defended during pre-season I would say it's perfectly acceptable to put Mina straight in. I'd also like to see Digne replace Baines too.
I don't think it will be long before most of the new faces have integrated and replaced the utter rag bag of losers we have all lost faith in.
Paul Kernot
16
Posted 10/08/2018 at 08:03:51
Lookman? Or did I blink & he's gone?
Niall McIlhone
17
Posted 10/08/2018 at 08:04:17
A win would be great, but, overwhelmingly, I would expect what most fans want to see is a clear pattern of play, with attacking intent, mainly through rapid and ruthless counter-attacking.
Your concluding sentence nails it, Lyndon: it is only the start of the project, and I hope it's good for the lucky band of Blues making the trip to Molyneux, but I just want to see some guile and craft? I still find it incredible how steep the decline was under Koeman; let's just hope we can get that out of the system and rediscover the Everton mojo. COYB
Kieran Fitzgerald
18
Posted 10/08/2018 at 08:04:43
Wolves have a lot of new signings as well. They will have nerves as much as they will be pumped up. They won't want to make mistakes in their first game in the Premier League, especially when at home. If we are prepared to go at them from the first whistle, then we may get a decent result.
Jerome Shields
19
Posted 10/08/2018 at 08:06:53
It's going to be an interesting game. Silva will probably not want to take risks in defence by playing Jagielka and Keane. He will have had enough of that in pre-season. At least he has the excuse that new players will take a while to gel.
Richarlison will play and he will probably try to fit Bernard in to try to change things a bit and provide better service to the forwards. Schneiderlin will play, but will be expected to step up a gear. Lookman will come on as a sub, as will Niasse if the game proves tight.
The most interesting thing will be how the forwards react to being supported and receiving manageable ball throughout the game. I can't see Silva not wanting to try to see what effect it would have on the forwards. Silva will be true to his high pressing tactics and make adjustments around that. Our previous centre-backs weren't up to it and trying to hide deep won't be an option for them.
Well this is what I think, but it depends on how good Wolves are and Silva's assessment of the players. It's the start of new season and I am a bit more optimistic than the start of last season, which is a distant predictable nightmare.
Has anyone noticed that the Wolves Manager name is like a Latin Prayer?
Philip Jeffries
20
Posted 10/08/2018 at 08:09:25
This is the type of game made for someone like Ademola Lookman to step off the bench and win the game. Wolves will come at us and fancy their chances but if we can hang on early and get a foothold in the game, we still have players that can do damage. The likes of Lookman and Niasse being introduced at legs start to tire may just do the trick. Here's hoping with no confidence at all!!!
Mike Gaynes
21
Posted 10/08/2018 at 08:10:05
I'm with Lyndon's lineup, except I do NOT expect Digne to replace Baines, at least not yet. Baines has looked very lively in preseason and he gets forward better than Digne.
Victor #3, sorry but that's just silly. Mina's last game was July 3 against England in the World Cup. He has not even practiced with Barca since. We just landed him Thursday. No way in hell he's even remotely ready to step in to a Prem game after more than a month off, especially with teammates he hasn't even met yet. Give him three weeks at least to get fit and learn Silva's system and his mates' names. I believe he speaks only Spanish.
Stephen #11, weeks for Gomes would be the best possible outcome. A couple of months is more likely. I saw the injury happen. Not good.
Anton Walsh
22
Posted 10/08/2018 at 08:12:38
Anyone know anything about parking the car down there. Cheers
Charles Brewer
23
Posted 10/08/2018 at 08:13:10
The predicted line up is virtually the same as the dross which ended last season. With a 100% useless midfield Everton are starting with 8 players.
I predict a busy afternoon for Pickford.
John Hammond
24
Posted 10/08/2018 at 08:15:43
I think a surprisingly entertaining 2-2 draw. Digne has to start for me. Think Jags will be up for this. Tosun and Richarlison with the goals.
Darren Murphy
25
Posted 10/08/2018 at 08:32:47
@Anton: Parking
Make your match day more enjoyable with hassle free parking available at various locations around Molineux:
Post Code
Birch Street WV1 4JW
Redhill Street WV1 1NR
Whitmore Hill WV1 4RU
Car Parking Map
To book a match day parking pass contact the Ticket Office by calling the Ticket Office on 0871 222 1877
Jan Andreassen
26
Posted 10/08/2018 at 08:41:33
We beat ATV Irdning 22-0, and just signed a player who scored in the World Cup – against England!
What could possibly go wrong???
Robert Leigh
27
Posted 10/08/2018 at 08:50:47
I think playing Jags and Keane will be okay against Wolves, their players aren't used to this league so having some know-how could be key.
The only new men I'd play would be Richarlison and Zouma, if it goes through. Have Digne and Bernard on the bench.
We all know how we'd like us set up in 10 games time when the new boys have got up to speed.
Pickford - Coleman, Jagielka, Keane or Zouma, Baines - Schneiderlin, Gana, Sigurdsson - Walcott, Tosun, Richarlison.
Subs: Stekelenburg, Keane or Zouma, Digne, Davies, Lookman, Bernard, Niasse.
Looks really strong considering there's no Mina, Holgate, Kenny, Gomes, Calvert-Lewin, Sandro
Exciting times!
Jay Harris
28
Posted 10/08/2018 at 08:58:32
This was always going to be a difficult game no matter who the players are.
Under this manager, Wolves romped away with the Championship and, with their new signings, look a good prospect for this season.
With our defence and Silva's preferred style of play, I expect a high scoring game. I just hope we score more. COYB
Adam Luszniak
29
Posted 10/08/2018 at 09:06:03
Mike Gaynes, lively or not Baines was at fault for two goals against Valencia. I would play Digne from the start. What he is better at than Baines is defending, and our defence being what it is, we need all the good defenders we can get on the pitch.
Ray Roche
30
Posted 10/08/2018 at 09:08:06
I'll be astonished if we play any of the new signings. They will take time to gel and fans will have to be patient, and that's something that has been in short supply at EFC for a long while. The last thing we need is the crowd getting on the players backs after a couple of games.
James Marshall
31
Posted 10/08/2018 at 09:09:38
Given we conceded shit loads of goals in pretty much every pre-season game, and scored bugger all aside from the 22 against the Austrian girl guides, personally I can't see much changing tomorrow.
I'd love to be wrong but until we get our new players up to speed I can't see a positive result.
Aidan Baker
32
Posted 10/08/2018 at 09:12:08
I would imagine that the only new faces on show, if picked are Richarlison, Digne and if his paperwork is done Zouma. The others are not match fit, little pre-season and probably won't be fully fit until after the international break. Zouma, and if not picked, Digne will get on the bench. Unless Silva wants to blood him asap, I don't think we will see Bernard on the bench, only flew in from Brazil Thursday and hasn't kicked a ball in anger since the end of the Ukrainian season in May.
Every player in the team with the exceptions of Pickford, Coleman and to a degree Tosun has somebody waiting for his shirt. Think Baines will get the nod as much for the fact that the existing back four has worked together longer, though he and Richarlison need to click for this combination to work. The same can't be said for Coleman and Walcott who looked in the final part of the season to be the only area of the field where Everton seemed to show a threat.
Also given these changes in personnel, I hope the club now do the honourable thing and give Jagielka and Baines testimonials for their loyalty and service to the club before their contracts run out and the captaincy passes to Coleman as in the new picture he seems the only 'senior' player who will be a first choice in the coming season.
Dave Hutchinson
33
Posted 10/08/2018 at 09:47:15
Anyone know of a good pub for pre-match drinks that will have plenty of blues in it?

Kevin Gillen
34
Posted 10/08/2018 at 09:51:45
I would love to see us play with a bit of pride and go all out for a clean sheet. I'm sure with our class up front we will score and I fully expect three points. Wolves finished twelve places below us last season! They have got lots of new players too so there's no guarantee they will be any better than us in terms of preparation. COYB!!!
Paul Mackay
35
Posted 10/08/2018 at 09:54:41
21 Mike
We must have been watching a different pre season, Baines was not nearly as lively as you make out. Like Jagielka, he knows what he needs to do but he lacks mobility in his legs to do it. He hasn't got the pace to transform defence into attack and vice versa anymore. Whereas I really like the look of Digne and he looks a real Silva type player. I hope Digne starts.
Mark Pringle
36
Posted 10/08/2018 at 10:01:13
I hope will line up as
Pickford
Coleman
Zouma
Keane
Digne
Gueye
Bernard (although will probs be schneiderlin)
Sigurdsson
Walcott
Tosun
Richarlison
3pts, up the mighty blues!!
Laurie Hartley
37
Posted 10/08/2018 at 10:06:55
I think Lyndon has picked our starting line up. The concern is the defence because I can't see Mina or Zouma starting for a couple of weeks.
Our forward line of Walcott, Tosun, and Richalison looks a handful for any outfit and I think we will see Sigurdsson growing in stature this season.
I think Colin's shout of a 2-2 draw is a good one.
James Morgan
38
Posted 10/08/2018 at 10:12:29
Not winning wouldn't be a massive problem but we need to get off to a good start with the easier run of games we have before the tougher teams. I expect Richarlison and Digne to start with the others taking time to settle. A decent performance to show we are moving forward would be ideal. I would love us to smash them 3-0 though with a "welcome back" mentality! It's mine and the wife's wedding anniversary on Saturday but I got us in to a restaurant with BT Sport and asked for a table facing the screen! Not missing it for anything!
Victor Yu
39
Posted 10/08/2018 at 10:12:48
"...if someone offers me one point before kickoff I would have taken it..."
I never like to play a newly promoted team first game of the season. They are all hungry and their fans would be loud. I would rather play a top 4 team with no expectation as the season opener.
Jamie Lenard
40
Posted 10/08/2018 at 10:13:50
Bernard was a free agent with his past contract at Shakhtar ending July 1st. So i'm guessing that he's not done any preseason training at all. If so I can't see him figuring in any games for at least 2-3 weeks.

Tony Everan
41
Posted 10/08/2018 at 10:20:29
I don't think any of the three signings yesterday will start.Maybe Bernard on the bench.
Wolves will start like an express train and it will be up to us to frustrate them and their expectant crowd. That is they key to us winning this game. Defending and breaking the play up for the first half.
Once we have done that they will be there for the taking in the second half . They will be pushing for the win and will will get them on the break. Richarlison and Walcott will be on fire, if they don't score themselves the will put it on a plate for Tosun or Siggy running into the penalty area.
For tomorrow only
Pickford
Coleman Keane Jagielka Digne
Walcott Siggy Schneiderlin Gana Richarlison
Tosun
Raymond Fox
42
Posted 10/08/2018 at 10:38:13
All away games are difficult, their 13/8 favs we are 9/4. Its Wolves first game in the Prem. and their fans will be bouncing so will the players.
A cracking transfer window theres no doubt but I don't see any of them starting the game unfortunately, but I think we could battle to a draw.
I see we are only 4/1 to finish among the top 6 which I think is definitely doable, whereas I couldnt see that happening last year. Arsenal might struggle this season they don't look as strong as usual.
I've read many post saying that last season was a disaster etc, it was poor on the player recruitment but we still finished 8th chaps, thats never a catastrophe in my books.
Derek Turner
43
Posted 10/08/2018 at 10:39:04
Victor, poor starts against promoted or "lower ranked" sides in the last three seasons have been (I think) one of the keys to disappointing performances throughout. I would rather we beat Wolves than lose to Chelsea and I think we can do it. They may be buzzing, but so should we with strong additions to the squad.
Mind you, as Keane and Jags will probably start... OK, 2-2 it is then.
Colin Malone
44
Posted 10/08/2018 at 10:43:13
Mina and Jags. Come on Jags, prove your doubters wrong again.
David Hallwood
45
Posted 10/08/2018 at 10:46:16
Great analysis as per usual Lyndon;welcome back.
Agree with the general consensus but I'd caution against putting too much on the new signings; remember Siggy last season, it took him 2-3 to look 85% fit. At least we haven't got the brutal start we had last season.
And Jerome(#19) it's more than that. If he had signed Son and Jesus, we would've been playing the real holy trinity!
Chris Watts
46
Posted 10/08/2018 at 10:50:29
We don't know what physical state the new players are in. I don't think he'd start any of the new 3 - zouma makes most sense because a) he has premier league experience and b) our defence has looked so awful it's not really a risk as there is nothing to lose
Kim Vivian
47
Posted 10/08/2018 at 10:57:22
Anyone in Kent, remotely near Lydd(!), fancy meeting up at the Dolphin for beer and (blue) footy? Or will it just be me vs RS Pete (an ok lad) plus the usual 'billies?
John Malone
48
Posted 10/08/2018 at 11:14:55
I think we need to take a reality check: all the new signings won't be playing this Saturday, it's too soon for them, we could possibly see Bernard on the bench.
This team is the same team bar Richarlison that shipped goals for fun last season and had to be rescued by Big Sam's Route One hoofball safety-first tactics in order to plug the leak and grab some points.
Nothing has changed; we've been shite in pre-season and been spanked by everyone we've played, including fucking Blackburn!
It'll be weeks before the new signings are integrated and then we've got to see if they are any good in our league.
I'm not falling into the trap of believing the false hope that new faces bring just like I did last summer.
It's going to be in a few weeks probably, after the international break and once Gomes is fit and they get used to playing with one another, that we will see if there is any improvement.
James Stewart
49
Posted 10/08/2018 at 11:19:45
We simply can't play Jags and Keane together, it's suicide.
Pickford
Coleman Zouma Jagielka Digne
Davies Gueye Sigurdsson
Bernard/Walcott Tosun Richarlison
Jamie Evans
50
Posted 10/08/2018 at 11:44:06
Full support.
It's obviously going to be tough but, as long as we don't lose, I will be happy as that would set us up nicely for Southampton.
Hopeful for a draw but I think we'll get beat tomorrrow as it's far too early for our new boys to play.
Hope I'm wrong. Full support. 💙
Andy King
52
Posted 10/08/2018 at 12:07:05
First game back, at home against a beatable (in their mind) team and their fans being hammered with the late kick off means Wolves will come flying out of the blocks...
Obviously Everton take the lead in the first half hour through a fantastically executed counter attack! Tell the defenders and most of the midfield to concentrate solely on defending. Leave Walcott, Richarlison and Tosun (set away by quick balls from Sigurdsson and Pickford) to do the business. Weather the storms either side of the half then finish them off in the last half hour. Wolves will inevitably tire after their all-action start leaving opportunities for our subs to score. Niasse gets his first of 10 super-sub goals this season and Bernard lights the place up with a 25-yard screamer in the 90th minute. Easy peasy, lemon squeezy!
Considering the situation with new signings and playing a pumped-up team play a little deeper than Silva would normally. This would actually leave more room for a front 3 to operate in as long as we keep them involved. None of our front 3 should come any deeper than the halfway line to keep their defenders occupied.
Due to a lack of match fitness I'd only start Digne and Richarlison with Bernard and Zouma, (is he our player?) on the bench. If Zouma isn't our player then our centre back cover isn't great. Digne looks a better out-and-out defender than Baines which would fit the/my tactics for this game. The deeper back line would also (hopefully) help cover the frailties of Jagielka and Keane at the back.
Pickford
Coleman, Keane, Jagielka, Digne
Gueye, Schneiderlin
Sigurdsson
Walcott, Tosun, Richarlison
Subs: Stekelenburg, Zouma (or Feeney), Martina ('kind of' covers both full backs), Davies, Bernard (or Dowell), Lookman, & Niasse
Mark Taylor
53
Posted 10/08/2018 at 12:07:06
I can't see how any of the most recent recruits can start. Managers just don't chuck players into a team without having a bit of time to work with them, even if they were match fit- which they almost certainly are not. This is one of the drawbacks of doing our business so late, however exciting yesterday was.
I think we'll just have to go in with what we finished with last year, plus Richarlison. And maybe with a system that makes more of Siggy.
That means we will be stuck with the Keane/Jags combo that alarms us all so much, and with Schneiderlin quite possibly stinking up midfield again.
On the upside, Wolves have the same issue in integrating new players plus this is after all a step up for them, albeit one I can see them managing better than most. Also while our new signings won't play, one cannot underestimate the value of the feelgood factor created by a sense your club is being dynamic and forward looking. That might just make a difference, just as I can imagine Man U maybe struggling tonight, faced with almost exactly the opposite scenario.
I'd take a draw quite happily and see the new faces in maybe a fortnight or so, assuming we avoid alarming collapses in the meantime.
David Pearl
55
Posted 10/08/2018 at 12:29:32
John, the thing is, l could smell a mile away last season would be a disaster.
The last few days has changed the feeling around the club. We have real quality options now, we haven't gone out and bought 3 of the same player. There is a balance to the squad... and l trust Silva can get the best out of them. Everyone's been given a lift.
You might remember how many injuries we had last season to crucial players. Wolves will be a tough game tomorrow; they possibly would've finished top ten in the Premier League last season.
We have good players too. The game against Valencia highlighted where we're at perfectly. Not too shabby going forward but shaky at the back. I'm more confident this time around than the last few seasons — that's for sure.
Derek Turner
56
Posted 10/08/2018 at 12:42:17
Thing is, we are the ones getting murdered on the counter. Rennais ran rings around us when the full backs went up. Can Silva make a plan? If we have the same back 4 then we are in for it with a high line.
Chris Watts
57
Posted 10/08/2018 at 12:50:47
Kurt Zouma' Wiki page says he joined Tranmere Rovers on loan yesterday!!
Dale Rose
58
Posted 10/08/2018 at 12:54:38
I honestly think it's going to take at least a month for the new set-up to bed in. What we do have is a new era and a new confidence. That was so important.
I would be happy with a draw. This is a long-term project and won't bear any fruit until next season.
I do think that we will be challenging hard for the top six this season and causing upsets all along the way.
COYB.
Frank Sheppard
59
Posted 10/08/2018 at 13:28:26
Great pre-match assessment. Nice to see a thread of comments up to the mid 50s, without it being predominantly negative – long may it continue.
Graham Hammond
60
Posted 10/08/2018 at 13:37:18
Adam @29. I will be interested to see whether Baines or Digne start against Wolves. Although you suggest Baines is not a great defender (presumably lacking ability to close down particularly on crosses) and I would agree with this wholeheartedly as much as I like the guy, were you actually impressed with Digne against Valencia?
I thought that Richarlison did much better combining with Baines in the first half than he did in the second when combining with Digne. Obviously very early days but I did not think Digne and Richarlison gelled at all well and we were not a threat whatsoever going down the left that day in the time they were on the pitch together.
I liked the fluid movement of Digne and the lad obviously has a degree of pace but positionally I thought he struggled which I found surprising and a little worrying. Hopefully, he will find his feet.
John Dean
61
Posted 10/08/2018 at 13:39:56
I'd start Mina even if he hasn't brought his boots.
James Marshall
62
Posted 10/08/2018 at 13:50:23
Mina was still in Barcelona yesterday. I wouldn't pin your hopes on seeing him play tomorrow.
Frank Wade
63
Posted 10/08/2018 at 13:54:19
Listening to the Press conference just now, Marco Silva has confirmed none of the recent arrivals will play tomorrow.
Harry Hockley
64
Posted 10/08/2018 at 13:57:50
It will be interesting to see if we throw Mina straight in the backline since the centre back positions are most vulnerable at the moment and in dire need of freshening up.
Lee Paige
65
Posted 10/08/2018 at 13:58:46
Makes me cringe that none of our new boys will be involved tomorrow but expected it in all honesty.
Mike Benjamin
66
Posted 10/08/2018 at 14:08:19
Silva has just said that neither Mina nor Gomes will be involved, partly out of respect for the existing players.
John Dean
67
Posted 10/08/2018 at 14:08:26
Doh!
Jay Wood
[BRZ]
69
Posted 10/08/2018 at 14:31:26
EXCELLENT no nonsense, no fluff, presser from Marco Silva.
You need to skip through to 13:00 minutes for Marco's entrance.
The gist of it is:
* Zouma is done. It's just a matter of time today before confirmation.
* NO option to buy on Zouma or Gomes.
* The TDD recruits will NOT feature against Wolves for two reasons:
1) no time to bed them in. Some of them aren't yet in the country!
2) out of respect for the existing squad and players who have trained and worked hard in pre-season
* Once the new players are on board, they will have to get up to speed with what Silva wants and then earn their places in the starting XI on merit
* When asked about the CB situation and in particular Jags, Silva shrugged. 'Nothing has changed. We sold Funes Mori, loaned Williams and so needed two new CBs to replace them. Everton even hired Managala in January, so nothing changed.'
* He described other new recruits in similar ways. 'We needed a new left back as last season we only had Leighton. Kevin Mirallas is loaned out, so we needed a new wide man in Richarlison. Gomes represents a good opportunity for us in a difficult market.'
* Interestingly, when talking about Bernard, Silva said: 'Bernard can play wide left, right, or centrally. He gives us something different from Gylfi and Kieran.' He actually mentioned Kieran twice in the interview, which must encourage the lad.
* When asked about why the Mina deal took so long, Silva again was very matter-of-fact. 'That's the market. Players who want to play in the PL want a lot of money. Everton has to compete with that.'
* He acknowledged things were more complicated because of the WC and the early closing of the window. He was full of praise, specifically for Brands and the owner Moshiri, and named others involved in deals as well (with a passing reference to the chairman, without naming BK).
* He gave another very Portuguese shrug of the shoulders and downturned mouth look when asked about the collapse of the Besic deal and the possibility that other players may still leave on loan before the end of the month. 'I really don't know the details. The deal looked on, but then wasn't completed for some reason, between the club, the player, the agent. We will respect all players who are still our players.'
The above is not a verbatim report, just a paraphrasing of what I recall across a near 15 minute interview.
Very refreshing listen.
** Quick addition. Forgot to say he was also asked about Lookman and said he is our present and our future. He is our player and we will be working with him to improve him.
Shane Corcoran
70
Posted 10/08/2018 at 14:33:02
Who's the captain?
Harry Hockley
71
Posted 10/08/2018 at 14:34:19
I'm hearing Gomes is out for at least 3 weeks, it's a great chance for Scneiderlin to actually make an effort now before it's too late which in my opinion it could already be.
With that being said it's still a last chance for him to prove he wants to be part of the team and with all the new blood coming in he can use that as an incentive to perform well and give 100 percent, for me though the Gana-Schneiderlin partnership looks like it offers very little.
Mike Gaynes
72
Posted 10/08/2018 at 14:36:51
So according to Silva all the speculation here about Mina stringing us along was wrong, and he was always eager to be a Blue. I'm sure some here still won't believe it, but I do. Looking at Mou's gloomy basset hound face yesterday, he really wanted a CB, and Mina was the one they were in for, but we got him.
Pleased that Gomes says he's "working his ass off"... if he's able to work, that means the injury wasn't as bad as I feared, or as first reported by the Barca media. Good news.
Adam #29 and Paul #35 and others, I still think Baines will start tomorrow. We'll see.
Lee #65, I'd expect to see Zouma soon enough. None of the others will be game-fit for a while. As I mentioned on another thread, we'll all need to be really patient through the first few bumpy weeks until everybody's fit, integrated and on the same page.
Mike Gaynes
73
Posted 10/08/2018 at 14:41:23
Harry Hockley, Mina isn't remotely ready, hasn't played or practiced with anybody in six weeks and likely hasn't even met his teammates yet. And FYI Gomes is not competition for Schneiderlin. He's an attacking mid, not a holding mid at all.
Dick Fearon
74
Posted 10/08/2018 at 14:42:11
My one and only trip to Molyneux was in the 50s on a rickety old football special sans corridor and toilets. It was mind numbingly cold and misty as we made our way to the ground. Thanks to a previous visit from our dear RS neighbours we found all bar one pub plus local shops and eateries were shut.
To cap off a totally miserable day the mist turned into a pea souper and the ref had to call off the game.
Stu Gore
75
Posted 10/08/2018 at 14:45:52
If Baines doesn't play
who is on Pens?
#HowToManageEverton-Rule1
Baines on Pens.
Lenny Kingman
76
Posted 10/08/2018 at 14:50:20
#33
The Walkabout pub was a designated away fans pub last time I was in there some years ago. Bouncers on the door to keep out any stray wolves. Not far from the station heading up into town and on the way to Molineux.
Mark Tanton
77
Posted 10/08/2018 at 14:51:06
What's the feeling on Besic? Did he turn down a chance of football for financial reasons?
Pat Kelly
78
Posted 10/08/2018 at 14:59:09
We'll line up much the same as in pre-season and play the same disjointed game trying to keep the Wolves from the door and failing to fire up front. It's going to take time to shape a fit and cohesive team out of all the new arrivals so not expecting much for a few weeks.
Chris Gould
79
Posted 10/08/2018 at 15:01:27
Mark, his agent certainly did.
However, how many of us would uproot our families to begin work at a lower level company for far less pay?
He can still get a loan to Boro and get paid his current contract with us paying the difference. How long does he have left on his contract? It makes more financial sense for him to run it down and go on a free. Frustrating for the club though as £6 million was a great deal.
Frank Crewe
80
Posted 10/08/2018 at 15:08:51
It's hard to weigh this game up because the side that gets the nod tomorrow will be a lot different to the side that gets picked in three or four weeks. The side named in the OP seems as good as any until our new signings get up to speed.
One thing I would like to hope for is that some of our current players, in particular Shneiderlin, Sandro, Davies may improve their own performances if they have better players around them. I still have hopes that all three of them can do well at Everton given the right conditions. Hopefully the new manager and signings can help that. Shneiderlin is a class player if he can get his head right and Sandro could be that £20 million quid steal we got for £5 million. I wouldn't write them off just yet.
Mike Gaynes
81
Posted 10/08/2018 at 15:09:41
Maybe so, Chris, but Everton is certainly under no obligation to loan him out again. And mouldering on the bench for months doesn't make much sense for your career when you're 25 and could be increasing your value on the market. This could wind up costing him a lot of money on his next contract.
Mark Tanton
82
Posted 10/08/2018 at 15:13:15
Chris I don't disagree with you at all, I was just thinking about his motivations and what was going on with him.
Scott Hall
83
Posted 10/08/2018 at 15:13:44
So Silva has confirmed in his press conference that only Richarlison and Digne will be fit (match-fit) and ready to play. It's a shame as even a cameo from Bernard would have been exciting.
I am taking this positive... hopefully this will be the last time we see the panicky, slow, sideways passing Jagielka/Keane defence anchored by the painfully lethargic Schneiderlin playing just in front, followed by the gaping hole in the middle of the park, and then our front three 200-yards further on.
Let's hope the front three are really on it and that we can at least score as many, but hopefully one more, than Wolves. Their midfield will certainly dominate ours but our attack is stronger if they are up for it.
Chris Gould
84
Posted 10/08/2018 at 15:14:20
True, Mike, but it makes no sense financially for the club to punish him. Send him out on loan to a club willing to pay half his wage, and we're saving £1.25 million. Money needed towards Bernard's huge contract.
Dave Abrahams
85
Posted 10/08/2018 at 15:22:50
Jay (69), thanks for that information especially your last paragraph, you had already said Silva had mentioned Dowell twice so I was wondering where Lookman fitted in, pleased with that. Thanks again.
Mike Gaynes
86
Posted 10/08/2018 at 15:26:58
I wasn't thinking about punishment, Chris. I was thinking about the possibility that for that £1.25 million (which is chump change in today's market), Silva might just keep him in the squad as a reserve against injuries or another Schneiderlin collapse.
And even if we do loan him out, it wouldn't necessarily be to Boro, and there'd be no guarantee he'd find another situation so perfect for him. So I think unless he has an agreement with the club about another Boro loan, he may have made a foolish decision.
Harry Hockley
87
Posted 10/08/2018 at 15:27:04
Mike Gaynes, actually no he can operate anywhere in the midfield including a deeper role if necessary and fyi he was bought by Barca as a possible replacement for Busquets.
David Hallwood
88
Posted 10/08/2018 at 15:37:08
Whatever the line-up I only hope that we don't start like we've walked out of an opium den like last season. We've got to be at it from the first whistle.
Mike Gaynes
89
Posted 10/08/2018 at 15:40:34
Yep, Harry, I know... I see every Barca game. He pretty much flopped as a Bousquets deputy. Doesn't mark well, can't tackle. He performed much better as Iniesta's relief at the number 8 spot, which is also where he played for Portugal when they won the 2016 Euros.
Of all our new signings, however, he's the one I'm least excited about. For all his versatility and great touches, he has always seemed a step slow to me. And I think it's no coincidence that he didn't make the cut for Portugal's World Cup squad.
Chris Gould
90
Posted 10/08/2018 at 15:49:04
I don't think Besic will be kept, Mike. Silva wants to work with a smaller squad and he was obviously one that Silva didn't feel we needed. But, yeah, it could work out less favourably for him.
Just read your previous comment about Mina. I agree entirely and believe that he would have come as a double deal with Digne if Barcelona hadn't heard about Utd's interest. They were hoping to drive his price up. It is clear that Richarlison, Bernard, Digne and Mina have all come to play under Silva. I expect they all discussed it with each other before they agreed to the moves. Brands mentioned the South American market when he first arrived. These are not last minute panic buys. There has been a plan, and Brands has led it like a General.
I also believe that Bernard and Mina were agreed days ago but saved for the excitement of TDD. Sky pay the clubs a huge amount of money for entertainment and TDD is a highlight for them. Announcing deals a day or two in advance would spoil their fun.
Harry Hockley
91
Posted 10/08/2018 at 15:49:13
Here's my defensive team:
Pickford
Coleman Mina Zouma Baines
Gomes Gana
Bernard Sigurdsson Richarlison
Tosun

Anthony Hawkins
92
Posted 10/08/2018 at 15:58:11
Some of these teams may well be true for future fixtures but it's unlikely Silva will swap out more than half the team for a game in one days time.
The players need to get to know each other and learn to function as a team. If we play all our new players tomorrow it'll be as a collection of individuals.
...then there's a small matter of captaincy.
It'd be great to play our strongest team based on specific players but I suspect Silva will go for team strength first, then introduce the newer players in the coming weeks.
Harry Hockley
93
Posted 10/08/2018 at 15:58:57
Mike (#89), You probably watch more Barca than I do so I'm all ears as to what your saying there and thanks for the information.
Either way, I think Schneiderlin needs to pull his finger out seeing as his still gonna be in and around the team for the next few games or longer, I'd like to think he'd perform a bit better.
Tommy Surgenor
94
Posted 10/08/2018 at 15:59:53
Anthony #92
I actually had the same thought as you.
Once everyone is fully fit and trained as to what is expected of them; Baines/Jagielka may not be on the pitch so there will be a new Capt. I hope Seamus gets it.
Harry Hockley
95
Posted 10/08/2018 at 16:03:13
Anthony, that's my mock up team I know that it won't look nothing like that for a while or at all for that matter just a thought what if like to see play.
Jim Potter
96
Posted 10/08/2018 at 16:05:45
Zouma has joined officially, still can't see him starting tomorrow.
Let's get off to a flyer!
Mike Gaynes
97
Posted 10/08/2018 at 16:11:35
Tommy, hard for most of us to imagine anyone else getting the armband.
Remember, though, Silva is starting from ground zero with these players, not judging on history. He may look at Sigurdsson's leadership skills -- four years captain for Iceland, two years for Swansea -- and give it to him.
Jim Potter
98
Posted 10/08/2018 at 16:15:20
Sorry Mike, I can see where you're coming from, but Silva will know that Seamus is a fan favourite, captain of Ireland and a Blue through and through. Add to that his will to win, footballing intelligence and passion - and he will be our next on field captain.
Harry Hockley
99
Posted 10/08/2018 at 16:15:30
Seamus deserves the captaincy, would be a great leader.
Anthony Hawkins
100
Posted 10/08/2018 at 16:16:59
@ Mike - I full advocate a midfielder having the armband. Defenders and strikers are usually too far adrift to communicate effectively. Ultimately there should be leaders in every area of the pitch.
Chris Gould
101
Posted 10/08/2018 at 16:22:10
I'm feeling very excited about the type of football we're likely to be playing. I don't think many on here can complain about the players we have brought in.
However, I have this nagging concern that if we have a great season then 4 of our new signings could leave and there would be nothing we could do about it. 2 loans without options to buy, 1 player with a buy back clause, and another with a fairly low release clause (reportedly).
I hope we're not simply being used as a shop window as this season is about getting the foundations right, and we don't want to have to start again next summer.
Merle Urquart
102
Posted 10/08/2018 at 16:22:11
Whilst happy with the signings, the reality is that starting tomorrow with the unworkable unfixable Schneiderlin - Gana axis coupled with Jagileka - Baines and also that we don't 'do' away games alas means certain defeat. Negative, I know, but realistic.

James Lauwervine
103
Posted 10/08/2018 at 16:31:12
Not sure who exactly is available but this could be the team before long:
Pickford
Coleman Zouma Mina Digne
Gomes
Walcott Bernard Sigurdsson Richarlison
Tosun
Jim Potter
104
Posted 10/08/2018 at 16:35:55
Merle, if we keep yesterday's thinking, we really will be screwed.
It's a shame our signings came so late and won't feature, but Wolves have to incorporate a load of new players and that won't be easy. They'll have pressure to win at home.
I like Silva's 'can do' attitude. We have to give him time to get the players playing his way and we can't jump all over them at the first (or even tenth mishap). It's going to take time.
All the new guys predominantly came for him. A guy they want to play for. If we have an improved season and start to play attractive football, maybe make Europe, more players will want to come (and existing ones stay).
New thinking. New players. New style. A bit of luck. Maybe a fun season ahead?
It's just got to be better. Fact!
Mike Gaynes
105
Posted 10/08/2018 at 16:45:36
Don't get me wrong, Jim, I'm all for Coleman as captain. Richly deserved.
I'm just saying it's not necessarily a done deal.
James Doran
106
Posted 10/08/2018 at 16:45:46
Keane, Jagielka, Baines and Schneiderlin all in the starting 11 again can't happen.
Jim Potter
107
Posted 10/08/2018 at 16:47:56
It can James; Barcelona's line up in a few weeks!
Merle Urquart
108
Posted 10/08/2018 at 16:51:20
I sincerely hope you're right Jim, pre-season suggests a different outcome though, that said getting these new lads into the side and more importantly getting the problem players out is something to look forward to in the next few weeks.
Would love to see us take the game by the scruff of the neck tomorrow and have a go.
Anthony Hawkins
109
Posted 10/08/2018 at 17:09:47
Let's not delude ourselves. The first game of the season is likely to be more of the same. Things can only change once the new members are up to speed.
Dave Hutchinson
110
Posted 10/08/2018 at 17:10:58
Thanks Lenny, will give The Walkabout a try. COYB.
Anthony Hawkins
111
Posted 10/08/2018 at 17:27:45
I'm hoping Richarlison, Lookman and Walcott are all employed tomorrow. Imagine that attacking force!
Darren Hind
112
Posted 10/08/2018 at 17:30:21
This Wolves team is one of the best to come out of the championship for years. I fully expect them to finish top half, but if the arrival of £100m worth of talent wanting to relieve our boys of their shirts doesn't motivate them we may be seeing the new boys quicker than we think.
You never want to play the newly promoted teams early on, but I agree with Lyndon. It'll hardly be the end of the world if we lose.
A win tomorrow would be a fantastic result and would really put the cat amongst the pigeons at Finch Farm. Even the new boys would know they will have to fight to get in the team.

Competition for places! Alleluia
Chris Gould
114
Posted 10/08/2018 at 17:54:50
I agree, Darren. Wolves look strong and are definitely better prepared for tomorrow. They will also be bang up for it. A return to the Prem in front of their home crowd. We're going to try and spoil their party, but I would be very happy with a draw and a real effort from our boys. Whatever happens tomorrow, it's going to get a lot better in the next few weeks.
Brian Williams
115
Posted 10/08/2018 at 17:59:43
None of the deadline day signings are in contention for a place, which is not surprising.

May take flak for this but I'd settle for a draw and then have a week for the newcomers to train etc and have some involvment for our first home game.
Kieran Kinsella
116
Posted 10/08/2018 at 18:05:30
Bernard -- if his contract expired 30 June, what has he been doing for the last six weeks? Has been keeping fit training with a club a la Jack Rodwell, or has he been hanging out in Brazil? Either way he hasn't had a proper pre-season. Similar situation to when we signed McGeady in that respect and it took him a long time to get matchfit -- if he was ever fit at all
Grant Rorrison
117
Posted 10/08/2018 at 18:17:01
Shame about the new players. Surely not playing someone on the grounds that they don't have a clue about Silva's method's would exclude most of our current squad from starting on the evidence of the pre-season results/performances? :P
While massive changes are never a good thing I would have liked Zouma to have started personally. Given the alternatives.
Here's hoping we get off to a great start tomorrow. 2 nil to the blues.
Kieran Kinsella
119
Posted 10/08/2018 at 18:26:24
Jay Wood (BRZ) 69
Not sure about the importance of name checking Dowell as Silva name checked Mirallas and Besic (along with Dowell) a few times in Portugal. Then as now, he talked in terms of other people offering "alternatives." At that time, I took "alternative" to mean someone as a back up to the main man. Given events since (Mirallas gone, Besic almost gone) I suspect "alternative" means "someone better than the existing player."
Also, on the whole number 6 thing. He has said said times "IF Schneiderlin is the number 6." The IF implying he is far from certain. But if Schneiderlin is a 6, what exactly is Gueye? Is he also a 6? He certainly isn't a 10, 11 or 7. If Barkley, Gomes and Arteta are examples of an 8, he doesn't fit that profile either. So what the heck is he?
Another thing, he has been referring to Lookman as an "important player" although he goes on to talk about having to improve him. He also referred to Walcott as an "important player." Does he use that word in the same way as Martinez (Atsu is an important player) or Moyes (Gueye is important, he is our secret weapon) e.g. they're pretty crap but he have them as a Hail Mary option but we want to keep them happy by saying they are "important".
Fran Mitchell
120
Posted 10/08/2018 at 18:43:37
Tomorrow I expect debuts for Digne and Richarilson, substitute appearence for Lookman, and maybe Dowell.
Pickford Coleman Digne Jagielka Keane Gueye Schneiderlin Sigurdsson (Dowell 80'') Richarilson (Lookman 70") Tosun Walcott
Deoending on how its going, chances for niasse or Davies
Oliver Molloy
121
Posted 10/08/2018 at 18:55:37
I fully expect Wolves to win on their return to the premier league.
I hope I'm wrong and we get a result but it will no surprise to me if we lose.
I'm Just not convinced our lads will be up for it as much as Wolves definitely will be.

Eric Paul
122
Posted 10/08/2018 at 19:06:42
I fully expect Everton to win every game they play
Eric Paul
123
Posted 10/08/2018 at 19:48:47
Derek
How can he have an opinion on any contentious issue, for me his position is untenable regardless of his allegiance
Marcus Taylor
124
Posted 10/08/2018 at 20:13:00
Saw a stat on Twitter earlier. Everton have only beaten promoted opposition on the opening day of the season twice* in sixteen attempts (both wins were at Goodison). Time to re-write history tomorrow and win away!
* 5-2 vs Northampton in 1965/66
* 2-1 vs Watford in 2006/07
Mike Allen
125
Posted 10/08/2018 at 20:24:24
Just watched the press conference, Marco comes across very well – a breath of fresh air after the last three wafflers. I think the fans will take to him. I hope that he relates to the players just as well. I noticed Dowel mentioned a couple of times without any prompting.
Harry Hockley
126
Posted 10/08/2018 at 21:52:01
Brilliant work by Silva and Brands since they came here, been a breath of fresh air, so nice to see Brands building on the good relationship we have with Barca.
He obviously knows his way around the transfer market and is well respected which bodes well for the future for us and nicking more Barca players :)
I'm very excited for the season ahead, time to get behind the the manager and the team were back in the big league and no more boo boys!
John Pierce
127
Posted 10/08/2018 at 22:05:17
I'm expecting us to win tomorrow, too much respect being paid to a newly promoted club, who have often been terrible in the premier league.
I'm believe the clear deficiencies we have in the back line are ripe for exposure, however showing an attacking intent should help alleviate that weakness.
If we sit back we are asking to be punished, Silva has promised an attacking side and that's what I want to see. The edge of my seat is still shop ready, whilst the back is almost worn through.
Digne over Baines I'm afraid. We all adore Leighton but to my eye he has faded badly after 50/60 minutes in the pre-season games.
Leighton should seek a move in January, I hope to US.
3-1 to the snidey South America Toffees.
Amit Vithlani
128
Posted 10/08/2018 at 22:14:33
Judging by tonight's game, and thinking back to the World Cup, I am expecting tomorrow to be a high tempo, high intensity match.
Fitness levels will be key especially if its warm.
Fingers crossed.
Paul Mackay
129
Posted 10/08/2018 at 22:32:32
Talk that Gomes can't play Schneiderlin's role.
The point is that Schneiderlin doesn't seem to perform any role in the team, he's not quick or mobile enough, he can't get the ball forward quickly enough and offers us nothing.
My hope is that we only play one holding mid in Gana and play Gomes or another as an 8.
James Flynn
130
Posted 10/08/2018 at 22:34:47
Same as always.
Defend as a Team. Get that ball and attack, attack, attack.
Same as always.
COYB
Jerome Shields
131
Posted 10/08/2018 at 22:52:23
Silva saying that the new signings will not play, except possibly Digne and Richarlison, has put paid to my "hit the ground running" start.
But maybe Silva's original idea of competition for places will focus a few of our comfortable, "I am doing nicely" squad members, to put a bigger effort in.
If Everton come away from this game with team members obviously not putting an effort in, we will know the problem was that they were stupid all along.
Andy Finigan
132
Posted 10/08/2018 at 22:52:51
Just sitting here with a glass of wine and wallowing in hope and gratitude for a great window... then my thoughts turned to Steve. Hope we can do you and your dad proud this season.
Derek Knox
133
Posted 10/08/2018 at 22:56:01
Paul @131, what is Schneiderlin's role?
It's very rare that I don't take to, or support an Everton player, but him and Martina, I just can't, they are basically robbing a very good living off Everton, and getting away with it.
Neil Copeland
134
Posted 10/08/2018 at 23:03:25
I think we may find out tomorrow which of our existing squad really want to play for us. If, given all the new recruits, they don't turn up tomorrow that will be the beginning of the end for them surely and if they don't know that now they never will. So, I am expecting a much improved spirited performance and fully expect us to come away with a point at least.
Stephen Williams
135
Posted 10/08/2018 at 23:50:48
I've seen it all now, not only predicting the line up but also the personnel and times of the substitutions! Funny!
Until the new lads are match fit (and that will happen at different times), we'll have to make the best of last season's squad plus Digne and Richarlison.
My concerns aren't really about the line-up, more the formation / tactics. Silva clearly wants his full-backs to press high and become auxiliary wingers but that leaves us wide open to a counter-attack in the space vacated (Premier League teams would love that).
This happened countless times in pre-season. This tactic makes it even more important for the holding midfielder to be disciplined and sit it, be vigilant and cover the out-of-position full-back. In fact, I can't see it working without having two 'sitters' to cover not only the full-back but also the run of the opposition's attacking midfielder.
Therefore, I suspect that most of the formations suggested appear flawed as the midfields suggested have an overallocation of attacking players; the balance (with two high full backs just isn't right).
In Silva's system we'll need more cover otherwise we'll just get picked off at random. A dedicated holding midfielder who doesn't venture outside of his midfield arc plus another who is happy to curb his otherwise attacking instincts appears a must to make the system work. Without this, we'll struggle massively.
Mal van Schaick
136
Posted 11/08/2018 at 00:11:00
I agree with 3 Victor. Jags n Keane a problem. Hoping for a positive result.
New players need to blend in ASAP.

Tony Twist
137
Posted 11/08/2018 at 00:23:14
Let's hope the professional way we have conducted ourselves in the transfer market continues on the football pitch but I doubt it very much. We will be canned. Prove me wrong Everton.
Gavin Johnson
138
Posted 11/08/2018 at 00:26:35
It will be a tough test tomorrow. Wolves are owned by a Chinese billionaire who has invested accordingly. I'll put my neck out and say they're the best newly promoted side since Leeds United who we also played on the opening day of the season many years ago when Nev did his infamous half time goal post protest.
It's a shame that we won't see any of the new signings. I should imagine that Zouma will play in the next game and Mina might get on the bench, but Bernard and Gomes need a few weeks. The former having no pre-season and Gomes injured.
My team for tomorrow would be -
Pickford
Coleman, Jags, Keane, Digne
Gana, Sigurdsson, Davies
Walcott, Tosun, Richarlison
The team pretty much picks itself until the new players are integrated.
Mike Gwyer
139
Posted 11/08/2018 at 07:02:24
Jags and Keane will not happen, four pre-season games was enough for Silva and the 3000 Everton fans at Blackburn. Either Mina or Zouma, but preferably both, will play.
Gana will constantly hassle the Wolves midfield, hopefully Morgan will have a proper game and will get the ball out wide, where we have players who will give them plenty to think about.
Derek Turner
140
Posted 11/08/2018 at 08:38:08
Quite a good read for anyone else who is trying to kill time before kickoff.
http://sport.bt.com/football/wolves-v-everton-live-stream-tv-channel-kick-off-time-odds-key-stats-how-to-watch-premier-league-clash-on-bt-sport-S11364285894260
Andy Meighan
141
Posted 11/08/2018 at 08:47:32
I'd like to see this side start:
Pickford
Coleman Digne Keane Zouma
Gueye Richarlison Sigurdsson
Lookman Walcott Tosun
Enough pace up top there to worry any back line But most definitely I think it'll be:
Pickford
Coleman Digne Jagielka Keane
Schneiderlin Gueye Sigurdsson
Walcott Richarlison Tosun
The centre-back pairing doesn't fill me with any confidence whatsoever; and as for the defensive midfield pairing of the other two... words fail me.
Schneiderlin has had maybe 5 good games since he's been here and how he warrants a place in the side leaves me flabbergasted. I just hope Silva sees through this phoney fucker and his sideways and backwards passing as quickly as possible before it's too late.
A draw today — I'll take that.
Matthew Williams
142
Posted 11/08/2018 at 11:09:45
All I ask for from this season's football is fun, joy, memories & a Cup.
Just to see Seamus lifting a trophy for us at Wembley would be perfection!
Bill Griffiths
143
Posted 11/08/2018 at 11:17:33
I do not know how things will go today but I hope that if things do not go well there will not be numerous posts on here calling for Silva's head.
We will need a few weeks at least to see how things are progressing
Karl Jones
144
Posted 11/08/2018 at 11:23:56
I'll just be happy if we show we can compete in the way Leicester did last night. They never gave up and did very well at one of the PL favourites. Showing a strength and refusal to lie down is the bare minimum we should expect at this level. Also, cutting out the stupid game changing mistakes.
Merle Urquart
145
Posted 11/08/2018 at 11:41:21
Mike 139
"Gana will constantly hassle the Wolves midfield, hopefully Morgan will have a proper game and will get the ball out wide"
Without being facetious this won't happen, Gana may have a bit of work rate in him but he can't pass the ball five yards and l wouldn't piss on schneiderlin if he was on fire
Derek Thomas
146
Posted 11/08/2018 at 11:58:05
Merle, I seriously doubt if Schneiderlin has a regular decent game in him any more. He was only kept on to make the numbers up in case the incomings fell behjjnd the out goings...which they didn't...Brands did the biz
Schneiderlin won't be here this time next year, maybe not even in Jan...and if were really lucky he'll go abroad before the 31st.
James Hughes
147
Posted 11/08/2018 at 12:08:39
Our away form has not been good for the past couple of years but the real stuff begins today. I have Silva down for working his magic and take at least a point home.
Kim Vivian
148
Posted 11/08/2018 at 12:11:42
This is three points today lads. Cup Final for Wolves but we'll just get on and do the business I fancy. 2-1 is my shout.
And hello again to all. Hope you're all having a good summer.
George McKane
149
Posted 11/08/2018 at 12:14:35
Happy Christmas to All Blues - - hope you all enjoy seeing your wonderful "presents" once they are opened.
I have just returned from a wondrous journey through Northern France - - Honfleur(Erik Satie's House) - - Chartres - - went to Sunday mass (not religious - - but floated some thoughts and waves into the astral for some of our TW Brothers who have suffered lately - - was last in Chartres Cathedral for mass in 1963 with Cardinal Godfrey - - had a look out for John Keating - - think he was in confessional box)
"Can I see anothers woe,
And not be in sorrow too.
Can I see anothers grief,
And not seek for kind relief.
- - was at Versailles and Orleans and Troyes - - in search of The Maid, Arthur and Lancelot Du Lac - - much needed warmth and cultural solace after last years cold and stiffling mediocrity - - I needed to rid myself of "Allardycian pox" and cancer cells that were both eating away at my spiritual and physical psyche - - I took my iPad and kept in touch with TW and BluesNews and wrote a small comment to my fellow sufferers on another thread while sitting in the gardens of Troyes - - and believe it or not was near the Monastery where St. Bernard of Clairvaux wrote his thesis about the "meaning of life" and then, of course, joined Everton - - we are indeed "chosen".
So now, on this Saturday morning, sitting in my writing room at the top of my House in New Brighton with Blue Skies above, The River sparkling like champagne outside my window reflecting light and brightness into my very soul and from my side window the roof of Goodison and in the foreground on the side of the Royal Blue Mersey our new Blue Heaven and to my right The Blue Liver Buildings and believe it or not just up the road the A41 leading to A50 and onto Wolves - - I remember going to Wolves when Peter Knowles was playing and stopping at The Half Way House in Newcastle Upon Lyme - - it's around 10.00am - - The Light is Shining Through The House - - bathing me, cleaning and soothing me in preparation for my/our new start (washed by Piero Della Francesca - - another great Evertonian) - - take a minute - - pause: Let some music float in the morning air mixing with the smell from The River and The Garden (all windows open) - - like sound and perfume swirling in the morning air
"There's a reason
For the sunshine day
There's a reason
Why I'm feelin' so high
Must be the season
When that love light shines all around us
So let that feeling
Grad you deep inside
And send you reeling
And let your love show
And you'll know what I mean
It's the season
Let your love fly
Like a bird on the wing
And let your love bind you
To all living things
And let your love shine
And you'll know what I mean".
Feels good to be back - - up and ready for this season - - had a tough time first half of this year - - health and the abject misery that was in the Goodison air - - even the cobwebs were miserable - - now I see them with the sun shining through them like Golden Necklaces to be work around our beautiful Blue necks like Greek Gods walking in The Fields of Ambrosia.
This indeed feels like a new start. Message to some of those so called "experts":
You may write me down in history
With your bitter twisted lies and laugh
You may tread me in the very dirt
but still
Like Dust
We will rise (Thanks to Maya Angelou)
For me it's been a tough summer but I have missed Everton and TW and have loved the last few days - - I had needed to fins my own "posso waves" and I did - - with your help - - Dave, John, Laurie, Steve and many others:
"If not for you
Babe, I couldn't even find the door
I couldn't even see the floor
I'd be sad and blue, if not for you
If not for you
Babe, the night would see me wide awake
The day would surely have to break
It would not be new, if not for you
If not for you, my sky would fall
Rain would gather, too
Without your love I'd be nowhere at all
I'd be lost, if not for you
If not for you
The winter would hold no spring
Couldn't hear a robin sing
I just wouldn't have a clue, if not for you
If not for you, my sky would fall
Rain would gather, too
Without your love I'd be nowhere at all
I'd be lost, if not for you"
So I am just about ready to go - - more next week for the First Home Game - - of course.
"To Hyndford Street, feeling wondrous and lit up inside
With a sense of everlasting life
And reading Mr. Jelly Roll and Big Bill Broonzy
And "Really The Blues" by "Mezz" Mezzrow
And "Dharma Bums" by Jack Kerouac
Over and over again
And voices echoing late at night over Beechie River
And it's always being now, and it's always being now
It's always now
Can you feel the silence?
On Hyndford Street where you could feel the silence
At half past eleven on long summer nights
As the wireless played Radio Luxembourg
And the voices whispered across Beechie River
And in the quietness we sank into restful slumber in silence
And carried on dreaming in God."
Its good to be back - - It's good To be A Blue - - it was wonderful to meet some of you in the summer break in The City - - should do it again:
"And when heart is open
And when heart is open
You will change just like a flower slowly openin'
And when heart is open
You will change just like a flower slowly openin'
When there's no comin'
And there's no goin'
And when heart is open
You will meet your lover
You will tarry
You will tarry
With your lover?
And when heart is open
You will meet your lover
When there's no comin'
And there's no goin'"
Love and friendship and camaraderie is a truly wonderful thing.
I am sending massive Blue Posso Waves Into The Astral for Blues Everywhere - - ma Joad knew it - - We Are The People.
Your friend - - sent with a firm handshake a la Vincent to Theo - - with an open heart and cosmic grooves all the way - - George.

Dermot Byrne
150
Posted 11/08/2018 at 12:29:34
You mad and fabulous man George. Is it amphetamine or just a pure soul?
George McKane
151
Posted 11/08/2018 at 12:34:12
Just let your Soul and Spirit
Fly
Into
Into The Mystic.
Never done any drugs in my life - - only in the last few months - - at comimg up to 69 years old -- am I now on Prescription for Drugs - - It All Soul Man:
Say it's all right, it's all right
Say it's all right, it's all right
It's all right, have a good time
'Cause it's all right, whoa, it's all right
We're gonna move it slow
When lights are low
When you move it slow, it sounds like more
And it's all right, whoa, it's all right
Now listen to the beat
Kinda pat your feet
You've got soul and everybody knows
That it's all right, whoa, it's all right
When you wake up early in the morning
Feelin' sad like so many of us do
Hum a little soul, make life your goal
And surely something's got to come to you
And say it's all right
Say it's all right
It's all right, have a good time
'Cause it's all right, whoa, it's all right
Paul Tran
152
Posted 11/08/2018 at 12:37:51
This is an opportunity for half this team to tell us that theyre worthy of the shirt.
Tough start against a positive team that's created some momentum. If some players want to play for us, they'll be starting some momentum of their own today.
Raymond Fox
153
Posted 11/08/2018 at 12:41:24
All the 'experts' are talking Wolves up, ie they will finish above us in the League table!
I'm expecting a tough afternoon, they have allegedly recruited well. I think we may do well to get a draw, but who knows? They are favs on the betting and I reckon anything can happen!
Here's hoping we get a pleasant surprise.
Jay Harris
154
Posted 11/08/2018 at 12:45:05
Keep taking the tablets, George.
Great stuff.
Brian Hennessy
155
Posted 11/08/2018 at 12:47:28
George, you absolute legend.
Dave Abrahams
156
Posted 11/08/2018 at 12:49:28
You are so right George it is pure soul with you, I hope, along with dozens on here I bet, that your holiday has improved your health, your mind and spirit are perfect, so I hope the team improves every passing week along with your health.
Remember Peter Knowles, brother of " Nice one Cyril", he had a great career ahead of him with Wolves and maybe England but threw it all away to become a Jehovas Witness, wonder what he is doing now.
Have a great day and hopefully season, best wishes George.
John Keating
157
Posted 11/08/2018 at 12:58:18
I think if Silva tries his pressing game with the team we have seen so far this pre season we are in for a long, long, evening.
Unfortunately I think to have any chance of a result we will have to defend deep and keep our fingers crossed.
Draw at best I'm afraid.
John McFarlane Snr
158
Posted 11/08/2018 at 13:15:47
Hi George, I trust that we will be able to renew our friendship in the near future, I thoroughly enjoyed our get together for my 80th birthday. I'm sure that the others, [Dave and Tony Abrahams, Peter Mills, Steve Ferns, Bill Griffiths, and Gerard McKean] would share the same sentiment.
I too experienced a difficult period earlier this year, dark days indeed, but I suspect that because of your positive attitude, you will be able to participate in many more 'Royal Blue Gatherings' I certainly look forward to it, hopefully Dave and Co feel the same.
Martin Berry
159
Posted 11/08/2018 at 13:30:52
We have done great business in the window but we need to get a grip of this game and that's a concern. I still think that our midfield is poor and reliant on Marco get extra from the present occupants.
Gomes, if in Valencia form, could be brilliant when fit and available.
Schneiderlin seems to lack pace and we need him tackling and picking out the wide men with his long passing.
Gueye seems to run around a lot but not produce anything.
Davies tries hard and is still learning his trade, I wish him well but he does give the ball away a lot, and here lies the problem in today's match.
If we control the midfield, our wide men should win us the game...
Steve Ferns
160
Posted 11/08/2018 at 13:32:55
Nice one George.
John, don't be fooled by pre-season. Here's a number of reasons why:
1. We only played one formation.
2. We trained on the day of games sometimes twice.
3. We didn't focus at all on the opposition and instead it was all about us and trying to get used to how Silva wants us to play.
4. Everyone was still new to the system.
5. We were drastically changing how we play.
6. We weren't used to such a high tempo.
7. Silva was very frustrated at the side's inability to do what they were asked.
8. Pickford didn't play.
9. We barely saw Walcott.
10. There is renewed optimism and hope at the club now.
Now Silva is not a one system only manager. He's not Martinez. If he was Martinez and expected to just go out and play the way he's played in pre-season and hope it clicked, then I'd be worried.
Silva is an analyst. Note how he said he carried out a technical analysis. This would have been done before the first days training. Probably happened before he showed up on day one.
So, Silva will have watched a lot of tape on Wolves and I bet Porto (the club Nuno Santo was managing 12 months ago); he will also know a number of the new signings (especially Moutinho) and he will know what to expect.
The difference we will now see is he will adapt Everton to Wolves. We've not seen this yet, because he has to get his basic ideas across first. That is defensive shape (yes I know what you're thinking but more importantly Silva knows too hence the signings), the counter-attacking passing up the pitch at speed and playing at a high tempo.
The 4-2-3-1 is so basic. It's closer to 4-4-2 than most of you realise. Take your 4-4-2. Flat back four and let your fullbacks attack like everyone wants them too (4-4-2 restricts this). Next drop the two central midfielders back 10 yards or so to balance the wingers attacking more. One midfielder sits, and one seeks out the ball (ie Schneiderlin and Gueye). The wingers are pushed right up. Then the strikers, most people want a shearer type and a Beardsley. Well, Beardsley just dropped into the hole where the No 10 plays. So hopefully you can see that the 4-2-3-1 is the natural evolution of the 4-4-2.
So silva has the basic formation set up, the players are drilled in it. They should be used to it, and now he can make his tweaks. The flat back 4 and front 3 will remain constant in terms of shape. It's the tweaks to that midfield 3 he will make initially.
There's three lines of midfield. There's the defensive midfield line the central line and the attacking line. Silva could play an attacking midfielder and two central midfielders (box to box types) or he can play one DM and two central midfielders or even 2 DMs and an attacking midfielder (having a big gap between the positions).
He's been known to use a back 3 (only at Watford) and to reinvent the 4-4-2 by playing one DM and 3 MCs in a narrow formation with strikers who played central but actually split and ran wide into the channels creating space centrally for runners from midfield (as he did at Estoril and at Hull – where Niasse was one such striker).
So Silva is a very versatile and unpredictable manager. He will study the game and adapt. Silva beat Arsenal when he was 1-0 down and he got into the dressing room at half-time and made a big change. He doubled down by putting on a second right winger and getting at the Arsenal left-back and ripped him apart to win 2-1. This is the guy we have. Smart and adaptable.
It's going to be a great season. I know it for sure.
Derek Taylor
161
Posted 11/08/2018 at 13:42:54
Here endeth the 10th lesson!
I'll start believing in this guy Steve so worships when we have a few points on the board. Until then everything is pure speculation — particularly 'The Boys from Brazil'
John Keating
162
Posted 11/08/2018 at 13:47:05
Steve,
All sounds great on paper. Also like every other Blue I hope we do have a great season. However, as I mentioned in my opinion if we try to play a pressing game with the team he has played pre-season we will suffer.
It's all very well pressing high up or breaking with pace but if or when it breaks down we need pace to recover. Jags and Keane will get ripped. Schneiderlin has no pace. Even at zonal marking at set pieces we've looked suspect.
Horses for courses and right now, today, in my opinion, high press might not be the way to go.

Steve Ferns
163
Posted 11/08/2018 at 13:49:36
Derek, I have you down for worshipping him by the end of September, but you'll be praising him long before then.
Just look at how impressed the new signings are by him. He's a footballer's manager. A man of energy and ideas. He doesn't display lots of charisma in his interviews, but he does on the training ground. Journos also say how charismatic he is one on one. He's a real people person.
Trust me, you'll love him. Just let yourself enjoy this game for starters. Blame me if it all goes wrong.
Jim Harrison
164
Posted 11/08/2018 at 13:50:48
The Guardian have Stekelenburg down as likely starter?
Darren Hind
165
Posted 11/08/2018 at 13:53:08
Great to see ToffeeWeb's very own crazy diamond shining so brightly
Made up your back to your old self George.
Derek Taylor
166
Posted 11/08/2018 at 13:54:20
Steve, I will take your advice and wait until we've seen HIS team in action rather than Martinez/Koeman left-overs.
One thing that does impress me is the lack of bullshit from him, I hope he continues to tell it as it is rather than try to convince us a loss is really a victory !
Steve Ferns
167
Posted 11/08/2018 at 13:54:30
John, the high press is not one of the pillars of his system.
This is the guy that got Estoril from bottom of the second tier to fourth in the top flight. He didn't do so by attacking sides and playing possession football.
No, he did so by sitting deep and launching devastatingly quick counter attacks. This is the trademark of Silva. Lightning fast counter attacks.
My only concern is that we lack the "spring" to launch these attacks. What we need is a McCarthy to win the ball and a Barry to launch it long down the pitch to the Wings.
Instead Silva has been working on a number of shorter passes to pass it through midfield rather than hoof it (accurately) down the pitch. This hasn't clicked yet.
Steve Ferns
168
Posted 11/08/2018 at 13:56:52
DT he should continue that, but you won't see him criticise his players in the press conference. That's definitely not his style.
Darren Hind
169
Posted 11/08/2018 at 13:57:49
Just backed Koeman to win the 2-15 at Ascot.... I figured he owes me
Steve Ferns
170
Posted 11/08/2018 at 14:01:42
Maybe he's more suited to horse racing.
Marcus Taylor
171
Posted 11/08/2018 at 14:09:36
Our away form needs to improve drastically if we have any top 6 aspirations. We've only won 12 Premier League away games in the last 3 seasons! Pathetic.
Peter Mills
172
Posted 11/08/2018 at 14:12:04
Good to hear from you George, you've got a Heart of Gold.
Barry McNally
173
Posted 11/08/2018 at 14:21:31
Brilliant as usual George - can you arrange for next week's post to be a podcast?!
Dermot Byrne
174
Posted 11/08/2018 at 14:22:54
George...my comment was just a joke .I have known you for 11 years .my days at LCVS?
You are an inspiration mate and was just telling better half how I used to love watching you with a room of "suits".
Never change and thanks for reminding me of the fabulous Kerouac.
Brent Stephens
177
Posted 11/08/2018 at 14:27:08
George (#151). Good to read your positive posts, as ever. It'll be alright on the closing whistle today. It'll be alright.
Dermot Byrne
178
Posted 11/08/2018 at 14:35:38
Brent: somehow I feel it will be alright at final whistle even if we lose. But if we win and win well, TW will be such a joy later!
Fingers well crossed and butterflies in tum that began yesterday are flying around even faster.
Have tried shopping, gardening, washing and cleaning but still 3 hours to go. My better half watching and smiling.
Like been 12 again!
Derek Knox
181
Posted 11/08/2018 at 14:51:02
Win or lose, Koeman, will probably take his missus out later for a 'nosebag'.
Here's hoping for a win today lads, but more importantly a decent performance.
COYB
Kristian Boyce
182
Posted 11/08/2018 at 14:52:51
First sly dig from the RS BBC reporting team on their live text coverage. Making comments of 3 signing pics of Richarlison. Could have used 3 different photos from various players, but chose just him.
Paul Tran
183
Posted 11/08/2018 at 14:57:40
Cheers Dermot!
Dermot Byrne
185
Posted 11/08/2018 at 15:03:21
Kristian... I want the media to get angrier and more critical throughout the season.
If we do well... then the media will be fun to watch!
Bring it on!
George Mc Kane
186
Posted 11/08/2018 at 15:06:27
Dermot my good friend - no offence even hinted at - be great to see you soon at TDH - will keep in touch - cosmic grooves all the way - hope everything is good with you.
Dermot Byrne
187
Posted 11/08/2018 at 15:08:10
Just great. New job. Will email you mate.
Get feet under table and TDH a great idea.
Best to Gosia.
Darren Hind
189
Posted 11/08/2018 at 15:14:30
Paul
Did you manage to get a taker for that "Match bet" to finish higher than Wolves?
I asked at the Betfred and after a couple of calls he offered 8/11. I left it alone, but a fella who I didn't know had overheard the conversation jumped on. That was before Thursday's transfer activities. I doubt you would get that now...
Paul Tran
190
Posted 11/08/2018 at 15:33:55
Darren, I tried 3 bookies online and they told me to go to a shop. The local Ladbrokes werent interested. Bet 365 eventually offered me 8/13, but that's poor value. I suspect that price has shortened after Thursday, but I might try again if we get beat today.
Jamie Crowley
191
Posted 11/08/2018 at 15:35:28
I'd pay money to see George in a room with "suits".
Paul Tran
192
Posted 11/08/2018 at 15:48:49
Darren, Skybet have just told me they'll put prices n their site after today's games.
Darren Hind
193
Posted 11/08/2018 at 16:31:08
Never mind Paul. You were up against a decent sort there.
There's a win in your fella when he finds the right race
Paul Tran
194
Posted 11/08/2018 at 16:33:34
He ran well, Darren. The winner looked best all through the race. I'm chuffed we got him to win last time and he's always worth a look.
Add Your Comments
In order to post a comment, you need to be logged in as a registered user of the site.
Or Sign up as a ToffeeWeb Member — it's free, takes just a few minutes and will allow you to post your comments on articles and Talking Points submissions across the site.