Blues to debut new third kit at Bournemouth
Friday, 24 August, 2018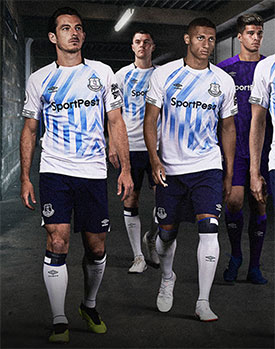 Everton will turn out at Vitality Stadium tomorrow in their new third kit that was officially unveiled today.
The predominantly white shirt features an abstract design evoking the Prince Rupert's Tower that has been at the centre of the club's crest since 1938.
The strip is completed by dark blue shorts and white socks with dark blue turnovers.
The new Everton third strip is now available to purchase today in men's, women's, juniors, infants and babies' sizes from Everton One at Goodison Park, Everton Two in Liverpool One or visit evertondirect.com to order online.
---
Reader Comments (48)
Note: the following content is not moderated or vetted by the site owners at the time of submission. Comments are the responsibility of the poster. Disclaimer
Brian Hennessy
1
Posted 24/08/2018 at 14:31:51
I like it.
About time all clubs showed some imagination with design instead of just different combinations of solid colours.
Brings me back to the Dutch jersey from Euro 88. The Germans also had some great kits around that time.

Link
Derek Knox
2
Posted 24/08/2018 at 14:48:31
I too like it, but fail to understand why we can't wear our normal strip, it doesn't exactly clash with Bournemouth's Red and Black.
Richard Scanlan
3
Posted 24/08/2018 at 14:49:44
Looks like a Spurs kit.
Jamie Crowley
4
Posted 24/08/2018 at 14:57:41
Money Derek! Money!
You knew the answer to your rhetorical question before you even typed it.
I like the jersey. Trendy looking, cool, but not over the top. With the tower it ties everything in.
I like it a lot.
EDIT - I've decided to buy this one. It's mint. The more I look at it the more I like it.
Karl Masters
5
Posted 24/08/2018 at 15:21:56
The socks are nice, the shorts okay, the top is hideous.
I'd call it a "nice legs, shame about the face" kind of kit.
Derek Knox
6
Posted 24/08/2018 at 15:23:11
True Jamie, but no joke to a parent that has the next generation supporters, want to go to all the matches and have all three kits!
They must think that all supporters are on the astronomical earnings of the players, to be able to participate in all the promotions, and support the team on a regular basis.
David Barks
7
Posted 24/08/2018 at 15:46:20
You could just say no, Derek. Happened to me all the time as a kid.
I like this shirt. About to order one right now actually.
Barry McNally
8
Posted 24/08/2018 at 16:02:46
We should wear blue unless a change is absolutely necessary — not helping with keeping our identity.
Gary Russell
9
Posted 24/08/2018 at 16:03:13
Not bad at all, I like it. But with the Prince Rupert's Tower reference, it's a bit cryptic insofar as it's a guessing game as to how the design implies the tower, or am I missing something? Why not just have it more directly visible/imposed seeing as it is emblematic to EFC?
On another note, I hope Rovio have not missed a beat and made it possible for Sig, Theo and Cenk to rip to pieces some bird called Liver. It's only a game.
Duncan McDine
10
Posted 24/08/2018 at 16:39:22
Our 3rd kits are often the best of the bunch. It's a nice design.
Martin Berry
11
Posted 24/08/2018 at 17:02:49
Nice shirt but not with SportPesa written on it, I just can get into that.
Tony Waring
12
Posted 24/08/2018 at 17:20:44
If there's no colour clash, I don't see why we should have to wear a "change" kit. Money rears its ugly head yet again.
Jay Wood
[BRZ]
13
Posted 24/08/2018 at 17:32:13
Boss. I like it.
And Tony @ 12. Agree, why change shirts when there is no colour clash, but then you do give the reason why: money.
That stuff that buys the players the supporters demand we recruit, the same stuff that pays them the salaries they demand.
David Barks
14
Posted 24/08/2018 at 17:35:05
Hey guys, for all the ridiculous moaners out there today, NOBODY IS FORCING YOU TO BUY THE DAMN SHIRT!! Some of us will want to, and we will. And here is another little bit of information, you don't have to buy the home kit, or the away kit or any damn kit.
These are merchandise options for people who want to buy them. If the club only produced one shirt, in blue, they would rightly be taken to task for being horrible at marketing. For God's sake, it's just another shirt that they are giving their customers the option to buy. Maybe we should all drive the same car, live in the same house and eat and drink the same food every day too, right? What's with all these different beer options anyway?
Dermot Byrne
15
Posted 24/08/2018 at 17:45:39
For Christ's sake, David. How can I buy all three and the Ferrari my little princess wants!?
Barry McNally
17
Posted 24/08/2018 at 17:47:03
David 14, they can have 100 kits for all I care but should wear blue where possible.
Brent Stephens
18
Posted 24/08/2018 at 17:59:44
Dermot (#16) — Dinkie toys.
Darren Hind
19
Posted 24/08/2018 at 18:05:03
Yeah but will it go with the full black head to toe North Face Uniform?
Simon Smith
21
Posted 24/08/2018 at 18:24:51
It's a nice design, I will be getting it for my kids.
Every Premier League team has 3 kits every season so it's just part 'n' parcel.
Paul Moorhouse
22
Posted 24/08/2018 at 18:26:29
So we're changing from our blue kit, which doesn't clash at all, to our new 3rd kit where there is a clash with the shorts. Okay, I obviously missed a meeting.
Dermot Byrne
23
Posted 24/08/2018 at 18:35:29
Thanks Brent. Family drama over or just beginning!
Gary Hughes
24
Posted 24/08/2018 at 18:49:29
One of the worst kits I've ever seen from the worst kit manufacturer I've ever seen. For as long as I can remember, our default kit is always Umbro... there's a couple of seasons here or there with other manufacturers but then it's always back to fucking Umbro.
Here's a thought, when was the last time anyone anywhere ever won a thing wearing Umbro? My guess is it wasn't this century. Can you imagine Real Madrid or Barcelona wearing this shite?
Why can't we wear something classy like Adidas just for once? Instead, it's always the Umbro cloak of shame, the go-to kit for teams that don't win trophies.
Steve Ferns
25
Posted 24/08/2018 at 18:57:49
Gary, are you sure you'd want Adidas?
This would be us: Link
Not only are Adidas selling the Leicester kit as a training kit for £15 minus the badges, it's also the same as the Lyon one with a different colour.
Yeah, Adidas, really classy.
Brent Stephens
26
Posted 24/08/2018 at 19:04:01
Charge me x to buy a plain shirt. Charge me x plus y to buy the same shirt with some logos, so that not only have I paid more for the shirt but I also end up as a sandwich board advertising wares for which I don't get paid. It's a mad world.
Ed Fitzgerald
27
Posted 24/08/2018 at 19:11:53
Jesus, It's dreadful – as is the away kit. To be fair most change strips/3rd strips are awful these days.
Why the fuck do we need a Rupert's Tower reference plastered all over the shirt when it's already on the badge? And why aren't we wearing Blue tomorrow, ffs???
Nike, Adidas, Umbro – whatever the manufacturer they are, all fairly grim. As a bit of an old arse – can we please have a simple amber-and-blue away strip next year?
I think Darren is on to something with the North Face comment; perhaps we should get them to do the kit next year – that would be a hit with the kids.
Dermot Byrne
28
Posted 24/08/2018 at 19:18:39
Steve Ferns
29
Posted 24/08/2018 at 19:30:09
I used to like the old template kit where they just changed the colours for home and away and Forest had the same shirt but in red!
Surely the problem is too many kits for each team each season, and there's fashions to follow, so we end up with unimaginative shite.
Dave Older
30
Posted 24/08/2018 at 20:37:20
I really like it. Never liked us wearing all blue away from home as it makes us look like Chelsea. I may actually fork out a few quid for one. Nice job Umbro.
We haven't had a yellow one for a while... maybe next year. These kit changes each year are ridiculous though. Every two years minimum, unless sponsorship changes of course.
Chris Burns
31
Posted 24/08/2018 at 21:12:51
No thanks. Best 3rd kit was the vanilla number about 2011.
Merle Urquart
32
Posted 24/08/2018 at 21:33:15
Love us to have a traditional amber jersey with royal blue shorts and amber socks... the top could be mixed with white shorts and royal blue socks if needed. I actually liked the green/khaki kit we had a season or two ago.
That said l don't care what the kit is like as long as we win tomorrow, would love to see Tom have a blinder
Merle Urquart
33
Posted 24/08/2018 at 21:37:22
Le Coq did some very nice kits for us.
Drew O'Neall
34
Posted 24/08/2018 at 22:39:45
Yeah it's not bad. You have to say Umbro have got it right on the money this year with the home kit.
Jamie Crowley
35
Posted 24/08/2018 at 00:05:12
David Barks we sing from the same parenting hymn sheet.
I put the roof over your head, I feed you, I pay for the water, electricity, sports..., everything.
If I feel like buying you a jersey I will.
Seriously, how can we afford this "to keep up with the Jones's because little Timmy wants it" attitude? Just fuck off with that please.
Dermot @16 - LOL'd - literally.
I'm getting the jersey. M-I-N-T.
Nicholas Ryan
36
Posted 25/08/2018 at 00:08:09
Looks like Man City and Fulham both put their home kits in the same washing machine; and this is what came out!
Lawrence Green
37
Posted 25/08/2018 at 00:29:56
Nicholas #36 It's such a shame that you think it looks like a combination of City and Fulham shirts pulled from the washing machine, as the club have stated that:
The new fan-led design is inspired by the iconic Prince Rupert's Tower which sits proudly on the Club's crest. On the white jersey, the tower is featured as an abstract graphic across the chest in Everton blue, with Umbro's iconic running diamonds on the cuff in peacoat blue,
So much time and energy spent by so many people and all they had to do was throw two rival club's jerseys into a washing machine and hey presto!

Peter Thistle
38
Posted 25/08/2018 at 00:43:08
No way I'd buy any kit with SportPesa and Angry Birds written on 'em. If we ever get a decent sponsor (doubtful), I might change my mind. Until then, I'll stick with the casual EFC polo shirts.
Bill Gienapp
39
Posted 25/08/2018 at 01:53:05
At first glance, I was like "yeesh," but I have to say – it's really started to grow on me. Anyway, nothing could be worse than last season's away kit, which looked like it was soaked in dirty dishwater – drab and depressing, perfect for the Sam Allardyce era.
Speaking of sponsors, has anyone seen the creepy "bird" versions of Theo Walcott, Gylfi Sigurdsson and Cenk Tosun that have been added to whatever the latest Angry Birds game is? Truly the stuff of nightmares, LOL.
Ash Moore
40
Posted 25/08/2018 at 02:04:41
I love the eighties too but this is just shite. To be honest, apart from the iconic blue, most of our second and third kits are in my opinion unwearable.
To each their own.
Pete Owen
41
Posted 25/08/2018 at 03:06:05
Awful.
The irony isn't lost on me that a laughable club should wear a laughable kit.
I'd be happy with the home blue (though I personally can't wear it) and the Blackwatch for away games.
John Pierce
42
Posted 25/08/2018 at 03:23:39
JaC – too much Florida Oh-Jay! has your eyes like Shere Khan.
I think the third kit looks like a market-stall knock-off, it looks like tee-shirt from a fashion range rather than a footie top. A hard pass from me.
The 2013-14 was a pretty good away kit.
Each to their own, I'll be donning the salmon and navy stripes tomorrow.
Ernie Baywood
43
Posted 25/08/2018 at 07:48:52
Well you can't complain that we "fell behind" the monies clubs by not pushing commercial revenue... and then complain that we're doing things for money. Well you can, but it's hypocritical.
My kids love this shirt and that we have angry birds on the sleeve. There not big fans of SportPesa. I think if we partnered with Fortnite they would be constantly pestering me for every bit of kit. So would their mates here in Australia. We would probably pick up millions of new junior fans.
It's the point isn't it? Make money. Interest young supporters.
Terry McLavey
44
Posted 25/08/2018 at 08:24:38
My wife always buys me Everton memorabilia for birthdays and Christmas, but I've told her never buy a shirt as the day she does they will change sponsor the next day :(
I could get a generic one, l suppose?

Andy Williams
45
Posted 25/08/2018 at 09:26:44
Awful eighties throwback. Looks like it would melt within 20 foot of a minor heat source.
Geoff Lambert
46
Posted 25/08/2018 at 09:34:09
Love it just got 3 for the grandkids.
Bobby Thomas
47
Posted 25/08/2018 at 09:52:43
There's a couple of references on this thread to 80's kits that this is supposed to be like? I'm drawing a total blank.
Its more 90's kit if anything. Mainly because of the stuff across it which is the tepid tower reference.
I like it. Very good for summer.
Someone mentioned black. There was an all black one a few years ago that was absolutely top. Saw a lad wearing it at the Southampton game, it still looks boss.
Best top of recent times though has been that all blue Goodison 125th Anniversary from last year. They should have just made that the top for the season it was brilliant.
Chris Corn
48
Posted 25/08/2018 at 10:55:00
Ernie, the kids kits don't have the sponsor on because it's a gambling company. Same with when we were sponsored by Chang. They still have the Angry Birds logo on the sleeve. and the premier league badge is optional .
Have to agree the Angry Birds logo does get the kids attention and we need to keep attracting the next generation.
Stephen Davies
49
Posted 25/08/2018 at 11:16:47
Peter @38,
Have you tried the tops from Toffee Art... very good quality and great designs. Recommended!
Ernie Baywood
50
Posted 25/08/2018 at 22:52:10
Very true, Chris. I should know - we've got a cupboard full of them!
My favourite third kit for the kids was the Marvel inspired one. Dark Green with a bit of orange.
Those kind of links are great for the next generation of blues.
Add Your Comments
In order to post a comment, you need to be logged in as a registered user of the site.
Or Sign up as a ToffeeWeb Member — it's free, takes just a few minutes and will allow you to post your comments on articles and Talking Points submissions across the site.