Everton vs Brighton & Hove Albion
Friday, 2 November, 2018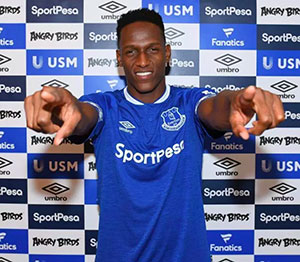 With Kurt Zouma ineligible to play at Chelsea next weekend, could Yerry Mina be handed his debut in preparation for the trip to Stamford Bridge?
Everton return home to face Brighton & Hove Albion this weekend looking to bounce back from Sunday's loss to Manchester United at Old Trafford.
A difficult assignment made harder by incompetent refereeing ended in frustration for Marco Silva's men but in the broader context of the evolution underway under the Portuguese's stewardship, there were, again, positives to take even in defeat.
In what is a difficult run of fixtures away from Goodison Park — the Blues were pit against United, Chelsea, Liverpool and Manchester City in successive away games — it's at home where Silva knows his Everton side needs to ensure it picks up maximum points.
A few weeks ago, the visit of Brighton might have looked like a "home banker" (or as close to you can get to that in the modern Premier League) but Chris Hughton is overseeing a five-match unbeaten run which has seen the Seagulls win their last three, all by a single goal to nil.
That has lifted them to 11th in the table, just one point behind their hosts this weekend who will be looking to record a third home win on the bounce following the 3-0 win over Fulham and the 2-0 triumph over Crystal Palace.
Silva has named an unchanged attacking quartet for the past three games, with Richarlison moving to a central striking role to accommodate Bernard, but what worked so well at Leicester has started to be questioned somewhat by supporters.
It took the introduction of Ademola Lookman, Cenk Tosun and Dominic Calvert-Lewin to tip the match in Everton's favour against Palace and while the same strategy wasn't quite as effect against United, the manager will have been given food for thought by all three players and it could well be that he makes changes this weekend.
That could see one of Tosun, who scored in this fixture earlier this year, or Calvert-Lewin lead the line and Richarlison move back out wide, while Silva might be tempted to take Theo Walcott out of the firing line based on his iffy form of late and, perhaps, try either Lookman or one of the two Brazilians in his place.
Central midfield, where André Gomes's poise and seemingly seamless introduction to English football is delighting Blues fans, is likely to be unchanged but circumstance could prompt Silva into altering his line-up at centre-half in anticipation of next weekend's trip to Stamford Bridge.
Kurt Zouma will be ineligible to face his parent club in that one and there is some concern over the wisdom of throwing Yerry Mina in for his full debut in such a tough game. As well as Zouma has acquitted himself since signing on loan from Chelsea in August, he could be forced to make way and potentially risk losing his first-choice spot in order to blood Mina against Brighton.
The Colombian has been fit enough to start the last two matches but has been kept on the bench by the form of Zouma and Michael Keane. His debut is much anticipated, however, and this could be the weekend where he gets his chance. We await to hear from Silva at his press conference for more.
As Brighton have shown with three consecutive clean sheets, they can be tough to break down and that kind of defensive resilience, typified by ex-Blues defender Shane Duffy, has been a problem of Everton sides in the past and it proved to be again against Huddersfield in two months ago.
Richarlison was, of course, missing that day, and with Bernard and Gomes having settled into the team since and Lookman now pushing for game time, there is more creativity and guile about Everton than was the case in the frustrating 1-1 draw with the Terriers. The Toffees should have too much for the Seagulls but they will have to earn it.
Kick-off: 3pm, Saturday 3 November, 2018
Referee: David Coote
Last Time: Everton 2 - 0 Brighton & Hove Albion
Predicted Line-up: Pickford, Coleman, Keane, Mina, Digne, Gueye, Gomes, Sigurdsson, Walcott, Richarlison, Tosun
---
Reader Comments (70)
Note: the following content is not moderated or vetted by the site owners at the time of submission. Comments are the responsibility of the poster. Disclaimer
Tony Everan
1
Posted 02/11/2018 at 07:52:35
Nice to see Hove getting a mention. Definitely the oppressed partner in that marriage. It's always Brighton this and Brighton that, poor old Hove hardly gets a mention.In the interests of equality and fairness to the people of that town they surely have a case to have their name first on alternate seasons . I will text the ECJ, Sahmi Chakrabarti and Ban ki-Moon that will get the proverbial ball rolling .In fact this year I am making a stand and I will call them Hove and Brighton Albion until June 2019.
Lyndon has the team sheet right I think this week
Pickford
Coleman Zouma Keane Digne
Gana
Gomes Sigurdson
Walcott Tosun Richarlison
Everton 3 Hove & Brighton Albion 1

Jim Bennings
2
Posted 02/11/2018 at 08:11:23
I fully expect us to win tomorrow and play our own game because it's one of those games that we seem to be comfortable in with no hang ups or inhibitions like we have against the top six.
Brighton will come here in good form but in reality there are very few goals in them especially away from home and it not a game we should be fearful of (although Glenn Murray will give any defence some difficulties with his forward play) .
I expect we will win this and we really do need to win as it's away to Chelsea next week and even the most optimistic Blue out there will accept that Chelsea are playing amazing football this season and it's practically a non event that we win that fixture.
Need the win tomorrow.
Ajay Gopal
3
Posted 02/11/2018 at 09:49:40
After having considered everything, I would make 3 changes and go with:
Pickford
Coleman Keane Mina Digne
Gueye Gomes
Siggy
Lookman Calvert-Lewin Richarlison
SUBS: Stek, Holgate, Baines, Davies, Bernard, Tosun, Walcott
I hope Siggy and Diane are practising corners and Coleman has been watching old Hibbert videos of "The Art of Right Back Defending" all week long.
Chris Locke
4
Posted 02/11/2018 at 10:17:20
Brighton like many other teams will come to Goodison to try and grind out a result. In the recent past this has often worked, especially if they manage to sneak the 1st goal against us.
I'm hoping that things have changed and the attacking and creative style introduced by Silva will be too much for a bang average Brighton team.
As far as the team selection goes I for one would be happy if the only change is Mina for Zouma. The front 3 haven't been on fire but tbf its only been a few games. After the inconsistencies and constant line up changes of the last couple of years, fielding the same team 3 or 4 weeks in a row would likely help us in the long run.
Let's not forget that we managed 14 attempts away at Man Poo and that was with the front 3 not playing to their full abilities.
COYB

Michael Lynch
5
Posted 02/11/2018 at 10:34:30
I can see the wisdom in bringing in Mina ahead of the Chelsea game, but personally I think Silva will resist and keep the defence as consistent as he can.
Wouldn't mind Walcott and Bernard being rested for this one - give Lookman a start and Tosun up front. Maybe bring on Bernard if things aren't happening by 60 minutes.
An early goal and we can win this. The longer it stays level or if Brighton get their noses in front, the more likely we'll in trouble. There are no easy games etc etc

Jim Bennings
6
Posted 02/11/2018 at 11:13:01
I think Lookman probably will come in for Walcott who has been below par since his early season form, might just do Theo good if he realises his place isn't to be taken for granted, usually you then see an upturn in the players form.
I look at the games before Christmas and the visits of, Brighton, Cardiff, Newcastle and Watford and think we need to be savaging 10 or even 12 points from that lot considering the away matches on the horizon and a final home game before Christmas against perennial bogey team Tottenham.

Simon Smith
9
Posted 02/11/2018 at 11:38:56
I'd like to see Mina brought in readied for the Chelsea game if I'm honest, I'd also like to see Theo and Bernard get a kick up the arse, giving Cenk and Lookman a run out. I rate both our usual wide men but the whole reason to have a squad is to keep people on there toes, and of late these two haven't quite been at it.
I'd also like Davies to be given some game time if possible, hopefully we can be in control of the game and give Davies a run out for one of the central lads.
Side note it's good to see Tom Davies again make it into the top 20 golden boy list. I think some of our fans often forget Tom's age, he's a young lad with a great attitude and bags of potential.
3-0 blues win.
Peter Lee
11
Posted 02/11/2018 at 11:45:53
My view of last Sunday's game was that I was watching two sides struggling with their overall game. United are all too aware of defensive frailties with a midfield that had little shape, whilst we were largely secure defensively and with Gomes and Gueye there was a good platform to build but up front was shambolic. Also, whilst we are pushing up more, it's still too slow on the turnover.
Richarlison is not a central striker, at least not yet. Playing centrally with your back to goal most of the time is much more difficult than playing on the wing where you can turn side-on and see the whole game before you. It's unfair to ask him to do it.
Tosun knows the job, more than DCL at this stage, and I'd start him, telling him he's got the next six games to bed into a system that's very different from last year.
Theo Walcott has had a miserable time of late. I have some sympathy, he needs the ball early, on the half-way line, and I don't mean punts from Pickford, if we are to get the best from him. Where I lose sympathy is that his willingness to drop back and cover has faded, see Martial's goal last week, and this is giving Coleman a tough return into the team.
Lookman has great touch and quick feet, pace over 3/4 yards but not outstandingly quick otherwise. Worth a go out wide but the same caveats as Walcott. All wingers need the ball early. Even Kevin Kilbane hit a purple patch when Gravesen was able to collect breakdowns and get it out to the halfway line.
Anyone else think that Bernard is wasted out wide? I'd like to see him start in the number 10 but not at the expense of Sigurdsson.
We could play both if we played just one of Gueye or Gomes. Any thoughts?
John Hammond
12
Posted 02/11/2018 at 12:01:08
Tosun in Walcott out. I think Zouma will start. The chances of winning this game are far greater than away at Chelsea so no point risking it by bringing Mina in.
Justin Doone
13
Posted 02/11/2018 at 12:15:21
I think Silva is trying to play a settled team and I'd stick with Zouma for the Brighton game whilst telling Mina if he helps keep a clean sheet against Chelsea next week he keeps his place.
Presuming we stick to the same formation keep Coleman and put his form down to lack of match fitness and rest Digne.
Put Ric back on the left to be more involved and effective and DCL to start upfront. Bernard play on the right ahead of Walcott.
DCL
RIC SIGY BERNARD
GOMES GANA
BAINES ZOUMA KEANE COLEMAN
PICKFORD
I don't think Silva will pick this team and I can see us conceding the first goal from a set piece or long punt forward but what's new. Keeps it frustrating and interesting, typical Everton.
Jim Bennings
14
Posted 02/11/2018 at 12:18:15
Our right flank has been a concern for weeks because it's two players who are either out of form or just failing to build any momentum (Coleman's endless niggly injuries).
But both Coleman and Walcott at present are struggling there's no getting away from it, problem is Kenny comes in for Coleman but he too is rather limited, puts a shift in but he's not great at much else.
Whereas Lookman arguably has the attributes to challenge Walcott (if he gets his head right and knuckles down).
We need to start learning to defend more as a team though and I still think at times we are a little too passive with everything we do, don't get me wrong we can play some decent stuff but it needs more conviction.
I can see many similarities with Martinez's third and final season when before Christmas we played some dazzling football and scored plenty but there was a overwhelming feeling of frustration that we should have been getting much more.
It feels like that with this season a little bit and that's why we need to start being that bit more clinical and ruthless and less passive in our defending and attacking.
Liam Reilly
15
Posted 02/11/2018 at 12:36:11
Peter #11
So you're advocating starting Sigurdsson beside Gueye and dropping Gomes or starting Sigurdsson alongside Gomes and dropping Gueye?
Can't see either of those happening, thankfully because the team needs Gueye's engine and Gomes is getting better by the game.
I think the team will see two changes upfront with Lookman and Tosun coming in for Walcott and Bernard respectively.
Can't see Mina starting this one because if he gets injured then options at CB for Chelsea will be limited.

Jon Ferguson
16
Posted 02/11/2018 at 12:46:35
I'd go:
Richarlison Tosun Lookman
Sigurdsson
Gomes Gana
Digne Keane Zouma Coleman
Pickford
I really love Bernard but Richarlison looks better out wide playing with Tosun. It's great that we now have options. I think Lookman needs some minutes, and also settling in pre-January window speculation.
We've got tough games coming and a settled centre-back partnership is essential. Keane has been outstanding recently.
If the game is going really well, I'd give Davies and Kenny some game time. They might be needed in the approaching hectic schedule.

Gary Edwards
17
Posted 02/11/2018 at 13:02:13
Does Walcott's dip in form coincide with Coleman's return to the team ?
Seamus is a great servant to the club but is currently out-of-form / off the pace. Defensively he gets roasted far too often, he's become a liability, necessitating Walcott to get back more, certainly more so than whoever is playing LM / LW quite simply because on current form Digne is a better defender.
Seamus is still a threat going forward but I feel is currently blighted by footballers equivalent of dartitus i.e. he needs to release the ball quicker. The system that Silva is trying to instill requires quick movement of the ball Seamus doesn't seem to understand that especially with throw-ins.
Seamus was targeted by Palace & Utd and found wanting. I'm pretty sure that other managers have noted that to be an effective tactic, why wait for it to happen again ?
I wonder with the current compliment of players and their form if Silva has contemplated switching to a "3" of Keane / Mina / Kouma in a 3-5-2 or 3-4-3.
If 3-5-2 I'd play:
Pickford
Mina - Keane - Kouma
Lookman - Gueye - Gomes - Siggy - Digne
Tosun - Ricarlison
Tony Abrahams
18
Posted 02/11/2018 at 13:03:40
I would like to see Sigurdson, play with Gomez, with Bernard playing just ahead of them, because all three are very clever footballers, and might just compliment each other?
Sure we might miss Gueye's workrate, but sigurdson also gets through a lot of work, but is much better with the ball at his feet, which might just make us a lot more productive from the middle of the park?
I still think this manager might switch to three centre backs soon though, because although we are improving, I still think this present system leaves us a little bit too open, the way our fullbacks push right up the pitch.
The other thing that is wrong defensively (IMO) is that if the fullback has to go inside to cover the centre half, then because of the system, sometimes the fullback then has nobody to cover him?
Ian Bennett
19
Posted 02/11/2018 at 13:04:14
Pickford
Coleman
Mina
Keane
Digne
Gueye
Gomes
Richarlison
Sigurdsson
Lookman
Tosun

Kev Jones
20
Posted 02/11/2018 at 13:27:00
It's really exciting that Richarlison can play centre forward and from out on the flank. He has not been so hot in the centre last couple of games but does this coincide with Bernard also not being on form and Digne not getting forward, cutting off Richarlison's supply line from the left? When this happens then Silva needs to use our attacking flexibility and switch Richarlison out left and bring on DCL or Tosun. Same for Walcott/Lookman. I'd start with Walcott and if its not working sub but sub earlier. We need to win this match so keep Zouma and Keane as a settled defence. Coleman starts but as many are saying Walcott/Lookman need to help him out more. What a joy to have Gueye, Gomes, Gylfi and Pickford.
Steavey Buckley
21
Posted 02/11/2018 at 15:20:59
Everton can consider themselves stronger in midfield and the defence, but Everton are worrying and ineffective upfront. Everton have no real striker and Walcott's lack of form is of real concern. The last time he played well was against Bournemouth. But that was nearly a couple of months ago.
Jerome Shields
22
Posted 02/11/2018 at 15:28:11
Gary #17. Well observed. I hadn't thought of Coleman's support play for Walcott. I was thinking more In terms of Walcotts defending support. Since Coleman replaced Kenny, Walcott has had the lowest number of touches, than any other outfield player in each game since then.
Jim Bennings
23
Posted 02/11/2018 at 15:50:42
Gary at 17
I'm not really convinced at this moment in time that Coleman is actually a threat going forward, perhaps if he sorts out his woeful crossing and final ball which had dogged him since his return in January then he might be a threat again.
Our problem is that Jonjo Kenny is not a massive improvement in that department and possibly no improvement at all even for a underperforming Seamus Coleman.
We need to hope Coleman can rediscover his old gusto and form, the player that made him a fans favourite because Seamus is all about swashbuckling head down running and without that he becomes quite ordinary.
If Coleman can't find form throughout the remainder of this year then it wouldn't surprise me too much if we started a search for a right back before long.
Martin Berry
24
Posted 02/11/2018 at 16:07:51
Tony 18# Makes a good point about the creativity of the midfield, along with Marco's conundrum of who to play in the centre of defensive.
It shows we have some real competition and quality in those areas.
If we can sort out the striker options ( and I believe in both Cenk and DCL) then we a real team capable of challenging for trophies.
Derek Knox
25
Posted 02/11/2018 at 16:16:51
While I appreciate we are a work in progress; I've lost count of the amount of times that has been said on here by many, under so many different managers and players alike.
There are signs of improvement admittedly in comparison to the Neanderthal style under Allardyce; and the let's buy them regardless of cost and hope they will form a team style under Koeman; but there is something amiss that I can't quite put my finger on.
We had a referee against United who was pathetic in his decision making; but we can't solely rely on getting a decent referee to hope we manufacture a win either.
We seem to be so lightweight in the last third of the pitch after some promising work going forward; the amount of shots on target are few as well; and when we do get a lead, quite often, are in danger of relinquishing it with collectively poor defending, or lacking the ability to kill a game off.
Brighton have surprised me to a degree; when I first saw them last year, they looked certain candidates to go back down again, and were poor even at home, but fair play to them, without having any superstars, or even expensive players, they have managed to turn things round with dogged determination.
While I expect a win tomorrow, I can't see it coming easily, I said before the United game that surely Walcott, Bernard and Richarlison can't have another poor display in them, and should need no motivation for that game, but they did.
Richarlison can be partly forgiven, as he is being asked to play up front which is not his best position, but Walcott has disappeared out of games recently and contributed very little. Bernard seems to be too easily knocked off the ball, but has some good touches and scope.
Jim Bennings
26
Posted 02/11/2018 at 16:28:39
The work in progress thing is true but as Derek says in the above post, it feels like because we have had so many so-called new dawns and changes of managers it feels like all we ever are is a work in progress.
We are a bit like someone who's building their house but has run out of money after laying foundations then comes back to money again, does a bit more work then runs out again so work stops and so on and so on.
We need a serious shot at things under Silva and we need him to stay here and get things right, whether he will or not I don't know, how long do we give him I don't know the answer to that but we can't keep changing managers and starting new dawns with the "work in progress " getting dragged out every passing year.
This time next year I need conceete evidence that we are past the work in progress stage under Silva and we need to keep progressing month by month starting from tomorrow.
Lawrence Green
27
Posted 02/11/2018 at 16:49:21
Most of what we've seen this season so far has been a vast improvement on the last few seasons. Better ideas, more togetherness, a team that looks as if it knows what it's doing on most occasions. But, and many of us knew this at the start of the campaign, we won't be ready to challenge the big boys for a little while yet. The club still haven't replaced Lukaku, it still relies on the form of a couple of players and it remains a little bit brittle at the back.
I've decided just to enjoy rather than endure each game as it comes, and at the end of the season we may see what progress that Silva and his team have made, although I don't reckon we'll get more than sixty points maximum, unless we go on an unforseen winning streak at some point.
Next summer, to use Jim's analogy above, we'll still need to replace key parts of the building, especially if Zouma and Gomes return to their parent clubs or move elsewhere. Unfortunately this is the house that Bill built and despite the investment of Moshiri so far, we are, and possibly will for some time, be a continuous work in progress. Hopefully the actual building of a new stadium, will be less traumatic than waiting for a truly competitive Everton team.
Anthony Dove
28
Posted 02/11/2018 at 17:01:26
Walcott will never be the solution so why not put Bernard on the
right? Richarlison back on the left and Tosun in the middle.
Gareth Clark
29
Posted 02/11/2018 at 17:18:12
Easy selection for me:
Lookman & Tosun in for Walcott and Bernard.
Pickford
Coleman Keane Zouma Digne
Gueye Gomes
Lookman Sigurdsson Richarlison
Tosun
Subs: Stekelenburg, Mina, Baines, Davies, Bernard, Walcott, Calvert-Lewin
The major issue has been the right hand side - and this is due to lack of defensive work rate. Coleman bombs on far too high up the pitch & doesn't have the pace to get back. Walcott's defensive tracking has also been poor. Easy solution - Coleman needs to defend first - he can bomb on when we're 2-0 up.
Gomes has been very good on the ball - but I would like to see more movement off the ball - and for him to demand the ball. Also his defensive workrate needs to improve.
Lastly - I completely agree with Marco - we take it game by game. Zouma is performing - so he stays in 100%!
Mina can have his first start against Gor Mahia & he will be ready for Chelsea.
COYB - lets get the 3 points!
Jay Harris
30
Posted 02/11/2018 at 17:21:30
Johnjoe is injured so thats the end of that argument.
Walcott has not really immersed himself into the workrate and involvement necessary to justify a regular berth so Lookman gets a runout for me.
I also prefer Richarlison on the left so its either Tosun or DCL or a half each and whoever gets the goal(s) keeps their place.
I think zouma will keep his place and we will get a clean sheet.
COYB.
Dermot Byrne
31
Posted 02/11/2018 at 17:35:01
I think keep Bernard playing. I can see Gomes' ability to pass may mean the two click. Anticipation .what a delight that would be.
Jeff Armstrong
32
Posted 02/11/2018 at 17:47:04
Zouma to start and if we're winning comfortably with 20 minutes left give Mina his debut,it won't matter if the Chelski game is his eventual debut cos we'll be lucky to get anything there anyway, Mina getting Brighton minutes or not is irrelevant.
I'd agree Lookman for Theo,Cenk for Bernard etc just to shake it up and keep everyone involved,plus it gives us permutations going forward into busy periods.
Overall hoping for a comfortable win cos we've got some tough away games coming up.

Terry Farrell
33
Posted 02/11/2018 at 17:47:39
Bernard has got magic in his boots and needs a consistent run since a long lay off so leave him in. Seamus will come good also. Theo was poor against man u and can be guilty of poor decision making but he is quality and knows he needs a good game tomorrow to keep Lookman at bay so start him. Leave Ricky centre forward as dunk and Duffy will be vulnerable every time he gets a run on them. Either start mina or give him as long as possible. Keep the faith lads too much change won't help.
Terry Farrell
34
Posted 02/11/2018 at 17:48:20
Apologies Lasses as well
David Pearl
35
Posted 02/11/2018 at 17:59:32
What's apparent is the fact that we options all over the park but I doubt Silva will make many changes as we try to gel. Personally I'd bring Baines in as Digne seems to need more time to cross the ball. I doubt that will happen though and expect a strong but changed line up for whatever in mid week. There's a case for Bernard being on the bench or moved to the right or inside. What won't change is Gueye and Gomes.
Fran Mitchell
36
Posted 02/11/2018 at 18:15:04
Mina in for Zouma, as he needs a game pre Chelsea.
Tosun, Lookman or Calvert-Lewin for Walcott.
Derek McMonagle
37
Posted 02/11/2018 at 18:58:38
The player who would benefit most from a run in the first team is Lookman. He is living on scraps at the moment which isn't going to get the best out of him.
The way Wallclock is playing at present it is hardly a difficult decision to drop him.
John Hands
38
Posted 02/11/2018 at 19:33:50
Anyone got thoughts about playing Walcott up front? He seemed to score a few when he played there at the Gunners.
Drew O'Neall
39
Posted 02/11/2018 at 19:36:30
Why don't we get the bloke who makes runs and knows how to finish in front of the blokes who know how to dribble, pass and cross?
Not rocket science and we've barely tried it.
Folks calling for Calvert-Lewin and Lookman are changing too much at the same time when we haven't clicked yet.
Joe McMahon
40
Posted 02/11/2018 at 19:53:31
David @35, my concern would be, if we started with Baines then that's the area Brighton would target.
John Dean
41
Posted 02/11/2018 at 20:06:16
u23s are leading Brighton at half-time through Markello who chased a backpass to their centre back and then followed on when the CB played it to their goalie who was caught in possesion. The sort of goal RS get most weeks (I am led to believe as I never watch them) and our first team never does.
First time I've seen Astley and he certainly has a calm presence on the right-side of a back 3.
Sambou spending most of his time on the floor so hoping Ellis Simms gets a bit more time in the second half than he did in the last game.
https://www.youtube.com/watch?v=6TDS3e0lS54
Sam Hoare
42
Posted 02/11/2018 at 20:08:38
I think Lookman deserves a start.
I'd stick with Richie up front as I still believe he may be the best chance we have of a top class CF and Bernard needs game time to get up to speed. I'd also bring Mina is as we may well get a few set pieces.
Pickford
Coleman Keane Mina Digne
Gomes Gueye
Lookman Siggurdsson Bernard
Richarlison
Rob Dolby
43
Posted 02/11/2018 at 20:22:06
I would like to see the same team as last week but more interchanging up front. Walcott, Richarleson and Sigurdsson can all play as a false 9.
Bernard may be the one under most pressure as he hasn't performed at all in the last 2 games whilst Lookman looks sharp.
Coleman would be my skipper, the only time he wouldn't get in my team is if he is injured. He is one of the few leaders on the park.
Mina will have to wait for bad form or injuries as both Keane and Zouma are playing well.
Paul Rimmer
44
Posted 02/11/2018 at 20:36:19
Longer term I think Richarlison is better on the left as a wide striker but I'd play him central against Brighton as their centre halves will struggle more against pace than a ball lumped up to Cenk or DCL. Whilst Bernard was poor last time out I'd persist as there's obvious quality there. Lookman deserves his chance along with Mina who can offer a lot in both boxes so
Picks
Seamy Mina Keane Dixie
Lookman Andre Gana Bernard
Siggy
Richarlison

David Pearl
45
Posted 02/11/2018 at 20:45:56
Joe, 40... at least they won't just be targeting our right, it would even it out a bit.
Walcott was calling to be played up front for a while when at Arsenal, we've not heard that from him here. He always needs a few chances to score though. Interesting times. I just want us to click properly before heading across the park.
John Dean
46
Posted 02/11/2018 at 21:04:00
u23s win 1-2, second goal coming from Bowler who took a pass from Broadhead in the right-hand corner of the box and fired a curler inside the far post. Brighton got a scrambler in response. Everton clear at the top of Premier League 2 by 4 points.
Dave Abrahams
47
Posted 02/11/2018 at 21:07:47
John (41), thanks for the link, caught last fifteen minutes
including great goal from Bowler, Brighton got one back
from a corner, free header, good save by Hilton but the ball was kicked home by the lad who had the header, poor defending there by defenders, but we we now lead
the table by five points.
Phil Malone Jnr
50
Posted 02/11/2018 at 21:51:42
I fancy Tosun back up front tomorrow.
Would like to see that at the expense of walcott with Bernard slotting in on the right side. If I never saw DCL in an Everton shirt again I'd be delighted. The lad has played 50+ games for the club and I still don't know what he does. As a wide player everyone talks about his pace, I've not see him run with the ball. As a striker, he slowly runs around and offering nothing. He needs to be sold or loaned with a view to buy and we have to move on from him.
He'd struggle to start in the championship never mind a team with ambitions to move up the table.
Jay Harris
52
Posted 02/11/2018 at 22:09:06
Strange how we all see things differently Phil.
For me DCL holds the ball up a lot better than Tosun, is a better header of the ball, Wins more 50/50s has scored more goals and is only 20 years of age.
I don't believe he is currently good enough for a top six side but Tosun will never be a top 6 player.
Les Moorcroft
53
Posted 02/11/2018 at 22:09:51
I fancy Lookman in, Walcott on the bench. Mina on half-way through the second half for a run out. Perfect world: an early goal... 2-0. COYB.
Jeff Armstrong
54
Posted 02/11/2018 at 22:17:19
Phil#50, DCL is not a wide player,so you'll never see him run with the ball, he has been forced to play there by previous managers,
how these things get through to successive mangers continues to baffle me.
." Psst boss..DCL can play out wide you know, he's played there loads, why don't you try him there, just as an alternative to our shit strike force, but not actually playing him up front, cos we both know he's shit up top" I suspect one D.Ferguson for this, but I'm probably wrong…
Paul Birmingham
55
Posted 02/11/2018 at 22:47:05
For me the same as the last game but swap out Theo for Mola.
Then this would perhaps prove or disprove playing 4 footballers with guile, pass and ability.
One game is not enough for such a perm, but this could ultimately prove to the board a sanction to buy a natural striker, accepting there's few and far between..
January transfer window is very tough.
Simon Dalzell
56
Posted 02/11/2018 at 23:50:51
Tosun to start is a must for me. I'm not holding my breath because Silva worries me with his team selections and tardy substitutions.
John Pierce
57
Posted 03/11/2018 at 03:07:27
A game we should win and win with flair. Time players who are doing it get tested and get the wake up call that perhaps they deserve.
After all we all wanted a squad for competition, Silva said as much. Lookman in for Walcott, Bernard to the Bench. Tosun up front. The dashing Gomes to score a hat trick.
5-0 to the blues.
Phil Malone Jnr
58
Posted 03/11/2018 at 03:24:49
Does anyone want DCL to start or come off the bench? Dow she offer anything?
Derek Knox
59
Posted 03/11/2018 at 04:03:50
Phil @58, I wasn't aware he had undergone a sex change, or genital re-alignment ? :-)
Steven Jones
60
Posted 03/11/2018 at 06:34:19
I agree with Terry @33
Keep the same team.
Theo makes great runs in behind the opposition defence and Bernard needs more consistent match fitness. Both are capable of golden moments to cut the opposition in pieces.
Gylfi, Gomes and Gana will build momentum.
Coleman will be much improved this week - he knows himself he is below par. With Coleman not having a world class Martial against him will bomb forward and support Theo.
With another weeks Silva training, confidence building - we should get a good win today. Brighton will be more Huddersfield than Man U so we need to unlock the defence.
Patience and load home support will help and we have options from the bench.
Still, would not surprise me to see one change of the front three.
Dermot Byrne
61
Posted 03/11/2018 at 06:43:56
Dominique Calvin Lewin. Aah takes me back to the days of Michaela Lyons, Norma Hunter and of course Josephine Jordan. I had a Teri Darracott blouse once.
Kim Vivian
62
Posted 03/11/2018 at 08:28:44
OK - as I see it... Brighton are NOT cannon fodder for teams wanting to accrue points. They sit just below us with one point less and do have more than half a decent manager.
I expect us to win (hoping goes without saying!) but it is not going to be a walk in the park. Maybe 1-0 or 2-0. I expect us to keep a clean sheet with an improved defence but Houghton will be coming here to look for a point and do not this to be the high point of our excitement this season.
However, stepping stones 'n' all that - we do seem to be making progress after the last couple of year's shite and another step forward today will be very welcome.
I, for one am beginning to believe in Everton again.
Frank Sheppard
63
Posted 03/11/2018 at 09:22:45
Let's not forget, Brighton are no push overs, their away form improving and their defence is well organised and doesn't give a lot away. Probably be a tight game.(I hope I am wrong).
Dave Abrahams
64
Posted 03/11/2018 at 09:39:22
Phil (58), I would like DCL to be n the squad every week, the more minutes he gets in the first team the better he will be, decent speed, great header of a ball, doesn't score enough at the moment, that will also improve, he
has provided quite a few assists: for a twenty one year old he has a great deal of ability, keep watching him Phil,
you might get to appreciate him.
Derek Knox
65
Posted 03/11/2018 at 10:23:29
Dave @64, good point regarding DCL, and let's not forget for the many games last season and before he has been played out of position. Although having said that, I think being handed the sole role of striker is one he is not ready for yet.
Whereas Tosun, is not being played out of position, has arguably better players around him this season and still has a very poor return, although he does seem a genuine guy.
I don't see it being the style of play we have changed to, being the reason for few goals coming from the striking position either, if you could graft the two together we may have a decent striker.
Amit Vithlani
66
Posted 03/11/2018 at 10:46:07
In Gomes I think we have a genuine midfield general we have craved. Bernard, Gylfi, Lookman, Walcott and Richie bring either pace or creativity in the final third.
Looks like we got CB sorted and a good LB, as well as a long term solution in goal.
So its CF we are missing the quality (ironic, given how we had a very good CF in Lukaku not long ago) and now RB, as Seamie is very much out of form and Kenny needs time (ironic, given Seamie's very good form pre injury).
Two players away from a very good side. This was the case in 2012, 2009, 1996, and arguably 1989.
How very Everton...!
Brian Harrison
67
Posted 03/11/2018 at 11:18:56
I think the only change from last weeks team I would make is Lookman for Bernard. There is the obvious question as to does he start Mina or bring him on in the second half, with Zouma being out for the Chelsea game. I think we need to play as much of a settled side as we can for the next 6/7 games, I am sure all the subs will get a run out over the busy Xmas period that is only weeks away.
No game in this league is easy and Brighton come here full of confidence having won 3 on the bounce, but hopefully we will have enough to secure all 3 points. There is for the first time in years competition for places in every position, which makes me think that this team will only improve from now on. Team spirit seems high which is vitally important if a team wants to be successful.
Phil Sammon
68
Posted 03/11/2018 at 11:22:40
Walcott out, Tosun in. Please.
Gary Edwards
69
Posted 03/11/2018 at 11:57:24
David at 35 I'm sorry but Baines for Digne is a terrible idea. I think there is a case for Digne being our best player so far this season. Baines had a slight resurgence in form under Allardyce (which speaks more of Allardyce's tactics than Baines rediscovering some form).
Digne has played well, may not have impressed in his forward play in the last couple of matches as we've not had a proper #9 / target man for him to hot early crosses into. Also he's had Bernard in front of him whom doesn't offer much support in defence.
Give Baines a run in the FA Cup though I'd really like to see some of the U23's break into the 1st XI for the cup.
Tony Everan
70
Posted 03/11/2018 at 12:11:48
We have a very young, and very talented alternative front three in;
Richarlison, Dominic Calvert-Lewin, Lookman
all 21 years old.
I wonder if at some point that Silva may see if these 3 feed of each other and become more than a sum of their parts because of it. It wont happen today, but it the potential in it is plausible . It would bode extremely well for the club if it did click.
Lewis Barclay
71
Posted 03/11/2018 at 12:37:15
Just seen Lukaku dropped from Man Utd team.
Get him back on loan in January!? :)
Brian Williams
72
Posted 03/11/2018 at 12:48:03
Not good enough for us Lewis ;-)
Jamie Crowley
73
Posted 03/11/2018 at 13:30:10
England and the U.S. need to coordinate when it comes to turning the clocks back.
I need my usual 10 a.m. start. These few weeks where I have to wait until 11 a.m. just throw me off.
Everton 3 Tony Everan's "Hove" 1
Walcott on the bench, Tosun up top with Rich and Bernard either side.
Derek Knox
74
Posted 03/11/2018 at 14:16:34
Jamie C, hope you're right with that score, but Brighton have proved of late they are no mugs either, not sure where are 'goals' are coming from!
Kieran Kinsella
75
Posted 03/11/2018 at 14:19:02
I think it will be 2-2, Brighton take lead in first half, we score two early in second, they score at end of the game.
John Pierce
76
Posted 03/11/2018 at 14:39:36
JaC, re DST. it totally fooks me off. That week/two weeks just sends me batty!
I'm not keen on waiting an extra hour.
Add Your Comments
In order to post a comment, you need to be logged in as a registered user of the site.
Or Sign up as a ToffeeWeb Member — it's free, takes just a few minutes and will allow you to post your comments on articles and Talking Points submissions across the site.