Mina: Everton move was the best decision I could have made
Saturday, 10 November, 2018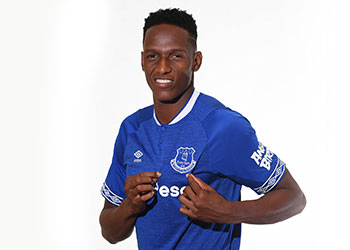 As Yerry Mina prepares for what is expected to be his full Blues debut, he explains how "Professor Marco's" pursuit of him over the summer made Goodison Park the obvious destination for him.
The Colombian has been forced to watch the first 11 Premier League games from the sidelines due to two foot injuries and then the form of Michael Keane and Kurt Zouma but the Frenchman's inability to play against his parent club means that Mina should be drafted into the starting XI that faces Chelsea tomorrow.
Mina was eventually signed by Everton from Barcelona in a deal worth just over £27m on transfer deadline day with his fringe status at the Nou Camp and, perhaps, his World Cup exploits convincing Marco Silva and Marcel Brands to sign him.
Despite demonstrably more effective attacking metrics this season, Everton have yet to score from a corner but Blues fans hope that that will change once the 6', 5" Mina gets a run of games under his belt.
The 24-year-old was Colombia's top scorer in Russia with three goals, one of them against England in the Round of 16, which underscored his threat from set-pieces and he reveals that Silva was persistent in trying to lure him away from Barcelona where he had failed to break into the first team.
"The truth is Professor Marco spoke to me every day, telling me to come to England," Mina explains. "Everton has always been an important club for me, honestly. I watched them when back in the day when Fellaini was playing here, I remember Aaron Lennon at a similar time.
"But the big thing after the World Cup was Marco: he always was on the phone saying to me, 'come on! Come and play here with us!'
"The faith he showed in me was very important. I know now, sitting here, that I have made the right decision. It was the best decision I could have made."
"I am a big believer in not looking back," Mina continues. "I tried my best in Barcelona but it was not to be. When the summer came, the World Cup was like payback, if you see what I mean. It was my chance to show what I can do.
'More than anything, it was a chance to do what I love doing - playing football! Now it is all about what I can achieve with this great club now that I have signed here. I experienced some very tough moments in my hometown, Guachene, but that helped me. I am tough and can deal with problems.'
---
Reader Comments (21)
Note: the following content is not moderated or vetted by the site owners at the time of submission. Comments are the responsibility of the poster. Disclaimer
Liam Reilly
1
Posted 10/11/2018 at 17:10:25
I think this lad is going to be a cracking signing. Never thought it would happen, so kudos to Brands.
Tony Everan
2
Posted 10/11/2018 at 17:22:15
I am excited about Yerry too, but I hope he concentrates on the bread and butter of defending. His threat from set pieces is a massive bonus for us, and will get us points, but any defensive deficiencies will negate the benefits of that threat.
He needs to be a Defender ++, to mimic the colloquial vogue.
Robert Leigh
3
Posted 10/11/2018 at 17:47:44
Nice to hear such a positive interview.
Slightly concerned though about his mobility, especially alongside Keane.
Zouma has the pace we need in the centre of our back-line, alongside Keane or Mina he's essential.
Very happy Mina is getting a game, but we should try and sign Zouma on a permanent deal to be our third man.
Ian Jones
4
Posted 10/11/2018 at 18:03:13
So, let's hope Marco informed Barcelona of their desire for Mina before speaking to the player himself every day.
:)
Peter Gorman
5
Posted 10/11/2018 at 18:24:00
I am about to travel to Colombia so I will be intrigued to hear how our fame has spread. I know that the man on the Bogota omnibus habitually follows the career of James Rodriguez but, after those World Cup goals I hope the same is true of Yerry.
Generally speaking though, it is gratifying to see how all of the Barca lads appear to be buying into the club and the warm welcome from the fans. First two look class, no doubt Yerry will be too.
Brent Stephens
6
Posted 10/11/2018 at 19:06:18
Peter #5 have a snorter of a trip. Hope you meet a few blue noses.
Gordon White
7
Posted 10/11/2018 at 20:05:02
We've created so many chances from set plays this season. But we're not converting them. If the cross bar was 3 foot higher - Zouma would be our top scorer. Mina will not only score from these positions, but he'll make room for others to.
Obviously, like everyone else, I hope he can boss our area too, along with Keane. After all he is a defender! I'm hoping they can develop into a really strong partnership, along with Coleman and Digne.
One things for sure he seems to be larger than life and will be a really positive influence on the field and in the changing room. We need characters and team spirit.
Tomorrow will be a bit early to judge. But I'm hoping we get glimpses of things to come.
Jamie Crowley
8
Posted 10/11/2018 at 20:32:41
Gordon -
One things for sure he seems to be larger than life and will be a really positive influence on the field and in the changing room. We need characters and team spirit.
I couldn't agree more. This kid has charisma. And if he stays happy, it will only lift others around him up.
And that kind of chemistry in any sport is invaluable.
David Pearl
9
Posted 10/11/2018 at 21:46:05
Well 40/1 1st scorer, worth my tenner.
Steve Ferns
10
Posted 10/11/2018 at 22:05:07
Why are you concerned about his mobility? The lad is fast. Usain Bolt is the fastest man in the world, despite also being a giant. People should stop judging books by their cover.
Over 20 yards Mina is reasonably fast. Perhaps he's not the quickest from a standing start but you can't label him as slow. He's also got a good skill set and was seen regularly charging down the pitch with the ball and beating people with his pace.
Just go to YouTube if you want to see it with your own eyes.
Drew O'Neall
11
Posted 11/11/2018 at 00:45:19
Nice to see modern footballers smiling and it's even nicer to see our lads interacting with the fans and supporting Everton's various community projects.
Mina has embraced the community work and spread that infectious smile of his.
A huge credit to the lad's outlook and the team spirit the new regime is cultivating among the likes of Digne, Gomes and Zouma.
John Pickles
12
Posted 11/11/2018 at 08:05:20
He must REALLY like Fellaini, because reports all through the summer were that he was desperate for a call from Man Utd.
Jerome Shields
13
Posted 11/11/2018 at 11:01:09
I can't wait to see him actually play. I can't see Zouma staying at the end of the season if Mina makes a shape. Zouma was reluctant to commit himself to Everton at the start of the season when asked.
James Hughes
14
Posted 11/11/2018 at 12:01:04
Hopefully Mina can establish himself alongside the rejuvenated Keane and form a solid pairing.
There is an article in the Echo about Barca refusing to discuss selling Gomes. The article also points out Chelski had the same stance with Zouma. The Gomes situation will be difficult to solve but Zouma could become a minor point if Mina can step up.
It would be far from ideal if both of these players become a hugely influential part of out team, just to lose them both next summer. In the meantime, let's gets as many points on the board as possible, starting with three today.
Jerome Shields
15
Posted 11/11/2018 at 13:39:55
James #14. I agree, the Gomes situation should be worked on. He makes such a difference to the midfield trio, with Davies as a tactical alternative.
Simon Smith
16
Posted 11/11/2018 at 22:10:23
Great performance by Yerry today, he's waited patiently for his go after a string of good performances by Keane and Zouma, and done it without any ego after a big money move.
Credit were it's due, plus he's our player, so imo he starts now vs Cardiff and the place is his to lose.
Well done today to Yerry and welcome to the blues.
Mike Gaynes
17
Posted 14/11/2018 at 01:17:41
Mina has tremendous pace, folks. Every bit as fast as Zouma, probably our paciest centre-back since Distin.
He doesn't have Zouma's depth of experience, so he'll make some mistakes, but they'll be mistakes of aggression, not passivity. And as I mentioned on the Forum, his man-marking instincts are ten times those of Zouma, who watches the ball as if it were Kate Upton topless.
Mina will blunder. He'll get caught on the ball in bad positions because he's supremely confident in the dribble. He'll give away a pen or two because he loves to tackle. But we'll be patient past those, won't we, people?
Star in the making.
Peter Gorman
18
Posted 14/11/2018 at 01:57:21
All good points Mike, but you forgot to mention that he is also blatantly a good lad and a bit of a 'character' (in the best possible sense). Had no qualms telling Morata where to go and I caught the Chelsea diver muttering a few choice epithets throughout the game, most likely aimed at Yerry, which only makes it more enjoyable.
I don't want to get ahead of things but I also think he has star potential. I'll happily forgive the odd blunder as I did for Joey Yobo, whose worth to the team over the years more than made up for it.
Sam Hoare
19
Posted 14/11/2018 at 06:47:45
Mike, I would contest the idea that Mina is as quick as Zouma, let alone Distin.
I think Mina probably has a good top speed once those long legs get motoring. But his acceleration from standing is not so good as far as I can see.
Difficult to prove these things but I do worry that Keane and Mina lack that searing recovery gas (acceleration in big part) that's gets you of trouble on occasion. They obviously did very well against Chelsea but there were a few times that balls behind were not caught up with. Time will tell.
Drew O'Neall
20
Posted 14/11/2018 at 07:18:32
Why is Jagielka being left out of a conversation about our fastest centre backs? Need I remind you that he was clocked as the Premier League's fastest player in 2014?
Peter Gorman
21
Posted 14/11/2018 at 16:01:51
Because it is 2018, Drew! Helloooo!
Add Your Comments
In order to post a comment, you need to be logged in as a registered user of the site.
Or Sign up as a ToffeeWeb Member — it's free, takes just a few minutes and will allow you to post your comments on articles and Talking Points submissions across the site.