Southampton vs Everton
Friday, 18 January, 2019
Match Preview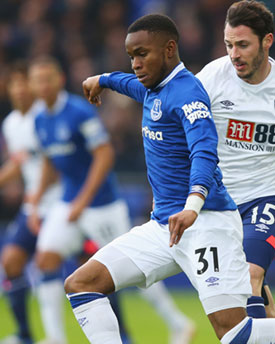 Ademola Lookman could face his former Leipzig boss, Ralph Hasenhuttl
Everton look to build on two successive wins as they travel to the south coast this weekend to face Southampton under their new manager, Ralph Hasenhuttl.
The Saints took the almost inevitable decision to sack Mark Hughes last month with the club lying in 18th place and in serious danger of suffering relegation back to the Championship for the first time in eight years.
Since then, the Austrian has overseen a mixed run of results — his charges beat Arsenal in a thriller in his first home game and then won at Huddersfield but a loss at St. Mary's Stadium to West Ham was the start of a run of four winless games in all competitions before they beat Leicester away last Saturday.
They come into this clash with Everton on the back of just three days' break following their defeat on penalties to Derby County on Wednesday and that, combined with injury doubts over Shane Long, Danny Ings, Mario Lemina and Ryan Bertrand and the confirmed absence of Michael Obafemi (hamstring injury) and the suspended Pierre-Emil Hojbjerg, will be a boost to the Blues' chances.
For Everton, this trip will bring back haunting memories of what was the nadir of a dreadful 2017-18 season. In tandem with their humiliation against Atalanta, the 4-1 drubbing that David Unsworth's side suffered was the straw that broke the proverbial camel's back for Farhad Moshiri and it paved the way for the appointment of Sam Allardyce a few days later.
Having presided over just two away wins so far this season and in need of another good result to help distance the team from a poor sequence of results following the Anfield derby, Marco Silva will be looking for an altogether different result this time around.
He will be aided by an almost clean bill of health in his squad, with only Phil Jagielka (an unlikely starter anyway) ruled out with an injury he picked up in training this week.
Whether he opts for an unchanged line-up remains to be seen but he could be tempted to given the performances from Bernard and Ademola Lookman in last Sunday's win over Bournemouth. Lookman, who could face his former manager from his loan spell at RB Leipzig if he plays, was named the official man of the match for what was an impressive display on only his second Premier League start of the season and he weighed in with an assist for the second goal.
That Dominic Calvert-Lewin scored that goal with a beautifully controlled shot just minutes after stepping off the substitutes' bench is, perhaps, the only pause Silva might have for thought over his starting XI. Richarlison did not have his best game leading the line against the Cherries but the form from the two men on the flanks combined with Calvert-Lewin's inconsistency as a starter could sway his thinking to keep things unchanged.
At the back, Yerry Mina is, no doubt, champing at the bit to play but there is a growing consensus that Michael Keane and Kurt Zouma are the Blues' most reliable pairing and that could see the Colombian among the subs again for this one.
Given Southampton's propensity to concede goals (they've let in seven in their last three home games in all competitions) and the fact that they are still struggling to find their form under their new boss means that Everton should fancy themselves for this one.
In contrast to the defeat at Brighton, the win at Burnley showed what Silva's Toffees are capable of when they are firing on all cylinders and up for it and it is getting that spirit and confidence into the players before kick-off that could make all the difference.
Kick-off: 3pm, Saturday 19 January, 2019
Referee: Graham Scott
Last Time: Southampton 4 - 1 Everton
Predicted Line-up: Pickford, Coleman, Keane, Zouma, Digne, Gueye, Gomes, Sigurdsson, Bernard, Lookman, Richarlison
---
Reader Comments (100)
Note: the following content is not moderated or vetted by the site owners at the time of submission. Comments are the responsibility of the poster. Disclaimer
Derek Knox
1
Posted 18/01/2019 at 07:09:47
Good preview Lyndon, and I think you have the team to start, pretty much spot on, I think Calvert-Lewin is more effective as a sub, and would hope he comes on with a good portion of the second half remaining.
I watched Southampton against Derby in their replay on Wednesday, and while the team will be different for Saturday, I suspect a few of them will play. It was interesting to see in that match the impact that Redmond had on the game, when he came on as sub in the second half.
I think this is a winnable game, given that they have some injuries to key players, but it all depends which Everton turn up!
Ralph Basnett
2
Posted 18/01/2019 at 07:33:51
Unfortunately every team can see that we are weak down our right-hand side and play on it. Coleman was dropped because he isn't good enough and Silva deems he can return to the fold after 'resting him' for two games.
When will Everton ever learn that sometimes it has come to the end and put players out to pasture such as they have done with Jagielka and Baines. Whilst I do not think Kenny is the long term solution he is a better option than Coleman.
Winnable games are becoming difficult because too often we cannot get forward because we concentrate on what the opposition are going to do to us and not what we are capable of doing to them.
The team will be the same as against Bournemouth, and we will struggle as much, but away from home against a team that want's it more will see our one game winning streak halted.
Sorry to be so pessimistic but, after all, this is Everton!!!!
Sam Hoare
3
Posted 18/01/2019 at 07:53:03
Couldn't hope for a much better time to play Southampton than after their midweek 120-minute loss. Having said that, they'll probably have Ings back and he'll trouble us.
The only questions for me are Coleman vs Kenny at right-back and Richarlison vs Calvert-Lewin; think I'd go with the latter in both cases with Richarlison a great option to bring off the bench against tired legs.
Eddie Dunn
4
Posted 18/01/2019 at 08:28:13
Sam, along the same lines, I think Calvert-Lewin does much better as a sub against tired legs!
Kevin Prytherch
5
Posted 18/01/2019 at 08:36:16
I would still like to see Bernard or Richarlison in Sigurdsson's role and keep Calvert-Lewin up front. I also agree that Kenny should be in with a shout.
Against tired legs, Bernard's trickery through the middle, Richarlisons directness down the wing and Calvert-Lewin's pace up front could really tire them out over the first 60 minutes. If we're not winning by then, we have Sigurdsson and Walcott to potentially come on against very tired legs.
Robert Leigh
6
Posted 18/01/2019 at 08:44:16
Pickford
Coleman - Keane - Zouma - Digne
Gana - Gomes
Richarlison - Bernard - Lookman
Calvert-Lewin
Lookman looks better on the left, cutting in with Digne going past him, and Richarlison's work rate will give some protection to Seamus (though I'd prefer Kenny to start).
Sigurdsson needs a sit down and watch as he's been poor recently.
COYB!!
Kieran Fitzgerald
7
Posted 18/01/2019 at 08:44:41
I would keep Bernard and Lookman on both wings. They both switched wings during the Huddersfield game and will cause a post-midweek-game Southampton trouble.
Both players also put decent crosses into the box on Sunday and I would hope that, regardless of who is up front, we have worked on this in training during the week.
Neil Lawson
8
Posted 18/01/2019 at 08:53:45
Our form is sketchy, to say the least. Other descriptions may apply.
This is the sort of game that we should never lose and ought, reasonably, to expect to win. The outcome tomorrow may well be significant in determining just what the remainder of the season may bring us.
Confidence needs to be built before the trip to Millwall. The performance is less important although it would be good if that were improved too.
The beauty of supporting Everton is that, despite sensible words from all of us (well, most,) that we have no idea what in reality will occur tomorrow and whether the cat needs to go into hiding at 4:55 pm for purposes of self-preservation. Deep joy!!
Jim Bennings
9
Posted 18/01/2019 at 09:05:20
Another pretty dreadful venue for us over the years and the type of game which we balls up in after winning last week. I keep saying the same thing on a weekly basis but it's high time we string a run of good results together and build momentum.
We can't build momentum if we win at home to Bournemouth then follow it up with a loss tomorrow, it's just not good enough.
Southampton just played 120 minutes on Wednesday night with most of their first team involved in that gruelling game so we will truly see tomorrow if the tiredness and fatigue excuse so often used by us bears any fruit, and if so, will we be good enough to actually take advantage of it?
We have a bunch a teak tough home games coming up between now and May so away games against the likes of Southampton, Huddersfield, Watford etc need to start resulting in more wins than draws or losses.
Dave Evans
10
Posted 18/01/2019 at 09:23:22
The vast majority of games are won and lost in midfield. This means winning the battles of skill and physicality in there. I expect the Southampton game to be no different. If they roll us over in midfield, we will get beat.
We need two or three players who can own that central box-to-box strip. it could happen by existing player improvement or by buying new faces but it needs to happen. Otherwise we will continue to be the 'fragile' team.
With most, I like 4-3-3 long term but we need to tighten things up centrally and build confidence. 4-4-1-1 anybody ?
John Keating
11
Posted 18/01/2019 at 10:09:35
We seem to have heard this "build a bit of momentum on the back of a result" a few times this season, doesn't seem to have happened so far.
Our away record the past few seasons has been nothing but a disgrace and we have depended on our home form which this season has been questionable.
This game and our next away at Huddersfield are absolute must wins with no pathetic excuses like tiredness.
Looking at our remaining home games – Wolves, Man City, Liverpool, Chelsea, Arsenal, Man Utd and Burnley – well, it's scary in our present feeble condition. Realistically, can anyone see many points picked up at Fortress Goodison???
Peter Mills
12
Posted 18/01/2019 at 10:25:51
To echo John #11, Mr Silva has garnered 24 points from his 31 games in the Premier League, an average of 0.77 points per game. For us in isolation, his average is 0.82 points.
Neither is good enough.
James Hughes
13
Posted 18/01/2019 at 10:39:16
Peter, call me dense but what does the 24 points relate to?
We currently have 30 points, so is the 24 in relation to home games or away games?
Sam Hoare
14
Posted 18/01/2019 at 10:41:14
Why is it a "must win"? And why is this the sort of game we should never lose?
I find these comments perplexing and only add to the pressure and consequent frustration. We are not that good yet! We're not Liverpool or Man City.
Southampton have had some decent results of late. They beat Leicester and Arsenal who are both above us in the league. Maybe the reason people get so angry on here is because they don't realise we are a mid-table team currently who (like the other mid-table teams) could feasibly lose to anyone, especially away.
If we do lose so what?! It's not a cup match. Maybe we might end up coming 9th rather than 8th. Not a big deal.
Of course, we all want to win every game but let's not burden ourselves with unrealistic expectations. We are an inconsistent team that is hopefully beginning to re-find its feet. We will probably end the season 7th-10th.
The atmosphere at Goodison and indeed in here has been one of entitlement at times and I don't think that helps anyone.
Yeah, we spent a lot of money but most of it unwisely. Spilt milk. I think we are now heading in the right direction with Brands and hopefully Silva but we've got a long, long way to go yet.
David Hayes
15
Posted 18/01/2019 at 11:08:13
The last few games has seen a dramatic dip in form displayed by Gomes after an effective and controlled start from him. I feel this, in particular, has had a knock-on effect on overall fluidity.
A lack of confidence on his part and continuously giving the ball away, bad passing in dangerous areas needs urgent attention. The solution is not Tom Davis as the same problem if not more so persists.
Any ideas, anybody???
Seamus McCrudden
16
Posted 18/01/2019 at 11:18:40
David, stop playing out from the back – especially when it's putting us in trouble. Need to mix it up as we are far too predictable.
Tom Bowers
17
Posted 18/01/2019 at 11:40:36
Sadly, the Gomes form seems to be the general theme with Everton signings. So many start bright and then fade once they have gotten starting roles.
It just seems the managers won't leave out many players who earn big wages. We all know these guys have talent but consistency is the key and Everton have very few consistent players these days.
I am sure that all Southampton's squad will be available and will come out with intensity for this match knowing Everton's frailty at defending.
Will Silva have Everton up for this battle as Southampton are desperate?
Franny Porter
18
Posted 18/01/2019 at 11:42:26
Someone further up the post states that they think Kenny is a better option now than Coleman.
I was desperate for Kenny to get into the team when we were playing bloody Martina at right back, but having now seen him at close quarters, I would say he is Championship level at best.
Despite his problems since that horrific injury, until we bring someone in, I think Coleman is still the best option at right-back.
Neil Lawson
19
Posted 18/01/2019 at 12:17:52
Niasse gone. Talk, too, about Tosun following soon. So either Silva has a replacement lined up or he thinks Fraser Hornby's return to action is timely.
Unlikely methinks, but I would rather run the rule over him until the end of the season than bring on board another overpaid and overrated loanee. A scrappy 1-0 in the FA Cup semi-final and final will suffice!
Rennie Smith
20
Posted 18/01/2019 at 12:56:43
You could argue the recent form of Gomes is down to the holiday fixture list. These guys are used to winter breaks, not flogging their guts out even harder than usual. It takes a couple of years to get used to the intensity of our game, and some, Tosun, Sandro, Klaassen for example, probably never do. It's not just about physical fitness, it's more mental strength.
Talking of which, let's hope Southampton are shot from a long FA Cup defeat on Wednesday. They played a pretty strong line-up with only 2-3 changes from their last league game. With good intensity from the off, we could overrun them early doors.
I'm sure Lookman will start and well deserved. The thing I would like him to do, however, is not drift inside so much. I know he's probably told to play that way to make space for an overlapping full-back, but I would prefer to see him hugging that touchline a bit more and taking it on from there. That's how he set up the last goal for Calvert-Lewin.
Eddie Dunn
21
Posted 18/01/2019 at 13:13:15
Well I wouldn't think you need particular mental toughness to play football every week.
Also, I suspect that some of us in the UK have a preposterous superiority towards players from other leagues. I imagine that playing against technically less gifted opponents could be a lot easier.
I think their are two possible reasons for Gomes's drop-off in form.
Firstly, as many have wondered on various TW threads, he may be carrying an injury. (A soreness in the hamstring is enough to restrict one's game).
The other thing is opponents have had a look at him, seen his weaknesses(lack of pace, lack of options for the pass), and have marked him accordingly.
Having seen the Bielsa powerpoint presentation, it is clear that modern coaches look at every aspect of opponents.
I think Gomes is a quality player. He lacks pace, but we still don't know if he can be a goal threat as he has been used mostly in a defensive role; however, it is quite silly to write him off, just as it was silly to get too excited at his first few outings. It was only a few weeks ago that people on here were panicking that his price would soar...
Derek Taylor
22
Posted 18/01/2019 at 13:49:15
Transition or no transition, Silva will soon have to up his points return if he wishes to be more than another of our owner's passing fancies.
The manager might just about get away with a likely midtable finish this season but I imagine – and hope – more will be expected of him next season.
He's fortunate that Evertonians choose to greet the very average displays with reserved dignity. I can think of many clubs where derision would be much more in evidence.
Jim Bennings
23
Posted 18/01/2019 at 13:52:44
What's the point in not giving Silva time?
What's the point in getting someone else in this summer and, after 3months, deciding he's likely to be sacked as well after Everton's frailties are laid bare?
I've said it before, we aren't going to get Klopp or Guardiola or Pochettino, are we? So we need to give this manager time to do something and build a stable unit.
Steavey Buckley
24
Posted 18/01/2019 at 14:00:21
The major weakness in the current Everton squad is mental strength, which was in an abundance when Kendall was in charge. His teams believed they could win every game.
Derek Taylor
25
Posted 18/01/2019 at 14:03:14
Jim, do you actually watch this crap week after week? My season ticket is long gone but I haven't missed many games this season.
The quality of play in the early games indicated promise but, since November, playing style and results have shown only marginal improvement over last year.
Indications are that I shall soon become no more than so many on here – 'a keyboard warrior'! And that after more than 50 years of 'active service'!
Peter Mills
26
Posted 18/01/2019 at 14:12:33
James #13, you are not dense, I am, I was referring to his away record. It would have added considerably to my post had I said so. Sorry.
Fran Mitchell
27
Posted 18/01/2019 at 14:15:54
No two ways about it, this is a must-win game. Anything less will sink confidence, both of players and fans. Yet, if we do win, it could give us the confidence to go on a solid run before our tough end of February and start of March.
We have 3 away games on the trot, and despite our poor away record, they should be seen as winnable:
Southampton away
Millwall away (FA Cup)
Huddersfield away
If we do indeed win, then Goodison will be a different place come the visit of Wolves.
Then two crucial home games sandwiching the away trip to Watford, Man City and Liverpool. If we are to get points from these two, and hopefully getting a title derailing victory against the shite, we will need to enter games with confidence. That means winning games like this weekend.
They say to only plan one game at a time, but that is impossible. We're due a good run of form, and if Silva get's it right, that should come now, and it could turn our season (and aspirations) right around.

I'd go with the same team as last time out, keeping Calvert-Lewin for the final 20-30 minutes as Bernard will eventually tire.
Max Murphy
30
Posted 18/01/2019 at 14:18:30
Suggesting that we are at an advantage following Southampton's 120 minutes playing time mid-week, is nonsense. If Everton believe this, we will be in for a fearful drubbing.
Prediction: Southampton 2, Everton 0.
Kevin Prytherch
31
Posted 18/01/2019 at 14:33:38
Rennie - I also think the weather plays a major part. A lot of these players are not used to these conditions. It's hardly an intimidating sight when your 6ft-4in defensive mountain comes off the bench with gloves on. We have a lot of foreign players who are not used to the climate.
When Arsenal used to have teams where every player was foreign, their title challenges always unraveled in the winter months.
It will take at least a couple of years before the likes of Gomes, Richarlison, Mina, Bernard and Digne become acclimatised to our weather. Until then, expect to see better performances at the start and end of the season.
Steavey Buckley
32
Posted 18/01/2019 at 15:06:46
Kevin,
Bernard played and lived in Russia before playing for Everton. So should be well and truly acclimatised to the cold weather of England.
Eddie Dunn
33
Posted 18/01/2019 at 15:07:47
What did you say, Fran? ;)

Steve Ferns
34
Posted 18/01/2019 at 15:22:36
True, Steavey, but my missus is from the tropics and it doesn't matter how long she's here (18 years so far) she still can't get used to the cold.
Also, Bernard was injured in March. His contract was up. He went home to Brazil for treatment and only left Brazil when he signed for us. So 6 months in Rio before coming here.
Mike Gaynes
35
Posted 18/01/2019 at 15:31:19
Southampton are coming off an absolute horror show three days ago – up 2-0 with 15 minutes to go, at home, against a Championship club, and gave it away. Their shocked fans will be the Walking Dead for this one, and our assignment will be to keep them from ever getting into the game.
David #15, my idea would be to replace Gomes in the starting lineup with Calvert-Lewin up top. Slide Bernard into the #10 and ease Sigurdsson back into Gomes's spot next to Gana. Siggy can do most of what Gomes can do with distributing the ball, and he's exponentially better defensively.
I doubt Silva will do it, however – Lyndon's projected lineup is far more likely.
Sam Hoare
36
Posted 18/01/2019 at 15:35:56
It's NOT a must win game. Unless we say every game is a must win game which makes the phrase a bit redundant. I refer you to #14.
Steve Ferns
37
Posted 18/01/2019 at 15:37:07
Mike, these aren't the best. They haven't got to grips with the new tactics. They can't get fit enough mid-season to play it (just like us) and with Extra Time in their legs, and injuries piling up, we can break them if we can keep a high tempo.
We need to move the ball about though. Sit deep but break at speed. Get them chasing us and work them hard. A tight first half at 0-0 would then give us plenty of opportunities in the second as they tire.
Or we can just go all out for the first goal. If we score early, it'll be hard for them to chase the game and find their legs to get a goal back.
Andrew Clare
38
Posted 18/01/2019 at 15:55:07
Southampton looked awful in midweek against Derby so I would expect a positive result but then again .
John Keating
39
Posted 18/01/2019 at 16:02:30
Steve, that sounds good but I can't recall us playing like that so far his season.
Well we have a few minutes here and there... then we get knackered and go into transitional fatigue syndrome.
Steve Ferns
40
Posted 18/01/2019 at 16:17:48
John, five of our signings had no pre-season. You cannot get fit during a season.
Remember we are talking elite athletes here. Of course they are all already fit. But we need them to be hard running, hard pressing fit. This means they need to be on a particular programme, set up by the Benfica lab guy, that ensures they are fitter than opponents throughout the season.
Because fitness is measured against opponents. Our players aren't fit enough? Compared to our opponents, not compared to the man in the street or an amateur, but compared to the other players in the premier league who are on a particular fitness programme. So you can't just catch up.
There's no World Cup this summer. There's no Euros. But there is a Copa America so we will see Richarlison and Mina return to pre-season late. The rest of them should really step up though. Expect them to look a lot sharper next season.
John Keating
41
Posted 18/01/2019 at 16:34:03
Hope so Steve.
Thing is a lot of teams had players with little or no preseason, World Cups etc and they seem fit enough.
Man City and our neighbours have probably played as much as anyone, their players, eg, Salah seem to be okay. City had Debruyne miss a load of games and he looks as fit as a fiddle.
In my opinion, for what it's worth, our fitness problems have not just been this season and I think that, and fatigue, is just a poor excuse that other teams don't seem to have had on our scale, to be honest.
Steve Ferns
42
Posted 18/01/2019 at 16:37:59
You're comparing us to Man City and LIverpool who have settled managers, players and the players are well adjusted to their style of play.
We've gone from one extreme to the other in nearly every aspect. Defence to attack, sit deep to pressing, long ball to short ball, etc. If everything is changing it takes time.
Again fatigue is not an excuse, it's a reality. And again it's measured against the opponents. You simply cannot catch up on fitness in the middle of a season. Not unless you drop out of training and do pre-season type training for about 6 weeks and get yourself properly ready.
Eddie Dunn
43
Posted 18/01/2019 at 16:47:47
Steve, what you say about fitness sounds plausible but don't all the clubs have players coming in from all over the place after summer injuries, tournaments or late-in-the-day transfers?
Steve Ferns
44
Posted 18/01/2019 at 16:49:50
Yes Eddie. But we have 5 signings. That's half the first eleven. And except for Mina they are in the side, week-in & week-out.
Darren Hind
45
Posted 18/01/2019 at 17:09:02
"Realistically, can anyone see many points picked up at fortress Goodison????"
The white flag of surrender didn't used to surface until the day before the game... now it's being raised half a season in advance.

Gerry Ring
46
Posted 18/01/2019 at 17:22:37
Personally, I'd like to see McCarthy on the bench and getting 20 minutes. What is there to lose? We've seen Davies & Schneiderlin & know their capabilities. McCarthy is the type of player who probably wouldn't show up well in training games due to his aggressive style of play but this is what we are crying out for now.
Give him his chance, if he doesn't cut the mustard by the end of the season, then so be it. I'd be very pissed off to see him leaving now without getting a run & us holding on to Schneiderlin & Davies.
John Keating
47
Posted 18/01/2019 at 17:38:43
So Darren, how many points can you see us picking up against that lot – 21? The word being 'realistically'.
Some on here on the day of the game have us winning 2-0, 3-0 whatever and, according to those unrealistic posters, we'd be certainly in the top three if not top.
Don't give me this 'white flag of surrender' shit.
Mike Gaynes
48
Posted 18/01/2019 at 18:07:06
Steve #40, the Copa America final is July 7, a week before the summer friendlies begin, so Richarlison and Mina won't be very late, and they'll certainly be in top shape. There are only 12 teams so the schedule won't be nearly as exhausting as the World Cup.
Steve Ferns
49
Posted 18/01/2019 at 18:33:20
Cheers Mike
Darren Hind
50
Posted 18/01/2019 at 18:38:08
John
There would be uproar if the players surrendered the points in advance as readily as you have . .You'd be the first kicking off.
You want to make the claim, but you don't seem brave enough to say how many points you think we'll drop.
BTW; Have you really seen many posters claim we will get top three ? Or are you simply creating a monumental straw man to justify your argument
John Keating
51
Posted 18/01/2019 at 18:52:55
Darren
you obviously haven't read my post.
Nowhere did I say or even imply the players surrendered points. In my opinion apart from a point at Anfield and a point at the Emirates we haven't deserved points we never got simply because we weren't good enough.

What I said is that if these posters who continually have us winning every game, possibly someone optimistic like yourself, then we would uncountably be top three.
Personally I prefer to be more realistic and call each game as I se it.
To answer your direct question, realistically, I can see us picking up 6 points of the available 21 we have on offer at home.
How about you Darren? What do you reckon ? You seem to have us winning every game if I recall.
After 60 years going the match I am more realistic. in fact if I were like some and had us down to be beating everyone, well, I'd feel a right prick after the event.
Tom Bowers
52
Posted 18/01/2019 at 19:07:31
Everton need more steel in the tackling department and if new players are not coming in at the moment then a fully fit James McCarthy may fit the bill although actually helping to win games may be arguable with Richarlison the only real finisher in the team.
Having said that DCL may be persevered with now that Niasse has gone and the likelihood Tosun will follow( he's out of favor anyway).
Walcott has not been consistent but Lookman can help himself with another bold showing tomorrow.
Graham Williams
53
Posted 18/01/2019 at 19:08:37
I agree with those who feel we should be confident of getting a decent result against Southampton, but we've been there several times this season when it's not worked out. What concerned me against both Bournemouth and Brighton were the number of 'second balls' we failed to win. I don't know why that is. Have our formation and tactics been rumbled by Bielsa type subterfuge? Is it fitness, as has been suggested? Is Gomes carrying an injury? Hopefully I'll have forgotten all about this in 24 hours time.
Incidentally - and apologies for going off topic - the Leeds spying story is a good one. The person arrested at Derby was apparently found to be carrying binoculars, wire cutters, and clothing disguises. Love it.
Darren Hind
54
Posted 18/01/2019 at 19:17:30
John
I didnt say you mentioned the players giving up. I said you had given up, but if the players showed the same defeatist attitude . .you would scream the house down.
I'll give a prediction to any game on the actual day of a game many fans do, But to abandon the possibility of winning months in advance ??? What the fucks all that about ? You don't even know who will be playing, who be in form, who will be signed or sold . .or injured. By giving up on points now, your are surrendering . . I'm just relieved you wont be playing.
I notice you couldn't answer the question about these mythical people who are claiming we will be top, or top three. There's a very good reason for that - you made them up to try to make yourself look a "realist"
You say you would feel a prick if you had us down for winning every game . .Personally would only ever feel a prick if I supported a gobshite like Allardyce. knowing he would set up not to lose no matter who signed, who got sold . .or who we were playing.

Frank Crewe
55
Posted 18/01/2019 at 20:08:32
Richarlison has yet to convince as a striker. He huffed and puffed right through the last game but never really looked like scoring. DCL is on two minutes and scores. Makes you think.
Also how long can we leave out Mina? Like it or not he is the CB we bought. Zouma is only on loan. Personally I think Mina was a mistake and we will sell him at a loss next season but we have to play him at some point.
Tony Abrahams
56
Posted 18/01/2019 at 20:19:45
4 wins, 2 draws, and a loss, just as long as that loss is not against the other crowd.
Minik Hansen
57
Posted 18/01/2019 at 20:29:30
Even though we're around the same position on the table as last few seasons, I'm glad that our squad have transformed, atleast player wise, and that we haven't seen a full season out yet with Richarlison, Bernard, Digne, Mina and Zouma. That gets me excited to a game like tomorrow, as you'd expect we'd bottle it, but something has happened and hopefully for the good and better. That way, I'm optimistic and looking forward to the game tomorrow (against a struggling So'ton side, that had a midweek 120-min. game, and lost it on penalties). It's a great time, just depends on our boys to turn up from the first minute. COYB.
Trevor Grant
58
Posted 18/01/2019 at 20:32:54
Anyone watching the Norwich vs Birmingham game tonight will have seen Che Adams score another cracking goal. I would much rather take a chance on a very quick 22-year-old who can finish than a failure like Batshuayi.
He is like a younger Troy Deeny and I'm sure would be half the price and Birmingham could do with the cash. He came from non-league football so the hunger would be there. For the sentimental of you out there, his middle name is also Everton.
Jay Harris
59
Posted 18/01/2019 at 20:45:00
"In contrast to the defeat at Brighton, the win at Burnley showed what Silva's Toffees are capable of when they are firing on all cylinders and up for it and it is getting that spirit and confidence into the players before kick-off that could make all the difference."
That is the exact nub of it Lyndon.
When we are up for it we have the quality to get at most teams but so often the "mental fragility" that has haunted our players for years turns them into halfhearted wimps if things arent going their way.
We need a fully focussed and motivated squad for this game with a clear game plan.
It doesn't matter whether it's Calvert-Lewin or Richarlison up front but I would like to see more beef in midfield, especially if Gomes is not back on form, so I would agree with Macca back in there provided he is fit with him and Gueye to do the dirty work and Bernard and Sigurdsson to weave the magic.
Raymond Fox
60
Posted 18/01/2019 at 21:09:27
The betting odds give us an impartial view, it's 7/4 Southampton, 7/4 Everton, 5/2 the draw. Their conclusion is it's a pin job.
Which is pretty much my view also, it's difficult to win away from home so it's a draw for me.
Colin Metcalfe
61
Posted 18/01/2019 at 21:26:47
I can't see anything other than an Everton win. Yes, Saints have had their new manager bounce similar to what Man Utd are having, but you can only polish a turd so much and they are a poor team. 3-0 to the Blues!!
Tom Bowers
62
Posted 18/01/2019 at 21:52:19
I don't think this Everton team can inspire any confidence in winning any game on current form.
Yes, we can be cautiously optimistic based on what went on before the RS game and maybe that win against a struggling Burnley.
It would be wrong to believe that Southampton may be tired after the midweek game as they will probably have quite a few changes and if that includes Ings and/or Austin then they have hope.
As I have said many times this season Everton need to show intensity from the first whistle instead of the boring tippy-tappy passing that they are continually getting caught out on in the first half-an-hour.
They seem to show a lethargy in the middle third that other teams capitalize on and put Everton behind the eight ball early on.
I would like to see more forward impact from Gylfi and Bernard that seems to have been missing of late.
Jamie Crowley
63
Posted 18/01/2019 at 22:08:12
Mike Gaynes and Robert @ 6 singing from my hymn sheet.
Bernard at the 10 please!!!
Pickford
Coleman Keane Zouma Digne
Sigurdsson Gana
Lookman Bernard Richarlison
Calvert-Lewin
But I think Lyndon has it spot on.
Tough game against a team resurgent, and looking for a good outing after an FA Cup knock out.
Southampton has been a steaming pile of dung for us at their place. Not an easy road game, will take a good effort to get three points. I heard on the radio today we are actually underdogs.
In a way that's shocking, but in an honest moment.... not really!
Tough game coming up.
Anthony Dove
64
Posted 18/01/2019 at 22:14:57
Mike @35. You are praising the defensive virtues of Sigurdsson. Please send me a bottle of what you are drinking.
Attacking wise, which is why he was bought, he is the most expensive flop in our history. As to his defensive capabilities... I will wait for the bottle.
Andy Crooks
65
Posted 18/01/2019 at 22:46:34
We are better than Southampton. We will win. I am confident enough about this to be having, for the first time this season, a significant bet, by my standards, on us to win.
I accept this is throwing down a gauntlet to the betting Gods but I am in no doubt. Evertonians, fill your boots!!!. WE WILL WIN.

Mike Gaynes
66
Posted 18/01/2019 at 23:12:50
Anthony #64, I compared him to Gomes.
Siggy is an adequate defender. He is positionally excellent, marks well and works relentlessly all the way back to the end line when necessary. Most of all he can actually win the ball without committing idiotic fouls 25 yards from goal.
Gomes treats defense like it's a disease. Against Spurs he stood there with his fucking thumb up his ass staring at a loose ball in the area as Dele ran past him and knocked it in. Then he was a jogging spectator 10 yards away when his man, Eriksen, volleyed home. That's his typical effort. And because he cannot tackle properly, he has 31 fouls to lead the club despite making just 14 league appearances. (By contrast Matt Ritchie, one of the Prem's biggest hacks, has 35 in 20.) It's sheer luck that none of the moronic free kicks Gomes has given away around the area have resulted in goals, but it's just a matter of time. (But at least he won't give away pens, because he won't track his man into the area.) And since his passing game has now gone south, there's no reason for him to play.
So forget the wine, I'll send you some medicinal weed from Oregon.
Neil Copeland
67
Posted 18/01/2019 at 23:20:11
Mike #66, ooh, can I have some of that medicinal stuff from Oregon as well please?
Mike Gaynes
68
Posted 18/01/2019 at 23:42:35
No problem, Neil. Some of the crackers are really tasty.
Derek Knox
69
Posted 18/01/2019 at 00:03:21
Andy Crooks @65, I do of course hope you are right, but Everton this season have entered in to so many games where you would think a win is almost a foregone conclusion, only to fail to deliver.
Two things in our favour, however: the 120-minute gruelling Cup replay midweek, will have stretched their stamina to the limit. While I appreciate that not all will play again tomorrow, a large contingent will.
The other being that 'expert football pundit and predictor' Merson has them down for a win (2-1), who like Lawro, rarely gets his 'expert' assessment right!
Jerome Shields
70
Posted 18/01/2019 at 00:05:53
Silva needs to stick with the forward line of Bernard, Calvert-Lewin and Lookman. He also needs to sort out his midfield tactics regarding opposition defences playing a high defensive line. Kenny rather than Coleman.
Letting the opposition have so much freedom on the edge of Everton's final third is another concern.
Silva needs to stick with a consistent player selection, instead of messing about with players with poor stats. He needs to build a team around those with better stats. Bernard, Calvert-Lewin and Lookman do; Richarlison, Walcott, Davies and Coleman don't.
Ashley Roberts
71
Posted 19/01/2019 at 01:48:41
I know Sílva likes this 4-2-3-1 system but let's be honest it has not been very successful so far. You would think he might try some other permutations rather than just continuing with the same tactics. It is not like the opposition have to work hard to know how we are going to set up and play. Could we not try a 4-4-2 system with 2 strikers??
My recommendation would be to try Sigi and Gomez in the centre of a midfield 4 flanked by Lookman and Bernard and then have Calvert-Lewin and Richarlison up front. I have never been a big fan of Gana because you are effectively playing with a 5th defender as offensively he adds nothing. It is not like he is a Bracewell or Reid counterpart.
I think we need to have more bodies in midfield and be more imaginative. It is all one dimensional at the moment; give the ball to Gomez and he will do the rest. Well it has not worked. I would also like to have 2 up front rather than Richarlison going alone.
Maybe I am living in the past with the set-up we had in the '80s with Sharpy and Inchy up front. Surely we can try some other systems cos this one definitely isn't working. I can only see a draw at best for tomorrow cos we are playing crap and Lady Luck was on our side last week and I thought we were not deserving of the 3 points.
John Pierce
72
Posted 19/01/2019 at 03:35:33
Steve,
If, and it's a big if, the players are fatigued as you say then .either Silva doesn't know and is just asking them to play without proper rotation or he does know and is asking them to execute tactics they have no chance of fulfilling.
Either way, it's on Silva. He needs to adapt his tactics to reflect what you say, if indeed it's true. However, it feels like another thinly veiled defense of the manager rather than acknowledging the results and performances with the talent we have had not cut the mustard so far.
Jay Harris
73
Posted 18/01/2019 at 04:13:19
Mike,
Any chance you could send some down to Florida for tomorrow's match?
It's going to be hard to watch without some medicine.
Steve Brown
74
Posted 19/01/2019 at 04:44:34
It does make me chuckle to read last season's Allardyce supporters coming on here to attack our tactical set-up, style of play and mindset under Silva.
Today's game might end up 3-0, 3-3 or 0-3, but it will still be a hundred times more entertaining than the shameful, cynical anti-football philosophy of that arsehole.
Mike Gaynes
75
Posted 19/01/2019 at 04:45:08
Jay, you live in Florida.
No snowstorms, no sub-zero temperatures, no winter howlers like the one pushing the Pacific into my back yard yesterday.
Who the heck needs to get buzzed in Florida?
Jay Harris
76
Posted 19/01/2019 at 04:50:49
Mike,
Any Evertonian watching us v Southampton. LOL
Jamie Crowley
77
Posted 19/01/2019 at 05:59:14
Jay - where y'at in Forida?
Tony Everan
78
Posted 19/01/2019 at 07:03:15
I watched Southampton play Derby, at times Derby looked the Premier League club .
The only thing we have to fear today is ourselves. If we are up for it and take the game to Southampton with fierce intensity from the start we can get a 2 goal margin win. Most of all after a good first half, come out like Lions after HT, not mice.
There are times in football when the opposition will be coming at you with all guns blazing to get back into the game. After HT a home team will so just that if they are losing. We need to stand firm and fight through it and not hand over the initiative.
As we all know things are seldom straightforward to EFC, so I think we may end up winning 2-0 at HT and cruising , then be hanging on for dear life at the end.
When all is said and done I will be happy with any win today, it will add a bit more confidence and a bit more momentum.
Also, I am looking forward to watching our front three of Bernard , Richarlison and Lookman . There is quality there . More than Southampton's defenders can cope with.
John Raftery
79
Posted 19/01/2019 at 07:43:08
With only five away wins in the last two years we cannot go anywhere with much confidence. Three of those wins came during the five months of the Allardyce reign. Our players need to learn to dig in during games. I'll be very happy to see us grind out a 1-0 win today. We travel in hope.
Mark Murphy
80
Posted 19/01/2019 at 08:10:39
Jesus John, is that true?? That's a shocking stat! That has got to change if we are to improve starting today!
I will be there hoping to see a rare win away for the blues!
I miss the auld days!!
Justin Doone
81
Posted 19/01/2019 at 08:19:33
We need to be on it from the first minute to the last. No silly mistakes at the back, Keane take note. We need to close down, chase, harras and take our chances.
Give them no rest because like Bournemouth they are a good team if given time to pass and have a bit of pace to hit us on the break.
It's a winnable game but they beat Leicester and are capable of giving most teams a good game. Do not underestimate them, show them some respect but if we battle like we did in the second half last week we will get something.
I do not want to see us putting ourselves into trouble and under pressure at the back on what will be another wet and slippy surface.
Get it forward quicker and we have the players to win this. No let up or resting if we do take the lead. 100% effort all game and use subs wisely.
Steve Croston
82
Posted 19/01/2019 at 08:26:26
In the last 20 games between Everton and Southampton there has only been one away win, and that was us a few years ago. We won 3-0 in that awesome green kit we only wore a few times.
So, a betting man would not place any money on us today. However, as we are all partially insane (one of the prerequisites for being an Evertonian) I'm going along with the most of the comments I've read so far and predict another 5-1 win. Simples.
Martin Berry
83
Posted 19/01/2019 at 08:42:10
This business of paying Richarlison as a striker has not been working yet Silva still persists despite the lad being knocked around by robust centre halves.
That said he will probably score a hat trick !
Would like to see DCL play up front, Bernard in the No10 and Siggy rested just to see ow it works.
I expect Lookman to shine again and Everton winning 2-0
James Doran
84
Posted 19/01/2019 at 08:58:33
Martin,
I would love to see Bernard in the No. 10 position, but can't see it happening this season, unless Siggy is injured.
Jerome Shields
85
Posted 19/01/2019 at 09:10:25
Tom #52.
I agree. McCarthy should have been brought on in the Lincoln game to get some match time, but Silva was afraid of losing. Against Bournemouth, he should have been brought on again, but Silva had his new aggressive tactics. He was lucky Gomes and Richarlison weren't sent off implementing them.
Calvert-Lewin has the best positional play, pass completion, link play, and finishing of the centre-forwards who have played. Working consistently (which he can) with Bernard and Lookman, who have good stats, would improve Calvert-Lewin. Walcott has poor stats.
Though we both can see the problems and how to solve them, by Silva's player selection, it seems he can't. The fact that he can't coach the underperforming players to improve and adapt is another worry.
It wasn't just under strength selection that beat us in the League Cup. It was Southampton implementing the same higher defensive tactics that have shown up the tactical weaknesses of Silva since the Liverpool game.
Trevor Peers
86
Posted 19/01/2019 at 09:17:33
Another tough game today anyone thinking this will be easy is mistaken.
Lookman has the opportunity to impress away from home something he has rarely done thus far.
If we come out fighting and looking to score goals we will win, but as often is the case with Everton, these days, we don't seem to get going until late very late in the game, Silva has to change that. COYB.
Dave Abrahams
87
Posted 19/01/2019 at 09:26:18
If we play with the high line then we are in trouble, defend deep with a compact midfield we are half way there.
Richarlison is not a striker, each time he plays there he
confirms this. Lookman Bernard ( no. 10) DCL and Charlie swapping and changing in attack creates plenty of movement and therefore plenty of chances.
Don't give us what you have been Mr.Silva it's boring and not working, plus the opposition just love it.
Chris Gould
88
Posted 19/01/2019 at 09:30:21
It will be a very tough game today. I have no idea why anyone believes we are likely to win by 2 goals or more? They will be bang up for it and have got some decent results in recent weeks. We will need to be on top of our game and withstand large periods of pressure.
Richarlison has scored as many as Callum Wilson who seems to be held in high regard. Playing Richarlison up top has not been our problem. The lack of quality service is the reason he isn't already in double figures. He gets one or two chances a game, and very often they are half chances. Compare that to the four or five chances that Kane or Aguero regularly get. I expect him to be up front for us again, and he will work his arse off like he always does.
Derek Knox
89
Posted 19/01/2019 at 09:52:52
Ashley Roberts @71, a good point you make about Silva not changing either the formation or the personnel, unless injury or suspension dictates otherwise. What is it that they say about someone who keeps trying the same thing (that has failed to produce results) expecting the outcome to be different?
He is either very stubborn or exceedingly arrogant in his belief that he alone is right. I have lost count of the times people have suggested playing Walcott up front, alongside another striker, or even reluctantly as a sole striker, but no, he refuses to even give it a try.
Let's face it, Walcott apart from the odd game has been poor on the right, and with Seamus struggling to rediscover his pre-injury form, it beckons significant change.
Mark Stone
90
Posted 19/01/2019 at 10:13:16
The only thing reliable about Keane, is that he will guarantee you costly mistakes.
Steve Ferns
91
Posted 19/01/2019 at 10:19:14
Why would you play Walcott up top? He's too small. He can't get the ball to feet and relies on the ball over the top. It's easier to hit a diagonal ball over the top to a right wing slot than land on in between the defence and the goalie. Not how often the opposition actually play a high line against us. Walcott didn't get played up front for arsenal or England. Arsenal fans said give him a go. Wenger wouldn't. The fact is he's no striker. Silva knows it and he doesn't need to waste a game just to show us. Walcott is fading fast, what makes you think he can rekindle the last of his ability to suddenly become a top class striker?
Also, Walcott has done his best stuff outside the box whilst when he's inside the box he's made mistake after mistake. He's not good enough right now, and I do believe he's already in decline. Keep him on the bench and use him as an impact sub coming on at right wing.
George Cumiskey
92
Posted 19/01/2019 at 11:08:32
Mark @ 90 and Steve @ 91 I agree completely with both of you, and that is a rarity for me. Lol.
Colin Malone
93
Posted 19/01/2019 at 11:20:25
Time with possession of the ball, going forward needs to improve. Gomes and Sigurdsson together in midfield with the more energetic Bernard in the Number 10 role. We have to get the three closer together.
Derek Knox
94
Posted 19/01/2019 at 11:30:34
Steve @91, the same could be said of Richarlison, yet he persists in playing him there, okay he has scored a few goals but he is clearly less effective than on the wing!
Duncan McDine
95
Posted 19/01/2019 at 11:57:26
I agree Derek. I think Richarlison has been trying to physically battle so many tough centre halves that he's now in a bit of a rut. I'd like to see him benched for a game or two and only used in the wide positions. While I'm as frustrated as anyone when I watch Dom or Cenk, I'd rather one of them played that CF role. Dom actually has a chance to become an effective centre forward if given game time.
Steve Ferns
96
Posted 19/01/2019 at 12:15:37
I agree with you DK. I'd play Dominic Calvert-Lewin as the lone striker with Lookman and Richarlison up with him in a narrower front three.
Derek Knox
97
Posted 19/01/2019 at 12:22:51
Steve @91, forgot to mention in my last post that there is only 1 inch difference in height between Richarlison (5'-10") and Walcott (5'-9") hardly a significant difference, although some women would disagree!
Steve Ferns
98
Posted 19/01/2019 at 12:35:46
Alan Shearer is only 5'10". So was Tim Cahill. It's not just the height, it's the physicality. Theo has about as much physicality as a leaf. All he can do is run onto ball over the top, onto through balls, or tap in low crosses into the box. The first two is stopped by sitting deep, and I can't see Theo out-muscling the defence to tap in a cross.
Brian Wilkinson
99
Posted 19/01/2019 at 12:53:28
Steve @82 as you are having a punt on us, I would go one further, normally when a player is going through a bad patch, or is not flavour of the month on ToffeeWeb, they normally pop a goal in.
So I would add to your bet Sigurdsson to open the scoring, he is due a goal and reckon today could be the day, fill your boots.
Kevin Prytherch
100
Posted 19/01/2019 at 13:54:11
Alan Shearer was 6ft
Jamie Crowley
101
Posted 19/01/2019 at 13:57:33
DK - Wolves win and Burnley beat Watford, while we take care of business would suit me fine.
Lennart Hylen
103
Posted 19/01/2019 at 16:25:05
0-2 oh no Everton this is really really really bad. How on earth can this clown silva have been appointed as manager
Add Your Comments
In order to post a comment, you need to be logged in as a registered user of the site.
Or Sign up as a ToffeeWeb Member — it's free, takes just a few minutes and will allow you to post your comments on articles and Talking Points submissions across the site.