Richarlison would be okay with a new striker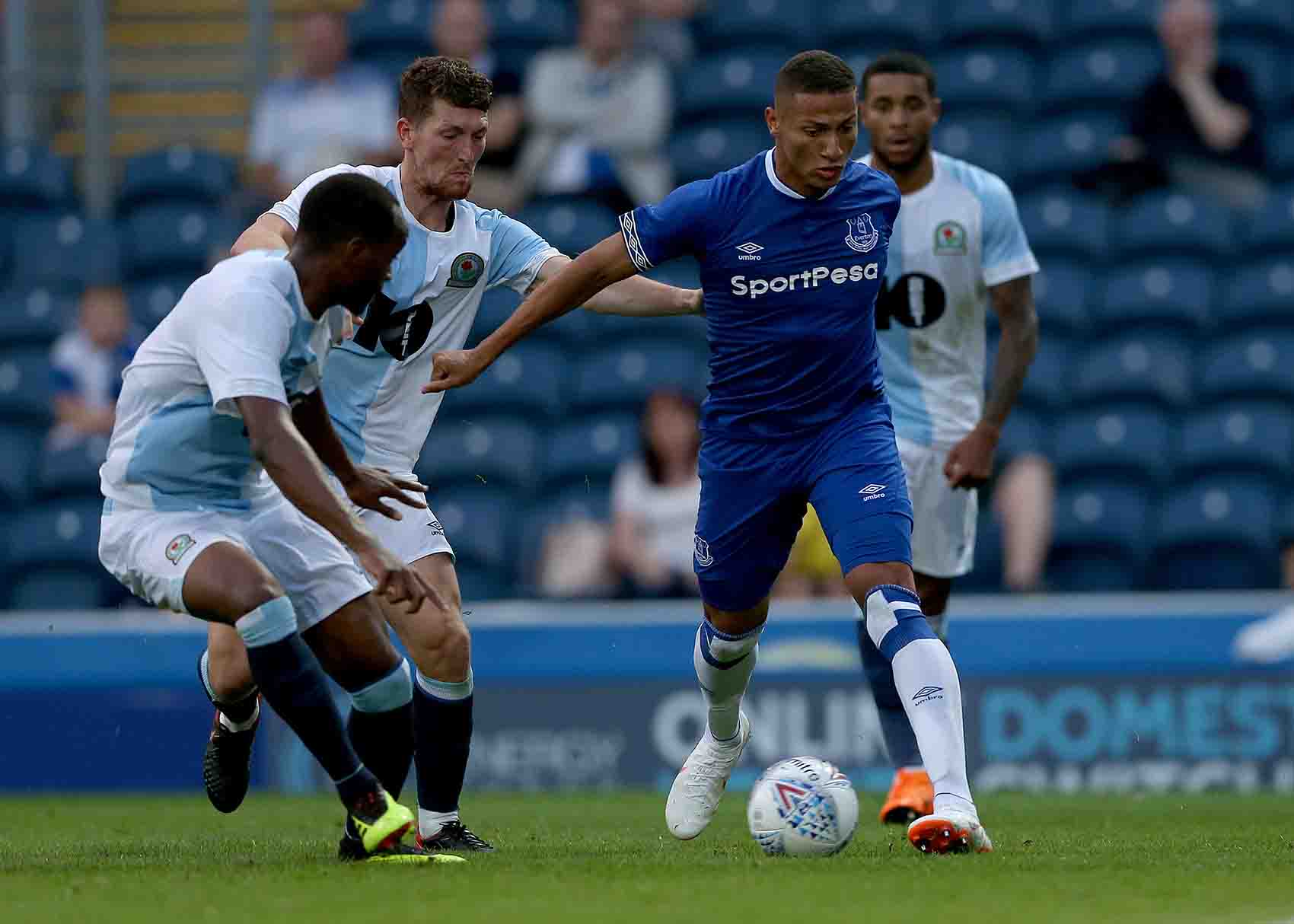 In an interview with Goal.com Richarlison says he would like the club to bring in a new Number 9, after filling that role himself in recent weeks. But he also says he is "very happy at Everton".
Richarlison said: "I've been playing well, scoring a lot of goals, working hard and I'm enjoying being at the club very much.
"I'm very happy at Everton, it's a very good club with very good structure. The fans love the club and the players.
"I've played a lot of games as a '9', but if Everton get another player who plays in the position, it's always good because the Premier League demands a very strong squad.
"It's always good to have players who can help us in attack. If a 9 shirt comes, it will help us a lot.
"It's a step at a time. We know the quality of the other teams. They are great teams on the market, they are in the Champions League and they always fight for titles.
"It's difficult to finish in the top six, but it's not impossible. We are fighting and working hard to try to reach seventh or sixth place.
"I have the dream of playing at a World Cup and winning a Champions League. I do not have the desire to play in a specific league. The best league in the world is the Premier League and I'm happy here in England.
"Here, there are the best players in the world, the league is very difficult, is the most difficult, there are practically seven teams competing for the title. I'm very happy here."
Richarlison admits he was devastated when Silva was sacked as Watford boss this time last year and was thrilled to get the opportunity to work with him again.
"I got upset," he said. "He was the guy who called me to come and play in England.
"At the time I received the news, it had been difficult. I was asleep. Heurelho Gomes told me. I was very sad, at the time I even posted on Twitter that I was a bit sad and nervous.
"The work I did at Watford played a part. If I had not done a good job with him at Watford, he was not going to sign me, he knows the confidence he's giving me, he's like a father to me. He is the one who brought me to England.
"He called me to take me to Watford, gave me a lot of confidence to play in the Premier League and I'm very happy to be able to help him on the pitch. He helps me very, very much.
"The football here has a lot of speed, strength, is very dynamic, so it fits well with my characteristics. That's what Marco Silva saw and that's why they called me."
---
Meanwhile, Marco Silva has been talking about the prospects for Dominic Calvert-Lewin to be that striker Everton need:
"Dominic has this quality," the Portuguese told evertontv. "He is good when he has to keep the ball and after he is a player who is strong in the box and can finalise the actions.
"He has those skills. He is not just a player to attack from deep or run in behind the opponents' backline. He is really strong in the box. In the air, also.
"Of course, he has to improve and we are working on that. He is able to improve and he is open to learning every day. He is improving in our model as well which is important.
"His [game awareness] is one of the things he has to improve. He has the physical capacity to do that. And now it is a matter of understanding the right moments to do things, the right moments to close space. He is doing well already and he is able to improve in future also."
Dominic Calvert-Lewin was named England Under-21s' Player of the Year last week by the FA's broadcast partner, BT Sport. A panel consisting of Michael Owen, Chris Sutton, Adam Summerton, Lynsey Hipgrave and Matt Smith pulled together a shortlist which the 21-year-old Yorkshireman topped.
---
Reader Comments (57)
Note: the following content is not moderated or vetted by the site owners at the time of submission. Comments are the responsibility of the poster. Disclaimer
Terry Farrell
1
Posted 23/01/2019 at 19:43:23
I just saw that Daominc Calvert-Lewin has been named England U21s Player of the Year ahead of all the other starlets with a record of 5 goals in 7 games. Not bad for a kid who can't shoot and is not a goal scorer.
Mick Conalty
2
Posted 23/01/2019 at 20:24:45
According to Brands, he reckons that Calvert-Lewin, Lookman and Richarlison are the ENVY of the rest of the Premier League. So we mustn't need another forward... Ha Ha!

Simon Dalzell
3
Posted 23/01/2019 at 21:07:00
Rather telling when your centre forward says you need a centre forward!!! I hope he has a quiet word with Brands and Silva, as, from what they have said, there is no urgency.
I'm not writing Calvert-Lewin off, but England U21 and Premier League are some way apart.
Max Murphy
4
Posted 23/01/2019 at 21:07:33
More bollocks.
Kase Chow
5
Posted 23/01/2019 at 21:44:22
We need a striker to get the best out of Richarlison.
A striker would occupy defenders and provide movent for Richarlison to hit or exploit.
Les Moorcroft
6
Posted 23/01/2019 at 21:49:48
Sounds like he is backing Silva. And is hinting he hopes Silva isn't going anywhere?
Jay Harris
8
Posted 23/01/2019 at 21:52:01
Personally, I would rather go for a young Danny Drinkwater type enforcer for midfield and give Calvert-Lewin a run until the end of the season. Then see who is available and what rejects we can offload.

Kieran Kinsella
9
Posted 23/01/2019 at 22:13:14
My concern with this article is Richarlison's self-appraisal:
"I've been playing well, scoring a lot of goals, working hard."
I would have preferred something more along the lines of
"It has been a tough season. Expectations are high at a club like Everton. I would have liked to have scored more goals. I haven't quite found my form yet. I admit I am immature and tend to dive a lot when things aren't going my way. The boss has made it clear I need to up my game. It's one thing to have potential but it's time for me to man up and show that I am a £50 million player."
Jason Wilkinson
11
Posted 23/01/2019 at 23:43:18
We have outstanding young players. What no team gets in the Premier League is time.
I would buy a Dzeko-type player to take the heat off the younger players. I would not be gambling on a youngster to come here with the hope he might improve!
Richarlison, Calvert-Lewin & Lookman are those players!

Justin Doone
12
Posted 23/01/2019 at 23:46:16
Does this mean they have found us a top Brazilian striker on the cheap...? Here's hoping.
As for Calvert-Lewin, I'm a fan. Yes, he needs to improve, and isn't a top class striker, but he has so much potential, along with Lookman.
Not the best in the world but, as far as British or English talent, they are both amongst the best in their age group.
Let them learn this season, playing together along with Richarlison and Bernard. Some players, such as our Richarlison, just seem to mature and have that instinct at a younger age.
I hope we keep hold of the three of them because, in another couple of years, they could be seriously good! Not what people want to hear for this season but that's my hope and belief.
Richard Mason
13
Posted 23/01/2019 at 23:46:41
I would take a punt on Jannsen from Spurs. 24 years of age, good record in front of goal before he came to England. Good work ethic. He is looking for a new club; Spurs are looking to sell.
Derek Knox
14
Posted 24/01/2019 at 02:04:08
Richard @13, with all due respect with regards to Janssen at Spurs, "a good record in front of goal before he came to England" — that could be transposed to any striker?
I am a big believer and have said it on here many a time, that it is with any player, not just strikers, very much a case of 'horses for courses' and therefore a gamble; some work out, others don't.
Having said that, I can never remember so many over-priced misfits at Everton as those in recent times, or basically when we eventually had money.
Bill Watson
15
Posted 24/01/2019 at 02:06:44
I'm not a huge fan of Dominic Calvert-Lewin but he's young(ish) and needs an extended run in the first team to show us if he can hack it.
Richarlison has proved he's no centre-forwrad and let's hope the penny has finally dropped with Silva. He's much more productive playing wide left and running at defences so put him back there.
Play players in their best position. Keep it simple!
Bob Parrington
16
Posted 24/01/2019 at 03:41:50
Yeah! In the words of the meerkat on one of our Aussie Insurer's adverts.
"KEP IT SIMPLES"
Jamie Crowley
17
Posted 24/01/2019 at 03:48:55
To take a page from Derek Knox's playbook, I've said this many a time:
Dominic Calvert-Lewin up top
Richarlison, Bernard, and Lookman behind him.
I still think if you give Bernnard 4 or 5 games at the No 10, he'd be a revelation.
It seems glaringly obvious to me it's the way forward. But, for whatever reason, managers see things differently:
Moyes not playing Rooney.
Moyes not playing Coleman.
Moyes playing Lescott at left-back.
Moyes playing Osman out of position.
Bobby not focusing at all on set pieces.
Bobby not caring enough about defending.
Bobby continuing to play Alcaraz.
Koeman... Well...
Sam not doing a-single-fucking-thing and playing shite football, never looking to even try to score.
The stubbornness to not change in the last decade is overwhelming.
Marco – try my front four. Change it up. As if you're listening!
Bob Parrington
18
Posted 24/01/2019 at 07:01:46
Jamie, that's worth a try. The complication might come from the group behind them I like the speed and agility of the four up front.
Michael O'Brien
19
Posted 24/01/2019 at 07:32:10
I don't really have hopes for the rest of our season... unless we end up making it to the FA Cup Final (I know, dreaming). Just play Tosun or Calvert-Lewin up front and put Richarlison where he belongs. Or even give Walcott a go up there – he couldn't be worse than the current shower we see every week surely. Also, bring Mina back in and rest Zouma.

Sam Hoare
20
Posted 24/01/2019 at 07:42:55
Calvert-Lewin voted England U21 Player of the Year over the £19m Solanke. If we don't get a new striker (and I'm pretty sure we won't) then he should be starting every game for rest of the season — only way he will improve.
Calvert-Lewin
Richarlison Bernard Lookman
That would be my top 4 for the next month. Pace, work ethic (bar Lookman possibly) and hopefully some goals.
Jim Bennings
21
Posted 24/01/2019 at 08:51:22
Brands going on about the three lads mentioned as the envy of the Premier League reminds me of Moshiri's "our own Fab Four" referring to Rooney, Sigurdsson, Bolasie and Tosun.
It's rubbish because Richarlison, Calvert-Lewin and Lookman don't deliver on a regular basis. I'm not convinced Lookman has too many goals in him; great feet, yes... goals and regular end product, no.
I want to see one of them take off like Rashford or Kane did at a similar age.
We have always been very good at talking the talk but walking the walk is something completely different.
Phil Sammon
23
Posted 24/01/2019 at 09:02:40
This season's a write-off. We should get games into Lookman and Calvert-Lewin. I think it's also time we found out whether or not Davies is up to it.
Getting in a new striker makes no sense to me. Just play what we have and plan for next season.
Jim Bennings
24
Posted 24/01/2019 at 09:06:40
Phil,
If we totally write this season off as many would (disgrace of an attitude to me) then it simply gives players an excuse to put in half-arsed performances until May.
If we finish this season in 11th or 12th then there won't be a long queue of top players waiting to join us in summer.
To have any impact next season, we need at least one top striker and one other striker that will do the dirty work and give us a varied dimension that we don't currently possess.
We need a right back. And we need a replacement for Gueye, who will at some point undoubtedly leave.
In the meantime, a little bit of hard work on the pitch might not go amiss from the players, as it's becoming embarrassing getting outfought by the likes of Southampton and Brighton.
Phil Sammon
25
Posted 24/01/2019 at 09:26:27
Jim,
I'm not saying the team should give up. I'm saying that we should not be ploughing more money into this shit-show right now.
The players have to stand up and prove themselves. If they want to be at the club, it's time they started showing it.
I'd have thought the one thing we've learnt from the last few years is that throwing money at the problem is not the way to fix things.
If that makes me a 'disgrace' in your book, then so be it.
Jim Bennings
26
Posted 24/01/2019 at 09:32:22
Phil
I don't think we should throw big money on anyone either and that goes for the summer too, I'd be tearing my hair out if we seriously considering paying £40 million for Batshuayi for example.
We obviously need a striker and right back, but I'd be shopping around the Championship or the Premier League to see if there are any decent deals. I want to see these players work hard and really stake a claim for their places.
Hard work should not take six months or a run of ten games for a player, hard work should be seen instantly.
Paul Cherrington
27
Posted 24/01/2019 at 09:33:10
It says it all for me when the guy who is playing up front for us at the moment is basically begging the manager publicly to buy a new striker! Not only does it confirm that he is not suited to playing up top and not enjoying it, it also shows Silva is clueless or he would have realised this himself. Bad times when your players have to start telling you what needs changing!
I just don't get why he keeps starting Richarlison as centre-forward when there is no need. we have two recognised strikers in Tosun and Calvert-Lewin who could do the job instead. or he could be really wild and play both at the same time. Silva's comments about Calvert-Lewin don't make sense either – for me, he has okay pace and is perfectly prepared to run the channels and chase balls down that go behind the other defence.
I would agree that Richarlison's own personal assessment of his season to date needs work too. To say he's scored lots of goals and been playing well is a stretch, to say the least. Maybe a sign of how low standards are at the moment if he truly believes that. Don't get me wrong: he has done alright and I like him but he should not be getting too big-headed about it all.
David Hallwood
28
Posted 24/01/2019 at 09:34:15
I'd like to see Charlie moved over to the left, Lookman on the right and Woolcott down the middle. That way they're all playing in positions they're comfortable with.
Bench Sigurdsson and Gomes who look totally shot and replace them with Davies and Bernard.
We not in any danger of going down (even allowing for the fact that this is Everton and what could go wrong etc) so they should play with freedom and what's been missing this last couple of months – intensity.
Joe O'Brien
29
Posted 24/01/2019 at 09:50:29
Jamie @17 and Sam @20 agree with both of your top 4. They should be given the rest of the season. That top 4 would cause other teams problems. I don't see this season as a write-off – we're still in the FA Cup, where anything can happen.
Sam Hoare
30
Posted 24/01/2019 at 10:16:18
Jim @26,
I don't think January is a great time for 'deals' most good players are badly needed by their current clubs so prices hike. Batshuayi is about the best we could hope for. I agree with Phil.
It's time to get some consistency into the team and see who can cut it or not. Give minutes to the young players where possible as a few of them developing into Premier League stars a la Kane and Alli is probably our best shot of competing with the top 4.
As good as Zouma and Gomes (at times) have been, I'd probably be tempted to stick with players who are definitely ours. I'd try starting this team for the next 4 or 5 matches:
Pickford
Kenny Keane Mina Digne
Davies Gueye
Lookman Bernard Richarlison
Calvert-Lewin
You could play Siggurdsson instead of Davies but I'd like to see the lad given a run of starts to see how he responds. I think he's capable of much more than we've seen from him in the last year or two though maybe I'm being too kind on him. I still remember when he broke into the team and looked a player who could pick a decent pass, make a few meaty tackles and had energy to burn; but there's not been much to commend him recently.
Tony Everan
31
Posted 24/01/2019 at 10:45:25
I think Silva has decided that Richarlison as centre-forward is no more.
He is planning to play Calvert-Lewin there and give him a proper run in the team until the season's end. It would do Calvert-Lewin the world of good to know he is being backed to produce the goods. He comes in for some criticism but, more often than not, he plays better than the senior players around him!
From what I have seen, he has talent, toughness, a great attitude and is single-minded. He is improving gradually.A run in the team may be the making of him. It's a glorious opportunity and we all should show faith and back him to do the business for us.
January is a bad time to be signing important players; better to carefully plan and make good decisions in June.
Brian Williams
32
Posted 24/01/2019 at 11:25:43
Changing the subject, forgive me but there's no real suitable thread, I've just watched on the OS Andre's "hugathon".
If you want something to give you a boost on this horrible grey morning go and watch it!
I actually bought ten tickets but was escorted out of the building after three hugs.
What the fuck is wrong with telling a player he has beautiful hair???? ;-)
Brian Harrison
33
Posted 24/01/2019 at 11:29:00
I can't believe some of the team selections put forward – why would you drop the only midfield player with a decent goal return like Sigurdsson, and replace him with a man who is yet to score a league goal in Bernard?
Yes, he is a good footballer, but there has to be an end result and so far there isn't, and I don't believe playing him behind the striker will improve his goal tally.
Alan Rooney
34
Posted 24/01/2019 at 13:28:57
After the last few games, when we've needed to score, Silva has brought on Calvert-Lewin and/or Tosun late in the game in the hope they will do 'the business'.
So, if he believes they are ones to score the important, nigh essential, goals, why doesn't he start with them, get the lead and then indulge in his passing game (if he must) which would be much more effective against opposition desperate to score?
David Hallwood
35
Posted 24/01/2019 at 13:33:40
Brian (#33), I agree with your assessment of Sigurdsson, but IMHO he looks like he's played one game too many. Remember he was playing right through last season without a proper rest.
He just needs a few appearances as sub to refresh his body and mind. But right now, our midfield looks one-paced and plodding and literally the three midfielders are providing very little in the way of positive movement
Jim Bennings
36
Posted 24/01/2019 at 13:38:20
Alan 34
I think it's more a case of Silva not truly trusting Tosun or Calvert-Lewin to perform when starting.
Some players over the years have just been better as impact subs, Anichebe, Vaughan were fantastic sub options during the Moyes era if you were looking for something different to worry defences.
Whenever Calvert-Lewin or Tosun have started they have had little impact and looked lightweight and tired after 45 minutes.
It's more an act of desperation when Silva throws them on late to salvage another losing position.
Matthew Williams
37
Posted 24/01/2019 at 13:40:25
A backbone would be a good start lad... he seems to be made of Jelly.
From the sheer majesty of 1970 in Mexico to now... how far the Brazilians have fallen is truly shocking.
Andrew Ellams
38
Posted 24/01/2019 at 14:04:28
Jim, substitutions are never an act of desperation if the game is winnable, as we have seen this vs the likes of Palace and Bournemouth.
Sam Hoare
39
Posted 24/01/2019 at 14:11:50
Brian, believe it. How the team functions as a whole is obviously more important than any one individual's goal haul and I think Sigurdsson's lack of mobility in that No 10 role is hurting us. If we had a player there who could beat a man more easily or even run in behind, it would give the opposition so much more to think about.
I think you could keep Sigurdsson's goal threat in the team by playing him deeper instead of Gomes, where he can arrive late for those precision finishes of his at the edge of the box, like the consolation against Southampton.
Bobby Mallon
40
Posted 24/01/2019 at 14:30:01
We should not buy anybody this January. We should let loose Fraser Hornby on the Premier League. Playing him up front with Calvert-Lewin, in a 4-4-2, he will score goals:
Pickford
Kenny
Keane
Mina
Digne
Lookman
Gueye
Sigurdsson
Richarlison
Calvert-Lewin
Hornby
Kevin Prytherch
41
Posted 24/01/2019 at 14:42:58
Sam and Brian.
I believe our obsession with a Number 10 diminishes Gueye's ability to function as part of a midfield. Gueye was brilliant, as were Everton, with Schniederlin and Davies forming a midfield trio.
Gueye and Gomes do not function, neither do Gueye and Schneiderlin, Gueye and Davies or Gueye and anyone else.
Dropping Sigurdsson would allow us to play 4-3-3 and get the most out of our midfield.
Sadly, although Sigurdsson is our biggest goal threat, and Gueye is our best performer, I don't think we function as a team with them together.
I think it's a choice between them.
Brian Murray
42
Posted 24/01/2019 at 14:43:38
Hallelujah, Bobby!!! I'm glad you're pushing for Hornby. I've gota feeling he will be the next Big Dunc (without the glass legs, hopefully)!
Joe O'Brien
43
Posted 24/01/2019 at 14:59:28
Brian, mate... we'll never know unless we try him there (Bernard). I think he'd flourish there. Sigurdsson looks like he needs a rest, has been ineffective recently. We need to mix up the starting line-up because it obviously hasn't been working recently.
Andrew Ellams
44
Posted 24/01/2019 at 15:29:09
Personally, in an ideal world, I'd drop Sigurdsson and Bernard and bring in a ball-carrying midfielder who can play in a 3 and striker we flank with Richarlison and Lookman in a front 3. That way we should get he best out of Gana, Gomes and Richarlison.
Derek Taylor
45
Posted 24/01/2019 at 15:41:31
No chance of that happening, Bobby @40. Silva is charged with getting more out of the dud signings made by our DoFs not discovering we've got better players in the 'junior' teams.
I imagine most of us could pick a team to beat Millwall so result is a foregone conclusion. Or maybe not.
Sam Hoare
46
Posted 24/01/2019 at 15:47:31
Derek, who are these duds you're talking about that you think are inferior to the U23s players yet to make a senior appearance?
Derek Taylor
47
Posted 24/01/2019 at 15:56:36
Sam, Just sift through the columns of very average players listed on this site. If only half of them are any good, we wouldn't be in the bottom half of the table, would we?
David Peate
48
Posted 24/01/2019 at 16:02:14
Can we imply that Calvert-Lewin is to Dave Hickson as Richarlison is to John Willie Parker? What a pairing if so!
Alan McGuffog
49
Posted 24/01/2019 at 16:11:03
David ... or might it be Brett Angell to Rod Belfit ?
Derek Taylor
50
Posted 24/01/2019 at 16:13:03
...or Naiase to Bernie Wright ?
Sam Hoare
51
Posted 24/01/2019 at 16:29:25
Derek, most of our squad were not bought by current Director of Football. He brought in Digne and Richarlison, who have been two of our best players, Bernard, who has looked quality in patches, and Mina, who the jury is still out on.
To call any of them duds would seem very premature. To imply that they are inferior players to the very untested kids in the U23 team, who I've watched a fair bit, is lunacy, I'm afraid.
Jay Harris
52
Posted 24/01/2019 at 16:39:57
For me, Bernard flatters to deceive.
He is a great little dribbler but can't score goals, can't tackle and is too easily knocked off the ball.
By comparison, Sigurdsson is one of our highest scorers, puts a shift in and can tackle.
It will never happen but for now I would put Sigurdsson and Richarlison up front in a 4-4-2 and bring McCarthy (if fit) into midfield alongside Gueye.
Siggurdsson could then hold the ball up and release Richarlison if were on a breakaway or allow the other to move up the flanks.
Our problems are lack of strength in midfield, not Sigurdsson.
Sam Hoare
53
Posted 24/01/2019 at 17:05:09
Jay, disagree there. As do the stats. Bernard makes more tackles and interceptions per game than Sigurdsson whilst giving away less fouls.
Derek Taylor
54
Posted 24/01/2019 at 17:12:59
Sam, I said DoFs. Perhaps it should have read Dsof (plural). They've both signed some questionable talent !
Sam Hoare
55
Posted 24/01/2019 at 18:24:32
Ah, I see, sorry Derek. Walsh certainly signed some duds. I'm more optimistic about Brands.
Tom Bowers
56
Posted 24/01/2019 at 19:04:38
There are a lot of problems with a lot of players at present hence the poor performances. How his came about after some promising early games, only Silva and the coaching staff would know or should they?
Since that pig of a result against Liverpool, the morale and intensity has hit rock bottom and almost all the opponents since then have found it quite easy to play against Everton – even Lincoln.
I feel for Richarlison who has the natural scoring skills but no real target man who can play up the middle and help him out.
We can throw a few names about but Tosun, Calvert-Lewin and Walcott have not been able to supply the right support.
However, there has been very little creativity coming from the middle of the park, so I believe any finger-pointing should be aimed there before criticizing the strikers too much.
It's hard to see any evidence at all that things are going to change anytime soon and the failure to bring in new blood is so frustrating to the die-hard fans.
Talk of financial prowess or a new stadium is not what we want to hear when things are so dire on the field.
Jay Harris
57
Posted 24/01/2019 at 19:25:39
Sam,
I don't know where you get your stats from but Opta are showing Sigurdsson with a 70% tackle rate and Bernard with 62%.
Over the 20 games he has played, Bernard has made 29 tackles, 3 blocks and 15 interceptions.
Sigurdsson over 232 games pro-rated to 20 has made 24 tackles, 15 blocks and 20 interceptions.
Sigurdsson has also had more assists, more shots on goal, and more goals per game.
Although I like Bernard, I know who I would sooner have in my team.
Andy Meighan
58
Posted 24/01/2019 at 21:31:31
Sigurdsson up front in a 4-4-2!?!
Oh God... I've heard it all now!
And please let's hope it will never happen.
Sam Hoare
59
Posted 25/01/2019 at 09:34:32
Jay, I used whoscored.com, who are usually pretty reliable though obviously there is no unanimous standard when measuring stats.
Even in your stats, though, Bernard is making more tackles per game! He does more defensive work than people give him credit for.

Chris Gould
60
Posted 25/01/2019 at 09:45:34
It would only be fair to compare stats on performances and form this season.
Jay's stats are compiled from Sigurdsson's Premier League history, which includes his time at Swansea and Spurs.
This season, Bernard's stats for creating chances are better, as are his tackling per-game stats. They are equal in interceptions.
Add Your Comments
In order to post a comment, you need to be logged in as a registered user of the site.
Or Sign up as a ToffeeWeb Member — it's free, takes just a few minutes and will allow you to post your comments on articles and Talking Points submissions across the site.