Crystal Palace vs Everton
Friday, 26 April, 2019
Match Preview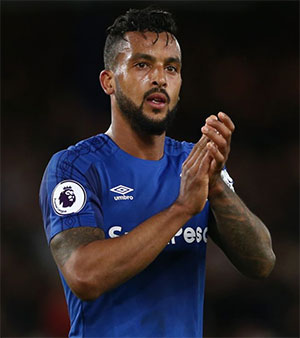 Theo Walcott has had his training disrupted by illness this week and is a doubt for the trip to Palace
Everton return to London for the penultimate time this season to take on Crystal Palace at Selhurst Park as they look to maintain their push for a seventh-place finish.
The Blues were embarrassed on their last visit to the Capital when they went down 2-0 to relegated Fulham but they atoned in spectacular fashion on Sunday by whipping Manchester United 4-0. Marco Silva will be hoping, however, that enough of the sting of that defeat at Craven Cottage remains to spur his charges to victory over Palace.
Everton come into the weekend sitting two points behind the current occupants of seventh position, Wolves, but know that the fact that Nuno Espirito Santo's side will be playing eighth-placed Watford means that whatever the result is at Vicarage Road will be of benefit.
They will be hosted by a dangerous but erratic Palace team, however, one that has lost five and won five of their last 10 games in all competitions but which also beat Arsenal 3-2 at the Emirates in their last outing. And as tricky a venue as this can be and for all the problems the Eagles have caused Everton at Goodison Park in recent years, the Blues haven't lost at Selhurst Park since Palace regained promotion in 2013, winning twice and drawing the other three.
That will bode well if Silva can draw out of his players the kind of performance that put on against United or, perhaps more aptly, the won at the London Stadium that comprehensively beat West Ham at the end of last month.
The Portuguese looks likely to be without Richarlison this weekend, however, with the Brazilian struggling with the rib injury he sustained against Manchester United on Sunday.
Richarlison, who scored the opening goal in the Toffees' 4-0 romp past the Red Devils at Goodison Park, went down injured late on the first half and reappeared after half time but then had to be substituted five minutes into the second half.
Silva, explained in his pre-match press conference this afternoon that the winger is a "major doubt" for the Palace game but that Lucas Digne, who came off himself late in the match against United with a foot injury, has been cleared to play.
Meanwhile, Theo Walcott, another of the goal scorers on Sunday, has been battling a virus this week and will be assessed tomorrow before the manager makes a decision over his starting XI.
Silva also said that Yerry Mina has resumed training with the first team after recovering from a hamstring problem sustained on international duty for Colombia last month. André Gomes serves the second game of his three-match ban.
Roy Hodgson, meanwhile, is without defenders James Tomkins (groin) and Mamadou Sakho (knee) as well as Jeff Schlupp who, like Tomkins, has been ruled out for the remainder of the season.
As both Manchester clubs and even Brighton have shown in recent weeks, this Palace side can be vulnerable defensively but if Wilfried Zaha is in the mood and with Christian Benteke's aerial presence, they can also be dangerous.
Neither should cause Everton all that many problems if the Blues can keep as defensively impregnable as they have been in recent weeks, the trips to Newcastle and Fulham aside. A win would keep Silva's men very much in the hunt for seventh going into the final two games.
Kick-off: 3pm, Saturday 27 April, 2019
Referee: Lee Mason
Last Time: Crystal Palace 2-2 Everton
Predicted Line-up: Pickford, Coleman, Keane, Zouma, Digne, Gueye, Schneiderlin, Sigurdsson, Bernard, Walcott, Calvert-Lewin
Quotes sourced from ToffeeWeb match page
---
Reader Comments (70)
Note: the following content is not moderated or vetted by the site owners at the time of submission. Comments are the responsibility of the poster. Disclaimer
Robert Leigh
1
Posted 26/04/2019 at 08:11:45
Sincerely hope we play Lookman if Richarlison is out. Good to see Walcott score last week but we need to see what Ademola can do before the summer surely?
Fancy us to win 1-0 either way, COYB!
Chris Donnelly
2
Posted 26/04/2019 at 08:18:08
With Walcott having a virus this week it should open the door to Ademola Lookman having a good run out on Saturday. His quick feet and pace will cause so many problems for a defence that apart from Wan Bissaka is just a clumsy and adopt a hack and hope approach.
Zaha is their only danger, but as long as we defend on our feet, and don't dive in, we should be fine. He feeds off the slightest touch and has a better routine than Tom Daley. He and Mo Salad are two of the same, when VAR comes in these players are going to be found out week after week.
Hopefully 3 points on Saturday and pray for the Wolves Watford game to end in a draw. Even though Europe is great for the fans, unless we spend intelligently we are going to struggle next season, but we need 7th to show improvement.
Jim Bennings
3
Posted 26/04/2019 at 08:33:02
I might be in the minority right now but I just can't really see the clamour for Lookman.
Every time he's played and csome on as a sub he's been virtually invisible and offered nothing, but he's in last chance saloon now and he probably knows it, whether he's actually bothered or not and he just wants out come the summer who knows but if he plays tomorrow then he's got to do something.
Richarlison will be a big miss because he works absolutely brilliant with Coleman, it's like the left hand side with Bernard and Digne, little things like partnerships are starting to click and come together.
It is a tricky game tomorrow at Selhurst Park, Palace are a team that can do undoubtedly a lot of damage, they scored three goals at Anfield, the Etihad and the Emirates so that's what they can do.
At Selhurst though they sometimes struggle playing behind teams and results aren't as consistent plus we have had a really good record in this fixture going back to 1994 when we lost 1-0 to a looping Chris Armstrong header wearing our tractor tyre kit (which you can now buy in the retro range in the store).
So it will be tough, but one thing we do need is to avoid another bad away performance like at Fulham, it can't be happening again and we must build on such a great win last Sunday.
Jon Withey
4
Posted 26/04/2019 at 08:44:33
The worry with Lookman is that Seamus is left exposed - Richarlison is much better at defending from the front - he can really battle.
Clearly the pressing all over the pitch against Utd was a big factor in rattling them - can Lookman do the same ?
I'd like to see him try - but I also want us to the win the game. It's going to be more difficult without Richarlison.
Paul Birmingham
5
Posted 26/04/2019 at 08:46:01
It's a very tough match and Palace also blow hot and cold, but tomorrow let's pray Everton, are up for it and can finish clinically.
If Charlie's out, it's a big blow, but who ever steps in must be fully focused. If Mola plays, it's a must for him to put his mark on the game and try and salvage some positives from his season.
I'll take any win, but it will be very tough but we can out play them, but beware of the acting and diving of Zaha, as skillfill as he can be, his antics, like a few players we know across the park, is not in the spirit of the game.
Everton to win Wolves and Watford to draw! Wishful thinking.
Neil Lawson
6
Posted 26/04/2019 at 08:57:10
In many ways this is the ideal game to follow on from last Sunday's result and previous performances. A game we should not lose. A game we, now, may reasonably expect to win. It is crucial for Silva that we do turn up and not repeat the shambles of Fulham. He will continue to have his doubters, but if we can turn in 3 solid/impressive performances to season end it will give everyone at the club confidence and may help summer recruitment.
As to Lookman, I would love to see him start and to be fully committed and incisive. Anything less may define his future at the club. Tomorrow, and maybe subsequent games, may be the perfect opportunity to assess just what it is he wants for his career. If he does want away then maybe Palace will pay silly money from the sale of Zaha, so what better place to impress?
Mal van Schaick
7
Posted 26/04/2019 at 10:19:55
After the Fulham game, it may be better to set up to defend and counter attack and perhaps trial that for next seasons away games against the top 6 away from home. A point of all three would be good.
Duncan McDine
8
Posted 26/04/2019 at 10:34:57
I don't have any idea how the bookies could predict a game like this. Both us and Palace can play at a very high level every now and then, but unfortunately more often we both struggle to 'turn up'!!
On a separate note Lyndon, there was quite an interesting read on bbc website this morning about the architect behind Goodison Park (and dozens of other stadiums). Not sure if the link works, but I'll try:
https://www.bbc.co.uk/news/uk-scotland-48028660
Colin Malone
9
Posted 26/04/2019 at 12:08:49
Gylfi played a deeper role, with two holding midfielders against the Mancs, with Richarlison moving into the centre when the opportunity arose. How good is Gylfi when he has space instead of the heavy traffic when he plays further up the pitch? Got to play him behind the Number 10.
Christopher Timmins
10
Posted 26/04/2019 at 12:20:43
If the team put in a performance, they will win... and if they don't, you guessed it, they won't. Hopefully, the lessons of the Fulham game have been learnt and the performance will mirror the West Ham game.
Matthew Williams
11
Posted 26/04/2019 at 12:41:20
If we turn up... we'll win this.
2-1 Blues.
Derek Knox
12
Posted 26/04/2019 at 13:16:35
Thanks Duncan, the link worked and the article was interesting, these were state of the art grounds at the time, now most have either been replaced or are crumbling relics of a bygone age.
Have to agree with fellow posters about wondering which Everton, and for that matter Crystal Palace will turn up. After the Arsenal win I was convinced the Fulham game was almost a certainty, and by how many goals would we win by.
I am hoping that the Fulham performance will have been learnt from, but also that the Man Utd drubbing will have our boys in confident (but not complacent) mood too.
Palace seem to be playing better away, than at home for some reason, and have recently turned Arsenal over, and of course not so long ago administered a similar beating away to Man City.
They are a team not to be under-estimated, but then again, all teams should be treated as such, but I feel a result is possible.
Jon Withey
13
Posted 26/04/2019 at 14:06:26
Palace are a pretty good side on their day - Fulham really weren't, so who knows?
Roger Sunde
14
Posted 26/04/2019 at 14:30:30
In Football Manager Lookman is impossible to train, he just keeps on sulking that it's too much. Maybe they know something we don't.
Steve Ferns
15
Posted 26/04/2019 at 14:39:51
I disagree that he played significantly deeper Colin. He covered a lot of ground and the team was very mobile. However, he played his usual role, he just did it much better.
Steavey Buckley
16
Posted 26/04/2019 at 16:51:49
Everton blow hot or cold away from home. Richarlison not playing would be a blow, especially, when there is no ready made replacement, while Lookman has shown no consistency all season to be a ready made replacement. Kenny could be just as good because he always has a go even when not playing well, but can cross a ball and his throw ins, are not that bad.
Andrew Keatley
17
Posted 26/04/2019 at 18:45:34
If Richarlison and Walcott are both out then it'll be interesting to see if Silva opts for Lookman or not. If he doesn't then Lookman might as well make for the revolving door come the summer.
Is there a world in which Baines and Digne both start - one playing in front of the other? Josh Bowler has done so well of late for the Under 23s; he might be worth a place on the bench.
Kev Jones
18
Posted 26/04/2019 at 19:19:19
I wondered if Gylfi was able to contribute more because Gomes was not playing and Idrissa and Morgan seemed to stay deeper?
Dave Williams
19
Posted 26/04/2019 at 19:22:16
Man Utd gave us more space which we exploited with a fast tempo – that's why Gylfi played better.
Kieran Kinsella
20
Posted 26/04/2019 at 19:55:22
I always enjoyed travelling to Palace. Old fashioned little ground but not huge so the Everton fans were never greatly outnumbered by the locals.
Benteke scored his one goal for the season last week so he is no threat. Townsend and Zaha could trouble us if Jordan has one of his off days.
Raymond Fox
21
Posted 26/04/2019 at 20:13:18
Palace are 13/8 favs, we are 9/5, it's 5/2 the draw.
Away games are tough whatever the opposition. To be honest, I haven't a clue what result to expect, I'm hoping for a win but, with us probably missing two influential players, maybe a draw will be the outcome.
Dick Fearon
22
Posted 27/04/2019 at 00:28:14
Jim B @3,
I have said the same about Lookman from the beginning. I am bemused at why he gets so much praise.
If we do not have a few just as deserving in our U23s, the entire academy setup needs a root-and-branch investigation.
Mark Andersson
23
Posted 27/04/2019 at 03:32:53
Palace to win this one... Everton bottle it again. ToffeeWeb goes into its usual meltdown after last week's turning the corner...
Lookman needs to either step up or ship out...
Remeber Roberto's first season: didn't we get beat by Palace to loose out on a European place???
Alun Jones
24
Posted 27/04/2019 at 04:01:52
I think we need to be fair to Lookman, there was a lot of criticism about Calvert-Lewin on here for a fair while until Silva gave the young man what he needed which was a run of games playing consistently.
I think the same should apply to Lookman; let him play a run of games as a starter and see what he can do. The odd cameo here and there is no way to judge someone at this level.
John Pierce
25
Posted 27/04/2019 at 04:16:30
If both Richarlison and Walcott are out then Silva has a problem. The balance is gone, replacing him with Lookman is not the answer. It screws both the vertical and lateral balance.
You need a creative wide forward and scoring wide forward. Lookman cancels out Bernard. It also ruins Coleman as the defensive cover is absent.
I'd proffer that a change of shape is required, I think if you want to play Lookman 4-4-2 with a diamond is better, Tosun in for Richarlison.
We will see but another failure against very mediocre opposition, is another questionable mark that Silva has yet to solve.
Mike Gaynes
26
Posted 27/04/2019 at 04:26:58
Hey, we might see Callum Connolly and Joe Williams in these final couple of games, because they are headed back to Everton early. Bolton has forfeited the rest of its season. Players boycotting because they didn't get paid.

Darren Hind
27
Posted 27/04/2019 at 06:25:47
Steve's right
Sigurdsson did play his usual role last week, he was just better and got around more, even opened them up 2-3 times with through balls - something I've said he doesnt do. I suspect he, more than most, is loving the changed atmosphere at the old lady. He seems to revel in it.
Another player I've criticised is Gueye. I think I've spent far too much time concentrating on what he cant do, but what an attitude. He's another who seems to revel when the old lady is bouncing. His high energy game seems to rise to almost super human levels when the crowd are cheering every tackle.
While I'm in the confessional box. I want to give praise to the forgotten man ("slidingin"). Like many on here, I'd long since give up on him, but he was first class last week, nothing spectacular, but his positioning was text book all game. It's not easy to come back in from the cold like he did and if we are going to criticise him - God knows we've doen that - then it is churlish in the extreme not to give him credit when its due.
It all bodes well for next season. I think the players, together the crowd, are beginning to realise what it will take to turn the Old Lady into a fortress again, but its not enough. The players have to start rewarding the travelling fans with consistent performances on the road too. We will never improve until they do.
I suspect Seamus is in for a very difficult afternoon today, but if he can win his battle and the central defenders can cope with the high balls which will inevitably be aimed at Benteke, I think we will prevail
Sam Hoare
28
Posted 27/04/2019 at 07:56:57
Time to show that we can cope against compact, direct teams as well as the ones who tend to give us more space.
Palace are a well organised side with pace and size and a top class match winner in Zaha. It will not be easy and we will have to be near our Man U levels to get 3 points I think.
Richarlison will be a big miss and the full backs will have to do well to deal with the inevitable Palace counter attacks.
3 points to us and a Wolves-Watford draw please.

Tony Everan
29
Posted 27/04/2019 at 08:36:39
A very tough game, CP had a great result away to Arsenal last week and their peckers will be up. They will see what happened to us at Fulham on our last away trip and they will have no fear about playing us.
Beating Man U was great last week, but now it's down to the bread and butter stuff of being consistent. It has been elusive so I am tentative about this match. Zaha is a threat and will be looking for a penalty by whatever means.
I think we have more quality than CP, but we had more quality than Fulham and they outplayed us. With regards to Richarlison's replacement, I would like to see Lookman before Theo, with the specific instructions he has to track and tackle back as good as Bernard has been doing.
Correct Score, tough, scrappy game
Brain says 1-1
Heart says 1-2 , with a bit of magic from Ademola creating the winner .
Dave Abrahams
30
Posted 27/04/2019 at 09:09:32
John (25), how about the right flank being Colman and Jonjoe Kenny,swapping the defending and attacking between them.
Tony Hill
31
Posted 27/04/2019 at 09:40:26
Yes this will be a hard game, Palace should be higher up. They're not, though, very strong down the centre of defence and midfield. Let's hope we can do the damage there. I just don't want to see another shambles like Fulham.
Colin Malone
32
Posted 27/04/2019 at 09:43:42
Steve,
I think Gylfi took the role of Gomes. If Gomes had a played, Gylfi would have been more advanced, back in the heavy traffic.
Clive Rogers
33
Posted 27/04/2019 at 10:03:14
DCL is due a goal. He has played better outside the box, but has not threatened the goal at all even though we have played well, created chances and scored goals. He has to prove he can finish.
Tony Hill
34
Posted 27/04/2019 at 10:13:26
I understand Kenwright has arranged for everyone travelling on the official Everton coaches today to be given a fiver, so they can get a drink. At least that's what my son tells me, no idea if it's true but decent touch if it is.
Gavin McGarvey
35
Posted 27/04/2019 at 10:32:52
Things are looking up for us now, and I think we'll certainly approach this in a different state of mind than we would have done a few months ago. We're playing well and are good to watch, so I imagine we're all looking forward to the last few games, which is perhaps a sign that things are finally starting to click for Silva and his team. The big thing though is the striker situation. We still need at least one or two more, and, in my opinion for Tosun and particularly Calvert Lewin to come good (Tosun as a sub, and Calvert Lewin as a plausible starter). Still, that aside, I think we're starting to see what the management have in mind, and can afford to be moderately optimistic against a Palace side that haven't done too badly this season. COYB.

Eddie Dunn
36
Posted 27/04/2019 at 10:40:01
I thought Palace were unlucky when they played at Goodison and expect a very tough game They are safe but I doubt they will be "on the beach" just yet, so let's hope we don't relax like we did at the Cottage.
Len Hawkins
37
Posted 27/04/2019 at 11:17:49
Tony Hill #34
A fiver ? more like he'd give everyone a copy of his latest compilation CD Undercoats and Overcoats. The rock n' roll songs of his youth with an acknowledgement from George Formby. Hee Hee
Geoff Lambert
38
Posted 27/04/2019 at 11:20:07
COYB.
Geoff Lambert
39
Posted 27/04/2019 at 11:20:07
I think Lookman needs a good run of games to see what level of consistency he can produce. He won't get that with Ricky as first choice though. He will be a big miss today I have been impressed with his workrate aqnd goals also seems to have stopped the playacting everytime he gets touched. Need Sigg to score today as I can't see where the goals are going to come from in our unproductive strike force. 1-1 if the Sigg scores.
Brian Harrison
40
Posted 27/04/2019 at 11:38:57
Winning away is never easy, but the difference with the top teams is thats what they do on a regular basis. So is this going to be similar to what happened at Fulham or is it going to be like the game against West Ham away.
They will certainly have to keep Zaha quiet and on his present form thats no easy job, so whoever does replace Richarlison, will have to make sure they get back and help when we are not in possession.
I would hope that its not another case of following a very good performance with a poor one. Consistency is what we have lacked all season, they have showed that they can beat the best at Goodison, but repeating that away has proved difficult for us. So I would hope we start with the same intensity we displayed last week, get Palace on the back foot and keep them there.
Ray Roche
41
Posted 27/04/2019 at 11:48:10
Dave @30
If Walcott isn't fit and Lookman isn't fancied that's a good shout.
On a different topic, how mad are the FA to accept that Hennessy, their keeper, didn't know that he was making a Nazi salute! Do you think that because Woy is a former England manager they let him off?
Ridiculous!
Paul Tran
42
Posted 27/04/2019 at 11:49:19
I'm expecting a hard-fought win today. Hoping to get a greater sense that the players are starting to know their jobs and are prepared to fight for/believe in each other.
Also hope Getaway Trump lugs that big weight around Sandown.
James Hughes
43
Posted 27/04/2019 at 11:55:00
Paul, they have not done him any favours have they, 11st 12lb is a lot for a 2 mile race
Andrew Clare
44
Posted 27/04/2019 at 11:56:33
I just hope that we don't underestimate them. High press and high energy from the word go. Hard work for 95 minutes wins games. Palace are a tough outfit and will be a hard nut to crack. COYB's
Brian Williams
45
Posted 27/04/2019 at 11:57:40
Tony#34.
A fiver? A fucking fiver?
Doesn't the mingebag realise we're playing in London and you'll get nowt for a fiver down there?
Just having a faux BK bash before somebody does it for real lol! :-)
Martin Nicholls
46
Posted 27/04/2019 at 12:11:19
A fiver to fans on official coaches? Bang goes this year's Camp and Furnace knees-up then!
John Pierce
47
Posted 27/04/2019 at 12:29:52
Palace are a poor side at home. Unable to play the counter as much, away teams happier to let them have more of the ball which basically they're not very good with.
Most of the eye catching results have been on the road.
They like to nail you with one pass.
Question; is Silva clever enough to let them have the ball? Or will he think we can totally dominate them?
Dave, rarely in my watching footy have I seen two full backs stacked on top of each other work. It might, but I'd prefer a rounder peg in the hole.
Paul Tran
48
Posted 27/04/2019 at 12:31:18
James #43, he's earned that weight, he's the best horse in the race, but he might be vulnerable to something well-handicapped, like Birds Of Prey. He's the horse to beat, though.
He's been bouncing at home since he broke the track record at Ayr, so here's hoping he's safe home tonight ready for a good holiday before going chasing next season. We can't wait to see him over fences.
Ray Roche
49
Posted 27/04/2019 at 12:35:48
John, Kenny and Coleman would not be doing anything more or less than they do every week. It would just give us more defensive strength against Zaha. A much better option than defensively poor Lookman.
Jerome Shields
50
Posted 27/04/2019 at 12:37:54
Surely they will be motivated.
Mike Galley
51
Posted 27/04/2019 at 12:41:43
Does anyone know whether Richarlison is playing yet?
John Pierce
52
Posted 27/04/2019 at 12:52:42
Ray, I'd play down the threat of Zaha, he is their only decently player. However there's a reason he's at Palace, and failed at United. His game without the ball is hopeless, play someone there that genuinely goes the other way and you gain way more than doubling up on him which handicaps ourselves.
Silva has to show he can beat this level of team. Whatever this season is, he has consistently failed to play well against sides who sit back.
Two full backs together, I think we are better than that.
Tony Abrahams
53
Posted 27/04/2019 at 12:59:23
No good deed goes unpunished hey Brian, I don't know wether to snarl or smile!
Brian Williams
55
Posted 27/04/2019 at 13:22:14
Brian Williams
56
Posted 27/04/2019 at 13:22:19
Tony. I would smile mate it makes for a happier life all round. 😉
Brian Williams
57
Posted 27/04/2019 at 13:26:27
Tony. I would smile mate it makes for a happier life all round. 😉
Tony Everan
58
Posted 27/04/2019 at 13:28:18
Paul T, James
Getaway Trump carrying a fair bit of weight and it will take a gutsy performance to win it. I think there will be something well handicapped that will make the weight tell after the last. Humble Hero could be a few lbs in on the handicap and that could make the difference.
Darren Hind
59
Posted 27/04/2019 at 13:41:30
I'm on GT, PT
David Pearl
60
Posted 27/04/2019 at 13:44:11
Okay so we have 1/2 on Walcott starting. Evens on Lookman, 3/1for Tosun playing up front (carrying a bit of weight) with DCL wide 7/2. Tom Davies 4/1.
As already mentioned I'd not like to see Lookman in front of Seamus with Zaha running at him (to be fair he has looked back to his best the last month).
Looking forward to this game but the usual doubts about our consistency.
Paul Tran
61
Posted 27/04/2019 at 13:48:18
Me too, Darren, and Birds of Prey each way.
Paul Tran
62
Posted 27/04/2019 at 13:55:41
THE FUCKING MAN!
Darren Hind
63
Posted 27/04/2019 at 13:57:03
Get the fuck in.
Congratulations PT. Did in in real style
Mike Gaynes
64
Posted 27/04/2019 at 13:58:25
Paul, you a winner? Congratulations, mate!
Neal Kernohan
65
Posted 27/04/2019 at 13:59:03
Live Forum?
Paul Tran
66
Posted 27/04/2019 at 14:01:42
Cheers Darren & Mike. That's some performance carrying that weight. He's a superstar!
Darren Hind
67
Posted 27/04/2019 at 14:04:03
Give him an hour or so to stop dancing around his living room Mike.
His fella did it in style. Those of us who backed were counting our winnings long before the line. . Just the way I like them
Mike Gaynes
68
Posted 27/04/2019 at 14:05:19
I'm so happy for ya, PT. After what you've been through with that horse... well in, sir.
Darren, how much did you win? I won't tell the tax boys, I promise.
Mike Gaynes
69
Posted 27/04/2019 at 14:08:40
The Forum is open, folks.
Neil Wood
70
Posted 27/04/2019 at 14:12:15
Hi David...Nice to see you on here... over to the live forum folks. COYB
Darren Hind
71
Posted 27/04/2019 at 14:12:36
£112.50 Mike
The tax man wont be to concerned, Just don't tell the missus she's watching QVC shopping chanel
Add Your Comments
In order to post a comment, you need to be logged in as a registered user of the site.
Or Sign up as a ToffeeWeb Member — it's free, takes just a few minutes and will allow you to post your comments on articles and Talking Points submissions across the site.