Davies pens new four-year deal
Monday, 29 April, 2019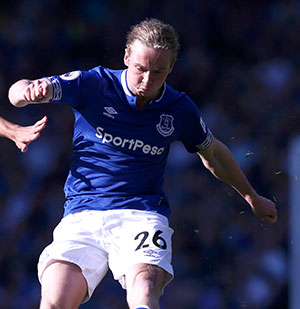 Tom Davies has accepted new terms with Everton and signed a contract that extends his current deal to 2023.
The 20-year-old midfielder's previous contract was due to expire in 2022 but Everton have moved to tie him down with an improved deal.
Though Davies has made fewer appearances this season than last, largely because of the respective form of André Gomes and Morgan Schneiderlin, manager Marco Silva and Director of Football, Marcel Brands, see him as an important member of the squad going forward as he continues his development.
It's now being reported that an approach by Celtic to take Davies on loan for the second half of the season was turned down in January but the terms of his new deal include assurances over his future role in the Everton first team.
The local-born midfielder was named as the club's youngest ever captain when he led Everton out for a Carabao Cup tie against Lincoln earlier this season and Silva said that, "[i]t's really important to secure Tom's future here at Everton. He's an important player for us now and he will be going forward, for sure."
"I am made up to sign a new deal," Davies told evertontv. "It is all I have ever wanted since I was a kid and I am so happy. I feel the club has faith in me and they've shown that by giving me this contract.
"I'm progressing all the time and this is the place where I feel I can develop. It is where I want to be.
"I've had some big moments here and I want to produce more of them and show everyone how good I am.
"My ambition has always been to win something here. I would love that and I know all the other lads would love it, too."
---
Reader Comments (111)
Note: the following content is not moderated or vetted by the site owners at the time of submission. Comments are the responsibility of the poster. Disclaimer
Kevin Prytherch
1
Posted 29/04/2019 at 20:06:30
Championship player at best.
Can't pass
Can't tackle
Lazy
Only given a contract on sentiment
Can't pull his socks up
Can't brush his hair
Can't find his razor
Got Kenwright drunk to get the contract
Kenwright fault
And Hibbert
And Osman
Bring back Destination Kirkby...
On a realistic note - pleased for the lad. I reckon he'll be a major player in years to come, along with our Championship striker DCL.
Mike Gaynes
4
Posted 29/04/2019 at 20:24:10
Well in, young man! And well done to the club.
Tom holds a special place in my heart. When I went to my very first game in Goodison two years ago, he scored in 32 seconds. I cried like a little kid up in Row EE, Park End.
Had the pleasure of meeting him briefly the following week. Shy and soft-spoken (him, not me).
Christy Ring
5
Posted 29/04/2019 at 20:35:43
Good business, he's only 20, and plenty of potential.
Anthony Murphy
6
Posted 29/04/2019 at 20:38:12
Kevin, just for a moment there I thought you'd lost the plot...
James Stewart
8
Posted 29/04/2019 at 20:39:51
Prudent move to sign up the youngsters. Still a long way from the level of Gomes and Gueye but still young so hopefully he keeps improving.
Martin Berry
9
Posted 29/04/2019 at 20:46:54
Great news for the club and the player.
I think he is going to be an absolute gem, he is only 20 and his progress stands up well against similar players of the same age.
We are lucky to have him.
Derek Knox
10
Posted 29/04/2019 at 21:15:37
Agree a good deal for Tom and the Club, SSN were announcing earlier that Everton were on the verge of completing 3 signings, Tom obviously being one, the others Baines and Jagielka.
While we had this discussion on a previous thread, most agree with Baines as cover but Jagielka, I don't agree with. One minute the Club are making statements about reducing the personnel and the wage bill, and quite rightly so, but the suggestion of Jagielka being given a new deal smacks of dual standards to me.
Slightly off topic here, but now that Sheffield United have clinched promotion, it will be interesting to see what happens with Kieran Dowell.
Brian Williams
11
Posted 29/04/2019 at 21:29:40
Shame the "other two" weren't Gomes and Zouma!
Derek Knox
12
Posted 29/04/2019 at 21:48:09
True Brian, it's just fingers crossed time, I am fairly confident we will get Gomes, it's just a question of how much, all sorts of figures getting bandied around, between £18-26M.
Allegedly many teams are monitoring the situation, Arsenal and Tottenham in this country and one of the Milan teams.
Peter Gorman
13
Posted 29/04/2019 at 21:55:39
"I am made up to sign a new deal"
One of our own.
David Pearl
14
Posted 29/04/2019 at 21:58:46
Good to tie him down and hope to watch his progression. Whether that will happen with not a great deal of playing time, then time will tell.
I would be tempted to have a clear out of the likes of Dowell etc. He is a good player yes but needs to play and might come good but I don't see him having that opportunity here. I know Moshiri said he wants to keep a path for the young players to come through but that's harder in reality.
Baines and jags will not be renewing contracts on anywhere near the last wages they pulled in. So yes it's worth keeping the both of them. Always ready, if not injured!!
And the club you would hope would of even working on both Gomez and Zouma for weeks now because that's what erm Everton do... okay nearly with a straight face.
Martin Mason
15
Posted 29/04/2019 at 22:12:00
this is great news as is the rumours of Gomes staying. I pray now (well as much as an Atheist can pray) that we can keep the wonderful Gana and sign Kurt Zuma. this more important than signing any new player because they are here and part of the resurgence that is happening at the club now. Based on years gone by I think that we don't need to buy heavily, we're good now in most conditions and exceptional in some, we have great lads coming through. We have momentum and bad buys as we know, will be a disaster. We need to cull far more than we need to buy. The laxative effect could be a boost.
Oh yes, Morgan Schneiderlin has looked very good in recent games, I put it down to the club turning him into a round peg again and it's as good as a new player.
The future looks good and it looks Blue.
Mike Gaynes
16
Posted 29/04/2019 at 22:16:37
DK #10, assuming a one-year deal at reduced wages, I'd say it's a good idea to re-sign Jags as a hedge against losing Zouma, which to me seems more likely than not. Chelsea needs a CB desperately -- David Luiz and Cahill are 32 and 33 respectively and both out of contract, and Rudiger may need knee surgery -- and the transfer ban remains in effect. I think they'll take Zouma back.
So if Mina and Keane are the starters, who would be in reserve? Holgate completely flopped (in Silva's eyes) at CB in the fall and played RB only, and more recently right mid, during his loan at WBA. Pennington just had ankle surgery and Feeney is unproven. So it's either keep Jags another year or buy another CB somewhere. I say that's an easy choice.
Re Dowell, he played less and less during the Blades' run in, and if he can't make it for them, how's he gonna make it for us? I don't think he will.
More interesting to me is the return of Joe Williams and Callum Connolly from Bolton, which forfeited the remainder of its season. Would like to see them get some minutes in these final games.
Steavey Buckley
17
Posted 29/04/2019 at 22:49:19
I hope Keane's contract is extended and not allowed to run down and lose out to other clubs interested in him. Same goes for Pickford. Both players are starting to look the part as they settle in and gel.
David Pearl
18
Posted 29/04/2019 at 22:52:54
Not likely Mike with only 2 games left and we need to see out the season without losing this momentum. We already have a few bench warmers wanting to prove a point. If Silva was sacked and Unsy took over, maybe they would get a chance. I'm more interested in seeing if Beningime has improved at all after an injury-hit season. He looked classy when given minutes last season.
Kieran Kinsella
19
Posted 29/04/2019 at 22:57:39
Mike Gaynes 16
I agree. Williams has been an ever-present (injuries apart) on consecutive loan spells. Lower level, yes but surely worth a look over the summer. Similar story with Connolly barring his early season spell at Wigan. Dowell has now had back-to-back seasons where he has come in with a lot of fan fare, scored a few goals, then banished to the bench midway through the campaign.
Kieran Kinsella
20
Posted 29/04/2019 at 22:58:55
David Pearl 18
Beningame had one game at Wigan with very mixed reviews and hasn't been given a game by then since. Maybe the coach there is a bit of wanker as he didn't play Connolly (who was a starter at Bolton, and at Ipswich last season).
Steve Ferns
21
Posted 29/04/2019 at 23:09:06
Delighted Tom has been signed up to a long term deal. I think Silva has a lot of faith in him, as shown by the captaincy. Circumstances meant that he did not play as much as he (Tom) would have liked, but I think he'll play a much bigger part next season.
My best guess is that Gueye is sold in the summer, and Davies is his replacement and instead of replacing Gueye we bring in a replacement for Schneiderlin. That is a holding midfielder who can sit in and pass. Someone who can shift the ball quickly and raise the tempo of our play. Such a defensive player can counter balance a midfield trio that would also include two of Sigurdsson, Gomes (I think he'll stay), and Davies. Don't forget McCarthy should be properly fit after a full pre-season.
As for Jagielka, surely it all comes down to money? If he gets a relatively low wage deal (for a Premier League footballer of course) on some kind of pay as you play basis, and combines this with coaching, then why wouldn't you sign him up?
David Pearl
22
Posted 29/04/2019 at 23:11:48
Thanks Kieren hard to keep up with them all. I know he was out most of the year. Well we have Henry and Vlassic to come back too. Hope we don't become like Chelsea with 27 loan players
Steve Ferns
23
Posted 29/04/2019 at 23:16:18
David, we already have 19 out on loan at the moment.
https://toffeeweb.com/season/18-19/squad.php
the 14 listed there, plus Holgate, Dowell, Baningime, Niasse, and Anthony Evans. I'm not 100% sure if Browning was sold or loaned.
Steavey Buckley
24
Posted 29/04/2019 at 23:50:05
Steve, Browning was sold to a Chinese club at the last transfer window for an undisclosed fee. Browning has Chinese connections.

Dave Abrahams
25
Posted 29/04/2019 at 00:07:00
While I'm happy that Tom Davies has increased his time at Everton, I wonder what has happened to Jonjoe Kenny? I doubt he has played or been on the bench for a few weeks... he deserves better than this.
I like Seamus, how could you not like him, but he could have been rested for Saturday's game. He's played quite a lot recently and deserves a blow, he wasn't very good on Saturday.
And Jonjoe, after a good season, needs to be shown that he has a future at Everton. It doesn't look like he is being treated properly by the manager to me.
Simon Smith
26
Posted 30/04/2019 at 00:10:52
Great news for all concerned, I'm 100% certain Tom will have a big future with the blues.
People go on about Tom not being on Gana or Gomes level, but I doubt very much they were at Tom's level at that age.
Another thing some fans forget is squads are made up of 25+ players, not 11. At very worst Tom will be a squad player potentially saving millions of pounds, you only have to look at the likes of Schneiderlin who cost £25m+ and often doesn't even warm the bench !
The above applies to a few of the lads looking to make the breakthrough at the blues, were lucky to have Tom, JJ, DCL, Dowell, Robinson etc at the club, between them they can save the club crazy amounts of money.
Peter Gorman
27
Posted 30/04/2019 at 00:17:19
Dave, as far as I can tell, Kenny is simply Coleman's backup. Perhaps he merited more of a run during Coleman's bad spell but in truth his form has also been pretty mixed.
As sure as Digne replaces Baines, a new right-back will be required in the near future and it will interesting to see how he copes when they sign. At the moment he is clearly a useful squad member for Silva and Brands but the big question is how this is affecting his development.
David Pearl
28
Posted 30/04/2019 at 00:50:05
Steve, 19 players is a lot to have on loan, some will be sold hopefully... some might come back to have a future and some of the younger ones I'm guessing will be let go soon. We've had high Hopes for a number of them and held that for too long as in Galloway and Garbutt.
Dave, I'm not so sure Silva can utilize a squad rotation. He has though, in his defence, been struggling all year to get consistency and belief back into the team. Maybe next year he will use the players better. Kenny did well this season, much better than last and may well come good. I just don't think he is good enough in all areas to be considered long term. He has a big heart and that will take him someplace.
James Flynn
29
Posted 30/04/2019 at 01:18:11
Don't know what the Club will do with Dowell, but it seems he got on well at Sheffield United. Went to a club fighting at the top of the league and started or subbed 14-15 games, which is pretty good.
And the supporters have a chant just for him: Link
Holgate is the other one. Got a ton of playing time at RB with WBA.
Be interesting what Marco does with them next season.
Terence Leong
30
Posted 30/04/2019 at 05:19:02
Hopefully, Davies can kick on and succeed to be a mainstay in an ever-improving Everton team. He doesn't quite have pace; he is unlikely to have that in his game. But that doesn't mean that he cannot have an impact – many midfielders can have an impact if they can impose themselves on the game.
Looking at how he burst onto the scene, he was basically given a "Here, have a go and see how you play" role, where he didn't have to take on any tactical responsibility.
Last season and this, you can see that he's been given some responsibilities, but it seems that he's still trying to figure it out... eg, he didn't seem to burst forward every opportunity that he could. And it seems that it has affected his decision-making, in terms of whether he should or not.
A lot comes down to how Silva wants him to play within that midfield. I think we are all hopeful that being only 20 years of age, he'll learn, especially while being on the bench, watching how Gueye, Schneiderlin and Gomes go about their games.
Alan J Thompson
31
Posted 30/04/2019 at 05:28:10
First step in the right direction. Rather than moving on these youngsters, I'm interested to see which of those senior players on the higher wages and for whom we paid a transfer fee are moved on and at what price.
Terry Farrell
32
Posted 30/04/2019 at 06:46:39
Love Tom's bravery and drive. Once he gets a sustained run in the team again, I think he will be difficult to shift.
Chris Gould
33
Posted 30/04/2019 at 07:47:48
Dave #25,
I don't think Kenny has been treated poorly. He's backup to Coleman who is now Captain. He was retained ahead of Holgate who has more experience.
Also, think about how a 20-year-old Coleman had to bide his time before his breakthrough. He too had to settle for being backup before going out on loan and then returning on the right side of midfield.
Kenny needs to be patient. He isn't good enough to replace Coleman yet, and Coleman has just completed a long journey back to full fitness and is starting to look back to his best.
Regarding Davies: I don't see any standout attributes apart from effort. I just don't see what others do. I'm looking forward to the moment I do, and I hope he has a bright future.
Hugh Jenkins
34
Posted 30/04/2019 at 07:50:53
Steve (23) - An interesting list. I was surprised to see how many of our current squad(s) have contracts terminating in June this year (U23s, particularly). Either we are in for a spate of new contracts over the next two months, or one of the biggest culls in our history.
Dave Abrahams
35
Posted 30/04/2019 at 09:16:15
I understand the points fans on here are making about Jonjoe Kenny not being ready to take over from Seamus. I never said he was; my point was that Jonjoe hasn't been near the first team for weeks and he deserves better than that, in my opinion.
Jonjoe has things to learn, which Seamus might help him with; at the same time, Seamus could look at his understudy and learn how to centre the ball better.
Brian Harrison
36
Posted 30/04/2019 at 10:09:41
It's always good to see a youngster coming through and I am sure Tom Davies will play many games for this club, so to give him a new extended contract is a no-brainer. But I am sure a lot of fans are more concerned about the futures of 3 players in particular – namely Zouma, Gomes and Gueye. All 3 have made contributions to the team this season, and it will be a big loss to lose any of these 3. The position with Zouma and Gomes is out of our hands, a reason why I never like loan deals. Yes, it lets you see how a player can fit in but, if they do well, as Zouma and Gomes have, it raises the prospect to other clubs taking notice.
Zouma stated from Day 1 that his intention was to go back to Chelsea when his season-long loan deal finished; if theIr transfer ban is upheld, I think he will return to Chelsea. Gomes slightly different his club Barcelona are prepared to sell him, but only to the highest bidder. Rumour has it that Spurs are interested in him. Even if he wanted to stay with us, could we bid as much as Spurs might offer??
Finally, Gana Gueye, for me, would be the hardest to replace. Certainly there is nobody at the club who could fill his role. And in some ways, his form has got even better since the PSG interest in January, which is all credit to him. We have seen players who didn't get the move they wanted throw in the towel but not Gana Gueye.
So, while the team at present is starting to gel, it will be a great pity if any of these 3 players leave as I believe they are integral to the way Silva wants us to play. Let's hope all 3 start next season as Everton players.
Sam Hoare
37
Posted 30/04/2019 at 10:13:01
I am top of the list when it comes to wanting to give opportunities to young players and watch them progress. But I do worry slightly with Davies. He's not had as much game time as I expected this season and he's not progressed much if at all to my eyes.
He's still very young of course and by no means am I writing him off or anything so stupid but my worry is that I don't see enough strong elements to his game. His passing is decent but not often that incisive and similarly his tackling is okay but he's a long way off Gueye standards (as are most people, to be fair). He has good energy around the park but sadly not much pace. He's not the tallest or the strongest. He has great passion and enthusiasm but so would I! He's played almost a 1,000 minutes this season without a goal or an assist.
I suppose he is an all-round player in the way of Gomes but he seems a way off that level currently. I hope he pushes on next season and over the next few years... though a part of me wonders if he will get enough game time. I wonder if a loan to another Premier League team or even a top Championship team would be more beneficial? He's had considerably less time on the field this season compared to the previous 2 ones. Only Silva will know how much he plans to play him next season but, between the ages of 18-22 especially, getting as many first team games as possible is crucial for development.
Kevin Prytherch
38
Posted 30/04/2019 at 10:23:24
Re. Kenny and Davies...
They're exactly where they should be. Very competent players who do not look out of place when needed and improving all the time. They should be biding their time, taking every opportunity and learning from more experienced pros. Then hopefully at 22/23, they'll be seriously challenging for a first-team spot. The same with Lookman.
In my opinion, next season, we should also look to have Holgate, Williams and Dowell doing the same thing (I would have said Robinson too, if it wasn't for Baines's new contract).
That should be 6 players who graduated from the U23s at the same time (granted we bought Lookman), who are competent squad players looking to push on. I reckon that's an ideal starting point to trim the inflated squad we have.
Tony Everan
39
Posted 30/04/2019 at 11:25:11
Very pleased with this news, he is a player that will come good for us as he matures a bit both mentally and physically. It is now down to him to train hard and make the most of his opportunities to force a starting berth. I would love to see him on the steps at Wembley with a trophy held aloft.
Rob Dolby
40
Posted 30/04/2019 at 11:51:18
This is a good signing for the club and for Davies. It would have sent all the wrong signals him walking away.
I personally think that Tom is Sigurdsson's understudy. He drives forward and has a bit of guile. I don't see him winning the ball like Gueye or dictating the pace of play like Gomes.
Liam Reilly
41
Posted 30/04/2019 at 11:55:07
I like Davies, but I'm not sure he'd be getting near any of the top 6 squads.
I appreciate he's young but surely a loan deal with more playing time would benefit him. Don't understand why he wasn't allowed to go and collect a winners medal at Celtic; I know its a poor league but surely that would boost his confidence.

Jon Withey
42
Posted 30/04/2019 at 12:04:20
I'm still not really sure what Tom Davies speciality will be but he's a good and a versatile midfield player - him, DCL and Jonjoe Kenny seem to be the ones that will remain in the squad.
The Gana situation is awkward as he isn't replaceable, so we'd probably have to re-think things.
Fran Mitchell
43
Posted 30/04/2019 at 12:20:45
Tom needs to improve, clearly, but there is great potential. If we ever do become a top team, it will be through developing the likes of him rather than through the transfer market. That will only take us so far, at the end of the day, we'll never have enough to win the chequebook war of Premier League football.
Ajax are the latest example of how we should be developing.
If Tom can improve on his passing and general composure, he'll be a midfield general amongst the best of them.
Look at Henderson across the park, at 19/20 wasn't near to the player Davies is now, and despite derision, he has (unfortunately) developed into a very high quality box-to-box midfield player – people on here like to say he's shite, but shite players are not the regular starters for teams with 90+ points and playing in a Champions League semi-final.
Danny Broderick
44
Posted 30/04/2019 at 12:29:15
All of our young lads need to be encouraged. Even if they only make it as squad men, they are potentially saving the club from having to spend £10 million each time to buy squad men to fill their positions. I'd happily have a third of the squad made up of young lads like JJK, DCL, Davies, the young keeper we got from Arsenal etc. These young lads are far more likely to push the first teamers than seasoned pros providing back up - like Tosun, Schneiderlin, Stekelenberg etc.
The young lads have ability, Davies probably falls into the category of those who need to go out on loan if they aren't getting a look in here. Celtic would have been a great loan for him, I can't understand why the club didn't let it happen. Both player and club could have benefitted from it massively.
Fran Mitchell
45
Posted 30/04/2019 at 12:33:40
Also, got to say can't bloody stand this modern trend of 'loan him out' in regards to basically any young player, as if all a young player needs is regular game time. It completely ignores the fact that 90 minutes on the pitch are about 5% of a player's duties at a club. The rest is training, study, practice.
A lad like Tom needs to be training with the first team, our coaches need to be analysing his development and developing programs to assist him, as do many young lads, in fact, most.
Personally, I'd get rid of the loan system completely. A ridiculous system designed for the rich clubs to hoard the best young talent.
Limited squad sizes and a ban on loans – ain't gonna use a player, not interested in developing him, then sell him.
I hear calls to loan DCL until he learns to score, loan Davies until he whatever, loan Kenny until... loan so-and-so until. Drives me mad, and is destroying the game.
The likes of Dowell, Williams and Co would have benefitted greatly if they actually had long-term futures at their clubs. Dowell for example, Sheff Utd have less interest in developing him as he ain't their player, so in a tense run-in to gain promotion, he was less used. If he was their player, he'd have played more as the club would have a greater interest.
So he has another year on loan with little development.
Paul Le Marinel
46
Posted 30/04/2019 at 12:52:09
Really pleased that Tom Davies has signed a new contract. He is still young and I think that with steady progress made, that he can certainly be one for the future.
Dave Abrahams (35), I agree with you that Jonjoe Kenny does have things to learn and that he does deserve better. He is still young, but that doesn't mean that he can't make progress to the stage of challenging for a place in the first team. He is a young talented player, who could also be another one for the future.
Just hope that we can pull off permanent deals for Kurt Zouma and Andre Gomes, as both would be great additions to Everton for next season and beyond.
Liam Reilly
47
Posted 30/04/2019 at 14:00:38
There's a lot wrong with the Loan system Fran; stockpiling and poaching of young players particularly but we'd arguably not have Gomes or Zouma and wouldn't have had Arteta or indeed Super Kev who's goals kept us up.
We also had a some shockers who we were delighted to hand back; Jo an Mangala spring to mind.
It needs evolving for sure, but there are pro's and con's for clubs like Everton who can't always commit big money on potential.
Fran Mitchell
48
Posted 30/04/2019 at 14:28:48
Not saying we have never benefitted from itLiam, as one of the Premier League teams, the rules are in our favour.
But also, Chelsea sign Zouma at 18, loan him out until.he is good enough, if he doesn't make it, just release, no harm done. It's absurd.
Gomes, Barça don't play him, so sell... but no, loan him out in the hope his value doesn't drop.
If there was a squad limit and no loans, the fees would drop, and maybe we'd have these players, or similar, on permanent deals.
Peter Thistle
49
Posted 30/04/2019 at 14:29:45
These are the type of players that have held us back for the last god knows how long. Just average, no quality at all. Good luck to him and hope somehow he improves but I doubt it.
Mike Gaynes
50
Posted 30/04/2019 at 14:29:58
Fran #45, sorry but I think you're flat-out mistaken on Dowell. Sheffield United were making a run to Prem promotion, the biggest and most lucrative thing that can happen to a club -- a £200 million bonanza. Do you really think they would leave out a player who could help, just because he was a loan? No way. They were going to put their best 11 on the pitch for every game, regardless of whether they were owned or loaned.
Dowell's playing time didn't drop off because Blades were "less interest in developing him" -- it dropped off because in Wilder's eyes he wasn't good enough and other players would better help him win.
And it's not like Sheffield has Prem-level talent -- Dowell's minutes went to comparative nobodies like Enda Stevens and Fleck. If Dowell couldn't get in front of them, how is he going to crack our lineup?
Answer: he won't. Better we find that out now.
Kieran Kinsella
51
Posted 30/04/2019 at 15:10:43
Fran 45, Mike 50,
I heard the Wigan boss say something along the lines Fran is suggesting with regard to leaving out Connolly and Beningime because he is battling relegation so needs old pros. Personally, I think that is rubbish.
As Mike said regarding Dowell, you are going to pick the best players you have. Most managers live month-to-month these days so why would you risk results leaving out a good player when you're never more than a few games from the sack? Bolton, Ipswich, Barnsley, Yeovil etc in recent times had no qualms playing Williams, Connolly, Lundstram, Garbutt, Pennington etc when in that situation.
I suspect with Wigan, that Joe Royle came in with the bright idea of using his Everton connections to bring in some young talent. The manager there paid lip service to the idea as Royle's son runs the club, but in reality he is an old dinosaur in the Warnock mold who has no time for kids.
Derek Knox
52
Posted 30/04/2019 at 15:24:13
Mike G, good point you make regarding Kieran Dowell, who in my eyes is somewhat of an enigma. The lad seems to have talent in abundance, but his application of it seems to be sporadic.
Every time he has gone on loan, he has shown glimpses of what he can do, and quickly become a fan favourite, then within a few weeks seems to have fallen out of favour. He has looked good in some of our pre-seasons, but never really stamped his authority or left a good enough impression, for the Manager to include him.
Like you say, if he finds it hard to be consistent in the Championship, has he got the right attitude for the Premier League?
Like many have mentioned it will be interesting to see who goes, who stays, and who comes in. I think we all recognise that we have the nucleus of a decent side, but are crying out for both a consistent striker, and a better distribution of goals throughout.
It is beginning to look highly unlikely that we will get that 7th spot, unless Wolves have a disaster, which I cannot see happening, but we do need some new faces if only for competition and rotation.
Silva does not seem to want to rotate the squad, but I believe it eliminates complacency and keeps players on their toes. Having said that you want to play your strongest side, especially against the 'top six' but also you don't want to appear too predictable to other sides, by playing the same team week in week out, a balancing act is required.
Mike Gaynes
53
Posted 30/04/2019 at 15:43:02
Kieran #51, to defend the Wigan manager (Paul Cook), he has played Antonee Robinson every minute he has been available this season, gave him his job back the moment he was healthy again. And Reece James has started every game this season at age 18-19. So he definitely has time for kids if they're among his best 11.
He has also won three lower league titles and almost an FA Cup, so I think he knows what he's doing. He may have just been trying to boost Beni's confidence with a bit of blarney.
Derek Taylor
54
Posted 30/04/2019 at 15:52:37
My bet is that only Davies and Calvert-Lewin will make a living at Everton for long into the twenties. I can't see Unsey sticking around for much longer but I guess two graduates (one second-hand) out of about 100 isn't a bad return.
Kieran Kinsella
55
Posted 30/04/2019 at 16:40:45
Dowell reminds me a bit of Chris Eagles formerly of Man Utd and Burnley. Lots of promise early on, several mixed loan spells, finally hit some form in his mid 20s at Burnely and was even linked with Everton. Then kind of drifted away down the lower leagues.
Derek Knox
56
Posted 30/04/2019 at 17:40:55
Kieran, yes it is a strange one, and a very narrow dividing line between promising youngsters making it, or disappearing into oblivion. I think a lot of it is down to self-motivation at the end of the day. Even by our standards of living, the Lower league players can earn a tidy sum, if playing regularly.
The other side of the coin though, look at Man City, they must all be in the Millionaire's Club, yet their enthusiasm and application is matched by none. I think having a coach like Guardiola helps a tad.
Mike Gaynes
57
Posted 30/04/2019 at 17:49:01
Kieran, great comparison. I remember Eagles with Bolton when they were relegated. When his time ran out there, he was only about 27.
According to his Wikipedia page, he only played about 70 games over the next five years, drifting lower and lower through the divisions before finally fading away at Ross County last year.
Peter Mills
58
Posted 30/04/2019 at 18:16:48
Here's an end of season verdict on Dowell from my Blades-supporting son-in-law, whose opinion I respect:-
"Still not totally convinced to be honest. He's got obvious talent and he's had his moments but definitely don't think he's Everton ready yet. That said he's not played consistently enough to properly judge (and a few of the games he was playing out of position). Seems like he's popular within the team though and could probably do a job for us as a squad man next season. Having seen what Wilder has done with a few of the other lads, he could be a world beater in 12 months!"
Sounds like we should extend the loan for a further year with an option to recall.
Christy Ring
59
Posted 30/04/2019 at 18:18:40
Beni's situation is worrying, to suggest he's not playing for Wigan, because there in a relegation battle is bullshit. When they signed him in January, they were in the bottom six, he mustn't have made a big impact since recovering from injury.
Mike Gaynes
60
Posted 30/04/2019 at 18:55:58
I was hoping you and the Blades half of your family would weigh in, Pete!
One step closer to 7th for Wolves, leading at Watford right now.
Darren Hind
61
Posted 30/04/2019 at 19:08:29
I'm really made up for him. I always have loved seeing a local boy living the dream.
But he's in the big time now. The management have shown great faith in him. He needs to repay that faith or this is as far as he goes.
Dave A
I too have been a little concerned about JJ's lack of appearances, but Seamus was brought back at time when experience was required.
Unless they are surrounded by top class players to help them through sticky periods (and ours are not). Young players will always struggle for consistency.
JJ's giving way to experience at the moment. Nothing wrong in that. He can learn a lot from Seamus
Peter Mills
62
Posted 30/04/2019 at 19:11:48
Mike, I bet you Watford equalise but Wolves will win 2-1. Diogo Jota will score the winner.
Mike Gaynes
63
Posted 30/04/2019 at 19:18:36
Well, you're half right so far, Pete. Guess I better keep an eye on Jota!
Darren Murphy
64
Posted 30/04/2019 at 19:26:08
#49 Peter, nail on head lad, I might take average students on and pass them as soldiers and Marines eventually because they're one of our own...
Then again I highly doubt it so don't worry. Some people need their heads checked.
Darren Murphy
65
Posted 30/04/2019 at 19:33:03
Sign Gomes £25 million max, Kurt isn't applicable and fgs buy one prolific striker or two because none of the crop have anywhere near the scoring ability to score the 20-25 goals a season to push top 6 let alone top 4.
Kevin Molloy
66
Posted 30/04/2019 at 20:06:10
Watcbing the CL semi tonight, it just makes me laugh. As if Gomes is gonna leave L4 to join this bunch of jokers.
Fran Mitchell
67
Posted 30/04/2019 at 20:24:20
This Ajax team are a delight, a real shame they'll be picked apart by rich clubs who don't bother developing.
And this is a team that has been developed over years and their quality is also testament to the value of experience of Europa League football.
Dave Abrahams
68
Posted 30/04/2019 at 20:26:58
Darren (61), fair enough Darren, as long as Jonjo is aware that he hasn't been cast to one side, he hasn't played in any of Everton's teams for the last few weeks, the last time he was selected to start was with ten minutes notice after Seamus took ill, his treatment doesn't look right to me.
Martin Mason
69
Posted 30/04/2019 at 20:33:24
Davies's natural position is a box to box RH midfielder in Silva's 4-3-3 and he could be good at it. He has the engine and the skills but like all young players he can't do the number one thing and keep the ball (like Ross). He will get it though and he will find his potential whatever that may be. We have stuck by him and that is wonderful. I love this club ssometimes
Kevin Molloy
70
Posted 30/04/2019 at 20:57:18
So Everton appoint a Dutch legend as manager, and get our pick of Ajax's young stars. And slap down £25M for their captain. The next year, the rest of the team end up winning the fucking Champions League.
Mal van Schaick
71
Posted 30/04/2019 at 21:13:18
Can't fault his effort, but his pace may affect a forward midfield road. If Gueye goes, he could do a temporary job, but 4 years is a sell-on contract.
Jerome Shields
72
Posted 30/04/2019 at 22:12:55
Silva values Davies. He has made him captain numerous times. Davies is definitely in Brands's and Silva's plans regarding the development of Everton.
Steve Ferns
73
Posted 30/04/2019 at 22:27:59
Re Ajax, don't forget one of their star players is Dusan Tadic. I've always rated him as people who read my stuff on Koeman's tactics will attest. But, who here would have taken him from Saints last summer, even at the fee Ajax paid for him?
Interesting comments by Tadic though, he is quite bitter about his time in England judging by his scathing comments on the "best league in the world".
Some players do better in different leagues and that includes the champions league. Which brings me back to Dowell. Is the championship really the right place for a flair player like him to flourish. The pace is high, the aggression is ferocious, and the teammates quality is low and so they cannot make the runs for Dowell to showcase his passing. Perhaps he needs games at the highest level, where the pace is (slightly) less and so he gets more time on the ball, with players who can make clever runs and so his passing can be fully utilised. Big pre-season for him, in my view. Make or break.
Eddie Dunn
74
Posted 30/04/2019 at 22:28:54
Mike #50, regarding Dowell's not very successful loan at Sheffield.
Remember Barkley going out on loan to Leeds and Wednesday and neither worked out well, so there is still hope for young Keiran.
Paul Birmingham
75
Posted 30/04/2019 at 22:33:48
I like Tom Davies and he has potential but, like many youngsters in a similar position in football, does he stand out, does he impose himself on a game, take the game by the scruff of the neck? I think he can but the last few years his progress has been dampened due to lack of game time.
This could be due to many reasons and lead to healthy debates on TW but, as it stands, I don't see — bar major injury problems for the core midfield or loss of core midfield players, hopefully not Gana, or Gomes — how Tom will command a place, unless there's a drastic mindset and change in play.
That's only my view but, as it stands, I see a good career in football for Tom because he does work hard but, in terms of being a game changer, which he can do, he must impose himself on the game, and this would only happen over time, with regular games.
Alan Harper scored some brilliant goals and could play in any position for Everton and at the time was a great squad player in the mid-80s halcyon days. He was invaluable, but the game's changed beyond recognition since then.
I don't see Tom as the new Alan Harper, but the transition, from potential to realising potential, must happen soon.
Pre-season may give us a good insight in to Marco's plans, which will hopefully be aided by some ace transfers in.
Plenty to be positive about but to despatch Burnley and perhaps Spurs.
Hopefully a good week ahead, for Evertonians.
Rob Dolby
76
Posted 30/04/2019 at 22:36:40
#49 #64 Would you rather we let Davies walk away and buy who?
If he and his type are the ones holding the club back, who are the ones to make us progress?
Rob Dolby
77
Posted 30/04/2019 at 22:45:23
Steve #73, I agree. I think Dowell has the potential to be a Mahrez or an Ozill type.
The problem is, we can't afford to carry luxury type players. He is good on the eye and glides around the pitch in a languid style. Unless he ups his workrate, the Premier League will be too quick for him. I wouldn't be surprised if he moved abroad.
Mike Jones
78
Posted 30/04/2019 at 22:46:20
Davies isn't the answer. I'm not sure when a player moves from being a young prospect to an achiever. Look at the Ajax captain. Etc etc. It's not age it's ability. I want Brands to build us an Ajax. For the next 30 years.
Peter Mills
79
Posted 30/04/2019 at 22:56:09
Kevin Sheedy broke into a regular place for the 1982-83 season, he was 23 in October 1982. Very little had been heard of him prior to that.
Dowell, Davies and Calvert-Lewin, even Kenny, are wracking up bags of experience at an earlier age. They have received a good footballing and social education. They have every chance of succeeding, given support.
Mike Jones
80
Posted 30/04/2019 at 23:05:11
Peter #79. That was 37 years ago. I can't agree. I want winners in my team. Now.
Fran Mitchell
81
Posted 30/04/2019 at 23:43:30
Mike, quite a contradiction there: you say you want Brands to 'build an Ajax', yet you want rid of one of our top youngsters, who is 20 years of age. Say you want 'winners'.
So you want an Ajax, or you want us to spend £100 million each year? Can't have it both ways.
Players at Ajax like de Jong, like Ziyech – they were made into top players by the club. Ziyech 2/3 years ago was very similar to a certain Deulofeu when he was with us – hot and cold, inconsistent, would have got slated on here. Ajax were patient, gave him time, and worked on his weaknesses and the lad is brilliant for it.
Yet here, people seem to think the club and coaches have no responsibility in the development of players. Just game time and that's it. It's absurd and is ruining the game.
If Davies was at Ajax, he'd be at a much higher level.
Kristian Boyce
82
Posted 01/05/2019 at 01:03:00
The most shocking thing about this is that Tom Davies is still only 20. It seems he's been around for years. Off the top of my head, I can't think of any other 20-year-old who's made as many first team PL appearances as him.
While he still has a lot to learn, he is only 20 and can only get better.
John Pierce
83
Posted 01/05/2019 at 06:30:04
Davies, less game time than Calvert-Lewin but essentially at the same crossroads in their Everton careers.
Not many their age have the appearances under their belts, and how many their age are holding down a regular spot in the premier league? Not many. So both have a lot to be positive about, and potentially have more time than we think to reach the level we want.
If there's an issue with Tom, it is, what is he? Calvert-Lewin was equally mucked about even at right wingback v Stoke and yet once given a run in his natural position he has bloomed in just weeks.
So what is Tom Davies? A midfielder, a no10 or even a right back? His qualities are many but not of them outstanding, and I reckon that could be the issue. As such he fills in, not a good look for me and he certainly should be 'orping at Silva his preferred position.
I don't see him being a regular however if we get into Europe I can see him playing those games, better still in one position and let him settle.
Time yet for Tom.
Terry Underwood
84
Posted 01/05/2019 at 09:37:23
Good news, nice to see a youngster willing to stay and fight for a place in the team.
Tony Everan
85
Posted 01/05/2019 at 10:36:07
John #83
What is Tom Davis?
It is a valid question, which can be narrowed down to, where does he fit in to the midfield 5. He is not a wide man / winger, so it can be narrowed down again to;
Where does he fit into the midfield 3. He is not a No 10, and will never be as prolific as Sigurdsson in that role. So...
Where does he fit into the midfield 2? The Gomes midfielder or the Gana Midfielder?
I would say he is more Gana than Gomes, even though he maybe a bit of both. He has great energy, a good engine and tenacity, desire.
He will have to target Gana's role. At the moment, Gana is at the very top of his game and is one of the best at what he does in the world. It is a tough act to follow, but he is 9 years younger than Gana, and it is achievable.
Chris Gould
86
Posted 01/05/2019 at 11:06:20
Tony, I don't see it. When I watched Beni tackling and intercepting In his few appearances last season, I thought that he could possibly go on to emulate Gueye, but I don't think Tom has it in him. Nothing about Davies excites me, so what role do we expect him to develop into?
With DCL, his physical attributes are obvious, but what does Davies have? He is small, slow, and appears to be a poor passer of the ball. He doesn't tackle or drive past players, so what is he good at? What am I missing that so many others seem to see?
I would love him to succeed, and I accept that the coaches at Everton know far more about the lad than I do. They obviously rate him, but I just don't see why? He won't get faster, and he won't get bigger. He may get a little stronger, but I can't see him imposing himself. Gueye is quick, fearless, he senses danger, and has incredible timing. Davies tries hard but never looks like getting a foot in, so he can't be a defensive midfielder.
Everyone describes him as energetic, and most seem to like him, but nobody has suggested that he is good at anything in particular. That's a bit of a concern.
Steve Ferns
87
Posted 01/05/2019 at 12:28:57
Davies is a no 6. To understand him better you need to understand how he came up through the youth system. Often he played alongside Liam Walsh. The two played at the bottom of the central midfield triangle. Walsh was the passer, Davies was the tackler.
To put it another way, Davies is the Mascherano type, or the Idrissa Gueye role. The problem is that Gueye has a particular set of skills that make him different from Mascherano, so Davies doesn't have the same skill set.
When we discuss skill set, please bear in mind that I am not saying Davies is just as good at tackling as Gueye. For example, Brett Angell had the same skill set as Duncan Ferguson. The fact that Angell was utter shite doesn't change the fact that what he was best at the same things Ferguson was best at. The boxes that Davies ticks are similar to those Gueye ticks, but he ticks more of the boxes.
Tom is good at the following skills:
- Dribbling - if you think not, watch the City goal again
- Finishing - watch the City finish again
- Control
- Short Passing - but lacks consistency
- Vision - he can see those long passes, even if he often fails to make them
- Tackling
- Technique - watch the "chop" against City if you disagree
- Aggression - he's very tenacious
- Bravery - he always stands up to be counted and puts his foot in
- Composure - again, that dink against City
- Determination - never gives up, even when the going it tough
- Positioning - finds space and plugs gaps
- Teamwork - he is a future captain
- Work rate - no one works harder
- Pace - a lot faster than some on here think he is
- Stamina - often runs furthest, even more than Sigurdsson
- Strength - he has bulked up over the last 12 months
He needs to improve his decision making, consistency, his passing (particularly long passing) and his reading of the game. I don't think he has any particular flaws here, and he really just needs experience.
For me, you can best see what a player is made of in times of adversity. When we get a thumping, I never leave early, I stay and watch and see who are the players who just want to get off the pitch, and who are the ones who will try to salvage something.
One such game was Lyon at home, last season. Ronald Koeman was still in charge. We lost 2-1. We were at the height of our bad run that saw Koeman sacked. But we showed signs in that game that we could turn things around. Davies had a particularly poor game. His passing was off, everything he touched was turning to shit. But in that game, I saw that he was a fighter. He never hid, he kept showing for the ball. He kept getting the ball, and he kept trying to make things happen. The youngest player on the pitch was the one trying to take responsibility.
Fast forward a few years, and if Davies develops as expected, and gains the experience we would hope, then this is our most important player. The one who grabs the game by the scruff of the neck. He will never have the elegance, grace or finesse of Gomes. He won't hit those gorgeous long passes and land the ball on Digne's foot so he doesn't need to break stride. But Davies will win the ball, will turn and drive forwards and hit the ball into space for the likes of Digne to run onto. He is a player who increases the tempo. He is someone who will win the ball and take on responsibility to make things happen.
Tom Davies should become a fantastic player. He is viewed as such by Silva, and Silva played a young side this year, and couldn't risk anything by naming an even younger side, particularly when things were not going so well. Next season, I would expect things to be a lot better, and so Tom Davies will get more opportunities, things will be less desperate and so he will develop without the pressure that envelopes a losing side.
Dave Abrahams
88
Posted 01/05/2019 at 12:56:15
Steve (87), speaking of Liam Walsh, went too soon to Bristol City, didn't want to linger in the U23's, it hasn't come off for him at Bristol, he played last night but was substituted at half time, first time he has played, I think, in quite a while, I haven't given up on this lad, still plenty of time for him, same as Tom Davies.
Steve Ferns
89
Posted 01/05/2019 at 12:59:02
One thing that has been missed this season is how young our side is. The squad, ie the entire squad of 23 first team players excluding those on loan, has an average age of 27.1. This is up from 24.3 last season. 27.1 is bang in the middle, 10th youngest of all the Premier League Squads.
Now, when you look at the average age of the starting XI, Silva has used a squad with an average age of 24.7. This is the second youngest in the league, and he has used this side more than once. The team was: Pickford, Kenny, Keane, Zouma, Digne, Gueye, Davies, Sigurdsson, Richarlison, Walcott and Calvert-Lewin.
By contrast, Sam Allardyce was using the following side last season: Pickford, Coleman, Keane, Jagielka, Baines, Schneiderlin, Gueye, Rooney, Bolasie, Walcott, and Tosun. The average was 29.3. This is a considerable shift in a short space of time.
The average age of the players used over the course of the season is 25.5 this season. So Silva is picking the younger players in his squad. This is the second youngest in the league, again after Southampton. Last season it was 26.6 so the likes of Allardyce was picking the older members of his squad.
I suppose it won't mean much to a lot of you, but it shows concerted efforts by Silva and Brands to make the squad younger, and that Silva in particular has picked the younger players at his disposal. This will benefit us in the long term.
Derek Knox
90
Posted 01/05/2019 at 13:01:41
Steve @ 87, I always respect your posts and knowledge of the game, but in your lengthy analysis and examples of Tom Davies's skills you reference the City game. Yes, he did have a blinder in that game and I think most people went "Wow, we have a player on our hands here!"
I think what a lot of people, myself included, think is that he hasn't really repeated or kicked on from that City game. Admittedly his chances have been somewhat limited, and I think a lot of posters are doubting whether he could ever totally replace Gana, if he were to leave us in the summer.
We all hope he will become that player that we can all be proud of and, if the chance is given, we hope that he not only grabs it, but builds on it too.
Steve Ferns
91
Posted 01/05/2019 at 13:40:40
DK, he scored a goal against City in the mould of an attacking midfielder. Everyone expects him to replicate that. That's not him. Sure, he's capable of it, but his game is based on sitting in front of a defence, not playing off the striker. You don't think he's kicked on because you expect him to be what he's not.
If you expect him to be an all round midfielder, who sits deep, gets stuck in and can move the ball quickly, then he has kicked on. He's also EXTREMELY young for this position. Most players in this position are late 20s. You need experience. He's 20. He's a long way off getting that experience. To play his natural position he's battling with the likes of Hazard, and all the wonderful world class attacking midfield talent that the Premier League has in abundance.
He's a kid of 20 and people expect him to shine against some of the best players in the world. He plays in the hardest position and you need to be patient. Impartial observers all believe him to be one of the Future World Stars. I do so too. He's a special talent and we won't see the very best of him for at least another 5 years.
James Hughes
92
Posted 01/05/2019 at 15:15:12
Steve F, many thanks for those posts. I was wondering what role Tom was best at and also what was expected of him.
As you say he doesn't hide during the game. The limited times I have seen him play he was making himself available, even if wasn't going well for him. The same can't be said for some of his peers.
John Pierce
93
Posted 01/05/2019 at 16:11:22
Steve, I think it's tough to say he's a No 6 when he's barely played that role regularly. There are some things on the list I think are worthy of his overall game but the rest I've seen but not that often.
His stamina, attitude (never ever hides), and his short passing are very good. I'd also agree his long passing is there in so much as he can see the pass, execution well a bit meh!
One thing I will reiterate from my post is no 20-year-old is currently playing No 6 in the Premier League and holding it down. I'm more than happy to be corrected!
So he has time. The contract extension leads me to believe Silva thinks he can replace Gana, or even Gomes in the event either or both aren't at the club next season. It looks good but ultimately is an insurance move and protects Tom's value.
If both remain at the club and Everton do buy another midfielder, unless we secure Europe then I cannot see where his game time comes from. If that scenario plays out then I wouldn't be surprised to see him go on loan, even so only to a side in Europe, not a Championship side, there's simply less value in it nowadays.
Mike Gaynes
95
Posted 01/05/2019 at 17:40:36
Steve #87, very good analysis. I would quibble with one or two of your points, but overall you've got him captured. Good point on his pace, which in fact is excellent (sorry, Chris #86, you're way wrong on that one).
I do think, however, you're a bit ahead of the curve -- Davies has shown flashes of all the characteristics you cite, but many of them not yet consistently. For example, while the City move certainly showed a skillful dribble, he is not in fact a good dribbler yet. His touch is too heavy, especially in traffic. And his tackling technique is still pretty bad -- he's been fortunate a couple of times not to see second yellows from out-of-position challenges, and I believe his increased playing time is destined to be accompanied by a red card or two.
Your view of his ceiling is a bit higher than mine -- I believe he can become a mainstay in the side for many years to come, but I don't consider him a potentially "fantastic" player. He will be an invaluable cog and an excellent captain, but not a Future World Star.
Great point, by the way, in your post #89 about the dramatic age transition in the Everton side. That is quite a change.
Alexander Murphy
97
Posted 01/05/2019 at 18:17:38
Interesting news re: Tom.
At not yet 21, he has bags yet to learn and, with the likes of Andre Gomes *fingers crossed* to learn from, that's an encouraging sign for the future.
Darren Hind
98
Posted 01/05/2019 at 18:26:17
Steve @89
You've gone off on a bit of a tangent there, but you've made some interesting points in that post.
Chris Gould
99
Posted 01/05/2019 at 19:28:10
Mike #95 even Steve didn't suggest his pace is excellent! Definitely have to agree to disagree.
Steve, you love this kid, and I hope you're right about him, but you listed a lot of his skillset as 'good'. I think that's the point. He doesn't appear to do anything great, or even 'very good'. Although, he did once in the City game. Is that good enough considering the amount of starts he's had since?
If we have to wait until he's 25 before we see him at his best then maybe we should consider sending him elsewhere for a season or two. The boy needs and wants regular football. I just don't think he's currently good enough for a team with ambitions of top 6. If he's happy to be a squad player then fair enough, but he strikes me as a lad that wants to play.
I hate to sound harsh, but regardless of age, if you're played in the first team then there is going to be great expectations. I don't believe a team can challenge top 6 if they are developing kids in the first team who still have a long way to go. We need the best players we can get for each position. If Tom is that player in a few years time then that's great, but how do we keep him happy in the meantime?
It's too much to expect a 20-year-old to be a top quality central midfielder, almost unheard of, so why is he in the squad when others are out on loan? I don't think it's in his best interests because there are many fans, like myself, who don't think he's currently good enough for a team that wants to challenge for trophies and top 6. Not that I would ever groan or give him a hard time. He doesn't pick himself, and he always gives everything regardless of his performance or form.

Jay Wood
[BRZ]
100
Posted 01/05/2019 at 20:45:00
I've seen Tom Davies play in the flesh just once, on my last trip back to the UK for the league cup tie v Sunderland in 2017.
Dominic Calvert-Lewin led the line that night and bagged a brace and was the best player on the park. Tom lined up in midfield alongside David Klaassen and Mo Besic. Tom was head and shoulders above the pair of them, the best midfielder on show. Besic was truly, truly woeful. Klaassen was... Klaassen. He showed glimpses, but nothing that led you to believe he deserved to start ahead of Tom Davies.
Steve's admirable defence of Tom @87 possibly does him a disservice, referencing heavily as it does one single incident in one single game vs City in the 4-0 mauling.
It gives the impression (and some already picked up on this) that that's all he has ever done in an Everton shirt. Not so. I truly think, because he has barely featured this season, and - like most of the team - was very up and down last season, in only his second season with the senior side, that people have forgotten just how well he played when he became a mainstay in the side, aged just 18. He ran away with three awards at the end of his breakthrough season, both the players and the fans young player of the year awards, plus the goal of the season for that wonderful goal vs City.
He made his debut in the single game Unsworth took charge of after Martinez was sacked, home to Norwich (aged 17, possibly..?) and, if my memory serves me right, he was MotM.
He didn't immediately get into the side next season, although he sat on the bench a lot. His next game was coming on as a substitute in the 5-0 mauling away to Chelsea. In the short time he was on the park, he shone as our best player. Always making himself available. Always looking to receive the ball, no matter how many opposition players were in close attention. He stood out as someone who could take the ball and immediately recycle it - FORWARD! - to the benefit of the team.
When Gana Gueye went off to the African's Nations Cup in the New Year that season, Davies was promoted in his place... and he was in the starting XI for but 2-3 games to the end of the season. Even when the likes of Gueye and Schneiderlin were available, Tom was preferred to both of them.
In that time, he showed many of the abilities Steve attributes to him. He even covered at right back for one half of one game and again, put in a MotM performance.
For me, his strongest attributes are what Pep Guardiola seeks for in his players: an ability to 'see' the play, make yourself available to receive the ball, have the ability to almost instantly move the ball on and re-position yourself to keep the ball moving. Oh! And never, ever, quiting or hiding.
Unlike Steve, I don't believe Tom is (yet) an effective tackler in the Premier League. He doesn't shy away from the physical, but his timing of the tackle is often off and he is a bit lightweight. But he is tigerish. Nor can I agree that he has pace worthy of the mention. His speed is in his head, not in his legs over the ground.
His second season was not as impressive as his debut season, but there were considerable mitigating circumstances. I'll repeat something I've said previously: our failings last season were not down to our young players, but our seasoned pros.
The lad is only 20 years old, but already with 3 seasons of experience as a Premier League player and scores of games to his name. Silva mentioned once how Tom asks him what does he need to do to improve, what does he need to do to cement a place in the side? This is a lad looking to improve, not content to rest on his laurels.
Those doubting Thomas need to recall just how good he was under Koeman aged just 18, not just reference last year's lost season and his bit part this season. He has huge potential to be a big player.
Jamie Crowley
101
Posted 01/05/2019 at 22:14:59
Tom Davies being signed is, for me, fantastic news.
I love this kid. Where others see shortcomings, I see all the tools in the box to be a fantastic midfielder for years to come.
It's been said, but it needs to be emphasized, he's twenty years old!
Jesus some people want to wave a wand and have this crazy "development curve" shortened to months, when in fact it takes years!
People slated Seamus Coleman because he couldn't cross.
People slated Gana as a one-trick pony who couldn't pass.
Bernard wasn't up to it and too small.
On and on it goes.
Has anyone noticed, when you have good players, and give them a chance to grow into a position and roll in the squad, You usually end up with a pretty cohesive, flowing TEAM.
Ask Spurs?
Give this kid some time! It's worse he's a local boy, as the proverbial "eating of the young ritual" will kick in with some surely, but for goodness sake give this kid some time.
I'm thrilled. I love Tom Davies, and I think he's going to be one hell of a player. Never, ever shirks, never backs down, only gives 100%, has excellent technical skill in my view. The rest of this will come in time.
God please exhibit just a shred of patience.
Fucking Tom Brady would have been traded away by the Patriots if some of "you lot" lived over here in 2001 after a few bad games!
Steve Ferns
102
Posted 02/05/2019 at 11:34:39
John - Davies has rarely played as a No 6 for the first team. No 6 was his position in the youth ranks, if the side played 4-5-1 (4-2-3-1), which they most often did. If they played 4-4-2 then he was a central midfielder in the box-to-box mould but he would always be in the more defensive of the two.
Which led me to think who Davies most reminds me of, as a player, which is Roy Keane. Of course, most of what made Roy Keane into Roy Keane was that snarling inherent nastiness that drove him and is displayed in the TV studio and in management. Tom Davies is a nice lad and, whilst he can play with aggression, he lacks those particular attributes and so he fundamentally may never be able to be a true Roy Keane type player.
What was Roy Keane good at? He was not the best passer. His collection of highlights for tackling doesn't watch as well as Gueye's. What Keane did well is he would read the game well and break up attacks, by often being in the right place at the right time. Davies has a lot of work to do in that regard. However, Keane would get the ball and would drive forwards himself. Whereas similar players of his era, like Makelele, would simply lay the ball off to a better player and hold position, Keane was capable of carrying the ball forwards and this underpinned what the great Man Utd was best at, the devastating counter-attack. Keane had great ball-playing players all around him so he could be forgiven for laying it off early. He often did, but he was able to instantly win the ball and know the best thing to do, be it to race forwards carrying the ball or to find someone like Scholes.
This is what I believe Davies can become. A player like Keane, who reads the play well enough to forever be in the right place at the right time, to be able to win the ball, to be able to pass the ball, or to carry the ball.
I did mention Man City a few times above, because that's everyone's undying memory of him. A mazy dribble, with that exquisite chop to gain some space by wrong footing the opposition and then that delightful chip. This one piece of play showed that he can dribble, he has great feet, lovely technique, some tricks, and is capable of finishing. Despite having these skills, Davies is not a No 10. He's as fast as he needs to be for a No 6, he's faster than Keane, Makelele, or Patrick Vieira. He's not fast enough to be a top quality No 10. Nor is his dribbling good enough for that role. Nor does his skillset favour it. Instead when you consider those skills for someone who plays a lot deeper, then those skills are more than good enough. And that's the skills as developed as they are now, but at 20 he can get better.
In order to be anything even near the level of a great player like Keane, he needs a lot of developing. He needs to play at the highest level and to be playing regularly. I think at 20 being in and around the side, training with Gomes, Gueye, and Sigurdsson is beneficial. however, it's only in matches themselves that he will develop the experience and mental skills that he needs to develop into a top class No 6. These skills are reading the game, positioning, anticipation, and of course his tackling. I think Jay Wood would be surprised the next time he sees Davies as to how he has filled out. More so with Calvert-Lewin who has put a lot of bulk on since that game.
All of that said, I should mention Jack Rodwell. Jack was tipped for greatness. He should have been the next Rio Ferdinand. He had the same skill set. Moyes didn't trust him for whatever reason but recognised his quality. So Moyes thrust him into midfield and Rodwell morphed into an international quality midfielder. What went wrong, went wrong and his career fell apart. The point is though, maybe Davies is no longer on course to be a No 6, maybe he will become more of a No 8 or even a No 10. A lot depends on how he develops over the next 2 seasons. I'm just glad that will take place at Everton, and I hope it's under Silva and most importantly, within a good Everton side.
Stan Schofield
103
Posted 02/05/2019 at 14:38:37
Jamie@101: Well said. Younger players like Davies have had to come into dysfunctional Everton sides over the last few years, and it's not as if they've had a chance to blend into a well-oiled machine. They've done exceptionally well considering that.
Chris Gould
104
Posted 02/05/2019 at 15:16:53
Jamie #101,
I don't think many are suggesting that Davies won't get better in time, but nobody can possibly know if he will become good enough for us. In my opinion, he isn't there yet, and it may make sense for him to develop without the pressure that will come from an impatient fanbase hungry for success. I trust Brands and Silva to make the right call with regards to his development and would love Davies to become as good as you and Steve believe.
I appreciate your Tom Brady analogy when calling for patience... Speaking of patience, weren't you calling for Silva's head just a few weeks ago?Howard Kendall and Sir Alex Ferguson would have been sacked before they became great with that kind of patience!
John Pierce
105
Posted 02/05/2019 at 15:39:02
Steve, I think he can be a very good player, and think he's is more an No 8 than a No 6.
You rightly point out, I eluded to the same point with Calvert-Lewin, it's the game time is where the development happens. It can bloom quickly too.
So, with around 70-75 appearances, will that be at Everton or elsewhere? That's the question for me, supplemented by playing in one position, would he get that at Everton or even on loan? I think he won't, which would be a shame because I think we will only find out if we pick him and stick with him.
Terry White
106
Posted 02/05/2019 at 15:48:49
What is a #6? What is a #8, come to that?
Terry White
107
Posted 02/05/2019 at 15:51:37
Jamie (#101 "People slated Coleman because he couldn't cross"), based upon his Crystal Palace performance, Coleman has regressed.
Mike Gaynes
108
Posted 02/05/2019 at 16:04:37
Terry, he hasn't regressed. Seamus has never been able to cross. Weird for a guy who is such a fine passer otherwise.
Kieran Kinsella
109
Posted 02/05/2019 at 16:26:51
Terry White 106 "What is a #6? What is a #8, come to that?"
This may help: Silva referred to Schneiderlin as a No 6 in pre-season. Martinez referred to Barkley as a No 8, but also a No 10. This is where it gets tricky, Messi, Sigurdsson, Selma Hayek, Penelope Cruz, Kate Beckinsale have also been referred to as 10s while Tina Fey has been called a 6. Does that clear things up?
Terry White
110
Posted 02/05/2019 at 17:28:18
Thanks for the attempt, Kieran (#109). For an old-timer like me, #6 is a left half and #8 is an inside right. I could ask you who is Selma Hayek but I'll leave it at that.
Dave Abrahams
111
Posted 02/05/2019 at 18:18:20
I like Jay's (#100) summing up of Tom Davies's ability and what he can become. He makes plenty of mistakes, but his head never goes down, his sheer enthusiasm lifts other players, as in the night, last season, when he came on as a sub for Schneiderlin versus Swansea, the night Rooney took two penalties.
Everton were just drifting in that game until Tom came on and drove them forward, winning the ball and giving it to Siggy who scored a marvellous goal. Rooney finished the game off with a penalty, brave or foolish, because he had missed the first one.
t was Tom Davies coming on to the field that night that changed the game for Everton, in my opinion, a young lad showing the rest of them how to win the game. A bit long winded this but, as I said before, Tom makes mistakes and will make a lot more, but he is still a young lad and he will improve.
Ernie Baywood
112
Posted 02/05/2019 at 22:27:35
I think he's done alright when we've seen him this season.
20 years old.
Yeah, of course you'd offer him a new contract.
Ray Morgan
113
Posted 03/05/2019 at 08:07:37
We are saved! Everton have re-signed the most sort-after young footballer in all of Europe. Champions League, here we come... NOT!!!
Paul Burns
114
Posted 03/05/2019 at 10:55:50
Deals like this are why we'll never win anything again.
He's not good enough at this level. All he does is take the place of a dynamic player who scores, creates chances, beats men, throws in dangerous crosses, controls midfield, runs games. He can't do any of that.
We've got to make earlier decisions on young players because we have some in their mid-twenties and people here are still expecting them to become first-team regulars. It will never happen, why can't they see the obvious.
You are 95% the player you will always be at 20.
Martin Nicholls
115
Posted 03/05/2019 at 11:06:29
Paul#114 - anyone in particular in mind? Messi maybe? Nah, he doesn't throw in enough dangerous crosses!
Giving a new deal to Davies is a no-brainer – he might develop into a player who has some of the attributes you list (no player possesses them all) but if not, it preserves his value. Please don't say he is worthless when, in the current market, reserves like Solanke command around £20 million.
Jamie Crowley
116
Posted 03/05/2019 at 17:54:27
Chris @ 104 -
I "half-assed" said I didn't think we could continue under Silva. I think.. . .
But I was supremely frustrated with him not changing it up during a losing streak, and keeping Rich up top.
Like the very next game he put DCL up top and we turned the car around.
But yes, I've said many a time this season has made me bi-polar! One minute we're top 4 material, the next we lose to Fulham.
Still behind Tom Davies 100%. He'll be top notch if we stick with him and give him some patience.
Add Your Comments
In order to post a comment, you need to be logged in as a registered user of the site.
Or Sign up as a ToffeeWeb Member — it's free, takes just a few minutes and will allow you to post your comments on articles and Talking Points submissions across the site.