Everton vs Burnley
Thursday, 2 May, 2019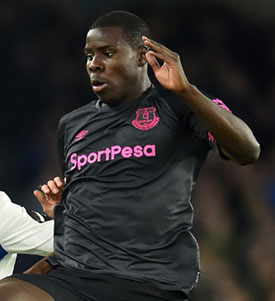 Kurt Zouma is expected to play in what Evertonians hope won't be his final home game with the club
Everton play their final home game of the 2018-19 season tomorrow night looking to keep their Europa League hopes alive when they entertain Burnley.
The Blues can put pressure on Wolves and Leicester, the two teams above them coming into this penultimate round of fixtures, with a victory over the Clarets but the West Midlanders can clinch seventh spot, and with it a place in the qualifying rounds of the Europa League if Manchester City win the FA Cup, with victrory over relegated Fulham on Saturday.
Whether it happens this season or next, qualification for Europe is one of Marco Silva's central goals and he expressed as much in his pre-match press conference.
"For us as a club always playing in Europe has to be our aim. We have to do that to keep growing as a club and [pit] our players at that level.
"When it happens, we have to prepare a deep squad to play in [all] competitions."
Regardless of the wider connotations, Marco Silva will be keen to finish the season in front of the faithful on a high and three points would represent a fifth game unbeaten at Goodison Park and four home wins on the bounce.
Burnley, meanwhile, have secured their top-flight safety for another season after plumbing the depths for much of the campaign. Three consecutive wins, over Wolves, Bournemouth and Cardiff, and then a draw away at Chelsea helped Sean Dyche's men to the magic 40-point marker over the last month.
In terms of team selection, while he might harbour desires to run the rule over certain players who haven't been involved much recently, while there is still a mathematical possibility of finishing in seventh, the manager is unlikely to make too many changes to the team that started the goalless draw at Crystal Palace last weekend.
That means that the likes of Cenk Tosun, James McCarthy, Tom Davies and Ademola Lookman will probably have to settle for the substitutes' bench again. Morgan Schneiderlin, a solid performer when standing in for André Gomes in recent weeks, is a good bet to keep his place while the Portuguese serves the last of his three match ban.
A rare Friday night game under the lights at the Grand Old Lady should provide a lively atmosphere as Evertonians look ahead to next season with renewed optimism based on the uptick in the team's fortunes in recent weeks.
Burnley have been known to be spoilers at times in the past and, indeed, the recorded what was for them a long-awaited win at Goodison when they beat Ronald Koeman's Blues in this fixture 1-0 in October 2017.
They have won three times away since the turn of the year but all three victories came against teams with them down in the bottom six so an Everton performance anywhere near those that saw off Chelsea, Arsenal and Manchester United would surely secure three points for Silva's charges.
Kick-off: 8pm, Friday 3 May, 2019
Referee: Chris Kavanagh
Last Time: Everton 0 - 1 Burnley
Predicted Line-up: Pickford, Coleman, Keane, Zouma, Digne, Gueye, Schneiderlin, Sigurdsson, Bernard, Richarlison, Calvert-Lewin
---
Reader Comments (50)
Note: the following content is not moderated or vetted by the site owners at the time of submission. Comments are the responsibility of the poster. Disclaimer
David Pearl
1
Posted 02/05/2019 at 21:01:11
Well, Europe seems unlikely. However, it would, in my opinion put Wolves down a few places at least next season. Leicester also have some good players, and of course West Ham and Watford. On paper at least, we have at least the 7th best squad in the league, we are better than where we will finish. I'm sure we will try to improve on what we have.
Anyway, what a bizarre season it's been. Not as bizarre as last season, of course. Some highlights and some low lights! Looking forward to next seaons. I have higher hope's than this time last year.
Let's finish on a high. And Everton to win are the last in my week's accumulator!! Don't expect any changes to the predicted line-up. Coyb.

Derek Knox
2
Posted 02/05/2019 at 21:44:42
It'd hard to believe that this is our last home game, where has the season gone? As David said let's hope our boys give a good account in their final home game in front of the fans.
While at this point it is still mathematically possible to get seventh spot, it would take a catastrophic run of results for Wolves and Watford, which I doubt very much will happen.
If we don't qualify, I can't help but look back at the points we should have had earlier in the campaign, but 'water' and 'under the bridge', won't change that. I also hope that it won't affect any recruitment during the Summer Transfer Window.
Hope the fans give Zouma a rousing farewell, which will convince him to stay, but as discussed many times on here, there are so many factors involved with that possibility.
David Pearl
3
Posted 02/05/2019 at 22:31:55
Derek, do you know if there is another Europa League spot if Arsenal or Chelsea win it this year? If they get into the Champions League, there would be only one English team in the Europa League. And yes, the season has flown by!
Frank Sheppard
4
Posted 02/05/2019 at 22:35:20
I too don't expect any selection surprises. Burnley are not great away from home.
I expect we will break them down, keep a clean sheet, and bag 3 points. COYB.
Kieran Kinsella
5
Posted 02/05/2019 at 22:37:03
David Pearl 3
From what I have read, no there is no extra spot. We would just have 2 teams in Europa League and 5 in Champions League.
That apart, I would like to see us win 10-0. I don't think we have won 10-0 before. That would be a nice boost.
Kevin Prytherch
6
Posted 02/05/2019 at 23:40:56
Dereck - whilst unlikely, it wouldn't take a catastrophic run of results to finish 7th.
If you look at the remaining fixtures, only Wolves would have to seriously slip up...
Wolves
Fulham (h) - need a big slip up
Liverpool (a) - you would expect them to lose
Leicester
City (a) - you would expect them to lose
Chelsea (h) - you would expect a draw
Watford
Chelsea (a) - you would expect them to lose
West Ham (h) - close, but could grab a win.
Looking at these fixtures, if we beat Burnley and draw with Spurs, we would only need one fixture to go against what would be expected to finish 7th.
Even if Leicester beat Chelsea and Watford grabbed a draw against them, we'd still be above them both with 4 points from our last 2 games.
Big ask – but certainly not impossible.
Derek Knox
7
Posted 03/05/2019 at 07:30:40
Kevin, I really admire your optimism, but as Wolves are 4 points ahead of us now, if they beat Fulham it's all over for us, should they draw against Fulham (which is possible due to the post-relegation upsurge in Fulham-unbeaten since it was confirmed) we would still have to beat Burnley and Spurs to get all six points.
Then it would all hinge on our friends across the park's final game with Wolves. It is possible and I would love that to happen mate, but for fear of repetition, 3 matches spring to mind where we have blown probable points away.
Huddersfield at home where we had to come from behind to rescue a 1-1, Brighton away (poor side but we allowed them to beat us 1-0, and then the obvious suicide mission at Newcastle 2-0 up then 2-3 come the final whistle. Just thought of another one 2-0 up at Bournemouth only to end up with a draw.
I know bemoaning those results will never alter them, but it is annoying that without those glaringly poor results we wouldn't even be in this position, fingers crossed though, we may just do it.

Kevin Prytherch
8
Posted 03/05/2019 at 07:45:37
Dereck - like I said, unlikely, but it only really rests on one game going against the run of what you would normally expect if we manage to get 4 points.
Firstly - I think it's a big ask to get 4 points.
Second, I don't think Wolves will lose.
I was just saying that it doesnt need a catastrophic run of results, it just needs one to swing massively in our favour.
Neil Lawson
9
Posted 03/05/2019 at 08:12:17
Amused by the pundits/analysts forecasting the likely results of the 3 teams above us. We have spent the whole of the season unable to forecast our own results. No likelihood of getting others correct either!!
Trevor Peers
10
Posted 03/05/2019 at 08:36:25
The season overall has been a rollercoaster ride, we've won games against the top 6 but lost games against the poorer teams as well. It will be a tough game tonight but hopefully we can sign off with a win. Finishing 7th looks pretty remote, but maybe we need another season to sort out our squad which is top heavy with players that need to be moved on, and to add a few quality players in vital positions.
The pursuit of real success will always be driven by the amount of money we have to invest in new players. The youth system will always produce a few squad additions, but I'm disappointed that Usmanov hasn't been recruited, as that would give us our best chance of building a new ground as well as adding the quality needed to compete at the highest level.
Without that kind of investment we will just tread water in 7th to 10th place for the foreseeable future, I think we have to be satisfied with that as long as we play some entertaining football along the way and hopefully have a few good cup runs with a chance of picking up some silverware in the domestic cups.
Derek Knox
11
Posted 03/05/2019 at 08:48:30
Trevor, couldn't agree more with your comments regarding the Investment side of things. One thing you allude to being a good Cup run, which we Evertonians are always in favour of.
Yet Marco seemed to treat the Cups this season without much commitment, going out with a whimper against Southampton (Carabao Cup) and even worse the away game at Millwall. (F A Cup)
Martin Berry
12
Posted 03/05/2019 at 08:55:35
Everton now have an exciting team, they're clicking and good to watch. Despite Burnley's resilience, I expect a 3-0, 3-1 result and have the Old Lady rocking.
Jim Bennings
13
Posted 03/05/2019 at 08:58:25
Season has flown by.
Hopefully sign off tonight with a good win and then work on rectifying the problem areas for next season.
It's been a frustrating season but one that will leave me with good promise for next season given Marco Silva's general enthusiasm abd the players togetherness and the way he has us playing currently.
Obviously we need to find more goalscorers next term, we can be grateful that Richarlison and Sigurdsson have both scored 13 because nobody else is even close to that tally.
We need to improve our away form next season too as if we could only transform two of those draws into wins then instantly we are closer to that top six.
Jon Withey
14
Posted 03/05/2019 at 09:08:37
Doesn't look like we'll get Europe but it's important that the team maintains this cohesion. I'll take 2-0 with DCL and Gana on the scoresheet - they deserve it but goals from Siggy and Richie are probably more representative of the season.
Sam Hoare
15
Posted 03/05/2019 at 09:25:17
I think it will be a tricky game. We have struggled often this season against organised teams who sit back and negate Silva's counter-attacking tactics. Our home game at Huddersfield being a classic example. We do best with least possession. Sigurdsson especially seems to struggle when there is not space behind for him to release the attackers as he is not the type to beat a man and create space for someone else.
I foresee a frustrating game, unless perhaps we can get an early goal or two which might then force Burnley to come out a bit more.
I'd really like DCL to get a goal or two tonight. His play in general over the last month or so deserves it. I wonder if he'll consider giving Davies the nod over Schneiderlin, the Frenchman has been very solid since returning but against a defensive Burnley I think perhaps Davies' superior energy and attacking qualities might fit the bill.
Len Hawkins
16
Posted 03/05/2019 at 09:27:55
Well if you look at the fish & chip wrappers there are only two teams in English football The R/S with that annoying little club from up the East Lanc's trying to derail their destiny, the rest of the league are not worth a mention.
Worrying about getting in the Europa League is like trying to understand the Universe and where it ends and what is the other side of the wall. Playing good football scoring lots of goals and defending like SAS troopers is a good place to start hoping.

Dave Abrahams
17
Posted 03/05/2019 at 09:36:43
I always feel disappointed when the season draws closer to the end, not as disappointed as watching some of the games during this season.
Although things seem to be looking up now and I'm more optimistic for the future than I have been for a number of years, I still have lingering doubts about Silva. Hopefully he will prove to be better than I think and tonight his team will provide a good performance and result that will make us long for next season to hurry up and start.
Another 4-0 win for George will do me fine... Looking forward to your last home contribution of the season, George.
Derek Taylor
18
Posted 03/05/2019 at 09:41:55
Seventh Heaven; how the mighty hopes for our team have fallen. In all truth we have made no progress in the quest for glory since David Moyes walked away in 2011.
But everyone sees Everton as 'on the up' so I guess I'd better get in the queue to praise this magnificent manager and his team of stars!
Kunal Desai
19
Posted 03/05/2019 at 09:46:27
This won't be a walkover as people are making out. Burnley are a hard working side and will mix it up by playing a bit and knocking those long balls to Woods and Barnes. I cetainly don't see a performance anything like the last three home games and that will be mainly down to Burnley stopping us play. Tight affair and possibly a draw.
Jim Bennings
20
Posted 03/05/2019 at 09:50:02
Derek,
The league has changed since the Moyes era, the teams challenging us for 5th were the likes of Bolton (under Allardyce yes) Middlesbrough and Aston Villa, oh and Manchester City and Spurs were but a dot in the distant landscape, behind us!
You are right, we have been left behind by the clubs in the top six now and that's a result again of more poor management (in the board room) and also low expectations of a minority of fans which doesn't help either that's true.
None of it however is down to Marco Silva.
Paul Goodchild
21
Posted 03/05/2019 at 10:01:51
There are 4 things that need to happen this Summer for us to continue where we will have left off from this season:
1. To sign Gomes;
2. To sign Zouma;
3. Gueye to stay;
4. To sign that striker we have all been craving for, whoever that might be.
I would just settle for all those 4 and for Holgate to return. He is good enough for the first team and provides good cover at right back. Seamus has been excellent recently and much improved. He does not need replacing yet.
Brian Porter
22
Posted 03/05/2019 at 10:17:38
I'm grossly disappointed with the way this season's panned out. Two goals in front at Newcastle, pathetic substitutions by Silva and we snatched defeat from the jaws of victory. A hopeless capitulation against Fulham, a team with the worst defence in the league, a victory in either game would have put us in a strong position for Europe.
There have been others of course, but those are the most recent. As others have already said, Silva's substitutions often leave much to be desired and it's no good beating the top 6 sides as great as it is to see, if we can't beat the clubs around and below us. How many poor results have we produced against those clubs this season.
So, while there may be room for optimism for next season, this season on the whole has for me, been a disappointment. We could end up in a lower league position than last season and no way do I see that as anything to celebrate.
History won't say anything about it being a "season in transition" whatever that's supposed to mean. It will simply show the league placings and if we finish lower than the year before people will see that as a team going backwards. We might know different, but others won't view it that way. I include potential signings in that statement. Who will want to come to a club just clinging on to a place in the top half?
I can't wait for this season to be over so I can dream about some real improvement next time round. I'm sure my post won't be popular but it's my opinion and I apologise if it ruffles a few feathers.
Sam Hoare
23
Posted 03/05/2019 at 10:52:06
Paul @21.
1. Quite likely I think. But I personally won't lose sleep if we don't. He's not been hugely consistent and though he looks easy on the eye, his end product (goals, assists, tackles etc) are much less impressive. I wouldn't want to spend more than £25m on him; there are other more athletic CM's out there who offer the pace we are lacking in the middle.
2. Highly unlikely I think. He's probably been the best Chelsea CB this season! Plus their transfer ban.
3. I hope so but he's 29 and more than entitled to want his shot at CL football. If I was in his shoes (and not an Everton fan) I'd probably want out.
4. People crave a top class striker. We won't get one. They cost too much and go to CL clubs. We may get an effective striker who adds something (Think Rondon or Callum Wilson at a stretch). Or we might get a young striker with the potential to be top class (maybe we already have one!). This will be Brands hardest task in the summer (as well as convincing people to buy the likes of Sandro, Mirallas, Bolasie etc).
Paul Burns
24
Posted 03/05/2019 at 11:01:58
Thank god another awful season is nearly over and I can go the boozer without it being full of the gobshites with no past interest in football now obsessed with Livershite.
Pat Kelly
25
Posted 03/05/2019 at 11:15:44
We need to make two big signings just to stand still, Gomes and Zouma. The kitty will be bare after that. Assuming they want to stay that is. There's always a possibility of a wildcard signing who might be a gem like Digne. Preferably, it'll be a striker, otherwise the best we can hope for is an all-out push for 7th next season. Forget Nil Satis... Reliqua Optimis is the new motto.
Alan J Thompson
26
Posted 03/05/2019 at 11:19:49
Silva will do his usual wideman backed by the full back and Siggi moving to the side the ball is on and then trying to follow Calvert-Lewin, Unfortunately, without Gomes the options are moving Bernard central or asking Gana to do it.
Burnley to park the bus looking for a breakaway or set pieces and Everton unable to break them down or beat them in the air; 0-0 or 1-0 either way. The only change might be if we score early and they have to come out at some stage.
Roger Helm
27
Posted 03/05/2019 at 11:31:33
Yet another game I can't go to because of the timing and the distance I have to travel. It is hardly worth having a season ticket when so many games are unavailable to me, and all the other long-distance fans.
At least it is on Sky. As for the result, it all depends which Everton turns up. Hopefully next season we will be more consistent.
Frank Wade
28
Posted 03/05/2019 at 12:11:28
Roger, I think it was moved from Sky. Starting my commute from Dublin now. Looking forward to it. First game since Niasse double v Bournemouth.
James Lauwervine
29
Posted 03/05/2019 at 12:30:44
Whilst this season has, overall, been something of a disappointment, I think there is clear progress. Okay, not really in points or league position, but in quality and attitude. Yes, there have been some rough patches, but no manager or team completely evades those during a period of transition.
The signings and loans we made last summer were very good. Brands will surely have been working hard to find more gems and to offload those we no longer want. It will take him time but it's undoubtedly underway.
Silva has done okay in difficult circumstances and should be given some time. He still has a lot to learn. He is a world away from the nightmare that was Allardyce.
It will probably be a difficult and tight game tonight, unless we get the crowd on side early, get an early goal, and show we're really up for it – which of course we should be. Finishing 7th isn't as unlikely as some make out I think, though I'm ambivalent over whether it's a good thing or not.

David Pearl
30
Posted 03/05/2019 at 12:37:26
James, how do you think Silva would've done with a defence of Kenny, Williams and Cuco Martina? Just wondering like.
James Lauwervine
31
Posted 03/05/2019 at 12:57:44
David, I think I take your point if it's that Allardyce was working with an inferior squad, but I'm not sure that's entirely relevant.
Firstly those weren't our only 3 defenders last season.
Secondly, Allardyce could have done something about that area in the January transfer window but we signed Walcott and Tosun.
Thirdly, with Silva, I feel a sense of hope but with Allardyce I felt absolutely none. Last season was the lowest I have felt as an Evertonian, with the possible exception of the end of the 85-86 season. For me, hope and optimism are crucial and last season there was absolutely none of that.
Mark Andersson
32
Posted 03/05/2019 at 13:14:29
All in all Silva escaped a sacking because of the 17 day rest and an upturn of good results against the top six sides...
We will struggle next season simply because our best 3 players may move on...
The deluded will hope and dream of a progress next season... but I personally think it will be more of the same. Highs and disappointed lows...
This coming from a guy that used to be a glass half full...
Happy summer guys n girls of ToffeeWeb that always keep me entertained...
Jer Kiernan
34
Posted 03/05/2019 at 13:40:05
Would be nice to give these anti-football protagonists a good drubbing to end the season on a high. I said I would judge Silva at season's end; I have a bit of mixed emotions and some thoughts:
The way or style in which we competed against the Top 6 was admirable, and a world away from Fat Sam, but unfortunately there are only 6 of them. On the flip side, can Silva motivate us against the "ordinary" teams? Some of the "off day" performances were very worrying.
The gap between ourselves and Arsenal points-wise is a worry too. Conversely, I liked the way Silva conducted himself when things were going badly mid-season and, more importantly, we and he bounced back and coached his way out of it.
Most Silva Brands signings have been very astute so I am willing to give him a full window and the rest of next season. I think he has earned it and hope he is backed by the board... a top striker is needed.
I suppose I am more optimistic than at the start of the season though, and a lot more optimistic than this time last season!!!
COYB
Tom Bowers
35
Posted 03/05/2019 at 13:43:39
It will be a big talking point over the next few months as to the future of Silva.
He has had his full trial season which has not been much of an improvement over previous seasons but there were signs of some good things although nothing to get overly excited about.
Recent results have bee welcomed although that Fulham game still rankles.
The early games showed promise but the mid-season was a washout after that first RS game.
There will be new additions and we all hope they are a big help in getting this team into a top six frame of mind as we are all fed up with being in the wilderness for all these years.
Meanwhile let's finish in style by beating Burnley and Spurs.
Jim Bennings
36
Posted 03/05/2019 at 13:50:43
No matter what manager you get or have they can only work with the tools available and it's held us back all season not having a proven class finisher in front of goal.
That's not a dig at DCL before the easily offended brigade come out in force, it's a simple assessment of us currently being a blunt sword up front.
Take away the goals of Richarlison and Sigurdsson then yes, we likely would have been struggling nearer 16th than 6th.
The summer needs to finally see this area rectified, whilst DCL has done much better since September he's still a woefully bad finisher of good chances, he may get better in five years time, but five years time is not 2019 and we need this sorting out now.
Craig Walker
37
Posted 03/05/2019 at 13:54:17
It's been another up and down season. The opener to Wolves summed it up. Winning twice, down to 10 men but threw it away. Blew two-goal leads away at Bournemouth and Newcastle. Lost away at Fulham. Drew at home to Newcastle and Huddersfield. Got our first tonking against West Ham at home but comfortably beat them away. Hammered by Spurs at home in another horror show. Played well at Chelsea. Did well against Arsenal and Man United away but didn't get the results that our performances deserved. Got a great win at Leicester.
The lowest point was the Anfield derby for me. We genuinely played well in that game but the manner of the defeat still sickens me if I think about it. We then went on a dreadful run including conceding 3 set-piece goals to Millwall and exiting the FA Cup. We bookended our grim run with a spirited draw at home to the RS with an incredible Goodison atmosphere, introduced the siren at the start of Z-Cars. Outplayed Arsenal and Chelsea. The 4-0 hammering of United was one of the best performances I've seen by the Blues in years – every player played brilliantly.
Digne, Zouma and Gueye have been superb on the whole. Keane has improved enormously. Pickford still blows too hot and cold for my liking. I love watching Gomes when he is dictating play but he can be anonymous in games. Bernard has converted me over the past couple of months. Richarlison has talent but I'm sick of his play-acting and sulking. I think Walcott and Tosun have disappointed and I don't think Lookman has done enough when he's been given the chance. I'd love him to have a future with us but I don't see it happening.
Calvert-Lewin has improved and deserves credit but he doesn't get the goals we need to get us to the next level, in my opinion. I like the lad though. Tom Davies has gone backwards this season. Schneiderlin is much derided but has done well when called upon. Sigurdsson has had some quality moments but needs to be a figurehead in our team when we are trailing. We also need to address the penalty taking. I think we've missed 3 penalties in the Premier League this season.
There's lots to work on over the summer.
I just hope Man City can sew the title up and then I can enjoy my summer a little easier.
Phil Smith
38
Posted 03/05/2019 at 13:56:38
Forget drawing at Spurs. We're going there to win and win well. I think we could win our last two games. The key to 7th is Fulham doing us a favour against Wolves. If they fail to take a point off them it's over. Simples.
Christopher Timmins
39
Posted 03/05/2019 at 14:39:16
It's important that we finish off the season on a positive note at home and continue the good home record of the last 1/4 of the season.
If we play like we did last week and are just a bit more clinical in front of goal we should be fine tonight.
I am not one bit bothered about the race for 7th, I would be delighted to finish with 56 points and miss out because Wolves won their final two games. Over the course of the season they have been more consistent than us though I would argue that when we play to our potential that we are better than them.
Darren Hind
41
Posted 03/05/2019 at 16:28:07
Different type of opposition to what we have faced during our mini renaissance.
Burnley will not try to play out, they will go long which means we will find them a little more difficult to press. It's difficult to "force" a team into errors when they are simply launching it.
Our defenders have not had their ability to deal with the long ball tested recently. They will tonight. Barnes, Wood and probably at some stage Crouch, will be ready to expose any uncertainty.
Good test for us tonight, but if we can dominate possession and more importantly, take the chance which will come our way, we can send the faithful home happy
Tony Everan
42
Posted 03/05/2019 at 16:39:25
Burnley have been playing better, back to their old solid defensive ways. Dogged, mean, tough and resilient, with big boys Barnes and Woods rampaging after the long punts out of defence . They give nothing away and have no respect for talented fancies.
Tonight we have to commit their defenders and force them into rash tackles. It is the one thing they wont be able to deal with, Bernard and [maybe Richie or Ademola] running at them, cutting in. I can see us winning a penalty or a 20 yrd free kick tonight which may sway a tight match.
Correct Score ;
Everton 2 Burnley 0
Kieran Kinsella
43
Posted 03/05/2019 at 16:55:42
I have a nasty feeling it will be a 0-0 bore draw to supplement that awful Palace game. Burnley are in form, we know we have pretty much blown our chances of Europa. I think it will be one of those occasions where a few players show up in the sandals. I hope I am wrong
Darren Hind
44
Posted 03/05/2019 at 17:15:25
So Everton have been left behind because of "the low expectations of a minority of fans"
Absolutely priceless coming from a guy who so readily surrendered all the points to United, Arsenal, Chelsea and West Ham. . Weeks in advance, even going as far as to put up futuristic stats of where we would be when we lost them all.
Derek Taylor
45
Posted 03/05/2019 at 17:20:00
Makes me laugh how many of us wish Everton to miss out on Europe this year in the hope they can finish high enough to 'get into Europe` next !
Jay Harris
47
Posted 03/05/2019 at 17:36:30
Derek,
Your point made me laugh too but regrettably I think a number of supporters have already figured out that unless we get the luck of the RS we will not get 7th.
Wolves are 4 points ahead with 2 games to play. They only have to get 3 points against Fulham and we cant touch them even with 2 wins.
We just need to look for a good game tonight against Burnley and keep our fingers crossed for their game although I readily admit I would sooner Wolves get something out of THEM than us getting 7th.
Gordon Crawford
48
Posted 03/05/2019 at 17:55:44
A club like ours always needs Europe and so I had hoped that we would qualify this season, but not at the expense of that shower winning the league. Please no
I hope we win tonight though with a really good performance. Coyb.
Dave Williams
50
Posted 03/05/2019 at 18:25:23
Any blues around in Playa de las Americas watching the game?
Raymond Fox
51
Posted 03/05/2019 at 18:33:08
Burnley will come to frustrate and will fancy their chances off crosses into our box.
I do think we will win this one though, we should have enough to get the upper hand, 2-1 to the Blues I hope.
Woves are certs for the Europa and their welcome to it!
How will we perform next season, the obvious answer is it depends whose playing for us, I don't think Zouma or Gueye will be here unfortunately.
As far as new players are concerned, will Moshiri be willing to fork out the £200m give or take a few million we need to spend to give us a chance of seriously challenging the usual top six.
We need his Russian mate to throw in with us to make that leap.
Derek Knox
52
Posted 03/05/2019 at 18:37:49
Cheer up lads, just been reading that Sandro is on his way back at the end of the season, nearly as prolific as Tosun. It'll be like a new signing,--------------- honest! :-)
Jeff Armstrong
53
Posted 03/05/2019 at 18:49:40
Derek, Sandro,Mirallas,Niasse,Bolasie,Martina,Besic,Garbutt and a whole host of youngsters due back at FF this summer.
At least Williams is out of contract, maybe one or two of the above too,hopefully.
Brands has got his work cut out shifting that lot as well as trying to improve us with new signings.
Doug Harris
54
Posted 03/05/2019 at 18:58:59
Post 50... Dave Williams:
I will be in Paddy O'Taffy's at Malibu Park opposite Aqualand with a few other Blues.
See you there if you can make it. COYB
Add Your Comments
In order to post a comment, you need to be logged in as a registered user of the site.
Or Sign up as a ToffeeWeb Member — it's free, takes just a few minutes and will allow you to post your comments on articles and Talking Points submissions across the site.