Lack of playing time leaves McCarthy in international limbo
Wednesday, 8 May, 2019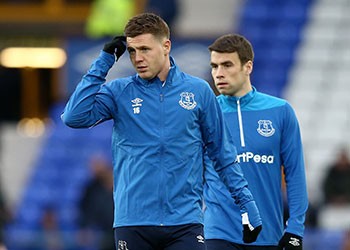 Jan Kruger/Getty Images
James McCarthy won't be participating in any of Ireland's summer internationals after Mick McCarthy said the midfielder needs to sort his future out.
McCarthy has made just one substitute's appearance since suffering a double leg bone fracture in January last year and that has thrown his future with club and country in doubt.
The 28-year-old is fully fit again and able to play for Ireland but Mick McCarthy admits that he can't justify selecting him over other players who have been in regular action for their clubs this season.
That lack of playing time could also mean that McCarthy will be looking to leave Goodison Park this summer unless he is given assurances from Marco Silva that he will be in the Blues' plans for 2019-20.
He is approaching the final year of his current contract and was linked with other Premier League clubs during the January transfer window but ended up staying at Everton and there were reports of renewed interest from Crystal Palace this past weekend.
He was not named in the Republic's provisional squad for their summer training camp in Portugal and, by extension, the forthcoming Euro 2020 qualifiers against Denmark and Gibraltar.
"He's just not been playing and I did speak to him," Mick McCarthy is quoted as saying by the Irish Independent. "He wants to sort his own career out, his own future out this summer.
"And with the other midfielders in the squad, I'm hardly likely to leave Jeff Hendrick, Conor Hourihane or Glenn Whelan out for him at this moment in time.
"Had he been fully fit for the last 12 months things might have been different because I think he's one of our best players but that's not been the case. So he wants to just sort himself out this summer."
---
Reader Comments (21)
Note: the following content is not moderated or vetted by the site owners at the time of submission. Comments are the responsibility of the poster. Disclaimer
Mark Andersson
1
Posted 08/05/2019 at 06:21:17
Good decision... Macca needs tge summer to impress Silva or be sold...
Gerry Ring
2
Posted 08/05/2019 at 07:05:49
Don't get why Silva didn't loan him out. Made no sense. Believe that he's a better option than Schneiderlein, despite Schneiderlein playing a few good games. If Gomes & Gana move on, which is a possibility, then Macca May fill a role like he did previously. Realistically, I can't see him stay & would have liked to see him get a chance to impress before he moves on, which is likely.
Mark Dunford
3
Posted 08/05/2019 at 08:50:51
He provided cover in midfield for final half of season when Gueye was potentially disconsolate after collapse of move to PSG and Schneiderlin was out of both form and favour. Not an easy role for McCarthy to fill as other two came through. He does need to sort his future - as do the other two and we can't really lose all three.
Alan J Thompson
4
Posted 08/05/2019 at 08:59:44
Strange that they wanted him when he was injured but not now that he isn't. I'd have thought Mick McCarthy might have spoken to Silva about his fitness or may be asked the Irish FA to fork out for one extra but he most certainly shouldn't be using phrases publicly like "wants to sort out his future this summer".
Dave White
5
Posted 08/05/2019 at 10:07:37
Huge fan of Macca. Obviously whether he can replicate his pre-leg break form remains to be seen. But if Gana leaves, as I sadly expect to happen, we potentially have a ready made replacement already on our books. For this reason I would definitely keep him, at least until Gana's future is resolved. Whatever happens, a great servant to the club.
Peter Gorman
6
Posted 08/05/2019 at 10:28:55
Mark - Schneiderlin was out of favour but definitely not form. To give him his due, he has been very good this season, albeit in limited appearances. Schneiderlin could not dislodge Gomes once he got fit. I think you're right that Macca was back-up to a potentially unsettled Gana, though as it turned out he seemed to get even better.
Macca used to be some player for us but the feeling is definitely that that time is over. I wish him all the best getting playing time elsewhere and it was pleasure watching him, especially in that first season.
John Hammond
7
Posted 08/05/2019 at 10:34:00
Just can't see what the point is of keeping a permanently broken player. He is not a ready-made replacement for anyone in the team. We need someone capable of playing the majority of games or available for selection when called upon. Gueye's been with us 3 season and played almost the same amount of league games McCarthy has in 6 seasons.
I can just see it - we keep him and he'll get injured in preseason and be out for 6 months. Sadly it's time to say goodbye and use that 50k a week for someone more reliable.
Dan Parker
8
Posted 08/05/2019 at 12:12:03
What a joke, only player we've had who wants to play at national level more than club. Time to jog on
Robert Leigh
9
Posted 08/05/2019 at 12:20:06
He was exactly what we needed when alongside Barry - and if we can secure Gomes he could be a able deputy for Gueye (should he go), perhaps not having to make as many forward runs might help his fitness too.
Can't help but feel however that Schneiderlin and Davies are ahead of him for the foreseeable now.
If he goes he should demand a decent fee (£10m?), would save on wages and we then have either Williams or Baningime as 3rd/4th choice even without Gomes.
James Flynn
10
Posted 08/05/2019 at 14:00:56
So far, this situation is being played perfectly by the Club. Don't play him, but get him back to full health and fitness so he can pass another club's physical.
Good luck to him.
Even on his best day a lower-half club, average mid-fielder type. His one "productive" season was his first where he found himself in a much better, better-trained and disciplined side than the shit ones he played in before.
Place him up there with Besic on the "Get Rid" list.
Good luck and all, but good bye too.
Kieran Kinsella
11
Posted 08/05/2019 at 14:29:45
Alan 4,
That was Martin O'Neill and his Walter Smithesque, patch them up and send them out mentality. McCarthy is a more reasonable bloke. Also, he is essentially a caretaker boss with that fellow from Dundalk due to takeover in two years. I imagine, his mandate is to steady the ship ahead of the new bloke coming. i.e. bring in younger guys and get them up to speed as opposed to winning at all costs and to Hell with the consequences.
James 10,
I agree. I suspect the club are worried he's made of glass at this point. If we sent him out on loan, there was always a danger he'd pick up another injury and run down his contract in the sick bay. If we wrap up in cotton wool until the summer maybe we can sell him as he'll have had a clean bill of health for a year courtesy of being used sparingly
Jerome Shields
12
Posted 08/05/2019 at 16:36:58
Both Brands and Silva know what they are doing.
In my opinion McCarthy after his injury was always too keen to play for Ireland, jeopardizing has Premier League career. Ireland's care of Everton players who just have recovered injury, has annoyed Everton Managers in the past.
To some extent Coleman nearly did the same. It could be that Brands and Silva want a fully fit McCarthy to concentrate on his Premier League value, whether for Everton or another Club.
I did think that at the Lincoln stage of the season, it was great to have McCarthy on the bench for a cameo role and a much needed fuller inclusion in the subsequent games, but alas he did not play in that game, and wasn't selected in the subsequent squads.
David Pearl
13
Posted 08/05/2019 at 18:06:09
Well Jerome, hopefully Silva knows what he's doing.
Maybe if Gana is sold he will get a chance to impress in pre season but I reckon he will be sold before. Change of tact from an Irish manager asking him to put club career before country. We don't know what player he is. Huge clear out needed but he could do a good job in another prem team.
Christy Ring
14
Posted 08/05/2019 at 20:32:04
We all have our opinions of Macca. I believe he should be given a last chance in preseason. He missed nearly a year, after his horrific injury, he's fully fit now.
I can't understand why he came off the bench against Utd, and then dropped from the squad.
Drew O'Neall
15
Posted 08/05/2019 at 20:50:16
Get rid.
Poor chap is plagued by injury and can't be relied on.
I wish him the best of luck at his next club but we can't, and no longer have to, hang on to players with our fingers crossed in case they return.
David Pearl
16
Posted 08/05/2019 at 20:53:15
Certainly was strange Christy.
I have a feeling he will leave early, just to be fair to him so he can have a full pre season with his new club.
Anthony A Hughes
17
Posted 08/05/2019 at 22:43:42
Let him go with our best wishes. We need better players now if we're to push on next season.
Lee Brownlie
18
Posted 09/05/2019 at 08:37:18
You gotta start getting downhearted when even your Uncle Mick wont play you!!!
Jerome Shields
19
Posted 09/05/2019 at 12:11:58
David# 13. I had forgotten McCarthy had come of the bench against United Ref Christy # 14. Maybe he showed a inclination to restart his international career.
Brands and Silva are pretty hard nosed when dealing with players, particularly players that have a inclination to play for someone else. Normally Gueye would be sold under the old regime, but in January it was reported that Silva threatened to resign.
I think they will stick a unrealistic price on Gueye if interest is shown, with the intention of keeping him. Gueye is a very important player in the Everton set up. As for McCarthy he will be sold if they can, if not he will be exspected to work very hard and be totally committed to be considered for the First team
To player for Everton first team squad a player is going to have to show commitment , adaptability to Silvas system and be self motivated to develop all aspects of his game. This includes new transfers in.
A fully fit McCarthy would be a valuable player in Evertons midfield, but given his willingness to risk his Premier League future during recovery and rehabilitation at international level , would not show he has the required commitment that Brands and Silva require. Lookman is a case in point and watch how they will handle Valdic this Summer. Even Gueye who has a impeccable attitude, knows what Brands and Silva are like and never slags off.
Gerry Ring
20
Posted 09/05/2019 at 19:44:05
Jerome@19. If Silva applied the same standards to all his players I wouldn't have an issue, but he hasn't! How Walcott got as many games as he did is a disgrace. It's not that long ago that T.W.s we're looking for Coleman to be retired. McCarthy has had a lot of time to recuperate and no club will pay big money until he plays games. Realistically Gana & Gomes will probably be gone. Schneiderlin hasn't just become a good player in 3 games having been piss poor for 3 seasons. It would be a mistake to sell Macca, in my humble opinion.
Denis Richardson
21
Posted 09/05/2019 at 19:55:53
Get shut and move on IMO. Contributed next to nothing over the last 3-4 years and is not on a small contract.Sell in the summer with best wishes.
Think he's on about £50k/week. Had one solitary good season (5 years ago!). Never was convinced in the first place. Squad needs trimming as is and he simply does not contribute.
Clear decision IMO.
Add Your Comments
In order to post a comment, you need to be logged in as a registered user of the site.
Or Sign up as a ToffeeWeb Member — it's free, takes just a few minutes and will allow you to post your comments on articles and Talking Points submissions across the site.