Simms signs first pro contract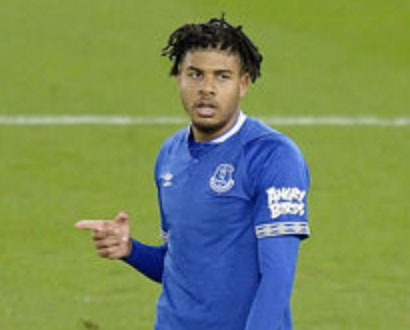 Everton have secured the future of their young goalscoring prospect Ellis Simms who joined Joe Anderson and Einar Iversen in signing a professional contract with the club this week.
David Unsworth has confirmed that all three will make the step up to the Under-23s on a full-time basis next season.
Simms has scored 37 times in just 25 appearances at all levels for Everton and his striking prowess and record have attracted attention from the Bundesliga.
---
Reader Comments (13)
Note: the following content is not moderated or vetted by the site owners at the time of submission. Comments are the responsibility of the poster. Disclaimer
Mark Andersson
1
Posted 10/05/2019 at 05:16:48
Will any of these boys make it to the senior squad...
Ralph Basnett
2
Posted 10/05/2019 at 06:59:02
Everton's biggest problem with the young lads is that none of them are ever on the bench.
Arnold at the shoite got his chance and took it, Iheanacho hd his chance at City and didn't make it, the point is they had their chance.
If we had an 18 year old on the bench against Manure at 4-0 what better a time to introduce him, no pressure and if a forward a chance to debut against Manure, win and score.
David Pearl
3
Posted 10/05/2019 at 07:30:37
Silva is under pressure to get results now with big money buys. It's going to get increasingly difficult for youngsters to come through and if they have any promise will probably have to catch the eye while out on loan. There's a few I'd like to see given a run in the side but don't see any room for them to develop. We want results now.
Steve Ferns
4
Posted 10/05/2019 at 07:47:30
Silva is not afraid to name a 20 year old captain. Koeman banished u23s from his sight. Moving them away from the first team and building a divider.
Silva has taken u23 sessions. He's watched them. He's coached them. He's boosted squad numbers by using them in the squad in training.
Silva will use someone if the time is right. Also he wants a small squad so he can give these guys opportunities.
If they're good enough, they will get a chance.
Darren Bailey
5
Posted 10/05/2019 at 08:26:12
I agree with Steve (#4). These youngsters are being watched very closely by Brands and Silva and if they're good enough then they will be involved you can count on that. Gone are the days when we don't' see the youngers in and around the first team.
Silva's already said he wants "a bunch of youngsters" around the first team next season and Brands is well known for giving them a chance at previous clubs.
I think it's too early for Anderson, Iverson, Gordon and Simms but the likes of Feeney, Gibson, Robinson, Baningime, Williams, Evans, Hornby & Bowler it could be their time very soon. We have a lot of very good youngsters who can't all be put in at the same time so it will come down to what positions the management team feel they can utilise them in.
No matter what though, the future is most defintely very bright.
Phil (Kelsall) Roberts
6
Posted 10/05/2019 at 08:52:22
Every other top club loan out their youngsters to less able premiership clubs to give them a chance to prove their worth in the league.
With the quality in our youth team, we should start doing the same. Dowell should stay at Sheffield for the next season which will give chance to see how good he is against Premiership players without messing up our results if he cannot cut it.
Fran Mitchell
7
Posted 10/05/2019 at 13:12:29
Don't agree with the loaning. It just becomes a cycle, the clubs loan a player out, sign someone, the loan player comes back, no game time as the club signed someone, so off on loan he goes. The player suffers as he has no 'team' in which to grow. Can't really remember the last time a PL team loaned a player, then after proving themselves, they became a part of their team.
Keep them at the club, train them with our players, our coaches should be able to see if a player is of a certain standard or not. Give them chances, use them on the bench.
Bloody loan culture, killing football.
And if they ain't up to it, sell them. Sell Dowell, maybe with a fixed home he can grow and become the player he could be, but that won't happen with him staying in different hotels in different cities, no stable family life, no single manager/coach following his progression. Add a buy back clause if worried on 'missing out on a gem'.
Look at Alexander -Arnold, possibly the best right back in Europe. If last summer Liverpool.said, lets loan him to Burnley hey, good solid PL team
Justin Doone
8
Posted 10/05/2019 at 19:03:50
I believe the loan system will be used more and more for young and senior players to simply get wages of the books if they can't or don't want to sell.
The main purpose when it involves youngsters is it gives them competitive game time and step up to prove themselves against the experienced pros.
Everyone is different but generally loans can improve mental strength and character by getting players out of their comfort zone. I don't think many look back at it as a bad thing but more players fail than make the grade but they have to try.
I'd be happy to loan Dowell to Sheffield United for a 2nd season. It could make our break him.
Mike Allison
9
Posted 10/05/2019 at 19:04:19
This is why the Europa League would have been good for us, more games means more opportunities to get these kids involved. At the moment we're struggling to get much more established young players like Kenny, Davies and Lookman onto the pitch, let alone the likes of Simms.
Paul Birmingham
10
Posted 10/05/2019 at 20:45:26
Very positive news for these lads and the U23 squad, so if your good enough, age is not a barrier.
I hope these lads can emerge and break through into the first team squad.
MB and MS, philosophy it seems will see players get their chances if they show ability and positive attitude.
Staying in the frame of the 1st team squad is the challenge.
JJK, seems to be out of favour and I see him going out on loan or moving on, I hope he stays, but the football patience game and being on the threshold of the squad, almost no mans land, is not good for the player and club.
Looking forward to seeing these players in the U23s, next season, and perhaps even the first team squad.
Derek Knox
11
Posted 11/05/2019 at 10:07:39
I have a good feeling about this lad, that he could not only develop quicker than most lads of his age, but eventually be the real deal. I don't remember anyone scoring that amount of goals in the past.
37 in 25 is phenominal, and at all levels too. Here's hoping that he continues in this vein of rich scoring and knocks on the door of the senior squad as soon as he is ready. He couldn't be at a much better Academy than at ours (slight bias there) as the U-23's have shown.
Mike Connolly
12
Posted 11/05/2019 at 11:16:18
Agree with Fran 7
Loaning players are killing us. Teams are just waiting to get our players for nothing with no intention of buying any of them. Some of the players have been on loan for a few years. They are happy to be getting the Everton Pay and play every week. Maybe if we did not send the players on loan they would be sick of not playing every week and look for a permanent club perhaps dropping their wage demands to complete a deal. Ok, We have had a couple of loans players. Difference is, we are prepared to buy them.
Paul Ellam
13
Posted 14/05/2019 at 20:43:40
Pleased that we've tied him down. He looks a real prospect!
Add Your Comments
In order to post a comment, you need to be logged in as a registered user of the site.
Or Sign up as a ToffeeWeb Member — it's free, takes just a few minutes and will allow you to post your comments on articles and Talking Points submissions across the site.