Fan Comment
Worst Everton squad of the Premier League era
Elliott Bretland

12/08/2019
86

comments | Jump to last
This is the worst Everton squad of the Premier League era.
I took to social media to ask thousands of Blues to pick the players who have stunk the place out at Goodison Park since 1992, the names who just never cut it and the footballers who simply failed to live up to their potential or price tag.
This wasn't a difficult job, as you can well imagine if you have followed Everton since the top division's revamp.
Horrendous form, terrible touches, sicknotes and transfer flops, it's all here.
So without further ado, here is the baddest Everton starting XI of the last 27 years, complete with substitutes and reserves... there is even a standby list such is the dearth of dross!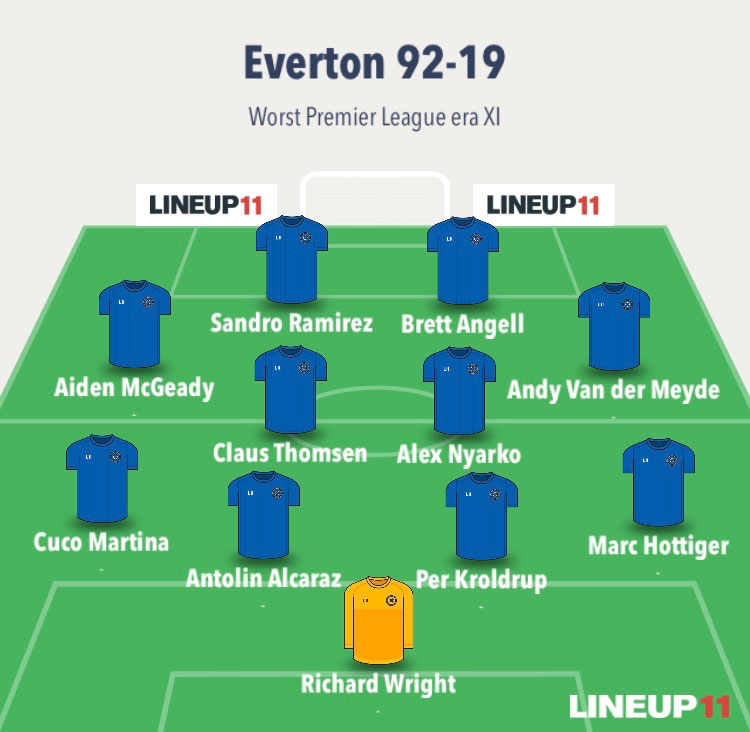 Manager: Sam Allardyce
His reputation preceded him and he did little to improve it. Turgid football, arrogance and self-promotion in press conferences, cautious to the extreme, firefighting for solitary points.
Some say Allardyce did his job, though Everton looked out of danger from being sucked into a relegation fight within days of his arrival. It was a false alarm.
His appointment has been described by many as one of the darkest chapters in Everton history.
Assistant Manager: Mike Walker
For those who had to sit through Everton in 1994, they can't fathom how Walker is only the No 2 in this set-up . While Allardyce's appointment was embarrassing and hurt our pride, the former Norwich boss was a complete disaster and nearly relegated the club.
The Toffees needed the Great Escape to stay up by the skin of their teeth on the last day of the season, coming from two goals down to beat Wimbledon. Too close. A nightmare.
He managed just six wins in 35 matches. An awful record.
Goalkeper - Richard Wright
The England international and former Arsenal stopper was rather clumsy. Not a good trait for a goalkeeper. One time, he injured himself as he climbed in and out of the loft.
"I wasn't doing any DIY, I had just come back from holiday and I was sorting my suitcases out and I fell off the ladder and landed on my shoulder," he said.
"I'm not superstitious but the accident was on Friday the 13th and I am going to be careful now what I do on certain dates."
Paying attention to clear warnings would have been a better idea.
The same player missed a fourth round FA Cup replay against Chelsea after ignoring a sign which warned not to train in the goalmouth. Stepping back to catch a ball during the warm-up, his back foot landed on it and he twisted ankle. Richard Wrong.
Right Back - Marc Hottiger
He had to wait more than a month for a work permit to be granted to sign for the Blues and probably wished it had been turned down by the time his Everton career came to an end.
Joining from Newcastle in a £700,000 deal, the Switzerland international arrived in March 1996 but was shocking, making just 14 starts. Everton took a hefty hit as he left for his homeland for just £25,000 a year later.
Left-Back - Cuco Martina
He looked absolutely terrible at right-back and so, in true keeping with the 17-18 campaign, he obviously became our first-choice left-back with Leighton Baines injured and Everton failing to sign a replacement deputy following the sale of Bryan Oviedo.
In the age of social media, he was often defended as he 'isn't picking himself'. Bizarre. It has to be said, Cuco did work hard but was a woeful player who had no concept of tracking a man or even watching the ball.
It wouldn't be a rubbish Everton team without a square peg in a round hole.
Centre-Back - Per Kroldrup
We'll let Leon Osman, writing in his autobiography, take this one.
"On his very first day of training, the gaffer took him to one side and started doing heading practice with him, like you would with a seven-year-old. It was a case of holding the ball, saying: "Are you ready? One, two, three – jump."
"Honestly, it was incredible. I don't know what happened, but he had obviously realised that heading wasn't Per's strong point. £5m for a centre-half who can't head the ball..!
"You can be as talented as you like but in the Premier League you've got to be able to head it. Per didn't seem to want to head it, which was incredible for a centre-half.
"He started one game, away to Villa on Boxing Day, and we lost 4-0. He was up against big John Carew, who just annihilated him.
Centre Back - Antolin Alcaraz
Dynamo Kiev (A)
Right Midfield - Andy Van der Meyde
It's been well-documented that 'Shandy' allegedly enjoyed the many delights Liverpool had to offer instead of working hard and being a professional footballer for Everton.
One BBC article from 2013 neatly summed up his time on Merseyside: 'Former Everton man Andy van der Meyde on drink, drugs and zebras.'
We've stuck him on the right of this team in the hope he could reproduce that one moment of magic out wide when he set up Dan Gosling against that lot in the Cup.
Left Midfield - Aiden McGeady
The guy had talent and scored a stunner on the opening day at Leicester in 2014 but he was soon frozen out before being bombed to the Championship on loan.
An expert at the quick stepover, McGeady often beat a man but sadly his crosses often missed everyone too.
Central Midfield - Alex Nyarko
When a fan storms the pitch to take your shirt you know you're not doing the business.
The confused Ghanaian being confronted by a supporter at Highbury in 2001 is infamous in Toffees folklore and encompassed the anger and frustration Nyarko's lack of effort generated among the travelling fanbase.
Arriving from France in a £4.5m deal with much expected of him, he was dubbed 'the next Patrick Vieira'. However, the leggy, laid-back midfielder asked to be subbed after the incident and clearly wasn't up for the fight.
"He showed a lack of strength," said manager Walter Smith. "Lots of questions come up - commitment, mentality. He gave up, which is not a great example to set".
Insisting he would be retiring following the altercation – he actually meant he wouldn't play for the Toffees again – the Everton boss appeared fine with it.
"I'll need time to think about that," he said when asked about Nyarko's wish to call it quits. "About five seconds."
He was soon loaned to Monaco, before another temporary spell at PSG but did play for Everton again, making eleven appearances during the 2003-04 campaign under David Moyes before leaving on the expiry of his contract.
Central Midfield - Claus Thomsen
For this one we'll simply repeat Thomsen's biosketch on this very website.
Strengths: Tall, handsome, blue-eyed blond
Weaknesses: Statuesque, ineffective, immobile.
Striker - Brett Angell
The Observer newspaper rather harshly described Angell as 'The Donkey's Donkey' and few Blues would disagree. Neville Southall, meanwhile, claimed the striker's second touch was often a tackle.
Having joined after scoring loads of goals for Southend in the Football League, a rare highlight came as he found the net in a 4-2 Goodison win over Chelsea but the rest of his outings were strewn with hapless and wayward shots on goal.
He did forge a decent career away from the top-flight but Everton was way above his level and 25 years on, he remains a regular in these worst XI rundowns.
Striker - Sandro Ramirez
When Everton transfer 'supremo' Steve Walsh landed the former Barcelona forward for just £5m, it looked like an absolute snip. It soon turned out we had been ripped off.
With a running style which resembled a man wading through water with his arms outstretched, Sandro fumbled his way through a debut campaign which yielded just one goal in fifteen games.
Now out on his third consecutive La Liga loan having failed to score for Sevilla or Real Sociedad.
Subs
Goalkeeper - Espen Baardsen
An emergency signing on a free, the Scandinavian's only game was that Brian McBride Spurs thriller at White Hart Lane. Conceded four. He quit football soon after to go travelling and see the world.
Centre-Back - Ashley Williams
The Wales international arrived with experience and a solid reputation and played his part in shoring up a porous backline during his first season.
However, his form nosedived during the 2017-18 campaign. For those on the terraces he appeared to lack drive and energy while his attitude was often questioned. Williams had lost the ability to defend and appeared disinterested.
Evertonians celebrated his departure to Stoke on loan, delighted he would not return.
Right-Back - Peter Degn
Playing anywhere down the right, Degn once tried to rugby tackle an opponent in front of the Bullens Road. He missed.
Right Midfield - Mitch Ward
This team's utility man. Right-back, right midfield, central midfield, he did it all - though not at all well. To describe him as a jack of all trades, master of none would probably be generous.
Central Midfield - Davy Klaassen
For technical ability and nous on a football field, Davy Klaassen is arguably a better footballer than some of the names featuring in Everton's best squad (coming soon)
However, his time in England was a disaster. Lacking the physicality to really mix it with his Premier League counterparts, the Dutchman failed to make an impact and managed just sixteen appearances. Swiftly joined Werder Bremen just 13 months after signing.
Striker - Ibrahima Bakayoko
'You do the Bakayoko and you turn around, that's what it's all about... he comes from the Ivory Coast, Coast, Coast!'
That song, and his brace at Blackburn, stood out during an Everton career which lasted just nine months as the striker failed to impress for a struggling side.
Striker - Oumar Niasse
The fact that Oumar, the Prince of Goodison, hasn't been named in the starting line-up here is further redemption for Niasse.
Having been ditched from the first-team and not even given a locker as it soon became apparent he wasn't worth the £13.5m Everton splashed out on him, the striker stuck at it and worked hard to prove his critics wrong with some vital goals (including one with his backside).
Oumar gained the affection and respect of the Goodison faithful by never giving up and, while it's clear he isn't good enough as balls continue to bobble and ricochet off his shins, he'll go down in Everton folklore for his character and heart alone.
---
Reserves
Goalkeeper - Paul Gerrard. That Gary McAllister goal. Gerrard was nervy, erroneous and often caught out.
Right-Back - Alec Cleland. The right-back's Goodison career was curtailed by injuries and he featured more and more infrequently over the course of his four seasons at Goodison, managing just single figure appearance hauls between 1999-00 and 2001-02.
Right-Back - Paul Holmes. Volleyed the ball against his own cross bar at Bolton. Was so bad, one of his displays even caused two Blues to scrap in the stands.
Left-Back - David Burrows. Bizarrely, Everton parted with Tony Cottee and half a million quid for the West Ham full-back in one of countless poor decisions made by the club in the nineties. shudders
After just seven months, yep, 200-odd days, he was moved on to Coventry.
Centre-Back - Li Weifeng. "When I was a child I dreamed that one day I could go to play in the Premiership. And now it suddenly comes true," he said upon signing alongside China team-mate Li Tie after earning a trial through Everton's new sponsor Kejian.
He achieved his aim but only once, in a 1-0 defeat at Southampton on a Wednesday night in September 2002.
While things didn't work out in blue, he did go on to earn 112 caps for his country.
Right Midfield - Simon Davies. Arriving from Tottenham after Everton finished in the top four, he just didn't do much. Apart from scoring at Birmingham to earn the Toffees a second win after seven defeats from the opening right games, there is literally nothing else to report.
Central Midfield - Segundo Castillo. The biggest thighs in football. Scored a screamer in Europe. A South American purchase (see also Denis Stracqualursi) as David Moyes spun plates in the transfer market. Nothing more to say.
Central Midfield - Guillaume Plessis. You've read his name and don't even remember the guy, do you? Actually a member of the squad which clinched fourth, the central midfielder didn't get a look-in bar some rogue games sat on the bench.
Striker - Shani Tarashaj. "Shani is an enormous young talent who, without a doubt, will have a great future," said Roberto Martinez as his new capture put pen to paper on a four-and-a-half year deal back in January 2016.
He's not made a single Everton appearance but remains on the books.
Striker - John Spencer. The diminutive striker made just nine appearances in twelve months after signing for £1.5million. Quite the outlay for such little return.
On Standby
Jan Mucha, Tony Thomas, Carl Tiler, Eddy Bosnar, Eliaquim Mangala, Slaven Bilic, Ibrahim Said, Niclas Alexandersson, John Oster, David Ginola, Idan Tal, Danny Williamson, Stephen Hughes, Vinny Samways, Tobias Linderoth, Anderson Silva, Rodrigo, Stuart Barlow, James Beattie, Enner Valencia, Lacina Traore

Follow @ellbretland
---
---
Reader Comments (86)
Note: the following content is not moderated or vetted by the site owners at the time of submission. Comments are the responsibility of the poster. Disclaimer
David Pearl
1
Posted 12/08/2019 at 21:50:34
Ooh Bakayoko, ooh Bakayoko, ooooh Bakayoko, He had that one cracking game against Saints where he looked like Ronaldo.
Shandy l quite liked. If fit and wanting it and not off his tits he had quite the talent... for football. Honestly.
Big Sam never stood a chance. However, with Cuco and Williams who make the line up above, he still managed more points than Silva who spent a gazillion dollars. So come on.
And where's Jon Oster?
David Pearl
2
Posted 12/08/2019 at 21:53:15
I also loved Slaven Bilic. "You'll never beat the Bilic!" What a player he was.
Don't argue with me, I'm telling you he was one of the best centre backs I've seen. Yes, he got injured. I'd even have him back as manager.
Andy Crooks
3
Posted 12/08/2019 at 22:09:43
I wrote a response to this wonderful article that I lost. However, the work that has gone into this assembly of nightmares is just brilliant. What a band of scrounging, laughably inept bunch of fuckers it is. Dead funny, spot on brilliance.
Elliot, the site needs new blood. You are it. The graphics just do it. The pen portraits are pure gold. Thank you for cheering me up.
Tony Abrahams
4
Posted 12/08/2019 at 22:15:17
A player who's not even on the list, but it would be a toss-up between Schneiderlin and Pistone to see who got the armband for this pile of shite.
Trevor Powell
5
Posted 12/08/2019 at 22:30:51
Having been at a book event by Big Nev in Chepstow about eight years ago, I would like to defend Brett Angell based on what Big Nev said about him.
When Nev was asked about the worst player he had ever played with, he was very irritated when someone shouted out Brett's name.
Nev was fully aware that Brett was no world beater but he had an attitude to die for – not like some of his more well-known playing colleagues!
David Pearl
6
Posted 12/08/2019 at 22:31:55
Sorry to comment again but that was a great read, Elliott. Memories hey. Funniest bit for me was Brett Angell, his second touch was often a tackle.
Ben Attwood
7
Posted 12/08/2019 at 22:35:24
OMG! Some absolute dross here!! I had the misfortune to pay hard earned cash to see a number of these clowns play together in the same team in the 1990s. Not just a one-off mind. A run of games.
I am not sure anything has been learnt over the 27 years. We still pay over the odds for average (at best) players. We seem to fall for the old line that so and so is the next big thing and after around 30 minutes game time we know they are not...
Jamie Crowley
8
Posted 12/08/2019 at 22:44:58
This is one of the funniest articles, ever.
I giggled through the entire thing.
Great article. If Lyndon and Michael are asking for more submissions, more from Elliott for me!
Alcatraz - Dynamo Kiev (A). HILARIOUS.
I had a tear roll down my face I giggled so hard.
Anthony Flack
9
Posted 12/08/2019 at 23:22:28
His second touch is often a tackle - classic line.
Lots of other horrors we could add !
Simonsen was terrible in goal
Stephen Hughes puzzled his way out of a poor team
Rodrigo (or am I making that up)
Samways
John Pierce
10
Posted 12/08/2019 at 23:23:40
Idan Tal. What a lad! Met him with the defensive unit out on a bender c. Nov 1999 I think Stubbs, Weir, Naysmith & Watson.
Bevies, darts and ppl all afternoon. Idan, who didn't speak a word of English sat there and said nothing whilst his now erstwhile teammates got wankered. So did I!
Have to say funny read but a couple in there that were decent
Any takers for Branch & Grant...?
Anthony Flack
11
Posted 12/08/2019 at 23:26:05
Jeez, I think I have a distant memory of Idan Tal scoring a good goal one cold Saturday at Ayresome Park.
Am I making that up ?
Adam McCulloch
12
Posted 12/08/2019 at 23:42:32
Brilliant read - from belly laughs to shudders when you see some of those names.
I think if anything encapsulates the Everton experience, it's this. Cos even the dross brings out the gallows humour and some old stories. From Ibrahim Back-of-the-Echo to Cuco and every Idan Tal in between, it's a hell of a ride.
Bobby Thomas
13
Posted 12/08/2019 at 23:47:02
John Spencer. He always looked quite handy at Chelsea. Decent, nothing more than that. But lively and could definitely play in the division. Remember Kendall taking him on loan with a view to ٟ.5 million deal. This was after Peter Johnson had pulled the rug from under him financially, so if Kendall was getting ٟ.5 million he needed into spend it well.
Spencer showed nothing. Absolutely nothing, he was shite. I think he was around 29 yrs (going on memory here, long time ago) at the time. I concluded he was on the downside, that we should swerve him and that if Kendall took him then his judgement had gone. I also knew he'd take him. Dismal days.
On another ٟ.5 million waste of space, did Maurice Johnston play for Everton in the Prem, or the season before? He'd make the squad, surely. In his book, Mark Ward says it took him only 1 or 2 training sessions to realise Mojo was way past his best.
ٟ.5 million was still a pretty thick wedge when Howard shelled out for Mojo. He did two things of note. One, he netted in a derby. The other was to claim that a black eye (and maybe stitches) were merely the result of an accident and actually inflicted by his daughters rocking horse when playing with her!
Also remember a tale in an ex Everton players book (can't remember who) about a trademark Kendall Mark 2 era pre or post season piss up where Mojo ended up swallowing a massive lump of weed and going very green.
Bobby Thomas
14
Posted 12/08/2019 at 23:47:58
Preki?
Dan Kemp
15
Posted 12/08/2019 at 23:50:43
Other honourable mentions...
Royston Drenthe
Joe Max-Moore
Magaye Gueye
Iain Johnston
16
Posted 12/08/2019 at 00:01:32
What... No barn door Barlow?
John Pierce
17
Posted 13/08/2019 at 00:08:43
Anthony,
Preki scored at Ayresome Park, we got locked in, they got relegated I think through the haze and beer glazed memories.
Jay Harris
18
Posted 13/08/2019 at 00:17:04
I think you will find he was called 'Jigsaw', Iain, because he went to pieces in the box.
Ed Fitzgerald
19
Posted 13/08/2019 at 00:23:10
WTF - No Mickael Madar!
Chris Hockenhull
20
Posted 13/08/2019 at 00:36:47
Terry Phelan... there was another ex Man Utd full back for the life of me I can't remember... Fabulous stuff this, right up my alley. And may I add Gasgoine to this.."slightly" passed/pissed his prime when we landed him.
God... remember the photo shoot with the baby and the fans in the Park End car park when he signed...and who was with him.. non-other than that other tub of lard fresh off Uncle Cyril's handlebars himself.
God my red mates pissed themselves that night in the pub looking at the Echo... god the nightmares have returned reading this fabulous trawl down Desolation Row!!!
Dave Bowen
21
Posted 13/08/2019 at 01:19:46
While he's never gonna win a EFC manager popularity contest, it's a bit harsh on Allardyce. Mike Walker is clearly the worst manager in the PL Era (& probably in our history) by a country mile. Big Sam would be assisting of course!
Paul Kelly
22
Posted 13/08/2019 at 01:20:31
No one mentioned Earl Barrett. Wow.
John Pierce
23
Posted 13/08/2019 at 01:41:08
Madar had great hair. End of. That saves him from the worst XI.
Mike Gaynes
24
Posted 13/08/2019 at 02:15:27
Great idea for an article, Elliott.
To me, McGeady was Leo Messi compared with Magaye Gueye. That guy was utterly hopeless.
Drenthe was a train wreck (good call Dan #15) and I'm shocked -- shocked, I tell you -- to see no mention of Alessandro (misfire) Pistone.
On the other hand, I thought Segundo Castillo was a fine player. Only 13 appearances for us, but he wasn't bad in them, and he was a mainstay for Ecuador's national team for a decade. Still playing in the top league there at 37. Still huge thighs.
Eric Myles
25
Posted 13/08/2019 at 02:17:14
You've mentioned the one moment I remember AvdM for but my memory a McGeady stunner was against Charlton where he was back to goal with a defender tight behind him, flicked the incoming ball over his head, ran round the defender and volleyed it into the goal.
Didn't Krøldrup do well in Italy after he left us? And Davies at Fulham?
Eric Myles
26
Posted 13/08/2019 at 02:34:30
Mike #24, in hus first stint Pistone had one great season for us, was one of our best players if not Player of the Season. Then his contract expired and we re-signed him after a few months??
Wasn't Castillo an emergency panic loan deal at first as we had no left-back?
Bobby Thomas
27
Posted 13/08/2019 at 02:38:19
Eric Myles
28
Posted 13/08/2019 at 02:39:22
Just goes to show what dross Moyes had to work with, 5 of the 1st XI were regular starters for him and 3 of the subs.
Mike Gaynes
29
Posted 13/08/2019 at 05:00:15
Eric #26, guess I only remember the staggering/injured Pistone, but I'll take your word for it.
Regarding Castillo, no, he played DM. Scored that great goal in his home debut and then had a magnificent game at Anfield in our FA Cup run in 2009. Final appearance I believe.
That juggled goal you're remembering wasn't McGeady, it was McFadden:
https://www.facebook.com/watch/?v=10154593727341277
This is McGeady's only goal for us: https://www.youtube.com/watch?v=nSPpsqMPbkk
Steve Carter
30
Posted 13/08/2019 at 05:04:03
There is some true shit in that, Elliott, well done. Absolutely mind-blowing for you to have separated the donkeys, from the sheep, from the goats, into the three squads.
Tad harsh, though, I thought, putting Niasse in the first XI over many better 'qualified' candidates. I wouldn't have even given him a shirt in your standbys. Regardless of whether many of them have been from balls that were otherwise heading out having bounced off his arse and into the goal, a goal is a goal in he's scored 8 in 31 games compared with Calvert-Lewin's 11 in 79, and is clearly better, for example, than Jermaine Beckford (Moyes's great bargain buy hope from the lower divisions, who you've left off completely).
Peter Mills
31
Posted 13/08/2019 at 05:58:31
Just when I thought the therapy was working, along comes Elliot to open so many psychological wounds I thought had healed.
So much dross, so much money, time and emotional effort wasted watching that lot.
Thank you, though, for resisting the temptation to include Denis Stracqualursi, who could have made the cut. The memory of his header when the ball was on the floor in midfield will never die. Nor will the fact that when he scored his one goal for us, he burst into tears, something many of us would probably do in the same circumstances.
Tim Constable
32
Posted 13/08/2019 at 10:00:27
Great piece although slightly scary! If we had signed Rojo, I would have put him straight in personally.
Oh and don't forget Matteo Ferrari, only on loan but cost us 𧶀,000 for 8 average performances then got injured.
Si Smith
33
Posted 13/08/2019 at 11:53:19
In goal Stevie Simonsen !!!!!
That lad cost us a packet and was simply awful.
Also I cant stand fat Sam, but putting him manager is very harsh after some of the baddies we've had, Mike Walker for me any day.
I'd also say we had a lot of simply awful strikers who never got a mention due to the fact Moyes carried them, Vellios, Jukovic, Stracqualursi were all absolutely crap, not even close to premier league standard.
Then there was the Chinese fella who came with Li Tie, looked like he won a competition off the back of a cornflakes box.
Some may find this harsh also but again imo these two jocks were piss poor, McFadden and Naismith (the full back).
Alan McGuffog
34
Posted 13/08/2019 at 12:24:52
Did we have that bald bloke from Arsenal...Senderos ?
Jim Harrison
36
Posted 13/08/2019 at 13:17:01
Sander westerweld
John Collins
David Henen
They were pretty shite too. To be honest, most keepers between southall and martyn were gash too
Shane Corcoran
37
Posted 13/08/2019 at 14:07:52
I fail to see how Allardyce makes the list. He was brought in to do one job and he did it.
Tim Drake
38
Posted 13/08/2019 at 15:07:19
I remember Simon Davies' last game for us at Goodison against West Brom (also Duncan Ferguson's last game). He was substituted in the second half and was intensely booed off by our own fans. The lack of effort and attitude from the man in that game was atrocious. I've never booed an Everton player in my life but I came very close that day.
John Raftery
39
Posted 13/08/2019 at 15:42:41
Jim (36) John Collins! Really? If we are including him in a list of worst players it may be easier just to list the best players. It will be a very short list.
Interesting to note these signings carried the fingerprints of Mike Walker, Joe Royle, Walter Smith, David Moyes, Roberto Martinez and Ronald Koeman. Yet Sam Allardyce is expected to manage them!
Don Alexander
40
Posted 13/08/2019 at 15:46:13
And who's been ever-present in our boardroom for just about every era of the PL????
Mike Gaynes
41
Posted 13/08/2019 at 15:53:32
Jim #36, I don't think you can count players who never actually played for us. Like Henen.
Si #33, true on Straq and Vellios but you're off target if by "Jukovic" you mean Nikica Jelavic. He scored 11 in his first 16 when he came to us, and his 21 in 69 overall hardly puts him in the "absolute crap" category.
Jim Harrison
42
Posted 13/08/2019 at 15:56:35
Shani didn't, and he made the subs list Mike!
Mike Gaynes
43
Posted 13/08/2019 at 16:00:34
You're right, Jim, and I think Elliott's off-target with that mention.
Jerome Shields
44
Posted 13/08/2019 at 16:20:16
Elliot , you have omitted the second coming of Rooney. I suppose you couldn't change horses mid stream.
Tim Drake
45
Posted 13/08/2019 at 16:44:14
Mike #41 - I assumed Si meant Lukas Jutkiewicz. Much more suitable for this list!
Geoff Trenner
46
Posted 13/08/2019 at 16:51:30
Eric @25. Wasn't that James McFadden?
Mike Gaynes
47
Posted 13/08/2019 at 17:08:30
Tim #45, I seemed to remember that Jutkiewicz had made one appearance for one minute with us. Just looked him up on Transfermarkt and it was actually 4 minutes. So I guess he qualifies!
But I assumed Si meant Jelavic, considering the other two he listed were from the same era.
Bill Gienapp
48
Posted 13/08/2019 at 17:29:26
Putting Enner Valencia on standby seems a bit harsh - perfectly decent impact sub who bagged a few goals for us. Christian Atsu was way more useless, as loan moves go - I don't think he had a single moment of note during his season with us.
Rob Dolby
49
Posted 13/08/2019 at 17:57:58
We have had some rubbish over the years.
Fans of a certain vintage could no doubt add more.
Jim mc Donagh or mc donut the only goalie with a hole in the middle.
Rod Belfitt, Mick Ferguson,
Eamon o'Keefe, Stefan Rhen,
John Barton, Micky Walsh
Does Gbamin count!
Bobby Thomas
50
Posted 13/08/2019 at 18:41:59
Bill #48
I'd missed Valencia being there. Very harsh. I thought he did ok.
Peter Thistle
51
Posted 13/08/2019 at 19:12:40
Surely the worst signing ever was David Ginola, he only played for us once! Was so past it, he looked ready for an old people's home.
One thing nobody has mentioned is why our scouts have always been so shit, and still are. It's something we've let go under the radar for way too long.
Also, Vinny Samways (Sideways)... what a joke of a signing. So embarrassing, Peter Johnson sending his Rolls-Royce to pick him up from Lime Street Station like he was a superstar. His one shining moment, a flukey Charity Shield winner, technically he got us the last trophy we've won though... so sad.
Christy Ring
52
Posted 13/08/2019 at 19:16:08
What about Mike Milligan, superb at Oldham, but didn't really work out. Glen Keeley, Las Jacobsen, Dai Davies always produced a clanger.
Dave Evans
53
Posted 13/08/2019 at 20:57:55
Rob #49, Gbamin? Can I put you in my top 11 worst Premier League era fans?
Des Farren
54
Posted 13/08/2019 at 21:43:37
I must be getting old as I don't find this at all entertaining. My only reaction is that the author has too much spare time on his hands.
Brian Williams
55
Posted 13/08/2019 at 21:50:39
I must be getting old as well then, Des.

James Flynn
56
Posted 13/08/2019 at 22:01:37
Cuco Martina? Not while Luke Garbutt is in his 9th year cashing checks.
Mike Connolly
57
Posted 13/08/2019 at 22:25:00
I must be getting old... I remember every one of those players.
Andy Crooks
58
Posted 13/08/2019 at 22:28:28
John Collins? I think not. John was stuck in a midfield that was by passed by long balls to Duncan " the legend" Ferguson. He was wasted at Everton.
Mike Gaynes
59
Posted 13/08/2019 at 22:38:19
James #56, beautiful. You have no idea how much I wish I'd said that.
Des #54, it would appear that about 50 more of us do too.
Ian Bennett
60
Posted 13/08/2019 at 23:16:17
My side is going for shitness and a big splurge of cash:-
1. Paul Gerrard - absolute disaster of a goalkeeper. Our window cleaner looked more convincing. Edges out British record fee Simonsen and big fee Richard Wright. JR.
2. Per Krøldrup - think he played 3 games and we conceded 12. Frightening. DM.
3. Ashley Williams - 㾸m squandered. Legs had gone, off the pace, rash. RK
4. Funes Mori - Everton past up the chance to sign Van Dijk from Celtic, to buy Funes Mori at ٧.5m. A fee starting at ٣m - suddenly doubled under to 㾶m.
5. Vinny Samways - I can remember us signing him for ٠.2m on Teletext pre internet. Another Spurs dud.
6. Nyarko - Patrick Viers Mk 2 my arse. WS.
7. Claus Thomsen - possibly the worst footballer I've ever seen. JR
8. Simon Davies - ٢.5m up the wall - he offered zip.
9. John Spencer - ٟ.5m when Howard had lost the plot.
10. Mo Johnstone - ٟ.5m up the wall from HK.
11. Bakayoko - absolutely useless at ٢.5m from Big Walter.
Rob Dolby
61
Posted 13/08/2019 at 23:19:45
Dave 53. The Gbamin shout was tongue in cheek. Don't take things so seriously. Things can only get better for the lad.
Si Smith
62
Posted 13/08/2019 at 23:23:30
Mike @41, refer to Tim @45.
Although I'm very surprised he only played once for us.
He scored just the other day on Sky Sports News which was why he was fresh in my mind.
Jelly was more than a fair player for us, especially at the price we paid. 👍
Paul Birmingham
63
Posted 13/08/2019 at 23:58:12
A life time of memories, and some stinking players, adding new dimensions to ale house football.
Those were the days, especially pre premier league.
Alan Bailey, Ainscow, Atteveldt, scored a good reserve goal once, but was well off the pace of the first team, would make the cut too.
David Ellis
64
Posted 14/08/2019 at 02:45:50
I know it's a bit of fun but I'm not a fan of threads like this. All these players are far better than all the posters. So what's our point? They're not as good as others... but better than us and??? Most of them tried hard.
Yours
Davie Downer
Ben Howard
65
Posted 14/08/2019 at 02:52:25
Great article, Loved it. But James Beattie has to feature and Funes Mori and Oumar Niasse get a pass.

Eric Myles
66
Posted 14/08/2019 at 03:13:16
Mike #29, getting my Mc's mixed up, yes if course McFadden.
Terry White
67
Posted 14/08/2019 at 04:28:56
Alan BILEY, Paul (#63), not Baily. Great hair.
Joe McMahon
68
Posted 14/08/2019 at 09:12:30
Ed @18, why would Madar be part of this group? His goal to games ratio is a lot better than Tosun and Calvert-Lewin, playing in an awful Howard Kendall Mk III team.
Ian @60 Simon Davies – good call, he was cack.
John Hammond
69
Posted 14/08/2019 at 10:30:05
Great article. Had to look up Guillaume Plessis as I don't ever remember the name. We signed him after he'd spent 3 years at Lens without making a single appearance. The mind boggles at how truly shocking some of our signings have been. How times have changed...
Martin Berry
70
Posted 14/08/2019 at 12:51:32
And just when I was starting to get a good nights sleep !
Great article though

Raymond Fox
71
Posted 14/08/2019 at 13:19:13
I'm with David 64 on this, the thread does not do any harm as such, but I would much rather praise someone though, than be negative and make fun of them.
Maybe I'm being too sensitive, now one about our best ever players in each position would cause a lot more discussion and argument for certain.
Steve Ferns
72
Posted 14/08/2019 at 13:36:30
Richard Wright had one great year. The year we finished 7th in Moyes' first full season. That alone should elevate him above the worst ever keeper. I recall he used to make the "gun" shape with his hand on goal kicks and after that first season he stopped doing it after it was pointed out to him, and his kicking suffered dramatically as a result. He was also a confidence player, and once the crowd got on his back he just got worse and worse. But that said, his worse was better than Paul Gerrard's best. I'd also say Simonsen and Myhre were worse. Would Bardsen qualify as an Everton keeper?
One problem with these lists, is what makes a player the worst? Is it their actual ability so players like Martina who is on the list. This I think is unfair as he gave it his all. Then there is players like Van Der Meyde. His best was not short of world class. That's why Inter spent a fortune on him. I always argue that he was not a terrible signing for us. He was the kind of gamble that we had to make at that time. A top quality player going through a bad patch in need of some TLC. It was a gamble and this time it backfired. It doesn't mean we shouldn't try it again. And we did, with Royston Drenthe. He was a disaster from start to finish and never had that handful of good games that Van Der Meyde had that fans could cling to. Van Der Meyde shouldn't be on this list, but Drenthe should.
Alex Nyarko always gets on these lists and I think that is very harsh. Does no one remember his only goal? He scored an absolute cracker, I think it was against Spurs. At that time he looked world class. He had all the talent. What happened next, only he knows. But it appears to me that he had a mental breakdown and he only got out of it through religion. A few on here had mental health issues, including Van Der Meyde and Drenthe. Football clubs need to do more for the players. So what they are paid fortunes, they are under a lot of pressure and lack the mental skills to cope. Clubs should use the vast money in football to take care of these young men and ensure that they are ready to cope with the pressures of football, fame, and the reality of life after football.
Lee Courtliff
73
Posted 14/08/2019 at 20:35:54
I've got to say that Marc Hottiger wasn't that bad at all.
I had a season ticket when he played for us and with him in the side Andrei Kanchelskis showed the very best form of his career. Something that like 8 goals in the last 9/10 games of the season.
And the team overall did well, coming within a late Robbie Fowler equaliser of finishing 4th!!
Hottiger was a vastly better footballer than Earl Barrett, who looked terrified every time the ball came to his feet.
Earl could defend but was lost at RB. We wouldn't have won the Cup if he wasn't cup-tied.
Andy Crooks
74
Posted 14/08/2019 at 21:52:51
I have rarely seen players who don't try. Some are not much good but tried. Who have been the non-triers?
Ray Robinson
75
Posted 14/08/2019 at 22:00:18
Andy, Kanchelskis in his second season in the FA Cup tie at home to Bradford which we lost 3-2. Lost my respect for him that day.
Bobby Thomas
76
Posted 15/08/2019 at 03:20:42
Andy #58
As I remember it, Collins was gash until he decided he wasn't signing a new deal, at which point he started running the midfield.
Andy Houghton
77
Posted 15/08/2019 at 10:25:42
Stefan Rehn. A substitute then hauled off if memory serves and Tobias Linderoth. A couple of turnips – not Swedes. 😀
Jack Convery
78
Posted 15/08/2019 at 20:22:24
Mike Milligan anybody. Though Claus Thomsen is my personal favourite. When I saw him I said to my mate honey turns rancid quicker than him. Joe Royle's £900,000 purchase from Ipswich where Joe had been - still can't believe he bought him. When you look at that list it makes you wonder if we were involved in some sort of money laundering scheme in the 90s.
Elliot thanks for making me laugh out loud - more please !!!
Dave Abrahams
79
Posted 15/08/2019 at 20:41:41
Jack (78), Claus Thomsen, doubt if you are the only one who couldn't believe Joe Royle bought him, Joe said he'd had his eye on him for a couple of seasons, Joe must have been blind in one eye because the one he used to spot Claus definitely wasn't working.In a Derby game at Anfield which we drew 1-1Claus was getting loads of stick off the fans, one fan shouted out " Stop giving him stick and get behind the lad" another Everton fan shouted back " I'm fuckin' sixty and I could never get behind him, he's too fuckin'slow"
Henrik Lyngsie
80
Posted 15/08/2019 at 21:32:14
Proud to be a Dane. Two in the starting 11 and one sub.
Peter Warren
81
Posted 15/08/2019 at 22:45:44
That Arsenal youngster we signed was rubbish – Stephen something??? He played under Arsene and cost quite a few quid. Hope Iwobi turns out better!
Dave Abrahams
82
Posted 16/08/2019 at 15:38:25
Peter (81), Hughes, I think, there was something strange about this transfer. I don't know if we paid a fee for him, the lad just wasn't very good and very feeble as well, although he did stay in football, can't think where.
Anthony Flack
83
Posted 18/08/2019 at 06:21:52
Peter that was Stephen Hughes - I think he scored one belter away at Watford, otherwise rubbish.
Another name sprang to mind last night - Kone !
Derek Knox
84
Posted 19/08/2019 at 09:51:53
I know the article which is well researched and well presented by Elliott, and is a lighter post which reflects on some of the absolute donkeys that have been allowed to graze at Goodison over the years.
It is shuddering to think though, the amount of money that has been squandered, proliferated and been misused, both on transfers and wages, from a supposedly professional institution. No wonder we have been a laughing stock over the years.
Thank God we now have Marcel Brands!
Mike Allison
85
Posted 20/08/2019 at 22:48:46
Araz Abdullayev has to be the strangest signing of them all though, surely.
Michael Kenrick
86
Posted 21/08/2019 at 01:00:36
Wow, Mike... good one. I wasn't sure anyone still remembered us supposedly signing him.
I remember making up a profile for him but think it's a while since I updated it.
Mike Gaynes
87
Posted 21/08/2019 at 03:49:53
Steve #72, Drenthe did have one absolute cracker of a game -- his first start for us after a half-dozen sub appearances was an away win at Fulham. He had a goal and an assist and was MotM. I remember a lot of us thought we had captured lightning in a bottle. Turned out to be a firefly.
By the way, did you know he's Wijnaldum's cousin?
---
Add Your Comments
In order to post a comment, you need to be logged in as a registered user of the site.
Or Sign up as a ToffeeWeb Member — it's free, takes just a few minutes and will allow you to post your comments on articles and Talking Points submissions across the site.
---
---
© ToffeeWeb