Everton History
Harry Catterick's Centenary
Rob Sawyer (Everton FC Heritage Society)

26/11/2019
12

comments | Jump to last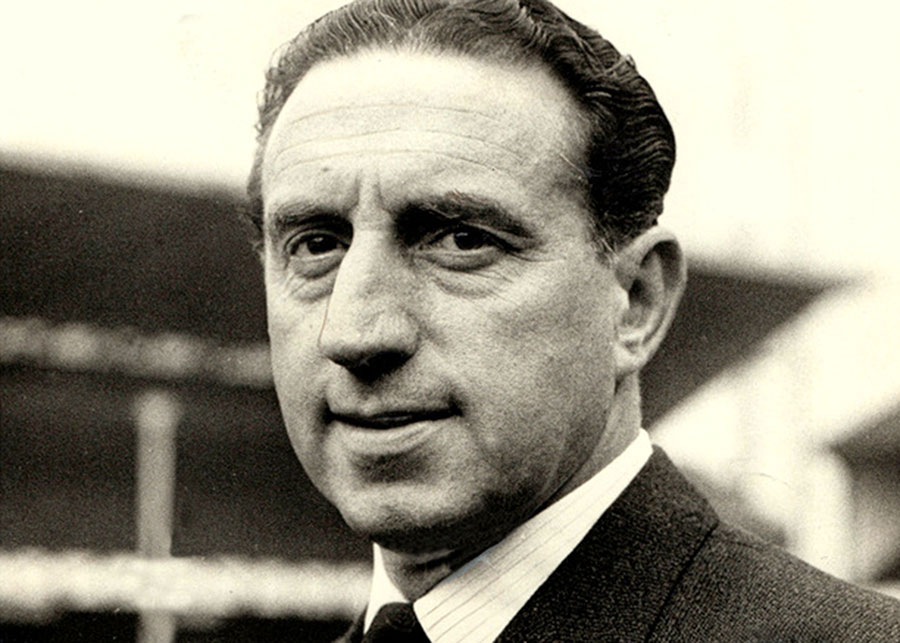 Last Friday, the Everton FC Heritage Society organised and hosted the 'Catterick 100' event to celebrate the life and achievements of Harry Catterick - who would have turned 100 on 26th November. He is remembered and celebrated on the Blue half of Merseyside for his stellar managerial achievements in the 1960s. His trophy haul for the Toffees has been eclipsed only by Howard Kendall.
Attendees at the celebration event, held in the People's Club Lounge at Goodison Park, included members of the Catterick family, Heritage Society members, club officials and supporters. Master of ceremonies, Ken Rogers, led the attendees through Catterick's life in football, aided by action footage (compiled by Crawford Miles) plus contributions from football historians, former Everton players and Lord Grantchester - grandson of Sir John Moores. Colin Harvey, unable to attend, sent a touching message about his former boss to be read out to an appreciative audience. In the article, below, I summarise the life and times of a true Everton Giant.
---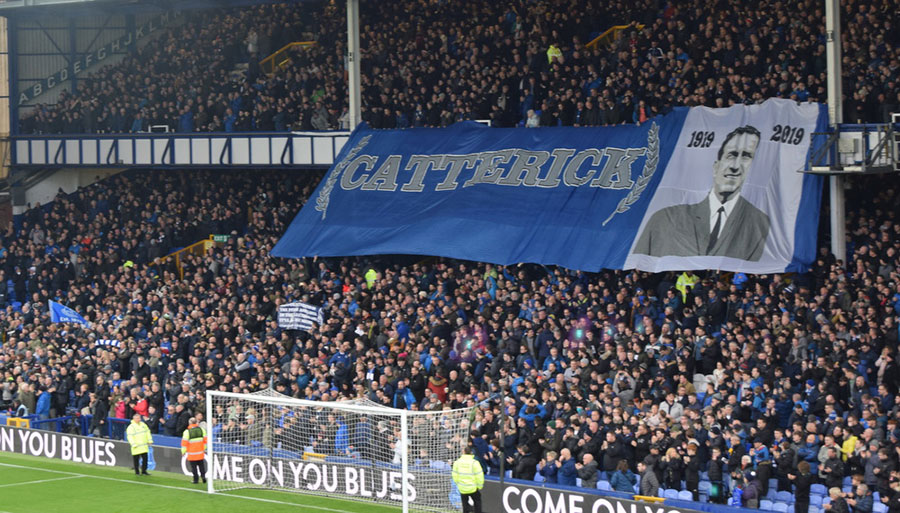 The banner unfurled in the Street End to mark the 100th anniversary of Catterick's birth in November 2019
Like fellow managerial giant Howard Kendall, Catterick was a son of the North East but moved to Cheshire as a child when his father – also called Harry - signed for Stockport County (he had been spotted excelling for the Chilton Colliery team). Catterick Senior's association with The Hatters would span 20 years as a player, coach and manager. His son would observe at close quarters the nuts and bolts of football – and learn.
Charlie Gee - the Everton and England international centre-half - was responsible for a transfer which would define the Toffees' future. Coached as a youngster by Catterick Senior, Gee returned the favour by tipping off his employer to the potential of the seventeen year-old Cheadle Heath Nomads' centre-forward. According to Catterick, Gee 'painted golden pictures of life at Goodison Park' to the family. Part-time professional forms were duly signed with the teenager also continuing his apprenticeship (at his father's insistence) at a marine engine factory.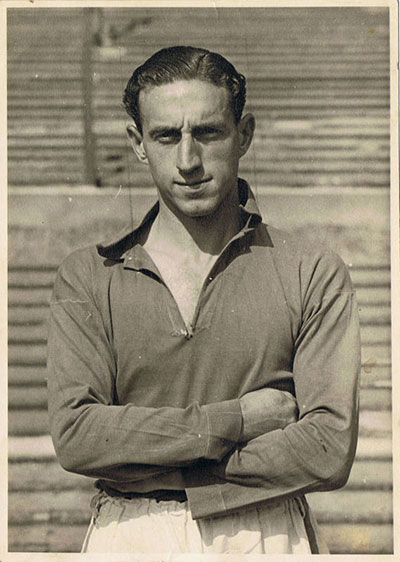 Catterick would train alongside forwards of the calibre of Billy 'Dixie' Dean, Tommy Lawton and Robert 'Bunny' Bell. When asked to compare Dean and Lawton, some years later, he said: 'As an overall player Lawton may have been a bit better, but when it came to heading Deany was the best.' The departure of Dean and the outbreak of war moved the youngster up the pecking order. In wartime matches he'd amass 153 goals in 193 matches for Everton and Stockport (for whom he guested).
When peacetime football competitions resumed, Catterick was installed as the man to spearhead the Blues attack in place of the departed Tommy Lawton. His debut was a 1946 FA Cup defeat to a Preston North End team featuring his future Merseyside managerial rival Bill Shankly. The Football League programme resumed a few months later, but just three matches in, Catterick broke his arm - and did so again soon after recovering. Everton brought in 'Jock Dodds and thereafter it was an uphill task for the Stockport-based man to win back his place. Perhaps his finest moment, a hat-trick against Fulham in October 1950 was missed by manager Cliff Britton as he was absent, scouting another player. Nonetheless Catterick managed to score 24 goals in 71 appearances for the Blues wearing the famous number nine shirt.
For a man who was adept at trading players on as a manager, it's interesting to note that Catterick - the player - stood his ground when Everton tried to transfer him to Nottingham Forest and Stoke City. However, he bowed to the inevitable in late 1951 after Dave Hickson took his place at centre-forward. The veteran took his steps first on the managerial ladder at Crewe Alexandra (as a player-manager). From there he moved to Rochdale and did well enough to earn a tilt at the manager's job at Sheffield Wednesday in 1958. His impact in South Yorkshire was dramatic. The Owls were promoted to the top flight at the first attempt, reached the FA Cup semi-final the following season and then pushed a great Tottenham Hotspur side all the way in the race for the 1960/61 League Championship. However, the relationship between the manager and his directors was strained (with a difference of opinion on whether player recruitment or stadium investment should be prioritised) and rumours swirled of Catterick seeking pastures new.
John Moores, observing from Merseyside, was impressed enough with the Everton old-boy to jettison Johnny Carey and bring Catterick 'home'. The incoming manager had a clear brief from Moores: turn an expensively-assembled but erratic Everton team into title winners – or follow Carey through the exit door. Under this intense pressure from the directorate and success-starved supporters, Catterick set to work on adding steel and discipline to a talented and entertaining side. Dennis Stevens and Gordon West were first through the entry door, the former hastening the departure of terrace idol Bobby Collins - a sign that Harry would not shy away from making bold, unpopular, decisions. Rebellious Roy Vernon was given the responsibility of captaincy as a concerted push for glory was made in the 1962/63 season. During the hiatus caused by the Big Freeze hiatus - with late-season fixture pile-up inevitability - Catterick swooped for wing-half Tony Kay and winger, Alex Scott to bolster the squad for the run-in. His finely-tuned side held off the challenge of Spurs, Burnley and Leicester City to win the title - Vernon's final-day hat-trick against Fulham sealing it in style.
It was the club's misfortune to be pitted against eventual winners Internazionale in the first round of the European Cup. Although the Blues lost narrowly, Catterick demonstrated his willingness to blood youth when he handed 18 year-old Colin Harvey his debut at the San Siro.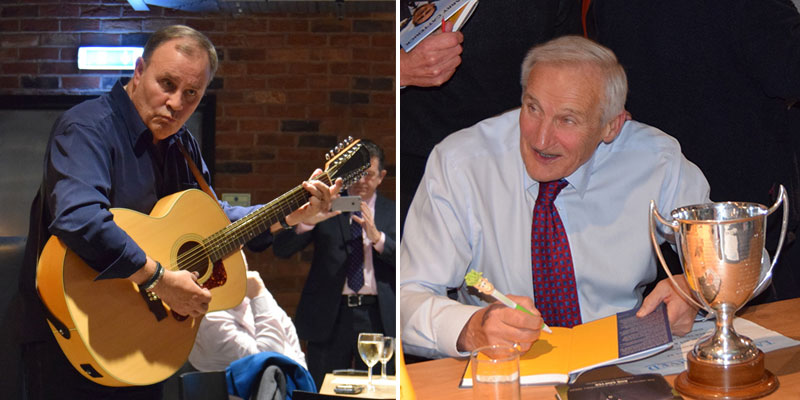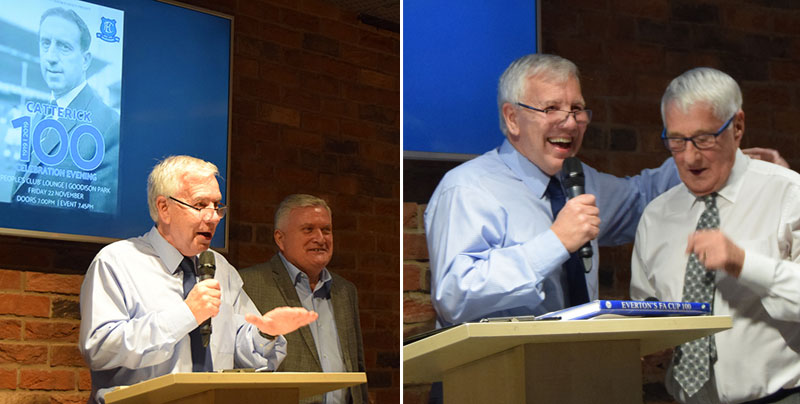 Images from the recent 'Catterick 100' night hosted by Everton FC Heritage Society
Top left: Gerry Murphy gives a rendition of The Ballad of Dixie Dean; Top right: John Hurst, recipient of the Dixie Dean Memorial Award
Bottom: Ken Rogers with Ronny Goodlass (left) and Derek Temple (right)
Whilst the team was in a state of transition from the Championship team to a younger, more home-grown version, it reached the 1966 Cup Final. Catterick made one of the tough choices that marks all great managers when he selected the inexperienced and relatively unknown, Mike Trebilcock ahead of Fred Pickering, the injury-troubled star forward. With Everton trailing by two goals to nil, the Cornishman turned things around with a brace before Derek Temple put the icing on the cake to bring the Cup back to L4. For a man known to be self-contained, Catterick's dash from the touchline at the final whistle to celebrate was a rare public display of raw emotion. His reserved public demeanour was in stark contrast to Liverpool's Bill Shankly and that, alongside a wariness of the media, has served to place him somewhat unfairly in the Scot's shadow. Whereas Shankly seemed to live, breath and sleep football, Catterick would try to escape from the cauldron of elite football management by heading to the golf links - or dining with friends where football talk was strictly off the menu.
Weeks after the Cup Final victory, the Blues' supremo pulled off one of his career-defining transfer coups - beating Leeds United to the capture of World Cup winner Alan Ball from Blackpool (fellow world-class England international, Ray Wilson, had arrived in 1964). The red-haired dynamo would be joined by Preston's Howard Kendall six months later to complete - with Colin Harvey - the so-called midfield Holy Trinity. Of their developing, near-telepathic, on-pitch relationship he said: 'This was something we worked on particularly in the indoor area (at Bellefield) with three and five a-sides with the ball going at lightning speeds. I saw games in there that were, to me, unbelievable. They weren't very big physically, so they had to be quick and skilful to get by - and by God they were!'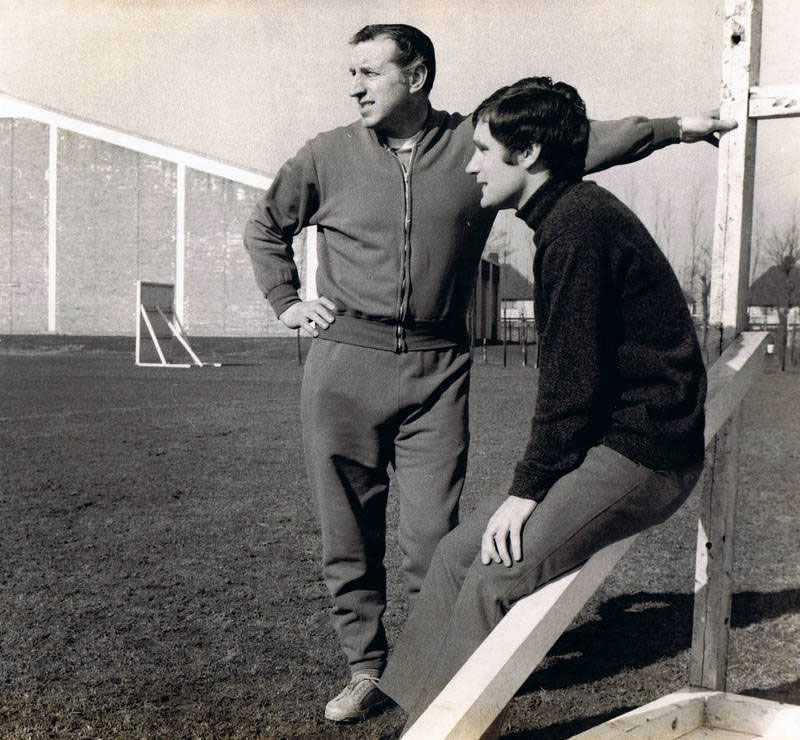 Harry Catterick and Colin Harvey at Bellefield, circa 1969
Although Catterick had a reputation for cloak and dagger big-money buys, it should not be overlooked that he had operated successfully on a shoestring at his previous clubs. Even at Sheffield Wednesday he had made just one signing as he galvanized the players. At Everton he developed a blueprint to blend a team of players coming up through the ranks with a sprinkling of star buys. To that end, he had Bellefield redeveloped into a state-of-the-art training centre where his plans could be put into practice.
Typically leaving the supervision of players' training to Tom Eggleston, Gordon Watson and, subsequently, Wilf Dixon, Catterick occupied a role more akin to the modern-day Director of Football - setting the direction of the club, devising team tactics and overseeing transfer activity. His authoritarian - sometimes remote - style did not always garner goodwill among some players. For him, this was the price to be paid for achieving results on the field. When interviewed by the BBC in 1968, he explained: 'I'm not a popular fellow because I have always felt that if a decision has to be made, I mustn't consider whether it's going to be a popular one or not. The fellow who looks for popularity has something wrong (with him).' His relationship with fans' favourite, Alex Young, could be a strained one. Young's abundant skill and grace - and goals in 1962/63 - were not enough to overcome Catterick's belief that a more robust foil for Roy Vernon was required (as evidenced by the arrival of Fred Pickering in 1964 – although Young remained at the club for another four years).
When asked in 1978, after stepping down from management, if he had been too hard on his players, he stood by his approach: 'I've always set very simple principles about people who earn wages - they should work hard to get them. I think Johnny Carey was a bit easy on discipline and one or two players, who were outstanding in terms of ability, had run a little wild. It was one of my jobs to straighten them up, which didn't make me very popular. Any player playing badly but working hard was never in trouble in with me. The player I didn't like was the fellow who wanted to play about at night and still wasn't doing his stuff on Saturdays. That fellow I wouldn't tolerate - and he would "catch it" from me.'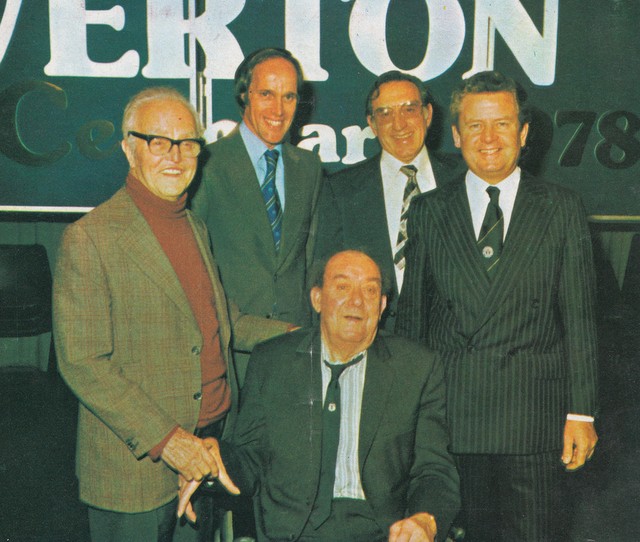 John Moores, Gordon Lee, Dixie Dean, Harry Catterick and Philip Carter at a 1978 event
By the late 1960s, the vision of producing an entertaining team based on a fluid 4-3-3 formation was coming to fruition. No less than six players developed through the club's youth system were regulars in the starting eleven. Ball and Kendall and Colin Harvey may have grabbed the headlines but the manager had crafted a well-balanced side, considered by football purists to be one of the finest seen on English soil. A bullish Catterick stated in 1969: 'Let's have this skilful football. If, in producing this highly-skilled stuff, we win a championship, we'll be delighted. We're not going to run away from skilful football for heavy grounds - or anything else.' These words were vindicated when the challenge of great rivals Leeds was seen off as the Blues surged to a seventh League title - sealed on April Fools' Day, 1970 with goals from Alan Whittle and Colin Harvey. Harvey would look back fondly on that Championship win, and his manager, when interviewed in 1977:
'I still think about the sheer enjoyment of playing in such a side as the 1969-70 Championship team...Of all the people who impressed me in the game, none did more so than Harry Catterick. I admired his attitude; he always wanted to play what he considered to be the right way. He tried to impress on the players that he wanted to win, but to win properly.'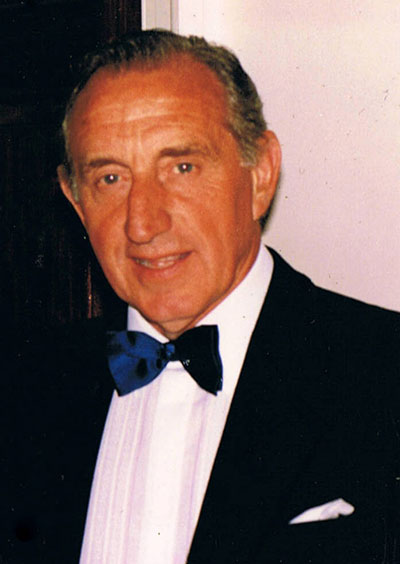 Harry Catterick later in life
Then, seemingly inexplicably, things imploded. Fatigued players and injuries to the likes of Brian Labone, John Morrissey and Joe Royle coincided with the loss of the manager's Midas touch in the transfer market. The surprise sale of Alan Ball in December 1971 – a roll of the dice - proved ill-judged. Under enormous strain, the man in the hot seat suffered a major heart attack early in 1972. Returning to his duties prematurely, he could not arrest the Blues' slide. In April 1973 John Moores called time on the Catterick era. A period in a scouting role at Everton was followed by two seasons as Preston manager and a subsequent scouting position for Laurie McMenemy's Southampton. He remained a regular visitor to Goodison and his great affection for the Toffees was undimmed.
In his near life-long association with Everton, Harry Catterick adhered to the club's motto - for him nothing less than the best would do. No rival manager could equal his points accumulated in the top flight in the 1960s. He set a benchmark for others to follow - including his former players Billy Bingham, Joe Royle, Colin Harvey and Howard Kendall. He enjoyed watching the club's resurgence under the latter and was in the Main Stand when Everton met Ipswich Town in the FA Cup in March 1985. As the final whistle approached, the 65 year-old suffered a fatal heart-attack - like Dixie Dean five years before him. Later that year, a memorial service was held in his honour at St Luke's Church - a fitting tribute to one of the most influential and successful figures in the history of our great club.
Rob Sawyer is the author of Harry Catterick: The Untold Story of a Football Great (published by de Coubertin Books)
A version of this article appeared in the Everton matchday programme on 23rd November 2019

Follow @evertonheritage
Share article:
Reader Comments (12)
Note: the following content is not moderated or vetted by the site owners at the time of submission. Comments are the responsibility of the poster. Disclaimer
Derek Thomas
1
Posted 26/11/2019 at 08:56:33
If only we had somebody half as good now either in the hot seat or coming in. Things would be looking a lot better.
Dave Abrahams
2
Posted 26/11/2019 at 12:33:38
Due to unforeseen circumstances I couldn't make it to Harry's centenary, Imwould have loved to hear and enjoy football people who knew and worked alongside Harry and tell how he operated.
Harry Catterick, to me, was by far the best manager Everton ever had, he operated the way that was best for the club, his own man, and if it didn't please some people, tough luck, as he said he didn't look to please people, had no favourites, just did the job he was paid to do, in his own way, it worked for me as an Everton fan and I'm thousands of other Everton supporters.
It always irked me, and still does that people had the egotistic Liverpool manager as a better manager than Harry, no way, Harry was every bit as good, better to me, than the Liverpool manager, who was too much in love with himself for my liking, obviously my Everton bias coming into play there, but give me common sense and a quiet manner over showing off and looking for the limelight any day.
Thanks for the great times and wonderful football Harry, you'll always be remembered by me and thousands of other Everton when we talk of the great Everton teams. So sorry I missed your memorial night.
Peter Mills
3
Posted 26/11/2019 at 13:38:18
Dave, I am hoping to put up an article or comment that will give you a flavour of the evening.
Dave Abrahams
4
Posted 26/11/2019 at 14:05:53
Peter (3)thanks Peter, I'd appreciate that, hope you had a good night, sorry I couldn't make, thanks for the book, I will sort you out in the near future, thank you.
Steve Carse
5
Posted 26/11/2019 at 18:55:15
Dave (2), I suspect Bill Nicholson at Spurs would also have been miffed at the Press adulation for Shankly.
Everton have of course always gone for the quiet, reserved manager, and Catterick was always that. So of course is our present manager -- unfortunately he lacks all of Catterick's tactical and organisational skills!
Ken Kneale
6
Posted 26/11/2019 at 22:09:03
Peter that would be welcomed. Those of us where Everton entered our lives during the Catterick era remember with great affection a man, who as outlined was very much his own person but as Howard Kendall pointed out, "his love of Everton and his dedication to the cause was unquestionable". Those of us lucky enough to have witnessed his brand of football at its best have never seen finer. Sadly overlooked by the media through his demeanour and character, but a fine manager and undoubtedly one of us. Oh for an appointment like him now.
Len Hawkins
7
Posted 26/11/2019 at 22:58:48
Yes a great manager and a great eye for a player, the 69-70 team was sublime to watch. The only downside of the Catt was selling Alan Ball.
I had tears in my eyes when I heard he'd been sold to Arsenal. It was like losing a family member. I had a feeling in my gut like I'd swallowed a cannonball.
Peter Mills
8
Posted 27/11/2019 at 07:33:51
I spent a very enjoyable few hours at Goodison at the weekend. I also went to the match.
The pleasurable part was attending a function in The People's Lounge on Friday evening to commemorate the hundredth anniversary of the birth of Harry Catterick. The event was put together by the Everton Heritage Society, entry included being given a book on Harry, written by Rob Sawyer, published by James Corbett's deCoubertin Books. I had a word with Rob just after I got in, he said what a pleasure it had been to talk to Jimmy Dunn's son for the article published recently on TW.
Members of the Catterick family were present, including daughter Joyce, they were very well received and serenaded with "The Ballad of Dixie Dean". There were also good cameos from Ian Snodin, Ronnie Goodlass and Terry Darracott. Terry was one of a few speakers to comment on the fact that Harry spoke very little to the players, to the extent that when he was brought into the squad as a 17 year-old to possibly make his debut due to injuries to Ray Wilson and Sandy Brown, he had no idea whether he was going to play or not, much to the irritation of his Mum. Eventually, he was sent home earlier than usual on the Thursday afternoon, avoiding the usual boot cleaning and sweeping up. He was waiting at the bus-stop to go home to Huyton when a purple Ford Capri pulled up. It was Bill Shankly. "Son, are you playing on Saturday?". "I've no idea, Mr Shankly". "Son, you're going home at one o'clock, I'm telling you, you're playing". When he got home his Mum asked "Are you playing?". "Yes, Mum". "How do you know?". "Mr Shankly told me"!
The host for the evening was Ken Rogers, former Everton correspondent for The Echo. He had a wealth of stories, including the emotional tale of seeing Harry collapse after the FA Cup tie with Ipswich. He explained how he knew the leader of medical team who attended to him, he could see them 20 yards away from where he was phoning in his match report, working on Mr Catterick, and he eventually received a "thumbs up". He was dictating his report that things were looking good, when he suddenly received a "thumbs down". A tragic day for the family, and our club.
Ken introduced Gavin Buckland and Rob, who both wrote books about Harry. He also welcomed Lord Grantchester, grandson of Sir John Moores, and there was discussion about the nature of the working relationship between Moores and Catterick. Tellingly, they told of a question raised by a journalist to Moores upon Harry's appointment – "You have dismissed Johnny Carey, who finished 4th. What will happen if Catterick's team finish 4th". Moores answered quite simply "He will be replaced".
There was film of the 1966 FA Cup final, and Derek Temple was introduced to huge applause. Typically, he said "People say I scored the winning goal. I don't look at it that way, I simply scored the third goal. Without Treb's two goals, mine would have meant nothing". I had a brief word with Derek, and asked him whether he got fed-up with such evenings? "No" he replied, "these things are important. And let me tell you – Evertonians never forget".
The highlight of the evening followed Dave Prentice asking his wife Melanie, grand-daughter of William Ralph Dean, to present the Dixie Team Memorial Trophy for Sportsmanship and Respect. It went to John Hurst, who was correctly labelled "an impeccable role model of class and consistency".
John said he was not such great player – he "couldn't hack it in his first position up front, nor when he was moved back to midfield, but was then given the easiest job in football playing alongside Brian Labone, who did all the tackling and heading, leaving him just to pick up the loose ball and pass it to someone". Over 400 games for Everton, bettered by only 16 players in the club's history, suggest he had a bit more to his game than that. He was a tremendous centre back.
For me, seeing John brought back childhood memories. As a 9 year-old, watching him crash home a penalty off the underside of the crossbar to clinch the Youth Cup Final in 1965. As a 13 year-old, I was standing in the Scoreboard End at Old Trafford as he put a 20 yard screamer into the Stretford End. That wasn't a bad start to the 69-70 Championship season, first two games both away, at Arsenal and Man Utd. Played 2, won 2, goals for 3, goals against 0, points 4, leading scorer John Hurst [2].
Talk inevitably moved on to Catterick's second great team, that Title winning team of 69-70. Of how Catterick pinched Alan Ball from under the noses of Liverpool and Leeds Utd, despite Don Revie having had surreptitious meetings beforehand with Bally, readies in hand. And how Harry did the same when he signed Howard Kendall, when he was already pencilled in to Liverpool's team the following Saturday. Ken referred to the debates that have taken place about who is Everton's greatest ever manager, correctly saying that it's purely a matter of conjecture and opinion, but that we should always remember that it was Harry Catterick who first brought Howard Kendall to Everton.
After the Southampton game a couple of weeks ago, I asked an old pal whether he fancied attending the event. He replied "I don't think so, I don't want to wallow in nostalgia". That's a perfectly valid view, one I understand. But I thoroughly enjoyed the evening, and it reinforced to me that it's not simply nostalgia, it was a reminder of the standards to which our Club must aspire. I have seen it written that we are not a "big club". Damn right we are, and it's time we started to show it again.
Dick Fearon
9
Posted 27/11/2019 at 09:36:49
Though I was peeved when Johnnie Carey was sacked I admired Harry Catterick.
Win lose or draw under Carey I would be left with the feeling that I had just witnessed what later became known as a 'beautiful game.'
With Harry it was more a joyless case of just getting the job done.
Speaking as a forever Blue I disagree with critcism of Bill Shankly.
If ever a manager had his finger on the pulse of what his players supporters and Fans wanted that person was Bill.
Ken Kneale
10
Posted 27/11/2019 at 10:47:50
Hi Peter, what a lovely article - thanks for that. I agree with you about the nostalgia - its all many of us have given the paucity of the offerings of late but it does also remind me of what we should be doing now and to forget the past is to forgo what should be our future also in my view. I have Rob's book on Harry - it is a truly excellent read and again, nostalgia on my youth and I have dropped sufficient hints that I want the Gavin Buckland latest for the Christmas stocking. One thing that bears repeating is the modesty of players such as John Hurst - as you outline a very classy footballing defender, despite playing alongside a colossus for Everton it has to be said - John was a very fine player himself in a very fine team. I loved the bit about Mr John's response to the journalist. I wished I had been able to get over from the IOM for the event but work commitments precluded me.
Dave Abrahams
11
Posted 27/11/2019 at 11:24:33
Glad you enjoyed the evening Peter, I don't think it is just nostalgia but part of Everton's great history and for me it would have been lovely to listen to Derek Temple and John Hurst recall their part in it, especially with the nothing feigned but genuine modesty in the way they played. I've spoken to them, briefly in the past, and been surprised how they reacted to being recognised and of how how little they made of their career, especially Derek, with his, prompted, memory of the 1966 winner, although I doubted if he ever got fed up with being reminded of it.
On to John Moores, what a leader he was, with his eye on the ball and no time for failure, what he'd make of the present set up wouldn't be hard to fantham.
It sounded like a great night Peter, thanks for your report on it, hope we witness some more great nights at Goodison in the near future, on the field, we certainly need them.
Andrew James
12
Posted 28/11/2019 at 00:53:04
Dave Abrahams
Agreed.
I was born in 78 so can only go on trophies and rare footage.
But it has always bothered me that Revie et al get way more credit than Harry. I looked at the trophy hauls and league finishes of Busby, Shankly, Revie, Nicholson and Catterick recently. He was right up there, especially as he won two league titles so far apart.
He never gets a mention in the wider press. To put things in perspective, Revie won the same amount of trophies plus one League Cup yet we hear a heck of a lot more about him.
Shankly didn't win all that much more but, if you listened to RS and the media, you'd think he won the Double and European Cup on a regular basis.
Funny how propaganda overshadows facts...
---
Add Your Comments
In order to post a comment, you need to be logged in as a registered user of the site.
Or Sign up as a ToffeeWeb Member — it's free, takes just a few minutes and will allow you to post your comments on articles and Talking Points submissions across the site.
---
© ToffeeWeb