Report
A second Calvert-Lewin hat-trick seals Blues win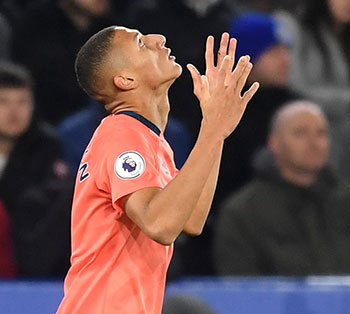 Richarlison is included again as Carlo Ancelotti goes for a number of his first-team regulars against Premier League opposition
Everton 4 - 1 West Ham Utd
Everton's Carabao Cup journey continues with their most difficult assignment in the competition thus far in 2020-21 as West Ham United come to Goodison Park.
Kenny and Nkounkou start in a strong line-up that includes Allan and Rodriguez. Anthony Gordon misses out completely tonight because of illness. No place in the squad for Moise Kean and Theo Walcott.
The game got underway after the team names were read out in an eerily empty and ghostly silent Goodson Park that we should be used to by now, but remains such a strange sign of the times.
The Blues soon started to move the ball around with confidence, looking to draw the Hammers out and create a break but Calvert-Lewin gave the ball away very cheaply and it set up the first West Ham break. Four times in the first 5 minutes they played it back to Pickford in order to retain possession.
The visitors got a brief look-in but they could only build slowly down the left this time. Everton continued to pass the ball around without getting close to threatening the Park End goal.
Anderson got the first shot off and Pickford had to dive to smother it. James tried to open things up with a fine pass out to Kenny but his cross hit a defender. But Keane dug a lovely lob forward out of nothing, Calvert-Lewin taking it brilliantly on his toe before delicately chipping it beyond the keeper and into the net for a very fine first goal.
A loose pass by Delph set up another Hammers attack but Everton seemed to be defending well until Keane bundled over Creswell as the ball hit the Hammer's hand... He gave Everton the free-kick. Everton were given another free-kick in a more advanced position but James delivered it too far ahead, straight to Randolph.
Nkounkou had hardly been involved, Everton strangely reluctant to bring him into game with nothing going down that side. A lovely turn of play by Allan set Richarlison off and Randolph was just able to push the unorthodox shot, made under pressure, up and over the bar, with nothing coming from the corner.
Rodriguez set up a wonderful pass for Richarlison to convert for his second, squirming under Randolph and across the line but the linesman had cannily spotted that Richarlison had ventured barely a foot offside.
At the other end, Creswell was able to cross but Haller missed a tasty-looking diving header. The Blues laboured a little, their slick passing game seeing them again only able to work it back to Pickford.
Yarmolenko created an amazing chance for Lannzini but it proved too difficult for him to connect with. James then went on a tantalizing mazy diagonal run that promised much, ending in a corner that Delph could only push well wide.
Out of a defensive position, James looked up and played in a perfect ball for Calvert-Lewin to chase down the left. The Yorkshireman did everything right, cutting in and getting it onto his right foot for a less-than-brilliant curling shot that should really have hit the top corner of the net... but flew agonizingly over. Still it may count as a rare properly struck shot from him outside the area!
West Ham still looked to present some danger when they came forward, but Pickford was yet to be really tested. Kenny hurt his ankle in one of their attacks, awkwardly blocking a cross, and Coleman replaced him.
Everton made heavy weather of things then, and Lanzini could easily have scored an equalizer with a simple reader that bounced wide.
Twinkling feet from Rodriguez got him into the area, laying the ball off for Richarlison, but his weak cross/shot was easy for Randolph to gather. The half finished with a difficult chance for Rodriguez that he fired high and wide across the goal.
West Ham drove forward smartly from the kickoff and Snodgrass fired home a very well hit strike to beat Pickford all hands down after just 26 seconds of the restart.
Everton tried to respond, mounting a series of pressing attacks, with Richarlison striking the post from a narrow angle, but West Ham resisted the pressure resolutely, Calvert-Lewin shooting again from the 18-yard line, but wildly and uncontrolled.
Everton continued to build nicely and they finally got the reward after Richarlison cut in and his shot took a sharp deflection to the left off the arse of Declan Rice, leaving Randolph well stranded going the other way.
Richarlison twisted his ankle badly off the ball and needed attention, but he came back on before the hour mark, with Ancelotti no doubt determined to keep a strong attacking force on the field. But the Brazilian broke down again and was finally removed from the action, with Iwobi replacing him.
West Ham kept pushing and pressing, Yarmealenko almost setting up Lanzini for a strike on goal. Rodriguez tried to release Iwobi down the left but his pass was unusually too far ahead of the ex-Arsenal man.
Allan was worringly the next to hit the turf, clutching at his groin. He was clearly in some distress, replaced by Doucouré on 69 minutes. Rodriquez, Iwobi and Sigurdsson did well in a nice move down the left until the Icelander played it across to no-one and it was all hands to the pumps at the other end as West Ham searched ever harder for another equalizer.
A wonderful chance for Haller saw him execute a difficult acrobatic shot that Pickford was more than equal to, but the pressure was now relentless, the soft underbelly of old Everton only saved by some fine interceptions and good forward running by Doucouré.
But Calvert-Lewin would very fortunately benefit when Iwobi's shot came back off the post and it fell nicely for him to convert his second of the night, 7th of the season.
More brilliant work by Rodriguez allowed Sigurdsson to drive forward and play in Calvert-Lewin who finished much more clinically for his hat-trick, and Everton's fourth goal of the night, a huge relief after Moyes's plucky little Hammers had put the frighteners on the Blues at times.
West Ham still weren't finished despite the scoreline, Lanzini on the end of a cross but he couldn't keep his header down. Yarmolenko was next to threaten with a lob over Pickford but he had not beaten the offside flag. A tricky corner then almost crept through, followed by another that Pickford had to punch sky-high. The Blues thus played out the final minutes mostly in defence, but to secure a vital place in the Quarterfinals.
Scorers: Calvert-Lewin (11', 78', 84'), Richarlison 56'; Snodgrass (46')

Everton: Pickford, Kenny (41' Coleman), Keane, Digne, Nkounkou, Delph, Sigurdsson, Allan, Rodriguez, Richarlison, Calvert-Lewin.
Subs: Lössl, Mina, (' Doucouré) Davies, Bernard (' Iwobi).
West Ham United: Randolph, Balbuena, Johnson, Rice, Noble, Cresswell, Snodgrass, Lanzini, Anderson, Yarmolenko, Haller.
Subs: Trott, Ogbonna, Masuaku, Ashby, Soucek, Bowen, Fornals.
---
Reader Comments (236)
Note: the following content is not moderated or vetted by the site owners at the time of submission. Comments are the responsibility of the poster. Disclaimer
Ian Jones
1
Posted 30/09/2020 at 18:50:53
Interesting team. Seems Carlo is taking it seriously.
Rob Hooton
2
Posted 30/09/2020 at 18:51:35
Shows that I know nothing, Digne starting at CB! Very strong team, hopefully batter them first half and be able to make some changes at half time or at the hour mark. COYB!!
Derek Knox
3
Posted 30/09/2020 at 18:51:53
Think it will be the Live Forum for me tonight, tried Jay's link and there'' s nothing wrong with the link it's just I tried it on the Newport/Newcastle game and it just kept 'trying to connect' without ever doing so.
Unless any more good links come in, it'll be that.
COYB
Danny O'Neill
4
Posted 30/09/2020 at 18:51:59
Main article just switched to live forum? Clearly starting to take it more serious looking at the inclusion of Allan & Rodriguez along with Richarlison & Calvert-Lewin.
Ajay Gopal
5
Posted 30/09/2020 at 18:52:40
Team for tonight:
Pickford
Kenny Keane Digne Nkounkou
James Allan Delph Siggy
DCL Richarlison
Subs: Lossl, Mina, Coleman, Davies, Doucoure, Bernard, Iwobi
No Kean and Gordon on the bench!
Michael Kenrick
6
Posted 30/09/2020 at 18:53:20
The game kicks off at 7.45pm and fans in the UK can purchase a £10 match pass to watch the game live on the Carabao Cup streaming platform.
Rob Hooton
7
Posted 30/09/2020 at 18:53:36
Derek, many links don't work until close to kick off so keep trying in a bit mate
Paul Lye
8
Posted 30/09/2020 at 18:55:07
Try a website called hesgoal. Currently showing Newport vs barcodes. Very good coverage
Brian Williams
9
Posted 30/09/2020 at 18:56:29
Walcott not in the squad again. Very telling that, IMO. Is he on his way?
Bill Gall
10
Posted 30/09/2020 at 18:56:36
Looking forward for this game wonder if West Ham will field a strong team or rest players for the weekend
Dave Williams
11
Posted 30/09/2020 at 18:56:51
Ajay- Kean absence very strange as no striker on the bench! Wonder if he is on his way?
Can't understand no Gordon- hope he doesn't get disillusioned
Martin Nicholls
12
Posted 30/09/2020 at 18:57:03
I think game is on ESPN in USA - you can access this here in UK through the Mobdro app.
Kieran Kinsella
13
Posted 30/09/2020 at 18:57:27
The bench looks more designed to shut up shop than to seek a winner. Hopefully it works out that way
Fran Mitchell
14
Posted 30/09/2020 at 18:58:13
Very strange that Gordon once again is left out. He's been excellent in his 2 performances this season, but has been sidelined somewhat. I wonder what Carlo's long-term plans are - waiting for sales of Iwobi and others? Loan for Gordon?
I know i'd rather see Gordon to any of Bernard, Davies, or Iwobi.
Surprised to see James play.
Kean has clearly not impressed, and hopefully we can get a move for him and have time to get a 3rd striker in - Edouard from Celtic or Maxi from Valencia would be great.
Bill Gienapp
15
Posted 30/09/2020 at 18:58:55
Brian (9) - more likely he's just sunk to the bottom of the pecking order. But if someone wanted to take him off our hands, so much the better.
Derek Knox
16
Posted 30/09/2020 at 18:59:28
Cheers Rob, but Newcastle was in progress and I thought if I can get that I will get our game. Not to be mixture of poor Wi-fi and just a Tablet.
Kieran Kinsella
17
Posted 30/09/2020 at 18:59:35
Dave Williams
Explaining their absence in the traditional ToffeeWeb way "It's probably something they said to Moyes and Round in training."
Tony Everan
18
Posted 30/09/2020 at 19:00:14
Ajay, Gordon (if fully fit) will be devastated, unless Carlo has told him he is going to be involved in Saturdays game.
Maybe an indication that Kean is off soon.
Walcott is not in Carlo's plans , it couldn't be more clear, he will struggle to make the match day squad . If he wants to play football he will have to get his agent to engineer a move for himself.
It is a strong team selection, it will surprise West Ham and I like it that Carlo is showing some intent and that he is taking this very seriously. I am expecting a strong performance from us.
Brent Stephens
19
Posted 30/09/2020 at 19:03:01
I'd be surprised if Gordon is being considered for the weekend game without really figuring in any recent games.
Robert Tressell
20
Posted 30/09/2020 at 19:04:19
Super strong line up - totally weird bench.
Bill Gienapp
21
Posted 30/09/2020 at 19:07:30
Looks like a standard Cup side for West Ham. Antonio not involved and Bowen, Fornals and Soucek all on the bench. You'd think Haller, Lanzini, Anderson and Yarmolenko would be part of their core, but they've pretty much all been on the bench in their league matches thus far.
Tony Everan
22
Posted 30/09/2020 at 19:08:25
Gordon is ill, so we can stop the speculation.
Rob Hooton
23
Posted 30/09/2020 at 19:09:44
Agreed Robert, the bench looks designed to give the midfield a rest should all go to plan. Am also bemused at no Gordon but could be plenty of reasons for absence (apparently about 200 unnamed people involved in Prem are Isolating due to positive Covid tests and could even be that?)
Rob Hooton
24
Posted 30/09/2020 at 19:10:52
Thanks Tony, hope he is well soon as many of us would love to see more of him.
Kieran Kinsella
25
Posted 30/09/2020 at 19:12:39
Glad Soucek is benched as he is like the WHU Tim Cahill
Jay Wood
[BRZ]
26
Posted 30/09/2020 at 19:15:54
Impressive starting XI.
The talking point is who doesn't make the match day squad. Kean, Gordon and Walcott all absent.
Derek, wifi and tablet allowing, the VIP site typically only starts broadcasting very close to KO time.
Hope it comes through for you.
Brian Wilkinson
27
Posted 30/09/2020 at 19:16:58
Liking that team, about time we gave this company a bit more serious thought, no excuses tonight with that starting 11 and bench.
Will Mabon
28
Posted 30/09/2020 at 19:21:11
Newcastle playing with fire - just equalized at Newport, 87th minute. No easy games!
Will Mabon
29
Posted 30/09/2020 at 19:28:21
Things may look different in front of the defence with Delph and Sigurdsson, no Doucouré. Depending on line-up, Allan may have a tiring evening. I know there's the bench, but Delph must be showing a level of fitness to start? It's certainly a change in the middle.
John McFarlane Snr
30
Posted 30/09/2020 at 19:32:37
Hi Will [28] I answered your question on the original thread which unfortunately has been removed, the answer is yes, I am continuing my boycott of live TV games. I am sorry that this post is somewhat brief, maybe I'll be able to go into more detail later. I am listening to Radio Merseyside at the moment.
Dave Williams
31
Posted 30/09/2020 at 19:33:48
I'm pleased Gordon is ill!!! ( no offence intended)
Nathan Ford
32
Posted 30/09/2020 at 19:36:10
I've got a link on an app called Navscore watch plenty of matches on there and it always works perfectly
Will Mabon
33
Posted 30/09/2020 at 19:39:45
OK John - happy listening.
David Garner
34
Posted 30/09/2020 at 19:42:14
For a link try vipleague.lc
Then click on football and look for Everton. Quite a few links there.
Jay Wood
[BRZ]
35
Posted 30/09/2020 at 19:42:43
Derek (and others).
Stream now up and running a treat here:
Kieran Kinsella
36
Posted 30/09/2020 at 19:43:16
Nathan Ford
Thanks for the tip. Looks much better than other sites on my phone
Jason Li
37
Posted 30/09/2020 at 19:45:06
Hmm, Doucoure extra box-to-box in second half replacing Allan if still even, as WH get tired after 70 mins?
Otherwise, compact 2nd half if winning.
Christy Ring
38
Posted 30/09/2020 at 19:57:02
No Kean or Wallcott in the squad, the window closing shortly, I wonder is there any connection?
Ernie Baywood
39
Posted 30/09/2020 at 19:57:27
DCL has just scored a goal that should be replayed over and over and over.
Wow. Messi kind of stuff there.
Not too shabby from Keane either.
Larry O'Hara
40
Posted 30/09/2020 at 20:17:35
Afraid to say I just downloaded the VPN App to watch and my screen filled with bogus BT spam. I will delete and avoid
Jay Wood
[BRZ]
41
Posted 30/09/2020 at 20:40:07
The way we played in the opening 30 minutes we should be out of sight and the game done and dusted.
We are so slick on the ball these days. If anyone has been wasteful on the ball, it's James! His radar just a wee bit off.
Who was about to give some grief to Michael Keane for his 360 degree turn on the ball, heavily under pressure, only to supremely turn away from his man and deliver a sumptious ball forward to DCL?
The #9 still had a bit to do, but his one touch to bring the ball down and second touch to finish was that of a man in form.
Nasty ankle turn for JJK. Hope he is OK.
One goal is never enough. Let's put this to bed early in the 2nd half.
Justin Doone
42
Posted 30/09/2020 at 20:59:27
I think Kenny has done his ankle ligaments and thats 6 weeks out injured.
A defender has become very much a priority now, I hope we go and get a top quality first team starter not a reserve backup player thar lowers the quality.
Not Sidibe, not good enough.

Alex Gray
43
Posted 30/09/2020 at 21:56:30
Great result and performance. Hoping the injuries arent as bad as they look. Allan and richy are huge loses for us.
Brian Williams
44
Posted 30/09/2020 at 22:01:23
Allan out for six weeks seemingly. Just hope Richi is a lot less.
Simon Dalzell
45
Posted 30/09/2020 at 22:03:57
Great.performance. Got stronger and stronger. Young Dom. has proved me WRONG. Injuries just taken the edge off a bit. Allan looks like it could be several weeks out..My optimism was tempered a little after Palace, but the way we played tonight, especially the last half hour, fills me with a good deal of hope.
Phil Greenough
46
Posted 30/09/2020 at 22:05:00
Stop it lads. Let's just see what the EXPERTS tell us what injuries our players have sustained. Armchair doctors making dianoses and stating how long they'll be out for. What good does it do, besides pissing on our own chips?
Martin Reppion
47
Posted 30/09/2020 at 22:05:39
Criticise that.
Injuries can happen anytime.
But a very good win.
Tony Hill
48
Posted 30/09/2020 at 22:06:19
Delph was excellent tonight and it should be acknowledged.
What was most pleasing was that the injuries didn't disrupt us mentally and indeed we maintained our crisp attacking system into which the subs slotted.
Let's carry on being different.
Danny Baily
49
Posted 30/09/2020 at 22:07:11
Great result. Let's win this cup.
It's a big squad, we have plenty of options for Saturday.
Mike Allison
50
Posted 30/09/2020 at 22:08:59
Championship at best.
This is why we get so annoyed at the 'fans' who come on the internet slagging off our own young players.
Championship at best.
Christy Ring
51
Posted 30/09/2020 at 22:09:36
Great result, hopefully not a cost, injuries looked serious to Allan and Richarlison. I hope the intrenational break, will give them time to recover, we need them, especially against the redshite. It's easy say now, but wouldn't have started Allan, when Delph was fit.
Kieran Kinsella
52
Posted 30/09/2020 at 22:10:40
If and when we make Europe they'll be playing midweek. I don't think it was outrageously risky to have them do so tonight. Stuff happens. That said great win.
Stephen Brown
53
Posted 30/09/2020 at 22:12:28
Allan and Richy - hope they are not serious injuries! We can get through Brighton and hopefully they can recover over 2 weeks!
Delph, Siggy has good games and Keane is turning into a very impressive centre half.
Well done DCL. When was last everton striker to score successive hat tricks?
Graham Mockford
54
Posted 30/09/2020 at 22:12:46
Amazing what being surrounded by top class players can do. I thought both Siggy and Delph who struggled massively last season put in good performances. Both have roles in this squad.
Shame about Richie he was absolutely sensational until he got injured. For me despite the delights of James, the goals of DCL and the competitiveness of Allan and Doucoure he's been the standout player for me this season. The lad is an outstanding talent.
John Pickles
55
Posted 30/09/2020 at 22:13:02
Injuries to key players, looks like back to the reality of supporting the Blues. Man City or The Dark Side, away, in the draw tomorrow should be about right.
Ciarán McGlone
56
Posted 30/09/2020 at 22:13:12
Another high scoring win, but I thought the scoreline flattered us.. while it was 2-1 they upped their game..
A lot of midfield sloppiness from us but it would be churlish to labour any complaints.
Hope the injuries arent too bad..bit of ice on that groin and ankle... be grand.
Next.
Paul McCoy
57
Posted 30/09/2020 at 22:14:20
Excellent performance tonight. Really hope Allan and Richy aren't out too long, Kenny as well (although realistically he's not going to be missed as much). Despite the injuries, I think Carlo did the right thing in putting out a strong team. He's taking the cup seriously and now we're through to the QFs.
Feels weird watching an Everton side that don't crumble when the opposition score. If anything it seems to make us play better.
Tony Abrahams
58
Posted 30/09/2020 at 22:14:56
Where have you heard that Brian? It looked bad initially, but then he walked around the pitch okay, so hopefully his snapping gesture, was more about a knock then a bit of fatigue. I hope so anyway.
Jonjoe was playing well and Anderson didn't look like he fancied it against him, but it was an awkward twist, and I'd say 6-8 weeks.
It wouldn't surprise me if Richarlison was fit for Saturday, if not he won't have to go to Brazil, and should be fit and rested for the Liverpool game.
Delph, was very good, but even the hat-trick man can't get motm, after watching that tonight. I normally hate this shout because it's a team game, or even a squad game nowadays, the way Dacorue gave us so much more pace and power and really helped us when he came on, but how good was Rodriguez? I thought he was absolutely Incredible👏
Michael Kenrick
59
Posted 30/09/2020 at 22:15:00
Mike,
Thing is, that's all he was for so long... Championship at Best.
Now, finally, after how many years, he's showing signs of being a real striker.
It's not "slagging off"... or "character assassination", as I saw on some other thread. I can't understand why some fans have this problem with other fans being honest and realistic.
Gerry Ring
60
Posted 30/09/2020 at 22:16:06
Nathan#32. Thanks for suggesting Navscore. Perfect and great commentary. Great performance tonight with excellent football being played all over. The downside was the 3 injuries, with Kenny & Allan looking serious. Richarlison looked a little less serious. I think Richarlison's overall contribution has been immense. His work rate & commitment is inspirational. D.C.L is another who is prepared to bust a gut at both ends. Totally different mindset now & hopefully we will have a full panel to select from for the redshite.
Mike Gwyer
61
Posted 30/09/2020 at 22:16:43
Come on guys, the injuries have not been confirmed as yet so we are still in the dark. The LFC love machine, the BBC, is in wank phase reporting that Everton have suffered injuries to star players for a league cup game.
The last 20 minutes proved we can still play and you can see the confidence in players who were absolutely shite last season..
Jay Woods
62
Posted 30/09/2020 at 22:16:46
Mike Allison, give it a rest, this is becoming tiresome. When people were calling them "championship", that's because it's exactly what they were at that time. All of us who said that are more than happy to see them blossom now, but it doesn't make you some kind of wonderful for not calling it as it was back then.
Minik Hansen
63
Posted 30/09/2020 at 22:20:15
Siggy also looking good, and Tony #48 I second that on Delph. Looks like we've cover in midfield. Gomes didn't even play, hope he's filled with energy against BHA.
Will Mabon
64
Posted 30/09/2020 at 22:21:36
Yes. let's be fair and realistic about DCL. He's upped his strength, presence and movement, better in the air, holding the ball well - but still has to improve the finishing, hattricks or not.
A very good player now but more should come.
Christy Ring
65
Posted 30/09/2020 at 22:22:18
Ancelotti doesn't think the injuries are too serious, sounds promising.
Jay Harris
66
Posted 30/09/2020 at 22:22:52
" We shall not be moved" is back.
This team inspires confidence and belief and long may it continue.
The only downside is the injuries.
Tom Dodds
67
Posted 30/09/2020 at 22:23:14
Well I hope people think this M Mouse cup was worth rhe price of 2 of our Best players and a shot at REAL silverware and a place in Europe's elite
F.all chance of the derby.
Fancy playin those two with a shot at winning a derby after all these years.
That was our priority.
Ie there would be more euphoria twettin them than lifting THAT 00 0
Mike Allison
68
Posted 30/09/2020 at 22:24:08
"Give it a rest"?
That's the first time I've mentioned it.
Slagging off a young player is such an easy, cowardly, negative way to approach being a 'supporter'.
I bet you're 'more than happy' now, but you don't deserve the success when your reaction to the tough times was so negative and unpleasant.
He was 21, learning his trade and doing a really decent job, but some people just wanted to focus on the negatives. And to then claim that you're the 'honest and realistic' ones actually makes my blood boil.
Peter Mills
69
Posted 30/09/2020 at 22:24:17
It's quite a pleasure to watch James Rodrigeuz play football.
Fran Mitchell
70
Posted 30/09/2020 at 22:24:47
Hopefully Allan will be fit for the derby. Delph can cover for him vs Brighton. Similarly, Gordon (if fit) can cover for Richy.
That was good to watch, again.
We are so good on the ball, and for the first time in my time supporting this club, we are actually dictating games rather than passively responding to how the opposition set up.
And we constantly pass with intent. No aimless sideways stuff, there is always a plan. And the quality of passing is fantastic. Not just James, who's passing I could watch on a reel, but everyone's. What a transformation.
Will Mabon
71
Posted 30/09/2020 at 22:26:31
Tom, playing them tonight shows we have no fear of the derby... is another way to look at it. There's an irony to it, but it can happen anytime. We may go all season with no more bad ones.
Stephen Brown
72
Posted 30/09/2020 at 22:26:57
Agreed Peter!
James is pure poetry to watch! Not going overboard but nothing can come close to his class! Only maybe Sheedy? That I've seen!
Dave Abrahams
73
Posted 30/09/2020 at 22:27:46
I thought Siggy's index finger was brilliant, pointing all over the pitch, working overtime, not sure about the rest of his body, but not complaining after another good win.
Let's hope the three injuries are not too bad for the three players involved.
Alex Gray
74
Posted 30/09/2020 at 22:28:07
Carlos come out and said the injuries don't seem too bad!
Bill Griffiths
75
Posted 30/09/2020 at 22:28:18
MK, JW, DCL had always been more than Championship at best as the majority of supporters well know. It's just a small minority of people like yourselves who got some reason will not recognise
Tony Abrahams
76
Posted 30/09/2020 at 22:28:56
I thought Lewin, let himself down badly with two shots over the bar, but his second goal was crucial, and a real strikers goal.
The left back played well, Keane continues to get better and surprise (some of us!) and Digne was also very good.
I was cursing Iwobi, but his shot made the third goal, and it was great to see us taking the sting out the game, when West Ham were on top, whilst our last goal was simply beautiful football.
We have gone from a team who couldn't string six passes together, into one that can move the ball quickly, with simple five yard balls, which is only possible because of movement, and is hopefully something that is only going to get better.
I made up with Everton tonight, I thought the players were missing the crowd to help get them over the line, but they didn't need us, such was the quality at times!
Nick Page
77
Posted 30/09/2020 at 22:29:16
Wtf is going on!? Have we been sacrificing kids with the kopites? Incredible stuff
Nicolas Piñon
78
Posted 30/09/2020 at 22:29:20
Carlo said it after Palace: "tough times will come", and it's part of football. Who thought by this time we'dve won 6 out of 6? Anyway I want to keep winning
In my opinion Allan will be out 3 weeks and Richi 10 days, maybe doctors suprise me!
Hope I get it wrong and it's less haha
Great win and it'll be interesting to see how well lineup on Saturday
I'll go for Pickford Coleman Mina Keane digne Gomes Doucoure Bernard Iwobi Kean(?) (don't wanna risk James nor think Carlo could after today's injuries) and DCL. Tough selection! But I trust Ancelotti and our squad!
COYB!
And this won't sound grea
Brian Williams
79
Posted 30/09/2020 at 22:29:27
I think Allan will be out for about six weeks.
Will Mabon
80
Posted 30/09/2020 at 22:30:36
Peter, it is. He lasted the whole game tonight but looked a little less sprightly - yet still mostly did the business. When you're that good, just being there is usually enough.
Dick Brady
81
Posted 30/09/2020 at 22:30:50
Is DCL finally ready for his move to the Championship?? Surely now he's good enough to play for Luton Town or Wycombe??
Tony Everan
82
Posted 30/09/2020 at 22:31:04
We were the better team and had control of the game, our midfield was a class above theirs and our whole team looked better man for man.
I can't get too excited about the win because of the injuries to Allan, Richie and Kenny. I hope they are not too serious as Allan and Richarlison are key players for us and Kenny is essential backup for Coleman.
Shows the importance having some back up, there's 40+ games to,play and we will need a couple more signings to strengthen key positions.
If Godfrey can play DCM to a high standard as well as regular CB role he could be a perfect signing to cover for both positions, and push for a starting berth.
For the long season we will definitely need back up for the forward line too if Kean gets his move back to Juve.
Terry Farrell
83
Posted 30/09/2020 at 22:31:54
james has got the best 1st touch ive ever seen and his passing range is incredible short and long but added to all that he lives and breathes guile. dcl now scoring poacher goals as well as a few beauts. Allen get well soon son. Charlie is a quick healer and should be ok for Saturday. SO HAPPY
Kevin Dyer
84
Posted 30/09/2020 at 22:31:59
Excellent performance. Couldn't fault anyone. The added players and attitude - we're seeing now which of the fringe players want to be part of this going forward. Thought Sigurdsson was excellent, one of his best performances for us, great feet, timing and hustle. Played himself into CA's plans, no doubt. Delph looked nothing like the slow-poke previously seen, looks an able deputy for Allan.
Seamus with his renaissance, long may it continue. All the regular first 11 played well. Nooukou acquitted himself well against Yarmalenko; the lad can defend too.
The squad looks so much more composed and professional, it's hard to believe.
Hope the injuries aren't as bad as I'd feared watching the match.
Felt sorry for Bernard not getting on; he busted a gut against Fleetwood and can contribute.
Think Kean wants back home. Too bad. Think he lacks maturity tbh. We'll need to get in some cover up front in that case.
Paul Birmingham
85
Posted 30/09/2020 at 22:32:13
Great result, a hard earned win and hopefully, the hatrick of injuries to JJK, Richarlison and Allan, won't cause along term impact to the teams momentum.
To win this game 4-1, was some feat and some superb finishing.
I salute Michael Keane and DCL, for their respective vision and sublime first touch and finish.
Richarlison, is becoming a warrior in every game for the EFC cause, and I hope JJK, recovers quick to fight for his place in the EFC squad.
Hopefully we can get a strong squad for Brighton. Beat Brighton, and then a week, to exercising Old Nick.
Show the same vision, belief and finishing each game, then, we have a chance of some great results.
4-1, win and some will say we didn't play well, well to hell, we won and won, well. You make and earn your luck in football, and for sure the team will have to, and will keep working hard to sustain this form.
The confidence barrel, is maturing nicely this season.
Long may it last, and now for Brighton.
All, Stay safe and well.
Danny Broderick
86
Posted 30/09/2020 at 22:35:24
Michael (59),
" But Calvert-Lewin would very fortunately benefit when Iwobi's shot came back off the post and it fell nicely for him to convert his second of the night, 7th of the season."
A bit grudging there Michael. He wasn't fortunate. He made it happen by following it up, like all good goalscorers do. He's a young man who has been learning his trade. It's not fortunate or a coincidence that he is scoring more tap in goals now under Ancelloti. He's working hard at staying in the middle of the pitch, evading defenders and following shots in. He's spending far less time out wide chasing dead balls.
The goals he has been scoring are exactly what has been lacking in his game previously. He was the difference tonight.
Brendan Fox
87
Posted 30/09/2020 at 22:36:07
Hopefully Allan, JJK & Richie aren't out for any prolonged spells after a good win tonight. COYB!
Steve Cotton
88
Posted 30/09/2020 at 22:36:25
Thought Delph had a great game, glad he is one of us. Get off his back it doest help..
Derek Knox
89
Posted 30/09/2020 at 22:36:47
Jay@26, there was nothing wrong with the good links you gave just an erraticly poor wi-fi, which kept dropping out. I couldn't even get TW in the end. Luckily Ray Roche gave me 15 minute audio updates via my phone. Great score and result, what has Carlo turned DCL into ?
Like Prometheus or Frankenstein he hath created a monster, long may it continue. Hope the injuries don't come back to haunt us, win against Brighton, maintain our position at or near the top,then it's 2 weeks to get them all fit again.
A good tonic indeed tonight.
Gary Reeves
90
Posted 30/09/2020 at 22:37:14
So many improved performances but I have an inkling it's a lot down to the presence of one player. When you play with a player who can take the ball in any situation and can find a colleague in any part of the pitch then anything becomes possible. It improves the movement, increases our attacking options and frustrates opponents.. You all know who I'm talking about!
Kieran Kinsella
91
Posted 30/09/2020 at 22:37:32
Tony
Just the other day on a thread Mike Gaynes and I were saying DCL can't shoot from outside the box. Others reckoned he can and does at FF. Maybe it's a confidence thing and obviously he felt brace enough to try tonight. Didn't end well but I was pleased to see him at least try and prove me wrong. He's got the tap ins down, if he can get the longer range shots he'll move to top level
Des Farren
92
Posted 30/09/2020 at 22:38:07
Success in this tin cup will yield the sum of £100,000 to the winner.
Don't know why we would prioritise it with three points on Sat far more valuable.The injuries also are a huge downside.
Colin Glassar
93
Posted 30/09/2020 at 22:38:48
For what it's worth I thought we were excellent against a very good WHU side.
We are playing with a confidence, and panache, I haven't seen for a long time. James and Allan have transformed the team and Carlo is weaving his magic.
It's early days but you can see the likes of Seamus, Delph, Sigurdsson, Keane etc... totally reinvigorated. Long may it continue.
Will Mabon
94
Posted 30/09/2020 at 22:38:51
Agree, Kevin. Yarmalenko is strong and difficult but was mostly kept quiet. Seamus made two good recovery runs over a distance that I remember, and looks to have got his speed back.
Brian Wilkinson
95
Posted 30/09/2020 at 22:39:19
If Richarlison is out for a couple of weeks, how about trying Nkounkou there, seems to have bags of confidence going forward and puts crosses in for fun.
Terry Farrell
96
Posted 30/09/2020 at 22:39:25
Tony Ab lighten up mate. read your message again and see the light. 1st inclinations have to be positive not negative when we have won 6 on the bounce. dcl is performing above average don't you think
Graham Mockford
97
Posted 30/09/2020 at 22:41:30
It's easy to say DCL was 'Championship at best'. But in reality he was a young player trying to lead the line single handedly in a struggling side bereft of creativity.
Seems those who were prepared to write him off were wrong and perhaps should have the good grace to accept they were.
Maybe the same is true of Tom Davis
Andre Angwin
98
Posted 30/09/2020 at 22:42:17
For the first time in years, and I mean years, I just wasn't worried when they equalised. Just knew we'd tear them apart, although a few too many of their crosses caused us problems.
Just hope Alan's injury isn't too bad, but I fear it'll be 3-4 weeks. Richi seemed not too bad, so hope he'll be right for RS. We've got a squad now though, we'll be right.
By the end though I was wishing Carlo took James off and played with 10, he's simply irreplaceable. What a player, galactico at Goodison!
Tony Abrahams
99
Posted 30/09/2020 at 22:42:38
Terry@83, agree with that mate. Rodriguez, was actually going past players with his first touch, and on such a fast pitch it was both incredible, and also an absolute pleasure to watch imo.
Just read your other post telling me to lighten up Terry, and with my football head on, I find it a lot easier to make constructive criticism, when the team has won, and the player I was talking about scored three.
When he put one in the second half, his technique was very poor, and he ended up falling over, possibly even doing a forward role. He got up smiling, but he's playing with better players now, players who want to win, and the smile was replaced by a much more serious face, and this is what I want to see off Everton players mate.
John Keating
100
Posted 30/09/2020 at 22:43:29
Great result and performance
Possibly 2 changes at the weekend to our usual starting 11
Thankfully Delph seemed to come through uninjured and as he has played really well in both his games should start in place of Allen
Up front might be more an issue with Richie possibly being out. Gordon if fit, Iwobi if not
Ciarán McGlone
101
Posted 30/09/2020 at 22:45:24
I'd give Bernard the nod for Richarlison..
Tony Everan
102
Posted 30/09/2020 at 22:45:48
Danny 86
It's good to see DCL around the the 6 yard box and scoring. It is a massive asset to be able to react fastest in the box to any loose ball or opportunity. DCL has been reacting fast regularly now and getting goals because of it.
There will always be an element of luck involved but I always believe that strikers make their own luck by being in the right place at the right time, having balance and alertness and banging them in before defenders react.
Chris Corn
103
Posted 30/09/2020 at 22:47:46
Des 92, that post to me just sums up a modern premier league supporter attitude. We have not won a trophy in 25 years and there's no better feeling than seeing the blues win trophies. We've as much chance of winning this cup this year than breaking the top six so why not go for it ? And Carlo has said the injuries are not too bad.
If we'd have got beat tonight cue the "another false dawn" shouts. To me Ancellotti has got it spot on. Go to win every game.
Mark Taylor
104
Posted 30/09/2020 at 22:48:36
Mike 68
Much as I admire your loyalty, there are numerous ways to express your affection for the club, and critical analysis is one of them. I have been one of those who have doubted DCL's capacity to make it in the PL. I still do. A few goals in, what, less than a tenth of a season does not mean future stardom. He is not clinical, misses chances better strikers would bury. I recall Marcus Bent had one amazing season for us, then disappeared to the lower leagues. This is one very tough gig in the top division, even more so now.
When Everton contributed, what was it, 6 players to that England World Cup win, the guy who I thought would make it was Lookman. That hasn't worked out, shows you how hard it is to call future stars. Next up wasn't Dowell or Kenny but DCL because he has such strong physical attributes; pace, power. heading ability, stamina. I wasn't convinced by his technique. My hunch was Championship level. No shame in that, it's still a very good level. I'm, still not convinced by his technique but of all that group plus Davies, he clearly in in with the best shout now of making it at the very highest level. I really hope he does. maybe a modern Joe Royle if we really got lucky. But let's not set the expectation bar too high, as I say, PL is a seriously tough gig and it's hard to crack it for a sustained period.
Terry Farrell
105
Posted 30/09/2020 at 22:50:33
cheers Tony Ab the tide is turning!!!!!
John Raftery
106
Posted 30/09/2020 at 22:50:39
Graham (97) Spot on. The big difference now is he is getting decent service so he can afford to position himself in central areas knowing he will receive the ball without having to go wandering for it. The bleating about poor technique was utter garbage. Every striker misses chances. That includes the very best strikers.
Who was the last player to score a hat trick in successive home games? I am not 100% sure but I know Dixie Dean did so in November 1931 when he scored five against Chelsea and four against Leicester. So some room for improvement, Dominic!
Jerome Shields
107
Posted 30/09/2020 at 22:51:15
Lost the live forum and Toffeewebat the start of the second half.
Everton where on top for the first quarter but West Ham where able to spoil James play in the second quarter anf force Cal vert Lewin deep. They where probably happy to go in losing 1-0 and came out motivated in the second half half and caught Everton cold like West Brom. !!!!!
Thought Sigurdsson had a great game partnering James in midfield, with some great position play. Delph really good. Calvert Lewin took his chances cleaning and well, but balloned two shots over the bar. Richarlison was really good and Iowbi did well on substitution. As did Doucoure for Allan. Defence where solid and Keane passing was outstanding. Digne wasn't out of place and Colman added, on replacing Kenny. Nkounkou a real pro. Pickford confident without being cockie.

Really good team performance, but the injuries are worrying.
Kieran Kinsella
108
Posted 30/09/2020 at 22:55:13
Tom 67
So by "real silverware" I assume you win the league? If so, you honestly think on one hand we are going to win it, but that on the other hand losing a couple of players for maybe a few weeks will be the difference between winning the league and missing out on "joining the Euro elite."? Hate to break it you but realistically various players will miss games due to injuries or suspensions this year that have nothing to do with the "Mickey Mouse" cup.
Tony Abrahams
109
Posted 30/09/2020 at 22:55:45
I think he will Kieran, he's got the power considering how far those shots went, and he's got the technique, when you consider the way he put his third goal in?
I was told to lighten up, (only messing Terry!) but I thought it was significant how quickly his smile was replaced by a much sterner face, after James, gave him a little glare, and this is how he will get to the next level imo, because better players demand more, and make you realise how good you can be?
Being serious again, I thought Pickford, looked more confident, but he's got to sort his feet out, or was it his position, that he set himself to early for their goal!
Ryan Holroyd
110
Posted 30/09/2020 at 22:57:45
How can you only be a championship level player when you're scoring goals in the Premier league and against Premier players.
What a load of crap.
Jay Wood
[BRZ]
111
Posted 30/09/2020 at 23:02:05
Bit wobbly at the start of the 2nd half after the quick equalizer. Further disrupted by the injuries with both Iwobi and Doucoure taking time to get into the game, but then cruised to a win.
Yet another mini-test passed. Won first 6 games for first time since 1938/39. 20 goals scored. DCL's two hat tricks in consecutive home games first time for an Everton player since John Willy Parker in the fifties. One for Dave Abrahams and John Mc Snr to enlighten us more about.
Only happened to one other player managed by Carlo: CR7. Good company! Each of Dom's goals tonight is exactly what you want from your striker.
The quality of the football, even from those who looked so hapless last season, is a delight to behold right now.
Delph was excellent and if it comes to it can cover for Allan v Brighton. Richy will be a bigger miss if injured. Nobody can substitute for the threat he carries going forward combined with his outstanding defensive work.
Looking at the bigger picture, it might even work in our favour that he isn't fit for Brighton and so has to drop out of travelling to South America for Brazil's WC qualifiers.
Such a feel-good factor at the moment. And the women comfortably saw off Birmingham 3-0 to reach their cup final.
Happy days!
Kieran Kinsella
112
Posted 30/09/2020 at 23:02:21
John 106
Not meaning this as a slight on DCL in anyway but I'm never expected to read a comparison between Dixie and DCL. That's what 8 goals in 4 1/2 games?
John Malone
113
Posted 30/09/2020 at 23:03:23
Funny but the only thing for me which DCL is not very good at now is shooting yet he is scoring goals.
The lad cannot strike a ball properly like a Lukaku, Rooney or a Kane but he can generate enough power with his side foot finish to bury a chance.
I don't think he is clinical enough or has enough all round ability to be the answer to bring us silverware but you can't deny he is improving every year and is on fire at the minute, long may it continue.
Up Carlo's toffees bringing the pride back to blues!
Jerome Shields
114
Posted 30/09/2020 at 23:07:40
Des#92
Everton need a cup run to give the squad match time, but there are risks which have to be overcome to do this.
Jerome Shields
115
Posted 30/09/2020 at 23:07:40
Des#92
Everton need a cup run to give the squad match time, but there are risks which have to be overcome to do this.
Jerome Shields
116
Posted 30/09/2020 at 23:07:40
Des#92
Everton need a cup run to give the squad match time, but there are risks which have to be overcome to do this.
Jerome Shields
117
Posted 30/09/2020 at 23:07:40
Des#92
Everton need a cup run to give the squad match time, but there are risks which have to be overcome to do this.
Jerome Shields
118
Posted 30/09/2020 at 23:07:40
Des#92
Everton need a cup run to give the squad match time, but there are risks which have to be overcome to do this.
Jerome Shields
119
Posted 30/09/2020 at 23:07:40
Des#92
Everton need a cup run to give the squad match time, but there are risks which have to be overcome to do this.
Tony Abrahams
120
Posted 30/09/2020 at 23:08:40
Kieran, Dominic, is on course to beat Dixie's record, but I'm not getting too carried away just yet though!
Soren Moyer
121
Posted 30/09/2020 at 23:08:41
Luckily still 5 days left from this transfer window. If we could bring in another quality MF like Alan as a cover it would be wise.
Jamie Sweet
122
Posted 30/09/2020 at 23:10:25
Michael Keane has obviously been watching James Rodriguez very closely in training.
Honestly, that turn and ball to Dom was almost as good as anything we've seen from the man himself. It was unreal!
Jerome Shields
123
Posted 30/09/2020 at 23:10:28
Hope Lyndon was on the Roof trying to sort out the signal for ToffeeWeb.
Ray Roche
124
Posted 30/09/2020 at 23:11:04
Jerome, Do you think Everton need a cup run?
Kieran Kinsella
125
Posted 30/09/2020 at 23:11:52
You can say that again Jerome
Will Mabon
126
Posted 30/09/2020 at 23:12:17
"
Looking at the bigger picture, it might even work in our favour that he isn't fit for Brighton and so has to drop out of travelling to South America for Brazil's WC qualifiers.
"

There's a football conspiracy novel in there.
Dick Brady
127
Posted 30/09/2020 at 23:13:03
Jon joe Kenny had a decent game too until he got injured. I think he's good enough to keep Seamus on his toes and Brands need not worry about a new RB just yet.
Will Mabon
128
Posted 30/09/2020 at 23:17:12
John, 113;
any footballer can strike a ball cleanly and hard, to a point. DCL needs to nail doing it under pressure, whether from the opposition or himself. It's a mental thing, it will come, it's just coming late after the other improvements.
Patrick McFarlane
129
Posted 30/09/2020 at 23:18:40
Dick #127
I thought the opposite, I thought the Hammers were targetting JonJoe's side of the pitch and we gained a bit more solidity when Seamus came on. Both the young full-backs didn't play as well as they have previously this season.
Steve Shave
130
Posted 30/09/2020 at 23:19:22
Good win, I'm concerned about the injuries like many but we must focus on the confidence and swagger with which we are now playing. How about that Michael Keane pass eh?
Will Mabon
131
Posted 30/09/2020 at 23:21:14
Steve - I'm still not sure that Keane move and pass wasn't CGI.
Ray Roche
132
Posted 30/09/2020 at 23:21:18
Brian Wilkinson
@95
Brian, I thought that myself, if we had another centre half Digne could have reverted to left back and Nkounkou tried down the left. I think he'd excel there. He was clearly under orders not to attack so much tonight, probably due to our makeshift back line.
Christopher Nicholls
133
Posted 30/09/2020 at 23:21:50
Calvert Lewin was never Championship level at best. He was just young. FFS
Chris Woods
134
Posted 30/09/2020 at 23:23:02
Ffs Only evertonians could knock a player who has scored 8 goals in 5 games probably the same ones who used to slag big Rom off
Will Mabon
135
Posted 30/09/2020 at 23:24:16
Chris, it's because we haven't lost yet - they're straining with a full bag.
John Raftery
136
Posted 30/09/2020 at 23:24:28
John Willie Parker scored hat tricks in two successive home games in our promotion season, 1953/54. He scored four against Plymouth on 27th February 1954 and three a fortnight later against Rotherham. I think he was the last Everton player to achieve that feat.
Brian Murray
137
Posted 30/09/2020 at 23:25:09
Not down playing anything but all I have ever wanted us to do is believe in ourselves no matter who the opposition. Carlo is instilling that and I'm not making outrageous claims but kopites beware we are coming for you. Get yer coat on coyb
Will Mabon
138
Posted 30/09/2020 at 23:26:00
Wow, last happened before most here were born.
Christy Ring
139
Posted 30/09/2020 at 23:31:18
Carlo doesn't think the injuries are too bad, hope he's right, because I know Delph played well tonight, but the bigger picture, he played beside Allan, not instead of him, a big difference. As for Richarlison, his work rate alone is phenomenal, two vital cogs in our team this season.
Don Alexander
140
Posted 30/09/2020 at 23:31:58
Good and enjoyable to watch.
I have a wry smile when I read Messrs Kenrick and Wood above, and others, still trying to justify their vehement repeated criticism of DCL in the last couple of seasons, when he'd just turned 20.
He's always worked hard despite a paucity of service, until this season, that'd make a wimp cry. Now he's getting the service he and Richie need to flower. Many of us have repeatedly supported him on here, as fans tend to do.
The lad's a beast to even the best defences and may improve to the point where the world's his oyster. I hope he does it with us!
Phil Lewis
141
Posted 30/09/2020 at 23:37:58
The way Rodriguez effortlessly glides past the opposition is very reminiscent of Alex Young at his best. No higher praise could be bestowed upon him. Mesmerising, as if in slow motion, he rarely plays a bad pass. His presence in the team has such an uplifting effect on all around him. A magnificent signing. The fact that he makes it look so easy, almost casual, belies a razor sharp brain and lightening reflexes.
Compared to mega money signings elsewhere, we have truly secured an absolute bargain.
I've defended DCL both on here and in Gladys St, when many were screaming for his blood. My personal favourite Everton all time centre forward, Gary Lineker, would have been proud of his Dom's goal. A typical Lineker strike.
Brian Wilkinson
142
Posted 30/09/2020 at 23:38:57
It says the draw for the quarter finals is 8.45 am tomorrow on the Zoe Ball show, Everton ball number one, another place I heard it was after the shite v Arsenal game.
Does anyone know for sure which one is correct.
Danny Broderick
143
Posted 30/09/2020 at 23:41:22
I watched this game in a pub with some Hammers fans. All good as gold apart from a couple of gobby young ones. When DCL scored his second, I heard them saying he was a donkey, he was just lucky he wouldn't score goals if he went to Man U, he'll get an England call up and then be shit etc. Naturally, when the third went in, I turned round and said 'not bad for a donkey!' A little chat ensued where they maintained they were right, and said he had done nothing before this season. So I said 'apart from winning the World Cup at his age level? Apart from scoring 15 goals last season? That's now 8 this season.'
Even some of our own fans don't seem able to see this lad's trajectory. He's not great at striking the ball outside the box, but then that's not his game! James is a bit shit at scoring tap ins...he can't half strike a ball outside the box though!
For what he is good at - basically playing as a number 9 - this lad is as good a prospect as anyone his age in football currently. He's always had something, and it's great to see it coming together. His mentality seems to set him apart - he seems to be embracing the pressure of scoring 20 goals as Everton's number 9, rather than suffering from it.
People who wrote him off previously should acknowledge his upward curve. The way he took his first and third goals tonight was superb. The other West Ham fans I was with felt he was the main difference between the 2 teams.
DCL is going to be a 20 goal a season striker for us. Who cares if they are tap ins? Or headers? Or one on ones when he has run through on goal? He can score all types of goal except 25 yarders. He is England's 3rd best striker currently, behind Kane and Ings, and he is improving every day. I wouldn't bet against him becoming England's main man in the next year or two...
Chris Woods
144
Posted 30/09/2020 at 23:41:39
Spot on Don, the lad had to serve his apprenticeship the hard way cos we never replaced lukaku
Will Mabon
145
Posted 30/09/2020 at 23:42:26
Brian, the late one according to the Carabao site.
Darryl Ritchie
146
Posted 30/09/2020 at 23:46:15
Danny, if DCL keeps scoring at this pace, he'll have 20 before Xmas.
Brian Wilkinson
147
Posted 30/09/2020 at 23:49:29
Cheers Will
John Keating
148
Posted 30/09/2020 at 23:50:32
Who really gives a shit if DCL can't score from outside the box. Let him hit the roof or even clear the stand with every attempt.
Who is interested if he's "lucky" or the ball hits him on the arse to go in
This lad is finding the net regularly. We've been desperate for a regular goalscorer and so far he's hit the nail on the head.
Let's just enjoy this as much as he's enjoying it and keep our fingers crossed it continues and he keeps free of injury
Brian Wilkinson
149
Posted 30/09/2020 at 23:51:30
Cheers Ray@132, it was one of those moments you post then think, I must be mad suggesting that, but I think he could do a job on the left further forward.
Mike Gaynes
150
Posted 30/09/2020 at 23:55:07
Will #131 and Jamie #122, that one was for all those here who say Keane turns like an oil tanker. That was a James-worthy spin and pass!
John Pierce
151
Posted 30/09/2020 at 23:57:44
A lovely win full of pretty football and some clinical finishing.
Digne brings balance to the side both being left footed and handling the ball, it speeds up the tempo and we look so much better for it. Whilst not the answer we might see him play there against poorer sides.
Sigurdsson might be getting it, at last, spending most of the game with his back to goal and turning away when he received it made me mental. It slows our play down considerably. However in the second half he began to do the opposite, turning towards the goal. The difference was night and day.
I also thought Doucoure was superb when he came on.
West ham only came into when our pace slowed down, James was exquisite tonight, ran it from start to finish.
Kieran Kinsella
152
Posted 30/09/2020 at 00:05:12
Bergkamp like on that first goal. Just saw the highlights as I missed it live. If say the two Germans at Chelsea had combined to do that it would be front page news.
Danny Broderick
As for the Hammers fans, they probably go their intel on the "donkey" from Everton fans. I always rated DCL work rate, build up and intelligence. His scoring rate wasn't great. Now it is. But he was never a donkey or championship at best. Championship at best would be the other under 23 players who ironically are built up by DCL critics, Carlo critics and Keane critics.
Graham Lloyd
153
Posted 30/09/2020 at 00:13:34
It was closer than it should have been for much of the game. I thought we deserved to be at least two up at half time if not more. I think even if Alan and Richie are missing for Saturday, we will still win as we are creating so many chances. Though I can't see a clean sheet either!
On a side note, I really liked the way Siggy and James played together. They both have the ability to open up a packed defence and be a goal threat around the edge of the box.
Finally, big shout out for Delph. I've never been a real fan of his but was hopeful his experience would help when we signed him. Does the unspectacular well.
Bill Gienapp
154
Posted 01/10/2020 at 00:19:49
Let's be honest - there's no way we're going to get through the season unscathed injury-wise. Guys need to get used to stepping up, sooner rather than later. Taking care of business against Brighton while (likely) being less than full strength will be a good early test.
Andy Crooks
155
Posted 01/10/2020 at 00:29:20
Michael K and others, it was your opinion that DCL was Championship at best. Plenty disagreed. How about, now that he has confirmed that he is a top, top player, admitting you got it wrong. Saying he was shit but now he's not, we were right then and we are right again is just, well poor.
Being utterly wrong is fine. I have done it a million times on this site. Anyway, things look good.
David Donnellan
156
Posted 01/10/2020 at 00:29:21
Danny #143, They would know what a donkey looks like, with that lump Antonio up front for them!
Jay Woods
157
Posted 01/10/2020 at 00:37:50
There you go again, Mike Allison, casting aspersions on the Evertonian credentials of anyone who dissents from your long-held view that DCL was always going to make it at this level. I thought that was against the rules of this site?
Jay Harris
158
Posted 01/10/2020 at 00:47:16
One of the things I don't feel anyone has picked up on is DCL was leading the line on his own at the age of 20 and apart from bagging goals did extraordinarliy well to win 50/50s and hold the ball up.
Since Carlo came and put more emphasis on controlled possession and attack he is revelling in the support.
I don't see how anyone can criticise a lad with such a workrate and scoring record.
Paul Jones
159
Posted 01/10/2020 at 01:10:46
I hope DCL gets in the England squad and starts the game. Unlike Foden and Greenwood has not been hyped well before his time and has progressed steadily. Also unlike others was available to play for England squads at other age levels having played in all the domestic competitions too.
Derek Thomas
160
Posted 01/10/2020 at 01:28:35
Fred Pickering always maintained he was the last to score consecutive Goodison Hat Tricks...only when pressed on it would he admit that the 1st was for Blackburn, then the 2nd on his debut Vs Forest.
Delph might be one of those who not only appears to play better with better players around him but actually does.
As the 1970 Brazil manager said...'For all the maestros to play, somebody first has to shove the piano on stage.'
While the Doctor is writing sicknotes for A!!an and Richarlson he can write a few more, for Mina, Rodriguez and the others.
Job done, in the draw for the next round but with a cost. We should be able to see off Brighton, then 2 weeks off.
Ernie Baywood
161
Posted 01/10/2020 at 02:02:36
I don't know why people feel the need to demand admission of previous 'incorrectness'. Most thought he had potential, and plenty thought he wasn't quite Premier League level.
You don't have to have been right, you don't have to have been wrong. Who gives a stuff?
He's improved on so many facets of his game, plus been put in with better players. You can never be sure how a player will develop, just be thankful that he has.
That's said, there's one element of his game that I always thought was unfairly criticised. Lack of movement. I even saw people claim Moise Kean had better movement (anyone who has seen him live will understand that he has zero movement).
DCL's movement didn't used to be what it is now. But in close situations, it was always good. Call it natural striker sort of stuff.
The second goal today was a great example. Go back and watch it.
On the face of things the goal was exactly as Michael reported it - which isn't intended as a dig by me at all.
But Calvert-Lewin would very fortunately benefit when Iwobi's shot came back off the post and it fell nicely for him to convert his second of the night, 7th of the season.
There's one camera angle which actually captures what he did. He didn't just gamble on the far post. With his back to goal, he turned his defender in three directions in one second, before gambling on the far post.
When you see it, you'll agree it was a bit special. Much, much better than just being in the right place.
Ernie Baywood
162
Posted 01/10/2020 at 02:09:56
In fact, take another look yourselves at the 1:50 mark https://youtu.be/vA_m_7bD-1k
Pulls out onto the left back, runs him infield, twists outside, twists back inside again and goes from being marked by a goal side defender to being in metres of space.
It's awesome to watch. Still lucky that it gets to him, but the harder you work, the luckier you get!
Don Alexander
163
Posted 01/10/2020 at 02:31:50
Ernie, the last part of your post comes across as a swingeing criticism of those who've repeatedly criticised DCL, and rightly so in my opinion.
He works his butt off, unlike Lukaku. His commitment and goals per game ratio will soon make Duncan Ferguson look like what he was, a shyster choosing to squander God-given talent in selfish pursuit of his personal interests, and fuck the fans.
To me he can go to the top. Sure he'll hit a barren spell, as every striker does, but his heart will prevail.
And when it comes to shooting outside the box I hope he keeps on trying. I'm old enough to remember the legendary Bobby Charlton for scoring fabulous long-distance goals but I also remember he put many more into the terraces.
And the scorers-supreme like Greaves, Muller and Law also missed sitters a-plenty on their way to legend. It's just that there was next to no coverage of them compared to today.
John Boon
164
Posted 01/10/2020 at 04:30:32
This is a great time to be watching a rejuvenated Everton. Not only did Carlo make very good signings he has also had a very positive impact on players already on our books. Individually the whole team played well. DCL continued to be impressive. Richarlison was on top of his game as he has been all season. However I was really delighted with the performance of Delph. He was great on the ball, always composed and fluid moving forward. If he can keep this up he will be like a new signing
Steve Brown
165
Posted 01/10/2020 at 05:28:40
DCL's hat trick was all about superb movement and finishing. His touch to bring down Keane's pass over his shoulder and dinked finish - stunning. But, like Ernie, I enjoyed his awareness and movement for the rebound off the post for the second even more.
For younger players like him, it isn't a case of being right or wrong in the past when assessing their performance or potential. It is an evolution with young players and some will reach the level expected and others won't. But the context in which they perform is crucial.
If DCL, Davies, Kenny, Holgate, even Lookman, had joined the first team squad with good quality, motivated senior pros to guide them then fair enough. They didn't, in fact quite the opposite. When you add in managers who constantly misused them, then is was probably right to encourage them rather than write them off. The difference now is night and day.
Mike Allison
166
Posted 01/10/2020 at 07:16:26
Jay Wood, I gave up these ridiculous back-and-forths a long time ago. I'm happy that our posts so far speak for themselves.
Your 'appeal to the referee' (especially when you know he's on your side!) might be a new level of pathetic. Congratulations!
Kim Vivian
167
Posted 01/10/2020 at 08:27:46
Just been watching he highlights again. I didn't really see it last night because I had such a shit stream but that first goal was almost (whisper it) Messi-like. Superb first touch control from the ball over his head, and first time second touch to chip the keeper. Sublime.

Martin Berry
168
Posted 01/10/2020 at 08:39:11
The "Dominator" !
Amazing all those previous posters who were having a go at him purely due to impatience on their part.
We can all see the benefits of time and progress, I hope this applies to any other young talent that we bring through.
We done to DCL for proving the doubters wrong.
Dan Nulty
169
Posted 01/10/2020 at 08:50:36
I genuinely can't believe after winning 6 games in a row we are now arguing about what people were saying 2 years ago about DCL. Give it a rest lads, just bloody enjoy it, no need for snide digs. It is pathetic.
As for Ernie, you have it spot on regards his movement for the tap in, Linekar was the master at being in the right place at the right time but I guarantee Linekar did not make such an effort to get his marker out of position and steal the extra yard like DCL did last night. It was amazing to watch, on the face of it his simplest goal but one which took the most effort.
Kevin Prytherch
170
Posted 01/10/2020 at 08:52:19
The debate near the top about DCL being Championship at best
Championship standard at best implies that he will never make it in the Premier League because even when he matures to his best, he will still be Championship standard.
So, to put it bluntly, those who were saying this were wrong.
(A lot of room for improvement would have been more accurate).
Tony Abrahams
171
Posted 01/10/2020 at 09:00:04
In amongst this thread there are loads of very good points. We all see the game a little bit differently, but my own view of football, is to give constructive criticism when a player has just done well, rather than to kick a player when he his down.
I know football fans, if Lewin puts them two shots over the bar in a very tight, or even big game, the way we are playing, then we won't be happy, and neither will the player or his team-mates.
Football is about improving, and this is something Dominic, has been doing every year, so why stop now?
John P, I saw the game like you, couldn't find enough great words to describe James Rodriguez last night, thought Delph, was everything I was hoping he would be when we signed him, but it was probably Luca Digne, who made as big a difference, simply because he really sped the play up from the back.
Michael Kenrick
172
Posted 01/10/2020 at 09:05:46
Kevin @170,
I disagree. When I look at a player, I'm looking at how is playing now. Not what he will be like in 2, 5, 10 years time. I don't know that. I venture that no-one truly knows that either. They may think they do... but they do not and they cannot.
When watching Calvert-Lewin for most of the previous 3½ season – yes, even including last season, when he scored 14 goals – he really didn't look convincing as a Premier League striker. Sorry, but that's what I felt when watching him – especially in those 10 dreadful (and goalless) performances under "Project Restart".
All his glaring limitations have been gone over a thousand times so I'm not going to repeat them. But the perfectly valid shorthand for that at the time was "Championship at best".
There appears to have been a amazing transformation in his play over the short summer break, as he himself has hinted in terms of training guidance from Ancelotti. Obviously, it seems to be working remarkably well.
But that will never change the established past: he really was only "Championship at best".
Dan Nulty
173
Posted 01/10/2020 at 09:14:06
I think nearly every player has impressed me but up there is Keane. His passing and composure at the back has been excellent. His passing to CM has been excellent at times and long may it continue. He looks a completely different player and obviously is in a much better place mentally after admitting to his problems last season over the short summer break.
I also have to say again how good Allan and James are. They have to be the bargains of the window. Definitely up there with the best players to play in an Everton shirt the last 30 years.
Jerome Shields
174
Posted 01/10/2020 at 09:19:21
One thing that has been overlooked is how hard Calvert-Lewin has worked over the years. After every Summer break, he comes back fitter and stronger and improves on the previous season. No doubt be will improve more. He has been contending since Koeman, but seriously since Silva.
This goes back to Silva's first season when originally Niasse and Tosun where thought to be contenders to lead the attack. I know that's hard to believe now. What did happen was that Calvert-Lewin put the work in over the Summer and the two contenders were reassigned to deadwood.
Last season, we all reluctantly admitted there was no other choice. This season, it is accepted he leads the attack, but needs a bit of fine-tuning on certain skills.
Steady progress and improvement for a 23-year-old, as per ToffeeWeb.
Brent Stephens
175
Posted 01/10/2020 at 09:25:08
We could go back over the decades and suggest players who took a while to develop.
They couldn't cut the mustard in the early days – and it was being honest to say so at the time.
It was also legitimate to make an informed guess, a prediction, as to whether they would improve; but, rationally, that could be no more than that – a prediction, not knowledge about the future.
Later they could cut the mustard – and it was also honest to say so.
So it is with Calvert-Lewin. He couldn't. He now can. It's all going good for Calvert-Lewin and for Everton. I predict that will continue for him and us – but I can't know.
Brent Stephens
176
Posted 01/10/2020 at 09:30:16
Dan #173,
I totally agree about Michael Keane's recent contributions – he's taken flak in the past; I hope we can acknowledge his current contributions. Some of his incisive passes in the last few games – on the ground, in the air...
Kevin Dyer
177
Posted 01/10/2020 at 09:31:06
#170 Kevin - Agreed. Calling a player "Championship at best" is forecasting future maximum level. Completely different to pointing out that a player is not yet Premier League calibre. No luck whatsoever in his 3rd goal; he anticipated the possibility of a rebound off the post or the keeper. It's like Martin Keown says: good defenders anticipate something going wrong (a missed header or interception from a teammate etc) and I agree with him.
Absolutely not going to claim I predicted Calvert-Lewin would be playing this well but the lad clearly had the attributes to help him progress – physicality, engine, work-rate, determination, the ability to be coached, positive attitude. Compare and contrast with what we've seen from Kean so far. Dom's attitude made me root for him to succeed. Kean? Honestly could care less.
The new signings, for various reasons, have elevated most of those who look lost last season. Along with Ancelotti, obviously. Our play is now slick and composed. We handled what was, on paper, a strong West Ham team – full of players that have, at one time or another, played well in the Premier League and are trying to break into their first 11 – with ease. No panicky, hands-to-the-pump defending, rushed clearances. The one-touch passing was impressive and from many that did not show this last season, or even previously.
Some of them, who looked done are blossoming with the new signings. Delph, who I was skeptical about from the off, impressed. Sigurdsson was like a different man entirely, the slow, indecisive, reactive player suddenly replaced with a top-class footballing doppelganger! Seamus seems to have had 2 brand new legs grafted onto his body! Carlo rates him very highly and he's responded. Richarlison looks like a player on the fringes of world-class. Not only a direct, focused threat that terrifies defenders but his all-round effort is astonishing.
Best tackler in our team? Quite possibly. Michael Keane is improving and looking a top defender. Digne at CB? I doubted this, especially going up against a big striker like Haller but he dominated, winning 4 aerial duels which shows how much concentration, positioning and a winning mentality will do for you. Be happier seeing him back at left-back though!
James plays the game at his own speed and dictates play. One of the best pure footballers in the world today. If a guy like him cannot fit into a system then maybe Zidane (and certainly Kovac) aren't that smart after all?
Allan is a rock. Doucouré, slightly overshadowed by the other two, adds pace, physicality and running power and now has a chance to show his stuff, assuming Allan misses a few games.
Nkoukou is a gem. Carlo mentioned that his next step was to show he can do it against Premier League players. Well. one game only but he looked the part. Obviously Digne is undisputed #1 but we should be finding ways of getting him game-time. This cup run is ideal for his development.
People bemoaning our injuries and suggesting it's foolish to risk key players in a League Cup game, I disagree. Players can get injured in training. We've won nothing for 25 years. Winning this gets us silverware and a place in the Europa League next season. That should be our minimum objective.
With one or two additions before the window – centre-half and either a striker (if Kean goes) or a wide attacker (Lozano, the lad from Portugal) – then top 4 is a definite target. There's only Liverpool and Man City that are obviously too strong, the other "Big 6" are either in flux or rebuilding. No reason, with a manager like Ancelotti and what is shaping up to be a very well-balanced team, that we cannot pip the others for top 4.
Paul Tran
178
Posted 01/10/2020 at 09:41:29
I've said this many times; it's not always easy to completely judge a player when he's subject to a differently poor manager every year for five years. Sure, you can question his character and resilience by the way he reacts to the situation, but you never know how good anyone is at any job until they're managed well.
Now our players are managed well by someone who a) knows what they're doing, b) can communicate what he want effectively and c) knows what the squad needs and can attract them.
That's why the players look better. That's why, I suspect, some players at other clubs may be talking to their agents about Everton in the next few days.
Dave Abrahams
179
Posted 01/10/2020 at 09:48:29
Brent Stephens
180
Posted 01/10/2020 at 09:53:02
Dave #179 - is this a difference between having to turn when defending against an opposition player who is in possession (Keane less good at that?) and turning when in possession yourself (Keane better at that?)? Faster being proactive than reactive?
Dave Abrahams
181
Posted 01/10/2020 at 09:59:17
Brent (180), well judge for yourself.
Two times last night, he was unaware of where he was when defending and was two seconds behind the play before he realised what was going on; he couldn't do anything about it but stand and watch. One them was when Pickford made a terrific save to stop West Ham getting back in the game.
Kevin Prytherch
182
Posted 01/10/2020 at 10:05:52
Michael 172 - this could be where a lot of the frustration stems from. To a lot of people, saying "Championship at best" indicates that he will never be good enough. However, if the people writing it actually mean that "at present, he is championship standard" then a lot would agree with you.
To me, the former indicates a willingness to write off a youngsters career, believing they will never be good enough and refusing to give them the chance to improve. Hence the frustration and arguments from myself as I always believed the potential was there. Although, I never expected more than a 15 goal a year striker – so it looks like he could surpass my expectations.
Brent Stephens
183
Posted 01/10/2020 at 10:08:19
Dave #181 – this is what I'm trying to say (in my own clumsy way) – to recognise his defensive weaknesses at the same time as acknowledging some astute passing from him.
Brian Harrison
184
Posted 01/10/2020 at 10:14:23
Dave 181
Before lockdown I, like you, had serious doubts over Michael Keane, but since lockdown and the start of this season, he looks a lot more assured. Yes, he still lacks pace but I think under Carlo he is reading the game better so has a better starting position and he seems more aware of dangers than he did before.
With Mason injured I did really worry about how we would cope at the back without his pace, but so far we don't seem to be getting caught out as often as we did last season; what a difference having a top coach makes.
Rumours are that we are after the lad from Barca or the lad from Norwich, so when all fit that will be 4 CBs for 2 places. With the likelihood off Kean moving on, we desperately need another striker as, if Calvert-Lewin was to get injured against Brighton and if Richarlison is out for a few weeks, I don't know who we would play up front from our present squad.
Dave Abrahams
185
Posted 01/10/2020 at 10:17:20
Brent (183), yes, I acknowledged his good movement and pass vs Crystal Palace on Saturday and praised him for using the 5 and sometimes 10 yards of space that has always been there, since he came from Burnley, but has rarely been exploited.
I've seen him do it four times this season, which is very good, but doesn't stop me seeing the flaws in his game, which I don't think he will ever be able to correct. They are there for all to see and occur every time he plays.
Robert Workman
186
Posted 01/10/2020 at 10:19:31
Interesting fact that John Willie Parker, who I saw playing for New Brighton in the early 60s, scored his two consecutive Goodison Park hat tricks against Second Division opposition. I wonder who was the last Everton player to score both, like Calvert-Lewin, against top-division opposition?
Dave Abrahams
187
Posted 01/10/2020 at 10:24:16
Brian (184), yes we have a debate before about Michael Keane's ability and I know you like what you see in his game, that's fair enough. I see a different player in Michael Keane; nobody is right or wrong – we just see the player differently.
He's made some very good passes this season, very good passes, but the flaws defending are still there. I hope they are not exposed too much in the future games.
Jerome Shields
188
Posted 01/10/2020 at 10:29:54
Dave #185,
He does have flaws – like the two ballooned shots – and his positioning isn't perfect. But I do think that Ancelotti will keep working on them to minimise their effect on his performance, while trying to maximise what he is good at. He has improved under Ancelotti and has always been prepared to work on his game.
As for Keane, he has improved a lot, but got caught out on the corner in the Crystal Palace game and seemed to be in dreamland when Crystal Palace had time to cross unchallenged from the left-wing in the first half. I remember one beautiful long pass to Calvert-Lewin under Silva, but he is now regularly doing it every game.
The corn is high and he is in love.
Chris Williams
189
Posted 01/10/2020 at 10:30:31
Robert,
According to Darren Griffiths on Everton radio last night, John Willy Parker is the last Everton player to score hat tricks in 2 consecutive home games before Dominic just did it. So he may well be the first to do it in the top division
JWP did it in 1953-54 season, when they got promoted, which was also my first season going to Goodison. I have no recollection of it, but I may well have been there. My first game was Blackburn in early February. He scored his hat tricks at the end of February and early March.
If they beat Brighton, that will be 7 on the trot since the start of the season, and if Dominic scores again, he'll go ahead of Tommy Lawton in their run in 1938-39 for goals scored, I think.
Graham Mockford
190
Posted 01/10/2020 at 10:37:31
Championship standard:
Jerome Shields
191
Posted 01/10/2020 at 10:42:09
Calvert-Lewin's two ballooned shots where a technical problem: he was leaning back as the shot was taken. Ancelotti will be on to that on the training ground this week.
Dave Abrahams
192
Posted 01/10/2020 at 11:00:49
Jerome (188), I never criticised Dominic, I'm more than happy with him.
I hope you are right about Carlo improving Michael Keane's defensive play; I would be very happy to see that.
Barry Rathbone
193
Posted 01/10/2020 at 11:01:28
Well done, boys, coming on much better than I expected but still early days.
Happy to see Calvert-Lewin shoving my thoughts down my throat – even though I still don't see him as a natural finisher – but, if he keeps rattling them in, who cares?
Hopefully this present Calvert-Lewin incarnation continues to flourish. It really is all very promising.
Ernie Baywood
194
Posted 01/10/2020 at 11:04:00
With a static midfield the centre-halves are going to look terrible. No protection while defending, and far too often asked to start the attack, which obviously isn't their best attribute.
Now they have clever players who will come for short passes and take on that responsibility. Even when they don't play it, the opposition are so busy chasing them that the centre-halves have all the time in the world to find a different ball. They're full of confidence. Michael Keane might not be the most skillful player in the world but he runs rings around 99% of footballers – if you think he can't play a bit then you're kidding yourself as to what it takes to be a Premier League player.
Now they have midfielders who will sit and shield in front of them. The very first thing that happened after Allan subbed off was Keane got caught challenging for a ball on the halfway line, 15 yards ahead of Mina – and missed it.
We got away with that one but it just highlighted how with one missing cog the rest of the machine struggles.
We're a better team now. Good players now look better than they did.
Rob Dolby
195
Posted 01/10/2020 at 11:30:26
Before our first goal last night I only thought that we had one player who could finish a chance like that, in Richarlison. The 2nd goal was a poacher's dream and the third a good finish. All great signs that Calvert-Lewin is making progress.
The scoreline flattered us a bit. We still have holes behind the midfield but nowhere near as bad as last season. Allan has been tremendous for us. All of a sudden, Sigurdsson looks like a player again. Keane isn't being caught out with attackers running at him.
The starting 11 will give most teams a game. The injuries to Allan and Richarlison will seriously ask questions of the squad replacements.

Brian Harrison
196
Posted 01/10/2020 at 11:48:51
Dave 187
I wouldn't say I am a big fan of Michael Keane's, but I think he has improved enormously in the last few months, no doubt highly influenced by Ancelotti.
Michael Williams
197
Posted 01/10/2020 at 12:06:20
Michael Keane is getting better as many talented center-backs his age do. Allan, a real defensive stopper, is also taking a lot of pressure off the back four. Which makes them better.
Having played center-back (and keeper) in my older age (rec league in the US which may be what others call Sunday league), I can attest that having good midfield cover prevents constant pressure which builds up inside the head and leads to more mistakes. The head starts to spin...
I guess the only way I can explain it is that good cover slows the game down and allows for better decision-making and positioning as pressure situations come up less frequently. The mind is clearer. Without Allan, I am guessing Keane and the others will be under more pressure which could lead to more mistakes.
Brent Stephens
198
Posted 01/10/2020 at 12:43:22
ToffeeWeb has a list of Everton hat tricks
Link
Joe McMahon
199
Posted 01/10/2020 at 12:55:24
Super Brent, Go Tony Cottee!
Jamie Crowley
200
Posted 01/10/2020 at 13:22:36
Not trying to be Debby Downer here, but the injuries last night are giving me nightmares.
Allan and Rich simply must be healthy for the derby. The traditional top teams have one thing in abundance that the smaller teams do not have - squad depth. My one worry going into the season was if James was a sicknote. He has an injury history. I didn't think Allan and Rich would go down both in the same game!
Amazing start to the season, but the one thing that could unravel this momentum is injury.
Get healthy Allan, Rich and yes you too JJK! JJK is a capable back up to Seamus, and will play an important role in the squad this season.
Health!
Brian Wilkinson
201
Posted 01/10/2020 at 14:14:28
God knows how many posts are having snide digs at told you so Calvert-Lewin championship eat humble pie. Most of those posters were right at the time... so what has changed? Why has Calvert- Lewin become the new Graeme Sharp? The answer is simple.
Both were bullied in their early days on the pitch. It took an old head to nurture Sharp, that being Andy Gray, who taught Sharp how to get tougher and give it back.
With Calvert-Lewin, it was a matter of two things: Duncan Ferguson in training being the first, the second being Carlo telling him to get into the area more, and to try and take less touches, when the chances arrive.
Most will agree a year or so ago, Calvert-Lewin was not getting into the danger area, he often got caught flat-footed, not anticipating a ball coming into the danger area, often he would take far too many touches in the area and fluff his lines, sometimes when a player has been in a better position he has chosen to run with his head down and play a weak shot.
That is the level of play that had some posters saying at the time he is a Championship at best. I never saw many posts saying he would never make it in the future; I saw posters highlighting his flaws.
Since Carlo has come in, he has coached Calvert-Lewin into being a much better player, ironed out his weaknesses, and has got Calvert-Lewin to do the simple things, rather than over-complicate them.
Calvert-Lewin deserves all the credit for the hard work he is putting in, but make no mistake: Ferguson and Carlo deserve a special mention as well.
Kieran Kinsella
202
Posted 01/10/2020 at 14:18:31
Jamie 200,
Shameful confession to make but I turned off the game when Allan got injured as I was getting too stressed out worrying if we'd end up with 8 players and no subs left.
Kieran Kinsella
203
Posted 01/10/2020 at 14:23:23
Keane seems a conscientious type so I assume his "new found ball skills" have a lot to do with the manager giving him consent to roam. Under Dyche and Allardyce he was drilled in old school defending. Doesn't mean he lacked skill, just that he was doing what was asked of him. Carlo has given him confidence to play a bit more so now we are seeing another side to him
Steve Ferns
204
Posted 01/10/2020 at 14:40:16
Disagree Brian. How simple it is that Duncan, who was never a prolific scorer, works with him and Carlo just utters some magic words and he's suddenly transformed.
It's all about confidence. This Calvert-Lewin is the same Calvert-Lewin people who had faith saw. We'd seen him a confident young lad score for fun in the youth age groups and he's now doing it in the first team.
Calvert-Lewin was always a good finisher. Not quite a superb finisher as he did miss chances. But his xG showed that he was up there in the top 10 finishers in the league every season after he broke into the side.
The reason he wasn't scoring, and you rightly point this out, was that he wasn't getting into positions. The ball would come at him too quick and he wouldn't have time to react. Now the ball seems to come to him in slow motion and he adjusts his position and his feet and taps it home. For me, it all comes down to confidence and the lad is full of it now.
Dave Abrahams
205
Posted 01/10/2020 at 14:41:38
Keiran (203), Michael is 26 years of age, control, holding and passing the ball should come naturally to a professional footballer as well as seeing gaps to exploit by moving with the ball, he did it twice last night still most of the time he plays the easy ball, never draws players out, takes three or four touches before he gives it to the nearest man, who is usually marked, that's not to mention his actual defending, he is still never fully aware and is seconds behind the play.
Southgate took him for the last two England games, never used used at all,not even from the bench I wonder why.
Steve Ferns
206
Posted 01/10/2020 at 14:49:06
I don't like him myself Dave. For the kind of player he is: big tall, strong, good in the air, but slow and cumbersome, you want him to be like Dave Watson. But he just completely lacks the mental side Waggy had. He really should be a leader and an organiser. Instead he's quiet and liable to severe dips in form and seems mentally fragile.
But I doubt they'd have given him a five year deal if Brands and Ancelotti weren't both sure of his long term future. So, I have to trust them.
Dave Abrahams
207
Posted 01/10/2020 at 14:59:12
Steve (206) yes your last paragraph makes sense, it could also mean they are keeping his price, in the transfer market, if clubs come in for him at a good value.
John McFarlane Snr
208
Posted 01/10/2020 at 15:01:14
Hi Will [various posts] I didn't have time to get back you last night but the gist of my post was that I have maintained my stance on the televised games in empty stadiums, Moreover, although I have purchased my season ticket I will not be attending games until it's considered safe for everyone to do so. It's possible that at the age of 82 with various ailments and in the vulnerable category, I may have seen my last game at Goodison, the 1-1 draw against Manchester United in March.
Hi Dave [181] as you know I listen to Radio Merseyside on match days, the commentator and Ronnie Goodlass mentioned the save that Jordan Pickford pulled off, describing it as a pivotal moment in the victory. I have seen it on my sons phone and although the overhead attempt was straight at him it was still a far from easy save to make. If he had allowed that effort to go in he would no doubt have been slaughtered, apart from your mention I can find no trace of praise for his efforts.
Regarding Dominic Calvert-Lewin, I must confess that I had my doubts, but on another thread in the recent past, I did state that playing wide by choice or under orders did him no favours. I recall one game, I can't remember the Everton manager or the opponents, he was operating as a right sided wing back, Carlo Ancelotti appears to have instructed him to spend more time in or around the goal area, we are seeing a different player now.
Brian Wilkinson
209
Posted 01/10/2020 at 15:16:13
Steve, I disagree. Apart from last season, Calvert-Lewin was not a prolific scorer, as you pointed out, and was never in the top ten scorers since breaking through.
I beg to differ also that he was a great finisher at the time. Apart from last season, his two highest scoring feats in the seasons before were both 8 league goals – that after playing in almost every single game.
If you honestly believe that is it confidence alone and not what Carlo has coached him to do to improve, then fair play to you.
He deserves all the credit he gets for putting in the effort and working on his weaknesses, well deserved in my opinion. He has taken it to the next level and is turning into the player we were all hoping for.
I will hold my hands up, and I said a few seasons back that he is not an out-and-out striker with striker instincts. What I have seen now is a player that has vastly improved and becoming one of the best strikers around.
I could not be more delighted for the guy and hope it continues for Calvert-Lewin, but I will not change what I said at the time two seasons ago; that was then and this is now... my opinions have changed since back then.
Danny O'Neill
210
Posted 01/10/2020 at 15:27:22
I think you sum it up quite well, Brian. Duncan has obviously had an influence and perhaps that is on the physical aspects of his game. But, Duncan has been around longer than the transformation we've seen this calendar year, so Ancelotti's influence has made further complementary difference and impact.
We've become very accustomed to corner-flag chasing forwards at Everton over the years, so Carlo's simple instructions (or magic words) have had the desired effect. It isn't rocket science for a striker to understand that they will score more goals if they stay central, get into goalscoring positions in or around the box. Why he wasn't doing that before can only be because he wasn't being instructed to – or he was ignoring instructions.
Brian Wilkinson
211
Posted 01/10/2020 at 15:40:23
Correct, Danny, people's opinions were justified at the time, two seasons ago. Quite a few will have changed their minds with what is happening now but we were giving fair comments at the time.
I am made up for Calvert-Lewin, he is now getting into the danger area and taking less touches and not over-thinking in too much time.
Could very well be down to bad coaching from previous managers, sometimes playing the guy out wide. What Carlo has done is made it simple for Calvert-Lewin and the player is quite rightly getting the reward and credit he deserves.
Christy Ring
212
Posted 01/10/2020 at 16:18:30
I can't speak highly enough of Keane, and he doesn't deserve all the flak. Since lockdown, he's more confident in himself, in his passing and overall game. He's also been playing with different partners, which isn't easy. The biggest plus for him is having Allan and Docoure ahead of him in midfield this season. Last season our midfield was non existent, and our centrebacks were completely exposed.
Dave Abrahams
213
Posted 01/10/2020 at 16:33:33
Michael, what happened to my post at (179) which Brent @(180) responded to ?
Danny O'Neill
214
Posted 01/10/2020 at 17:05:56
And I admit to being one of those who was critical of Calvert-Lewin at that time Brian. Always great to have an Everton player prove me wrong when I've felt the need to doubt or critique them. I have no issue with that.
I would agree with the second part of your post Christy. I still feel Michael has his flaws and if we ever get to the lofty heights of challenging for the title again, he's not that standard in my opinion. He, and the rest of last season's defence, look a different outfit because they have the protection afforded by a far superior midfield in front of them as you allude to.
But, for where we are now, with said midfield in front, he's good enough. And to my point on Dominic, if he can prove me wrong longer term, I'd be delighted!
Steve Ferns
215
Posted 01/10/2020 at 17:27:46
Brian, what you are saying here is that you were right to criticise Calvert-Lewin two years ago, and I was wrong when I repeatedly said he would come good and score goals!
The data backed my view up, I wrote articles on here about it. DCL was played by repeated managers because they knew he would score goals, it was just a matter of time. The xG, like it or hate it, is a great indicator for strikers. It tells you that DCL was repeatedly, even when you were slagging him off, was finishing well. It also told you that the number of chances he got was low. He needed to bring this up, and now he has, he's scoring lots of goals.
I also have watched him for the u23s, I saw him for England u21s/u20s/u19s etc. At that level, DCL scored lots of goals. He was a prolific striker.
Ellis Simms is a prolific striker at the same levels. However, Ellis repeatedly scores the same goal. He races away from the defence onto a through pass and slots it past the keeper. He also scores tap ins. I have doubts about Ellis because he cannot play back to goal, he cannot link attack and defence, and he does not work hard enough.
DCL scored different types of goals. He also scored lots of the through ball type goals you often see in u23 games, which tend to be very open, and end to end, with lots of counters. So, DCL used his pace and scored those chances. He was not as good at it as Ellis and did not beat the keeper as often. But he also scored the tap ins, and headers, and he also scored from outside the box. Unlike Ellis, DCL's forward play: back to goal, linking attack and midfield, holding the ball up, etc was all exceptional. Anyone watching DCL at youth level had no doubt he would be a PL level striker. Not necessarily an international or CL level striker, but certainly a PL level striker.
I think you just didn't see enough of him at the younger levels to see how much ahead of his peers he was, and be able to compare it with other exciting talents like Ellis Simms, Fraser Hornby, Connor MacAleny, Courntey Duffus, or Hallam Hope to know just how good Dominic actually was. If you had, you'd have been a lot more patient with him and had belief in his ability.
Simon Dalzell
216
Posted 01/10/2020 at 17:42:25
Michael # 172 I would say is spot on. Steve ferns, your predictions about DCL now look to be well founded, Koudos to you. I would like to defend Brian, myself, and many others who have criticized him often. I don't care what your stats say. My son is the same age and plays in the same position. For the last 3 1/2 years we have have scrutinized him very closely, ( DCL ) often reviewing. The number of of occasions when he never read situations or stood remotely in the right position was frightening. He has obviously learned. He DID look Championship. Not now. Fantastic !!!
Last night I said he had proved me wrong. He didn't. He is now realising the levels you predicted.
Danny O'Neill
217
Posted 01/10/2020 at 18:06:38
I think we're all in violent agreement on one thing here. That we are delighted to see Calvert-Lewin come good.
We all have opinions on players with potential. Some we get right, some we get wrong. Despite the statistic obsessed, data driven era we live in, I still believe football isn't as scientific as some make out. Apart from the odd freak like Rooney, you don't truly know whether a player will live up to early potential or not.
I thought Ross Barkley was going to be something special. He's just gone to Aston Villa on loan. My son and I predicted when he moved to Chelsea that give it 12 - 18 months and he'd be on loan at somewhere like West Ham or Newcastle. Okay I didn't get the club right, but I wasn't far off.
Specific to Dominic, I'm made up he proved me wrong. It's great for the lad's future career and benefits Everton.
Mark Taylor
218
Posted 01/10/2020 at 18:52:47
As one of 'the shamed' who doubted Dom's capability:
1) To be fair to him, what has changed is that he is playing a different role to before when very often he was left up top on his own, chasing lost causes. You can't shine if that is your lot in life. If you have good players around you, and more support, things can be different. And they are different now.
2) That said, one swallow does not make a summer. Longevity is what makes you a PL player. What we have here is a very promising player who is now starting to unlock his potential under a better manager and a more conducive system. If he is still doing what he is doing now, in 3 years time, then we have a real contender. But let us not load too much pressure on him just yet. I don't want unrealistic expectation to suffocate him. He's a work in progress, not the finished article.
Stan Schofield
219
Posted 01/10/2020 at 19:10:26
Mark, he's already a PL player, an accomplished one at that. He's had to lead the line in a succession of very chaotic Everton sides, and hasn't flinched from the task. The current situation merely demonstrates what he can do when playing in a well-organised and functioning Everton side.
Mike Benjamin
220
Posted 01/10/2020 at 19:25:31
DCL is now on a different planet than this time last year. It is not just about movement, positioning goals but also his physical development. He has more muscle in both his upper body and legs which has made him much stronger which, together with excellent level of fitness, makes him NOW one of the best and feared all round strikers in the country.
Brian Wilkinson
221
Posted 01/10/2020 at 19:58:28
Steve I have never said anywhere in my post,that I was right and you were wrong.
I disagreed when you said Calvert Lewin has always been a prolific scorer and always been in the top ten goal scorers each season.
I never claimed to be right two seasons ago, even back then I always said he needs to improve on his positional awareness and his finishing.
Not once have I ever said the guy will never make it, at the time I was mearly pointing out weaknesses that Calvert needs to work on and at the time was not a top striker.
The fact that the player is now taking in what Carlo has been saying, he has taken this onboard and now showing just how good a striker he is and the goals are flowing, he is getting into the danger area and instead of having time to think, he is doing what every natural striker does and uses instinct and reacts much quicker.
Two years ago Calvert Lewins biggest weakness was having too much time to think, when he had too much time, that was when he fluffed his lines.
What you are seeing now is one maybe two touches and he's shooting or reacting and also reacting so much quicker for a possible rebound, or ball put into the penalty area, he is there expecting it.
You cannot say that was Calvert Lewin two seasons ago.
So yes he has become the player we all hoped for, to be honest much better than that.
I would not say anyone was wrong who said simular things two seasons ago about the player at the time.
Cannot speak for other posters, but My points were made about the player back then and not now.
But I respect the belief you shown in the player back then.
No one can dispute the player Calvert Lewin Has turned into and whatever differences of opinions in the past, I am sure we can all agree that Calvert Lewin has upped his game and now one of the best strikers around.
Michael Williams
222
Posted 01/10/2020 at 21:01:33
I hate to admit it but I was not one of those who said Calvert-Lewin was not going to make it. I suggested we give him more time.
For what it's worth, I hope folks give Moise Keane time to adjust. Although he flashed a lot of talent in Italy and had a good amount of success, the Italian international was not the finished article. It will take him a bit of time to start mining his potential here. He's only 20 years old – very young for a striker.
Bill Gall
223
Posted 01/10/2020 at 21:48:48
Liverpool out on penalties
Will Mabon
224
Posted 01/10/2020 at 21:49:25
RS "Concentrating on the league".
Geoff Lambert
225
Posted 01/10/2020 at 22:06:20
When is the draw for quarters?
Andrew James
226
Posted 01/10/2020 at 23:44:48
@Mike 68
Totally agree, one regular on here called Tom Davies a "retard" last season. This is someone who contributes about a dozen posts per day and cosies up to the real fans.
Offensive and unacceptable yet betrays a lack of patience with players like Dominic and Mason too.
Not everyone is Rooney!
Darren Hind
227
Posted 02/10/2020 at 05:07:51
Andrew @226
Couldnt agree more
Kevin Dyer
228
Posted 02/10/2020 at 11:47:18
#208 John, can't recall the match but pretty sure Koeman player DCL as a right wing-back. The fool!
#222 Michael I agree with you re: patience for developing players. I thought Davies would become an excellent player and am sad to see his progress stalling. As for Kean, he was an exciting prospect when we paid big money to bring him here. Hadn't played enough to be a genuine "wonderkid", such as Pulisic etc but very promising. If he stays I hope he improves but am certain he wants out. Rumours of him moving back to Italy have been ongoing for a while now; if the lad was committed to us he could kill those off straightaway with a simple social media post. That he hasn't speaks volumes. He may well become a very good player but personally I think he is lacking maturity and mental strength. Compare and contrast to DCL at the same age, or even the one-year younger Nkoukou, who, going off a recent interview comes off as a a serious and professional lad. Kean's idol? Balotelli...
Mark Taylor
229
Posted 02/10/2020 at 11:48:44
Stan 219
Perhaps my definition could have been a bit more specific. Anyone who plays in the PL is de facto a PL player but what I was talking about is someone who is proven over time to have what it takes to be successful. Just as an example, Francis Jeffers or Danny Cadamarteri would be examples of players who had a hot period, but a fairly brief one, and ended up falling down the leagues. Until this season, I think there was a reasonable doubt as to whether Calvert Lewin might be another who could be just short of what is needed at the highest level to have a long and successful career in the PL.
His start this year has undoubtedly tipped the balance the other way. But I think that would have been hard to predict with any real certainty. Few players are obviously set for stardom at a young age. There are only so many Rooneys and Giggs. Development can be a bit of a lottery. And I repeat, 6 games of the current Dom does not totally prove the point. He needs to carry on his present form in future years- albeit no-one is expecting him to keep up his current scoring ratio, that would be absurd.
The happy position now is that we can have legitimate expectations of him of becoming a top Everton player, the England call up is well deserved for his work, and my impression is, he has put in the hard yards. Let's just not suffocate him with too much expectation. As I said, he is still not the finished article.
Will Mabon
230
Posted 02/10/2020 at 12:04:26
Mark, I agree re. too much expectation.
Unsurprisingly, Dominic's great start to the season has garnered huge attention. Media discussions, features, comparisons, "Is he the best" type articles. I cringe a little, because we all know what happens now when a barren spell calls.
I think the guy is level headed and well supported to deal with it, but the less hyperbole, the better. Easier said than done!
Ernie Baywood
231
Posted 02/10/2020 at 15:22:56
Definitely Will. My concern is that, deep down, we know he's got some horror misses in his locker.
Tall Poppy syndrome says that the same people building him up right now, will be tearing him down if and when his form dips.
Dave Abrahams
232
Posted 02/10/2020 at 15:32:48
Ernie (231) yes fans will start giving Dominic stick when he misses a few chances, while giving Richarlison a walk over with the chances he misses, quite a few this season in the premier league, and Dominic works just as hard as Charlie during the game.
David Currie
233
Posted 03/10/2020 at 04:41:04
Andrew 226, What idiot would call Tom Davies a retard and why? He is a homegrown player who never hides and always gives 100%. I have been a youth team coach for 25 years and always tell my players to always try and get on the ball more so when you are playing badly.
Ernie Baywood
234
Posted 03/10/2020 at 07:49:24
David, he seems a nice, confident young man with his own sense of style. I suspect that gets up people's noses.
Played at every level except seniors for England, and has been a key part of those teams.
Over 100 games for Everton. Still in his early 20s. Been written off as not good enough for the Premier League.
Hang on, am I talking about Tom or Dominic?
Or for that matter, you could probably find a few others in our recent history.
Teams tend to bring through youngsters when they are forced to... because the team is crap. Then when they finally improve the team, the youngsters are the first to be cast off.
Doesn't make sense does it? You don't get to see what the younger players can do in a good side.
I'd love to see Tom given a chance with Allan at some point.
Steve Brown
235
Posted 03/10/2020 at 07:59:02
Loving the contortions that those who relentlessly slagged off DCL two years ago are going through rather than admit the more obvious truth - that they were completely wrong.
David Currie
236
Posted 04/10/2020 at 04:13:26
Ernie,
Yes, agree and I still have faith in Tom Davies. Football is all about the team you play in. Now that we have better players, Tom will also get better.
---
Add Your Comments
In order to post a comment, you need to be logged in as a registered user of the site.
Or Sign up as a ToffeeWeb Member — it's free, takes just a few minutes and will allow you to post your comments on articles and Talking Points submissions across the site.
---
© ToffeeWeb