Report
Everton blow more points with goals gifted to Kane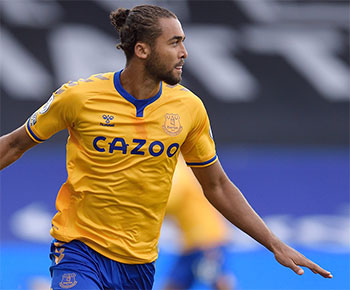 Dominic Calvert-Lewin misses a second successive game with a abductor problem
Everton are without top scorer Dominic Calvert-Lewin for a second successive game as they face a crucial Premier League clash with Tottenham on Friday night.
Jordan Pickford and Allan start, with Josh King on the bench but André Gomes is not available after all four sat out Monday's game on the south coast.
There's still a relatively weak bench that again features not one but two spare goalkeepers, the massively overlooked Nkounkou, untried U18s players John, Price and Welch, and U23s regular, Nathan Broadhead.
Spurs kicked things off and Son had a shot blocked before he was fouled by Davies. At the other end, Sigurdsson tried a long-range curler that didn't curl enough. Højbjerg earned himself a very early yellow card for pulling Sigurdsson back.
Allan tried to release Richarlison with a swift forward pass but it was intercepted. Some neat play out of trouble by the Brazilian was let down by a wayward pass too far ahead of Iwobi. The first 15 minutes passed with nothing really of note.
Davies picked up a yellow for sliding in on Ndombele. James whipped in a lovely ball to Richarlison who appeared to be in on goal, but Lloris was more than a match for his attempt to curl the shot past him. At the other end, Kane was gifted the ball all alone in front of Pickford and made no mistake. Keane was made out to be the guilty party with the cross to Kane glancing off the top of his head.
Rodriguez went to strike a shot and was clipped by Reguilón... a penalty, said the ref, and Sigurdsson said, "Thank you very much!" Richarlison was next to be fouled, this time outside the Spurs area, conceding the set-Piece to Sigurdsson, who could only put it poorly into the wall.
Everton finally attacked with some numbers, first, Rodriguez lashing in a shot, Then Iwobi strangely firing at Sigurdsson instead of the gaol, then Rodriguez again, still unable to beat the broad reach of Lloris.
Richarlison saw another shot blocked behind for a corner, Sigurdsson with an outswinger from the right finding Richarlison but his header was too far out to beat Lloris. Holgate and Davies bash heads.
With 3 minutes added on before the break, Rodriguez curled in a tricky free-kick that bounced up too strongly for Godfrey ghosting in.
Everton had a couple of corners that came to nought after the restart. Spurs won one of their own of a dangerous cross off Digne. Then Son ran in past Keane and Pickford batted it behind. Everton looked to break but Sigurdsson stumbled on the pass from Richarlison. Some neat passing looked promising until Davies sent it to Iwobi and you just knew a Spurs player would have it next.
Ndombele saw his shot blocked by Digne for a corner, Alderweireld trying to glance his header in at the near post with Pickford covering. Richarlison was denied by the offside rule as Coleman replaced Iwobi. His first contribution was a lovely one-two followed by a low driven cross that Sigurdsson happily clipped hard past Lloris, a very nicely worked goal by the Blues!
Keane and Holgate conspired accidentally to set up Kane yet again and he smacked it home with gratitude as Holgate and Keane had gone for the same ball. Kane then glanced a looping header off the angle.
Lamela ran forward and scooped a shot over as it was Spurs who suddenly looked more likely to get the winner in the last quarter of the game. King came on 8 mins before the end as Coleman drove a weak shot well wide.
A wonderful interception should have seen Everton get the winner but Josh King was nowhere near clever enough with his shot and the clearance to Richarlison was shockingly shanked with the open goal gapping. What a miss!
Everton pressed with Rodriguez producing some moments of magic and a couple of tricky out-swinging corners but not enough to make up for the goals that had been presented gift-wrapped for Harry Kane, who limped off before the end, Alli on in his place before the final whistle.
Scorers: Sigurdsson (pen:31',62'); Kane (27',68')

Everton: Pickford, Holgate, Keane, Godfrey, Digne, Allan, Davies (83' King) [Y:21'], James, Sigurdsson, Iwobi (61' Coleman), Richarlison.
Subs: Virginia, Olsen, Nkounkou, Broadhead, John, Price, Welch.
Tottenham Hotspur: Lloris, Aurier, Alderweireld, Rodon, Dier, Reguilón (64' Lucas Moura), Højbjerg [Y:7'], Sissoko, Ndombele (64' Lamela), Son, Kane.
Subs: Hart, Sanchez, Winks, Bale, Lo Celso, Alli, Tanganga.
Referee: Michael Oliver
VAR: Andre Marriner
---
Reader Comments (398)
Note: the following content is not moderated or vetted by the site owners at the time of submission. Comments are the responsibility of the poster. Disclaimer
Michael Kenrick
1
Posted 16/04/2021 at 19:03:47
Useless twats at EFC...
not
tonight's team:
Pickford, Holgate, Keane, Godfrey, Digne, Allan, Davies, James, Sigurdsson, Iwobi, Calvert-Lewin.
Subs: Virginia, Olsen, King, Nkounkou, Coleman, Broadhead, John, Price, Welch.

Dennis Stevens
2
Posted 16/04/2021 at 19:09:17
Doubt anybody predicted that line up!

Jeff Armstrong
3
Posted 16/04/2021 at 19:09:19
Martin Mason
4
Posted 16/04/2021 at 19:10:52
Michael, why do you help run a fan site when you are so negative yourself?
Neil Lawson
5
Posted 16/04/2021 at 19:11:36
Gomes was fit and hour ago. Must have stayed too long at the boozer.
Steve Lew
6
Posted 16/04/2021 at 19:11:50
What is it with sky and ex shite players commentators...chris Kirkland now on womens football...
Dale Self
7
Posted 16/04/2021 at 19:12:29
Alright, at this point I'll venture a guess that he was complaining about what was posted on the EFC site, not announcing our lineup for the night.
Steve Croston
8
Posted 16/04/2021 at 19:14:44
I cringe at our bench this evening.
Michael Kenrick
9
Posted 16/04/2021 at 19:15:01
Martin, I'm ashamed and saddened at how fucking incompetent they are. They spend all day telling us Calvert-Lewin isn't playing and the first thing they post on their Match Centre at 7 pm shows what???
Well, go look yourself.
Shaun Laycock
10
Posted 16/04/2021 at 19:16:07
I can see this happening
Pickford
3 centre-backs of Holgate, Keane & Godfrey
2 wingbacks of Digne & Iwobi
3 midfielders of Siggy, Alan & Davis
1 Att mid of James
1 att of Richie
Brent Stephens
11
Posted 16/04/2021 at 19:16:15
They've now covered their arses, Michael - correct line up now showing.
Dale Self
12
Posted 16/04/2021 at 19:16:42
Pickford, Holgate, Keane, Godfrey, Digne, Allan, Davies, Rodriguez, Iwobi, Sigurdsson, Richarlison.
Subs: King, Nkounkou, Coleman, Virginia, Olsen, Broadhead, John, Price, Welch.
Andy Walker
13
Posted 16/04/2021 at 19:17:14
As usual 3 weaknesses in midfield. This time Iwobi, Sigurdsson and Davies. Could have included Holgate, Gomes or Bernard as any one or more of the 3.
As long as any combination of 3 out of these 6 is played, it's 3 too many in weaknesses in midfield.
As usual I've set my expectations low for tonight. Hope I'm wrong.
Rob Halligan
14
Posted 16/04/2021 at 19:17:50
Purely a misprint, Michael. 😀😀😀
I'm surprised to see Niasse on the bench though! 🤪🤪
John Kavanagh
15
Posted 16/04/2021 at 19:18:27
Steve, you might cringe at the bench, but I'm cringing at Iwobi starting. Would have been better off with one of the kids. Hide behind couch time methinks.
Robert Tressell
16
Posted 16/04/2021 at 19:18:30
In the circumstances that's not a bad first XI. But look at the benches. Worlds apart in terms of quality. Let's hope we don't need reinforcements.
Dale Self
17
Posted 16/04/2021 at 19:18:31
Picks to block everything!!! Free the Jive Forum!!!
Colin Glassar
18
Posted 16/04/2021 at 19:18:59
Spurs must be shaking in their boots seeing Iwobi starting.
Michael Kenrick
19
Posted 16/04/2021 at 19:19:32
Scroll down to 19:00, Brent.
Still shows Calvert-Lewin in the Everton line-up.
But Martin tells us every aspect of the club is improving. Doesn't that make you proud to be a Blue?
George Cumiskey
20
Posted 16/04/2021 at 19:20:41
Seamus was mom against Palace ! Can't believe he left him out,
John Kavanagh
21
Posted 16/04/2021 at 19:20:45
Is the Live Forum dead or is Tweb now matching pace with our midfield?
Brent Stephens
22
Posted 16/04/2021 at 19:20:58
Ah, missed that, Michael! So they've got two teams out - our best chance of winning!
George Cumiskey
23
Posted 16/04/2021 at 19:21:22
I mean Brighton
Rob Halligan
24
Posted 16/04/2021 at 19:21:53
Michael, the pretty picture at 19.00 showing a smiling Allan has Richardson in the line up. No sign of DCL.
Kevin Molloy
25
Posted 16/04/2021 at 19:22:07
we've probably lashed out close to ten million for King for six months in signing on fee and wages. he must be truly appalling in training if he doesn't get a game when Dcl is injured. I mean, its not as if Richi is pulling any trees up.
Chad Schofield
26
Posted 16/04/2021 at 19:22:42
Think I'd have preferred the fist lone up - even with injuries.
James and Sigurdsson can't play together, at least unless we're showboating. 2 keepers on the bench.
OK, I'm being negative, and we are injury ravaged. COYB

Dale Self
27
Posted 16/04/2021 at 19:22:47
Add EFC to the FAQ.
Brent Stephens
28
Posted 16/04/2021 at 19:23:20
The Live Forum is dead. Long live the Live Forum!
Andrew Brookfield
29
Posted 16/04/2021 at 19:23:54
I agree with Shaun's formation, and I think 11 v 11 those lads can give them a good game. It's when you dip into the bench you start to worry
Jerome Shields
30
Posted 16/04/2021 at 19:24:08
Is Dale #12 the right team. Hope they confuse Mouriho, having confused the rest of us. Defensive mode continues. Hope Allan can get a grip on midfield, it is going to be needed.

Darren Hind
31
Posted 16/04/2021 at 19:25:03
So glad I gave Dave A's tip to back Richie for the first goal a wide berth.
Love your posts Dave, Always have done. but no offence. I think I'll continue to swerve your tips
Steve Croston
32
Posted 16/04/2021 at 19:25:32
Ten million on King? I wouldn't say so Kevin Molloy. 2 million tops. Still a waste of 2 million quid though.
Dale Self
33
Posted 16/04/2021 at 19:25:35
Took that from the Guarniad site.
Brent Stephens
34
Posted 16/04/2021 at 19:26:15
Dale, you've misspelt Grauniad!
Rob Halligan
35
Posted 16/04/2021 at 19:26:25
Kevin # 25. The actual fee paid to Bournemouth was about £2M - £2.5M. He would have to be getting paid around £250K P/W if we've shelved out near £10M for him.
Thomas Richards
36
Posted 16/04/2021 at 19:26:39
Ive backed him.
Saver on Keane anytime scorer
Andrew Brookfield
37
Posted 16/04/2021 at 19:27:51
Josh King who can't get in the Norway squad, or Brazil's number 9???
And some fans complain we didn't start King.
Only at Everton.
COYB
Dale Self
38
Posted 16/04/2021 at 19:28:25
Was thinking of working nad into a response Brent but none of them look funny.
Darren Hind
39
Posted 16/04/2021 at 19:29:08
Now I'm confused.
I thought I saw a ine up where he wasnt playing.
Fuckers bound to score now.
Brian Murray
40
Posted 16/04/2021 at 19:29:15
The Monday games at least gave us a calm even boss weekend. This Friday malarkey is just cruel. Can't wait for the summer and this first team with the exception of Godfrey deign and Allen will struggle to even stilll be here. Or be of importance. Coyb brands do what you're supposed to.
Bobby Mallon
41
Posted 16/04/2021 at 19:29:37
Darren hind, I've just had £10 @5/2 the draw ( Bet365 ), but I hope your bet romps in. Where is the LIVE FORUM
Kevin Molloy
42
Posted 16/04/2021 at 19:30:55
ok, between 5 and 10m. And I'm not suggesting dropping Richi, but King if he was any good should now be in, surely with Richi on the wing. The fact Alex is keeping him out says it all.
Brent Stephens
43
Posted 16/04/2021 at 19:30:59
Dale, you could have claimed it was the American misspelling of Grauniad?
Rob Halligan
44
Posted 16/04/2021 at 19:31:06
Darren, Richarlison is a 100% starter.
Jeff Armstrong
45
Posted 16/04/2021 at 19:31:56
Ancelotti not impressed with Brands signing of Josh King then, we can safely say that out of all the signings since he started as manager, Godfrey, Branthwaite, King and Doucoure are Brands picks, Allan and James are his own choices, Carlo wouldn't want King to be another Brands success now would he?
For me, both Allan and James 5 out of 10, Brands signings under Ancellotti's time average a 7 maybe?arguably.
Personally I think the manager should pick ALL the signings, the DOF model has failed us miserably for the last 5 years,gives the manager an excuse, that's why were in such a mess with about 6 different personnel choosing our current squad,
it's like a box of shit quality street.
Thomas Richards
46
Posted 16/04/2021 at 19:32:00
Official site messed up on teamsheet apparently Darren.
The lads are up in arms

Dale Self
47
Posted 16/04/2021 at 19:32:43
Trying to keep my colonial on the down low Brent.
Martin Mason
48
Posted 16/04/2021 at 19:33:56
Michael@9 If you'd have said why then it would have been great. Sorry.
Rob Halligan
49
Posted 16/04/2021 at 19:34:20
According to the red echo a couple of weeks ago, King will not be making his move a permanent one in the summer. He's deffo on his way out.
Bill Rodgers
50
Posted 16/04/2021 at 19:34:28
Our plan was to give the ball to Davies and then he would give it to Spurs. It worked a treat. Very pleased with the efforts of our boys tonight. (I can do it in an Italian accent if you pay me £6m?)
Ian Burns
51
Posted 16/04/2021 at 19:35:16
Please don't tell Colin that Iwobi is starting!
Brent Stephens
52
Posted 16/04/2021 at 19:35:27
Like a revolving door for him, Rob.
David Pearl
53
Posted 16/04/2021 at 19:35:27
Hmm not much width is there? And with Richy and James dropping deep we might struggle to retain the ball. BUT here's hoping. They've surprised us before. Not unless Iwobi plays right and Digne left. Nobody knows... probably not even the players.
Dale Self
54
Posted 16/04/2021 at 19:36:46
I'll give you six pence Bill.
Darren Hind
55
Posted 16/04/2021 at 19:39:38
had a few bevs for "breakfast" and me heads wrecked.
Had two messages saying DCL is playing. Looks like the OS has lead quite a few up the garden path.

Cant not have a little saver on Richie now
Pat Kelly
56
Posted 16/04/2021 at 19:41:24
Does anyone believe Carlo that we're still in the hunt for Europe ?
Ciarán McGlone
57
Posted 16/04/2021 at 19:41:29
Let's hope we can put up a fight against a decent team because we certainly don't seem to be able to muster a fart against the mediocre crap in this league.
Andrew Bentley
58
Posted 16/04/2021 at 19:45:22
Any MF options should Allan or Davies get injured or booked!!?! I know we need to stay positive as you don't know how they are going to play until the game kicks off but honestly not holding out much hope here 😢😢
David Cash
59
Posted 16/04/2021 at 19:45:39
Darren
Get yourself a coffee lad. You're talking utter shite
Brian Murray
60
Posted 16/04/2021 at 19:47:36
Godfrey the new jagelka. Jeez why can't they just be quiet and maybe try do on the pitch first.
Steavey Buckley
61
Posted 16/04/2021 at 19:49:09
This could be another dreadful night of football from Everton, based on recent past experiences.
Thomas Richards
62
Posted 16/04/2021 at 19:49:11
Evening Casho.
Geoff Williams
63
Posted 16/04/2021 at 19:49:17
What a team! Now with Sigurdsson and Iwobi along with James playing the tackles will be flying in. King must be truly awful in trainimg to not warrant selection. Forecast 0-3
Keith Meakin
64
Posted 16/04/2021 at 19:49:30
No Doucoure means no meat in the middle only veg.
John Skelly
65
Posted 16/04/2021 at 19:49:38
Just had a tenner at 13/1 for us to win 2-0 and I never bet on football must be something in the water or maybe my can of Guinness.
Dale Self
66
Posted 16/04/2021 at 19:50:49
Godfrey could be the guy who matters when he speaks, let's give him a chance on that. Future captain.
Eddie Dunn
67
Posted 16/04/2021 at 19:55:19
Is the Live Forum not working or is it just me?

Eddie Dunn
68
Posted 16/04/2021 at 19:55:19
Is the Live Forum not working or is it just me?

Jeff Armstrong
69
Posted 16/04/2021 at 19:56:47
Your obviously working Eddie,. double time?
Michael Kenrick
Editorial Team
70
Posted 16/04/2021 at 19:57:14
Sorry, Live Forum is working now. My bad.
David Cash
71
Posted 16/04/2021 at 19:59:42
Evening Thomas.
Hope you are up for this tonight. Liked your post the other day
Remember this: Life is a caberet old chum
Christy Ring
72
Posted 16/04/2021 at 20:10:57
I thought Gomes was fit, and still don't understand how Siggy is Captain?
John Skelly
73
Posted 16/04/2021 at 20:30:35
Are well maybe next time you lose some you lose some 😃
Ernie Baywood
74
Posted 16/04/2021 at 20:32:09
Christy, that's not the biggest selection issue today. That's purely about your issues.
Ciarán McGlone
75
Posted 16/04/2021 at 20:50:19
Awful first 15 from both sides.. gladly we finished the half the better side with some lovely football..
Confidence needs to be there.. but we can win this. Rodrigues doing the silky stuff well and Sigurddson not bad either.
Ernie Baywood
76
Posted 16/04/2021 at 20:51:28
Well that performance came from nowhere. Strong and energetic in the middle. Looking really good at the back. James, Richarlison and Sigurdsson constantly a threat.
The goal we conceded was just a massive cock up. The one really poor moment.
The only problem I see is the reliance on the left side. The guy on the right isn't a footballer. We must have an option that's better than that?
Thomas Richards
77
Posted 16/04/2021 at 20:56:40
It is at the moment Casho.
Didnt realise you was a scouse noo yoiker.
Did you watch the games in Denneheys?
Jay Wood
[BRZ]
78
Posted 16/04/2021 at 21:00:14
Much better than of late.
Messy goal for them, against the run of play. All started half way into their half with Iwobi playing a dreadful pass that basically took our midfield out of the game.
No pressure on the cross. Teased Keane to attempt to head it. I dunno what Holgate was doing, running off Kane, slipping and of course Keane's touch played the clearly offside Kane on. He's not going to spurn those, is he?
Siggy and James are combining really well, as exampled in the penalty. We've carried all the threat without the finishing. They've barely encroached our penalty area, other than the gifted goal.
Three points on offer here IF we take the chances when they come.
Brian Wilkinson
79
Posted 16/04/2021 at 21:05:28
There for the taking Spurs, if we keep at them. Not seen anything yet to worry me.
Ernie Baywood
81
Posted 16/04/2021 at 21:26:10
That goal!
Football of the highest scientific order.
Not often we can say that.
Now hoping we don't just sit back.
Ernie Baywood
82
Posted 16/04/2021 at 21:29:21
Honestly. Those two are absolutely ridiculous. Spurs have done nothing and yet they've bolloxed it again.
Roman Sidey
83
Posted 16/04/2021 at 21:30:31
Holgate and Keane... someone should introduce them to each other.
Richard Nelson
84
Posted 16/04/2021 at 21:33:24
...as usual...Holgate & Iwobi are a recipe for disaster..!
Simon Dalzell
85
Posted 16/04/2021 at 21:34:09
Typical. Better team by a bit. Self destruct again. We need to start from scratch with center backs. It's always chaos when Holgate is involved.
Simon Dalzell
86
Posted 16/04/2021 at 21:43:38
A full 7 mins for King. Great stuff Carlo.
Alex Gray
87
Posted 16/04/2021 at 21:46:02
How has Richarlison missed that! Ffs!!
Alex Gray
88
Posted 16/04/2021 at 21:56:20
Keane cost us. They had no attacking threat and him and holgate threw it away. Clowns.
Jay Wood
[BRZ]
89
Posted 16/04/2021 at 21:58:33
Missed opportunity there.
For the majority of the game the superior side, only to gift them two goals by the same two players.
A pity, because Siggy's second was such a well-crafted goal worthy of winning any game. Goal of the season contender for me.
Far, far better than what we've seen of late.
Joe McMahon
90
Posted 16/04/2021 at 21:59:15
What has King done wrong. He should have started, as like the Palace game easy chances missed. We finally score more then one and 2 awful mistakes cost us. Every season its disappointment. We certainly aren't ready for Europe though.
Tony Hill
91
Posted 16/04/2021 at 21:59:28
Appalling defending ruined a much improved performance. Our failure to manage tempo was, yet again, fatal. Instead of slowing things down when we went ahead we allowed the game to become hectic and paid the price.
I was actually pleased with our attitude and overall game, but we keep cocking it up - again and again and again - because we panic. It's our signature.
Tony Twist
92
Posted 16/04/2021 at 22:00:06
Bottlers. Nothing ever changes, they find new ways to embarass the fans.
Kieran Kinsella
93
Posted 16/04/2021 at 22:00:16
A lot to be positive about and impressed but I can't get past the endless replay of Keane heading the ball onto Holgate's arse to assist Kane's goal. That was comedy gold -- for anyone outside of Everton.
Thomas Richards
94
Posted 16/04/2021 at 22:01:28
Big improvement on the recent stuff.
Two liabilities cost us a win.

Tony Abrahams
95
Posted 16/04/2021 at 22:02:56
Enjoyable game of football, but unfortunately not the victory which I felt we deserved.
Some will blame Holgate, some will blame Keane, (maybe this is why the manager has chose to really protect the defence this season?) some will blame the two of them, whilst others might blame Richarlison, for that terrible miss near the end? But overall a much more fluent display.
Neil Lawson
96
Posted 16/04/2021 at 22:03:27
There was endeavour and some passion. It makes such a difference. Embodied best of all by Seamus but he only got 30 mins. I simply can not understand that. 10 players for us until he arrived.
Disappointed at the result instead of the performance. What a change that makes.
Kieran Kinsella
97
Posted 16/04/2021 at 22:04:22
Tony Abrahams
I tell you what, for all the critics of the negative football supposedly served up by Jose and Carlo, I agree with you this was entertaining but I'd go further and say our three best performances and the three most entertaining games we've had the season were all against Spurs.
Ernie Baywood
98
Posted 16/04/2021 at 22:04:28
We played really well. We were enjoyable to watch. The required effort and adventure was there.
It's just gutting that we've drawn. For all the world it feels like I've watched a really comfortable win.
If I'm giving player ratings so many score high. Iwobi, Holgate, and Keane score nothing. There was no-one in between. Maybe Richarlison but he put in a good shift and was dangerous.
Justin Doone
99
Posted 16/04/2021 at 22:05:22
Sums up the season..
The good, the bad and the ugly.
I was happy to see a lot of good forward runs and hard work closing their players down quickly.
We actually created some really good chances but couldn't take them.
I think in general we uped the tempo for the first time in about 6 weeks but to little to late.
Never be a keeper and never be a defender. UNBELIEVABLE!
Iwobi got shown up by an over the hill right back. Seamus with good runs, passing and cross. Keep him at right wing back or midfield.
King contributed to with good movement and runs. He should be starting more games.
Get tonight over with and I may be able to enjoy the rest of the weekend. Chin up blues.
Jerome Shields
100
Posted 16/04/2021 at 22:05:47
A bit of improvement tonight, but you just can't have players who play for the opposition most of the night.
Spurs are poor and Kane accepts gifts.
Tony Hill
101
Posted 16/04/2021 at 22:07:59
There were very good things, notably Sigurdsson, and I thought Davies was excellent too.
Despite the result, and the deep frustration, that revives my hopes a little bit that we might kick on next season. We will finish 7th-9th; not great for Carlo, it should be said.
Stuart Sharp
102
Posted 16/04/2021 at 22:09:38
Some excellent performances there. Actually gutted by the result. Aside from the Kamikaze brothers at the back, and of course Iwobi (poor by his own pants standards), I was really impressed. We actually tried to win. Some of the link up play between James and Sigs was brilliant.
Thomas Richards
103
Posted 16/04/2021 at 22:10:07
Thought Tom had a good game tonight. Unlucky to come off but a positive change makes up for that.
Lee Courtliff
104
Posted 16/04/2021 at 22:10:49
Much, much better. The defending was a joke but I'll take that performance given what we've witnessed lately.
Stephen Brown
105
Posted 16/04/2021 at 22:11:30
James is a delicious football player!!
Wish he could stay fit and last 90 mins!
Get done pace and runners around him and he will flourish!
Comical defensively I'm afraid! Keane and Holgate not sure they are the level we want to be ?
Jim Bennings
106
Posted 16/04/2021 at 22:12:56
Tony
Looking at the fixtures I'd say Arsenal and Leeds will both finish above us now, whether or not we finish above Villa will depend on the results against them in two matches.
Our home record has completely spoiled the season.
We have won one home game since December and keep endlessly giving gifts to poor opposing sides, lets face it, Spurs were really poor tonight and we should have won that by at least two clear goals.
Even if DCL had played tonight you could have seen him missing those same chances because he's another that's lacking in that area.
Unless we sign a clinical forward in the summer then it's much the same again next term.
Danny O'Neill
107
Posted 16/04/2021 at 22:13:04
Really good match to watch.
I thought it started scrappy from both teams and showed that generally Tottenham and Everton are not too far apart. The positive being they pretty much had their big hitters on the pitch, we are massively injury plagued. I would argue that everyone fit, we are better than them.
Were it not for the defensive blunders, that's 2 - 0. For the first goal, Keane shows what the likes of me and others are concerned with. He may be much improved this season - he is - but he watches the ball go over his head and stretches for it. Leave it. But then Mason is diving for an imaginary ball when he should be more concerned on marking the space and staying tight to Kane. Second goal; you are taught at 10 years old, height and distance when executing a defensive header. Total lack of communication between the defenders.
Centre back defensive rant over, that was a decent performance against peers. James showed his quality. I liked the way Allan and Davies worked together as the midfield two. We played well and competed just let ourselves down with 2 individual / combined errors.
Michael Lynch
108
Posted 16/04/2021 at 22:13:09
We were quite watchable for the last hour of the game. 3-1 would have been a fair result, but laurel and Hardy put paid to that.
Harry Kane needs to leave Spurs in the summer. He should be playing in the CL final, not the caribou cup final
Pat Kelly
109
Posted 16/04/2021 at 22:13:19
Carlo to blame for playing Iwobi. Unforgivable. But probably deliberately to avoid Europa.
Roger Helm
110
Posted 16/04/2021 at 22:14:46
How is it that Seamus at his age is our most committed player? Comparing his and Iwobi's purchase price is just laughable.
It is all very well slamming Keane but straightforward chances missed by our forwards recently have cost us four points in the last three matches.
Ernie Baywood
111
Posted 16/04/2021 at 22:16:16
On Holgate and Keane... they're terrible mistakes. Both players make the same mistake but reversed in each incident. I don't think you can blame one - it's something they're both doing wrong. One should attack the ball, the other should stay on Kane. And there's no reason to be throwing yourself back at the ball when you've got centre backs there to cover.
On Iwobi, anyone who has coached juniors can see that this bloke has zero potential. He's not going to improve. He doesn't have the basics that we teach kids before they're 12. He looks like he learned to play by playing FIFA. There is zero value in having him on the pitch. Pick a kid and play them.
Jim Bennings
112
Posted 16/04/2021 at 22:16:21
Iwobi and Holgate would be on the "move on list" two players that may fetch a few quid more than the deadwood like Delph, Besic ect
While you continue to play these pricks then you are asking for trouble.
Keane had done ok this season but only when Mina is next to him.

Colin Glassar
113
Posted 16/04/2021 at 22:16:23
After weeks of turgid garbage this was much better. If it wasn't for some amateurish defending by messrs Keane and Holgate we would've won that comfortably.
Allan makes a huge difference in MF and he freed up James to go further forward. Pickford, Digne, Godfrey, Allan, James and Sigurdsson all showed up tonight, even Seamus in his cameo performance.
Iwobi is, and always will be, shite!!
Alan Johnson
114
Posted 16/04/2021 at 22:17:00
Agree with Stuart #102 James and Siggy some nice interplay. Thought we played well tonight. Shambolic defending though.
Ian Edwards
115
Posted 16/04/2021 at 22:17:20
I thought the team selection was too negstive. A forward should have replaced DCL. We were at home.
Having said that we had chances and should have won. Keane just wrecked any chances of the Euros with Southgate watching.
Europe has gone. The final league position is not going to be much of an improvement on last season. That shows that Ancelotti has failed.
Tony Hill
116
Posted 16/04/2021 at 22:17:26
I'm afraid I think there are big questions about Keane. A very brave, honest player but he's not good enough.
I'm a very big fan of Holgate but his concentration has been poor this season and he has not developed as I'd hoped.
If we play like that, though, for the rest of the season I can live with it.
Brian Wilkinson
117
Posted 16/04/2021 at 22:18:10
People are saying Godfrey has been our best player of the season, I agree, so why the hell not leave him at centre half instead of playing him on the left, then on the right.
Keep your best player in his best position, and put someone else in the square peg, round hole.
Why bother with naming the youngsters on the bench, they never get a proper chance.
If we have three of the regular first teamers on the bench, all three get a game, yet last week, we only had Iwobi on the bench, the rest youngsters, Iwobi gets on early second half, Broadhead the last 4 mins.
No wonder Kean wants to stay at psg.
On a final note did Holgate mishear Carlo saying stay close to Kane and thought he said stay close to Keane, in a Michael Cain accent.
Jim Bennings
118
Posted 16/04/2021 at 22:18:39
We owe Arsenal a beating next week if only for fleecing us and laughing in our kips for selling us Iwobi.
Stephen Brown
119
Posted 16/04/2021 at 22:18:48
We should be at least 4/6 points better off from last 3 games with some composure in front of goal!
DCL/RIchy v Crystal Palace
Iwobi v Brighton
RIchy late in the game today
I'm not really sure where we go from here?
Darren Hind
120
Posted 16/04/2021 at 22:19:54
Ah look.
We didnt win the game, but we did try to. I'll accept that all day long
Thomas Richards
121
Posted 16/04/2021 at 22:19:59
We have one very good centre half amongst the first team squad.
The others would not get a game for a top 10 side.
Not a knee jerk post. Ive said the same for a while
Jerome Shields
122
Posted 16/04/2021 at 22:21:03
Godfrey not played at Centre Half to add pace where it is badly needed.
Tony Abrahams
123
Posted 16/04/2021 at 22:22:28
Ian@115, aaaarrrggghhh!
Andrew Clare
124
Posted 16/04/2021 at 22:22:31
The first time we have looked like the better team for quite a few games. I think the injuries have hit us hard and exposed what a weak squad we have- as if we didn't know.
I was doom and gloom before this match expecting a defeat. I am glad I was wrong- maybe Carlo is getting it right- he just needs another window.
Stephen Brown
125
Posted 16/04/2021 at 22:23:05
How much would we get for Iwobi ? £10m ?! Holgate? £10m?
Would anyone take them?
John Raftery
126
Posted 16/04/2021 at 22:23:29
Overall that was our best performance for many weeks. There was little to choose between the two teams. The match pretty much confirmed the evidence of the league table with the two next to each other in seventh and eighth places. Our man of the match was Sigurdsson whose goals, work rate and passing made a difference to our attacking play. James was not far behind him. Miraculously he also managed to complete two full games in five days. Allan gives the team a decent balance in midfield. It was pleasing to see him complete a full match. There will be considerable disappointment about our failure to defend two routine crosses which presented Kane with his goals. Michael Keane's big strength is his penalty box defending. Tonight that deserted him.
Danny O'Neill
127
Posted 16/04/2021 at 22:24:07
I've been saying all along, if there is any truth in the rumours with Koulibaly from Napoli, do it.
Others may think there are other priorities, but our centre backs are good, not great.
Koulibaly alongside Godfrey would make me feel confident.
Thomas Richards
128
Posted 16/04/2021 at 22:24:30
Ian,
Come on mate.
Not on the back of a decent performance from the lads please.
Brendan McLaughlin
129
Posted 16/04/2021 at 22:25:35
More optimistic tonight than I was after the Brighton debacle.
Thomas Richards
130
Posted 16/04/2021 at 22:25:49
Danny.
The number one priority is still a centre half.
Roger Helm
131
Posted 16/04/2021 at 22:28:46
Hopefully Arsenal will still be laughing after pulling our pants down over Iwobi
Ian Edwards
132
Posted 16/04/2021 at 22:30:48
I'm not sure why a couple of people have had a pop... I thought I was very fair and my final comments are spot on given where we are likely to finish and we have still only won one home game since Xmas and it's mid April.
Colin Glassar
133
Posted 16/04/2021 at 22:33:50
Danny, Koulibaly would be a game changer. He can actually play out from defence and is quick and strong. With Mina or Godfrey next to him we would be really difficult to beat.
I've backed both Keane and Holgate over the years but if we have to sell to buy a player like Koulibaly then both of those two would be my sacrificial lambs.
Aarons, Koulibaly, Rabiot, Sarr and the return of Kean, or another forward and I'd feel a lot more confident about next season.
Paul A Smith
134
Posted 16/04/2021 at 22:34:10
We were unlucky tonight but stil should have won on the overall performance.
Spurs didn't even want to win and were gifted 2 goals from play we should have easily dealt with.
Keane was having his best season 'til not long ago but has shown again that overall he is prone to errors far too often regardless of his manager.
James is absolute class. Joy to watch.
Watching sky after the game they are a disgrace asking Jose about the Pogba interview today. I have been saying to mates for weeks that Sky and Spurs players are setting Jose up for his exit.
They (Spurs players) certainly come across like they are not going all out for him and tonight it helped us dominate them.
Christy Ring
135
Posted 16/04/2021 at 22:34:12
Ian#115 Carlo's fault again?? too negative? Played really well two mistakes at the back should have got a third, played really well credit where it's due
Tony Hill
136
Posted 16/04/2021 at 22:35:28
Please let's not blame Iwobi for that result. He was very poor tonight and he's not the answer but the repeated assault on him is embarrassing and depressing.
Danny O'Neill
137
Posted 16/04/2021 at 22:37:57
Still a chance of Europe Ian. Champions League no, but that was never realistic this season, we just got a tantalising whiff of it. If we're one point behind Tottenham in the league with a game in hand surely we have as much a chance as them? A team we have beaten twice and drawn with tonight over 3 encounters.
Good performance tonight.
Eddie Dunn
138
Posted 16/04/2021 at 22:38:05
I thought we played some great footy and should have won. Special mentions to Davies, Digne, James, Siggy and Allan and Godfrey..even seamus late-on.
Obviously Iwobi was woefull and Richie wastefull but one more point...The costly cock-ups at the back were both down to Keane and Holgate, but Ernie Baywood (above) on the second one Godfrey was picking up Kane and was ball-watching..he just froze watching the shit-show like the rest of us.
One criticism of te boss playing that fraud iwobi in front of King who injected the team with purpose for ten poxy minutes! Too conservative Mr A.
Eddie Dunn
139
Posted 16/04/2021 at 22:38:05
I thought we played some great footy and should have won. Special mentions to Davies, Digne, James, Siggy and Allan and Godfrey..even seamus late-on.
Obviously Iwobi was woefull and Richie wastefull but one more point...The costly cock-ups at the back were both down to Keane and Holgate, but Ernie Baywood (above) on the second one Godfrey was picking up Kane and was ball-watching..he just froze watching the shit-show like the rest of us.
One criticism of te boss playing that fraud iwobi in front of King who injected the team with purpose for ten poxy minutes! Too conservative Mr A.
Jerome Shields
140
Posted 16/04/2021 at 22:38:58
Iowbi has been exposed for a long time. Keane is following suite. Keane was a liability most of the evening. Holgate has never been the same player since his injury recovery last year. Unsure defensively and poor on distribution.
Ernie Baywood
141
Posted 16/04/2021 at 22:38:59
Tony, I don't blame him. I wouldn't blame you if Everton trotted you out onto the pitch.
It's the fact he's picked that is the problem. He can't play football.
Paul A Smith
142
Posted 16/04/2021 at 22:40:23
Danny i'd forget about Koulibaly if I was you mate. Everyone on here would take him in a heartbeat but i'd say its highly unlikely one of the best Centre Halfs on earth is coming to Everton.
Peter Mills
143
Posted 16/04/2021 at 22:40:51
Michael Keane can't deal with floating crosses, can't turn, and is not very quick. Not ideal in a centre half.
James can do stuff that other players don't even dream about.
Richarlison is lacking when he has a moment to think, much better when he does something instinctive.
My 6th grandchild, a little girl, was born just before kick-off.

Will Mabon
144
Posted 16/04/2021 at 22:41:46
All said and done, result, tactics, individuals all put aside... it was a very enjoyable game, and we looked like a positive team. Been a while since I could say that.
More please.
Kieran Kinsella
145
Posted 16/04/2021 at 22:42:06
Peter Mills
Congratulations mate!
Brent Stephens
146
Posted 16/04/2021 at 22:42:08
#109 "Carlo to blame for playing Iwobi".
Yes, Iwobi really should have headed those balls out instead of gifting the goals.
Paul A Smith
147
Posted 16/04/2021 at 22:42:30
Congratulations Peter Mills and family. Shame we couldn't win on a special day mate.
Don Alexander
148
Posted 16/04/2021 at 22:42:39
An overdue encouraging effort.
To me the cock-ups between Holgate and Keane stem from USMFF. ALL of our central defenders need to take a leaf out of Yerri and Ben's bog-standard manual on central defending and SHOUT for the ball, allowing partners at the split-second to stay ahead of the game and not inadvertently deliver golden chances to England's best centre-forward. That can be practiced in training but seemingly isn't and I wonder why, as ever.
And, as gifted as he is (but he's easily bullied), I just wonder whether others in midfield and attack have become too reliant on James alone to make a pass from which a chance may occur? Tonight when Seamus and Josh came on Richi and others seemed to find a new lease of life in around the Spurs area, thereby entertaining us, limiting Spurs ability to attack, and maybe even win the game.
Hope springs eternal - just about, for now!
But another exhausting, flaccid Europa campaign will be the last thing this squad, even injury free (as if!), need if we're to have an earthly of improving next season.
Will Mabon
149
Posted 16/04/2021 at 22:42:56
Peter - nice.
Thomas Richards
150
Posted 16/04/2021 at 22:43:06
Peter 143
Congratulations.
Get her name on the season ticket list for the Bramley Moore
Colin Glassar
151
Posted 16/04/2021 at 22:43:16
Congratulations Peter, can she play on the RW?
Eddie Dunn
152
Posted 16/04/2021 at 22:43:18
Pat(109) the only reason for playing Iwobi is to comvince some idiot that he is a PL player..Carlo surely is trying to get him off the books. Trouble is he is so awful that playing him just reminds folks how bad he is!
Mike Gwyer
153
Posted 16/04/2021 at 22:44:35
Stephen Brown.
£10m for Iwobi, you are seriously having a laugh.
Would love to be there when he tells his grand kids he actually played football and the look on their faces when they watch him on "you tube".
Mind you, I'd love to see the look on Brands face when he watches Iwobi play.

Eddie Dunn
154
Posted 16/04/2021 at 22:45:15
Lovely news peter- congrats mate!
Jerome Shields
155
Posted 16/04/2021 at 22:45:36
Ernie Baywood
156
Posted 16/04/2021 at 22:46:02
Eddie, Keane was most certainly on Kane for the second. At least that's where he started.
In fact, you look at the way we were setup defensively for those two goals and there wasn't too much wrong. Kane marked, Godfrey covering, maybe just the issue of the other CB being a bit too far from his partner.
But why are they desperately throwing themselves backwards at balls with no threat?
I'd happily criticise Godfrey if he warranted it. Maybe he was slow to react. But the problem was all in front of him with players making bizarre decisions they didn't need to make.
And why run off Kane to attack a nothing ball?
Brent Stephens
157
Posted 16/04/2021 at 22:46:56
Peter #143 "My 6th grandchild, a little girl, was born just before kick-off".
Very inconsiderate of her, Peter!
Congrats, mate.
Dave Abrahams
158
Posted 16/04/2021 at 22:47:02
We could have been discussing and praising a marvellous winning goal by Sigurdsson fast and well constructed, only mistakes cost us and gave Spurs two great easy chances to a man who doesn't miss them.
We deserved to win with a very good performance after the first twenty minutes, with Sigurdsson playing very well and his two goals just gave him the edge for MOTM over James, adding two good midfield performances from Davies and Allan and another good wholehearted energetic game from Godfrey and the same from Colman when he came on.
Another gutless, in this case, substitution from Carlo, taking the energetic and good play from Davies off and leaving the very poor Richarlison on. it should have been a straight swop King for Richarlison who was very poor, is Carlo frightened to upset him by substituting him.
We lost the game through two pathetic efforts at defending, I won't mention one players name, I can't stand the mention of it, the lad frightens me every time I see his name on the team sheet, shiver every time I see him try to defend.
All in all a performance I didn't expect, not because I shouldn't, but it was a performance with effort, fight and determination that we should have been seeing in the last six or seven games, or to be honest every time we take to the field. Now who is that down to?
Colin Glassar
159
Posted 16/04/2021 at 22:47:21
Stephen 125, I know Holgate has been poor his season but he has been chopped and changed almost every game so I might give him a bit more time, and stability.
As for the other fella, I'd let him go for free if it was up to me. Just get rid!
Paul Birmingham
160
Posted 16/04/2021 at 22:48:08
The best tempo for weeks and in some phases of the game Spurs were getting run ragged.
Fine margins, the Old Key Stone Kops end of season cameo performance has gifted Harry Kane a brave, an£ with some luck Everton should have won, based on chances created.
It's not the end of this season but it leaves a mountain to climb. The trouble is now other teams have caught up with Everton. But there will be more twists of fight and who knows.
The best Everton have played for some time, the midfield worked their socks off and all put a good shift in bar Iwobi, who looks like he's lost and wants to hide away on the pitch. The lads confidence is shot and I think he needs to be dropped.
I think the second Spurs goal shows the poor communication but Keane could have cleared the ball with his feet as it was knee level almost when he headed in to a reversing Holgate.
To win at Arsenal. Create history by winning at the Emirates..but defending like that at any level is no5 sustainable to be a good football team.
Paul Birmingham
161
Posted 16/04/2021 at 22:49:50
Congratulations Peter on the birth of your grandchild tonight, I hope all is well.
Danny O'Neill
162
Posted 16/04/2021 at 22:51:07
If the rumours won't go away, I'll keep hoping in vain Paul! A player of that calibre would make such a difference.
Rob Dolby
163
Posted 16/04/2021 at 22:53:11
I wasn't expecting such an open game.
Vastly improved performance marred only by the 2 mistakes for their goals.
I even thought iwobi put a shift in.
We looked the better team for long periods. Mourinho will be made up getting away with a point tonight.
Kane won't get 2 easier goals all season.
I just wish that we got some of those gifts from the opposition.
Our 2nd goal was top class. Sigurdsson my motm but that could also have gone to Allan, Rodriguez or Tom Davies.

Tony Hill
164
Posted 16/04/2021 at 22:53:17
As I say, embarrassing and depressing. It's part of a bullying trend that has crept into this site.
Enjoy the smug chortling.
Ian Edwards
165
Posted 16/04/2021 at 22:54:09
Congratulations Peter..
Paul Birmingham
166
Posted 16/04/2021 at 22:54:27
If we bust the pay structure and get Koulibaly I reckon there's a massive gap in defence filled, but more to do, but that would be some transfer if it happened.
Dave Abrahams
167
Posted 16/04/2021 at 22:54:52
Peter (143) congratulations, another little miracle entering the world.
Brian Williams
168
Posted 16/04/2021 at 22:56:45
I suppose it's a case of "If my aunty had balls she'd be my uncle" but if we'd played half as well as that against Brighton, Fulham, Newcastle etc we'd be sitting pretty in the top four.
I just can't understand how we can be "up" for that game but not for a number of much easier ones.
Some very good play tonight. I thought Davies did really well with Allan alongside him and James should coach passing at the club as others overhit or misplace them regularly while he passes to perfection 99% of the time. When he does what he does best he's a joy to watch and appreciate.
We were much better than them tonight which makes getting just a point even more annnoying.
Our second goal was sublime and shows just what's possible. The fact that we've not done anything like that in a good while is a mystery.
Deserved a win!
Dale Self
169
Posted 16/04/2021 at 22:58:41
Ian, if you're going to have a pop expect to get a pop. It is no big deal, shake it off and post again. You're not being picked on, you're comments ignite ire. Accept it or rephrase your stuff.
I guess I should declare that it is your determination that this is evidence of Carlo's failure to which I take offence.
Paul A Smith
170
Posted 16/04/2021 at 22:58:59
Not half Danny it'd be great to see that calibre arrive but until we are ready to up the wage bill greatly its best for me to be realistic and not set myself up for disappointment.
Danny O'Neill
171
Posted 16/04/2021 at 23:00:34
Welcome to the world to your Granddaughter Peter and to the latest Evertonian I suspect?!
Dave Abrahams, that was a fantastically worked second goal. Sigurdsson's finish was sublime.
Paul Hewitt
172
Posted 16/04/2021 at 23:01:43
Well that was much better. But I would be asking why have you been playing crap for the last few months.sorry a good performance today doesn't let you off.
Dale Self
173
Posted 16/04/2021 at 23:02:46
And requiring a separate post: Congratulations Peter!! The world always needs another blue.
Brian Williams
174
Posted 16/04/2021 at 23:05:49
Dave#158.
Dave I think you're being harsh on the substitution decision mate.
If you look at it from another point of view it was a postive "attacking " one.
King almost, and perhaps should have, scored soon after coming on and although Tom played really well who, between him and Richie (as below par as he may have been) is the most likely to score a winning goal, or any goal for that matter?

Rob Halligan
175
Posted 16/04/2021 at 23:06:09
See some of the village idiots from "The village idiots forum" have managed to find their way onto the main forum!! Well done!
Colin Glassar
176
Posted 16/04/2021 at 23:08:53
I thought, in the main, they were quite well behaved tonight, Rob.
Mark Stanley
177
Posted 16/04/2021 at 23:12:03
Said it before and will say it again, we won't finish in the top half of the table.
Neil Lawson
178
Posted 16/04/2021 at 23:17:18
Why is Davies hauled off every game at 75 mins + ? Other than Godfrey, he is probably the fittest and most able to carry on and certainly one of the most committed and effective. He was excellent tonight. I can not accept that it is tactical given the current lack of strength in midfield. It is almost as if Carlo is frightened to sub his big names ( until they ask to be removed that is ) so Tom, as the local lad gets the hook. Yes, we nearly won it with King, but yes also, we became too open and were at risk of donating another late soft winner.
Carlo will never give a straight/honest answer if that question were posed, and no doubt other contributors will explain to me how it is a stroke of tactical genius. I just do not comprehend it.
However, so much better, but why can our star centre forward not put the ball in a gaping net from 10 yards ?

Ralph Basnett
179
Posted 16/04/2021 at 23:20:07
tbh I cant be bothered reading the drivel above.
I am a great moaner on here and especially when it comes to Siggi but tonight I take my hat off to him.
Not just the goals but the shift he put in, obviously contract time but still did the biz.
Just a shame we havent had so much effort over the season from a lot of our squad.
So close so far, but nice to watch.
Sean O'Hanlon
180
Posted 16/04/2021 at 23:23:16
Magnificent performance!
We've got 13 points from the last 12 games! Definitely should get in the top 14 this year!
Well done Carlo!

Danny Broderick
181
Posted 16/04/2021 at 23:28:03
Good performance with poor defending by our centre halves for the goals. That is the game in a nutshell.
Coleman and King looked lovely when they came on. Richarlison still hasn't found his shooting boots. We need him in the goals as we have little threat otherwise.
Rodriguez is a magician. Siggi took his goal well, but he just doesn't offer us what Rodriguez does in open play. He is one of the best players I have seen in a blue shirt. Always has time on the ball, and finds a blue shirt pretty much every time he passes it. Makes the game look so easy.
Not a bad game all round. Just a shame about the defensive errors.
Paul Hewitt
182
Posted 16/04/2021 at 23:28:53
If only we had Lukaku. We would be second now.
Jeff Armstrong
183
Posted 16/04/2021 at 23:38:04
Eddie 138,139, stop repeating yourself, we get the point, 😁Ancellotti will not except King is a better option than Iwobi, Iwobi was already here before
" the professor " arrived, King came later as a Brands signing under his tenure, he will therefore always pick Iwobi before King, just to make a point, but showing himself to be wrong, petty, arrogant and not a very good judge of what his own team requires, it will ultimately be his downfall,.
I know King is no great shakes, but with a bit of manoeuvre, ( Coleman) he is easily a far better option than Alex Iwobi,!

Phil Lewis
184
Posted 16/04/2021 at 23:40:48
Coleman's performances of late have been excellent. Such a pity he's not five years younger. Overall there was an improvement tonight and for long periods we played good football. However certain players are still under performing. Richarlison's scoring touch has deserted him, I'm sure it's only temporary. Similarly DCL before his recent injury. I could name several others who are not playing to their full capability. Loss of form is entwined with lack of confidence. It leads to the silly mistakes such as those made in defence tonight.
I believe our entire squad is capable of improvement with the exception of one player, Iwobi. I'm sorry, he seems a nice willing lad who will run here, there and everywhere for the ball, which he does relentlessly, aimlessly, in the manner of the proverbial headless chicken. Sadly I simply cannot visualise improvement from him no matter how far he runs. We may as well have signed Forest Gump.
Dale Self
185
Posted 16/04/2021 at 23:46:32
That's crap Jeff. Sorry man, but that is pure unadulterated crap.
Dave Abrahams
186
Posted 16/04/2021 at 23:48:29
Brian (174), fair enough Brian, but the midfield were playing well and creating chances, so the midfield was weakened when Tom went off as Sigurdsson went further back, so a straight swop King for the very poor Brazilian made more sense to me, I think if DCL had been playing instead of Charlie then Dominic would have been hauled off, Carlo seems reluctant to take Charlie off, he's the manager and should be in charge. I will be honest and say Richarlison isn't my cup of tea, although he seems to impress quite a lot of fans, even with the very poor season he has had. One man's meat is another man's poison.
Tony Hill
187
Posted 16/04/2021 at 23:55:02
What I really object to in the Iwobi bollocks from fixated emptyheads is that it is irrelevant. It is typical of the simple-minded dross which passes for analysis on here far too often.
Err, that Iwobi is really shit isn't he. Yes, quite right, he really is. But he's really, really shit though isn't he and that's why he's really shit. Spot on, mate, ha ha.
No offence.
Ernie Baywood
188
Posted 16/04/2021 at 00:02:04
We needed a sub. Even just for fresh legs.
It bothers me that it is always Tom and in the past it's been an obviously had decision... but today I don't know who I would have sacrificed.
Despite the lack of a goal I thought Richarlison was key. He gave them problems all game. Sometimes that's enough to create chances for others. I'd have kept him on - he was still a potential game winner.
Sigi and James were more obvious candidates but both were having cracking games. Both looked like potential game winners.
So it was down to Allan or Tom. And it's always Tom. But with King nearly winning it I think he probably got it right.
If you feel that you have to take issue with Carlo, then I'd stick with the selection of Iwobi. Seems a good guy, works reasonably hard, but it just baffles me how he's playing Premier League football. Is there really no-one from the academy to the reserves who has some technique and potential? That really worries me.
Jeff Armstrong
189
Posted 17/04/2021 at 00:05:03
Ahh Dale, you do sometimes make sense with what you are trying to say,
what part is crap?
Tony Hill
190
Posted 17/04/2021 at 00:10:24
I hope Mike Gaynes is ok, I haven't seen him on here for a bit?
Mike Connolly
191
Posted 16/04/2021 at 00:11:27
I Thought we played well tonight a lot better than previous matches and were unlucky not to get the three points. I'm not a Davies fan but I thought he had a great game. We were pushing forward which was very easy on the eye. as opposed to that side way and backward passing. The negatives. The two centre Half's, not once but twice made identical mistake which cost us the match. Oh and the less said about Iwobi the better
Derek Knox
192
Posted 17/04/2021 at 00:15:21
Paul Hewitt, good to 'see you mate' but, " If only we had Lukaku. We would be second now ".
Possibly!
If I didn't have a wooden leg, I'd have been a better dancer that Red Adair, or even Fred Astaire! 😜
Mike Gaynes
193
Posted 17/04/2021 at 00:15:43
Neil #178, I thought it was because Carlo was going for the winning goal. And as superbly as he played tonight, Tom is always one of the least likely on the pitch to provide a goal or assist. I certainly wouldn't have pulled off Allan or Siggy instead. Would you?
I definitely don't think it's because of where Tom is from.
Kieran Kinsella
194
Posted 17/04/2021 at 00:18:57
Tony 190
Speak of the devil and he shall appear
Mike Gaynes
195
Posted 17/04/2021 at 00:19:43
Hey Tony, thanks, I'm fine, just a bit distracted. Packing up to move house (as you lot would put it)... and working through the sudden death of a longtime friend and an impending loss in the family.
Life does interfere with footy sometimes.
Tony Hill
196
Posted 17/04/2021 at 00:24:20
Mike @191, fuck off about Iwobi but you're spot on about the performance. It is what is so annoying about Ancelotti for some of us; I always feel that we're within a flip of playing the type of football we all long for and then we sink back, and Carlo sounds like a right miserable bastard about our prospects.
Tonight had real signs of style again - but we've seen those signs before, many times.
I'm going to close my eyes, grind my teeth and pray. There are signs, there are signs. Perhaps.
Tony Hill
197
Posted 17/04/2021 at 00:29:21
i'm very sorry to hear about your troubles, Mike. Of course, life. Good to hear from you.
Well spotted, Kieran.
Jeff Armstrong
198
Posted 17/04/2021 at 00:35:16
Mike,
hope everything works out, footy interferes with life sometimes, but life is more important, good luck.
Mike Gaynes
199
Posted 17/04/2021 at 00:39:10
It's all good, boys. All good. Siggy's finish put a big grin on my mug for the first time in days!
Dale Self
200
Posted 17/04/2021 at 00:47:04
Condolences Mike. Just keep it going and take care as best you can.
Kieran Kinsella
201
Posted 17/04/2021 at 01:13:42
I feel compelled to defend Keane. I think he's a very good player. But I also think he's a worrier and over thinks things. Any time he has a poor game he goes into panic mode and his confidence tanks. Obviously as we saw tonight, that's a big problem but on a purely technical level I think he's better than some give him credit for. Holgate meanwhile seems like a cocky Jack the lad. Not necessarily a bad thing, but the combination of the two is not a good one. Both of them would work better alongside an authoritative partner. Together they're like chalk and cheese.
Derek Knox
202
Posted 17/04/2021 at 01:28:10
Kieran, I think the same there mate, I don't particularly rate Holgate, and I would cash in if we got the chance, but it's not down to me/us is it? I also think Michael Keane is a vastly improved player over the last season, okay he had a hiccup tonight but as you said I think a lot was down to who was alongside him.
Mike G, Sorry to hear about your loss, and a possible other one too, all on top of moving which is a stressful enough event in itself, and takes ages to get straight, when you have moved too, setting everything up, as you would ideally like, getting to know the 'new area' making new acquaintances.
Hoping your neighbours haven't been evicted from hell, before they bought the property next to yours'. I know you will transcend all these unwanted interludes in your life Mike, as you have had many challenges before and come out on top, all possibly what makes you the guy we all know and love.
Take care buddy.
Andy Mead
203
Posted 17/04/2021 at 01:37:27
Undone by u10's defending. Simple as that.
Si Cooper
204
Posted 17/04/2021 at 01:46:33
I'd give all the players good marks for effort and out-playing their opponents. Understand the frustration for the two defensive lapses but otherwise those two players defended pretty well and they are both trying to up the creative side to their games.
That's three times this season we've outplayed Spuds, a team that has spanked us all too often in the recent past.
Richy isn't an out and out striker so his conversion rate isn't brilliant but, for me, he doesn't stop trying. Unfortunately his smartest finish was when offside. He is also a threat on corners so was always going to stay on the pitch while we were going for a deciding goal. Agree Tom Davies was unfortunate to get the hook in many ways but I did think the momentum had shifted in their favour and swung back to us after that change. I think Allan's steadying influence was largely behind this improved performance, and Siggi is another potential goal scorer / creator.
Iwobi wasn't great but it does seem, in the absence of Gomes, he is the chosen pantomime villain. He can play a bit (if you are open minded enough to notice when he does contribute) and is one of our most mobile players but he's not a winger, he's not very combative, and he's not busy enough. He is not a player who has an obvious role in our side, especially not if we have genuine aspirations, but I agree that the 'pile on' to vilify him adds nothing to those posts except cringe factor.
I think Seamus is being nursed through our remaining games so that he can feature as much as possible without burning out / breaking down. I think Ben Godfrey and Alex Iwobi were put on the right to absolutely nullify Spuds attacking options on that side. I don't think I've seen another Spurs game for years where Son was so underused. It also gave James more license to roam rather than being pinned to the right side and needing to track back constantly. That said, Alex Iwobi still didn't deliver enough and didn't seize any opportunity to really bomb down the flank. Seamus, ably assisted by a neat give and go with Richy, showed him what he should have been doing all game within minutes of coming on.
Congrats to Peter and sympathy to Mike G.
Kevin Prytherch
205
Posted 17/04/2021 at 02:01:48
Holgate played well. His only mistake was anticipating that Keane wouldn't get to the ball for the first goal. For the second goal, he hears Keane and leaves it.
He has also played well at centre back a few times in recent weeks. Godfrey and Holgate should be the centre back pairing we build the team around for the next 8 years.
Alan J Thompson
206
Posted 17/04/2021 at 02:19:26
Everton 2 Holgate 2.
Just finished watching the game and Holgate was awful. Doesn't mark players or space, doesn't attack the ball and doesn't know where his co-defenders are. The only thing worse than his defending was the terrible refereeing.
I thought Davies got booked for challenging for the ball and what that rubbish was with a Spurs player rolling on the ground like his throat had been slit and then some sort of dropped ball! Also, I didn't think it was a penalty as it appeared James caught his studs in the turf and the defender fell over him but I did think it was a penalty on Richarlison in first half stoppage time.
MotM - Seamus Coleman just for that second goal, superb football. On the basis of the first half, James but for the game overall, Godfrey, didn't put a foot wrong.
On the opposite side, what does Richarlison think he is up to and while we should never have been in the position he should have put the winner away in the last 5 minutes.
Overall, a much improved performance but two points thrown away. Hopefully, that is the football we shall see in future but imagine what we could do with a fully fit James and Harry Kane.
Soren Moyer
207
Posted 16/04/2021 at 02:44:32
We are being linked with Andrea Belotti. Hopefully this one is more than a rumor!! That will be CF problem sorted.
Derek Thomas
208
Posted 17/04/2021 at 02:56:46
Keane and Holgate seem to detract from each other rather than compliment each other, I remember them getting 'done over' as a pair on more than one occasion.
Another day we might've won it 5-2. Rodriguez, Richarlson and King missed 5, but how many real saves did Pickford have to make. Kane gets two chances, scores two.
King's clever diagonal run and shot...which was well seen by Rodriguez...was as good as you're likely to see anywhere - as was the pass.
Coleman is now only good for 45-60 mins as full power, but this is to be expected.
Brighton and Spurs - the performances vastly different. Two drawn games...which gets you the same 1point each... strange days indeed.
So 8th it is then lads, but not if the flip-flops and sunnies start appearing.
Rob Hooton
209
Posted 17/04/2021 at 02:56:48
Such a shame, we actually deserved to win that one and played some good stuff. Rotten luck in many ways
Derek Taylor
210
Posted 17/04/2021 at 03:16:38
Better all round tonight but beginning to lose confidence in the manager's team selection and substitutions. Clearly his ability to win trophies was based on signing star players rather than improving those he inherited !
Mike Gaynes
211
Posted 17/04/2021 at 03:24:26
Thank you for your post, DK. I'm doing well, but it's always good to have the support of a special friend like you.
Barry Jones
212
Posted 17/04/2021 at 04:02:47
A fabulous performance by the team. I have been a big critic of Siggy but he was outstanding this evening. If he could do this week in week out I would offer him a new contract, He played like a real #10, very creative and looking forward and not back. The second goal was sublime and what a role Seamus played in that.
Two very ugly defensive errors cost us, but we need to take the positives from this performance. This is the best I have seen since the opening game, away at Spurs.
Christine Foster
213
Posted 17/04/2021 at 04:46:41
No doubt about it, when Everton click they are a great side to watch, I really enjoyed that game but it was ruined by schoolboy errors. I tend to think that Keane is only as good as the player next to him, Holgate has been awful for many games now and I cannot help thinking he cannot be arsed. I have said it before, he is not up to it positionally, his errors are due to ball watching, he tunes out and doesn't read a game. I don't care if he is an athlete, not much point if he needs to wake up or remove the blindfold? I suspect he was on Twitter when those crosses came in..
Seriously, we scored two goals and gave away two goals, in between we played very good football. At the sharp end, Richarlson needs a foil to work with, why oh why wasn't King given a run-out in place of Iwobi? The oft-maligned Siggy certainly stepped up tonight.. overall much to be pleased with, much to be frustrated with..
Derek Thomas
214
Posted 17/04/2021 at 05:04:42
Christine @213; you or I could have a run out instead of Iwobi and did Siggi seem to put in a bit more effort because it was Spurs, one of his old clubs?
Bob Parrington
215
Posted 17/04/2021 at 06:07:37
Except for two ridiculously stupid errors between Keane and Holgate, we ran this game and should have won it. OK shit happens but we should acknowledge that our lads overall played a great game.
My Everton MotM - Sigurdsson! Full of energy all game, took Peno well and scored a great goal after excellent team play.
Julian Exshaw
216
Posted 17/04/2021 at 06:26:11
Mike Gayes@211, we were wondering where you on the LF. Nice to see you back. Take good care.
Derek Knox
217
Posted 17/04/2021 at 07:17:15
Much is being criticised in the direction of Holgate and on this occasion Keane too, who I personally thought has been a different player basically all this strange season, and rightly so, but getting things in perspective Harry Kane is lethal, given half a chance. He looks to be well on route to overtaking Thierry Henry and Alan Shearer in the scoring records.
I am not in any way shape or form adulating Spurs, but Harry Kane who I have always liked as a player, probably why there has been sound bites emanating from the player himself that he wants a move to a more successful side this season's end
Brian Porter
218
Posted 17/04/2021 at 07:24:57
I can't help feeling that if that final chance that Richarlison fluffed had fallen to Lane or Son, they would have buried it. Richie is great and I love the man, but he does tend to snatch at shots occasionally instead of taking half a second to compose himself.
Siggie had a terrific game and his second goal was worthy of winning any game.
Holgate has sadly not been at the races in the last few games and Keane, solid as a rock earlier in the season has definitely lost his edge recent games. Is his fragile confidence drying up as the season comes to an end. James as usual played some lovely stuff, it's a shame we had nobody who could turn his efforts into goals.
A good game for the neutrals but although it was our best performance for weeks it was sadly two points lost again.
Dan Nulty
219
Posted 17/04/2021 at 07:40:08
I thought that was one of our best performances for a while, particularly when Iwobi went off. I know Keane was pretty poor but in my view he was at fault for neither goal. It is clear that he got no shout from Holgate on the first one so he had to try and head it as Kane could have got the run on Holgate behind him for all he knew. If Kane had, then we'd be saying he was brilliant for getting a touch on it. As it was, Holgate moves away from Kane then slips.
Second one you can see Keane screaming it is his ball and yet in a quiet stadium Holgate still runs and jumps for it landing directly in front of Keane who was helpless.
I thought Seamus showed his critics that he is absolutely not past it and also showed Iwobi had effort and hard work can actually put you in good positions.
Allan constantly showed his class for me, always looking to get on the ball, same with James. I have to say Davies too played really well. I've given him plenty of stick when he has performed poorly but he has been really good recently.
Richarlison showed he is not a top striker again tonight. He needs too many chances to score and I can't see us recouping our money unless he improves dramatically.
Overall, I thought we looked a lot more dangerous tonight and hope that bodes well for the rest of the season.
Peter Mills
220
Posted 17/04/2021 at 08:03:54
Thank you very much for the good wishes, mother and child are both fine and I'm looking forward to seeing them later today.
Strangely enough, my daughter was also born just before a match. At 1:15 pm, I was at the coffee machine at Aintree Hospital and casually said to another expectant father, "At this rate, I'll be missing the match." I was met with a look of utter contempt and the response "I won't be missing the fucking match."
I managed to get to Goodison to see us (as Champions) beat Man Utd 2-1. I was hoping history was going to repeat itself, but the Chuckle Brothers at the heart of our defence are no Watson and Ratcliffe.
The hard work starts now for me. I've mentioned before that my two daughters married Sheffield Utd supporters, so there is a constant need to provide their offspring with a proper education. Fortunately I have no such problems with my son's two lads in Crosby.
Mike G, all the best, I'll drop you a line.
Phil Wood
221
Posted 17/04/2021 at 08:09:54
I actually enjoyed most of the game last night as it was one of our best performances and the best for some time. Unfortunately, we made a couple of suicidal mistakes in an otherwise solid show.
I feel a lot more positive about the run-in but just wonder why we cannot give King a start when Calvert-Lewin is out? I don't know how he looks in training but a lot of players play better than they look in training. We couldn't do worse than give it a go. 10-minute bites don't prove anything.
Hats off to Sigurdsson for a great finish from a great Seamus run. Brilliant! Our finishing has been pitiful recently so this was manna from heaven. I still think, if we play on the positives of this, we can still make Europe.
I'm worried about transfer rumours though. We still need strengthening all round. We cannot rely on Gbamin to get and stay fit for midfield, and finishing is a problem. We also know we need to cut the mistakes at the back. Spending certainly required.
Carragher is pissing me off big time. He spends 10 minutes reflecting on what looked to me like a no-argument penalty. What a joke! When it's not him, we get the other bitter Red Clown "Macca" on BT Sport, extolling negatives on us.
However, apart from 2 points thrown away, a better performance from most players and good shape to the team. Light years ahead of the Brighton fiasco.
Onwards and Upwards, Blues.

Trevor Peers
222
Posted 17/04/2021 at 08:35:37
This game was a perfect example to show all that is good and bad about Carlo's mostly inherited squad.
Silva was such a bad manager when it came to recruitment, Iwobi being the worst example, a Championship player at best, he's shoehorned into the side to justify his enormous fee, yet his contribution was zero. Hopefully he'll be sold in summer.
In contrast, Carlo's recruitment has been largely successful, all his recruits played well last night, James linking up with Gylfi being the highlight of what can be a productive midfield.
It's going to be a long hard slog to replace some of the awful players we have bought but, with more additions in the summer, we should slowly see an improvement. Although some of Carlo's tactics remain baffling: King should've been a direct replacement for Calvert-Lewin, he must be given his chance in the remaining games this season.
Bogdan Kotarlic
223
Posted 17/04/2021 at 08:46:24
An entertaining draw, both teams played well and had their chances to win the game.

We played well, scored two goals (Sigurdsson`s second is a masterpiece) but our defence had a very bad day and it cost us 2 points in the end.

Our poor form at Goodison Park continues, we have dropped too many points at home this season and that is the main reason we are not higher in the table.

We will finish 7th or 8th in the end, it seems, and I hoped for a better position before the start of the season. We probably won`t play in the European cups next season.

Tottenham is a good team but without Kane they would be a mid-table side, nothing more than that. He is a great striker, he punished us (and our defence's mistakes) with two great goals.

Our best players yesterday were, for me, Sigurdsson (he scored two goals and played well) and Davies.
Jason Li
224
Posted 17/04/2021 at 08:53:26
Luckily for Jose we invented the no-look header to present to the striker, Micheal...(to)... Kane. Is that The Italian Job in reverse?
Hopefully a few more people have faith in our manager. He's only agreed to the signing of 4 first teamers and there all first names on the sheet in terms of getting this team to go forwards and create chances.
The fact we want new centre halves, midfielders and forwards means we should give Carlo at least another window to bring in 3 or 4 players he agrees to the signing of, so it's 2/3rds definitely his team from this summer onwards. As its stands, with so many players who we would happily sell on this weekend, we're competing only just short, considering our results against Leicester and Spurs.
Glad to see Siggy in his best position closer to the box as he scores in the big moments. He does not have that forward pass under pressure when playing deep so always goes sideways to maintain possession but that's not playing to his strength. James does have that pass so can sit deeper and connect the ball from us deep to someone like Siggy or Richie so we can move up the field, as well as the full package in finishing.
Finally, would I keep Siggy ? If we buy runners and create an extra 4 or 5 chances each half, defenders and midfielders that allow us the confidence to win the ball higher up, then definitely as he won't have to play as a deep midfielder anymore. James, Richie and Siggy are our best finishers by a long way under pressure in the in and around the box. Just like Harry Kane, you don't need to be super quick in the box, you need technique, power, accuracy and a clear mind. DCL may or may not get much better at finishing from distance, but Siggy already is at the top level.
Martin Berry
225
Posted 17/04/2021 at 08:57:33
A defensive mix up and two balls that could anywhere but dropped to the lethal Harry Kane did us in, we were so unlucky not to deservedly pick up all three points.
A shout for Tom Davies he never put a foot wrong all night he was excellent along with Siggys two goals.
Martin Mason
226
Posted 17/04/2021 at 09:20:01
Good game, good draw and well played. We need a couple of players to take the next step and that is likely to be next year now. As said many times, Siggy and Tom Davies are very good when played in their correct position,
Mike Doyle
227
Posted 17/04/2021 at 09:22:17
Overall our best performance for some weeks. Surprised Davies was taken off as I thought Allen was the one starting to tire.
Yet again Seamus (along with Godfrey) looks to be the one who thinks European qualification is achievable and provided a threat from the right side as soon as he came on. Another reminder that if you give a striker of Kane's calibre those sort of chances expect to be punished.
Tony Hill
228
Posted 17/04/2021 at 09:22:55
Good analysis, Jason @224. I would keep Sigurdsson. When he's on form he's lovely to watch. He's been wretched at times but if, as you say, he's accurately managed he can still be a significant asset.
Anthony Dove
229
Posted 17/04/2021 at 09:30:23
There's only one person who thinks Holgate is a top
player and that is Holgate.
Robert Williams
230
Posted 17/04/2021 at 09:33:22
Full marks to Seamus, his direct and competitive approach showed him to be a different class to Iwobi. Any chance we can knock ten years off his age?
Joe McMahon
231
Posted 17/04/2021 at 09:35:05
Mike, correct if we had Kane or even Lukaku that last 2 home games would have brought an extra 4 points. What a difference it makes. Just shows also how Spurs have underachieved, and shows to us whats possible with 3 appropriate signings in the summer. We need Mina back though don't we.
Christy Ring
232
Posted 17/04/2021 at 09:38:45
I thought King was a threat when he came on and Seamus did more in two minutes than Iwobi did in 60. I know Richie missed a sitter, and a few comments that he should have been subbed and sold in the summer, but he linked up well with Coleman for the fabulous goal by Sigurdsson, and he's a lot more effective on the left with Calvert-Lewin upfront, but what stands out for me is that his workrate is unbelievable.
Clive Rogers
233
Posted 17/04/2021 at 09:43:06
Allan should have been taken off instead of Davies who had a much better game imo. Allan is struggling with the pace of the PL and is not getting in enough tackles, unlike Davies.
Roger Helm
234
Posted 17/04/2021 at 09:44:49
A much improved performance and unlucky that two defensive errors (and all players make errors) presented chances to the best striker in the country. Although behind them on points, we seem as a club in a better place than Spurs, with a manager they don't want to play for and a star striker probably jumping ship soon.
I think the Europa League next year would be very difficult for the club, given that we can't even fill the bench for our domestic fixtures. Carlo needs at least three more windows to put right the disastrous management of recent years.
Jason Li
235
Posted 17/04/2021 at 09:46:31
Tony@228.
Siggy is definitely an Asset, when in the box.
The pros on TV always say goals are the hardest things to buy in the Premier League.
I can remember Shearer and Sherringham in Euro 96. None of them rapid but good fitness levels. But magnificent (Shearer's favourite phrase) headers and finishers, superb timing of runs and jumps so they never looked like the were under the ball heading or stumbling head too far over the ball when shooting etc.
Dave Abrahams
236
Posted 17/04/2021 at 09:48:14
Tony (228), we have no option but to keep Sigurdsson, he's not going anywhere with the contract he's got, if you mean give him another contract when this one ends, you can't be serious surely?
Rob Dolby
237
Posted 17/04/2021 at 10:03:42
Clive 233 Have you ever seen Allan play well? Was Allan booked last night and only one mistimed tackle away from a red?
I'd be surprised if Sigurdsson doesn't get the offer of a new deal. He is one of the few in the squad that can create and chip in with a few goals.
Steve Shave
238
Posted 17/04/2021 at 10:04:08
Dave 236 I'm with you, we must NOT offer him a new contract. He has hamstrung us (from a formation perspective) since the second we brought him, not his fault of course. I would be pushing him all around the MLS and the Chinese league to see if he can get one big pay-out and we recoup something in the region of £7-£10M for one of the worst signings in recent years, Iwobi pips him to this title. Now I am not saying he is one of our worst players (and his 2nd goal was beautiful yesterday) I am saying pound for pound it was a woeful deal and Walsh deserves to be vilified for eternity for making that decision, when are 2nd best player at the time was Barkley and we pushed him out and brought 3 inferior no 10's for £100M, it makes my blood boil thinking about that splurge.
Tony Hill
239
Posted 17/04/2021 at 10:12:37
Yes he certainly wasn't worth £45m. Dave @236, no not a new contract but I think he could be useful for us if played in the correct position and as part of a squad. I wouldn't ship him out. I think he's done ok for us this season overall and he was excellent last night.
John Hammond
240
Posted 17/04/2021 at 10:37:08
We were mostly excellent and hardly gave Spurs a sniff. James was magnificent. Siggy excellent. It took 2 clangers for them to score. We can definitely finish above them. Can West Ham keep winning 3-2? No. They'll drop off, and I'm predicting they'll lose to Newcastle today. Leicester are also potentially in freefall. If we can keep James fit we've got a chance.
Trying to stay positive. No doubt we'll shoot ourselves in the foot again.
Darren Hind
241
Posted 17/04/2021 at 10:38:25
No mystery why Tom Davies was once again taken off instead of a (once again) ineffectual Allan. Allan was promised he would play if he signed.
Its one of the problems of bringing in vastly over rated foreigners. They hinder the progress of younger players.
Ian Edwards.
Probably not the time to make what is a sound point based on sound judgement. We played well last night and we should be celebrating a return to football. - Well done to Bobby Mallon for taking it to the common enemy.
However. That said. You should stand your ground against the Posters who think they are entitled to make personal comments against you, simply because they can offer zero by way of a counter argument.
You keep posting about football and let the gang completely lose the argument by attacking you..
"You gave an honest opinion about Carlo...So that gives me the right to have a personal pop at you" ..... WOW what a counter argument.
Rob Halligan
242
Posted 17/04/2021 at 10:46:20
Bit of a conundrum for the anti siggy brigade. His contract is up in 14 months time, so do the club stick or twist? If he's not offered a new contract this summer he can walk away for nothing in 14 months time, and can even sign a pre contract agreement with another club in January (does this only apply to clubs from abroad?). I've not read anywhere that details of a new contract for siggy is on the table, but could be wrong on that one?
As to last night's game, I thought siggy was excellent, with a calmly taken penalty and a sublime finish for the second. Also a very exquisite "James style" defence splitting pass to James, which brought a great save from Lloris, but either side of Lloris and it goes in. Agree with many regarding Holgate. Why on earth does he need to carry the ball for twenty yards or so, before turning back and passing the ball back? Frustrating to say the least. Iwobi was iwobi. Does ok for about ten minutes or so, but the rest of the time, until he's removed, is another who turns and plays the ball back, or just runs into an opponent and loses the ball. Could be stuck with him for a while yet, as his contract is not up until June 2024.
Disagree with a few who say we should cash in on Richarlison. Give your heads a little wobble. We need to keep our better players and build a team around the likes of Richarlison, not get rid. By getting rid of Richarlison, we need to replace him, but who with, and then in two or three years time, do we sell that player. Stability is required, not the seemingly never ending vicious circle of replacing this manager, that manager or this player, that player. Having said that, I could have killed Ricky last night for that miss. The more I see it the more angry I feel. Jeez, he only had to roll it into the net.
Was a decent game anyway, and must have been a good watch for the neutral. Europe is slowly slipping away for next season, but while we've still got a chance, we keep hoping.
Peter Dodds
243
Posted 17/04/2021 at 10:47:02
And to think - never mind the earlier lost games against lower-level opponents, if we'd just held out against Spurs and Palace we'd now be ahead of Liverpool in 6th, just one point behind Chelsea and two behind WHU in 4th - who we can beat. Fine margins indeed.
Clearly we need to go on a run, but if we continue to play like last night (minus the Keystone Cops moments) there's a chance.
Allan playing alongside Tom allowed Siggy to play further forward and his interplay with James was delicious. The fact that Spurs played an open game certainly helped - we may not have looked so competent if they'd been very compact like Brighton. Strange that I can feel positive and hopeful after yet more dropped points.
Paul A Smith
244
Posted 17/04/2021 at 10:57:13
The same person that raved about Holgate (who can't hold a position anywhere) like he was the new Maldini and defends the usually ineffective Davies calls Allan a non footballer and vastly over rated?
Who vastly over rates him though? Hes just better than Davies and our performances have been better when hes played, like last night.
I think the non footballer has played more forward passes than Davies and Gomes put together.
Chris Williams
245
Posted 17/04/2021 at 10:57:25
What Rob and Peter said.
Brian Harrison
246
Posted 17/04/2021 at 11:00:31
I don't really know why this thread has become all about giving Sigurdsson a new contract or not. Last night he scored a great goal and probably only he or James out of our whole squad has the technique to score a goal like that.
There are far more urgent worries for Carlo to address than Sigurdsson, he has a squad full of mediocrity and will have only limited funds to change that.
This club don't score enough goals and that has been an ongoing problem since Moshiri took over. When you look at how poor our goal difference is compared to the other clubs in the top 8 that says a lot, and if we hadnt started the season scoring goals for fun I dread to think what our goal difference would be. In midfield we have Allan, Davies, Gomes, Delph, Iwobi, Bernard and Doucoure, I doubt they have scored 4 goals between the lot of them. Neither Digne or Coleman or Holgate or Godfrey when played at full back have hardly scored between them. So the pressure on DCL, Richarlison, James and Sigurdsson is either you score because the rest wont. I think if I was Moshiri I would get Ancelotti and Brands in the office on Monday and ask why did we spend a loan fee and wages on King as its quite apparent that Ancelotti doesnt rate him. Seems we are back to what has happened under Silva and Koeman were the manager is allowed to buy players as well as the DOF. Surely no transfer should be done without the manager agreeing 100% with the deal, after all its him that usually pays the penalty for failure and not the DOF.
Last night was probably our best performance for a long time, but having a world class ability to shoot ourselves in the foot, we again threw away a chance of 3 points. Some very good performances last night, I thought Allan and Davies were very good as were Sigurdsson and James. Wouldn't it be a massive disappointment if James were to leave in the summer and not being allowed to see him in the flesh. I am a fan of Carlo but surely he like the rest of us have seen enough of Iwobi to know he is never ever going to be good enough. He is a complete coward when he had the room and time to take on a defender he turned and passed the ball back, mind why would anybody be surprised he is a flop, he couldnt get into a very poor Arsenal side. But like a lot of the deadwood we have signed, no other club will pay him the wages we are paying him so like Bolasie and Besic he will be another who will be here till the very last day of his contract.
This summer I believe is massive, because if we don't recruit well, and we are still around 8th to 10th and Moshiri pulls the plug on Ancelotti, then where do we go as a club. Back to starting all over again as we have done numerous times with more false dawns only to be followed with incredible downs. Also if Ancelotti goes the new manager will have a very small budget as we will be paying for a new ground and no doubt FFP will be back in full swing, so he will be facing the same scenario that Moyes faced when he took over. Having to sell before he could buy, thankfully he bought well and sold well to keep us quite comfortably in the top half of the table, while still more than balancing the books.
Rob Dolby
247
Posted 17/04/2021 at 11:00:54
Darren. Didn't you think that Allan broke play up well last night and took some of the weight off Tom's shoulders.
I thought both played very well. Maybe Spurs style suited us better than the likes of Burnley.
Bringing a striker on to win a game in the last 10 mins is a positive move and almost paid off only for a save from lloris and Richarleson's miss.
Dave Abrahams
248
Posted 17/04/2021 at 11:08:12
Tony (239), Tony look at it another way, if we can off load him in the summer, then there is a huge wage to helping to attract, hopefully, a younger, more energetic and better player than Siggy. Yes I thought he had a very good game last night not including the two goals he scored, but as you say yourself " I think he has done okay overall this season" Tony I think we need someone better than being okay, especially with the wages he's been drawing for the last few years, and I know he's not responsible for the fee we paid for him or the ridiculous wages he received, but we deserved better than what he offered.
Nicholas Ryan
249
Posted 17/04/2021 at 11:09:45
I'm perplexed by the great Joshua King mystery. It's as though Everton have invented a new board game: '101 ways NOT to play Josh King'.
The last couple of games we've been down to zero strikers, yet he still can't get a start. On the limited evidence available, he seems to be quite nippy, he gets a couple of tackles in, he has a couple of half-decent goal attempts; he generally runs around looking keen.
He's got plenty of PL experience. He doesn't appear to be a trouble-maker and he doesn't go moaning to the media. The general impression I have, is that, given a start, there might be more to come.
... So why isn't he EVER given a start?!
Darren Hind
250
Posted 17/04/2021 at 11:27:47
No Rob
I simply don't rate Allan. He is a ball hunter who doesnt know what to do with it when he gets it.
You don't have to score goals or create chances for some to be fawning all over you at this club You just have to be Brazilian.
Vastly over rated
Dan Nulty
251
Posted 17/04/2021 at 12:01:41
Darren, did you watch the game last night? Allan was excellent, especially given he hadn't played regularly for so long. Constantly moving towards the ball and offering himself, passing it on. Lost it a couple of times but I'd guess his stats were fantastic last night. You are behaving like the very people you accuse when they criticise a young Everton, English player.
Danny O'Neill
252
Posted 17/04/2021 at 12:02:30
I thought Allan and Davies played well together and complemented each other last night. It's a shame we can't play the 3 of Davies in behind Allan and Doucoure. I think that would have worked well.
I can't see Sigurdsson getting a new contract and it will be interesting to see if we try to move him on in the summer. I suspect he'll run his contract down personally. Having said that, knowing Everton, we'll offer him a one year extension.
He's been really good of late and that was a great finish on the end of a great move last night, so whatever happens, I hope he keeps up the decent form for as long as he is here.
Thomas Richards
253
Posted 17/04/2021 at 12:06:14
Allan.
Written off after 17 league starts Darren?
Brian Murray
254
Posted 17/04/2021 at 12:08:22
If Carlo is happy with this stage of his career to continue with the level we have, siggy Gomes Davies an ageing full back a hit and miss strike force then fair enough that's his remit to keep us vaguely competitive until bmd then all's well in emotional glass ceiling boardroom with the other fella reminiscing about the cannon ball kid, If not the these players will be gone in the window. I suspect the first notion sadly.
Ray Robinson
255
Posted 17/04/2021 at 12:19:24
Once again Darren is exaggerating a point to seek confrontation (or debate as he calls it). I don't think anyone is eulogising over Allan. It's just that, in my opinion, he is a better version of Davies, well though Davies has been playing recently. Nothing to do with favouring a Brazilian over a local lad (straw man argument) - just opinion. I'd rather it was the other way round as I want local lads to do well but it's just as I, and some others, see things
John Raftery
256
Posted 17/04/2021 at 12:27:33
In the short term management is about making the best of the personnel available. Last night we had two old style wing halves, Allan and Davies, playing behind two old style inside forwards, James and Sigurdsson. It worked very well. In some ways the formation was a return to the early sixties.
Peter (220) Many congratulations. Both my daughters were born in the summer, ruling out any possibility of a clash with fixtures!
Colin Glassar
257
Posted 17/04/2021 at 12:30:55
Darren, I've always respected your views despite your negativity but you've gone too far now!! Allan was our best player last night. Your golden boy Tom could learn a few things from him if he wants to.
Alan J Thompson
258
Posted 17/04/2021 at 12:33:05
After a long mostly liquid lunch, and the chance to watch the game/highlights again, it seems that the difference was that Spurs set up two banks of four and don't do the pressing we have seen in our other games against supposedly inferior quality sides. This leads me to wonder who will leave them first, Kane or Mourinho. Can we afford 250M quid and/or a part exchange, for the player as their Manager plays far too defensively.
Martin Mason
259
Posted 17/04/2021 at 12:33:29
Darren, you consistently talk absolute nonsense and use people being nasty to you, boo hoo!, to try to deflect the level of criticism that you really deserve to get and that includes rudeness to you based on your rudeness just coming on here insulting our intelligence by your posting.
Brian Williams
260
Posted 17/04/2021 at 12:44:00
If Allan doesn't know what to do with the ball when he gets it he seems to do what he doesn't know how to, quite well.
He makes more passes than Tom and has a higher pass completion rate than Tom.
He has also made twice as many successful tackles as Tom, so as a defensive midfielder he seems to be doing alright to be fair, alright, though not outstanding.
He admittedly doesn't have any assists while Tom has one to his name this season but Allan has had a shot on target while Tom hasn't.
He does have one major drawback though, he's not a Scouser. ;-)

Keep it up Darren you're cheering me up again mate.
Brian Williams
261
Posted 17/04/2021 at 12:55:41
"Little fishies" look carefully to see when the worm's attached to a hook. Lol.
Darren Hind
262
Posted 17/04/2021 at 13:12:44
Ray Robinson
You embarrass yourself - yet again
Everytime I disagree with you. I'm looking for confrontation Sorry Lad, but you did not enter my head...Although I was clearly in yours.
All I read about when Allan signed, was Carlo's ability to sign top players. I actually thought we had signed a top class player who had gone under my radar the way people like you were shaking your heads in wonderment at Carlo's pulling power. Now you come back sneering "nobody was eulogising"..Total tosh - Just go back to these pages...People were buzzing for weeks.
The reality is Carlo bought a slightly above average journeyman. One who doesnt create. One without vision. One who doesnt score. Carlo -characteristically, was looking for a spoiler. Allan was brought in to spoil and protect the back four. An insurance policy.
Intead of getting all personal and shouty why don't you stop and examine the facts. Look at how much protection this ball hunter has offered
Southampton - Run ragged by ordinary players. Lost
Newcastle - Ditto
Man U - lost
Leeds - See Southampton and Newcastle
Burnley - cost us two points

Then he has an injury and our results improve. He comes back and we lose against Chelsea. Burnley and City...
I have to ask, when was the last time we won a game he started ? And if its not the fact that he is Brazilian that has everyone jumping to his defence what is it ?. . . his inability to dribble ? His suspect first touch ? Or is it the fact that he would tackle the lino if he thought he would escape a booking
A semi decent player earning a fortune. No more no less. Anybody watching him and the much maligned TD last night would have a deal of trouble in choosing who cost 25m and who cost nothing.
Keep apologising boys. Keep managing expectation. You`ll never know disappointment when you are prepared to settle for so little.
An insurance policy which doesnt pay out
Stan Schofield
263
Posted 17/04/2021 at 13:13:39
Darren:
Gana was also a ball hunter, an expert at breaking up the flow of the opponent, without being great at using the ball himself. He was excellent at his speciality. He was a great signing for us.
Allan is very similar. He's very good at what he does, just like Gana. Being Brazilian is neither here nor there, what's important is his ball-hunting ability.
Tom Davies is also very good, and getting better. He's still developing, and Allan can be a very positive influence for him. Like Gana, Allan is a great signing. In fact, all of the signings under Ancelotti are great signings. Such great signings may be a great sign that we may get more great signings. You can't beat great signings and great signs, so stay positive, it's better for you.
Brent Stephens
264
Posted 17/04/2021 at 13:14:35
Moyes working his wonders at Newcastle!
Rob Halligan
265
Posted 17/04/2021 at 13:15:51
Brent, West ham will be in freefall now. 😁😁
Brent Stephens
266
Posted 17/04/2021 at 13:20:23
Surely, Rob!
Darren "All I read about when Allan signed, was Carlo's ability to sign top players. I actually thought we had signed a top class player who had gone under my radar".
Just because Carlo might have the ability to sign top players doesn't mean he might never sign players who are less than top class.
Thomas Richards
267
Posted 17/04/2021 at 13:23:49
If we are comparing Allan against Tom Davies.
Imo.
Allan will be in the starting eleven next season
Tom wont
Tony Hill
268
Posted 17/04/2021 at 13:24:03
Fair comment, Dave @248.
Martin Mason
269
Posted 17/04/2021 at 13:24:50
Darren, remember the difference between your opinion and fact? They aren't the same thing. I realise now why you have a down on Allan, Carlo bought him and you can't say anything that would show Carlo in a good light. What a revolting and bigoted character you are.
Paul Smith
270
Posted 17/04/2021 at 13:29:51
I actually felt Spurs upped the pace before their equaliser then sat back again, strangely. That said, Holgate is an awful passer of the ball and Keane has reverted back to the bad old days. We missed Mina and need an urgent upgrade at the back.
I'm not sure what Richie is meant to be doing his passing is poor, apart from his knock on's/downs and his conversion rate can't be great; he's a grafter and an asset but I don't see a style.
Saying that we played well, James is the best Everton player of the modern era and he seems to trust Siggy more than the others (is there a partnership there ?) it might help keep him at Everton.
All in all not too bad but we will see this Everton next week or the Brighton Everton - that's the frustrating part we never know who will turn up.
Alan McGuffog
271
Posted 17/04/2021 at 13:32:04
Bloody stupid defensive lapses gifting the visitors two goals. Totally ineffective midfield without a goal in them.
Yes the Big Match Revisited this morning.
Plus ca change...
Derek Knox
272
Posted 17/04/2021 at 13:35:32
Peter Mills @ 220, belated congratulations to you, but what I can't figure out, is at the TW Get Together in The Midland, way back 3 years ago or something, you told me confidentially (Oops!) that you had a vasectomy.
So, how come all these grandkids? Dup! 😜
Colin Glassar
273
Posted 17/04/2021 at 13:37:00
Darren, next season Allan will start most games, Tom won't, as TR so perfectly put.
Tom can learn from Allan eg how to tackle, how to pass, how to keep the ball instead of falling over etc... I'm sure Tom rates Allan far more than you do.
Steve Brown
274
Posted 17/04/2021 at 13:37:07
By the way, how good was Gana against Bayern Munich in the Champions League?
As Stan says, Gana and Allan are similar although Allan is a better player. I thought he and Tom Davies worked well together.
Ray Robinson
275
Posted 17/04/2021 at 13:49:17
Darren 252 I embarrass myself? You clearly need a mirror. I get all "personal and shouty". Mmmm? I have never wondered over Ancelotti's pulling power - what are you talking about "lad"?
Anyway, we'll have to disagree over Allan. I doubt want to bring another thread into a slanging match.
Stan Schofield
276
Posted 17/04/2021 at 13:50:23
Players like Gana, Allan and Davies are what used to be called 'a footballer's footballer'. Such players aren't easy on the eye of the ordinary supporter, and do not have flashy ball skills, but can be pivotal to the efficient running of the 'team machine'. Henderson of Liverpool is another example.
In contrast, players like Sigurrdson and James are flashy as well as effective with a football, and can change the course of a game with one moment of sublime skill. At such moments, they make football the 'beautiful game'.
We need both types to be successful. We need to keep hold of Sigurdsson and James. Both have produced some sublime pieces of skill that have changed games for us this season, and they seem to have an understanding.
Danny O'Neill
277
Posted 17/04/2021 at 13:56:43
A blend of types of player and a blend of age, experience and youth Stan. That's what good & successful teams have.
Dan Nulty
278
Posted 17/04/2021 at 14:03:29
Darren, every post today you are losing credibility.
Allan is our leading tackler this season, he has played in just over 50% of the games. He is doing exactly what he was brought in to do and I thought last night him and Tom were absolutely excellent in the middle of the park.
I think I'm just going to out you down as a wind up merchant from now on, you can't believe what you type and are only looking for reactions. Too many of us are obliging.
John Boon
279
Posted 17/04/2021 at 14:15:58
This game made me feel, more than ever, that we MUST give Ancelotti a fair chance to prove his worth by having a good team for season 2021-22. As a long long time supporter I am probably just as frustrated as any Evetonian, but I do think he knows where weaknesses lie.
We really do need a tough, no nonsense centre back to play along with Godfrey. A fit midfield with the return of all injured players and someone who can grab up half chances like Kane. After five desperately poor games the Spurs game gave a glimmer of hope. We showed we were far better than them but no team can afford to make such juvenile mistakes like we did on Friday.
Still far too much negativity on this site.Considering we have only spent four years outside the top level since 1978, we have had it easy compared to MOST teams.By all means give valid constructive criticism, but stop feeling sorry for yourself with useless moaning. Support even through tough times. WHY NOT ?
Dave Abrahams
280
Posted 17/04/2021 at 14:23:10
I think Allan will play more games next season than Tom Davies, if he is fit, that is the crucial thing, staying fit, I thought Allan had a good game last night and is a good influence on the rest of the team verbally and physically when he is. Again that is the crucial thing, staying fit. When he first started at the beginning of the season he looked the part, then he got injured and was missed, although we had some good performances without him. Then he came back, played, although to a few on here, including myself, he didn't look like he was100% fit and didn't play as good as he had. So I get frustrated with that part of Allan's signing, the fitness issue, it is a big issue, add his age, is he going to miss more games the longer he is with us? The same applies to James, as good as he can be if he misses too many games then it reflects on the value of the signing.
Stephen Vincent
281
Posted 17/04/2021 at 14:30:30
Brian #260. TD has played 1,318 mins this season as opposed to Allan 1,524. TD has made 48 tackles with a 56% success rate. Allan has 96 tackles for a 57% success rate.
TD has made 634 passes with a 81% completion rate, Allan 751 with a 86% completion rate. TD has 7 shots, Allan 4.
Now given that TD is 8 years younger than Allan and has been buggered about by successive managers and is continually subbed (Allan has never been subbed this season) the side by side stats don't look awful, do they?
If you are going to quote stats quote all of them not just the bits you find convenient.
Stephen Vincent
282
Posted 17/04/2021 at 14:35:30
Incidentally, the much maligned Gomes compares very favourably with both TD and Allan. But not a goal between them!
Chris Williams
283
Posted 17/04/2021 at 14:41:58
Dave,
This season is not typical of other seasons, and that's important. The number of muscle and hamstring strains we, and every other club has experienced is way over the odds this season.
I'd hope that we get back to something a bit more like normal, please God, in the future, particularly next season, and the sort of injuries we're seeing become less, including Allan (and Seamus, DCL, Gomes, Delph, Mina etc)
Fingers crossed.
This season is a lousy season to make strong judgements on in so many ways.
Brian Williams
284
Posted 17/04/2021 at 14:42:57
Stephen#281
the side by side stats don't look awful, do they?
No they don't Stephen, which is exactly what I was saying.
Please don't accuse me of doing something I've not done because you misinterpreted my post, which you have.
There are far more stats than either of us have posted but I posted what I felt were the most relevant ones.
If anything, your stats merely support my point, which was that Allan and Davies are players doing a similar job to a similar level.
Stephen Vincent
285
Posted 17/04/2021 at 14:43:03
Finally, trying to compare like with like, Ndidi has 129 tackles and Hojberg over 2,300 passes. We are miles behind!!
Tony Abrahams
286
Posted 17/04/2021 at 14:52:33
Biggest difference last night was having only one man up front. It might look negative on paper, but it gives us more shape, and the extra midfielder helps us to have more possession, and it also gives us a bit more width, I just wish Ancellotti had stayed away from a narrow 4-4-2, because all our worst results and performances, have came while he's used that formation imo.
Stephen Vincent
287
Posted 17/04/2021 at 14:57:28
Brian #284, Apologies if I misunderstood.
Christy Ring
288
Posted 17/04/2021 at 14:59:25
Darren #262,
Allan was bought by Carlo to shore up our midfield. He's a top class defensive midfielder and, by the way, how is he a 'journeyman'? He was with Napoli for the last 5 years.
In one of your earlier comments, you were praising Ian Edwards; all you are trying to do is stir controversy.
Dave #248,
I agree with you about Sigurdsson, hard to see him going in the summer when he still has a year left on his contract at over 𧴜k a week. It would be ludicrous offering him a new contract when he's 33 on 22 September.
Brian Williams
289
Posted 17/04/2021 at 15:02:00
Stephen, no problem mate and no need to apologise honestly! :-))
Thomas Richards
290
Posted 17/04/2021 at 15:02:42
Darren, sitting in the garden with a bevvy, checks ToffeeWeb comments.
"They're all having it again."
😁 😁

Colin Glassar
291
Posted 17/04/2021 at 15:12:37
Kecks rolled up and a hankie round his head, Thomas?
Barry Rathbone
292
Posted 17/04/2021 at 15:25:21
Never heard of Allan before he came so I don't get influenced by reputation gained or embellished but from what I've seen he looks another Schneiderlin or Klaassen in the making. A very ordinary and potential sick note.
The trend of eulogising about a "name" player as per the 2 above is where we are at right now but the next step of really giving it to them when reality kicks in is just around the corner.
Needs to do a lot more for me. Especially as a holding midfielder is about the easiest position on the pitch.
Danny O'Neill
293
Posted 17/04/2021 at 15:32:22
I think the other crucial thing Dave A is what you also mention; influence. It's not always about what you do with the ball, but how you influence the team, the players around you and the game. Phil Neville was very good at that for us despite not being the best player. I always remember a coaching shout from my younger playing years of how can I effect the game. That can be a a simple interception followed by a 3 yard pass. Allan does that well and I believe Davies himself has spoken of the influence Allan is having on him. They certainly looked good alongside each other last night.
Tony, I think we've discussed this many times with others on here. Personally, right now I believe the "two up top" is a simplistic view of being attacking in the modern game. By doing so, you leave yourself exposed in midfield and get overrun. No point having 2 strikers if your midfield can't win the ball and supply. Right now, the 4-4-2 is outdated in my opinion.
Perfect formation for me, is 4-2-3-1. But as with any formation, you pick one based on the players you have. Don't try and shoehorn the players into the one you want to play. Within reason obviously. Sometimes players have to play out of position.
Dave Abrahams
294
Posted 17/04/2021 at 15:44:59
Danny (293), so very true that simple interception and a simple pass that changes one team from defending to attacking in a couple of seconds, Peter Reid was great at it, love players who can read and change a game like that.
On a different note, I was reading the Daily Mirror this morning and couldn't find a report on Everton's game last night... Was there a report, to anyone who has read the Mirror, or is it me? I've looked three times?
Derek Knox
295
Posted 17/04/2021 at 15:52:03
Colin @ 291, you forgot the string vest and the wellies, ee bygum ! 😂
Brent Stephens
296
Posted 17/04/2021 at 16:24:42
Colin #291 and singing "Do you want to be in my gang, my gang".
Thomas Richards
297
Posted 17/04/2021 at 16:38:50
He plays the crowd like an old fiddle, Darren. Quite good at it actually, I've bit a few times myself. All harmless fun.
Brent Stephens
298
Posted 17/04/2021 at 16:41:27
Thomas, all harmless fun. Everybody loves it. Somebody summed it up as "useful idiot click bait".
Thomas Richards
299
Posted 17/04/2021 at 16:51:07
Looking forward to the day we can all meet for a pint, Brent. Darren included.
Be good to put faces to the names. I reckon we would have a ball after the first 10 minutes.
Darren Hind
300
Posted 17/04/2021 at 16:55:59
Christy,
I simply put up an opinion about Allan. That's all. It could easily have been left at that. People could have just disagreed or even silently just shook their head... But no; as per usual on this site, somebody who doesn't like it comes on and makes foolish personal accusations.
I had no idea that Allan's loss rate would be so abysmal. I had an inclination that he wasn't all he was cracked up to be because I had seen him on numerous occasions break ranks to go looking for the ball, leaving a gaping hole between him and our defence. One which has often been exploited.
These foolish stats drove me to look out the official records. I didn't put up an opinion. I put up the facts... The Official Records! What a damning indictment they prove to be. People can argue till they're blue in the face, but the records don't lie.
Talking of foolish stats, what on earth possess people to put up a man's tackling statistics in an attempt to refute the claim that he is a tackling machine? I don't know whether they are presenting the case for the prosecution or the defence!
Colin Glassar
301
Posted 17/04/2021 at 17:08:48
Dave 294, the DM basically reports almost exclusively on Man Utd and Liverpool. John Cross, chief football correspondent (Gooner fan) gets in a few articles about Arsenal but the rest of the Premier League don't seem to exist as far as they are concerned.
Brent Stephens
302
Posted 17/04/2021 at 17:10:13
Thomas, I think we'd all get on fine.
Roger Helm
303
Posted 17/04/2021 at 17:19:49
Very interesting posts. For my part, I think we need to keep Siggy as he and James are the only really creative players we have. But I don't think they should play in the same team too often as they are both slow and have similar skill sets. There are many in our squad who need to leave before Siggy.
We need more speedy strong players to support our number ten, whoever it is. Our young players - Calvert-Lewin, Davies, Richarlison, Holgate etc will improve with time.
I think Carlo's signings including King have been good so let's hope there is more to come.
Danny O'Neill
304
Posted 17/04/2021 at 17:37:31
Ball, brawl (not in the physical sense), then ball again in typical Scouse / Evertonian fashion Thomas!!
Brian Williams
305
Posted 17/04/2021 at 17:54:15
LMAO!!! :-))
Steve Brown
306
Posted 17/04/2021 at 17:56:18
Selling Sigurdsson, Delph and Bernard would release £300,000 a week from the wage bill. And I don't think it would impact overall squad strength at all.
Thomas Richards
307
Posted 17/04/2021 at 18:03:28
Get the important stuff out off the way early doors Danny.
Then on to the serious stuff of a joint ToffeeWeb booze up mate
Si Cooper
308
Posted 17/04/2021 at 18:21:05
What makes a player a 'tackling machine', and is it ever a bad quality? It can't be simply a numbers assessment, can it? Surely context (which you don't get from simple stats) is vital.
Is it due to simple work rate or are there subtler abilities involved, such as anticipation / positioning, timing, speed of thought / speed of execution, balance, strength, overall technique?
I suppose it is possible to use the term as an insult if you mean a one-dimensional player who does very little other than simply win tackles. However, it becomes a thing of praise if you apply it to a player who does pretty much everything else he is required to do as well as, or even better than, his peers and you are merely highlighting where the player is particularly exceptional.
If you are not careful to define what you mean then you could be spitting out an expletive whilst others read it as a badge of honour.
Tony Hill
309
Posted 17/04/2021 at 18:33:08
James Rodriguez has said to the fans "Heads up. The best is coming". That'll do for me. The fella, as I've said before, is like a ghost from our past.
John Raftery made a telling remark @256 that our formation last night had shades of our early 60s side. I can see James in that team. If he's optimistic about the future then happy days.
Gary Willock
310
Posted 17/04/2021 at 18:33:36
Players need to be "churned", it's what football is all about - at ALL levels. If you don't replace them, then squad depth and standing suffers. If you replace them with better players you progress.
So, the question is whether we can replace with better and, within our budget. That includes siggy and others. I think that's what James actually was tbh, but that has given him a kick up the arse, and he's back to being a decent asset for us like 2 years ago.
For me the priority replacements over the next two Windows (ok, a little wishful and unlikely!):
Out: Olsen, In: Romero (Free)
Out: Kenny, In: Emerson (-£10m?)
Out: Kean, In: Sarr (+£15m?)
Out: King, In: Toney (-£15m)
Out: Bernard, In: Danjuma (-£10m)
Out: Delph, In: Rabiot (-£20m)
Out: Iwobi, In: Zaha (-£15m)
Guessing Gomes for Isco, Mina for Koulibaly may be just a little too fantasy unless Mr Usmanov jumps in properly!
Bobby Mallon
311
Posted 17/04/2021 at 18:41:16
Darren 262. West Brom, Southampton, Leicester, Chelsea they where the last games we won with Allan in the team. There where 5 more before those last 4
Dave Abrahams
312
Posted 17/04/2021 at 18:58:12
Colin (301), thanks for that but I don't think it's very often, if ever, that there is no report of the game. Have they fell out with us, not that we give a thingy.
Dave Abrahams
314
Posted 17/04/2021 at 19:05:35
Chris (283), yes I agree it has been a very unusual season with injuries and they are happening at nearly every club, so I hope you are correct that Allan and James will not be as injury prone as I suspect and will prove to be very good signings, fingers crossed as you say.
Derek Knox
315
Posted 17/04/2021 at 19:09:28
You'll all have the chance to meet the faces behind the regular names and posters, as in addition to the Golf Day Out at Aldersey which is gathering pace and offers and donations of prizes are increasing. Because as soon as the new fixtures are released for our new season, I will be arranging another Toffeweb Get Together at the Excelsior.
I have spoken to the Excelsior and are fine with that, ideally an early kick-off Saturday or Sunday, so that those without a Ticket (probably myself included) can watch the Match in there and meet the rest of you after the game so it doesn't turn in to be a late night. (well it still could be).
I have been a tad disappointed at the last few we have had, because it is virtually the same people who loyally turn up, with very few from the Liverpool/Merseyside Area too, Andy Crooks has been to at least 3, all the way from Belfast, so involving flights and stay over. Although the Abrahams, Tony and Dave got him a Ticket last time, there's effort and dedication for you, and the same could be said of Mike Gaynes. All the way from Oregon!
So come on lads it's not asking the earth, or a great chunk of your time, and Darren, look out for future information and a date at The Excelsior!
Martin Mason
316
Posted 17/04/2021 at 19:43:20
In TW newspeak, Harry Kane is totally overrated, Michael Keane is fast and spins like a ballerina; Holgate has the football brain and spatial awareness of Franz Beckenbauer; Spurs were lucky to draw.
Grant Rorrison
317
Posted 17/04/2021 at 19:56:16
Steve 306. You don't think selling the player with the most assists and 3rd highest number of goals scored would impact squad strength?
You'd keep Iwobi I presume?
Martin Mason
318
Posted 17/04/2021 at 20:31:47
Steve@306, Siggy was pretty good last night. Replacing him is expensive and massively risky. We just have to stop playing him in positions thyat are not good for him
Paul A Smith
319
Posted 17/04/2021 at 20:57:38
Stats are there to be disected. Good coaches will tell you its about reading between the stats but after watching an actual game yourself, I can't see why a person/poster would need stats.
We played better last night than most games at home this season and most of our better players were in the side, including Coleman who came on.
When we have won and played well, most of our best 11 have played.
Last night our midfield dominated Spurs midfield. We haven't dominated a midfield at home for several weeks.
Certain midfielders were anonymous v Palace and have put about 6 or 7 good performances in all season.
Martin Mason
320
Posted 17/04/2021 at 21:04:28
Iwobi was terrible last night? That's because he isn't a wing back, what chance does he have? Do his critics know what a wing back is? Well it isn't Iwobi whose best position may be central midfield. He is being sacrificed because the club hasn't recruited right sided defenders and won't promote from the U23's.
Neil Copeland
321
Posted 17/04/2021 at 21:06:01
Derek #315, sounds good and count me in, as you know I live in the Nantwich area these days but born and bred scouser if that counts for anything. I will try and get the train timetable sussed this time!
Thomas Richards
322
Posted 17/04/2021 at 21:19:39
Martin,
What do you consider the wingback position requires from a player?
Stuart Sharp
323
Posted 17/04/2021 at 21:29:16
I know what a wingback is. And I think Iwobi was bobbins last night. Christ, even Carlo hooked him relatively early.
I take your point... it is not his natural position, and the setup exposes him... but, for that money, I'd have preferred someone who can pass, tackle, perhaps even cross etc. At one point this season, he convinced me that he was improving, but that feels like a distant memory now.
He was not the main reason we dropped 2 points, but my God he's frustrating. As for Allan – he may not be world class, but I think he's settled into the Premier League pretty quickly and has improved our midfield options.
Martin Mason
324
Posted 17/04/2021 at 21:43:56
Thomas @322 Full back level of defensive capability, winger level of attacking ability and box-to-box midfielder engine to switch between the two. Iwobi is none of those talents. Sean Coleman can be a wingback but he is patently incapable of doing 90 minutes.
Brian Williams
325
Posted 17/04/2021 at 21:48:17
Martin. It wasn't as if Iwobi was poor at carrying out the requirements of a wingback. He was poor at the basics that every player on the pitch should have no matter what their position. I don't know if the lad is lacking confidence or lacks the courage to go for it.
Now and again you can see that he can go past players but his overall contribution is sadly lacking, IMO.
Martin Mason
326
Posted 17/04/2021 at 21:53:43
Derek @315, where is and what is the Excelsior? I'll come for sure.
Ashley Roberts
327
Posted 17/04/2021 at 21:55:21
I agree, Iwobi is never a wing back and never will be. I would sooner another Arsenal flop Walcott over Iwobi – at least he has speed to burn if nothing else.
So the question is where do you play him? He does not have the vision to play in the James role and is not a tackler and so I just do not see where he fits in to this team. He would be on my list of players to move on at the end of the season along with Mina, Bernard and Moise Kean who obviously does not want to play for us. No point keeping anybody whose heart is not in it. So let's cash in and make a profit.
What with the guys out of contract at the end of the season (Besic, Bolasie and Walcott) plus the money we get for Mina, Kean, Iwobi and Bernard, we should have enough money to bring in a quality right back and a left sided midfielder (Rabiot). I am hoping the left sided Branthwaite can also step up. Then I would give Ageuro a bumper pay packet to come for a couple of seasons.
I believe with these changes and having Doucouré back this would be a pretty formidable team with youth, experience and balance. I am sure Carlo has got his plans and it probably makes sense to keep that close to his chest while we still have an outside chance of making the Europa League.
Martin Mason
328
Posted 17/04/2021 at 21:56:44
Brian@325 I rate him as tragically poor and one of the worst players we have ever bought. I'm just trying to be fair to him.
Tony Hill
329
Posted 17/04/2021 at 22:10:41
Iwobi was excellent against Wolves and was doing very well in a 10 position, where he prefers to play, against Leicester before being moved out wide for some reason. He was then injured and out for a while just when he was gaining confidence.
But there you go, he's a punchbag and will leave.
I can't wait to see the world class players aching to join us in the summer.
Paul A Smith
330
Posted 17/04/2021 at 22:21:33
It's clear Iwobi is not in our favour and has struggled here but I do think he would be decent for the likes of Brighton, Palace, Watford because he's a pure southerner.
A lot of southern players fail to light the place up when they travel north, it's just one of them things that happens in football.
I remember telling a mate, "Don't worry, Joe Cole is a total southerner" when he was gutted the shite signed him. Months down the line, I was told by someone they had seen him walking through Formby a couple of times with his Mrs and her Mother looking miserable.
Tony Cottee wasn't exactly happy here by all accounts.
I imagine if you have a comfortably rich life down south and grew up there, it would be a drop in lifestyle coming north and especially to a smaller club in Iwobi's case.
Football should be a great distraction if you are unsettled but can an unsettled person give his all?
Si Cooper
331
Posted 17/04/2021 at 22:21:50
Martin, The Excelsior is a pub on Dale Street, Liverpool.
Your post at 316 contains 3 'joke' points and one very true one. What are you trying to say?
Derek Knox
332
Posted 17/04/2021 at 22:25:07
Martin Mason & Others, The Excelsior is a fairly large Pub in Dale Street in Liverpool, beside what used to be the flyover, which has recently been demolished. It is a about a two minute brisk walk from Moorfields Station if going on the Merseyrail System, about 10 minutes tops from Lime Street if that, and not far from the Main Bus Station in Paradise Street, or the Old Gyratory at the back of Queen's Square if on local buses.
It is a very Blue Pub too, although some RS do frequent(they have been vetted don't worry). They do a good range of Posh Pies with Chips etc, varying prices are about £10 tops for everything. Beer, (unless it's gone up) is about £4.00 a pint they have several TV's (not transvestites btw) and have BT and Sky. The Manager, again unless he's changed due to Covid, is a guy called Peter from Dublin and a good host on the day. Hope that helps. Neil Copeland, best of luck with the Train Times this time.
Brendan McLaughlin
333
Posted 17/04/2021 at 22:26:28
Derek #315,
"Darren, look out for future information and a date at The Excelsior!"... if you can hook me up with someone as well I'll definitely be there!
Brian Williams
334
Posted 17/04/2021 at 22:29:50
Martin #328.
Ah, I see. By the way, the Excelsior is a pub on Dale Street, not far from the Birkenhead tunnel entrance.
I was slow typing!
Brian Murray
335
Posted 18/04/2021 at 00:04:56
When are you all thinking of meeting up there?!
Si Cooper
336
Posted 18/04/2021 at 01:23:24
"I imagine if you have a comfortably rich life down south and grew up there, it would be a drop in lifestyle coming north."
It surely depends what your 'lifestyle' entails. Let's face it, we live in a relatively small country where the differences in climate are relatively small. Suburbia anywhere is pretty much the same as suburbia anywhere else.
The big differences in leisure activity in this country is probably between coastal and anywhere else, and nowhere in the country in winter is anything like St Tropez! If you need to get awa,y it's not exactly difficult to travel in this country especially if you are mega-rich.
There are two big factors in my view. One is the mindset, about where people think they belong (big city or small town for most) and home is where the heart is attitude. I think it is often the WAGS who don't settle well without their mums and mates being on tap.
The other is London. Unfortunately, in my opinion, we live in a country where one city has been favoured well above all the others for very little good reason and lots of bad ones. We have this ridiculous snobbish principle that the capital has to be the biggest and the best and all the top people need to be based there. Obviously that stems from being the seat of political power but so much more has been concentrated there that could have been spread around this small country that it is criminal.
So London is the big draw, the decider for those who want all city life can offer on your door step. I never fully realised it's pull on people (being immune from it myself) until I lived in Wiltshire and found out how readily plenty of people thought of London as a venue for weekend activities.
I had observed many years before that many manufacturing sites in the north had head offices in the South East despite making no logistical sense. The bosses just had to be based somewhere close to London because 'that is where the most important people live' and I think that is still a big factor for people.

Derek Thomas
337
Posted 18/04/2021 at 02:14:07
So @ 336; you're exactly right. In the 90s I worked for a group...lets call them the 'not blue river, silver-ish looking metal Co.'
They had 3 site locations. 2 had to go and it would all be in the one location.
We were the product leaders, we could knock out 100 tonne of product @£22 per tonne ( sample figure to prove the point) per week.
Our nearest rival could only manage 90 tonne @£27 per tonne per week.
The third site, near London, the small original site with all the admin etc - forget them, they were toast.
It was Us Vs Them.
We had room expansion, they didn't.
We got the chop - They were near Cheltenham.
We were in Widnes - Game Set and Match
Cheltenham it was then.
Steve Brown
338
Posted 18/04/2021 at 03:29:25
Grant @ 317, you presume correctly. Iwobi has been poor on occasion, but played in the right position could come good provided he learns some consistency. I know Colin hates him, but there have been games where he has been good. Unfortunately, there have also been games where he's looked like he has just seen a football for the first time.
Steve Brown
339
Posted 18/04/2021 at 03:40:26
Martin @ 318, I acknowledge that Sigurdsson has improved this season. His goal against Spurs was technically excellent. However, next season we need to add more pace into midfield and he slows us down. Even his supporters would admit he cannot tackle or track forwards runners into our box.
His main role would be as back-up CAM to James, but with a salary of 𧴜k that is a very expensive substitute. We need to create space on our salary bill to bring in signings under FFP, so that is why I include him as an outgoing.
Alan J Thompson
340
Posted 18/04/2021 at 06:11:45
Si (#336); You couldn't be more right but the only way it will change will be as last time, under a monarch named Charles, although I've often wondered what happened the last time two blokes named William and Harry argued over the throne.
It's written in the stars!
Paul A Smith
341
Posted 18/04/2021 at 07:20:30
Si 336,
I'd assume the average rich young footballer's lifestyle is full of extravagant ventures and thrills. They like to display a lot of it on social media.
I remember Bilic years back moaning about the differences here with lack of theatres and events blah blah. That has changed since of course but London is the countries hotbed, like you say.
The only time I met Bilic was at the Lime Street ticket office during the week where he was buying a ticket back to London.
And to add fuel to your points I think it can't be helped because it's so natural and ingrained in the nation.
The likes of Iwobi, Lookman, Joe Cole, grew up on the streets of London and now have the money to do all the things they dreamed of as kids there, plus the opportunity to flaunt it in the capital.
I worried about the capital connection the minute we signed Iwobi and have had loads of conversations about the negatives in bringing a southern player here..
There will always be exceptions but we have to know the players character deeply.
Derek Knox
342
Posted 18/04/2021 at 08:16:23
Paul @341, there is a lot of what you and previous posters have said as far as the North-South, and rich-poor divides are concerned and I suppose a lot is how you were brought up. I was born just after the War (the 2nd, be careful) and I remember rationing, Cod Liver Oil and the Orange Juice etc.
My mother had lived through the 1st as well although was only a child but her mother (my Grandmother) lived in Greater Manchester when there was largely cotton as the principal Industry. So she knew how to make a meagre amount of money spin out but still keep a moderate sized family nutritionally fed and looked after.
Most kids today, in some ways thankfully, have never experienced hardship, and are almost equivalent to the silver spoon kids, and offspring of the rich when I was growing up. Having said that, many are devoid of real human values and respect for either elders or society in general. Not all, but very few are cognisant of others.
Let's face it, the whole world is upside down in many ways with such disparity, and from a footballing perspective, transfer fees and commensurate wages and salaries etc have mushroomed beyond all reasonable proportion, to verging on the immoral and astronomical.
Trevor Peers
343
Posted 18/04/2021 at 08:24:36
Steve @339,
Be careful what you wish for! According to Carlo, we aren't signing any midfielder's or strikers as he reckons Kean and Gbamin are going to be our saviours as we push on to win a Top 4 spot.
Let's hope he was just having a pop at Moshiri in a desperate attempt to free up some transfer funds.
Thomas Richards
344
Posted 18/04/2021 at 08:29:33
Having said that many are devoid of real human values and respect for either elders or society in general. Not all, but very few are cognisant of others.
The complete opposite in my experience with the young people of my city. The vast majority are good kids, spoiled by a few horrors.
As always, it's how they are brought up. They wouldn't because they are great people but, if any of mine gave disrespect to anyone older, they would be sorry.
Tony Abrahams
345
Posted 18/04/2021 at 08:41:10
I can understand your frustration Tony H, but looking at the posts I think Brian W, asks the most sensible question imo, about Iwobi.
Is it confidence or is it courage? I personally think it's both, and when someone lacks courage, then people are always going to give you a hard time, because it's just the way of the world in a tough environment, and I think that's why Iwobi, is copping for a lot of stick right now?
I think Iwobi, would be a decent player if he could play inside, but Ancellotti, never seems to play him there for whatever reason, and prefers to watch the kid struggle out wide.
Danny O'Neill
346
Posted 18/04/2021 at 08:53:19
Interesting discussion about location. In all my years of travelling and working abroad as well as many different locations throughout the UK, and despite the "smaller" world we live in due to travel and connection, it has always intrigued me how many Brits are home birds. Sweeping generalisation, but many can only really settle close to home and the pull to return is always there. So I agree with the London / southern player thing, but I think it applies to many others too, regardless of where they come from.
I live in London but it's dominance has always concerned me. Despite our major cities re-inventing and regenerating themselves in recent decades, all things still point to London. Not healthy for the UK but a vicious cycle as we have a dependency on London to drive the economy that we seemingly can't break.
In Germany, Berlin is the political hub (still shared with Bonn). Frankfurt the financial capital. Munich a very strong industrial base and State capital and Dusseldorf another strong financial services sector and State capital. Wealth and power are shared more evenly. In Italy, the parliament may sit in Rome, but Milan is the economic hub. Now there is a country of north/south divides.
Anyway, from a football perspective, no surprise to me that with the dawn of the Premier League and particularly the influx of foreign players, the London clubs have risen to prominence. Manchester has developed itself as a viable rival and is the defacto second city of the UK. Birmingham only in terms of population.
Gary Willock
347
Posted 18/04/2021 at 08:58:32
You never know: Carlo could be saying we don't need new players because we have Kean and Gbamin because:
1) That's a message to PSG and Juve that we hold the cards, so no point ballsing round lowballing.
2) It's a message to Gbamin to keep going – saying "You're a crock, don't bother" benefits who?
3) It shows selling clubs we aren't desperate therefore making sure we don't get "Iwobi'd" on the next buy.
Have some faith, folks, some disappointment this season, but he's no fish.
Tony Abrahams
348
Posted 18/04/2021 at 09:00:07
Brian @335, if you've got a brother called Tony, make sure you bring him along, mate!
Interesting post, Si. My sensible cockney mate (proper Londoners are very similar to scousers imo) told me that the only reason he hasn't moved away is simply because it's the land of opportunity, and he's now got kids.
But look at the house prices rising in Liverpool, is it because people are going to be working from home now? Or is this outside investment, with the powers that be looking at Liverpool being a city on the rise again?
Robert Tressell
349
Posted 18/04/2021 at 09:01:51
Paul @ 341, I think you're spot on. We have a much better track record of picking up Northern players (and Scots, Welsh and Irish) than Southerners.
Iwobi has had good moments in a blue shirt – but he never looks like he's enjoying it here. He's probably destined to end up at Fulham, Palace, West Ham or one of the South Coast clubs.
The new stadium could be a turning point. Goodison, filled with nostalgia though it is, and its location makes us look very backward and parochial. BMD is quite the opposite.
Hugh Jenkins
350
Posted 18/04/2021 at 09:13:01
Derek (342). To illustrate your final point - Pogba is, apparently, demanding £500,000 a week to sign a new contract for Man Utd - and all suitor clubs have been told that that is the going rate, if they want him.
Joe McMahon
351
Posted 18/04/2021 at 09:32:49
Derek @342, how true you post it. Both my parents were born just before WW2. But can remember very much what it was like growing up with rationing.
It makes me sick the rich and famous including many footballers with private chefs. I remember my first car at 20 years old. It was a old rusty Fiesta. A Sheffield United striker a few months ago wrote of his Lamborghini, he hadn't even scored a goal!
Paul A Smith
352
Posted 18/04/2021 at 09:59:37
Derek 342 it was more about footballers mate or people on high wages. I have friends from the south that have grown up more or less like I have.
The point was about leaving a place where you have everything at your disposal to having less in a place you are uncomfortable.
I think Reality hits a lot of the young southern players that move down here. Like wow, now I do have to be street smart and more responsible.
Robert 349 i agree he has never looked happy. I always look back to the body language and expressions. Same as i looked at some of Spurs players the other night.
Where is the passion, the bounce, the energy? Iwobi comes across like he can't get into second gear and these are all fit athletes.
Paul Smith
353
Posted 18/04/2021 at 10:02:54
I think TW is turning into a site for resentful silver surfers.
Tongue in cheek btw guys.
Tony Abrahams
354
Posted 18/04/2021 at 10:17:17
Even though Pogba has got nothing to do with Everton, I think if he can get himself £500.000 a week, then it's time for us all to turn our back on the game!
Brian Harrison
355
Posted 18/04/2021 at 10:23:28
I see the club did what they call a USA live show on the internet, talking to our supporters out there. Just wondering if any of our American T/W contributers watched it Marcel Brands spoke on the show and he highlighted the fact that we dropped to many points especially at home against teams we were expected to beat. I think even our American fans didnt need educating on that point. He also went on to say that he thought at some point in the future Seamus would be a good edition to our academy coaches. Really another ex player to join Ferguson, Unsworth, Ebrell, Baines, Jeffers, yes just what we need.
Stan Schofield
356
Posted 18/04/2021 at 10:32:16
Tony@354: Personally, I can't see the point in having issues with the money in the game per se. It just represents what ordinary people are willing to pay for entertainment. Nobody is forced to buy Sky subscriptions or watch footy on the TV. It's what ordinary people choose to do.
All elite sports have big money earners, and all big corporations have big money CEOs, shareholders, etc. It seems to me that elite footballers, most of whom are working class lads who have made good and earn big money because of doing so, are always targets of criticism. It's as if their working class background and kicking a sphere of leather for a job removes their right to gain big money. Wayne Rooney has always been a target for criticism, as if people resent a 'rough Scouser' being a genius and earning multi millions.
If we want to have issues with big money, there are much bigger fish to fry than footballers. The only thing that concerns me about big money in football, is the potential for corruption. Apart from that, they can earn as much as they can get from ordinary folks being willing to pay them for entertainment.
Steve Brown
357
Posted 18/04/2021 at 10:35:21
Trevor @ 343, I just don't think we can afford to sell Iwobi. We would lose a huge chunk of the initial 28 million transfer fee and probably have to buy the remaining three years of his contract at 80k a week.
I also think that there is a decent CAM in there if he can just gain consistency and composure. As Tony A says, Iwobi's position his behind the forwards as back up to James not as the wide man in a front three or a wing back. Ancelotti only plays him in those positions as we have no other options in the squad.

Thomas Richards
358
Posted 18/04/2021 at 10:55:20
On the subject of these young players buying flash cars, watches etc.
Most of them are from working class backgrounds,would never be in position to buy these things if they were not footballers.
You take a kid from a Crocky working class family and give him a kings ransom to spend every week don't be surprised at the reaction.
Len Hawkins
359
Posted 18/04/2021 at 10:55:57
Yet another Masterclass on how to grasp a draw from the jaws of Victory.
Clearly the Chuckle Brothers are reborn with Holgate being the stooge to Keane's Comic Capers, to me to you.
Rob Halligan
360
Posted 18/04/2021 at 10:56:22
Tony # 354. You think Pogba asking for 𧺬K P/W is bad, Erling Haaland is asking for ٟMillion P/W, and has asked his father and Mino Raiola to find him some mugs who will pay it!!
Brian Harrison
361
Posted 18/04/2021 at 11:17:39
Tony 354, Stan 356
The money players earn didnt really become a talking point until Jimmy Hill and George Eastham campaigned to have the maximum wage abolished. The first real talking point after the maximum wage had been abolished was when the then Chaiman of Fulham Tommy Trinder paid Johnny Haynes 𧴜 per week. But he also took the unusual step of paying Haynes 𧴜 per week during the close season which was unheard of. This led to the story often told by Trinder that after paying Haynes the 𧴜 per week for the whole year, an unnamed Fulham player knocked on Trinders door and said if you are paying Haynes 𧴜 per week all year I want the same.
Trinder said you cant ask the same as Haynes he is one of the best players in England and you are nowhere near as good, to which the player retorted I am in the close season.
So quite rightly that rather than clubs making afortune out of the game and giving it to their shareholders, the players got a fairer share of the cake. But like most things the players started to get used to their new powers with the abolition of the minimum wage, they then looked at cricketers who at the end of their careers were awarded a testimonial by their clubs. This was a thank you for long service, and it is worth remembering that players received no money from their counties during the winter and had to take on jobs to make a wage for the 5/6 months when they weren't getting paid by their clubs.
Now with the Bosman ruling the players hold all the power and the clubs are left with little or no power as they once were. But the real cancer in football is the football agent, and we have now reached a point were they become the power broker in all transfers, and before any deal can be ironed out with their client the agents fee has to be agreed before clubs can talk to the player. When you look at what clubs including our own are spending on agents fees its obscene and that money doesnt go back into the game. I remember listening to Simon Jordan on Talksport a few months back and he was saying when he was chairman of Palace he was offered a player on a so called free transfer. But he said the Free transfer consisted of him paying the players agent ٣ million and the player ٧ million to sign on. So his advice is there is no such thing as a free transfer, all it means is you don't pay money to another club. Riola who is Pogbas agent is telling interested parties he wants 𧺬,000 per week and the fact is some club will pay it. Riola is also Haarlands agent and he is saying his player wants nearly ٟ million a week when he is sold. Now he knows nobody will pay that money but the message he is sending out is my player wants to be the biggest earner in world football.
So its no wonder with agents like Riola that the successful clubs that pay the big money are looking to set up their own European league to enable them to pay players the money that agents like Riola are demanding.
Stan Schofield
362
Posted 18/04/2021 at 11:19:11
Rob@360: The 'mugs' are ultimately the ordinary people who pay to watch these footballers. People pay them, and then many people complain about them being multi-millionaires! If people are willing to watch them on the TV, they shouldn't complain about the big money they get. If people don't like footballers getting big money, then those people should stop buying the luxury item (and it is a luxury item) of watching it on the TV. It's dead simple really!!
Some reds I know were saying to me that Man City's money was 'immoral'. I told them to get a grip. The only reason they think it 'immoral' is that LFC are not laying out similar monies for players. The same lads were complaining that LFC wouldn't buy a new expensive centre-half to cover for van Dijk being injured!!!
Derek Knox
363
Posted 18/04/2021 at 11:27:36
Paul A, @ 352, I accept your comment was aimed primarily at footballers, but don't most footballers come from 'working class' backgrounds? I bet their Dad's didn't have a Lamborghini if he was a builder, unless he owned the Company.
AIthough, I have been told on good authority too, that you can't get many bags of sand, cement or plaster, in the boot of one of them Playboy's toys. 😜 Like most topics that start on here about Everton football related issues, usually diversify into some other issues, but at least we are all having a meaningful dialogue with the best intentions at heart.
Paul @ 353, " Silver Surfers "? that's you card marked my boy, be in my office first thing in the morning! 😂💙
Kim Vivian
364
Posted 18/04/2021 at 11:31:31
Derek - 342. You only have to look in my kitchen cupboard to remember rationing, cod liver oil, orange juice etc!
Thank God the malt extract has long disappeared.
Brian Murray
365
Posted 18/04/2021 at 11:31:31
Tony Abrahams post 348, ha ha yeah that's my brother ( Tony ) classic echo video interview they had with him in which he says them shower are the devil and they painted our dog lfc when we was kids. Etc. Wish I could forward and show on this but not tech savvy enough!!
Brian Murray
366
Posted 18/04/2021 at 11:38:34
Kim post 364. Without sounding like the classic monty python sketch, we had to cut 50 ps of the oil cloth ( Lino ) for the elecy meter. Our dad used to thrash us to sleep with bread knife ( ok bit of monty sketch thrown in,
Danny O'Neill
367
Posted 18/04/2021 at 12:22:06
You're right Tony about cockney's and scousers. I would say that goes for a lot of the big cities throughout the country too. We all have a lot in common with our own unique nuances. London, probably more than anywhere in the country, demonstrates the rich-poor divide the most. The wealthiest neighbourhoods sat looking over some of the countries most deprived. Although (stereotyping), I don't like the London fan approach to supporting football. Aggressive, sometimes sinister and more interested in goading other fans than watching their own team. It spills over into the England supporter psyche too.
I do think Liverpool is making further progress, building on what it done throughout the 90s and 2000s. Everyone I speak to only has good things to say about it. I should probably wash my mouth out with petrol, but I see it latching onto it's proximity to Manchester and benefiting from our neighbour's growing prominence. If you consider geographically, Liverpool to Manchester could probably fit inside the M25, it makes sense.
I don't like to bash the players for earning the money they do. They are what make the game. I'm no expert, but the days when the money used to go into the bank accounts of chairmen and owners were unfair on players who relied on testimonials to give them a lifeline as they looked forward to post-football as a pub landlord. I appreciate we have probably gone too far and as with everything there was probably a balance that should have been struck, but in principle, I don't have issue with people being rewarded for their talent and ability. I agree with Brian; the real pantomime villains are the agents who have greedily exploited players and clubs alike. We are just the "mugs" willing to pay for it.
Derek Knox
368
Posted 18/04/2021 at 12:27:14
Brian @ 366, 50p's (even blag ones) in the leccy meter, now you are showing 'poshness there me old fruit' it was usually a shilling or a 'bob' as we called it then, and it was a struggle to get that, but it was a 'genuine coin of the realm' none of this getting your 'collar felt' on account of the leccy or gas meter. Or should I say getting your oilcloth felt?
You tell that to the kids of today, they don't know how lucky they are! 😋
David Hayes
369
Posted 18/04/2021 at 13:05:43
Read through the majority of analytical posts, could not find any mention of what I believe is the root cause of our consistently level problem. Right Back. Several previous managers and this current encumbant have completely ignored the vital requirement of a younger version of Seamus Coleman. In fact two of them are needed, and have been for a couple of seasons now. The imbalance caused by playing centre backs one week at CB and next week at RB is immense. The short cameo's now given to Coleman and the instant uplift in team cohesion is blatantly obvious. In fortunately the lad can no longer perform at full tilt even for one half. Not procuring a couple of same ability RB s is and just patching up is neglection and misguided. Other teams have constantly targeted this weakness and imbalance with success for them. Almost every prem team as the game develops become mainly one sided in attack with everything coming down one side. Attacking centrally if allowed to by being given time and space to build. Watch a prem team who are quick and mobile if blocked head to the enemies weak side. CBs at right back is an open invitation.
Thomas Richards
370
Posted 18/04/2021 at 13:06:45
Derek,
My grandkids don't believe me when I tell them the stories of what my family went through we were that skint.
When I look back on them days (would not change one day of my upbringing) I am made up I can give my kids and grandkids what they want.
Tony.
Your correct. Ive got good mates in London. All proper men.
Ive made them all Blues

Paul A Smith
371
Posted 18/04/2021 at 13:21:21
Derek 363 I think most used to come from working class families and I fully agree they are well blessed compared to their families.
With all these double barrell names I am not so sure its all working class lads at youth level now.
Borthwick - Jackson, Ruben Loftus-Cheek, Calvert-Lewin, Trent Alexander-Arnold.
These kids probably knew more about nutrition, bank statements and horsepower at 14 than most working class 21 year olds.
To be honest though I expect any player from anywhere to adore the riches, I just think a well privledged southern footballer has little to admire coming here.
At least thats how it often seems to come across.
Tony Abrahams
372
Posted 18/04/2021 at 13:32:59
Players can earn what they want, I'm not arguing, I'm just pointing out how gigantic the game must be right now, if they are even just talking about such crazy money, that's all.
I'm a working class militant at heart though, and I just think that as great a job as football, has done in keeping going, and keeping us half entertained, then surely we the "match going fans" must now know how important we are to the beautiful game, and also demand to be treated accordingly!
It wouldn't be hard, they'd start issuing tickets for free if we decided to boycott over pricing, because what Jock Stein said, has been proven so true, IMHO!!
Danny O'Neill
373
Posted 18/04/2021 at 13:47:46
I don't know if they still do Tony, but Watford used to do "kids for a quid". Great initiative. Took my son a few times. I paid full and we spent on food, drinks etc, but fantastic incentive to get young fans following the game
Brian Murray
374
Posted 18/04/2021 at 14:10:29
Derek post 368. Well if you mean posh by having an indoor toilet then il give you that ! The middle of el four was by no means well off. Having said that my arl fella shiny made to measure suit standing at the bar while we starved so maybe you have a point. And then all hell to pay for my poor mum if we got beat and them shower won. Although that's getting a bit Jeremy Kyle do il leave it there 🙄😂
Paul Birmingham
375
Posted 18/04/2021 at 14:20:12
Good point Danny about Watford and West Ham, used that ploy when they first moved to the Olympic stadium.
The dynamics of the game are now driven by UEFA and the media companies.
I hope Everton can stay in the run and make into a consistent top 5 team very soon.
It will be interesting when the grounds reopen fully, if the EPL teams, bump up their prices for refreshments and food etc.

I recall the 2009, semi at Wembley and a Pukka Pie was £6.60, a box of x10 chips and 5 baby fish pieces, it was Action Man food was £9.60. My ma8 was starving but each to their own.
The day Everton get close to a fiver I'll not bother with game. Some companies have furloughed, and made redundant their work forces and some companies have not given cost of living pay rices for years.
The games governance body must take stock of the economics.
Unless the EFLs finance teams start looking at the Bundesliga model, as a viable cost model, compared to the EPL, I fear over time the impact of COVID19 and the long term cost burden, which will be carried and paid by all, of UK society, but the average working class people will least be able to afford.
I'm no economist but I know many supporters from Soton, Newcastle, London teams, to Edinburgh who now watch non league teams.
Less aggro, rarely trouble at the game, and the cost it's affordable.
It's a warning sign that a generations love of the greatest game at the top level, is waning.
Let's hope Everton as they generally do can reset the bench mark for affordable EPL football as the burdens of COViD19, are felt down the line.
Paul Birmingham
376
Posted 18/04/2021 at 14:23:02
Nb I was referring to a fiver for a pie etc, food items typically under a fiver, not the jumbo dogs, as I never eat that type of grub no matter how hungry I may be.
I always go the chippy.
Stan Schofield
377
Posted 18/04/2021 at 14:23:36
Tony@372: Yes, but people aren't, realistically speaking, en masse going to boycott pricing. They'll just keep paying, out of choice, for what they perceive as entertainment. Like any luxury item, people can choose to buy or choose not to buy. If a lot of them choose to buy, then the 'sellers' make a lot of money.
Regarding being a working class militant, you could imagine football being State-controlled with rigid pricing structures and wages, etc. But then the State would be trying to compete with private profit-making sectors in football structured like football is now, so the State system wouldn't survive, because the private system would attract the best talent. So really, what we have now will remain, neither good nor bad, simply there to be chosen or not chosen by individual punters like us. It's logic, Captain.
Danny O'Neill
378
Posted 18/04/2021 at 14:26:49
My trips to Goodison are steeped in nostalgia Paul. Regardless of the queue, chips, peas and onion gravy from the Goodison Supper Bar for me.
Derek Knox
379
Posted 18/04/2021 at 14:44:01
Thomas @ 370, " When I look back on them days (would not change one day of my upbringing) I am made up I can give my kids and grandkids what they want."
See you are spoiling them, how can they have values or value anything, when they get it too easily! 😋💙
Thomas Richards
380
Posted 18/04/2021 at 15:00:50
Good point Derek.
Old saying.
"he knows the cost of everything but the value of nothing"
All my kids and grandkids know the value of the things we give them.
Wonderful human beings.

Ray Robinson
381
Posted 18/04/2021 at 15:09:58
Interesting discussion early on about the lure of the capital for young footballers, which I think is very real for some and particularly for overseas players. However, it didn't stop Andy King, Graham Stuart, Kevin Campbell and Tim Cahill falling under the spell of the club and becoming true Evertonians. I guess it sometimes depends on how well they are received by the crowd.
Danny O'Neill
382
Posted 18/04/2021 at 15:12:44
I think every generation is viewed as soft by its predecessors. We all strive to improve things for our kids and those who follow us. We want better conditions for our kids.
Personally, I listened to the "play station generation" taking a lot of stick for not knowing how tough life can be.
I watched many young men and women of that generation grow up very quickly in Afghanistan.
We all think we had it harder than our respective younger generation. The reality is, if we bring our kids up right, they rise to the challenges presented to their generation. Its all in perspective.
Apologies, I do get defensive on stuff like this.
Danny O'Neill
383
Posted 18/04/2021 at 15:32:27
Good point Ray. But how many of them listed won league titles?
Stan Schofield
384
Posted 18/04/2021 at 15:33:11
Danny@382: Yes, older people have always, throughout history, criticised the 'youth of today', whilst it's always been acceptable, apparently, to send them off to war to fight for the arguments and shenanigans of the older people.
Ray Robinson
385
Posted 18/04/2021 at 15:40:03
None with us Danny but I was only really highlighting that it is possible for a Southerner to enjoy life up North!
Danny O'Neill
386
Posted 18/04/2021 at 15:46:30
It is Ray. I am massively bias, but Liverpool is the true second city of the nation!!
Paul A Smith
387
Posted 18/04/2021 at 16:10:57
Ray there is definatley exceptions. I always think of Graham Stuart when I think of this subject because he embraced the north and still does.
In my argument I did say a drop in standards doesn't help. Stuart came from Chelsea who were nowhere near the club they are now.
Kevin Campbell came from racial torment in Turkey and again, found a better move than where he was.
I was hoping Lookman was the exception to my argument coming from Charlton to far bigger things but even he proved to be a nightmare to keep here.
Teddy Sheringham was the last one I felt really made a legend of himself after coming from down south but again, he got a fantastic move to be motivated by.
Zaha could be an exception if we are still interested as he has done it before and will be getting a bigger club?
Derek Knox
388
Posted 18/04/2021 at 16:21:46
Thomas @ 380, Ah! So you leave the price tags on eh? 🤔
Brent Stephens
389
Posted 18/04/2021 at 17:05:31
Derek #388 - Thomas probably replaces the original price tag with his own home-made tag before the kids get the presents - new price tag suitably doubled in value.
Thomas Richards
390
Posted 18/04/2021 at 17:21:27
You would know more about price tags than me Derek with the traditional mingebaggery of the hibernian gang 😁
Martin Mason
391
Posted 18/04/2021 at 17:39:36
Si@331 Sorry, the 4th point that Spurs were lucky to draw was also meant to be TW opposite meaning speak. Having watched the game again twice I think they could claim to be hard done by with the draw having had two chances hit the post. OK, a draw was probably fair but that we were unlucky not to win is not correct.
Thanks for the info on the excelsior by the way. 4 or 5 hours for me but would love to come up and say hello.
Darren Hind
392
Posted 18/04/2021 at 17:47:33
Thomas Richards
393
Posted 18/04/2021 at 17:56:31
Get what?
Derek Knox
394
Posted 18/04/2021 at 18:11:31
Thomas @ 390, See you Jimmy! ✊🤣
I washed my kilt before, put it in the tumble dryer, now I can't do a fling with it!
Thomas Richards
395
Posted 18/04/2021 at 18:18:12
Are the pockets on the kilt sown up Derek😁
Martin Mason
396
Posted 18/04/2021 at 18:33:42
Darren @392,
You wouldn't but then again you are pretty thick.
Brent Stephens
397
Posted 18/04/2021 at 18:35:42
Martin, you might need to explain that.
Derek Knox
398
Posted 18/04/2021 at 20:10:41
Thomas, Nae pockets in a shroud or a kilt Thomas, but I do hae a sporran!
To dispel an age old query too, an American lady whilst over here on holiday asked me one day "Is anything worn under the kilt?"
To which I replied "Hoots lady, nah, everything's in fine working order!" 😂
Si Cooper
399
Posted 19/04/2021 at 00:47:07
Martin, I suspect you may want to discuss whether luck actually exists but I don't.
You appear to be suggesting Spurs should be particularly disappointed not to have won. We dominated that game and absolutely gifted them their two goals. Hitting the woodwork (and not going in) is basically missing the target and doesn't merit any more 'value' than any other miss. On the balance of play and number and quality of chances created, a draw was not a fair result as we had the upper hand.
All the pundits thought we should have won and I'm sure the large majority of neutrals would say the same. Don't know how you can twist that sentiment into being TW opposite meaning speak.
Laurie Hartley
400
Posted 19/04/2021 at 09:49:36
I thought we did enough to win that game - we were the better team by a considerable distance in my opinion. The reason we drew was that Kane is dynamite in the box. He is a top top striker.
What I did notice is that Sigurdsson & Rodriguez are on the same wave length - so are Allan and Davies.
If Coleman was five years younger we wouldn't need a right back - but we do. Nevertheless Godfrey could well be the answer in which case we need another centre half to play with Mina. Koulibally would be fantastic. We also need a left footed right winger.
If we can play like that for the rest of the season we still have a chance of Europe.
---
Add Your Comments
In order to post a comment, you need to be logged in as a registered user of the site.
Or Sign up as a ToffeeWeb Member — it's free, takes just a few minutes and will allow you to post your comments on articles and Talking Points submissions across the site.
---
© ToffeeWeb