Season ticket uptake undimmed by pandemic uncertainty
Saturday, 1 August, 2020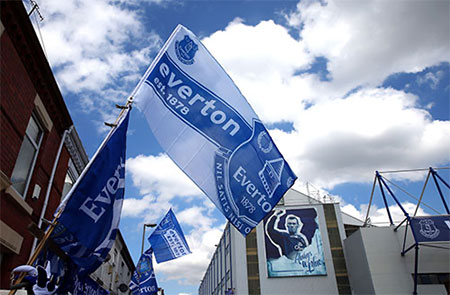 Evertonians have renewed their season tickets for next season in record numbers in spite of the lack of clarity over when fans might be able to return to football stadiums.
After being shut down for three months in March and June as the novel coronavirus swept Europe and then the United Kingdom, the Premier League resumed in June but to empty grounds and 2020-21 will also start with matches played behind closed doors.
The Government have announced plans to allow stadiums to reopen at reduced capacity up to around 40% in October but there are no firm directives in place as yet.
Regardless, Everton have seen seasonal renewals surpass 30,500 for the first time in the club's history, equating to a renewal rate of 98%, a reflection of fans's ongoing loyalty despite having to endure another miserable season and their collective optimism ahead of Carlo Ancelotti's first season in charge as manager.
"The renewal of nearly every Season Ticket for 2020/21 reflects the commitment and passion of Evertonians to their club," said Richard Kenyon, Everton's Director of Marketing, Communications and Community.
"In what can only be described as difficult and uncertain times, it is an incredible show of loyalty – and, as always, we are very grateful to every single season ticket member for their tremendous, ongoing support."
Fans will receive pro-rata refunds for matches they aren't able to attend next season. A full list of FAQs related to 2020/21 season tickets is available at evertonfc.com
The club have also confirmed that, following the completion of the renewal period, the process of offering season tickets will to fans on the waiting list has been temporarily put on hold. Supporters on the waiting list will retain their place in the queue and will be contacted with further information in due course.
Any 2020/21 season ticket members who have applied for a seat transfer as part of their renewal will be contacted by the club in due course with further information.
---
Reader Comments (103)
Note: the following content is not moderated or vetted by the site owners at the time of submission. Comments are the responsibility of the poster. Disclaimer
Joe McMahon
1
Posted 01/08/2020 at 16:57:39
This is exactly why a 52k stadium is never going to be big enough, even more season tickets will be in demand for a stadium with modern facilities and no restricted views. Lack of vision again!
Barry Rathbone
2
Posted 01/08/2020 at 18:15:02
Joe, not sure that logic stands scrutiny.
For me season ticket sales indicate a hard core 30k + who turn up come rain or shine. I doubt we have a genuine waiting list exceeding 20k.
Patrick McFarlane
3
Posted 01/08/2020 at 18:28:58
I'd argue that the new stadium being on the horizon and the affection that Goodison is held in has a great deal to do with the renewals of Season Tickets at this point in time. Whether that will remain the case when the new stadium opens will depend a lot more upon the performance of the team. I think 55k would have been adequate unless, of course, we see a major upturn in our fortunes.

Jack Convery
4
Posted 01/08/2020 at 18:44:11
Imagine what it would be like if we had a half-decent team!
Kieran Kinsella
5
Posted 01/08/2020 at 18:50:11
Surprising considering Covid, unemployment rate and a crap team.
Evertonians seem to rally in tough times, like when attendance skyrocketed during our relegation battles in the 90s.
Mike Doyle
6
Posted 01/08/2020 at 19:04:52
Jack #4, I just watched Aubameyang score Arsenal's 2nd and wondered what would have happened if the same chance had fallen to Calvert-Lewin, Walcott, Bernard etc etc...
A nice reminder of the value of a top-class goalscorer.
Kunal Desai
7
Posted 01/08/2020 at 19:06:17
We'll need to get more of a competitive team first, get our house in order all over the club very sharpish. The next couple of generations (being realistic) are likely to be growing up and supporting those lot across the park.
Joe McMahon
8
Posted 01/08/2020 at 19:18:33
Mike, we don't need reminding, several years since Lukaku left.
Kunal, they already do, even where I live 20 miles north of Manchester.
Kunal Desai
9
Posted 01/08/2020 at 20:00:48
There you go, Joe, forget a 52k-seater stadium, you might not even get 40k.
On the flip side, I'd be intrigued to know a breakdown in the age bandings of current 30k season ticket holders. Is it likely we have an ageing support?
How many of those are under the age of 30, for example, having not seen Everton win silverware? Our fan base over the next two to three decades could rapidly diminish.
Patrick McFarlane
10
Posted 01/08/2020 at 20:05:18
Kunai #9,
There's a healthy number of younger supporters who are also season ticket holders, the club has been very pro-active on this for a few years, I would imagine that the waiting list for STs is likely to be made up of more younger people than older ones.
The city and surrounding areas have been dominated by the other lot for 40-50 years but there has always been enough Evertonians available regardless.
Alan Rodgers
11
Posted 01/08/2020 at 21:13:28
Kunai @9, even though I am the wrong side of 65, I believe we have plenty of younger fans. Plenty of parent & child combos in the Main Stand where I sit.
Two reasons why people renew season tickets: first, to keep a good seat if you have one; and second, it's such a good deal. If you go to a minimum 12 matches, it's a no-brainer, as the yoof of today say.
John McFarlane Snr
12
Posted 01/08/2020 at 21:42:18
Hi all,
Although I have been attending games at Goodison Park since 1948, I didn't buy my first season ticket until the mid-70s. I purchased next season's ticket shortly after they became available.
But, if Covid-19 doesn't claim me, I'm afraid that the introduction of drink breaks and 5 substitutes ("If it's not broken, don't fix it" springs to mind), and these things together with VAR, will drive me away from the game I used to love.
Bill Watson
13
Posted 01/08/2020 at 21:58:29
Given the car crash of a season(s) the 98% renewal rate is remarkable.
We currently have the maximum season ticket % to capacity allowed under the Premier League rules (just over 32,000) and a waiting list of around 13,000+. If only half of those took up an option to buy that would make it around 38,000. Add in 5% away tickets and the new ground is already, very conservatively, guaranteed a minimum 45,000+ attendance.
Deduct corporate and that only leaves around 7,000 tickets to play with. A less-than half-decent team would sell out the new ground for most games.
For a really good side, challenging at the top end, a near 53,000 capacity will be totally inadequate.
David Connor
14
Posted 01/08/2020 at 22:28:09
Fucking mugs! Should be boycotting the fuckers instead. Only then may the message get home. We are sick and tired of watching piss-poor footballers not give a flying fuck about our club.
We are too soft and tolerant with the club. Until we change, the club won't. We need to be more vocal in letting the club know we ain't happy.
Brian Wilkinson
15
Posted 01/08/2020 at 23:54:01
Will never happen, David, the supporters are too loyal – and the club know it.
Ed Fitzgerald
16
Posted 01/08/2020 at 00:03:29
I'm no mug, David Connor, and I would contend the other season ticket holders who have renewed (98%) aren't either – they are simply Everton supporters who choose to go the game and support their club.
Your comments about people who renew being mugs is insulting. I have had a season ticket for 46 of my 58 years and have been going the match since I was 6. I never gave up supporting them after the 5-0 humbling at home to the RS in 1982 or any of the other horrible defeats we have suffered at Goodison Park over the years.
I relished celebrating at Wembley in '84 and '95 and in Rotterdam in '85 but I never thought or considered we have a god-given right to win trophies or be pushing for trophies every season.
Compared to the vast majority of other teams' fans, we are lucky; we have played in England's top flight since 1954, have played more top-flight games than any other club, and we have won more leagues and cups than most teams. I have good friends who follow respectively Halifax Town, Blackburn and Newcastle – are they fools for following their teams through thick and thin? I don't think so, do you?
As for a boycott by season ticket holders, how is that going to improve things? Somehow denying the club revenue and support will bring about a dramatic positive change in fortunes??? – I don't think so.
I'm no sycophantic optimist and, like you, I can't abide some of the mercenaries we have seen wearing the Blue of Everton over recent seasons but it's equally true to say that the venom aimed at some players (particularly homegrown and local players) by match-going Evertonians and keyboard warriors is also crippling us.
We have had an awful season, compounded by the RS romping away with the league, so I can understand and feel your frustration. Supporting a football team isn't rational or logical – it's a matter of faith and, dare I say it, love.
I've missed going to Goodison with all its attendant rituals, anticipation and disappointments! If I had have packed it in in 1982-83, I would have missed out on an awful bunch of players become a great team and an apparently naive manager become a great one.
Neil Copeland
17
Posted 02/08/2020 at 00:16:33
Ed #16, well said, sir. Like you, I was at the 5-0 humbling and the 6-2 against Man Utd and many others. I have always considered myself to be very privileged to be an Evertonian. The day I lose my Season Ticket will be the day I die. I can't wait to get back inside Goodison and travel to the away games.
Graham Hammond
18
Posted 02/08/2020 at 00:18:34
I cannot really disagree with the broad emotional sentiment of David Connor's post, if I am to be perfectly honest. At the moment, we are shite; take out Richarlison and Digne and we are relegated. That said, Ed makes valid points too – possibly taking David totally literally in his response.
From my perspective, I do believe that many have renewed to ensure a place at the new stadium at Bramley-Moore Dock, the capacity of which is way too low for a club with ambitions but consistent with the ambition of a club just wanting to make up the numbers – which is exactly what we have done for a long time and where we have been for a depressingly long time too.
Mark Andersson
19
Posted 01/08/2020 at 00:45:10
Bullshit. I use the same tactic to sell more tickets for my show. Make out that sales are going well, only a few more seats left, and bingo – people start buying because they think they don't want to miss out.
But, if true, then more fools them wasting good money. Going by the last few games, why would you want to watch more of the same shite? Have we bought world-class players for the start of next season???
If Carlo couldn't get that bunch of shit to make the effort, then we're in a relegation fight next season.
Patrick McFarlane
20
Posted 02/08/2020 at 00:59:18
Mark # 19,
That ploy may work for a one-off game... but for a whole season? If Goodison is half-full when the fans are fully able to return to the stadium, then I'll apologise.
The simple answer to your other question is that we actually don't want to watch what we witnessed during the restart but, as has been said above, we are a pretty loyal group of supporters and, despite everything, we tend to believe that things will improve at some point; that isn't guaranteed because, in sport, anything can happen.
If the fans only bought season tickets when the club signed world-class players, we probably would only see a few thousand sold as it hasn't been very often that Everton has signed such players.
Even if the fans didn't buy the tickets and went on 'strike', it would make little difference to the club's coffers in the grand scheme of things.
As for the manager, it's too early to call on whether he'll do the job we want him to or not; the game is really about the standard of the player on a club's books. Right now, we haven't got enough good ones and a few who really shouldn't be at Everton. Until that alters, we will probably continue to struggle, and that means our support will be required more than ever.
Karl Masters
21
Posted 02/08/2020 at 01:26:46
I agree with Joe McMahon and others that 52,888 is too small. Another 5,000 at least is required.
This does betray a lack of vision. Disappointing that it's happening yet again – a generation after the wrong decision in 1993 has meant all these years of having a tiny capacity Park End (6,000), which has cost us a fortune when our capacity should have been 44,000.
Mike Connolly
22
Posted 02/08/2020 at 01:27:28
I sort of agree with David @14.
I have bought my ticket. The players don't deserve our support, the shit they have been serving up. The capacity cut is a joke. It should be all or nothing. Fans of all clubs should boycott if they only allow a few in the ground. They should not start the season until it's sorted for everyone to attend.
However, clubs don't give a shit about fans as long as the TV money keeps rolling in. No, fans in the ground and we'll be fighting relegation, there will be no one to kick their arses when playing out from the back.
We have already witnessed this these past 10 games. Full Goodison House is our 12th Man. Oh, it's your turn for the next home game against Liverpool... and your mate will be able to go the next home game against Brighton. Enough said.
Mark Andersson
23
Posted 02/08/2020 at 02:52:06
Patrick, you make good points and are more than likely right.
I personally feel sorry for the die-hard fans who eternally live in hope.
I honestly feel I won't live long enough to witness a return of the glory years. So happy that I was of an age when we were once kings of the world.
Kieran Kinsella
24
Posted 02/08/2020 at 03:45:22
David I think you're out of line. I get the sentiment but let's not bash our own.
Mark 19
I'm pretty sure the EPL and the government would be all over us if we announced fake ticket numbers
David Currie
25
Posted 02/08/2020 at 05:10:35
The best thing about Everton Football Club is the fans and this is another example.
To think someone wrote a thread titled 'The fans are killing this club'. How wrong he was as our fans support the team at home and away.
Steve Brown
26
Posted 02/08/2020 at 05:45:01
Loyal, passionate and frustrated, the fans just want a team that gets them excited and makes them proud. We might argue on here, but we all deserve more than we've had served up in the last 30 years.
Jim Bennings
27
Posted 02/08/2020 at 08:01:05
Probably one of the main reasons why Everton Football Club never feels under any real pressure to achieve anything, they know the fans keep coming back.
If, like in the early 90s, attendances dropped radically, then maybe the club might think "Shit, we've got to do something here to bring punters back in!"
Sadly, they know they don't have to achieve anything now, they can sit comfortably in the relative safety between 8th and 12th most seasons now.
As for going the game itself?
I find it too much of a risk now and I'm actually surprised really that clubs are even selling season tickets right now when it's highly unlikely that most of those that bought one will even be attending the rest of this year.
The first time I've had to put my money into something else other than watching Everton just copy and paste every season in a miserable predictable fashion, coupled with the risks of this virus now, I just don't see the value in spending hundreds on it.
David Connor
28
Posted 02/08/2020 at 08:42:03
It was not my intention to insult any of our fans. We have the best fans in the world and I love our club. I just want the best for us all. We as fans seem to be like our team. Just too passive.
Martin Nicholls
29
Posted 02/08/2020 at 08:49:53
It would be interesting to know how many renewed prior to the season effectively ending back in March, as I myself did.
Like othwith ers (John McFarlane?) I took the decision not to watch any of the farce that has unfolded since Project Restart – from what I read, I've missed nothing that would have prompted me to buy a season ticket for 2020-21 when more of the same is in prospect.
I agree Ed's post #16 and also John Mc's comments #12 about what, if anything, will ultimately drive me away from football as a spectator sport.
Mike Connolly
30
Posted 02/08/2020 at 08:52:27
Jim #27,
You've hit the nail on the head. Just stay in the Premier League and the fans will keep coming. Makes us sound like Bournemouth – just happy to be here.
Tony Abrahams
31
Posted 02/08/2020 at 09:15:56
Just been writing about this on another thread, because no way the Evertonians of yesteryear would have put up with so much mediocrity. Listen to Sir John Moores on the History of Everton, then listen to the charlatan who has divided the fan base from Day One.
My own theory is the last match at Goodison Park might not be that far away and, although it will just be another day in our lives, this ground holds a million memories just for myself. Maybe this is contributing towards season ticket sales? It might be only a game, but Goodison Park means a lot more than that to us Blues.
Eddie Dunn
32
Posted 02/08/2020 at 09:16:16
Football is morphing into something almost unrecognisable from the game we watched even in the '70s and '80s.
Those that wield the power are most concerned with their brand and revenue. I thought that this pandemic might shake things up but it has actually made the clubs even more dependent on TV money. With the new season only allowing reduced attendances, this trend will continue.
Also, the strange introduction of drinks breaks has broken the game up into 4 sections, thus curtailing the building of momentum and allowing coaching staff to give further instructions. Add to this the possible 5 subs and we can see how the Premier League and others would like to develop. To me, it is clearly designed to introduce more advert breaks on the TV. These sponsors and the TV companies will lobby for this to continue.
On the season ticket issue, the club is just doing what it can to sell them. That's their role.
I think that the club have a cheek to sell those obstructed views for the amounts they do, and the piddly Park End stand is the sort of thing we used to laugh at on away days elsewhere. Even Tranmere have a better one.
In my opinion, the new stadium needed to be able to seat 60,000 with room for an increase, but it's all about the money. Moshiri won't be here in 20 years time so his investment is relatively short-term. As long as the club remains in the PL, his investment is safe.
Short-termism is also why this stadium is being built in an area that will be 2 metres under the Irish Sea in 20-30 years. Unless the design has a series of Manhattan-size pump rooms incorporated in it. It's all short-termism. We'll be going there by DUKW.
Brian Williams
33
Posted 02/08/2020 at 09:19:49
Hmmmm....... how unusual for some TW'ers to turn a positive into a huge negative.
I wonder if the supporters of the 12 or so clubs that know 100% each and every season that they'll win nowt and qualify for nowt moan as much?
Probably not because they probably accept that they have no God-given right to be challenging at the top. Some of them might not have had our success in the past but that makes no difference whatsoever because, when a new season starts, the "past" doesn't get you points.
We have great support home and away and we all hope and dream we'll come good again, but constantly moaning and coming out with some of the stuff on here plays right into the hands of "others" who call us by certain names.
And then there's the posts by those who have a go at the majority for "accepting mediocrity" and challenge "us" to do something about it and then do absolutely fuck all themselves.
I'll repeat: we all hope and dream of success but fucking constant moaning and negativity ain't gonna do it. If it's that bad for you, don't go, don't watch, and don't moan all the time – even about the positives.
I love Everton, the club means the world to me, and totally fucking ripping the club to shreds at every opportunity is soul-destroying. No, I'm not a happy clapper or whatever other term you may want to use but constant and continued negativity is as draining and destructive as a course of radiotherapy, for fuck's sake!
Tony Abrahams
34
Posted 02/08/2020 at 09:36:49
So is watching football without the fans, Brian. I hope these respective fan groups are getting together to challenge these greedy bastard football clubs, for the prices they charge us fans!
Get with me, I'm computer illiterate, but if these clubs had to give Sky and BT so much money back because the games were played in silence, with very little emotion (none), then why are we paying through the nose?
Mugs the lot of us, football is the drug for mugs!
Mike Connolly
35
Posted 02/08/2020 at 09:48:28
Brian,
It's the team turning us negative. There is probably negative shouts at the game but our players seem to respond to that. Unlike the last 10 matches, no-one on their backs, shit football.
Everton really need the fans at the match, positive or negative shouts. Judging by these lockdown games, we'll struggle next season without fans. The season should not start until the fans are allowed back in.
Rob Baker
36
Posted 02/08/2020 at 09:51:16
This news baffles me. With all economic measures on the retreat, particularly cancelled pilot events, why are the club selling 30,000 season tickets for 16,000 (40%) capacity games?
I don't see sport having any fans back for some serious time. It's basically robbing the loyal fans. If I were a season ticket holder, I would not renew in this current climate.
Brian Williams
37
Posted 02/08/2020 at 10:25:55
I agree somewhat with you Tony, mate, but and it's a big 'but' (literally) if the miracle we all hope for happened and we get a vaccine for this virus really soon, and the club weren't prepared or hadn't prepared for "normality" can you imagine the uproar on here? "Amateurs" ... "shoulda planned better" ... "typical Everton."
The club has to plan for "normality" and deal with the opposite. I renewed my season ticket, in full (I'm lucky enough to be able to), within the original normal time frame. A day or so later, they extended the time fame to where I didn't have to pay by the date I had.
I muttered a couple of "Ahhhh, yer bastards," laughed, then thought "Well, the dosh was earmarked for that anyway and if I can't go due to the virus I'll get refunded just as I did for the last games of last season."
I don't feel at all like the club is "robbing" me for fuck's sake. I had a choice to renew and I renewed in the "hope" things would be better,
and I made it of my own free will. As I said, if I don't get to games the club will refund me.
Two ways at looking at things, some should try the positive way now and again, you'd be surprised the difference it makes.
Paul Smith
38
Posted 02/08/2020 at 10:31:39
Football is addictive, Everton is addictive and an expensive habit, both emotionally and financially.
Help is here. As an Addiction Counsellor, I can help you address this cruel ritual that plagues your life, week-in & week-out, with little care for your relationships and self-esteem.
I have lived experience of this cruel master and will share my coping strategies, cravings management and harm reduction approaches for those who are struggling with abstinence.
Yours, A fellow helpless addict.
Dave Abrahams
39
Posted 02/08/2020 at 10:37:31
Paul (38), great post.
More importantly... is it free?
Chris Williams
40
Posted 02/08/2020 at 10:41:13
I'm one of the minority who didn't renew. It was a bit of a wrench, but nothing like I thought it would be, maybe for all of the reasons discussed above.
Love of Everton and Goodison didn't enter into it, in the final analysis. I just didn't think it was worth the risk at my age, plus two crowded trains each way. Nor do I think we'll be seeing crowds back any time in the foreseeable future.
I really hope I'm wrong on this, but it'll be all okay for Christmas... no chance! Now I've got to get an Everton Membership so I can get on the season ticket waiting list.
Derek Thomas
41
Posted 02/08/2020 at 10:46:50
Only if you can afford it, buy now in expectation or, don't buy at all and wait and see.
They'll play crap or play well – with or without spectators.

Derek Taylor
42
Posted 02/08/2020 at 10:49:13
I've long thought that the film 'Lost Horizons' was made with Evertonians in mind. Always waiting to set sight of the perfect world but finding it's forever a season (or two) away!
Kenwright has grown old, fat and very rich whilst realising that for the most we retain the dream whatever fate (mostly engineered by him!) chucks at us. We are a patient, generally well-behaved crowd who can be milked ad infinitum – and are!
It no longer includes me because I'm greedy and expect more than half a dozen highlights in 73 seasons. But, for those who can endure – nay enjoy the suffering – another Valhalla is just over the hill. Which one... I'm not sure.
Justin Doone
43
Posted 02/08/2020 at 10:49:28
It can only be a positive sign.
Call us fools or simple, football more than any other sport, brings out illogical behaviour in people.
I remember promising myself that I'd finish supporting or watching Everton several times when I was younger, I knew back then it would be bad for my health but I was hooked.
Stadium capacity only becomes a problem if we start to sell out every game for several seasons and there is no preplanned expansion built in.
Building on the edge of water severely restricts this option but I'm sure there will be some magical engineering workaround in the future.
Anyway, it's at least another 3 years before we move in and several more after that we can moan about capacity issues.
For now, I'm hoping Carlo and Co. can improve results and performances ASAP.
Tony Abrahams
44
Posted 02/08/2020 at 10:52:27
I think you've misread me Brian, I'm not criticising Everton. Kenwright, Moshiri, and the fans lucky enough to be in a position to donate to EitC, have done an absolutely beautiful thing, it gained the club a lot of positive news, and showed everyone what type of people we are.
Everton & Walton, must be amongst the poorest regions in the country, but through our club, we've stood together, I felt happy that so many were able to donate to a very humane and worthy cause.
My gripe is with all Premier League football clubs, when the twenty is plenty campaign, for away tickets was started, these clubs reduced the tickets to £30 but most of them also reduced the away allocation.
A disgrace, an absolute disgrace, and if they don't really begin to appreciate the fans, now that everyone can see it's the fans that make football so popular on television, who knows what the future might hold because the beautiful game is absolutely soulless without us.
Brian Williams
45
Posted 02/08/2020 at 10:57:00
Tony, I realised after I'd posted you might think my post was aimed towards you, mate. It wasn't really. I don't know you THAT well but I know you well enough to know you're not one of the doom-mongers who see the bad side whenever they can.
You're auld fella's the same, except when he has to go to the bar..... 5
Brian Williams
46
Posted 02/08/2020 at 10:58:19
4
Dave Abrahams
47
Posted 02/08/2020 at 10:59:07
I go along with Ed (16) and Brian (33 and 37),
I paid for my season ticket very early and knew the consequences then, that I along with everyone else would probably not see most of the games to the finish of the season.
It got worse (the virus) than most of us thought it would; unfortunately it has. When the season starts again, I will be wary of going but, if I can't go, I will get refunded until the situation sorts itself out.
I am more worried about the virus than my season ticket money. To tell the truth, as a pensioner, I pay a lot less than other supporters, so it is easier for me.
Paul Smith
48
Posted 02/08/2020 at 11:06:44
Dave A,
I think its my duty to offer my services free to the Everton family. A few caveats, I may outstay my welcome and am a bit shit.
Brian Harrison
49
Posted 02/08/2020 at 11:17:17
Well, as some have suggested, we may be mugs, but we are loyal mugs. I know some have suggested staying away, to make this board realise we are not happy, and I know that its a valid argument that when clubs are hit financially they usually respond.
But we have an owner who has spent as much if not more than teams in the top 6, so he has fulfilled his part of the deal. The fact under his stewardship we have appointed managers who haven't been up to the job is another matter.
But he was laughed at when he suggested we approach Simeone, and nobody expected us to land Ancelotti, so let's get behind him rather than stay away and slag him off. Him staying and maybe in conjunction with Usmanov may be are one and only chance of getting amongst the elite again and start winning trophies.
So am I frustrated with our club? Absolutely, but I believe Moshiri like Abramovich he is here for the long haul and not a quick fix.
I hear pundits saying how marvelous the Newcastle fans are, believe me, they aren't a patch on Evertonians, they don't always sell out – like we do; and they don't take their full allocation for away games – like we do.
So let's remind people – we might not have the best team at the moment but we certainly have the stats to say we have the best set of fans home or away.
Tony Abrahams
50
Posted 02/08/2020 at 11:17:52
321! I know Brian, he's probably hoping you've forgotten how many bevies he owes you now mate!
I never thought that, Brian, we only ever really disagree on one issue, but we have been lucky that the lockdown was introduced just before the clocks went forward imo.
It's been a long boring road, but at least it's been summer, god help the sick and the elderly if lockdown emerges again in winter.
We are probably addicted to football because it's our salvation in the depths of winter, but maybe I just speak for myself because it's a sport I no longer miss when the sun's shining, even if it doesn't stop me talking a load of shite, on my favourite website!
Dave Abrahams
51
Posted 02/08/2020 at 11:27:03
Tony, I never forget, it's two bottles of Desperados, give or take a bottle or two.
But you can bet your life Brian will have it written down somewhere. You know what they're like in Birkenhead.
Pat Kelly
52
Posted 02/08/2020 at 12:30:57
I hope the manager and squad are made aware of the loyalty and commitment shown by the fans to whom they owe their millionaire lifestyle. Earn it.
Brian Williams
53
Posted 02/08/2020 at 12:40:48
Dave #51.
I'll send you the spreadsheet I've created!
Tony#50. I think we probably disagree "less" than we did about that "one" thing as I've done lots of research on "it."
I'll still say it's not the "only" reason for our troubles but admit now it's played a very big part in them.

Dave Abrahams
54
Posted 02/08/2020 at 12:45:45
Brian (53), you know what I'll do with your spreadsheet!!!
Brian Williams
55
Posted 02/08/2020 at 12:47:09
Lube please!!!!
Michael Lynch
56
Posted 02/08/2020 at 14:12:20
I renewed on day one, but I can't see us being allowed in the ground for a while. It's been made pretty clear that the priority is to get schools back at full capacity, and to encourage work places to open – not least to save the businesses in city centres which rely on office workers.
The post-lockdown mini season will have been considered a success by the Premier League clubs and their TV paymasters, so I'm sure plans are well advanced for the entire 20/21 season to be played behind closed doors, or in front of tiny "invitation only" crowds. From my perspective, the FA Cup Final was a travesty – the traditional showpiece season-ender played in an empty Wembley condemned it to being a pointless, made-for-TV, non-spectacle.
Still, I'm hopeful we'll be back in the ground for the 21-22 season – assuming we're all still here! – although that is pretty much reliant on a successful vaccine being produced. Meanwhile, it's more fake crowd noises, with fake excitement being drummed up by fake celebrities in front of fake fan backdrops.
Eddie Dunn
57
Posted 02/08/2020 at 15:18:16
Michael, I agree. What was Emily Grande doing on Wembley roof (on a different time) miming her incomprehensible version of a wonderful hymn which, when sung by ordinary folk, makes the hairs on the back of your neck stand on end?
Today, I had the radio on whilst plastering my kitchen wall outside, and heard a woman singing the English National Anthem. It was as unpleasant a sound as anything on earth. Why do they put us through this utter shit?
I did watch the Cup Final without the pretend crowd but unfortunately, when I tried to watch without the annoying commentator and old misery guts, Danny (I'm clinically depressed) Murphy, that version had the bloody pretend crowd back. Without the fans the whole thing is lacking in gravitas.
I listen to the radio a lot: Radio 4, Five live and a bit of TalkShite, but I find myself switching it off so much more regularly, as they seem to have found an infinite supply of youngish, blokey imbeciles or shrill ladettes, shouting in their faux London patter.
On the Cup Final, was anyone else disgusted with the cheating on show? Why is VAR not entitled to point out to Anthony Taylor that no serious contact was made on that second yellow, that effectively decided the game? The whole world could see it but not the ref. Ridiculous.
You can stick a crap singer on Wembley roof but you can't stop a major reffereeing mistake.
John McFarlane Snr
58
Posted 02/08/2020 at 15:34:18
Hi Ed, [16] and Martin, [29] I have fought hard to avoid controversy having recently been criticised/ridiculed for my beliefs. I fully endorse your views on the role of a true football supporter, and I would say to anyone, "Try telling a young boy in Rochdale, that Rochdale isn't the best Football Club in the country."
Regarding the 'Drinks Break' and the '5 from 9' substitutions rule (the latter being confirmed on Five Live during yesterday's FA Cup commentary), I regard this as the thin end of the wedge. The last football I watched was at Goodison and the next game I watch will also be at Goodison,
I have previously stated that I sympathise with fans who can't attend games for whatever reason, expats, illness, work commitment, etc. but televised football with imaginary crowds in empty stadiums is not the way for me. They're my views and I stand by them.
Jack Convery
59
Posted 02/08/2020 at 17:11:44
I'd like to see the so-called small 14 clubs cancel the 5 subs rule. This rule allows the greedy 6 to keep more players happy by playing 16 every game if needed, so practically all the squad are getting game time.
Let's go back to 2 subs, plus a goalkeeper. Then no-one can stack talent and keep it all happy. The greedy 6 will in all probability have subs who would walk into the small 14s first teams.
Let's get back to proper competition – it's all becoming so predictable each season. The most competitive League is the Championship. The final for that 3rd place is between Brentford and Fulham – I wonder what the odds were on that before a ball was kicked this season?
My team of the season was Wolves but, unless they win the Europa League, they will not qualify for Europe next season. Something they really deserve.
John Boon
60
Posted 02/08/2020 at 22:31:05
Ed (16), Great post!!! I just don't have anything to add because you have accurately summed up how I have felt about Everton since my first game in 1947.
I emigrated to Canada in 1963, just after we won the league. My allegiance to the city of Liverpool has never lessened over time. I have no regrets about my move but I envy all those who have season tickets.
I have two sons who are as Evertonian as I am, named John "Everton" and Andrew "Goodison". My Scottish wife put her foot down about calling our daughter Gwladys.
We have all been over to the UK quite often and I always get in Everton games. In fact, we had tickets for the March derby game but lost out to Covid-19. I will never regret supporting my beloved Blues. Equally, I just don't care what the RS do.
I do realise that it is more of a challenge being an Evertonian living in Merseyside but, if some benefactor sponsored me, I would get a season ticket and fly home for every home game. As it is, we watch every single game on TV and I get just as excited or depressed as I ever did. I just love being an Evertonian for ever and a day... COYB.
Ian Riley
61
Posted 03/08/2020 at 00:31:19
Really, can anyone see any fans being allowed into stadiums next season? My view is the government would be mad to let this happen.
Pubs will soon be closed again and partial lockdowns will be needed over the next 12 months. Make the decision now.
Derek Thomas
62
Posted 03/08/2020 at 01:34:36
The Season Ticket holders have invested in the club for next season. Let's see The Board Invest in the team for next season.
Then, most importantly, let's see The Team put something in the pot and invest in The Team.
Dick Fearon
63
Posted 03/08/2020 at 01:38:48
Ed @16 and John @60, Mirror my own feelings about our club. John's experiences in particular could be mine except he took his family North around the same time I took my family South to Oz.

Bobby Mallon
64
Posted 03/08/2020 at 05:47:41
This is the greatest club in the world and I would buy a season ticket today if I could and that would be in any division. Shame on those calling people mugs for doing so. Keep buying and supporting, Dick @63, Ed @16, and the rest of you. COYB
Jim Bennings
65
Posted 03/08/2020 at 07:39:12
I still think all clubs should have just frozen the list of existing season ticket holders from last season and, if and when (a big 'if') supporters can attend matches again, clubs just email or call the ST holders and give them prior notice, basically a first refusal on going to whatever matches are available to them.
Nobody is calling fans mugs for buying a season ticket but, let's face it, sometimes it's just blind loyalty to a lost cause and I'm not even talking about on the playing field.
The chances of people going to matches in their thousands during autumn/winter months right in the middle of "flu" season and with this virus, it's just pie in the sky.
I can't see fans being considered for any sporting events now until at least next April at the earliest, more than likely in football it will be the start of 2021-22 season.
For this reason, I think clubs have made a huge blooper offering full season ticket sales for 2020-21.
Tony Abrahams
66
Posted 03/08/2020 at 08:05:35
Eddie @57,
I never watched the FA Cup Final, even though this is still the highlight of the season for me because I have always loved the FA Cup.
I read something about Arteta lacking class, waving imaginary cards, but this is just what football has become to me now, with its constant cheating, and selective VAR decision-making.
I love football, but I hate the cheating and feel that the right to go down should also read that a player has an obligation to stay on his feet.
A game without tackling also becomes a game that rarely flows, and once they took away the emotion of the crowd, most of the football I watched on the telly was boring, with the cheating (and lack of consistency by officials on & off the pitch) standing out a mile.
Jim Bennings
67
Posted 03/08/2020 at 08:35:22
Football has lost a lot of its appeal in the last couple of years and I think one of the final nails in the coffin is VAR and its constant disruption, favouritism of certain teams.
Don't get me wrong it was all about money even in the 1990s but football back then was still played with an aggression and competitive nature that's been completely lost on today's game. The game used to ebb and flow, there would be no "pass pass pass" from defender to keeper endlessly.
I think that's one of the reason's why I enjoyed Big Dunc's game against Chelsea in December so much, so bloody refreshing to see a fast tempo game, a throwback in time if you like.
I can't believe the game I'm watching right now, it's too scrutinized, too many off-field issues brought on to the football pitch every single week now, and basically it's too political, it's no longer about the game anymore and frankly there's times when I have to be honest, it's boring.
Then it's supporting Everton, a club that doesn't achieve anything, can't win a Cup, can't win a local derby, players don't look arsed most of the time, whilst we have to watch Liverpool win trophy after trophy and play in endless finals.
I feel a complete detachment from the game for the first ever time of watching football in decades.

Tony Abrahams
68
Posted 03/08/2020 at 08:41:08
Ask Steve Fearns how many guilty men he's got off over the years and I will give you modern-day football!
Peter Mills
69
Posted 03/08/2020 at 08:44:35
I attended an FA Cup preliminary round match last August, it was far more entertaining than the final.
How shambolic was the "presentation"? Everyone in the world knows that the captain collects the trophy, including the lid, then the base is picked up by the next player. At the earliest possible opportunity, usually when the cup is at pitch level, the lid is removed and placed on someone's head.
It's not difficult.
Patrick McFarlane
70
Posted 03/08/2020 at 09:05:10
I'm sure that the club thought longer and harder about what to do regarding the issue of renewals than is being credited. It's not simple to second-guess how the pandemic will play out in the next few months or possibly years.
The easiest way was to carry on as if it was normal circumstances and adjust things as required, eg, refund on a pro-rata basis if fans are unable to return.
Of course there will have been some political pressure for it to 'carry on as normal' and an economic argument for it too.
As long as the fans don't lose out financially, I think on balance the club has made the right decision – I admit that I was surprised that the percentage of uptake was so high, but that might be down to the fact that large numbers had already renewed prior to the original deadline and the likely large number of fans that used the auto-renewal direct debit facility.
The sooner life returns to normal, the better for us all – but it might take quite a bit longer than we had hoped.
Robert Williams
71
Posted 03/08/2020 at 13:38:42
David C @ 14. I like to think I'm not a mug - that's precisely the reason why I haven't renewed my Season Ticket and have lost interest in Everton for many of the reasons that have already been mentioned here.
Derek Taylor
72
Posted 03/08/2020 at 13:48:36
I'm sure I read that there had been a massive renewal following the appointment of Ancelotti last December. Several scribes opined that Father Christmas had certainly visited L4 and that 'back office' staff were having very little time to celebrate 'the goodwill' the Italian had brought with him.
I suggest that, regardless of results, Carlo is unique in respect of his pulling power as I'm sure the likes of Big Sam and other managers of the Moshiri reign had very little charisma to attract the dosh.
Whether or not that allure will endure if results disappoint remains to be seen although it would buy him considerable 'staying power' if it goes tits up. What think thee, fellow TWers ?
Tom Bowers
73
Posted 03/08/2020 at 13:56:34
Just amazing! Ticket sales soaring and yet one can't go to the ground and the team is still useless. No wonder the club don't care about getting better players.
Dennis Stevens
74
Posted 03/08/2020 at 14:01:10
Tom, perhaps the appeal of having a season ticket is even greater when you know that there's a good chance you won't actually have to go & watch the matches!

Derek Taylor
75
Posted 03/08/2020 at 14:12:04
Right again, Tom. It hardly makes a case for Chairman Bill to stand down, does it? He's well and truly 'got it sorted' – money in pocket, power in place – and they say he's no good as a business man!
Villa's Randy Lerner always intimated that it was the personality of the manager the punters based their judgement on and that he went to the wall because he never got that right. Whilst there's no knowing what part 'Our hero' played in Carlo's appointment, he's struck gold. And he'll make the most of it, as we all know!
Brian Williams
76
Posted 03/08/2020 at 15:50:05
For all those banging on about the club stiffing us season ticket holders to rake in the cash: Everton are one of the Premier League clubs that quite recently could have made a profit while selling not a single ticket for home games.
As recently as 2016-17, Everton would have made a profit of over £16M without ticket sales being brought into the equation. Everton's matchday income (not just ticket sales) for the 2018-19 season was about 7% of total income.
Obviously profit is an alien word to us at the moment but those that think ticket sales make a huge difference (cashflow and profitwise) are naive in the extreme.
Patrick McFarlane
77
Posted 03/08/2020 at 16:54:06
If I've got this right, it's not only the fans in the ground that are accused of berating the players to such an extent that it stymies their performances but now, if the fans have the temerity to... you know, actually physically support the club and shell out cash to do so, that's the reason that the club doesn't sign players – give me strength!
Mr Moshiri should take note, there's little need to build a new ground as there's a growing number of fans who think that supporters buying season tickets is somehow treasonous and helps keep the club as a mediocre entity.
Is there any area of the club that some find good, or has it become a substitute for the cat to be kicked at every given opportunity?
John Pierce
78
Posted 03/08/2020 at 17:30:19
Surely season tickets sales are in lieu for Bramely-Moore. Only a fool would part with a ST, only to have to apply again come the ground move, regardless of the dross we serve up.
Brian Williams
79
Posted 03/08/2020 at 17:32:04
Well said Patrick.
Stephen Vincent
81
Posted 03/08/2020 at 18:23:07
Back in 1966, when I got my first season ticket for the Paddock, there was thought to be a 2-year waiting list for a season ticket. My father's workmate was giving up his and my Dad asked if he would just change the address. So, for the last 54 years, as far as Everton are concerned, I have been Harry Wilson.
Still got that little blue book with all the tear-out pages gone apart from the cup games; we lost at West Ham in the 3rd round in 1967.
It has always been renewed no matter what – no matter how many games I have been able to get to... no matter where in the world I have been.
Martin Nicholls
82
Posted 03/08/2020 at 18:44:31
Stephen #81 – and there was me thinking I'm the only one whose season ticket is in someone else's name!! Can't do anything about it now as I've built up a full house (barring Bournemouth) of away credits and would lose the lot if I tried to change the name on my ticket!
Brent Stephens
83
Posted 03/08/2020 at 19:16:14
Stephen #81 "So, for the last 54 years, as far as Everton are concerned, I have been Harry Wilson."
Stephen, I've just informed Everton. They're banning Harry Wilson, and I've nabbed the season ticket under the name of Stephen Vincent.
Martin #82, my mate is getting your ticket!
Martin Nicholls
84
Posted 03/08/2020 at 19:48:56
Brent #84 – nice try! I'm not telling you what name is on it!
Mike Connolly
85
Posted 03/08/2020 at 21:49:08
Mike 80
Sounds good... however, any manager who would take the ones you suggested would be in danger of being banned for overuse of drugs.
Dave Evans
86
Posted 04/08/2020 at 10:12:00
Here is a way to finally realise the aspiration of our motto:
Don't buy season tickets. Call out as mugs those that do. From Bootle to Barcelona, all the world will crawl through molten lead to sign for us.
Now where's that armchair, I've got a knacker to scratch.
Graham Coldron
87
Posted 04/08/2020 at 10:55:40
Well said, Bobby @64.I have renewed my season ticket and am exiled scouser living in the North East. In my eyes, we are the biggest and best club in the world and when we win it puts a spring in my step for the rest of the week.
I don't watch or follow England as it means wanting a team with RS players in it to win; I have never played in one of those fantasy football league games; I do not have a favourite "other" team; I will not watch Question of Sport unless there is an Everton player in it.
I despise the FA, Premier League, Sky, referees, VAR and the media for the way they hold our club in utter contempt.
Bitter and twisted? Yeah probably I am but it still doesn't alter the fact I support the best club in the world. CMOYB.
Michael Lynch
88
Posted 04/08/2020 at 12:13:35
I'm another who would renew whatever, partly so I get a decent seat at the new stadium.
I think, despite the shite football we often get served at Goodison, the season ticket is good value. People pay more to be members of a gym that they never go to, so even if I don't get to every game, it's worth renewing. Plus, with the StubHub arrangement, if I can't find a friend to take the ticket when I can't go (and it's getting harder and harder to find anyone willing to spend an afternoon at Goodison) I can sell it on StubHub without any bother. I never ask for more than face value - often less.
Anyway, at this rate, by the time we get to Bramley-Moore Dock, I'll be eligible for a pensioner's seat.
Michael Kenrick
89
Posted 04/08/2020 at 14:18:22
I remember when we were all in lockdown and plenty of Evertonians repeatedly petitioned on here for the season to be abandoned — declared "null and void". I could understand the perhaps selfish reasons to deny Liverpool their runaway Premier League victory, but I thought at the time there might be a bigger perspective to appreciate as the reality of Covid-19 hit home on our way of life going forward.
On that note, many cited "respect for the dead" as an important and valid reason not to get things up and running agian. Indeed, the haste with which the Premier League, Sky TV, whoever, wanted to get the show back on the road was 'obscene', they said. There could be no return to normal "while people were still dying", they said.
Then, when it was obvious that the Premier League was headed for restart as the peak had passed, a good number were still resentful of the motives – usually something about money – and decided they would not watch live coverage of Everton games, even though all (or maybe most) were to be provided free to air on telly. It was a sham, they said, as there were no supporters present. And people were still dying.
Meanwhile, and subsequently, lots of other sports started up again, without fans. Hatred of Liverpool and the avarice of the Premier League could not be factors here, I reasoned, so I became curious how those good folk might feel about things now? Is it reasonable that professional sportsmen and women across the length and breadth of sport, whose endeavours were not questioned before the pandemic, have gotten 'back to work' so soon? While people are still sadly dying?
As we move forward in these uncertain times, with the reality of massive impacts to many sectors of the economy, and many good folk seeing their jobs terminated, I'm curious how these vocal folk may have come to terms with what is now happening? Or are they still planning on sticking to their 'principles' and refusing to watch televised games this upcomng season, with fans still banned from stadiums, or at best, greatly reduced attendances are permitted? And yet the games will still go on. How are you all handling this new post-Covid era?
Paul Tran
90
Posted 04/08/2020 at 14:41:09
Michael, I'm enjoying horse racing on TV so much more, because they have to focus on the racing. I haven't watched any football, other than our games out of a strange sense of duty. It just seems really artificial and dull.
Lockdown has been kind to me. I used to travel all over the place, now I'm home all the time. And I'm building up my virtual work so I still have a just about profitable business.
The big issue up here is too many tourists wild camping and leaving a mess (including piss & shit), or people in motor homes throwing their waste into the rivers, including here. Bastards.
A relatively old population, swathes of scarcely populated areas and relatively few hospital beds mean people up here are still careful, though we think it was here from the end of last year.
Friends have told me of Southern English folk not sticking to the one in, one out pub toilet rule, because "I'm English and Boris says we can do what we like." Bet they wouldn't say that in Glasgow!
Joe McMahon
91
Posted 04/08/2020 at 14:44:21
Michael, unfortunately many things if life have changed and somethings may never return. I work for an NHS Trust and things have certainly changed in terms of how we work, and where staff are based, and the future. And unfortunately, as you stated, people are also losing jobs across the UK.
Liverpool FC are the Champions, and they deserve to be. Football will always continue as other professional sports as they are global; yes, it's run by money (sadly the world is), but I watched some of the televised Everton games (even though not pretty viewing), the reason being, sport is one of the few things that keep us going.
I like all tiers of football, and I'm made up that Harrogate made the Football League and Barrow are back in. It's nice not supporting multi-millionaires all the time.
Robert Williams
92
Posted 04/08/2020 at 14:51:13
Hi Michael, I think your above post deserves a separate page.
My feelings are that being aged 78 and having dodged any Covid-19 bullets flying around due to the fact that I have self-isolated, self-distanced and not been self-ish like many of the younger generation and not so young as well – I am loathe to present myself to the front-line of what could be my last hurrah – if you follow me.
Whether that be Goodison, Tesco's or MacDonald's – they all represent the same risk – to me! and I emphasis that – to me!
I was one that made a hard and fast rule at the outset of this pandemic, and that was that my days of retaining my Season Ticket were over. I have stuck to that.
As for watching games, I seem to have lost the appetite to sit and watch Everton not living up to my expectations. The game is not one I feel happy with now. I am not blaming any one individual, the whole set-up has lost it's appeal.
Maybe it's my age, but all of a sudden I just felt that having give it 60 years of support, I was getting very little in return other than unfulfilled promises and expectations. Perhaps Covid-19 accelerated something that had laid dormant for some time – but gave me the impetus to do something about it. Who knows?
The one good point I suppose is that I keep returning to these pages of TW from time to time.
Regards to all, and keep safe.
Patrick McFarlane
93
Posted 04/08/2020 at 15:20:47
If the Premier League clubs were solely reliant upon gate receipts to fund the wage bill, they wouldn't have restarted. I was against the game restarting without supporters and I still am, but I also realise that life can't be suspended forever and the show must go on.
However, for every 10 people trying their best to keep their distance, wear masks, etc there is probably one who thinks "Why should I", "I'm living in a democracy", "I'm free to do as I please". It is this element that will prolong the pandemic and make life harder for the rest of us. The sooner a vaccine becomes available the better until then significant numbers of fans will stay away, even if the authorities state it's safe to attend.
How safety precautions have become a political weapon is beyond my comprehension, but such is life and everybody must do as they see fit – hopefully with the well-being of others in mind.
Bill Gall
94
Posted 04/08/2020 at 15:27:50
The only thing that may slowly stop becoming a season ticket holder is the deterioration of what we once new as football. Slowly, the diving and the mild tackles getting punished, having the players roll around the ground as if they have been shot, have become the norm.
Couple that with poor refereeing, VAR, drink breaks every half-hour, and now talks about 5 substitutes – and on top of that, taking a lot of tackling out of the games, it is becoming a start, stop performance controlled by the media who want the game played as they believe it should, for entertainment.
Season ticket holders should be applauded as they are supplying revenue to the club before the season starts and, as someone has stated, going to all the games is a money saver plus other benefits.
I was a season ticket holder from 1968 until 1976 when I moved to Canada and I know that, with all the money I have spent going back to Liverpool, always during the season, if I was still there, I would have definitely kept it up.
I still watch every game I can on TV (I never miss an Everton game) but find that overall the general state of the games there are usually more poor games than good.
I may be old-fashioned but I believe the games before the players from abroad came into the league (there are a number of good skillful players) the level of the game started to deteriorate with the supposed continental type of play, and play-acting.
Ray Robinson
95
Posted 04/08/2020 at 16:30:44
VAR, diving, poor referees, rule changes, lack of entertainment and so on may well be valid reasons to become disenchanted and give up on one's season ticket but they are totally divorced from the need to re-start matches – even if they are without live audiences. Separate issues altogether.
Apart from Man City and Chelsea maybe, every club in this country would have gone bust eventually without the TV money and associated sponsorship. It's not greed that is the motive (though undeniably there's plenty of that in football), it's financial imperative to keep the cash flowing without which every business goes under.
All those that hanker for the halcyon days of capacity crowds will never realise aspirations of ever seeing these again if the professional league goes out of existence.
So, unfortunately, soulless atmospheres at grounds are with us for a while yet. It's your choice whether to watch the matches on TV (most of which were free anyway), whether to purchase a season ticket, or whether to attend when eventually games do re-start with live audiences.
Nobody has duped anyone. Everton has promised full refunds to matches where the fans are not allowed to attend. I knew there was a pandemic in place in April when I renewed, I knew that I might not be allowed to attend certain games in 2020-21. Nobody has conned me. If renewing makes me a mug, so be it, I'll live with it.
If football is selfish, what does that make Rugby League – that has just restarted despite 13 men regularly clattering into each other, maintaining no sort of distance whatsoever? Is Rugby League "greedy" as well or is it just trying to survive?
Incidentally, my view is that the full economic impact of the virus will not be felt until next year; so, although this season's uptake has been remarkable, for many people, shelling out again the season after next, when they're possibly unemployed, might well be impossible.
John McFarlane Snr
96
Posted 05/08/2020 at 09:41:50
Hi Michael [89],
As you well know, I am one of those who has refused to watch football played in empty grounds, in front of cardboard cut-outs, and fake crowd involvement, that refusal is still active, and yes I view it as a matter of 'principle'. The next game I watch will be when it's safe [in my opinion] to attend.
I appreciate that there are many reasons that prevent match attendance, ill health, work commitment, financial issues, ex Pats etc. I, like thousands of others, get my enjoyment from being part of the occasion, and that's the way it's been for 72 of my 82 years.
When it comes to 'principles' I suppose it can be described as 'each to his own', personally it wouldn't bother me if I never saw another televised game.
Tony Abrahams
97
Posted 05/08/2020 at 10:37:07
Agree it should have its own thread, that post, Michael, especially because it does look as though we are probably going to fall into a big depression.
Many good people have died, and never got a decent send-off because of funeral restrictions, and this didn't sit pretty with myself.
Life has to go on, I agree with that sentiment now, Michael, but things are not great. I can't believe we are going to have European football this season, because if I was looking for one of Boris's slogans, it would have to be "Stop air travel - Suppress the virus".
Football is shite without fans, but life must go on!
Nicholas Ryan
98
Posted 05/08/2020 at 11:49:11
Kunal,... as to the age of season ticket holders; in front of me, is a man with 3 young lads of 10-12; behind me is a man with 2 young lads of 10 -12; to my right are 2 university students and to my left is a guy and his 10-year old son. Both my stepsons are on the waiting list, aged 21 and 18. So, I don't think we need worry about the next generation.
Interestingly, the CEO of LFC [who's just retiring] said a while back, that it was Liverpool who had the problem with ageing support. He said that Everton had gone aggressively after young supporters, 'cos they couldn't fill the ground otherwise; but that LFC had got complacent, because they could fill it with adults every week. He said LFC had in a sense, been the victims of their own success!
Michael Lynch
100
Posted 05/08/2020 at 12:29:29
I thought the season should be abandoned because playing at empty grounds, with a series of rule changes, after such a long break, voided the competition.
I was happy for friendlies and ad hoc cup games to take place for a TV audience, but a true competition requires fans in the ground as well as on their sofas, as there was at the beginning of the season.
The FA Cup Final was a miserable affair, as was last night's Championship play-off. Sure, the players were happy enough (well, the winners at least), but it was a shadow of previous Cup Finals and play-offs.
Paul Hughes
101
Posted 05/08/2020 at 14:43:47
I, and my match-going mate, have renewed our season tickets, more in hope than expectation of seeing any live football next season.
Assuming that the club do manage to arrive at some socially-distanced plan for a greatly reduced attendance – my guess is significantly less than half-full – the whole experience will be pretty miserable. Queueing up well before time to get in; poor atmosphere; wearing a mask (how can you effectively slag off Sigurdsson?); presumably a slow planned exit; no pub get together beforehand, no chippy etc etc.
I doubt we'll attend before August 2021, and we are just viewing the cost of the season ticket as a security for our seats.
John Boon
102
Posted 05/08/2020 at 22:54:07
In response to your question Michael (89) it is a significant challenge to adapt to the new no fans football. Unfortunately, football is just one of the many aspects of life affected by this dreadful virus. As an ex-scouser living in Canada, I also tried to get back to see Everton as often as I could afford to. I have supported my beloved Blues since the late 1940s.
However, I also am a football fanatic and I refuse to allow the coronairus to lessen my interest in any way. I have watched football almost every day since it returned to television. Of course it isn't the same but I enjoy games too much to punish myself any more than I need to. As much as I love watching Everton, I am far more relaxed watching other games.
As regards how things have changed since I watched Dave Hickson bagging in the goals for Everton, I have to accept that the game is just not as tough as it used to be. I have to accept that there are far more foreign players than local lads. But change is a fact of life and if you don't accept change you can be left behind. Tomorrow is my 81st birthday and I will go out for my usual walk, play 18 holes of golf very badly with my sons, and then come home and watch one of the European games on the TV. I hope to laugh and smile, even with a mask on, and sincerely look forward to the next year. I hope the pandemic finishes but, if it doesn't, I will just have to put up with whatever comes along. It is all part of life!
Alan Rodgers
103
Posted 07/08/2020 at 12:29:57
Paul @101, I'm thinking along the same lines. I have no desire to go to Goodison (or even a pub) under the current restrictions. Being over 65, my ticket only costs £299, about £16 per game and the club have already said they will reimburse any matches we're not allowed to attend.
I doubt whether any over-65s will be allowed in until much later next season, if at all. So, financially, it 's not going to have much impact on me but I will miss the old place and the people around me. I'm keeping my seat though!
Dave Abrahams
104
Posted 07/08/2020 at 12:51:15
John (102), great last paragraph, happy days them. Dave Hickson rough and tough on the pitch, a gentleman off it and always a pleasure to meet.
Enjoy your birthday tomorrow. "When your smiling" – that's the spirit, John.
Tom Bowers
105
Posted 07/08/2020 at 13:22:17
Yep, Davie for me too. When you think of the boots they wore, the balls they used, and the state of some of the pitches and yet the games were far more exciting than they are today.
Tactics and survival are the order of the day, making for robotic like players only coached to go sideways and backwards. Far too often, a corner kick will end up with your own keeper.
Still, many younger fans are brought up with this style of football and will gladly pay hard-earned money to watch it thinking it is great but I would sooner watch reruns of old games to see how it was meant to be played.
---
Add Your Comments
In order to post a comment, you need to be logged in as a registered user of the site.
Or Sign up as a ToffeeWeb Member — it's free, takes just a few minutes and will allow you to post your comments on articles and Talking Points submissions across the site.