Fleetwood Town vs Everton
Tuesday, 22 September, 2020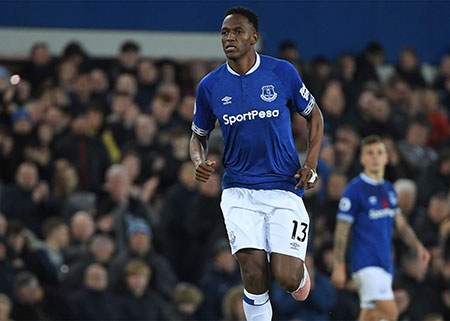 Will Yerry Mina partner Michael Keane this time with Jarrad Branthwaite and Mason Holgate ruled out?
Everton take their next step in what is a compressed start to the 2020-21 edition of the Carabao Cup when they travel to Fleetwood Town on Wednesday evening.
Having seen off League Two Salford City in the second round a week ago, the Blues now face League One opposition in the form of Joey Barton's side but, with another important Premier League game looming on Saturday, Carlo Ancelotti is expected to make a significant number of changes to his starting XI.
Against Salford, Michael Keane was the only player to start that match and the season-opener at Tottenham and it's likely to be a similar situation in this tie, although the injury crisis at centre-back means that both Keane and Yerry Mina are likely to be in the line-up.

However, the Colombian's own injury niggles since he arrived at Goodison two years ago might see Ancelotti err on the side of caution and deploy a makeshift centre-half instead.
Lucas Digne came on after 24 minutes against Salford when Jarrad Branthwaite had to go off with torn ankle ligaments to fill in at centre-half but both Jonjoe Kenny and Seamus Coleman can operate there as well, as can Fabian Delph who might be in the running to play if he is finally passed fit.
The only other fit option with any first-team experience was Lewis Gibson but, as expected, he has sealed a season-long loan move to Reading and won't be available to play against Fleetwood, the team for whom he had a spell on loan last season.
In goal, Joao Virginia is expected to be able to celebrate his new 4-year contract by making his second start and Kenny will probably get the nod at right-back again. Meanwhile, Anthony Gordon, Niels Nkounkou and Moise Keane will be hoping to get another opportunity to shine.
The remaining spots will be contested by the likes of Alex Iwobi (who could come in on one flank given how poor Theo Walcott was against Salford), Bernard, Delph, Tom Davies (if he is fit) and Gylfi Sigurdsson.
None of the new signings are expected to be involved from the start and, if Ancelotti opts for a similar approach to the last round, James Rodriguez will be rested completely.
Fleetwood, now managed by boyhood Evertonian, Joey Barton, were promoted to the Football League for the first time eight years ago and took the step up to English football's third tier in only their second season.
Barton took over as the long-term successor to Uwe Rösler in 2018 following John Sheridan's interim tenure and steered the Fishermen to an 11th place finish in 2018-19 and then into the playoffs last season where they lost to Wycombe Wanderers.
This season, they sit 11th after two games having beaten Burton Albion but lost to Peterborough United. As such, they should pose more of a challenge than Salford did, particularly as they have the benefit of playing in the more familiar environs of their Highbury Stadium.
Ancelotti will hope that, even with another much-changed side, his Blues can get the job done and book their place in the 4th Round where they would meet West Ham United at Goodison Park.
Kick-off: 7:45pm, Wednesday, 23 September 2020
Live coverage is on Sky Sports Football and Sky Sports Main Event, starting at 7:30 pm.
---
Reader Comments (73)
Note: the following content is not moderated or vetted by the site owners at the time of submission. Comments are the responsibility of the poster. Disclaimer
Jay Wood
[BRZ]
1
Posted 22/09/2020 at 20:05:35
Hmmm... just seen the breaking news story that David Moyes and two West Ham players have tested positive with Covid-19.
Too early to say if this might put in jeopardy our next League Cup round game at West Ham should both clubs get through, but with Leyton Orient v Spurs postponed today due to Covid-19 infection at Orient, the possibility exists.
Steve Ferns
2
Posted 22/09/2020 at 23:18:17
Gylfi won't have compassionate leave. It's a bit late for that. The incident was reported to have happened on 11th September and Gylfi has played in all the games since then. I can't see him suddenly going home now.
Brian Furey
3
Posted 22/09/2020 at 23:27:59
Anyone know is it on TV anywhere?
I appreciate he has to rest players and manage injuries but wouldn't it be nice if we really focused on winning this competition this season?
Every year, we make the same mistakes and, let's face it, we're only in with a chance of winning two trophies.

Chris Bond
4
Posted 22/09/2020 at 23:38:32
Brian, it's live on Sky Sports Football or Sky Sports Main Event.
Lyndon Lloyd
5
Posted 22/09/2020 at 23:42:28
Thanks Steve. I hadn't actually read the details around when the incident happened. I'd assumed it was very recent. I've amended the article accordingly.
Jack Convery
6
Posted 22/09/2020 at 00:02:58
Is Besic fit? Not a top choice, I know, but doesn't he play centre-back for Bosnia? And we are paying him to sit on his arse at present. Means we don't have to risk a first-teamer with Palace up next.
I wouldn't chance Mina as his soft tissue injury record is abysmal and 3 games in 8 days is almost certainly too much for him at this stage of the season. It will most probably be Coleman or Digne alongside Keane. Looking forward to seeing Gordon and Nkounkou again on the left side.
I expect:
Virginia, Kenny, Coleman, Keane, Nkounkou, Walcott, Davies, Sigurdsson, Bernard, Gordon, Kean.
Subs: Pickford, Digne, Mina, Doucouré, Iwobi, Calvert-Lewin, Richarlison.

Steve Ferns
7
Posted 23/09/2020 at 01:11:15
Jack, Besic? Really? Did you see him in Pre-Season? He looked Sunday League.
Why not give Ryan Astley a chance? The lad is 18, but as he turns 19 in October, he's a good 8 months older than Branthwaite. Ryan is very highly rated and captains Wales at youth level. He can play full-back but is destined to be a centre-back. There is also the resilient Aussie, Con Ouzounidis. Con is 20, due to turn 21 (also in October). He is fit and playing well, but has overcome some nasty foot injuries that set him back a year or so.
Why not give the young lads a go, rather than a player who will never be good enough?
Dean Cooper
8
Posted 23/09/2020 at 01:13:46
I wouldn't mind playing Richarlison from the start to get him that elusive first goal he craves.
Then sub him and watch him run riot against Crystal Palace.
Mike Gaynes
9
Posted 23/09/2020 at 01:28:48
Steve and Lyndon, the tragic incident actually happened September 8, and as you know Gylfi played against Spurs on the 13th.
To the US contingent, ESPN+ is streaming this game starting at 11:30am Pacific time. That's the exact time my wife, who never invites anybody over for lunch, invited friends over for lunch. I am exceedingly grumpy about this.
Steve, if Besic looked Sunday league in preseason, I congratulate him on his stunning improvement. I'm with you on giving those young guys some minutes.
Jack, my lineup prediction is the same as yours. (And no, Besic doesn't play centre-back for Bosnia.)
Andrew Keatley
10
Posted 23/09/2020 at 02:21:19
Steve (6) and Mike (8) - Not Callum Connolly? He's played centre-back for the Under-23s, and was on loan at Fleetwood last season, so must know the majority of their squad.
And is Matthew Pennington currently fit and training at the club? He's still got a year left of his contract I believe, and with the current problems at centre-half, you'd think he might be drafted in before any of the younger players who might not be quite ready.
Barry Hall
11
Posted 23/09/2020 at 02:22:31
Thanks, Mike re ESPN+ info. Maybe the first time in a while I don't have to subscribe to yet another streaming service to watch a game...
Of course, I forgot why I subscribed to ESPN+ in the first place.
Bill Gienapp
12
Posted 23/09/2020 at 02:59:30
Two words: Antolin Alcaraz.
Jay Harris
13
Posted 23/09/2020 at 04:29:43
Having watched an almost full-strength Man Utd team struggle against Luton until near the end when Luton were chasing the equalizer and got caught out on the break, I would go for a much stronger team than the one who faced Salford.
If Mina is not to play, I feel we need to beef up the midfield and play Allan and Doucouré for at least part of the game.
Tom Davies will be deflated in being touted for a season-long loan elsewhere and his head may not be right.
Anthony Gordon and Moise Kean seem shoo-ins so the tough decisions are who to play in Mina's position and who to bring in on the flanks?
Sigurdsson will always have a chance to score and Bernard has done enough to warrant a start again.
Not sure of the formation but, for me, Walcott and Iwobi are not enough of a goal threat and not good enough defensively so I would leave them out. Delph may be used to give Allan or Doucouré a rest but I do feel we should not underestimate Fleetwood.
Brian Furey
14
Posted 23/09/2020 at 07:28:56
Thanks, Chris Bond, for the TV update. With our pubs closed here again in Dublin, I'll be delighted to watch it at home. Saturday was my first full live game in ages since I got Sky and boy did I enjoy watching that from my sickbed. No, not with Corona, Tiger... 😉
I know I've mentioned it already but we are away from home this time and underestimate these teams at your peril.
Putting out a complete second-string team, short on belief or confidence, expecting them to suddenly gel as a team away from home against a team bursting a gut to shock the big boys.
I certainly would be playing one experienced first-team player in defence and midfield and, if there are no goals by half-time, then bring on Richarlison or Calvert-Lewin.
I really want Kean to come good but, so far, I feel he's an arrogant young lad who often makes the wrong choice. Fair play, though... he had the balls to take that penalty.
Derek Knox
15
Posted 23/09/2020 at 08:29:48
I tend to agree that a mixture of experience, youth and fringe players should form the make-up of the team. Fleetwood will be fired up for this, especially with Joey Barton at the helm – being a Blue, he will feel he has a point to prove.
No banana skins please, but it shows how generally poor our over-bloated squad is when fans are fearful of playing personnel who would have, if fit, played a year or so ago.
This is basically a good chance to get our hands on Silverware, and a Cup that has been so elusive since it came into existence. A lot of Premier League sides are already out and more will perish along the way.
I know this is no longer an easy route into the Europa League, but that piece of Silverware would make our Trophy Cabinet look better, I just sincerely hope they haven't lost the key!
Jim Bennings
16
Posted 23/09/2020 at 08:41:55
This is a potential banana skin. Fleetwood will be a step up from Salford so we need to make sure that we don't mess about with too many changes.
It's a great chance for silverware this season (we say the same every year, I know) but seriously it is.
West Ham at home for a place in Quarter Finals (why wait until December though when the fixture congestion is at its worst?)

Martin Berry
17
Posted 23/09/2020 at 08:44:21
I expect a very similar team to that of last week against Salford. Carlo will see how the game progresses and take it from there.
Some players on the fringe really have to put a shift in and do better than their last appearance, hopefully this will get us through.
Jerome Shields
18
Posted 23/09/2020 at 08:50:15
Need to take this game serious. Need a Cup run.
Craig Walker
19
Posted 23/09/2020 at 09:10:31
Unless the pitch is bad, I don't think being away from home is the leveller it would normally be for the lower league teams given the absence of any of their fans. Surely our second string should have enough to beat Fleetwood?
Robert Leigh
20
Posted 23/09/2020 at 09:12:19
Two days to get someone in before Palace away on Saturday = not worth risking Mina in my books.
Virginia
Kenny - Keane - Delph - Nkounkou
Sigurdsson - Davies - Iwobi
Walcott - Kean - Gordon
Subs: Pickford, Coleman, Digne, Doucouré, Bolasie, Calvert-Lewin, Richarlison
Charles Towers
21
Posted 23/09/2020 at 09:42:47
We need a centre-back. While looking at the current squad, we have right and left wingers, strikers, midfielders, right and left backs but we only have 3 senior centre-backs. The fact you are talking about who is gonna play against Fleetwood is a sign of the team's current biggest need.
I guess you may not rate our right-winger (Walcott) or any other player from the current squad, but the fact is that we have all positions covered.
I would like to swap some of "those" players for the Sarr or Bailey, but the core of this team is great and that is enough for a club hoping to get European football.
Charles Brewer
22
Posted 23/09/2020 at 09:46:01
Am I the only one excited about the prospect of seeing a Nkounkou and Gordon playing together again? In the last game, I thought the former was showing similar quality to our three higher profile signings, though the opposition was not of high quality.
It's a pity Gordon doesn't play on the right because then there would need to be little concern about the low quality of Iwobi and Walcott, I think he'd play them both out of the team.
Brian Harrison
23
Posted 23/09/2020 at 10:03:06
I think Ancelotti will play as near as possible the team that started against Salford. I would hope our fringe players and youngsters have enough about them to take care of Fleetwood.
Obviously with Holgate and Branthwaite both out for some weeks yet, we don't seem to have too many choices other than Keane and Mina. Let's hope both stay injury-free as if either get injured we could struggle, I am sure both Brands and Carlo are working flat out to bring in some cover at centre-back, before the window closes.
On a slightly different topic, since the return most Premier League clubs have by-and-large been Covid-free but, with West Ham reporting that Moyes and 2 players have had positive tests and will self isolate for 10 days. I wonder with the virus spreading quickly again, it must be a worry to all clubs how an outbreak could have a really huge impact on team selection should more players contact the virus as seems likely.
Although there probably won't be any long term problem for players contacting the virus, I wonder if it spreads to a number of clubs whether the Premier League might take a short break?
Stephen Brown
24
Posted 23/09/2020 at 10:45:55
If Pennington and Connolly cannot come in with seasoned players and do a decent job against lower league opposition to save Mina from getting injured, it really begs the question why are we still paying them?
I'm not suggesting they are candidates for a role long term but if they can't do a job for occasions like this then we may as pay them off?!
I'd give Connolly his chance personally!
Sam Hoare
26
Posted 23/09/2020 at 10:51:16
The squad has decent depth all over except at centre-back whereas Andrew @9 points out, I think Callum Connolly must be an option. The lad is 23 and has played around 100 games of league football so knows what it takes.
The likes of Walcott, Sigurdsson, Delph etc are all experienced internationals who really should be able to handle the likes of Fleetwood, though of course we should not be complacent.
Virginia
Kenny Keane Connolly Nkounkou
Sigurdsson Delph Davies
Walcott Kean Gordon
You could maybe swap Iwobi in for Davies if it's true that he's close to heading to Southampton on loan. The fact that Iwobi came on against West Brom indicates that he may be closer to first-team reckoning than Walcott and I think he could do well in the more advanced of the midfield 3 role.
Nathan Jones
27
Posted 23/09/2020 at 10:58:11
I think it will be the same team as last time with adjustments for the centre-back injuries. Which worries me: Do we play Keane and Mina?
What if one gets a knock? Or do we play a couple of the U23s and risk a defeat?
Geoff Lambert
28
Posted 23/09/2020 at 11:01:23
I would take winning a cup over a chance of an injury in a league game any time. Man Utd are looking to win this and played a strong team last night. Let's take it seriously for a change.
Dan Nulty
29
Posted 23/09/2020 at 11:08:05
Sorry Geoff, disagree at this stage of a cup competition and a Micky Mouse one especially. We lose one or both of Keane and Mina for Saturday and we are in trouble. Momentum is everything in the league. Ask Leicester.
The prize for winning the League Cup is now not even the Europa League. It is now the Europa Conference which will be filled with the Eastern European teams that fail to qualify for the Champions League. Not what we want to be playing in as the money will be poor and we will have to grow the squad in order to compete in it.
Michael Lynch
30
Posted 23/09/2020 at 11:18:13
Dan, I agree that the Europa Conference sounds like a punishment rather than a prize, but winning a domestic trophy is it's own reward surely?
Rob Halligan
31
Posted 23/09/2020 at 11:24:33
Can't understand this theory of not playing this player, or that player tonight, for fear of getting injured and therefore not being available for Saturday. Players can get injured in any game at any time.
Supposing that Keane and Mina both get through tonight's game unscathed, both start on Saturday, and one of them takes an almighty whack in the first few minutes and is out injured for weeks?
Pick the team good enough to win the game, and if that means including Keane and Mina then so be it. I'm with Geoff, we need to be serious about this cup and go all out to win it. God knows we've waited long enough.
And should we get through tonight (you can never take anything for granted), I would play our strongest possible team next week against West Ham. Win that and then it's league games all the way until December, when the quarter-finals are due to be played.
Geoff Lambert
32
Posted 23/09/2020 at 11:35:54
Maybe we should rest all the players all the time just in case they get injured. No running in training in case you pull a muscle, ffs.
We need silverware and we need it ASAP. Micky Mouse Cup, my arse.
Sam Hoare
33
Posted 23/09/2020 at 11:38:39
It's about mitigating risk. No team can or will play their strongest XI for 38 games plus 15 or so cup games in a shortened season like this. Players will burn out or suffer injury. This is the reality of modern sports whether you like it or not.
It's also about giving opportunities to players who will definitely have their part to play this season. It's beneficial for us in the long run to give more game time to the likes of Gordon and Nkounkou.
It's about balance of course and no ones suggesting we play a team of academy players but there's a larger picture at play. It may well be that Fleetwood don't play their strongest team either. The team I suggested at 25 is full of experienced international players who would have to underperform not to win this game.
Brian Williams
34
Posted 23/09/2020 at 11:39:04
Rob, it's basically about risk management.
If both played tonight and we won 5-0 but they were both injured and out for the Palace game, and maybe more premiership games, there's be hell to play, and not just on here.
With only two senior centre-backs fit and available it makes perfect sense to try to protect them for what "may" be deemed more important games.
I agree – pick a team to win the game tonight but look at the big picture also.

Geoff Lambert
35
Posted 23/09/2020 at 11:39:40
Europa Conference would be the equivalent to the old Cup-Winners Cup...
Now that was a good day out.
Rob Halligan
36
Posted 23/09/2020 at 11:49:32
I agree, Brian, but, as I said, either player could get whacked in the first few minutes on Saturday and be out for weeks. If we are short at centre-back, then both should start.
We can't not select any player for any particular game for fear of something unlikely to happen, eg, an injury. Players get injured, some bad, in training. What happens then, scrap training?
Tony Everan
37
Posted 23/09/2020 at 11:52:06
I think they will use it to put some players in the shop window we may get a fee for. They would likely listen to fee offers for Kenny, Sigurdsson, Walcott, Iwobi, Bernard, Davies and Delph. I expect most of them to start. 4-2-3-1:
Virginia
Kenny Keane Connolly Nkounkou
Delph Davies
Walcott Sigurdsson Iwobi
Kean
They should have far too much class for Fleetwood if they match them in the physical battle.

Geoff Lambert
38
Posted 23/09/2020 at 11:52:31
Why is a Premier League game away at Crystal Palace more important than the chance to win a cup??
No wonder we are without a trophy for 25 fookin years! Long may it continue.
Dan Nulty
39
Posted 23/09/2020 at 11:54:45
Each to their own, Geoff, I'd much prefer to finish top 4 and play Champions League football. Having watched the first couple of games I think we have a chance if we can keep everyone fit.
Of course, there is a chance of knocks in leagues games. I'd just much prefer meaningful games in the league trying to get into Europe that way.
I think the risk of losing one or both centre backs tonight outweighs the reward of an away trip to FC Transylvania on a rainy Thursday when in my view we want be pushing for or consolidating top 4 next season.
Brian Harrison
40
Posted 23/09/2020 at 12:19:41
Well if we don't play the players on the fringe of the first team mixed with some exciting young kids in this competition, when do you play them. Also if you look at the team Tony Everan in post 36 picked and look at the money we paid for some of those players, then if they can't beat Fleetwood then something is drastically wrong with our transfer policy.
Yes I would love us to win a trophy, but if you look at the winners since 2014, City have won it 5 times plus Man Utd and Chelsea. So gone are the days when the top 6 didn't bother with this trophy.
I am old enough to remember when we actually played in the old European Cup as it was called then, and I would love to see us qualify for it again. So until we reach the latter stages of the Caraboa Cup, then keep playing the kids and the fringe players.
Joe McMahon
41
Posted 23/09/2020 at 12:26:29
I'm with Dan. In last few years, Swansea and Birmingham have won the League Cup. Playing in the Champions League is where we need to be. The cup would be a bonus but, like the other serious clubs, play the first team in the semi-finals and onwards.
Geoff Lambert
42
Posted 23/09/2020 at 12:36:12
Man City, Man Utd, Chelsea, all win the Micky Mouse Cup, all play Champions League football, and win the Europa League as well.
Do you see the difference between them and us??
A winning mentality, win trophies. Not strive for fourth and an away Champions League game at FC Nobody in the early rounds.
I am fed up living in this City and getting laughed at for our lack of silverware. Let's play our best 11, then no excuses.
Why put players in the 'shop window' if they're shite? It's only going to make selling them harder.
Geoff Lambert
43
Posted 23/09/2020 at 12:38:06
By the way, how did Holgate get injured? Maybe we should have rested him!!
Geoff Lambert
44
Posted 23/09/2020 at 12:39:32
Jo, how many times do we get to the Semis??
Max Murphy
45
Posted 23/09/2020 at 12:50:39
Brian (@2, @13) Barry(@10). If you're having trouble getting the games on Sky, BT or in the pub, have you tried watching it from you desktop/laptop?
Use: www.hesgoal.com.
I hook up my laptop to the TV with a HDMI cable, and it's normally very good. Make sure you select "English" as sometimes you'll get a Dutch commentator.
I watch it from Portugal, were changing VPNs can be a problem, but I get straight in by accessing the web-site. Tune in about 7:30pm for tonight's game.
I've watched all 3 games this season - and apart from a few stutters, very good. If it halts completely, just re-enter the web address and you'll be fine.
Good luck!
Olalekan Taofik
46
Posted 23/09/2020 at 12:53:45
Well, I expect Carlo to name the same squad that played against Salford tonight.
Irrespective of team selected, there is no room for second best today. If we can grab the League Cup, better for the morale of the boys and the club.
COYB, you can do it.
Brian Wilkinson
47
Posted 23/09/2020 at 12:59:22
So some say we should rest players and focus on Palace this Saturday instead.
This is a trophy we could have a chance of winning so why not just rest a couple, instead of making 9 changes?
If you look at the 84-87 team at Everton, they got to 3 FA Cup finals, a League Cup Final, and still managed two league titles, simply because they did not make changes for the cup games, they played the same players, and grew in confidence, that is when you were only permitted one sub as well.
This team needs to get to know one another and stick with a settled side, instead of keep chopping and changing.
It may only be the League Cup, a trophy that has eluded us, but it gives us the chance to build momentum with these games and let the players grow in confidence.
Sam Hoare
48
Posted 23/09/2020 at 13:13:04
Geoff, all the big teams that have won the cup previously did so playing weakened teams in the early rounds.
Even though Man Utd had a strong team last night, they still rested half their first team.
Joe McMahon
49
Posted 23/09/2020 at 13:18:57
Geoff, point taken, we need Roberto back for cup runs maybe?
Brain 35 years ago was a different era. No clubs rested players then. It's all about Champions League since the early 90s (and we never play in that either).
Dan Nulty
50
Posted 23/09/2020 at 13:25:53
Agree Sam and Man Utd need games under their belt having had one friendly before straight in at Palace.
Geoff, we can disagree you know without needing to get all up-tight and arsey. We are on the same side.
I completely understand what you are saying and why you think that. I respect it. I just think there is a bigger picture to look at, we have an opportunity in the league that I don't think we've had for some time.
I understand your need to win a trophy to shut the Gobshites up but let's be realistic, they'll just scoff and say who cares about the Micky Mouse League Cup and the Europa conference? While we were winning that they were winning champions leagues and league titles.
Do we want to be listed with Birmingham and Swansea or do we actually want to prove that Tottenham (to name but one) have been sat in our seat in the top 6 for long enough. I still wonder at them being called a big club.
Rennie Smith
51
Posted 23/09/2020 at 13:45:59
I can see it being the same 11 that played Salford, although if Davies is about to go out on loan he'll probably drop out.
I completely get the point about the need to win a trophy and changing our mentality, but that's a team that can easily beat Fleetwood.
What I disagree with is not mixing the first-teamers in when we start getting to the business end of the competition. Bollocks to "keep faith with the team that got us this far", the club comes first not individuals.
Geoff Lambert
52
Posted 23/09/2020 at 13:56:09
Sorry, I would rather do a Swansea, Birmingham or Wigan, than be a Spurs top 6 team and win fuck all.
Geoff Lambert
53
Posted 23/09/2020 at 14:00:25
Are you seriously all thinking we are going to storm in to the Champions League and win the Premier League? On the back of what? Two half-decent games at the start of the season.
Success breeds success but you have to start at the bottom first and work your way up. Not being uptight or arsey – just realistic.
David Nicholls
54
Posted 23/09/2020 at 14:03:56
Barton is an interesting character. A while back I had a soft spot for him as he appeared to be trying to put his chequered past behind him. He came across as quite engaging in interviews and was open about his tough upbringing.
Then, when Rhino took over the first team, Barton made some really unnecessary references to Unsworth's weight and I figured that leopards don't change their spots.
A strong line-up please Carlo, no slip-ups.
John McFarlane Snr
55
Posted 23/09/2020 at 14:07:27
Hi Geoff [42] and Dan [50],
I try not to get involved in pre-match team selection issues. In this instance, I can see the merits of each of your contributions, but experience has taught me that anything is possible in football. Clubs can field weakened teams against lower-ranked opposition and win comfortably; on the other hand, they can field full-strength sides and lose miserably.
As for injuries, it's been pointed out that they could occur at any time, nowadays we even witness them occurring in pre-match warm-ups. I find it easier to discuss matters after the event, and even then the differences of opinion will be evident.
Jamie Crowley
56
Posted 23/09/2020 at 14:10:04
I'm looking forward to watching Kean play in particular.
The last game against Salford, he had a terrible game. But the kid easily could have had three goals!
I realize we're going to get, for the time being, "Lukaku Light" with the ridiculously heavy touches. What I'm interested to see is if he can change his fortunes by bagging a goal or two.
I'd put up with the anvil touch if he started putting the ball in the back of the net. I'd like to see him start to turn it around, starting today.
Dan Nulty
57
Posted 23/09/2020 at 14:40:23
Do I think we are ready for top 4? No, we haven't the squad for that. Do we have the ability to do it? Yes, we do. We have the ability to create and score enough goals to do it for the first time in a long time. Issue will be at the back.
The reason Leicester won the league was they had virtually no injuries, played the same 11 largely all season, had creativity and goals. I'm just hoping we can be that lucky this season, knowing our injury troubles over the years I doubt it can happen but hope I might.
Success breeds success, it didn't for Portsmouth, Birmingham or Swansea. Their league position is what determined whether the club grew or not and they didn't break into the top 6 by virtue of cup success, FA or League Cup.
Again, understand the attraction of winning silverware but I'm not going to get excited about the league Cup and the conference league of Europe, not when it might risk a challenge for European places in the league if we get unlucky.
If you say you aren't getting arsey then fair enough my friend. Your messages read to me slightly differently. Glad to be wrong though. Fingers crossed our B team can do the business, I'd love to put one over on Moyes next week. The only shame would be he will be isolating and won't get to see his miserable face.
Stephen Vincent
58
Posted 23/09/2020 at 14:41:25
What is wrong with Pennington and Connolly? Mat Pennington is what... 24? He played half-a-dozen first-team games including a derby, scored in the derby, he's played more than 100 games out on loan.
Connolly is younger but played for England all through the age groups, played for Fleetwood last season.
Both have a year left on their contracts. Are we really just going to let them rot and run their contracts down?
Jay Harris
59
Posted 23/09/2020 at 15:57:38
As long as the 11 chosen have the desire to win, then – barring some bad luck – we should ease through.
This will not be an easy game though and they will be looking to take it to penalties so we need to be sharp up front.
A home tie with West Ham beckons so we also need to take account of 3 games in 7 days (hopefully).
Will Mabon
60
Posted 23/09/2020 at 16:06:38
I have to agree generally with what Geoff's been saying above.
Notwithstanding changes in the game, money, risk management, "Big" thinking, comparisons with recently more-successful clubs, and all other aspects since the growth of the Premier and Champions Leagues; we should be giving tonight's match and this competition our best of endeavour.
Care and consideration should be given to balance and the games ahead of course, but not to the extent of risking a loss in stupid circumstances. Yes, we want to be this, and want to be that, but we have to build realistically.
The ambition of European qualification is fine (and right) but what is required is built and developed in many ways, and any success adds to the foundations.
I didn't watch or listen to Man Utd's game, haven't seen the highlights, but from what I've heard, they weren't convincing and walked the line a little. I think there's something a bit contradictory about a club of that standing toying with exclusion to Luton.
Maybe I'm a bit old-fashioned. In fact, in certain areas of life, I proudly am. At nearly 60 and having been there for all of Everton's successes from 1970 onwards, the feeling at winning the two FA Cups, and even eventually losing the Aston Villa saga in the League Cup, could never be fully eclipsed by Europe (I was there for that too). They all matter.
Our ambitions do not give us licence for arrogance. We aren't there yet. Being overly fearful of injuries being the driver, as opposed to opportunity to develop players, defeats the whole point, in my opinion.
Never any certainties, but to suffer a daft loss tonight would be deeply disappointing, and not good for our bigger picture at this stage.
Mike Gaynes
61
Posted 23/09/2020 at 16:10:37
Stephen #58, I've always considered Pennington a decent player, but his last two Championship clubs have been relegated, and in his final game for Hull he was part of a defense that gave up 7 goals
in the first half
to Wigan (3 for our old friend Dowell). I didn't see that game, but I'm sure Carlo has, and if he has buried Pennington at Finch Farm, there's a reason.
Connolly did play 8 games at centre-back for Fleetwood earlier this year, and they were undefeated in those games, but he doesn't actually have much experience at the position, and none higher than League One or PL2.
Bill #12, there is absolutely no reason to spout Paraguayan obscenities on this thread.
Dale Rose
62
Posted 23/09/2020 at 16:22:41
Charles #22. Bang on the money, Mate.
Chris Locke
63
Posted 23/09/2020 at 16:56:02
Let's face it, our U23s would give Fleetwood a game. Plus the first team players that aren't featuring in the Premier League need match fitness.
Anyone who thinks taking James and Co to play Hackers Utd at Shitbury by the sea needs their head testing.
Imagine the fallout if one of the new additions was seriously injured by a League One cart-horse just to get to the 4th round of the least important competition.
Rob Halligan
64
Posted 23/09/2020 at 17:03:42
Chris, if memory serves me correctly, our U23s played Fleetwood in the EFL Trophy last season and got beat. Can't remember the exact score, but I think it was either 3-1 or 4-1.
Jay Harris
65
Posted 23/09/2020 at 17:25:04
Man Utd played Dean Henderson, Wan Bissaka, Bailly, Harry Maguire and Williams, Mata, Fred, Matic, Van De Beek, Lingard and Ighalo and brought on Rashford, Greenwood and Fernandes.
For the first hour, Luton were the more dangerous but couldn't get the ball in the net and were then hit on the break.
Man Utd 1-0 up and, with about 15 minutes to go, brought the big guns on and scored 2 breakaway goals as Luton were pushing up for an equalizer.
Fleetwood are a better team than Luton, IMO, and will be well up for this but Carlo will know this and will be briefing and assessing the squad accordingly. (We hope!)
Jay Evans
66
Posted 23/09/2020 at 17:30:30
I've got a bad feeling about tonight.
Not sure why, maybe it has just been drilled into the very heart of my soul over the past quarter of a century.
I hope I'm wrong and we destroy them. I can't stand Barton. What a horrible rat he is. Sorry, where was I?
Full support. Onward Evertonians 💙
Will Mabon
67
Posted 23/09/2020 at 17:36:35
Jay H, Fleetwood not to be feared nor underestimated.
Jay E, Fleetwood not to be feared (No more bad feeling, please, don't start me!).
Fran Mitchell
68
Posted 23/09/2020 at 17:37:43
Never underestimate your opponent. With the financial ruin facing clubs such as Fleetwood due to the restrictions, a run in the Cup and the possibility of extra TV money could mean they are even more motivated than they normally would (when often, while League Cup is a happy chance to test themselves against a greater team, it is also very much an unnecessary distraction from the importance of either survival or promotion from their respective leagues).
We shouldn't make hard work of this but Fleetwood will try.
Another chance for Gordon to let rip and hope he finally breaks his Everton duck. Another chance for Kean to show he is something resembling a professional striker. Another opportunity for Nkounkou and Kenny to show they can push our first-choice right-backs. And hopefully Virginia can prove his worth as back up. Beyond that, a run out for the also-men to keep their fitness and sharpness for when we need them.
John Dingle
70
Posted 23/09/2020 at 18:04:17
Can one of you better-informed gentleman or ladies please explain to me why the fuck Gibson is going on loan when we only have 2 centre-backs, both with injury history, for fuck's sake?
Tony Everan
71
Posted 23/09/2020 at 18:04:24
Fran, we have a gulf of class over Fleetwood and we should win comfortably.
The one condition is that we match them for desire and are willing to win the physical battles. If Walcott, Sigurdsson, Iwobi etc turn up more interested in their hair-do's than putting a tackle in then all bets are off.
Carlo and Dunc should haul off any player who is unwilling or shirking the battle, even if it's before half-time.
Chris Locke
72
Posted 23/09/2020 at 18:09:43
Rob, you're no doubt right about that but I didn't want facts getting in the way of making a point. I assumed this was the standard ToffeeWeb way.
We've already managed to win away (and at a top 6 team) and come from behind to win despite our appalling record over the last 20 years or more.
Playing a second string in the League Cup and easily beating a shite lower league team (and so avoiding the banana skin) should be next on the list of monkeys to get off our backs.
Also, the way that the fixture schedule is heading this season, our second string are going to have to do the donkey work in this competition and get us to a stage where we consider playing our big guns.

Colin Malone
73
Posted 23/09/2020 at 18:14:46
Sorry for digressing again. This Government is fucking it up again. I was really looking forward to going back to Goodison. Goodison holds 40,000 seated fans, so what's the problem in letting 13,000 fans into the stadium, wearing masks?
Okay, you would have to be given a time to enter the stadium and not a free-for-all at the end of the game, you would be held in the ground till you're told leave.
Sorry, carry on.
Fran Mitchell
74
Posted 23/09/2020 at 18:28:31
John, probably because Reading wanted him now, not in 2 weeks, and we are probably in negotiations to get someone.
I'm sure, if needed, any of our full-backs can do a job at centre-half.
John Dingle
75
Posted 23/09/2020 at 20:39:21
Sorry, Fran, I can't agree, our fullbacks can't play as centre-backs in the Premier League. We've been short at centre-back since Zouma went back to Chelski... Come on, Blues – sign the top class centre-back that we've missed.
---
Add Your Comments
In order to post a comment, you need to be logged in as a registered user of the site.
Or Sign up as a ToffeeWeb Member — it's free, takes just a few minutes and will allow you to post your comments on articles and Talking Points submissions across the site.