Ancelotti pleased with 'fantastic' start to the season
Saturday, 26 September, 2020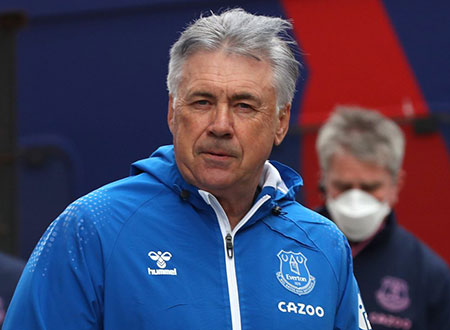 Carlo Ancelotti has praised the spirit of his Everton team and the start they have made to the new season, one which has yielded five wins from five in all competitions thus far.
The Italian took his side to Selhurst Park this afternoon and came away with a 2-1 victory on the back of a performance that was long on graft, determination and resilience with a sprinkling of flair that made the difference on the day.
The aftermath has been dominated by the debate over the new regulations around defensive handball, the modified interpretation of which saw referee Kevin Friend overturn his original decision not to penalise Joel Ward for handball after watching a replay on the pitch-side monitor, but the Toffees were full value for the win.
James Rodriguez had a quiet afternoon but was instrumental in both Everton goals. Dropping off into space 10 yards outside the Palace box in the 10th minute, he delivered a beautiful reverse pass that Seamus Coleman latched onto before putting a goal on a platter for Dominic Calvert-Lewin.
Then, five minutes before half-time, the Colombian's sweeping cross-field ball was headed down by Lucas Digne, catching Joel Ward's arm which was, eventually in Friend's view, in an unnatural position and Richarlison dispatched the resulting spot-kick to restore the lead after Cheikhou Kouyaté had equalised.
The Toffees had to be on their mettle defensively at times in the second half but they successfully kept Palace at bay to record a third successive Premier League win.
"The performance was difficult. We had difficulties," Ancelotti admitted in his post-match press conference. "The first half was quite good, we were able to play as we wanted. The second half was more difficult because Crystal Palace played a good second half putting a lot of pressure on us.
"We were not able to play with the ball as we wanted, but the spirit defensively was good. We worked hard, we left out the quality but the attitude defensively was good from all the players.
"I think that, if I have to judge the period, we did really well. We have a new squad, with new players, they adapted really well.
"The start of the season was fantastic, but I think we have to keep going, to think to the next game and try to improve and be focused. I'm really pleased for what we've done in this first period of the season.
"We have to look at the momentum and know that every game will be difficult. We have to keep the motivation we have shown on the pitch and ambition because we are doing really well but we have to know that the danger is behind us all the time.
"The spirit was fantastic but we have to keep going to try to improve where we have to and be focused there. I'm really pleased what we have done in this first period of the season."
---
Reader Comments (25)
Note: the following content is not moderated or vetted by the site owners at the time of submission. Comments are the responsibility of the poster. Disclaimer
Derek Knox
1
Posted 27/09/2020 at 01:41:33
If that was an off day today, I'll take it as such, we can surely get better as we train more at Finch Farm, but not many teams will get away with much at Palace if they carry on as they have started.
Still think Bernard deserved a spell from the bench, the game was crying out in the later stages for something different, something Iwobi, after a fine display at Fleetwood, was expected to inject, but failed to produce after coming on.
John Gorham
2
Posted 27/09/2020 at 02:32:02
Iwobi needs to just lean to pass the ball to the right player and learn triangles.
Kelvin Thomas
3
Posted 27/09/2020 at 07:49:01
3 points away at Palace! Excellent result!
Top of the league!!! Let's keep it up!
Noticed yesterday that the players cover each other really well, ie, James Rodriguez is out of position Doucouré fills that void instantly. Many examples throughout the match. Doing the basics very well!
Let's give West Ham a lesson in the cup! 💪

Frank Sheppard
4
Posted 27/09/2020 at 08:04:44
Great to see us playing with confidence, and the players knowing how the manager expects them to play. Such a difference to see. Good result against a good Palace side, that played well. Happy Days.
Martin Berry
5
Posted 27/09/2020 at 08:23:02
Were resilient and tough to beat as we are a 90 minute plus team now, we are also dangerous in attack.
That said I hope we can bring in another striker and a pacey right winger then we will really fly.
This team is only going to improve as the new players settle into their new their surroundings.
Brian Furey
6
Posted 27/09/2020 at 08:49:39
Funny how things change and our expectations rise. Usually I'd be busy on Saturdays and not put much effort into trying to watch us online or on TV but every week now I'm mad Keane 😉 on not missing the game.
After last week I was a tad worried about Yerri Mina and Headless Pickford but there was a certain Italianess about our 2nd-half performance today. A lot more emphasis on defending better as a team and not going out-and-out attack.
I too love to see Bernard come on with his quick fit and trickery. A fit Iwobi is very frustrating to watch but Bernard is very easily pushed off the ball at times and, whilst he works hard, just lacks that physical presence. Iwobi has that or at least looks like he should. 😉
I thought James had a quiet game and hope he doesn't continue to hold his face every time there's a high challenge as refs will soon label him.
He did hit two great passes to create both goals but I thought he looked tired today but he's probably a marked man now. He did well but think a lot of fans have that mindset no matter how he plays.
Doucouré sure looks awkward but he's very hard-working and effective. As is Allan and Richarlison. Seamus has really lifted his performances and is enjoying proving to a lot of us he's still got it. Delighted for him to be captaining this team sitting top of the table at the moment.
Delighted to see Richarlison hit the penalty as it shows great leadership and lack of fear and good for my Fantasy Football team 😂
I can't wait for the derby but let's not get too carried away and not mess up on Wednesday night. A cup semi on the horizon and confidence is growing.
Tony Everan
7
Posted 27/09/2020 at 09:17:04
We are looking good, and it's a fantastic start, we are top ! We have a chance to cement ourselves into or around the top four slots.
How do we stay there ? has to be the next question.
CB position back up, tough player with some pace.
Allan's position reinforced back up. A key position needs proper back up, Delph too unreliable for my liking, ideally move him on and get a younger resilient back up with the qualities of Allan.
Quality back up for DCL and Richie. We need three great forwards to act as a team unit, stepping in for each other for injuries and fatigue.
Moise wants to go back to Italy. If his agent makes that happen the we will need quality back up to our forward line. Kean is still too raw anyway, needs more time, this scenario would benefit us and is necessary in the short term to see us consolidate our top four charge.
It's a long and very hard season. Without strength in depth in these critical areas of the team we will be eventually overtaken by the SKY 6 teams that have that.
I am optimistic with what we have right now, but a couple of shrewd signings in the next 10 days will make all the difference in league position come next May. I'm talking about the difference between challenging for a Europa cup place and a Champions League place.
Daniel A Johnson
8
Posted 27/09/2020 at 09:26:03
Shows how we have improved when you can have an off day away at a dangerous Crystal palace team and still get the 3 points!
We have always had a fairly decent squad but there has been lazy and indifferent performances. It seems under Ancelotti the penny is starting to drop and effort, hard work and application has now become the bare minimum requirement.
Niall McIlhone
9
Posted 27/09/2020 at 10:08:40
The team looks to be building a very tight unit and much more confident in possession as well as being hard working out of possession. A complete transformation from last season's showing.
I genuinely think Everton have every chance of getting above the likes of Chelsea and Man Utd if this form continues. Both look shambolic in defence and neither manager can hold a candle to Don Carlo tactically.
I feel that a start like this lifts pressure. Most encouraging of all, playing away from home does not faze this group.
That's now two consecutive away wins in London. How long has it been since the blues achieved that? Not a time to get carried away, but it's just nice to feel good again on a Sunday morning.

Geoff Trenner
10
Posted 27/09/2020 at 11:29:12
Is Selhurst Park a narrow pitch? All looked very congested at times which doesn't suit James, however good he is at creating space.
Tom Bowers
11
Posted 27/09/2020 at 11:42:13
Two away wins already and both in London, that's just amazing.
We are going to win ugly at times but as long as it's a win who cares.
It's nice to know we have a defence who can dig in to keep a lead.
Well done, Blues!
Peter Warren
12
Posted 27/09/2020 at 14:38:28
We have a manager. Man Utd and Chelsea have very good players all over but rookie managers. Long season ahead but surely, if we keep our key players fit, we have a chance.
Keane looks like the player Koeman and Walsh thought we were buying. Not getting carried away as I think he's been atrocious Until this season and can't believe the transformation but if he continues likes this he will be Number 1 just for us but for England as well. Perhaps left side of defence suits him – certainly he looks far more relaxed.
Stan Schofield
13
Posted 27/09/2020 at 14:55:39
Peter@12: Keane also had a good season 18-19 when we had Zouma and Gana. Also, I recall that he was struggling with a broken foot bone during season 17-18.
Rob Hooton
14
Posted 27/09/2020 at 15:47:27
Well said Peter, although I thought Keane had a strong finish to last season to be fair and seems to be more like the defender we thought we were buying - some players do take a lot longer than others to settle and it was a big-money transfer with a lot of expectation on him for a young defender.
Very happy with our start, I was despondent at the end of last season and nearly finished with the game at this level, I feel a bit like a kid in the '80s again at the minute and don't fear anyone!
Carl Manning
15
Posted 27/09/2020 at 17:26:28
James had a quiet game but created both goals????
Dennis Stevens
16
Posted 27/09/2020 at 17:40:19
Aye, Carl, the lad needs to get his finger out!

Paul Birmingham
17
Posted 27/09/2020 at 17:50:25
Hopefully no injuries to cover and a tough few weeks of fixtures ahead.
Let's do West Ham and then Brighton, pleasing to see the resolve and spirit, belief on the pitch. Starting to look like a proper team.

Tony Everan
18
Posted 27/09/2020 at 19:17:26
Geoff 10, Football pitch size rules:
Min 100 yards, max 130 yards in length
Min 50 yards, max 100 yards in width
Palace's pitch on Saturday looked to me that it had been narrowed a fair bit. Maybe Roy ordered this to suit his team and their tactics and hinder the opposition.
(Or maybe it's always like that.)
Peter Warren
19
Posted 27/09/2020 at 19:26:11
Stan and Rob,
I agree somewhat with what you say but in my opinion not this standard of performance. He's looked okay, even good at times in the past but not really good or great.
To qualify that, only 3 Premier League games played but he looks so assured, solid and confident. I really think he suits being on the left side of defence although early days but personally I've been amazed how transformed he looks.
I am unsure if he's ever played there for us before or whether he played there for Burnley in the past but appears to suits him currently.
Tony Abrahams
20
Posted 27/09/2020 at 19:35:06
Most stats bore me, Tony E, but not that one, mate, because the size of the pitch definitely has a big influence on the game of football, and the way it is played.
I watched Liverpool at Chelsea, and Stamford Bridge always seems like it's got a very small pitch, but maybe it's more to do with better players, cutting down the angles, but space seemed at a premium, and very few players can play without space.
Palace were quick out wide, Rodriguez was possibly the slowest player on the pitch, but luckily for Everton, James doesn't need much space, but I still hope we find another wide man, though, because I'd still prefer to see him play inside.
Tony Shelby
21
Posted 27/09/2020 at 19:59:17
It's no.10 now!!!
Brian Williams
22
Posted 27/09/2020 at 20:06:13
Honestly? Jeez!!.
Keith Slinger
23
Posted 27/09/2020 at 20:11:58
As the old saying goes, "its a sign of a good team when they play badly but still win".
Paul Hewitt
24
Posted 27/09/2020 at 21:10:35
Number 2 now
Jack Convery
25
Posted 28/09/2020 at 05:27:02
No 1 now!
West Ham thumped Wolves. Moyes will be looking to put one over us on Wednesday night.
I thought we looked a bit leggy at times on Saturday but continued to stick at it which is great to see. Changes for Wednesday will be needed for fresh legs. I just hope we don't weaken the side too much. Brighton next and that will be a hard game as they are playing well and, on another day, could have put 4 or 5 past Man Utd.
Keep it going, Blues!!! Smiles as wide as the Mersey all over the World right now!
---
Add Your Comments
In order to post a comment, you need to be logged in as a registered user of the site.
Or Sign up as a ToffeeWeb Member — it's free, takes just a few minutes and will allow you to post your comments on articles and Talking Points submissions across the site.