Everton announce signing of Ben Godfrey
Monday, 5 October, 2020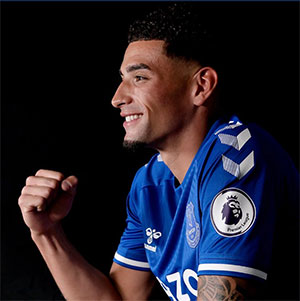 Everton have confirmed their fifth signing of the summer after completing the formalities for the transfer of Ben Godfrey from Norwich City.
The deal is initially worth a reported £20m but with appearances-related add-ons possibly taking the final fee closer to £25m for the 22-year-old who is said to be regarded highly by Carlo Ancelotti.
Godfrey follows Niels Nkounkou, Allan, James Rodriguez and Abdoulaye Doucouré through the door and adds much-needed back-up at centre-half where injuries to Mason Holgate and Jarrad Branthwaite have left the Toffees with just two fit centre-halves.
"It is an honour to sign for Everton and to be part of a huge club," Godfrey told evertonfc.com. "I am very thankful for the opportunity and I can't wait to get started.
"The aim for me at Everton is to win trophies and win games. I like to win. I wear my heart on my sleeve. I care and I am a passionate lad.
"The fans can guarantee they will get 110 per cent out of me when I am on the pitch.
"This is a club full of history that has an exciting team full of world-class players who will help me kick on to the next level. I am looking forward to working with them and, hopefully, having great times with Everton Football Club.
"Carlo Ancelotti, Marcel Brands and the Board want success for the Club and it is really exciting to be here.
"The manager's past speaks for itself. He has worked with some top-class centre-backs. I will be able to learn so much from him and he is going to help me get to that next level, which is where I want to be."
The York-born defender, who can also operate in defensive midfield, began his career at his hometown club before securing a move to Norwich. He impressed in a loan spell at Shrewsbury Town two seasons ago and returned to help the Canaries gain promotion back to the Premier League in 2018-19.
He played 33 games for Norwich last season but couldn't prevent them dropping back to the Championship but his performances were enough to earn him a move back to the top flight with Everton.
Possessing a good turn of pace and terrific athleticism, England U21 international Godfrey promises to be a shrewd addition to Ancelotti's back line which now boasts a good mix of youth and established players. He signed a five-year contract and will wear the No 22 shirt.
---
Reader Comments (87)
Note: the following content is not moderated or vetted by the site owners at the time of submission. Comments are the responsibility of the poster. Disclaimer
Fran Mitchell
1
Posted 05/10/2020 at 09:10:48
Done deal! Ben Godfrey signs for Everton!
Everton have announced the arrival of Ben Godfrey from Norwich, the 22-year-old centre-back said to have cost a fee in the region of £10m, who has signed a five-year deal. This is what he had to say about it, to the club's website:
10 million!?!?
Michael Lynch
2
Posted 05/10/2020 at 09:20:45
On the OS, Godfrey talks about his versatility – he's played on the left and right of defence and as a deep lying midfielder – so I guess he gives us cover in all those positions.
Great to have such strength in depth in the centre of defence now though – Mina was superb on Saturday, Keane has really upped his game, and we still have our best central defender Holgate to return from injury.
David Ellis
3
Posted 05/10/2020 at 09:39:19
No he is isn't a midfielder. He has played there in lower divisions but once back at Norwich he's only been a defender. Which is fine by me.
I am wondering how we are paying for all this but assuming that Moshiri is covering the bills then I guess we can just enjoy having the extra strength in depth and hope he turns out to be a good signing. We do need pace at the back so its definitely giving us something we don't have, even if Mina and Keane are playing well at the moment.
Tony Everan
4
Posted 05/10/2020 at 09:39:38
Yes Michael, it's a good read on the EvertonFC website. The lad comes across as an honest down to earth hardworking player who will give his all for the team. A strong personality and non nonsense guy.
I think he will be a great signing for us and it gives us more of that all important strength in depth. That feeds consistency and will keep up right up there and challenging.
In fact when I see some results, and the way we have strengthened, why not go for the title. There are chinks in the armour of all our competitors, nothing is off the table this season.
Drew O'Neall
5
Posted 05/10/2020 at 09:42:46
This guy is going to be a world class defender but immediately adds some much needed agility, quickness and speed of thought to our 'steady' back line.
Fran Mitchell
6
Posted 05/10/2020 at 09:43:43
The fee the Guardian are reporting is £10 million.
I wonder where they got that from.
Chris James
7
Posted 05/10/2020 at 09:43:53
Can't say I remember the lad, but from reports he sounds like a good addition where strength is needed and is young enough to be moved on if it doesn't work.
Hard to question Carlo's judgement at the moment though. Huge plaudits to him, the back-room staff, Brands and especially Moshiri for sticking with it after some false starts.
Clear top of the league, 7 wins on the spin and scoring goals for fun is hard to argue with! Thank goodness we're not playing someone tough next, like Villa! ;-)
Chris Williams
8
Posted 05/10/2020 at 09:44:41
Some reports that initial fee is £20M. If so it sounds like Brands still driving a hard bargain
Sam Hoare
9
Posted 05/10/2020 at 09:47:28
Ancelotti said earlier this summer (before it emerged that Gabriel perhaps favoured Arsenal or was unsure) that he wanted players who were comitted and excited to play for Everton. I think that played a big part with Godfrey, by all accounts he has terrific attitude and professionalism.
He's been bought to play centre back but I don't think we should underestimate his versatility especially as we seem to always be moments away from an injury crisis.
The price was more than I'd expect it to be and I'm not sure he'd have been my first choice for £25-30M but he comes with a lot of experience in English football for a 22-year-old and he has great recovery pace which is something we badly need.
I think he's actually incredibly similar to Holgate as a footballer in many ways which is why I'm a little surprised we have bought him but, like Holgate, if he reaches his potential, then I think this fee will look like money well spent. And it seems he has the attitude to get wherever he sets his mind on.
Some reports now that the fee is closer to £20M, which makes me happier!
James Marshall
10
Posted 05/10/2020 at 09:58:50
From a friend of mine who's a season ticket holder at Norwich:
"Oh yes he's quality - He is a lot better as a CDM than a CB but with Don Carlo I think he will really push on"
So at least one Norwich fan says he can certainly play in midfield.
Steve Ferns
11
Posted 05/10/2020 at 10:01:41
I don't know a lot about Godfrey, other than what I read and YouTube clips. I've seen Norwich a good few times, particularly when we lost to them at home. But you don't really pay attention to their centre-backs. So, I lack memory of him.
Reading what the journo's think he seems a good prospect. Reading that the Norwich fans say, and that seems to be reinforced. YouTube can be deceptive, but it's clear he has the lightning pace we desperately need at the back. It's also clear that he's not particularly tall, noted as 6'1".
The way I see it, we have two big centre-halves in Mina and Keane. Then we have two smaller ball players in Holgate and Godfrey. It should be Mina or Keane playing with Holgate or Godfrey. I fear Holgate might be out for a while, and whilst he is not injury prone, a quick look at his record shows he picks up niggles. Probably as a result of his combativeness and determination. So, Godfrey is certainly needed. You only have to look at Nkounkou being on the bench as the only fit defender in the last game and Davies having to play right back when Coleman limped off.
Steve Ferns
12
Posted 05/10/2020 at 10:04:43
James Marshall, I listened to the Norwich football correspondent for whatever their local rag is. He said that Godfrey got very upset about being asked about playing in midfield and he was told never to ask him about it. Quite clearly Godfrey is a centreback and not a midfielder, at least in his own mind.
Don Wright
13
Posted 05/10/2020 at 10:08:01
The last centre-half we got from Norwich didn't turn out too bad... did he?
Robert Bresnan
14
Posted 05/10/2020 at 10:10:07
The Guardian reports the fee as being in the region of £10m!
Jason Li
15
Posted 05/10/2020 at 10:10:23
@ Norwich, I thought he reminded of Jags, that rapid acceleration and throwing his body in the way and last ditch tackles to rescue a very inexperienced top-flight team that was positionally poor defensively.
Thank you again Morshiri and friends, for rebuilding Everton into a giant club again.
If anywhere near good as Jags in his prime, then we are all set for a very reliable defensive addition for 10 years. Welcome to joining at the right time... now serious annual title challengers and soon Champions League participants, in this new decade.
The Everton Decade. Enjoy the ride.
Stef Busby
16
Posted 05/10/2020 at 10:16:17
It's a sensible buy and probably a bargain. He's quick, strong, can pass and even at 6'-1" is good in the air. The amount of defending he had to do last season for Norwich wouldn't have done him any harm in plying his trade, albeit they did go down.
He's got the experience at a young age in the Premier League. When Holgate and Branthwaite are sorted, we will have a fine set of centrebacks for current and for future.
Peter Gorman
17
Posted 05/10/2020 at 10:17:24
Jason - yes, he is a bit like Jags (hopefully). He comes across as exceptionally diligent and it isn't lost on me that he captained Norwich at the age of 21 - that's some endorsement of his character.
Happy to have him onboard.
James Marshall
18
Posted 05/10/2020 at 10:19:31
Steve@12
I live in Norwich and the consensus here seems to be that Godfrey is class, and very comfortable in either midfield or centre half. I can't really comment directly (as such) since I haven't really seen a great deal of him other than a few games last season.
Either way (and I don't dispute what you're saying) it seems Godfrey is a very good footballer, and what we need is good footballers, rather than mere stoppers - if you see what I mean.
Santa Krsh
19
Posted 05/10/2020 at 10:19:54
Hats off to Ancelotti and Brands!
What gets me excited is we now have two players, Godfrey & Holgate, who can play centre-back, right-back & defensive midfield, plus Digne who looks comfortable at centre-back with Nkounkou providing cover.
So essentially you can call this both strength in depth as well as providing cover for different positions. That's two birds in one stone, kind of!!!
Also, I need to mention here that I read it somewhere (dunno whether it was on ToffeeWeb or the Guardian) about Tom, that sitting in the bench and observing Allan & James play, might not be something bad after all, since he never would have had a chance to observe such class from such close quarters. It might actually rub him the right way (It has actually) and we could possibly have a new player in our hands too!!!
He and Gordon have the right mentality too in a way that they approached Carlo to know whether they were part of his plans or not & the way Carlo responded might actually have been the most wonderful moment in their lives so far!!!
Talk of man-management...
So, for all the talk of Carlo bringing in older players past their sell-by dates, he has slowly but surely set our defense and defensive midfield for the next 10 to 12 years by the way things stand right now.
Tony McNulty
20
Posted 05/10/2020 at 10:20:12
Steve (11),
I'm trying to think of a footballer, and especially a defender, possessed of great speed as well as height.
The one seems to preclude the other. Unless anyone can think of any exceptions? (The valves in the old brain taking time to warm up today. It's what transfer day does to you.)
Jim Bennings
21
Posted 05/10/2020 at 10:23:06
Good solid signing for a sensible fee (in todays market).
The squad we are building is starting to look damn strong, just a couple of areas now away from being a serious challenger.
Back up striker now Kean has gone, goalkeeper, and I still would like to see a blisteringly fast wide player but maybe that's being greedy.
Stef Busby
22
Posted 05/10/2020 at 10:24:00
#20 - Tony: Sylvain Distin he was 6'-2". I'm 5'-6" so it's tall to me. :)
James Marshall
23
Posted 05/10/2020 at 10:25:39
Stef – Distin is 6'-4".
Tony McNulty
24
Posted 05/10/2020 at 10:26:40
Stef - so were you a great defender, the pre-injury Kevin Ratcliffe of your street?
Sam Hoare
25
Posted 05/10/2020 at 10:32:37
Godfrey is down as 6 ft flat on Wikipedia. Last season, his success rate in aerial duels was 61% which is about average for a centre-back, maybe a tiny bit less. More than Holgate, I think, but less than Mina and Keane, predictably.
I've heard one or two Norwich fans say that his positioning on crosses can be suspect. But he's only been a centre-back for two years or so and of course there is a lot of learning still to be done.
Mina and Keane have been pretty solid so far and Godfrey (or Holgate) will have to work hard to displace them. But being able to play a higher line could prove very useful.
Eddie Dunn
26
Posted 05/10/2020 at 10:39:16
Good news for the squad. It was no coincidence that Mina had his best game for us yesterday. Competition for places really does bring out the best in a team.
Stef Busby
27
Posted 05/10/2020 at 10:51:10
@23 James - I had to Wikipedia his height and came up as 1.93 meters. He must have shrank since leaving us. :) Still, at 6'-4", he was quick.
Stef Busby
28
Posted 05/10/2020 at 10:55:02
@24 Tom - God no. There were plenty of bigger and harder lads occupying that spot. I just stayed on the left wing and ran around a bit :D
John Davies
29
Posted 05/10/2020 at 11:00:07
I don't care if he's 6ft 2ins or 5ft 6 ins. I don't care if he's lightning quick or just very quick. I don't care if he's a central defender or a midfielder.
Mr Ancelotti wanted him and has signed him so that's all I need to know.
Welcome to Everton Ben Godfrey. Happy days! Bring on the Shite. COYB!!!
Christy Ring
31
Posted 05/10/2020 at 11:26:22
Godfrey is a leftsided centreback which is good news, Sky are saying £20m, couldn't see Norwich letting him go for half that.
Danny O'Neill
32
Posted 05/10/2020 at 11:42:05
Talking of using centres backs as defensive midfielders, remember Jags came to us from Sheffield United described as being both. I think we tried it about 4 times and thought "nah"!
And the time against Norwich in the cup I think when we came out for the second half with Stubbs lined up in midfield due to a re-shuffle. I think that lasted 10 minutes!!!
Welcome to Everton. Promising signing and in line with our policy of blending youth and potential with experience and proven class.
Mal van Schaick
33
Posted 05/10/2020 at 12:05:27
Listening to what he said on signing, he wants to work hard and do well and win trophies. Can't ask for a better attitude than that. Welcome to Everton and let's make it happen.
Martin Berry
34
Posted 05/10/2020 at 12:33:44
I think this is a cracking signing.
The lad can tackle, block is fast, strong can play right across the back from his interview, therefore a very shrewd acquisition.
Additionally playing for Norwich you will have learned a lot about defending very quickly being under constant pressure.
Far better than some foreign imports who don't get to grips with the speed of the Prem.
Hugh Jenkins
35
Posted 05/10/2020 at 12:50:59
Great acquisition.
Not only is CA good at identifying the type of player he wants / needs, he is also clearly a master tactician.
With that in mind, he seems to be building a squad to meet all challenges.
Yesterday, against AV we saw what happens when a team has only one formation it plays to. Once someone "cracks it" it stays cracked.
This is where I think CA will keep us winning - he will send out his team and players to defeat whoever the opposition is, and that means that we don't ever only play to one style or system - we need to be flexible and to have the players capable of beating different teams with different styles of play.
That is the squad the CA and MB are building.
Sam Bowen
36
Posted 05/10/2020 at 13:26:43
It's almost as if brands and Carlo know what they're doing. We definitely lack a bit of pace and cover in central defence so seems like an ideal purchase.
Peter Roberts
37
Posted 05/10/2020 at 13:31:16
Tony Everan
Talk of the title is just that at the moment, but I see your point: Inthinknthenresults at the weekend has shown that the league is still highly competitive where anyone can give you a hard game. People talk about Leicester being a freak title winner but they had a bloody good squad that year (Cambiasso was a squad player!) and a belief.
Every win now will make the media take notice of us just that little bit more (they are already starting to) If were still in this position in December then maybe just maybe I might start looking towards the impossible.
Soren Moyer
38
Posted 05/10/2020 at 13:32:34
We have even made it to the front page of MSN! Holly S***!!!
Jay Wood
[BRZ]
39
Posted 05/10/2020 at 13:44:38
Big surprise that Everton spent large on this position when everything was pointing to a loan move. Really not a player I've noticed in a Norwich shirt, but this following assessment suggests even at the price paid, we're already in credit:
'Ben Godfrey's £25m move to Everton from Norwich is money well spent, according to data analysts Carteret.
The London-based company advises some Premier League clubs on investment and transfer targets, and uses data from players' performances to work out how much a player is worth to an iindividual club.
They say Godfrey, 22, has an Intrinsic Value of £41.29m to Everton, so a big hike on their investment.'
This was lifted from the BBC's live transfer deadline day feed. They are also doing a club-by-club listing of PL teams' ins and outs, asking readers to vote thumbs up for a good transfer window, thumbs down for a poor one.
Some clubs hover around 50-50, some clubs are in negative equity. Everton? As I write, the most overwhelmingly positive vote is for our transfer window: 10.1k positive, just 230 negative thumbs down (a few disgruntled pinkies, I imagine).
I also listened to the Norwich jouralist Steve Ferns referenced, saying that Godfrey was very angry with the reporter about mentioning him as a defensive midfielder, telling him don't raise that question again. I'm a centre back. That told us then.
One further note to add, sorry to disappoint anyone hoping Richarlison stood down from the Brazilian squad following his withdrawal v Brighton on Saturday. Hasn't happened. Just seen footage on the morning news here in Brazil of him arriving in the country and joining up with the national squad.
Soren Moyer
40
Posted 05/10/2020 at 13:53:12
Sky sports news reporting the fee as being £20m and not £30m!
Jack Convery
41
Posted 05/10/2020 at 14:01:19
A really good signing and adds quality to the depth of the squad. Given his attitude I expect Mina, Keane and Holgate will need to be on the toes with this guy around.
Welcome to the Best Club in the World Ben. Give us your all and you will be fine.
Will Mabon
42
Posted 05/10/2020 at 14:14:47
...and BBC Sport saying 25 rising to 30 (with 2.5 going to York).
Eventually when sanity resumes we'll discover the correct fee.
John Pierce
43
Posted 05/10/2020 at 14:32:41
It's no surprise we've gone and bought this profile of player. It completes a stable of centre backs and we should be able to marshal them to reflect the opposition. Even play a back three
It also reflects the management finally see this is our opportunity, and damn the financial consequences. It's naked ambition. We have money in a very depressed market, exactly why we are getting players for significantly less than advertised. Selling clubs need a cash injection.
He may not be the 'best' around but he has the key attributes which we need to compliment our style of play. His speed will allow us to play a high line, it will allow a aerially dominant centre back to gamble and be aggressive knowing he has cover in behind.
He's very good with the ball, it will improve our ball speed which between Coleman, Mina & Keane isn't great. Having clever footballers who retain the ball is hugely important this side.
His height doesn't bother me as we should spend most of our games in the opposing half, he shouldn't have to head thousands of crosses away, he's in the side to defend counter-attacks. Height isn't as important in a zonal marking system because you in theory don't have to 'out-jump' anyone just defend the space. I predict we will see him in the line up sooner than many think, you can only play Keane and Mina together before for so long before injury (Mina) or a quick forward isolates them, they are not the guys you want 1v1 in a counter attack.
His arrival takes the pressure off Holgate to rush his return. The more interesting question is; Who does he partner? Keane or Mina? Mina happened to have his best game in a blue shirt on Saturday, he also brings great energy to the team. However, Keane is more durable and has to my surprise stepped up! Mina will get injured, his record at Everton says he will, so Keane and Godfrey for me short term.
A very good signing!

Mark Taylor
44
Posted 05/10/2020 at 15:57:25
I relied on the Norwich fans forum for an insight into him. Put it this way, this isn't a Moise Kean scenario where many are glad to see the back of him. More a case of being resigned to losing him and believing a club like Everton under Carlo is the best place for him. Lots of talk about great pace, excellent temperament, good passer, some concern over positional sense but overall it's clear they thought he was a very good player deserving a PL move and were resigned to losing him.
However they seemed to feel £25m upwards was a fair deal for both parties so if we got him for £20m, it's good business, still more so if it was £10m. That I doubt, and I don't think Norwich fans will be told if it is, that might change their mood...
Paul Le Marinel
45
Posted 05/10/2020 at 17:06:52
I'm really pleased we have signed him and I think he has good potential and will do well for us. I would like us to sign a goalkeeper to challenge Jordan Pickford. He has made a few mistakes this season and that last one in the Brighton game was terrible.
Mike Gaynes
46
Posted 05/10/2020 at 17:15:37
Our Man Godfrey. Welcome.
Tony #20, re height vs. pace, two years ago Zouma was listed as the 28th fastest player in the world, so that's one. Distin as previously mentioned was another, and Pique at 6'4" was, in his younger years (at his Pique if you will), considered one of the fastest players in La Liga.
Robert Tressell
47
Posted 05/10/2020 at 19:11:55
Really delighted with this signing. Could be a real asset to the team for 10 years or more, like Jagielka and Baines. Looking forward to seeing him in action.
Tony McNulty
48
Posted 05/10/2020 at 20:24:01
Thanks Mike (46)
A third factor of course is anticipation. if you can anticipate well, you don't need to be as fast. The great Bobby Moore was always seen as not the speediest, but he didn't need to be, given his anticipatory powers.
Colin Glassar
49
Posted 05/10/2020 at 23:15:39
This kid comes highly recommended by Alan Partridge on Radio Norwich FM
Martin Berry
50
Posted 05/10/2020 at 23:54:21
I think some are going to be shocked as to how good this young man is going to become.
I am surprised other clubs did not come in for him.
Another great signing in what has become a great window for Everton
Bob Parrington
52
Posted 06/10/2020 at 00:04:32
Good signing IMO. Shows the acumen of Carlo, selecting a player with pace and ability to play in various roles.
Dennis Stevens
53
Posted 06/10/2020 at 01:43:33
There's something about him that reminds me a little of Jimmy Hill.

Dermot O'Brien
55
Posted 06/10/2020 at 07:45:08
This lad is good - very good. He will turn out to be a great signing.
I hope he brings some of his sister Dolly's upside down cakes.
Jerome Shields
56
Posted 06/10/2020 at 08:42:59
Does anyone know why he was loaned out to Shewsbury Town? I do remember him playing well for Norwich.
Billy Roberts
57
Posted 06/10/2020 at 10:14:15
Cant explain why but I have a strong feeling this Godfrey signing is going to work out well. Maybe it's the feel good blind optimism in me?
Maybe its because Ancelotti is focusing on not only top talent, but talent that wants to come here.
The more established we become as a viable club for players looking to compete the more choosy we can become instead of giving ex-Man Utd players a retirement home.

Sam Hoare
58
Posted 06/10/2020 at 10:23:47
Billy @57, I don't think its blind optimism. Excellent athlete with a prodigious work rate is a very good start. Add in the fact that he's played over 100 games in the Football League aged 22 and you've got a really good foundation.
My only worry is that his skillset if so close to Holgate's. Not sure that they can both prosper long term at Everton. Survival of the fittest?
Billy Roberts
59
Posted 06/10/2020 at 10:40:19
Sam @56
He does seem to be getting good reviews by people who watch more football than me like yourself and Norwich fans so that has to be a positive.
Who knows how Carlo will shuffle his pack, your right he may be too similar to Holgate but I'm glad that's a problem for Carlo, having too many aces??
I think it's going to be a hard, long season trying to stay in the top 4 which I think we should aspire to, and going as far as possible in both cups. that isn't blind optimism, I really believe we can achieve something this season.
Bob Parrington
60
Posted 06/10/2020 at 11:49:22
Billy @57 and Sam @58,
In order, Billy I feel the same way except that I see it as a really smart move by Carlo & Marcel with the current squad that we are adding a player, notably with exceptional character but, that can multi-position and is fast.
And Sam, I understand what you are saying but there are some optional thoughts here. So well picked-up. My own view is that this whole 'mix' situation can depend on the various egos and characters of the proponents. I like the way the Carlo & Marcel association is building based on the character of the players to override the egos.
Not an easy balance but it is manageable, I think, from past amateur manager/coaching days (Money aside????)
Jerome Shields
61
Posted 06/10/2020 at 11:57:58
League One side Shrewsbury Town have signed Norwich City central midfielder Ben Godfrey on loan until January.
Godfrey, 19, made six appearances for Norwich last season after signing from York City in January 2016.
"Norwich know the manager here (Paul Hurst) is going to help me develop, " he told Shrewsbury's club website.
"A lot of players disappear in the 23s system, so for me to come out here, prove myself and try to make a name for myself, it's a good opportunity. "
Godfrey, who can also play at centre-back and right-back, joins a Shrewsbury side that has won all three of their League One games so far this season.
Dennis#53
God forbid.
Tony Everan
62
Posted 06/10/2020 at 12:40:01
Pete Williams
63
Posted 06/10/2020 at 12:40:33
Sorry to be discussing ancient history but Colin Todd wasn't tall and neither was Ratters but they are two of the best defenders I've ever seen in an Everton shirt. Richard Gough also wasn't the tallest.
Now I know Godfrey has a long way to go to match up to those names but not being the tallest isn't always a drawback and I don't think any of our 3 centre-backs are as quick as this guy is. I think it's a good signing for the longer term, but only time will tell.
Billy Roberts
64
Posted 06/10/2020 at 13:05:01
Pete @63
I agree, but I think most managers would still want someone taller alongside.
I think Richard Gough was tall though, or he gave a good impression of a tall person. What a defender Gough was, what we could have had if we had got him earlier.
Jerome Shields
65
Posted 06/10/2020 at 13:07:27
Tony#62
I was surprised he was loaned out, because I remember him playing along with Jarvis. Jarvis played a defensive left midfield position and Godfrey seems to be able to get into a similar positioning on the right. They really looked good.
That's when I remember Godfrey from. It seems Norwich were into having a young squad and were big into their development. This comes across in Godfrey's interviews at Shrewsbury. Another good player was Lewis who is now with Newcastle. The one thing about Norwich is they were a good footballing side.
I suppose they were into developing young players for sale and developing a young team for promotion into the Premier League shop window.
Derek Taylor
66
Posted 06/10/2020 at 13:12:29
I imagine Godfrey will fill the right-back spot in the derby game if the skipper has not recovered.
John Pickles
67
Posted 06/10/2020 at 13:24:39
I think we missed a trick here. Now that we have got Olsen in, we could have played Pickford in central defense. With the new hand ball rule, who better than Jordan to guarantee that his hands will get nowhere near the ball?
Pete Williams
68
Posted 06/10/2020 at 13:39:38
Billy @64,
Gough was a quality defender and yes he never struck me as short but, as far as I can tell after looking into it, Gough and Godfrey are both six feet tall. Ideally you'd like centre-halves who are both good in the air and quick, but what you usually get is a wall and an interceptor or a stopper and a sweeper.
I think we've now got two of each with signing Godfrey and none of them are old. Should lead to some much-needed stability in front of our muppet keeper.
Christy Ring
69
Posted 06/10/2020 at 14:41:30
Billy @64, I had to check it out, and can't believe Gough was only 6ft-0in. He always stood out, as a big powerful centre-back.
Alex Parr
70
Posted 06/10/2020 at 15:52:09
https://twitter.com/ATNCAST/status/1312305242755805184
Can't wait to see those dirty redshites square up to him in the derby...!
Billy Roberts
71
Posted 06/10/2020 at 16:12:32
Pete & Christy,
Maybe it's because he played along famous shortarses like Strachan and Nevin for Scotland!!
I wish I was only 6ft tall, by the way!
Steve Ferns
72
Posted 06/10/2020 at 16:17:15
"Big" Dave Watson was "only" 6 foot tall too. I think they seemed bigger back then because football had not yet evolved into the game played by giants that it is today.
For example, "Big" Neville Southall is the same height as "Little" Jordan Pickford, give or take half an inch. Peter Schmeichel was an absolute man-mountain, so I was surprised to see that he was "only" 6'-3".
I looked that up because I was surprised that Kasper Schmeichel was so "small" at 6'-2" when I thought his Dad was so big, but there's an inch between them. It's all relative I suppose.
Jerome Shields
73
Posted 06/10/2020 at 16:19:20
Tony #62,
Finally got a chance to read the article. I get the feeling that Godfrey will do well at Everton. He has the skill set and getting a transfer to Everton will boost his confidence.
Under Ancelotti, he will learm a lot and improve. He will be keen to learn and develop. That's the reason he was sought out by Ancelotti. Thank you for the link.
Jay Wood
[BRZ]
74
Posted 06/10/2020 at 16:49:13
Dave Abrahams (and other boxing aficionados), take a look at Alex Parr's link and Godfrey's glove work:
If he is as quick in thought and with his feet as he is with his mitts, he'll do just fine!
Good page on the club site listing when and where all our players away on international duty will perform over the next week.
I'm certainly going to try and tune in to England U-21 v Andorra U-21 Wednesday 2pm UK time in which both Godfrey and Davies will probably feature. Hasn't Tom been skip for a number of recent fixtures for the U-21s?
Full list here:
Tony Everan
75
Posted 06/10/2020 at 18:33:10
Thanks for the boxing link, Jay.
He is a beast of an athlete, the reports I have read that he has a great engine, 90 mins full-on, no problem. I can see him forcing his way into the starting line-up sooner rather than later, lad doesn't look like the bench-warming type.
Derek Knox
76
Posted 06/10/2020 at 19:54:34
Good link Jay, decent boxing skill, hope the ref doesn't spot him flooring Bert The Chimney Sweep at a set-piece, if he is selected for the derby. :-)
Think this could be a brilliant acquisition we are all thinking Gabriel, Todibo, Adarabayo and others, then we find out (possibly) that Ben was the intended target all along.
Dave Abrahams
77
Posted 06/10/2020 at 20:11:18
Jay (74), yes Ben looked pretty nifty there in that sparring session, I thought the link was going to be about our new goalkeeper Olson, Randolph Turpin lost a world middleweight title fight to Carl ( Bob ) Olson in the fifties, a Yank, I thought our new 'keeper might have been related.
Back to Ben Godfrey, only seen him once, he knows his football, I'd advise Keane and Mina to pay attention to him when he plays, I think they will both learn from him.
Jay Wood
[BRZ]
78
Posted 06/10/2020 at 20:41:44
Godfrey certainly looks as if he takes his boxing gym work seriously, doesn't it? Did you hear at the end the guy filming the session saying: 'He's in the wrong business!'
There is definitely going to be a marketing and video shoot opportunity between Ben and Tony Bellow somewhere done the line, surely.
A boxing workout has got to be good for his upper body and leg strength, as well as balance and eye coordination, I would have thought.
And is my memory playing me tricks, but weren't boxers often one of the fittest sportsmen in the Superstars series? I know John Conteh won it once. Am I right in saying John was a Blue?
Dave..? Anyone..?
Dennis Stevens
79
Posted 06/10/2020 at 20:43:08
Jerome #61 - I think it's just the beard!
Bob Parrington
80
Posted 07/10/2020 at 03:58:31
Jerome and Dennis - Together with the strong jawline!
Jerome Shields
81
Posted 07/10/2020 at 09:46:42
Dennis #79,
Jimmy Hill was the precursor to VAR. I often swore at Jimmy Hill during his analysis of games I had attended. He was prone to trying to made something 10 passes back relevant to his analysis of an incident.
Luckily VAR didn't exist at that time and Jimmy Hill's analysis had no repercussions. Jimmy and VAR would have driven us all nuts. His facial features and seven o'clock shadow, as did his manner of talking, didn't help either.
Jimmy, I am sure, irritated managers and players alike. He rarely interviewed them since, in my view, the outcome could be unpredictable.
Jamal Paktongko
82
Posted 07/10/2020 at 10:23:37
I think we need to keep Cenk Tosun. With the new system I think he can thrive and maybe provide the best cover for either Richarlison or Calvert-Lewin.
He is not the type of striker that chases loose ball or play deep and collect the ball and bring to the box to shoot.
He's the type that waits and poaches the ball when it comes into the box but he has a lethal strike.
The trouble is he is not getting much service when he was playing and he had very few opportunities to show his ability as a finisher.
He sucks at collecting the ball from deep, holding the ball and bringing the ball to advancing team mates.
But I believe he can finish and he can poach. With the new system, we will see a new Tosun.
Dennis Stevens
83
Posted 07/10/2020 at 10:32:29
Aye Jerome, irritating is probably the most apt word to describe Jimmy Hill. Especially for those he was in conflict with over the abolition of the maximum wage back in the early '60s, I should imagine.
Dave Abrahams
84
Posted 07/10/2020 at 11:33:41
Jay (78), I'm not sure if John Conteh was a Bluenose or if he was interested in football.
I know he was absolutely crap at singing. He was on a chat show and got up to give a rendition of "My Way"...
If it had been a boxing match, they'd have stopped it, to save the song from further punishment.
Tony McNulty
85
Posted 07/10/2020 at 11:44:05
Jay (78),
I am not sure of John Conteh's football affiliation. However, the last I heard (2017) he was living around the corner from me here in Northwood (although I have never seen him).
For self-evident reasons, I would not wish to attribute his support to a team and it then become known that I'd got it wrong.
For reasons of enlightened self-interest, if anyone out there does know, it could be very useful information.

Dan Nulty
86
Posted 07/10/2020 at 11:58:10
Nice little piece on the BBC Sport website 'Wonderkids':
Can Everton's Thierry Small win our Wonderkids series?
Looks like a really talented player of the future. Checked on the website and there are highlights of the last U18s game where he scores 2 goals including the winner in the 92nd minute.
2 good young left backs going to be pushing Digne for a spot. Bodes well.
Dave Abrahams
87
Posted 07/10/2020 at 12:43:13
Tony (85), that's where John started off in Kirkby, not sure if it was Northwood, he boxed for Kirkby ABC when he started boxing at a young age. He did very well in the game, won a world title and would have done much better financially if had kept out of the way the game was run.
Brian Harrison
88
Posted 07/10/2020 at 13:20:09
I remember Shankly saying he thought boxers were the fittest athletes around. Certainly we have had some great boxers from this country and John was up there with the very best.
Quite a few years back, I went to a sportsmen's evening in St Helens and the guest speaker was Alan Minter. When the dinner was over there was only 3 of us left in the club Alan me and a friend. The barmen kept the bar open and the 3 of us were still drinking at 1:30, Alan was great company with some great stories.
I remember him talking about his fight with Marvin Hagler, he said he hit Hagler with everything including the kitchen sink but he just couldn't stop Hagler coming forward. Alan reckoned Hagler was by a large margin the best fighter he had ever fought.
Tony McNulty
89
Posted 07/10/2020 at 13:40:55
Dave (87)
Thanks for that. I'd actually forgotten that there is a Northwood near Liverpool. This is Northwood in Middlesex on the Met line, half way between Harrow and Watford.
I still need to know the affiliation though. Imagine the effect of calling out: "Great set of results last weekend" or using the line I saw on Twitter, where someone wrote to the police asking what they should do given that the neighbours had just let in more than six.

Jay Wood
[BRZ]
90
Posted 07/10/2020 at 13:41:46
Thanks Dave and Tony for the info on John Conteh. (And particular thanks to Dave for my first laugh-out-loud moment of the day about John's singing talents!).
I wasn't even sure if John was still alive. Didn't he have serious battles with the bottle after he quit boxing?
---
Add Your Comments
In order to post a comment, you need to be logged in as a registered user of the site.
Or Sign up as a ToffeeWeb Member — it's free, takes just a few minutes and will allow you to post your comments on articles and Talking Points submissions across the site.