Burglars target Ancelotti's house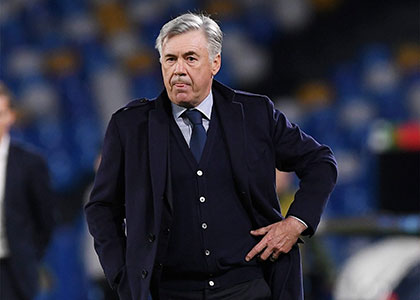 Updated Carlo Ancelotti's Crosby home was burgled this evening by masked thieves who were disturbed by his daughter but not before they took off with a safe.
A report in the Liverpool Echo partially substantiates a rumour that began on WhatsApp and quickly spread to social media that the Everton manager had been held up at knife-point.
However, Ancelotti, who has regularly expressed how much he enjoys living in the area he chose to settle after agreeing to become Everton manager in December 2019, was not at home at the time.
Police say that the crime was perpetrated by two men wearing balaclavas and black "waterproof" clothing who gained entry to the property and removed the safe when they became aware of the presence of Ancelotti's daughter and fled the scene.
Police were subsequently called to the residence in Blundellsands but no-one has yet been apprehended.
---
Reader Comments (205)
Note: the following content is not moderated or vetted by the site owners at the time of submission. Comments are the responsibility of the poster. Disclaimer
Darren Hind
1
Posted 13/02/2021 at 01:06:50
Scum.
Every time this city takes a few strides forward in the eyes of the rest of the UK, Some gobshite/s will drag it back again.
Really sickening that such a high profile celebrity who has done nothing but praise the place should be treated like this.
Pity his daughter wasnt arriving after getting a lift home from Big Dunc.
I feel I need to shower
My thoughts are with his daughter. it must have been a terrifying experience for her.
Ron Marr
2
Posted 13/02/2021 at 01:32:36
I hate to read this as a Liverpool born lad living 6,000 miles away. I agree with you Darren, Liverpool has made a lot of strides forward but there are always some gobshites who will give the region a black eye. Glad nobody was hurt.
Alex Gray
3
Posted 13/02/2021 at 01:46:04
Can only agree with the previous comments. Utter scum letting the city down.
Karl Masters
4
Posted 13/02/2021 at 01:50:16
Let's hope he can take this in his stride, but of all the things that can unsettle somebody, having been burgled us one of the worst.
Hope these lowlifes are caught.
David Currie
5
Posted 13/02/2021 at 01:53:31
Hope they catch these 2 scumbags and that Carlo's daughter is ok. Pity Big Dunc wasn't visiting at the time as they would have fled without the safe.
Kieran Kinsella
6
Posted 13/02/2021 at 01:55:53
Seems like there has been a lot of this kind of thing in the NW over the last decade in both Liverpool and Manchester. I remember Di Maria went off the boil at Utd after a similar robbery. Scum bags. Hope he and his family are OK
John Atkins
7
Posted 13/02/2021 at 02:41:02
The press are going to friggin love this and once again because of a couple of lowlife scumbags the City's reputation suffers once again Typical Scousers blah blah blah
I hope they are named and shamed - get them put in stocks on a match day when fans allowed back ! The really sad thing is if caught they'll get off with a fine and a slap on the wrist cos they'll have a smart arsed brief who will portray them as victims of society - makes my fucking blood boil 😡
Peter Warren
8
Posted 13/02/2021 at 02:45:03
Must be horrible for his family and daughter in particular. Like everybody else it makes your blood boil.
Phil Sammon
9
Posted 13/02/2021 at 03:27:41
Does this happen anywhere else in the country with such regularity?
Dave Long
10
Posted 13/02/2021 at 03:55:02
Terrible for the Ancelotti family bad news in the midst of our promising run.
Dave Long
11
Posted 13/02/2021 at 04:13:21
Duncan dispatched?
Ian Jones
12
Posted 13/02/2021 at 06:27:28
Such a horrible experience for the family, especially as Carlo has taken to the area and praised it on numerous occasions. Hope it doesn't put Carlo off living here. Let's also hope they didn't take anything of great value to the family, although the fact that it was a safe that went suggests it might be.
Imagine we will never know where these burglars originate from, but they are not necessarily from the area.
Bobby Mallon
13
Posted 13/02/2021 at 07:04:26
Fucking scumbags.
Don Wright
14
Posted 13/02/2021 at 07:21:44
I was broken into a few years ago and, believe me it is not nice, me and the wife were in bed asleep. Apart from the material things, it's the thought that some smackhead had been wandering around my house. No chance of catching the fuckers... I wish I had because I can still swing a golf club.
Steve Shave
15
Posted 13/02/2021 at 07:26:23
I feel sad to read this and my thoughts go out to Carlo and his family. He is such a decent person I believe, to think someone would do this makes me feel really angry, twats.
Paul Birmingham
16
Posted 13/02/2021 at 07:44:21
Absolute scum of the earth and these people drag the area down.
I hope that Carlo and his Family are okay, and that the CID find these people. It's a great world we live in but there's sadly a lot of terrible people, who think they have the right to thrive and rob off other people.
Hopefully Carlo and his family won't be put off and I'm sure Everton will pull out the stops to help them through this crisis.
Thoughts and prayers with Carlo and his family.
John Raftery
17
Posted 13/02/2021 at 07:48:50
Disgusting, an awful thing to happen to any family. There have been quite a few recent reports around the Crosby area of attempted and actual burglaries. Some appear very amateurish, others more organised. This seems to be in the latter category. Given the profile of the burglary, it might be easier than usual for the police to identify the perpetrators.
Paul Smith
18
Posted 13/02/2021 at 08:11:24
Hey, Don, it's awful you were broken into but burglaries are not always committed by heroin addicts. That's just prejudice.
Danny O'Neill
19
Posted 13/02/2021 at 08:14:48
First response post says it all really so I don't need to repeat.
I do hope this doesn't taint our Manager's seemingly genuine affection for our City.
I have nothing but distain and utter contempt for someone who steals from someone else.
Kevin Molloy
20
Posted 13/02/2021 at 08:24:55
It's a situation all the footballers must be cognisant of. Hopefully he gets the right advice, and security is beefed up without it affecting his enjoyment of the area.
Makes your blood boil, but what can you do? Hope there was nothing important taken although if he had a safe you have to think something good's gone. If they carted it away, it sounds like a highly planned robbery, rather than opportunistic scalies.
Tony Abrahams
21
Posted 13/02/2021 at 08:25:07
Only consolation being is that those WhatsApp claims were only partly true, even though it must have still been a very frightening ordeal for his daughter.
Paul Smith
22
Posted 13/02/2021 at 08:27:20
Burglaries happen all over this country and are not solely the preserve of Merseyside. So far in this thread, the insinuations that Scousers and smackheads are responsible for a burglary not even in Liverpool is jumping the gun a bit and is lazy stereotyping.
Carlo will be pissed but I'm sure he won't blame smackheads (hate that word) or Scousers probably because he understands people are the same all over.
Don Wright
23
Posted 13/02/2021 at 08:42:56
I don't buy that, Paul. A lot of people don't keep wads of cash at home and vastly expensive jewellry, it is not worth the risk to a career burglar to target a 3-bed terraced house in Bootle for an iPad and iPhone, but if you what some items to take down to Cash Generator to get cash for your fix... well.
Oh yeah, and when your kitchen smells of weed, then that's a good hint – even the nice police lady said so much without saying it...
Martin Berry
24
Posted 13/02/2021 at 08:46:36
It disgusts me. Also, it will have an unnerving effect on Carlo and his family that will never go away, that can have longer-term repercussions.
Hopefully the love felt by his colleagues and fans will help.
Paul Smith
25
Posted 13/02/2021 at 08:52:56
Don, I get it. There are reasons why drug addicts get associated with burglaries because some commit them. Heroin addicts are opportunists – heroin, for-thought, planning & execution don't mix – this would have taken all that. Also, weed is smoked by shitloads of people up & down this land. Why, fuck me, it's even legal in some States of America.
Allen Rodgers
26
Posted 13/02/2021 at 08:57:22
So glad the daughter wasn't harmed or threatened.
It's not the best idea to have a ''portable'' safe but it might have saved her from a battering.
Mark Murphy
27
Posted 13/02/2021 at 09:04:07
Lot of people on here complaining about stereotyping but, at the same time, assuming the culprits are locals. The same link to the Echo includes a story of three Manc sisters ripping off Liverpool businesses and people.
Roger Helm
28
Posted 13/02/2021 at 09:14:02
I come across a lot of criminals in my work and they seem of a type; unintelligent, poor hygiene, drug-taking, lacking a conscience. I have beefed up my home security a lot and I wouldn't go near a town centre on a weekend night.
I hope Carlo and his family recover from the shock and upset soon.
Stephen Brown
29
Posted 13/02/2021 at 09:22:36
Absolutely gutted about this!!
Feel for Carlo and his family and hope it doesn't impact negatively on his view of Everton and the city itself!
It would be good if there was some sort of solidarity gesture from the good people of Crosby/Liverpool and all the Evertonians!
Gareth Williams
30
Posted 13/02/2021 at 09:23:27
i hope they catch these to bastards they need a good hiding
Thomas Richards
31
Posted 13/02/2021 at 09:26:30
Horrible situation for Carlo's daughter will probably see them move to Cheshire. Sickener the way Ancelotti has bought into the city only to be rewarded with this. Hopefully a few handy Blues find out who it is.
Roger.
The description of criminals you come across are not indicative of all criminals. Some of them wear bowler hats and have titles in front of their names.
Hopefully a man as calm as Ancelotti can cajole his family through this. The break-in and confrontation of his daughter will stay with her for a while.
Better to concentrate on the vast majority of good people who live in our city. Every city has their own dogs unfortunately.
Paul Johnson
32
Posted 13/02/2021 at 09:30:42
If I was either one of the two scumbags who carried out this, crime my arse would now be twitching like a rabbit's nose. They obviously didn't recognise that they are dealing with Russian money. Fuck me... I get a shiver down my spine just thinking about the comeback.
Duncan McDine
33
Posted 13/02/2021 at 09:35:17
Really feel for anyone that gets broken into - especially if there are people at home. I've only ever had stuff nicked from a garden shed, but even that gets into your head, so I guess they're pretty shaken.
Thankfully his daughter wasn't harmed, and I hope they can overcome this as a family (from a selfish – Everton – point of view)... so they're able to remain settled. It wouldn't surprise me though if this has really unsettled them.
Mike Oates
34
Posted 13/02/2021 at 09:37:09
I hope we don't find, like others in the past have done and his family will move back to Italy, and we find Carlo and Davide stay back here. Just doesn't work out if that happens.
Find the culprits and throw them to the Everton masses. It's about time we stopped pussy-footing with people who have no regard for other people's lives.

Alan Johnson
35
Posted 13/02/2021 at 09:37:14
Hey Folks... Not dumming this down, but the Ancelotti's lived in Naples. His family will be aware that burglars operate all over the world, not just Crosby.
Jeff Hough
36
Posted 13/02/2021 at 09:38:07
Agree with most of the sentiment on here but just wondered if some of our more law abidingly challenged supporters couldn't find out who the 'rascals' are who did this? They could always pay them a visit and impress on them how unhappy Everton fans are.
They might even be able to give a brief demonstration of what could happen to them if Carlo feels the need to move his family somewhere else.
Just a suggestion.
Danny O'Neill
37
Posted 13/02/2021 at 09:47:57
I thought that Alan (35). I used to visit Naples at least once a month. Very chaotic and very edgy place riddled by crime and criminal gangs.
Of course it isn't a problem unique to Liverpool, but for my earlier sentiment, I hope it doesn't affect his judgment of the city.
Without doing the research and maybe because I pay more attention, but burglary on footballer houses does seem to happen to the Merseyside clubs more than others. Seem to remember a spate of them (Liverpool more so) a few years back, which bore the hallmarks of being organised rather than opportunistic drug addicts.
Alex Gray
38
Posted 13/02/2021 at 09:49:21
Can we stop with the "all criminals are drug users" rubbish please? Coming from an addict in long-term recovery who works with addicts It's a bit insulting and completely untrue.
I've known my fair share of lads who've been up to no good and it's usually been pre-meditated by quite intelligent individuals and I guarantee it would've been the case with Carlo's house sadly.
As I said on an earlier post, it's a scummy move but let's not use it as an excuse to stereotype, yer?
Paul Smith
39
Posted 13/02/2021 at 09:57:58
Wasn't Ozil car-jacked in London last year? More nonsense that Merseyside is a hotbed of crime. Most people are not victims of crime, contrary to what sells papers and what's on click bait pages.
I would go so far as to say Liverpool is very anti "shitting on your own doorstep". They don't like it, hence a Scouse diaspora of the criminally intent.
Barry Rathbone
40
Posted 13/02/2021 at 09:59:56
Local ne'er-do-well did my place whilst the family was in bed and laughed about it during sentencing.
The authorities said it was suicide when his worthless carcass was found hanging from a tree 18 months later.
Hopefully these wastrels will experience a bit of lex talionis.
Duncan McDine
41
Posted 13/02/2021 at 10:02:14
He was, Paul, but his bodyguard Kolasinac chased them off if I remember correctly. It happens everywhere mate, and the big-time criminals aren't daft – they target the celebs for a big payday.
Rob Halligan
42
Posted 13/02/2021 at 10:04:39
As many of you might be aware, I was speaking to Ancelotti's son-in-law the other day. He told me all the family love living in Liverpool and are really settled, so let's hope this doesn't put them off.
I live in the South end of Liverpool and know exactly where Carlo's daughter lives, so while she was probably traumatised from what happened, she should have no fear about any such events happening to her house.
Has anybody thought that this could be Liverpool fans, trying to put the frighteners on Carlo and his family, and force him out the club? Are they suddenly fearing we are about to take over world football under Carlo and want to put a stop to it, or are they just brain dead dickheads, like the ones who broke into big Dunc's house? Either way, let's hope they're caught and dealt with.
Phil Wood
43
Posted 13/02/2021 at 10:06:33
Stereotyping or not, I think we can all agree that these persons are scum.
This has got to unsettle Carlo and his Family. Hope they are strong enough to ride this out and enjoy happy lives in our area.
Paul Smith
44
Posted 13/02/2021 at 10:13:55
It's awful news all the same and a real concern in terms of Carlo's experience being a positive one.
Where's Ricky Oak, he'll be able to tell us why the RS are behind it. ;)
Malcolm Murphy
45
Posted 13/02/2021 at 10:15:13
It appears Carlo has turned down the offer of two rotweilers, preferring Duncan to sleep on the couch for a couple of nights... doubt they'll come back!
Mick Conalty
46
Posted 13/02/2021 at 10:24:17
What's the chance of the offender's waking up with a horse's head at the bottom of the bed!!!
Stephen Brown
47
Posted 13/02/2021 at 10:27:09
Give the Ancellotti family what they want in the house! 24-hour guard, alarms, CCTV.
A public show of solidarity from Blues in the city too!!
David Pearl
48
Posted 13/02/2021 at 10:27:30
Poor girl first of all. Thankfully she was not physically harmed.
I moved out of Liverpool and l don't like saying it but l'm sick of the place. I've been burgled twice. First time, l wasn't in and they cleared the place of what they could carry. Second time, l was confronted by 3 of the bastards. I fought two and then another was behind me, so l pushed them off and locked myself in the bathroom.
Busies did nothing both times. Getting your head around the fact that there are so many rats around that think nothing of doing this... what can you say?
Andy Wall
49
Posted 13/02/2021 at 10:54:51
Paul Smith.
People worse than the burglars are liberals like you, who defend the smackheads and burglars and make them out to be a victim. A massive percentage of all burglaries are committed by smackheads. And the North West has been ravaged by high-profile break-ins, way more than rest of the country. Don't give us this prejudice bollocks and stereotyping crap.
Alan J Thompson
50
Posted 13/02/2021 at 11:01:07
Some years ago, not in Liverpool, my lady and I were going overseas on holiday for a month or more and she asked her sister's brother-in-law, a policeman, if we should tell police the house would be empty for a while.
His answer was that we should only do that if we wanted to be burgled. If we told nobody and got burgled then that was bad luck but he was fairly sure that we would be if we notified the police. When asked why, he advised that some police kept files on drug addicts and would tell them which houses they should break into and where to take any goods, and if they didn't, they would arrest them on the basis of what was in the files.
Anyone know anyone who has been burgled and police attended or did they have to make an appointment to see an officer at the station and get a number for the insurance?
Dave Abrahams
51
Posted 13/02/2021 at 11:03:43
My thoughts are with Carlo's family, especially his daughter, what a terrible experience for her. It's a big trauma getting your house broken into, never mind being confronted by them, hope they can all move on from it but it's not a nice feeling and doesn't leave you for quite a while.
Brian Harrison
52
Posted 13/02/2021 at 11:12:12
To think all Carlo has done since being here is to tell the world what a great place Crosby is to live in... then this happens. Hopefully Carlo will realize that every city has scumbags like these, and he will bolster his security so it doesn't happen again.
He may decide to move to the leafy villages of greater Manchester, like quite a few of his predecessors, which would be a great shame, as I like the fact unlike any other of our managers he chose to live within a short bike ride from the city centre.
Unlike many managers, nobody has a bad word to say about Carlo, not only an exceptionally talented man but very popular amongst his peers which is a rarity in itself. I am sure many Blues will let him know how much he is liked and hopefully the police may find the perpetrators of the crime.
Mike Doyle
53
Posted 13/02/2021 at 11:21:54
Sadly no great surprise as high-profile people are often the target of such individuals.
Aside from Duncan catching burglars in the act, there have been plenty of stories of footballers across the country targeted – often while matches were being played. I think "Stevie G" was targeted a few years ago and near where I live the homes of several Chelsea players have been targets also.
Hope this doesn't put Carlo and family off the area as it is nice to see someone with his profile embracing the area where he works.
Bobby Mallon
54
Posted 13/02/2021 at 11:23:29
I wouldn't put it past a couple of red shite bastards to have done this, just to upset the apple cart that's growing into an orchard. The reds hate how well we are doing.
Tony Everan
55
Posted 13/02/2021 at 11:40:53
Scum, bringing Crosby and the city into disrepute. I hope the police can somehow find them.
As I hail from Crosby, I feel let down by these thieves singling out someone who has been nothing but positive for Crosby and the whole of Merseyside. I hope Carlo knows he will have the total support of the community, who will be appalled and I hope his daughter and family are okay.
Michael Williams
56
Posted 13/02/2021 at 11:55:03
Something like this could very well make Carlo want to leave for good, especially that is daughter was there alone.
Danny Broderick
57
Posted 13/02/2021 at 12:08:13
He's not going to leave Crosby because of this. He probably will beef up security at the house though.
It won't be long before the perpetrators for this are caught. Lots of those big houses on that road have CCTV. Straightaway the police will get an idea of how the culprits arrived at and left the scene – presumably by car – and they'll piece it together from there.
Paul Smith
58
Posted 13/02/2021 at 12:19:35
Andy Wall – you're entitled to your opinion mate. Heroin addicts are often victims of abuse (as children) so yeah, I will defend them. It takes one fucked-up person to buy an unknown powder off a shifty fella and inject it into their vein, not caring if they die or not. Your simplistic perspective keeps people addicted.
Tom Bowers
59
Posted 13/02/2021 at 12:31:10
Sadly there is scum everywhere and that won't change much as long as the punishments amount to little more than a slap on the wrist to these bottom feeders.
As long as we have bleeding-heart parole boards etc letting many of them back into society after hardly serving half of their full sentences, then many of them will carry on their nasty work against good people.
Ian Riley
60
Posted 13/02/2021 at 13:06:05
My thoughts are with Carlo and his family. Took a chance to be part of the Liverpool community. Hopefully, he will stay in the city.
All sounds a bit professional to be addicts. We must remember as we call doctors, lawyers, teachers and nurses 'professionals' – so are burglars. They must plan as much as I do for surgery. Surely not all burglaries are done by drug addicts?
This is not isolated to Liverpool but society as a whole. Until sentencing reflects such hideous behaviour, it will only get worse.
On the drug addiction topic. Please remember addicts live in big houses as well. Furthermore, addicts are not born addicted to substances. Not everyone can pull themselves up. Sadly vulnerable people are targeted to take drugs. More government addiction programs are needed. Addiction can happen to anyone. No-one is immune from addiction.
Kev Jones
61
Posted 13/02/2021 at 13:16:00
I'm angry and disappointed to hear about the burglary. Burglars are not scum. They are people who have broken the law and should be held accountable. Thanks to Paul, Alex and others for speaking up on the dangers of stereotyping.
Paul Hewitt
62
Posted 13/02/2021 at 13:29:11
Let's hope Usmonov has his people looking for these two scum bags. And delivers natural justice.
Anthony Murphy
63
Posted 13/02/2021 at 13:42:17
Kev, sorry but those who break into others houses are the scum of the earth.
Billy Roberts
64
Posted 13/02/2021 at 13:54:31
Paul Smith, Kev Jones,
Well done for speaking up for all the hard-working heroin addicts out there and all the good-natured burglars who are misunderstood. It's good to know there are people like you out there that care.
"Carlo will be pissed"? I think if you and your family have been through that, you will be more than pissed off, I think 'traumatised' will be more accurate.
The dangers of stereotyping herion addicts and burglars is clearly more important though.
Sean Kelly
65
Posted 13/02/2021 at 14:11:58
Redshite scum
Paul Birmingham
66
Posted 13/02/2021 at 14:18:19
For fuck's sake, there's no excuse for any member of society to go robbing. If every one took that stance, then it would be a very difficult road in life, there would be war.
What gets disclosed remains to be seen, but it follows a list of footballers in the northwest who've been robbed and I'm sure someone knocked off Shandy Andy's dog when he was with Everton.
Having been burgled myself in the early 1990s, the sense of sanctity is broken, but human spirit and belief gets you through it, but the place is not quite the same again.
Sean Kelly
67
Posted 13/02/2021 at 14:27:35
Paul Smith and Kev Jones,
I despair at your ever forgiving attitudes. Having been the victim of this crime in the past, I can tell you not once did I feel the need to sympathise with the pricks that wrecked my home. Material things can be replaced but the devastation caused to loved ones is incomprehensible to the likes of you.
You are entitled to your opinions of course but the perpetrators are not the victims. I hope you never encounter anything like this.
Kev Jones
68
Posted 13/02/2021 at 14:27:43
Paul H #62, Vigilante justice? Usmanov and his people are well used to acting outside the law, witness Putin trying to murder opposition leader Navalny.
Billy #64, I've been burgled and mugged so understand something of what Ancelotti and his daughter might feel like.

Paul Smith
69
Posted 13/02/2021 at 14:36:28
Let's lock everyone up and throw away the key firm are out. Fuck rehabilitation, let's leave that to the sensible and civilised societies.
Jack Convery
70
Posted 13/02/2021 at 14:37:08
Two people have committed a crime that leaves the victim(s) feeling angry, violated and vulnerable. Feelings that will remain for quite a while to say the least. One can only hope that Carlo and his family recover the trust and joy they obviously had in living in Crosby.
I sincerely hope, that someone who knows who these people are, will do the right thing asap and that the Police and the Criminal Justice System, do their best to bring a long custodial sentence to bear.
I know I speak for all Evertonians when I say our thoughts are with you and your family.
Kevin Molloy
71
Posted 13/02/2021 at 14:37:29
From what we know, this isn't scally smackheads. This is organised crime. And Liverpool tolerates this state of affairs more than a lot of cities, for complex reasons. Remember Gerrard talking about 'Uncle Bobby' like it wasn't something to be ashamed of?
This is the downside of thumbing your nose at the authorities (for what may or may not be understandable reasons), there is reduced buy in or faith in the symbols of society, and toleration of the forces which undermine it.
Thomas Richards
72
Posted 13/02/2021 at 14:40:04
Anyone who goes into someone's house should not complain when retribution arrives. They started it.
Colin Glassar
73
Posted 13/02/2021 at 14:48:35
Absolute filth these scumbags. I don't care if the victims are rich or poor homes should be off-limits. I hope the girl is okay.
A few years ago, my younger brother did a Duncan Ferguson and put some fella in Walton hospital for a few weeks. Not only was my kid brother arrested but the fella sued him. I won't go into the rest.
Ian Riley
74
Posted 13/02/2021 at 14:49:57
Think we are missing the point here. Stealing should bring a jail term. Addicts need rehabilitation. Addicts that steal should still feel the full force of the law. Addiction does not prevent you from knowing what is right and wrong.
I believe addiction may be used as an excuse for our behaviour. No!! Do the crime do the time! Simple really.
Bill Gall
75
Posted 13/02/2021 at 15:12:05
I believe Ancelotti's Italian friends will not take too kindly at this and, if the people who done this have any sense, they'd better move as far from Liverpool as possible.
As has been quoted, Liverpool is becoming a hot-bed for organized crime, and the government should be providing more financial aid to combat it. There are plenty of people in Liverpool who are broke and hungry but don't turn to this type of behavior. These are the people who need help, and not the scum who done this who will be protected by the gang culture.
Sean O'Hanlon
76
Posted 13/02/2021 at 15:19:24
If we get beat by Fulham, we'll have a ready-made excuse:
We were robbed!
Bill Rodgers
77
Posted 13/02/2021 at 15:27:09
It's our own fault. We joke about the "salt of the earth", we tolerate constant low-level antisocial behaviour, but most importantly of all – year after year – we re-elect councils that have no idea or intention of reforming our inept police.
Thomas Richards
78
Posted 13/02/2021 at 15:29:45
If the Tories hadn't slashed our funding, we may have been able to do things differently, Bill.

Will Mabon
79
Posted 13/02/2021 at 15:30:51
Darren @ 1,
I just heard minutes back, came and opened the thread, and your first paragraph is exactly what came to mind when I heard.
Of course, every crime in Liverpool/Merseyside region is treated as ten fold of elsewhere, in certain parts of the media – "Hub cap" jokes just dying out decades after they stopped being fitted.
Lucky that Ancelotti's daughter's possible bravery/curiosity didn't get her hurt, which is the main thing above all else.
Drugs or not is not really relevant, nor an excuse – conscious criminal motivation was the cause.
Colin – your brother; been there, back in the '90s, in "Safe", leafy Cheshire at the time. I can take a guess at the rest.
Next step now is annoying, extensive fortification, and off-site 24-hour monitoring systems etc. Then a case of seeing if the discomfort fades over the coming months, and the "sense of sanctity", as Paul calls it, returns.
Will Mabon
80
Posted 13/02/2021 at 15:32:35
Sean :)
Joe McMahon
81
Posted 13/02/2021 at 15:32:48
No one wants scum to break in thier home, it doesn't matter how much money someone has, it's their home. Must have been a terrifying experience for Carlo's daughter, and it will unsettle her for a long time. Carlo has spoken so positively about Liverpool and the area too. I hope these ferrals are caught.
Jay Evans
82
Posted 13/02/2021 at 15:53:31
Rats.
One of the lowest forms of so-called humanity, these individuals are. And statistically, the offenders will have been addicts. Maybe not heroin addicts, but addicts. Crack perhaps? Who knows? And more importantly, who cares? They are just rats.
The good news, however, is that there is no honour amongst thieves and, one way or another, a big gob on one of these criminal masterminds will say something they shouldn't.
"Loose lips sink ships" as they say, and once the name is out in circulation, they will be dealt with.
Rehabilitation? – sorry, Paul, but I respectfully disagree with that notion in circumstances such as these.
Darren Hind
83
Posted 13/02/2021 at 15:53:42
I don't see any stereotyping here to be fair. We are all on the same side.
Scouser's have long since had to live with the stereotypical image in the media. Most people who looked for work outside the City during the Thatcher years would have experience "that" reaction as soon as they opened their mouths.
National newspapers and media have peddled this image of the thieving work-shy scouser for years. Comedians like Harry Enfield have made "harmless" comedy sketches. Even our own Carla Lane peddled the myth of the lovable workshy scally.
The thieving Scouser became as much folk law as the "tight Jock". the "thick Brummie", the Welsh sheep admirer, and the "North-east dentist dodgers" (although, it has to be conceded, the last one deffo has legs).
I don't care if there is a thousand break-ins a night in Manchester. London or Birmingham. One break in in Liverpool will get more headlines – watch this story fly.
When I left Liverpool for work in the seventies, me mam's house was knocked down and she moved to a new house just off Boundary Street. I was worried. Me arl fella had not long gone and there were some well known hard men in the street she was moving into.
I needn't have worried. She and the rest of the "golden girls" were treated like queens. The people in the street looked after them as if they were their own mams.
Woe... and I do mean woe betide anyone who gave these "arl ones" any grief. There probably wasn't a safer place in the country for them.
This is not something that happened only in the past. Since I moved back, I have seen people in this City going to extraordinary lengths to look after each other... this is how we do it.
Unfortunately, there is no getting away from it. We do have our fair share of idiots and gobshites who will always give the papers an excuse to talk about the "thieving workshy scally". It helps them get past the fact that their own cities are riddled with lowlife.
I'm a bit of a bleeding heart liberal with regard to judicial punishment but, when somebody enters the home of decent honest family, all bets are off.
Duncan Ferguson had a good way of dealing with these life-wreckers. Jamie Crowley (of this parish) has a better one "Swiss cheese" is the way he described what his retribution would look like.
Liked it then. Like it now

Bill Gall
84
Posted 13/02/2021 at 15:59:12
Thomas #78,
I well believe your comment on the Government. I live in Canada now but I was born and worked in England for over 20 years. I have been receiving the pension I earned since 2005, but do not receive any increases on it over the years. We are told this was an agreement with the Commonwealth countries years ago but knew nothing about it.
If some of our Everton supporters have children who have emigrated to a Commonwealth country and would like to retire with them, beware your pension will be frozen.
Don Alexander
85
Posted 13/02/2021 at 16:13:26
Well said, Dazza – genuinely.
Kevin Molloy
86
Posted 13/02/2021 at 16:20:31
I feel that take is about 30 years out of date Darren. Have you been to Norris Green, Anfield or Walton recently? Still run by kids on bikes who do jobs for and get backing from gangs further up the chain.
And I don't see how you can laud 'hard men' by which I assume you mean career criminals, and then draw a cliff edge at household burglary. The two go hand in hand.
Thomas Richards
87
Posted 13/02/2021 at 16:23:29
Thanks Bill.
Same with the NHS.
They are not overun and unable to cope with the workload because of Covid-19. It is due to the way Tories have deliberately run the NHS into the floor. Savage cost-cutting while encouraging private health care is the reason they are overwhelmed.
Graham Hammond
88
Posted 13/02/2021 at 16:31:55
Thomas Richards #87. Nailed it there with his comments on the NHS.
Hugh Jenkins
89
Posted 13/02/2021 at 16:45:29
I see that in the BBC News report on this incident, they decided to actually name the street.
I ask you?
How bloody stupid is that?
I've always believed in freedom of the press, but I also believe in responsible reporting!
Surely it is sufficient for the purpose of the report to say that his home in Crosby was burgled, without the need to name the street?
If I was a resident in that area, I would be furious with the BBC over this.
Kieran Kinsella
90
Posted 13/02/2021 at 16:46:22
Darren
That supposedly funny Harry Enfield skit ruined one of my mates life. He was a Liverpool fan from St Helens whose family moved South. He was relentlessly bullied.
Any time someone's tuck money went missing he was the prime suspect. He was a nice kid, but became an extreme introvert — still is.
The irony was, that at our school everyone supported Everton. It was required as the school chaplain from Merseyside was an Everton fan. Everyone aged four was indoctrinated for life.
But most of the kids were too thick to associate the team they supported with the city they're from and so this kid and his whole family were harassed and bullied for years with the mildest abuse being people impersonating Harry Enfield.
Thomas Richards
91
Posted 13/02/2021 at 16:54:02
Kevin 86,
Miles out, mate. The two do not go hand in hand.
House burglars deserve everything they get. And to add to that, the house robber usually gets a walkover in court. The person taking retribution, if caught, ends up living in Hornby Road.
Darren Hind
92
Posted 13/02/2021 at 17:04:08
Yeah Kevin I know mate. I've seen it.
But my Liverpool will prevail over yours... It has to.
Paul A Smith
93
Posted 13/02/2021 at 17:08:25
Paul Smith is right: it's not always addicts and especially Heroin addicts committing these burglaries now.
That was the case while I was growing up but it's not now. I have seen cases of people from decent families locked up for burglaries in the recent past.
Society has a major problem in economic division now and a person not so well off may rather steal for a living than work for not great money.
It's also a buzz for these people and not always youngsters committing the crime.
Going forward, I can't see many poorly paid jobs being offered to people either and more of this news being a result of that.
Ian Riley
94
Posted 13/02/2021 at 17:31:04
Paul #93 you make good points. Career thieves get a buzz from stealing as people do gambling or taking drugs.
Let's be careful here. We are assuming these thieves are from Liverpool? Why name the street? Carlo and his family with other residents must feel safer now! Unbelievable and what purpose does that serve?
Crime will escalate if the police, councils, and government don't come together. Community is dead sadly. People just don't know who their next door neighbour is let alone who lives across the road. The police need to be more visible. That's the real problem.
Kevin Molloy
95
Posted 13/02/2021 at 17:35:23
The BBC at the moment are like King Midas in reverse, everything they touch turns to shit.
Kevin Molloy
96
Posted 13/02/2021 at 17:37:06
Thomas,
Why do you think I am miles out when I contend that the presence of career criminals and the prevalence of household burglary go hand in hand?
Paul A Smith
97
Posted 13/02/2021 at 17:38:02
Ian, I can't see the problem getting any easier for authorities to stop it or less crimes on homes once furlough stops?
I can't see where the money comes from to keep people from crime or to prevent it.
Stay vigilant and alert is all I can suggest to anyone for the future.
Danny O'Neill
98
Posted 13/02/2021 at 17:43:24
You raise a really interesting point Paul A Smith.
Society has always had an economic divide. There have always been those on low wages and low paid jobs. There have always been criminals and thieves. In Liverpool, in the UK, globally.
I don't think it is a modern phenomenon.
Arguably the only difference now is the entitlement. More people now seem to think that if they can't have it, that's not their problem, they're going to help themselves anyway, regardless of whether they can afford it or not, even if that means helping themselves to someone else's.
Not how I was brought up. And I am not from a privileged background.
Thomas Richards
99
Posted 13/02/2021 at 17:46:10
Kevin.
You were miles out when you "assumed" the hard men who dealt with house burglars were carreer criminals.
Kevin Molloy
100
Posted 13/02/2021 at 17:55:16
Thomas
how do you know?
Barry Rathbone
101
Posted 13/02/2021 at 18:03:29
I moved out of the city in the 80s and can assure the overly sensitive that most beyond the confines of Merseyside enjoy the city and appreciate the locals. But, as with most stereotypes, a grain of truth exists which is exacerbated every time our lunatic neighbours have a big game and let loose their heathen following.
Notwithstanding that nobody outside of the area gives a shit about Liverpool and its perception.
Drop the martyr act.
Thomas Richards
102
Posted 13/02/2021 at 18:15:46
How do I know what, Kevin?
Brian Williams
103
Posted 13/02/2021 at 18:17:39
Barry #101. That's a somewhat brave and very incisive post mate.
Barry Rathbone
104
Posted 13/02/2021 at 18:21:20
Appreciated, Brian @103
Anthony Jones
105
Posted 13/02/2021 at 18:30:38
The reality is that the crime rate in Liverpool is high. The broader socio-economic metrics are poor. It is sadly entirely logical that well known extremely wealthy individuals are targeted.
Worse than this though is the mindless antisocial behaviour that serves no obvious purpose.
Paul A Smith
106
Posted 13/02/2021 at 18:30:55
Danny its a not a new thing or modern fad its just bigger now. People want the bling and I have tapped on social media madness before but that causes a lot of the fall out.
Everything is in our faces. Luxuries and riches are posted in our faces daily. I work for a living and love a luxury but we are all different.
I see luxuries as a bonus and appreciate them. Some want to flaunt it. The people left behind want to catch up.
There is a stat in America and I think its the top 3% are richer than the other 97%. It's near enough that anyway. It's similar here and getting worse.
Look at the crimes in America and how young hoodlums over here want to catch up with the riches. Car jacking, hostage jobs, threatening life with weapons, you name it.
I am not speculating on where these thieves come from but, if they did live in the city, it's no suprise is it? Every city has its dirt and code went out of the window years back.
Paul Hewitt
107
Posted 13/02/2021 at 18:35:20
Do what the Saudi's do. Chop there thieving little hands off. Won't do it again, I guarantee.
Paul A Smith
108
Posted 13/02/2021 at 18:52:24
When Darren mentioned 'hard men', I didn't assume that meant they were criminals; is that what Kevin is saying or assuming?
Back in the days he mentioned, a working man could fight a criminal and that was the end of it, even if the working man was harder.
It's not the case now. The working man could be shot for standing up for himself. Respect doesn't live in today's world and the average person is scared to lose face.
I assumed Darren was reffering to Respect. Society in general knew when to stop and when you looked a wrongun in the community. Nowadays, society is shameless.
John Keating
109
Posted 13/02/2021 at 18:54:09
I don't know anything about statistics or whatever but what I do know is that there is still, whether we like it or not, a bit of protection given to locals by local criminals.
I'm not saying in all of Everton but in bits, certain things are off-limits and, if not strictly adhered too, then there is severe retribution, especially if the crime is against any long resident oldies.
Obviously it's not like the old days when you could leave your front door open; however, if certain front doors are opened today, those opening them will never do it again.
Andy Crooks
110
Posted 13/02/2021 at 19:08:49
Biggest deterrent to thieves is not so much draconian punishment but the thought of being caught. The vast majority don't. Some is down to lack of resources, much down to lack of desire.
My local butcher advertised a Valentine's Day special in his shop window. Buy two prime steaks and get a free bottle of wine.
Some law-abiding snitch contacted police who arrived quickly at the crime scene, in numbers. Removed poster and confiscated wine. Reporting burglars in your house usually, if the police are being especially on the ball, results in some victim support leaflets being delivered to you, often as quickly as a week after the burglars escape.
Seems to me that policing is often at the convenience of the police.

Danny O'Neill
111
Posted 13/02/2021 at 19:18:12
Agree with all of what you say @106, Paul, and your last succinct sentence @108 sums up better in 4 words than I tried to say in an entire post.
Kevin Molloy
112
Posted 13/02/2021 at 19:27:28
Paul and Thomas,
Yes, the context in which Darren mentioned his mum's new neighbours sounded as though he was using 'hard' as a euphemism for people operating outside of the law. 'Hard' of course doesn't always mean 'criminal' but I got the impression it did here...
Thomas Richards
113
Posted 13/02/2021 at 19:31:25
Paul A.
Every area had hard men years ago. Men who could, with a word, put a stop to any nonsense. The local people went to them for help if they were troubled with anything.
None of the ones I knew were criminals. All hard working men, full of respect for their communities.
The way a few shithouses running around the streets nowadays conduct themselves mean the protection they offered couldn't happen in the modern-day.

Paul A Smith
114
Posted 13/02/2021 at 19:53:16
Not sure, Kevin, but I do doubt it mate. I remember, as Thomas says, there were tough men that kept away from crime but, to add to that, it took a certain toughness or brave man to be a criminal too.
Again, these days, you need a weapon and a lack of respect. I'd bet every poster on here knew a likeable criminal or one that was popular enough if you didn't like them.
All I seem to see now is cowardly acts from thugs that can't respect their own and can't bear authority.
James Lauwervine
115
Posted 13/02/2021 at 20:07:08
Fucking bastards. I want to say I hope losing the safe isn't too big a problem for Carlo, but that sounds ridiculous. What is the point of a safe after all if not for important/valuable things. Hope they blow themselves up trying to open it.
Seb Niemand
116
Posted 13/02/2021 at 20:11:58
Sounds like Carlo needs to hire Big Dunc as a security consultant. There's a fellow who knows how these vermin should be dealt with
Tony Marsh
117
Posted 13/02/2021 at 21:00:04
Stinking Scumbags. Burglary for me is on a par with peadophilia. 62-year-old man's house with family... what lowlife shitheads. Kopites no doubt. Plenty of the Kopites posting jokes about the robbers on social media. This is why I detest Liverpool supporters, including friends of mine. Kopites want all the support, pity, and unity when it suits their agenda but it's never reciprocated. Carlo needs to get out of there pronto.
Danny O'Neill
119
Posted 13/02/2021 at 23:00:28
There is a definite difference between the hard man of the community and those who intimidate and instill fear through reputation of being "hard".
Brendan McLaughlin
120
Posted 13/02/2021 at 23:05:55
Jesus Danny O' #119,
Tell that to the people who are on the receiving side... no difference if a family suffer.
Danny O'Neill
121
Posted 13/02/2021 at 23:08:51
Appreciate that Brendan. I just get the points being made above.
Brendan McLaughlin
122
Posted 13/02/2021 at 23:30:16
But Danny,
The families on the receiving end won't get the "points above" – they've probably suffered too much?
Danny O'Neill
123
Posted 14/02/2021 at 00:11:37
I get what you mean, Brendan. Despite the varying opinions on here, we are probably all in unanimous agreement.
Genuine hard men weren't necessarily intimidating bullies who made people suffer. I think that was the point being made.
Brendan McLaughlin
124
Posted 14/02/2021 at 00:26:45
Sorry, Danny... genuine hard men?
Do you really think it matters? I think the point that was being made was that there was "good" hard men and I don't think so. There's right & wrong Danny... surely?
Danny O'Neill
125
Posted 14/02/2021 at 00:44:06
Absolutely, Brendan. I think that is the big difference. Realising right from wrong. That is fundamental. You can be handy with your fists, or you can be strong with the brain. Either way, use it wrong and you are a bully. Physically or mentally what stops that is what you say, understanding right from wrong.
Brendan McLaughlin
126
Posted 14/02/2021 at 01:41:32
Ha ha Danny O,
Tried my best but couldn't fall out with you... you're one of life's good guys; actually there's a few on here!
Bill Gall
127
Posted 14/02/2021 at 01:48:24
I suppose it is your own definition of what a hard man is. I consider my father-in-law a hard man who lived in the 4 squares. Enlisted in the war with the Royal Artillery, I believe, and then volunteered to join a group that was the start of the commando regiments under the command of an officer, Orde Wingate, I think his name was – and if you look him up, he was a nutcase.
They were called the Chindits and were sent to Burma to fight the Japanese in the jungles. Will not talk about what went on there, but he arrived home after the war nearly a year after it was over, and suffered with malaria.
After the war, his pride and joy was his rose garden andhe would cycle back and forth from Croxteth to Garston to work. And, with many like him, they are who I considered 'hard men'.
Alan J Thompson
128
Posted 14/02/2021 at 05:37:02
My father used to have an expression which was rather more a rule of life; "Never shit in your own nest", and, while you might know who were the knockoffs in your street, they never stole from or went out of their way to cause trouble with the neighbours.
It probably wasn't right then but, to a great extent, it is non-existent now. To misuse another phrase from that time; "I'm al(l)right, Jack" which seems more than evident during this pandemic.
Kev Jones
129
Posted 14/02/2021 at 09:43:05
Reading the thread has been like walking past a wire mesh fence barely holding back a vicious guard dog.
Len Hawkins
131
Posted 14/02/2021 at 10:17:29
Unfortunately, this Country has become open house for criminals. Tories cutting the Police to the bone... then there is the Crown Prosecution Service who are top of the tree when it comes to failure.
I've seen programmes on tv where a burglary has been committed and a car stolen from the property. When the Police stop the car and arrest the driver who has the car keys the CPS offer no case due to insufficient evidence.
So do they believe that, within a short time of the 3 am robbery, someone has just passed on a brand new car with it's keys to a perfect stranger free of charge. It is a complete and utter joke.
Perhaps the Cosy Nostril may chance upon the culprits.
Sean Callaghan
133
Posted 14/02/2021 at 10:35:59
Cosy Nostril, Len? Either a work of genius on your behalf or the best spell check error ever.
Paul Smith
134
Posted 14/02/2021 at 10:46:56
Can I be clear, rehabilitation does not mean not being punished. Of course jail should ensue for domestic break-ins, it's traumatic for the victim (so is prison btw) contrary to the PlayStation stories, been enough times myself.
Also, the Crown hates domestic break-ins and is not lenient to perpetrators (another myth), perpetuated by clickbait narcissists to stoke anger & division.
People need hope and work needs to pay off. We need better role models. Growing up in Liverpool in the 80s was interesting, the men left either to work or graft (commit crime elsewhere) often lauded for their endeavours, we looked up to them. After all, everyone hated Scousers, just look what Thatcher did, so it was justified and made okay.
I moved away at 16 (couldn't get away quick enough); dark days the 80s. I'm a proud Scouser and I have experienced judgment and respect in equal measure. Going home is great (I still call it 'home') but my peers are very parochial in their attitude. I think it cements the Scouse identity and protects the culture but can come across as arrogant and blinkered.
I have lost my accent – it's easier to be understood and maybe it's a survival technique in the South. I will always be a Scouser at heart.
Tony Abrahams
135
Posted 14/02/2021 at 10:48:26
Paul A @108, nails modern-day life for me in this post. Although I've personally always hated authority, I've always been able "to respect" authoritive figures, as long as they don't act like they did with Andy's local butcher!
Mike Doyle
136
Posted 14/02/2021 at 11:18:32
As someone born & raised in Old Swan but who has lived in Southwest London for 30+ years, I think that the Harry Enfield / Thatcher image of scousers is increasingly a thing of the past.
During the last decade, plenty of people I work with have visited the city for stag nights, mini-breaks, exhibitions etc and all have commented on how impressed they were with the city and the locals that they met (my son attended LIPA and confirms a similar reaction from the families of his fellow students from Scandinavia).
Admittedly most of these visits were spent in the city centre/Albert Dock area and on organised tours rather the pubs of Walton & Norris Green, but this is how impressions of cities are formed. I've no doubt that the new cruise terminal (I think it's still happening?) will provide the vehicle to introduce and impress more new audiences.

Danny O'Neill
137
Posted 14/02/2021 at 12:40:43
There are more than a few, Brendan, yourself included.
I have my moments, but I'll take that compliment thanks!!
Kevin Molloy
138
Posted 14/02/2021 at 12:43:14
To be fair, the Harry Enfield sketches of scousers were hilarious. It was Carla Lane who did the damage, with that appalling gobshite of a shitcom.
Tony Abrahams
139
Posted 14/02/2021 at 12:58:52
I'd say Liverpool is ranked very highly for a city break, Mike, which makes me shudder when I think about "Maggie's managed decline".
When Liverpool was awarded Capital of Culture, I used to ask many students what their family and friends had said when they said they were going to study in Liverpool? They'd all laugh and then most would then say things like, "why the hell have you picked Liverpool? Have you gone mad" or words to that affect, and then go on to tell me, that they now had visitors every week, and sometimes wished Liverpool wasn't so good because of this!
That's why the Bramley-Moore Dock project is so important imo, because most people's mindset towards Liverpool is so much different nowadays and the scope on our waterfront is incredible. It could conceivably make the city, second only to London, when looked at through a positive lens.
Darren Hind
140
Posted 14/02/2021 at 13:00:54
Barry,
Martyr Act??? On the contrary.
First of all, I simply don't accept that people around this country didn't or don't harbour a pre-conceived perception of your average scouser. I have seen too much evidence of it.
Most of it is playful banter. I've lost count of the number of times I've driven into a different city to be greeted by old side splitters like "Is it (the load) still all there, scouse?"
I spent time coaching at Milton Keynes just after the place experienced a mass invasion from all over the country as people flooded into the "New City" looking for work. Every time – and I do mean every time – a scouse lad would walk into the dressing room, some comedian would say "Look out, lads, hide the wallets."
I've experienced this in ale houses up and down the country for years. Like most prejudice, it isn't intended to be malicious, it's often hidden under the veil of humour... but, trust me, it exists.
Scousers have dealt with this in many ways, but playing victim or martyr isn't one of them. In the past, they would likely perpetuated the perception, playing along with it, throwing in a few comments of their own.
I've seen a real switch in the way Scousers view the outside world too. Years ago, they would travel to other cities looking to mix with opposition fans wanting to share a bevy and some banter... that's all but gone these days. The prejudice did not abate and many scousers decided to actually cultivate the image. They would do things they wouldn't dream of doing at home.
The "we're not English, we're Scouser's" attitude has gathered legs serious legs. In my experience, I think it's gone the other way. The down-to-earth fun-lover has gone and (possibly as a result of years of prejudice) he`s been replaced by arrogance dressed in "North Face". A very definite feeling of superiority. Any fun we have these days is strictly between ourselves.
I think you will find a distinct absence of martyrdom if you boarded a bus or train leaving this city to an Everton game these days... Some of these lads look so far down their noses at people from other cities, they need to pack a deck chair to even know they are there.

Thomas Richards
141
Posted 14/02/2021 at 13:00:58
Paul.
I agree on the rehabilitation of offenders (sex cases excepted), although the obstacles put in front of a lad who made a mistake and is looking to get his life back on track are massive.
I have to disagree on the point re leniency to burglars of working-class dwellings. People who have had their houses done will tell you, police give them a case number for insurance and may get someone calling to the house a week later. Probably a different story if it's a high-end dwelling.
I can only go by my own experience. Many years ago, a family member had their house broken into, nothing of value to take except an old video recorder and telly. They still took it though. The outcome was they still walked around in freedom. I didn't.
An English man's home is his castle? Bollocks, you're not even allowed to protect it.

David Connor
142
Posted 14/02/2021 at 13:09:24
Having been broken into years ago, I can honestly say it is a sickening experience. I feel for Carlo and his family. The only deterrent for these scumbags is life in prison without any chance of release.
Maybe they would think twice. Let's hope the bastards end up wrapped around some tree somewhere in the car they've probably stolen. Tossers.
Danny O'Neill
143
Posted 14/02/2021 at 13:37:44
Agree with a lot of what Darren says. There largely remains a pre-conceived stereotypical perception of Scousers and the city of Liverpool around most of the country. It's a tag we haven't quite been able to shake off since the 1980s.
Yes, mostly it is humorous banter with no malice intended. I often find people are genuinely intrigued and discovering a Liverpool citizen in a bar still attracts much interest. The inevitable first question is "Red or Blue" obviously!
I'm not sure if this is the same point, but I think I have parallels. The psyche of the Scouser has changed too. Obviously I'm generalising now and have raised this on an earlier discussion. A once global facing city that was outward looking, built on Irish immigrants, mixed with merchant sailors from Scandinavia and Europeans who didn't quite make the boat to the New World. The oldest black and Chinese communities in the UK. A people rich in humour, intellect and art.
We clearly still have the latter but the city seemed to become insular and inward looking; defensive almost. It got as bad as arguing about an invisible local political boundary as to whether Kirkby was part Liverpool during the thankfully ill-fated stadium debate. I mean, does anyone want to tell John Conteh (Kirkby), Peter Reid (Huyton) and Steve McMahon (Halewood) they aren't Scousers because they are not from within the city boundaries? Even Spit the Carra-Dog-Lar (Bootle); you can't deny him his Scouser-ship. I'm so glad we've adopted the Liverpool City Region concept, albeit decades behind Greater Manchester that embraced the broader regional thinking in the footsteps of Greater London (which itself is a collection of traditional towns and boroughs).
Mother's tale (so caveat on accuracy), but didn't we turn down the opportunity to develop the Speke Aerodrome back in the 50s because "Liverpool will always be a port"? Manchester said thank you and look at them now. Birmingham will still claim it on population, but Manchester is now the de-facto second city in the UK outside London and we are a regional satellite.
Sorry, that touched a nerve. I appreciate that there are many, many late 20th century political and socio-economic late 20th century factors at play here, so not a dig or slur on my home city by any means, just an observation from an exile.
To finish on a positive and another point touched on above, the regeneration of the city centre is nothing beyond stunning and is painting Liverpool in a much more positive light. Everyone I know has nothing but good things to say about a trip to our city centre. And these are couples and families on weekend breaks, not stag or hen doos. Imagine when our sparkling new stadium is part of that. We are definitely not far from being Thatcher's toilet and have made much progress, but those perceptions are still there however lighthearted, whether we like it or not.
Mike Doyle
144
Posted 14/02/2021 at 14:07:06
Tony #139,
I totally agree that the completion of the new stadium at Bramley-Moore Dock will be a big boost. I'm sure you are correct about the waterfront too.
Like you, I'm old enough to remember what the area around the Three Graces / Pier Head looked like in the 70s – grimy and unimpressive – and a good place to avoid. Today of course it is very impressive and (post-Covid) teeming with both locals & visitors.
I don't know the Bramley-Moore Dock area that well – but north of the tunnel it seems there is miles of waterfront (occupied by old/redundant docks) ripe for development. I wonder if we'll live long enough to see Bootle described as Bohemian??
Graham Mockford
145
Posted 14/02/2021 at 14:18:01
For years, I went along with the exceptionalism of my home city but, having lived in Manchester for the last 20 years, I realised the cultural differences tend to be mostly socio-economic. The lads I drink and play golf with from Salford are no different from those mates I have in Wavertree. The same can be said for the mates I have in South Wales and Sheffield.
The crime stats don't show Liverpool as having any significant difference to any other major city of similar socio-economic profile. Crime and deprivation are inextricably linked.
I also have mates who live in leafy Surrey, now that tends to be a different type of night out...
Barry Rathbone
146
Posted 14/02/2021 at 14:18:15
Darren,
"Most of it is playful banter. Like most prejudice, it isn't intended to be malicious, it's often hidden under the veil of humour... but, trust me, it exists."
So what's the problem?
No one is suggesting these jibes don't exist but, if mostly in jest, why the upset?
Since Adam was a lad, the term "wool" has been thrown at anyone beyond the city boundaries and our wonderful Welsh legions carry inflatable sheep as an ironic piss-take of the epithet "sheep shagger". These terms and many others are so integral to denizens of the locality, there simply must be night school lessons for the mindless in how to perfect being a "professional scouser".
Bottom line is: If we can't take it, don't give it out.
As for the "We are Scouse, not English" nonsense, it is the living embodiment of scouse martyrdom spawned by balloons taking themselves too seriously.
If they had the wit and guile to respond to jokes at their expense, they wouldn't have to resort to the nonsense that empowers the stereotype.
Btw, my away trips through the 70s were considerably different to the picture you paint – more akin to commando incursions into enemy territory, to be honest.
Tony Abrahams
147
Posted 14/02/2021 at 14:24:49
Old enough to remember the Pier Head and Three Graces being very grimy and unimpressive, is definitely the angle that Everton should be approaching the English Heritage Society with, Mike. That's exactly how it looks along this part of the dock at present, an absolute eyesore just waiting to be redeveloped, for the benefit of the whole city.
I don't think I will see it all, but hopefully my kids will, on a magnificent landscape that will definitely make the city of Liverpool great again!
Tony Abrahams
148
Posted 14/02/2021 at 14:32:15
Barry, I didn't mind your first post, but I think you've completely misunderstood what Darren is trying to say, in the sense of young scousers now looking at large parts of England as a bit backward, and carry on accordingly. They don't need either "wit or guile" to respond to humour that just isn't remotely funny.
Dave Abrahams
149
Posted 14/02/2021 at 14:33:11
Bill (127),
I go along with that. I knew quite a few good hard men, who played by the rules, could use themselves, but only if trouble came to them or their families. Good friends but bad enemies and always worked for a living.
Before I moved to Norris Green, I lived off Great Homer Street. A lady who lived not far from me, her house was broken into, she had three young children, her husband had left, she knew who had done the job but had no back-up.
One of her neighbours said "Tell so-and-so your story."
She did so; he asked "Are you positive it was him?"
She assured him that she was. So he went direct to the fella's house, told him he'd give him a week to make sure everything was given back to the lady, if he had sold some of the stuff, then he had better get it back. He knew the score (the shitbag) and the lady got everything back.
You never rob your own, that was the mantra with working class people then... not sure about now.
Thomas Richards
150
Posted 14/02/2021 at 14:39:38
Dave,
That's the way it was in working class areas. And working class areas were made all the better for the presence of these men.
The dogs soon get the message when the message is presented in a certain way.
Barry Rathbone
151
Posted 14/02/2021 at 15:03:24
Tony @ 148
I don't think you grasped the point at all
"they don't need either "wit or guile" to respond to humour that just isn't remotely funny?"
Many of us do find it funny and understand the spirit in which it is given. As I said we give enough out and shouldn't be indignant about getting some back. Certainly never worried me in the slightest
Darren Hind
153
Posted 14/02/2021 at 15:12:30
Barry
There is no other city in the country or any other that I'm aware of, which is subject to this sort of stuff EVERY other City in the country aims at this city. Trust me when I tell the humor disappears very rapidly when those engaging in the "banter" belief they are in a scouse free zone.
You can not escape the fact that this city is unique. no other city receives this attention. No other City has faced a government determined to wipe it from the map. Thatchers government wasnt the first to try to manage the decline of this city. No Other City has faced the sort of distorted misleading negative press this one has faced.
A million and a half Irishmen have come to this city. an estimated 75% of the population has Irish ancestry. That is another factor which makes our City unique.
People have a far greater access to their heritage these days. They will be aware of successive British Governments turning their backs on this City. That doesnt make them "Scouse Martyrs spawned by balloons taking themselves to seriously. It makes them proud people informed enough to know they have had to stand alone.
I don't find it difficult to understand why the citizens of a city would want to turn their backs on a country whose governments have a long history of turning its back on them.
You call it Martyrdom. I call it pride. They stood alone and not only are they still standing, they are thriving.
It does not take guile or wit to counter mindless chants of you stole my stereo..Or sign on with pen in your hand..
BTW Barry thousands would travel to those away matches.. Most would go for a pint and a bit of Craic. Often they would inadvertently witness or get caught up in the violence...but only a few hundred would actively go looking for it.
Danny O'Neill
154
Posted 14/02/2021 at 15:18:29
I like this debate. Not for the "not English but Scouse" reason, I have documented previously that I don't really connect with England.
The UK, yes. But that's probably more down to my Liverpool Irish & Northern Irish roots with some Scottish thrown in as well as serving the Union Flag (not St George's Cross).
I am proud to come from my very unique city and I hold a British (not English) passport.
Graham Mockford
155
Posted 14/02/2021 at 15:31:02
You can not escape the fact that this city is unique. no other city receives this attention. Not other City has faced a government determined to wipe it from the map
Tell that to the mining communities of South Wales, North East and South Yorkshire. Tell that to the residents of Grenfell. Go back a little further tell that to the residents of Manchester after Peterloo.
Exceptionalism and self aggrandisement probably makes everyone feel a little better but essentially power has tended to prey on working people regardless of their city of origin.
There is a good reason the average life expectancy of a man in Salford is 72 and in Hammersmith it's 82
Thomas Richards
156
Posted 14/02/2021 at 15:31:03
The city is now thriving, the old prejudice is rapidly vanishing.
It was undoubtedly there, no dispute on that, but the more tourists that stay in the city and report back to thier friends on the positive side of our city the more people will visit.The more the preconceived ideas will disappear.
Try booking a hotel room at the weekend in the city centre.
Look at the 62 on a Friday /Saturday
Mini buses from all over the country on the way in.
Sooner we get back to that the better.

Barry Rathbone
157
Posted 14/02/2021 at 15:35:03
Darren
"sort of stuff from EVERY other City in the country aims at this city"
What stuff are they saying about us Coventry, Truro, Gloucester?
"Not other City has faced a government determined to wipe it from the map."
I'm guessing that's why Heseltine was given the freedom of the city
 proud people informed enough to know they have had to stand alone.
See Heseltine
You call it Martyrdom. I call it pride.
A difference of opinion which, much like the japes you admitted as mostly jest, I find difficult to get het up about.
But carry on
Barry Rathbone
158
Posted 14/02/2021 at 15:37:27
Graham 155
Excellent observations
Thomas Richards
159
Posted 14/02/2021 at 15:38:20
Difference in the mentality of scousers, Graham.
We don't forget what the Tories attempted in our city and act, vote accordingly.
Some people in the mining areas you mentioned forgot the previous brutality and elected Tory MPs.
Graham Mockford
160
Posted 14/02/2021 at 15:41:10
Yeah, those Tory hotbeds of South Wales and Barnsley.
Dale Self
161
Posted 14/02/2021 at 15:42:16
Payback for the Lord Percival thing? Joking there, don't know enough history and shouting that from across the pond. I'm a digital heathen.
Tony Hill
162
Posted 14/02/2021 at 15:42:56
I think Liverpool is one of the most complex and fruitful cities in the world. It is proudly of the Left, open to all-comers and it is going to be increasingly pivotal post-Brexit.
The measure of the place is that those fascist fuckers who tried to march a couple of years ago were blocked from getting out of the station.
We have every reason to be proud and optimistic and we shouldn't navel-gaze because a couple of dickheads raided Carlo's house, horrible though that was.
Andy Crooks
163
Posted 14/02/2021 at 15:44:59
I know something about the idea of rehabilitation and a fair bit about social inequality and crime. Junkie scum is an understandable but not entirely accurate description of many wrongdoers. Most addicts, and I have known many, do not commit crime because they aspire to a lifestyle that is fed to them on TV etc. They do not envy Bentleys, big houses, bling. They mostly just want to feel better.
Many, not all, get into that unenviable cycle because they are trying to get away from a life that is unimaginable to most of us. Their crimes are usually random, disorganised robbery, petty theft, utterly pointless fraud, often against those closest to them. Prisons are full of them, and always will be, because locking them up is easier but ultimately fruitless. I know that this means nothing to their victims who quite understandably want the key thrown away.
From the little I know of the burglary at Carlo's house, I would suspect we are talking about a different type of criminal. They do see a lifestyle they want and they feel they are entitled to it. They tend to be well organized, remorseless and unceasing in what they do.
Restorative justice, which works well as part of rehabilitation has no impact on this type of person. Ever increasing violence is how they advance nowdays. Not everyone wants to be helped, especially those with a highly developed sense of entitlement to what they want, be it sexual, financial or in control of others. Best thing is to keep them away from the rest of us for as long as necessary. No solution fits everyone.

Thomas Richards
164
Posted 14/02/2021 at 15:48:01
I know you are on the opposite side of the divide Graham.
Dont twist it.
Did any labour seats in mining areas turn Tory?
Danny O'Neill
165
Posted 14/02/2021 at 15:53:17
I find that outside of the (mostly) banter, which yes, is based on those 1980s prejudices, most of the country love it when then find you are from Liverpool. They are intrigued; more so which football team you support and even more so when you declare Everton!
We are different and we are unique. Sometimes in our own mindset. We also have much in common with those areas Graham mentioned but who also have their own unique local and regional identities they feel sets them apart.
I always used to get frustrated with the Scottish "blame the English for our woes" narrative. A Glaswegian has not had it harder than any scouser but the Scottish Nationalists have pounced on that.
I'm not saying a Scouse nation is on the rise, but we need to be careful of that. To Darren's earlier point, the "Scouse not English" sentiment plays into the "self pity city" or "victim" mentality that some will throw at us.
Back to the positives, most people I know are intrigued by Liverpool and those that visit love the place. And that's without the need for my unashamed marketing / sales plug for the old country!!
Graham Mockford
166
Posted 14/02/2021 at 15:53:55
Thomas
Undoubtedly some did, Bolsover, Bishop Auckland, Don Valley maybe a couple more. However the vast majority certainly didn't. Doesn't really support your Scouse exceptionalism argument.
Not sure what divide I'm on the opposite side of.
Graham Mockford
167
Posted 14/02/2021 at 15:55:10
Andy 163
Very well written
Thomas Richards
168
Posted 14/02/2021 at 15:57:36
The Labour/Tory divide Graham.
Dale Self
169
Posted 14/02/2021 at 15:57:52
More of this please. I know I often come off as a smartass but I do sincerely appreciate the back and forth about the city. I'll go stand off to the side within hearing distance now.
Barry Rathbone
170
Posted 14/02/2021 at 16:05:36
Thomas 168
If there is one thing the last election proved is the idea of a Labour/Tory divide is now a fallacy.
Danny O'Neill
171
Posted 14/02/2021 at 16:13:07
It's great discussion Dale.
Andy, I cannot stand theft or taking what is not yours, so will always have a strong opinion on that.
But I also try not to judge people who for many reasons end up in a desperate situation they do not want to be in. I am advocate of making your own choices but appreciate it is not that simplistic for everyone.
A former colleague of mine recently forward assailed down a tower block to raise funds for the homeless. As he put it, most people in the country are only 3 decisions away from being homeless.
Be opinionated. Know right from wrong, but always be humble and have humility.
Tony Hill
172
Posted 14/02/2021 at 16:15:26
There is no Labour/Tory divide in Liverpool. Thatcher wanted to kill our city, the wretched hag, and we have nothing at all in common with the spivs and thieves now in government.
We need to keep our open face and trust ourselves and our canniness. The city has been immeasurably improved over the last 30 years. After the necessary upheaval wIth the Toxteth riots, we have blossomed. We're a key world city and that is going to become more and more evident.
We have problems like anywhere, but we have gorgeous buildings, a great waterfront, a real multi-cultural atmosphere and a welcoming mentality. I'm in my 70s but I've never enjoyed living in the city more than I do now.
Thomas Richards
173
Posted 14/02/2021 at 16:16:12
Not in this city Barry.
Thankfully
Geoff Trenner
174
Posted 14/02/2021 at 16:18:44
The Bolsover result was one of the many highlights of the 2019 election. Skinner got what he deserved, charmless obnoxious man.
Thomas Richards
175
Posted 14/02/2021 at 16:26:01
"Dennis Skinner MP: "Half the Tory members opposite are crooks."
Mr Speaker told him to withdraw.
"OK, half the Tory members aren't crooks."
One of my all time favourite politicians Dennis
Tony Hill
176
Posted 14/02/2021 at 16:31:56
Ha, ha. I hadn't heard that one.
Fuck them.
Graham Mockford
177
Posted 14/02/2021 at 16:44:33
Thomas
That is what assumptions will do for you.
Thomas Richards
178
Posted 14/02/2021 at 16:55:58
Wonderful Graham.
Happy to be wrong
You are a Labour voter?
Graham Mockford
179
Posted 14/02/2021 at 16:58:18
Been a member since 1984. Knocked on doors at every GE since. Mostly Bury South these days.
But you keep assuming mate
Paul Smith
180
Posted 14/02/2021 at 17:02:23
Andy Crooks, that post encapsulates the difference in criminal types. Some need a health intervention alongside punitive measures and some just need locking up. I would wager those who screwed Carlos drum belong to the latter.
Danny Baily
181
Posted 14/02/2021 at 17:02:41
Tony, credit where it's due to Michael Heseltine. He saved a number of those great buildings as well as taking steps to revive the waterfront.
Darren Hind
182
Posted 14/02/2021 at 17:06:37
Devastating as the impact was on mining communities. You cannot compare that to the determination to manage the decline of an entire City ?
They didnt just go fro the one industry here. They wanted the place on its knees. Zero investment.
What are they saying in Coventry Gloucester and Truro ? The same thing they are saying in all the other city's. Anyone who has ever attended an Everton match will have heard half witted songs about "You're Liverpool slums" "Signing on" Thieving scroungers.
No other clubs fans get this sort of shit at EVERY single ground for Every single match simply because of the City they are based in.
I love that Evertonians simply point and mock the idiots singing them.
If you get treated differently. You act differently,
I see no martyrs among our ranks. Just people mocking half witted prejudice and treating it with the contempt it deserves.
Anyway. its rapidly approaching match time and Amazon have not delivered my beer or my Bushmills. I'm off out
Tony Hill
183
Posted 14/02/2021 at 17:11:20
Quite right, Danny, @181 but he was on his own within the Tories.
Graham Mockford
184
Posted 14/02/2021 at 17:16:44
Well I guess if you live in a village where the only work is the mine or the steel mill or the shoe factory or a gazillion other industries you'd feel picked on as well.
To think Liverpool has been picked on as manufacturing jobs have been decimated across working class communities all over the country is exceptionalism at its finest.
In fact at least Liverpool has the advantage of being a major metropolis. Take a wander around Port Talbot or Grimethorpe or Easington and tell me you've had a raw deal
Tony Abrahams
185
Posted 14/02/2021 at 17:20:32
And many of us don't Barry, but each to his own I'd say mate!
Thomas Richards
186
Posted 14/02/2021 at 17:23:21
Even better Graham.
My apologies brother
Tony Hill
187
Posted 14/02/2021 at 17:25:48
Graham@184, there's much truth there. Grimsby is another very sad example. But they need to see who's fucked them over: the Tories and their Blairite business mates. Peerages, backhanders and non-exec directorships all round.
We have a common enemy and I agree it's not about degrees of persecution.
Liverpool, though, has uniquely remained solid in its voting habits. I understand why others have not, but they have been fooled.
Geoff Trenner
188
Posted 14/02/2021 at 17:37:11
Tony @ 187
I understand why others have not, but they have been fooled.
Not as clever as you Scousers?
Thomas Richards
189
Posted 14/02/2021 at 17:42:31
Not as strong.
Tony Hill
190
Posted 14/02/2021 at 17:43:35
It's not about cleverness, Geoff @188, it's about seeing who wants to do you harm and acting accordingly. The voting record of Liverpool speaks for itself.
Colin Metcalfe
191
Posted 14/02/2021 at 17:59:07
Enough of the political chat fellas this is a football site, thx
Kevin Molloy
192
Posted 14/02/2021 at 18:00:02
I think Liverpool should do its best to move from it's 'us or them' philosophy. At the end of the day, we need money to improve the city, and money is normally generated through business feeling confident enough to stay. One of the most emotive images I have seen there in the last twenty years was the presence in the city of cranes suddeny dotted around, like benign mechanical dinosaurs, they were a sign after the chaos of the 80s of a slow return to prosperity.. The whole gig though was funded by that evil capitalist the Duke of Westminster and the Liverpool One project. Sometimes I think we just need to ease off on the politics for a bit and just get on with other stuff.
Thomas Richards
193
Posted 14/02/2021 at 18:01:23
Colin,
Can we have a vote on that
Geoff Trenner
194
Posted 14/02/2021 at 18:07:37
Tony @ 190. But clearly the people of Grimsby couldn't see that. Are they not as clever as you Scousers or are they perhaps able to be more nuanced in their thinking?
Corbyn, McDonnell, Abbott and their band of fellow traveller left-wing nutters lost Labour the 2019 election because they lost contact with and understanding of what the 'working class' believed in and had no appeal to the moderate swing voters. Even on your blessed Merseyside Labour's share of the vote was down over 6% vs 2017.
Disparage Mr Blair all you like, but he is the only Labour leader since Wilson to win an election, and he won 3 by appealing to voters beyond the traditional Labour core. Should this tell us something?
Geoff Trenner
195
Posted 14/02/2021 at 18:10:09
Colin @ 191. If you want to talk about football then 'Burglars target Ancelotti's house' may not have been the best thread to join!
Tony Abrahams
196
Posted 14/02/2021 at 18:25:37
Hopefully the tide is turning Kevin, and once this pandemic is over I'm very, very hopeful that it will🙏
Thomas Richards
197
Posted 14/02/2021 at 18:29:29
Radio interview with Duke of Westminster.
"what does it feel like to be a blue blood"
"I'm not a blue blood.
My ancestors just had the biggest gang at the time"
Always had a bit of time for him.
He made a few quid on the Liverpool One deal as well as it transfoming the city centre Kevin
Dave Brierley
198
Posted 14/02/2021 at 18:36:47
Kevin @192. Couldn't agree more.
Danny O'Neill
199
Posted 14/02/2021 at 18:46:17
Right we have a match to get on with but this is all good stuff.
Kevin, your post is what I say about being outward looking, not insular.
I'm not sure the political voting thing is a positive. Where has it got the city? Manchester and London generally have a mix of Labour and Conservative; both generally Labour in the majority but a counter to the argument. One-party politics can become single-minded dictatorship either side of the spectrum. A healthy balance of opinion and debate is usually the best means of moving forward as it opens the eyes to things we otherwise wouldn't consider or see.
As this site and this thread often demonstrates.
Thomas Richards
200
Posted 14/02/2021 at 18:49:36
Interesting Danny.
The Mersey will dry up the day a Tory MP is elected in this city though, mate.
Kieran Kinsella
201
Posted 14/02/2021 at 20:05:03
Amazing detective work on here. So the suspect is a scally, Liverpool supporting smackhead, Labour voter, neighborhood hard man, one-time mill worker or miner. Who needs police with the ToffeeWeb special branch?
Geoff Williams
202
Posted 14/02/2021 at 22:09:14
After tonight's abysmal performance, I hope his coaching manuals were in the safe.
Si Cooper
203
Posted 15/02/2021 at 03:10:10
Kevin, your assumption of the type of person with mixed morals (gangsters who keep their communities clean of lower level criminals) seemed reasonable given Darren's apparent initial concerns for his mam's new neighbours.
Like you, Thomas's posse of 'Equalizers' weren't what sprung immediately to mind.
Kieran Kinsella
204
Posted 15/02/2021 at 04:12:34
Si
I suspect Darren Hind is one of these gangsters but, like Escobar, he presents himself as a Robin Hood as opposed to the Joker from Batman-like nihilist he is.
Neil Lawson
205
Posted 15/02/2021 at 12:20:32
Terrifying ordeal... but at least the safe has now been recovered. Probably not as easy to open as our defence although, given the team selection and tactics, maybe the combination was 1234.
Kieran Kinsella
207
Posted 16/02/2021 at 01:08:21
What article? I haven't written one as far as I recall in the last few weeks and prior to that, some get a lot of comments, some don't. But I don't have a ticker here to keep track since you asked.
By the way you spelt my name wrong. Easy mistake though kind of like when people say "hind" and others take it to mean "ass"
Darren Hind
208
Posted 16/02/2021 at 05:30:44
You've done two in the last two months. Looking back: One was panned as being "mean-spirited".. "false" "Childish, Petty".,,,,"The worst thing I have ever read on TW" and but for an unrelated spat, was largely ignored.
The other one ? well.. That was kinda just largely ignored.
Seems nobody is interested. At least we both know your reason for incessantly referring to another poster in your Attempts to get some interest.
Knock yourself out lad.
But know this;You people who constantly want to snipe at other individuals from behind your pc would put this site into a self induced coma if your own contributions were left to stand alone
Jamie Crowley
209
Posted 17/02/2021 at 05:34:44
Broke into? What do you need?
Joke.
Jerome Shields
210
Posted 19/02/2021 at 10:14:16
Wishing Carlo and his family a speedy recovery from their ordeal.
---
Add Your Comments
In order to post a comment, you need to be logged in as a registered user of the site.
Or Sign up as a ToffeeWeb Member — it's free, takes just a few minutes and will allow you to post your comments on articles and Talking Points submissions across the site.