Richarlison seeking clarification from Everton over summer tournaments
Friday, 19 February, 2021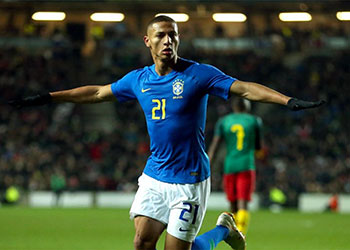 Richarlison is hoping that Everton will release him for both the Copa America and the Tokyo Olympics this summer but may not get his wish.
Despite the fact that he will be 24 when the delayed summer Games come around, the forward will still be eligible to represent Brazil due to special dispensation made by the IOC for athletes born in 1997 and he is keen to take what will be his only chance to compete for a gold medal.
However, as he complained to ESPN Brasil, it doesn't look as though Everton are going to allow him to go to both 2021 tournaments, although it's most likely that the club are not keen on him missing the early part of next season by playing in the Olympics.
It appears as though the club will make a decision in due course but Richarlison has made his desires clear.
"This year there's the Copa America and there's also the Olympics," he said. "It seems that the club doesn't want to let me go, just want to release me to one — I think it's for the Copa America, I don't know.
"I was called up, I told them that I want to go to the Copa America and the Olympics, if I'm called.
"Like it or not, I don't know if I'll have another opportunity for the Olympics because [of my] age. I want to play, I want to go because I [have] never played an Olympics and we'll be defending our title. So, I want to go, yes. It will be talked about here inside the club to know what decision will be made."
Quotes sourced from ESPN Brasil via UOL
---
Reader Comments (55)
Note: the following content is not moderated or vetted by the site owners at the time of submission. Comments are the responsibility of the poster. Disclaimer
Jason Heng
1
Posted 19/02/2021 at 23:25:36
Surest way to lose him.
Paul Hewitt
2
Posted 19/02/2021 at 23:27:51
Release him?. I'd sell him. His attitude this season has been terrible. Don't need that type of player.
Derek Thomas
3
Posted 19/02/2021 at 23:59:46
Let him go to the Olympics, but there has to be a quid quo pro...as much as one is enforcable. Like before he goes he signs a 2 year extension for the same wages
Tony Twist
4
Posted 20/02/2021 at 00:10:53
Very poor decision making from the club and very short sighted of them. He wants to continue to achieve things whilst being at Everton, take that away and he is then an unhappy bunny, his form then suffers. You let him go, he is indebted to the club, he is contented, he plays better, his value goes up, we see if we can cope without him. Everyone wins.
Kieran Kinsella
5
Posted 20/02/2021 at 00:37:02
Tony Twist
"He wants to continue to achieve things whilst being at Everton"
Continue? what has he achieved?
Ian Riley
6
Posted 20/02/2021 at 01:11:47
I would sell along with kean at psg. Carlo then has £150 million to spend. Richarlison has not played well this season. Let's move them both on.
Don Alexander
7
Posted 20/02/2021 at 01:36:01
This lad cost us a full value fee, at least. I say that because there's more than a few other goal-scoring strikers playing for other clubs who despite costing the same or less (the main three across the park for instance) have done way better as scorer/assisters.
The best strikers playing for ordinary teams tend to do way better than scoring one in three, that being Richi's average for us - and that's a massive improvement on his Watford average by the way; namely Kane, Aubamayang, Vardy, Ings and, this season, Ollie Watkins.
So, Richi, stop the sulks, improve the stats, make defenders panic and then feel free to walk up to whoever makes the decisions in our weird club and demand a gigantic hike in your current salary or, if all that's beyond you, a transfer to a trophy winning team in Europe.
Just don't continue being the Brazilian version of Andy Johnson please.
Bill Gienapp
8
Posted 20/02/2021 at 01:46:02
There's a good chance the Olympics don't even happen, so this may very well be a moot point.
Cristobal Aguirre
9
Posted 20/02/2021 at 02:07:34
Sell him to Barca now and invest all the money in Haaland. If we want to win something we need top player like the dortmund's one, not talent but lazy and unpredictable players like Richy.
Bill Gienapp
10
Posted 20/02/2021 at 02:59:36
Cristobal - how on earth is Richarlison lazy? Whatever his issues, the guy runs through brick walls every match. Also, Haaland's going to be the most in-demand player on the planet, so good luck with that plan.
Kieran Kinsella
11
Posted 20/02/2021 at 03:22:54
Bill 8, good point. Bill 10 second sentence good point. Don 7 good point.
Cristobal? Enjoy playing Championship Manager, mate.
Christine Foster
12
Posted 20/02/2021 at 04:16:11
I am in agreement with Tony on this one, the Copa America is in June to early July, the Olympics Football Final is on the 7 August and assuming Brazil make the final, he could be back before the season starts (if it starts on the 14 August) or at most miss one game if the season starts earlier and if Brazil make the final.
So, as Tony said, its a one-off for him,; as long as there are conditions in place regarding his training and health I see no problem. Preventing him from competing will alienate him and he will be very unhappy with the club. A common-sense decision if you ask me.
Alex Kociuba
13
Posted 20/02/2021 at 05:48:39
Calling Richarlison 'lazy' is up there with some of the most ridiculous things ever said on this website. Not only is he probably the hardest working player we have, he's also the most talented and valuable asset we have.
We should do everything it takes to keep him happy to ensure he wants to stay at the club. I'm therefore inclined to let him go to any tournament he wants.
Phil Sammon
14
Posted 20/02/2021 at 06:15:06
Can't believe how many are ready to toss away our best player. He carried us at times. He's not been on form for a while now but I'd do everything possible to make him happy.
That said, football should not be an Olympic sport in my book. He does have some responsibility to the club who pay his wages.
Bobby Mallon
15
Posted 20/02/2021 at 06:31:02
So this is the reason he's been playing below par. Sulking about the Olympics. I knew something was not right with his play.
Karl Meighan
16
Posted 20/02/2021 at 06:41:19
Fans complain about Richarlison because he is like a spoilt child at times, his diving is annoying and the "me, me, me" attitude in a dressing room can easily spread and become a disease.
Richarlison is talented but far too inconsistent; when he has off days, he is poor and offers almost nothing. There are others this can also be aimed at in our team but, for your players that fans and players alike would say look to produce when things are not going well, then it looks selfish and, like everything else Everton, frustrates.
Paul Smith
17
Posted 20/02/2021 at 06:57:55
First few games of the season, he was on fire. Since then, he has been gash. We were unable to win without him at one point, he was so relied on for goals. He's unplayable at times and a grafter.
Let him go... but ask for something in return, he's not irreplaceable though.
Eddie Dunn
18
Posted 20/02/2021 at 07:51:31
Some overreaction on here. He was asked as question and he answered it. We need a squad that can compensate for when our foreign players are called away. The African Cup of Nations or the Copa America are big, important tournaments, just like our Euros. As for the Olympics, it will be full of young players and not the full international side so he will most likely be told he isn't being released.
This kid works very hard every game, his stroppy whining annoys refs as well as fans(and teammates) it does him no favours just like his silly diving.
However, he is a dangerous weapon and distracts enough defenders to give DCL more space.

Tony Everan
19
Posted 20/02/2021 at 08:23:44
Let him go to one or the other. Otherwise the toys will be well and truly thrown out of the pram.
He is not lazy, he is a hard working player but has been below his best. There were signs of a resurgence against Tottenham with two very well taken goals. I'd much rather keep him unless he was determined to move and we were getting a huge fee from the likes of Barca or Real.
I think getting to be top 4 challengers we need to be keeping excellent young players like Richarlison. We need to be adding some quality to the he forward line in the summer not taking quality away. It's pace and directness on the right side that we need.
Iwobi is falling short and needs to step it up a gear. If not we need a Sadio Mane type player to give us direct goal threat down the right as well as bustling energy and ability and desire to track back.
Good luck with that one Mr Brands.
Barry Rathbone
20
Posted 20/02/2021 at 08:47:53
Here goes.
He is another member of the "desperation club" whereby Evertonians overrate a reasonable player. Never understood the hype this fella receives.
Sell him before others suss out he really isn't all that and his sulks affect the selling price. Lookman is doing more in a woeful Fulham outfit
Andrew McLawrence
21
Posted 20/02/2021 at 09:23:20
I would like to think that the 'Everton Project' will have a glut of new and better players to cover his loss. Won't we??
Dave Abrahams
22
Posted 20/02/2021 at 09:31:23
Why do Brazil want him to play in any tournament for them in the summer, have they been watching him for Everton this season, he hasn't earned his wages with us, he might be hard working, what does his hard work achieve when he defends, I'd say a bit more. maybe, than when he attacks, this season and parts of every season he has been here.
If he doesn't like the situation let him ask for a transfer, his ego would get a massive shock when he sees how many clubs want him, well over rated by many Everton fans. Pull yourself together lad and have go at earning your wages, starting today at Anfield, go on I dare you, and stop your lower lip from quivering as soon as someone gives you a dirty look, never mind a tackle.
Joe McMahon
23
Posted 20/02/2021 at 09:35:32
Reminds me of when Tim Cahill was knackered after (I think) the Asia cup, like African nations it was mid season and effects a team such as Everton, as we are never overloaded with top quality. We really do need to spend in the Summer.
Clive Rogers
24
Posted 20/02/2021 at 09:43:28
Andrew, 21, according to the Echo today, Ancelotti is talking of a couple of astute buys over the next two summers. There's not much money then.
Mick Conalty
25
Posted 20/02/2021 at 10:00:44
Richarlison please go.
And PLEASE PLEASE PLEASE take Sigurdsson with you
Alan J Thompson
26
Posted 20/02/2021 at 10:08:21
Is the problem that we have a player who wants to experience both the Olympics and his continent's biggest national tournament or that they are held and coincide with the start of the English Premier League?
The problem should be raised with the English FA to take up with UEFA and FIFA and at the very least, in the period in question, a players wages are paid by his national FA along with compensation including if he is out injured or just not required because of representing his homeland. Also the the club can ask for games to be postponed if at least two players are unavailable, as used to be the case.
It might be most persuasive if TV monies were affected by any postponements but my own opinion is to ask why the Olympics need to include sports which have either their own World Cup competitions or Grand Slam series.
Perhaps our American contributors might advise how they would look upon the best baseball. basketball and football players missing a month of the American season to represent not only USA but their homelands in a couple of events each year.
Jerome Shields
27
Posted 20/02/2021 at 10:23:11
Richarlison at the end of last season stated he would be looking at his future this season. He has had in the main a below par season. Unlike others I do not think his transfer value is anything like megabucks and his final third play would not suit alot of top Clubs. Koeman will need a big money signing and nay pay the megabucks being the ejit he is.
Ancelotti will want a fit, refreshed and uninjured Richarluson at the start of next season. Two Summer tournaments are not conjuicive to this
Naturally having a below par season Richarlison would like to play for Brazil where he is well thought off and it could raise his profile and progress in the market, unlike his mixed domestic season, as his agent would tell him.
Two Summer tounments are not in the interests of Everton and may not do much for his transfer valve.
Jerome Shields
28
Posted 20/02/2021 at 10:23:12
Richarlison at the end of last season stated he would be looking at his future this season. He has had in the main a below par season. Unlike others I do not think his transfer value is anything like megabucks and his final third play would not suit alot of top Clubs. Koeman will need a big money signing and nay pay the megabucks being the ejit he is.
Ancelotti will want a fit, refreshed and uninjured Richarluson at the start of next season. Two Summer tournaments are not conjuicive to this
Naturally having a below par season Richarlison would like to play for Brazil where he is well thought off and it could raise his profile and progress in the market, unlike his mixed domestic season, as his agent would tell him.
Two Summer tounments are not in the interests of Everton and may not do much for his transfer valve.
John Graham
29
Posted 20/02/2021 at 10:26:01
On his day a very good player, but not on his game very often at the moment.
Throws too many strops when things aren't going his way.
We do need him at the moment because we don't have enough strikers, but hopefully we can get a few in the summer and then if he wants to leave we can get a bit of money for him.
We need players who will fight for the team and not look at what is best for their CV.
Steve Shave
30
Posted 20/02/2021 at 10:26:53
Christobal - sign Haaland?? Why didn't Everton think of that? Why on earth would he sign for us? Destined for Real Madrid or Barca surely. Nice thought though. If we could get anything north of £85M for Richy we should say goodbye and thanks. He has not been operating at his full capacity this season and something seems rotten in Denmark here, he does not seem happy. If we do sell we should identify and agree his replacement beforehand, hopefully we have learned our lesson, otherwise clubs pull our pants down knowing we have £££ burning a hole in our pockets. I don't know who I would replace him with tbh.
Paul Randall
31
Posted 20/02/2021 at 10:35:47
Despite his strops and sulks, Richie is our best player. Sure his form has been patchy this season but as we saw against Spurs, when he is up for it, he is world class... Sell him now and we have a massive hole to fill...
Brian Harrison
32
Posted 20/02/2021 at 10:46:19
I think the club are right to insist he plays in one but not both. This season with no pre season and very little break from the end of last season to the beginning of this season most clubs have had more injuries than normal. So to let Richarlison join the Brazil team for both the Olympics and the Copa America, would mean him having little or no rest from the end of this season to the beginning of next season.
Also it would stop him having any pre season work with us, so at some point we would have to schedule a rest period very early into a new season. I think if he wont compromise then I think we may be forced to sell him.
Jay Wood
[BRZ]
33
Posted 20/02/2021 at 11:28:25
Tony @ 4.
'Very poor decision making from the club and very short sighted of them.'
How so?
Let's consider this in a bit more depth.
Richarlison won the Copa America in 2019 when Brazil hosted the tournament. CONMEBOL, the UEFA equivalent in South America, wanted to align this tournament with other major summer international tournaments like the Euros to fall in between World Cups.
For this reason they scheduled for another Copa America in 2020 to achieve that aim going forward.
However, like the Euros and the Olympics, the pandemic torpedoed that idea and again like those other two competitions the Copa America has been (hopefully) rescheduled for summer 2021.
Last year's domestic season ran from early August 2019 to the end of July 2020. The club and its players had very little downtime and a minimal pre-season before the current season kicked off again the first week in September with a very condensed schedule as a result.
This season wraps up on 23 May. That is just shy of two years consecutive football for the top players.
The Copa America starts on 11 June and concludes on 12 July.
The projected dates for football at the Olympic games are from 21 July to 7 August.
The two tournaments will be played literally on the other side of the planet from each other, with barely a break between them.
Presumably all the major European leagues will be striving to return to an August-May domestic season for 2021-22. Projecting forward, things are further complicated by the dates of the 2022 World Cup.
It is totally unrealistic of Richarlison to expect to play in both tournaments. His situation will be duplicated by many players and many different clubs.
There has to be commonsense agreement between the players, their clubs and their national federations so all can protect their best interests.
This is not an uncommon situation in an Olympic year.
Neymar, Barcelona and Brazil reached a similar accord in 2016 when the Brazil Olympics and the Copa America was again played in the same year.
Neymar opted for the Olympics (and won a gold medal).
Richarlison - and many other players besides - will have to do likewise.
I side 100% with the club on this one.
Jay Wood
[BRZ]
34
Posted 20/02/2021 at 11:38:34
To add a further note to my previous post.
Remember back in the autumn before one of the international breaks Richarlison was badly injured and had to be subbed out before half-time?
Read this interview by him and how he deliberately deceived Carlo as to the seriousness of the injury after the manager told him he wasn't going away on international duty.
How Richarlison Deceived Ancelotti
Some might say admirable for being determined to play. Others might say selfish and wreckless.
There can be no denying his strong desire to represent his country. However, he also needs to balance that and respect and fulfil his obligations to his club.
Tristan Tormey
35
Posted 20/02/2021 at 15:51:36
How do you get permission to comment on the Live Fotum, lads? I tried filling out form etc. Anyhow fingers crossed for a win today. Up the toffees.
Michael Kenrick
36
Posted 20/02/2021 at 16:53:19
Tristan, try now.
Karl Masters
37
Posted 20/02/2021 at 21:00:02
The idiots saying Richarlison should be sold because he's got a bad attitude might want to reconsider after tonight?
Dave Abrahams
38
Posted 21/02/2021 at 11:52:01
Karl (37), he made me very happy last night along with the rest of the team and I hope he keeps it up, I won't be changing my opinion of him after one match, this idiot took more than one game to form my opinion of him, many, many games, so I won't be changing that opinion after one good game.
Great feeling last night though Karl wasn't it I hope you enjoyed it as much as every other Evertonian did, still buzzing' off it now,and that feeling will stay for quite a while.
Habib Erkan Jr
39
Posted 21/02/2021 at 14:10:54
Richarlison is world class. I'm with those who say keep him happy to be a toffee. Leveraging for a contract extension ain't a bad idea.
Robert Tressell
40
Posted 21/02/2021 at 14:26:47
Richarlison showed what he can do centrally and in partnership with Calvert-Lewin. To me, he's always looked like a striker, but he does a good job wide and always works his socks off. Hopefully he'll stay past the summer – his next club will, I expect, be one of Man City, Man Utd, Chelsea, Inter, Juve, Real, Barca, Athletico, PSG or Bayern. No other club would be able to afford him.
If he stays next season, which I hope he does, then hopefully we'll see him really flourish in the attacking third alongside better players – so that he doesn't have to expend so much energy tracking back all the time.

Martin Berry
41
Posted 22/02/2021 at 08:39:31
Whats the fuss ? Let him go if it keeps him happy and he comes back to the club with a smile of appreciation.
He is 24 should be full of energy, regarding possible injury, that can happen on the training ground not just at a tournament.
Minik Hansen
42
Posted 22/02/2021 at 13:20:38
Robert #40 I bet he won't move to another English club. Let's see in 8 years time. :)
Steve Carse
43
Posted 22/02/2021 at 16:50:07
Richarlison has generally been poor this season, but one thing's for sure, without him we wouldn't have won Saturday's game. There's no way Calvert-Lewin would have scored the opener. DCL gives us a great deal but he's not the cleanest striker of the ball, as shown by his failing to score in the incident leading to the penalty.
Much has been made of the Rodriguez through ball for the opener, but far less of the pure quality of the finish by Richarlison.
Rob Halligan
44
Posted 22/02/2021 at 17:05:49
Correct me if I'm wrong, and I'm sure somebody will, but isn't the Olympics for amateur athletes, or is there a different ranking for footballers?
Jay Wood
[BRZ]
45
Posted 22/02/2021 at 17:15:05
Rob, the Olympics have radically changed since the fundamenalist and purist defender of amateur sport, Avery Brundage, was President of the IOC.
Just look at who participates in sports such as basketball, tennis, cycling and golf. It's just not football. And all the leading track and field athletes are full-time professionals these days.
Kieran Kinsella
46
Posted 22/02/2021 at 17:21:27
Rob
Each sport sets its own rules. Some like ice skating are still amateur
Mike Gaynes
47
Posted 22/02/2021 at 17:25:18
Rob... the Olympics are for
"amateur athletes"
??
I love hearing from the other side of a time warp. It's so quaint.
Next time we dine together I'll tell you all about the Soviet hockey team, the Michael Jordan Dream Team and Usain Bolt.
In the meantime, please do tell Jim Thorpe I said hello.

Mike Gaynes
48
Posted 22/02/2021 at 17:32:26
Kieran #46, the skaters are pro as well. To the best of my knowledge the last "amateurs-only" sport in the Olympics is wrestling. Of the major sports, boxing was the last holdout, and I believe I heard there will be professionals boxing in Tokyo due to a rules change a couple of years ago.
Dave #38, I just wish we'd shared this Anfield memory instead of 2018!
Dale Self
49
Posted 22/02/2021 at 17:47:59
Sorry, server is down at work so I'm looking for some action...The Olympics were for so long that special hybrid of amateur and professional that was kind of sequenced out in a far too obvious way. I don't know how Eddie the Eagle marketed himself but the American Gold Medalists to Be were objects promoted by a machine. Over the top bios took the place of real sporting action that didn't involve Americans and the whole thing broke right there.
Rob Dolby
50
Posted 22/02/2021 at 18:00:33
Like it or not players have a lot more power and control over their careers than previous generations.
Richarleson is a proud Brazilian that wants to play for his country. The club might just have to let him go to the tournaments.
In my opinion Richarleson is a fantastic footballer that wins games of football. All players have faults but this lad is the real deal. Team player, work rate, versatility, quality, scores goals and isn't anywhere near his peak.
Let him go to the tournaments and offer him a contract extension.
Keeping hold of Richarleson will be central to our push to progress as a club.
Dave Abrahams
51
Posted 22/02/2021 at 19:19:19
Mike (48),yes Mike I wish that as well, we'd have danced from Anfield to Lime Street that Sunday night, over two years ago!! doesn't seem that long Mike, but I think both of us will re visit last Saturday night over and over again and never get tired of it.
Tom Harvey
52
Posted 22/02/2021 at 20:49:45
There's no problem at all here!
Tell him he's not going to the Olympics to play with kiddies anymore, he's a big boy and we have very long exhausting season in England, 2 further tournaments at the end of this is a no go.
Fair enough he can play in the Copa, if he want's sulk, let him, but at some point the club has to draw a line, it's not as if we're totally depriving him of international football.
Karl Graham
53
Posted 25/02/2021 at 07:30:52
I would let him play in the Olympics. We should have Gordon back and this may give him an opportunity to grab the position. He clearly wants to play for his country and it's not worth the disruption it may cause.
Terence Leong
54
Posted 25/02/2021 at 13:24:06
As the competition for places increase in our squad (I'm assuming that it will be), Richy himself will recognize that i.e. he won't have guaranteed a place, when he returns from the tournaments, requiring rest etc.
As mentioned by many here, the most commonsense thing to do is to let the player go for the tournaments, let him know that he's not guaranteed a place when he comes back etc.
Richy is the type of player who is committed and do his best to win back the place, so there isn't an issue of not wanting to play for us. The primary concern is injuries.
By then, we should have strengthened our squad so that we are less dependent on him (which we still are this season).
So all in all, it can be win-win. No need to take a 'zero-sum' approach.
Phil (Kelsall) Roberts
55
Posted 25/02/2021 at 13:56:03
I think we are all missing the chance of going with the Brasil team to the Olympics. This is the team that won Silver in London and Gold in Rio.
What chance of them NOT getting a medal in Tokyo?
If I was Richarlison de Andrade and had a chance of an Olympic Medal or going to the Copa America then it would be the former. If I was not allowed to go to any I would be very unhappy. In 40 years time I may have fond memories of a win at Anfield but those memories could fade or I could look in my bedside table and see an Olympic medal which will never fade or lose its lustre.
This will be his last chance of playing in the Olympics as it is for U23 players (but U24 this time due to the delay). He can play in Copa America in 2024 (2021 is a delayed 2020 tournament).

---
Add Your Comments
In order to post a comment, you need to be logged in as a registered user of the site.
Or Sign up as a ToffeeWeb Member — it's free, takes just a few minutes and will allow you to post your comments on articles and Talking Points submissions across the site.