Chelsea vs Everton
Saturday, 6 March, 2021
Match Preview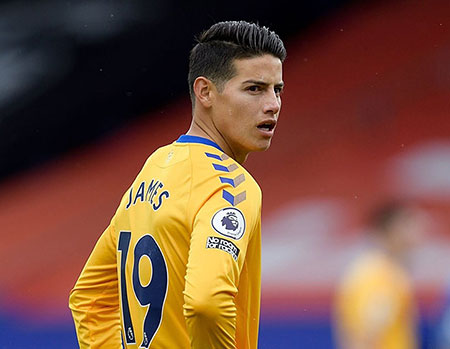 James Rodriguez has missed the last two games with his continuing calf problems and it remains to be seen whether he will be fit enough to play a part at Stamford Bridge
In what has suddenly become a potential "six-pointer" in the chase for a Champions League spot, Everton travel to much-improved Chelsea on Monday evening hoping to extend their magnificent away record with a positive result at Stamford Bridge.
While for supporters the worst result of the Carlo Ancelotti era so far was the Cup derby defeat to Liverpool's reserve side, for the Italian, by his own recent admission, it was last year's trip to his former club, exactly a year previously and the last match before the Premier League locked down following the novel coronavirus outbreak, that was his most painful.
The Toffees were comprehensively dismantled that day by Frank Lampard's side in a heavy 4-0 defeat at a time when the two clubs were separated by eight places and 11 points. On Monday, it's a case of fourth versus fifth and just one point between them in the table but it will be Thomas Tuchel and not Lampard in the home dugout.
The German is unbeaten as Chelsea boss since succeeding Lampard in January and his team's accomplished victory at Anfield that saw the Londoners supplant Everton in fourth spot underlined how well he has done in organising a team that was struggling for consistency prior to his arrival.
As such, this game promises to be as difficult as any Ancelotti's men have faced this season and the challenge of ending another multi-decade hoodoo — Everton haven't won on this ground since 1994 — will be much greater than it might have been just a few short weeks ago.
However, the Toffees have made a habit of raising their game for the big occasions this term and boast one of the better records against their rivals for the top six. Playing their peers rather than teams in the bottom half has coaxed better performances from the players and the hope is that that will be the case again in West London.
Ancelotti acknowledged after the win at West Bromwich Albion on Thursday that his team's performances could improve and that it's something they're working but he couldn't fault his players's spirit.
"I'm really happy to be the manager of this team and these players because I think they follow me and respect my ideas," he said.
"Of course, we would like to play better and I am not the only one — the players want to play better. I think for this, we need to improve the technical quality of the squad but what we can't improve is the spirit of the team which is really, really high."
Most of his available first-teamers have been involved in two games in seven days and while Ancelotti's selection for this one is likely to feature more changes, he will be hoping that some of his recent absentees will be available. Allan and Gylfi Sigurdsson would be good candidates to come in with André Gomes taking a rest but it remains to be seen whether Tom Davies is fit again to retake his place in front of defence.
If he is, it's possible that Abdoulaye Doucouré could also get a rare breather and then it's just a case of whether James Rodriguez is fit to take a place in the team after missing the last two matches with his troublesome calf issue.
Chelsea have had few injury problems of their own and both their recent absentees, Tammy Abraham (ankle) and Thiago Silva (thigh) could both be in contention on Monday, leaving Tuchel with his pick of which line-up to go with.
For Everton, avoiding defeat and preventing Chelsea from putting any more daylight between them in the table will be the first priority but they will also know that if they can keep what has been a relatively goal-shy side quiet and pinch one or two of their own, they could spring a surprise that really would vault them further into the reckoning for the top four.
Kick-off: 6pm, Monday 8 March 2021 on BT Sport 1
Referee: Chris Kavanagh
VAR: Michael Oliver
Last Time: Chelsea 4 - 0 Everton
Predicted Line-up: Pickford, Holgate, Keane, Godfrey, Digne, Allan, Doucouré, Sigurdsson, Rodriguez, Richarlison, Calvert-Lewin
---
Reader Comments (144)
Note: the following content is not moderated or vetted by the site owners at the time of submission. Comments are the responsibility of the poster. Disclaimer
David Pearl
1
Posted 06/03/2021 at 21:15:25
Huge huge game. Biggest in years in fact. If Leicester and Utd both drop points its a game we could actually afford to lose... though if we draw or even win then 2nd place isn't out of the question.
Fingers crossed Coleman is fit and Carlo picks the same back 3 as played when beating the shite. My opinion of course but l liked it a lot. Davies with Allan would also be nice... then again it depends on who is fit and which way the wind blows Carlos eyebrow. (Which has been under control of late).
On another note a 'Super Computer' today predicted that we will finish the season in 10th.
David Hallwood
2
Posted 06/03/2021 at 21:19:42
Can't agree with your team Lyndon; for me it's either Sigurdsson or James not both.
If Davies is fit I'd like to see us line up 4-3-3, with Allan, Doucouré, Davies, and James Richie & DCL up front. The back 5 picks itself.
Paul Birmingham
3
Posted 06/03/2021 at 21:39:31
I think Lyndon's line up is likely but depending on who is fit, I'd play Tom Davies in place of Duke, but let's see, and if James is match fit, I reckon he will start and Siggy will be sub, and Seamus May come in for Mason.
Great to be in the mix and let's believe, this is a massive match for Everton FC, and will require blood, sweat and tears from the squad, to get the result we all want, on Monday evening.
Danny Broderick
4
Posted 06/03/2021 at 21:44:26
Pickford
Holgate Godfrey Keane Digne
Allan Doucoure
Iwobi Sigurdsson Richarlison
DCL
Paul Birmingham
5
Posted 06/03/2021 at 21:45:46
Apologies Lyndon, the iPad has its own spell check ! Lol.
Mike Corcoran
6
Posted 06/03/2021 at 21:49:45
If fit a 3511with James going where he likes for me. Pickford, keane, Godfrey; Digne; Seamus, Allan, Doucoure, Davies, Richarlison; James wherever; DCL
Paul Hewitt
7
Posted 06/03/2021 at 21:52:28
I wouldn't worry to much about losing to Chelsea. The 3 games after that are more than winnable.
Paul A Smith
8
Posted 06/03/2021 at 21:59:05
Paul we have to win these games if we want top four. Our next 3 games might be winnable but Chelsea's next 5 are great for them.
We might see an obvious difference in quality here but the qualities we have been showing like defending well can get us the points here.
We shouldn't fear anyone but City now to be honest, the rest are all beatable.
Derek Knox
9
Posted 06/03/2021 at 22:12:05
Paul A, I agree you can't adopt the attitude that we can afford to lose this game or that, you have to go out with the attitude, that you are NOT going to lose, and try and win at all costs. This won't be easy Tuchel seems to have found the formula that was there all the time, under Frank, but not used.
If we play like we did against WBA, although we won, that won't be enough, we have to up the ante. Of course a lot depends on who is available for this one I just hope we have an almost full strength squad to pick from.
I just hope and pray that we can assemble a decent midfield as we seem to be okay now back and front. Don't like to be over confident, but our record against London Clubs has worked out well up to now, so let's not buck that trend!
Derek Knox
10
Posted 06/03/2021 at 22:12:05
Paul A, I agree you can't adopt the attitude that we can afford to lose this game or that, you have to go out with the attitude, that you are NOT going to lose, and try and win at all costs. This won't be easy Tuchel seems to have found the formula that was there under Frank, but not used.
If we play like we did against WBA, although we won, that won't be enough, we have to up the ante. Of course a lot depends on who is available for this one I just hope we have an almost full strength squad to pick from.
I just hope and pray that we can assemble a decent midfield as we seem to be okay now back and front. Don't like to be over confident, but our record against London Clubs has worked out well up to now, so let's not buck that trend!
Derek Knox
11
Posted 06/03/2021 at 22:14:16
Ed's Only pressed the Submit once, honest!
John Keating
12
Posted 06/03/2021 at 22:42:40
There were a lot of negative comments from posters earlier in the season about playing 2 defensive midfielders. I think it might be a good idea against Chelsea.
They are playing well just now, on a bit of a roll, especially Mount.
They'll have a lot of the ball and be very mobile so we have to play our usual deep line, unless Giroud starts!
352 for me
Pickford
Holgate Keane Godfrey
Coleman Allan Doucoure Tom/Sigi Digne
DCL Richie

Brian Wilkinson
13
Posted 06/03/2021 at 22:58:18
Tough one to call this one, Chelsea are playing really well, our toughest game for a long while, however we have been playing well away from home, especially against the top sides, with only utd Managing to take a point on their own ground against us.
The 11/2 for an Everton win looks generous, probs bigger odds elsewhere, but I certainly would not back against Everton pulling another result out of the bag.
Most will be happy with a point, I believe we could take all three points, as long as we do not sit back and invite Chelsea, the freedom of the midfield.
Derek Thomas
14
Posted 06/03/2021 at 23:16:01
John @12; No, its a waste player...and we haven't got that many really good ones to shackle one who could be more effective further forward...and if one, or gods forbid two of them are Siggi and Gomes, that's a double no from me and a goodnight from Ancelotti, who as far as I know hasn't used 2 with us.
I feel Ancelotti tends towards a more Holistic defence policy - like the 4 Amigos across the back when needed and everybody defends as required.
With Digne back this 4.0 back line has changes to a 3.5.
I can see Coleman back for Iwobi though, if fit.
But its a brave man who tries to out guess The Mk II Tinkerman...hopefully Tuchel can't either.
If we have the minimum of successful tinkering and the 'Real Slim Shadies' Do turn up, we're in with more than a good chance.
No more Everton That but more of the... Everton This !
Kieran Kinsella
15
Posted 06/03/2021 at 23:33:22
Tuchel tightened the defense but they don't score a lot. One goal could decide it. DCL is due for one
John Skelly
16
Posted 06/03/2021 at 23:33:47
I agree with all of the Above posts but and there always a but we can beat Chelsea if for the first time we don't play defenceavly and attack from the off.
John Boon
17
Posted 06/03/2021 at 23:44:47
From all that I have seen this season I think Ancelotti deserves the trust of Evertonians. I will agree with whatever set up he decides on for the Chelsea game, even if I think differently. If we get a result Great, but if we don't I do hope the "Told You So" contigent refrain from being overly negative and critical. We just have to stay positive because we will still have other important games to play. C.O.Y.B
Kunal Desai
18
Posted 06/03/2021 at 23:44:55
The last time we beat Chelsea at Stamford Bridge in a league game we were in the midst of a good run and had just beaten Liverpool the previous game 2-0. Let's hope this is an omen.
Two mean defences on current form, they are not prolific goalscorers so expect to see a tight game here, perhaps 1-0 either way.
Mike Gaynes
19
Posted 06/03/2021 at 23:45:35
I just don't see a win in this one, campers. Chelsea are simply playing better than we are, and they have more depth and more rest. To me, two of our key cogs, Doucouré and Digne, look pretty well knackered from playing every minute of the past few intense weeks. I say a draw would be a really, really good result.
Mark Andersson
20
Posted 07/03/2021 at 00:52:33
Let's face it, we have had the luck of the Irish lately. Yes, we have defended well... but we don't play attractive footy.
Another hard-earned win or draw will be great.
Derek Cowell
21
Posted 07/03/2021 at 01:24:11
Football Focus yesterday did a feature on Chelsea's Timo Werner. They pointed out that he was 25 this weekend and he can't buy a goal at the moment. We all know what happens with strikers like that when Everton come to town!
Although we have had some good results lately, some of the performances have been dire. We cannot play like that against a confident winning Chelsea and expect any sort of positive result.
I do think we have ridden our luck recently and those last two games could easily have finished 1-1 at the death. If we sit deep and allow Chelsea to play on the edge of our box, then we risk conceding shots and deflections from the packed defence.
I am not being negative here, just stating it as I see it. I would snatch a hand off for a draw right now. There have been some strange results in the Premier League this full Covid season with no crowds so I hope we can have one in our favour on Monday.
Graham Hammond
22
Posted 07/03/2021 at 01:39:02
I would tend to agree with both Mike (#19) and Mark (#20) on this one, a draw would be a fantastic result against Chelsea. Hopefully, the belief we have built up with our recent away form will kick in and we will refuse to be beaten.
I do think that Dominic is really gonna have to take his chances in this one though if we are to get anything from the game, and we will need Pickford in top solid form too. Mike called it right on both Doucoure and Digne, they are both starting to struggle.
It is essential that we genuinely start to believe – otherwise, there will be nothing down for us here, I see this as a key game going forward in that regard.
Don Alexander
23
Posted 07/03/2021 at 01:59:05
Kunal at #18 makes a point about our last win at the Bridge but that victory was in 1994 from memory, a way worse record than the Anfield hoo-doo we've just lanced. Maybe our squad need to reflect on that before they take to the pitch, and risk becoming established as a proper top football team by way of a winning performance, again.
Just a thought lads, be confident in yourselves!
Si Cooper
24
Posted 07/03/2021 at 02:21:55
I actually look forward to games like this one. The players won't need any extra psyching up for this one.
I get that Chelsea are in fine form but don't see them as more unbeatable than Liverpool. I think their team has its weaknesses and there will be good opportunities if we can break frequently and rack up a decent number of dead-ball plays.
I don't think Doucouré looks spent (and definitely wouldn't start Tom Davies instead of him) and Digne looked better against West Brom than he has done for ages for me (I still think he is incrementally regaining full fitness having been rushed back after his injury).
The exact personnel we use will be important and so I hope everyone we can generally rely on is available for this one. Important to keep the momentum going. A victory isn't essential for that but I think we have to make a good contest of it.
Nicolas Piñon
25
Posted 07/03/2021 at 02:37:50
After beating the shite in Mordor, anything is possible this term. We played them three days after playing Man City so tiredness-wise well better than that match on this one.
I believe Seamus presence would be great and that we do need some fresh legs in order to get something. As I read on some last comments, last matches we got lucky and on this one well need something more than that.
If we get renewed energy, I'm optimistic all day long. If not, a point would do it. Just realistic thinking.

Kieran Kinsella
26
Posted 07/03/2021 at 03:02:49
Derek Knox
Aside from Dundee, ancestry.com pinpoints Chelsea as one of my ancestral homes. However, unlike my Scottish cousins, I don't recall receiving a lot of Christmas cards from West London. So fuck 'em, you can choose your family but you can't choose your club.
As you say we cannot have a mentality that we can afford to lose. We need to be these jokers, Kerry Dixon, Mark Stein, David Mellor, his mistress et al.
David Currie
27
Posted 07/03/2021 at 04:14:08
Tough game and I think Chelsea will end up finishing second behind Man City, they have a lot of flair players and the new manager has made them better defensively.
I would be thrilled with a draw.
Alan J Thompson
28
Posted 07/03/2021 at 05:06:55
Last night, I dreamt that we would come out to simply outclass the opposition and would line-up; Pickford behind Holgate, Keane and Godfrey. A midfield (assuming few recovering from injury) of James, Allan and Doucouré with Calvert-Lewin, Richarlison, King and Iwobi or Broadhead up front in an attempt to swamp them at their end of the ground.
I have seen the promised land (not just an FA Cup and Top 4 finish) but mostly in the early sixties, early seventies and mid eighties and Everton will be judged as we used to be, not just on results but the standard and style of football.
Anyway, back to bed now.
Eddie Dunn
29
Posted 07/03/2021 at 08:14:35
Carlo will secretly be aiming for a point. A mind-numbing, ultra-defensive masterclass to make Jim Beglin go green with envy. I don't mind parking the bus at Stamford Bridge.
Robert Workman
30
Posted 07/03/2021 at 08:17:04
If we are to finish in the Top 4 I believe that it will be Leicester (despite last night's result), not Chelsea, that we will overtake.
Tony Abrahams
31
Posted 07/03/2021 at 08:19:40
Josh King in his few very short cameo's, has looked to be fast and direct, and he's also a player who doesn't lack physicality, so he might just be a good option tomorrow.
Stamford Bridge, always looks to be one of the most narrow pitches in the league, although it looked like an Aussie Rules pitch the last time we played there, and probably made Ancelotti decide that Everton needed to become a lot harder to beat.
So play deep, leave no space in midfield, and play a front three of Calvert-Lewin, King and Richarlison. Pace, strength and physicality, and three players who are all capable of scoring a goal, with the latter two also not shy in working back for the team.
Laurie Hartley
32
Posted 07/03/2021 at 08:19:55
I reckon Carlo will do something different here:
Pickford
Holgate, Keane, Godfrey,
Coleman, Doucouré, Allan, Digne
Rodriguez
Calvert-Lewin, Richarlison
Sigurdsson on for James after 60 minutes.
I am feeling nerves instead of dread. That is a good sign for me.
Martin Berry
33
Posted 07/03/2021 at 08:23:02
There is little doubt that, other than Man City, Chelsea are playing the best stuff presently; however, it is about consistency: we are consistent in defending very well.
That said, if we can gain a degree of control in the midfield, then we can frustrate them as they are not prolific in scoring goals at the moment.
I see a hard-fought draw which would not be a bad result; however, we could nick a 1-0 win.
Really looking forward to seeing how Carlo sets us up and his tactics for this one.
Tony Everan
34
Posted 07/03/2021 at 08:39:44
Agree with the comments about Carlo keeping this as tight as possible with a defensive set up. Tufnell has made Chelsea more organised so this could be a tight match with one goal deciding it. There's no doubt we will have to dig in tomorrow, but if key players are fit we can get at least a draw.
Pickford

Coleman, Holgate, Keane, Godfrey, Digne
Doucouré Allan
Sigurdsson
Calvert-Lewin Richarlison
Tom Davies comes in if Doucouré is injured, that's if Tom himself is fit!
Jason Li
35
Posted 07/03/2021 at 08:50:03
Mount is the one to stop, genuinely as dangerous as Bruno Fernandes.
Can change the game in a moment from outside the box. Others are very good in that team, and the manager is very good.
I'd like one midfielder player to go to Mount (or next dangerous player if Mount is not playing) when he gets in a position to recieve the ball, and another player to sit in front of defence.
They play a high line, so we'll have some exciting moments.
Mal van Schaick
36
Posted 07/03/2021 at 08:50:06
If we win this and continue our decent form, we could be top four for a while.
Stop Werner and Havertz playing and stop supply to Giroud, if he plays. Counter attack with Richarlison's pace and we may get a favourable result.
Brian Murray
37
Posted 07/03/2021 at 08:57:23
You could get a headache and worry too much about what formation and players we are up against tomorrow. Carlo will know his plan, which is probably to counter-attack at speed.
All I ask is do ourselves justice and if it's not quite enough well I'm sure we will bounce back.
Plus, if we get a one-on-one with Calvert-Lewin, no more hitting it straight at the goalie. Now that is League One finishing. Dink or aim for a corner because, as good as they are, we will create something. Be ruthless, Blues, and defend for our lives. Coyb!
Jerome Shields
39
Posted 07/03/2021 at 09:03:30
This game will be decided in midfield. I do think Davies, if fit, needs to be in the mix.
When I looked at the predicted line-up, Pickford's one mistake a game raised its ugly head.
Calvert-Lewin has to be more of a threat to keep Chelsea from compacting midfield. Richarlison will be given special attention.
So glad Allan is fit, though bombing forward may not be a good idea. Holgate was more up to speed in the last game. Sigurdsson and Gomes will have to pace up are they will find themselves pressurised.
Robert Tressell
40
Posted 07/03/2021 at 09:14:06
We are underdogs and they are probably the 2nd best side now after City. However, Ancelotti will set us up so that we have a chance to win. It's unlikely to be expansive but so be it. This game offers a return to 4th place so we should do everything we can to nick a goal and grind it out.
Alan Johnson
41
Posted 07/03/2021 at 09:26:14
Been riding our luck for a long time. It's got to run out soon – Just Sayin'.
Terry Farrell
42
Posted 07/03/2021 at 09:29:14
Midfield has to be Doucouré, Davies, Allan and Richarlison with James in the hole behind Calvert-Lewin. Defence and keeper same as the West Bro game. I think we can win this with this line-up but it will be a very difficult game. Sigurdsson can come on for James or start if James is not fit. But it's not the game for Gomes.
Come on, Carlo... Come on, you Blues. Come on, Fulham!
Paul Smith
43
Posted 07/03/2021 at 09:47:51
Normally I would at this point say we're due a defeat;however, with this guy at the helm, things are different. He loves the big occasion and he will be feeling it against his old club. Chelsea are having a new manager bounce and it's just as likely to end as our luck is to run out.
Could go either way, but it's gonna be exciting.
Rob Halligan
44
Posted 07/03/2021 at 09:48:35
Tony # 34. Will that be Phil Tufnell, current QOS captain and former England spin bowler? 😁😁😁
Mike Gwyer
45
Posted 07/03/2021 at 09:52:33
I went onto two Chelsea forum's yesterday and you know what, those fans really rate Everton. Not a sign of of the usual cockney charm "Scouser's are shit and this will be piss easy". Nope, none at all, some and I mean quite a few would be happy with a draw. They all thought Everton were aggressive, hard-working and have an eye for goal.
So I'm on the same page as say Alan Johnson #41; what luck have we been riding? What luck did we have at Anfield, or did we just play well? A lot of teams just kick the shit out of James and Richarlison and hope that they can get some luck in our penalty box.
Personally, I haven't seen much luck – just hard fucking work and lots of organisation. But when Everton's aggression level drops we've got beat, not much luck involved with that.
For me, Everton can go to Chelsea and get something, but more importantly so does Carlo..
Bobby Mallon
46
Posted 07/03/2021 at 09:55:40
Alan 41, don't. Team for tomorrow (if all fit):
Pickford
Holgate
Godfrey
Keane
Coleman
Allan
Davies
Digne
James
Richarlison
Calvert-Lewin

Bill Gienapp
47
Posted 07/03/2021 at 10:03:19
Chelsea aren't exactly scary, but Tuchel has made them extremely tough to beat. Based on current form, I wouldn't be surprised if this one ended up a scoreless draw.
Rob Hooton
48
Posted 07/03/2021 at 10:16:40
You beat me to that one Rob H mk 1!
Really looking forward to this one, City are seemingly an unstoppable juggernaut and are too hot for anyone to handle so this one is a true test of our mettle for me.
We've broken a few hoodoos this season and think we have won all our games in London so far? (Lack of coffee fogging the brain...)
I'm not going to try and second-guess Carlo's selection as there will likely be a curve ball of some sort in there.
I was 14 last time we won at Stamford Bridge, please let me have some decent banter pwith my Chelsea mates after the game Blues! Was at the cup game when Sean Wright-Phillips somehow beat Lescott in the air to score and have had recurring nightmares about it ever since...

Clive Rogers
49
Posted 07/03/2021 at 10:17:28
In a game like this, I would like to see Allan and Davies, if fit, together. Strong defensively and Doucouré needs a rest. Three at the back and Coleman and Digne as wingbacks. Three points no problem.
Stan Schofield
50
Posted 07/03/2021 at 10:27:08
We can win at Chelsea, quite readily, and I'll be disappointed if we don't. We've got results through organisation combined with attacking flair, pretty much all our goals coming from sweet build-up play. That attacking potency combined with our defensive organisation could well result in a win, albeit a close-run thing between two very good sides.
Brian Wilkinson
51
Posted 07/03/2021 at 10:28:24
Can posters remember looking at our fixture run in December and thinking "Jesus Christ, where is our next point coming from?" Or going to Elland Road where until recently has been a graveyard for any Everton team going there, the fear or crossing Stanley Park and dreading the final few minutes.
Going 3-1 down at Old Trafford and not giving up, losing our main striker in the cup game against Spurs, just as Harry Kane is about to come on, no other strikers on the bench, a team down to the barebones and taken into another 30 minutes, yet we never gave up.
Werner not being able to buy a goal, so what? Firminho, who has yet to score against us is going through the same bad spell, but we kept him out in the derby.
There is no question, this is a very tough match, but I would put a little faith in the manager, and the players and start to believe we can go there and get a result.
You can give up and pray for a point, me, well I am in the minority who believes we can give as good as we take. The Man Utd and Liverpool away games, and the Spurs cup game, have convinced me of that.
Paul A Smith
52
Posted 07/03/2021 at 10:30:29
Mike @45,
Most other fans know football, mate. I speak to lots of supporters of other clubs in my job and it's completely different to speaking to a red Alien.
As far as luck goes, I made the point we have made our own luck and we must keep riding it. (I know you weren't calling my post by the way)
I am not saying the games won have been purely down to luck but how many have we won by 1 goal? We can't do that without a certain amount of luck.
We drew with Leicester after they passed us dizzy for most of the game. It's not a criticism – it's more of an urge to grasp and digest what is in our favour.
Just had a text via a facebook post saying Doucoure has broken his foot in training. I hope that isn't true.
Hopefully it's a Carlo team selection decoy.
Eddie Ng
53
Posted 07/03/2021 at 10:38:13
if we want to get into top 4 and win the FA Cup, we simply have to win games like this (another one coming will be Man City in FA Cup)... no more inferiority complex and just believe that we can beat anyone when we are on form. Simple as that.
Tony McDonald
54
Posted 07/03/2021 at 10:48:31
I'd hate to play poker with Carlo. He seems such a nice man, talking about physicality, intensity and quality, quality over and over again. It's when it comes to his team selection he plays a less than straight bat. Telling us all that he has a full squad available for selection (minus Mina and Gbamin) on a number of recent games and then not playing ones we expected to see is either a little baffling or a clever use of misdirection.
It seems none of us can second-guess Carlo. Looking back over the last half a dozen games, hardly anyone has guessed right. Even the normally spot-on Lyndon has been unable to match his predicted line-up with the actual.
Now, is this accidental? Or is the great man over cautious, a victim of circumstances or a clever tactician?
Which brings me to team selection for the coming Chelsea game. From reading the comments it looks like most of us would prefer to see the same back five of Pickford, Holgate, Keane, Godfrey and Digne. Add to that the favoured pairing of Richarlison and Calvert-Lewin up front and it seems the only argument for us amateurs is the midfield.
At the risk of offending the alliteration police, the midfield is a minefield. Play Alan? Carlo likes to play him at the bottom of a diamond and past events has shown that Sigurdsson is likely to be at the top. This offends many TW contributors but it is Carlo's way...
That leaves two places, left and right of the diamond. Pick from Doucoure, Davies, Iwobi, Gomes, Rodriguez
Now if course Carlo could do an 'Anfield' and play three at the back with Coleman and Digne as wing backs, giving us a back five when defending, but a seven strong force when attacking. Keeping Richarlison and Calvert-Lewin in their usual positions this means we only have three to pick from for the middle. Alan is a shoo-in, in my eyes so we would have to pick two from Sigurdsson, Gomes, Davies, Doucouré or Iwobi.
Not for nothing do we get it wrong in most occasions. For what it's worth, I favour an Anfield line-up with Alan, Davies and Doucouré as the middle three. Plenty of opportunity for Sigurdsson and Rodriguez to come on and change the game if needed.
But, what do I know? As much as everyone else, apparently...
Brian Harrison
55
Posted 07/03/2021 at 11:15:17
I think trying to second guess which team or formation Carlo will pick is harder than trying to predict who will finish in the top 4 and which teams will qualify for the Europa league. So it must be very difficult for opposing managers to try and guess our team or our formation.
I can't think of another manager we have had who has changed tactics and personnel as much as Carlo, remember how often on these pages have we criticized former managers for not having a plan B. Reading Michael Keane's article tells you the high esteem with which all the players have for Carlo, and with constantly rotating I am sure the whole squad feel part of the team.
Sometimes if managers constantly change formations and personnel it sometimes brings inconsistent results but that doesn't seem to happen under Carlo, they all seem well drilled irrespective of formation.
Chelsea will view this as a tough game and like us are aware of how much a win will enhance their chances of a top 4 finish. I don't necessarily think this result will determine where each of us will finish but it could have a big impact on confidence should either win this game.
We have achieved some really impressive results away this season beating Spurs, Leicester and Liverpool amongst them and also producing an excellent comeback against Man Utd. So, unlike previous Everton teams of the last 35 years, we don't have our usual massive inferiority complex when visiting the teams in and around the top 4.
Carlo said that despite victories over WBA and Southampton he and the players wanted better performances, so I think he is well aware that he will be looking to play a more attractive game, and the longer he is here I think that will become apparent.
I think we should all remember most of Carlos previous teams not only won trophies but also played a good attractive brand of football. But maybe just for now we will have to accept a slightly more negative approach than he or we would like to see but you can see he is putting in the building blocks for that to happen.
Ernie Baywood
56
Posted 07/03/2021 at 11:21:11
For weeks, I've been saying we should go and attack teams and Carlo has instead had us win ugly.
For this game, I'd be happy with a defensive, counter-attacking display.
So we can fully expect a free-flowing attacking performance.
Mike Gwyer
57
Posted 07/03/2021 at 11:23:11
Paul #52.
Let's not confuse ball retention and luck as the same thing. Under Martinez, I've seen teams come to Goodison and soak up almost 75% possession then score the winner. That wasn't luck, that's having two solid lines of 4 and playing controlled football.
We beat Leicester in their back yard and, for me, they can be opened up. We are very, very good at opening teams up.
I can guarantee you that Chelsea will have more of the ball whereas we have a style of play that needs Calvert-Lewin and Richarlison to be "on it" – if they are not then we usually lose possession and are back to defending.
For me, our back 4 are now seriously solid and since Godfrey has been bought in, we are far more aggressive, so we are happy to let teams have a pop. For me, we actually seem to love it and you know what, against West Brom and in the 93rd minute their striker was like a leaping gazelle and ready to pounce... but no, our back 4 were so organized that they had him offside in an instant, immediately confirmed by the lino before the ball hit the net. Which we all know VAR confirmed. Now was that luck or are our back 4 just so "on it"?
Danny O'Neill
59
Posted 07/03/2021 at 12:01:53
Tough game and too close to call. But we can go in with confidence as it is a tough game for Chelsea too.
I'm not even going to try and second guess the manager's line-up. He'll keep us and Chelsea on their toes. Pretty impressive he's been able to manage that with a relatively small squad.
So, I'll randomly break track. Amber or green kit? I'm predicting the green one by virtue of Chelsea's blue shorts!!
Kevin Prytherch
60
Posted 07/03/2021 at 12:09:45
For me, the only question in this game is who should start between James and Sigurdsson (providing others are fit).
Solid back 4 again (no Coleman)
Davies, Allan and Doucouré
Richarlison and Calvert-Lewin.
James has the ability to carve out an opening out of nothing.
Sigurdsson presses well from the front in these types of games and is good at playing a counter-attack with runners around him.
Kevin Molloy
61
Posted 07/03/2021 at 12:15:28
The good thing is Carlo is really really gonna want to win tomorrow. the danger it seems to me is that we get overpowered They play much more as a team than we do when they have the ball.
We are quite disjointed by comparison. But this team has resiliency in spades. Looked down and out at Man Utd, but then we exploit any complacency. We are now at the level though where Chelsea won't be too disappointed with a point tomorrow, which is amazing when you think about it.
Paul A Smith
62
Posted 07/03/2021 at 12:34:32
I think we might start the game a bit more open than we might expect. A bit like the Wolves away game and the derby at Anfield.
Call Carlo defensive or cautious but he sets up knowing the first goal is usually massive in Premier League games.
Tony Everan
63
Posted 07/03/2021 at 12:57:33
Rob 44. 🤪, It's a shame Tufnell isn't managing them!
Tom Bowers
64
Posted 07/03/2021 at 13:03:09
Outside of Man.City the rest of the top eight are pretty much an inconsistent bunch.
Leicester got lucky yesterday but they were crap.
Everton can beat Chelski who, for all their big signings are an average bunch.
We just need to stay focused and start with intensity and commitment without giving the ball away too much. James should start but I think Gylfi will get the nod.
Jay Wood
[BRZ]
65
Posted 07/03/2021 at 13:29:43
Tony @ 31.
'Josh King in his few very short cameos, has looked to be fast and direct, and he's also a player who doesn't lack physicality, so he might just be a good option tomorrow.'
You think so?
I appreciate he has largely been seen only in very short cameos in the closing of games but, to my eye, he has shown very little.
His pace hasn't seen him run clear of players. His physicality absent as he is easily knocked off the ball or turns it over in lightweight tackles. Other than winning the free-kick at Old Trafford (which was more to do with the clumsiness of United's own substitute rather than anything King did) from which Digne launched the ball into the penalty area and Dom levelled the game for us at the death, I can't recall a single thing he has contributed to the team since joining.
He won't be selected ahead of Dom, Richarlison, James or Sigurdsson, that's for sure.
I think we can only better judge him if and when he starts and plays a full game. But to date, there is nothing at all which merits promoting him to a starting berth away to Chelsea tomorrow.
Tony Abrahams
66
Posted 07/03/2021 at 13:42:58
We all see different things, Jay. I see a fresh and physical Chelsea team, so I think King would be a better bet than either Bernard (who has been underused imo) or Iwobi.
I'm pretty certain we will play 4-5-1 tomorrow, and my thinking was maybe having more pace and physical presence out wide, against a team that we are going to have to up our performance, and not be so careless against in possession.
Danny O'Neill
67
Posted 07/03/2021 at 13:58:47
Liked the short Carlo Ancelotti Q&A session on Sky Sports YouTube.
Some of the players he has manged is impressive but the one he would (hypothetically) bring to Everton; Paolo Maldini. His friend, fellow player and someone he managed.
Got quite passionate about how to cook pasta too!!
Geoff Lambert
68
Posted 07/03/2021 at 14:16:26
Win tomorrow 4th. Loose tomorrow 7th is likely.
COYB.
Derek Knox
69
Posted 07/03/2021 at 14:17:52
Danny, I bet he never pasta recipe on! :-)
Chris Williams
70
Posted 07/03/2021 at 14:21:03
We'll need a better start than the last game when we looked slack, sloppy and off the pace. Against better teams that is likely to cost us.
Danny O'Neill
71
Posted 07/03/2021 at 14:26:37
I see what you done there, Derek!
No family secrets revealed!!
Derek Knox
72
Posted 07/03/2021 at 14:50:53
Danny, Just a like Mamma used to make it! :-)
Bobby Mallon
73
Posted 07/03/2021 at 15:32:41
If Carlo gets us 4th in his first full season, how good an achievement is it?
Kim Vivian
74
Posted 07/03/2021 at 15:55:38
Hahahaha - get in Fulham. Is that 6 or 7 at home?
Robert Williams
75
Posted 07/03/2021 at 15:55:58
Fulham win. xxxx

Andy Finigan
76
Posted 07/03/2021 at 16:13:00
Not necessarily post 68, if we want 4th then we need to win 8 out of the last 12. Doesn't give us much leeway but we can still do it.
Mark Burton
77
Posted 07/03/2021 at 17:01:11
I really hope to be singing the blues. when Everton win and Liverpool lose.
Oh, looking forward to the game now.
Paul Reeves
78
Posted 07/03/2021 at 17:30:47
For tomorrow's game, my line-up would include Coleman, if fit, of course.
Then most other combinations but not Sigurdsson and Gomes together and certainly not Iwobi - the kid looks like he has never played the game before and we look like 10 men when he does start.
Same attitude as vs Liverpool for me.
John Skelly
79
Posted 07/03/2021 at 18:19:56
Is Klopp made of teflon?
David Pearl
80
Posted 07/03/2021 at 18:30:33
I had hoped (and cursed us) for Man Utd and Leicester City losing but now the game against Chelsea is even bigger. Coyb
Jay Harris
81
Posted 07/03/2021 at 19:18:05
Tony,
I agree we need pace in the side but we also need quality. Like Jay, I am not convinced by King and never have been. I'm hoping Tom Davies is fit to return alongside Doucouré and Allan. That will then keep us tight and able to feed the front 3 who should be Calvert-Lewin, Richarlison and hopefully James.
I also hope Coleman is fit because Holgate has not looked convincing lately.
Kim Vivian
82
Posted 07/03/2021 at 19:23:44
I was hoping that City would win but that result today makes me feel better about our forthcoming FA Cup tie with City.
I'm sure the league and Europe will be uppermost in their minds and today they have been given a dent in their armour. We can enlarge that.
Tony Abrahams
83
Posted 07/03/2021 at 19:30:59
Fair enough Jay, but I've seen some things in Josh King that I like, but as the other Jay says, he needs more than a few cameos, before we can really make a judgement.
I don't think Bernard has let us down when he's started this season, maybe the tight spaces at Stamford Bridge, might suit him? But I suppose it's futile talking about what team is going to play, because Ancelotti has definitely got his own mind, and it's not easy second-guessing him.
You told us Davies, was injured last week, Jay, have you heard any rumours about Doucouré being injured now?
Stephen Williams
84
Posted 07/03/2021 at 19:47:33
Don't wish to be negative but.
It looked to me that Holgate tweaked his hamstring towards the end of the WBA game and, as we'd already made three subs, had to stay on. If he has done his hamstring then he won't be fit for tomorrow.
Carlo has a habit of leading the opposition up the garden path with saying that players are fit when they're not so – and this is my worry – if Coleman and Davies are unfit, then who plays right back?
Looking at what we have available, it would either be Iwobi (massive shudder even thinking it) or moving Godfrey to right-back, Digne to centre-back and Nkounkou to left-back. Can't really think of other options.
Whatever it is, if we have these injuries then we're in bother.
In the non-lockdown days I might have been tempted to take my boots but being 59, I might struggle to keep pace for 90 minutes, maybe only 85! However 3-0 up after 85 and we wouldn't have to worry about the last 5!
Jay Harris
85
Posted 07/03/2021 at 20:54:50
Tony,
You're right, Carlo likes to keep us all guessing, including the opposition I guess.
I haven't spoken to my mate since last week as I'm in Florida now and only speak to him now and again but I'll try to find out about Doucouré and whether Tom Davies has recovered sufficiently before the game.
Justin Doone
86
Posted 07/03/2021 at 22:26:15
We have rode our luck recently and long may it continue.
I think Chelsea have become a more direct team. A little like Spurs or Man Utd, good attacking players but defensively can be got at.
I don't know who's fit to play but, even in a few short cameos, King has demonstrated his ability to run and dribble with the ball better than anyone else in the team.
Maybe James is back to play 10, King right and Richarlison left presuming Dom is okay to play central. Let's put them under pressure.
Kante, what a player. I'd try and test Chelsea with a bid for him in the summer alongside their ex-player Hazard!
John Raftery
87
Posted 07/03/2021 at 23:32:23
A draw would be a very good result tomorrow. A win would be fantastic. I expect to see another solid display from our team. Team performance levels have not changed a great deal from game to game. None of our wins have been comfortable strolls. Open, free flowing moves have rarely been a feature. All the games, including the defeats, have been tight affairs.
We have more of a struggle against teams which sit in, allowing no space to run into, than we do when facing teams which dominate possession. Tomorrow we have another match in which we can expect the opponents to dominate. That should suit us.
Jason Wilkinson
88
Posted 08/03/2021 at 00:28:37
I'm amazed some still second guess Ancelotti. He will pick whoever's fit. The only player I don't want in our starting 11 is Iwobi.
Now go score a hat-trick please Alex. I would be delighted to be the butt of the joke tomorrow. I won't hold my breath though.
Michael Stancis
89
Posted 08/03/2021 at 00:30:22
A big game again for both sides tonight. Tuchel looks as though he has Chelsea more stable and confident. Difficult is an understatement. Our record there is worst than at Anfield. But we ended one horrible away run so hopefully another one is on the horizon. For me personally, I'd take a draw now.
A year ago today we saw an absolute shit show there last season. But since then we have become better. Hopefully lessons are learnt from that game and we make it frustrating for Chelsea.
Looks as though Doucouré is out for a while according to rumours. Big miss as he is the one with legs in the midfield. Allan and Davies need to be on their game especially against Mount. Thought of Gomes worries the life out of me. Expect this to be another long 90 minutes.
But if we were to get a result then it's another statement made. Heads need to be switched on and chances needed to be taken when he have that chance. Especially against a side like these. Am I confident? No I'm not but hopefully Everton can surprise me in the most positive way as possible.
Phil Smith
91
Posted 08/03/2021 at 03:03:16
This is a must not lose match if we want to keep up with Chelsea. They are hard to beat with Tuchel in charge and with Spurs flying and Man Utd and Man City out of reach, Leicester City are the other team we could catch if we want top 4. I'd take 5th now if offered, as I think we'll finish 6th at best. We're still a couple of players away from being a really good side.
Andrew Ellams
92
Posted 08/03/2021 at 07:27:18
If the Doucouré rumours are true, his season may well be over. Will the BBC and the Echo be organising all-night vigils?
Craig Walker
93
Posted 08/03/2021 at 09:02:59
Not confident about tonight. It looks like Chelsea have turned a corner and I think they'll end the season strongly.
Would love us to put another unwanted record to bed though.
COYB
Bobby Mallon
94
Posted 08/03/2021 at 09:05:11
I hope Tom Davies is fit for tonight. I don't fancy a midfield of Iwobi, Gomes, Sigurdsson, Bernard.
Rob Halligan
95
Posted 08/03/2021 at 09:34:07
On the Everton official website, there was an update posted on Sunday on players likely to miss the game tonight. James is unlikely to feature, Carlo is hopeful on Tom Davies, no news available on Coleman or Olsen, while Mina remains out.
However, there was nothing to say Doucoure was injured and out for the season so, unless the club don't know something some on here have heard, then he is available for tonight. Unless of course, the club are keeping quiet about it, but why do that, I don't know?
Martin Reppion
96
Posted 08/03/2021 at 09:54:16
I am confident that, if we get our strongest side on the pitch, and play well, we are good enough to beat anybody. As Man City showed last night, it isn't always possible to do both.
I always feel safer with Coleman at right-back rather than Holgate as he also adds a threat going forward but does the dark arts so well too. The rest of the back line picks itself.
In midfield, I would always be happy with any two of Allan, Doucouré and Tom Davies, with a playmaker in front of them. This is the role I like to see James in.
That leaves the sticky situation of who is best on the right of a front 3? For me, as infuriating as his inconsistency can be, this means we play Iwobi.
The alternative of James on the right and Sigurdsson or Gomes in the 'No 10' role is okay when we play sides that don't attack at pace or have the class to unlock us. We cannot afford to play more than 2 of James, Sigurdsson and Gomes as we will get overrun. And we should never play both of Sigurdsson and Gomes together.
This side-picking stuff is easy, isn't it?
Barry Rathbone
97
Posted 08/03/2021 at 09:57:18
Expect nothing here. Chelsea have better players and if they play as they should (as they have been) they will win. If we scrape a draw, that will be a good result.
Rob Halligan
98
Posted 08/03/2021 at 10:14:24
Prior to Saturday, Southampton had been on a miserable run of losing seven and drawing one of their previous eight games. The team they drew with... Chelsea! Okay, it was at St Mary's but it seems home advantage means nothing this season.
I wonder if Southampton fans thought "Shit, we're playing Chelsea, we can expect nothing here". Chelsea haven't exactly been steamrolling teams since Tuchel took over, I think their biggest win was 2-0 against Newcastle.
I said in the lead up to the derby two unwanted Premier League records would be smashed within the space of a week. Fulham had finally won at Goodison and we would end our miserable run at Anfield.
I will stick my neck out and say two more unwanted premier league records will be smashed in the space of 24 hours. Fulham ending their miserable run at Anfield and us finally winning at Stamford Bridge.
Though right now, if offered, I'd take the draw!
Brian Harrison
99
Posted 08/03/2021 at 10:34:30
I wonder if Carlo is keeping his cards close to his chest as he has done on a number of occasions this season. He said that James wouldn't be ready for tonight's game but would be fit for our next game, I think he said the same about James before the Liverpool game but he started the game. I know many of the Colombian press are asking Carlo to say what is the small injury that is keeping James out of the last couple of games.
Let's hope the rumour circulating that Doucoure has broken his foot in training is just another false story on Twitter. Although he has been average in his last 2 games if the story is true and he is out for the season then that will certainly limit our options in midfield.
With both Leicester and Man Utd winning if we hope to get into the top 4 I don't think we can afford a defeat tonight, as West Ham would expect to beat Leeds tonight and Spurs are coming into decent form and will be in the mix for a European slot if they keep up their form.
Usually visiting Chelsea has been like our record visiting Anfield, but I am more hopeful of a result tonight than I have been in a long time.
Dave Williams
100
Posted 08/03/2021 at 10:59:05
This will be an interesting measure of where we are. I don't think we are top 4 quality yet and next season should be when we are genuine contenders.
This season reminds me of when Moyes got us to fourth place. A solid defence, an ability to score in most games and then strong enough to defend a lead.
We need a right back to balance the side from an attacking perspective, a central midfielder who can dictate play and a right winger who can defend too. If we get two of these players in the summer then we will be a different proposition.
I am not a doom and gloom merchant; I am very positive about where we are. Carlo is papering over the weaker areas really well and I see no reason why we can't get a Europa League placing. Top 4 will in my opinion be a step too far at this point but I do hope I am wrong. A draw or win tonight will make me reconsider!!
Andrew Ellams
101
Posted 08/03/2021 at 11:00:54
To have Allan and Davies both playing and upsetting their rhythm in the final third would be a massive boost because I definitely fancy our chances of nicking one via a set piece tonight.
Colin Glassar
102
Posted 08/03/2021 at 11:05:40
Chelsea and Tuchel have to lose eventually... so why not tonight?
We can win this, so I'm going for a draw!
Tom Harvey
103
Posted 08/03/2021 at 11:16:53
6/1 the bookies are offering on us and Chelski 8/13.
Are they really that much better than us?
I don't usually bet on my own team, loyalty and emotion interferes with judgement, but tonight I'm mucho tempted.
Andy Walker
104
Posted 08/03/2021 at 11:28:58
Let's hope our luck continues tonight. I haven't been confident of a result since early season, but we keep getting the breaks so long may it continue.
Our midfield hasn't been able to impose itself on any team for months, including games against Fulham, Newcastle, even Southampton recently, but we have a solid defence and are dangerous when we actual manage to get forward.
Dan Nulty
105
Posted 08/03/2021 at 11:35:30
Their defensive record and our recent lack of potency is reason for the price, Tom.
We will need to be on it tonight to get anything from the game. I'm hoping for Calvert-Lewin to bag a couple.
Steve Carse
106
Posted 08/03/2021 at 11:36:35
Many posting on here are referring to us as not being top 4 quality. Judging us on the quality of the top 4 sides over the last decade, I'd probably agree. But if we are not top 4 quality on past standards then neither are Leicester, Spurs, West Ham or, for that matter, Chelsea.
I don't believe we will finish top 4, and any repeat of poor results against lesser sides would likely see us miss out on a Europa League spot. But the margins will be slight.
Colin Glassar
107
Posted 08/03/2021 at 11:43:05
Andy, Carlo is building from the bottom up ie defence. Solid foundations will allow him to rebuild our midfield this summer and allow our front two to concentrate sticking the ball in the old onion bag.
With Allan and Doucouré covering the defence I'm certain he will go for players who are comfortable on the ball, who can actually pass to teammates and who look forward, not only sideways and backwards!
James will continue to be the Ace in the pack but more as an impact sub. Davies and Sigurdsson will be benched and used strategically. Delph, Gomes, Bernard and Iwobi will be shipped out to pay for better players.
Robert Tressell
108
Posted 08/03/2021 at 11:50:51
Colin, I agree with all of that. However, whilst Bernard is almost certain to leave, I strongly suspect Gomes and Iwobi will remain with the squad next season – and Delph may too.
Whilst we might want them to go, there has to be someone keen to buy. No obvious candidates to take over the very large wages of these underperforming players.
James Lauwervine
109
Posted 08/03/2021 at 11:59:43
Tom #103 - 6/1 is ridiculous for us to win tonight. We have an excellent away record and are one point behind them after 26 games with a game in hand. There's no home advantage anymore, in fact away advantage seems more our thing.
12/1 for another 1-0 win to us might be worth a punt. I never bet on us to win though, it just rubs salt into the wound of a defeat. I'm going for Godfrey to score a header at 50/1. He's due (and deserves) a goal for us and is always there for a near-post flick-on at corners.
Mike Corcoran
110
Posted 08/03/2021 at 12:05:57
I got on Man Utd and Fulham both at 6-1 yesterday. The odds only reflect the money already staked. Covid season is ripe for good odds on aways...
James Marshall
111
Posted 08/03/2021 at 12:10:10
I'm expecting a tight, nervy affair with few goals. Chelsea are decent at the moment and we've obviously been pretty good defensively, but don't score enough goals – expect a tight game with few chances.
Home/away doesn't really come into it when you look at the Premier League results of late – every game is pure lottery, so predicting scores/laying bets seems like a waste of money if you ask me.
Games at the moment between any teams could just as easily be drab 0-0s as they could a thrilling 4-4.
Duncan McDine
112
Posted 08/03/2021 at 12:16:37
Spot on, Mike. Home advantage clearly isn't a thing this season but the bookies haven't reflected that with their odds. I saw a stat which was quite amazing. Most seasons the percentage of results averages to approximately: Home: 45%, Draw: 25%, Away: 30%.
This season has not changed the amount of draws, but levelled home and away wins (in fact, away wins were marginally above home wins). I never bet on Everton purely out of superstition, but at 6-1, it's a tempter.
Mike Corcoran
113
Posted 08/03/2021 at 12:30:56
Betting against Liverpool is really good value now as people are still backing them against form.
Tom Bowers
114
Posted 08/03/2021 at 12:35:12
It's going to be tough at the bridge but all the games are at present.
Everton's goal difference is the worst of the top ten teams at the moment but goals win games and 1-0 will do again today.
The record away from home and against the London clubs has been excellent so why not make it better today?
Stale Haverstadlokken
115
Posted 08/03/2021 at 12:46:25
We are very strong at set pieces and think we can get a point at Stamford Bridge. That depending if Gylfi and James are starting or not.
Michael Kenrick
116
Posted 08/03/2021 at 12:56:56
Rob @95,
I like your application of logic to this Doucouré rumour. The sad fact is, institutions like Everton FC are for some reason very reluctant to acknowledge and relay bad news. It's almost like a reaction that it can't be true. And if we don't confirm it, then it won't be true... and our happy progression won't be unnecessarily disturbed.
Of course, it may not be true... I sincerely hope it's not true. Surely the mammoth number of journos would ferret out the truth? Or is that expecting too much of our wonderful media? (I'm excluding the Echo from this as a bunch of lazy internet trolls who see journalism as scouring NewsNow for stories to pass on.)
And if it sadly is true, there is the argument to be made that, with a vital Premier League game coming up tonight, you sit on it until the last possible minute to avoid giving Chelsea some 'advantage' in their match preparation.
I guess we'll know which one it is just after 5 pm...
Derek Knox
117
Posted 08/03/2021 at 13:03:15
Uncle Albert used to tell me ' during the war ', the best way to fool the enemy, was to leak ' mis/dis-information ' it throws them completely off kilter, especially when they think so and so is injured, and he's not available etc.
Not saying Carlo was in the war (too young) but the same principles hold true, until an hour before kick-off you don't have to reveal the team and the substitutes, so play the game and fool Herr Tuchel.
This time at at 20-00 tonight Rodney, we could be. ?
Brian Murray
118
Posted 08/03/2021 at 13:42:18
It's a shame Rodriguez can't stay fit when we need him most. Maybe the b tec version of him ( siggy ) will give us these through balls we need Tonight because our pace up front is our best bet as well as set pieces. Chelsea are not the team of the past of Hazard and Terry etc. Hot and miss the same as us.
Tony Abrahams
119
Posted 08/03/2021 at 14:35:06
An interesting story I heard today Michael K, is that they think there is a mole at finch-farm, because some people have been finding out the team very early, but again this could just be another rumour? I'm not sure how true this is, because my own warped mind, never lets me find out the team until just before the kickoff, because if I do, I'm convinced it brings Everton bad luck.
Brent Stephens
120
Posted 08/03/2021 at 14:51:34
Tony, if they believe there's a mole, then one way to flush him (?) out would be to "let slip" on purpose a juicy snippet - but only to one person who they suspect could be the mole - and see what develops. And, if need be, on to a second suspect.
Kieran Kinsella
121
Posted 08/03/2021 at 14:54:09
Brent
You mean like detective Colleen Rooney
Kieran Kinsella
122
Posted 08/03/2021 at 14:55:08
Tony
Ironic someone leaked a rumor about leaker
Brent Stephens
123
Posted 08/03/2021 at 14:56:36
Kieran - yeh, but with a bit more guile!
Rod Harrington
124
Posted 08/03/2021 at 14:59:45
(117) Derek, we could be what?
Andrew Ellams
125
Posted 08/03/2021 at 14:59:48
The news about Allan and DCL only making the bench for the Derby was out on the live forum before the team was officially announced.
Does anybody know the original Twitter source for the Doucoure broken foot story?
Jay Harris
126
Posted 08/03/2021 at 15:00:48
Tony,
There are loads of moles at FF. The unfortunate thing is some people who work there get a bit sensational like on here when some people make wild claims.
I have a friend who is genuine and works on the staff and gives me a bit of feedback but he is usually cautious with that. He told me about Tome Davies a couple of weeks ago and Tom is due a late fitness test today but I spoke to him over the weekend and he said he knew nothing about Doucoure's supposed injury. so I'm hoping that is just a twitter windup.
Andrew Clare
127
Posted 08/03/2021 at 15:03:53
There are three teams that are clearly better than the rest. Utd, City and Chelsea.
So this will be a tough game.
James Marshall
128
Posted 08/03/2021 at 15:08:51
There's nothing online about Doucoure being out for the season, but there are reports of him being pulled over in a Lamborghini over the weekend, which the police have seized. He was pulled a month or so ago doing 102mph in an Audi, now he's been pulled with no insurance in a Lambo.
It seems he isn't injured, he's just a fu**ing idiot.
Rob Halligan
129
Posted 08/03/2021 at 15:31:21
Michael # 116. Didn't Carlo fool klopp by saying DCL was fit and would be playing in the derby? I'm convinced klopp picked the team he did to keep DCL quiet, would he have gone three at the back if he knew we were only playing one up front? Klopp couldn't believe it when he heard DCL and Allan were only on the bench! Poker face outfoxed fungus face! 😄😄
Tony Everan
130
Posted 08/03/2021 at 15:35:02
James, It's reported he apologised and said he was unaware as the car was from the continent and the dials were in kph. It was pointed out to him in that case the dials would be showing 164 kph !
He got a £600 fine, more importantly I hope he has learned his lesson.
Andrew Ellams
131
Posted 08/03/2021 at 15:55:07
Wasn't the driving offence months ago but his hearing on Friday? Maybe he's been sidelined by the club because of it.
James Marshall
132
Posted 08/03/2021 at 15:59:02
Andrew - yes, the speeding offence was a month ago. The new one was this weekend, driving without insurance. I can only surmise that he's not the sharpest tool in the box.
John Kavanagh
133
Posted 08/03/2021 at 16:00:10
Not overly bothered about Europe because we don't have the squad that could cope with all the extra matches. I don't want a repeat of our last experience. I'm far more concerned with us staying above that lot across the park, which will be huge psychologically - for both players and supporters.
Whoever is fit and gets picked for tonight, we will have to be totally on top of our game to get a result.
I'm still surfin' on waves of optimism so I hope we get an all important win. DCL to do a bit of catching up for the Golden Boot please and make Nosferatu in the Chelsea dugout look even more bloodless.
COYB
Ian Jones
134
Posted 08/03/2021 at 16:04:55
Dave Abrahams
135
Posted 08/03/2021 at 16:09:12
If they find out the mole at Finch Farm they should dig a big hole and bury it alive!!
Ian Jones
136
Posted 08/03/2021 at 16:15:01
Apols, the link I posted re Doucoure's driving misdemeanours links back to this article.
Mike Gaynes
137
Posted 08/03/2021 at 16:15:56
How does a guy spend £170,000 on a car and not insure it?
Such an intelligent footballer. Such a numbnuts behind the wheel.
Andrew Ellams
138
Posted 08/03/2021 at 16:24:18
Maybe the Doucoure broken foot story come from him getting home from his hearing and kicking the cat.
David Graves
139
Posted 08/03/2021 at 16:24:41
James the speeding fine wasn't a month ago. It was in June last year. The incident of driving without insurance wasn't at the weekend either it was last July.
Jonathan Tasker
140
Posted 08/03/2021 at 16:28:38
As an ex bookmaker, I strongly advise against betting on Everton tonight.
5/1 or 6/1 does not represent good value.
Betting on away teams to win at Anfield is an entirely different matter.
Separately, I feel privileged as I have seen us win at Stamford Bridge. Definitely the scariest away ground I have been to.
Colin Glassar
141
Posted 08/03/2021 at 16:33:09
If there is a mole at Finch Farm then I blame Ossie, or Hibbo, or both.
Dennis Stevens
142
Posted 08/03/2021 at 16:33:25
Mike #137 Perhaps he bought the car through Cazoo & didn't realise the free insurance was only for the first 7 days
Brent Stephens
143
Posted 08/03/2021 at 17:01:55
Everton: Pickford, Godfrey, Keane, Holgate, Digne, Gomes, Allan, Iwobi, Sigurdsson, Richarlison, Calvert-Lewin.
Subs: Virginia, Tyrer, Nkounkou, Bernard, Davies, Broadhead, Onyango, King, John.
Frank Wade
144
Posted 08/03/2021 at 17:04:46
Thanks Brent, looks like the rumours about Doucoure were well founded.
Martin Mason
145
Posted 08/03/2021 at 17:07:20
Mark@20 Yellow card for that Racist/Luckist statement. Red card for the next one
Martin Mason
146
Posted 08/03/2021 at 17:09:54
No problem with Sigurdsson being in the team as long as it is in the middle of or just behind a front 3 and not in midfield. We need some l*ck tonight
Thomas Richards
147
Posted 08/03/2021 at 17:12:59
Allan has got his hands full tonight.
Overun in midfield with Doucoure out you would presume
UNLESS the dottore can work his magic
---
Add Your Comments
In order to post a comment, you need to be logged in as a registered user of the site.
Or Sign up as a ToffeeWeb Member — it's free, takes just a few minutes and will allow you to post your comments on articles and Talking Points submissions across the site.